So much more than just incredible diving, Fakarava is truly a magical place to get lost in for a few days. Known as the 'dream island', it is the second largest atoll in French Polynesia and a UNESCO Biosphere Reserve. With walls of sharks, thrilling drift dives, pink sand beaches and a super relaxed vibe – pay a visit to Fakarava before everyone else discovers the secret. I spent a week in Fakarava while backpacking across the South Pacific Islands for six months. Here's a sample 5 days in Fakarava itinerary which covers all the highlights – above and beneath the waves, while still leaving plenty of time to recharge your batteries.
Heading off to French Polynesia? In-depth island guides to all 5 archipelagos await you, including sample itineraries and essential travel tips & tricks.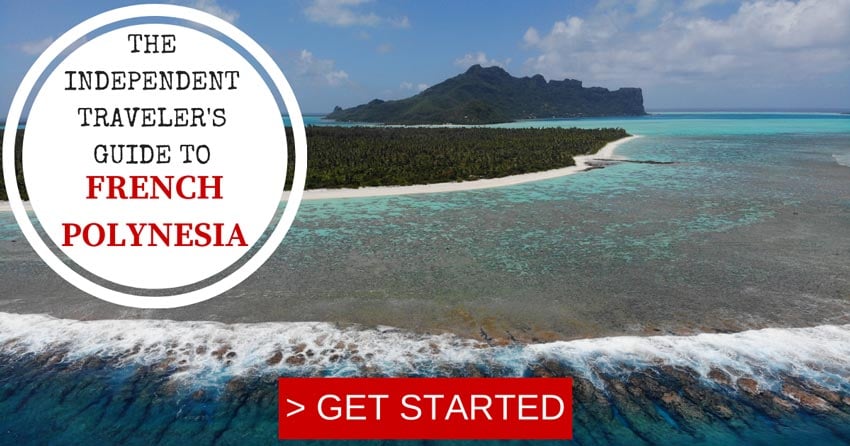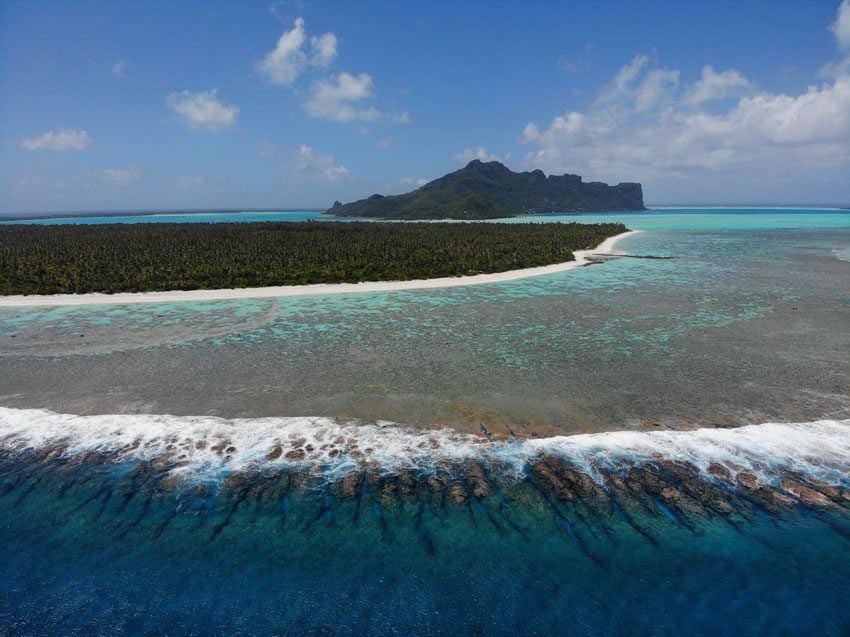 Tahiti, Tailor Made!
The Islands of Tahiti are among the last places to be colonized by mankind, 118 islands, each with their unique personality.


Get expert advice and assistance with planning your trip to the destination where tropical dreams come true!
See Options
Fakarava Video Tour
Here's a quick 90-second preview of some of the sights that await you in Fakarava. You might need to disable to ad-blocker to load the video.
---
5 Days In Fakarava Map
All places mentioned in this Fakarava itinerary can be found on this companion map. Simply click on the image to open in Google Maps: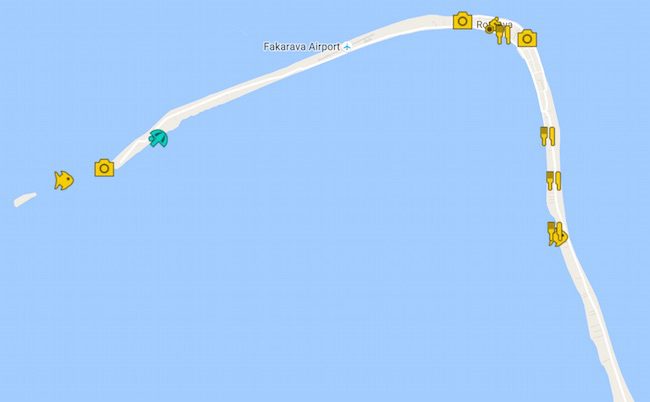 Accommodations in Fakarava are primarily based on family-owned pensions. I personally stayed at the Relais Marama, close to the center of Rotoava and the closest thing to a hostel on the island. Check out the Fakarava Travel Guide for additional accommodation choices both in Fakarava North and Fakarava South!
Day 1: Pink Sand Beach & South Pass Lagoon Tour
Much like with the excursions in Rangiroa, I highly recommend visiting the 'pink sand beach' (les sable roses) on your first day(s) in Fakarava. Why? There's a minimum amount of passengers required for this full-day tour and bad weather may lead to last-minute cancellations. It's wise to attempt this early on to leave some room for flexibility.
The pink sand beach is one of the prettiest sights you'll ever see, totally worth the steep price of actually getting there (12,000F incl. lunch, leave at 8 am and back at 4 pm). The good news is that you won't be spending 90 minutes on a boat in each direction just to see some sand.
Tetamanu Village
I joined seven other passengers on a tour operated by Vaiama Village Pension. After 90 minutes, you finally reach Tetamanu Village and the Tumakohua Pass (also known as the 'south pass'). Though older than Rotoava in the north, Tetamanu Village is home to only four families these days – mainly here for the scuba divers who come all the way to the middle of nowhere to dive in the legendary south pass.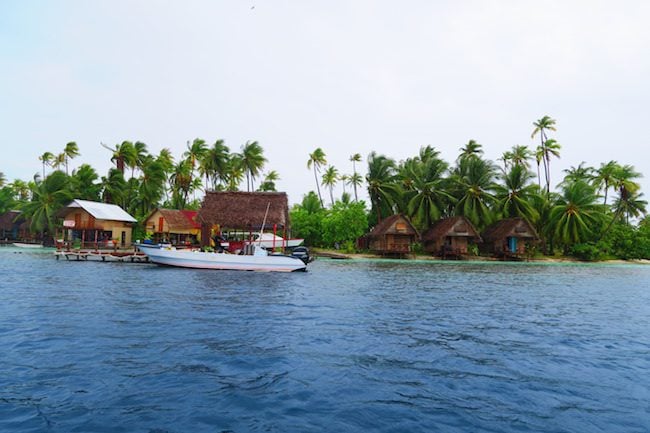 While the crew prepares lunch, go for a stroll along the grassy 'main street'. Have a look at the charming church – the oldest in the archipelago, built in 1874 and made entirely out of coral rock. A little further down are the abandoned school and tiny prison – testaments to a busier past.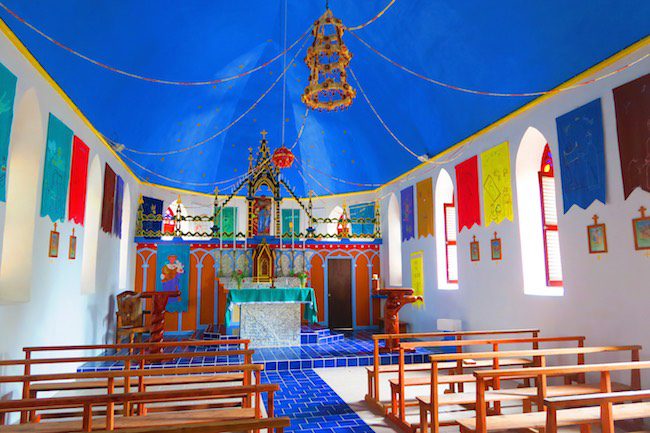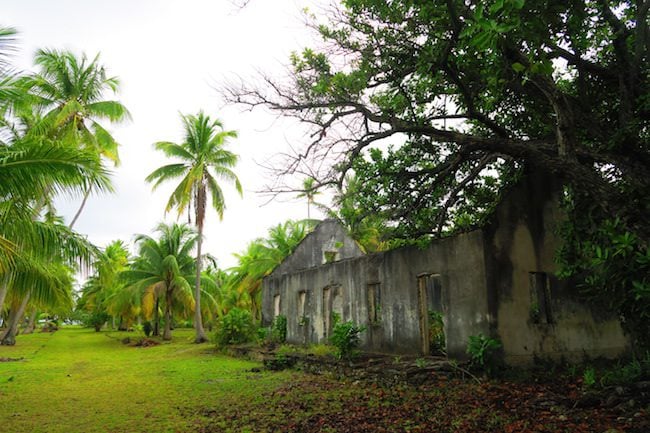 Snorkeling Or Scuba Diving
After the quick tour, put your snorkeling gear on and dive into the pristine lagoon. The water is super clear and though quickly plunging into the deep, you'll love watching reef sharks swim in and around the carefully maintained formations of lagoon fish. Stingrays, trevally and massive Napoleon are also out in full force.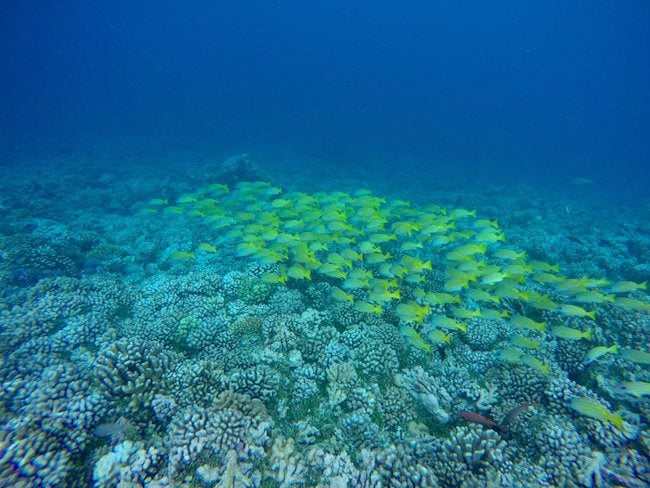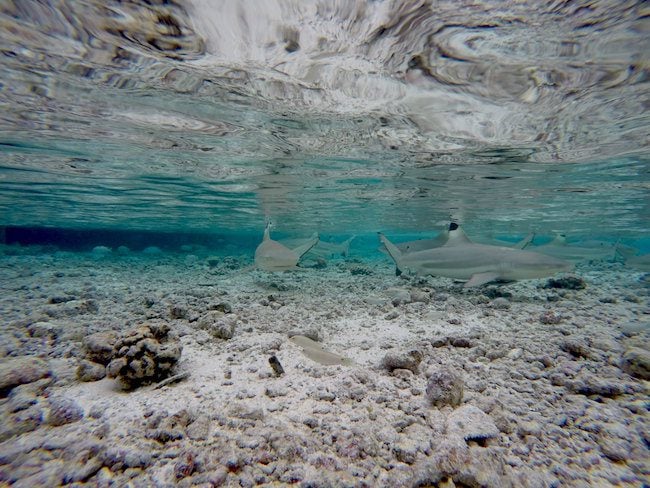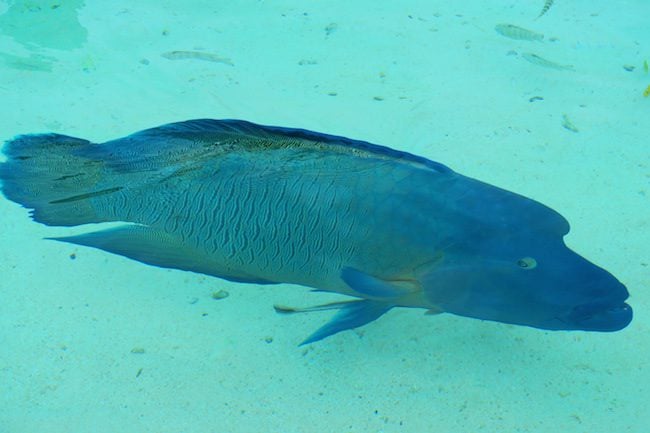 If you want to scuba dive in the south pass and a one-tank dive is enough for you, simply mention this when booking the tour and you'll likely be able to join Eleuthera (Tetamanu Dive Center) on a lunchtime dive instead of the snorkeling (add 7,000F).
Lunch is finally served picnic-style and boy what a selection: lobster, grilled fish and sashimi to go along with breadfruit, rice and my absolute favorite – coconut bread!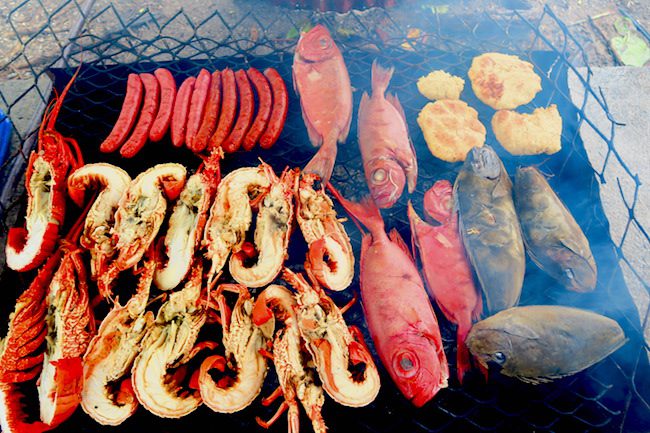 Pink Sand Beach
After lunch, it's back on the boat for the short ride to the famous pink sand beach. It's a dreamy spot at the very edge of the massive Fakarava lagoon and you'll probably be the only ones here. The sand? On a cloudy day it's more orange than pink but I could only imagine how beautiful this spot would be under the warming sun!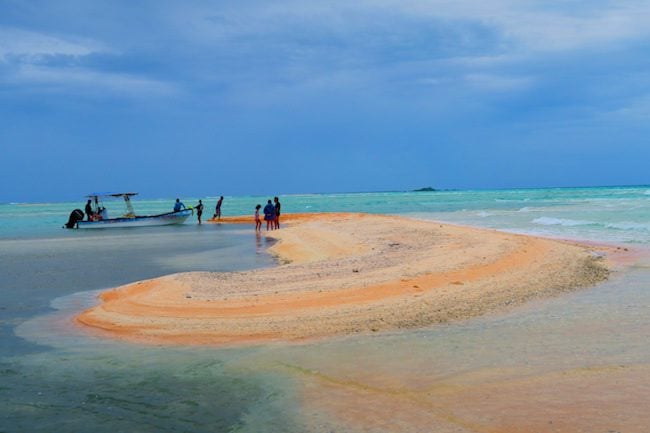 Day 2: Diving In The North Pass & PK9 Beach
It's time to get down to business and do a bit of scuba diving, the real reason why you came all the way to Fakarava! Book your dives with Yannick and Henri from Dive Spirit Fakarava. I had an amazing time with them and even improved my diving skills. They are also part of the totally worth it Te Moana dive pass, a great way to save money if diving multiple times on multiple islands. Check out the complete Fakarava Travel Guide for lots more practical information on diving in Fakarava.
Morning Dives In Garuae Pass
Book a two-tank morning dive and head out to Garuae Pass, more commonly known as the 'north pass'. It's a quick boat ride from Rotoava Village and where you'll do the bulk of your diving in Fakarava, if not based way down in the south pass.
The first couple of dives will be easy going, along the Ohotu Cliff. You'll simply be amazed at the beauty of the coral garden down here, way better than anything seen in Rangiroa. Corals in all shapes, colors and sizes seem to be springing up from the rocky bottom in search of some sun. Simply magnificent!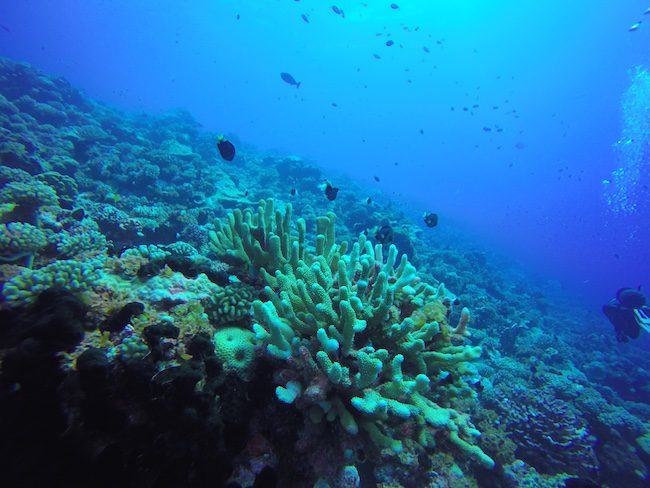 With visibility usually between 20-40 meters, hundreds (that's right) of sharks will be patrolling the deep blue, sometimes coming close to check out what's on the menu for tonight.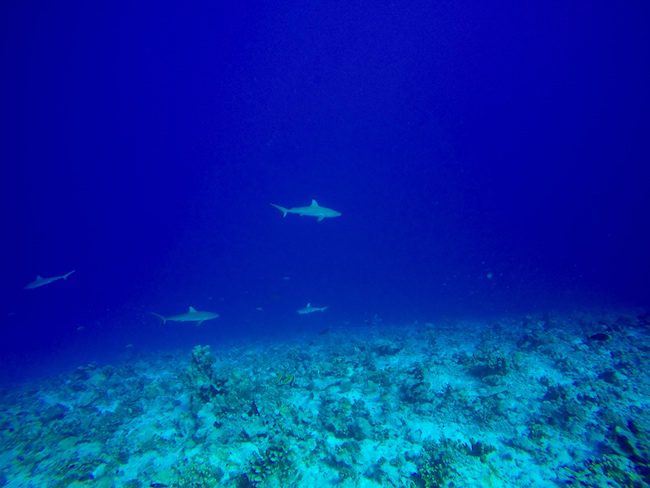 When you're not swimming with the sharks, you'll be swimming with giant napoleon fish, trevally and my all-time favorite – the goatfish. These small fish swim in large numbers, and the fun is heading into their well-maintained formation, which adapts to your movements. It's exactly like some BBC documentary film!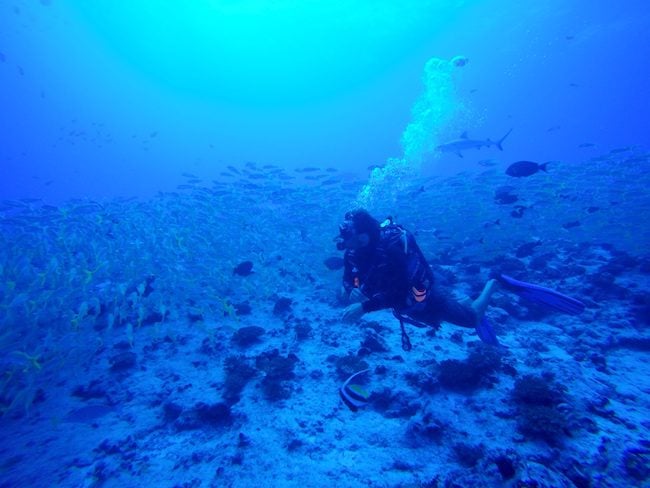 Lunch
Back on land, head to Snack Kori Kori for lunch with a view. It's just a few steps away from the dive center and they make killer sandwiches as well as your all-time favorites!
PK9 Beach
Head back to the Relais Marama or wherever it is you'll be staying and pick up a bicycle – the best way to get around. You have 9 kilometers of cycling to do, but I promise it's worth it. Head north this time and pass the airport, where the paved road turns into a dirt road.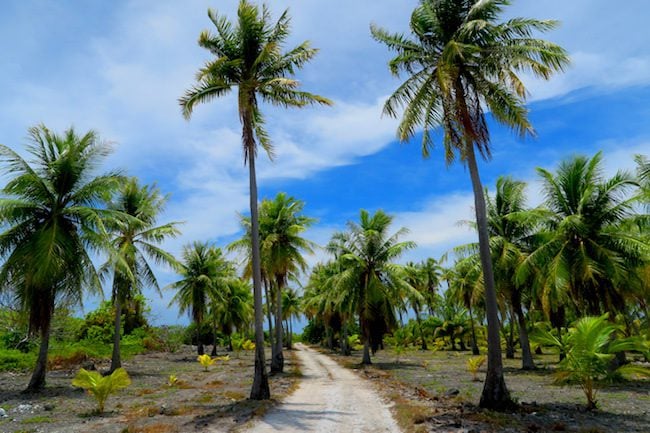 After about 5 kilometers past the airport, look out for the PK9 marker which indicates your distance from Rotoava Village.
Turn left and head all the way to the beach. This little slice of heaven is simply known as PK9 beach and it's one of the best beaches in French Polynesia!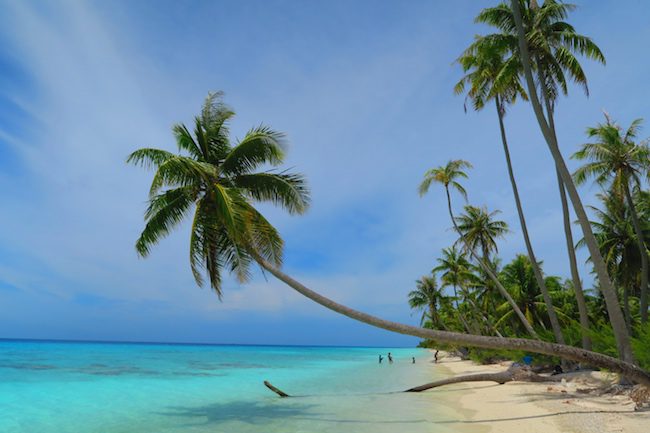 Bring everything you'll need (including lots of water and a book) because there's a whole lot of nothing around you. When you've summoned enough energy, go for a dip and enjoy the fine snorkeling just meters away from the sandy beach!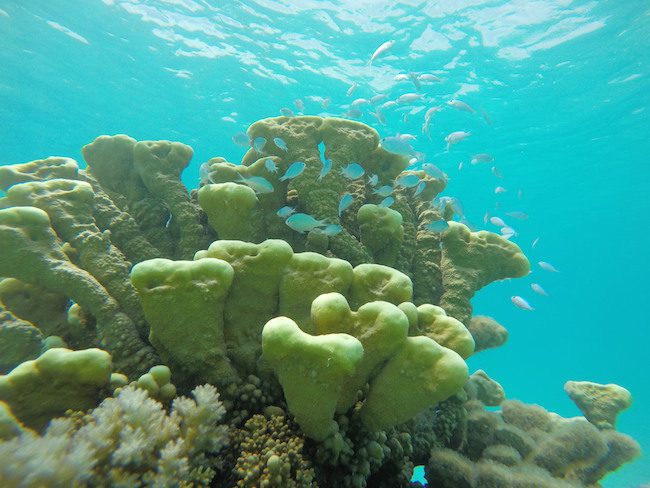 When you've had enough, head back towards Rotoava. If you're up for a little more adventure, cycle for another 2 kilometers to the end of the dirt road and finish off at the north pass. This is where you went diving this morning.
As you near Rotoava, turn left at PK2 and have a look at the Topaka Lighthouse. Also known as Phare de Topaka, this former lighthouse dates back to 1957 and was used to signal neighboring atolls in times of emergency. It kind of looks like something the ancient Maya would build…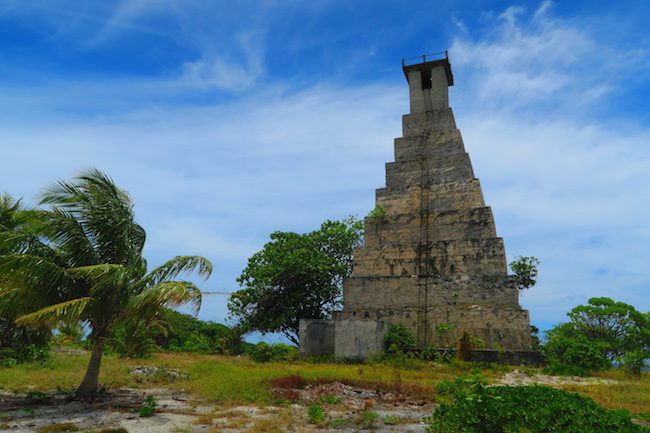 Day 3: Scuba Diving & Exploring The Village
It's another day of scuba diving in paradise.
Drift Dive
Another early start of the day and another two-tank morning dive. It's back to the north pass, this time for a bit of drift diving. The best time for a drift dive in Fakarava is during 'slack tide'. This is when the incoming current is just starting. You'll begin the dive once again in the coral garden, but this time on the very edge of the Ohotu Cliff. When the timing is right, you'll begin to ride the current back into the lagoon.
The feeling of drift diving in the north pass can only be described as riding on the roof of a speedy bullet train. You are simply flying past helpless fish, small canyons, and channels. All you need to do is enjoy the ride and… remember to breathe!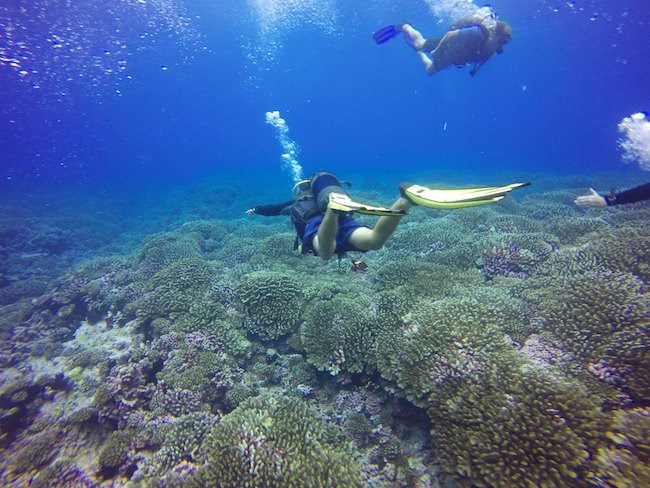 Alibaba Canyon
You'll finish off the drift in the Alibaba Canyon. Keep your head down and don't forget to look up. Above you, sharks are enjoying a break from the current and maybe even marlin. We spotted one just before the final ascent. This magnificent creature is something of a rarity here. Its huge spear sticking out of the front is something I'll never forget.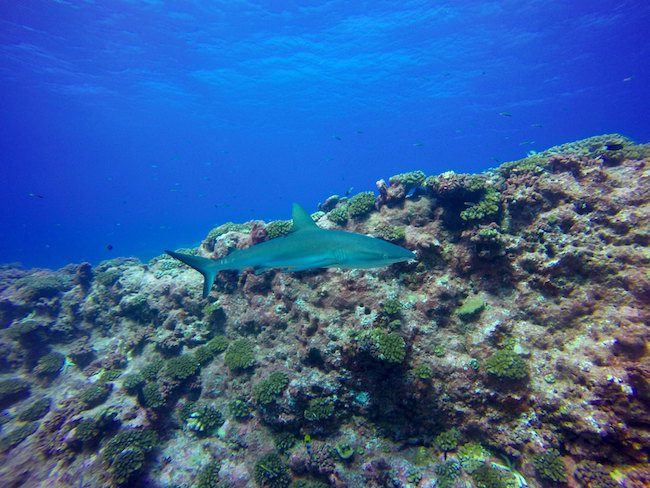 Exploring Rotoava Village
Back at the pension, take a quick break and grab a bicycle to head into town. Treat yourself to a crepe on the beach at Snack Paillote and simply explore the cute village of Rotoava. Highlights include the whitewashed Catholic church (I highly recommend coming here for Sunday service), the Taputavaka Lighthouse just behind the Relais Marama and simply sucking in the laid-back vibe of the village. Don't forget to smell the flowers! Hibiscus and heavenly scented gardenia bloom from just about every corner.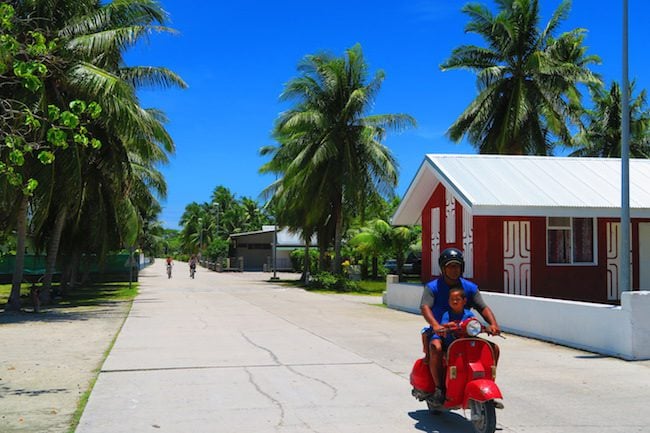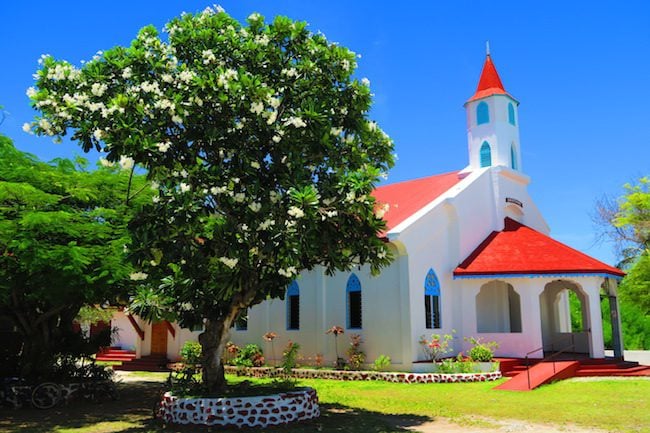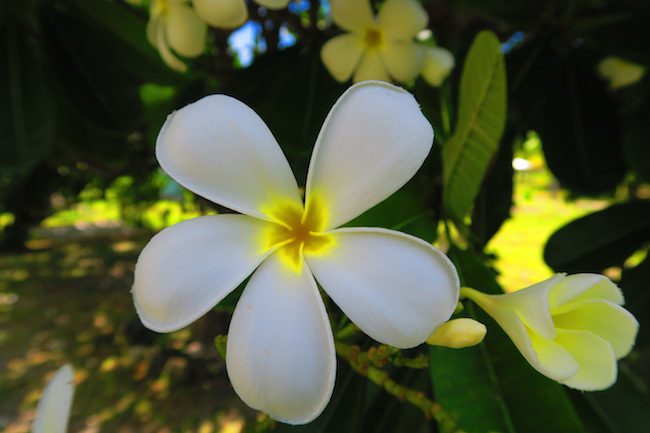 South of Rotoava
I particularly enjoyed cycling south of the village, where the road swings from the lagoon to the reef. There's not much out here aside from the open ocean and lots of coconut trees. You can cycle for another 10 kilometers on the paved road and continue for much more on the dirt track leading to nowhere. You'll pretty much be all alone out here and that's part of the fun!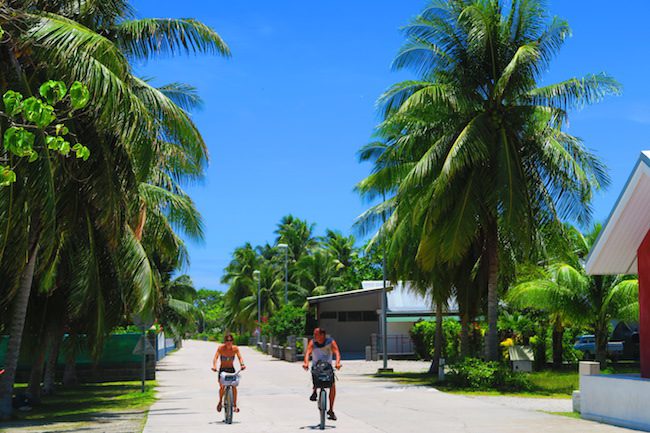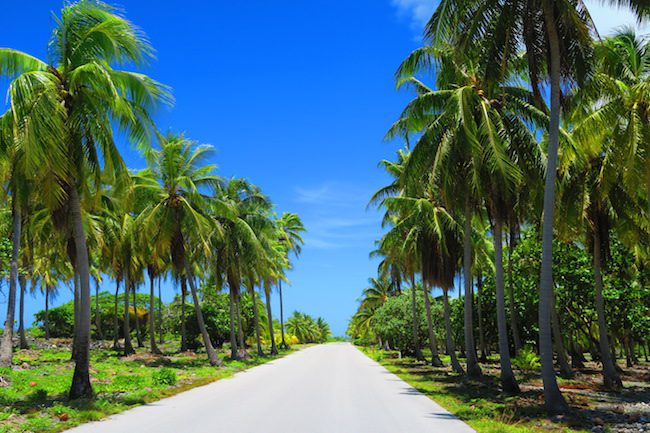 Dinner
For dinner, ask for a free pickup and head to Snack Chez Elda. This was my favorite place for dinner, serving huge portions of traditional fish dishes and seriously large cocktails. If you're having a tough time choosing, Elda's got you covered with her excellent value combo deals. She'll even drive you back to your pension.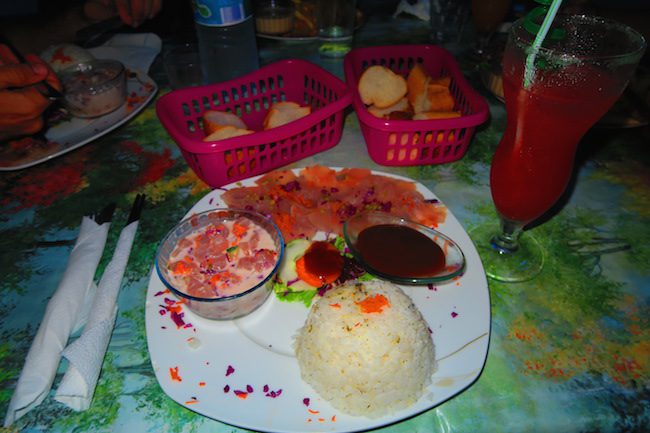 Day 4: Scuba Diving & Relaxing
Today will be our final day of diving in Fakarava. Book a two-tank morning dive or sleep in and go for an afternoon dive, whatever works for you. It's back to the north pass and yet another thrilling drift dive.
Nurse Shark Cave
This time, we'll fly back into the lagoon and finish off in and around the 'nurse shark cave'. As its name suggests, there's usually a nurse shark inside the cave. When the current is strong, fish from around the area meet at this sheltered spot to take a break and chill for a bit. So do the sharks, in my case a two-meter-long female.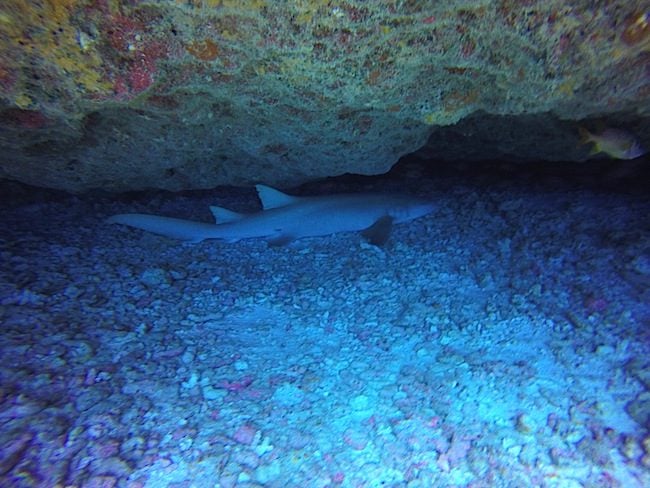 Everybody seems to get along around here, but outside was a different story. You might get to see one final wall of sharks before saying goodbye to (probably) the best scuba diving in French Polynesia!
Have a look at the top highlights from the memorable scuba diving in Fakarava!
Relax & Dine
Use the rest of the day to relax and revisit some of your favorite spots. For lunch, head to the Havaiki Hotel and grab a spot on the shady deck overlooking the radiating lagoon. Traditional Polynesian dishes are the main draw here, including the 'national dish' of French Polynesia – the poisson cru!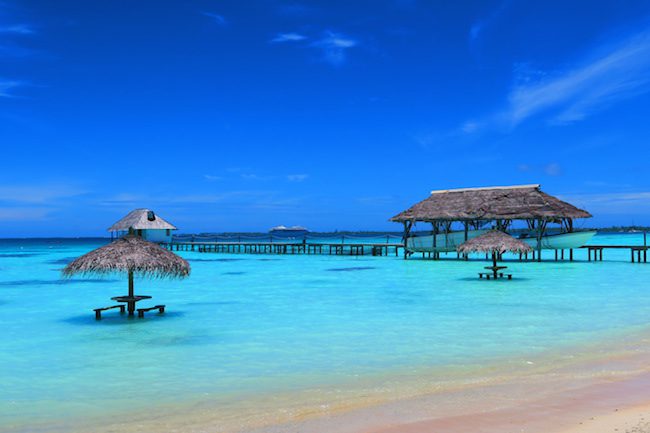 Day 5: Excursion To Lagon Bleu or Relax
On your last day in paradise, head out on a full or half-day excursion to visit Le Lagon Bleu. Your excursion will take you to the other side of the atoll for some snorkeling and lounging on dreamy motu (small islets) with their picture-postcard beaches. If you want to take it 'easy', maybe just cycle back to PK9 beach (see day 1).
What's Next?
This sample 5 days in Fakarava itinerary can be extended or shortened, depending on the number of dives you wish to do. For more information about Fakarava and French Polynesia, check out these recommended guides.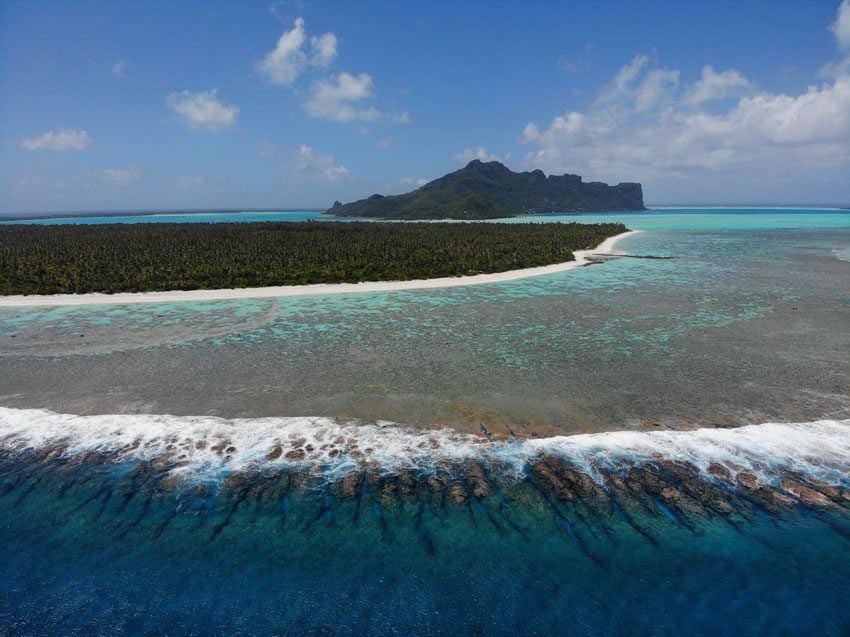 Tahiti, Tailor Made!
The Islands of Tahiti are among the last places to be colonized by mankind, 118 islands, each with their unique personality.


Get expert advice and assistance with planning your trip to the destination where tropical dreams come true!
See Options