Florida Hotels: Catching Some Winter Sun
With winter slowly creeping in, it's a good time to start planning that sunny winter getaway. With a mostly mild tropical climate and thousands of annual sunshine hours, Florida is a likely candidate on every U.S. winter holiday short list. In this post, we'll visit a few sunny spots in Florida and explore overnight options.
Fort Lauderdale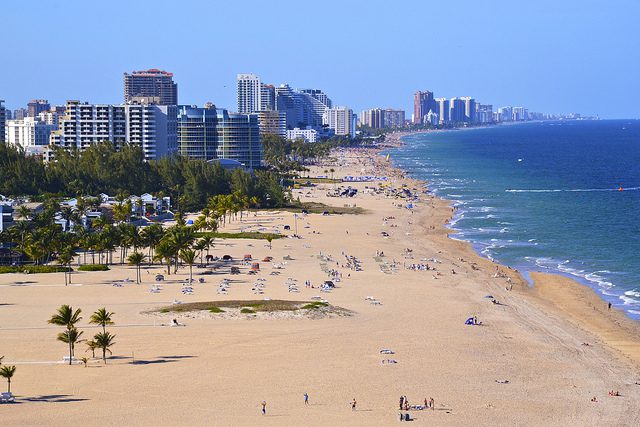 Image via Flickr by Daniel Dudek
Lying just 28 miles north of Miami, Fort Lauderdale is a prime year-round tourist destination and a hub for visitors about to "hit the seas"on a pampering cruise. With a long stretch of beach, a vibrant nightlife and hundreds of hotels to choose from, making the right accommodation decision can be a bit overwhelming. If it's a cruise that brings you down here, the large Embassy Suites is a popular choice for those embarking from Fort Lauderdale. While the hotel isn't within walking distance of the busy beach, lots of shops and restaurants are around. Guests can also flag down a water taxi and go for a bit of sightseeing, or simply relax under the waterfall in the hotel's pool before happy hour.
For the Entire Family
Still in Fort Lauderdale, if you're not "cruise-bound," the Hyatt Regency will be enjoyed by the entire family (and you can even bring along your favorite pet). The theme of this place is water … lots of water. The hotel is surrounded by H2O on three sides, so there's a very good chance your room will have fine views over the bustling marina or better yet the Atlantic Ocean. While not within walking distance of the beach, the hotel does have three large swimming pools on the property. In case you want to hit the beach after all (who can blame you?), take advantage of a complimentary beach shuttle.
Key West
Image via Wikimedia by Cristo Vlahos
At the southernmost tip of the Florida Keys, Key West is a get-away-from-it-all type of holiday destination where freedom is always felt in the air. While there are plenty of Key West hotels closer to the main action near Duval Street (where things can get a bit crazy), the Best Western is a very affordable option right next to the airport. Since we're not talking about LAX, huge passenger jets won't be flying over your head throughout the day. Instead, you'll enjoy a complimentary poolside breakfast while gazing out into the endless ocean.
Panama City
A popular spring break destination for the area's college students, think of Panama City as a miniature version of Fort Lauderdale. Though in need of a small facelift, the Reef at Seahaven Beach is located right on the beach and is one of the most affordable options around. Each room is fitted with a kitchenette area so families can cook their own meals and save on costs.
Gainesville
Coming to see a Florida Gators game or simply to visit your hard-working student son or daughter? The Hilton University of Florida Conference Center is one of the few hotels in town that's actually located on campus. Offering all the usual amenities of a Hilton, chances are you'll take advantage of its close proximity to pretty much everything and explore the campus area.