If the first thing that comes to mind when you think about Hawaii is the word "beach", I seriously can't blame you. The remote tropical island chain is blessed with dozens, if not hundreds of beaches, some of which are absolute gems. I spent four months in Hawaii, island hopping to find the best spots for catching some sun. Here are the absolute best, the top beaches in Hawaii!
Visiting Hawaii? Sample itineraries guides to the best spots, and the must-see highlights in five islands are all waiting for you in the Hawaii Travel Guide collection. Aloha!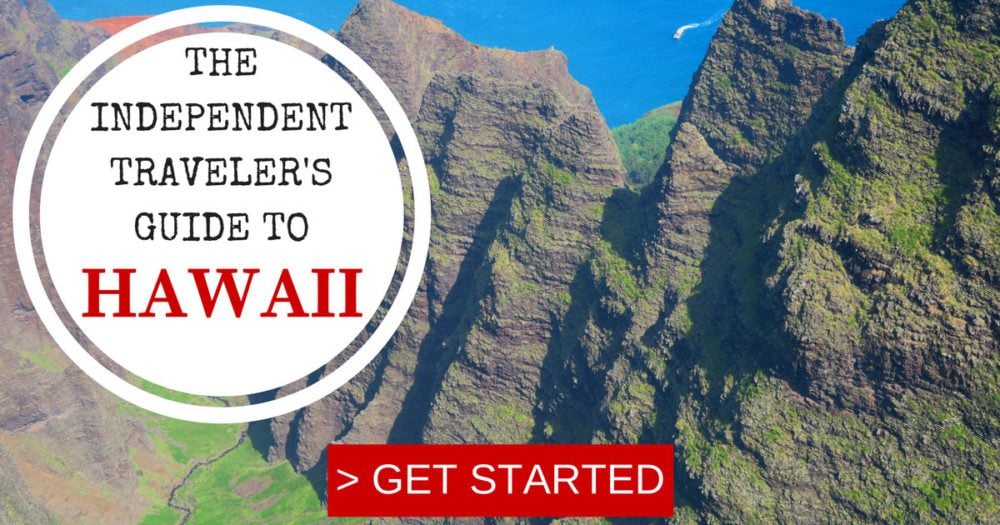 The Best Islands In Hawaii
Watch this video countdown of the top 5 islands in Hawaii (you might need to disable your ad blocker).
---
10. Kiholo Bay – The Big Island
Kiholo Bay is not only one of the Big Island's best black sand beaches, but it is another spot on the sunny Kona Coast where sightings of green sea turtles are almost guaranteed. Surprisingly, this long stretch of fine volcanic sand is not frequented by tourists, with paths heading south from the parking lot to secluded ponds and north along the beach to the turtle's favorite chill-out spots in and around a freshwater pond. Those with a bit of extra energy can keep heading north, where the sandy beach meets a massive lava field. Oh, and if you just don't feel like leaving, you can even camp in Kiholo Bay.
9. Halawa Beach – Molokai
In one of the more "perfect" sights you'll ever see, the small twin bays that make up Halawa Beach form the opening path into the Halawa Valley – a lush and historical valley guarded by towering waterfalls. The beach is the ultimate way to wrap up a memorable guided hike in the valley, and, like nearly every other gem in Molokai, there's a good chance of having Halawa Beach all to yourself. Oh, and if pay close attention to your active schedule of napping, snorkeling, and swimming, you might even spot a few humpback whales breaching.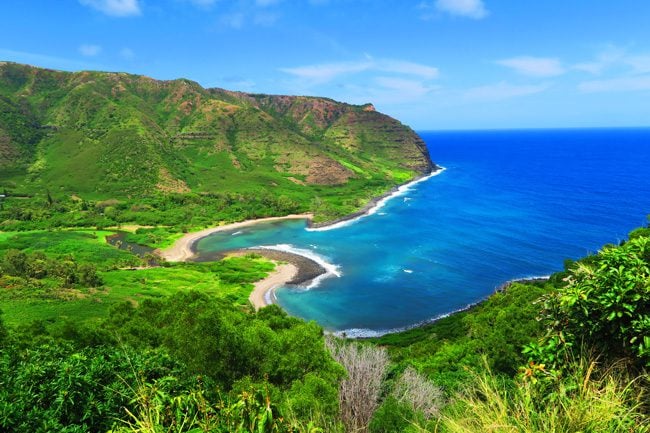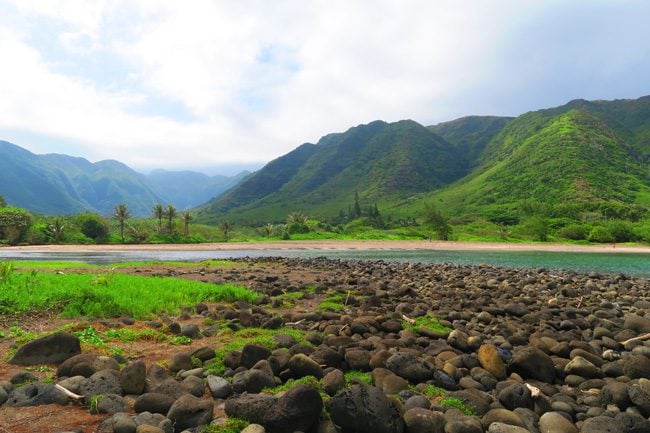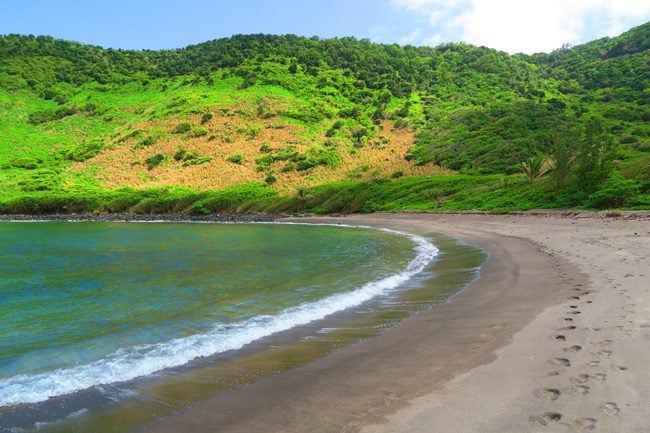 8. Big Beach – Maui
The most famous beach in Maui is certainly worthy of its name both in English and Hawaiian – Oneloa, which means "long sand" – with over a mile of fine golden powder which radiates in the South Maui sun. Despite the lack of palm trees, Big Beach is a real stunner, thanks to its intense sand and watercolors. Though swimming conditions are often rough, the beach attracts many bodysurfers who attempt to cruise its massive near-shore breaks. Big Beach also has a little surprise for those willing to rough it out. Hiding just beyond the pinnacle, which marks the western border of the Big Beach, Little Beach is slightly more secluded and… clothing optional. If you time your visit with the occasional drum circle, you might even get to party with Steven Tyler! Maui's Big Beach is part of Makena State Park (fees are required for non-residents).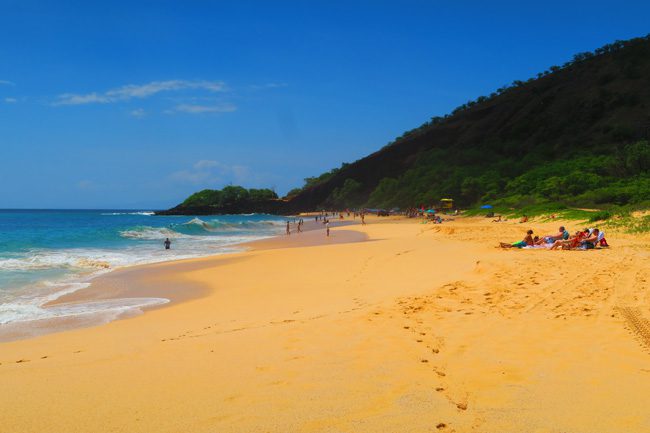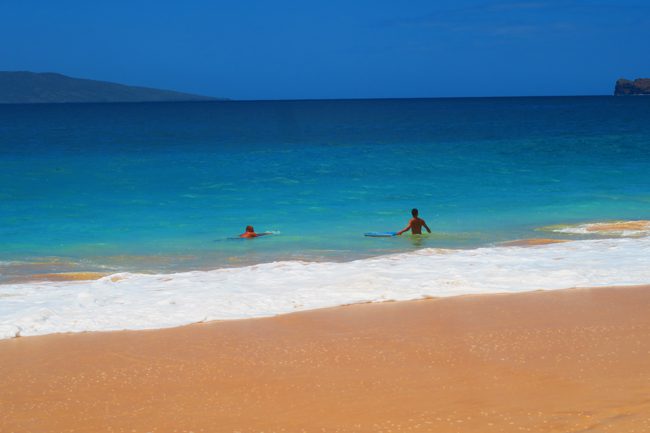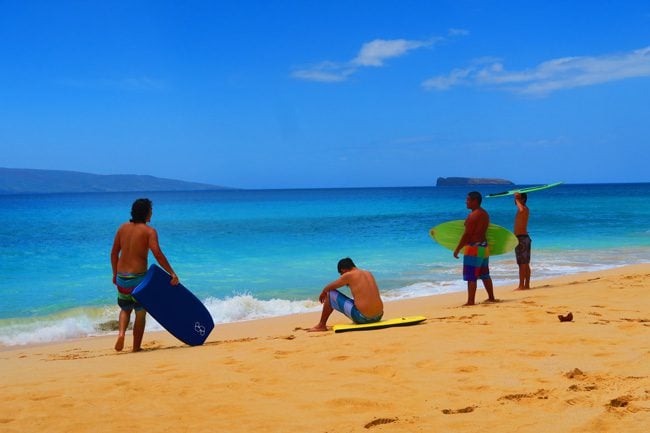 7. Lanikai Beach – Oahu
The native Hawaiians sure knew how to name their beaches, and Lanikai is yet another example of that. Meaning "heavenly ocean"; so white is Lanikai's sand and so blue are its waters that you might be deceived into thinking you're on a South Pacific beach. Lanikai and its more famous sister down the road – Waimea Beach – are fronted by a calm lagoon that attracts kayakers as well as beachgoers of all age groups. The beach is now more accessible than in years past, thanks to a series of narrow openings between million-dollar mansions, which are sadly also responsible for the erosion that Lanikai has recently exprienced.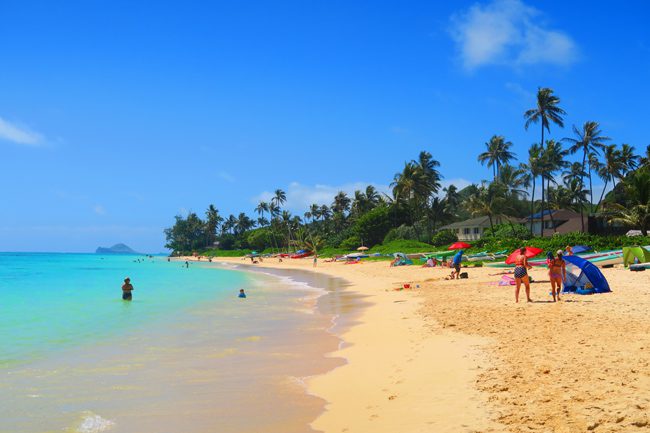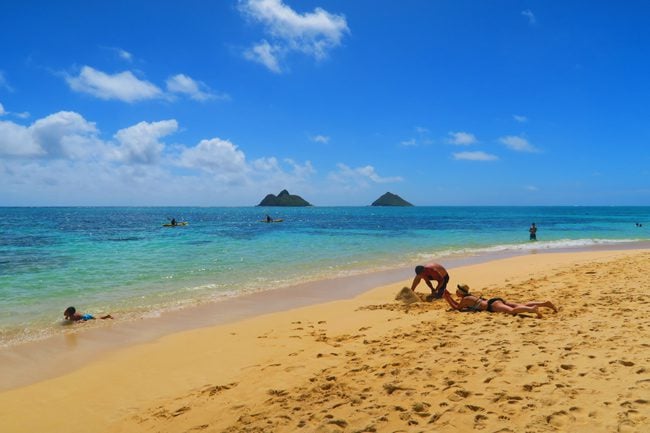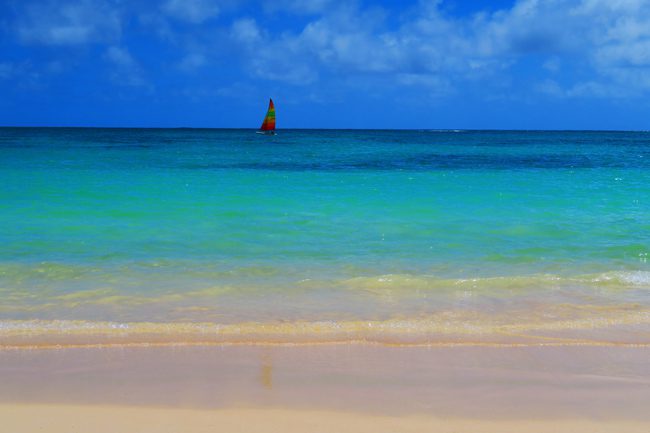 6. Hanalei Bay – Kauai
The largest and most impressive bay in Kauai, Hanalei Bay, is a playground for all age groups. It's where George Clooney went for a morning jog in The Descendants and where you'll simply want to park it for the day. The bay is so large that when it comes to beaches, there are quite a few of those dotting the creamy soft sand. On the calmer eastern end, Black Pot Beach and the famous pier offer shallow swimming, picnic grounds with facilities, and the opportunity to "sit on the dock of the bay". In the center of the bay, Hanalei and Waioli Beach Parks are popular with beachgoers and paddlers heading out to the deeper parts of the bay. The further west you head, the more secluded things get, and there's a good chance of finding your own spot.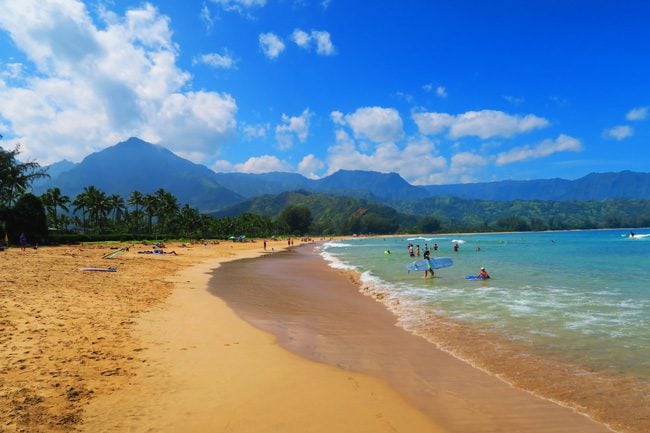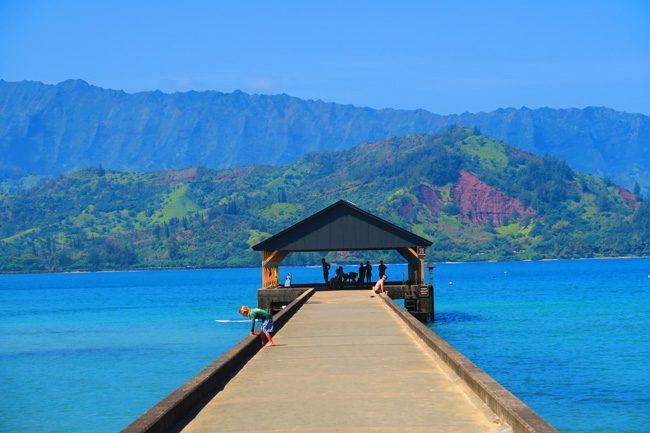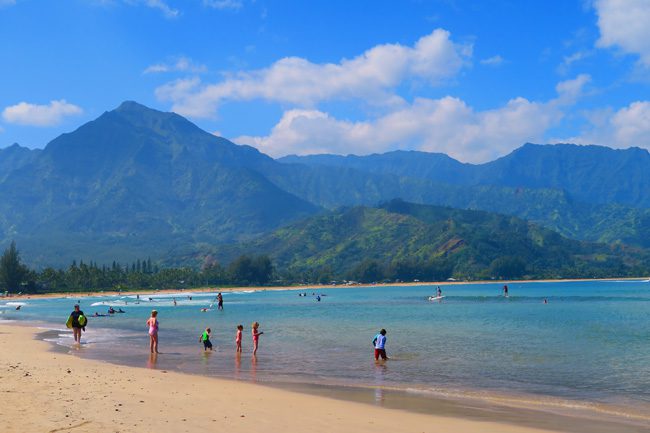 5. Mahai'ula Beach – The Big Island
Another Kona Coast gem from the Big Island, Mahai'ula Beach, is part of Kekaha Kai State Park, which in itself is home to a series of magnificent beaches. Mahai'ula is that stereotypical tropical beach, a mix of salt and pepper sand, palm trees galore, beautiful azure waters and sea turtles hanging out near the sloping shoreline. But Mahai'ula Beach's "X-factor" is its remoteness, reached only by "those who know" via a sweaty hike over an exposed lava field or by driving a few miles on a rough unpaved road (totally doable with a 2WD). From Mahai'ula, you can also hike to nearby Makalawena Beach.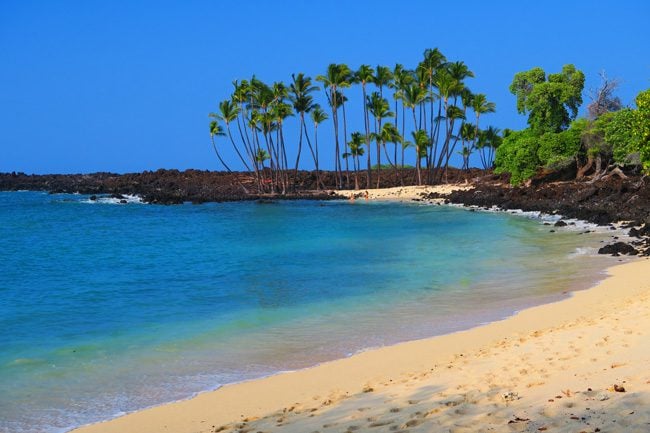 4. Green Sand Beach – The Big Island
The last Big Island beauty to make this list of the top beaches in Hawaii, Papakolea Beach – better known as Green Sand Beach – is a peculiar sight considering that sand on Big Island beaches is either white, black or a mix of both. But thanks to finely eroded sand from unique volcanic rocks in the area, Papakolea gets its special color and awards visitors with an excuse to drive all the way to its remote location in the South Point peninsula. The Green Sand Beach is reached via a scenic and easy coastal hike and is best visited on a clear day at around noon when the sun shines directly above the beach. Swimming is said to be rough, but on the day I visited, the water was simply perfect!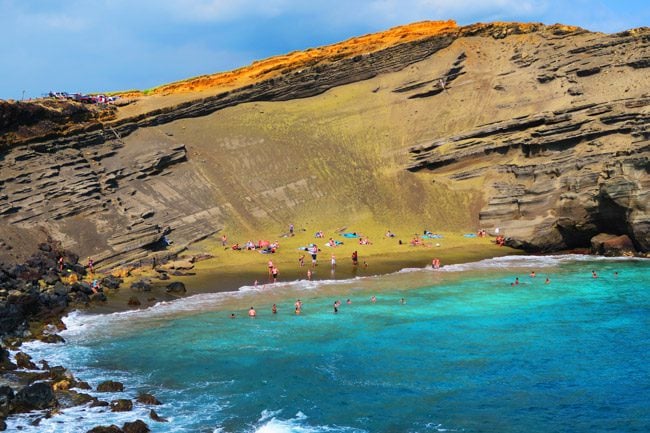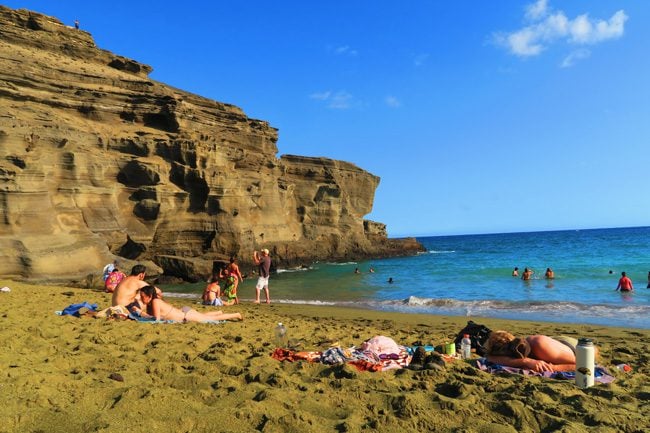 3. Kawakiu Beach – Molokai
Kawakiu Beach is found on one of the more remote corners of one of the least visited of the main Hawaiian Islands. Comprised of a series of beaches, one of which is even blessed with a natural wading pool, you can easily find your own secluded cove and stay there for the entire day. The southern cove is the main beach, but if you head north along the limestone sea cliffs, you'll reach the more secluded spots where you'll likely not see a soul.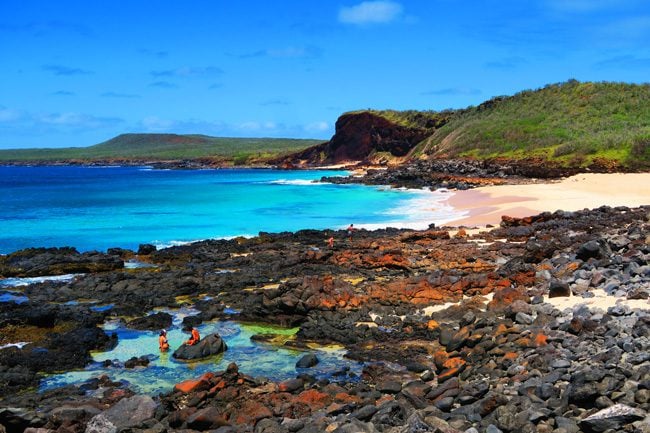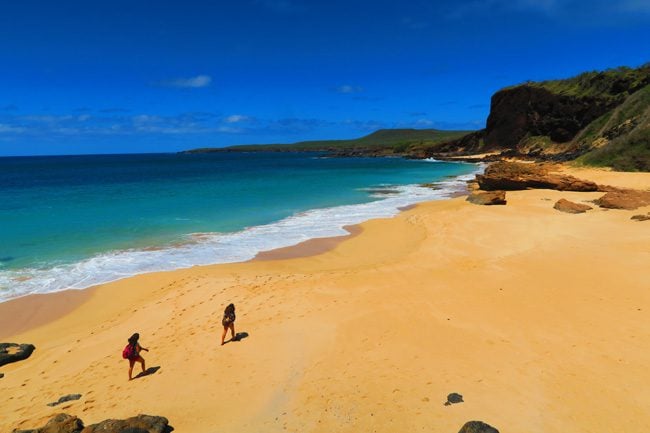 2. Red Sand Beach – Maui
So far. We've visited white, black, salt and pepper, and even green sand beaches. But red? This you have to see! Officially known as Kaihalulu Beach, you don't have to be Einstein to understand why this gem is better known as "Red Sand Beach". Yet another unmissable stop along the famous Hana Highway – one of the best scenic drives in Hawaii – the sheltered beach is guarded by sharp pinnacles rising out of the shallow waters just a few meters offshore, which create a small zone that is safe for swimming. The Red Sand Beach is also a great place for a picnic lunch or simply stretching your legs before heading back to the scenic road.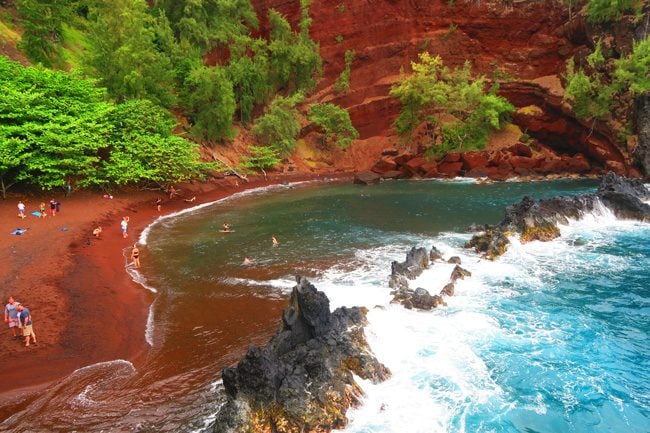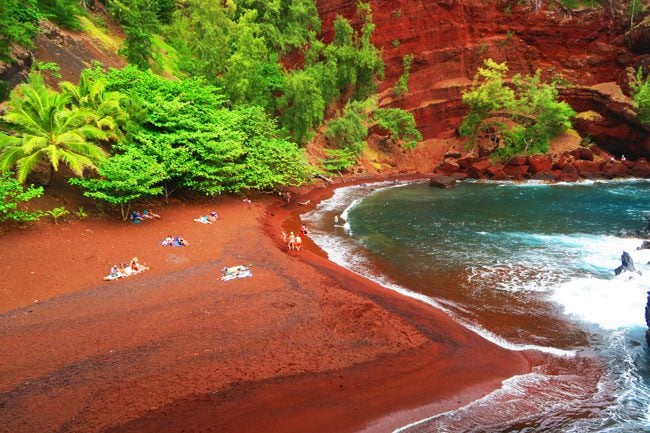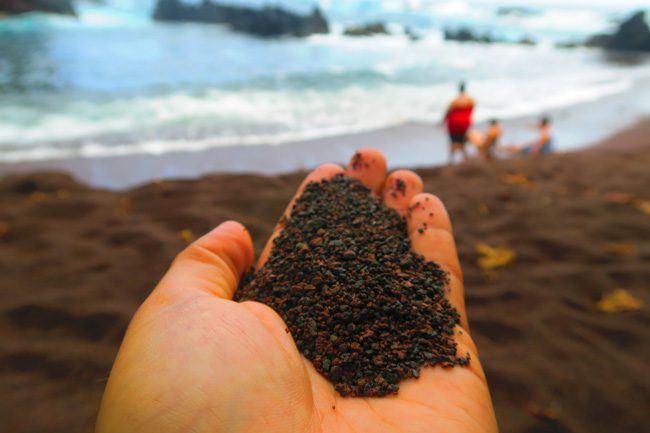 1. Tunnels Beach – Kauai
In an island chain blessed with so many fine beaches, Makua Beach – better known as Tunnels Beach – takes the top prize. With crystal clear waters and the signature "Bali Hai" cliff looming, Tunnels is your stereotypical vision of a Hawaiian beach. Aside from long walks with the soft sand melting between your toes, swimming, and of course, hours of just gazing at the awesome views, don't forget your mask and snorkel because when the ocean is calm, Tunnels Beach is one of the best snorkeling spots in Kauai.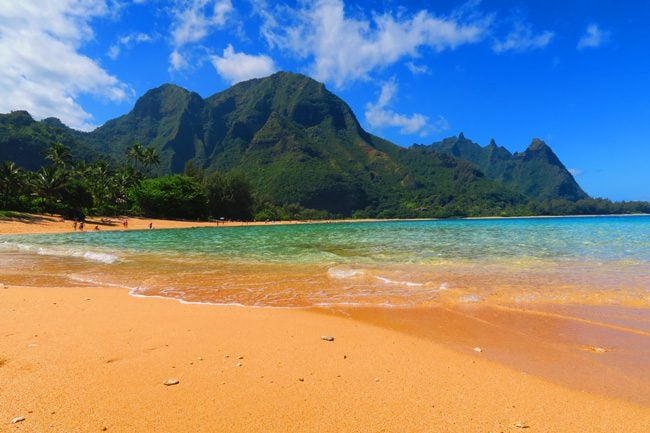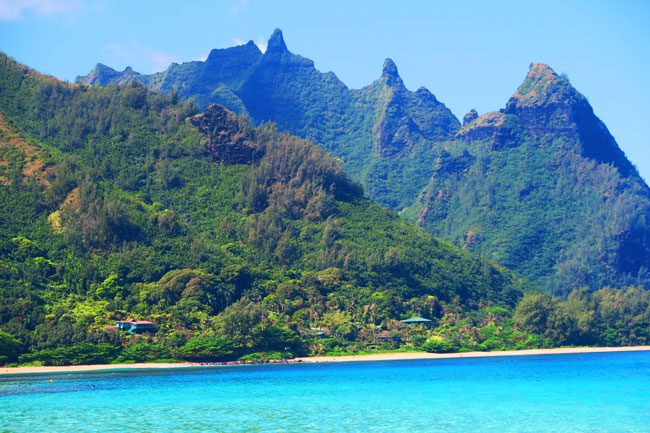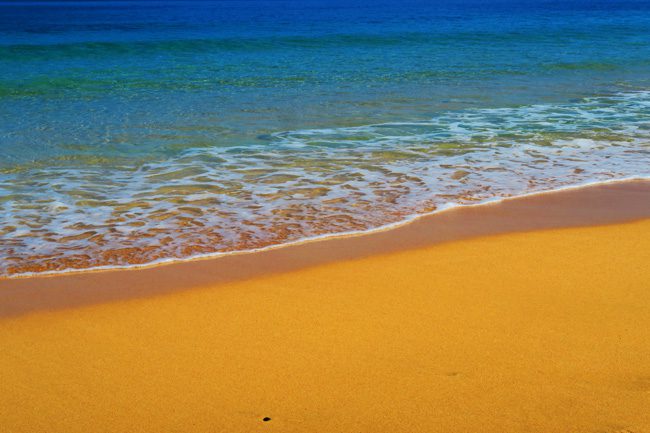 More From Hawaii
There you have it, the top beaches in Hawaii! Want to see more of paradise or planning a visit to the islands? Sample itineraries, guides to the best spots, and the must-see highlights in five islands are all waiting for you in the Hawaii Travel Guide collection. Aloha!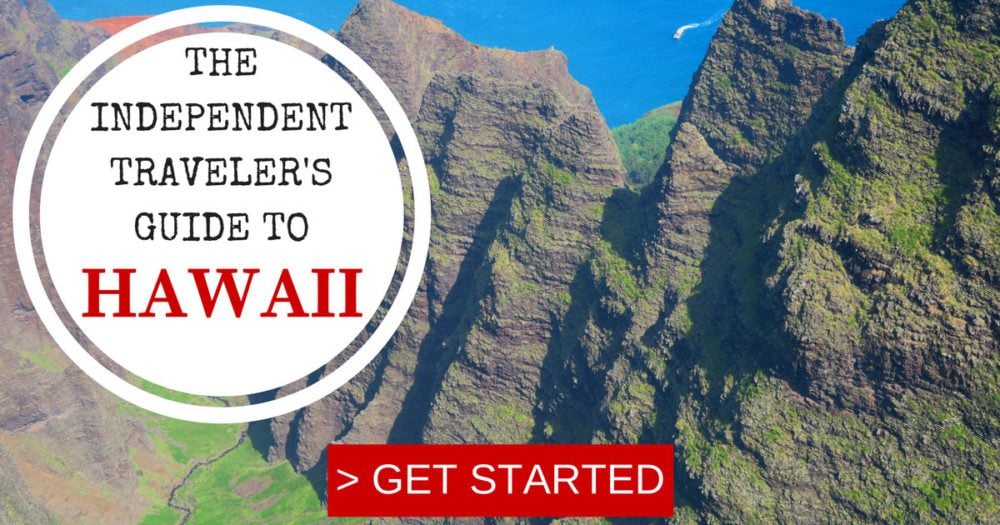 Hawaii, Tailor Made!
The Hawaiian islands are among the last places to be colonized by mankind, five main islands, each with its unique personality.
Get expert advice and assistance with planning your trip to the destination where tropical dreams come true!
---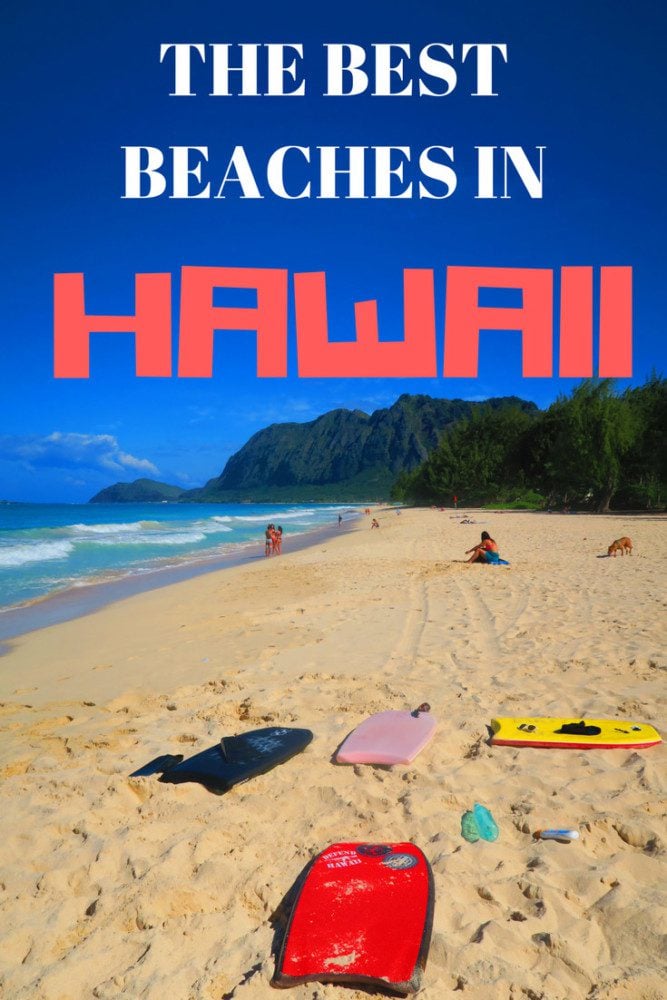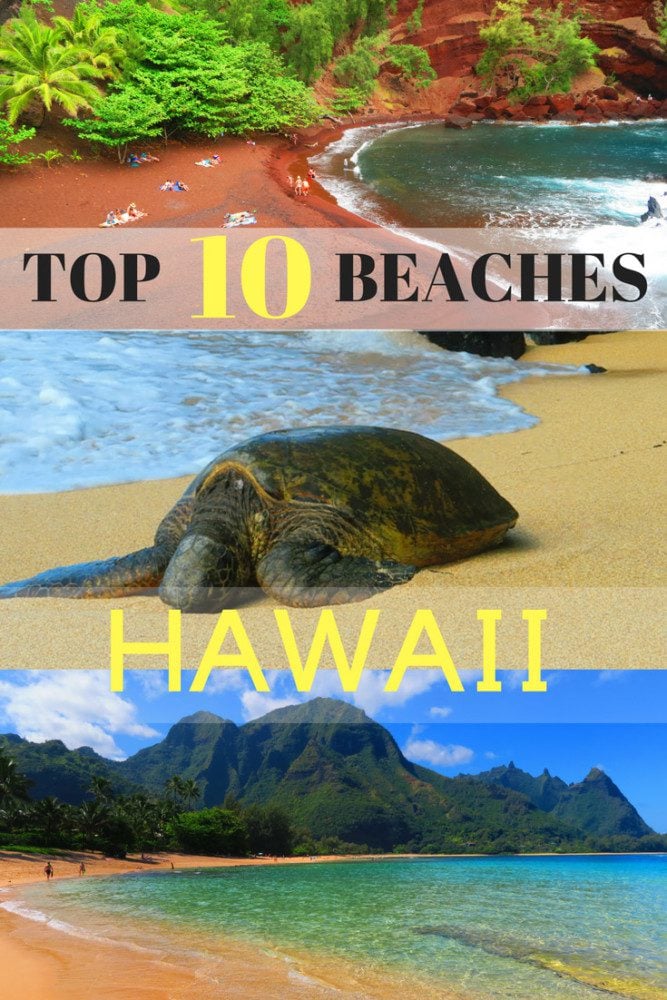 Pin These Images To Your Favorite Boards!