Japan's second largest city is often overlooked by first-time visitors on their way to and from Kyoto. A historical city where tradition meets neon lights and the birthplace of many of your favorite Japanese dishes, Osaka is worth an overnight stop. Here are a few ideas on how to spend 48 hours in Osaka.
Where to Stay?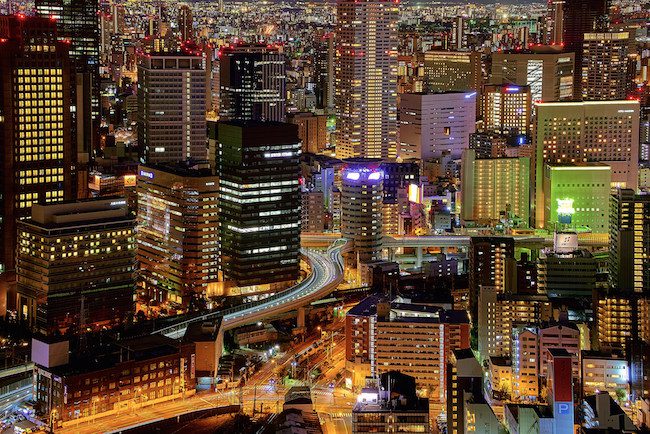 Image via Flickr by Pedro Szekely
In a city with over 19 million inhabitants, Osaka has no shortage of accommodations to choose from. From pampering Osaka luxury hotels in the center of town to budget-friendly options that will suffice for one night, the area in and around the Dotonbori district will put you close to all the action and to the Namba central train station.
Osaka Aquarium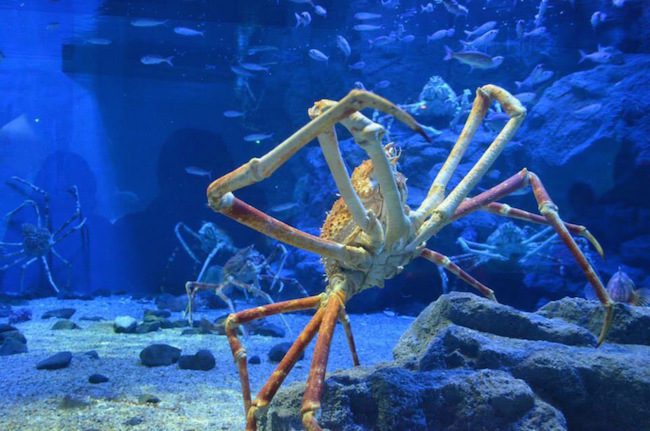 Image via Trover by Phayds
The Osaka Aquarium Kaiyukan is one of the largest aquariums in the world, and if you have yet to see a whale shark in your lifetime–this is your chance! The aquarium features marine life from the Ring of Fire area of the Pacific Ocean. Visitors work their way down a spiral-shaped setup that covers over a dozen separate exhibitions. Aside from the whale shark–the aquarium's marquee draw–you'll encounter stingrays, manta rays, penguins, seals, and, of course, lots of sharks!
Opening hours: Every day from 10 a.m. to 8 p.m.
Tempozan Ferris Wheel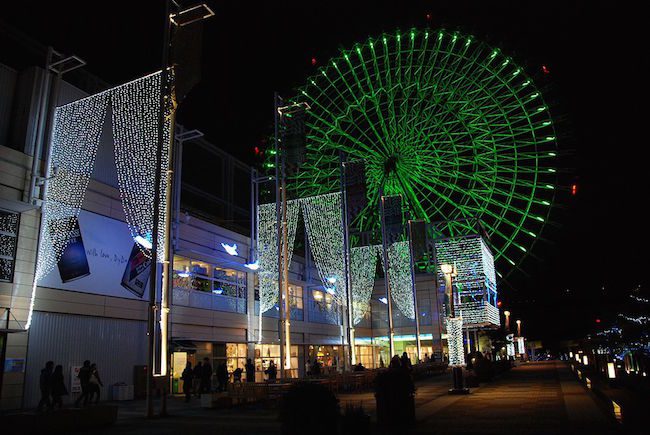 Image via Wikimedia by: jetsun
A five-minute walk from the aquarium, Osaka's ferris wheel boasts a 17-minute ride high in the sky for great views of the mega city. As the wheel turns, you'll catch bird eye views of Osaka Bay, the city, and even the surrounding mountains on a good day. This ferris wheel also doubles as a weatherman, with colors providing tomorrow's forecast lighting up the wheel
Pro tip: Purchase an aquarium/ferris wheel combo ticket to save a few hundred yen.
Osaka Castle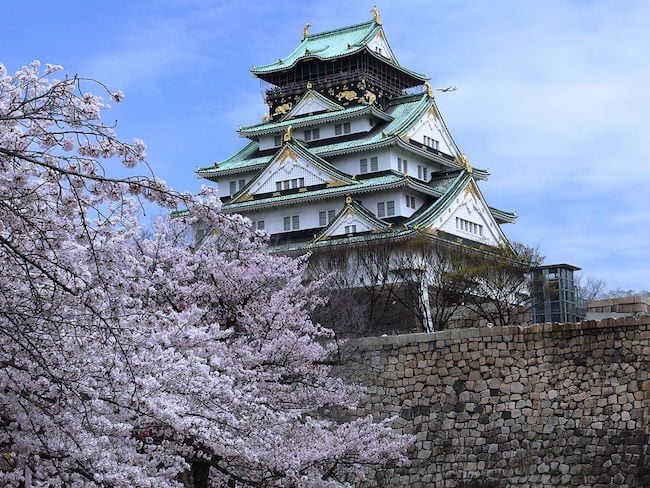 Image via Wikimedia by: Mc681
This 16th-century castle is one of Japan's most famous landmarks, playing a significant role in the period of the nation's unification. For Western eyes, this may not even look like a castle at all. The Osaka Castle is best visited in the morning hours before the crowds arrive, or better yet, during the cherry blossom season (March/April).
Opening hours: Every day from 9 a.m. to 5 p.m.
Food and Nightlife in Dotonbori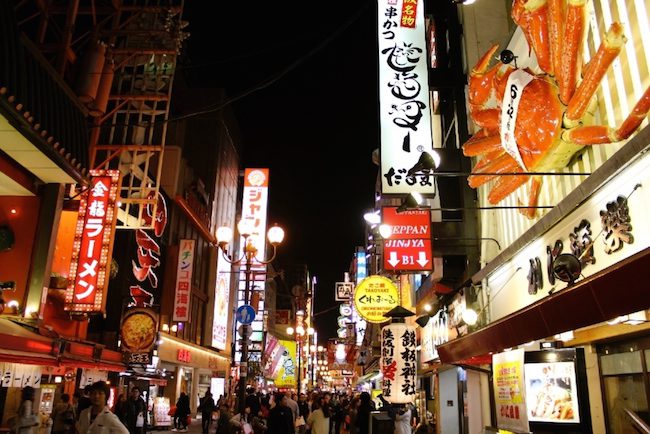 Image via Trover by: Free Your Mind Travel
Osaka's busy Dotonbori district is best appreciated in the evenings. With the company of neon-lit signs (not to be missed are the Glico running man and Doraku crab signs) and thousands of locals doing some shopping or grabbing a bite to eat, this is Japan's mega-city as you probably pictured it. Osaka is known as the "nation's kitchen," and it's the perfect place to let loose and try everything. Not to be missed are the okonomiyaki (shredded cabbage pancake) and takoyaki (flour-based balls)–two local specialties that come with yummy fillings. The area is packed with street food stalls, but for the authentic experience, head inside the izakaya (traditional tavern) of your choice.
Pro tip: Head to the historic Hozenji Yokocho alley for an authentic experience.
This just scratches the surface but should keep you plenty busy in your 48 hours in Osaka!
This post was made possible by IHG Hotels.