San Diego Weekend Excursion: Ocean, Mountains and Desert
In what is actually considered a semi-arid climate, San Diego County has more open space than any other large city in California. In fact, within 75 miles of its city limits, exists the largest State Park in California. Join me for an all-inclusive, weekend adventure that gives you a distinct experience in three unique spots. We'll surf at the beach, hike to a famous granite peak in the mountains and zip around the cactus-laden desert in a 4-wheeler ATV. And if that wasn't enough, our home for the evening is located in an internationally recognized dark-sky zone.
This guest post is written by Kevin Surrey, a San Diego native surfer and outdoor enthusiast. Join Kevin on a San Diego Weekend Excursion and experience the best outdoors of San Diego in a single weekend.
Stop 1: Mission Beach, San Diego
After setting up our morning camp, it's time for a surf session. Tips for beginners will help them catch their first waves while those not into surfing can explore the area at their own pace. Mission Beach has more attractions than any other beach in San Diego, so if surfing isn't your bag, no problem…rent a bike and cruise along the 3-mile oceanfront boardwalk, take in a ride on the famous 'Little Dipper' roller coaster of Belmont Park as it climbs to a vantage point or simply relax at water's edge. Come noon, we break down camp, sound the horn and load up in the van to head out 47 miles eastward to the mountains.
Stop 2: Rancho Cuyamaca State Park – Stonewall Peak
What was originally established as a gold-mining operation, is now a state park popular among many Southern Californians for birdwatching, hiking and camping. Here, at 4,885′ elevation, we set out on foot for a 3.8-mile round-trip hike to Stonewall Peak. A climb of 840′ takes us to a summit resting atop a staircase of granite rock. From here, you've got a 360-degree panoramic view of surrounding peaks. Look to the east from Stonewall Peak, and you'll see down to sea level our third and final stop: Anza-Borrego Desert State Park.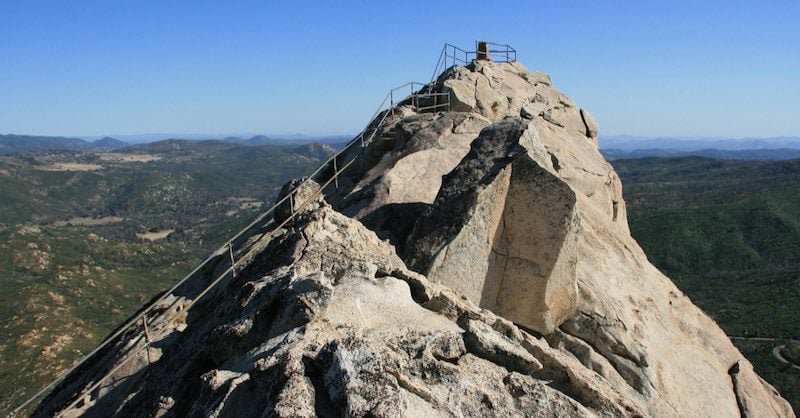 Stop 3: Fish Creek Campground – Anza-Borrego
Don't be fooled by the name, there aren't any fish nor is there a stream, however this primitive campground is the entry-point to Split Mountain. Named appropriately, Split Mountain is "split" down the middle allowing the passage of cars along its flat-bottom canyon. As the road makes its way deeper into the canyon, the split becomes narrower and narrower until, at a certain point, a lifted off-road truck becomes necessary for passage.
One need not reach that point in order to be amazed by its geological wonder. Back out from the mouth of Split Mountain, we find our home for the evening: Fish Creek Campground. Relax at camp, as we prepare for an evening meal, and with a little luck from the heavens, a clear moonless sky to gaze at the infinite expanse. The following morning, we set out early to pick up our 4-wheelers and embark on a tour weaving around sand-dunes and "dry" river washes of Anza-Borrego Desert State Park.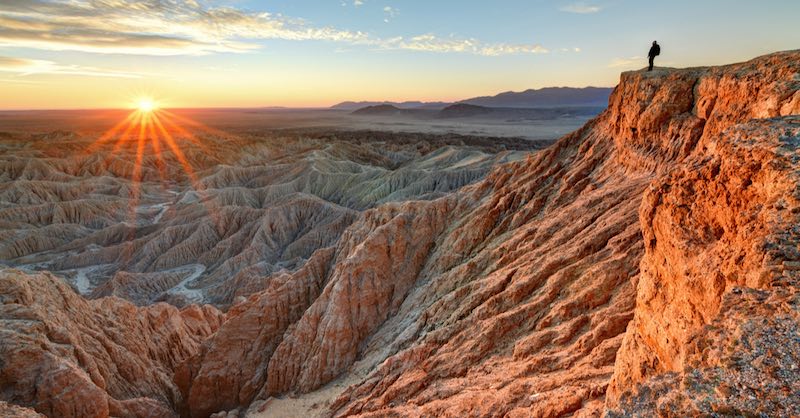 There's nothing wrong with each of these activities by themselves – millions do them every day all over the planet. However, given San Diego's unique geographical location, where each place is relatively close, you will find, as I have many times, that there is something more, something magical, that goes beyond words one feels when experiencing the total.