3 Days In Yosemite Itinerary
One of America's most stunning national parks, a three-day visit to Yosemite presents the opportunity to unlock some of the secrets to its fairytale-like natural beauty. In this three days in Yosemite itinerary, we'll visit the park's main attractions and take on the challenge presented by some of its finest hiking trails.
I first visited Yosemite on a family trip back in the mid-90s and recently returned to thoroughly explore the national park. I spent five days driving and hiking in Yosemite as part of a long road trip in the American Southwest. This three days in Yosemite itinerary is based on extensive research and experience.
Why Visit Yosemite?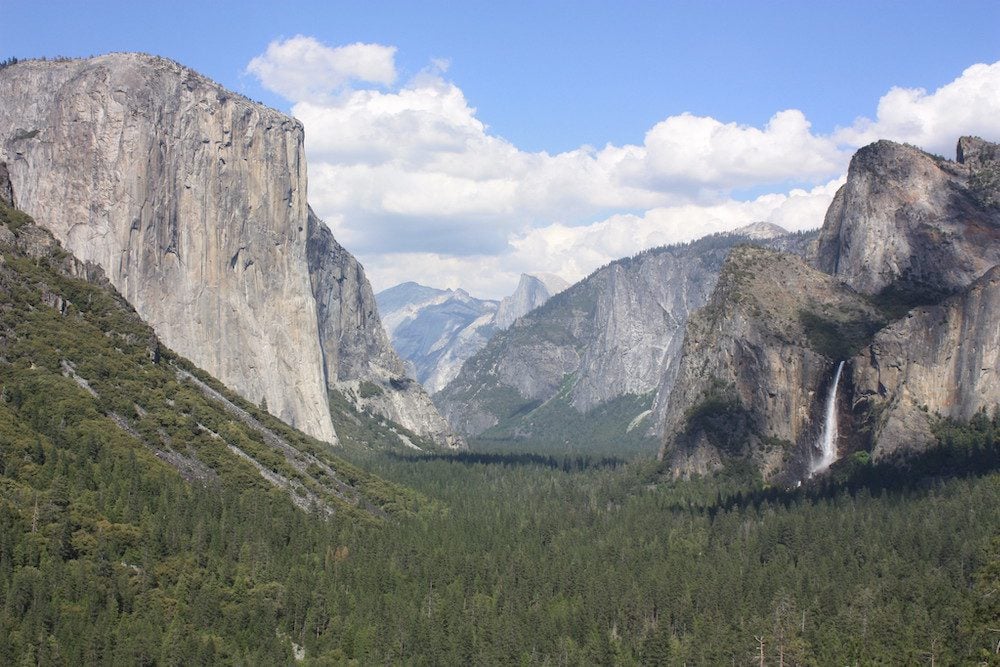 Yosemite Valley
Yosemite Valley is striking from every angle and at every hour of the day. The valley's grassy meadow appears detached from the outside world by colossal granite cliffs, some of which are tearing with waterfalls.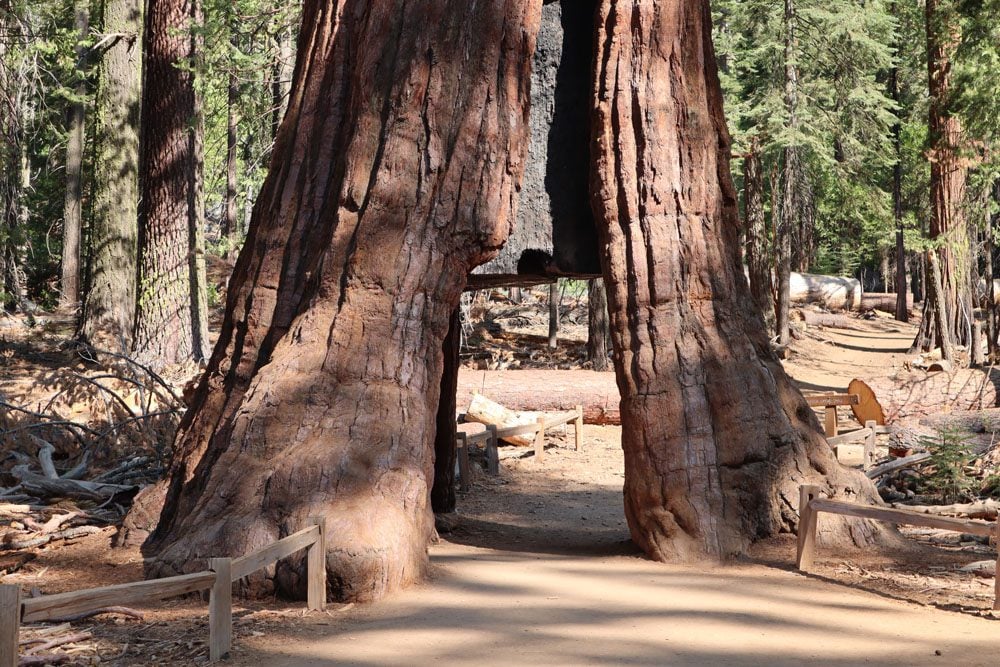 Giant Sequoias
At the edges of the national park, groves of giant sequoia trees have been aiming for the sky for thousands of years. Walking amongst these ancient giants helps to put life in perspective.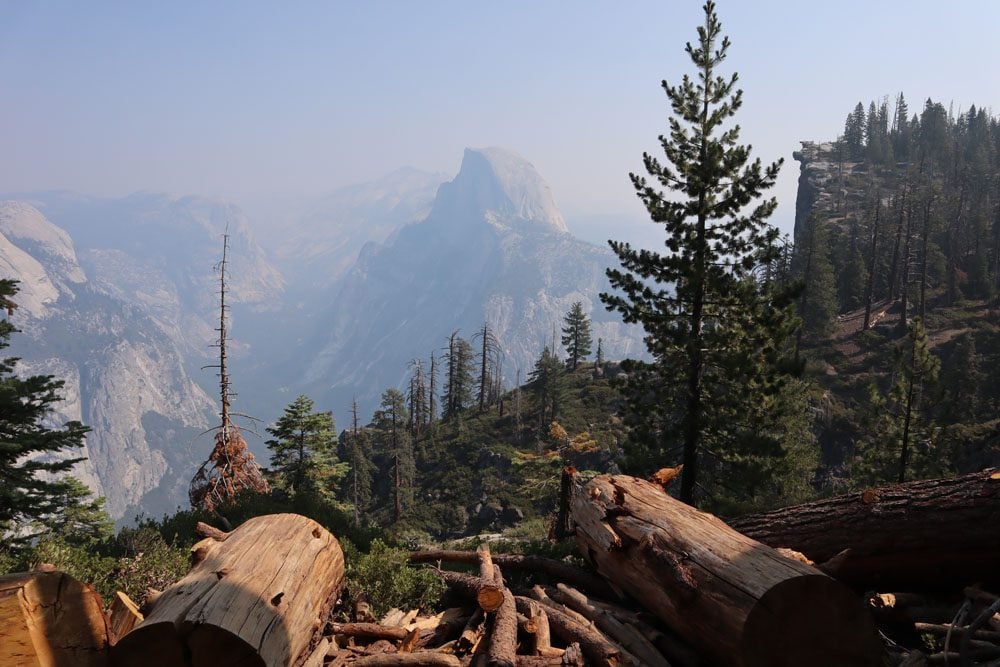 Superb Hiking
Over 800 miles of hiking trails beckon visitors to put on their outdoor shoes and explore Yosemite on foot. When overnighting in Yosemite, an opportunity for serious hiking is unlocked.
Additional Yosemite Resources
Check out the Yosemite travel guide collection for additional information, including essential Yosemite planning tips, the best hikes, and top things to do.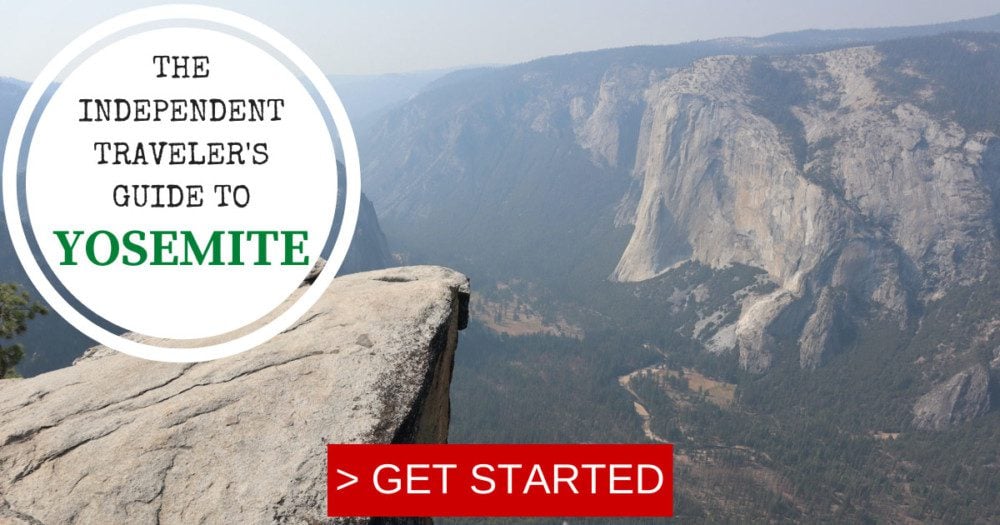 What's Included in this Yosemite Itinerary?
This 3 days in Yosemite itinerary is split into three sections:
Day 1: Yosemite Valley, Vernal & Nevada Falls
Hiking Half Dome
Rising to a height of 8,842 feet (2,695 m) and 5,000 feet purey from the floor of Yosemite Valley, the smooth and curved Half Dome is Yosemite's most iconic peak. If you have three days to spend in Yosemite, it is possible to hike to the summit of Half Dome if you have secured a permit.
Where to Stay in Yosemite?
Driving in and out of Yosemite each day will reduce your sightseeing time as distances are long and the average speed is low. If possible, it's best to overnight inside Yosemite National Park in one of the park's lodging options. Advanced reservations are required when visiting Yosemite during peaks months.
For a pampering hotel stay, Yosemite Valley's luxurious Ahwahnee is the top option along with the historic Wawona Hotel, on the southern Mariposa Grove side.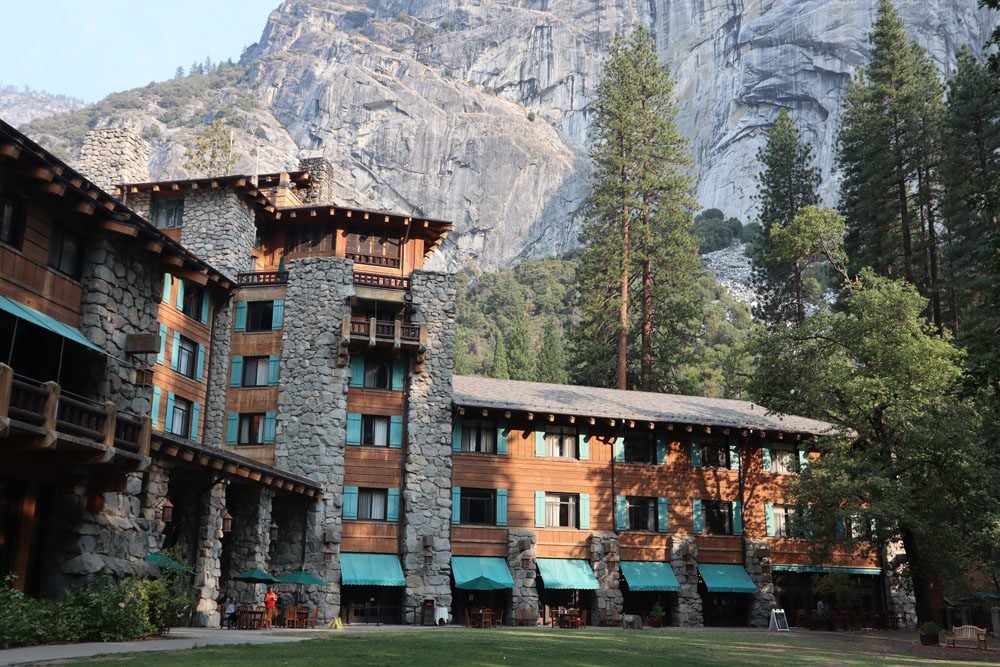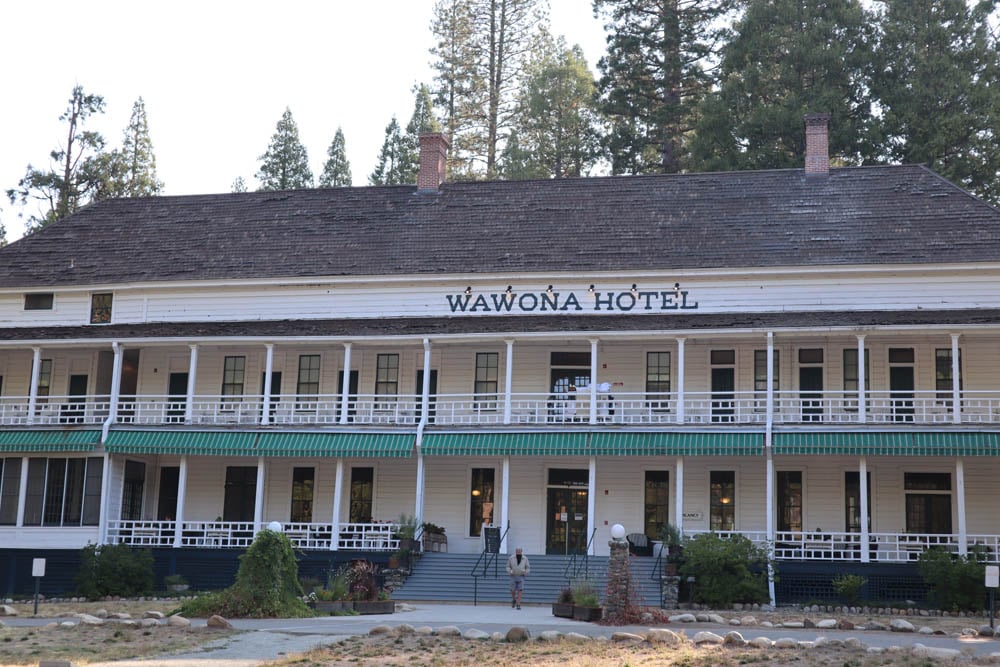 For a more basic stay in Yosemite Valley, try one of the lodges or campgrounds. The Yosemite Valley Lodge is the most upscale, Curry Village is large and has several types of cabins and tents, and the Housekeeping Camp is another comfortable option. There are also several campgrounds in Yosemite Valley, some of which operate on a first-come, first-served basis. From April through October, reservations at campgrounds can be very difficult to obtain and the first-come, first-served campgrounds often fill up early each day.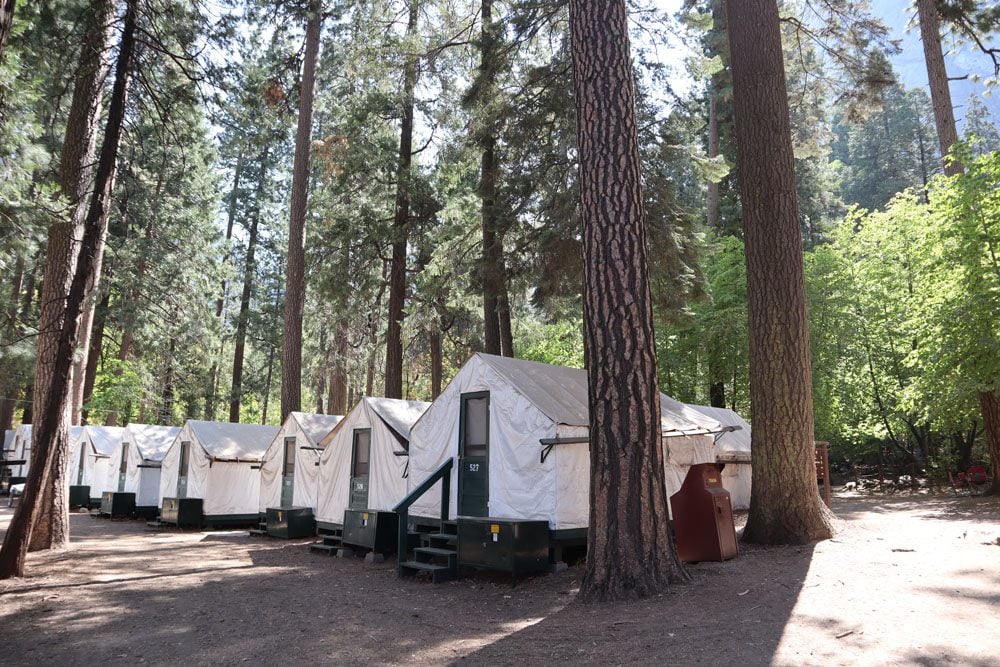 If no suitable accommodations can be found inside the park, check nearby options outside Yosemite (see all options here). Towns such as Groveland and Buck Meadows are near the western entrance to Yosemite, relatively close to Yosemite Valley, as is El Portal, close to the western entrance. Near the southern entrance, search for places in and around Wawona.
Three Days In Yosemite Itinerary Map
All places mentioned in this three days in Yosemite itinerary can be found on this companion map. Simply click on the image to open it in Google Maps.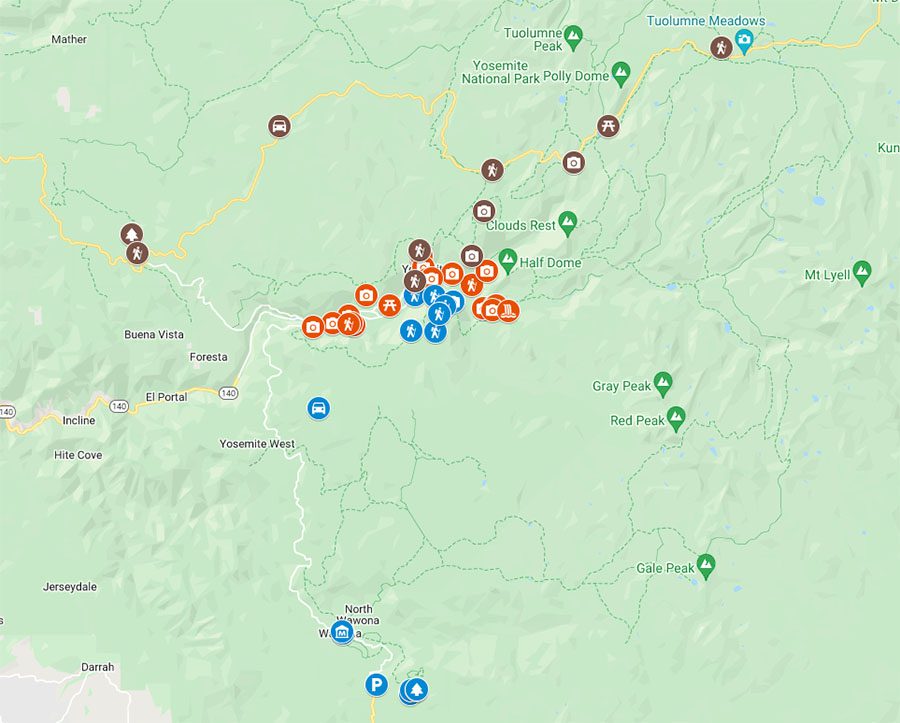 Day 1: Yosemite Valley
The first of the three days in Yosemite is fully dedicated to the national park's main attraction. Formed by receding glaciers, Yosemite Valley's stunning natural landscape of grassy meadows and waterfalls trapped by massive granite cliffs resembles a frame taken from a fairytale. Despite its relatively small size, you'll find many attractions in the valley, some of which are quick stops while others offer longer escapes.
Mist Trail to Vernal & Nevada Falls
Unlike Yosemite and Bridalveil Falls which run dry in the late summer and early autumn months, the hike to Vernal and Nevada Falls via the Mist Trail is rewarding even in the dry months. This challenging six-mile hike (9.7 km) into deep sections of Merced Creek is one of the best hikes in Yosemite and should take 3.5 hours or less to complete. Get an early start to not "clog" a busy sightseeing day in Yosemite Valley.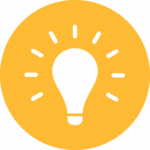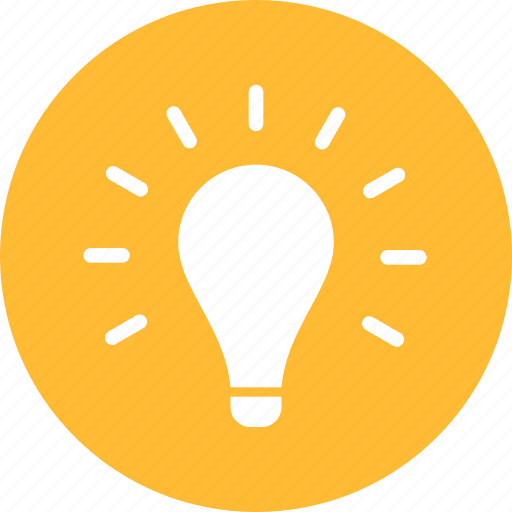 Pro Tip
The first half of the hike requires walking uphill most of the time. However, if this seems out of reach, you can just hike to Vernal Fall Bridge (0.8 miles | 1.3 km) and head back down.
If you got an early start, there's a good chance of finding parking at the trailhead. Otherwise, leave your car at Curry Village or take the free Yosemite Valley shuttle. The trail begins with a constant ascent up a paved path to Vernal Fall Bridge with beautiful vistas of Merced Creek throughout. At Vernal Fall Bridge you'll see the 317-foot waterfall from a distance but certainly, see feel its flow.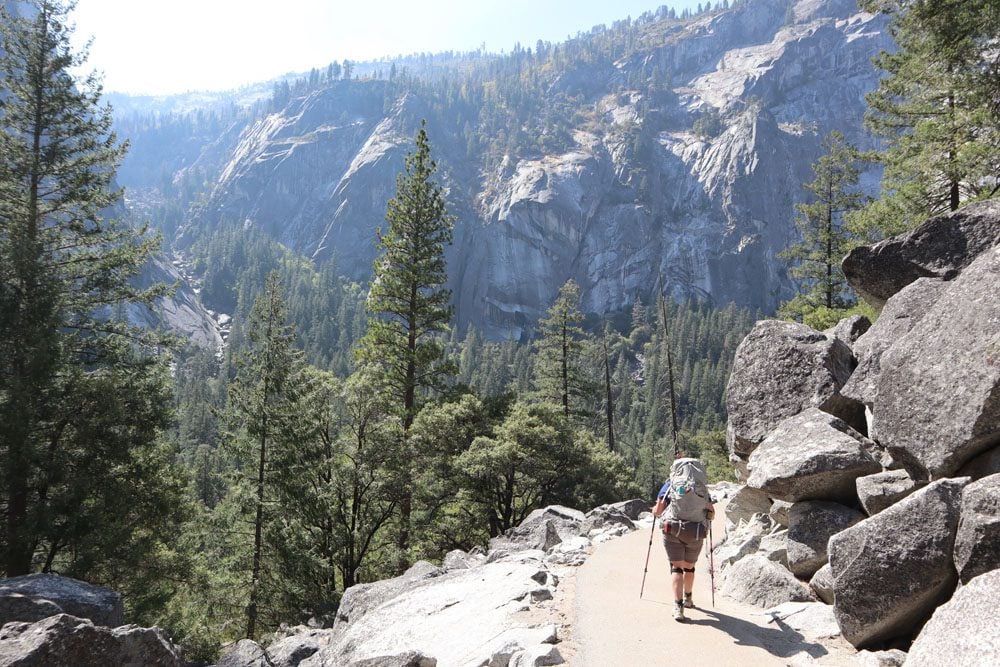 From Vernal Fall Bridge, you can link up with the Mist Trail and follow its hundreds of steps to the top of the waterfall. On this leg, you'll understand why the Mist Trail got its name as spray from the strong flow is tossed in the air. If the sun is shining, you might see a few rainbows.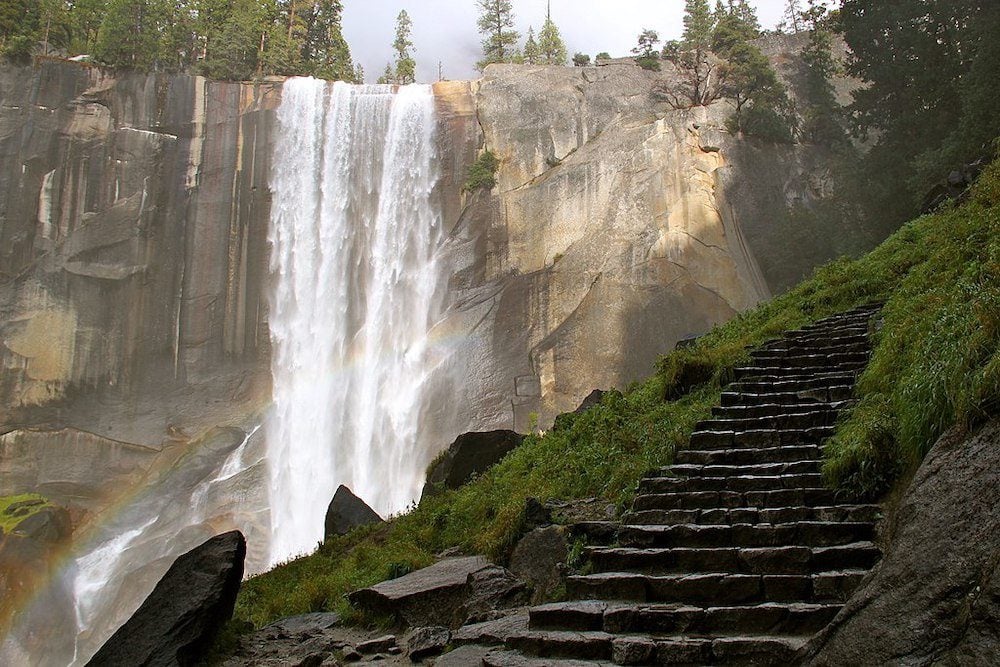 From Vernal Fall see the Emerald Pool from a safe distance (swimming is prohibited) or take a detour to scenic Clark Point, from where you'll catch nice views of Half Dome and Nevada Fall in the distance. From Clark Point, head back to the trailhead via the John Muir Trail or continue to Nevada Fall.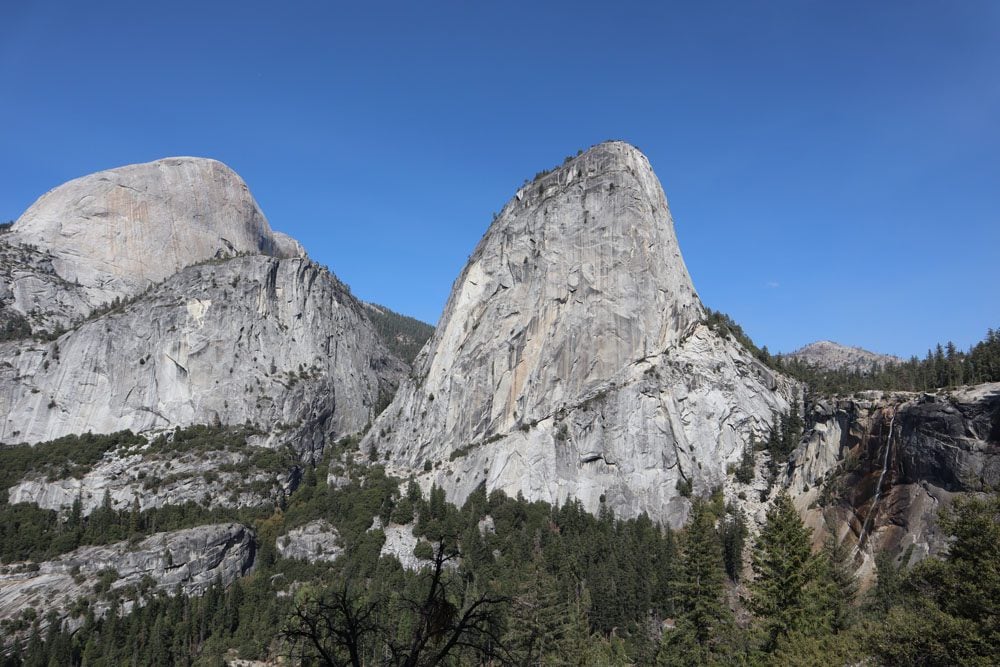 You can also simply continue from Vernal Fall on the Mist Trail to Nevada Fall (594 feet). This spot is simply out of this world, resembling a small oasis sheltered by the surrounding peaks. This is a great spot for a picnic lunch. From Nevada Fall, hikers with permits push further towards Half Dome but you'll head back on either the Mist Trail or the John Muir Trail if you want to see something a bit different on the way down.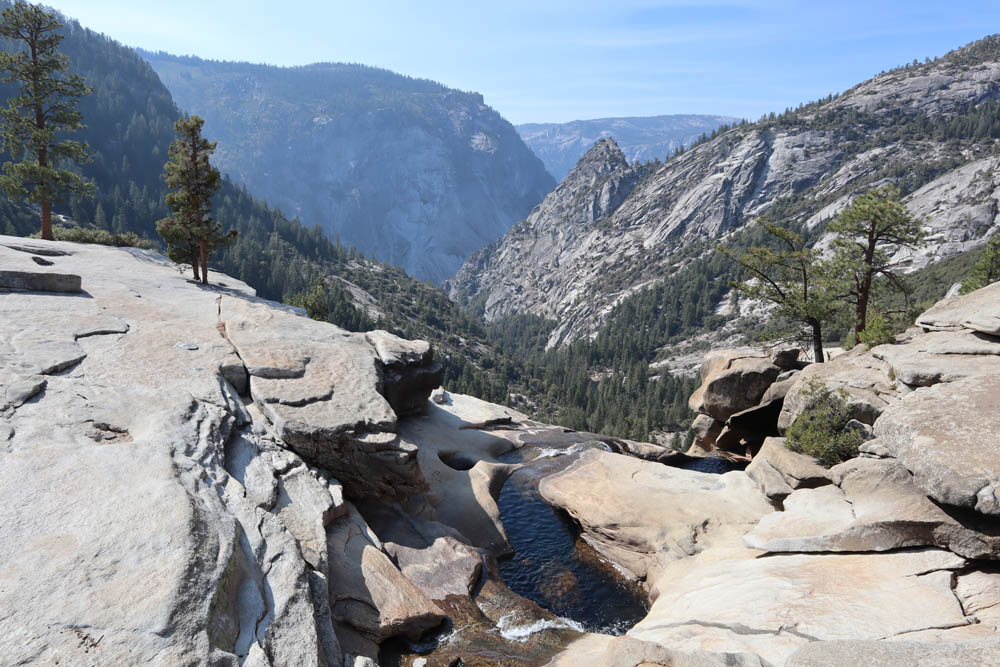 Walk to Mirror Lake instead
If hiking to the top of Vernal Fall and continuing to Nevada Falls is out of your scope, try hiking to Vernal Fall Bridge and back. Afterward, walk to Mirror Lake if it's spring or early summer. When Mirror Lake is not dry, visitors are rewarded with a beautiful reflection of Half Dome on the calm surface of the water.
The Ahwahnee Hotel
Back on the valley floor after the morning exercise, grab some lunch at Yosemite Village and visit the historic Ahwahnee Hotel. Opened in 1927, see how the structure blends into its surroundings with wood and rock on the exterior, and then head inside to see the exquisite interior decor, inspired by Native American motifs.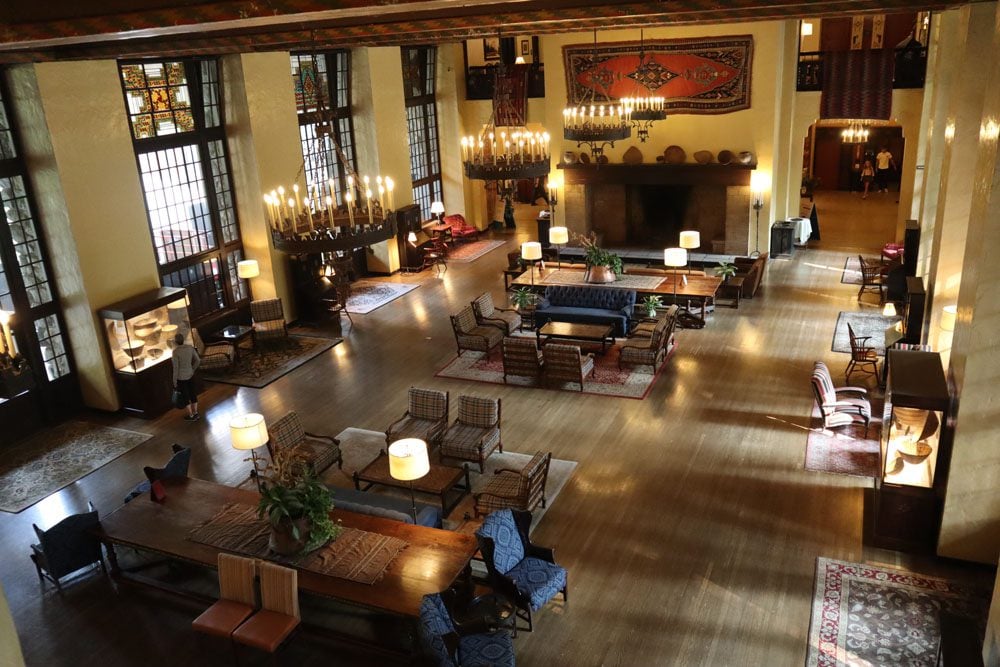 Sentinel & Cook's Meadows
Yosemite Valley's meadows take up the lush flat ground at its center. They provide wildlife with water and food, and visitors with an opportunity to escape the crowds and enjoy a unique vantage point of some of the valley's crown jewels. A short and easy trail loops around Cook's Meadow and Sentinel Meadow. Do all or part of the trail and keep your eyes peeled for wildlife.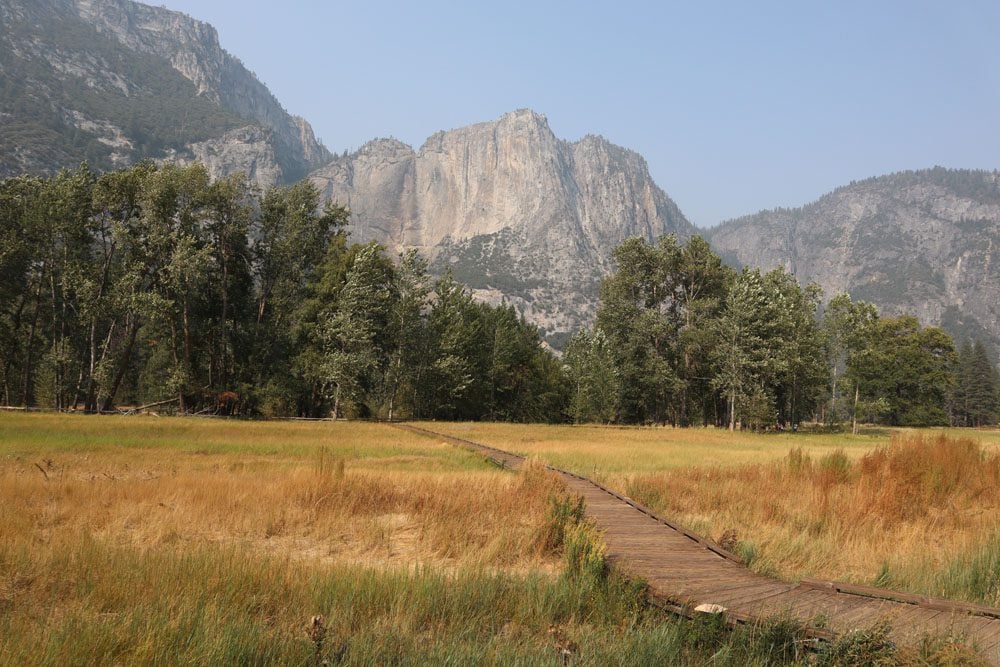 Yosemite Falls
One of Yosemite's top highlights, Yosemite Falls is actually formed by two waterfalls, Upper Yosemite Fall and Lower Yosemite Fall. When you combine the two with a section known as "the middle cascade", Yosemite Falls reaches a total height of 2,425 feet (739 m), crowning it with the title of "tallest waterfall in North America".
Yosemite Falls is best experienced during late spring and early summer when the snowmelt creates a serious flow. Come late summer, there is little left to see but giant boulders. If the waterfall is active, take the easy paved trail to the base of Lower Yosemite Falls.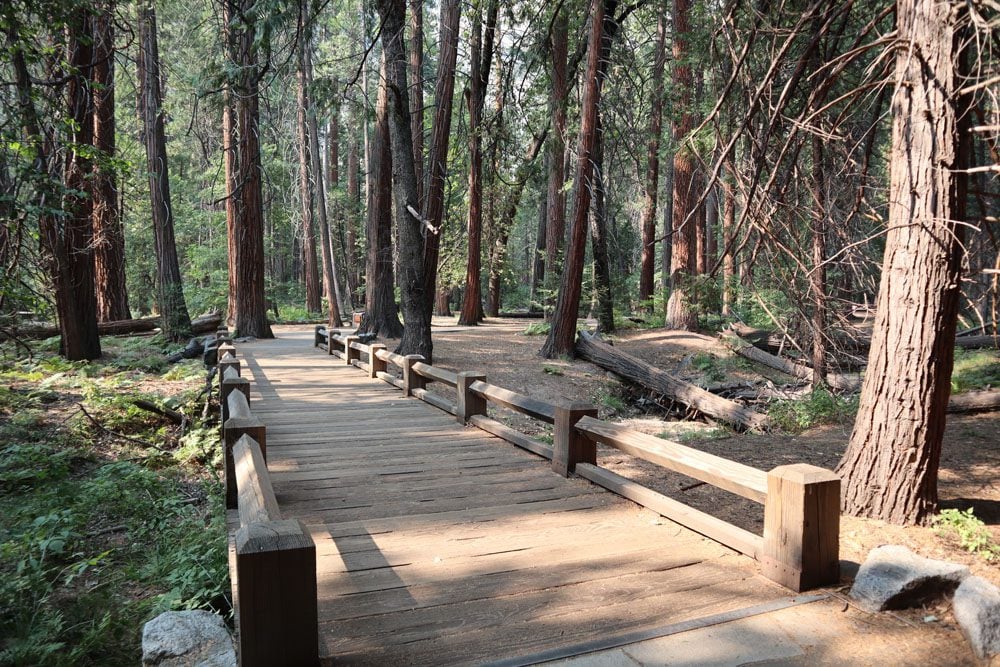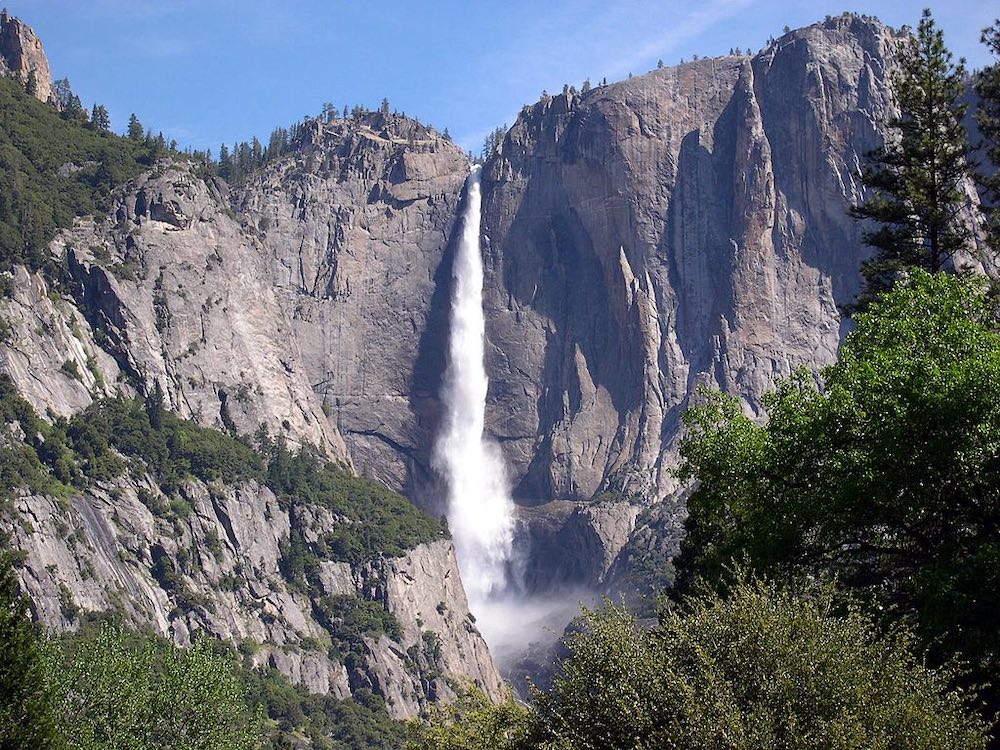 El Capitan
El Capitan is synonymous with Yosemite, a giant granite monolith that touches the sky at an elevation of 3,593 feet (1,095 m). El Capitan draws some of the world's best rock climbers who descend on the valley on a quest to conquer the beast. If you're not a rock climber, it is possible to hike to the summit of El Capitan from Yosemite Valley but, on this day, admire El Capitan from the valley floor in spots along Northside Drive between El Capitan Picnic Area and the Hanging Valley Viewpoint.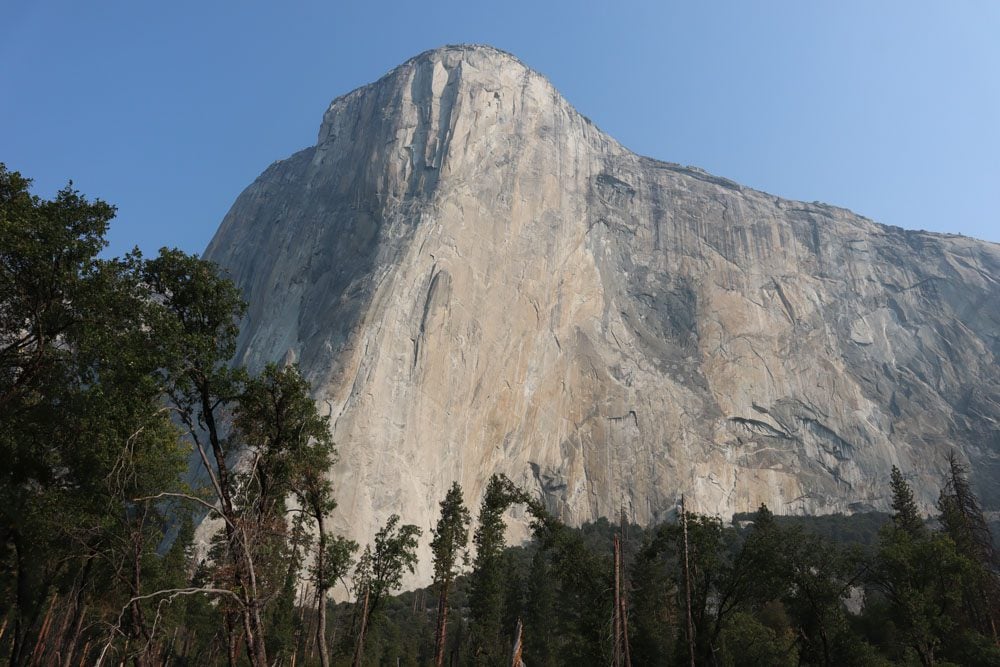 Hanging Valley Viewpoint
This spot captures Bridalveil Fall and the Merced River in a single frame. It's best to come here in the afternoon when the sun is high in the sky or has already well-transitioned west. In case you're wondering what the "hanging valley" is, try spotting the flat area that runs deep inland at the top of the waterfall.
Yosemite Valley View
Also known as Valley View, this is one of the finest scenic lookouts in Yosemite where many iconic images of Yosemite Valley were taken. On a calm day with little wind, the valley's grandeur is reflected on the surface of the calm water.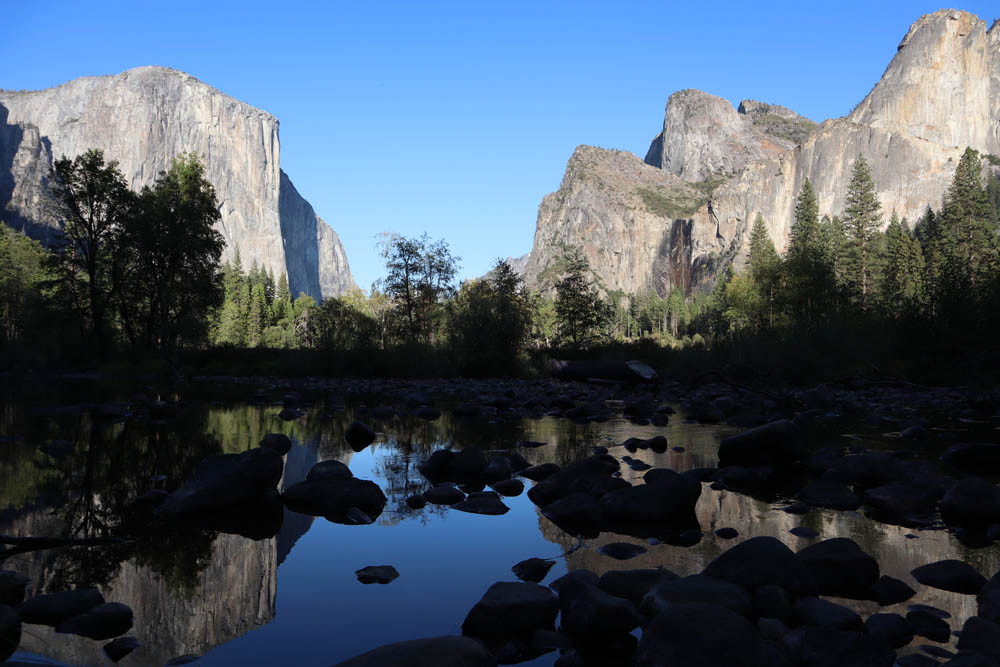 Bridalveil Fall
Bridalveil Fall is another iconic natural feature in Yosemite Valley but come late summer and early fall, it slows down to a trickle. The native Ahwahneechee called this area pohono, meaning "spirit of the puffing wind" and European-Americans named it Bridalveil Fall because of the veil-like effect when the wind tosses the water in the air. Bridalveil Fall is dwarfed by the massive cliffs surrounding it but it actually cascades from an impressive height equal to a 62-story building (620 feet | 189 m). Stop at Bridalveil Falls Viewpoint to catch your first view of the waterfall and then take the short trail to inspect it from up close.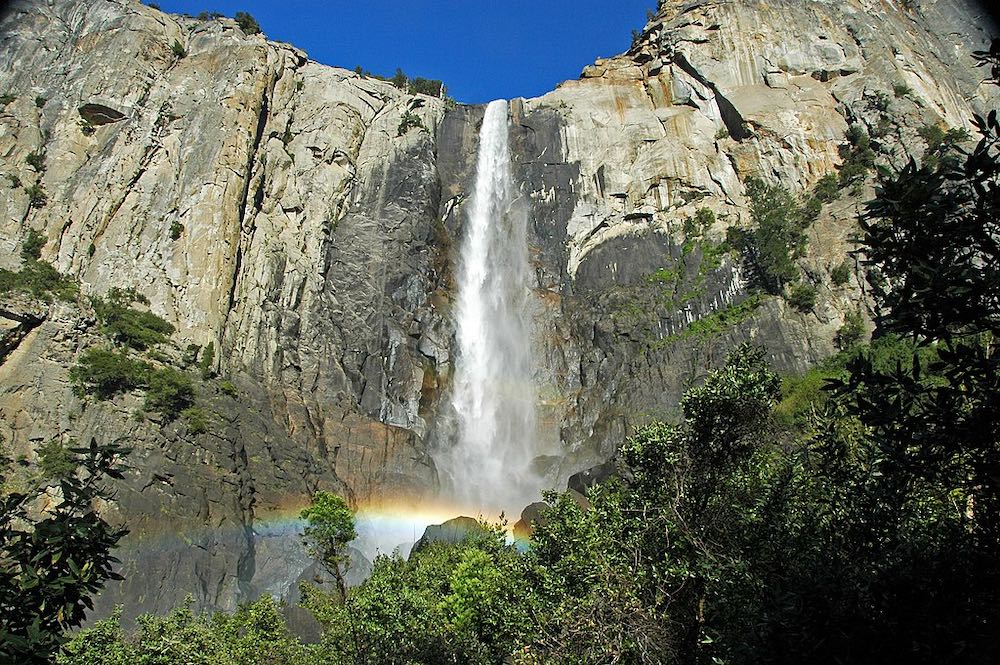 Optional Stop at Sentinel Bridge
If you're doing well on time, check out the view of Yosemite Valley from Sentinel Bridge. The bridges that cross the Merced River offer almost unobstructed views of the valley. Other nearby options include the Berg Bridge and the Swinging Bridge. You can also use the opportunity and walk to the bank of the river at the sandy Sentinel Beach.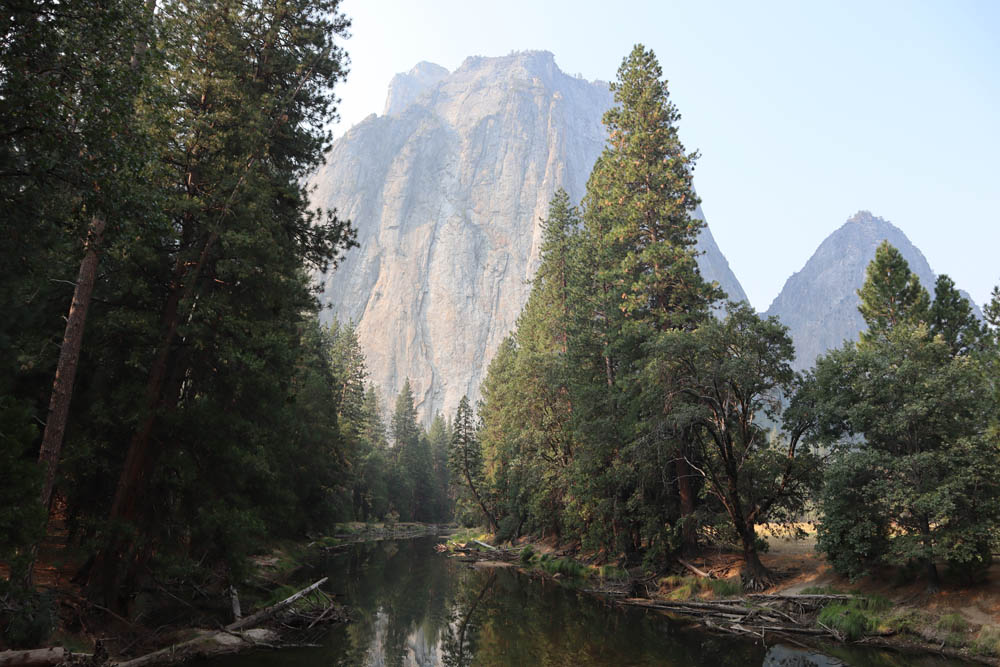 Tunnel View
From Bridalveil Fall or the scenic bridges, use the valley's one-way road system or shuttles to reach our last stop of the day. Together with Yosemite Valley View, Tunnel View provides a perfect vista of Yosemite Valley. Due to its position and elevation, the best time to visit Tunnel View is during the late afternoon or just before sunset.