Day 3: Lalomanu Beach
Let's call today a 'day off', where you'll spend your time relaxing on one of the best tropical beaches in Samoa. Lalomanu Beach is as pretty as they come: the water is intensely blue when the sun is shining, the sand just melts between your toes and the palm trees manage to grow in bizarre angles reminiscent of an Olympic gymnast.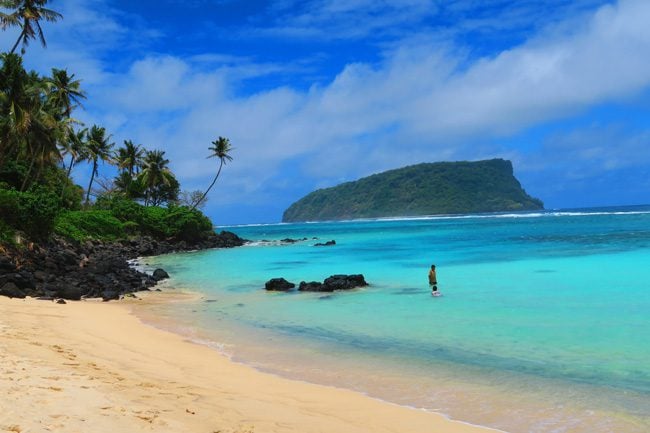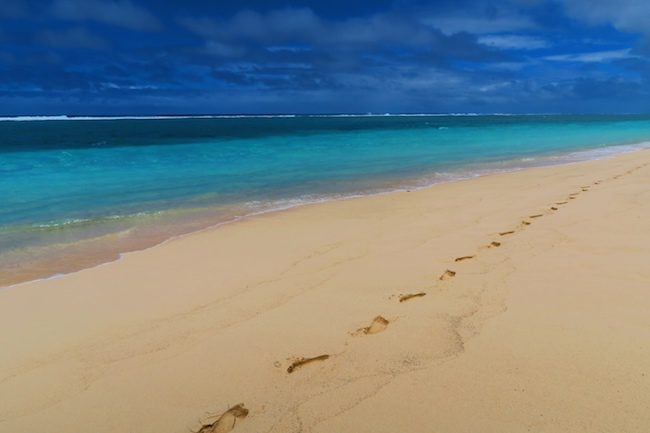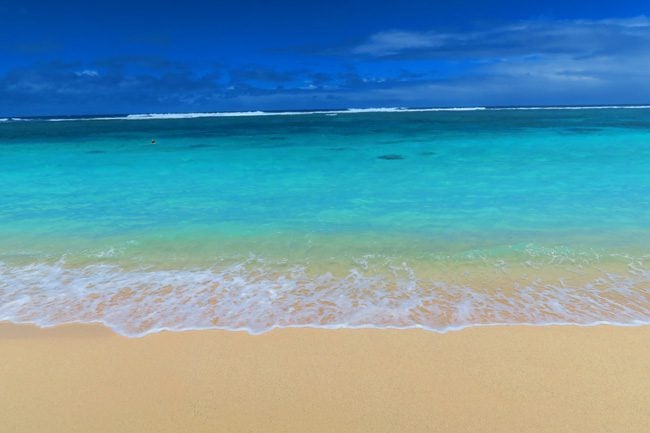 The area was badly damaged by the 2009 tsunami that struck this part of Upolu. Along with a few villages, the reef was also destroyed, so don't expect much in terms of snorkeling. At least not for the next few years…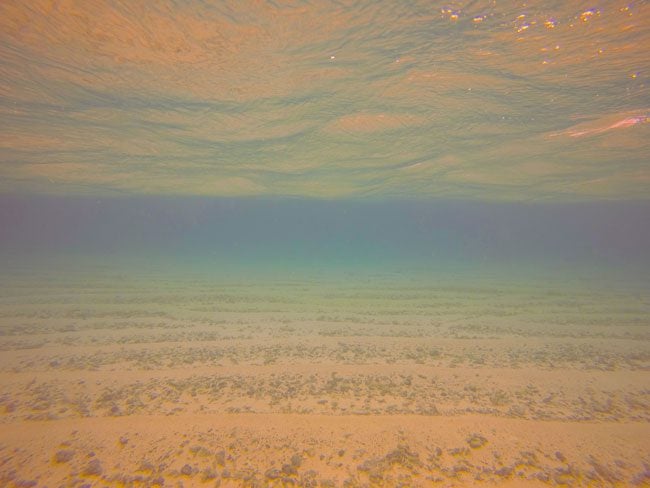 So just kick back, relax, read a book, take a nap and treat yourself to a day of pure relaxation. Polynesian massages are available at both accommodations and don't forget about happy hour cocktails!
Day 4: South Coast & Savaia Village
Morning
You can stay in Lalomanu another night if you feel like it, but for those who want to see more of the island, let's check out and get back in the car. Drive along the Main South Coast Road the Togitogiga Waterfall. En route, you can stop at Vavau Beach if you feel it's necessary to go for a swim. Vavau is another top beach on the island, quite secluded and that might explain why locals charge T20 to get in.
The Togitogiga Waterfall on the other hand is part of a recreation reserve so it's free to get in. A path will lead you through a tropical garden to a series of cascading pools. Ancient Samoan warriors loved swimming here, so feel free to hop in for a quick dip.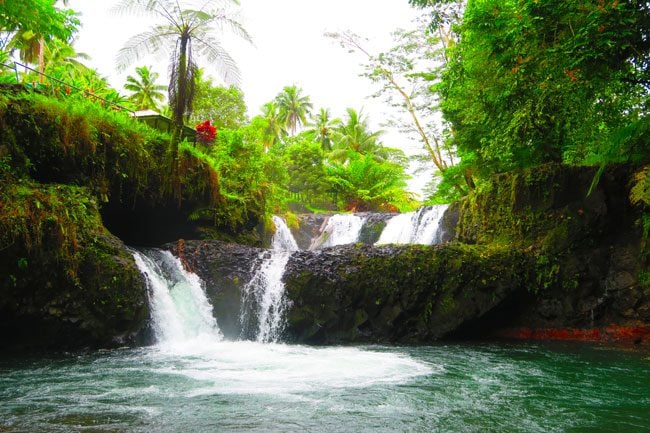 Just before intersecting with the Cross Island Road, stop at the Ma Tree Walk. A short and easy hike through the rainforest will bring you to this massive mape tree with enormous roots fanning out in all directions. Quite ubiquitous in French Polynesia, this tree is a rarity in Samoa.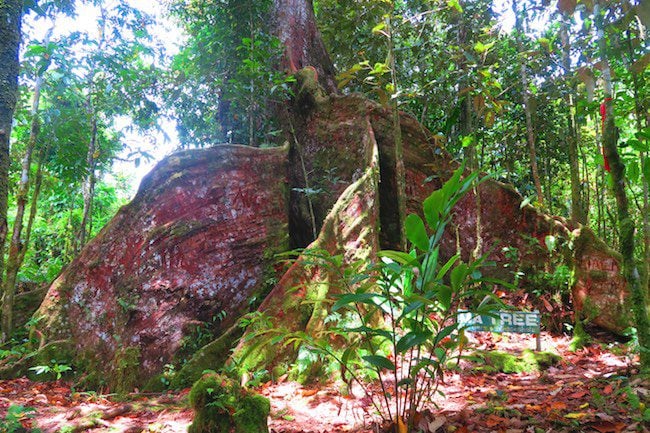 From the Ma Tree Walk, you can drive to the Aganoa Black Sand Beach if you have a 4X4, or continue hiking along the Coastal Walk. Just follow the signs from the main road and hike for about one hour along sea smashed cliffs.
Afternoon
Continue along the south coast to the village of Savaia at the mouth of Lefaga Bay. Savaia is a traditional Samoan village where almost all residents are somehow related. Evening curfew (sa'a) is observed from 6-7pm, when villagers must stay indoors and either do their evening prayer or have some quality family time. Don't let that scare you though as this is part of authentic Samoan life.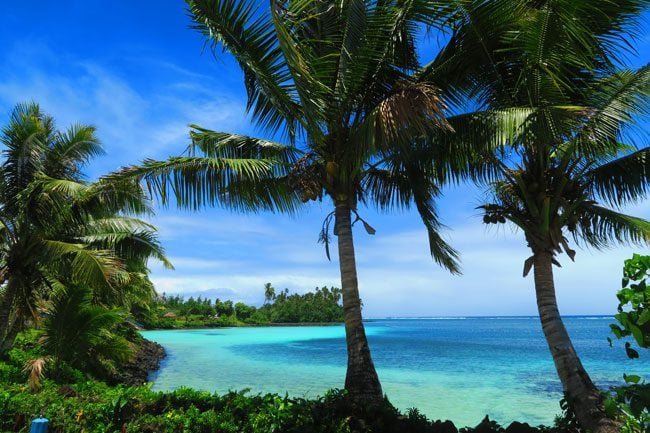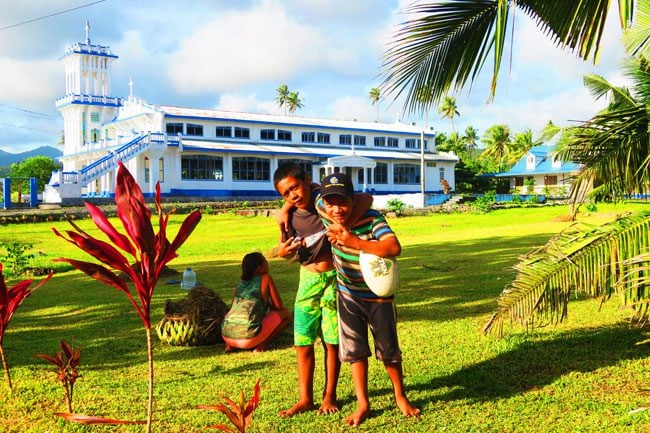 Savaia is home to the best sunsets on the islands and to Le Valasi's Beach Fales. Helen, Taula the Orator and their family will take excellent care of you. If you stay with them on a Sunday, you'll get the real Samoan experience (scroll to the final paragraphs).
Right across from the beach fales is the Giant Clam Sanctuary (5T entrance). Swim out to the protected area and watch as giant clams in all colors of the rainbow open and shut as you cruise past them.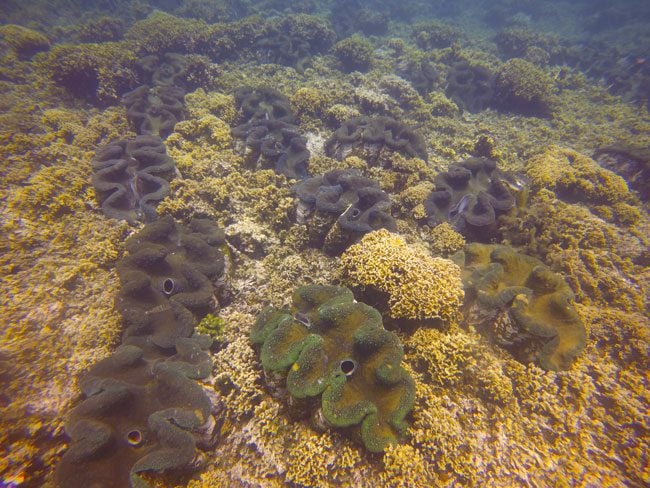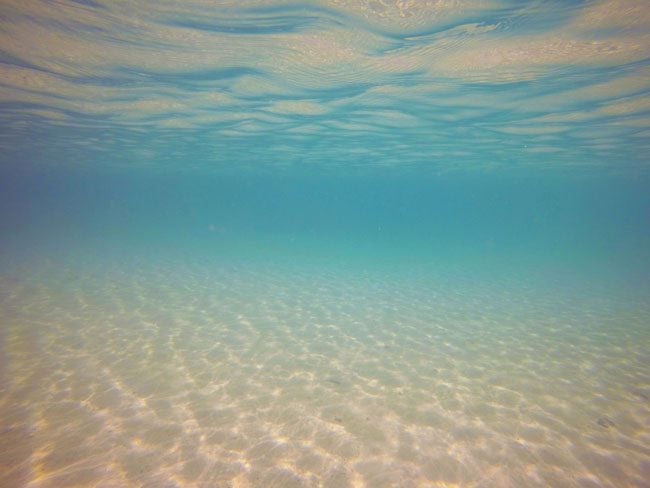 The beach in Savaia Village is gorgeous but not that great for lying on the sand. For that, use the free bicycles from the beach fales and cycle (or drive if you have a car) to the nearby Return To Paradise Resort.
The beach was the filming location of the hit 1953 movie of the same name and it is simply stunning, even if a bit too rough for swimming. If you're not staying here as a guest, your T25 day pass is redeemable at the beach bar, so you can not only catch up on some reading, but do so with a cocktail in your hand. The resort is also a great place to grab lunch.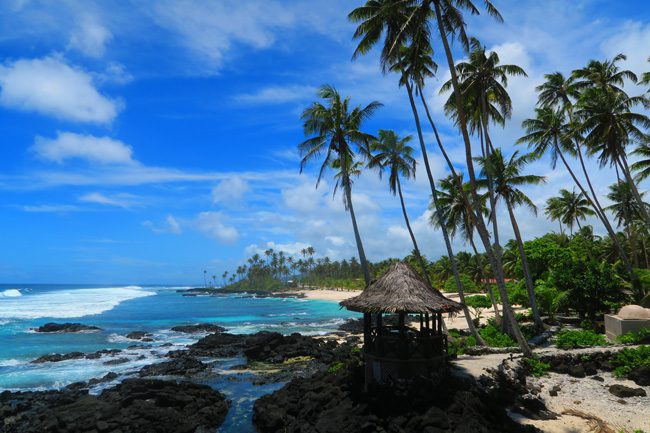 Evening
Get back to the village before 'curfew hour', have a shower and get ready for sunset. Helen has probably cooked up a wonderful dinner for you and the nightly stargazing show is about to begin.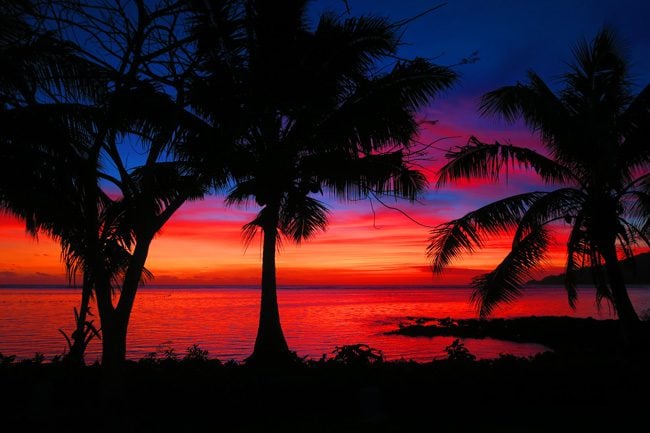 Day 5: Tropical Beach Hopping
This is your last full day in Samoa and you'll spend it tracking down two of the finest beaches in Upolu. You can totally use a bicycle today but keep in mind that access to the beaches are via dirt tracks running from the main road. So there is a bit of exercising to do and you'll need a hat and plenty of water. Of course, you can use a car if you have one. Expect to pay T2-10 entrance fees depending on your mode of transport.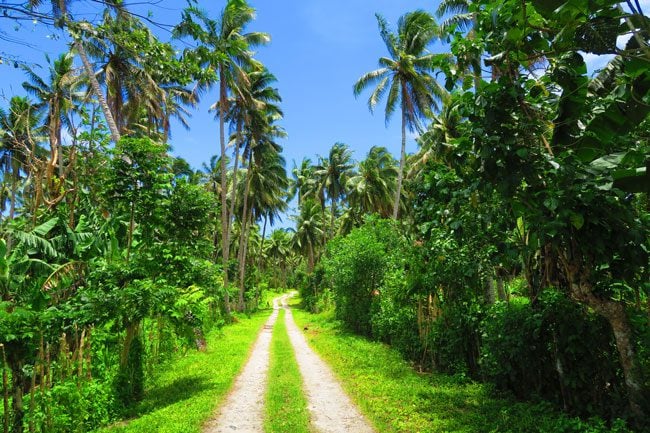 Morning
Start with Salamumu Beach, watching young fishermen trying their luck before reaching the end of the line at the Sa'Moana Resort. Daytrippers can also use this oasis for a fresh drink under the gazebo shade.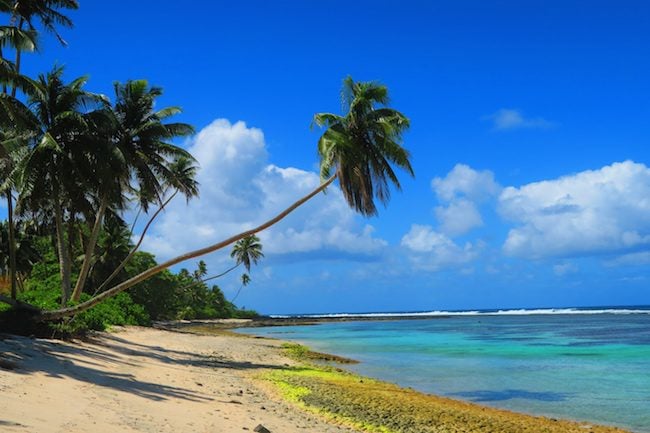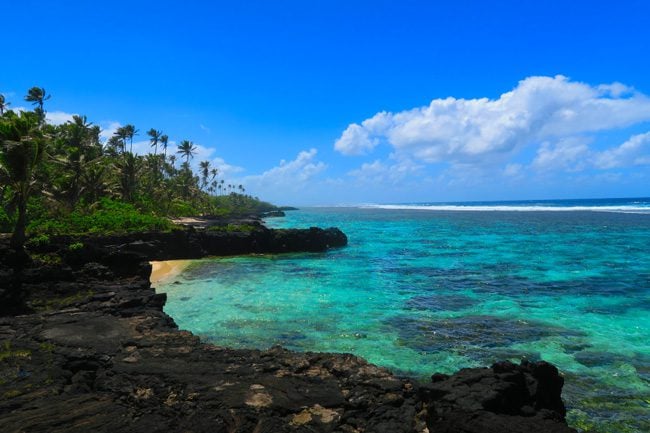 Afternoon
The next beach is Matareva Beach, which is actually a series of beaches culminating in a crescent shaped stretch of blindingly white sand. Does it get any better than this?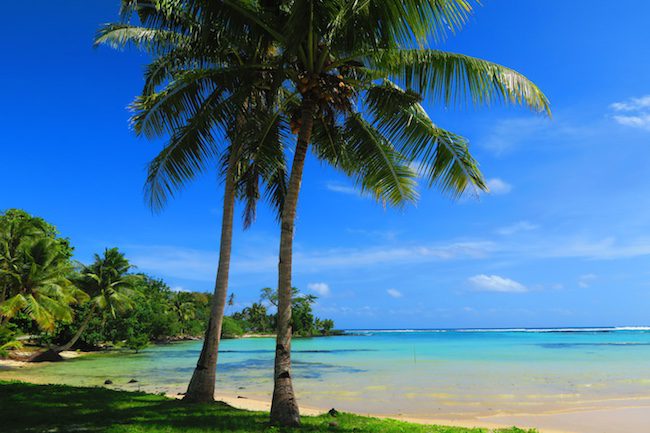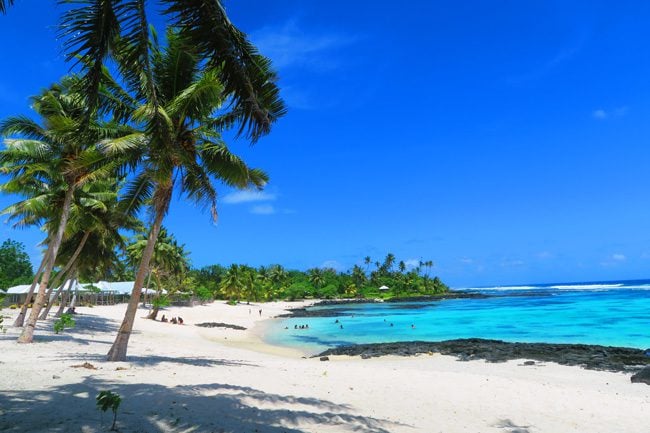 For lunch or if you didn't come here yesterday, stop at the Return To Paradise Resort for the final beach in this tropical beach hopping day.
Quick Note
If your flight is later this evening, it's time to head to the airport. However, if your flight is tomorrow, you can either take the shortcut to the airport via the Cross Island Road on the western side of the island, or drive through apia, stopping at two more places of interest. This all depends what at time your flight departs.
In case you do have time, drive to Apia via the Cross Island Road that cuts right through the middle of the island. You'll ascend to the highlands, stopping at the viewing area for the Papapapaitai Falls. At 100 meters, this is highest waterfall in Samoa and it's often covered in cloud.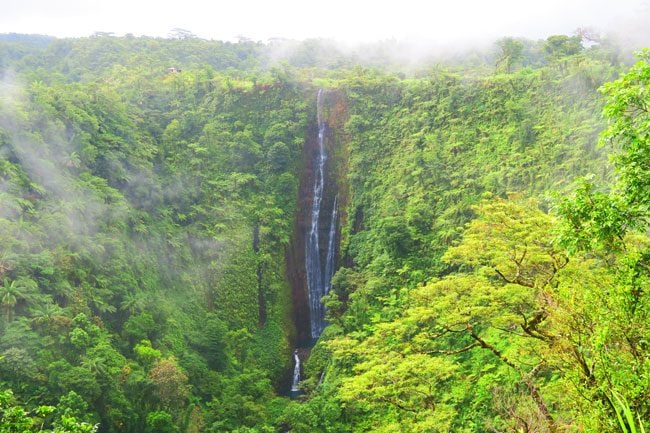 Descending back to Apia and the north coast, stop at the Robert Louis Stevenson Museum (T20 entrance). The Scottish author of Treasure Island is revered by Samoans, having greatly advocated on their behalf for independence and immersing himself in local life. Stevenson came to Samoa hoping its tropical climate would help with his tuberculosis. The beautiful mansion he built is the present day museum, and you can also hike to the top of Mount Vaea just next to mansion to visit his grave and to enjoy panoramic views of Apia.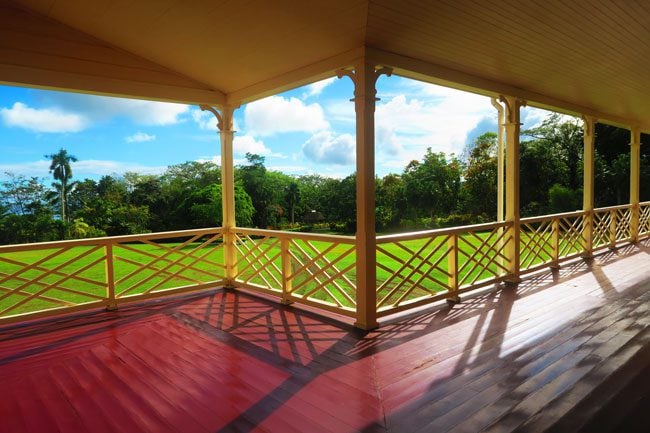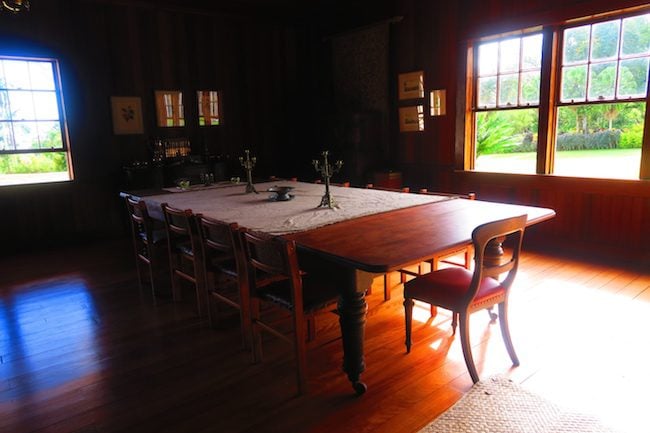 Ready To Visit?
This 5 days in Samoa sample itinerary is action packed yet includes some relaxation time. If you're visiting Samoa, start planning your holiday with the Samoa Travel Guide, filled with essential planning tips and in depth information about all the places mentioned in this sample itinerary.
Have any questions? Leave a comment below and let's get the conversation started!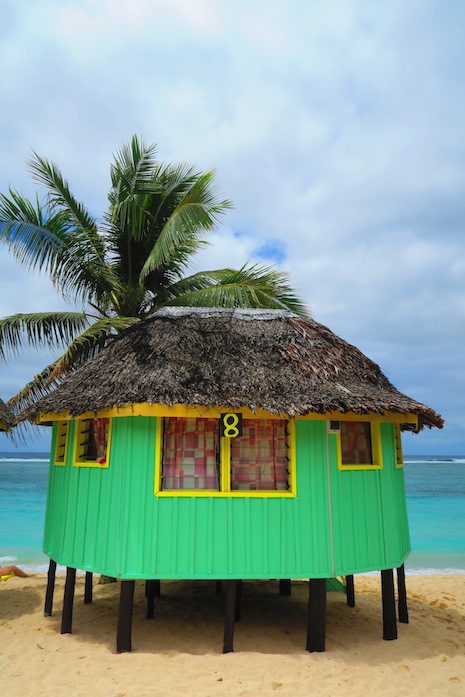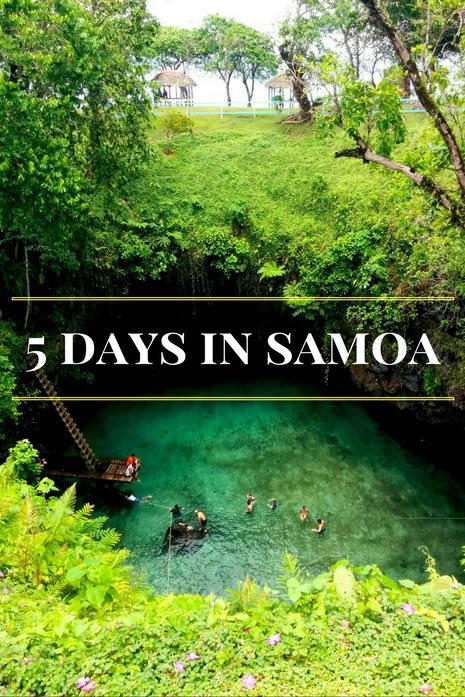 Pin These Photos To Your Favorite Boards