The Best Hikes In Death Valley
The hostile landscape, the extreme temperature, and the name itself can certainly deter visitors from hiking in Death Valley. But travelers who come prepared and can endure the heat and the dryness, are rewarded with the finest desert vistas that at times appear extraterrestrial. This travel guide highlights some of the best hikes in Death Valley and how to safely prepare to explore sections of the national park on foot.
Despite several visits to California over the years, it was only on a recent five-week road trip in the American Southwest that I finally managed to visit Death Valley. This list of the best hikes in Death Valley is based on extensive research and my experience hiking in the national park.
Additional Death Valley Resources
Check out the Death Valley travel guide collection for additional information, including essential planning tips, the best hikes, and the top things to do.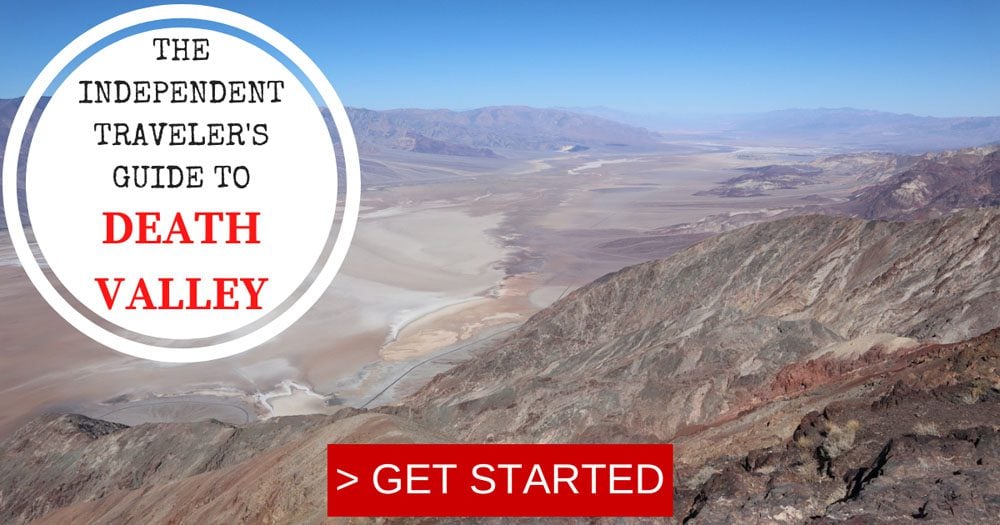 Death Valley Hiking Tips & Packing List
Here are a few things to keep in mind if planning to do any kind of hiking in Death Valley. This is not an exhaustive list.
The best time for hiking in Death Valley is during winter and spring but you won't be able to hike in high elevations due to cold weather and snow.
Do not hike in extreme weather. On extremely hot days, hike early in the morning or in the late afternoon.
Check trail information on the official Death Valley National Park website and "sanity check" your hiking plan with park rangers at the visitor's center in Furnace Creek.
When choosing a suitable hike, don't only look at the total distance but also the elevation gained. Lots of climbing, combined with hot weather, can add a great deal of difficulty to the hike.
I heavily relied on All Trails maps when planning my hikes and I strongly recommend upgrading to the pro version so you can download trail maps to your phone. If planning to do serious hiking in Death Valley, purchase a physical hiking map of the area. At the visitor's center, you'll find free trail maps to some of the park's most popular hikes.
Don't forget to pack food and more water than you think you'll need.
Remind yourself to periodically hydrate during the hike even if not feeling thirsty.
Protect yourself from the sun, even your arms
Wear sturdy hiking shoes
Carry a first-aid kit
Always stay on marked trails, apart for Mesquite Flat Sand Dunes where there is no designated trail.
Many trails require a bit of driving on dirt roads. Be sure to check the state of your car's spare tire and the presence of all of the necessary tools for changing a flat. This is especially true when picking up a rental car.
Here are a few items that are worth mentioning in the context of hiking in Death Valley. This is not an exhaustive list. Be sure to check out the X Days In Y Packing List for more ideas.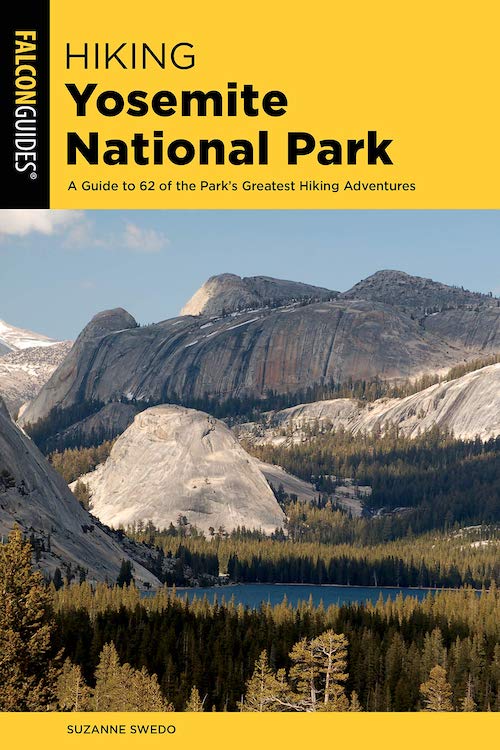 Get your copy of Moon's Guide to Death Valley along with a physical map of Death Valley.
Water: bottles or a water pack
Sun protection: hat, sunscreen, sunglasses
Clothing: lightweight and sweat-repelling layers
Dry weather: lip balm and tissues
Safety: first-aid kit, walking poles (optional), sturdy hiking shoes, thick socks
Change of clothes for longer hikes that require car travel
Hygiene: alcogel, small garbage bag
Energy bars
USB charger to charge your phone in the car
The Best Hikes In Death Valley
Disclaimer: The following list highlights some of Death Valley's best hikes but it's important to note that this is not an exhaustive list. This guide focuses on the more well-known hikes. For more information about hiking in Death Valley, visit this official page.
Darwin Falls Hike
Distance: 2 miles, 3.2 km | Difficulty: easy | Trail Map
The last thing you would expect to find in Death Valley is an active waterfall in the middle of the desert. So despite its height of just 18 feet (5.5 m), the hike to Darwin Falls is an interesting excursion despite its location outside the park's main area near Panamint Springs. Once you reach Darwin Falls, there's a good chance you'll have this desert oasis all to yourself, though be advised that swimming is prohibited.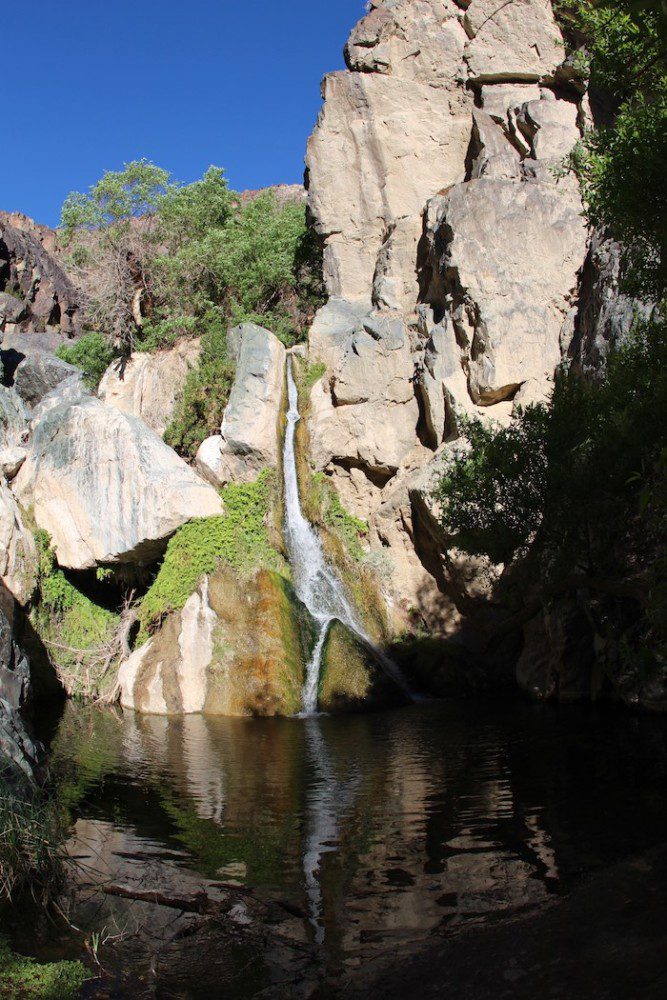 Ubehebe Crater Hike
Distance: 1.5 miles, 2.4 km | Difficulty: moderate | Trail Map
Many spots in Death Valley resemble images from a NASA rover mission to Mars. At Ubehebe Crater, the scenery is from another planet. This large crater, measuring half a mile across and 500 feet deep, is a result of steam and gas explosions released when hot magma met groundwater. This explosion took place about 2,000 years ago so, by geological standards, Ubehebe Crater is very young.
A Visit to Ubhebe Crater goes well together with a trip to Racetrack Playa and Scotty's Castle. You can shorten the hike by climbing to the rim for a quick look or completing the entire loop. You can also walk down to the bottom of the crater, though hiking back up will be mighty hard as this entire area is covered with loose volcanic gravel.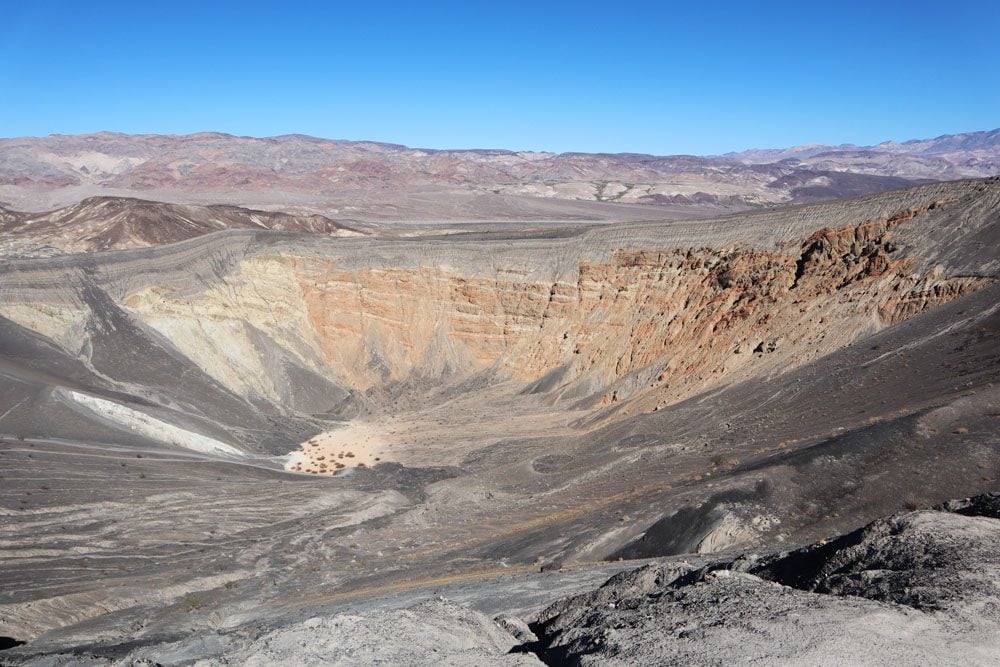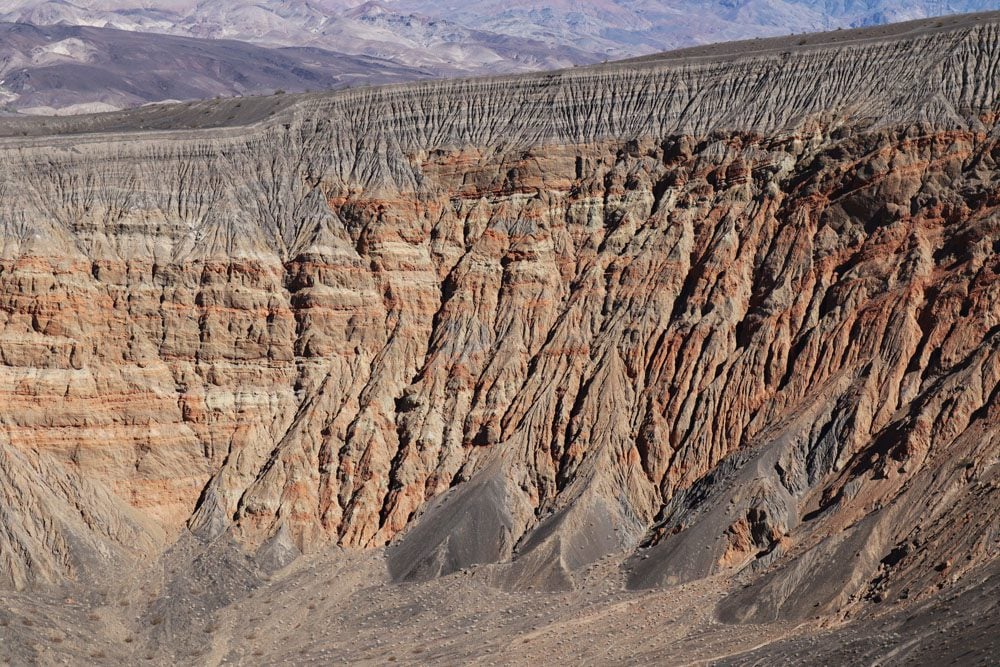 Titus Canyon Hike
Distance: 3 miles, 4.8 km | Difficulty: easy | Trail Map
Titus Canyon Road is a scenic 27-mile (43 km) dirt road that slices through a remote section of the national park before joining the narrow Titus Canyon riverbed. It's one of the top things to do in Death Valley but if you do not have a high clearance two-wheel-drive vehicle, you can still explore the most thrilling section of this road by hiking the Titus Canyon Narrows.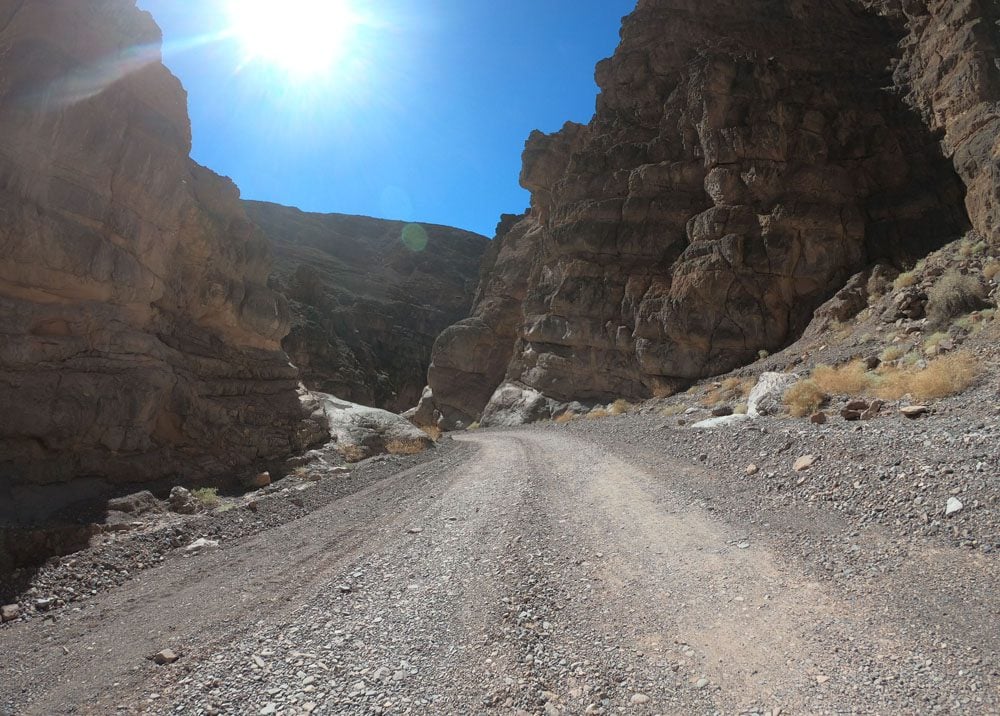 Fall Canyon Hike
Distance: 6 miles, 9.7 km | Difficulty: moderate | Trail Map
Similar to the previous hike but without the presence of cars and with slightly more dramatic natural scenery, the hike to Fall Canyon reaches a climax in the narrow section of the canyon. Keep your eyes peeled for wildlife atop the canyon walls and turn around when you reach the dry waterfall.
Keane Wonder Mine Hike
Distance: 3.3 miles, 5.3 km | Difficulty: hard | Trail Map
History buffs will enjoy visiting this abandoned mine for the impressive logistics that were put in place to transfer gold ore from mine shafts in the high ground over one kilometer downhill to the valley floor for processing. A dirt road leads to the parking area, from where a steep trail climbs 1,500 feet in just 1.4 miles from the mill to the upper tramway terminal. You can continue slightly further to the mine.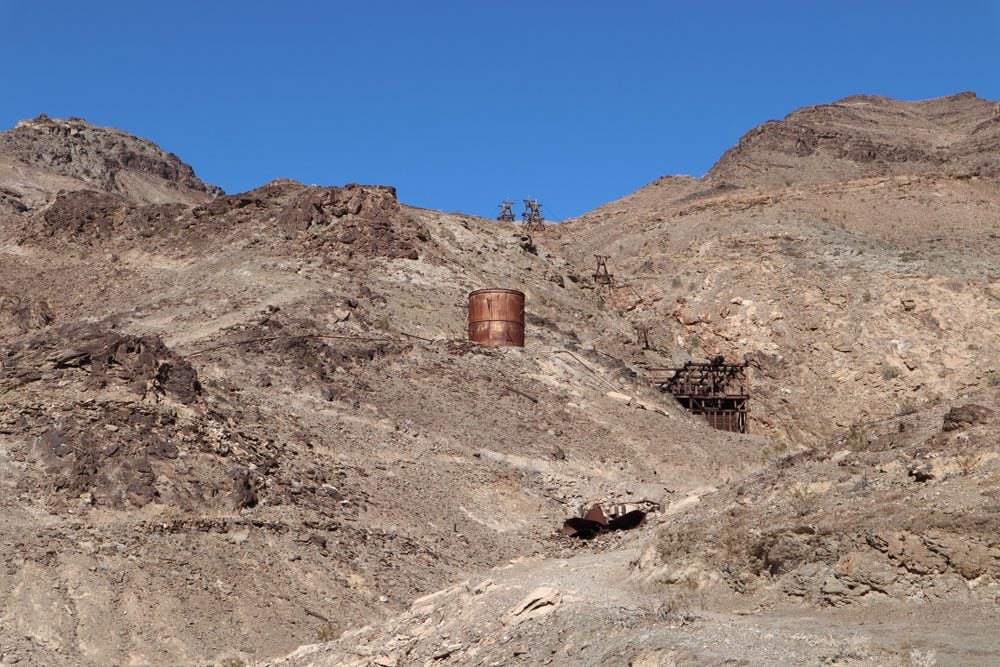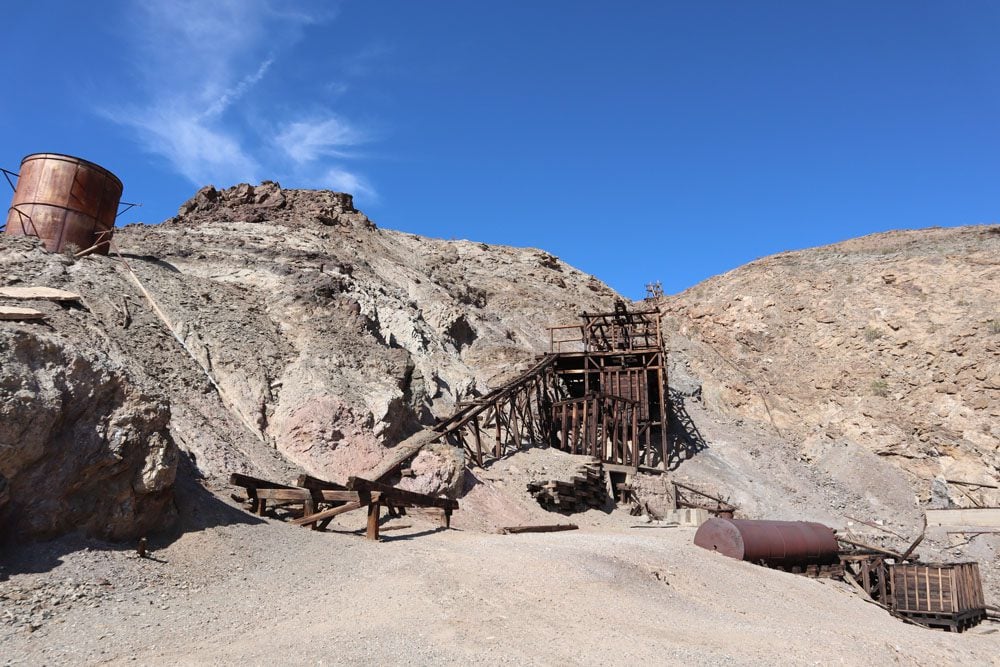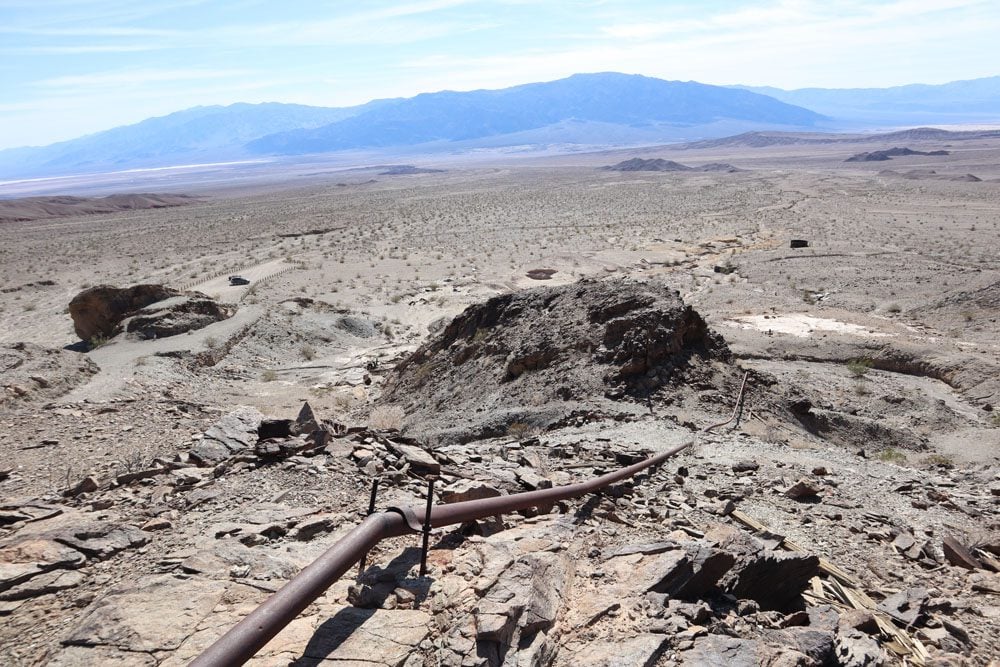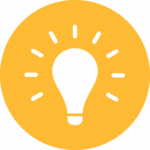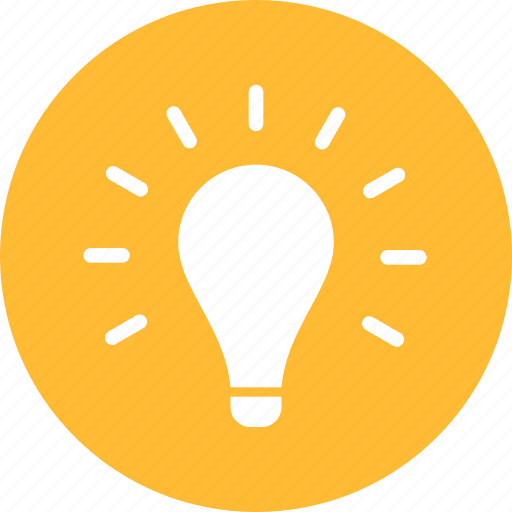 Pro Tip
The trail map linked above measures the trail distance from the main road. However, if you have a car, you can shorten the distance by starting the hike from the parking area.
Salt Creek Interpretive Trail
Distance: 0.5 miles, 0.8 km | Difficulty: easy | Trail Map
This short and easy walk over a wooden boardwalk reveals that Death Valley is actually full of life. Even in the summer months, water flows through this creek, and where there's water, there's life. The water in Salt Creek is actually more salty than seawater and it eventually evaporates to the desert air further downstream.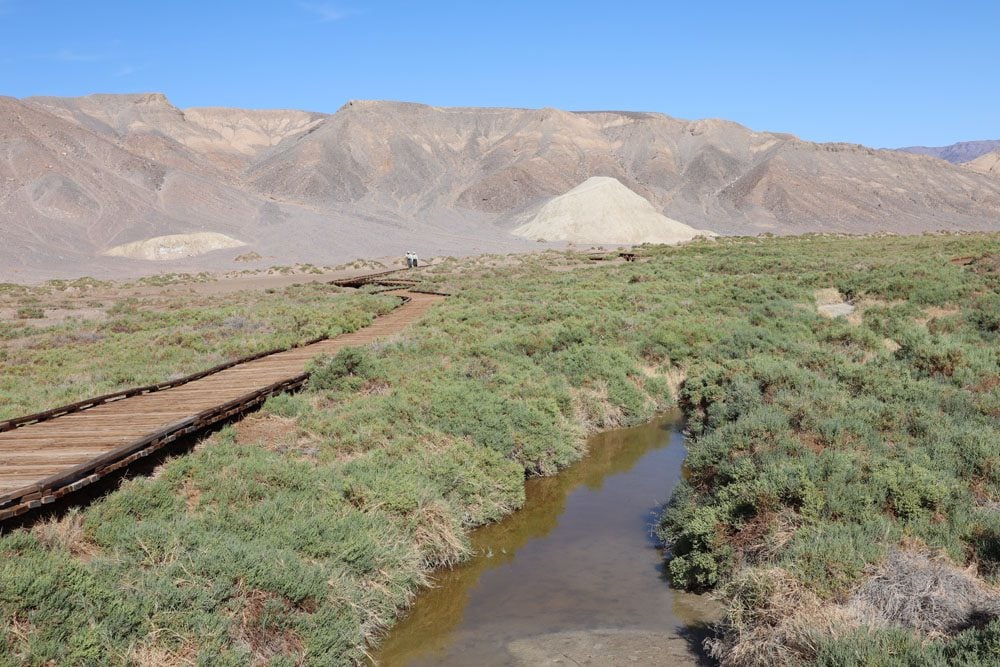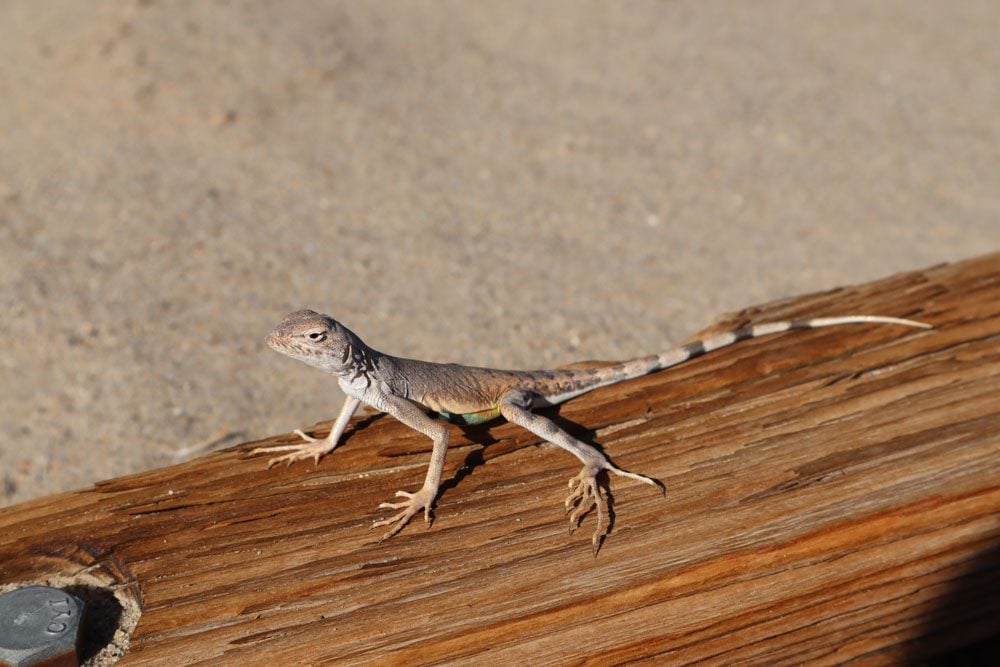 Mesquite Flat Sand Dunes
Distance: up to you | Difficulty: easy | Trail Map
This isn't the Sahara, this is still Death Valley. The Mesquite Flat Sand Dunes cover an extensive area near Stovepipe Wells with some dunes towering over 100 feet high. There isn't an official trail so just go wherever your feet take you but, if you want to reach the highest peak, it's about one mile in each direction. The sand is soft and the views are from a distant continent.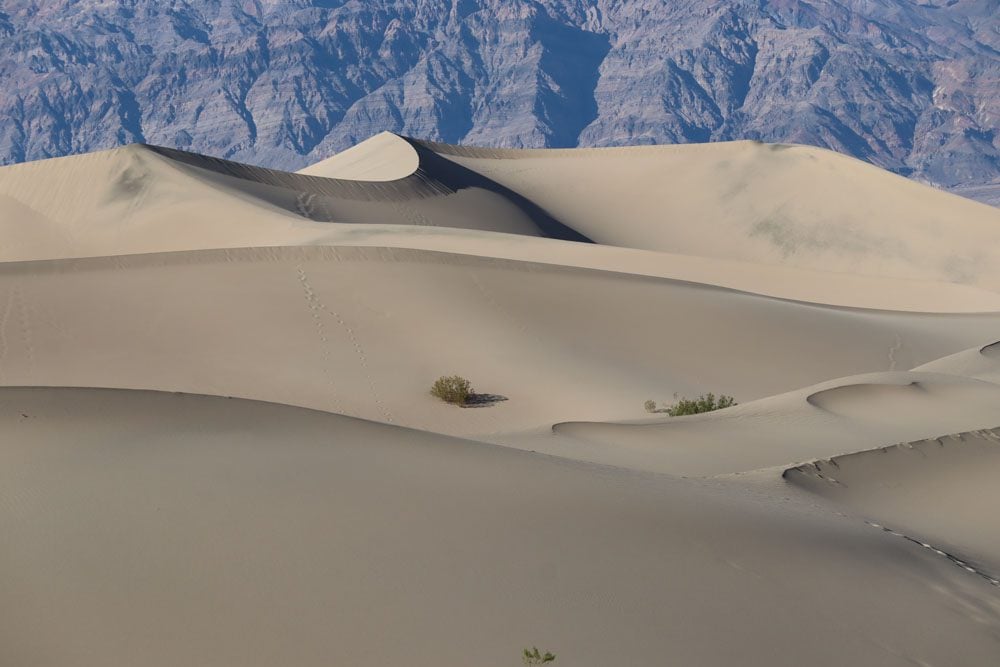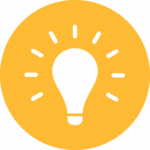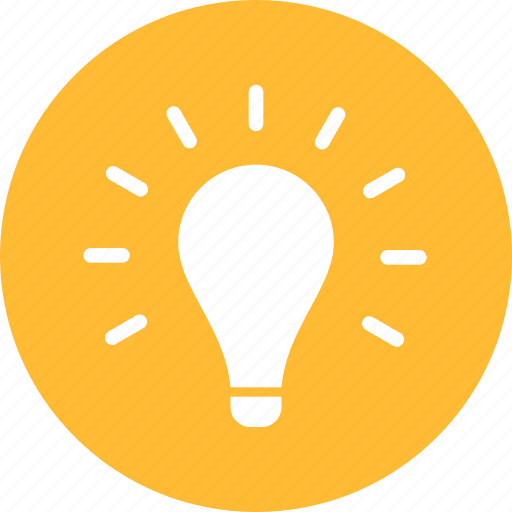 Pro Tip
Visit the Mesquite Flat Sand Dunes during dusk or dawn when the dunes are painted gold.
Gower Gulch and the Badlands Loop
Distance: 2.7-4.3 miles, 4.3-6.9 km | Difficulty: moderate | Trail Maps: Badlands | Gower Gulch
Both trails head down to explore Death Valley's maze of badland canyons from scenic Zabriskie Point. The colors and shapes of the canyons make for a beautiful scene, further accentuated by the changing angle of the sun. The Badlands Loop is a good option if you're looking for a short hike in the area while the Gower Gulch trail is more strenuous and can be combined as part of a larger loop together with the hike in Golden Canyon.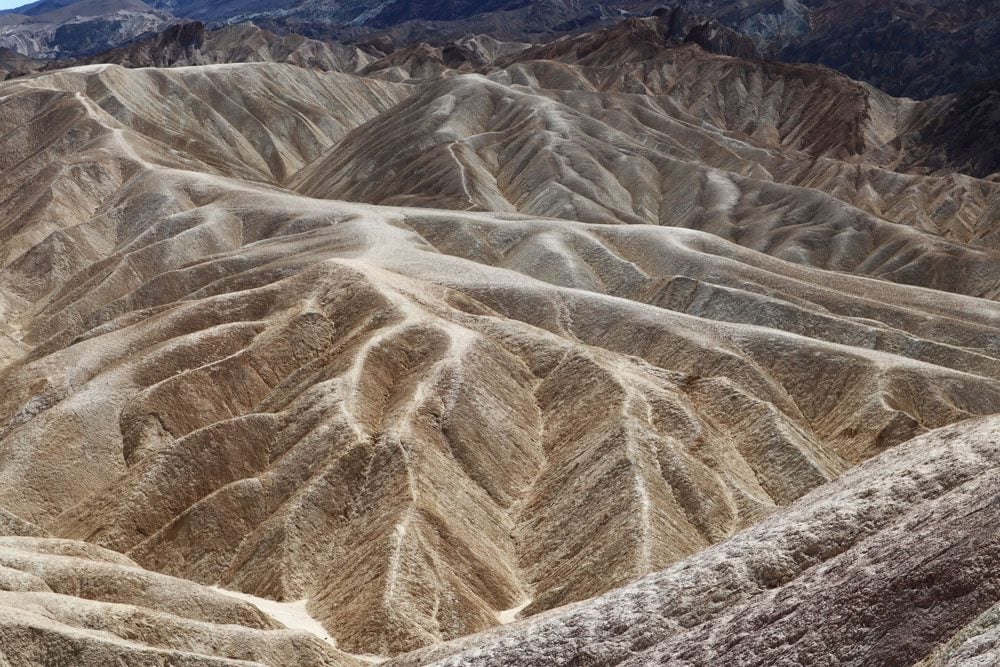 Golden Canyon Trail
Distance: 3 miles, 4.8 km | Difficulty: moderate | Trail Map
The Golden Canyon Trail is one of the most popular hikes in Death Valley if not the most popular. The aim of the hike is to reach the Red Cathedral, a seemingly impenetrable fortress of red rock amidst the golden shades that dominated up to this point. Along the way, you'll notice the maze of veins and arteries that form the badlands. The best time for this hike is in the afternoon when the sun's rays illuminate the canyon.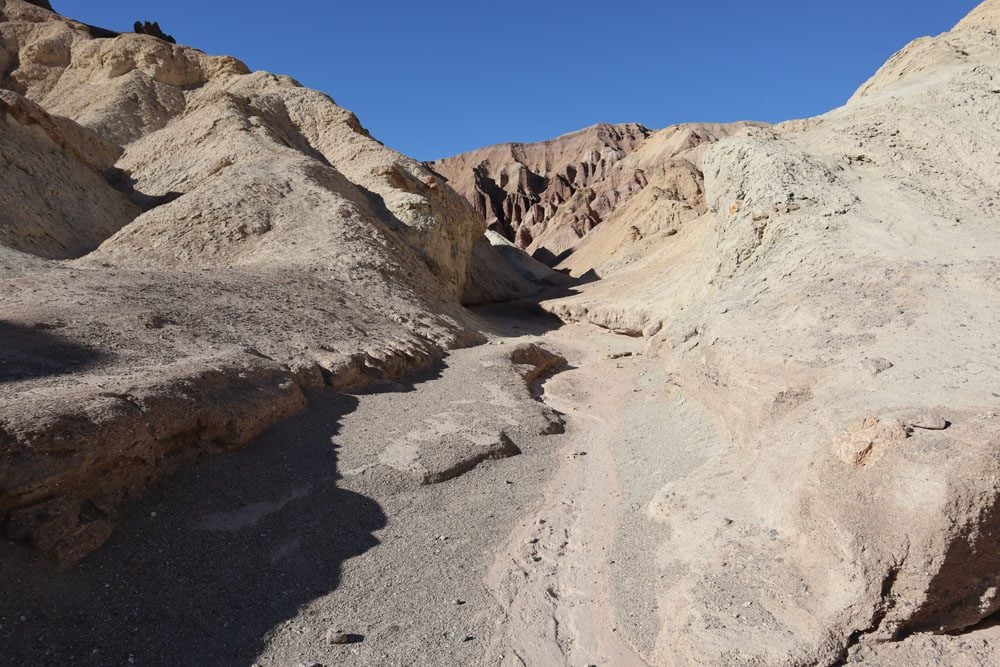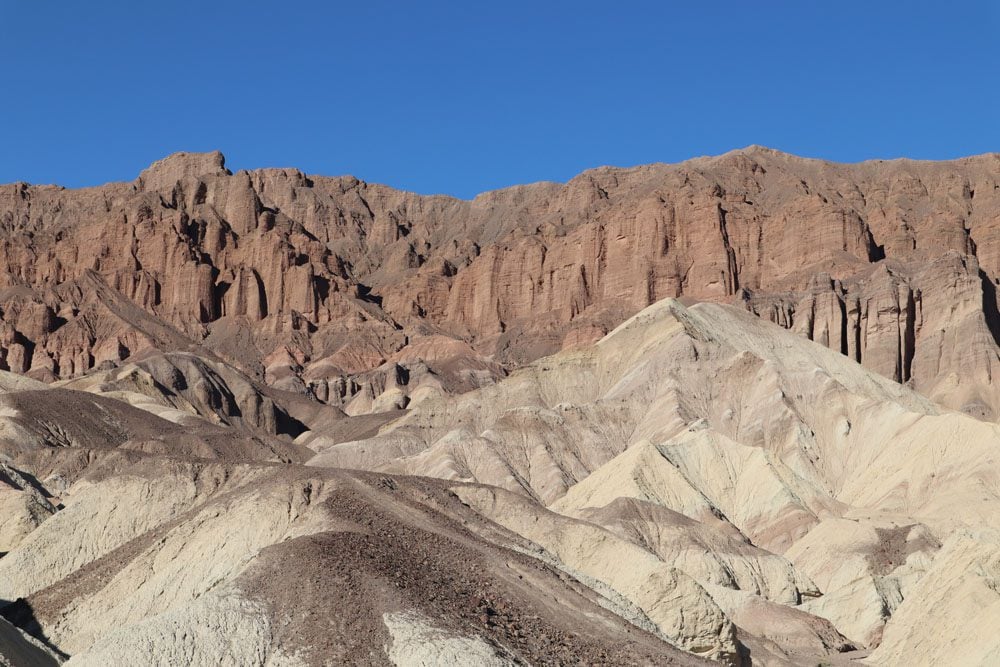 Mount Perry Hike
Distance: 8.7 miles, 14 km | Difficulty: moderate | Trail Map
Pick up the trailhead for the hike to Mount Perry from Dante's View, the most scenic viewpoint in Death Valley. The trail covers a stretch of ridgeline high above Badwater Basin along the Black Mountains. You'll enjoy superb views throughout the trail and can turn around whenever you feel the need.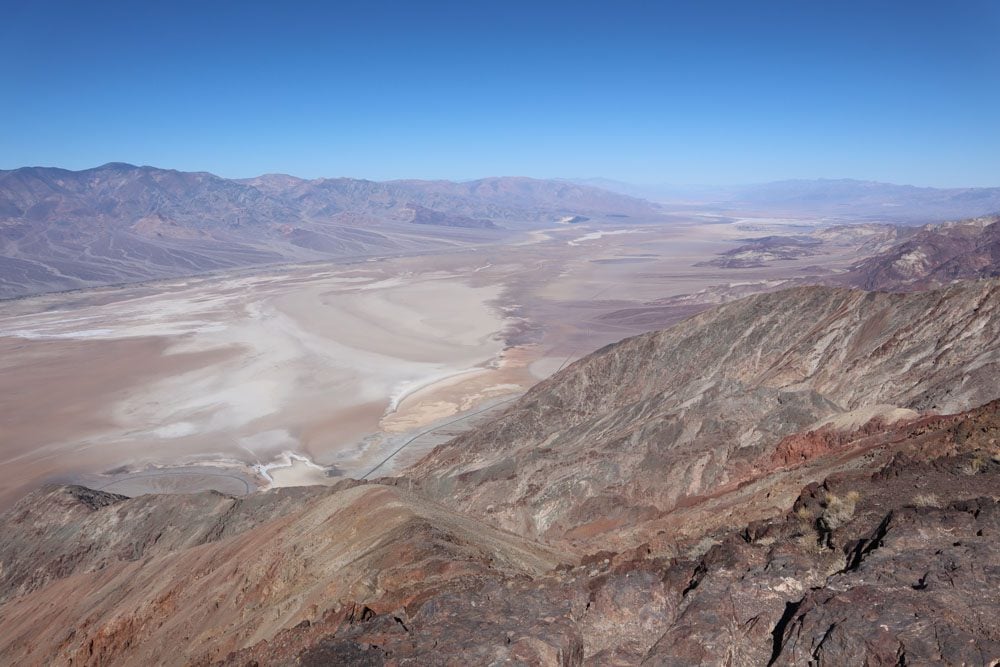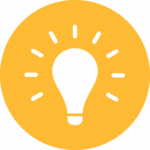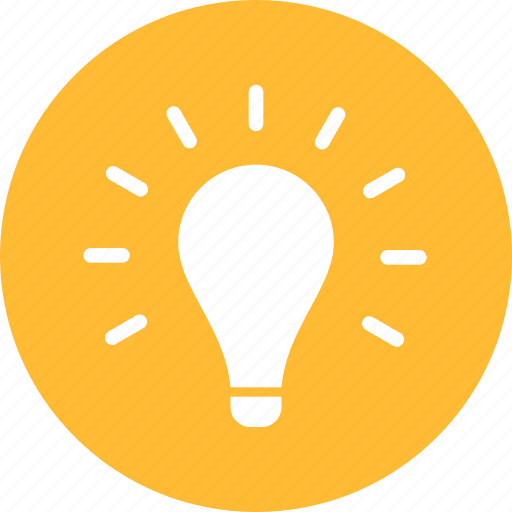 Pro Tip
Even in warmer months, it can get very windy and consequently cold in this area of the park.
Badwater Basin Hike
Distance: 1.9 miles, 3.1 km | Difficulty: easy | Trail Map
At 282 feet (86 m) below sea level, the vast and surreal salt flats at Badwater Basin lie at the lowest point in North America. Badwater is Death Valley's star attraction but it's also one of the hottest spots in the park due to the low elevation so come prepared accordingly. Walk around Badwater Pool and see if you can spot the rare Badwater Snail and then head inland on the salt flats as far as you wish. Follow the salty snow until you've had enough or try to make it to the second marker indicating the area's record low elevation.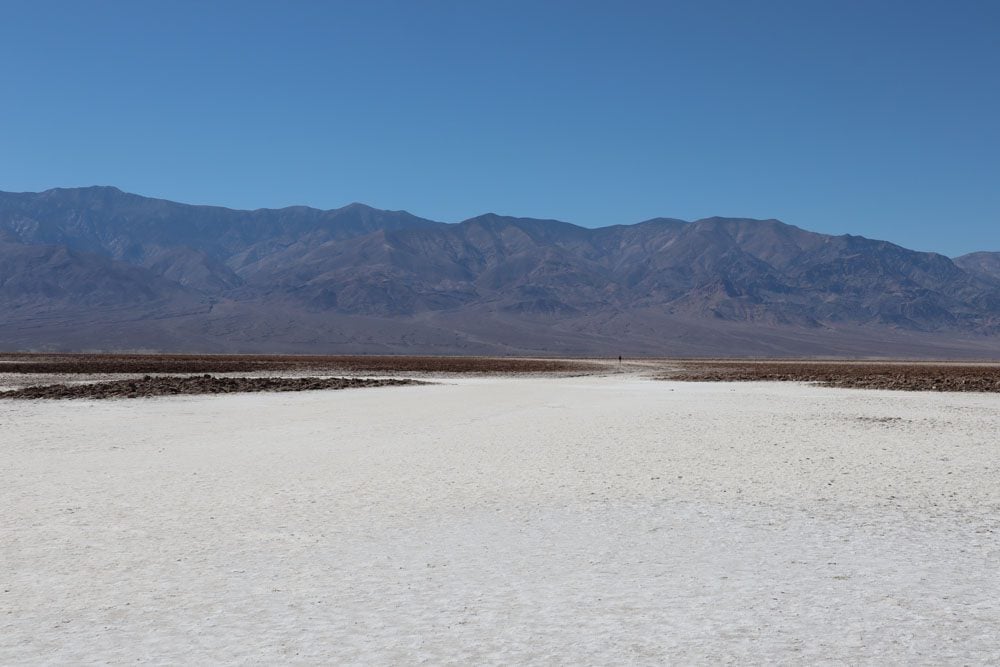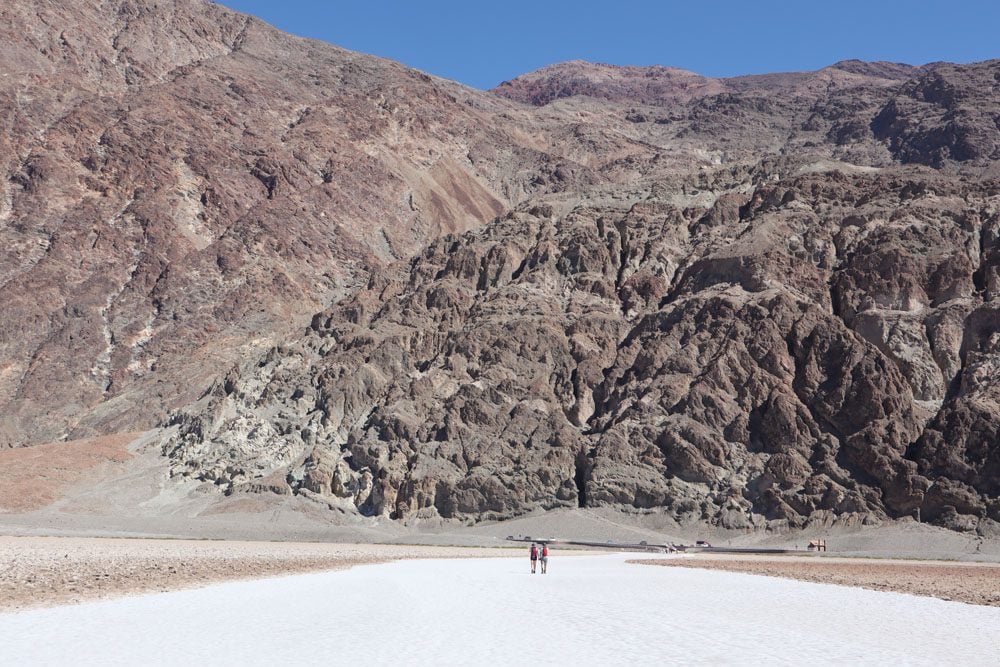 Natural Bridge Trail
Distance: 1.4 miles, 2.3 km | Difficulty: easy | Trail Map
About 500 meters from the parking area (0.3 miles), an impressive natural bridge connects the walls of this canyon. It's an easy hike that can be extended slightly further to a dry waterfall and even deeper into the canyon until an impassable cliff is reached. The natural bridge is about 35 feet high (10.5 m) and has the same thickness.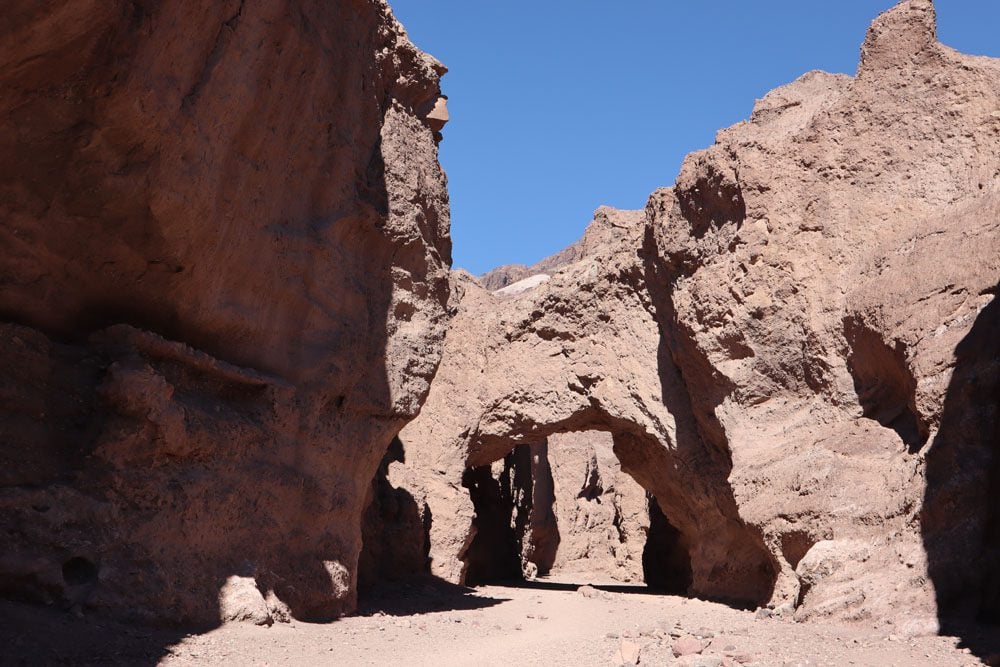 Wildrose Peak Hike
Distance: 7.8 miles, 12.6 km | Difficulty: hard | Trail Map
The hike to Wildrose Peak is one of the most challenging hikes in Death Valley but it's suitable for the warmer months when hiking in the valley can be quite dangerous. Pick up to the trail at the Wildrose Charcoal Kilns, a row of ten beehive-shaped stone structures that were built in 1867 to provide fuel to process silver and lead ore. The trail begins to ascend through a pine forest and from an altitude of 9,064 feet (2,763 m) at Wildrose Peak, you'll be rewarded with panoramic views of Death Valley and the Sierra Nevada Mountains.
Mosaic Canyon Hike
Distance: 4 miles, 6.4 km | Difficulty: moderate | Trail Map
The trailhead for this moderate hike is reached via a dirt road just outside Stovepipe Wells. The trail ends in a dramatic rocky amphitheater culminated by a 25ft (7.6m) vertical dry waterfall. Along the gradual ascent, you'll pass three narrow sections of the canyon where the rock has been polished by floods, and bypass a few large boulders and a small dry waterfall. Keep your eyes peeled for the canyon's signature feature, Mosaic Canyon Breccia. It's composed of small fragments of various types of rock locked within a natural cement that appears to create a mosaic.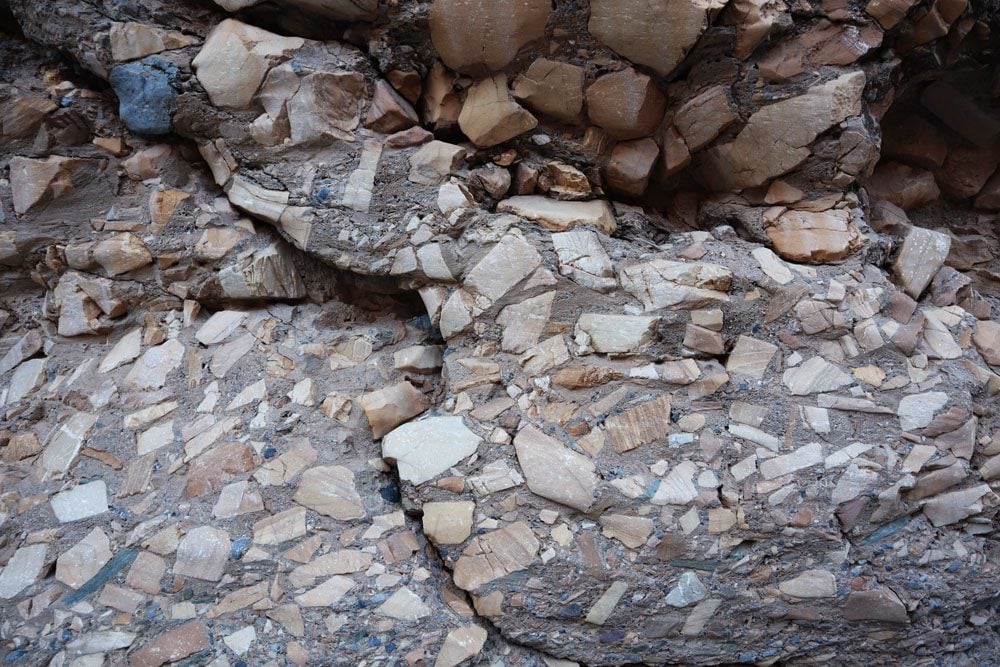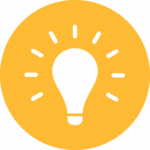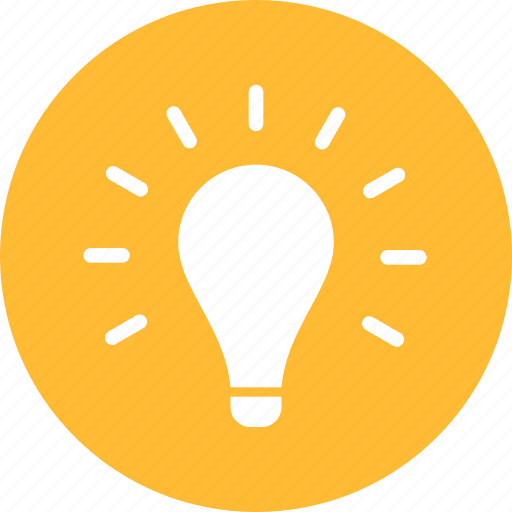 Pro Tip
For the best natural lighting, hike Mosaic Canyon in the late morning or early afternoon, taking into consideration the heat.
Telescope Peak Hike
Distance: 14 miles, 22.5 km | Difficulty: hard | Trail Map
The most challenging hike in Death Valley leads to its highest peak. From the summit of Telescope Peak (11,331 feet, 3,454 m), hikers are rewarded with panoramic views of Death Valley, Mount Whitney, the Sierra Nevada range, and everything in between. This is a very challenging hike that requires preparation.
What's Next?
Now that you know what are the best hikes in Death Valley, it's time to begin planning your adventure. For more information about Death Valley, including essential planning tips, and sample itineraries, check out the Death Valley travel guide collection.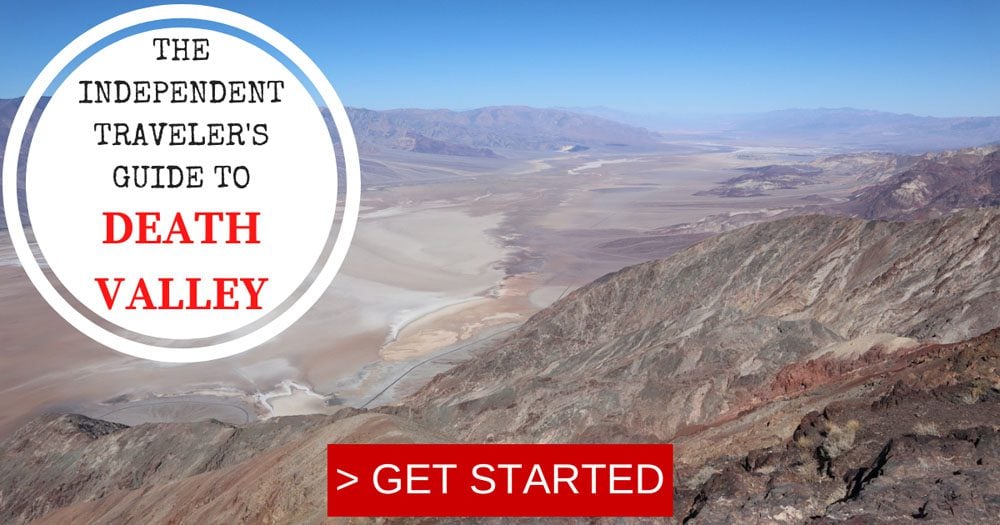 ---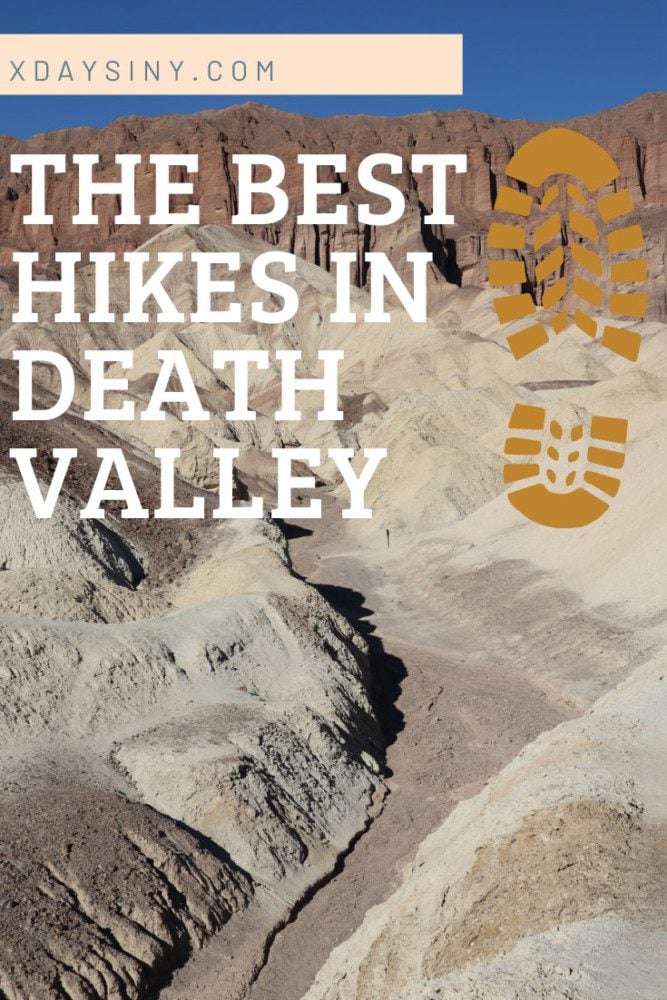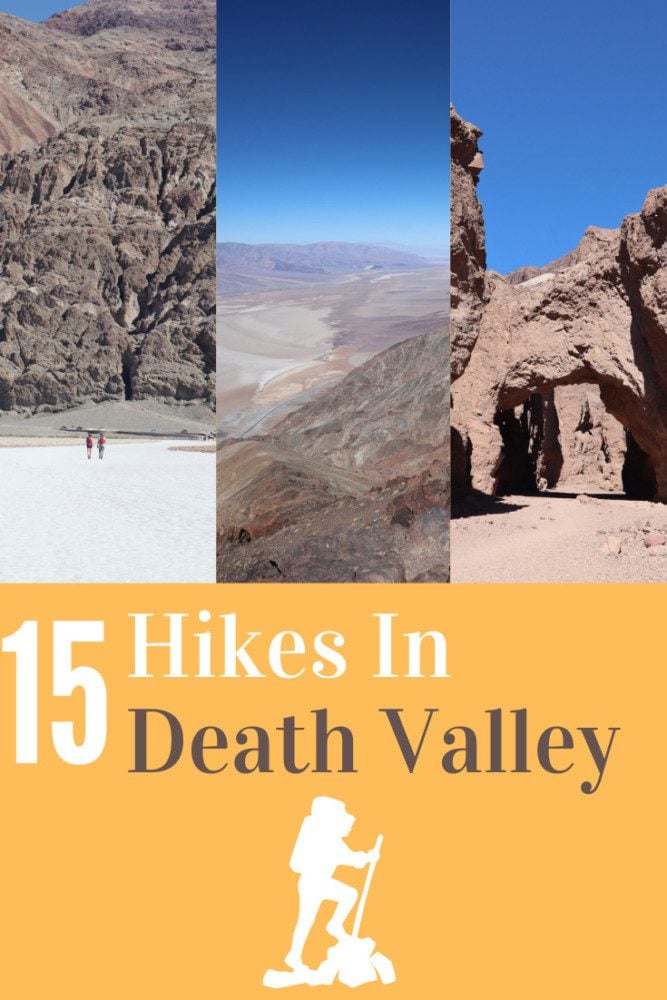 Pin These Images To Your Favorite Boards