Essential Rome Travel Tips
Rome is one of the most romantic and classic destinations for both couples and families alike, but it is also one of the most visited destinations in the world. With the Rome travel tips inside this guide, I'll help you navigate the ins and out of visiting Rome like a pro, from planning ahead of your trip to acting smart on the ground. Let's get started!
These essential Rome travel trips are based on my own experience, having visited Rome on several occasions, most recently at the very beginning of June, just ahead of peak tourist season. The rest of the Rome guides in this collection will deep dive into other aspects of planning a memorable trip to the Eternal City.
Rome Travel Guide Collection
Planning or thinking about a trip to Rome? Have a look at additional Rome travel guides, including day-by-day itineraries and the best places to eat in Rome!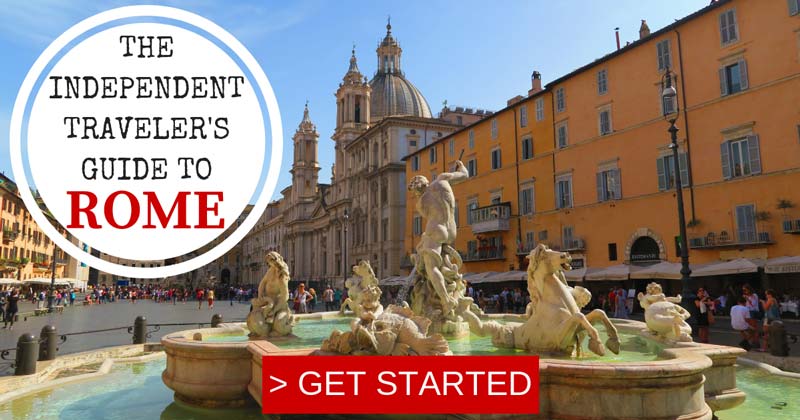 Quick Tour of Rome
Here's a quick video tour of Rome!
---
Preparation
When is the best time to visit Rome?
I'll start with the flipside of when not to visit Rome? The answer to that is definitely July and August. This is the peak tourist season but also the peak of summer. The streets are flooded with tourists and the weather is hot and sticky. The heat will take its toll and you will have a difficult time exploring Rome on foot (which is the best way). In addition, during August, many Romans go on vacation and some of the city's charm is lost with them.
May, early June and September are great months to visit Rome. In early May and late September, there might be a few rainy days but, in general, the weather is great and the city is frequented by fewer tourists.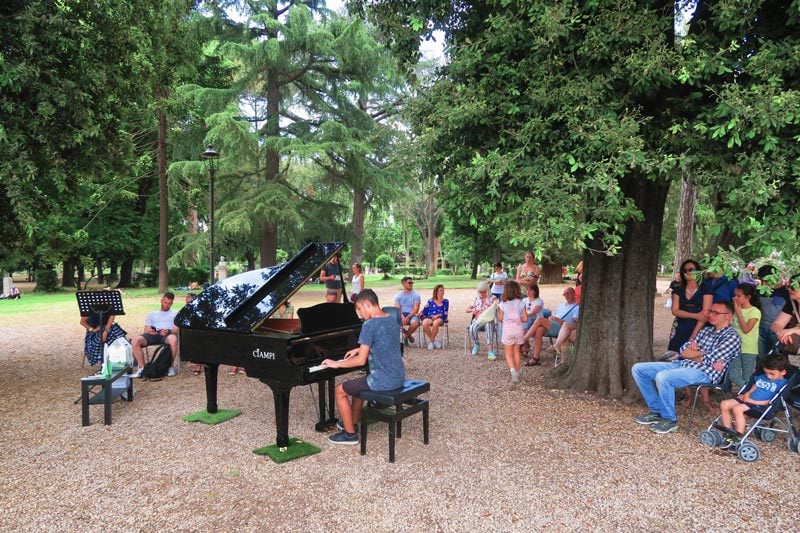 Visiting Rome in winter is also an option as the weather is much milder than in other European capitals such as London and Paris. However, keep in mind that the days are short so it will get dark somewhere around 5 pm.
To sum things up, avoid visiting Rome during July and August and aim for May, early June and September.
Where's the best area to stay in Rome?
Where to stay in Rome is a crucial ingredient in your trip. I highly recommend booking your Rome accommodation well ahead of time as the city is visited by about four million visitors every year, each looking to score a great deal. Here's a list of all Rome accommodations that you can book online.
I personally recommend staying in the outskirts of the historic center, preferably on the side close to the Tiber River near Campo de Fiori and Piazza Navona. That way, you're within walking distance of all the major sites. In the Vatican and Prati districts, you can often strike better bargains but you'll need to put in extra effort to get to some sites and there isn't much to do at night. The Vatican is quite a tourist hotspot during the day and Prati is an upscale neighborhood squeezed between the Vatican and Piazza del Popolo. The chic neighborhood of Trastevere is very popular with tourists, combining a somewhat local setting, a rich culinary scene and relative proximity to all major sites. Lastly, if you want to stay in a "hipster" part of Rome where students like to hang out, consider the neighborhood of Monti.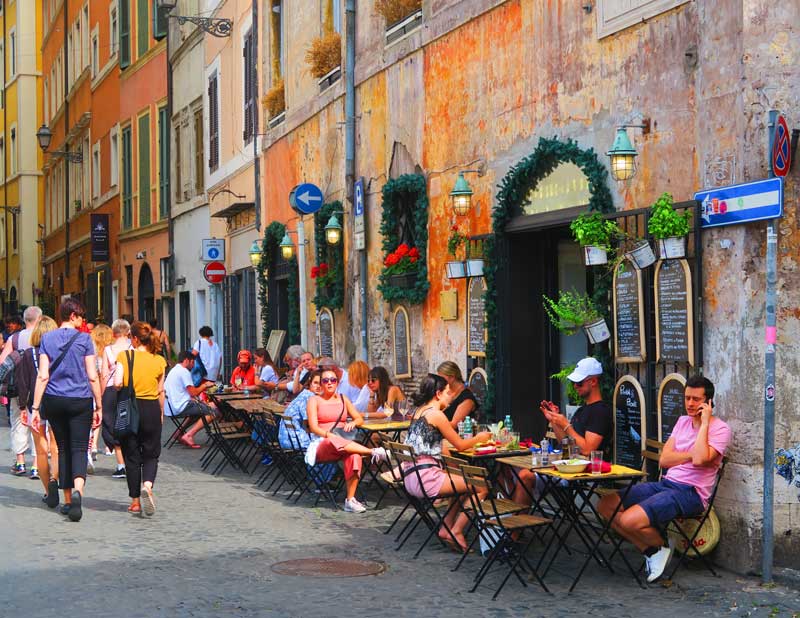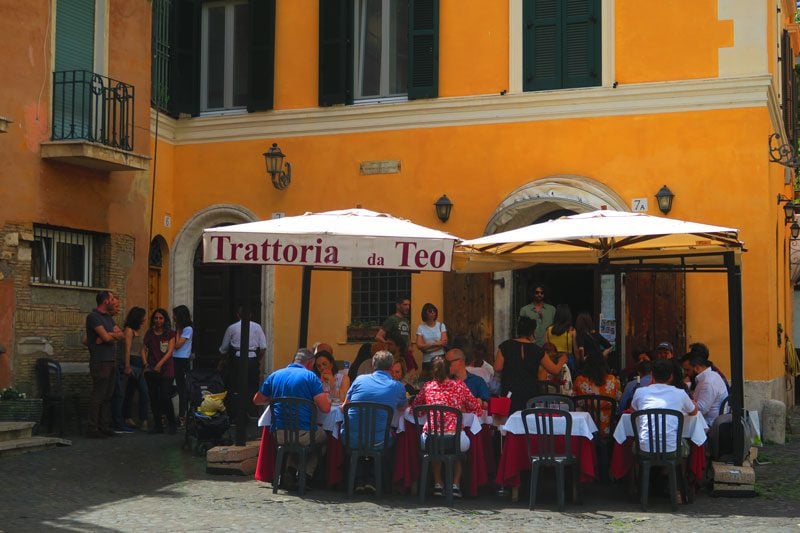 We personally chose the Maribea Rome Center near Piazza Navona. We booked this accommodation months in advance and kept checking for better value for money in the months leading up to the trip but really could not find an excuse for switching elsewhere. This place is essentially a divided apartment with three separate ensuite units. It's perfectly located and even allowed us to dine in the historic center and walk to Trastevere and back post-dinner. The units themselves are basic but newly renovated and well-stocked (even with a safe and small fridge), though lacking natural light. The best part was the self-serve breakfast since all food is accessible 24/7 so you can grab what you want when you want. Apart from the lack of natural lighting, the only other drawback was the fact that the rooms are not cleaned over the weekend.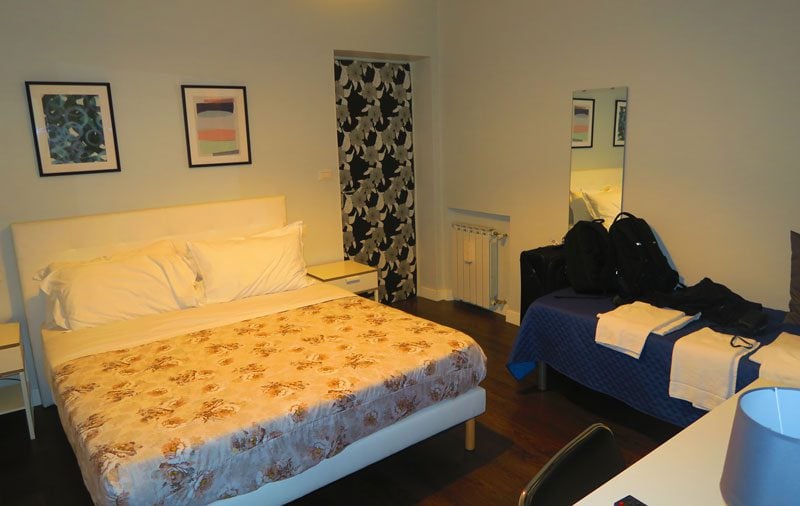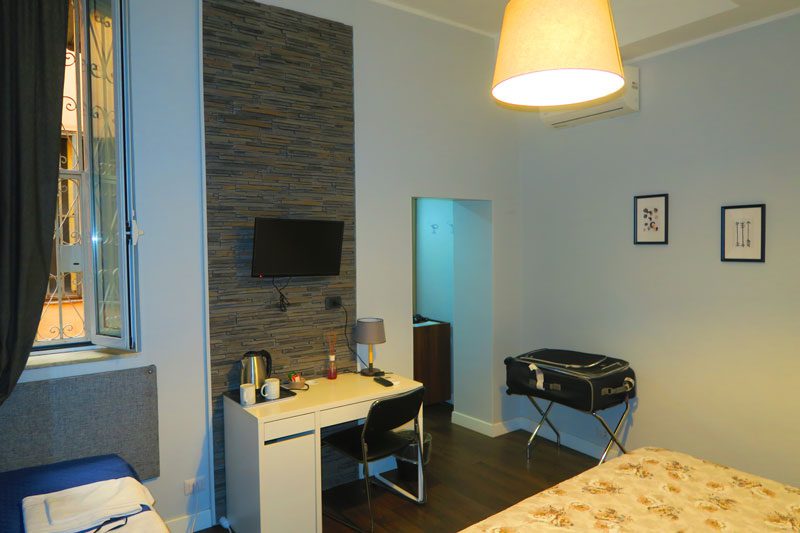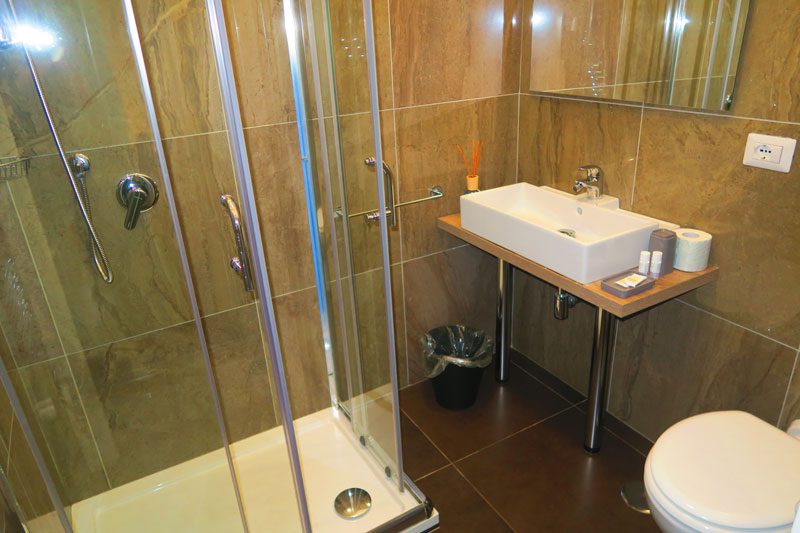 For a more luxurious stay, consider The Inn at the Spanish Steps and The Gran Melia Rome – both are highly recommended for romantic getaways.
The Rome airport experience
In one word – horrible! Concerning Rome's main airport – Leonardo da Vinci International Airport (also known as Fiumicino) – if you're visiting Rome during peak tourist seasons, you might need to wait in line to have your passport stamped for well over an hour. It can get quite chaotic if many international flights land at the same time and, though automated machines have been added for passport holders of certain countries, the whole experience feels quite disorganized. We did not experience this on departure, only on arrival to Rome.
How to get to/from the airport in Rome?
Rome has two airports: Fiumicino – Leonardo da Vinci (main) and Ciampino (secondary). To get from Ciampino to central Rome, you'll need to either taxi (30€ flat rate fixed fare for both ways, including luggage) or take a shuttle bus (approx 4-6€).
Listed here are the most common methods to get to central Rome from the Leonardo da Vinci Airport.
By shuttle: several shuttle buses offer services from the airport to Termini station (central Rome's main train station). The price ranges from 4-6€ and some shuttles stop along the way before reaching Termini.
By train: this is the most popular way of getting from the airport to central Rome. The Leonardo Express directly connects the airport to Termini Station. It takes about 30 minutes and costs 15€
By taxi: this is the most convenient way but, depending on the traffic, can take longer than riding the Leonardo Express. There is a flat fee of 48€ to get from the airport to central Rome and vice versa (including luggage). On the way to the airport for the flight home, our hotel booked a private limousine service for us that cost only 40€.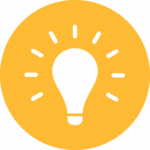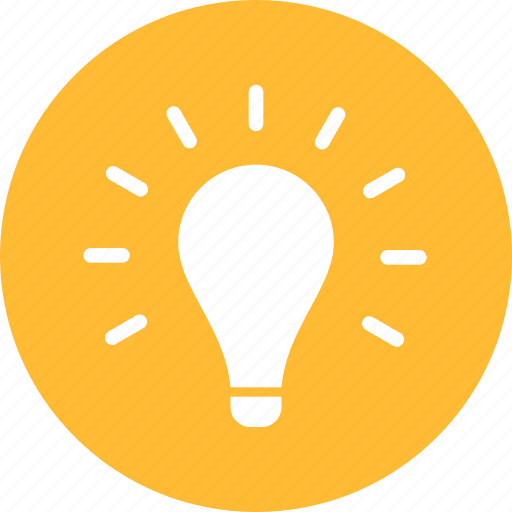 Pro Tip
When you exit the terminal, you'll be approached by drivers who will lure you to their private limousine service for the same price as it costs to take a regular licensed taxi (48€). However, they will often fill a minivan with passengers and double (or triple) their earnings while you waste time dropping other people off. It's best to either exit the terminal and look for the official taxi stand or avoid getting into the minivan if other passengers will be joining!
The best way of getting around Rome
Rome is a city best explored on foot so book accommodation in a central location and be prepared to do a lot of walking (we averaged 15km per day in early June). This means you'll need comfortable shoes, a hat and a small daypack (preferably a foldable bag) where you can store things for the day. Be sure to also carry one or two large plastic bottles that can be filled in one of Rome's drinking fountains (you can use Google Maps to find them).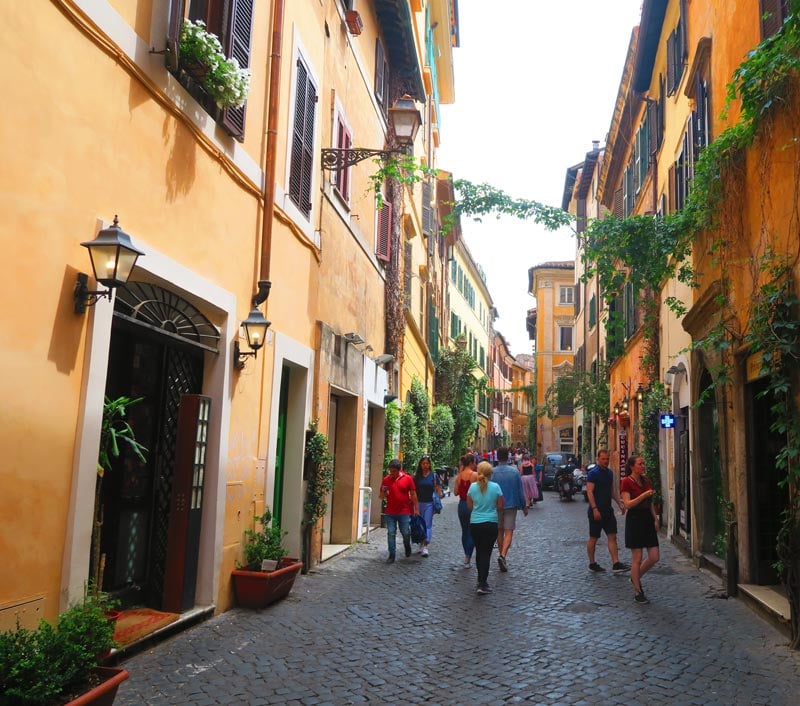 You can also use Rome's extensive public transportation network (ATAC) which includes the underground metro, buses and trams. You can purchase one-way tickets for 1.50€ at any shop or cafe that displays the "T" sign as well as day or multi-day passes. Since the honor system is applied and it is your responsibility to "punch" your ticket when boarding, some tourists choose to take the risk and avoid payment. Keep in mind that fines are happily given and will set you back 55€.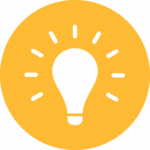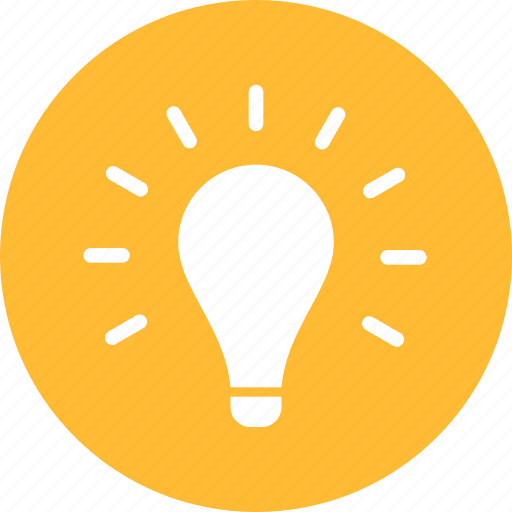 Pro Tip
If you plan to purchase either the Omnia Rome & Vatican Pass or the Roma Pass, they might include hop-on-hop-off tourist shuttles and/or access to public transportation. For an easy way to hail a taxi, download the MyTaxi app (Android | iOS)
Sightseeing in Rome
Rome is one of the most visited cities in the world so you will need to share it with others, on some months of the year more than others. If you plan on sightseeing in Rome, it is best to come mentally prepared and to set expectations with yourself. The major sites will be crowded, there will be queues, people trying to sell you rickets, souvenirs and water bottles and it can get hot and humid in the summer. The overly congested tourist areas are the Colosseum and the Vatican. This is where you'll feel like a complete tourist and where tensions might flare with your traveling party. As long as you're aware of this and plan ahead, you'll achieve your sightseeing goals.
The following two sections will provide a few Rome sightseeing travel tips.
Planning your day in Rome
I've prepared a detailed day-by-day Rome itinerary based on my visit to Rome during early June. It's designed to include all the major highlights in a doable itinerary. Here are a few general tips for planning your day in Rome:
Tips for planning your day in Rome:
Map all the major sites you wish to visit and determine their opening days and times. This includes the major museums and any special churches you wish to visit.
Keep in mind that on days when the Vatican is closed (Sunday and religious holidays), other sites will receive an extra dose of visitors.
Try to mix heavy sightseeing days (Vatican, Ancient Rome) with easy-going days that are more flexible and relaxing.
Some museums and sites offer free entry on the first Sunday of each month (Colosseum, Roman Forum and Palatine Hill and Galleria Borghese). This can lead to major savings but also keep in mind that such sites will be extra packed on those free days.
Unless you're packing a picnic lunch, aim to grab lunch between 12:30-15:30. These are the serving hours in most restaurants, after which they close for a few hours before reopening for dinner around 19:00.
Have your eyes set on a specific restaurant, do yourself a favor and book ahead of time, especially for dinner (see eating and drinking in Rome section below for more info).
Avoid heavy lunches if planning an afternoon activity as you'll feel quite sleepy.
I recommend to start the day early (especially if visiting the markets of Campo de Fiori or Mercato Centrale Roma) and returning around 5pm for a rest before heading out to dinner around 8pm.
Photography is allowed in most Rome attractions, apart from the Sistine Chapel (heavily enforced), the catacombs at Santa Maria della Concezione dei Cappuccini and in churches when mass is taking place. From my experience, signs prohibiting photography in cathedrals are not enforced (except during mass). usually allowed except for Mass times.
Star all the spots you wish to visit on Google Maps and easily navigate from point to point.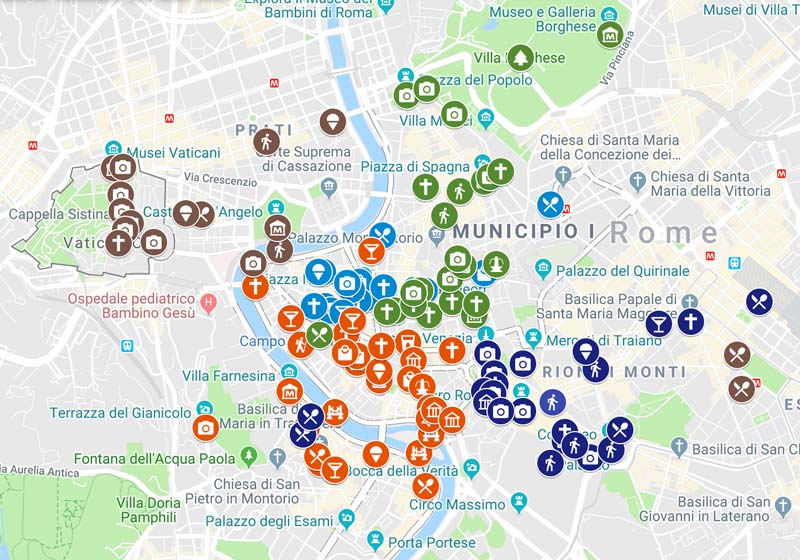 Do you need to purchase tickets in advance in Rome?
Absolutely! Unless you wish to waste hours in line (sometimes only not to even enter), purchase your tickets in advance for all major Rome attractions. You will be paying a small premium for skip-the-line tickets but it is well worth it. You can also purchase tickets directly from the official website.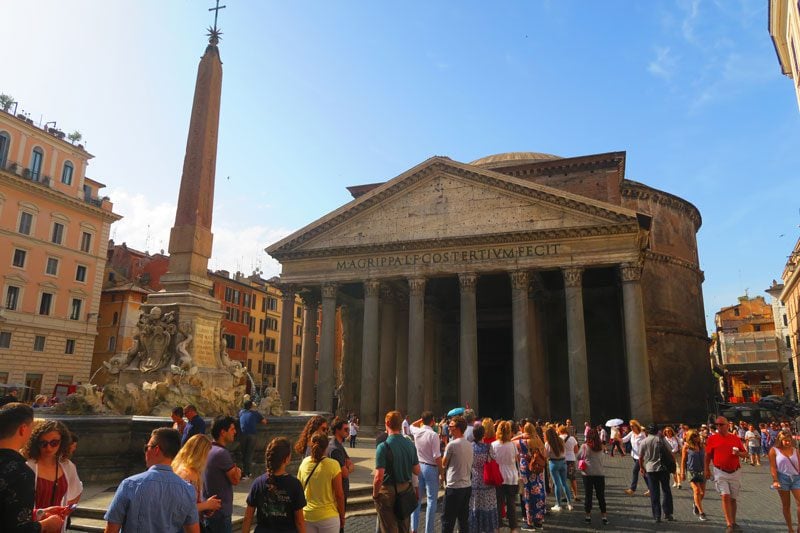 If you plan on doing a lot of sightseeing and not relying solely on your feet for getting around Rome, check out the Omnia Rome & Vatican Pass and the Roma Pass. Each offers entry to a different set of attractions (perhaps with some overlap) as well as other perks. I did the math and found them to be too expensive for what I was looking for, but they might work for some. Keep in mind that even when you purchase the pass, you might still need to book a specific time directly on the website of the attraction.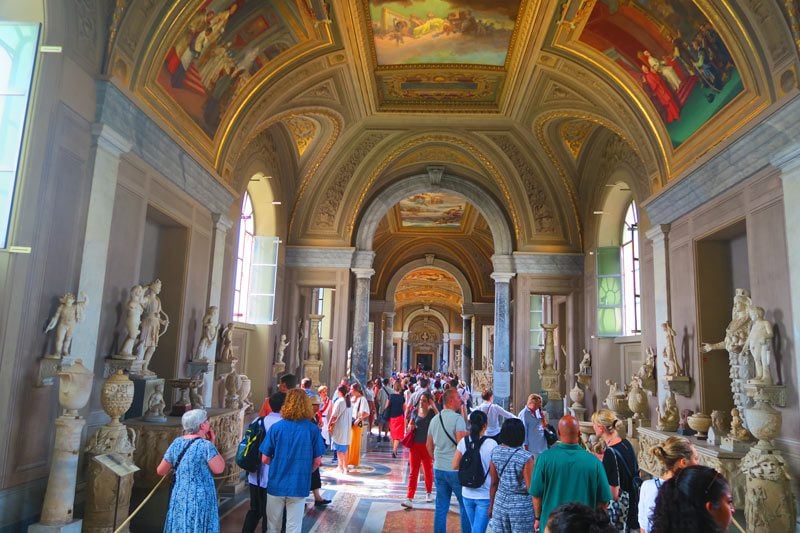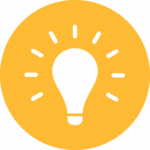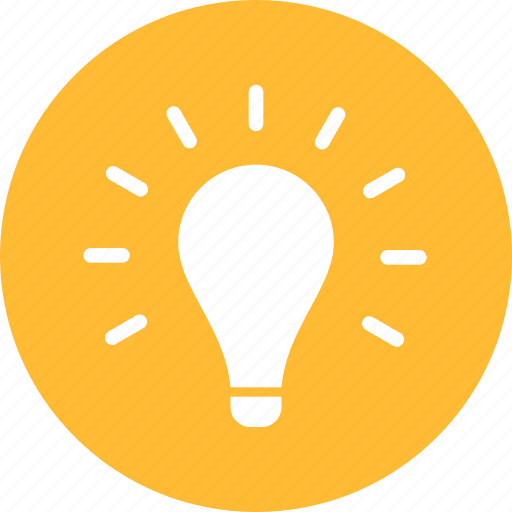 Pro Tip
Pre-purchased tickets to all major Rome attractions will include choosing a specific time for your visit to keep this in mind. I highly recommend purchasing your tickets well in advance to ensure availability for the exact time you wish to visit. Some sites, such as the Colosseum, can only accompany a certain amount of visitors at any given time.
Eating and drinking in Rome
Food is an essential part of any visit to Rome and you can easily offset the carbs with walking. In fact, it is such an intricate part of the trip that I wrote a guide to the best places to eat & drink in Rome. Check it out!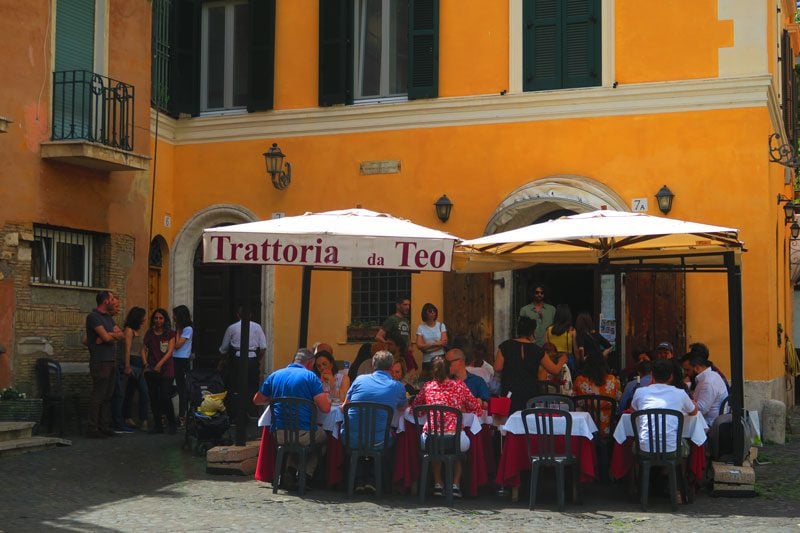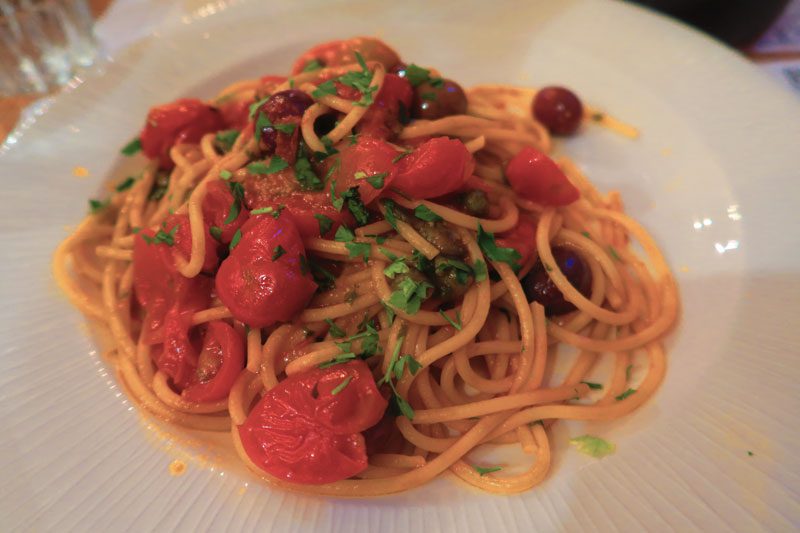 Tipping in Rome
Tipping in Rome is not necessary and in some cases, a form of it might be included in your bill. Restaurants might add a cover charge to the bill (coperto) and will charge you for the bread brought to your table (you need to ask to take it away to avoid payment). If no cover charge is added to your bill and if the service was good, you can leave a few Euros on the table and it will be much appreciated by friendly staff. If you're taking a taxi, it is not necessary to tip but you can round up the bill if you had a good experience (we did on a few occasions). Waiters in cafes and bartenders do not expect a tip but you can leave a few coins if you feel like it.
Staying safe and comfortable in Rome
With so many tourists and less fortunate residents around, petty crime happens in Rome but can easily be avoided. Here are a few tips for staying safe while visiting Rome.
Try and book accommodations that have a safe in the room.

Never leave any valuables on the table if sitting in the outside terrace of a cafe or restaurant.

Be careful of pickpockets around the major monuments and archeological sites, especially in super crowded areas like the Trevi Fountain and public buses. It is best to place your wallet in a side pocket and not in your rear pocket or purse.

Avoid purchasing tickets from hawkers on the street. Book them in advance online or in official shops.

Always carry with you a few water bottles. They can easily be refilled in one of the city's many drinking fountains.

If you suffer from springtime allergy (

hay fever

) travel with medication and tissues. I suffered for the first few days in early June until getting my hands on a spray which stopped the allergy altogether.

If you experience skin chafing after long periods of walking, don't forget to pack a cream.

Be sure to dress appropriately if planning on visiting any churches as some required both men and women to cover their shoulders.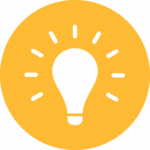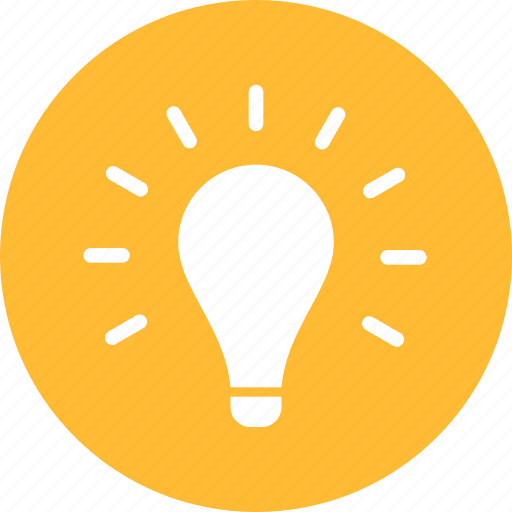 Pro Tip
Never travel without the right travel insurance. Check out the coverage World Nomads offers travelers and choose the plan best suited for your travel needs.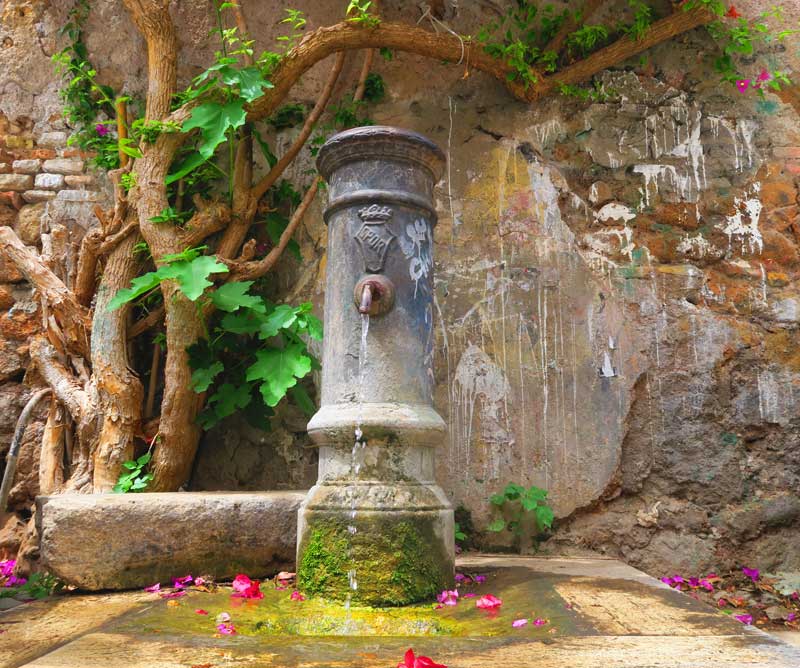 Rome with kids
With so many ice cream shops around, Rome is definitely a family destination. However, if you're traveling with small children, here are a few essential tips.
It's important to set expectations with the children as some days will be physically challenging for them yet rewarding. Getting their agreement is essential for alleviating tension.

Rome is not blessed with many public toilets so use them when you get the chance at restaurants, cafes and museums.

Be sure to pack alcohol gel and baby wipes to keep the kids clean and fresh.

In the warmer months, equip each child with their own water bottle and empower them to fill up in the city's water fountains. Make a game out of it and that way, you'll be sure their adequately hydrated (but not too much since you'll need to find a toilet soon after).

Be extra careful with passing cars. Even streets that seem to be pedestrian-only are often shared with cars (and trucks).

Rome's historic streets are laid with cobblestone. Some parents with strollers find this comfortable since the rocking motion puts the child to sleep but some find it challenging.
What to buy and take home from Rome?
I found Rome to be cheaper than other European capitals when it comes to food, but I did not find the shopping to be particularly worth it, except for local goods and fashions. It's worth keeping in mind that the tourist tax refund only applies to purchases of €154.95 or more in a single store, unlike London, where every shopping success entails eligibility for a VAT refund. Nevertheless, here are the recommended items to bring back from Rome. In the 5 Days In Rome itinerary, I also outline the best places to buy some of these items.
Leather goods

: belts, bags, wallets, purses. You can find some really fashionable and well-priced leather goods in Rome.

Italian summer fashion

: those loose shirts and pants you see fashionable Europeans wearing for the summer vacation.

Shoes

: Italians love shoes, this is no secret. It's hard to leave Rome without buying at least one pair.

Wine

: I recommend trying a different kind of wine with every dinner and on your last day to purchase the ones you loved the most.

Italian food

: olive oil, pasta, sauces, cured meats, cheese. Italians love food and the best part is that they're very good at packaging it for tourists to take back home. You can technically buy all of the above at the airport so if you didn't have the time, don't worry as you'll simply pay a small "airport premium".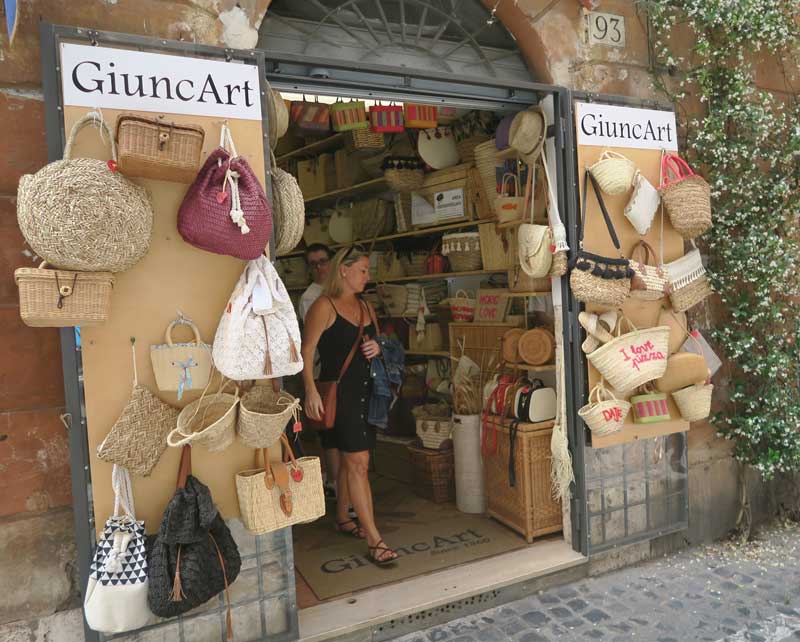 What's Next?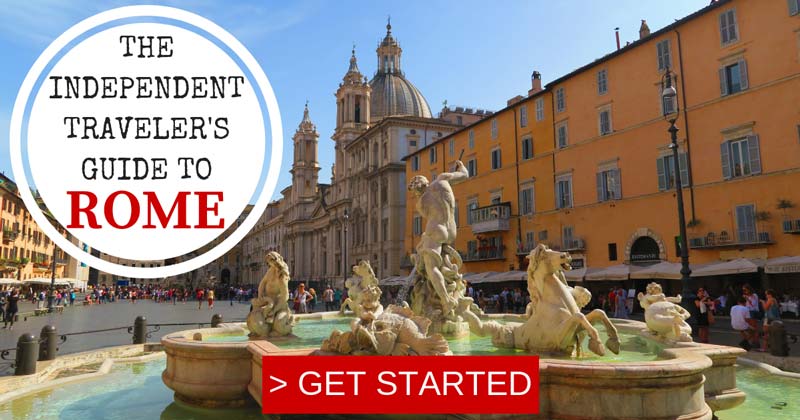 Now that you have all the essential Rome travel tips, you are ready to plan your own vacation to Rome! Be sure to check out the rest of the Rome travel guide collection, including day-by-day Rome itinerary, the best places to eat and lots more.
---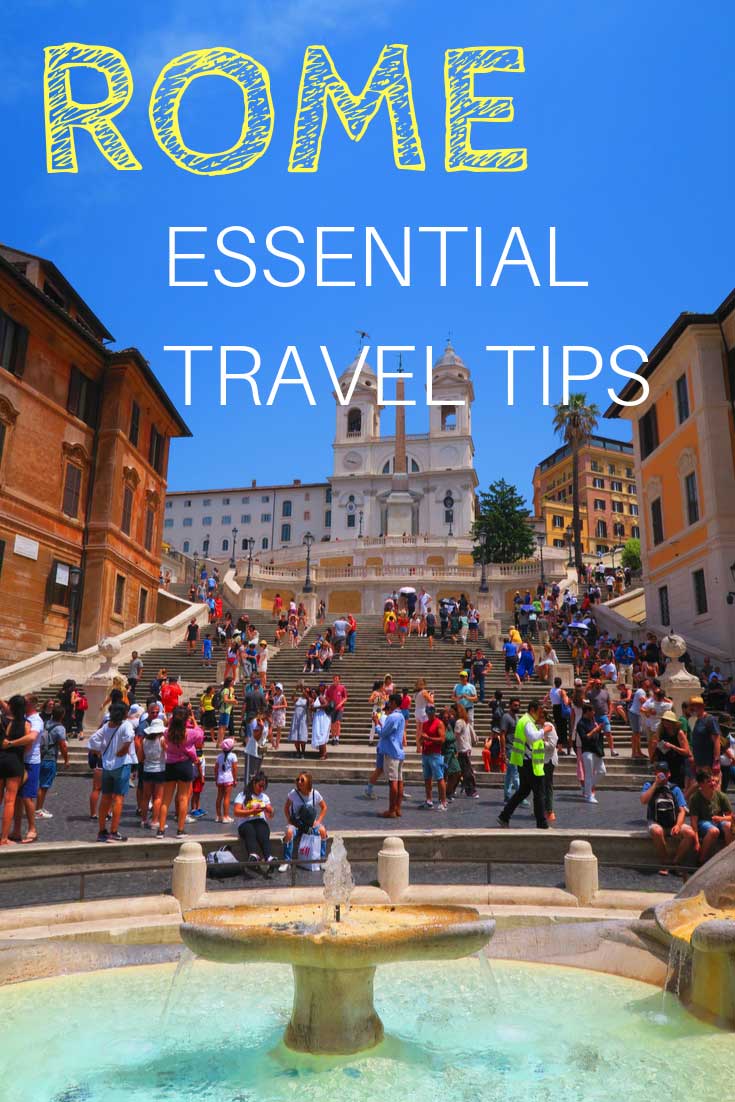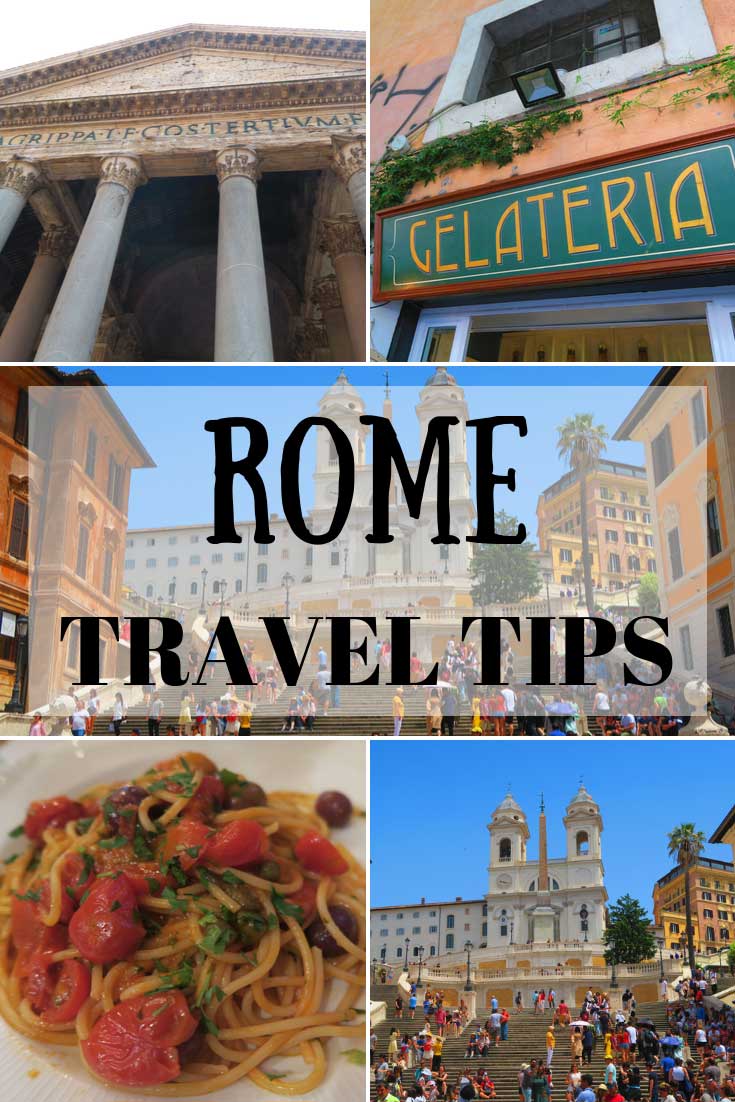 Pin These Images To Your Favorite Boards!