Top 10 Things To Do In Barcelona
Barcelona is one of the most visited cities in the world, and for good reasons. Everything seems to come together in this city, a perfect blend of great food, architecture, history and vibe. In this post, we'll cover the top things to do in Barcelona, from the must-see attractions to a few local gems.
10. Order Thick Hot Chocolate With a Side of Churros
This place is so popular that they allow themselves to close shop and go on a siesta in the middle of the day. At the heart of Barcelona's Gothic Quarter, you'll find Granja Dulcinea in one of those ancient narrow alleys. You come here for their famous thick hot chocolate and your biggest dilemma should be: with whipped cream or without? If you're really adventurous, order some churros on the side – they make for the perfect dip.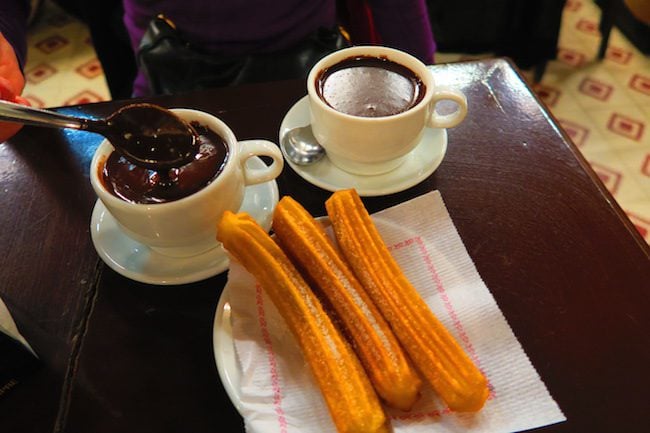 9. Explore Placa d'Espanya
Back in the pre-Tripadvisor days, to get on the world map, a city had to host one of those huge international fairs. Barcelona hosted a few of those which 'kickstarted' immense expansion. For the 1929 International Exhibition, the city erected a beautiful fountain built in Classic fashion. But they weren't quite done. Just a few meters away, giant towers welcome you to a wide boulevard with steps leading up to the Palau Nacional. This entire section of town, known as Placa d'Espanya, is wonderful to explore and those of you who make it to the top will be rewarded with excellent views of Barcelona.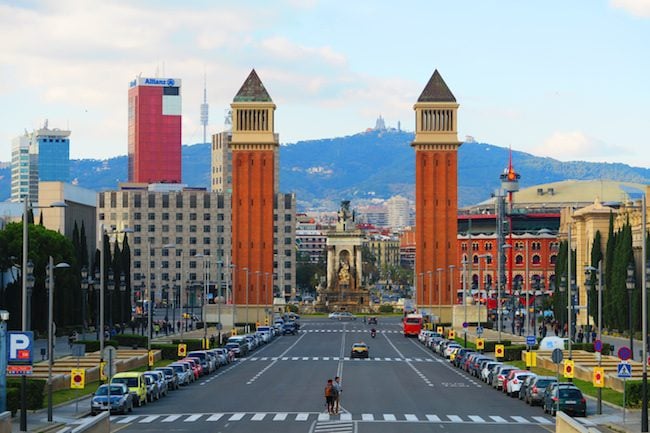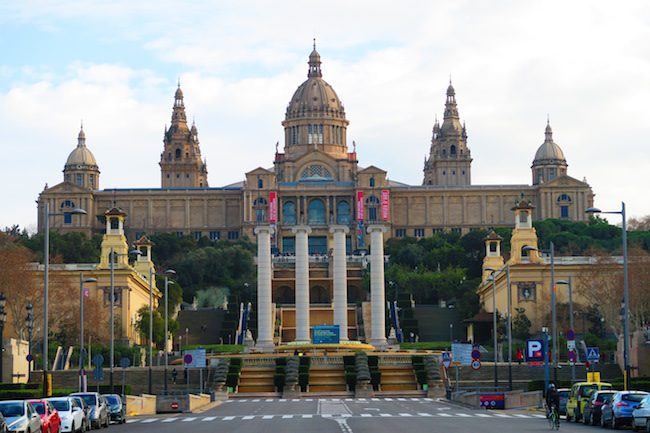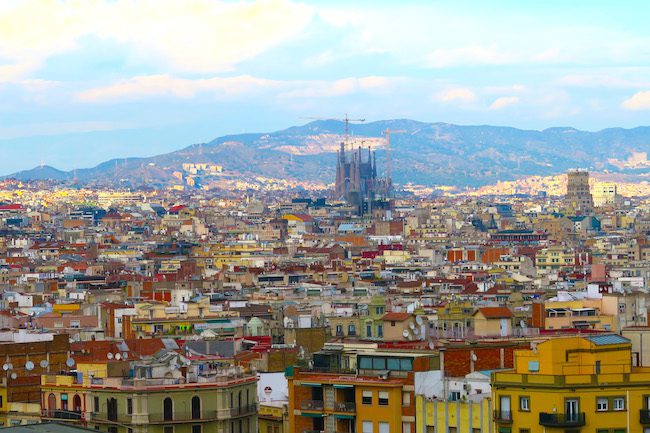 8. Admire the Modernista Architecture
As Barcelona's regional importance recovered in the 19th century, a new sense of Catalan pride also took on the form of rapid expansion and with that a new design style was born, known as Modernisme. Inspired by Art Nouveau, religious beliefs and gothic influence – it gave Barcelona the look that is the envy of many cities around the world and for us, another reason to come visit. The most famous of all Modernista-influenced architects is, of course, Antoni Gaudi. The most famous modernist buildings can be found within a few blocks of each other and include La Pedrera with its famous rooftop terrace and weird-looking chimneys, Casa Amatller with its adorned 'crown' and of course, Gaudi's Casa Batllo, which is simply remarkable. Venturing inside may not mean long queues if you book in advance but you'll have to say goodbye to around 20€ per person.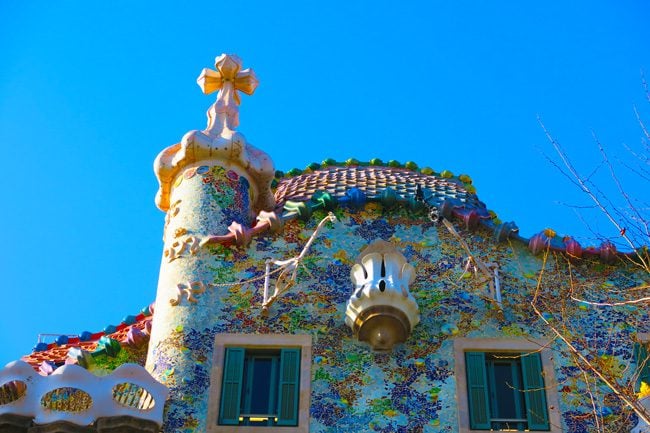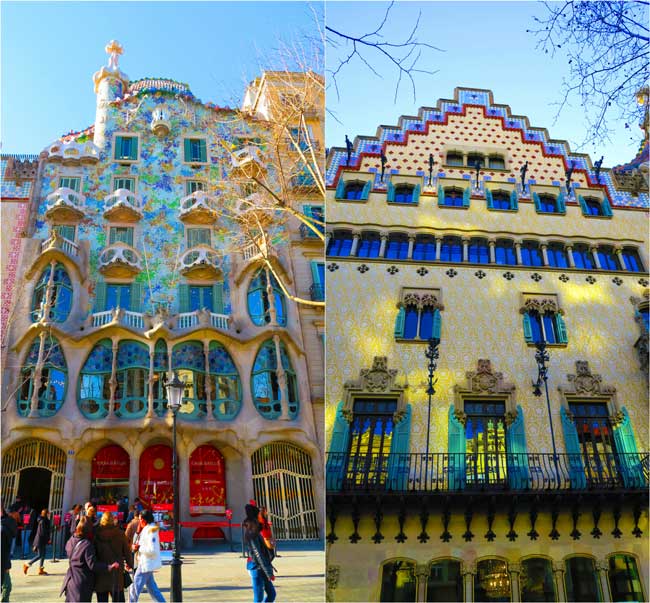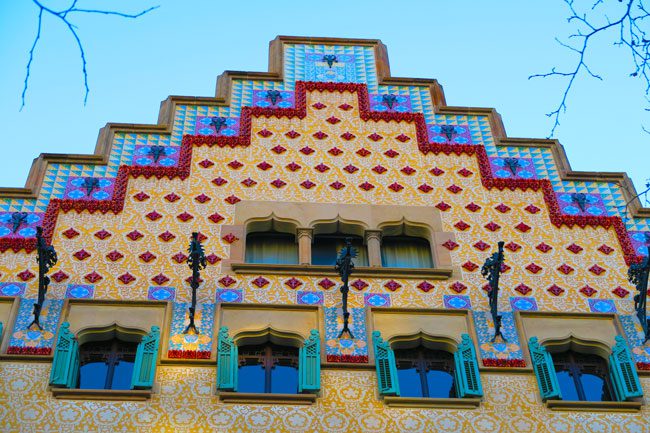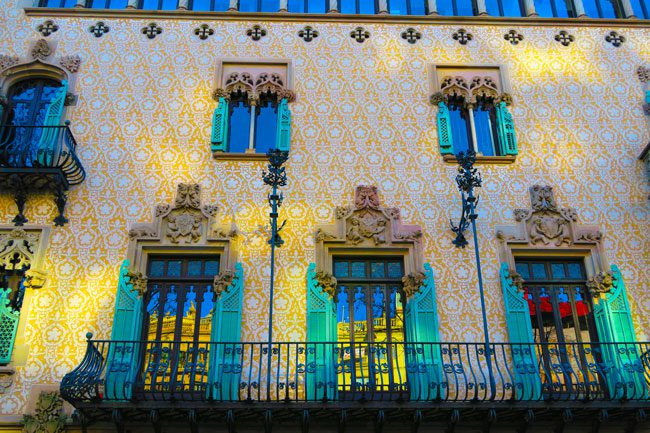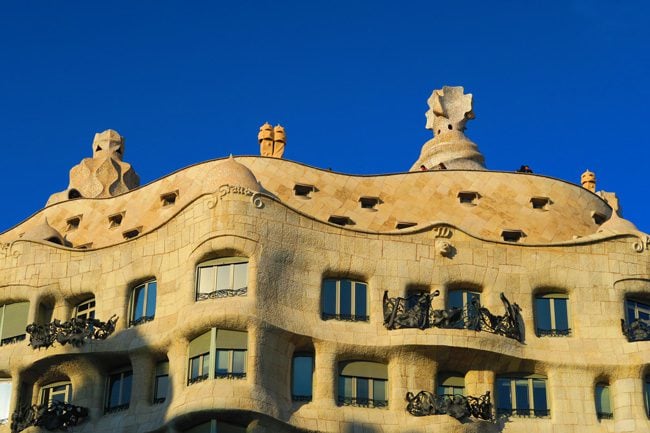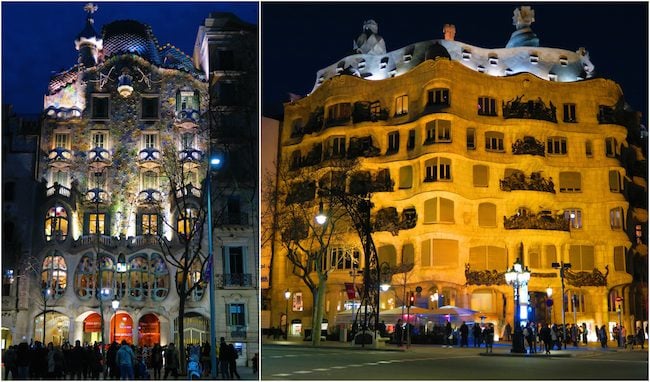 7. Stroll Down Barcelona's Most Famous Avenue
Whether you visit by day or by night, there's always something going on in La Rambla. Extending from Placa de Catalunya down to the harbor, it's by far Barcelona's busiest street and your gateway to the market and Gothic Quarter. Lined with cafes, flower stalls, street performers and loaded with pedestrians, La Rambla also has quite a few historical sites along its avenue. There's a metro line running underneath you but it's so much better above ground!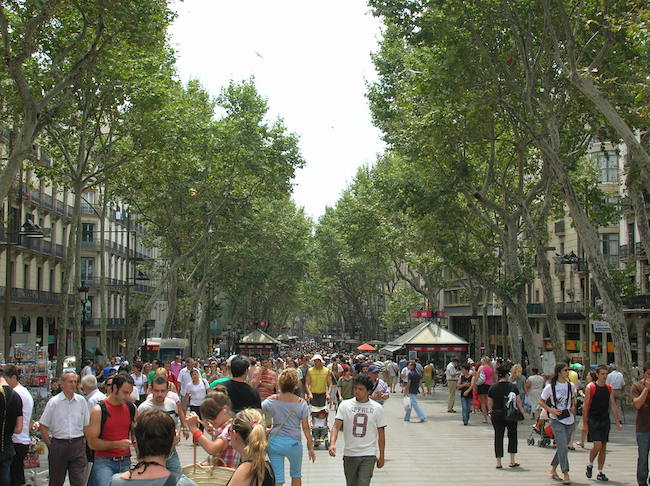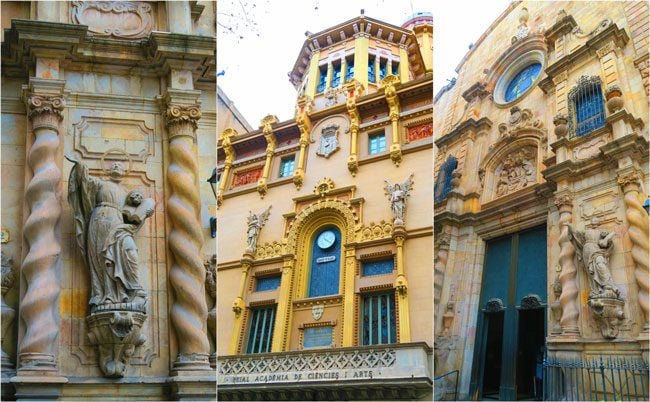 6. Visit Barcelona's Main Cathedral
I must admit I'm a sucker for old European cathedrals. They are just so beautiful from the outside and you never know what you're gonna get inside. The Barcelona Cathedral is certainly a must-visit and it's easy to see why. Completed in the 15th century in gothic fashion, its dominating towers can be seen from most of the Gothic Quarter. If you time your visit well, you can avoid the entrance fee, but even if not – you gotta come here. Be sure to check out the massive organ and the famous cloister, with geese that have been here for centuries (not these specific ones but you get my point).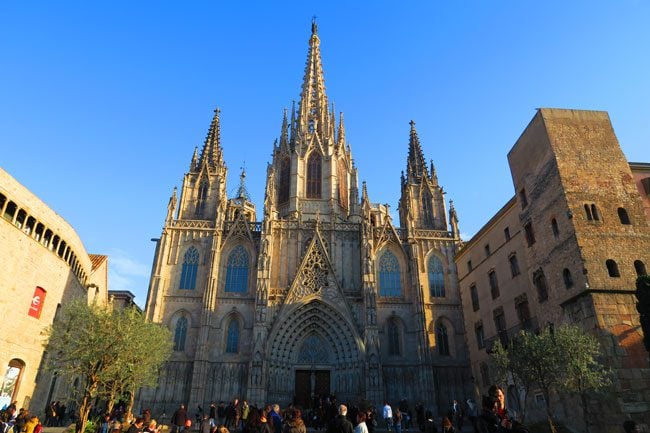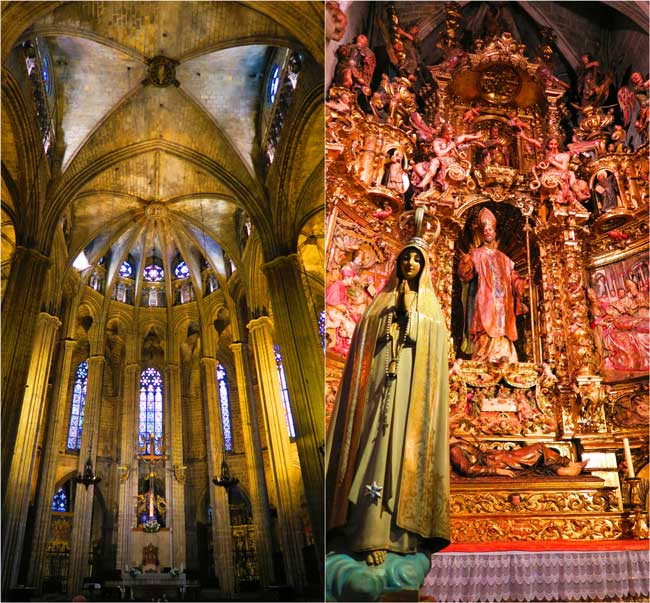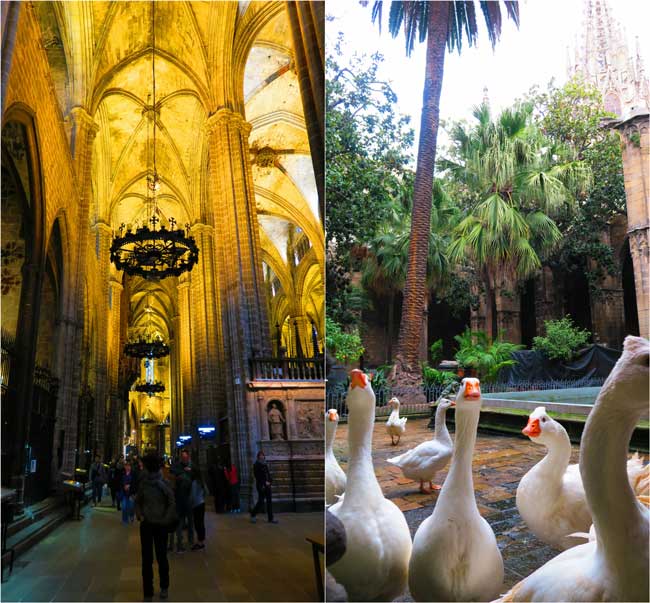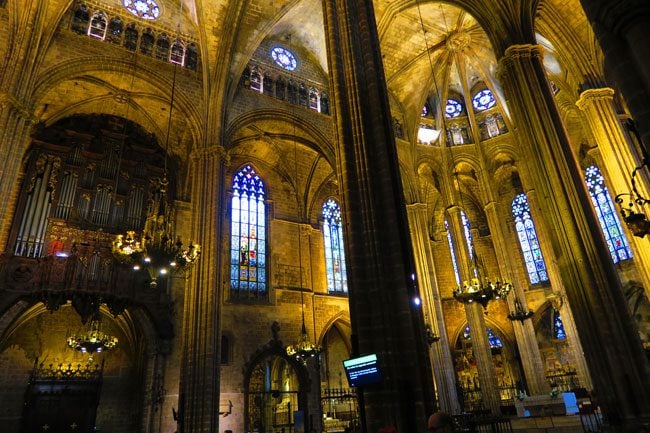 5. Catch a Great View of Barcelona From Park Guell
On a sunny day in Barcelona, you must visit Park Guell, up on the hills by the Gracia neighborhood. Even if the weather doesn't cooperate, it's still a pleasant way to escape the grind of the city center. Oh, and by the way, there are amazing structures here, taken straight from a fantasy movie, designed and built by that guy I was telling you about before – Gaudi. Remember him? Conceived as a hilltop neighborhood for the wealthy, it was opened to the public as a park in 1922 – lucky for us! It's technically free to visit, but the real draw is the Monument Zone – where the real magic happens. Catch a view of Barcelona and the Mediterranean Sea from the Grand Terrace and venture below to the Hall of Columns and the Dragon Staircase. It's an ideal spot for a picnic… or an afternoon nap in the sun.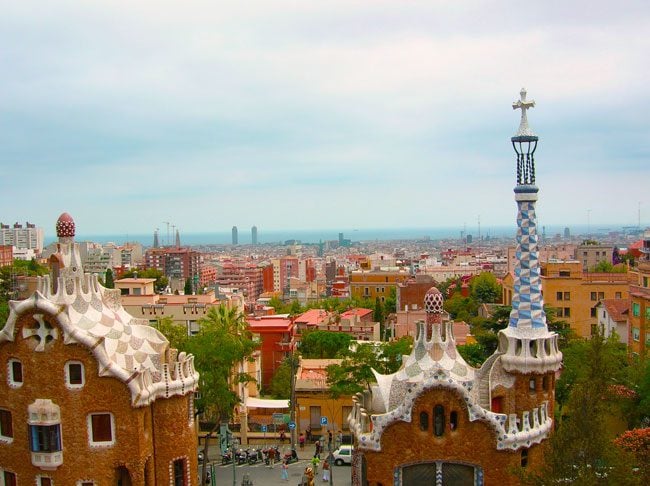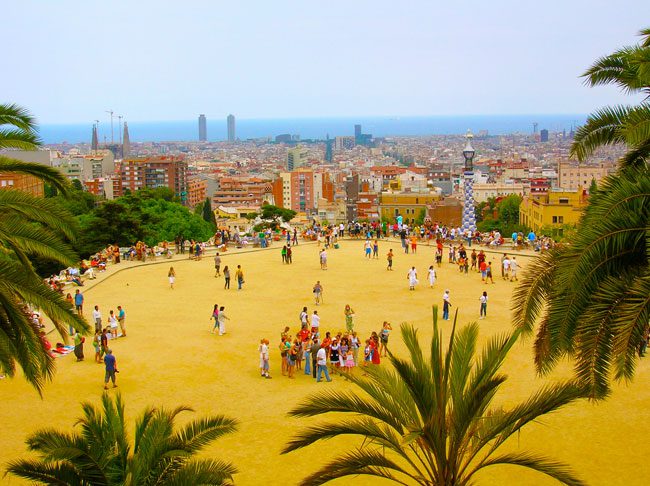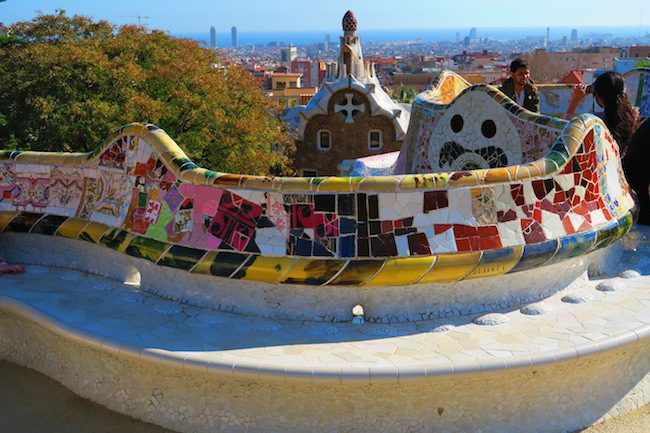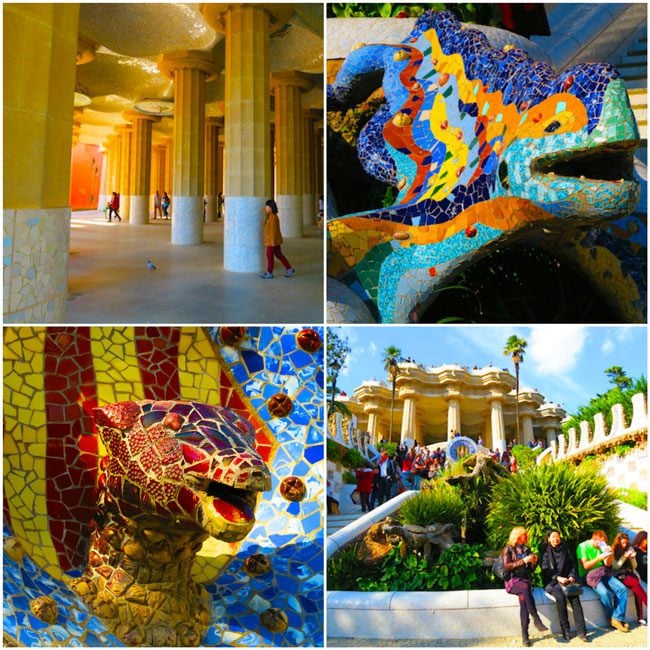 4. Head On a Tapas Bar Crawl
Forget about tapas bars back home, it's the real deal here. Have it for lunch or have it for dinner, have the small tapas or the full rations – whatever! Just be sure to visit a few authentic tapas bars when you visit Barcelona. They're usually small, cramped and noisy but that's part of the fun. Most of the action happens around the bar and some of my favorite tapas bars in Barcelona are Bodega la Palma in the Gothic Quarter and El Vaso de Oro in Barceloneta. Here's what it looks and sounds like to be in a proper tapas bar. As of the date of writing this post, it's still not possible to transfer the sense of the smell or taste via the internet, so let me tell you – it was delicious!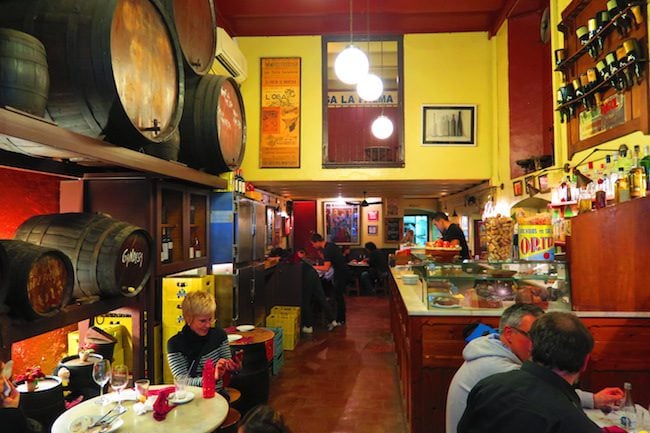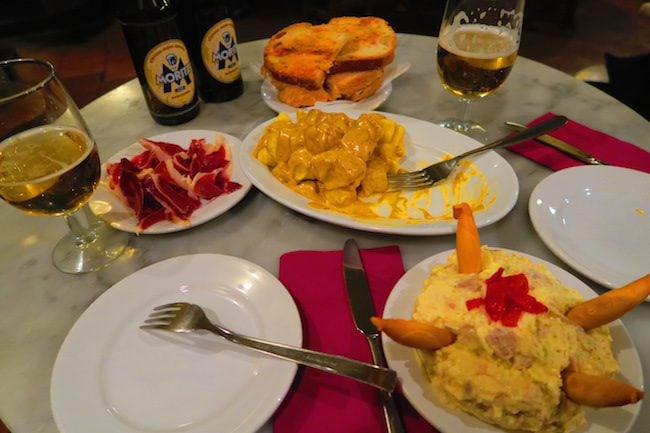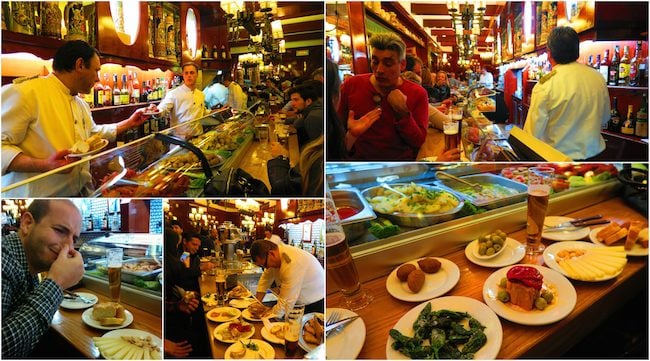 3. Get Lost in the Narrow Alleys of the Gothic Quarter
The Barri Gotic (Gothic Quarter) is the heart of Old Barcelona and where it all began. At its center is the Barcelona Cathedral (#6) but its labyrinth of narrow alleys find their way to dozens of charming placas, where you really need to make some tough choices: coffee, beer or tapas? Here and there you'll be lured by the tunes of Spanish guitars playing in the distance and Mr. Visa will be happy too with all the boutiques and shops along the way.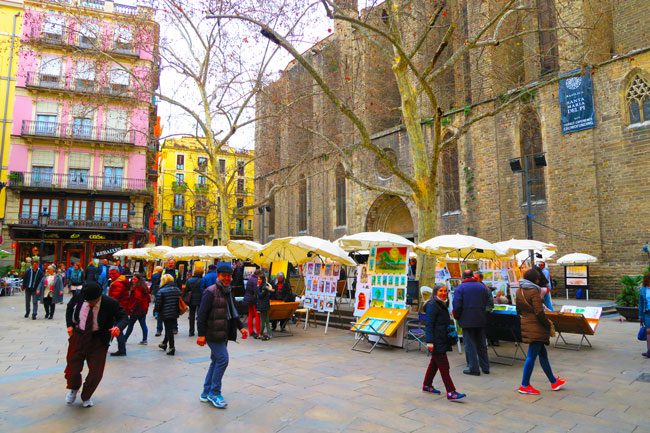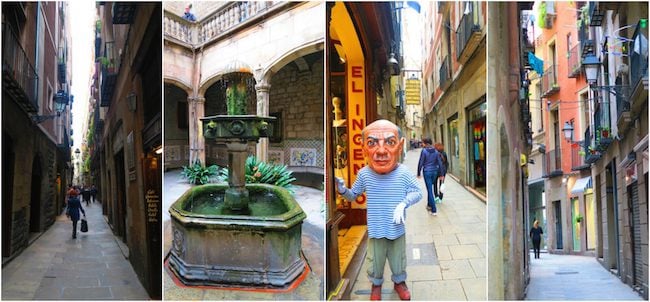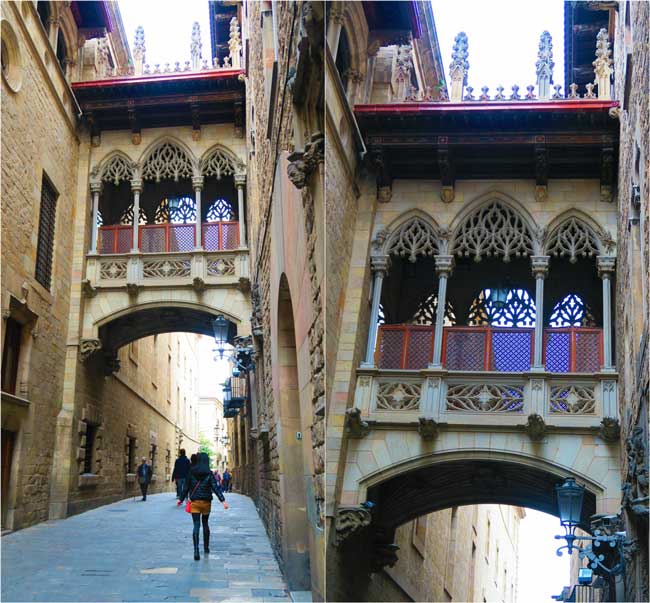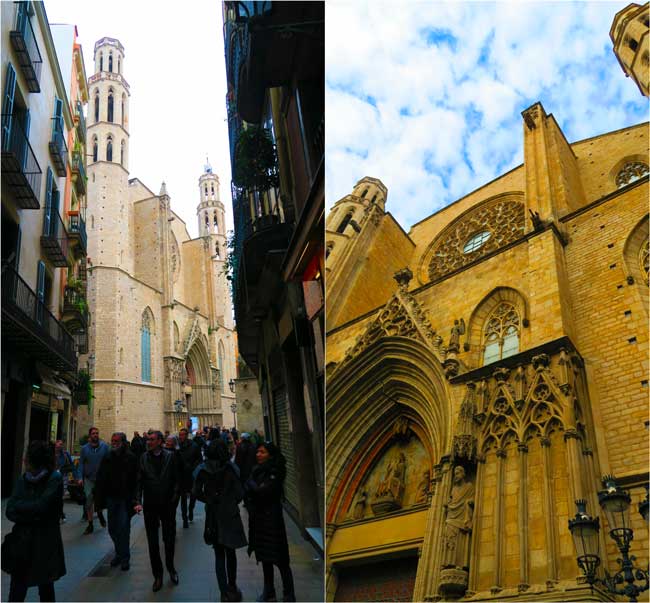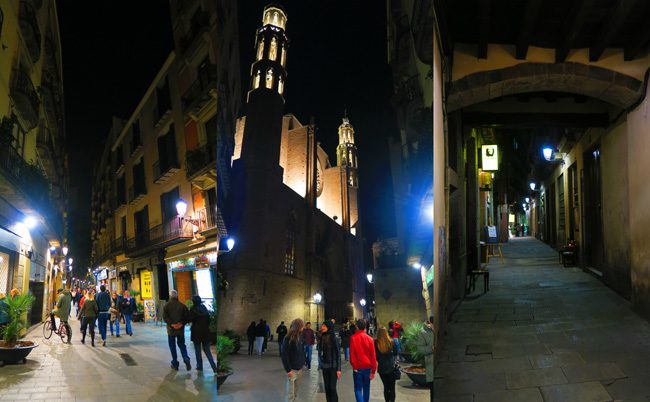 2. Visit the Best Market in Barcelona
Sitting on the site of a former convent, the Mercat de la Boqueria is regarded by many as the best market in Spain, and there's a good reason why. Smack in the middle of La Rambla, just follow the crowds and head inside. We've visited our fair share of Spanish markets on our trip to Mallorca and Seville, but this one is on a whole other level. They'll start you off lightly with some fruits and vegetables but things get serious in the seafood section, where the fresh catch of the day may not be a fish you want to bump into on your next beach holiday. Let's not forget the meat section which is definitely not for vegetarians. There are excellent places to eat here as well, like Bar Pinotxo – so do yourselves a favor and skip breakfast at the hotel!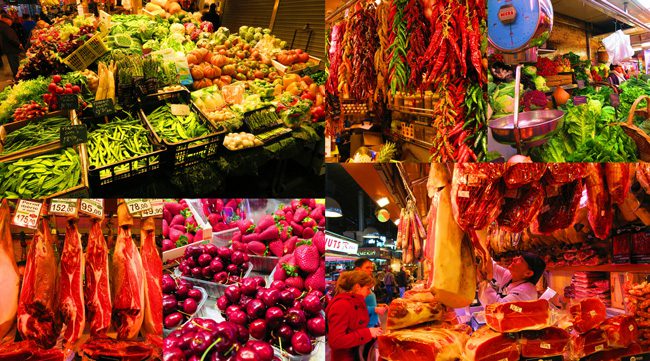 Click here for a video tour of the fruits & vegetables and the meat section (vegetarians – I apologize in advance)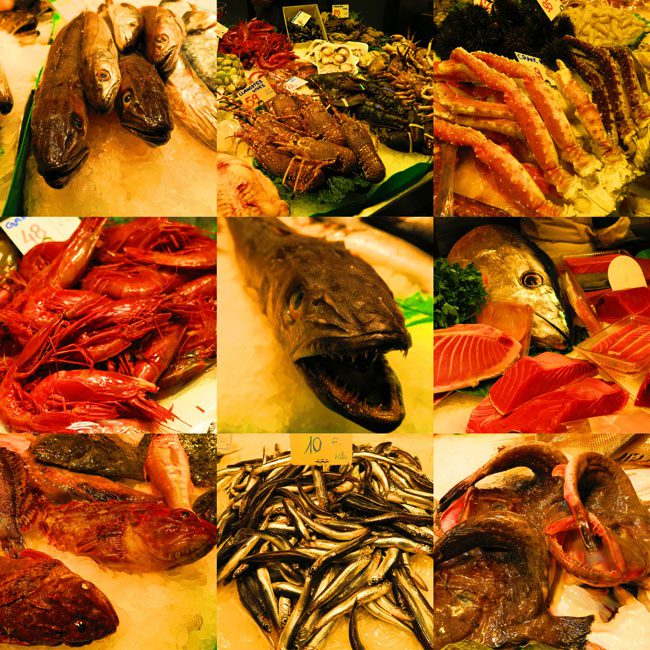 Click here for a video tour of the incredible seafood section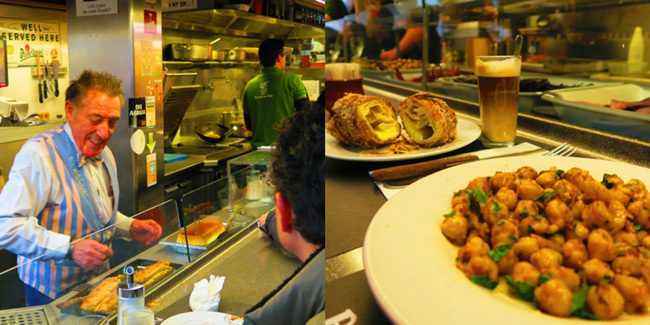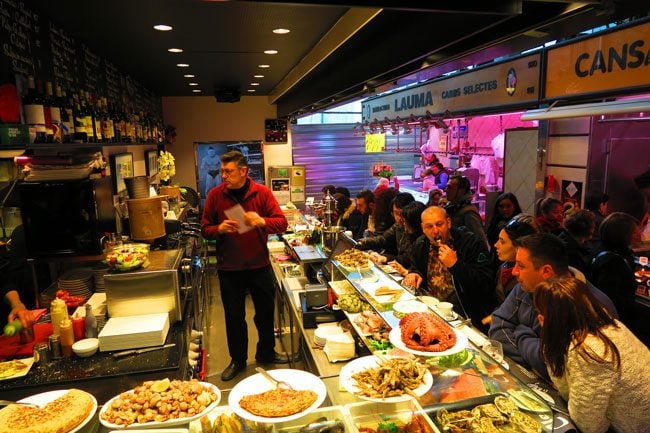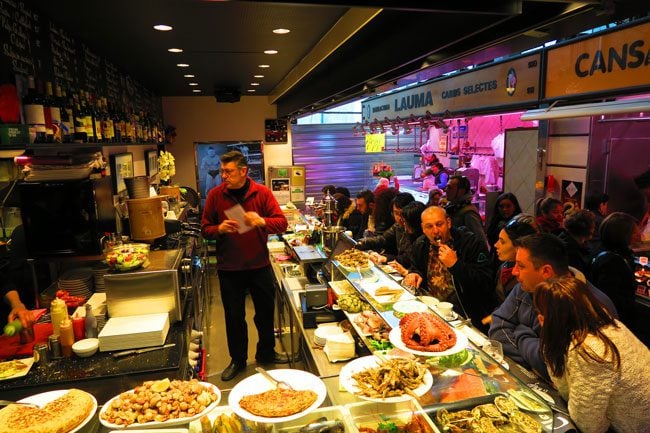 1. Lose Your Mind at the Sagrada Familia
There's not much I can say about Gaudi's greatest (and unfinished) achievement so I'll let the pictures do most of the talking. What I can say is that there's no place on earth that is under construction and still gets so many visitors – so there must be a good reason! Designed in modern Gothic style by an architect who clearly defied all the rules, it's simply impossible to come to Barcelona and not visit the Sagrada Familia. Due for completion in the next couple of decades – I can't wait to see the finished product! Just do yourselves a favor and book online in advance to avoid major queues.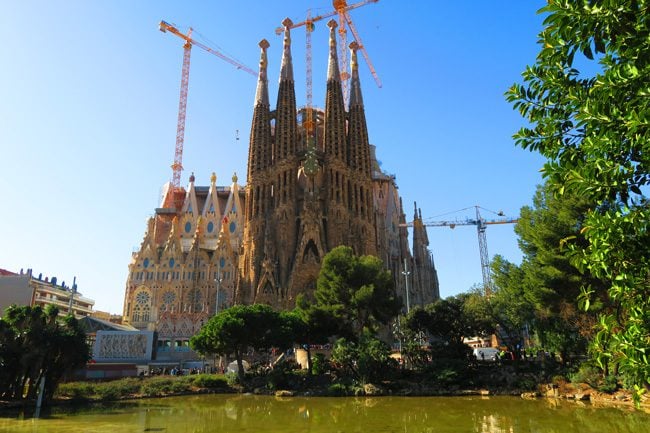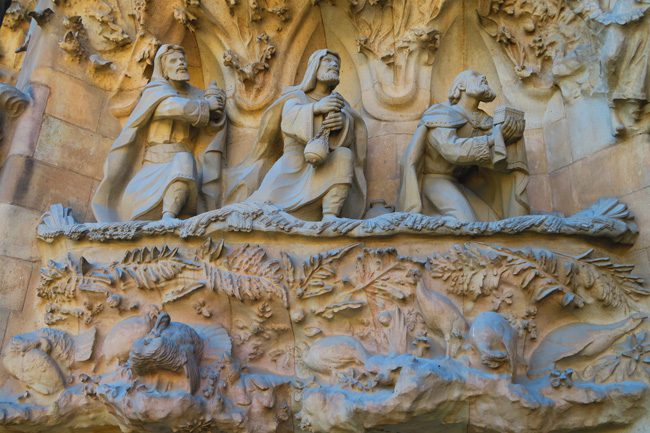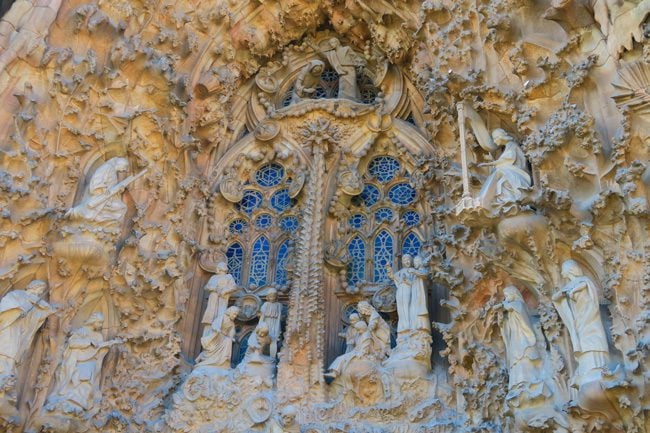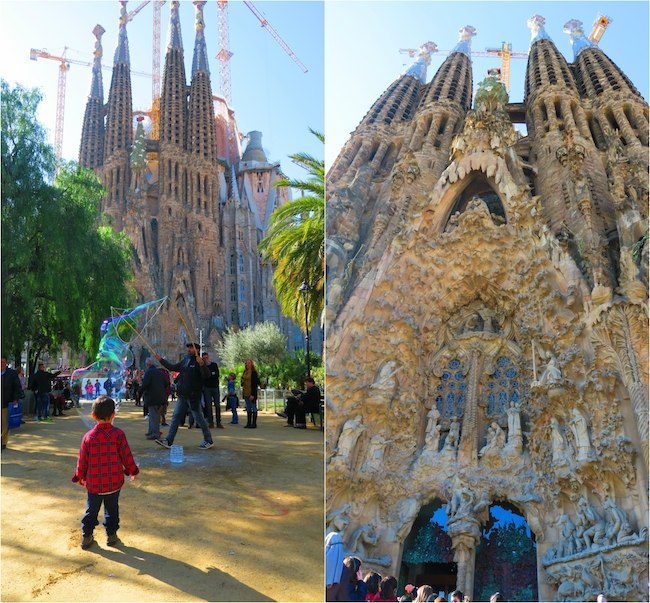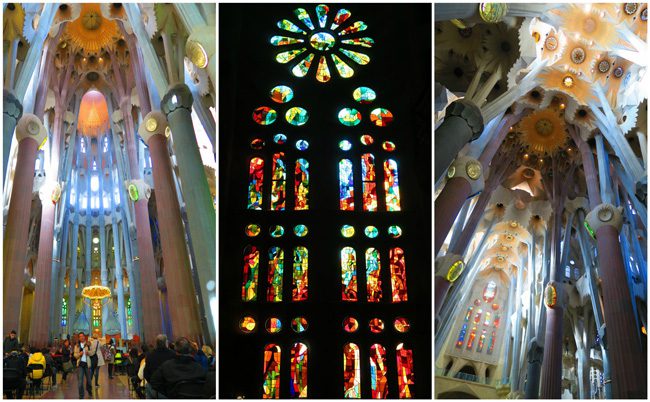 More From Barcelona
These were what I consider to be the top things to do in Barcelona but this city has so much to offer. To help you plan your Barcelona adventure, check out this sample Barcelona itinerary and the additional resources below.