Top 5 London Spots For Foodie Families
Every parent knows that while traveling with children is a priceless experience, it isn't the easiest thing in the world. And when it comes to feeding the hungry and picky bunch, the challenge is even greater. Pizza, french fries, burgers and ice cream – is this all it has to comes down to? Well, in this post, I propose an antithesis to those parents out there who think that traveling with the kids means missing out on the best culinary experiences. And just to up the ante – let's see how dining and drinking with the kids can look like on a family trip to London.
Guest post written and photographed by R. Salman
Whoever claimed that London's culinary scene lags behind other capital cities is most likely either a Parisian or at the very least unaware that London is one of the most ethnically diverse cities in the world. London offers the absolute best variety of food, from oriental to fast food chains and even healthy organic options.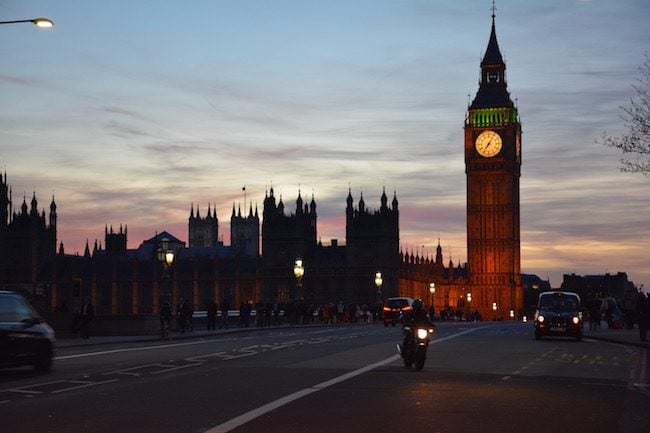 Sure, you'll have no problem finding great places that serve 'proper' English meals (fancy some fish and chips?), not to mention the family-friendly pubs (in London this isn't an oxymoron) where you must try one, or two, or three pints of India Pale Ale. On days when you visit London's legendary markets, food will be the least of your concerns, for there are endless choices of street-food stalls from around the world. Markets such as Portobello Road Market and Borough Market are essential stops for any foodie-family and I highly recommend heading there for a guaranteed memorable culinary experience.
But now for the serious stuff. Over the next few calorie-packed paragraphs, I'll list my family's absolute London favorites. These are restaurants, cafes, and bars that not only top our list but are also suitable for a family of five to six people. For the spontaneous travelers out there, don't be afraid to just try a place you stumble upon on the go. And, since most places welcome children until 10 PM, you'll likely not encounter a snobby hostess, maybe just a queue – so patience will come in handy along with a mobile data plan to keep the kids busy while you wait for a free table.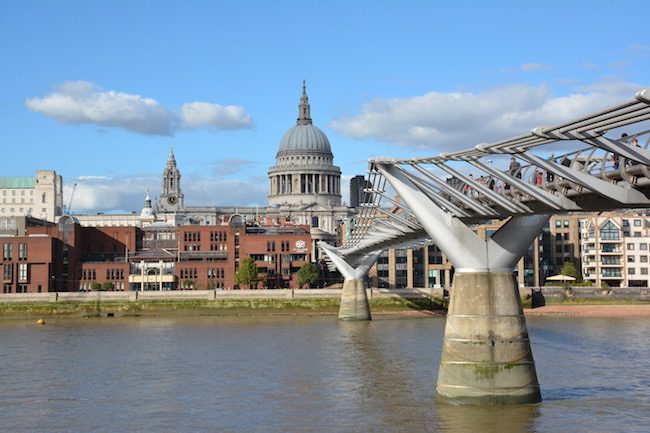 Indian Food
London's Indian population tops half a million residents. So it shouldn't come as a surprise that an Indian restaurant tops our list of favorite oriental and ethnic spots in London. And from all the curries and tandoori we've tasted, Dishoom takes first prize.
Dishoom is spread across four locations in London and boasts both an elegant look and a delicious menu. You will no doubt be impressed by the old-school, cafe-like interior as you wait to be seated, which could take about an hour. They do sweeten the wait (literally) with a cup of chai tea, but I do recommend calling ahead of time and reserving a table if your party is six diners or more. We decided to pay a visit to Dishoom's 12 Upper St. Martin's Lane location on our first day in London but the wait was too long so we reluctantly passed. The next day, either good luck or good timing were on our side. We came at around 3:30-4:00 PM and were seated within 10 minutes.
We were so happy as we entered the carefully designed restaurant and immediately felt that Dishoom is a must-visit restaurant in London. I would rather leave you with curiosity as to why Dishoom is so special, but you can just visit their website for a sneak peek of the menu and to learn about their tribute to the historical Iranian-style cafes that were once a common scene in the city of Bombay.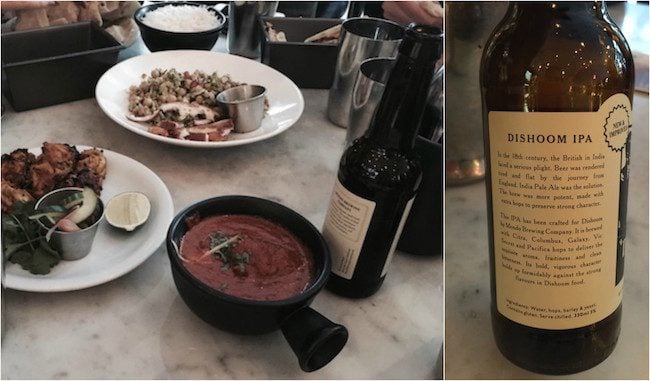 Thai Food
By far the most authentic and delicious Thai restaurant we sampled in London is Papaya Tree in Kensington. The friendly owner is originally from Vietnam and, though the meals she makes are essentially Thai, you no doubt feel her homegrown roots in the dishes. The result is a combination of tastes that even in Thailand I have not enjoyed as much.
The restaurant is very low-key. In fact, it is practically underground. The entrance leads you to a staircase that descends to a lower level beneath the street. Your eyes are then greeted by tables covered with white cloth and walls covered with photographs depicting scenes from special family events. You can easily sense this place has been around for a few decades (the original owners opened the restaurant in 1960) and that it's a family-owned business.
Their set menu suggests a couple of full-course meals chosen specifically to make your visit most authentic, including starters, main courses, and desserts. But there is, of course, the option of just ordering whatever you like best. We liked the sound of the set menu so we went for that option and were not disappointed. Two orders of the set menu would be enough to feed a hungry family of four.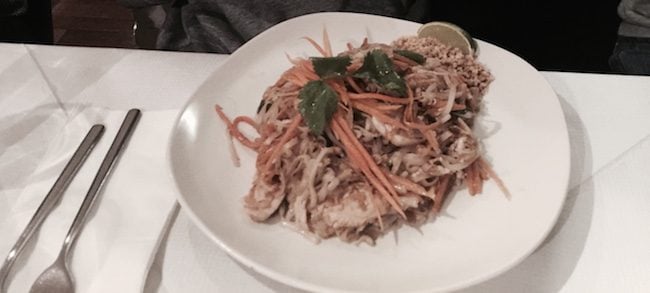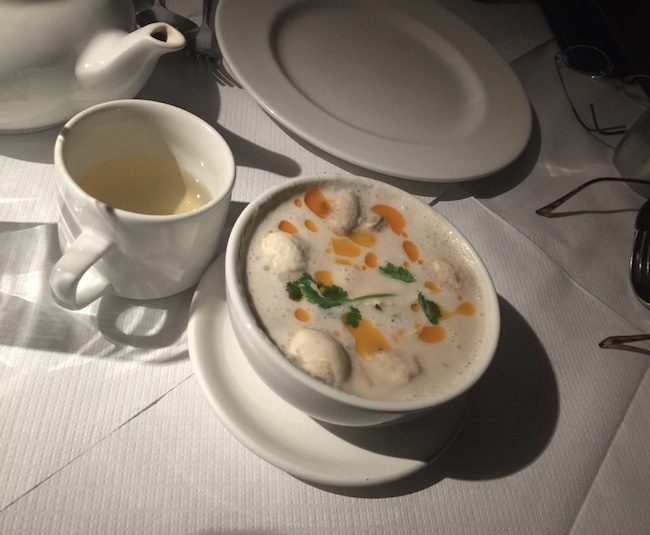 A couple of tips before we move along. Get to know the owner. Her story, like many others who moved to London for work, is very interesting. Finally, if you're not into spicy food, let the waiters know so they can assist in choosing a meal that won't make you run for ice-cold water.
Tapas!
Though Spain isn't as far from London as Thailand and India are, you can nonetheless find awesome Tapas not far from the River Thames. I recommend hitting Casa Brindisa on 7-9 Exhibition Road after a morning visit to one of the nearby museums such as the Natural History Museum and Science Museum, to name just a few. We were looking for an unfussy place where we could relax and grab an easy late lunch. This place definitely hit the spot.
Casa Brindisa not only offers a great selection of tapas but also a good choice of Spanish wine. Ask for a table near the passage-facing window so you can do a bit of people watching across to the cafés and other unique eateries around.
The area is full of options, walk around to check if something else is more suited for you. During one of our next days in London, we ate at Pierino Pizza Pasta – a simple yet charming Italian restaurant also in this area. This place is family-friendly for sure, and if you order in Italian, I'm pretty sure they'll spoil you some extra cheese!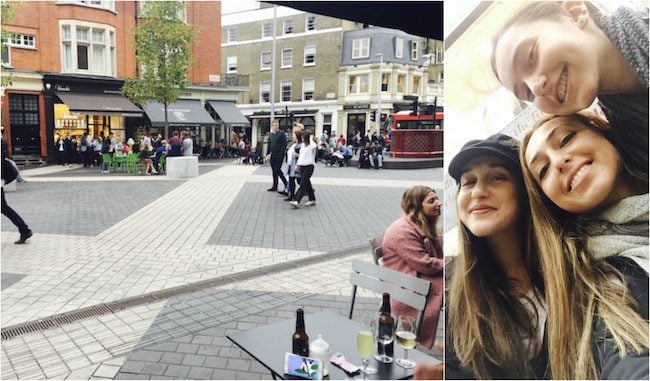 Caffeine…
Coffee is probably the one thing you will never stop coming across in London. People here love drinking coffee on the go and parking for a while inside coffee shops. Coffee chains like Pret A Manger or Starbucks are everywhere. In the case of the latter, the Starbucks on St Katharine's Way boasts impressive views of the Tower Bridge and a rare chance to warm up in the London sun (is that also an oxymoron?).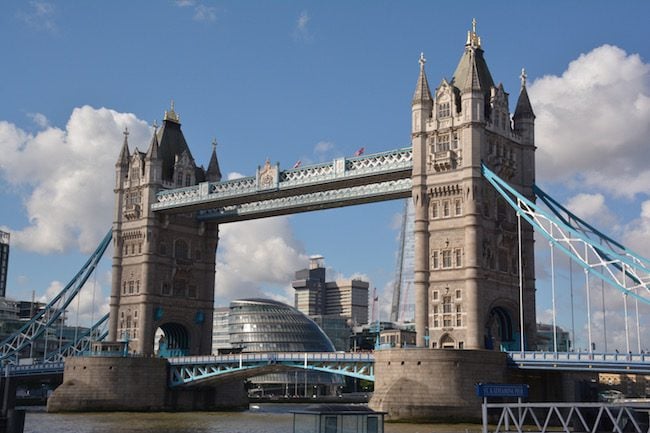 However, if you value fine coffee, Fernandez & Wells is more suited for you. In fact, we had a lengthy discussion with three different servers just to determine which type of coffee they actually serve. I recommend going for the double or the piccolo (photographed below). Their double is more like a 'triple' ristretto (super strong).
They have a few locations in London, of which we sampled two during the day and one post-sunset. And this is where it gets interesting… During the evening hours, the cafe morphs into a tapas bar and a totally different atmosphere sets in. Wine takes center stage and a variety of quality tapas make their way out of the kitchen and onto your candle-lit table.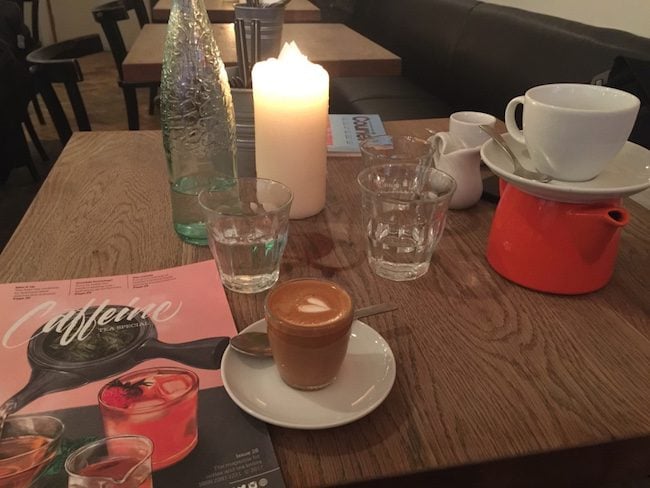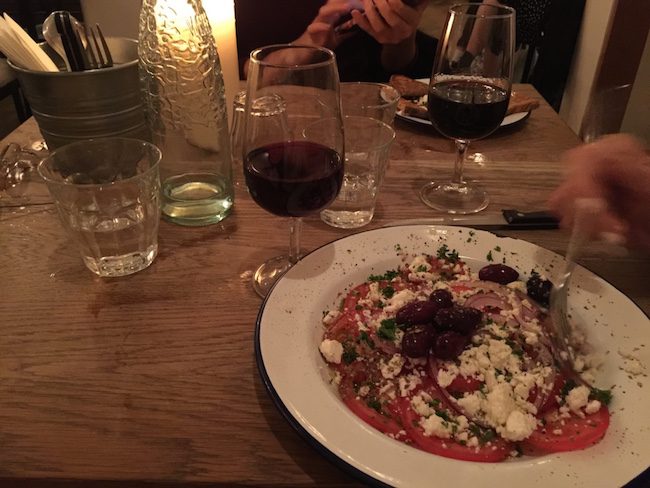 By the way, if you're visiting their location near Oxford St, nearby Denmark St is a musicians' dream – packed with music shops selling all kinds of instruments (especially guitars). You'll also find there a few more hip restaurants for a date night.
Let's Talk About Tea
Obviously, we can't talk about any hot liquid served in a cup in London without saying a few words about tea.
The first thing to be learned is that tea is a world of its own like wine is.
There are levels of quality to tea that indicate what leaves were used in its making. The leaves which are more "virgin" I would say, or less "abused," make the finest kind. Surprisingly, tea is made from just one kind of tree found in Asia and all the different varieties of herbal tea sold today actually refer to infusions of fruit or herbs made without the tea plant itself.
Frankly, you can find quality tea just about anywhere in London. Tea houses, tea boutiques, and market tea stand all offer a huge variety, with each and every bag traced to a distant place in Asia like Tibet, Russia, India or China.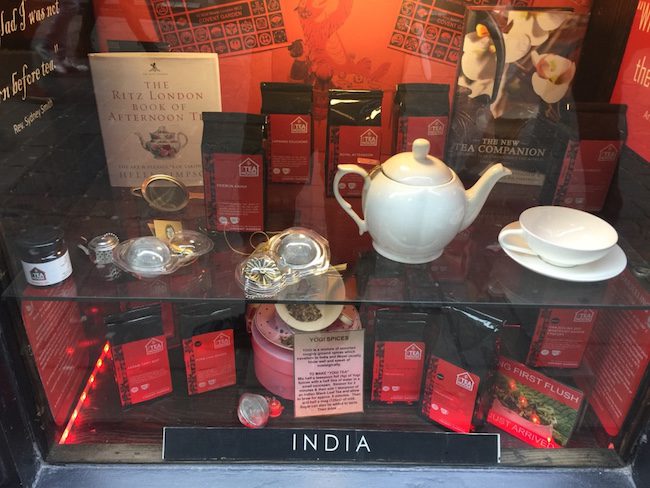 The backdoor to Tea Wonderland
With my little sister craving a peanut-butter hot chocolate, we set out on an expedition to make her wish come true. This urban journey let us to find a gem called Whittard. Named after its founder, Whittard was founded by an Englishman who sold quality tea, cocoa, and coffee back in 1886. What started as a small store in Chelsea became a huge success throughout England. Visiting a Whittard store or its café is an extremely aromatic and sensual experience. You can taste tea varieties in so many different and strong flavors that will push your sense to their limits.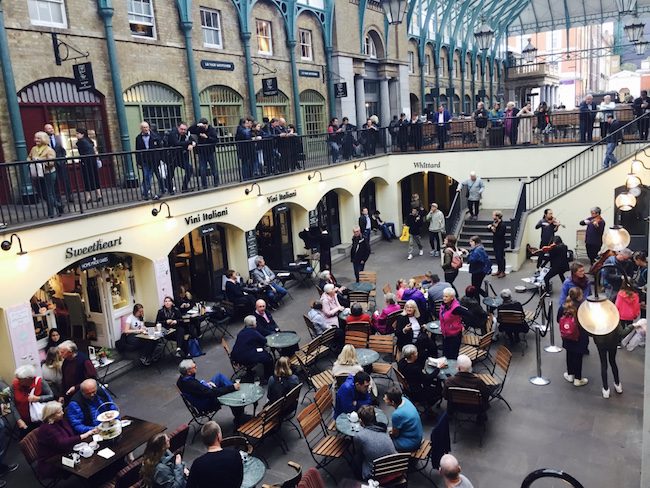 After some deliberation and way too many tea tastings, we decided to bring home a classic rocky road cocoa box and headed out with our hands occupied with a crème brulè hot chocolate plus extra whipped cream. Mission complete!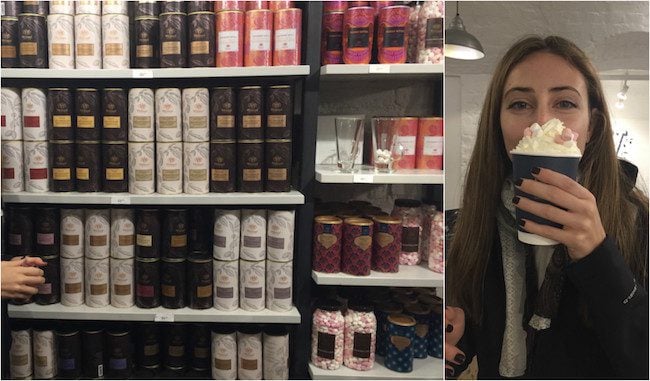 Late Night Bonus
For those who sneak out when the kids are sleeping, I would just try the first place that looks amazing. Take my word for it, it won't take you long. But… if I were to choose a place I would love to visit again it would be Gordon's Wine Bar near the Embankment Underground Station.
Gordon's Wine Bar is thought to be the oldest wine bar in London, having been established in 1890! Their award-winning wine list and closely chosen menu will warm any European visitor, and it has a vibe to it like there was a sign at the entrance saying, "Cool People Only". After dark, it is a lightly lit passage with a romantic feel to it. Filled with people standing or sitting outside holding glasses, this is one of the many places in London that makes for a perfect first-date location. Or for our matter, the perfect place to head out to when the kids are sound asleep.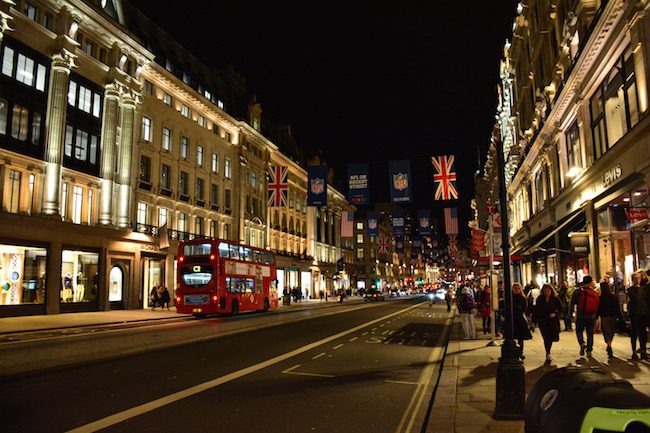 So, as a long time visitor to London, you now know all my secrets! A visit to London should definitely involve giving the calorie-counting a few days off, but it doesn't mean that heading there on a family vacation equates to eating just fish and chips.