Rarotonga: The South Pacific's Compact Pleasure Island
Kia Orana! Welcome back to the Cook Islands. With Christmas just around the corner and winter in full swing in some parts of the world, let's warm up with some South Pacific sun. After spending a week in the super laid back azure waters of the Aitutaki Lagoon, it felt great to be back in the Cook Islands' 'mainland' – the island of Rarotonga. This tiny little island, smack in the middle of the vast South Pacific Ocean, has everything a visitor could possibly dream of. In this week's update from the South Pacific Islands, we'll spend a week on Rarotonga and check out all it has to offer. I found it to be the South Pacific's compact pleasure island and you're about to see why.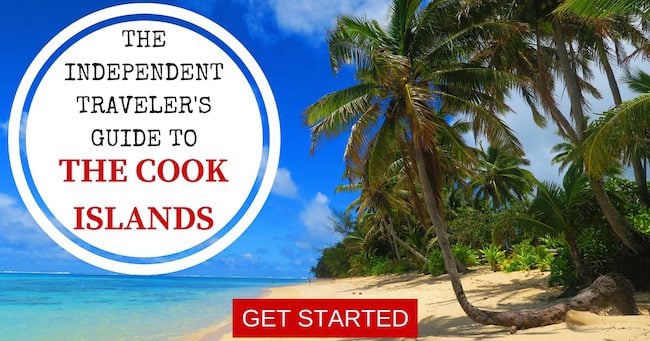 My visit started off with a reminder that cyclone season is in full swing in this part of the world. The tail end of a category 1 cyclone that hit parts of Samoa that I only visited recently, was felt in Rarotonga with heavy rain and wind for three days. But bad weather doesn't last for long in this part of the world and the tropical sun is out in all its glory, as if nothing happened.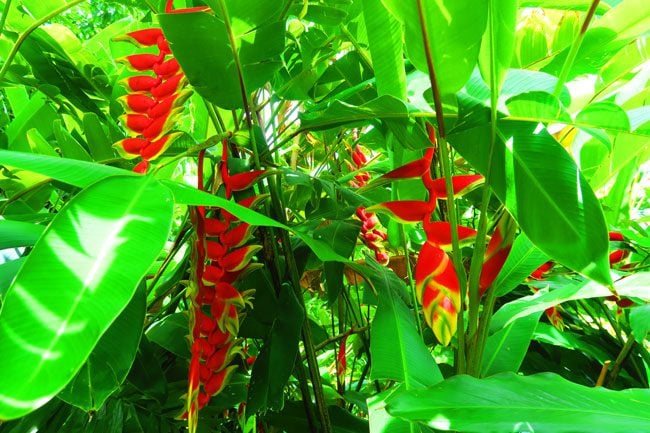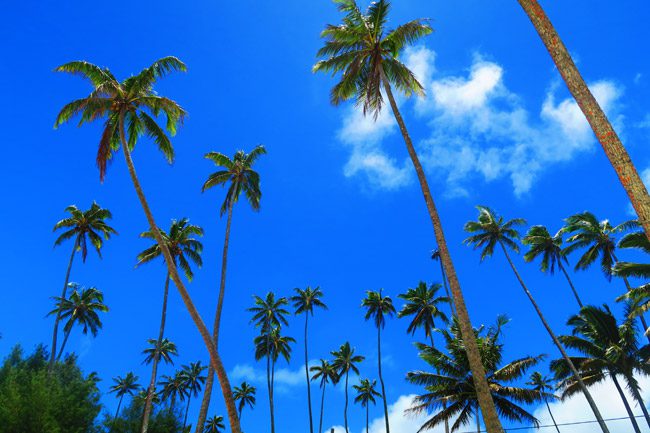 Rarotonga 101
Rarotonga is the 'busiest' island in the Cook Islands chain and is home to 70% of the 15,000 strong Cook Islander population – who are amongst the happiest and friendliest folks I've met so far on this journey. Their island was formed by an extinct volcano rising out of the depths of the ocean and is only 32 km's in circumference, taking about 45 minutes to circle by car. But great things often come in small sizes, and Rarotonga is a perfect example of that.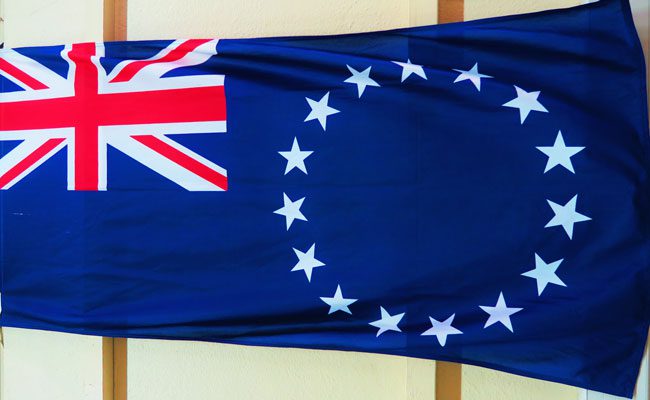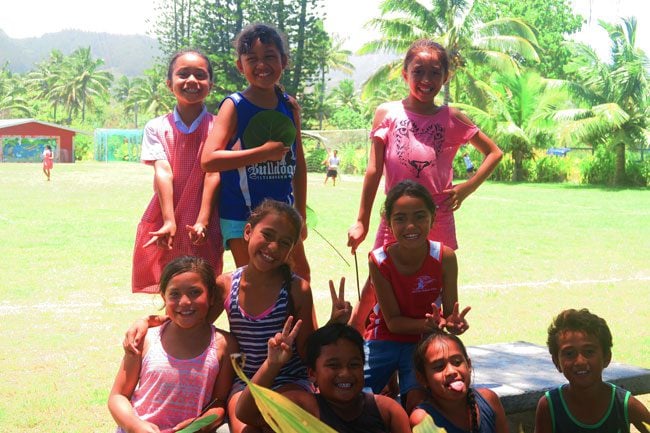 The scenery is dramatic from every angle. Jagged volcanic mountains, covered in lush tropical vegetation rise from the island's uninhabited interior, while villages and hotels dot the pristine palm-fringed beaches along the coast. The reef breaks at a comfortable distance from the shore, providing a constant relaxing sound that can put you to sleep in five minutes.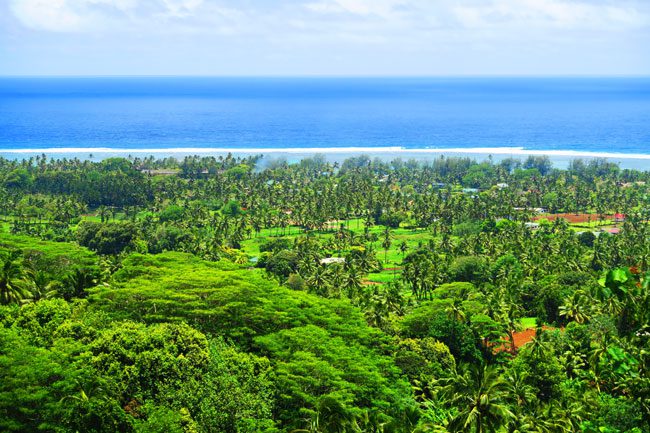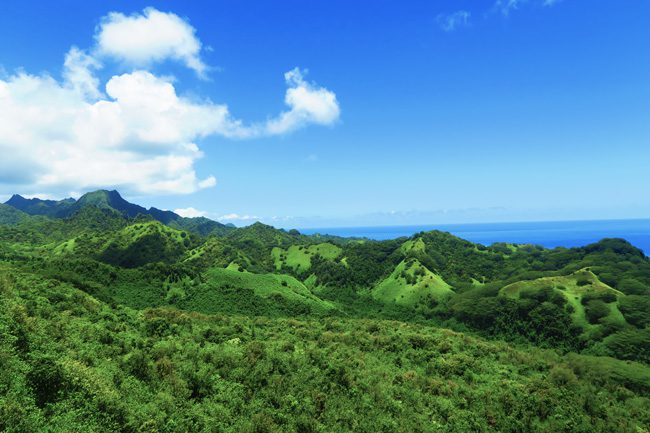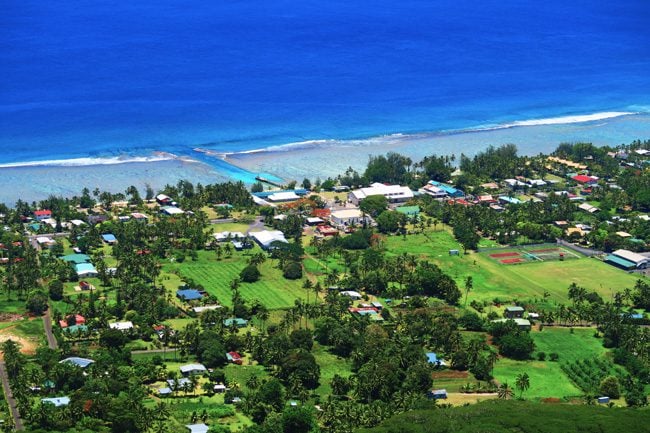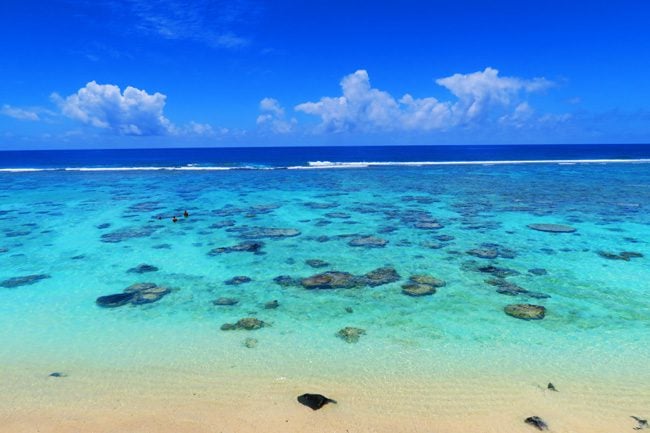 The island was settled by Polynesians sometime in the 6th century. These pioneers left what is present-day French Polynesia, voyaging on giant outrigger canoes called Vaka. The Vakas were so huge, that they even contained living quarters and a special section for animals and plants. These guys were masters of ocean navigation, using wave & cloud patterns, bird flight paths, the wind and of course the stars – to settle the most remote part of the world. They continued onward into the vast blue ocean, eventually discovering New Zealand, some 3,000 km's east!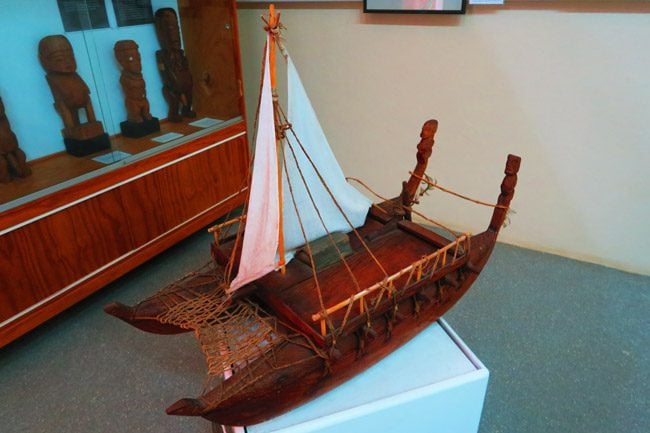 What you want is what you get in Rarotonga
But enough history for now. Let's check out what Rarotonga has to offer and there's plenty of it. Ever since its WWII runway was upgraded to an international airport in 1974, tourism was been steadily booming on the island. In fact, it's the primary source of income these days and it's easy to understand why. Rarotonga is a compact little treasure in the South Pacific. It offers every kind of accommodation type, white sand beaches, happy hour galore, diving, water sports, hiking, sport fishing and among many other activities, has quite the food scene. So foodies, beach bums, nature lovers and water sport junkies – everyone will have their wish come true in Rarotonga. But what's the best way to explore Rarotonga?
Getting around the island is a breeze. There's no way you can get lost, with just one main road circling the island at a 50 km/h max limit, ensuring that you'll stay in sync with the island vibe. There are efficient buses that run in clockwise and anti-clockwise routes. If you're lucky, you might even get 'Mr. Hopeless' as your driver. If he's not doing his incredibly funny comedy act or dishing out valuable visitor tips, he'll probably be serenading you with some Andrea Bocelli classics ("time to, say goodbye…."). Another way to get around is by scooter. I'm pretty sure Rarotonga has the highest per capita scooter to people ratio and in any case – there are lots of them around. You can always cruise the island in style with a Mini Copper from Polynesian Rentals or with a comfy car from Go Cook Islands.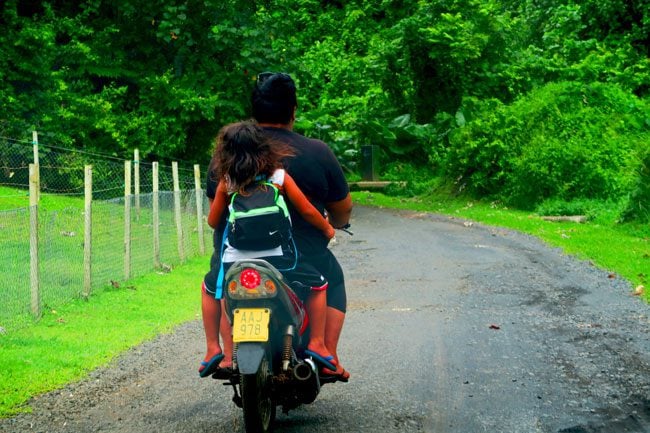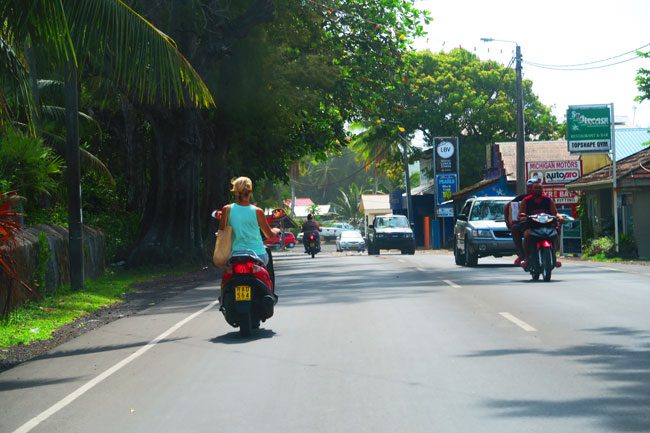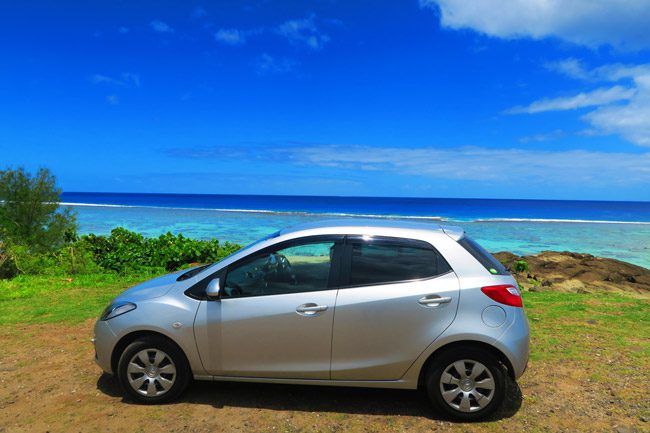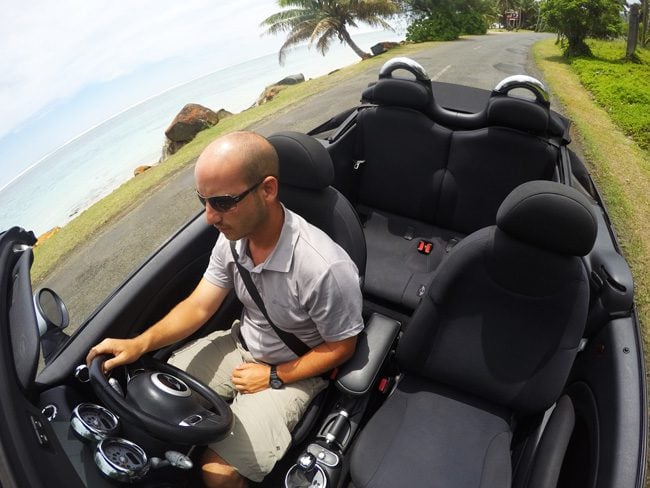 Saturday morning market
The best way to start any visit is by checking out the local market, and Rarotonga just happens to have one of the best markets in all the South Pacific. There's no better place to be on a Saturday morning, other than at the Punanga Nui Market. This is the best place to stock up on fresh fruits & vegetables, ukuleles, colorful sarongs and even the famous black pearls of the Cook Islands. If all that shopping makes you thirsty, mix whatever you feel like in a fresh smoothie to keep you going, until the live entertainment starts, always in 5-10 'Cook Island minutes' from now… Gotta love island time!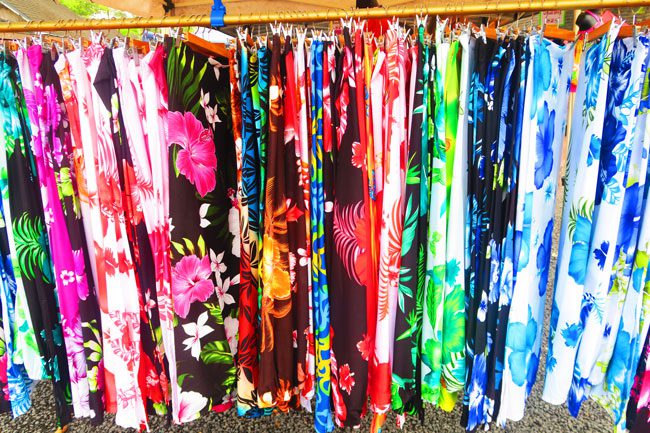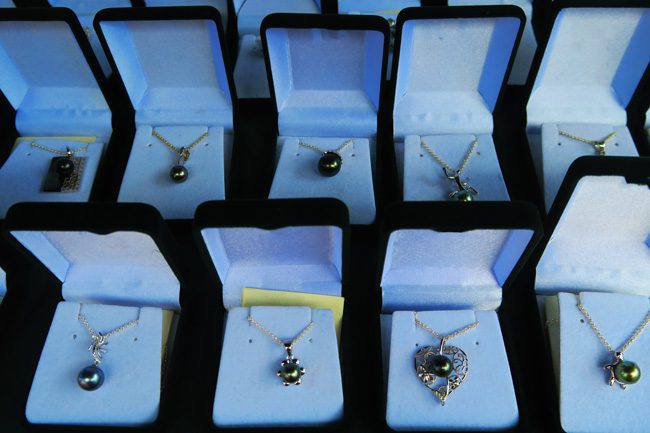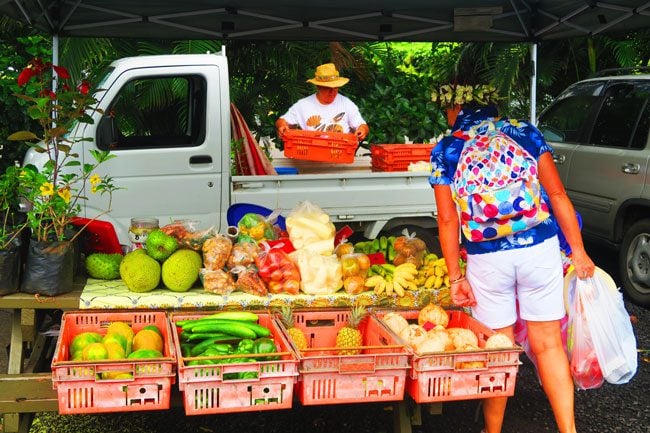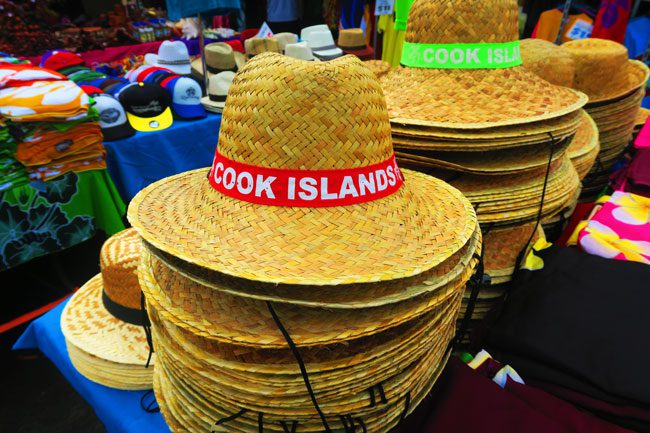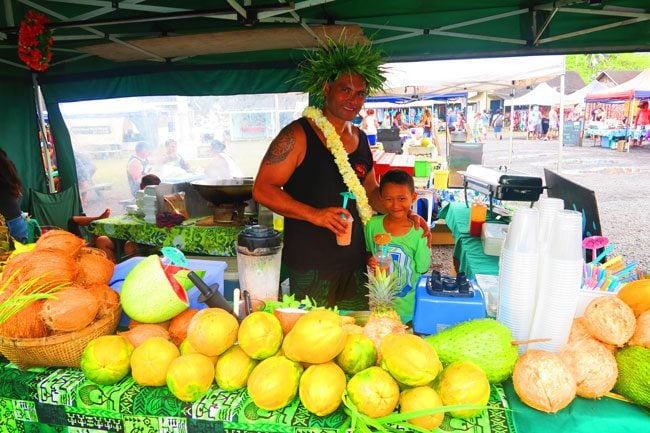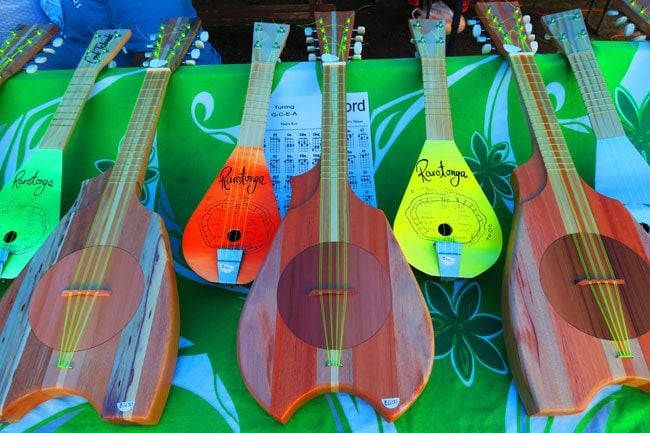 As for the entertainment, it was getting evident that pretty much every Cook Islander knows how to sing and dance. Words on the island is that the second thing a baby learns after walking is… dancing. With traditional drummers in the back, a group of children who travel around the world showcasing Cook Islands culture took center stage. In between their numbers, legendary local singer Andre Tapena came on stage with beautiful songs about the Cook Islands. These guys sure are proud of their paradise!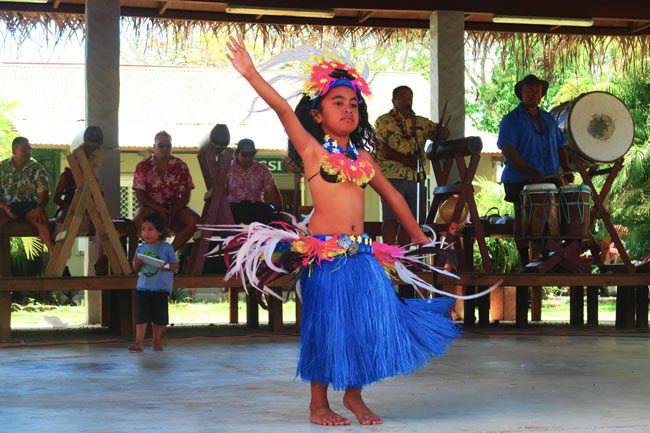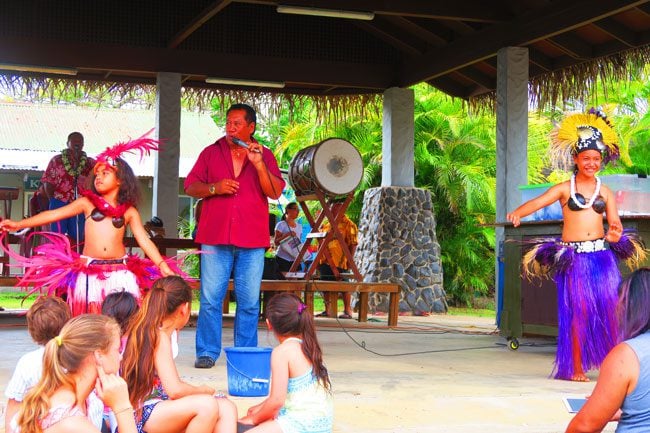 Saturday also marked the start of a very special event on the island's calendar. Every year, paddlers from around the world make the long journey to Rarotonga to take part in the Vaka Eiva festival. During this special weeklong festival, teams race traditional outrigger canoes to honor the ancient Rarotongans who mastered this sport, centuries ago. Aside from paddling, there's lots of partying to be done as well. Every racing day finishes off at Trader Jacks, a favorite local spot, where music and a happy hour that's already in full swing, awaits those who exit the water.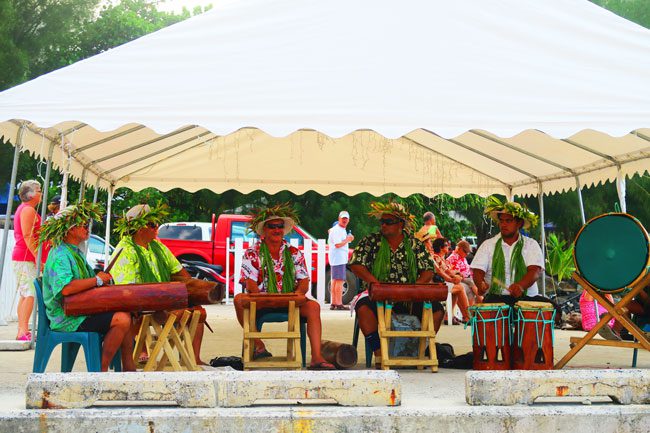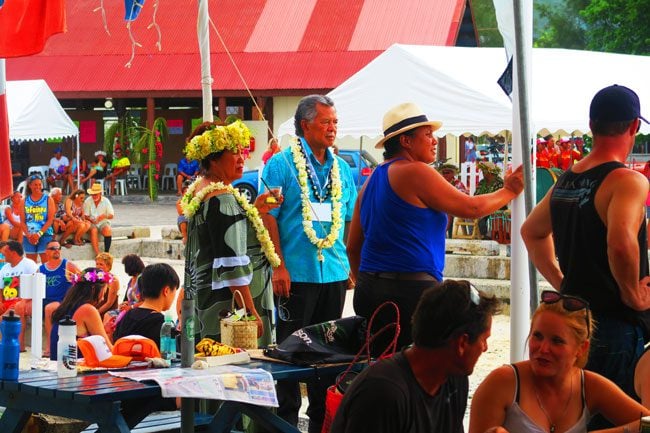 The festivities keep on rolling in Rarotonga, and I was fortunate enough to visit the island during the Miss South Pacific beauty pageant. Incredibly exotic women from around the region rained down on Rarotonga and the paparazzi were everywhere! Who's your favorite? Is it Miss Cook Islands? Or perhaps Miss Papua New Guinea?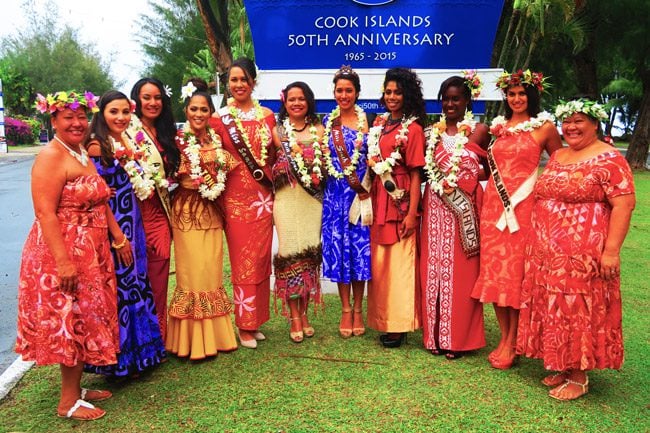 Luxury villa or waterfront bungalow?
I based myself for most of my visit to Rarotonga down in the Muri Lagoon. This is one of the prime spots on the island, with tiny islets floating in the calm shallow waters of the lagoon, and a beautiful beach to pass the time away.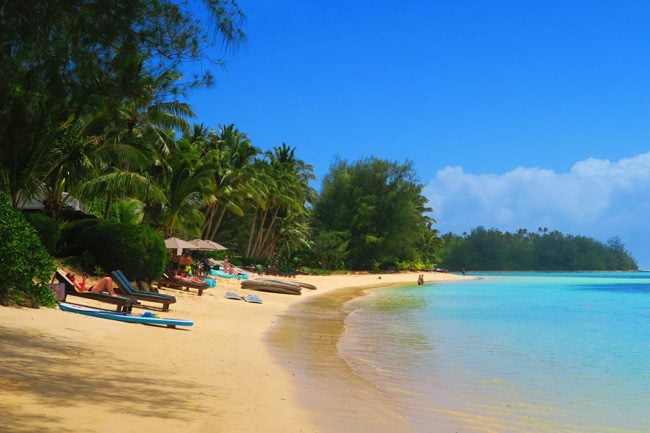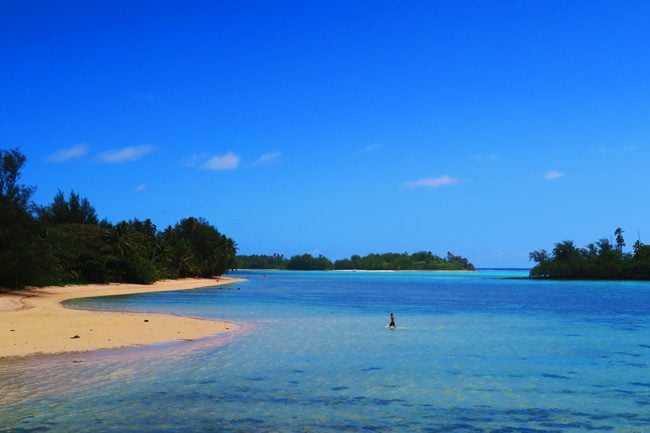 The lagoon is also a favorite spot for water sports, like snorkeling, kitesurfing, kayaking and that new fad that seems to be taking over the world – standup paddleboard (SUP). They even do yoga classes on SUP's over here… I gave it a go, but I must say – more practice is needed.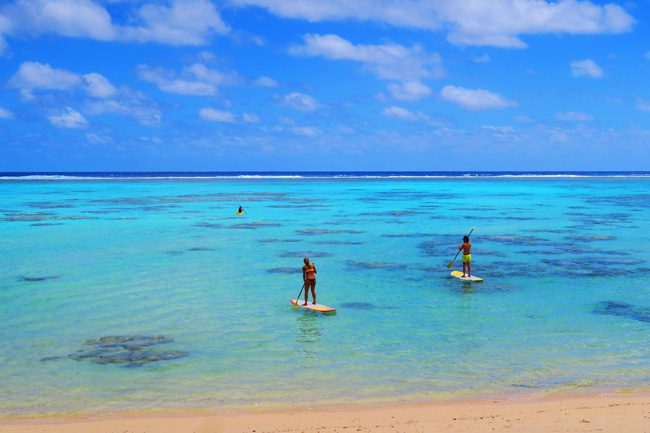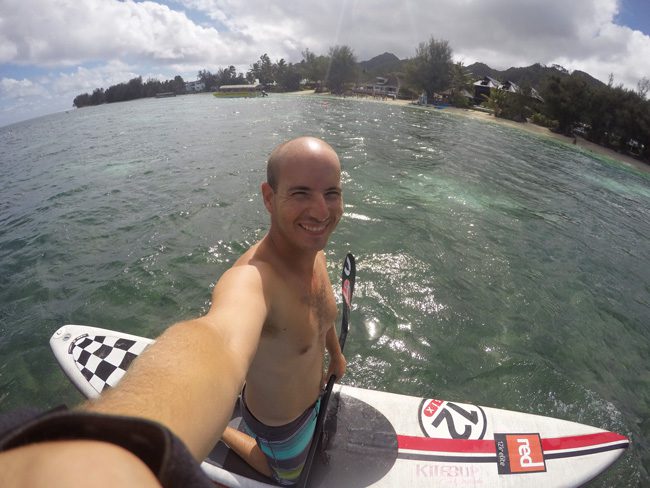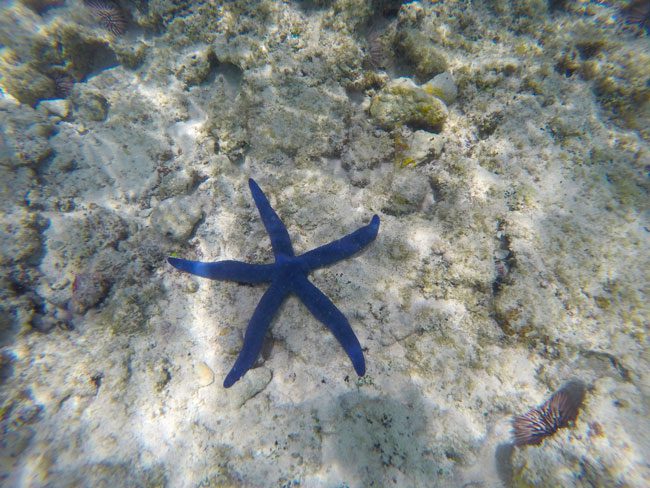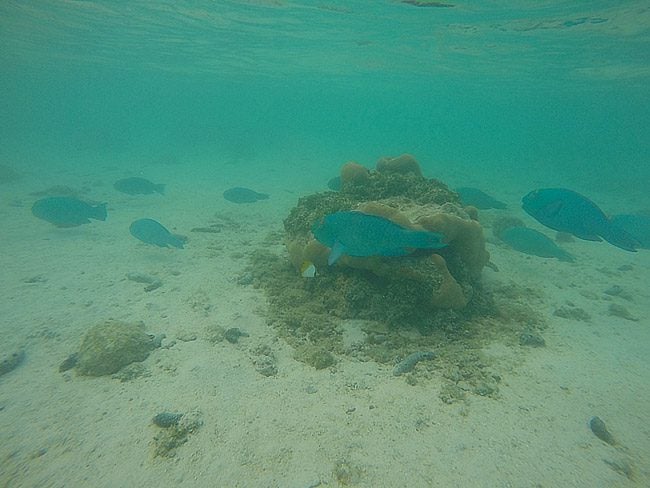 During the first few days, I stayed in this charmingly rustic over-the-water bungalow at Muri Beach Cottages. The sun rises right in front of the breezy balcony and at night, the stars come out for a grand performance.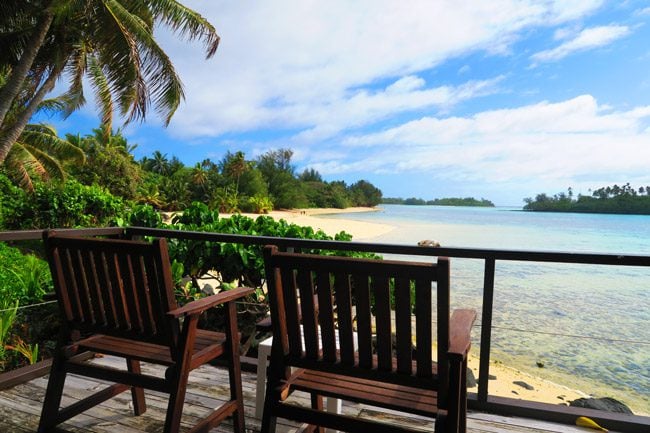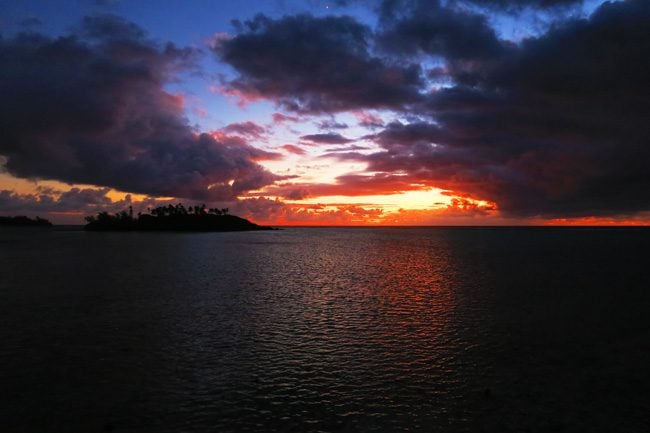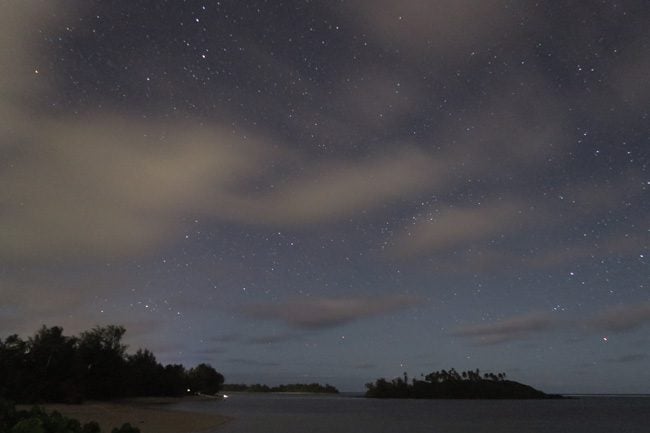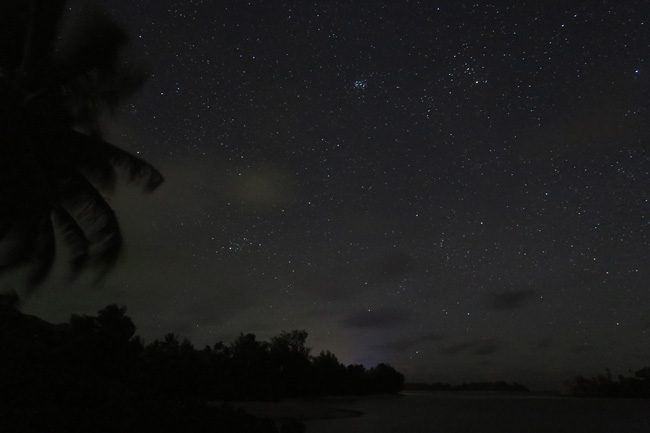 To get a taste of the luxury life, I moved over to nearby Te Vakaroa Villas. It was super hard to get out of the comfy bed in the morning but when I did manage to do so, this gorgeous view awaited… and the infinity pool provided an extra incentive.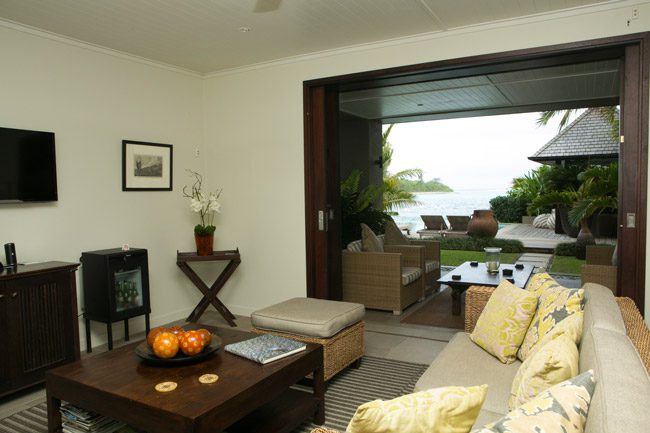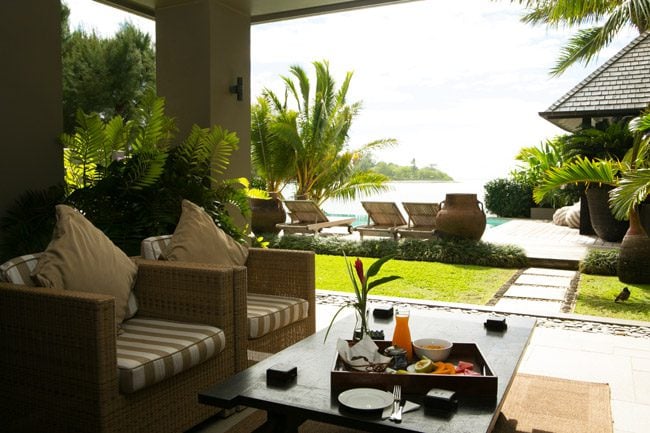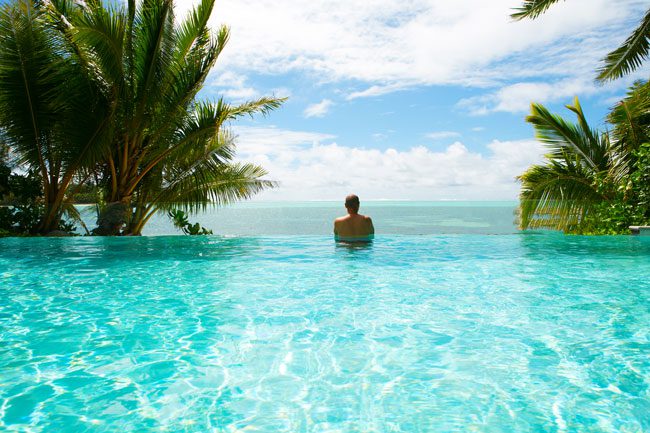 Scroll to the next page for more scenes from Rarotonga!