Zion National Park Travel Guide
The westernmost member of Southern Utah's "Mighty Five", Zion National Park is pretty on the eyes and easy to explore, that is if you can bear the crowds. The beautiful desert oasis of Zion Canyon takes most if not all attention, but road trips to remote sections of the park offer relief from the heat and the congestion. In this Zion National Park travel guide, we'll dive into the essentials of planning a visit to Zion and explore the park's top highlights.
I first visited Zion National Park during a family trip back in the mid-90s, on which we drove in a big van from Las Vegas to Zion and Bryce Canyon. I recently returned to thoroughly explore the national park on a three-day visit to Zion as part of a long road trip in the American Southwest. This Zion National Park travel guide is based on extensive research and my experience.
Why Visit Zion National Park?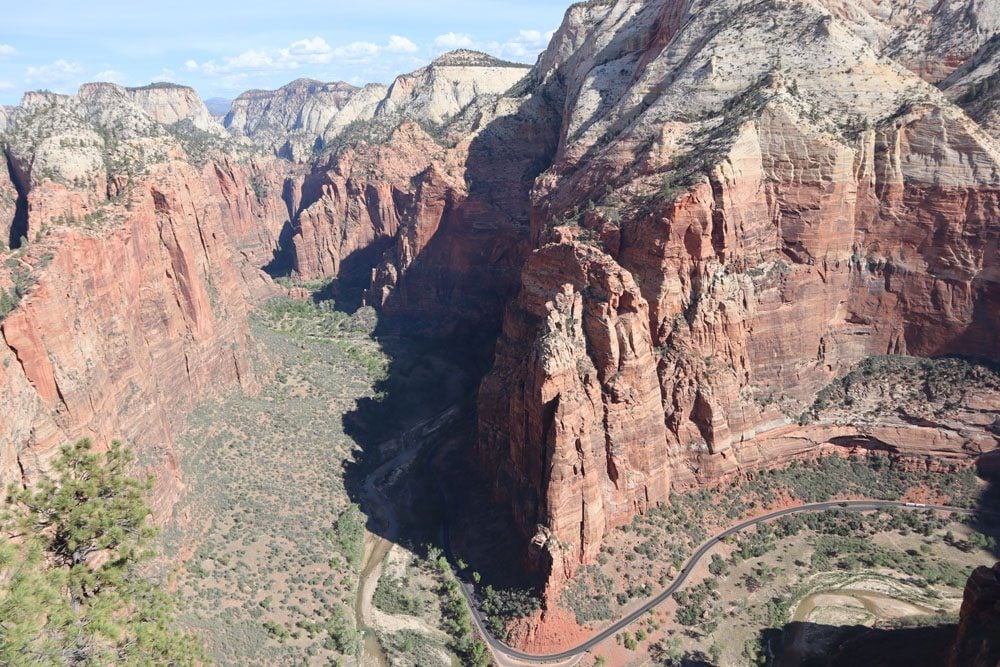 Zion Canyon
Marvel at Zion's star attraction from magnificent vistas on the canyon floor and above. Its reddish sandstone walls tower beyond 2,500 feet above the Virgin River, eroded to perfection by nature's finest artists.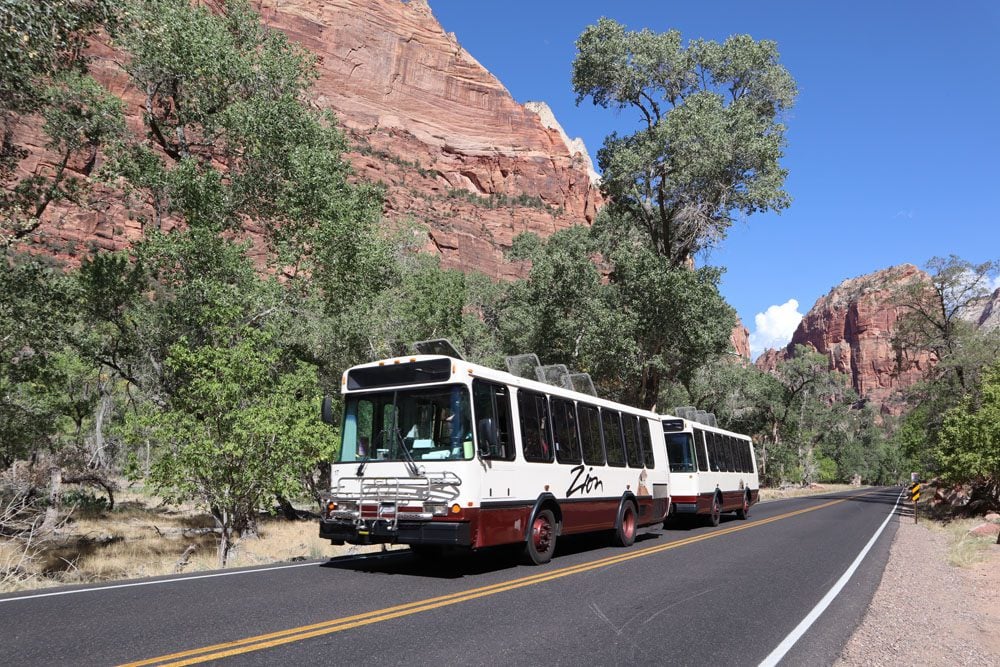 Compact and Accessible
Zion is relatively compact in comparison with other national parks. It also offers many opportunities for every visitor type to enjoy the incredible natural beauty.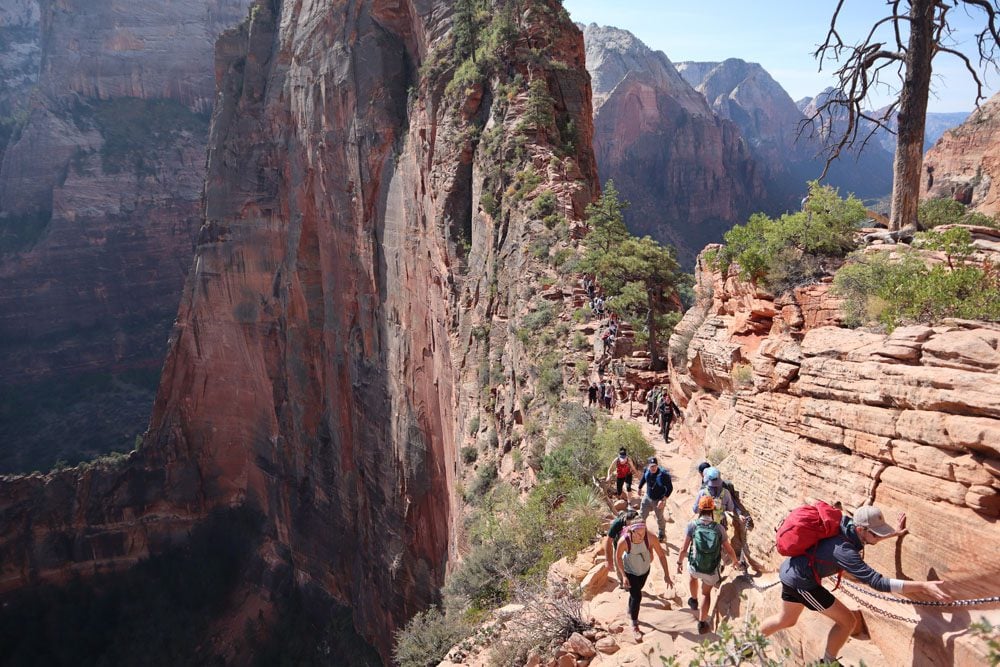 Hiking Opportunities
From the famous Zion Narrows to breathtaking Angel's Landing, Zion offers plenty of ways to explore its beauty on foot, with easy trails on the canyon floor and challenging hikes to its rim.
What's Included in this Zion National Park Travel Guide
Several sections make up this Zion travel guide:
Background and Zion travel guide companion map
Additional Zion & Southern Utah Resources
Check out the Zion National Park travel guide collection for additional information, including multiple Zion itineraries, the best hikes, and top things to do. Then, leverage additional Southern Utah guides to create a memorable road trip in one of America's prettiest corners.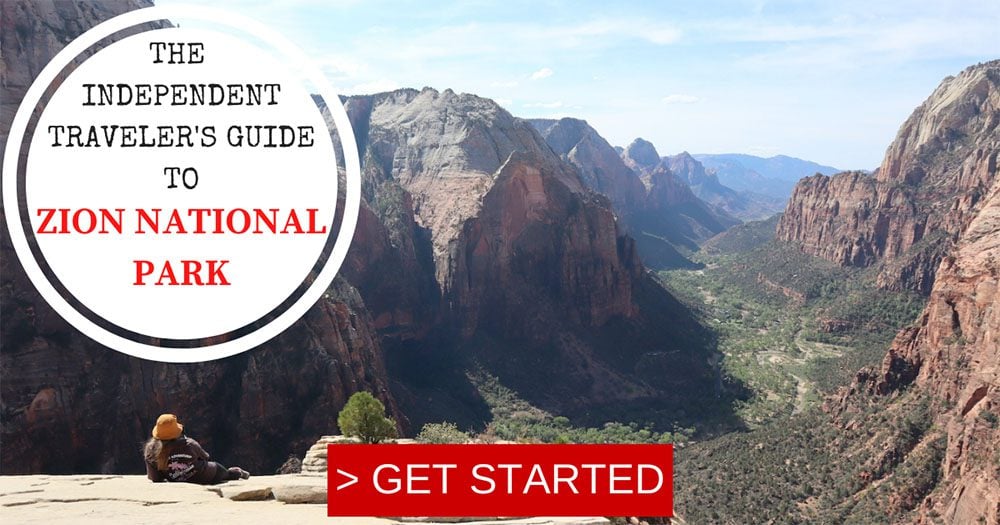 Zion National Park Travel Guide Map
All places mentioned in this Zion travel guide are found on this companion map. Simply click on the image to open it in Google Maps.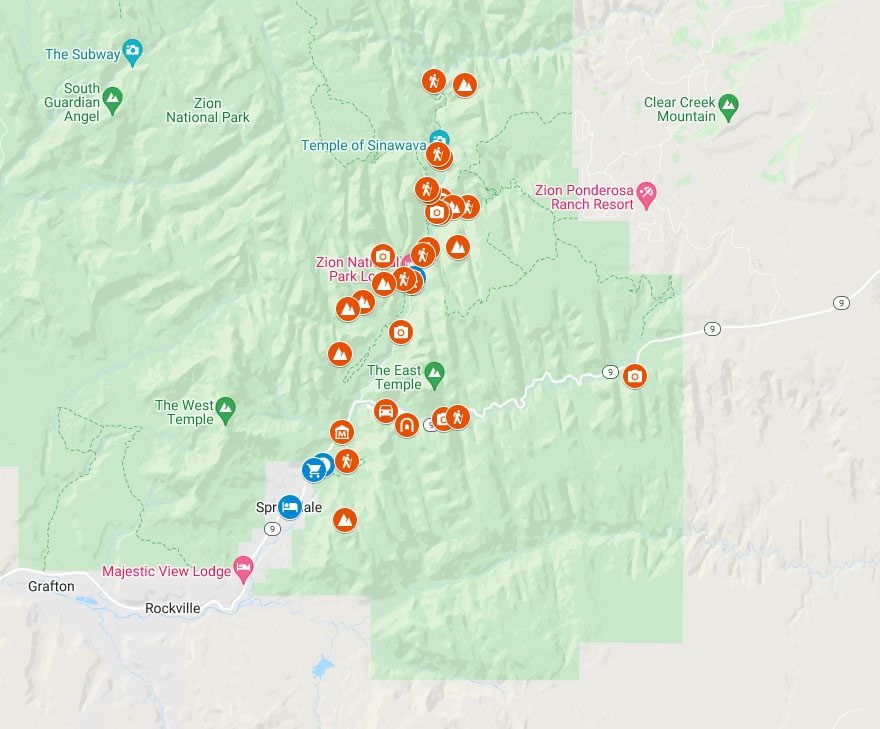 Background
Located at the junction of the Colorado Plateau, Great Basin, and Mojave Desert regions, Zion National Park is the most diverse among Southern Utah's "Mighty Five" national parks. The park consists of two seperate sections, Zion Canyon and its vicinity and the more remote and off-the-beaten-track Kolob Canyons region.
The park's prime attraction is Zion Canyon, a magnificent oasis carved by the North Fork of the Virgin River. The canyon stretches 15 miles from north to south, and its reddish walls of Navajo Sandstone rise to heights well over 2,500 feet (760 m). A scenic road follows the river's contours until it reaches "the Narrows", a wet section only accessible on foot. Due to its low elevation and the type of rock in the area, Zion Canyon experiences periodic flash floods that sweep downstream in a violent rage.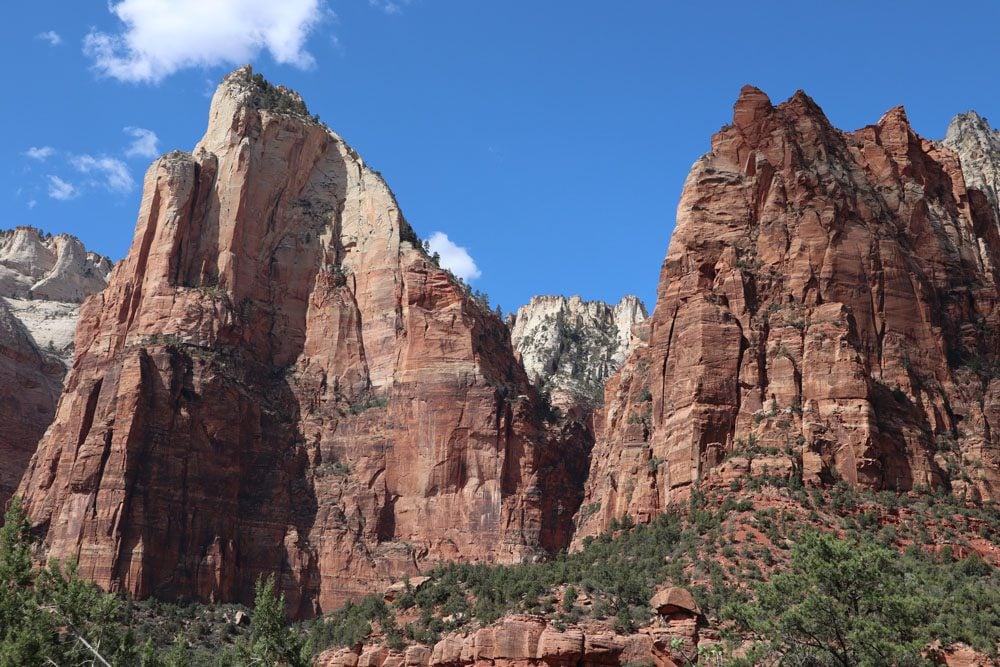 Zion's uniqueness is owed to its geographical and geological diversity. The park features a multitude of natural landscapes to go along with hundreds of plant and animal species. Looking beyond Zion Canyon, visitors will find slot canyons, the stereotypical "Wild West" buttes, flat mesas, and even rocky arches within park boundaries. These unique formations are the work of 150 million years of geological activity, now eroded by the forces of nature into beautiful sculptures.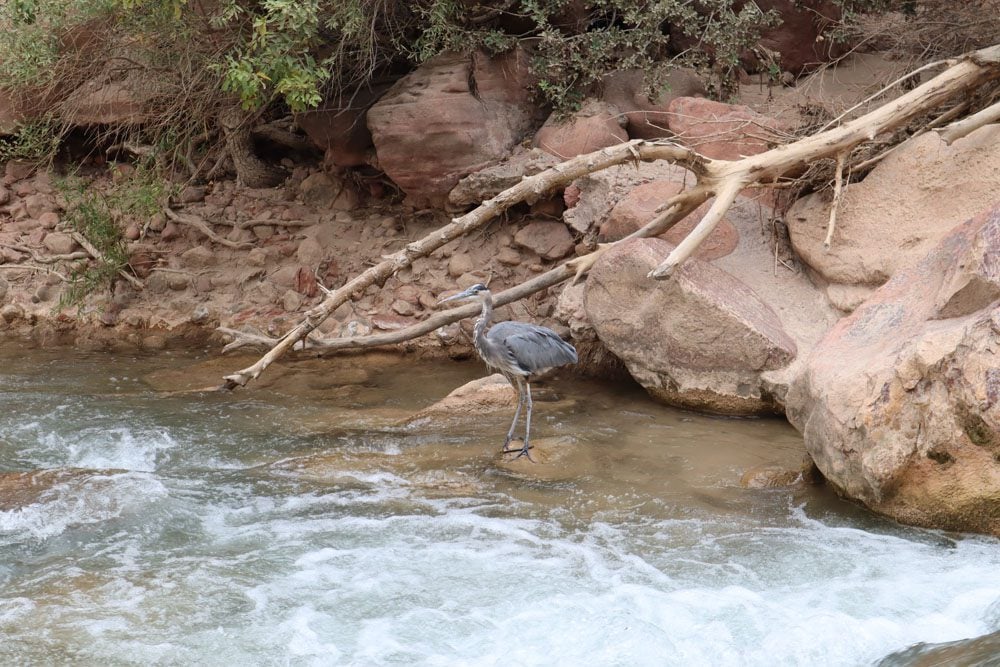 The first to settle this area were hunter-gatherer tribes, followed by Native Americans who arrived about 8,000 years ago. The survival of these native residents was greatly affected by climate conditions. When adverse changes took place, tribes left the area only to be later replaced by tribes more adapted to present conditions. In the late 18th century, Spanish missionaries and explorers arrived, later followed by American traders and Mormons.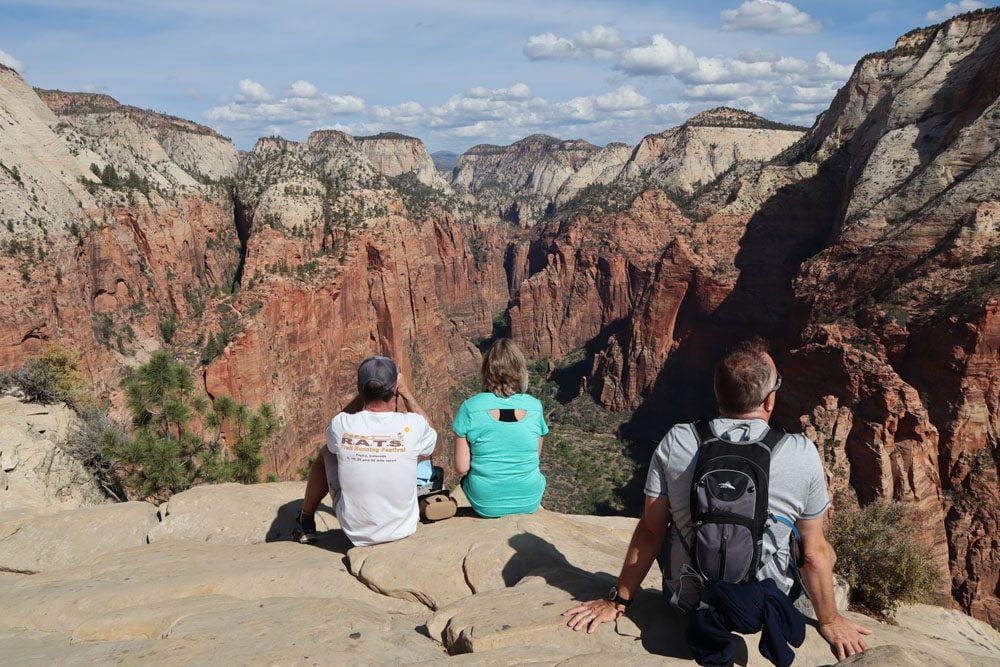 Due to its remote location and lack of tourist infrastructure, few visitors ventured to the stunning canyon before becoming a national park in 1919. With the new status also came a name change to reflect something that would better resonate with the local Mormon population. These days, Zion National Park is one of America's most popular national parks. Visitor numbers have soared in recent years and now top five million annual visitors. With most of the focus going to Zion Canyon, park officials are constantly optimizing the visitor experience.