Day 3: Ciutadella, Barceloneta & Placa d'Espanya
On the last day in Barcelona, we'll take things a little bit easier but still do quite a bit of walking.
Brunch in Barcelona
Barcelonians love a weekend brunch, so at the recommendation of my local friend, Sandra, we made advanced reservations at Picnic and definitely understood what all the fuss was about. It's in the area we wanted to explore so the location is perfect. Picnic is a warm and cozy spot where brunch is served tapas style and lemonades can be spiked with vodka for an extra few Euros. We had the eggs benedict with salmon and 'huevos rancheros' along with tapas cheesecake for dessert. They open at 11:30 and I recommend booking in advance because the entire neighborhood knows how good the brunch is at this place.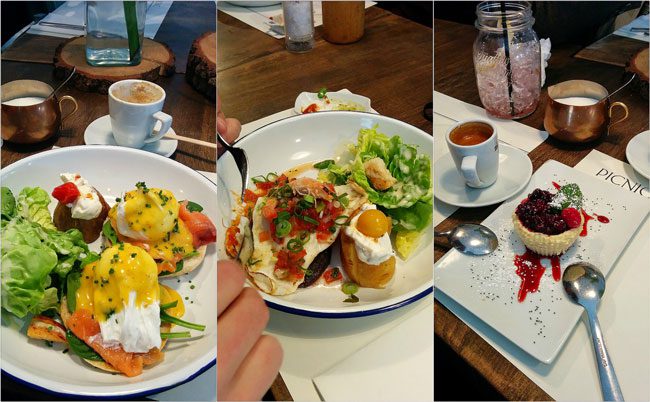 Parc de la Ciutadella
A few meters up the road and we arrived at the Arc de Triomf. No, we're not in Paris as Barcelona has erected its own at the top end of Parc de la Ciutadella. The park sits on what used to be a military fort built by King Philips V following the Catalan's loss in the War of Spanish Succession. Let's not go into historical details but just say that locals were happy to see this fort knocked down and even happier to see the park created just in time for the Universal Exhibition of 1888.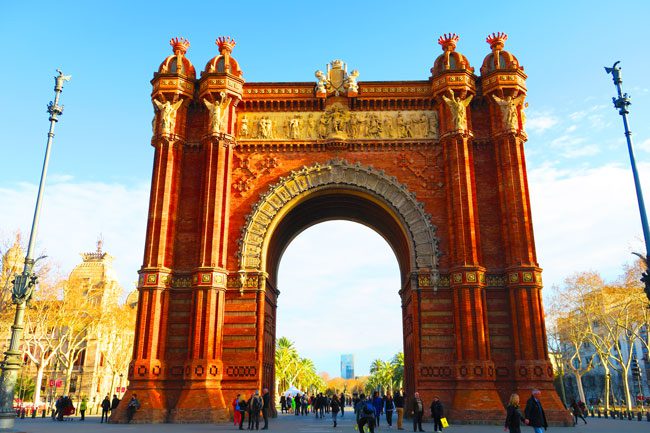 As you walk through the Arc de Triomf, you'll enter the park, a very pleasant escape from the big city noise. There are a few highlights here but it's mostly just a pleasant place to stroll through or catch some sun/shade – depending on the season.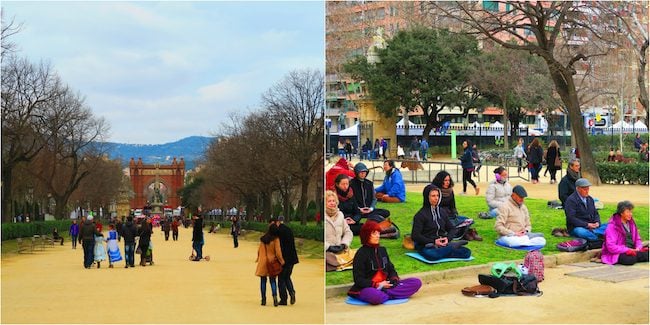 The park is home to a zoo and the Catalan Parliament but we'll head straight to the Cascada, a grand water fountain where a young Antoni Gaudi served as assistant to the head architect. The fountain is magnificent and I highly recommend walking up the stairs and getting a close look at the fine details.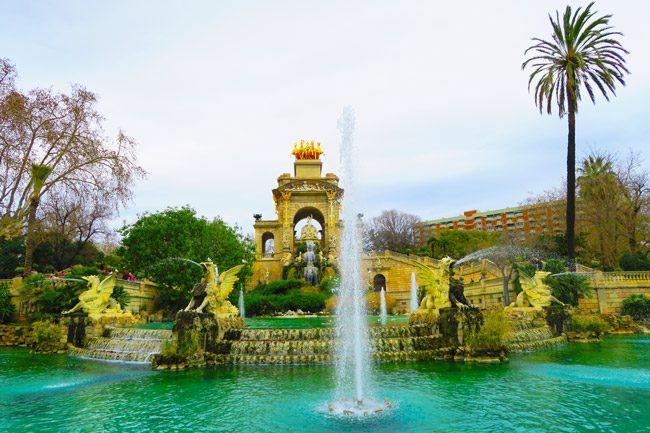 Ciutadella is such a popular park that it attracts all sorts of groups who gather here for their weekend activities. These range from meditation groups to hippies to ballroom dancers. Have a look at some of these guys and the contrasts between them.
Barceloneta and the Beach
From the park, we made our way towards the seafront and the 18th-century fish village of Barceloneta. The old village is now tucked between Barcelona's city beaches and the harbor. It's a great place to spend a weekend afternoon, even if it's not beach weather. Start off by walking along Moll de la Barceloneta. You'll find here lots of seafood restaurants with harbor views, street performers, and a small market where you have another chance of buying ham, olive oil, and other local delights.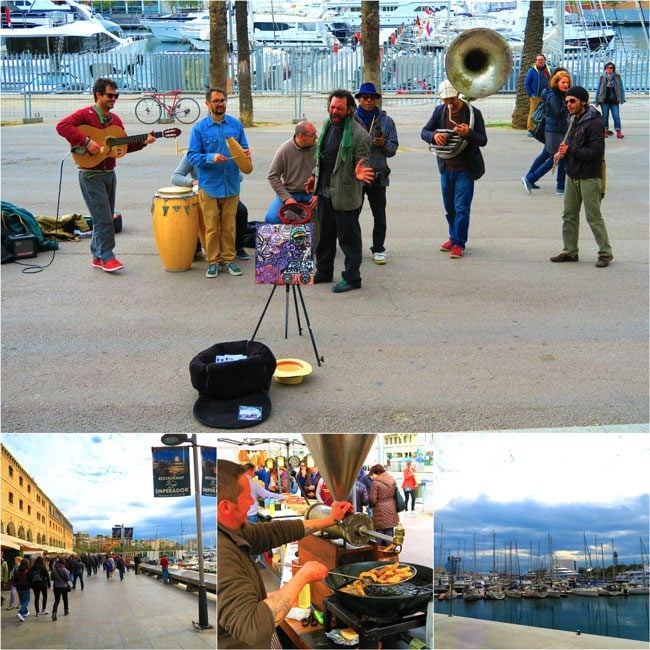 You'll eventually make it to the beach, which extends a few kilometers back east and into the suburbs. There's a nice wide promenade that must be super packed on a sunny day but on this cloudy winter day, only a sandy Jesus was out, along with Bart Simpson who could not hold his bladder and an excellent jazz group.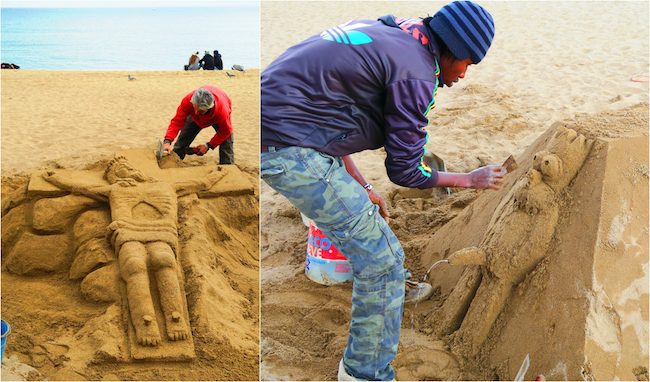 Placa d'Espanya
We still had a few hours to spend as our Barcelona city break was coming to an end. We thought about hopping on the cablecar to the nearby hilly district of Montjuïc and even at 11€ (one way), we were willing to pay and maybe get a bird's eye view of the city. Montjuïc is a steep hill overlooking Barcelona, home to quite a few sights including Olympic complexes, forts, gardens, and palaces. It probably deserves its own day to explore and we were really just interested in getting to Placa d'Espanya. The queues were long and we would have to do a lot of walking on Montjuïc so wisely decided to hop on the metro and get out right at Placa d'Espanya.
Placa d'Espanya was built in Classical style for the 1929 International Exhibition. It's a huge traffic circle with an impressive fountain at its center. Barcelona's former bullring-turned shopping center, the Arenas de Barcelona is right behind it (Catalunya was the first Spanish province to abolish bullfighting) and two massive Italian-style twin towers lead the way towards Montjuïc.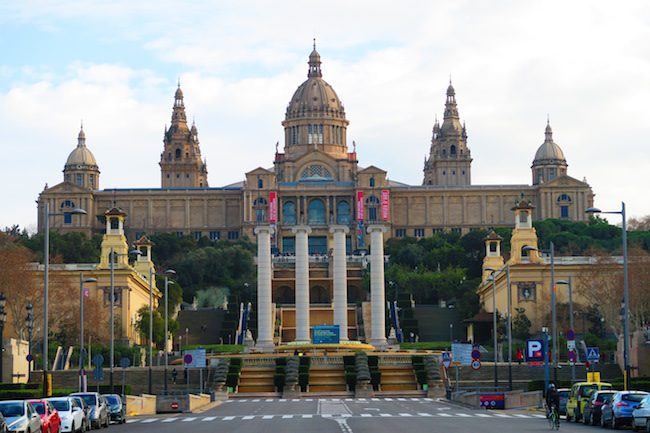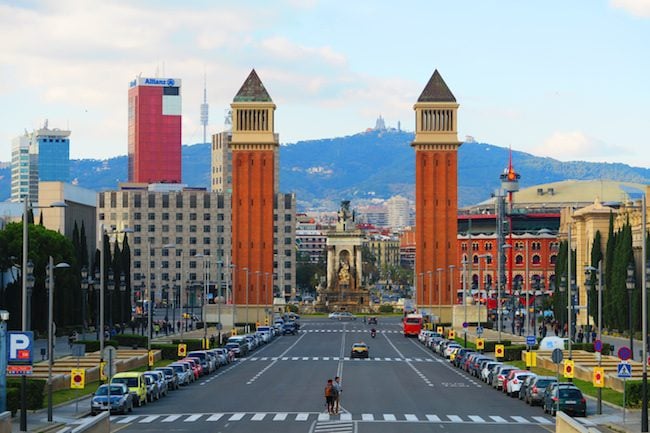 If you have the time, walk along this massively wide boulevard and head up the steps to the hill that houses the Palau Nacional, home to the Museu Nacional d'Art de Catalunya (MNAC). Even if you don't go inside, the views from the top are amazing– both back towards Placa d'Espanya and also just a few meters away in the mirador overlooking the city. Can you spot the Sagrada Familia? What a way to end our trip!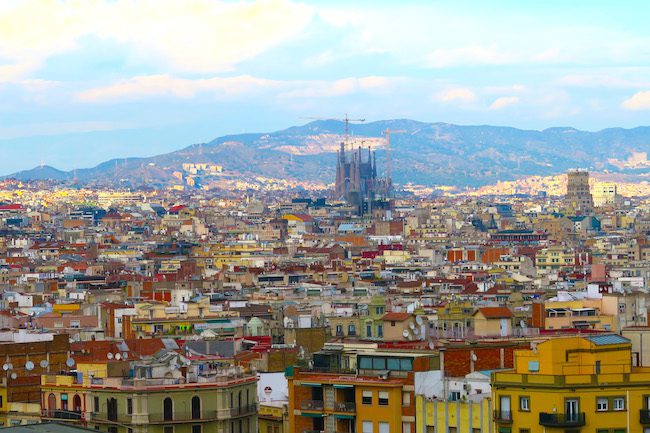 Wrapping Up
Our long weekend in Barcelona had come to a close. We just grabbed a few more tapas on the 30-minute walk back to the hotel and this time took the train to the airport from the Passeig de Gracia station. There are so many things to do in Barcelona, so many good places to eat and so much life in this city. We really had a great 3 days in Barcelona with just the right mix of things.
Any Regrets?
There are a few good tapas bars in Poble Sec, the district bordering Placa d'Espanya – most notably Bodega 1900 and the mega trendy Tickets. They are both close however on Sundays.
It would have been nice to really explore all of Montjuïc, especially on a sunny day. If you have to choose between Montjuïc and let's say, the Barri Gotic or the other places we visited, it should definitely rank at the bottom of the must-see list of things to do in Barcelona, when you just have a long weekend.
If you another full extra day and the weather is right, head out to Tibidabo, a hill overlooking the entire region. It's got unparalleled views and a popular amusement park.