A trip to Easter Island and the easternmost tip of the Polynesian Triangle is an exercise for the eyes as it is an exercise for the soul. One of the greatest mysteries on the planet, nearly 1,000 strange monolithic statues known as moai and a practically vanished civilization are the basis of your quest. This three days in Easter Island sample itinerary outlines how to maximize your short time on the lonely island. Let's get started!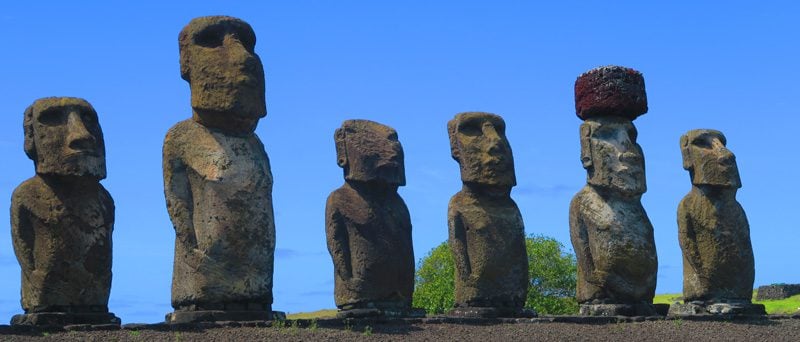 3 Days in Easter Island Map
All the places mentioned in this three days in Easter Island sample itinerary are featured on this map. Simply click on the image to open in Google Maps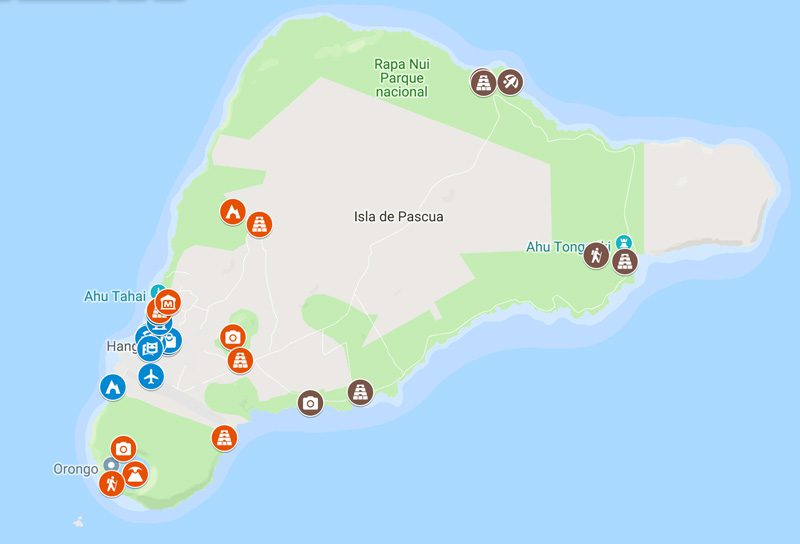 Where to stay in Easter Island?
All accommodations on Easter Island are in and around the only settlement on the island – Hanga Roa. Accommodations range from backpacker style and even camping (check out Hostal Tojika) to luxury resorts such as Explora and high-end lodges such as Altiplanico. In the mid-range category, you'll find Hotel Iorana, Hotel Puku Vai, Hotel O'tai, Vai Moana, and Hotel Manavai.
Here's a list of all Easter Island accommodation that you can book online!
Day 1: Hanga Roa & Around
The first of our 3 days in Easter Island will center on the island's capital and only town – Hanga Roa, spicing things up with a few out-of-town options as well.
Meaning "wide bay", Hanga Roa is home to over 90% of Easter Island's population of around 7,000. Depending on where you're arriving from, Hanga Roa may appear a bit dull and unlively but you must consider just how remote Easter Island is. Hanga Roa has all the amenities of a small town and most of the interesting sites and businesses are located either on Te Pito o Te Henua or the more commercial Atamu Tekena.
Morning
Start your visit at the local Catholic church and if it's Sunday, be sure to head here bright and early for a colorful service with lots of singing and dancing. The church's interior contains exquisite wooden sculptures with motives blending both Christian and indigenous Rapa Nui symbols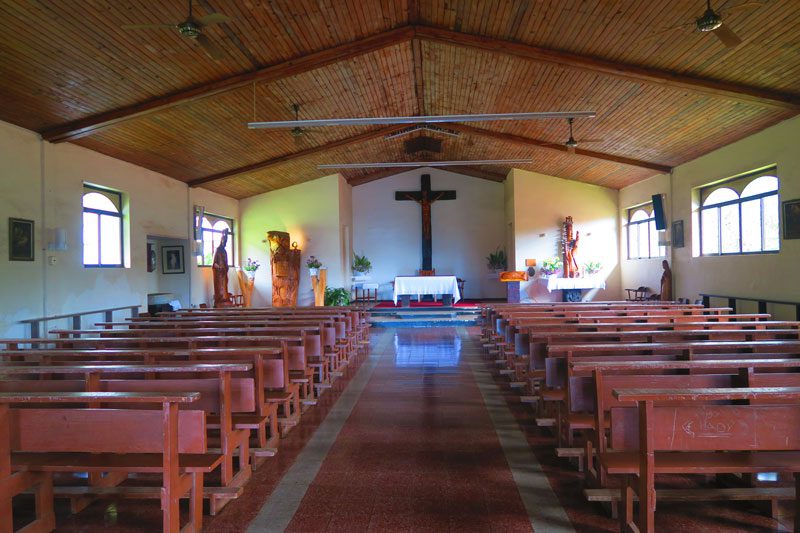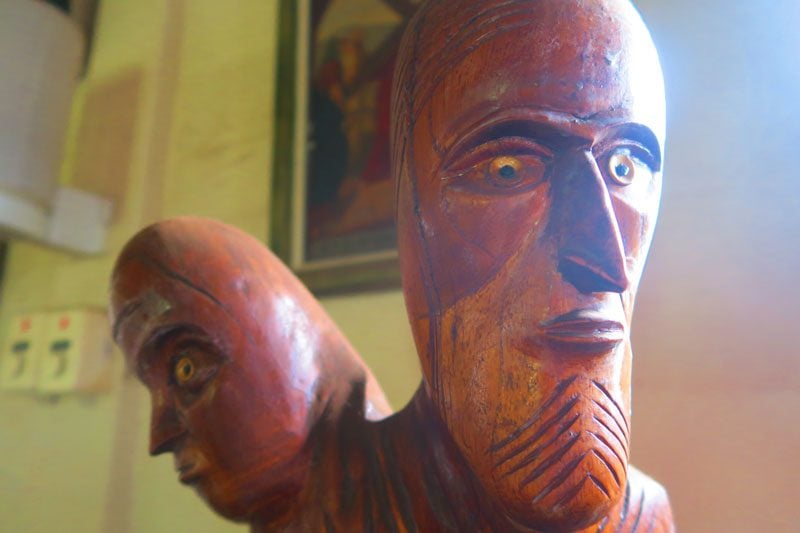 Across from the church is the main crafts market where you can stock up on souvenir replica moai statues in all sizes as well as high-end crafts from wood or marble. Down the road on Atamu Tekena is the "agricultural and crafts fair", a smaller market where local produce and souvenirs go hand in hand.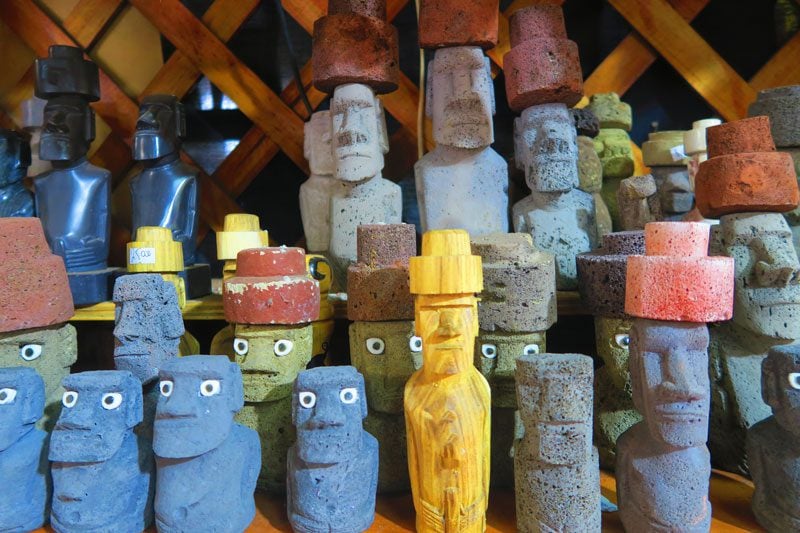 Head down to the bottom of Te Pito o Te Henua and enjoy the sites from Plaza Hotu Matua and Roa Otai – the main wharf. You can snap here nice photos of the fishing boats, and grab lunch nearby. Try the signature local dish – ceviche! From Roa Otai, it's a quick walk along the wooden boardwalk to Pea Beach – Hanga Roa's prime bathing, surfing and snorkeling spot. It is said that sea turtles are frequently spotted here.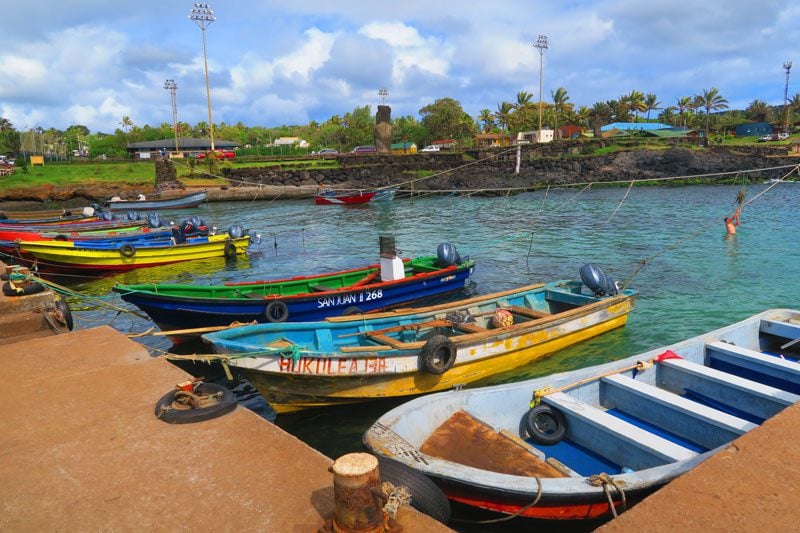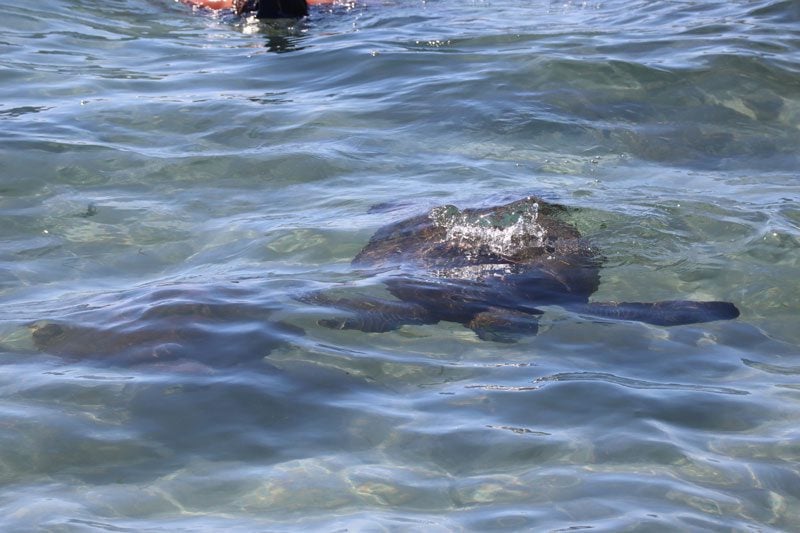 Afternoon
If you're up for some adventure, walk to Ana Kai Tangata – also known as "the cannibal cave". It is the most accessible cave from Hanga Roa and is reached via an easy thirty-minute walk from town. The setting here is simply magnificent, with cliffs smashed by ocean waves and the slopes of Rano Kau visible in the distance. Painted on the cave's ceiling are ancient petroglyphs depicting local motifs. As for the name – no evidence of cannibalism was found here though its literal translation means "man cave".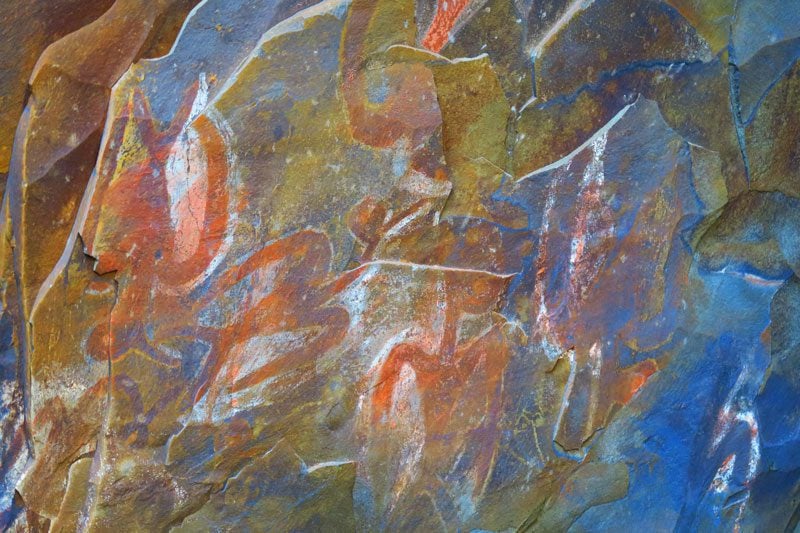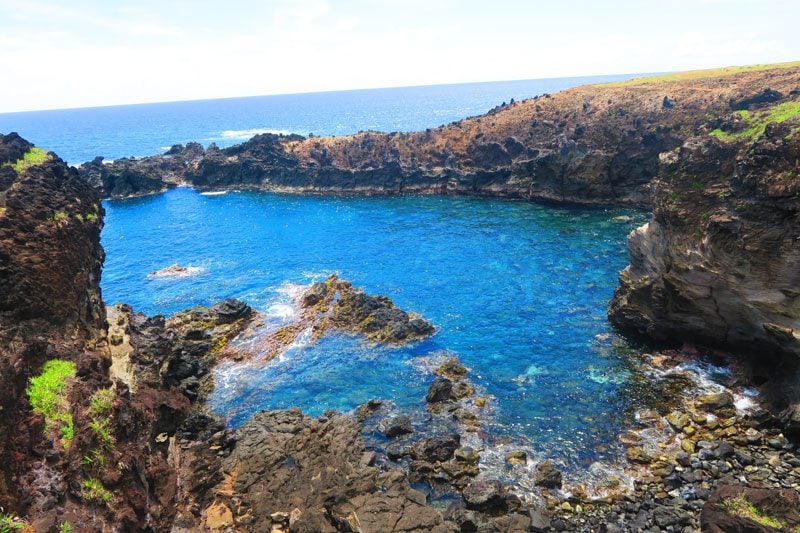 Evening
In preparation for sunset, drive or walk along the coast past the scenic cemetery to Ahu Tahai. You'll properly visit this temple complex tomorrow but this is the best spot on Easter Island for catching the sunset. Get your camera ready!
To celebrate the start of your Easter Island trip and to experience the proud Rapanui culture, head to one of the local evening dance shows in Hanga Roa. At present, the finest show is put on by the Kari Kari dance group who holds shows several times per week. Mixing Tahitian and Rapanui dances to the sound of beating drums accompanied by ukulele and the occasional conch shell horn, do not miss this unique show! Here's a sneak peek of the Kari Kari show.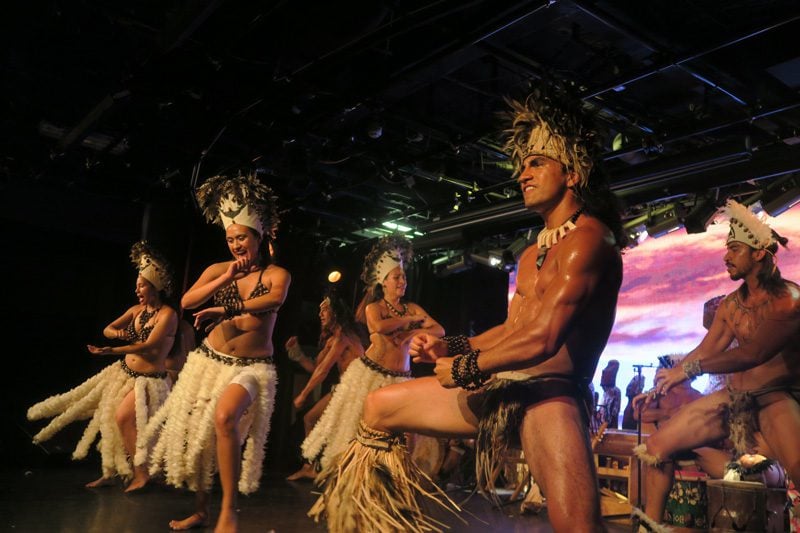 Day 2: Rano Kau, Orongo & Nearby Temples
The second day on this three days in Easter Island itinerary is dedicated to the natural sites and temples close to Hanga Roa. Since driving time is minimal, you'll be able to fit a lot of stops on this day while pausing for lunch in Hanga Roa or at an outdoor picnic.
Morning
Start the day at the Ahu Tahai complex, the sunset spot from yesterday's itinerary. Ahu Tahai is easily reached by Hanga Roa either by car or by simply walking along the coastline from town.
This is actually a series of three separate ahu: Ahu Vai Uri, Ahu Tahai, and Ahu Ko Te Riku, the oldest of which dates back to around 700 AD. The most striking feature in the complex is the fully restored moai, the only moai on Easter Island to feature both the pukao red top knot and the coral eyes with obsidian pupils which are thought to have embraced the moai with mana (supernatural power).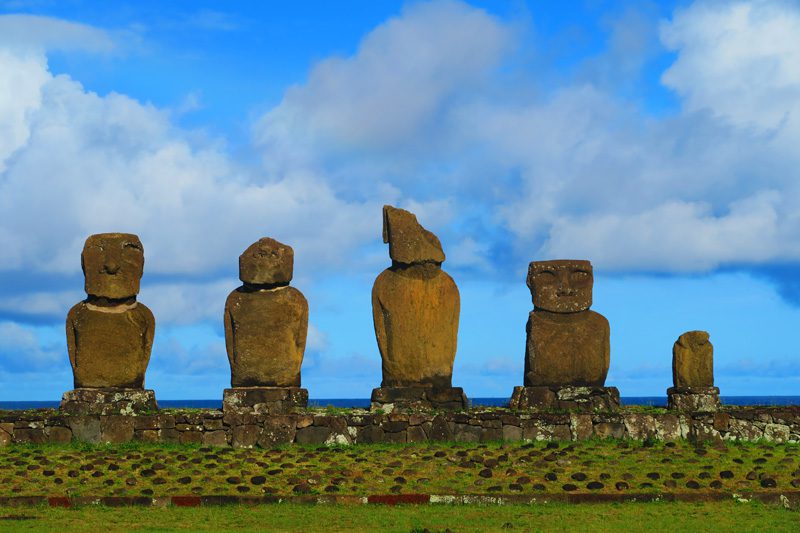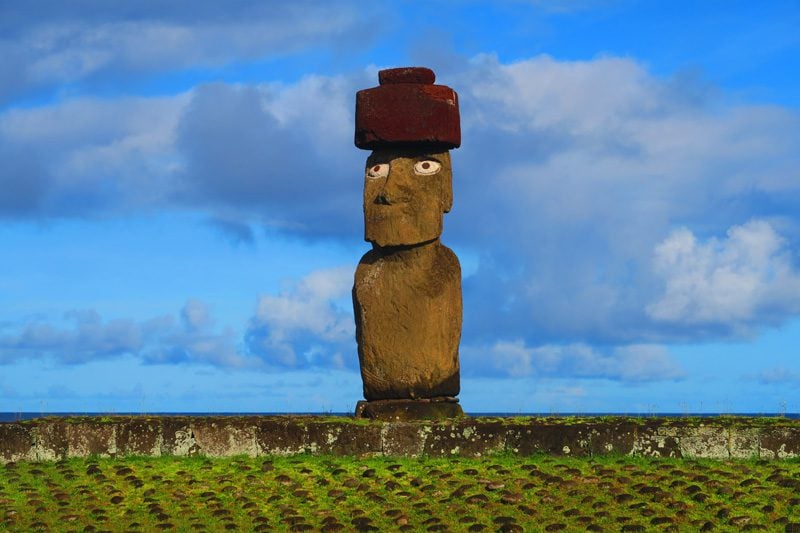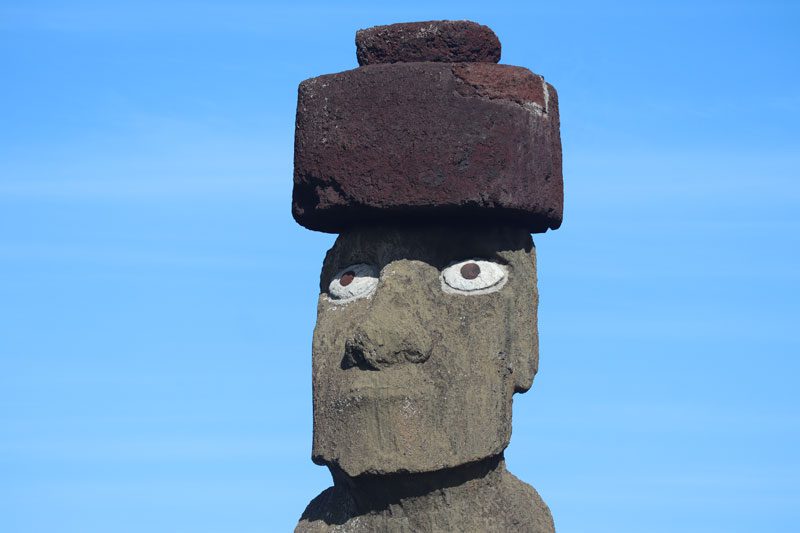 The Ahu Tahai area is actually one of the oldest settlements in Easter Island with several clues left by its Rapanui residents. As you explore the three temples, you'll come across hare moa – stone enclosures with a small entrance used in the old days for housing chickens during the night, the stone platform of hare paenga – "classic" Rapanui homes which resembled "upside down canoes", and a ramp leading down to the ocean used as easy access for canoes.
A short distance away from Ahu Tahai is the Sebastian Englert Museum – the only museum on Easter Island. Among the museum's highlights are moai coral eyes, rongorongo tablets (not original), ancient stone tools, exquisite wood crafts and an extremely rare female moai.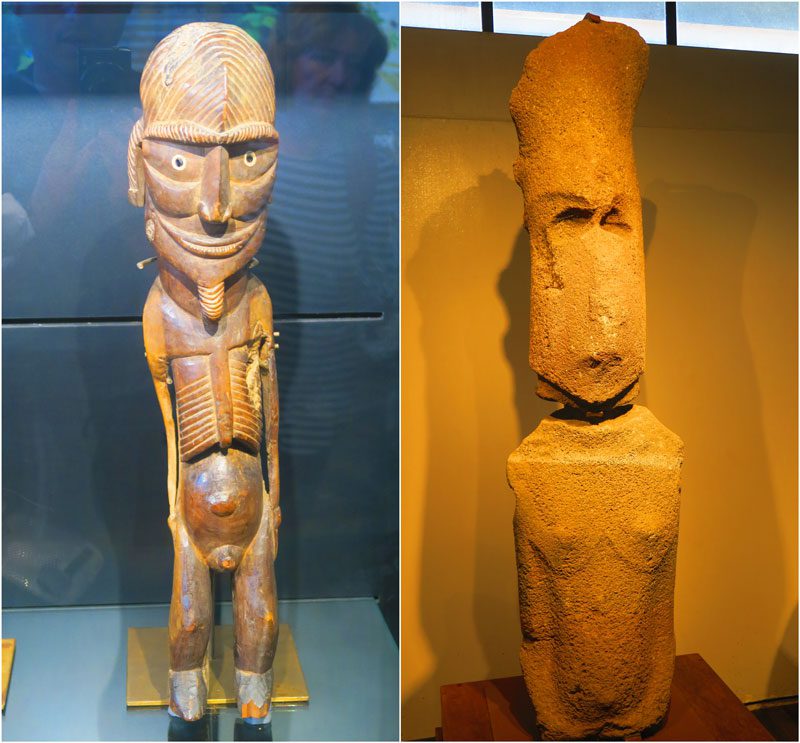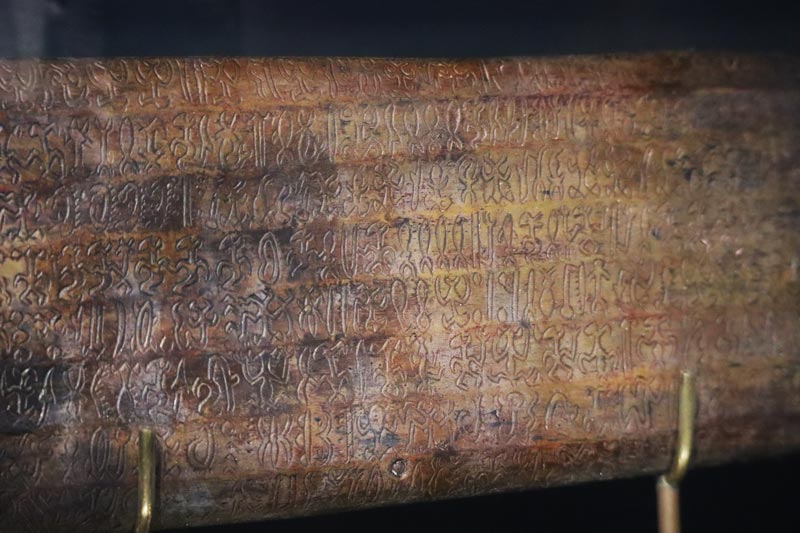 About a 15-minute drive from the museum is Ahi Akivi – one of the most interesting temples on Easter Island for its photogenic moai and for its astronomical significance. Ahu Akivi is a rare inland temple and it is also one of the few ahu where the moai face out to sea. The ahu features seven moai statues of equal shape and size, linked by some to the legend of Hotu Matua (first king) in which seven "scouts" were sent to investigate the island ahead of the challenging sea voyage. The moai strategically face sunset during the spring equinox and have their backs to the sunrise during the autumn equinox, likely to help the area's farmers with the timing for growing and harvesting crops.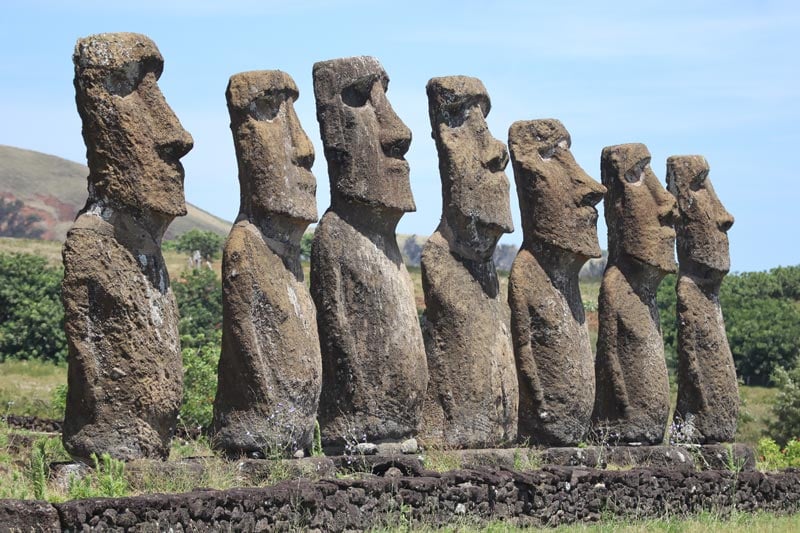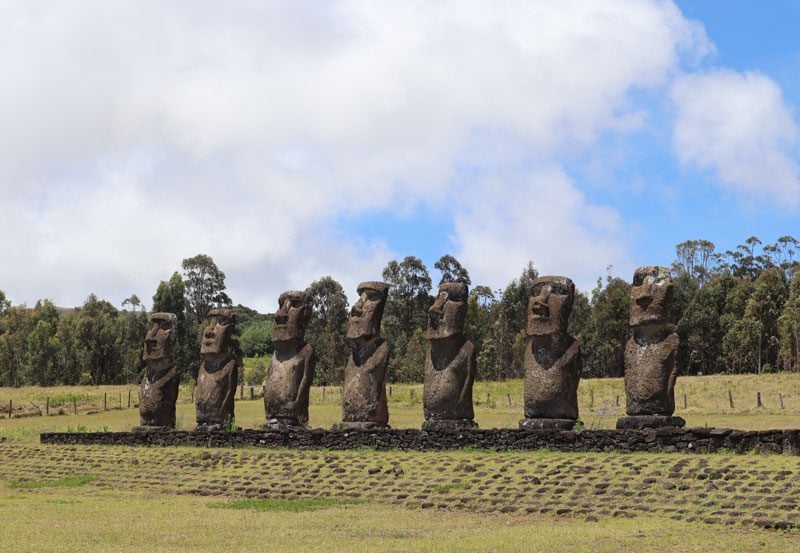 If visiting the "cannibal cave" on day one was not enough, a further fifteen minutes on foot from Ahu Akivi is Ana Te Pahu – another famous cave on Easter Island.
From Ahu Akivi, we'll head south for about 10 minutes by car to Puna Pau – the quarry from which roughly 100 pukao reddish topknots were carved. The rock found here is of unique color and its soft contents allow for relatively easy carving. The making of pukao is clear evidence of increased tribal competition since early moai did not have this feature. The average pukao weighs about 12 tons and the largest found may have been 2.6m high and 3m wide.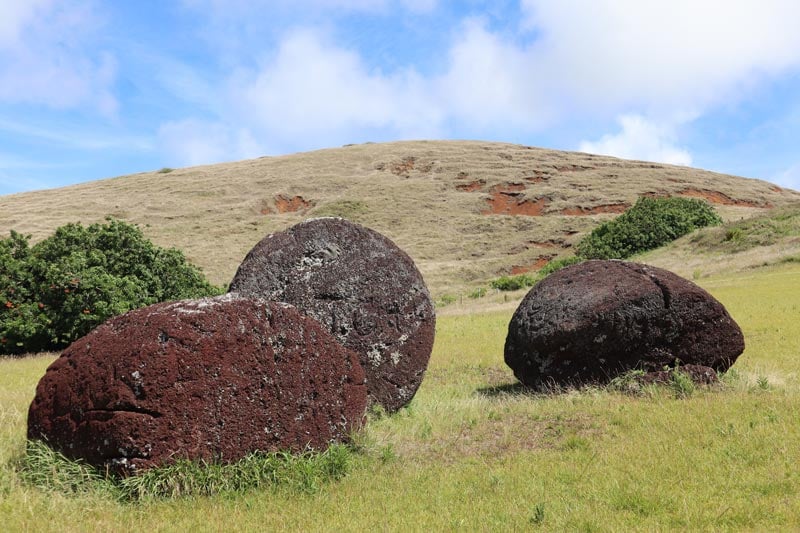 A short stop before lunch is at nearby Huri a Urenga, another inland temple. The single moai on this platform strangely features two pairs of hands and faces the sun as it rises behind a hill in the winter solstice which is the shortest day of the year.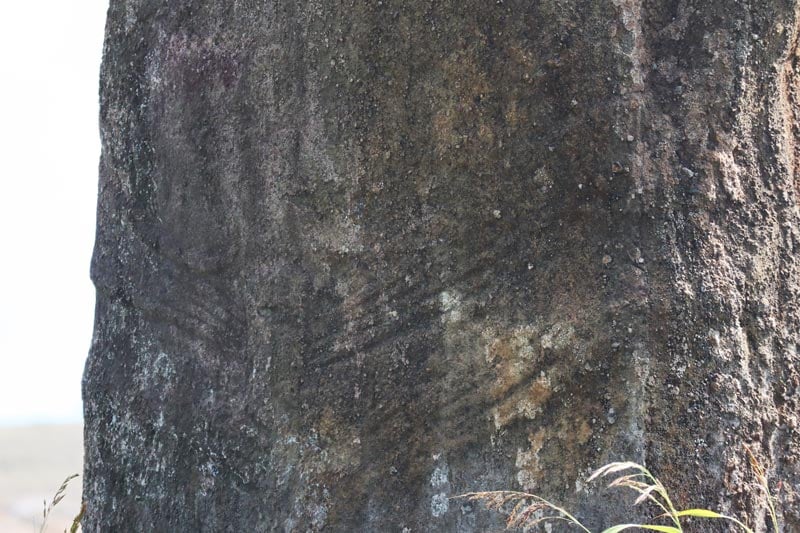 Afternoon
After grabbing lunch in Hanga Roa or enjoying a picnic in the outdoors, drive (or hike) to Rano Kau – the most striking natural feature on Easter Island. The crater of this dormant volcano is filled with water up to a depth of 10 meters and features a unique microclimate in which unique reeds and other plants flourish on the surface of its lake. The best way to appreciate Rano Kau is from the viewing area, where on a clear day, you can clearly see Mount Terevaka and Poike – the other two volcanos that, together with Rano Kau, give Easter Island its signature triangle shape.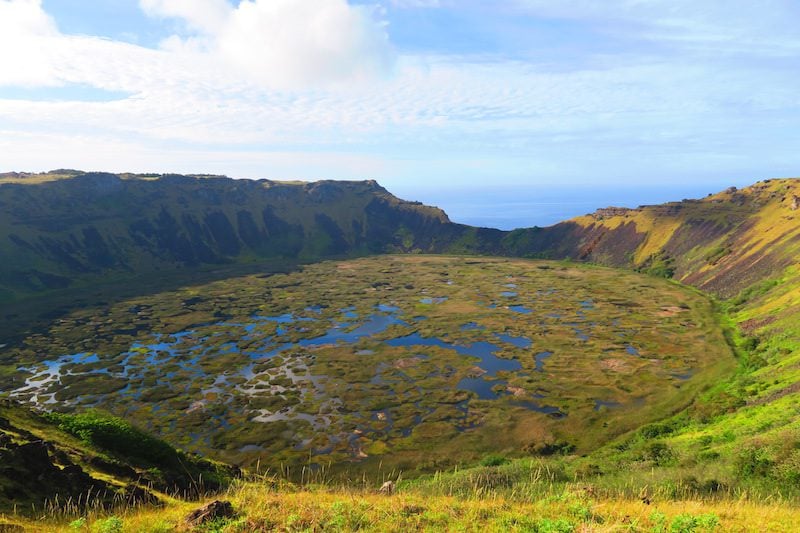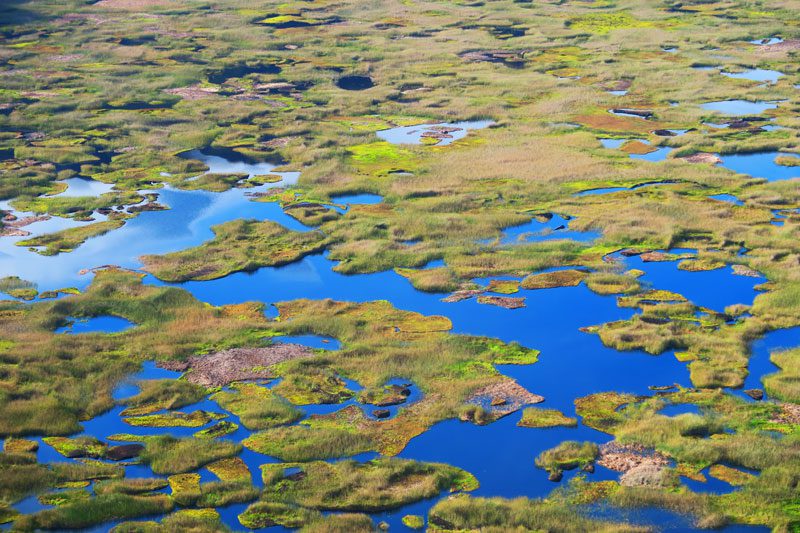 The next obvious stop is Orongo Village. It is one of the more powerful sites on Easter Island and can only be visited once (your national park ticket is stamped) so be sure to leave enough time for the visit. Orongo's dramatic location is enough to blow your mind but the allure of the bizarre religious ritual that took place here up until 1868 is what makes this spot so unique.
As Rapanui society spiraled into civil war and as famine became widespread, a new religion took over Easter Island, likely in reaction to collective anger over the "old gods" and their inability to provide despite the erection of so many moai statues. Led by the warriors (in contrast to the hereditary chiefs), the new religion worshiped the god Make Make, represented in mythology by a half-man-half-bird figure and in real life by the sooty tern bird and its eggs.
Each spring, the various clans would gather in Orongo for the annual birdman competition, each selecting an elite athlete to swim through shark-infested waters to the nearby Motu Nui and return with the first-laid egg of the sooty tern. The winning clan's leader became "Birdman" for the year and got to make all the important decisions on the island. This was a way to curb inter-tribal violence but obviously only sparked further violence, jealousy, and allegations of corruption.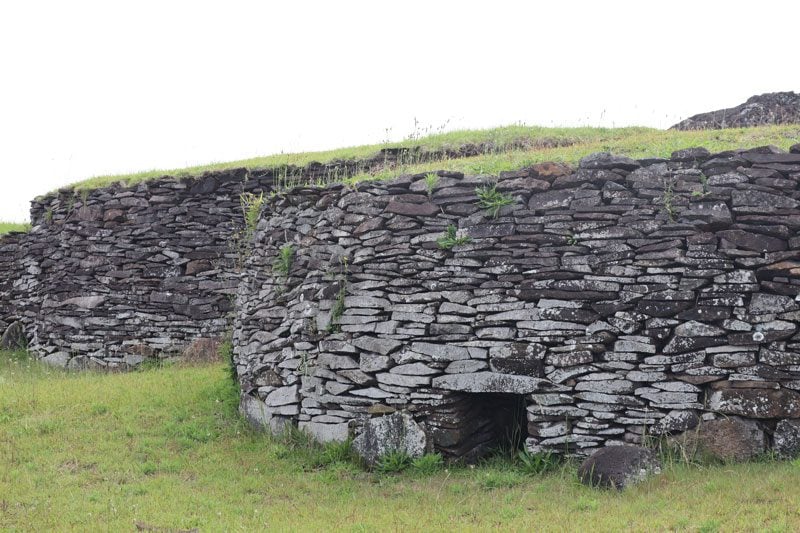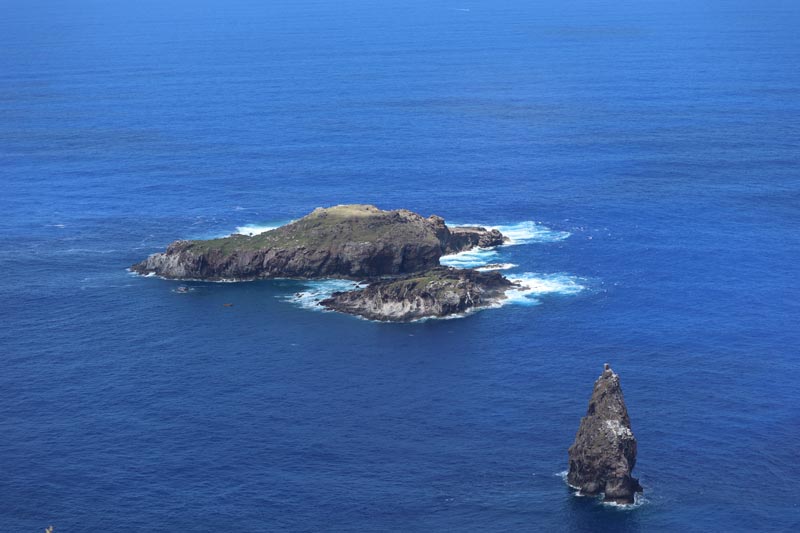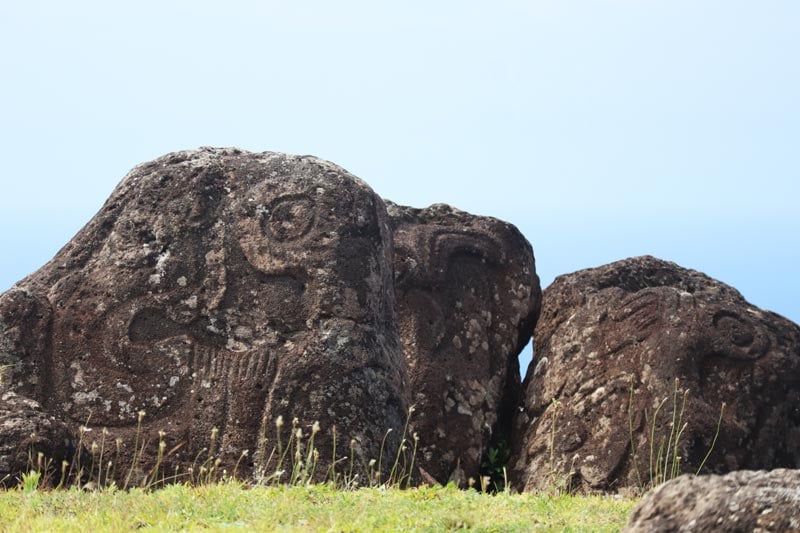 Visiting Orongo evokes flashes of what this annual festival must have looked like and, though it's hard to spot these days, nearly 2,000 birdman petroglyphs serve as additional evidence to the lengths a society would go to when pushed to the edge.
If there's enough time, head down from the volcano to Ahu Vinapu and Ahu Tahira. Both temples feature moai statues that were toppled and never restored – a chilling reminder of the tribal war that took over the island. Moreover, both ahu boast interesting features with Tahira featuring a singular red column that possibly represents a rare female moai, and Ahu Vinapu featuring a retaining wall whose rocks are aligned with mathematical precision suggesting contact with the Inca civilization of South America.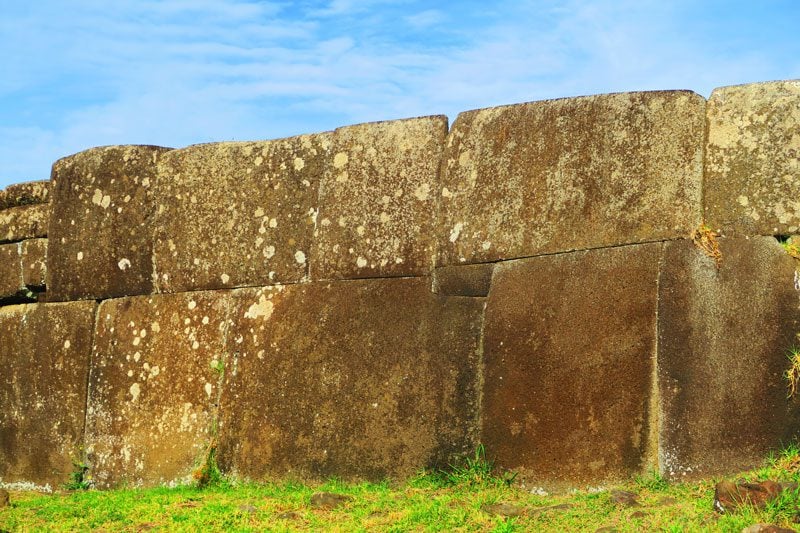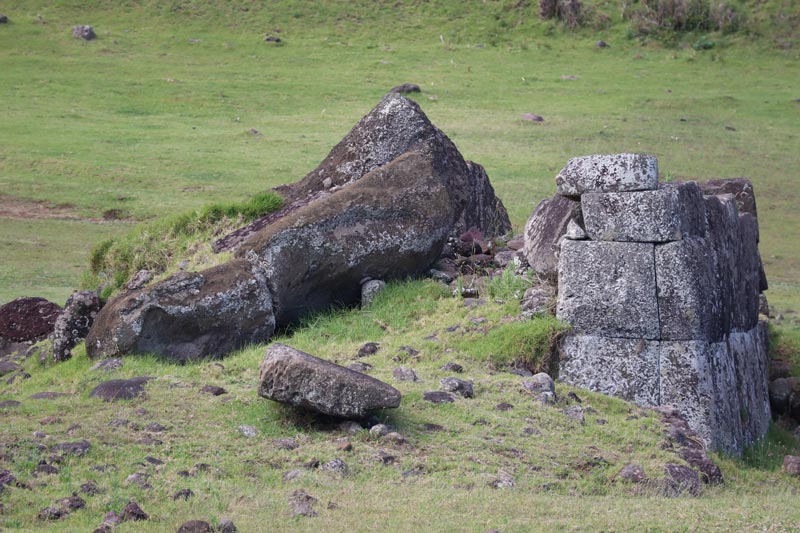 Day 3: Rano Raraku, Ahu Tongariki & Anakena Beach
The last of our 3 days in Easter Island is dedicated to the island's most powerful and scenic sites.
Morning
Get up bright and early and head to Ahu Tongariki in preparation for the sunrise. Of all the 300 temples on Easter Island, none are more majestic than Ahu Tongariki. Fifteen moai, the heaviest of which weighs 88 tons, adorn a stone platform spanning 160 meters. It is hard to fathom how the Rapanui could raise these monolithic beasts, especially since mighty cranes were needed in the restoration of Ahu Tongariki by the Japanese in 1994 following the 1960 tsunami that displaced the moai.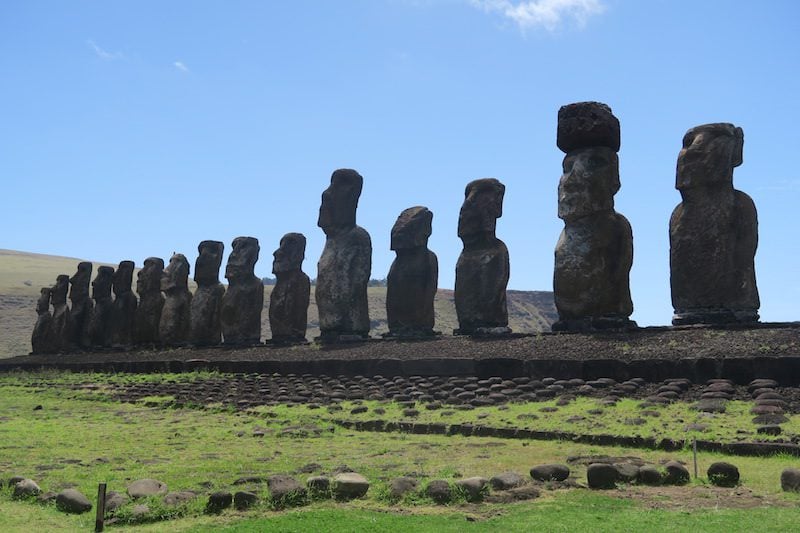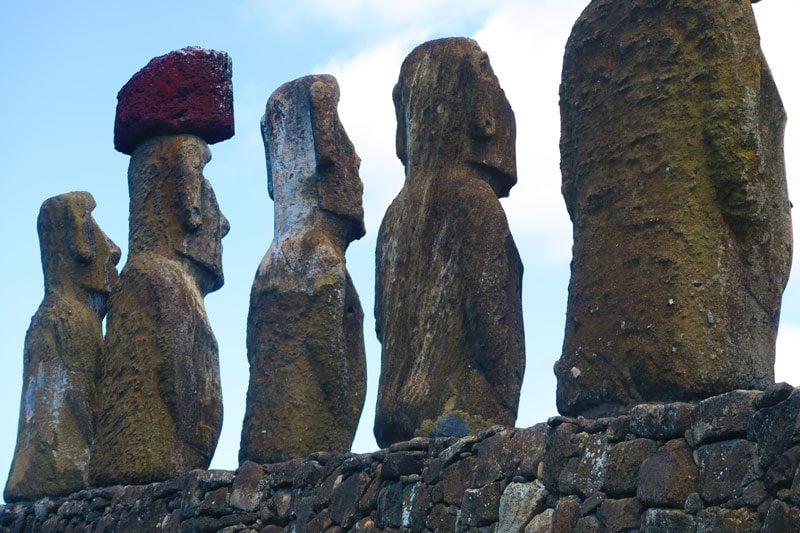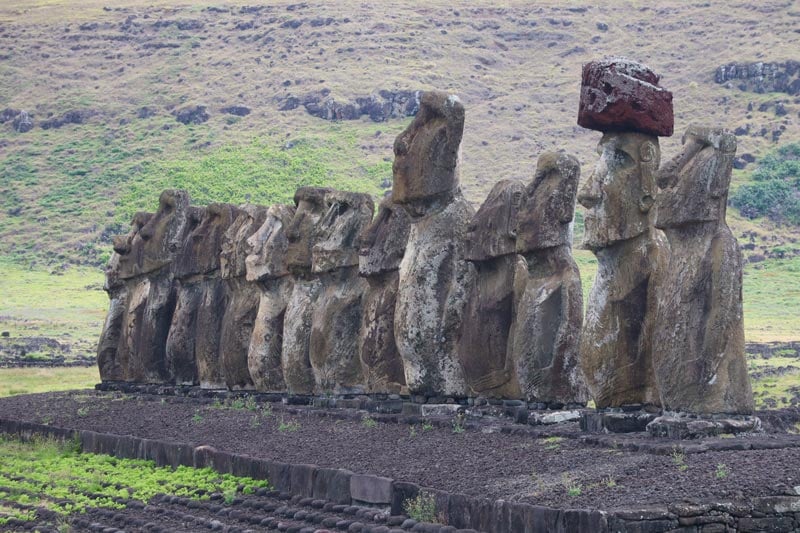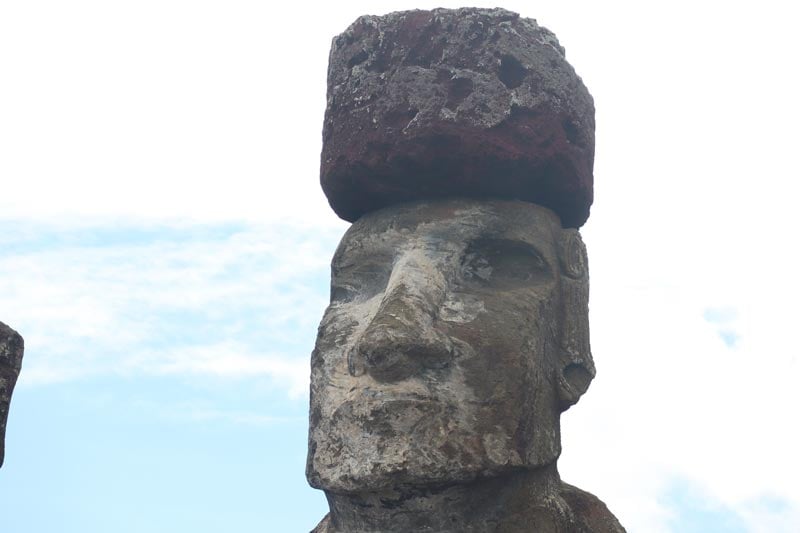 From Tongariki, it's a quick drive to Rano Raraku – the "moai factory" from which 97% of the nearly 1,000 moai were carved. Together with Orongo, Rano Raraku is the second Easter Island site that can be visited just once. Nearly 400 unfinished statues in various stages of completion are found along the slope of the crater, either damaged during early stages of transport to the various ahu or simply left abandoned by "the last shift".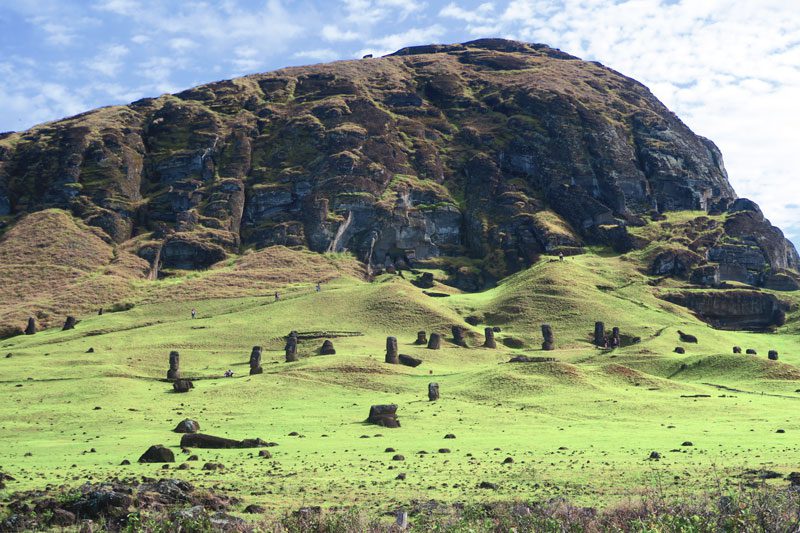 The visit to Rano Raraku is very thought-provoking so be sure to devote enough time. It is here that you can picture the competing tribes carving in different sections of the crater, the sound of their toki stone hammers pounding the soft tuff for about two years until the nearly finished moai could be lowered down and prepared for transport.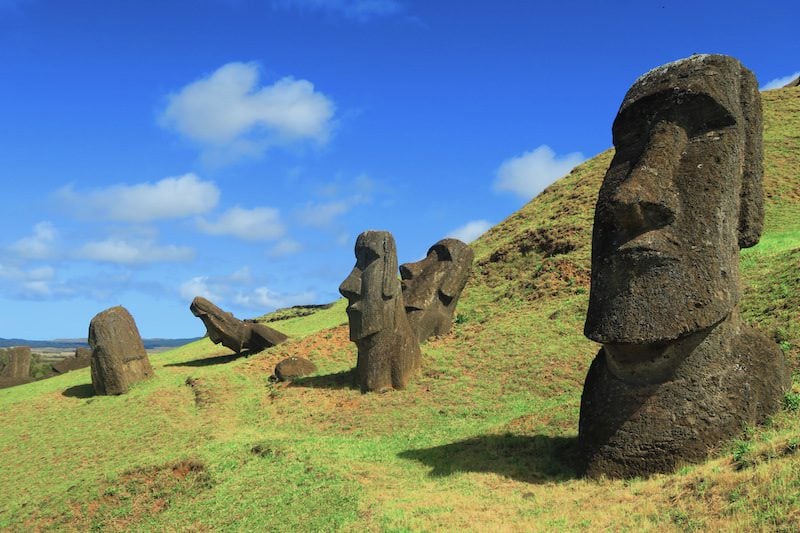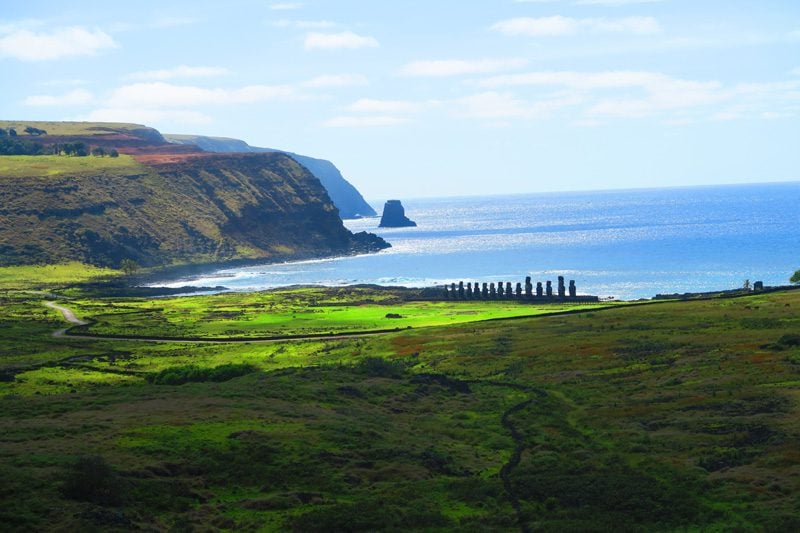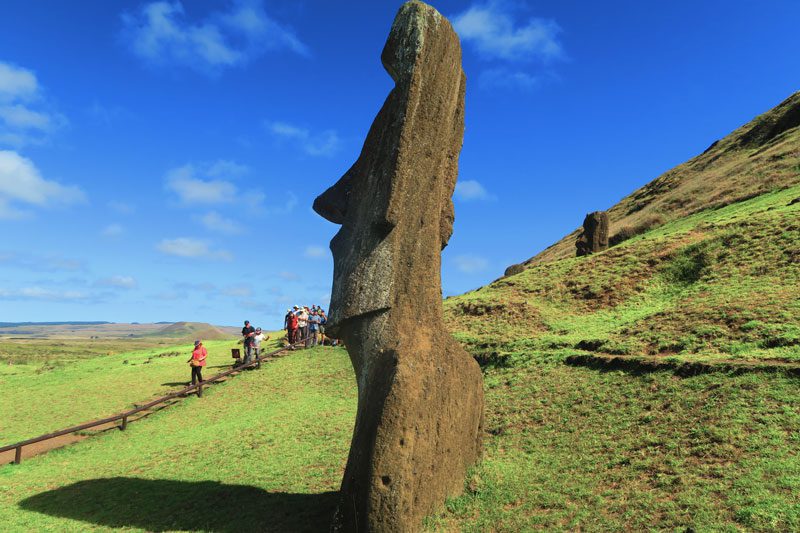 Two paths are available to the visitor at Rano Raraku, the first brings you close to the moai and the second heads up to the crater rim and down to a small lake (20 minutes return). There are several "celebrity moai" in Rano Raraku, all of which are highlighted in detail in the Easter Island Travel Guide.
Afternoon
For lunch, head to Anakena Beach – the finest beach on Easter Island. Anakena is believed to be the spot where King Hotu Matua and his group of pioneers initially landed upon discovering the island. It is also home to Ahu Nau Nau, an impressive temple whose moai statues were preserved for decades or even more by soft sand that covered them.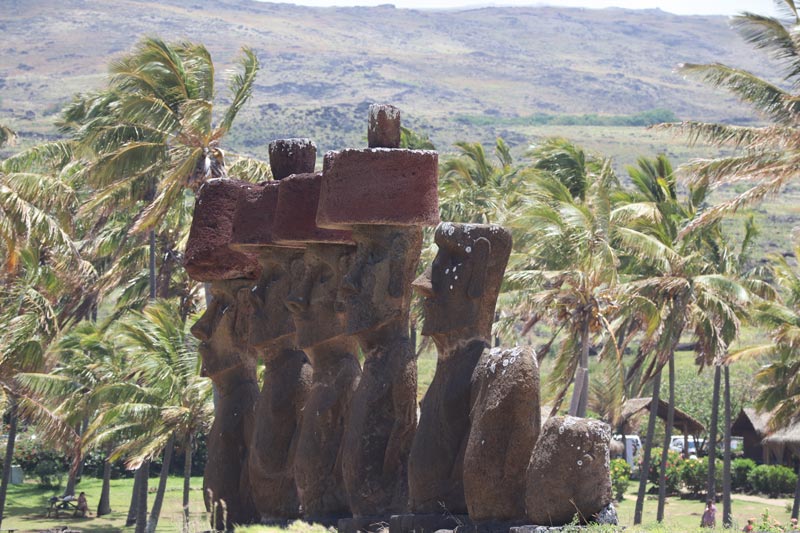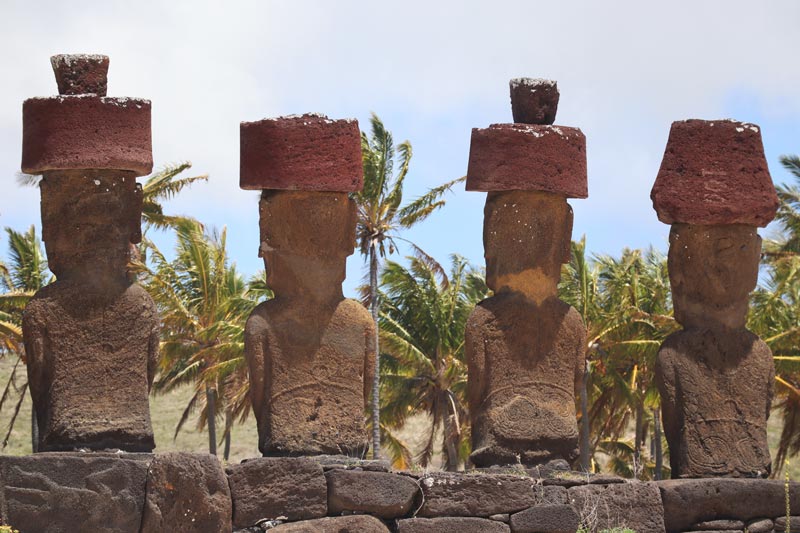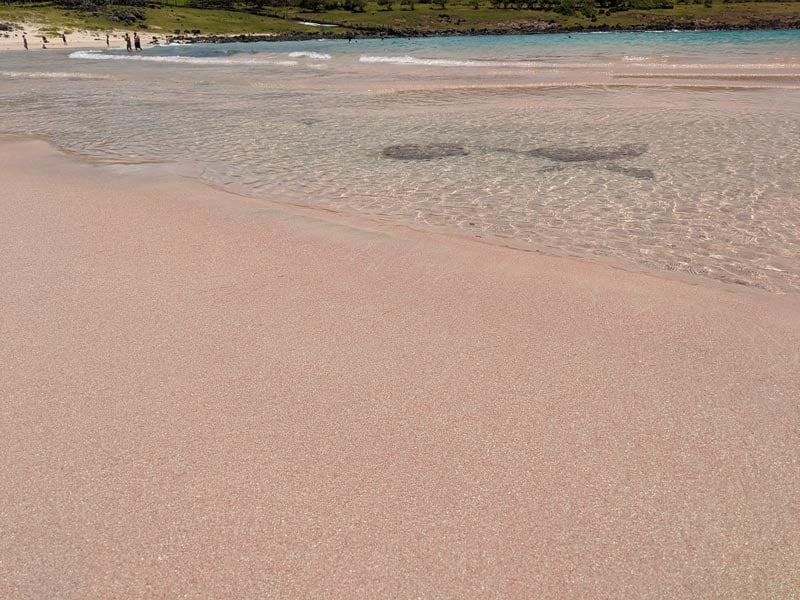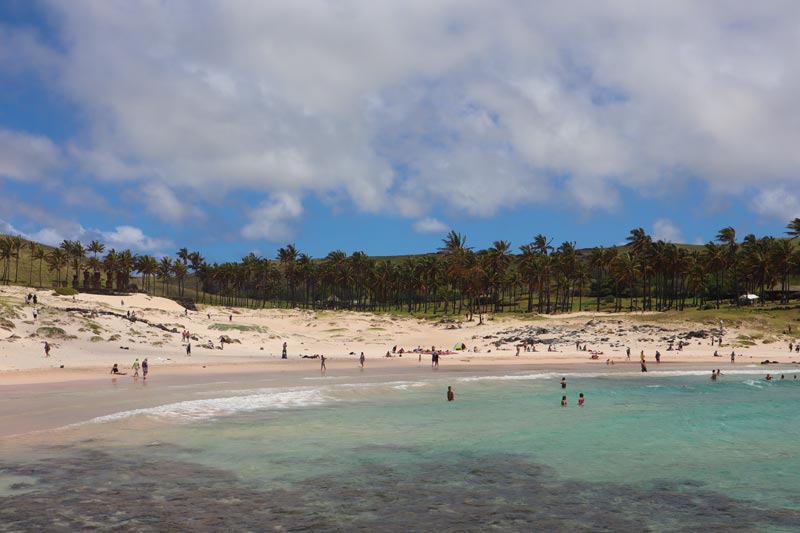 The public beach features a number of restaurants and toilet facilities. If it's a nice day, lay down your towel on the soft wide sand and enjoy a few relaxing hours. Swimming is also possible, though the water temperature will likely be chilly. For a more secluded vibe, head to Ovahe Beach, located about one kilometer east of Anakena.
If you fancy seeing a few more sites on the drive back to Hanga Roa, stop at Ahu Vaihu and Hanga Poukura. The first stop is an unrestored ahu within walking distance of a restored village featuring "classic" Rapanui homes which resembled "upside down canoes" and other stone enclosures for chickens and crops. The second stop is a quick one, where you can admire large waves crashing the coast. You'll also find lots of obsidian rock shining on the ground.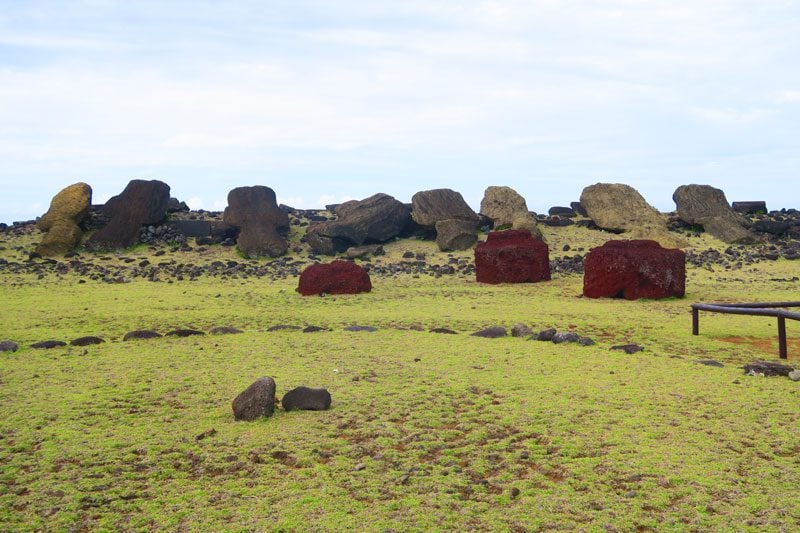 Evening
On your last night in Easter Island, go for a special dinner either at Restaurant Haka Honu, La Kaleta or Te Moana. If you haven't done so already, attend a Rapanui dance show (see day 1 itinerary for recommendations).
What's Next?
I hope you found this 4 days in Easter Island sample itinerary useful. To learn more about visiting Easter Island, check out these additional resources and start planning!
---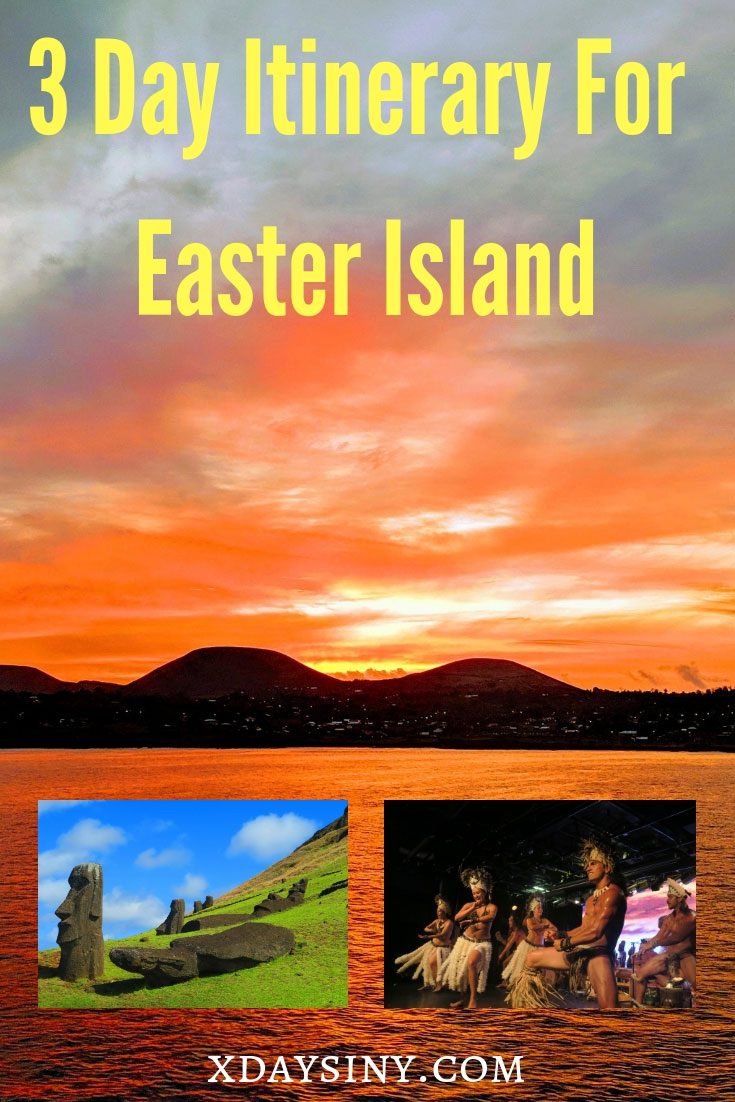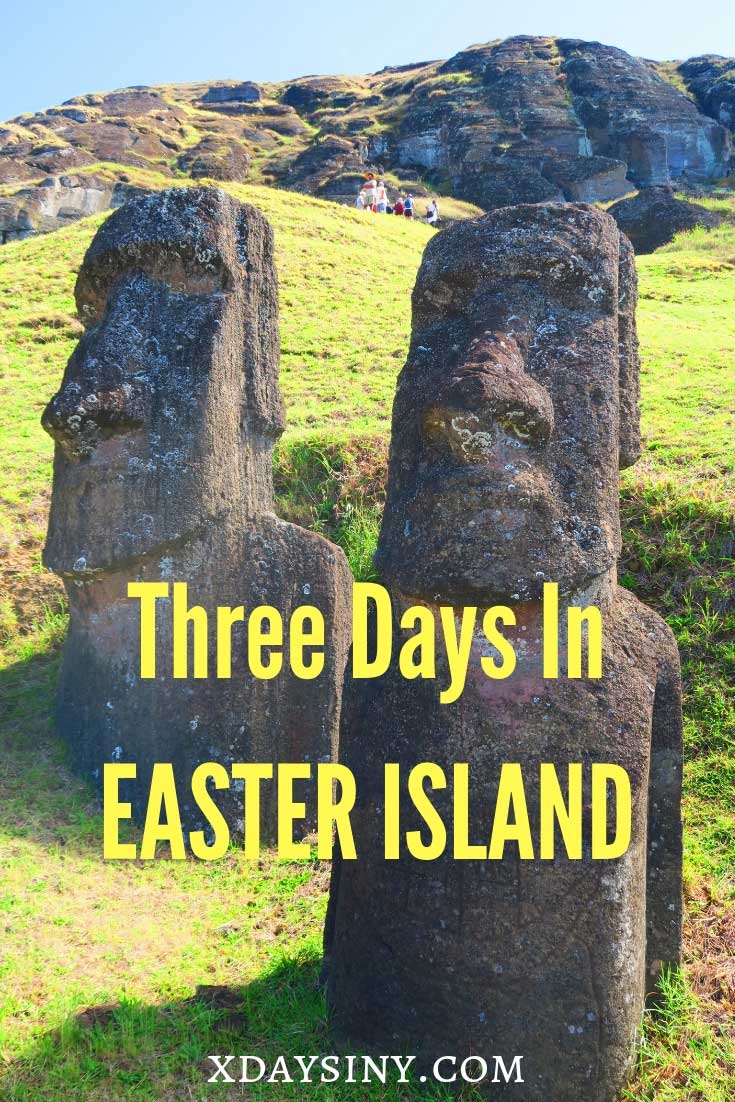 Pin These Images To Your Favorite Boards!