Finding the real Hawaii in Molokai Island
The island hopping journey in the Hawaiian Islands continues with a visit to Molokai – one of the least visited islands in the chain. Molokai is the kind of place that reminds you that Hawaii is one of the most remote archipelagos on the planet. It is the kind of island where everybody knows everybody, where there are no traffic lights, it's the birthplace of the hula dance, and where 'aloha' is not simply an overused catchy word. Welcome to the 'Friendly Isle'!
After ten action-packed days in Kauai, I thought anything else would be a complete anti-climax. After all, Kauai's natural beauty managed to impress even the critical likes of me. But Molokai has been on my list for quite a while. To be exact, ever since November of 2015. That's when I met Bob and Karen – residents of Molokai – in the middle of nowhere on the remote tropical island of Ofu in American Samoa.
Visiting Hawaii? Sample itineraries, guides to the best spots, and the must-see highlights in five islands are all waiting for you in the Hawaii Travel Guide collection. Aloha!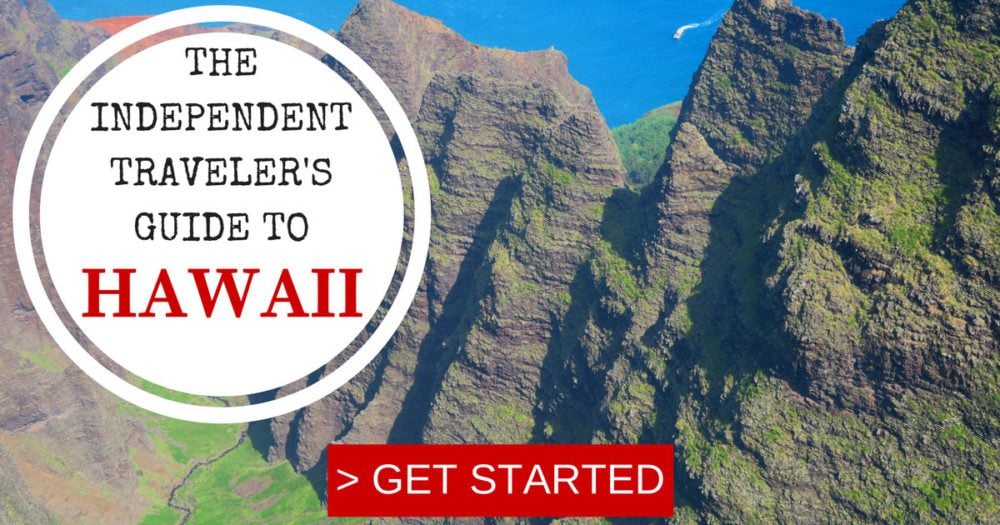 Hawaii, Tailor Made!
The Hawaiian islands are among the last places to be colonized by mankind, five main islands, each with its unique personality.
Get expert advice and assistance with planning your trip to the destination where tropical dreams come true!
Slow down, this is Molokai!
Despite the age gap between us, the combination of a beautiful setting and a shared philosophy about the true meaning of life led to a friendship that managed to withstand the distance of two oceans plus a bunch of continents between us. The fact that Bob and Karen also live life 'off the grid', in the middle of nature without regular access to mobile reception and wifi, made me extra curious. Their stories of Molokai and my relative geographic proximity left no choice: time to visit MKK!
Landing at the tiny open-air 'airport' in the flat saddle between two extinct volcanoes immediately throws me back to a South Pacific vibe, the Polynesia I am in constant search for. This doesn't look or feel like the Hawaii I've known so far. I am greeted by a smiling Karen and we immediately hit the road to cruise around the island. At the turnoff from the airport onto the 'main highway', a sign is posted that pretty much sums up the island philosophy: "Slow down, this is Molokai!"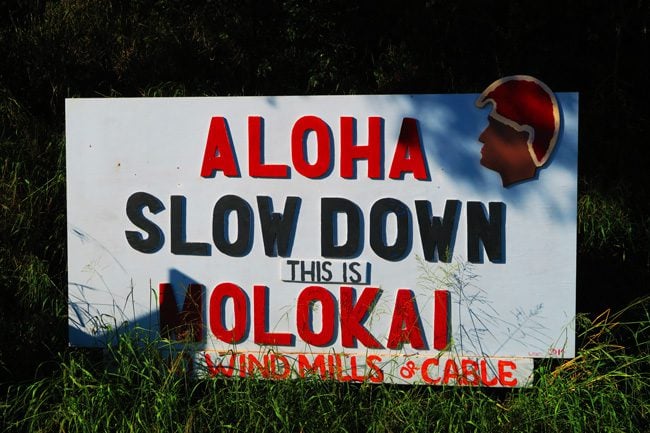 Where is everybody?
Driving in the direction of Kaunakakai – the island's main town – I can't help but notice that something is odd. I turn to Karen and ask her "where is everybody?" You see, the roads are completely empty, there's hardly anyone around and there are certainly no traffic lights – a very different experience than the sometimes bumper-to-bumper traffic on other Hawaiian islands. Only 7,000 or so residents call Molokai home, of which over 50% have some kind of native Hawaiian heritage (state average is only around 10%).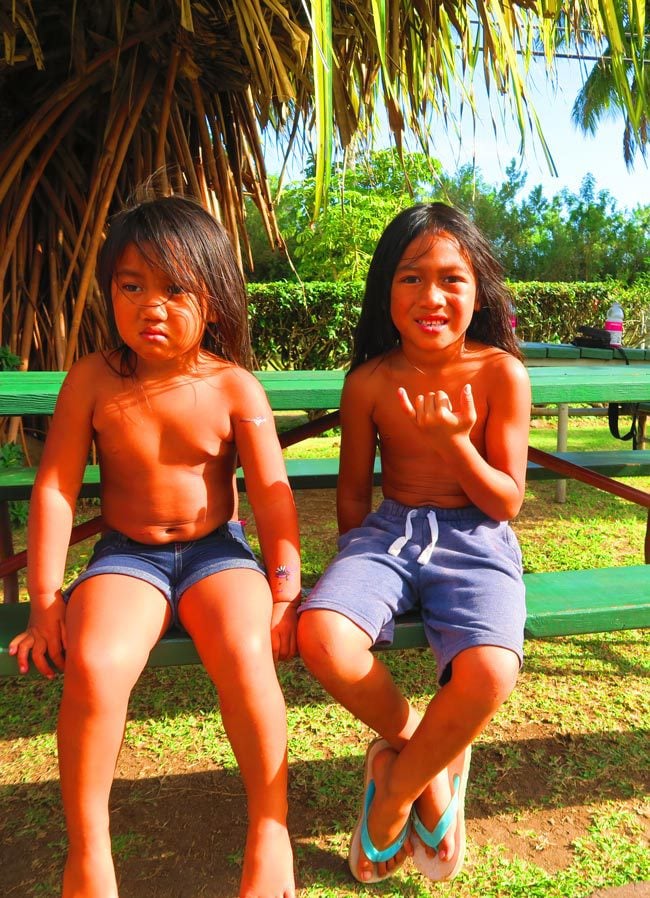 This makes Molokai a fantastic place to relax, unwind and actually come in contact with actual Hawaiians. There's no Walmart, no chain stores, the cinema shut down years ago, and when you enter the gas station, the sound of a ringing bell tells the cashier it's time to manually turn on the pump. I love this place!
And in Molokai, locals are also adamant about retaining their laid-back way of life. Stickers of 'keep country, country' decorate the bumpers of beat-up trucks and no mass tourism projects are OK'd. In fact, when the owner of the largest resort (and employer) threatened to shut down and leave unless he received additional land concessions, locals basically told him to 'f-off'. Molokai is the way it is not by coincidence but by choice. It is an authentic island that resists change, a rarity these days. It is very similar to Maupiti Island in French Polynesia, where locals refused to become 'the next Bora Bora'.
The great reef
OK, enough Hawaiian politics. Onto some sightseeing. As Karen and I drive to her off-the-grid house for dinner, we cruise along the island's south coast. It is a very scenic drive. To our left, the ancient remains of the island's tallest volcano eroded over time with narrow and deep valleys running from the coast to the beach. Bob and Karen live in one such valley. To our right, the odd sandy beach, ancient fishponds, and Molokai's famous reef – one of the longest in the US. It's at its grandest when viewed from the air, and I just so happened to fly right over it in one of the interisland flights.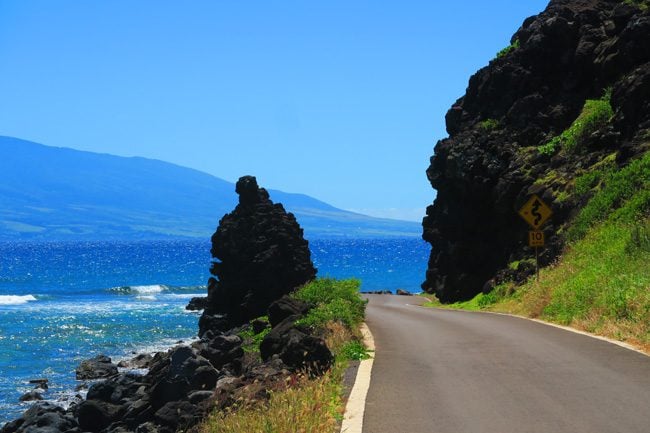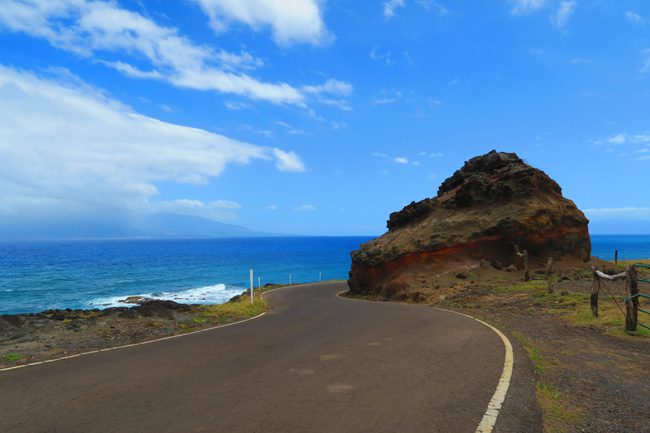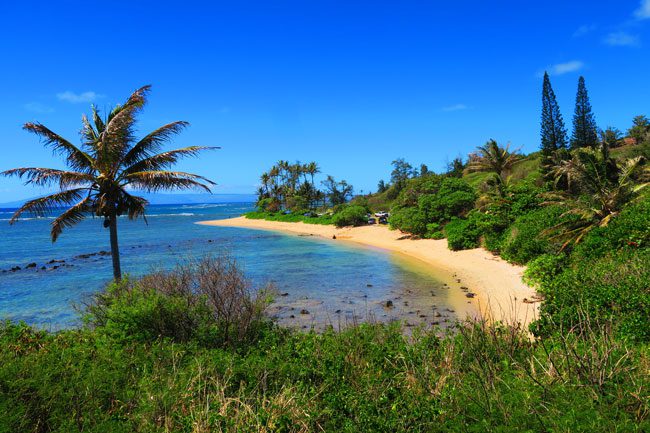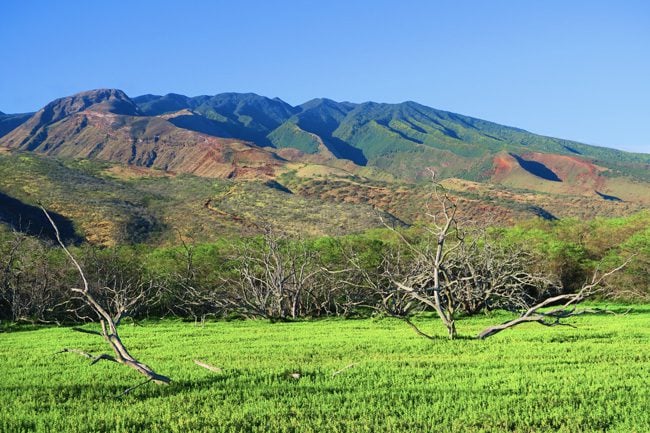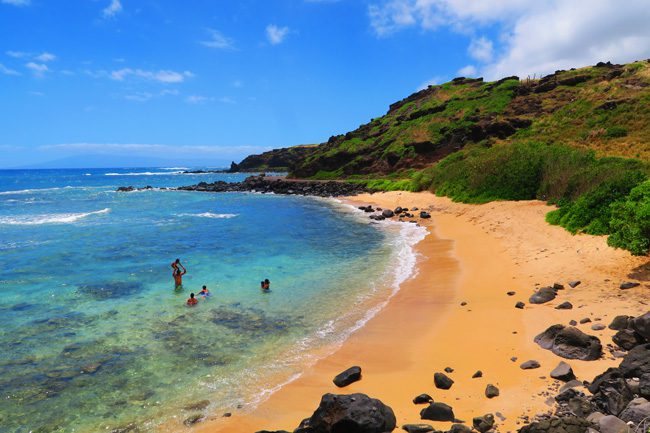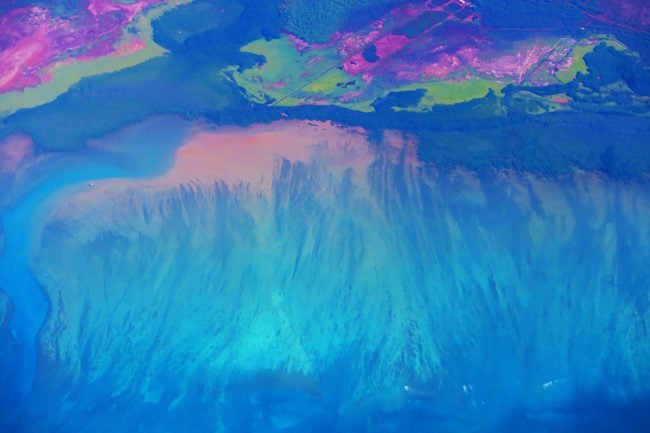 As the coastal road bends its way along the narrowing coastline, views of Maui and Lanai glowing in the sun indicate we are getting closer to Bob and Karen's little paradise. And their little valley is indeed a paradise, loaded with fruit trees, finely trimmed grass, and a freshwater stream that trumps any meditation workshop. At the home, I meet 'Uncle' Billy. He's known Bob for over 40 years and his visit coincides with mine. Together, we enjoy a delicious candlelit dinner of deer steaks under the stars. There's a first time for everything. Karen's friend had a successful hunting trip the other day and there's enough to share with friends and family. Such is life around here, bartering and sharing is a way of life, an invisible economy, and social safety net.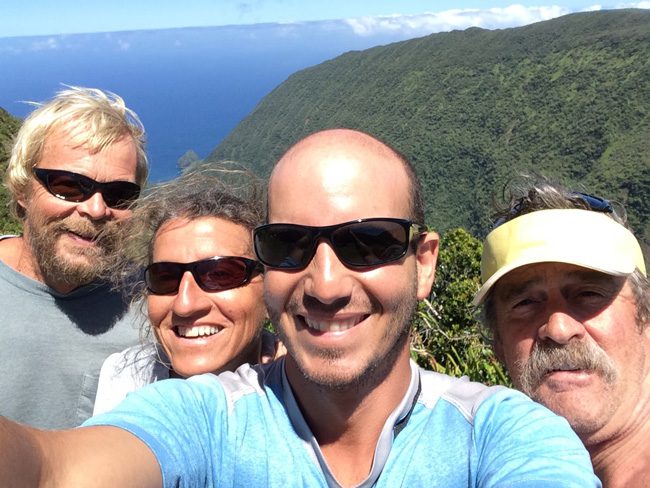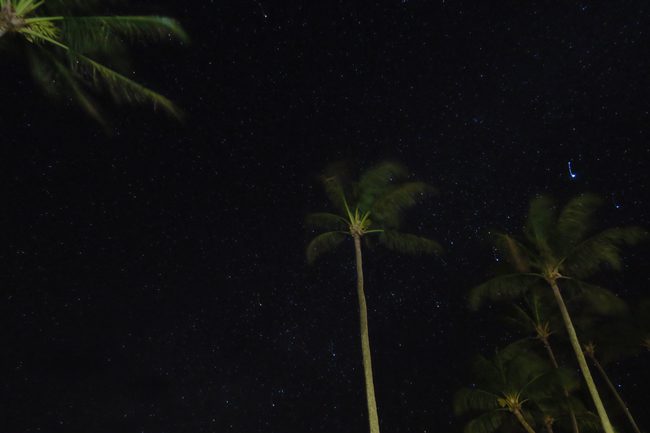 The leper colony
As small as Molokai is, it is home to one of the most fascinating stories I never heard of. Extending from the northern Pali Coast, the tallest sea cliffs in the world (that's right!), is a flat and isolated peninsula called Kalaupapa. As you can see from this angle – taken at a scenic overlook and from the air – the views are breathtaking. But the Kalaupapa Peninsula is the beautiful setting for a tragic episode in modern Hawaiian history. In an effort to curb the spread of leprosy and under mounting pressure from wealthy sugar plantation owners who feared a dwindling labor supply, legislation was passed to designate this isolated spot as a permanent quarantine for patients of leprosy from across the Hawaiian Islands.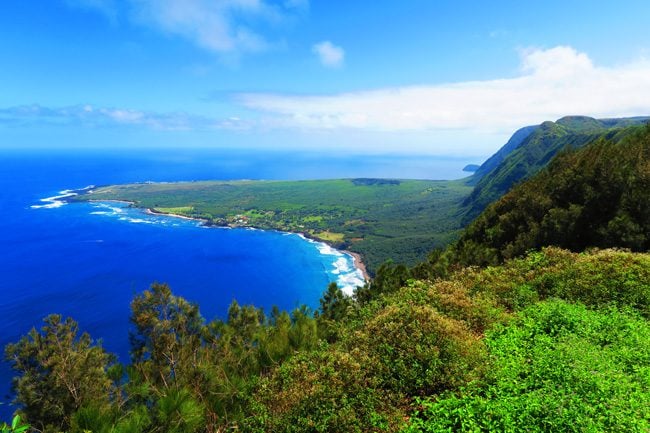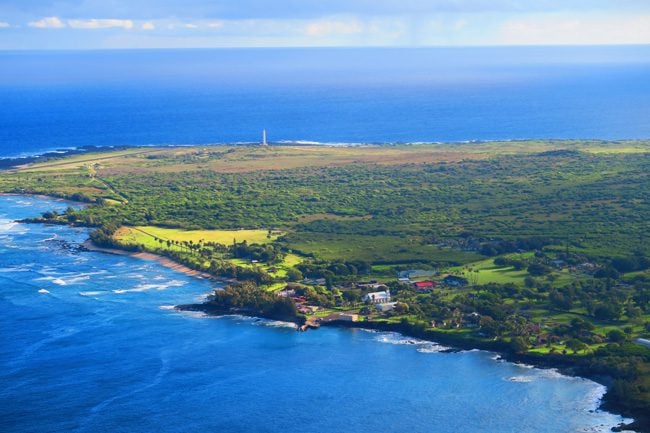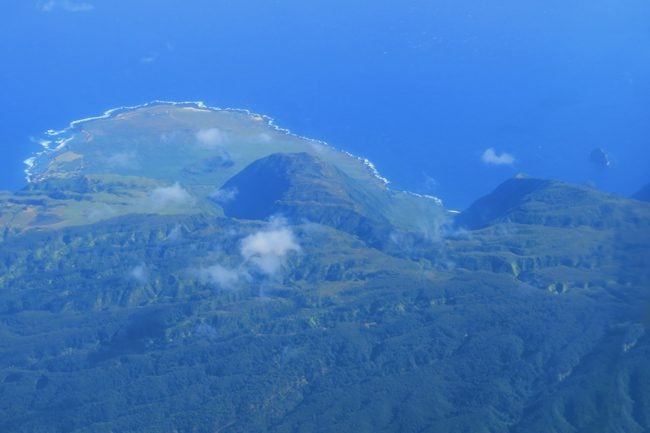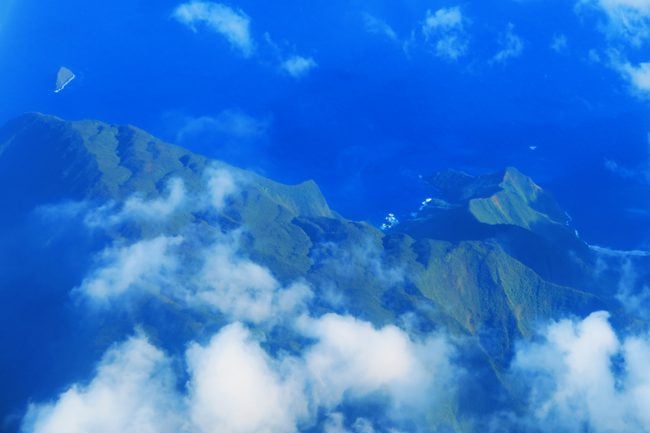 From 1866 to 1969, about 8,500 patients called this place home (they didn't really have a choice). During the first few years, patients had no medical care or adequate facilities. To their rescue came Belgian-born Father Damien (now St. Damien) and later Mother Marianne, Joseph Dutton and a number of other good souls, who cared for the patients, washed their wounds, schooled them and even created a very rich social life. Sadly, Father Damien contracted the leprosy virus in Kalaupapa, eventually succumbing to the disease for which a cure was eventually discovered in the 1940s. You can say a lot of things about the church but here's an example of something good, a story of compassion and sacrifice when nobody else cared.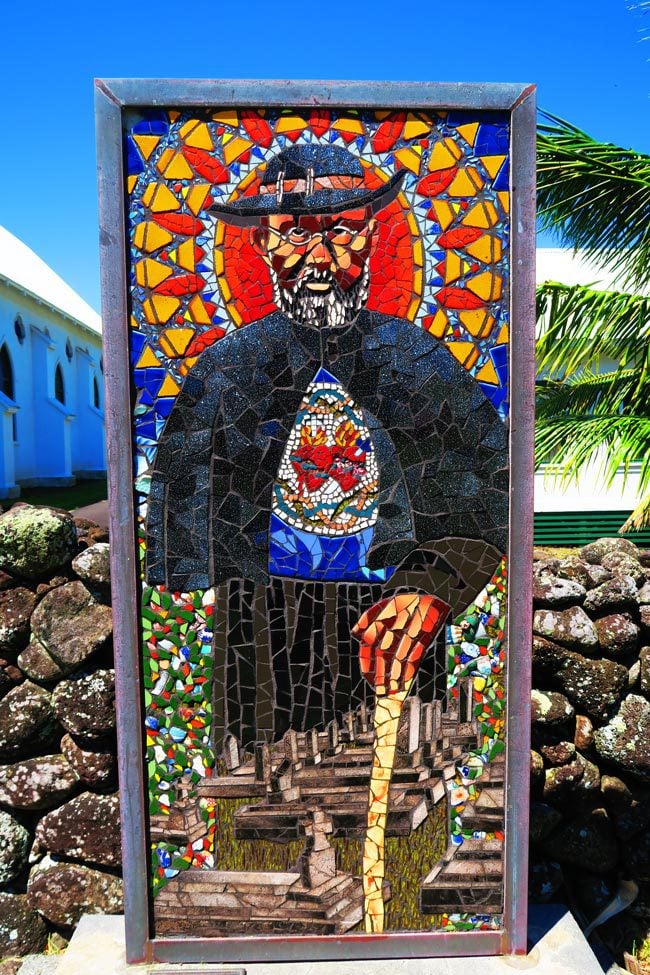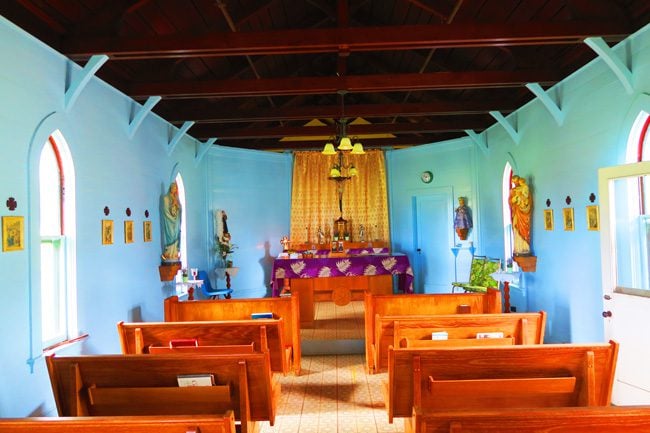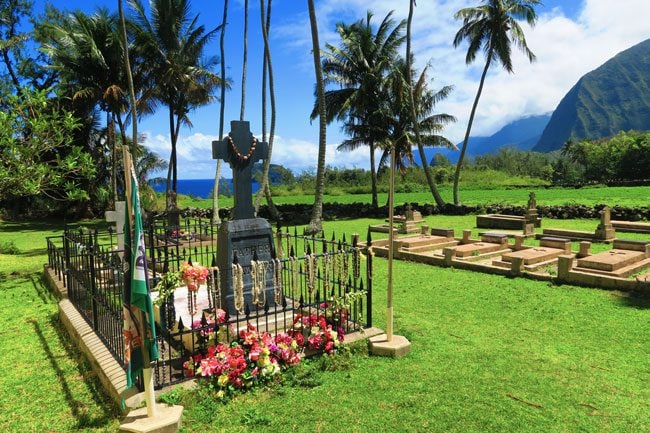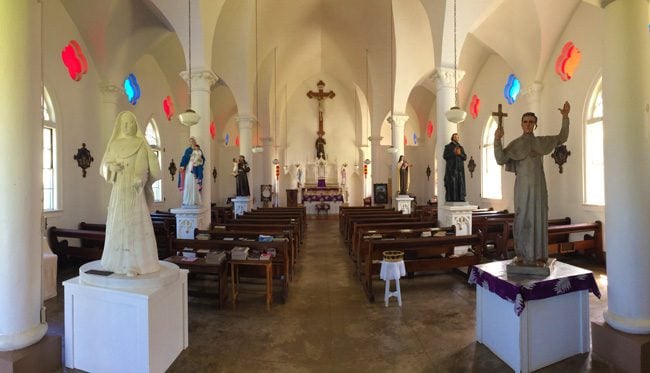 But the tragic story of Kalaupapa has a very happy end. With the virus under control and all patients cured, there was really no need for the colony. However, some patients simply did not want to leave. Kalaupapa was their home and, well, the million-dollar views probably helped tip the scales. Today, there are only a dozen or so living patients in Kalaupapa (they're still called patients). They have their very own county and are pretty much free to govern the peninsula as they see fit. Uncle Sam takes care of the rest, with an airport, post office, free meals, free healthcare and a bunch of other perks to try and make up for the damage. Heck, even Amazon delivers. A real mini-utopia.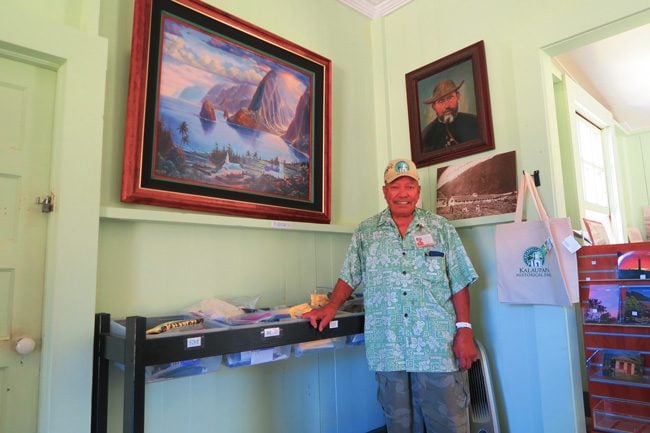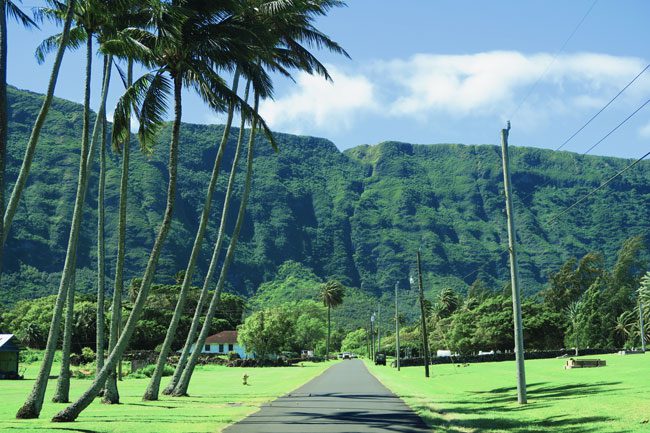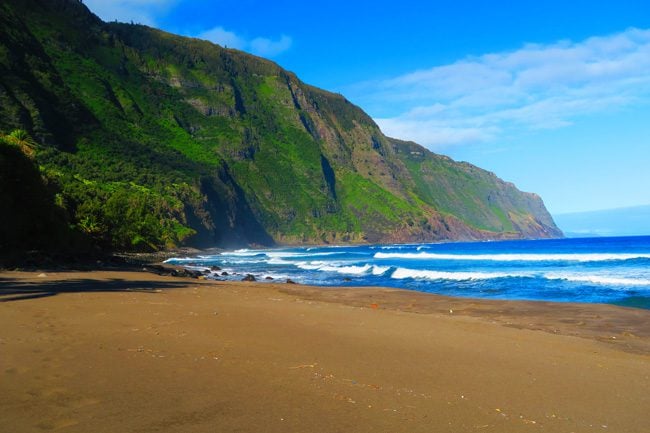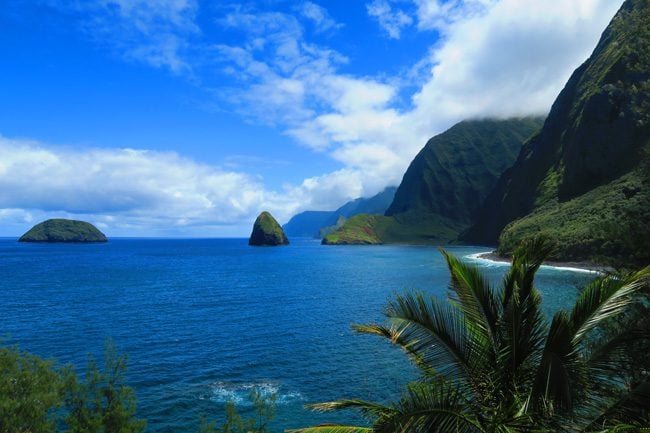 Visiting Kalaupapa is no easy task. Not only must you hike down a very steep 5km trail that's blessed with 26 switchbacks, but entering the old colony requires a special permit, a personal tour guide and don't even think about wandering around. But the interesting history, the feeling of visiting a forbidden place, and the sheer beauty around you make it so worth it. If you want to learn more about the story of Kalaupapa, Hollywood made a film, especially for you!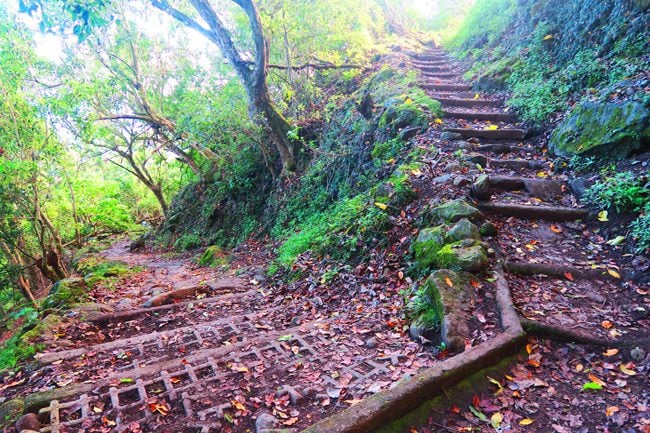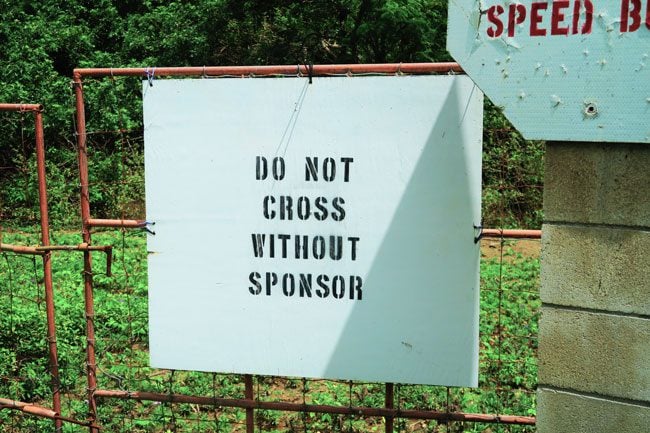 Sponge-bog
With the trade winds starting to pick up, Molokai is enjoying a rare day with absolutely no clouds. So Bob and Uncle Billy load up the pickup truck and Karen and I roll out the beach chairs in the back of the truck for a scenic drive to the mountains. This part of the island has no paved roads and a 4WD is a must. We start our adventure on the dry desert-like interior of the island before entering the cloud forest, where the temperature gradually and pleasantly plummets as we gain altitude.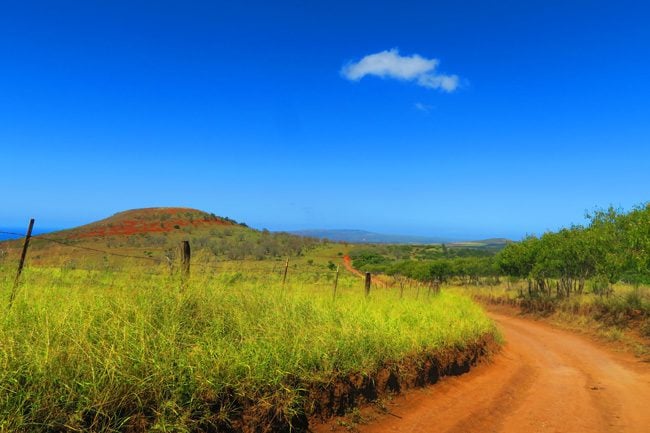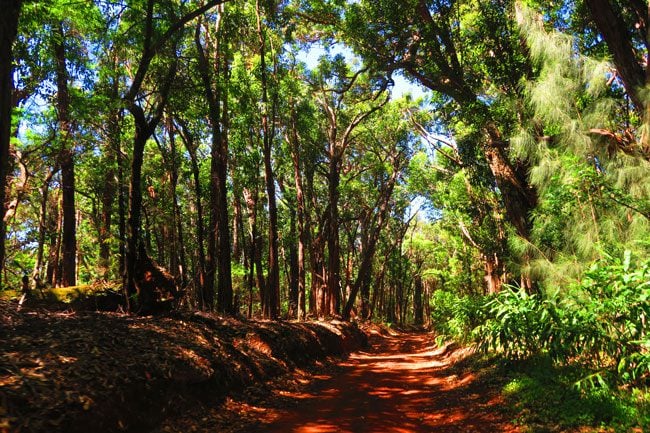 Our first stop is the Waikolu Lookout, offering a bird's eye view over the Waikolu Valley. We're right at the top of the impenetrable Pali Coast and we count our blessings on this fine-looking day, as Bob and Karen swear they've only seen such clear skies up here once or twice since moving to Molokai.
A few miles later, which seems like an eternity on this bumpy dirt road, we enter Pepeopae – Molokai's cloud forest bog. In a high-altitude section of the island that sees vast quantities of rain and relatively less sunshine, the ground is absolutely soaked in water and softened by centuries of rotting vegetation. The bizarre-looking trees closing in on from all angles are covered in carpets of soft moss.
Hiking on the wooden boardwalk is the only way to avoid sinking in knee-high mud. It's a bizarre fairytale-like experience, something out of a Lord of the Rings or Harry Potter sequel. Along the way, we are treated to a delightful symphony by a red-bodied Apapane bird, probably trying to impress a female that's watching from close by. We encounter native and other tropical plants that serve as a reminder that despite the abundance of rain and cloud-cover, life in the bog forest is booming.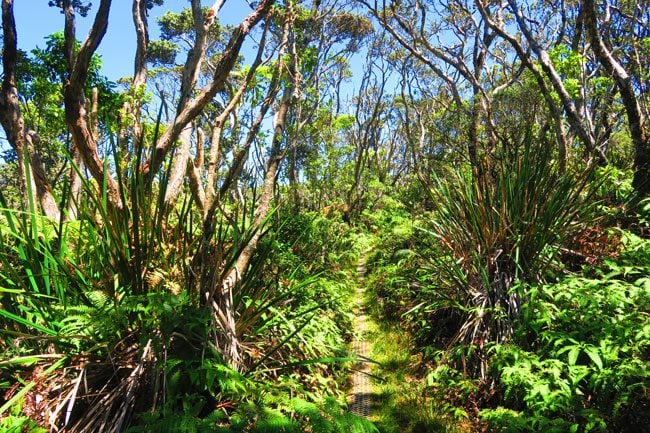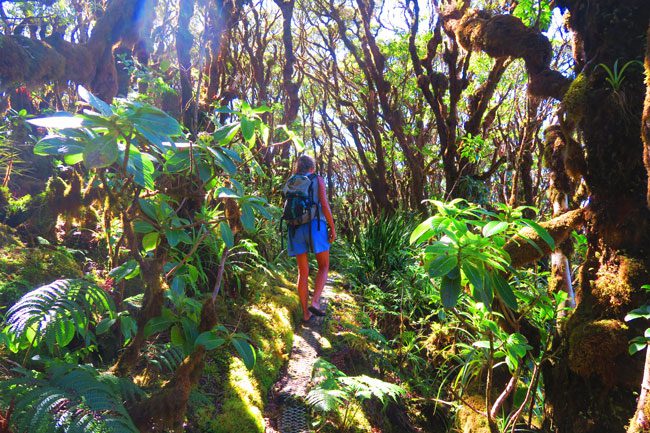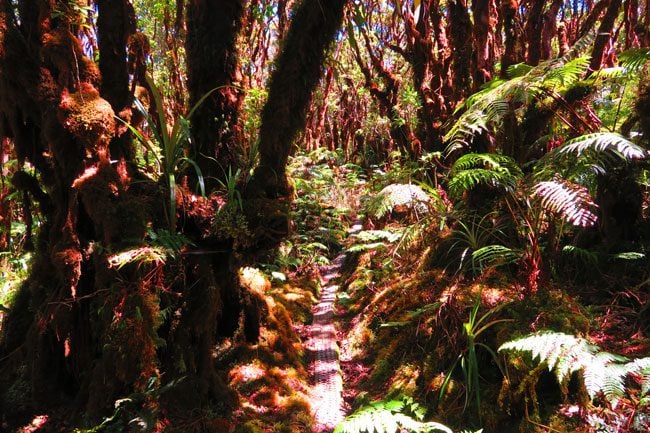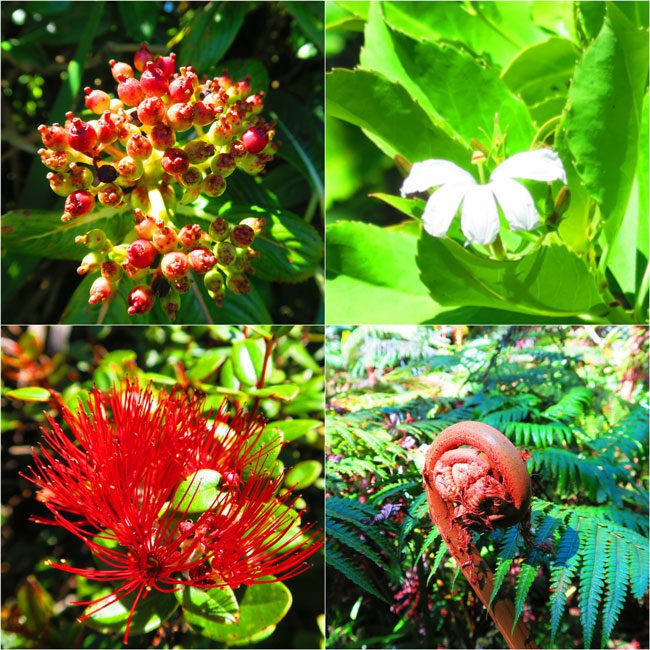 The end of the line on this interesting hike is at the Pelekunu Valley Overlook. From up here, the grand beauty of east Molokai unveils itself literally beneath our feet. And since ancient Hawaiians arrived on a long voyage from the Tahitian Islands, it's only fitting that this scene closely resembles the signature peaks of Tahiti.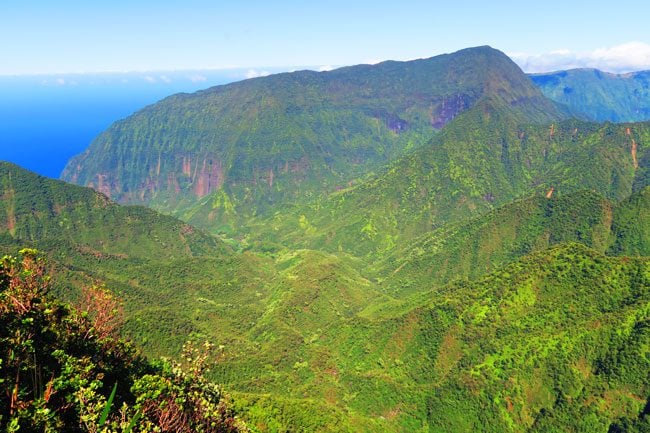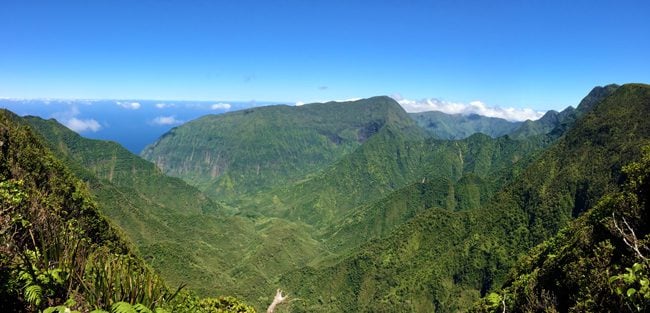 On our way back to civilization, the clouds are starting to roll in. Uncle Billy swears he sees a rainbow but since not a drop of rain has fallen all day, we all think he's had far too many Bud Lights. But Billy's eyes are sharper than we thought. Down in the valley, multiple rainbows are stacking up on one another in a perfect arch. What a grand way to end a perfect day.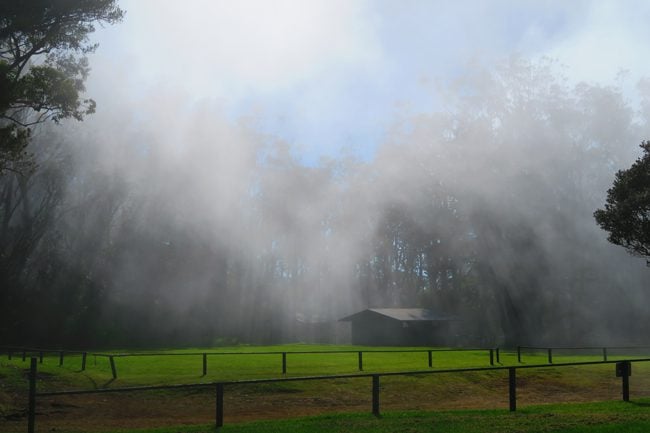 A beach to call your own
Molokai's finest beaches are on its dry 'wild' west coast. It's yet another scenic drive, originating in the wetter east coast before becoming pretty much a desert.
First up on the menu is Kawakiu Beach, a dream of a beach where you can soak up in a rock-jacuzzi or park it in a dream of a cove where there's hardly a soul around you. Around here, limestone cliffs have eroded over thousands of years, exposing fine layers of sand that perfectly blend with their golden powdery origin and the azure waters. You could practically spend the entire day out here but come sunset, it's wise to move on down the road to Papohaku Beach.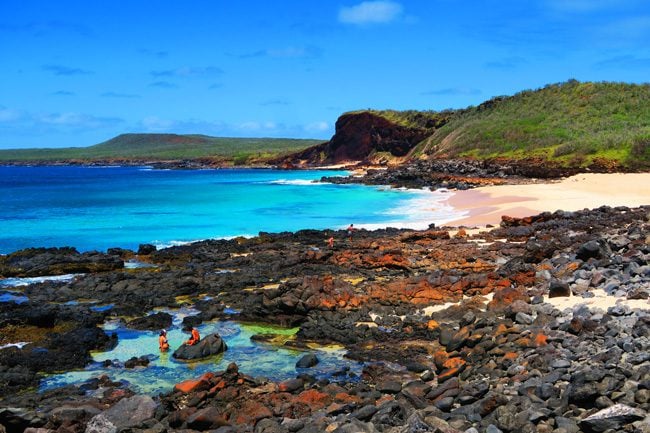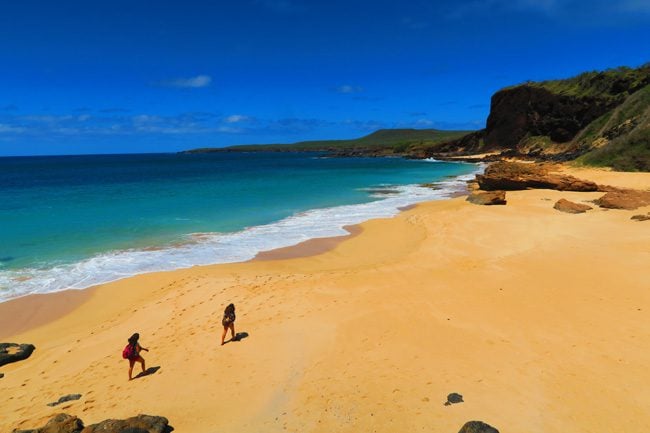 A gigantically long strand of the softest golden sand, you come to Papohaku to let your dogs loose, to get lost, and to marvel at the sunsets. Because so few make it out here, the wind is free to pattern the dunes as it pleases. But this isn't the type of beach to take your clothes off and go for a skinny dip. There's a good chance you won't make it out alive.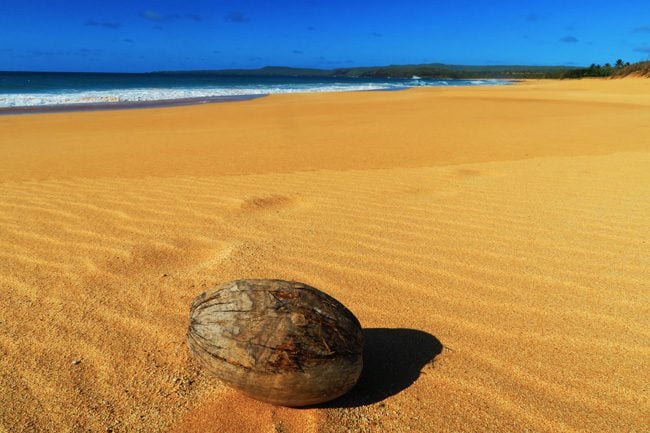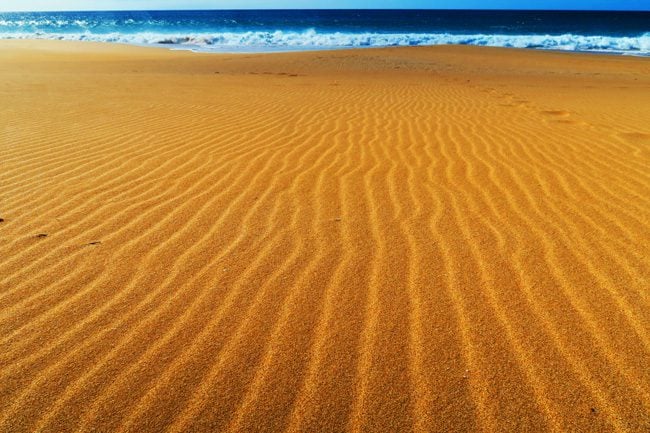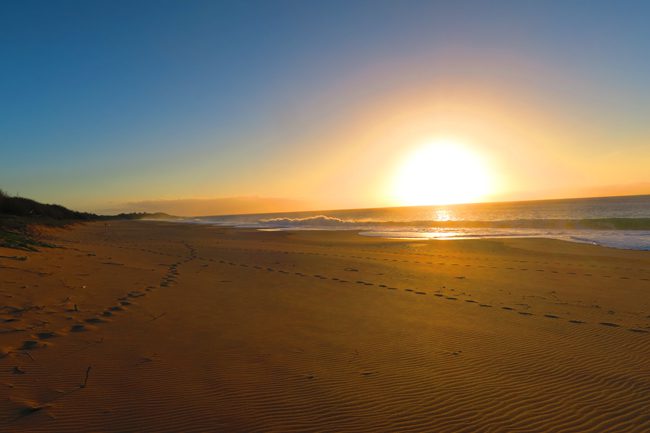 The supermarket valley
It's always a good idea to finish things off with a big bang. So to wrap up my visit to Molokai, I head to Halawa Valley, the very end of the road on the lush east coast. The goal for the day is to hike to Hipauapua Falls – visible from a lookout on the overlooking road – and wrap things up with a snooze and a dip in the valley's twin crescent-shaped beaches.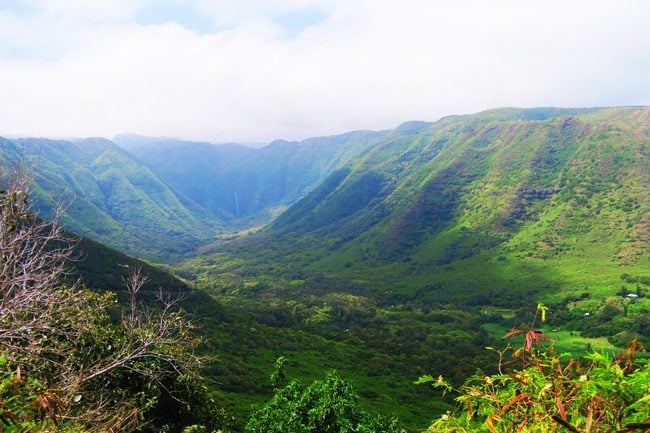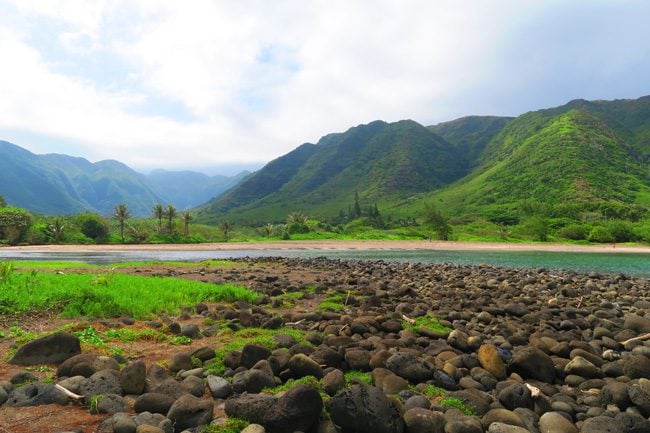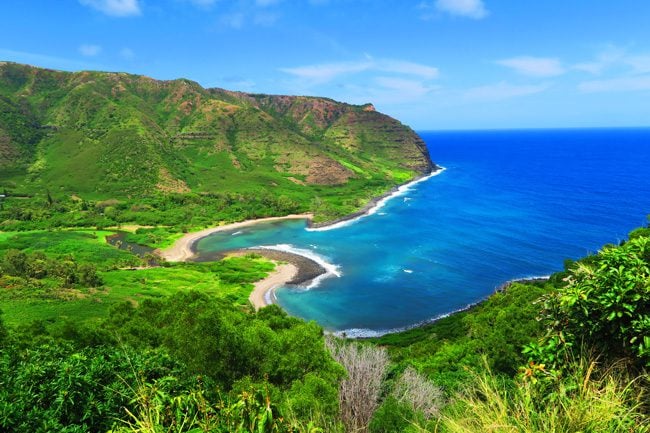 Down in the valley, not too far from a dilapidated church built in 1948, I meet Sean – one of the few residents in this remote corner of already remote Molokai. Sean is a tough-looking fella who speaks pidgin – a broken-sounding form of English that is spoken on some islands in the Pacific. At times it's difficult to understand him but his heart is kind and he's very knowledgeable about the valley's history and ecosystem.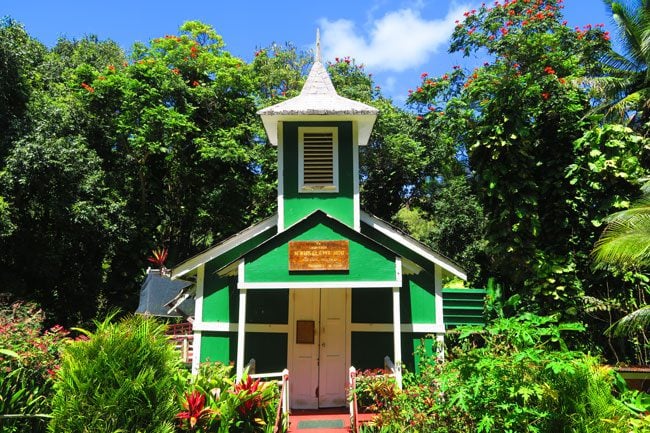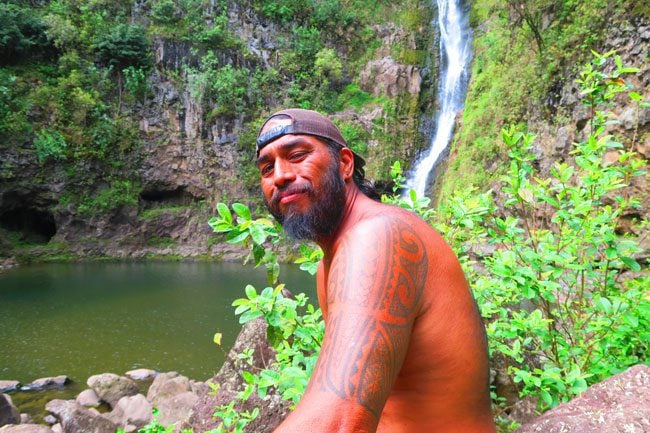 Sean leads me and a couple from Orlando along an ancient trail that runs through the valley floor along a stream. Halawa Valley was once populated by Hawaiians who cultivated taro patches until a 1946 tsunami changed everything. As exotic birds are starting out their day with songs and dances of courtship, Sean points out to fruit tree after fruit tree, each loaded with edible and medicinal tropical fruits. There are giant centuries-old mango and avocado, cacao, breadfruit, jackfruit, papayas, passion fruit (lilikoi), nuts, oranges, and even wild coffee trees. There's definitely no need for a supermarket here and, heck, you can even satisfy your need for morning caffeine! Whatever the trees don't provide, the shotgun does, with locals hunting for deer and wild pigs whenever they're short on protein.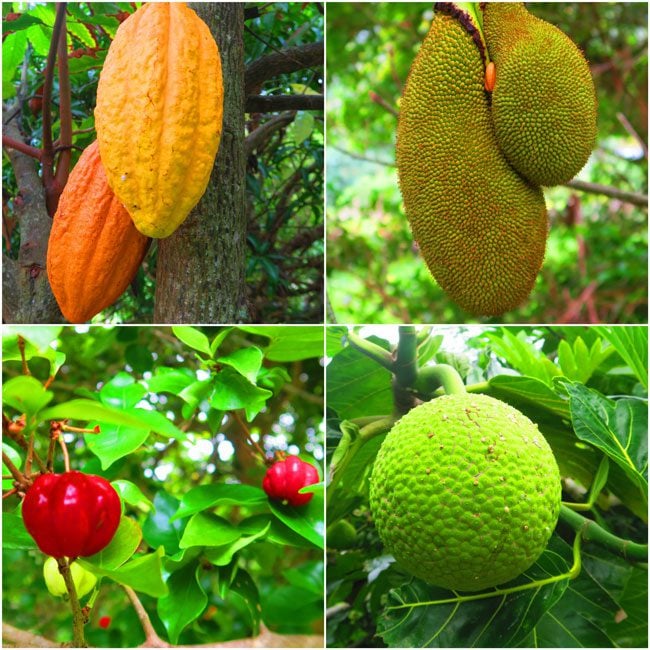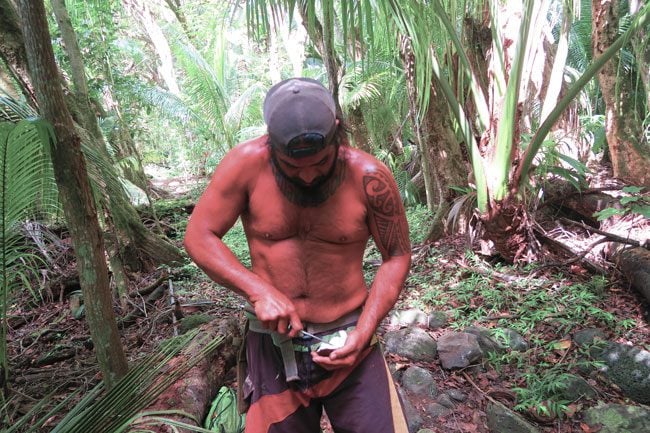 With our stomachs quite full from all the tasting stops, we pass along ancient stone structures. Some were used as homes by the valley's ancient residents and some were used as sacrifice temples. Entering them is not a wise idea as they're still considered to hold mana.
As we approach a clearing in the rainforest, we catch our first glimpse of Hipauapua Falls. The tour's script is very reminiscent of the hike to Vaipo Falls on the island of Nuku Hiva in the Marquesas Islands, and like little children who just discovered the final piece of a treasure map, we rush to splash in its waters with nobody else around.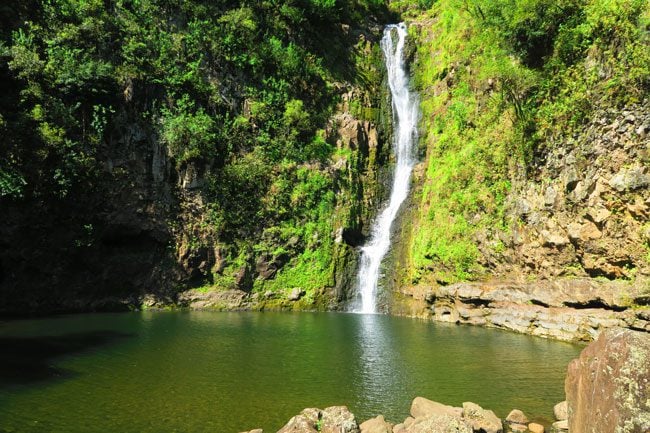 What's Next?
Molokai definitely moved to the #1 spot on my list of favorite Hawaiian islands and it will be very hard to top this memorable week. Sad to say goodbye to Bob, Karen and Uncle Billy, I am grateful to have spent these days with them in their little paradise. The next stop is Maui, where big waves, hikes, beaches and one epic scenic drive to Hana should all help cure the Molokai hangover.
Visiting Hawaii? Sample itineraries, guides to the best spots, and the must-see highlights in five islands are all waiting for you in the Hawaii Travel Guide collection. Aloha!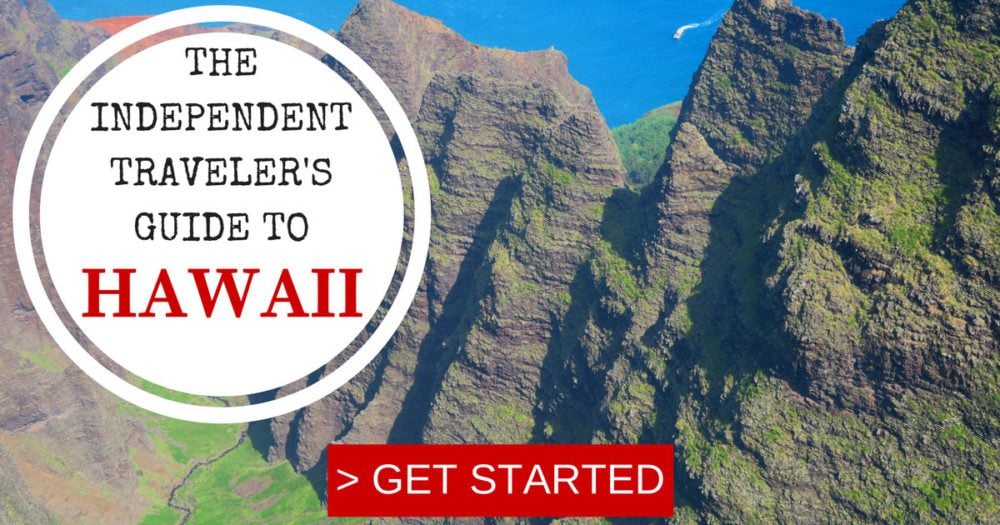 Hawaii, Tailor Made!
The Hawaiian islands are among the last places to be colonized by mankind, five main islands, each with its unique personality.
Get expert advice and assistance with planning your trip to the destination where tropical dreams come true!