5 Days In The French Riviera
Day 2: Nice
The largest city in the French Riviera and the fifth largest in France – we really enjoyed spending a day in Nice. It's got all the big-city perks, yet doesn't feel overbearing like Paris does at times – a feeling likely owed to the city's long history as a sunny winter getaway. Nice's vibrant old city is reminiscent of its Italian-influenced days as part of the Kingdom of Savoy, while its belle epoque and art nouveau architecture serve as reminders of its French holiday heyday.
After exploring Nice, we'll leave the city behind and drive to charming hilltop villages and a short pit stop in Monaco.
Cours Saleya Market
Start your day in Nice in the Cours Saleya – the beating heart of the old city (Vieux Nice). This vibrant pedestrian street is home to Nice's main market – which we'll shortly explore. There are plenty of casual breakfast options in this area, but I particularly liked the sit-down breakfast on the terrace of le Marche. The continental breakfast is a real bargain (€7.50) and the terrace is a prime spot for catching all the action coming from the market.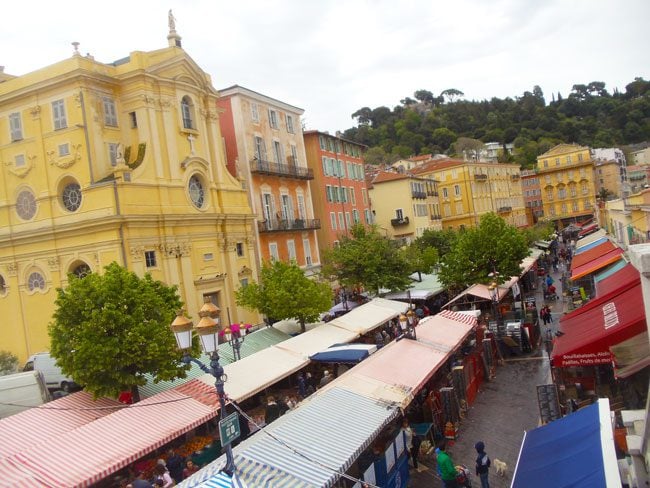 Now it's time to explore the Cours Saleya market. In fact, there are a number of markets held on this wide street and in the small plazas nearby. The main events are the food and flower markets. Like in Antibes, you'll find here a huge selection of fresh fruit and vegetables, as well as cured meat, cheese, seafood and everything else the French are known for. The twist here is the animated interaction between shoppers and sellers – much more reminiscent of the colorful Aligre Market in Paris. Sellers will do everything to get their products in your hand, and that means a whole lot of tasting!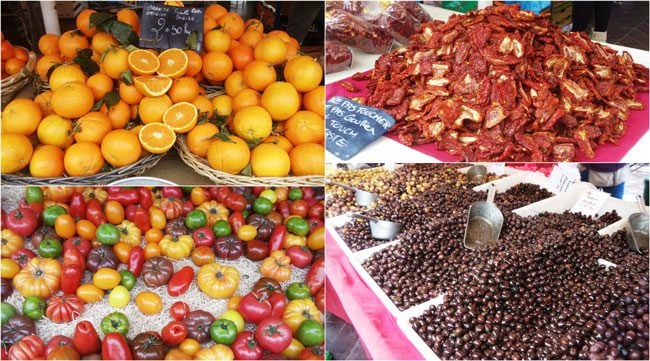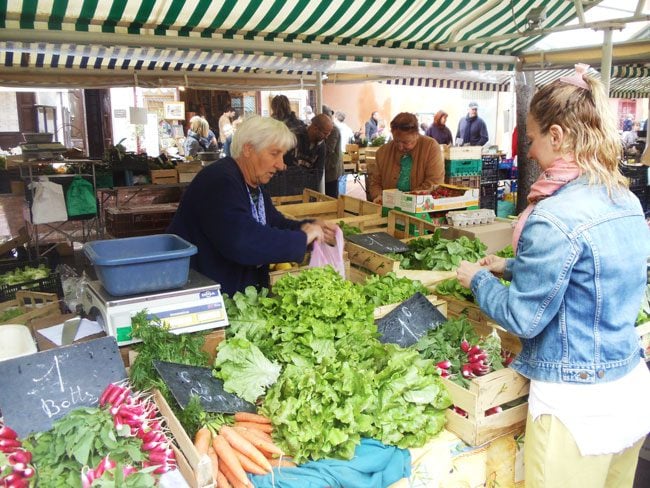 Onto the flower section. I guess you can say Nice is the Amsterdam of France when it comes to flowers. It's apparently a local specialty dating back to the 19th century. You'll find here anything from the ordinary to the exotic and everything in between!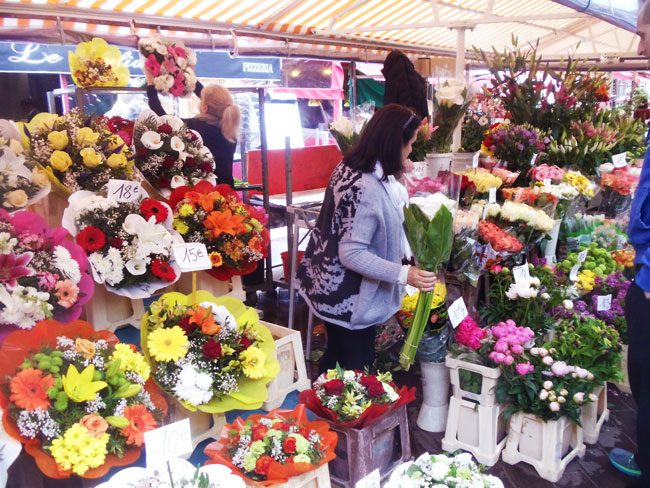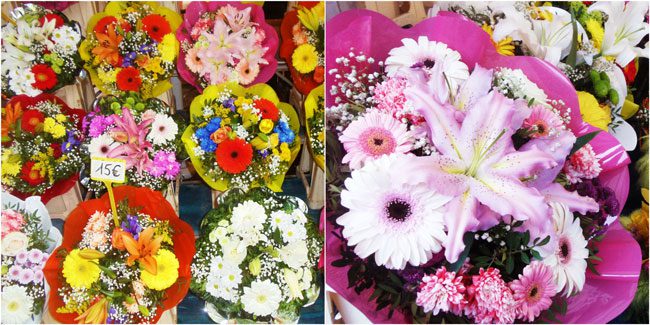 Both the food and flower markets are open every day but Monday, with the food stalls packing up by 1:30 pm and the flower sellers hanging around until 6 pm (except on Sunday). On Mondays, the food and flowers take a break and an antiques and flea market line up the Cours Saleya.
Exploring Old Nice
Since you're already here, you can have a look if the Chapelle de la Miséricorde is open for visitors and check out the adjacent squares of Place Pierre Gautier and Charles Felix. If it's Saturday, head over to the Palais de Justice, where there's a rotating antique book, arts and crafts, and postcard market.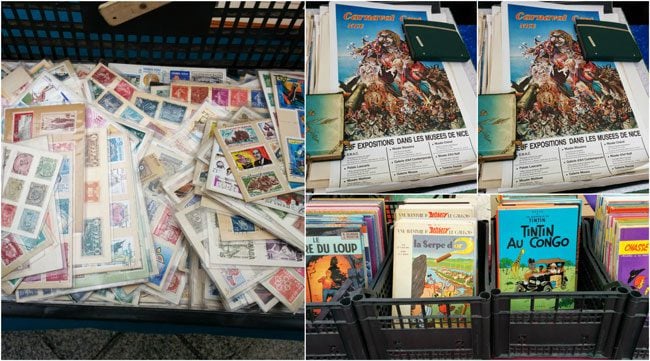 Now it's really all about just meandering around Vieux Nice and admiring its narrow medieval alleys, hidden squares, and specialty shops. I'll mention a few worthwhile stops, but the general direction is east, towards the hill known as Parc de la Colline du Château – our next destination – before returning to the old city for lunch.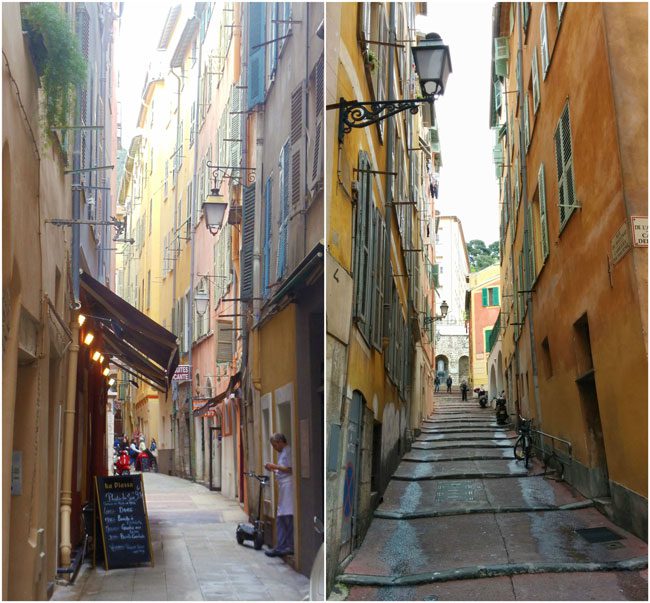 The maze of alleys seems to spill into Place Rossetti, a rare open space in an otherwise claustrophobic part of town. The square is dominated by the Italian Baroque Cathédrale Sainte-Réparate. The present church was completed in 1699 but was actually built on the site of a former 13th-century predecessor.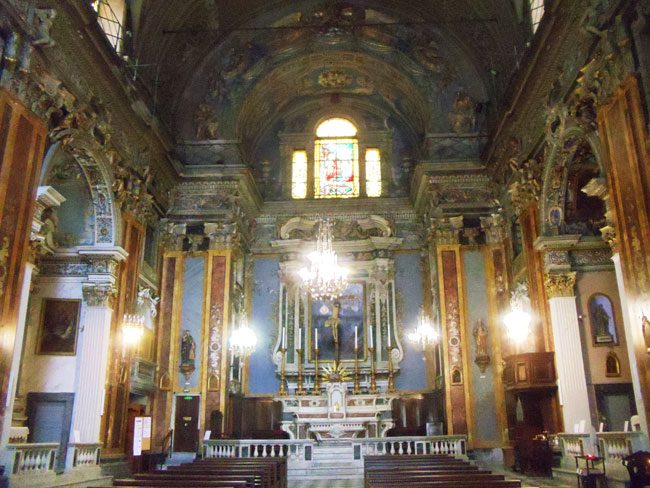 Out in the plaza, you can stop for some coffee and catch a few rays of sun before heading back into the darkness of the alleys, or better yet, treat yourself to the best ice cream in Nice at Fenocchio.
From here, take a small northbound detour and use your scavenging skills to locate l'Atelier des Cigales (13 Rue du Collet). As you carefully walk through its doors, you are teleported a few hundred miles west to Provence. This shop specializes in handmade pottery painted with bright summer colors, and useful kitchen and dining utensils from olive wood. It's not only pretty but actually something you bring back home and make use of.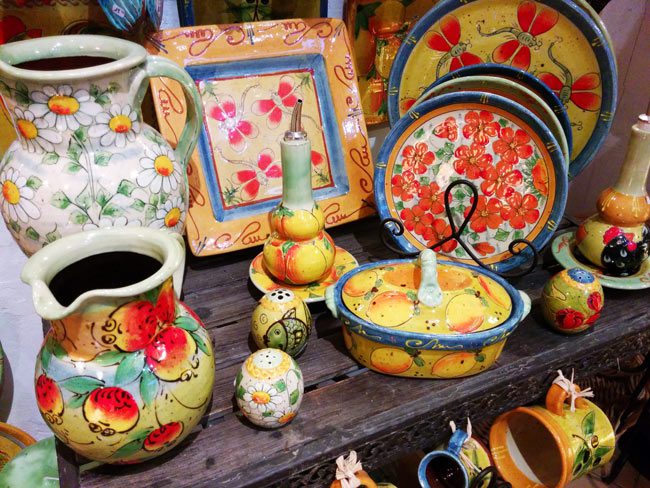 Before ascending above the old city, pay a visit to Atelier des Jouets. This tiny shop is quite famous around here, specializing in high-quality toys that you just can't find in conventional stores anymore.
The toy shop is right next to Rue du Malonat, which is also one of the streets that lead up to the Chateau – our next stop. We'll come back down here for lunch.
Parc de la Colline du Château
The hill with the best views in the area was actually the original ancient Greek settlement of Nikea. Excavations have revealed layers upon layers of ancient human history, and there was once even a fort up here – until the French took care of that when taking over from the Savoy folks.
These days, le Chateau offers splendid panoramic views of the red-tiled rooftops of Old Nice and the famous beachfront boulevard. There are lovely walking lanes in the park, cafes and an old cemetery where Italian revolutionary legend Giuseppe Garibaldi is buried.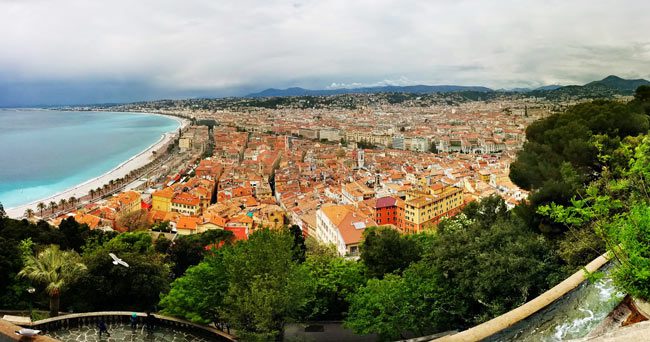 The eastern side of the park offers commanding views over the port of Nice. Fishing boats, sailing boats and yachts of all sizes are neatly parked (or anchored I guess), yet overshadowed by the massive Corsica ferries. If you have extra time, there's an elevator somewhere up here that takes you straight down to the port area.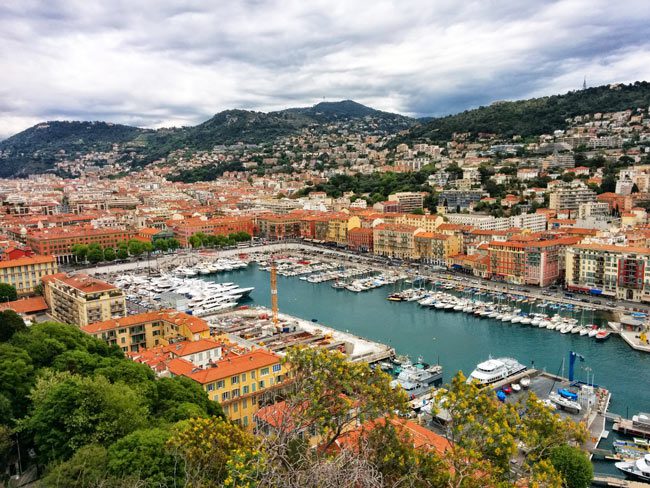 Lunch in the Old City
In Rome, one must try things like pasta, lasagna, pizza and… you get the point. In Nice, one cannot visit without tasting some classic Nicoise cuisine. Yesterday, we sampled some socca in the Antibes market, but for today's lunch, it's time to take it up a few notches.
Back in the old city on 10 Rue du Collet, just look for crowds hanging around the exterior wooden benches of Lou Pilha Leva. It's first-come-first-serve at this seemingly ordinary joint, but the food is extraordinary. Order a few tapas-style dishes of socca, pissaladiere (onion tart), farcis (stuffed baked vegetables), and of course – Nicoise salad. It's all very authentic, delicious and super cheap.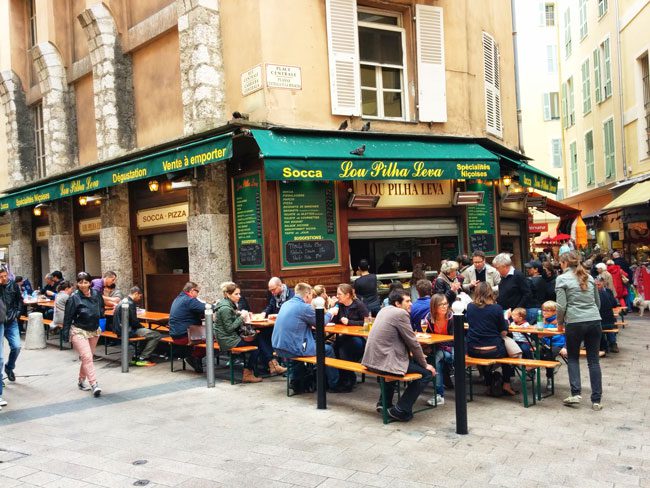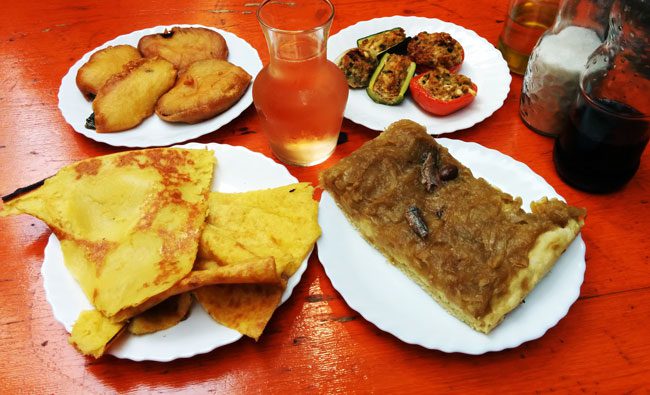 Place Masséna
With our stomachs full, it's time for another small stroll. Start walking down Boulevard Jean Jaures which follows the path of the River Paillon which used to flow through this part of town. The center of this pretty little boulevard is an urban park that ends at the Albert I Garden, and actually marks the border between old and new Nice.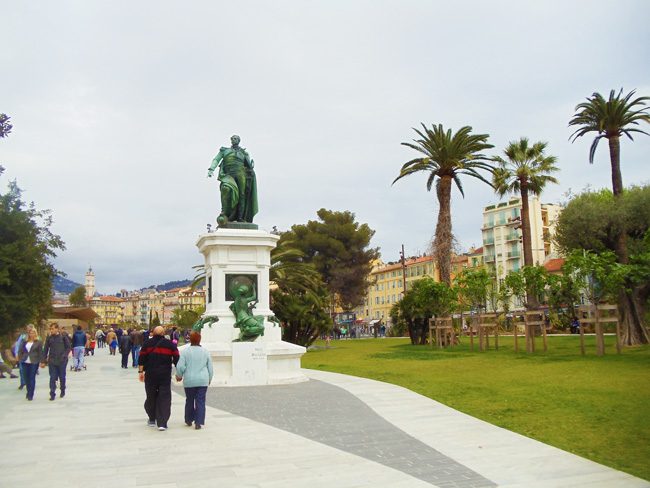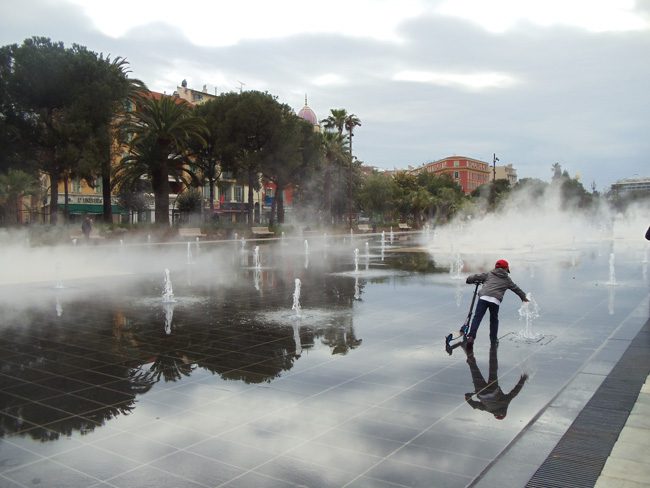 The boulevard will blindly lead you to Place Massena, an impressively huge Italianesque plaza. It's Nice's main gathering spot, lined with cafes and shops. Just be careful not to be struck by the tramway or the quick-handed pickpockets.
The Beachfront
Though there's plenty more to see in Nice and lots of shopping options, our tour will end at the famous Promenade des Anglais. This wide palm-fringed boulevard is squeezed between the city's beach and the Art Deco monuments that highlight Nice's heyday. Walk around and soak up some sun, but make a pit stop to check out the boulevard's most famous resident – the ultra-luxurious Negresco Hotel.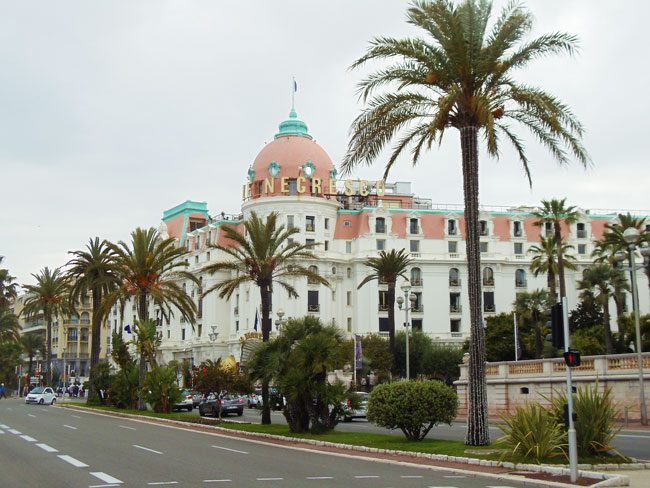 Eze Village
We'll now leave the city behind and explore some of the beautiful coastline. The ridgeline east of Nice is home to the Corniche Roads – a set of three scenic routes that eventually lead to the Italian border town of Menton (Grande Corniche, Moyenne Corniche and Corniche Inférieure). Some cut straight into the mountains, while others twist and turn – but all offer awesome views of the Mediterranean, picturesque villages and enviable (or not) mansions that are some of the most expensive pieces of real estate in the world! The views are to die for and some drivers – such as Grace Kelly – actually have. So drive safely!
On the Moyenne Corniche, the strategically situated village of Eze feels more like an ancient fortress. Its narrow cobblestone lanes are now home to galleries galore, cafes and souvenir shops, but the absolute highlight (and an escape from the crowds) is the Jardin Exotique (~6€).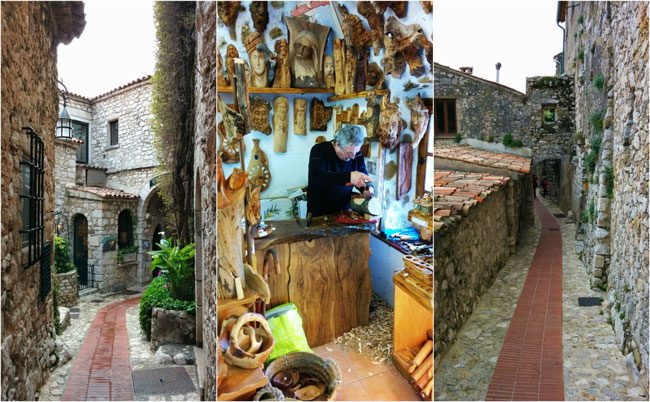 The garden has to be one of the steepest I've ever visited, with lanes leading down to viewing areas via rows and rows of cacti and other non-native plants. The panoramic views from up here are well worth the price of admission. Just have a look!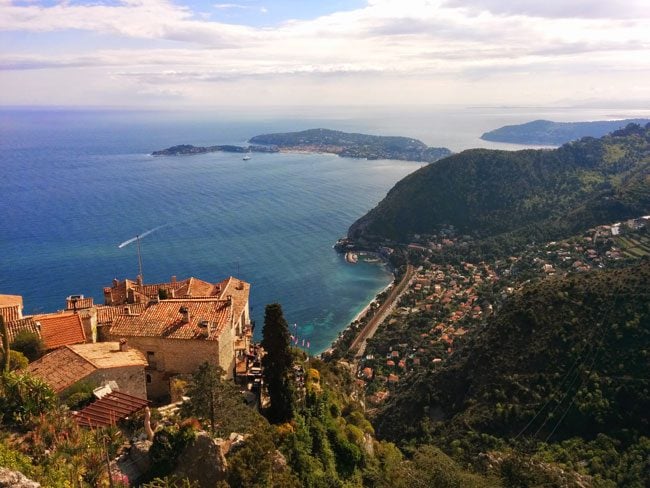 Back in the village, pay a visit to the Eze Cathedral on your way back to the parking lot. If you have the time and energy, the Friedrich-Nietzsche trail leads down to the sea and the village of Ezé Sur Mer.
Monaco
If you feel like stretching this day a little bit more, continue driving on the scenic road to Monaco – just 20 minutes out. If you've done everything in this itinerary, you'll get to Monte Carlo as the sun is beginning to set. You won't have much time to explore, but you can grab a coffee or maybe even dinner (parking is as difficult as splitting an atom). For a more fitting end to this day, head back towards Antibes for a beach dinner at Juan-les-Pins.
Beach Dinner in Juan-les-Pins
Juan-les-Pins was developed as a resort town and it still feels this way, especially during the summer. The main draw to this beachside town is the beach and the nightlife. The Ruban Bleu is one of your best options for a romantic dinner on the beach. It ain't cheap, but the sand will melt between your toes as you're sipping on champagne and devouring foie-gras. Bookings are essential, especially for beach tables! If you still have energy left (seriously?), head over to Pam Pam for awesome cocktails and music.