Talofa! Welcome To Beautiful Samoa
It was hard to leave Vanuatu after a memorable couple of weeks but my next destination was one that I've been really looking forward to. After a brief night spent in the Nadi airport in Fiji, signs of paradise were already beginning to show on the approach to the runway, with turquoise water and lush green valleys. I can't believe I've finally made it to Samoa. Talofa – welcome to beautiful Samoa!
Visiting Samoa? Start planning your trip to paradise with this in-depth Samoa Travel Guide!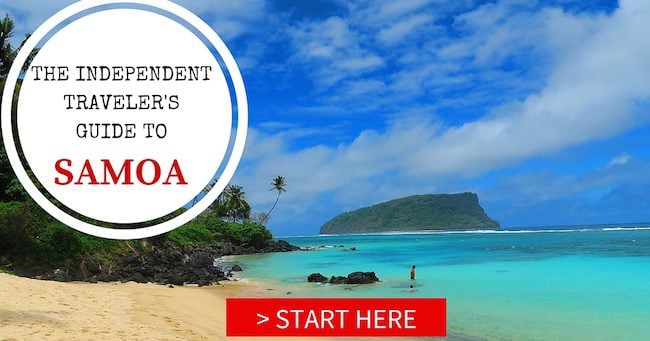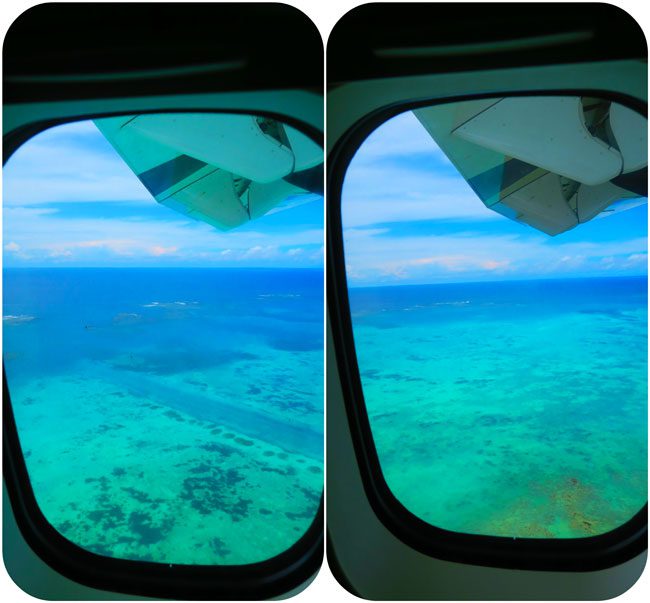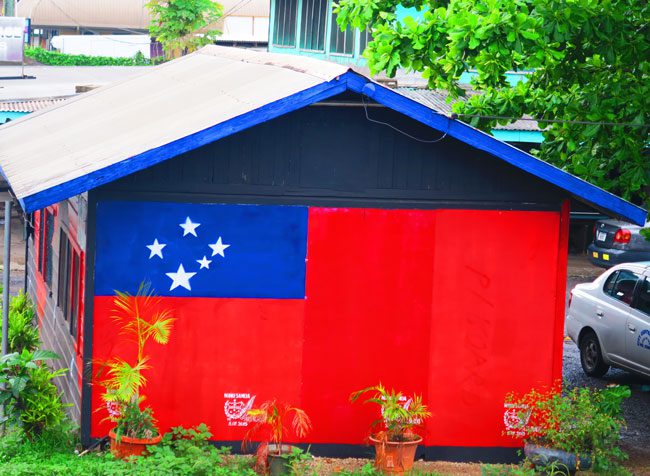 P.S: Are you following the X Days In Y Instagram feed already? I regularly share photos and videos from the road, throughout the week!
If Vanuatu was a remote island chain, Samoa is super remote. I'm actually 16,632 km away from home according to Google! Samoa is an island nation in the heart of Polynesia consisting of 10 islands. It is steeped with over 3,000 years of history and known for its friendly people. After decades of first German and then New Zealand rule, Samoa was the first South Pacific island nation to gain independence, back in 1962. Though democratic, it is still fueled by traditional values of family and honor.
Samoa knows no summer or winter, just months of hot & humid and months of hot, humid, and wet. In fact, it's so hot and humid here, that even the men wear skirts! I'm definitely in Polynesia!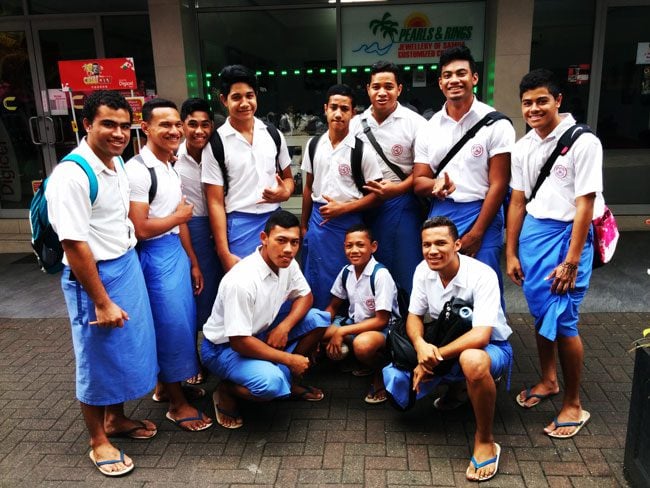 The first taste of friendly Polynesia
After making it out of the airport, I decided to resist the barrage of taxi drivers and catch the local bus to Apia, Samoa's capital and only city – on the island of Upolu. Samoa doesn't really have official bus stations, so you just flag a bus from the side of the road. Just as I put my bags down to begin my wait, a young man approached me and offered a ride into town. What are the odds? His name was Levaula, or Levi as he's commonly known.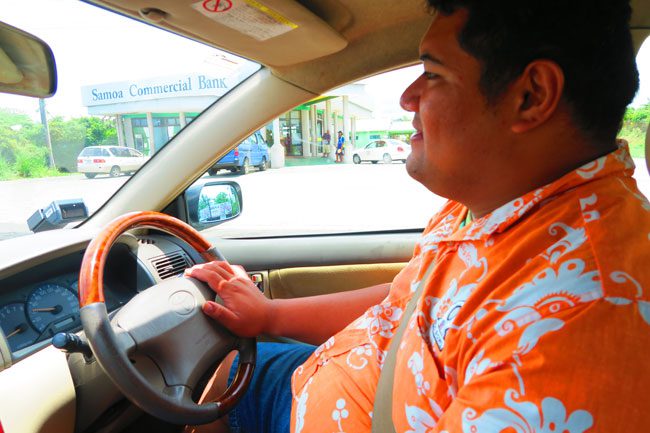 The 30-minute ride with Levi gave me the chance to understand a bit about Samoan life. Levi comes from a large family, which is pretty much the norm in Samoa. He's worked in New Zealand for the last few years, sending money back home to his family as many Samoans do. Christianity plays an important part in his life, like many Samoans, and he's a devout Mormon. I always heard that the Polynesians were super friendly, and this was the first example.
Samoa's capital city – Apia
After checking in to my hotel, I headed out to explore Apia. Apia feels more like a small town. With paved roads and traffic lights, it's a refreshing look after Port Vila in Vanuatu. It's even got a McDonald's believe it or not and it's the kind of town that still has internet cafes at almost every corner.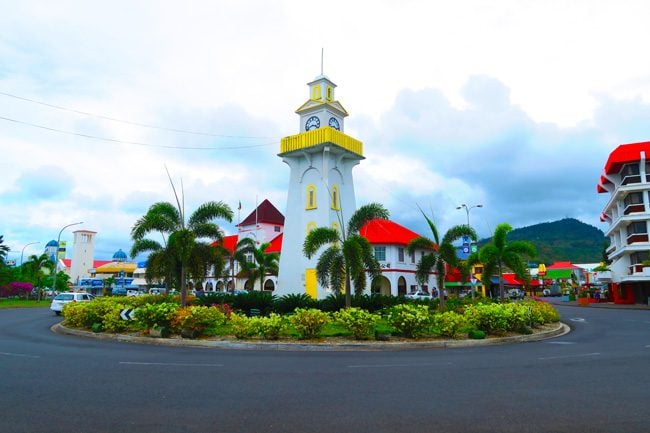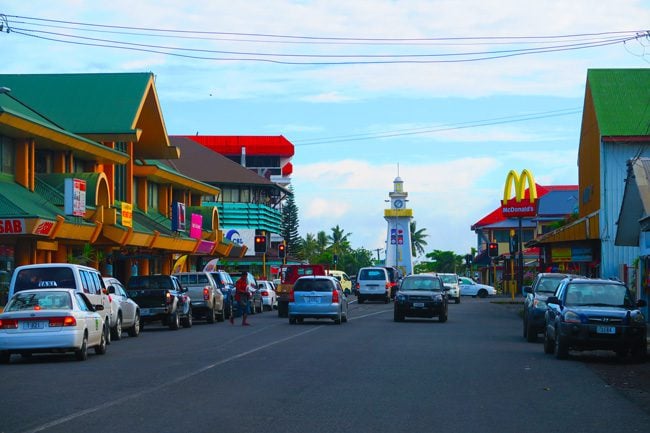 There are some colonial leftovers in Apia, with colorful wooden three-story buildings that are the signature of those days. It's a very patriotic town and I mean v-e-r-y patriotic. Every weekday at 9 am, a siren is heard throughout the town. No, a tsunami is not on its way but rather the police band is about to march through the center of town and raise the national flag. So all traffic must come to a halt. I wonder if this tradition would fly back in my hometown?
A good way to start a visit to any new town is by checking out the local market, and in Apia, this means paying a visit to three local markets.
Apia's Markets
The first stop is the Maketi Fou, which serves as the city's main food market. You'll find here all of your tropical delights: from giant coconuts to sweet red mangos, papayas, red chilies, avocados, exotic varieties of bananas, and lots more. It's a family business over here and locals are friendly. Some even camp the night in the market to keep their spot in this prime real estate. I couldn't resist the sight of some of my favorite fruit and I used this opportunity to stock up.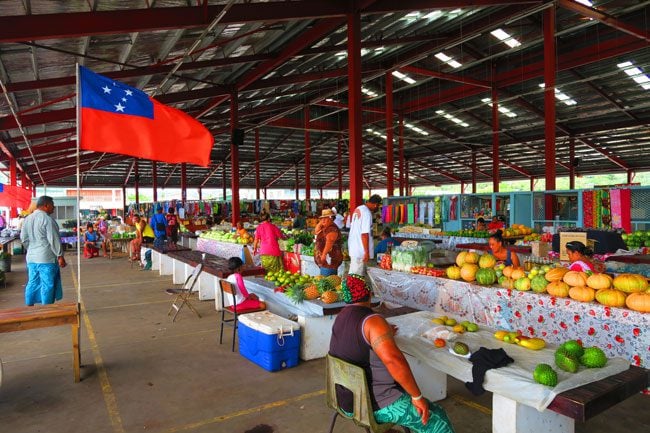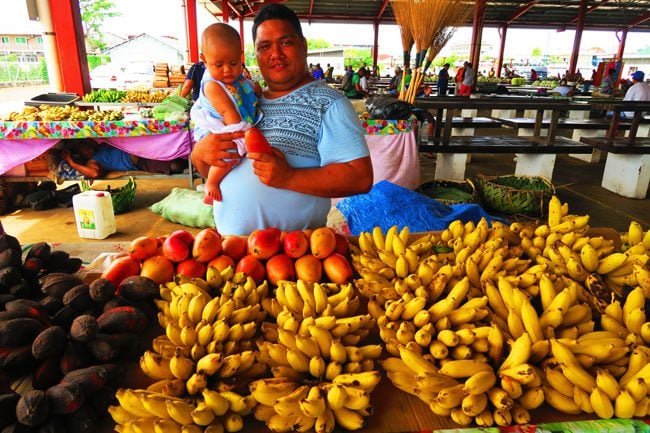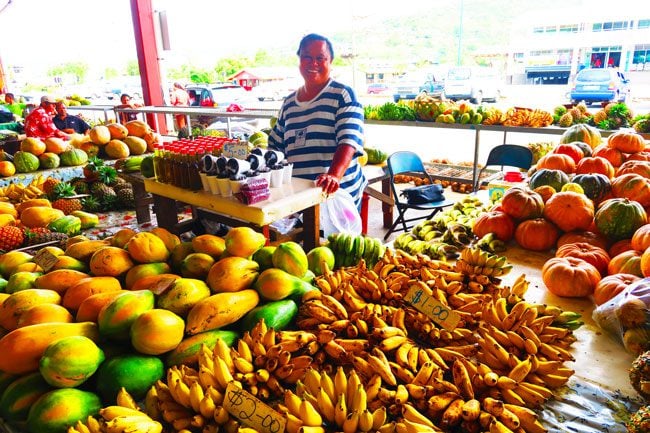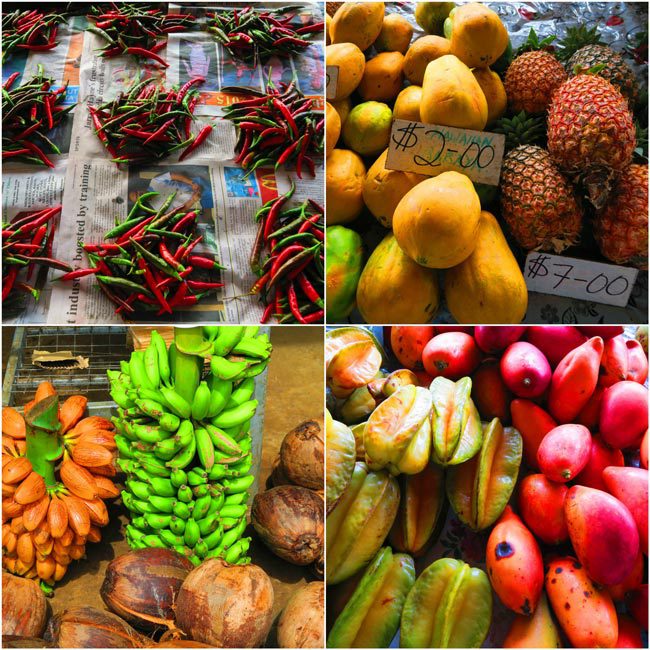 Leaving the market with a few extra kilos on my back, I headed to the second stop – the flea market. Ladies will love this maze of narrow alleys, with stall after stall filled with colorful sarongs and lavalava skirts in all colors of the rainbow. Men can refresh their collection of flowery holiday shirts and it's also a good place to buy some souvenirs.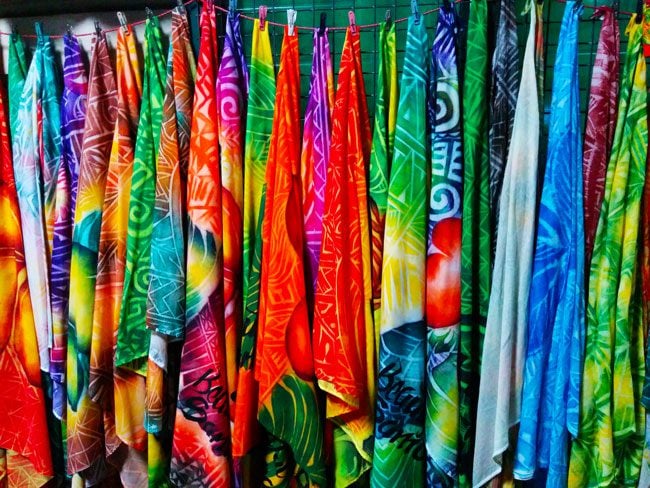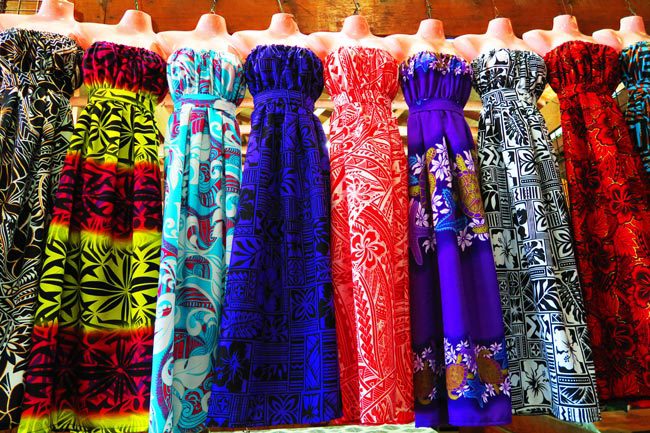 The flea market also has a 'food court' with pretty much one item on the menu: keke-puaa – fried dough filled with meat or chicken. Apparently, I came here during rush hour, when all the kids were about to head back home after school. They seemed to can't get enough of this fried delight and in general, Samoans don't have the healthiest of diets from what I've seen so far – but I guess all those calories are needed to survive in such a wild place, at least in the old times.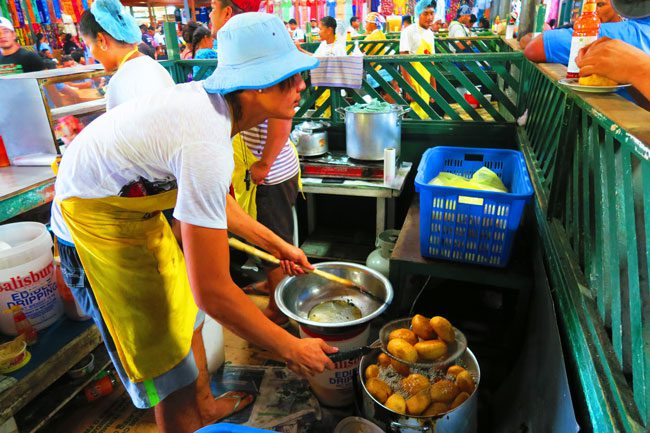 The last of Apia's markets is the fish market. Boat after boat arrives here early in the morning to unload the ocean's bounty. Fancy some lobsters, crabs, or yellowfin tuna? You'll find them here in all shapes and sizes. It isn't an easy job selling fish and seafood over here. I'm not talking about the negotiation with customers or the actual fishing – but rather the constant need to keep the flies away by swinging a plastic bag tied to a wooden stick over the merchandise.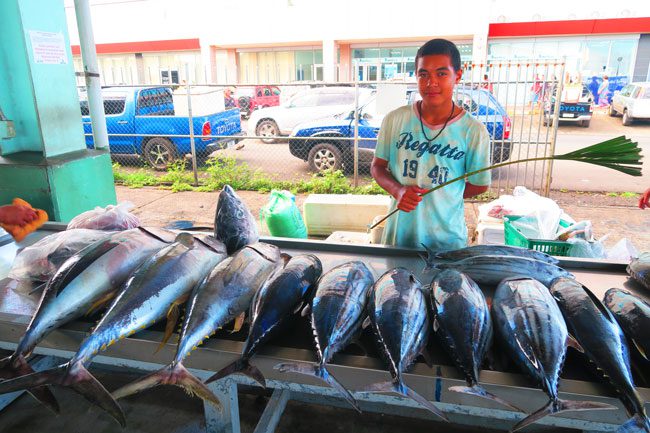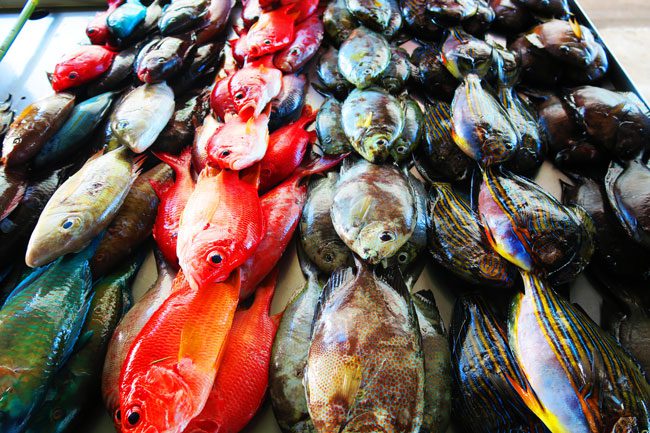 A blast from the past
The fish market also happens to be right next to the main bus station. Busses in Samoa are an attraction of their own. These beasts seem to be straight out of the 1970s and each is decorated with flashy colors and designs. More on this later on.

Another Apia highlight is the church that seems to be at almost every corner. Samoans are devout Christians and they love their church. The Catholics have their beautiful church right on the waterfront and the Mormons aren't to be outdone with theirs, just uptown.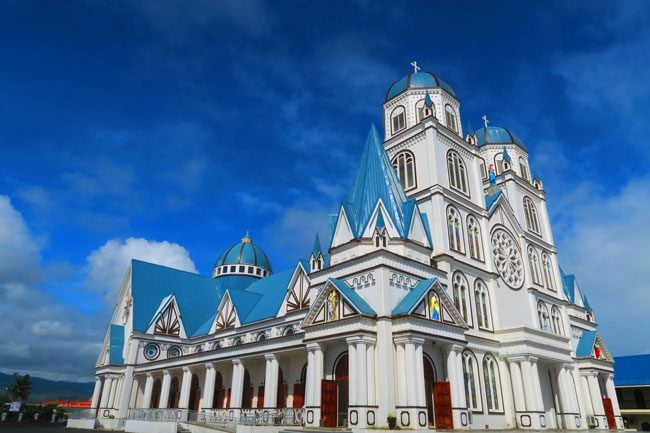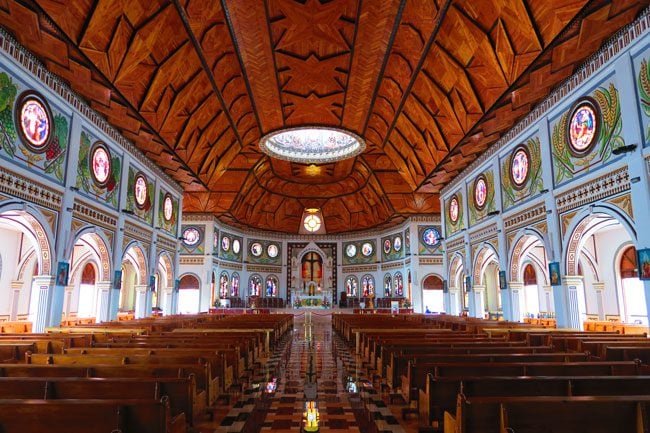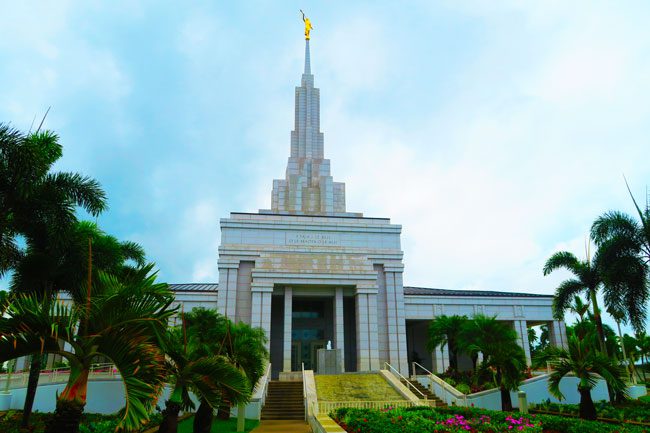 Before the clouds moved in, I headed to sample underwater Samoa at the Palolo Deep Marine Reserve. The lovely beach plays only a prelude to what lies beneath the waves, with a massive coral garden that plunges to more than 20 meters. It's a tough swim to get to the dropoff point but it was well worth it.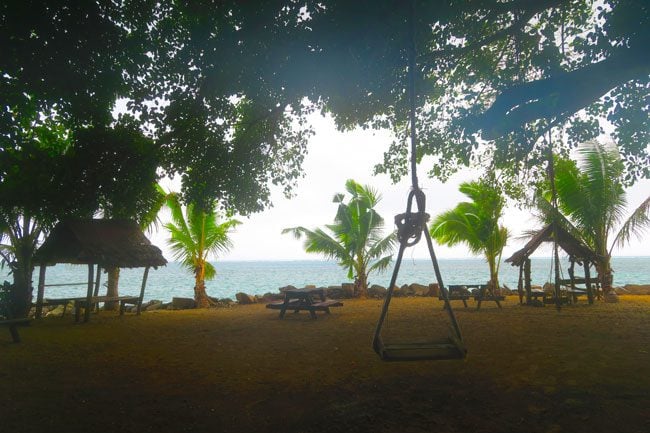 With the skies looking ominously black and the stomach indicating it's time for a refill, I thought it's a good idea to check out the acclaimed pizzeria just in front of my hotel. That was a really good call, as the skies just opened up and gave Apia a good clean. It would be a telltale sign for what mother nature would serve me over the next few days but hey, it's the tropics after all.
The Samoan Way!
The next morning I decided to learn more about the Samoan culture so I headed down to the Samoan Cultural Village for a few hours of learning and doing. I met Chris, my guide for the day, who is from the neighboring island of Savaii. Chris began to explain the basics of Fa'a Samoa – the Samoan Way. These are the values, traditions, and customs that pretty much govern the lives of Samoans for over 3,000 years. It's not like the Cosa Nostra of Sicily or anything like that, but it is the foundation by which Samoans live until this very day.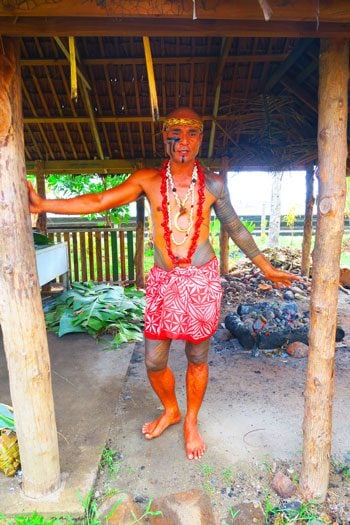 The basics of Fa'a Samoa revolves around the family, immediate and extended. There is nothing more important than family in Samoa and the bigger the better. According to Chris, "there is no I in Samoa, only we" and "the more hands to carry the load, the easier life will be". This is the reason why so many Samoans work abroad and send money back home, just like Levi mentioned in our ride from the airport. It's all starting to make sense now. When disaster strikes, like a tsunami, a fire, a family death, or ailment – there isn't a magic government pension fund to take care of you. All you've got is your family!
Samoan families mostly live in villages, with the extended family owning land that will be divided to every family member upon marriage. A Samoan thus has to serve his family and village. Respect for your parents, the elders, and the chiefs is the #1 value and that's probably why Christian missionaries had so much success in Samoa back in the day, with the 10 Commandments fitting so well with Fa'a Samoa.
Speaking of chiefs, there are three kinds in every village: the 'high chief' who is the main man (or woman. Yes, women can be chiefs in Samoa), the 'mayor/police chief' who is in charge of liaising between the village and the government and finally – the 'talking chief' who is in charge of liaising between the high chief and external entities.
The tree of life
Now it was time to move from talking to doing. We started with a bit of weaving as a warm-up exercise. The palm tree is regarded as the 'tree of life' in Samoa and nothing goes to waste. The roots are used in traditional medicine, the bark in building homes, branches for a multitude of things, and the coconut itself is used as a drink, in cooking, like a cup, etc. We also learned that the 'tree of life' can also be the 'tree of death' if you're not careful enough, and a ripe coconut just happens to land on your head. Apparently, this happened to Keith Richards from the Rolling Stones on a visit to Samoa, but he made it out alive.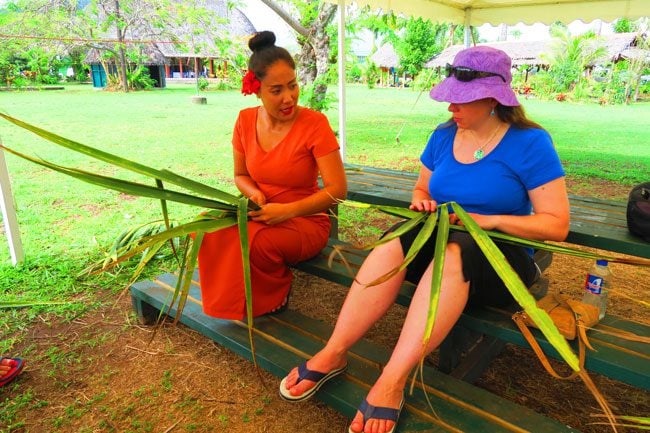 We learned how the locals fashion traditional headbands and plates from the branches of the palm tree and had a go at it ourselves. The plates would come in handy, as we moved across to the 'kitchen'.
Every Sunday, Samoan families gather after church for the traditional 'umu', a large meal made in an open fire pit. There's a lot of physical work to be done and believe it or not, Samoan men are in charge of the heavy-duty cooking around here. You first have to do a bit of fishing, then climb up and cut some coconuts, scrape the coconut flesh, wrap everything up neatly and of course – build a fire.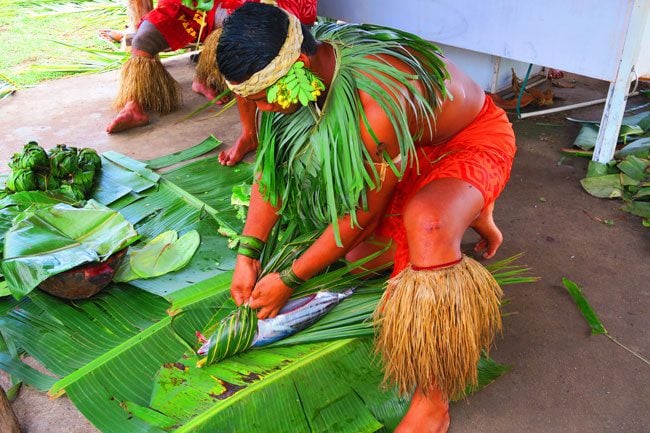 The fire itself is kept warm by adding lava stones to it. But not just any lava stones. You must collect the ones from the river as they are super strong and won't burst when put under intense heat. Once everything is ready, the food is covered by taro leaves to keep the moisture in and the fire with banana leaves to maintain the heat. And how do you know when the food is ready? Well, there's one last task to do and when this is done, the food is ready. You gotta climb up the palm tree again, cut some coconuts, and weave two baskets to carry the food back to the dining hut (fale). It's not exact culinary science but it seems to work for the Samoans.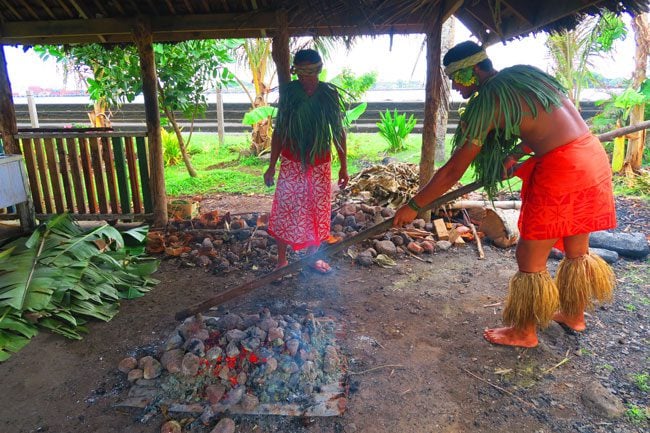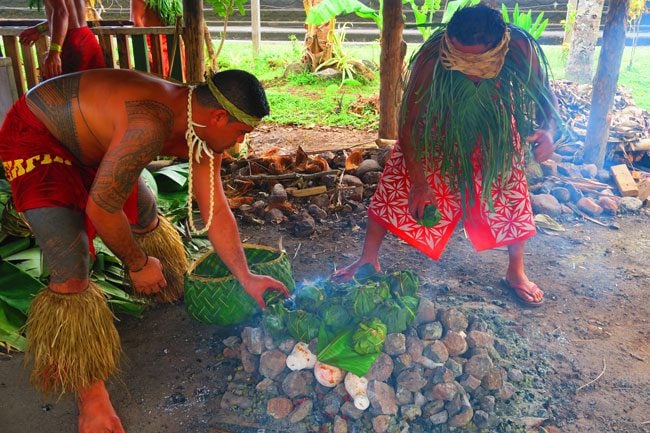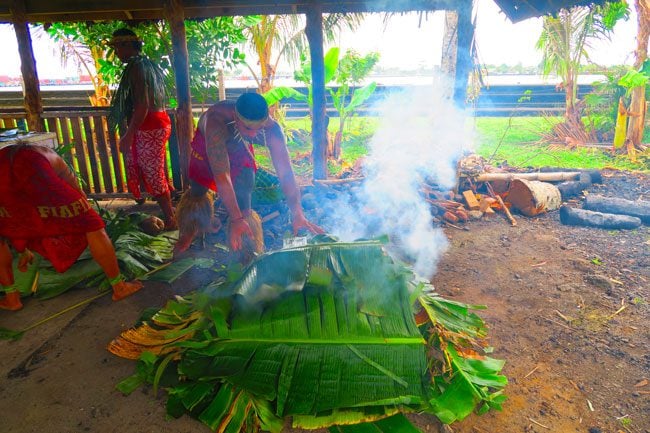 Instead of climbing the tree, we waited for the umu to be ready while having some kava, or ava as it is known here. Bottoms up, or manuia as they say in Samoa! You can't enjoy your ava without some entertainment and according to Chris, all Samoans know how to sing and dance from an early age. You be the judge…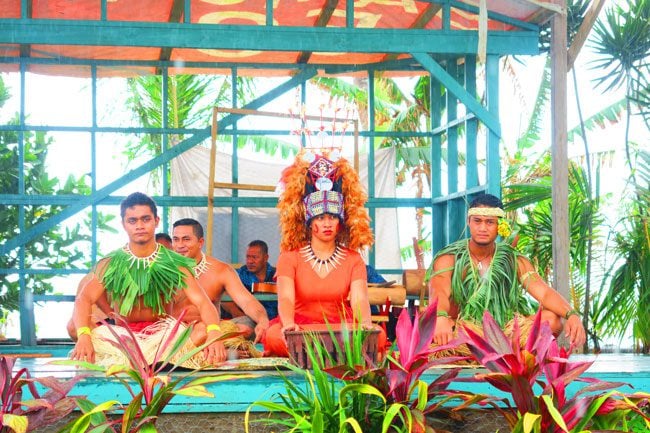 Lunch was finally ready and it was well worth the wait. Food was served in the plates we made and included some taro (local type of yam), breadfruit, palusami (a yummy calorie 'bomb' consisting of taro leaves and coconut cream), and tuna. It was simple and delicious!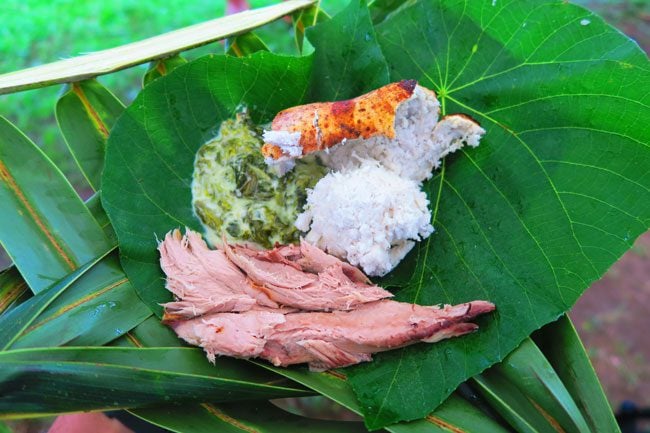 After lunch, it was time for some arts & crafts. We learned about the laborious tradition of making the siapo. Starting from a simple thin piece of bark from the u'a (mulberry paper tree), women work their magic and can turn these small pieces into huge lavalava skirts or exquisite artwork. It is all painted with ink from the bark of a different tree and can be given as either a gift or traded for other goods.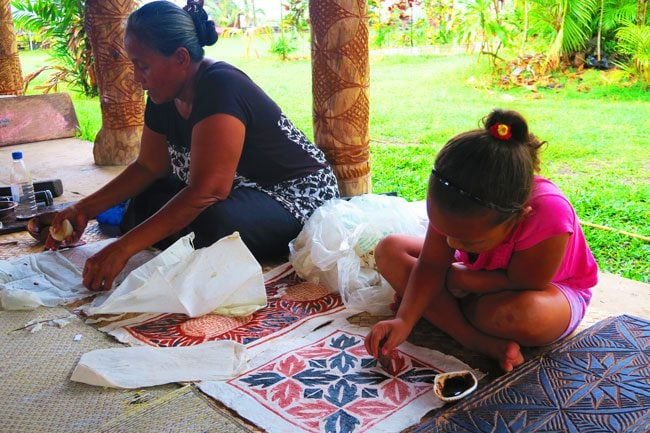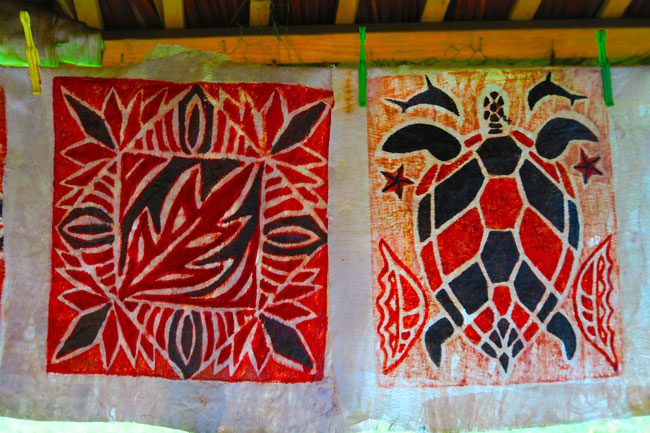 We also witnessed some woodcarving in live-action. Woodcarvers play an important role in traditional Samoan life. They build houses, canoes, and tools – which are essential for surviving on an island.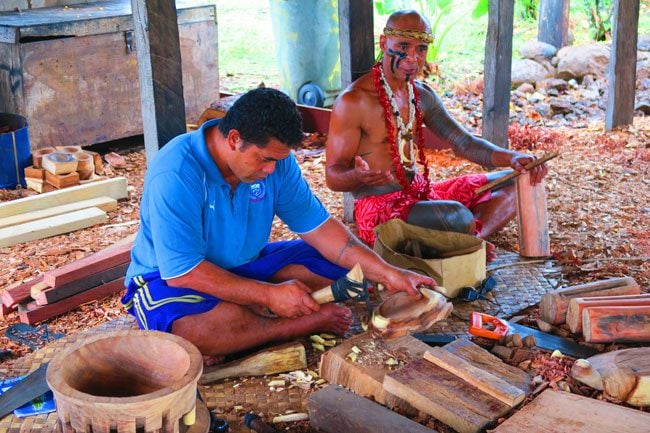 Mom, can I get one?
The last stop was the tattoo hut. I thought we were on a touristy village tour until I saw a massive Samoan getting a traditional full-body tattoo or tatau as it is known here. Apparently, Samoans invented tattooing and it plays a very important role in Fa'a Samoa – the Samoan Way. A full-body tattoo is more like a right of passage for a Samoan man. That's because so much pain is involved in getting one of these. It can take more than 12 sessions of a couple of hours each to complete, and it's all done by the artist tapping a stick that's got a razor attached to its end. Not just anyone can practice this traditional method. There are only two families in Samoa who own the trade and knowledge is passed from father to son.
Once you start, you cannot stop. So men have to build up a lot of courage to undergo this painful process. Family members who have themselves gotten the full-body tattoo come to support, even to the point of spending the night with you to keep the flies away. Nights are spent sleeping on the floor, with no sheets so that nothing will get stuck to the open flesh. Ouch! When a Samoan man has finished his full-body tattoo, he steps up the 'bravery ladder' in the village, and will be delegated with duties kept for only the bravest of men. Unless you're getting one, no filming was allowed inside the tattoo hut – this is a very traditional practice!
Around Apia
My last day in Apia was spent checking out its surroundings. I started at the Robert Louis Stevenson Museum. The Scottish writer of Treasure Island moved to Samoa in 1889 with the hope that the tropical weather will help with his severe ailments. While in Samoa, he built a beautiful mansion and became active in the Samoan independence movement. Deeply revered by Samoans, he sadly died in 1894, but his legend and mansion are still very much alive.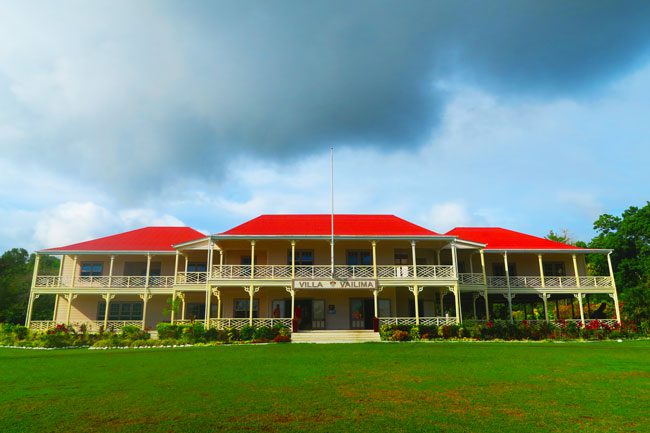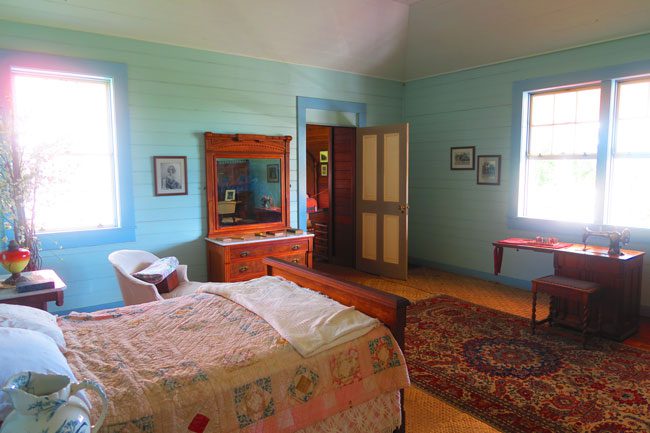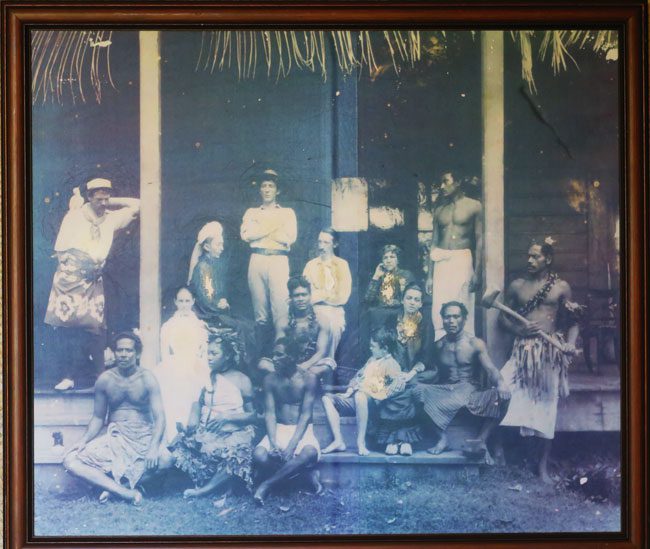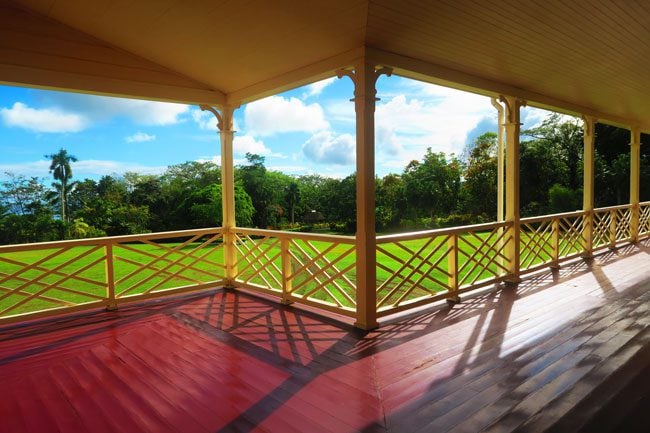 Next up was the Papase'ea Sliding Rocks. Who needs a Gymboree when you can just slide down the waterfall into the cool fresh water! I heard locals do this standing up – I guess I have a long way to go!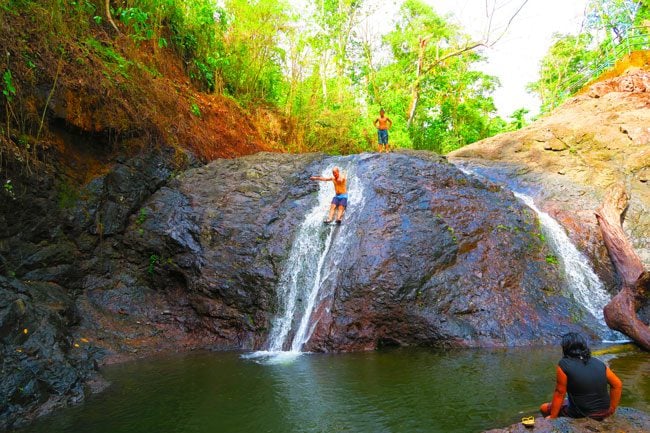 From the sliding rocks, I headed high into the mountains to check out the Papapai-tai Falls. That's a lot of p's. Apparently, there's a 100-meter waterfall somewhere here. I could hear it but not see it, as it was so cloudy up here.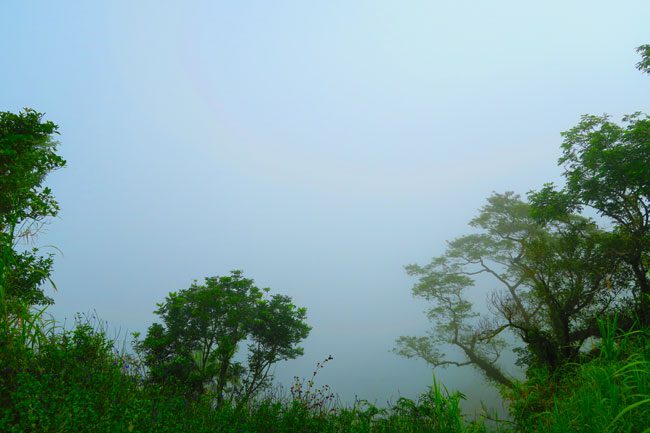 The last stop before coming back to Apia was at the Piula Cave Pool. This secret spot is nestled in the grounds of a theological college, believe it or not. Freshwater flows beneath the ground straight out of the mountains, filling up this natural pool. It's crystal clear beneath the surface. Too bad my GoPro ran out of battery, as you should have seen just how clear the water was. Rookie mistake!
Getting to paradise, the local way!
The following day, I said goodbye to Apia for now and caught the bus to the south coast village of Lalomanu. Taking the bus in Samoa is certainly something every traveler should experience. These pimped up beasts have seen better days, since hitting the road back in the 1970's – but it's a pleasant experience. The benches are the least comfortable that mankind could possibly build and there's no air conditioning on this ride. But who needs it when there are no windows or doors?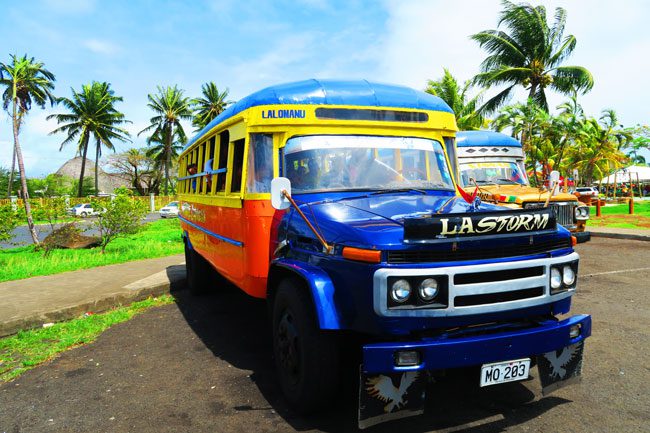 I also learned about the concept of 'Samoa time'. There's no need to rush and things will happen when they happen. This includes the bus schedule which… doesn't really exist. The bus will leave when the driver feels like it, and it's perfectly acceptable. The Samoan Way still holds true even on the bus and I witnessed something quite special on the ride. No more room to sit on the bus? No problem! When seating space runs out, the young children will simply give up their spot for someone older and have a seat on their lap! Have a look at this young kid who switched laps a few times. Everybody seems to get along with each other in Samoa. This is true from local villagers to even the cats and the dogs.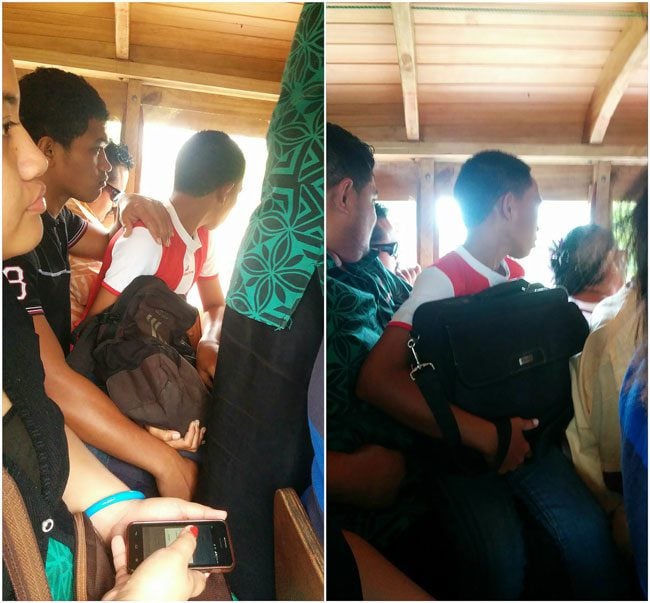 We stopped along the way for some gas, food, and shopping – with locals getting off at every stop and coming back with bags full of bread, meat, snacks, and even laundry detergent. Last-minute shopping before leaving the 'big city'. The ride also gave me the chance to see the beautiful countryside of Upolu Island.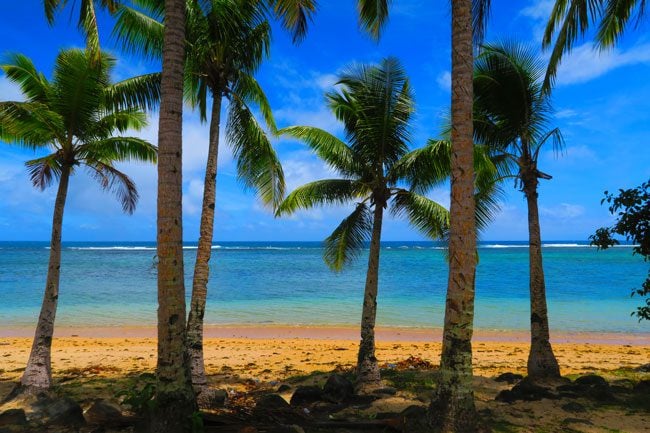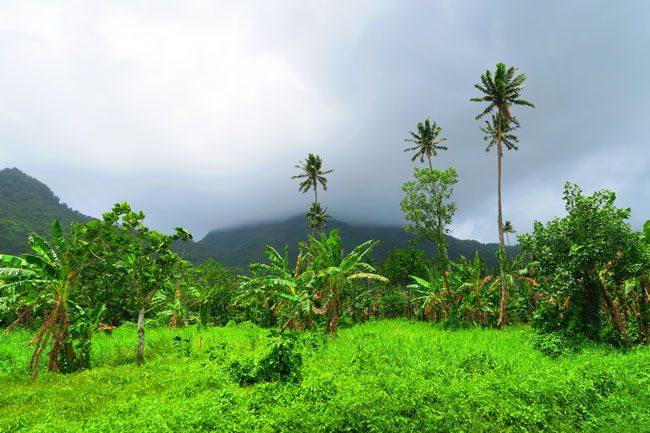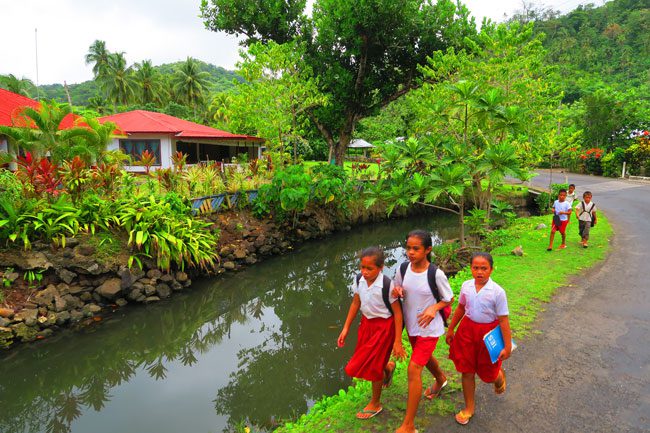 After two hours, I made it to Lalumano! I checked into fale #16, right on the beach and though it has been raining a lot lately – this is pretty much the view!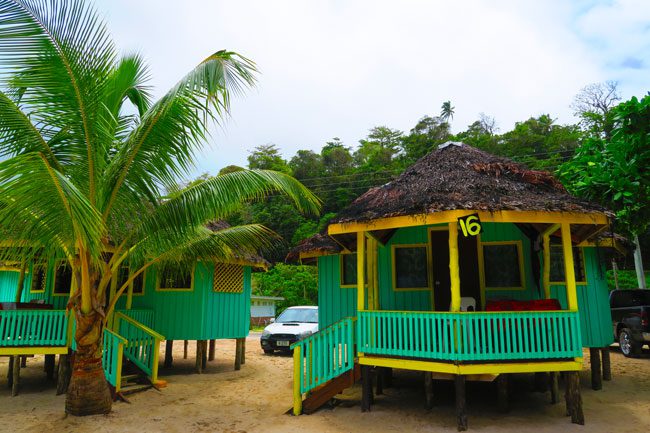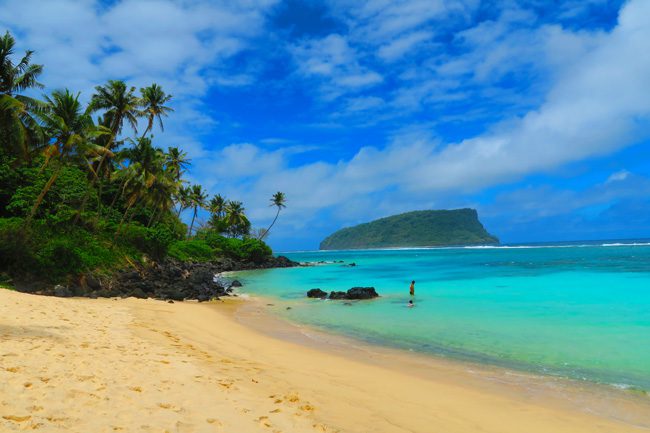 We'll pick up right here next time, where we'll explore more of the southern coast of Upolu Island – known for its beaches and massive blue hole. See you next week!
– My visit to Upolu Island in Samoa has been generously assisted by the Samoan Tourism Authority –