You don't have to be a believer to marvel at Rome's collection of magnificent churches. Ranging from the intimate and dark to the gigantic and lavish, the Catholic capital of the world's ancient churches are museums in their own right, a testament to a period in history in which global wealth was held in the hands of the Roman Cathcolic Church, manifesting in monuments of extreme grandeur. In this guide, we'll explore twenty of the very best churches in Rome.
There are over 900 churches in Rome, an astounding figure considering their combined net worth (if one could even put a number on that). Personally, I am a real fan of ancient European churches, having explored the great churches of Paris and other European capitals. To me, these monuments are more like museums and I am always awe-struck by their level of detail, from the facade to the ceilings and art-covered chapels.
Like the great cities of the ancient world such as Jerusalem, present-day Rome is built over the layers of past centuries and its churches are of no exception, with many built over obsolete churches and former pagan temples. Most of Rome's prized churches were built during the Baroque era (17th & 18th centuries), a period of extravagant architecture and arts. Missing from the list of the best churches in Rome is the Sistine Chapel, undoubtedly a worthy place of worship but nonetheless, due to its location within the Vatican Museums, it deserves a mention in the companion guide to Rome's best museums.
Rome Travel Guide Collection
Planning or thinking about a trip to Rome? Have a look at additional Rome travel guides, including essential Rome travel tips, a detailed Rome itinerary and lots more!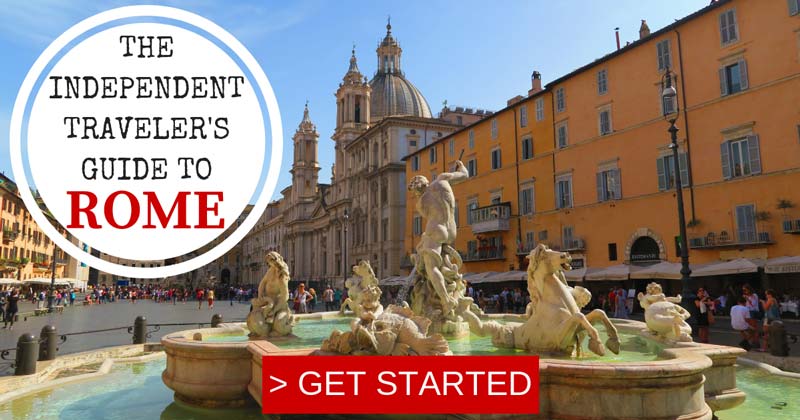 Quick Tour of Rome
Here's a quick video tour of Rome!
Tips for visiting the best churches in Rome
Here are a few tips that will guide you as you plan to visit some of the best churches in Rome listed in this guide:
Be sure to check opening times and plan accordingly with your own itinerary. I did my best to include the most accurate opening hours, but these can vary and change. In most cases, churches will open for a few hours in the morning and in the late afternoon/early evening.
Note that most churches do not allow tourists inside during mass times. Since every church has a mass on different hours of the day, this could be a bit tricky to take into account, though mass is short and you might just need to wait for thirty minutes or so.
Some churches require visitors to cover their shoulders (both men and women) so be sure to pack something lite in your daypack just in case.
Most churches permit photography but some do not. However, I found that if you refrain from using flash, there isn't really an issue.
On a hot summer day or during periods of rain, churches can be a great place for a quick rest (though keep in mind that public toilets are not available)
Roman churches are free to enter and their interior is probably more than enough for most visitors. However, some churches do offer paid access to unique areas such as cloisters, crypts, and towers.
Map of the Best Churches in Rome
All the churches, cathedrals and basilicas mentioned in this guide to the best churches in Rome are highlighted on this map. Simply click on the image to open in Google Maps.
The Pantheon
Built in the first century AD as a pagan temple, Rome's Pantheon (meaning "temple of all the gods") is an absolute engineering marvel. What it lacks in marble, gold and lavish paintings, it certainly makes for in symmetry and age. In fact, it is the best-preserved structure from the ancient Roman era. Since the 7th century AD, the Pantheon has been used as a church, making it one of the oldest of its kind in Italy.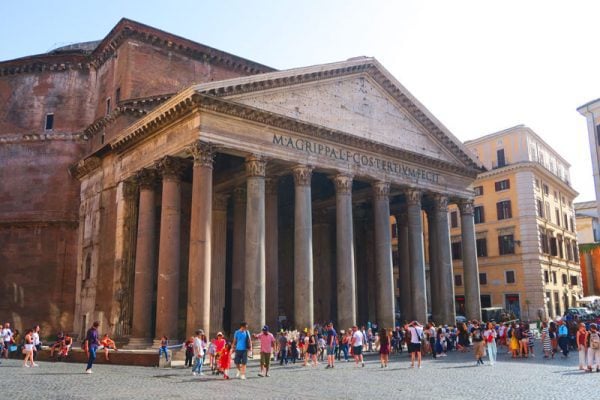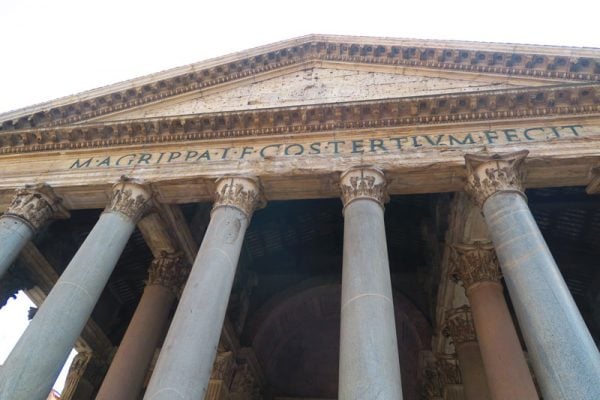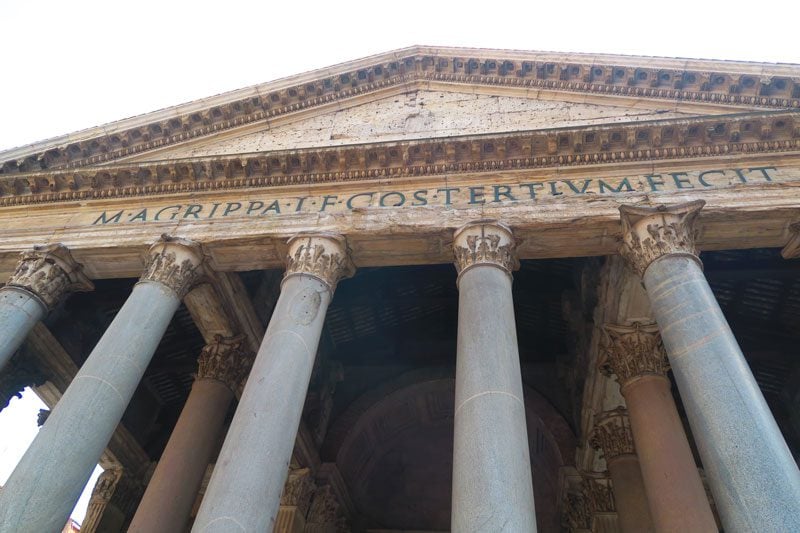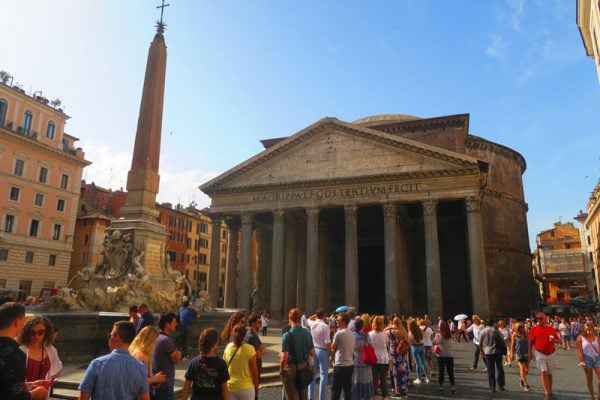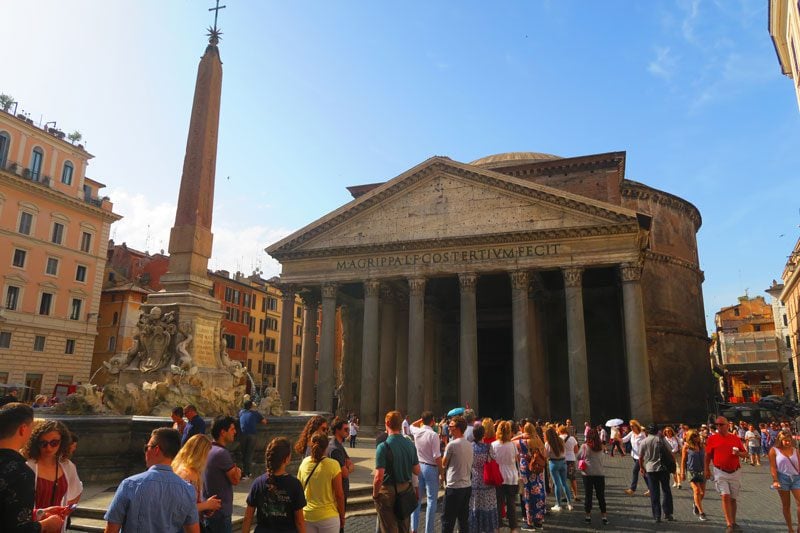 Viewed from its exterior, the Pantheon's signature columns and Latin inscription are a must in any photographer's frame, but it's the interior that is simply mind-blowing. Inside, a massive unfinished dome with its signature oculus, shadows the final resting ground of former Italian kings and one mega artist – Raphael – to name but a few. It's only once you're inside that you realize the engineering marvel that is the Pantheon, with the dome's diameter equal to its height. It's hard to fathom how Romans managed to pull this off in ancient times without any precision tools.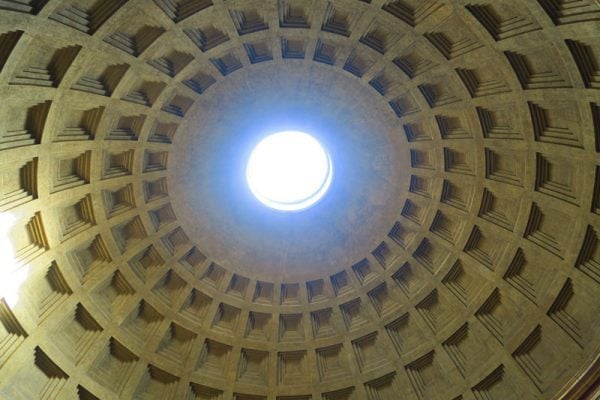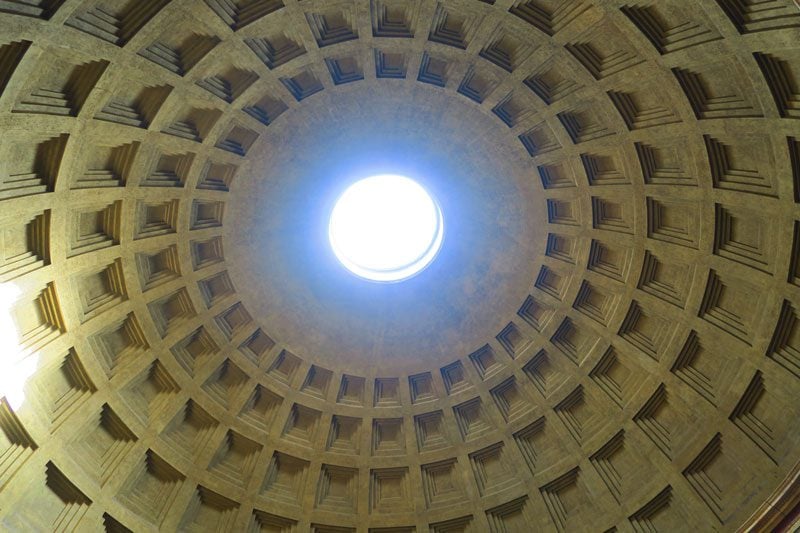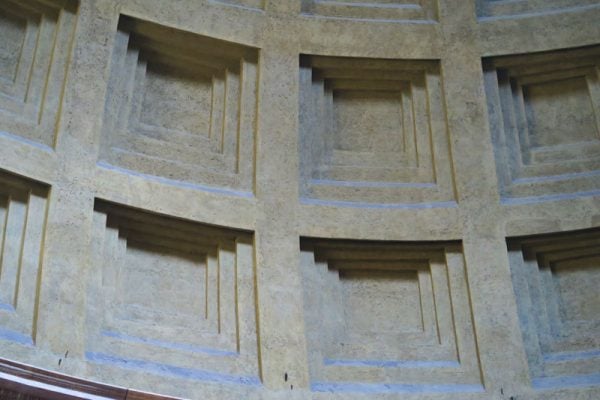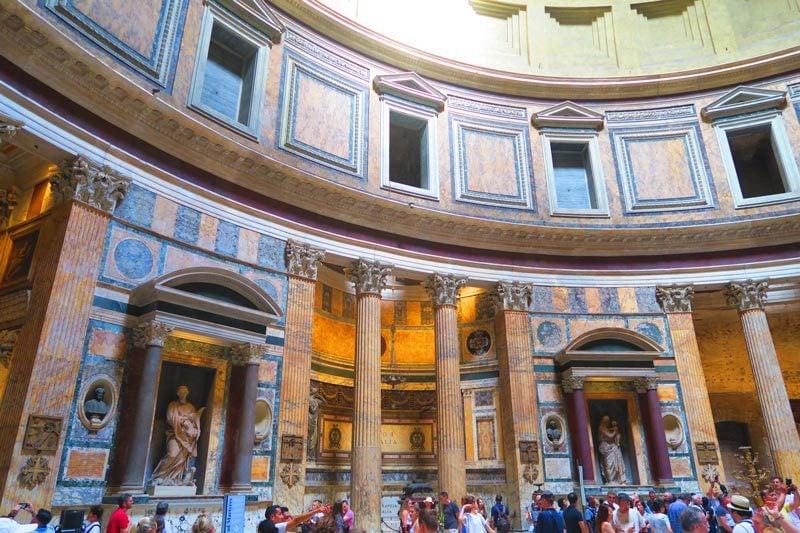 Where: Piazza della Rotonda
Opening times: Mondays-Saturday from 8:30am–7:30pm, Sunday from 9am–6pm
Cost: free to enter, guided tours available
Basilica di Santa Maria in Aracoeli
Erected at the top of the Capitoline Hill on the site of a former pagan temple honoring Jupiter, this 12th-century basilica is one of the best churches in Rome and not one that is frequented by tourists. The reason for that could be that in order to get here, you need to climb one of the steepest staircases in Rome, at the foot of which criminals were executed back in the Middle Ages. Legend has it that the basilica's location was chosen in the place where the Tiburtine Sibyl (a woman in ancient times who was able to foretell the future) prophesied to Emperor Augustus the coming of Christ.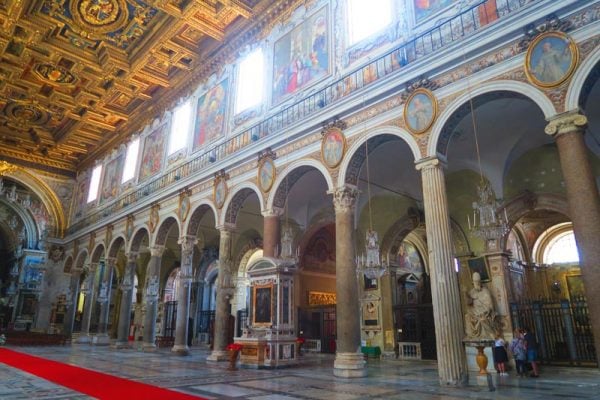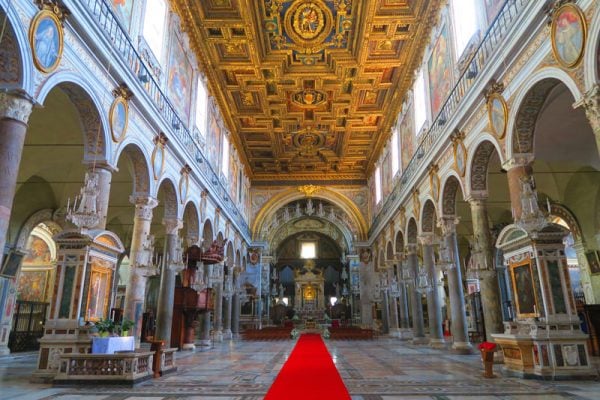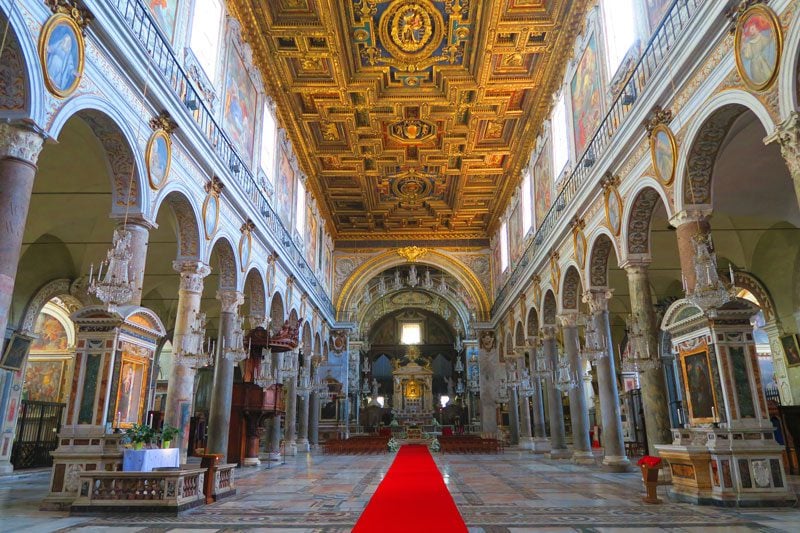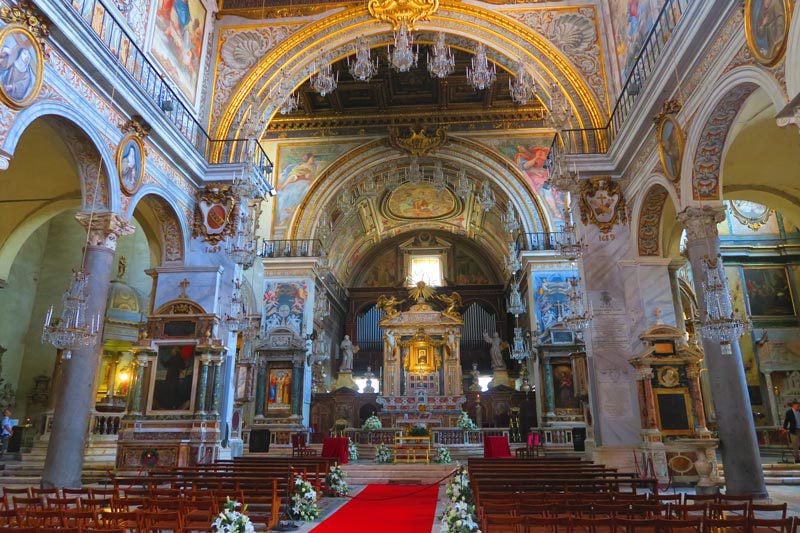 The interior of the basilica is simply out of this world, more like a museum than a place of worship. Signs of the basilica's age of nearly 1,000 years are absolutely evident and its countless ornaments, sculptures and inscriptions can occupy a good thirty-minute visit.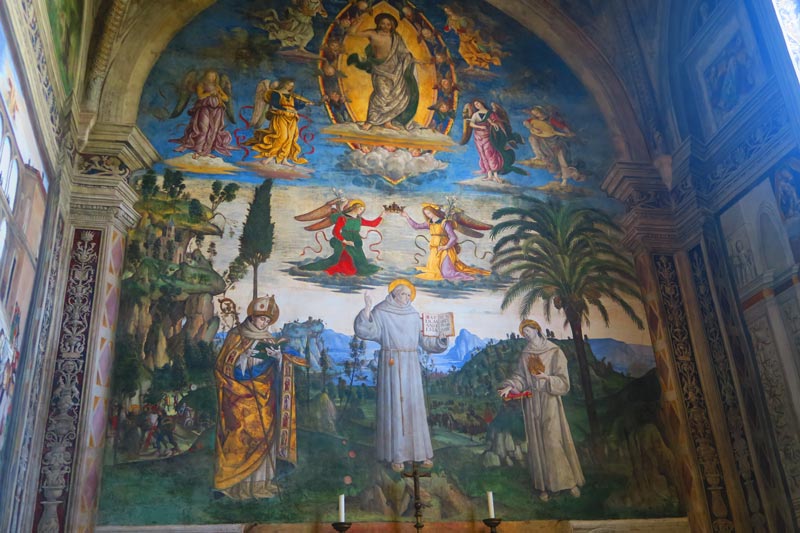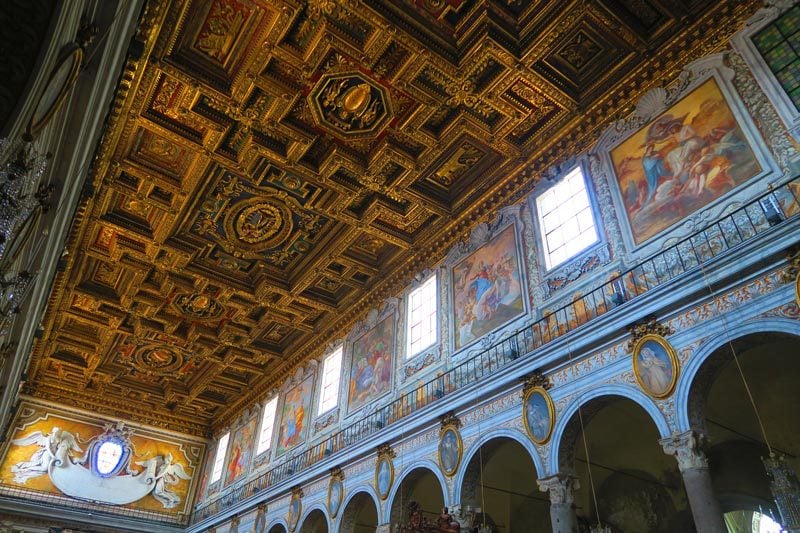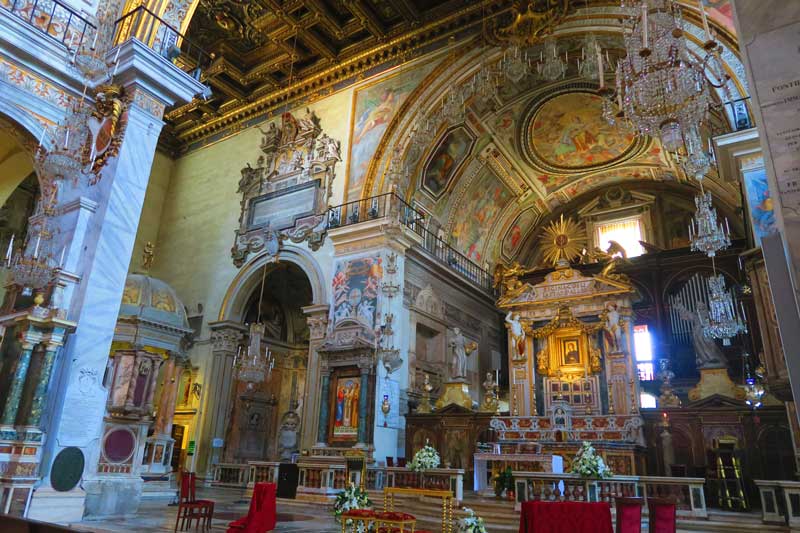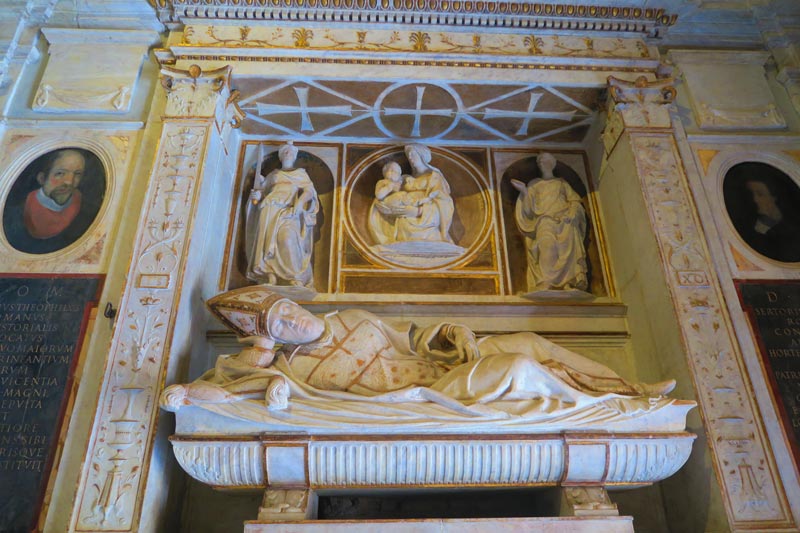 Where: Scala dell'Arce Capitolina, right next to the Capitoline Museums
Opening times: daily from 9 am–6:30 pm
Sant'agnese In Agone
A beautiful cathedral of the Baroque style was built in the 17th century to honor St. Agnes, the patron saint of young girls. Sant'agnese In Agone is located in Piazza Navona which used to be the site of an ancient horseshoe-shaped Roman stadium named Circus Agonalis (agone in Greek basically means "engaging in competitive sports"). Construction began in 1652 by Pope Innocent X who also just happened to be a member of the wealthy and influential Pamphilj family.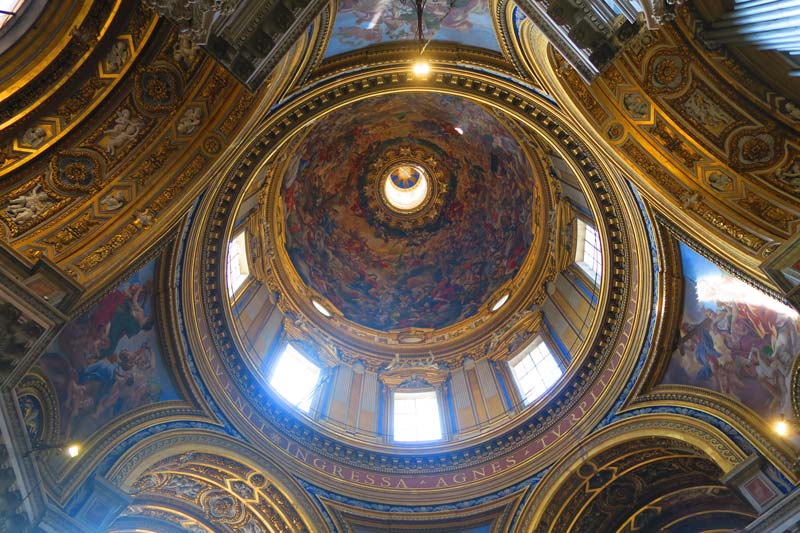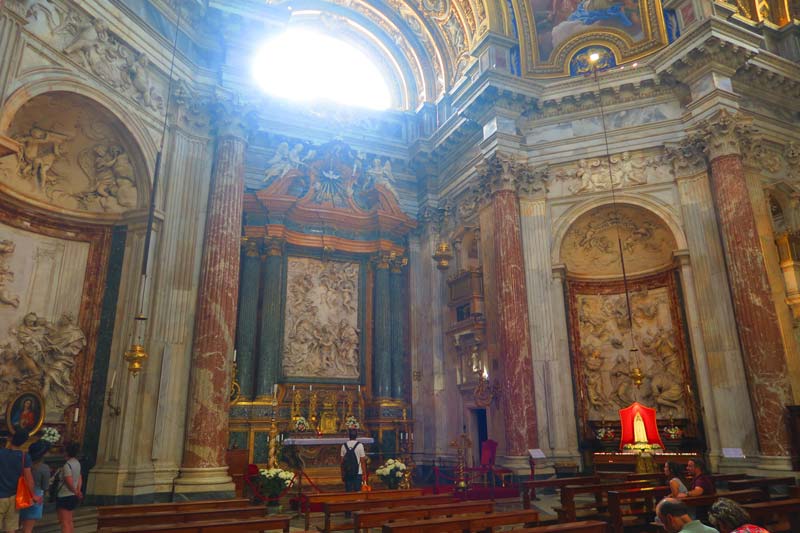 The cathedral's signature features include a frescoed dome depicting the Assumption of Mary and the skull of Saint Agnes who was martyred because of her refusal to marry at a young age. She is among the most revered virgin Roman martyrs. Visiting this cathedral is a no brainer if you're already in Piazza Navona but be aware of its opening hours if you wish to pay a visit
Where: Piazza Navona
Opening times: 9 am–12:30 pm, 3:30–7 pm | closed on Mondays
San Luigi Dei Francesi
One of three Roman churches in possession of France, San Luigi Dei Francesi was completed in 1589 and is considered as the "official" French church in Rome. It actually sits on the former grounds of the Baths of Nero, the first imperial bathing complex in ancient Rome, commissioned by the emperor Nero in the first century AD.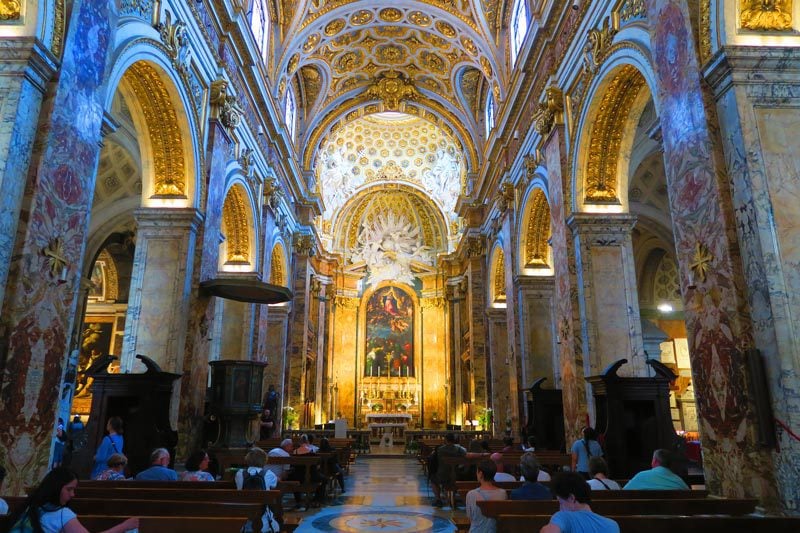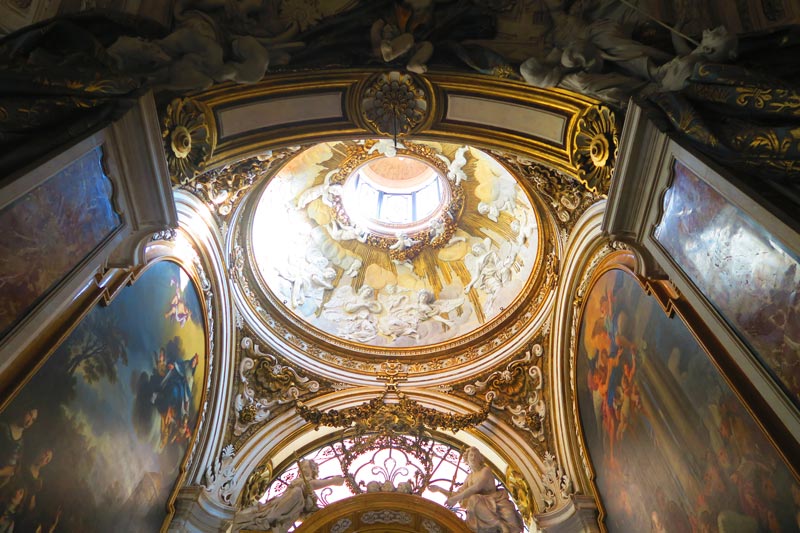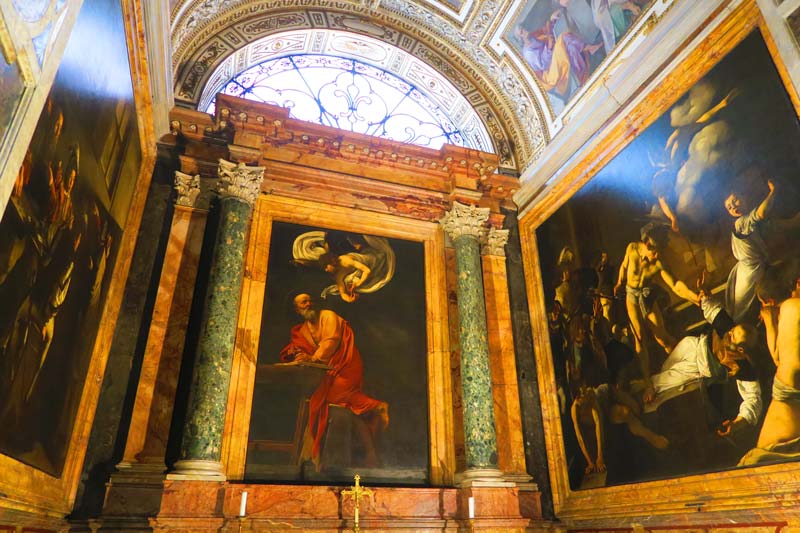 This particular cathedral is famous for the series of works by the Italian painter Michelangelo Merisi da Caravaggio depicting St. Matthew but it's gilded ceiling and frescoed domes are even more impressive in my mind.
Where: Piazza di S. Luigi de' Francesi, not far from Piazza Navona
Opening times: 10 am–12.30 pm, 3:00–7 pm | closed on Thursday afternoon
Santa Maria Dell'anima
From the official French church, we now move to the official German church in Rome. Santa Maria dell'Anima as we see it today originated from a 14th-century medieval charity institution built for pilgrims by a Dutch couple living in Rome, Jan and Katharina Peeters. Later, the Catholic institution took over and construction began, ending with the church's consecration in 1542.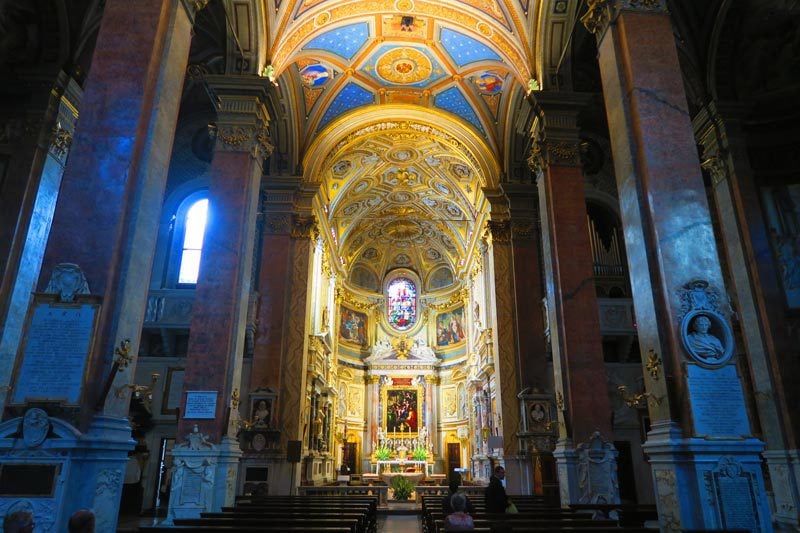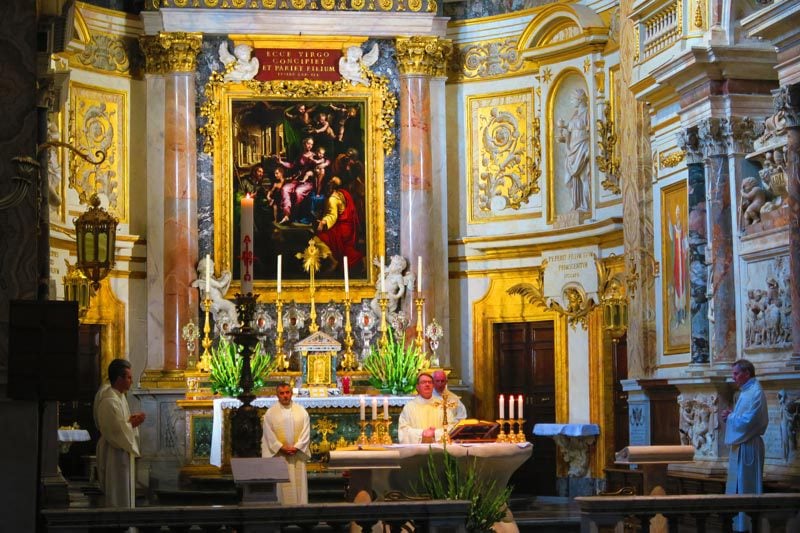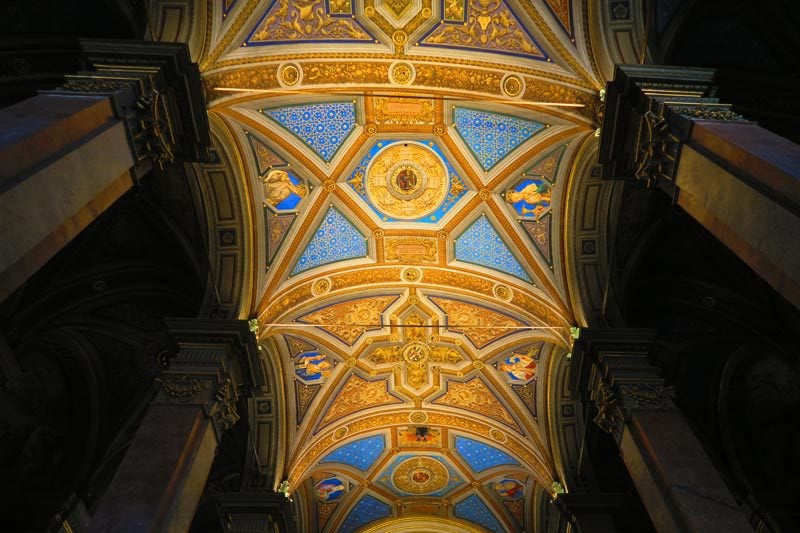 Its dark Baroque interior and intricate decorations made it one of my favorites in Rome. Pay close attention to the gilded ceiling featuring light blue colors and the remains of Pope Adrian VI somewhere along the nave.
Where: Via di Santa Maria dell'Anima, not far from Piazza Navona
Opening times: daily from 9 am–12.45 pm, 3:00–7 pm
Parrocchia Santa Maria In Vallicella
Completed in 1561, this cathedral is also known as Chiesa Nuova (New Church) and this should come as no surprise as this particular piece of Roman real estate has housed a number of churches over the centuries. The cathedral was founded by Filippo Neri who dedicated his life to helping the poor. Neri founded a society of secular clergy called the Congregation of the Oratory, Catholic priests and brothers who live a community life not bound by formal vows but rather charity work. What makes this place worth visiting is the quantity of exquisite religious artwork decorating its interior and its ceiling paintings.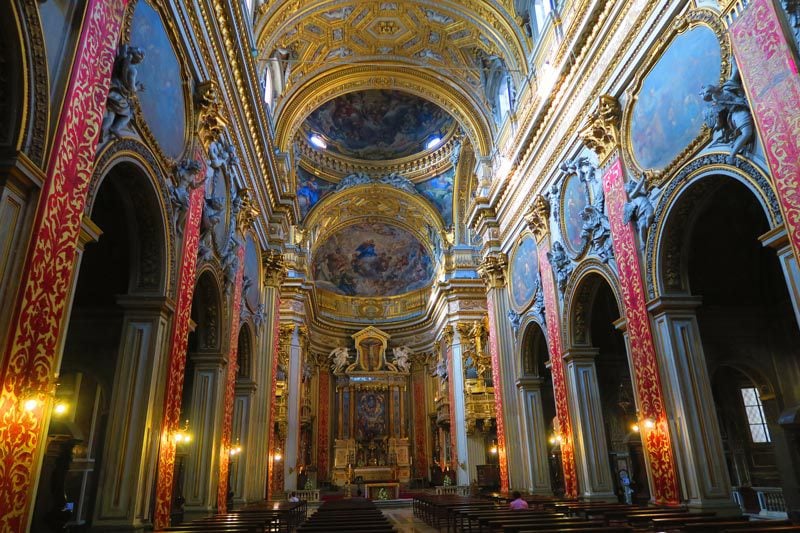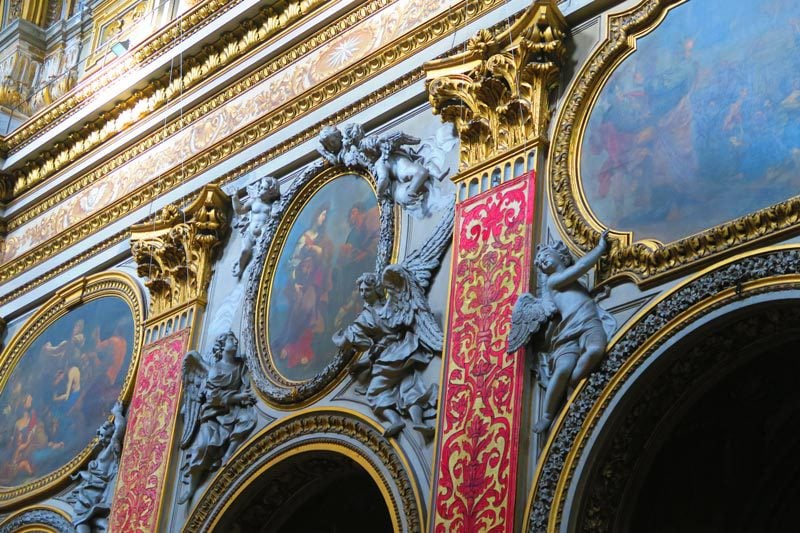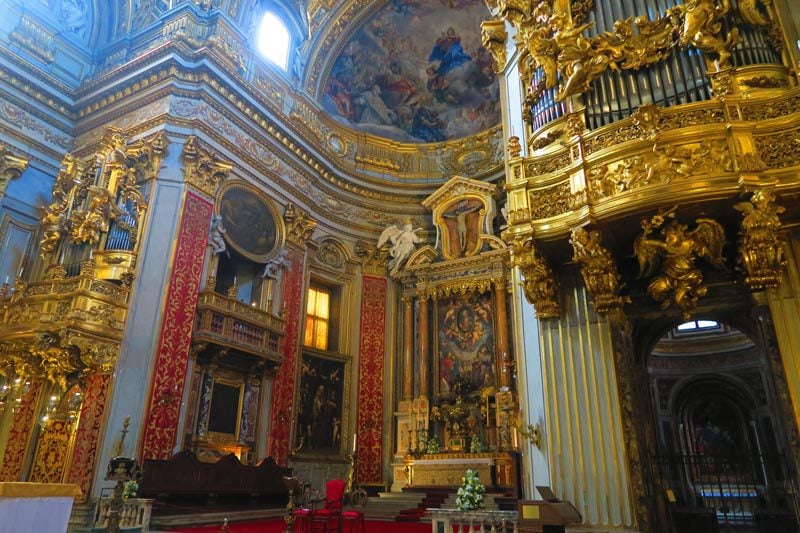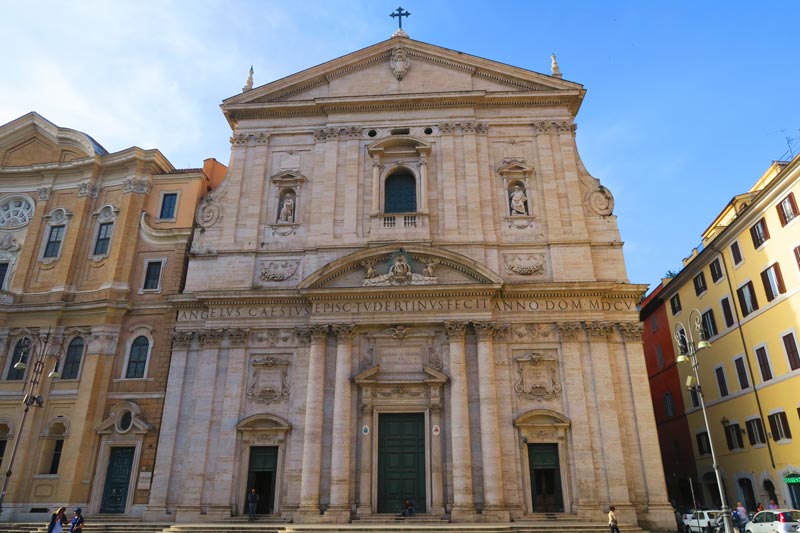 Where: Via del Governo Vecchio, not far from the St. Angelo Bridge
Opening times: daily from 7:30 am–7 pm
San Lorenzo In Damaso
This is one of the oldest churches in Rome, though it has undergone a number of major renovations over the centuries. The cathedral is dedicated to Saint Lawrence, one of the seven deacons of Rome under Pope Sixtus II who were martyred as part of the persecution of Christians by Roman Emperor Valerian in the 3rd century AD. In the late 4th century, Pope Damasus erected a basilica on this site as it was close to where he actually resided at the time. That basilica was later demolished in the late 15th century and the new church, as we know it today, was beginning to take shape. In the main altar, you can see Federico Zuccari's painting of Saints and Coronation of St. Mary, and below the altar lie the relics of Pope St. Eutychian and Pope St. Damasus I.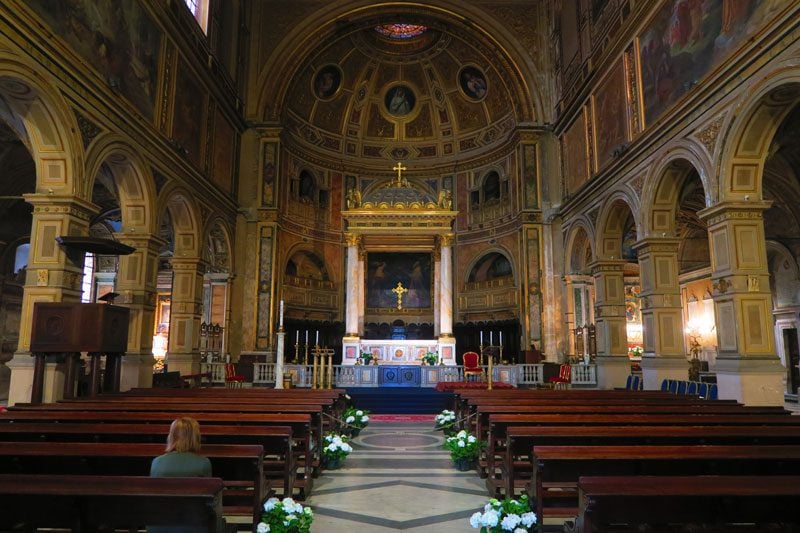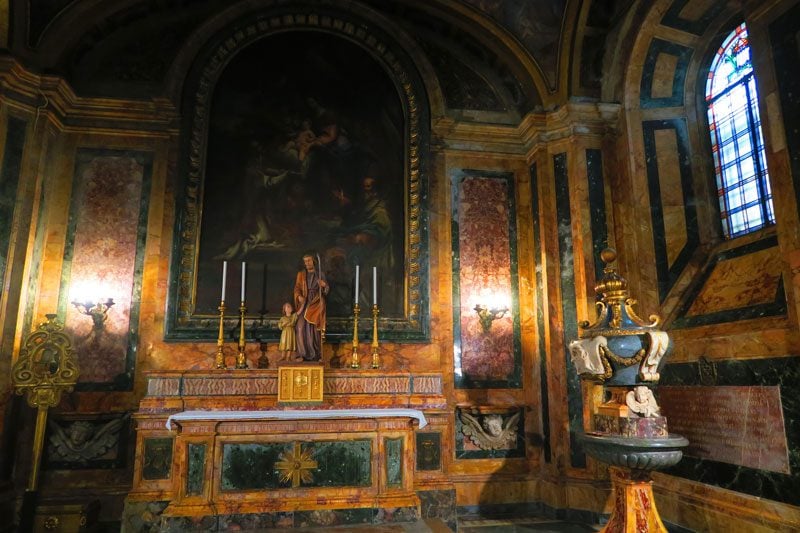 Where: Piazza della Cancelleria, not far from Campo de Fiori market
Opening times: Monday-Saturday from 8 am–9 pm, Sunday from 9 am-7:30 pm
Sant'andrea Della Valle
Completed in 1650 after 60 years of construction, the church of Sant'andrea Della Valle is one of the finest examples of Baroque churches and should not be missed. It features the second-highest dome among Rome's cathedrals and its lavish Baroque interior is mindblowing. Especially impressive are the cathedral's frescoes which adorn its domes and ceiling. Lining its walls and chapels are numerous exquisite religious paintings, some housed in a chapel designed by Michaelangelo. Be sure to visit in the morning hours as the church closes its doors for a long break before reopening.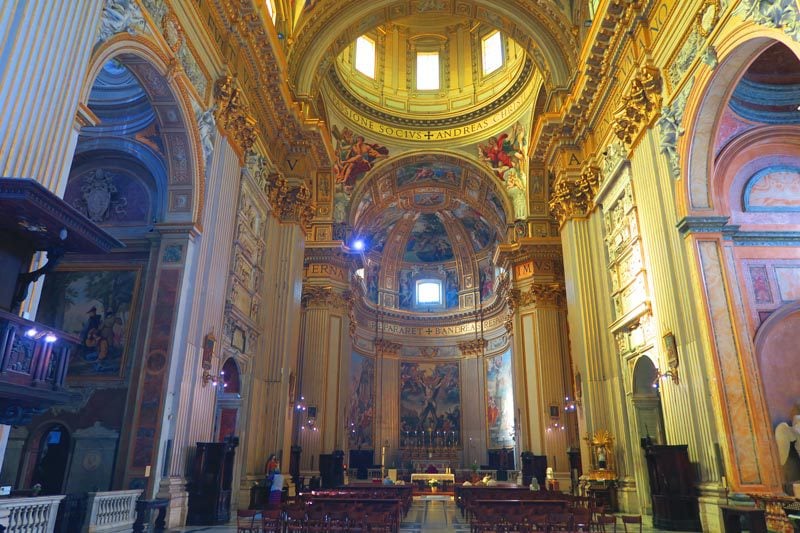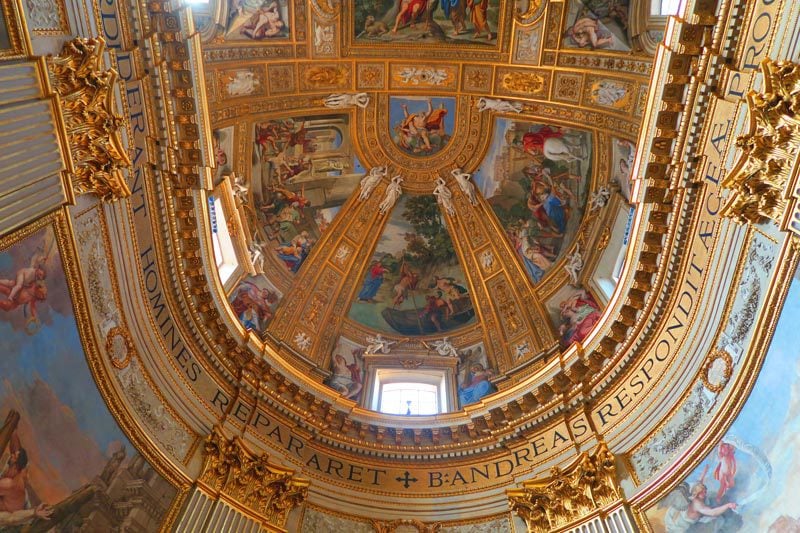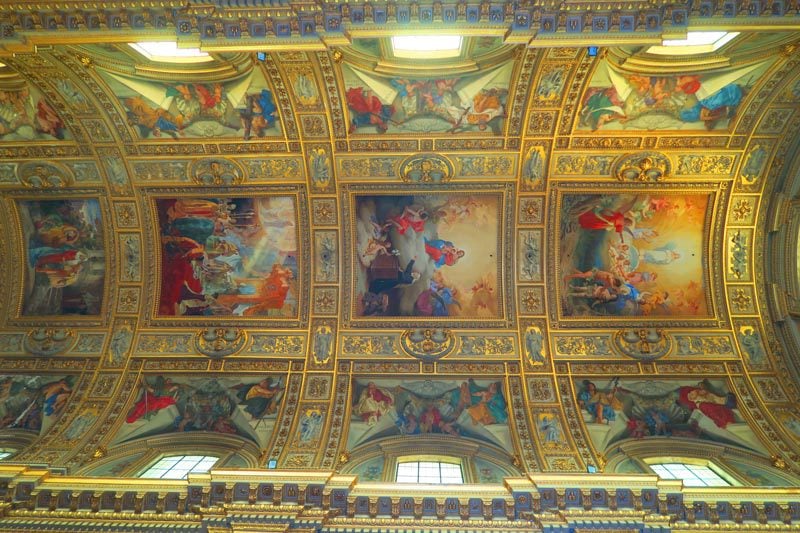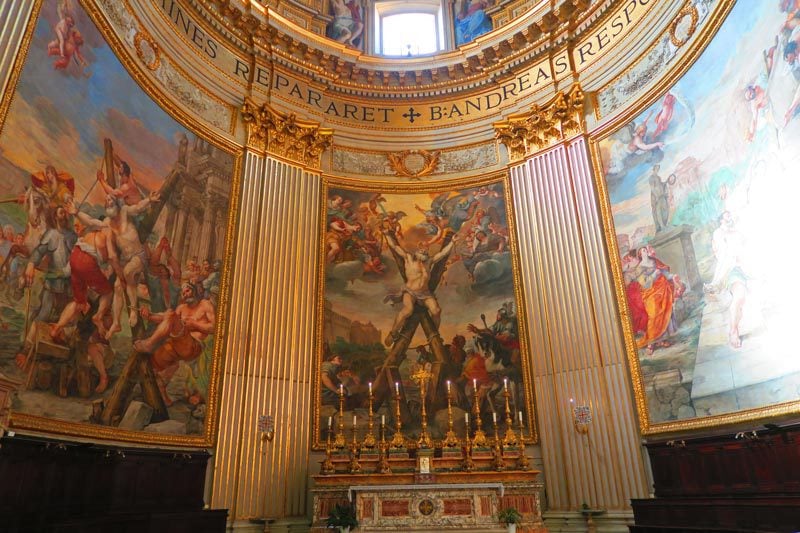 Where: Corso Vittorio Emanuele II, very close to Campo de Fiori market
Opening times: daily from 7 am–12:30 pm, 4:00-8 pm
Chiesa del Gesù
Completed in 1580, the Church of the Gesu is the first Jesuit church and has served as a model for Jesuit churches around the world. At the time of its construction, its design was revolutionary, despite a "classic" Baroque facade. The church was conceived by Spanish priest Saint Ignatius of Loyola who is the founder of the Jesuit movement.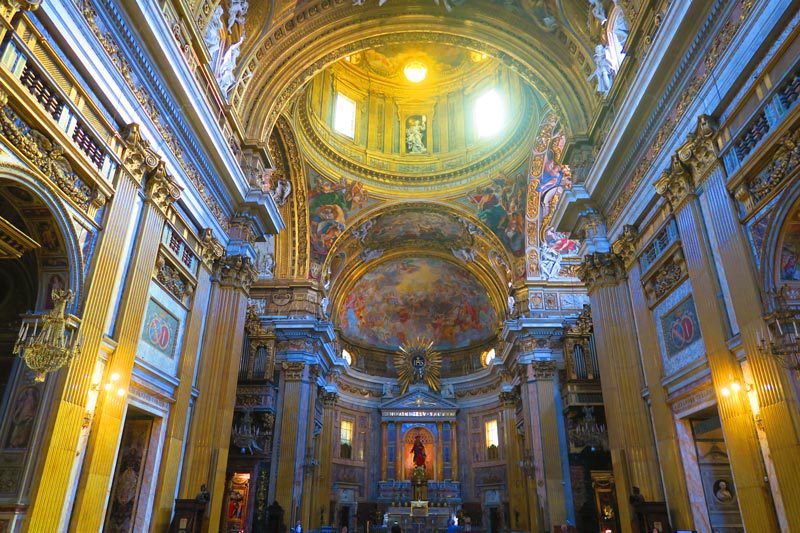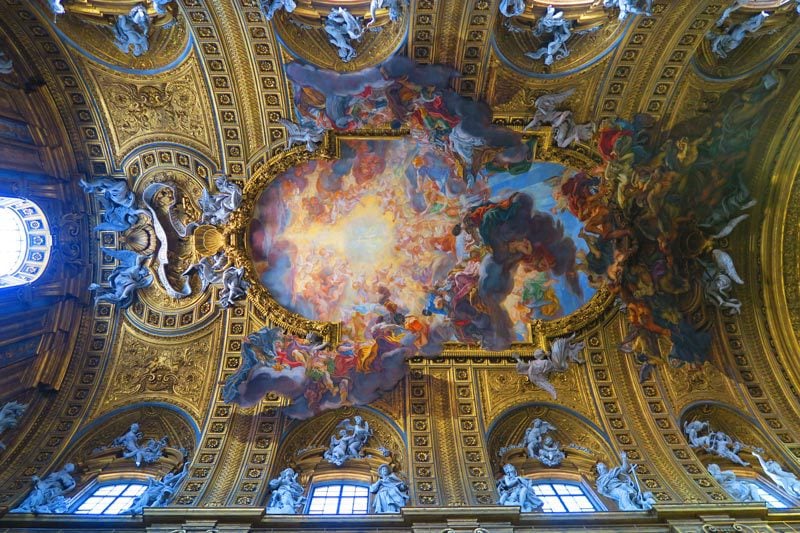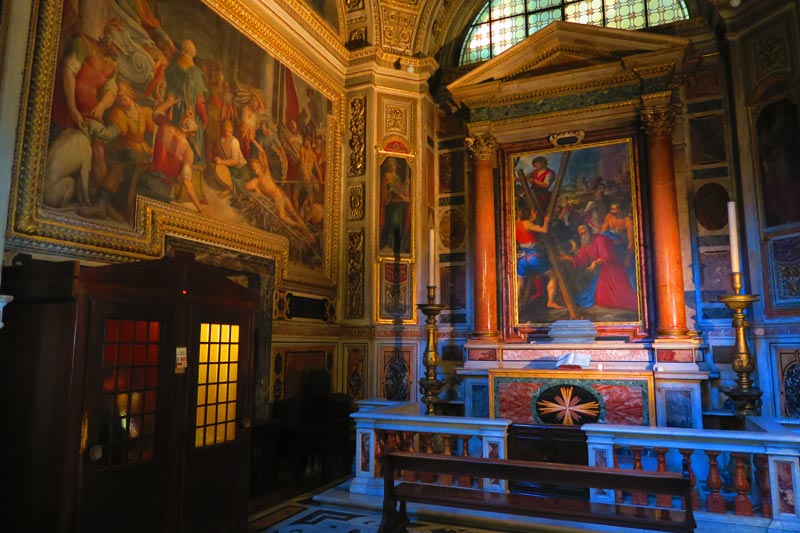 Apart from the remains of the founding saint, whose remains can be found inside the cathedral, the church's interior is literally covered in gold. On the artistic side, be sure to check out the paintings depicting missionary work in India, and the ceiling fresco meticulously painted by Italian painter Giovanni Battista Gaulli, better known as Baciccio. I doubt something of this magnitude can be achieved, even by today's finest painters.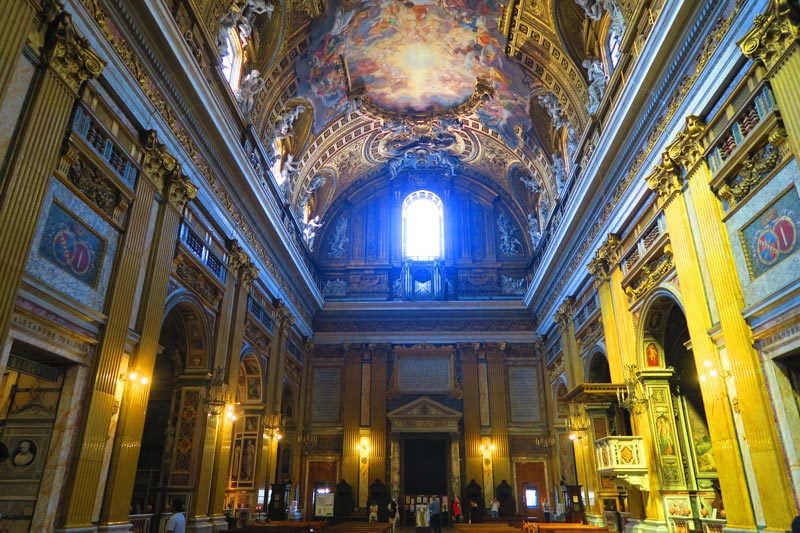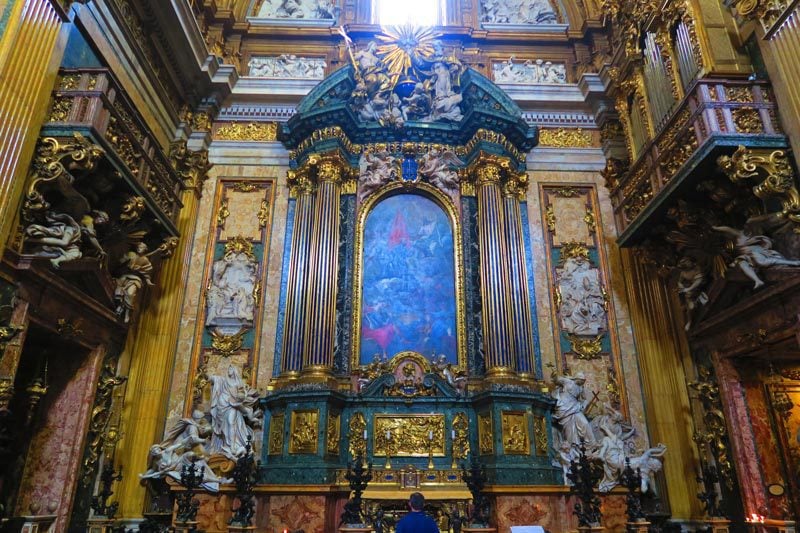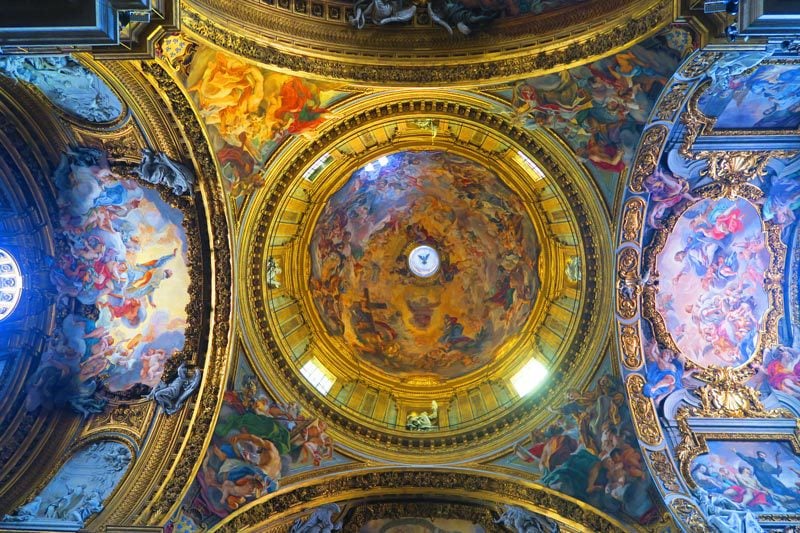 Where: Via degli Astalli, close to Piazza Venezia
Opening times: daily from 7 am–12:30 pm, 4-7:45 pm
Continue to the next page for the remaining list of best churches in Rome!