The Best Hikes In Joshua Tree National Park
Mixing scenic drives with short to medium hikes, remember to pack your hiking shoes before heading to Joshua Tree National Park. Despite its desert location, the park's network of trails leads hikers to historical spots, breezy summits, and secluded oases dotted with palms. This guide will explore twelve of the best hikes in Joshua Tree National Park.
Joshua Tree was one of the stops on a memorable five-week road trip in the American Southwest. During my multi-day visit, I spent most of my time hiking trails on various levels and in different regions of the park. This guide to the must-do hikes in Joshua Tree is based on my experience and extensive research.
Heading to Joshua Tree?
Explore in-depth travel guides and itineraries to the best California road trip stops and combine your visit to Joshua Tree and Palm Springs with additional gems in the American Southwest.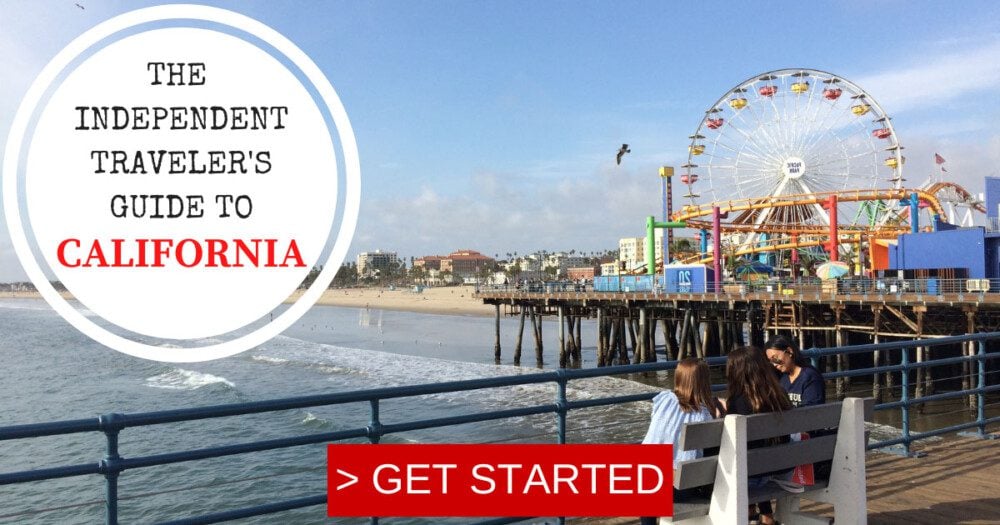 Map of the Best Hikes in Joshua Tree
All trails mentioned in this guide to the best hikes in Joshua Tree National Park are highlighted in this companion map. Simply click on the image to open it in Google Maps.
Joshua Tree National Park Hiking Tips
If you plan to combine hiking with sightseeing during your visit to Joshua Tree, here are useful tips to optimize your experience and keep you safe.
You do not need to secure hiking permits in Joshua Tree National Park. All trails are open to the public year-round with few exceptions. This can change, so stay updated on the park's official website.
Some trails, such as the Fortynine Palms Oasis, are closed during the summer to allow wildlife easy access to water.
If you're hiking in the backcountry (long trails that head deep into remote areas), share your plan with friends or park rangers.
There is no food sold inside Joshua Tree National, but water can be filled at the visitor centers. Bring more food and water than you think but don't leave them in the car; take them with you.
Wear sturdy hiking shoes and thick socks to avoid injuries.
If hiking the longer trails in the park, pack a change of clothes and leave it in the car.
During summer or on hot days, do not extensively hike in the heat of the day.
During winter or cloudy days, avoid canyons and rivers, as flash flooding can quickly surprise you. Check the weather forecast with park rangers in one of the visitor centers.
Protect yourself from the sun!
Don't count on getting a cell phone signal inside the national park. Download an offline Google Map of the region and mark the points of interest you wish to visit before heading out. I also highly recommend purchasing All Trails Pro and downloading trail maps of the hikes on your wishlist so you can navigate offline.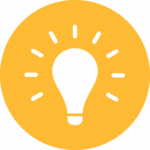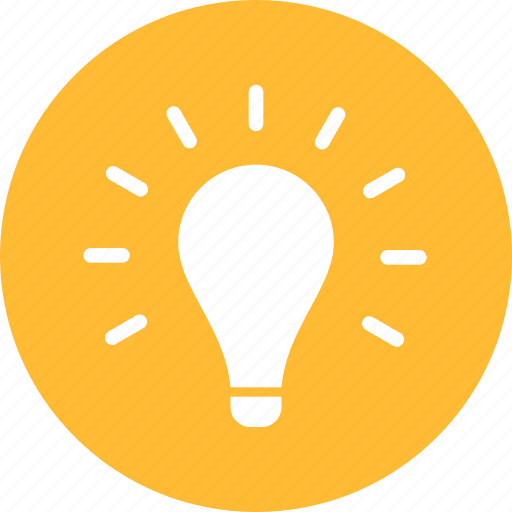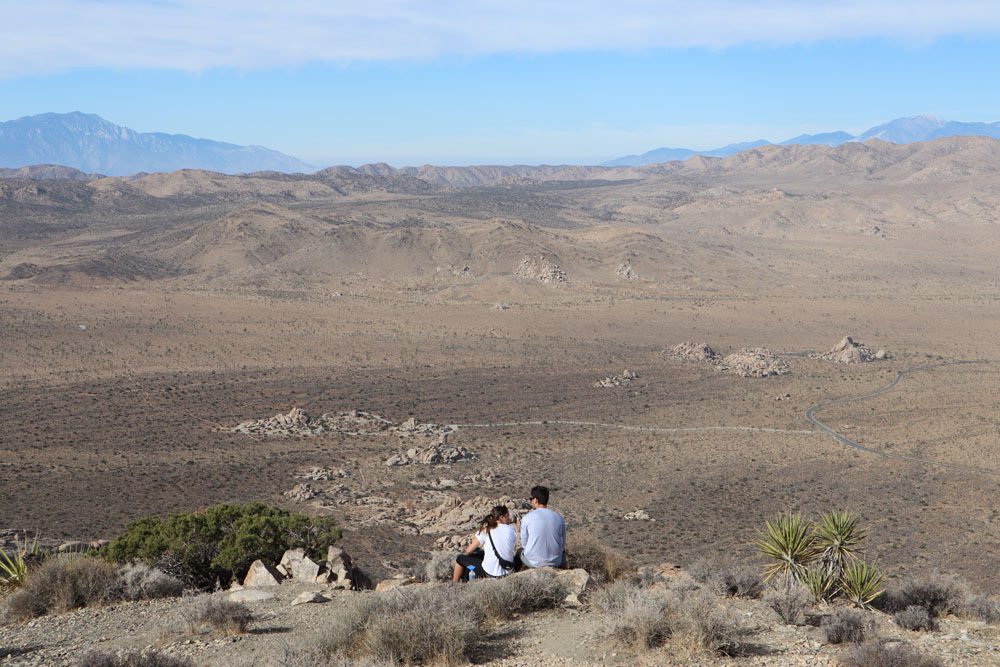 Can You Hike With Your Dog in Joshua Tree National Park?
While dogs are allowed to enter Joshua Tree National Park, they must be leashed at all times and remain within 100 feet of roads, picnic areas, and campgrounds. Therefore, you cannot currently hike with pets in Joshua Tree National Park.
Packing List for Hiking in Joshua Tree National Park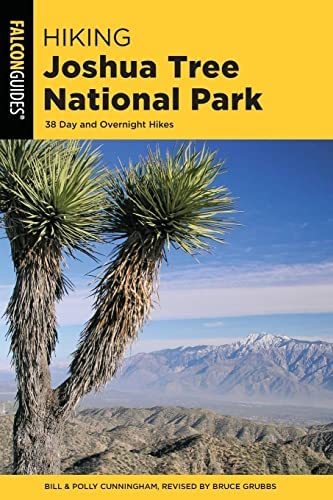 If you plan to hike extensively, buy a copy of a hiking guide to Joshua Tree National Park to go along with a physical map of the area. It's always wise to have a hard copy of travel advice, trail info, and maps.

Other useful reading materials include Moon's Guide to Palm Springs & Joshua Tree if your trip's focus is this region. The Rough Guide to California is a great resource if you're planning a California road trip. Finally, if your visit to Joshua Tree National Park is part of an extended desert road trip, pick up a copy of the Lonely Planet Guide to Southwest USA.

Photography: camera and a tripod for night photography or sunrise/sunset time-lapse videos.

Proper hiking shoes, Hydration backpack, thick socks, walking poles (optional), first-aid kit, and snacks.

Clothing: lightweight and sweat-repelling layers. In the winter and summer months, also pack a light jacket in case of rain or strong winds.

Sun protection: hat, sunscreen, sunglasses.

Dry weather: lip balm, tissues, hand cream.

USB charger to charge your phone in the car.
The Best Hikes in Joshua Tree National Park
This section highlights the best hikes in Joshua Tree National Park, covering hiking trails at all levels. While there are many more trails to choose from, I would say that this list includes all the must-do hikes in Joshua Tree.
Skull Rock
Distance: 1.7 miles, 2.7 km | Difficulty: easy | Trail Map
Skull Rock is a large elongated granite boulder commonly found in Joshua Tree National Park. However, water is the main culprit in turning this ubiquitous boulder into the shape of a skull and, in turn, attracting just about every visitor to the national park. Over millions of years, water on small depressions began to erode the granite, gradually deepening and widening the depressions and eventually leading to their collapse. The hike to Skull Rock is a quick stop along Park Boulevard, though don't expect to have this popular place to yourself.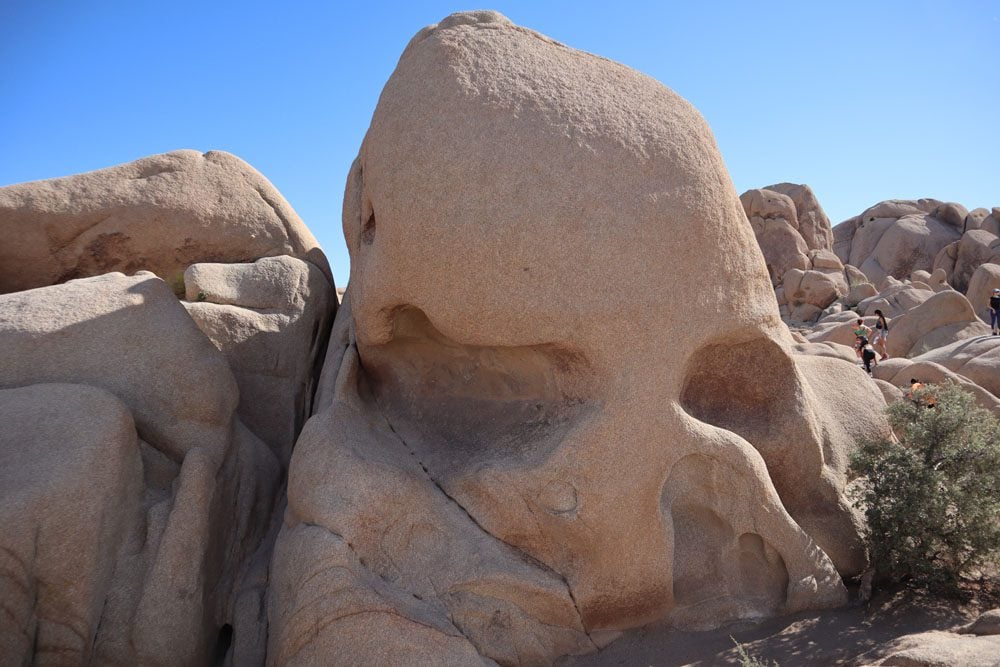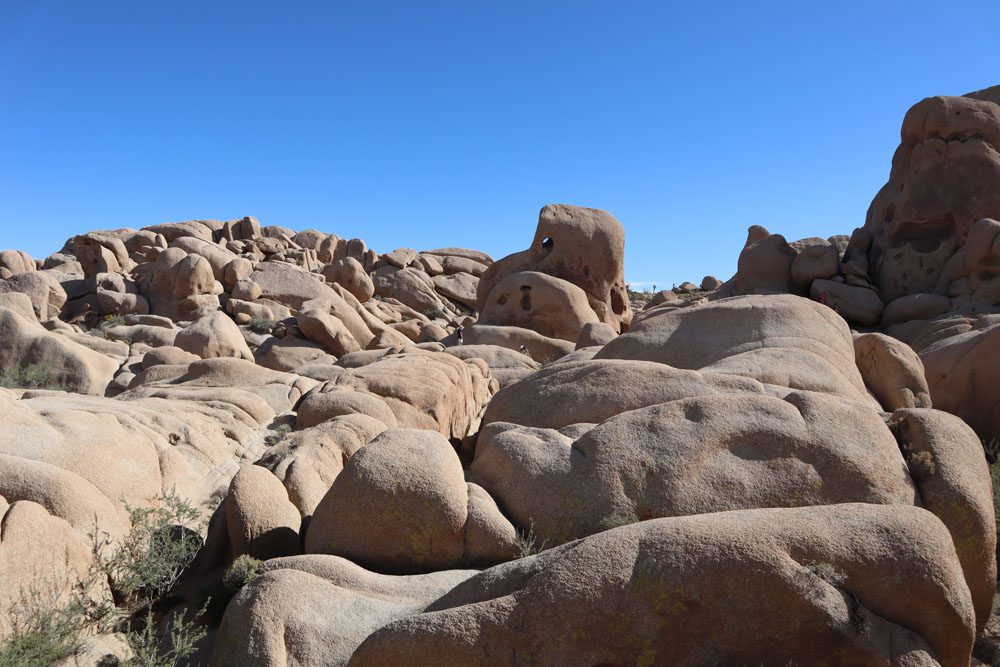 Ryan Mountain
Distance: 3 miles, 4.8 km | Difficulty: hard | Trail Map
The hike to the summit of Mount Ryan is one of the most challenging hikes in Joshua Tree National Park, gaining slightly more than 1,000 feet via a short but steep trail section. From a height of 5457ft (1663m), Mount Ryan's summit is a worthy reward after the strenuous climb. From up here, enjoy unobstructed 360-degree views of the national park and its various desert landscapes. Highlights include 10,831-foot Mount Jacinto in the far distance and the seemingly out-of-place cluster of boulders known as the "Hall of Horrors."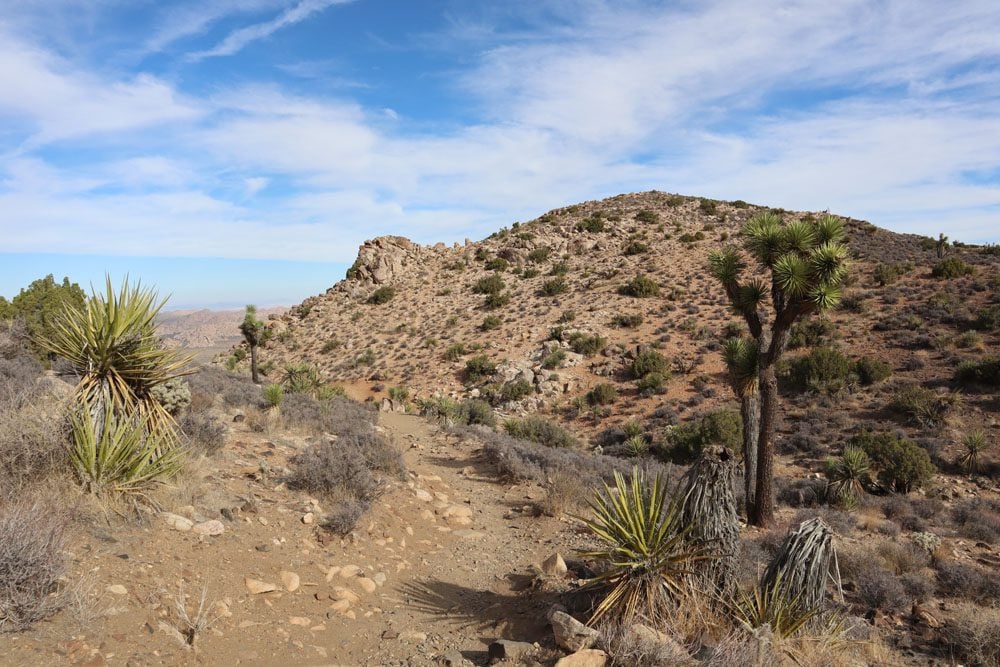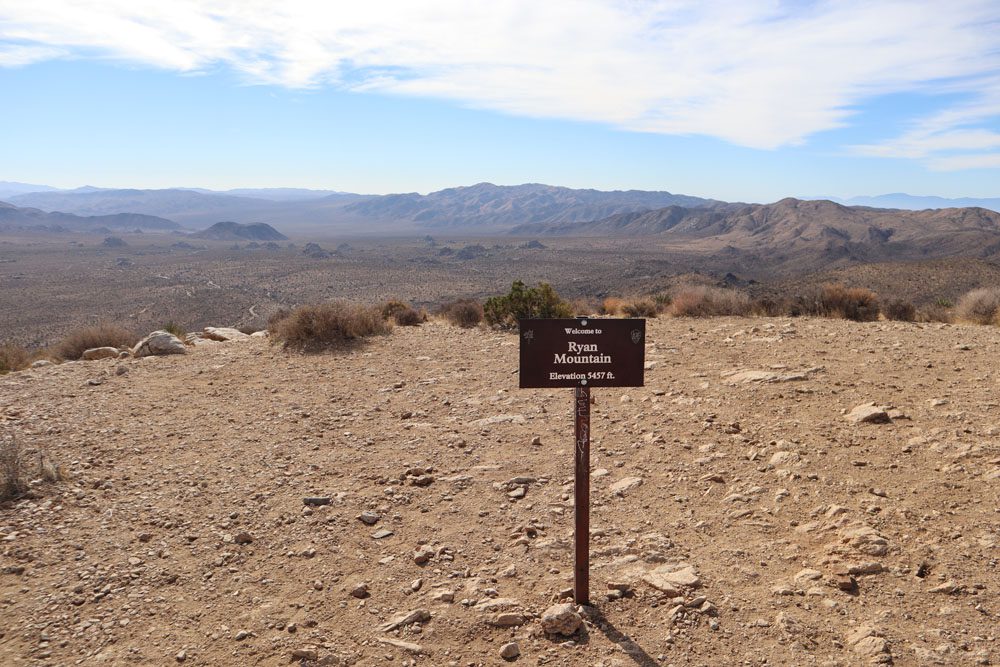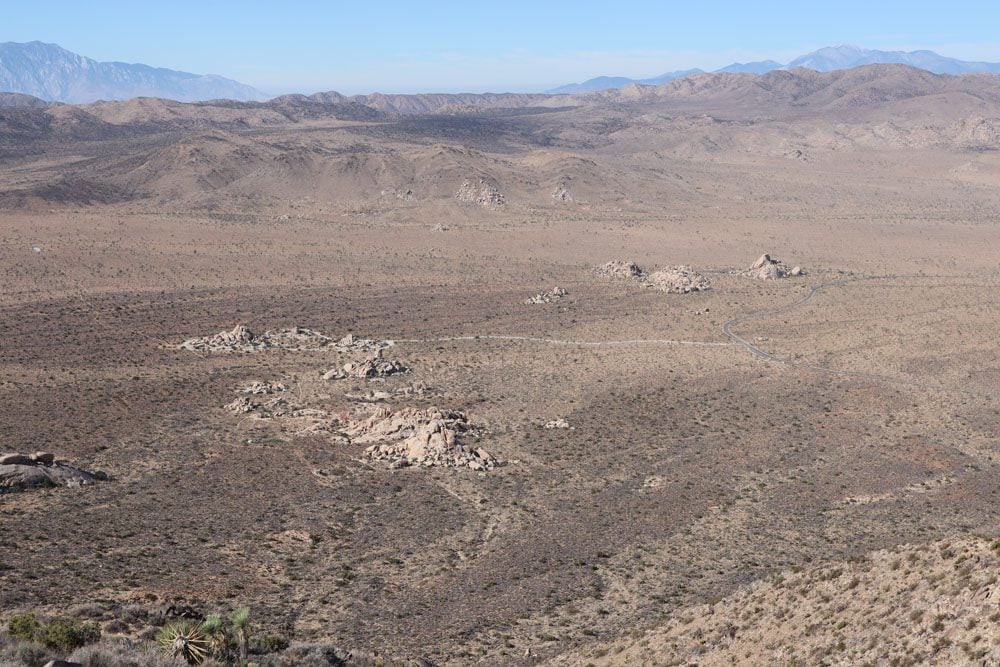 Ryan Ranch
Distance: 1.1 miles, 1.8km | Difficulty: easy | Trail Map
If the Mount Ryan hike is too challenging or time-consuming, but you still want to explore the area, the Ryan Ranch Trail is a much easier option. The short trail leads to the ruins of the Ryan Ranch. Not much is left from the original homestead that J.D. Ryan built in the late 1800s, but a few remaining blocks from the adobe house will spark your imagination. A fire in the 1970s destroyed many of the original structures, but restoration work by the National Park Service helps keep the memory of this unique place alive.
Distance: 1 mile, 1.6 km | Difficulty: easy | Trail Map
The Hidden Valley Nature Trail is one of the best and most accessible hikes in Joshua Tree National Park. They call it the Hidden Valley since large boulders almost completely enclosed the 55-acre interior until a large opening was blasted by local rancher Bill Keys in 1936, just before the area received its protected status. The "hidden valley" was lush with tall grass, the perfect location for a makeshift corral used by rustlers to hide cattle for sale in the late 1870s.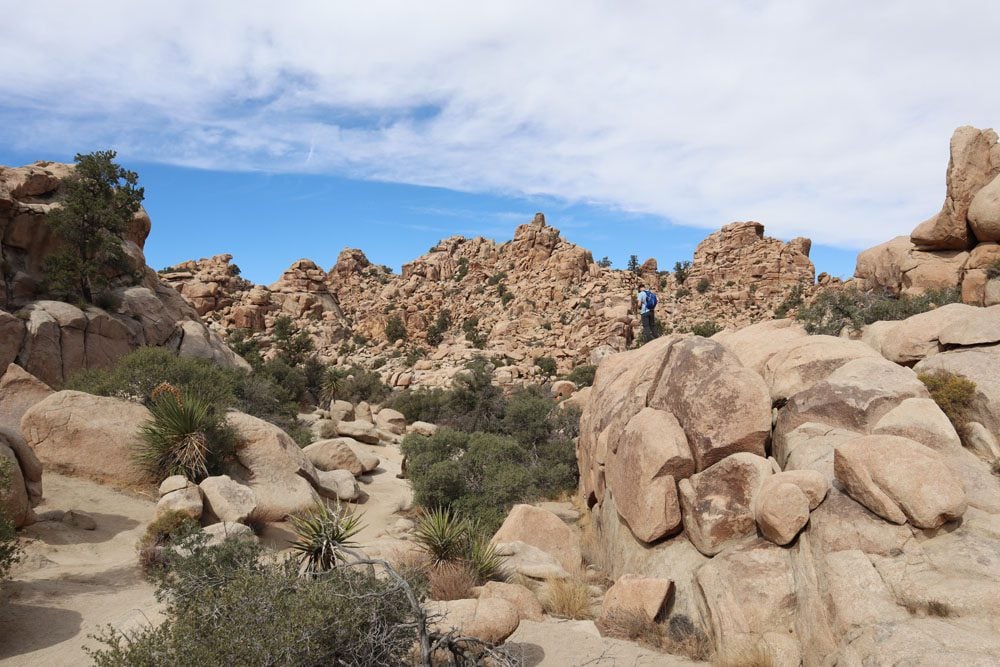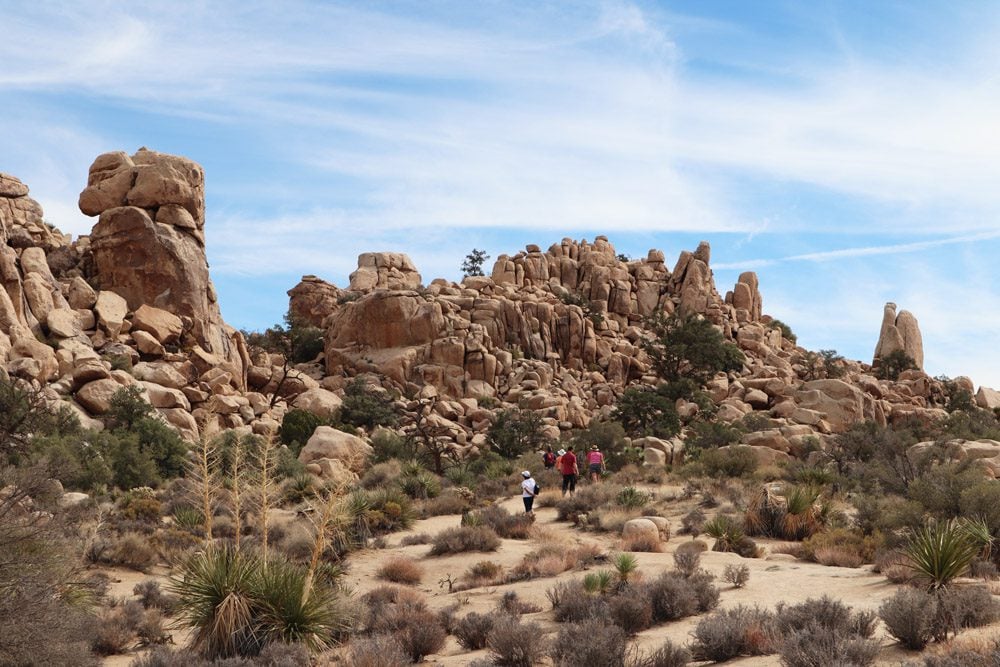 Lost Horse Mine Trail
Distance: 4 miles, 6.4 km | Difficulty: moderate | Trail Map
This moderate hike has a short optional detour to the summit of Lost Horse Mountain, but its main appeal is the remnants of the old mine that yielded about five million dollars worth of gold and silver between 1894-1931. The trail partly runs along the original road that was used to carry oar and supplies to the mine. You'll also come across open shafts and dilapidated structures that recount the mine's glory days.
Fortynine Palms Oasis
Distance: 3 miles, 4.8 km | Difficulty: moderate | Trail Map
Hike to one of Joshua Tree's natural desert oases on the Fortynine Palms Trail in the park's northern section. The hike begins with an ascent, steep in short sections, offering wide views of the small town of Twentynine Palms and the area. The trail then descends to the secluded desert oasis, which feels detached from the outside world. Grab a seat under the shade and listen to the orchestra of swaying palms and birds. If you quietly come early in the morning or late afternoon, there's a better chance of spotting wildlife in the area.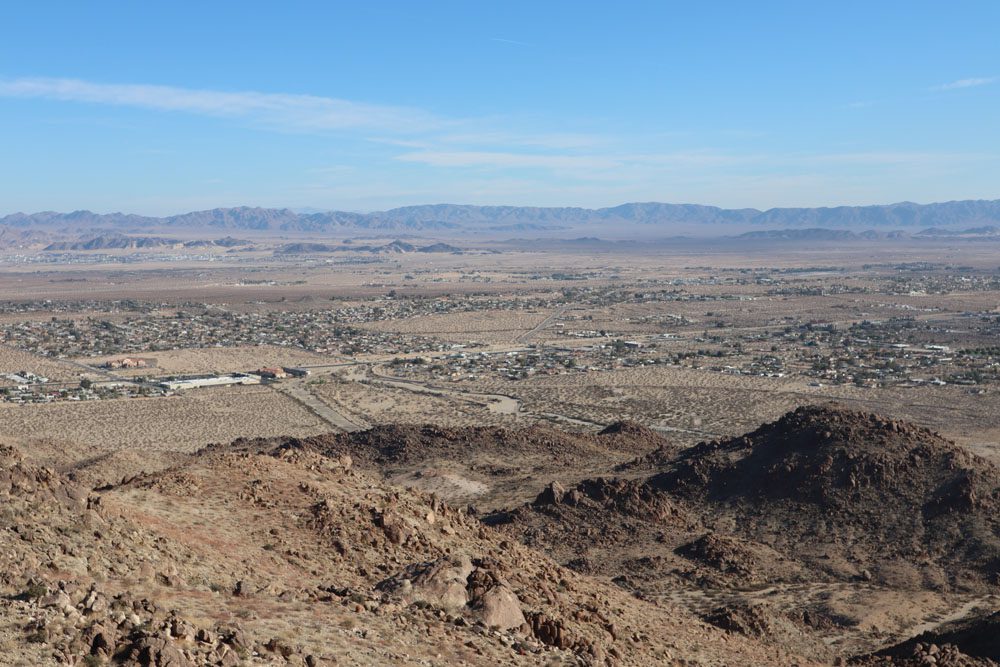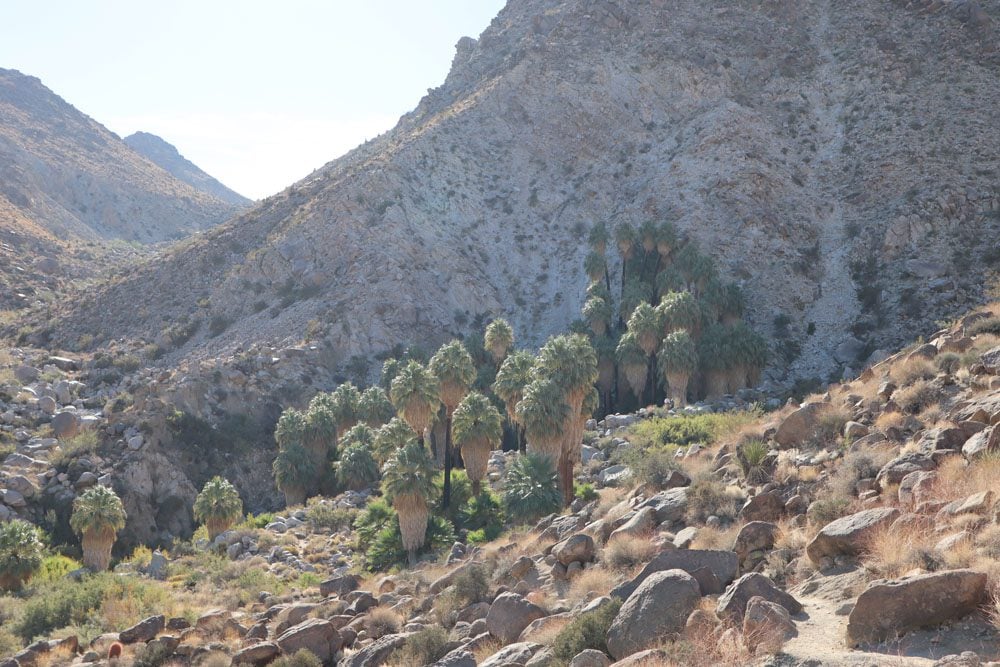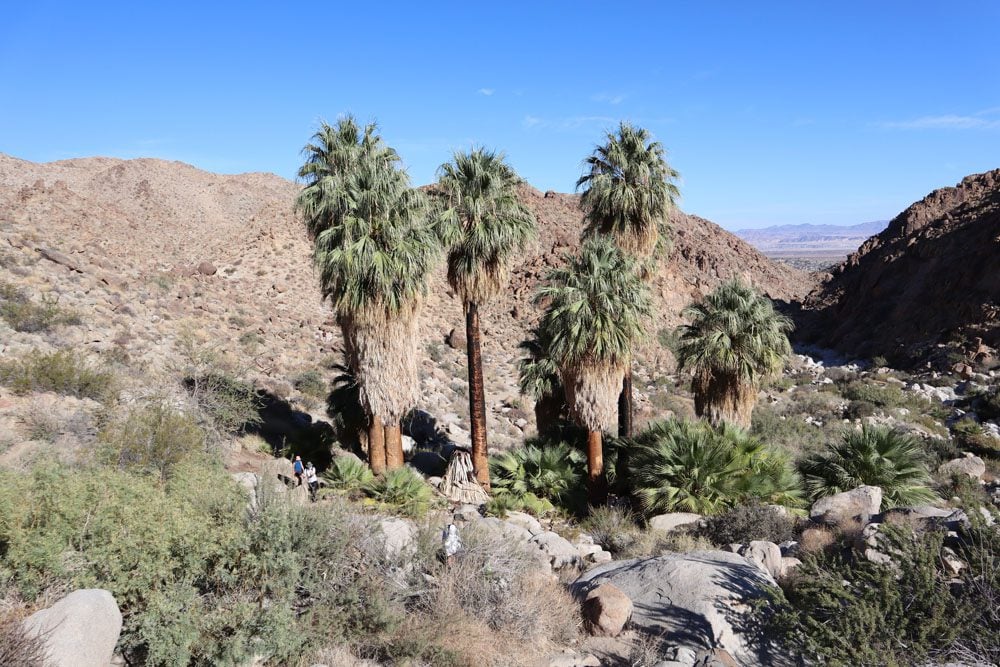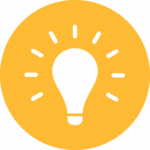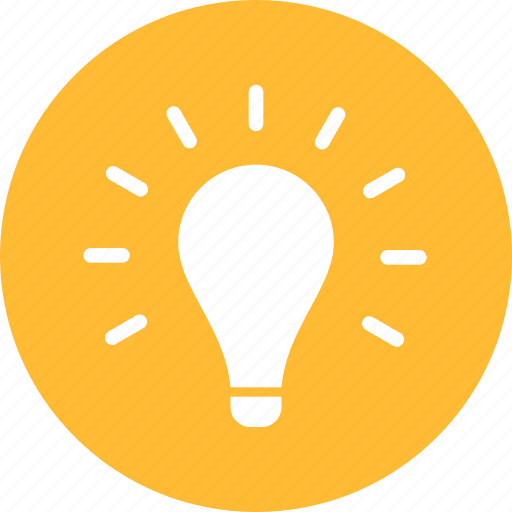 Pro Tip
The 49 Palms Oasis trail is closed during summer to allow bighorn sheep easy access to fresh water. The longer Lost Palms Oasis Trail is a good alternative in the park's southern section near Interstate 10.
Cholla Cactus Garden
Distance: 0.25 mile, 0.4 km | Difficulty: easy | Trail Map
More of a gentle walk rather than a hike, the Cholla Cactus Garden is mentioned on this list of the best hikes in Joshua Tree National Park since it's one of the park's must-see attractions. The thorny garden is located in Pinto Basin, a barren area where the Mojave and Colorado deserts meet. The cactuses radiate under the high noon sun, but early morning or sunset are also popular times to visit. The cactuses are also known as "jumping cholla" thanks to their ability to latch onto visitors and animals easily. So keep a safe distance while strolling through this stunning desert garden.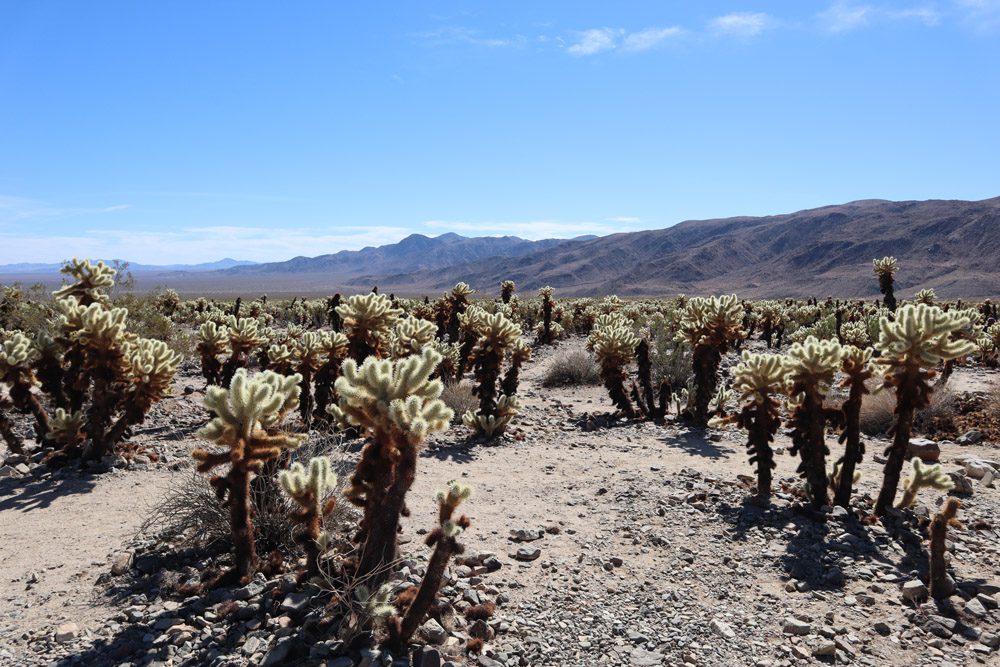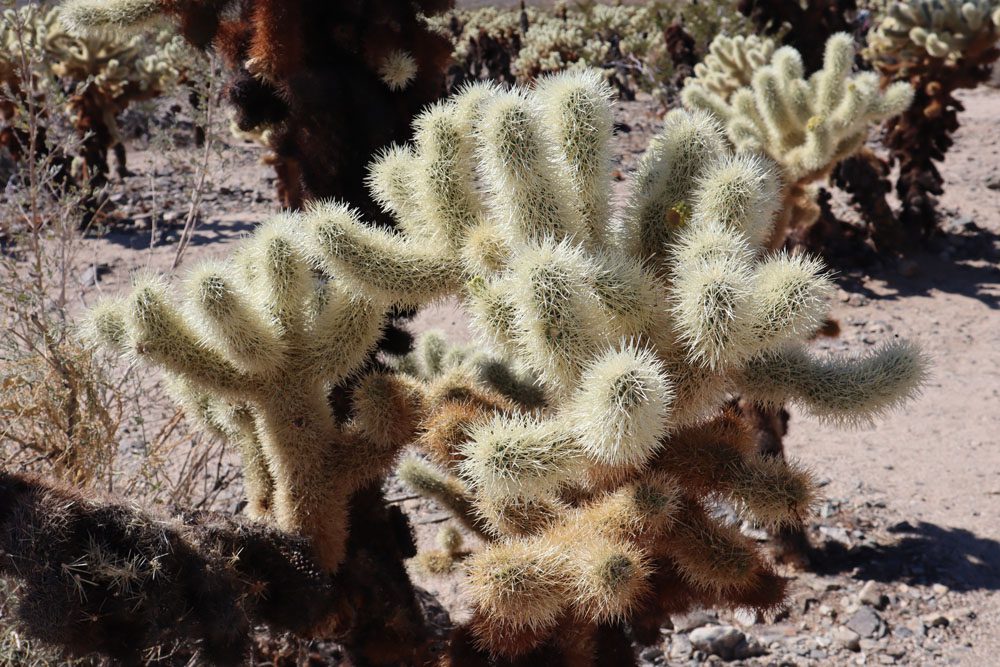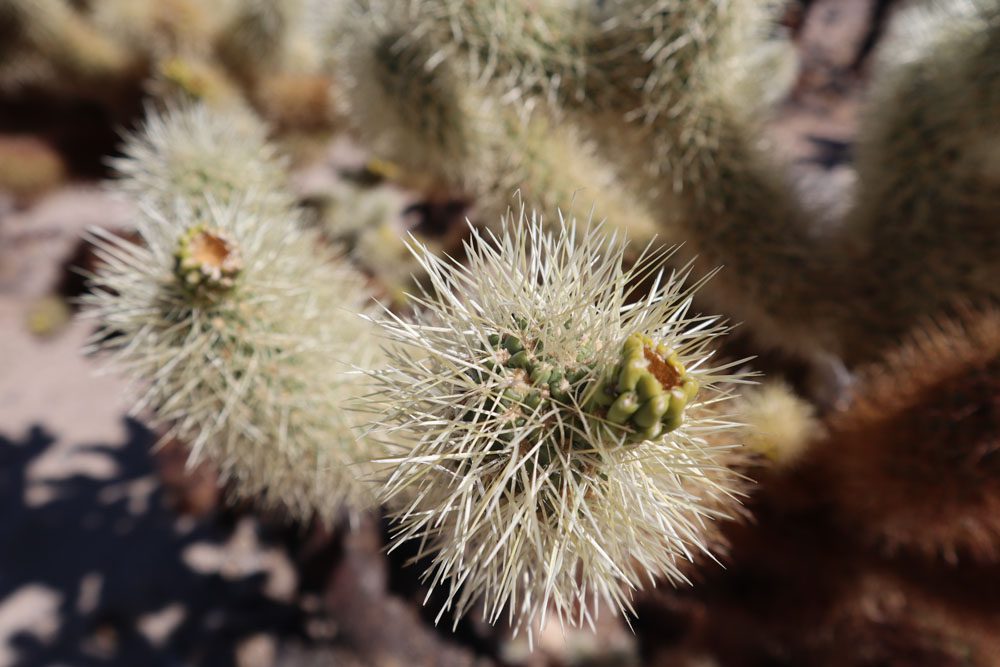 Barker Dam Nature Trail
Distance: 1.1 miles, 1.8 km | Difficulty: easy | Trail Map
The hike to Barker Dam is an enjoyable complement to the Hidden Valley Nature Trail, and you can actually use a connecting trail to reach one from the other. This hike has it all, including petroglyphs, Joshua trees, and peculiar-looking smooth granite boulders that are often overlooked in favor of the park's namesake tree. Barker Dam does dry up during the summer months and drought-prone years. Still, it serves as a reminder of the extreme effort undertaken by local ranches back in the day to provide water for cattle and, in turn, enable them to make a living in such a remote and hostile location.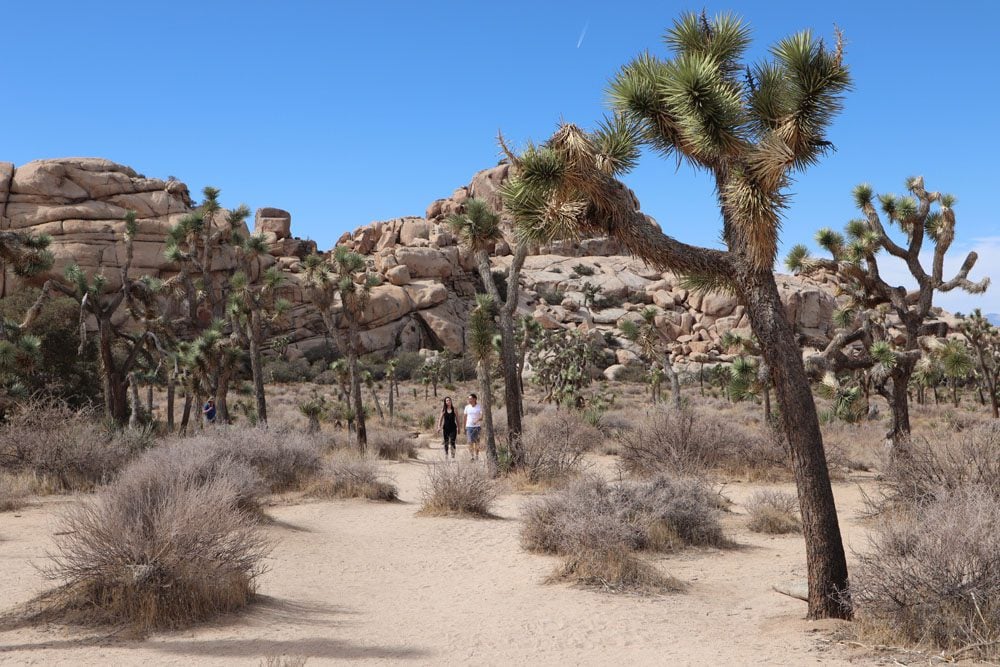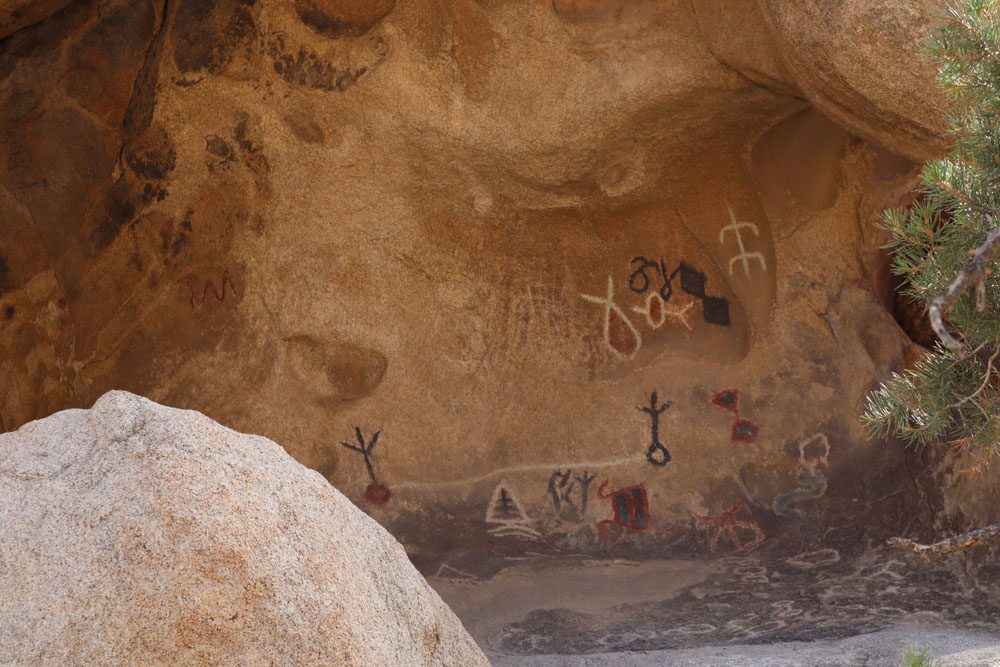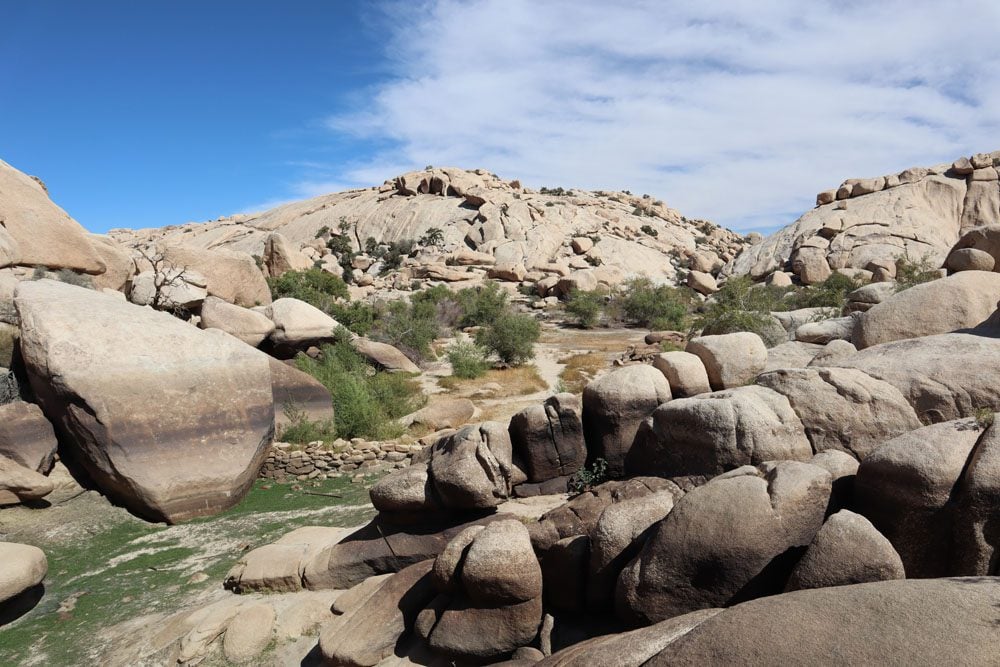 Wall Street Mill Trail
Distance: 2 miles, 3.2 km | Difficulty: easy | Trail Map
We've covered a former mine on the Lost Horse Mine Trail, but the hike to Wall Street Mill pairs so well with the Barker Dam Trail, that it's hard to resist paying a visit. Beginning with an optional detour to the ruins of a former home, the trail returns to its course and heads to the old mine via an area rich with Joshua trees, signature granite boulders, and historical sites.
At the ruins of the old mill, check out what's left of the two-stamp gold ore crushing machine, along with rusting antique cars. This is the work of William Keys, who purchased the mine and took it to the next level until its official closure in 1996. A colorful figure, look for the trailside monument erected by Keys after shooting his neighbor in self-defense.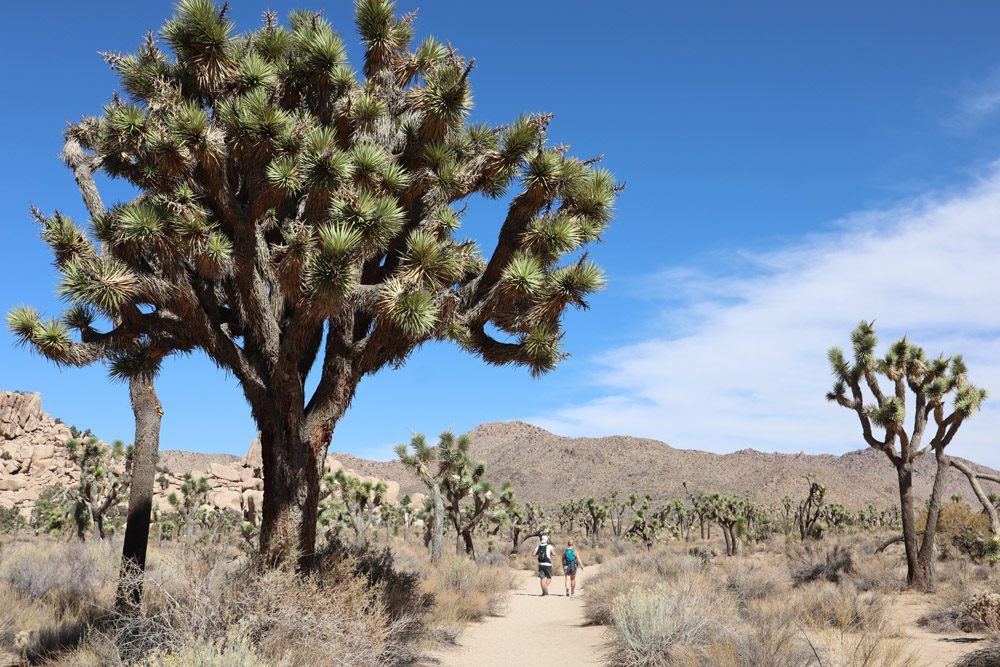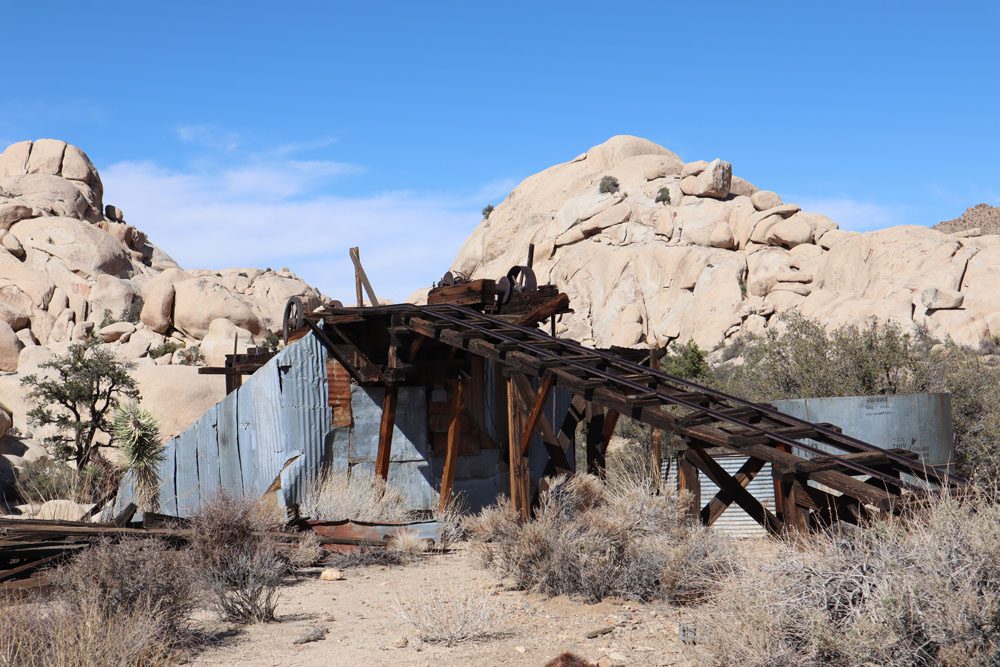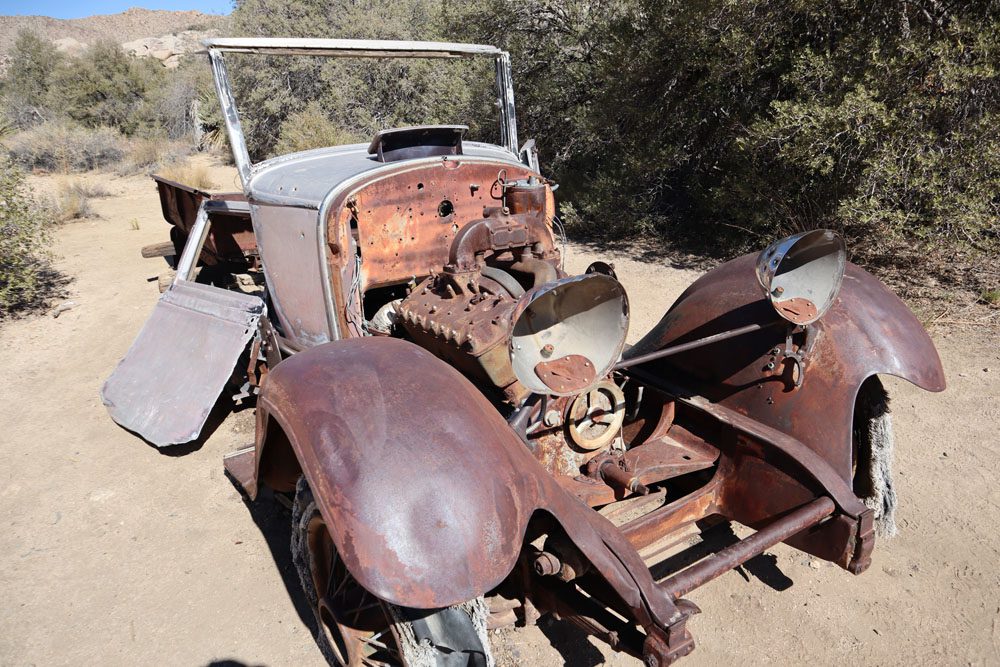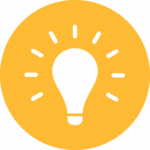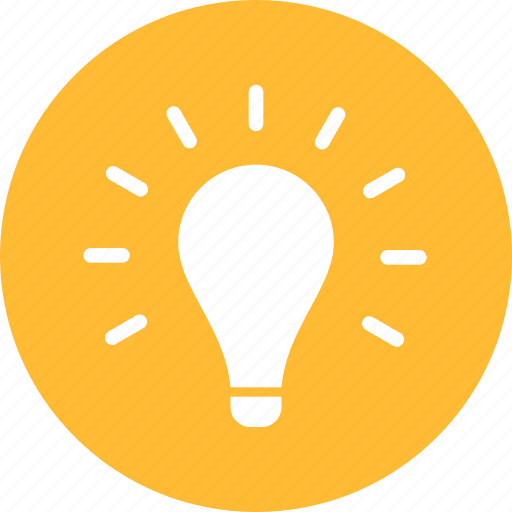 Pro Tip
Easily combine the Barker Dam Nature Trail with the Wall Street Mill Trail. Hike the former in a clockwise direction and merge with the latter just before returning to the trailhead. You can slightly shorten the distance by driving to Wall Street Mill's trailhead parking area.
Arch Rock Trail
Distance: 0.2 miles, 0.3 km | Difficulty: easy | Trail Map
This is another short and easy hike in Joshua Tree National Park. Famous for Joshua trees which grow in abundance, and smooth rounded granite boulders, here's a chance to spice things up with a hike to a natural rock arch. The trail to Arch Rock begins at the Twin Tanks parking lot and loops around the arch. It's a popular spot, and the secluded arch might initially be a little tricky to find. For an extra adventure, try hiking to nearby Heart Rock.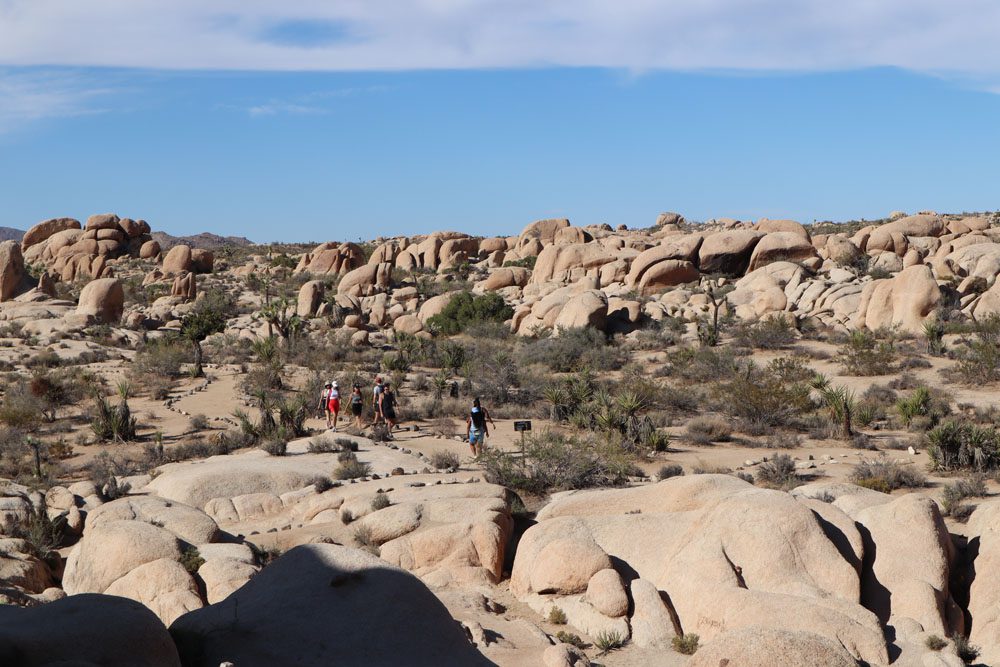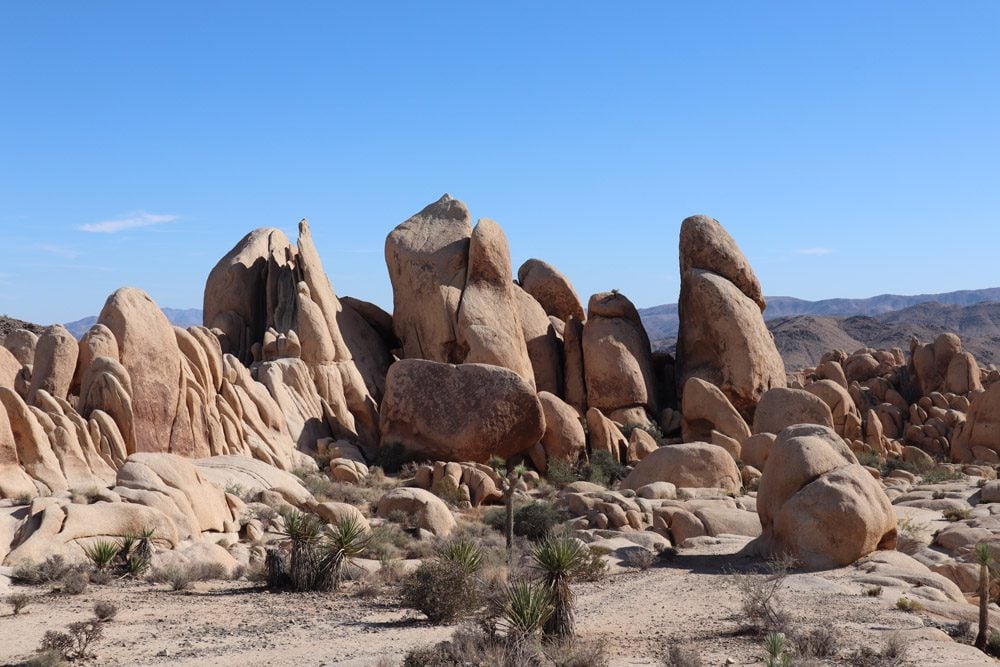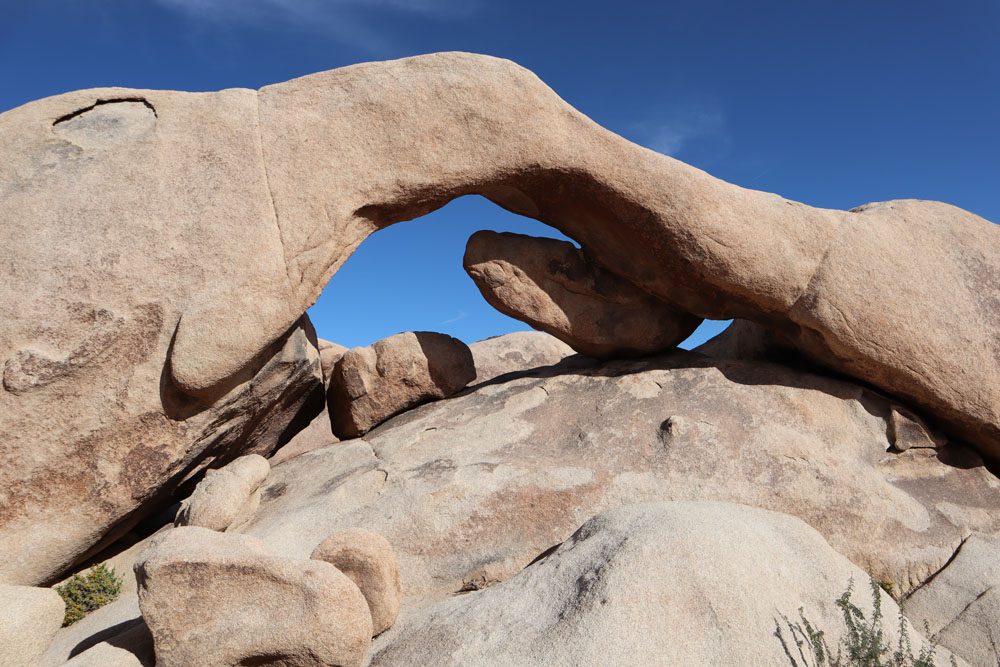 Mastodon Peak Trail
Distance: 2.6 miles, 4.2 km | Difficulty: moderate | Trail Map
I'm ranking the Mastodon Peak Trail as moderate only because of the challenging yet optional scramble to Mastodon Peak. Otherwise, this is an easy hike that pairs well with the Lost Palms Oasis hike. The trail begins at the lush Cottonwood Spring Oasis, where you might see different species of birds if conditions are right. The trail then completes a loop via the scenic peak and the ruins of Mastodon Mine.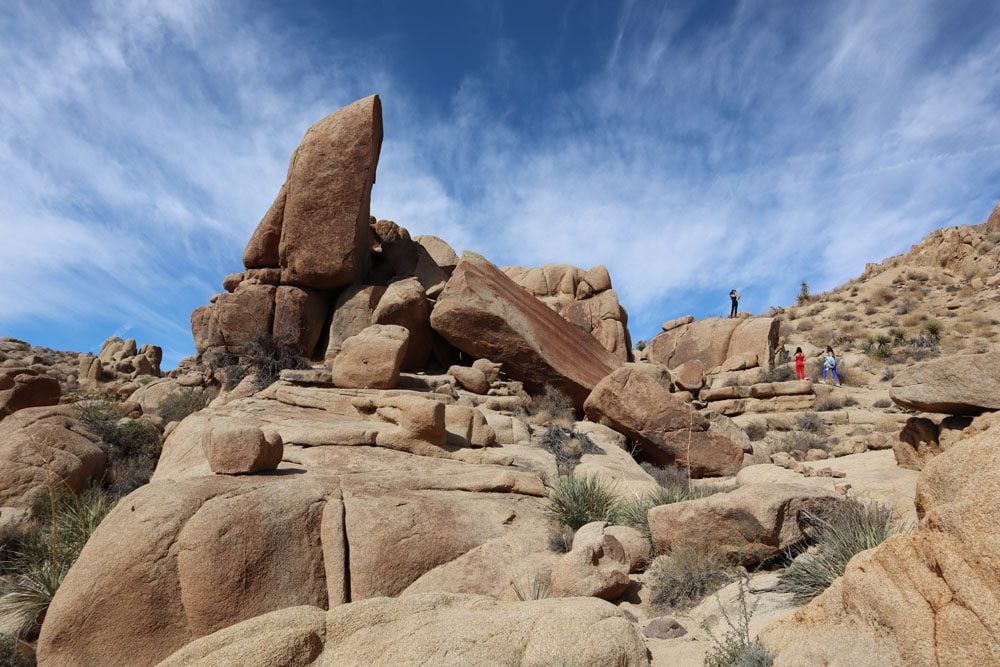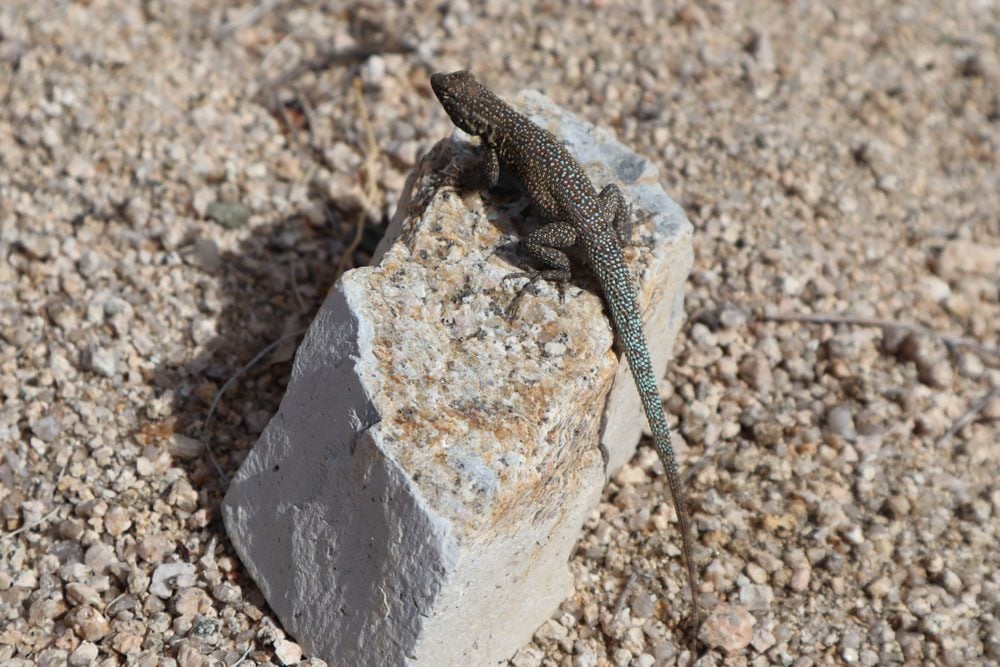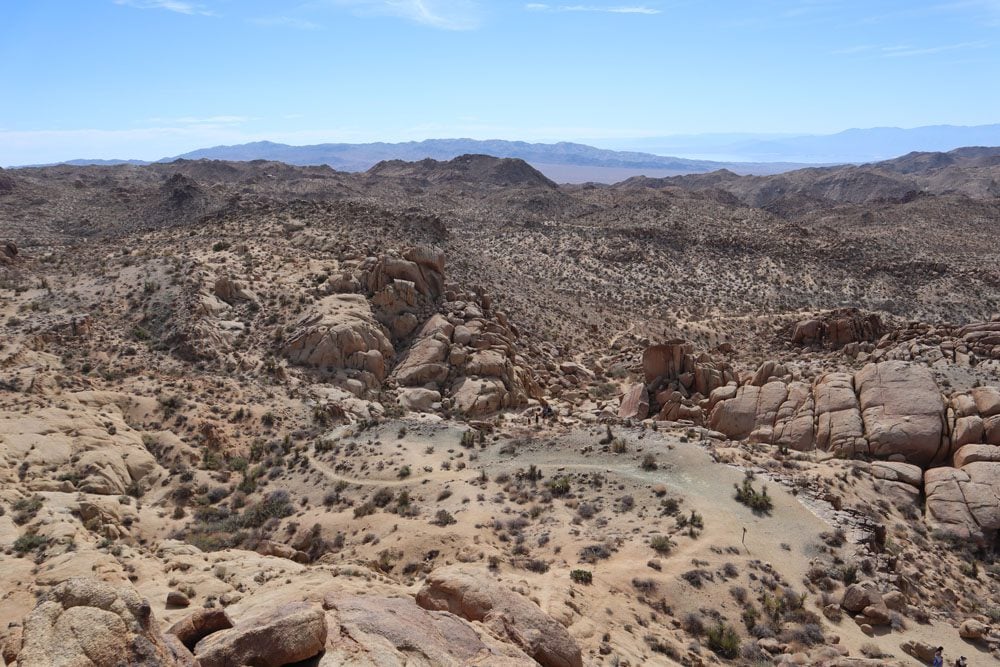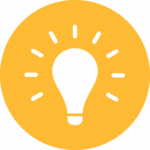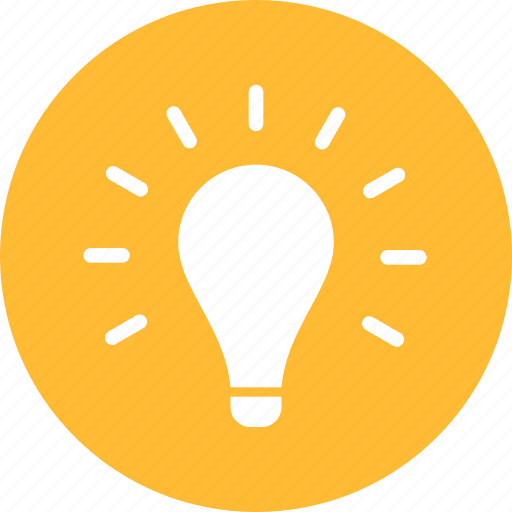 Pro Tip
The Mastodon Peak Trail is easily paired with the hike to the Lost Palms Oasis. If combining the two hikes, stick to a clockwise direction on the Mastodon Peak Trail.
Lost Palms Oasis Hike
Distance: 7.5 miles, 12 km | Difficulty: moderate | Trail Map
The Hike to the Lost Palms Oasis is one of the longest hikes in Joshua Tree National Park, so plan and pack accordingly. Starting from Cottonwood Spring, the trail gently traverses an area rich in desert fauna, occasionally descending into a dry wash for a few minutes before returning to the high ground. The goal is to reach Lost Palms Canyon, seen from a short distance or up close if you carefully scramble through the canyon. This is a peaceful area, far away from the crowds you've encountered in the more popular northern section of the park. Stick around for a few minutes and wait to see if any birds or wildlife pay a visit.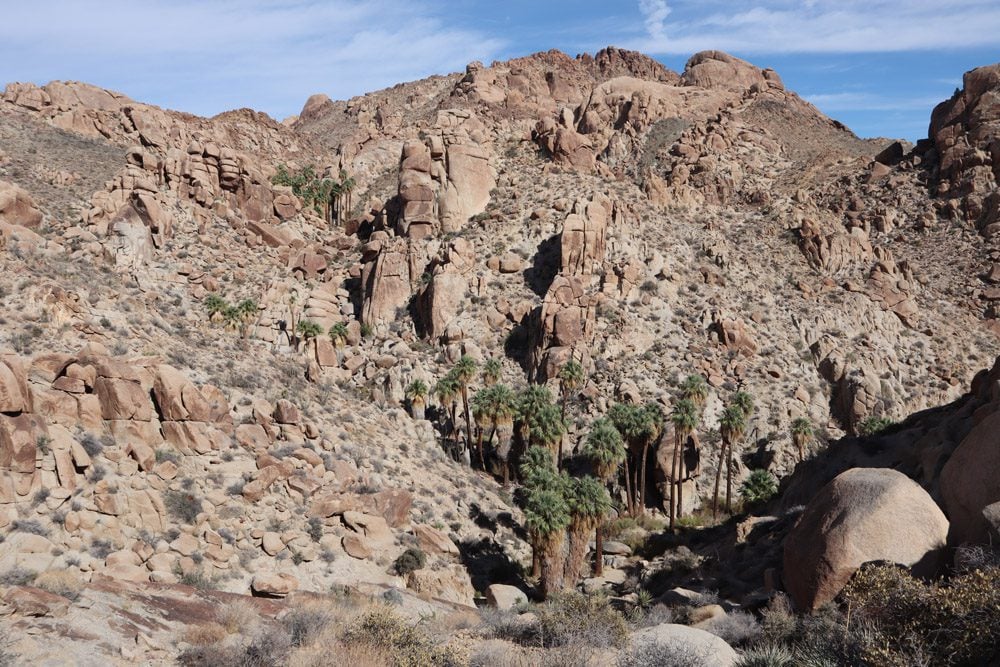 What's Next?
This wraps up my list of the best hikes in Joshua Tree National Park. As you've seen, most of the hikes aren't very long or hard, so if it's not too hot, you could potentially complete many or all of the listed hikes on a short visit to Joshua Tree. Plan your visit to Joshua Tree with this in-depth travel guide, and check out additional California guides, including to nearby Palm Springs. If you're planning an epic desert road trip, explore additional travel guides to the American Southwest.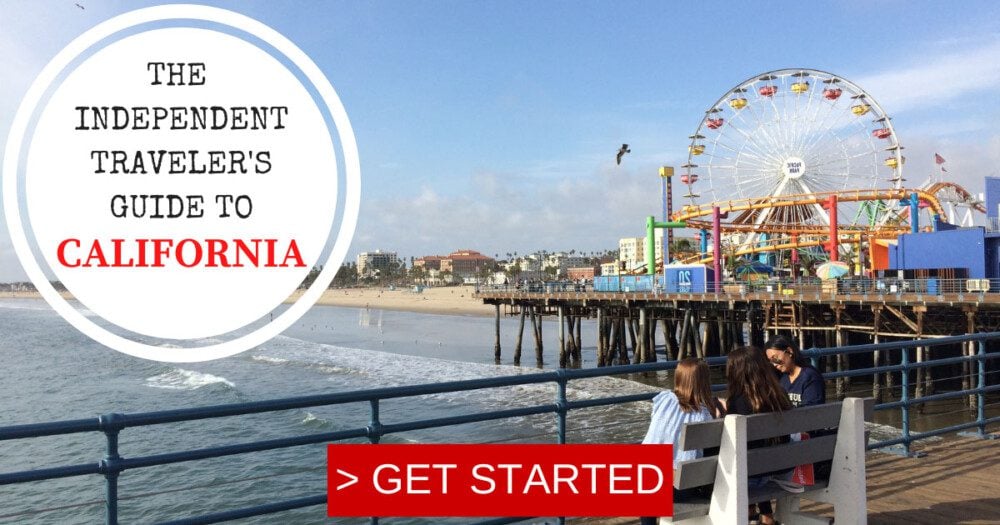 ---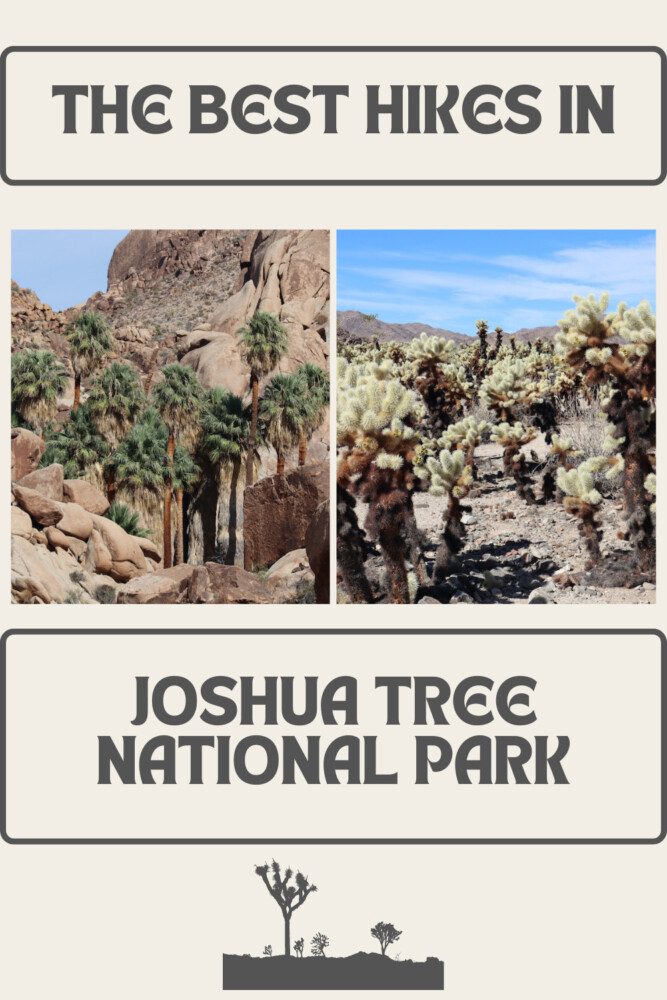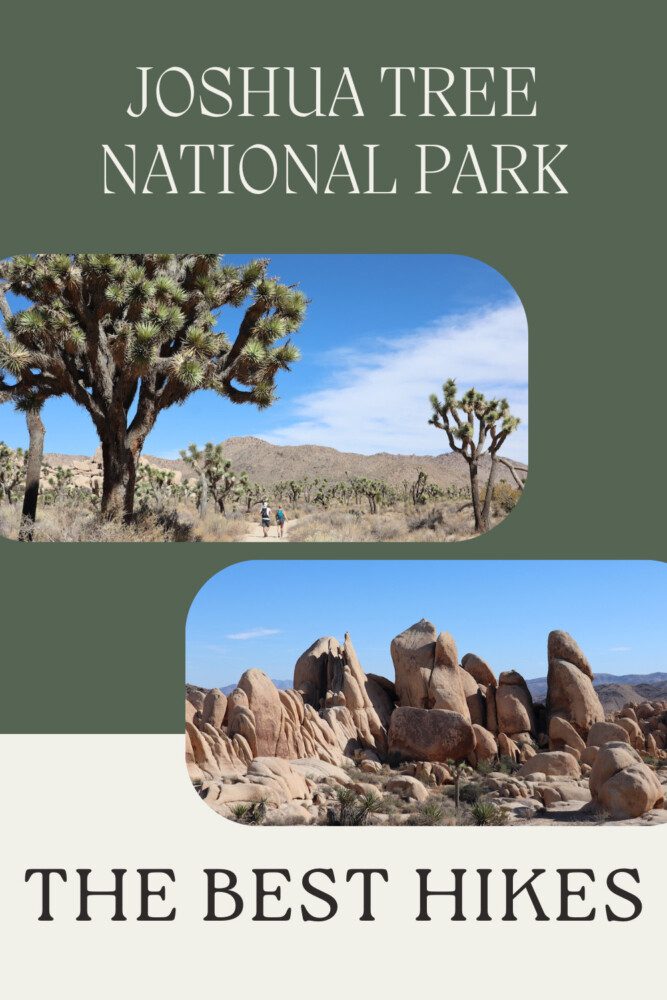 Pin These Images To Your Favorite Boards