With one island down and 8 more to go on this island hopping segment of my voyage across French Polynesia, I thought it would be super difficult to ever top the memorable week spent in pretty little Maupiti. To try my best, the next stop should test the limits of French Polynesia's beauty. It's the island that's on everyone's bucket list, the jewel of the crown, where movie stars come to hide and newlyweds come to start off their life of marriage with a huge debt. I'm of course talking about Bora Bora. In this week's update from the South Pacific Islands, we'll explore the real Bora Bora. I guarantee you'll like this one!
Heading off to French Polynesia? In-depth island guides to all 5 archipelagos await you, including sample itineraries and essential travel tips & tricks.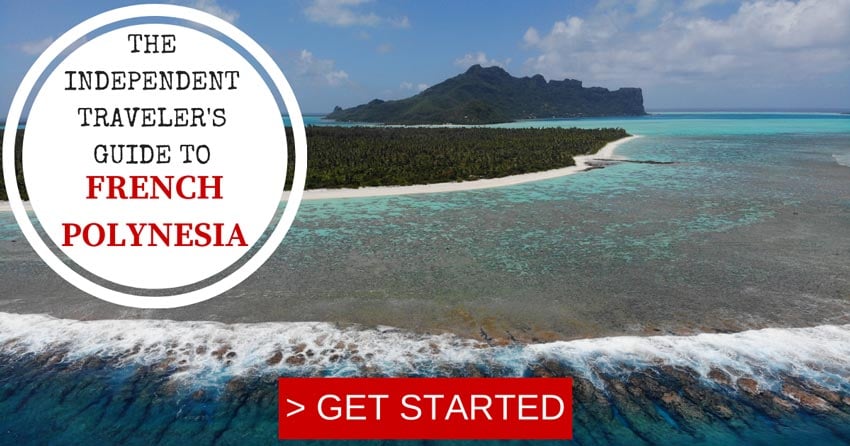 Sergeant, I'm going for a swim
Bora Bora, known as the 'Romantic Island', is regarded around the world as one of the most beautiful islands on our blue planet. There are many islands around the world so why Bora Bora? Well, maybe it's because of the towering mountain, with its signature peak, circled by sandy islets (motus) and separated by pristine waters? That's certainly all true, but Bora Bora ironically owes its global fame to one of the darkest periods in mankind's history.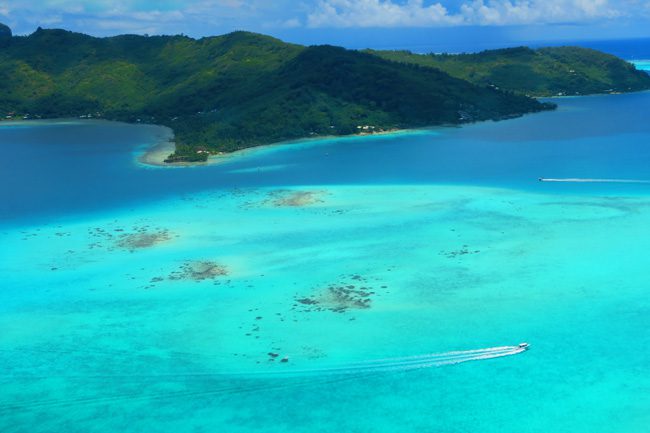 During WWII, over 6,000 US soldiers were happily stationed here to protect against a possible Japanese invasion, like in Vanuatu's Espiritu Santo Island and American Samoa. There are still a few reminders of their tenure on the island in various spots. The lucky soldiers had little to do other than to splash in the waters and catch some sun. Upon their return back home, they took with them stories of paradise and voila! the Bora Bora hype had begun. Today, the island is a must for anyone in search of paradise and the ultimate luxury. But there's a lot more to Bora Bora than just those iconic overwater bungalows.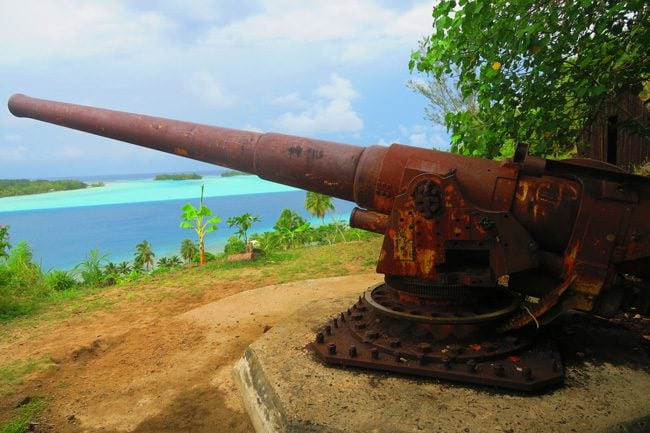 A ticket to paradise
To get to paradise, I had to fly from Maupiti to Tahiti to catch the flight to Bora Bora. The Air Tahiti captain provided an early tease, with a flyby right over the island. At the departure lounge in Tahiti, I couldn't believe my eyes: a boarding pass to Bora Bora with my name on it. I've been waiting for this baby for a long time, so let's begin.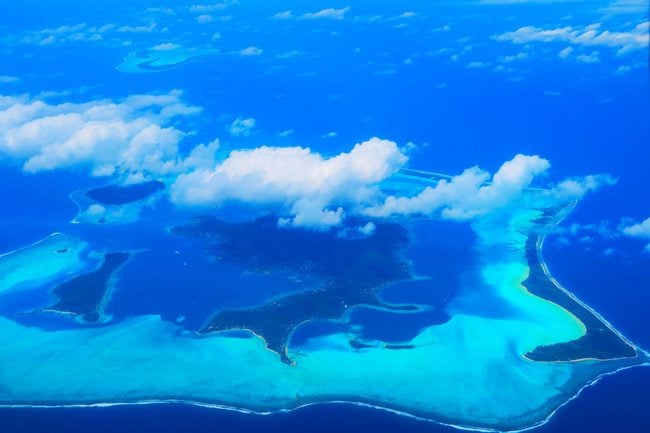 As you might recall in the previous update from Maupiti, inter-island flights in French Polynesia are more like scenic flights. You just need to ensure you have a window seat on the 'right' side of the plane. Sadly for me, I gambled wrong this time around, but I did get a great view of Huahine Island and a sunset view over Maupiti, far away on the horizon. This mistake would be corrected upon departure, so stick around for the end for great aerial shots of Bora Bora!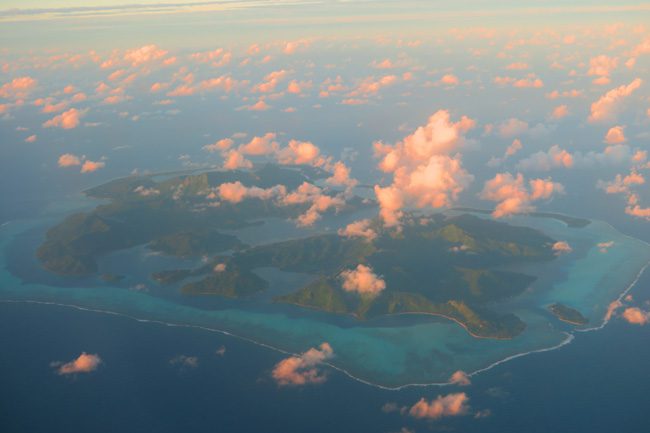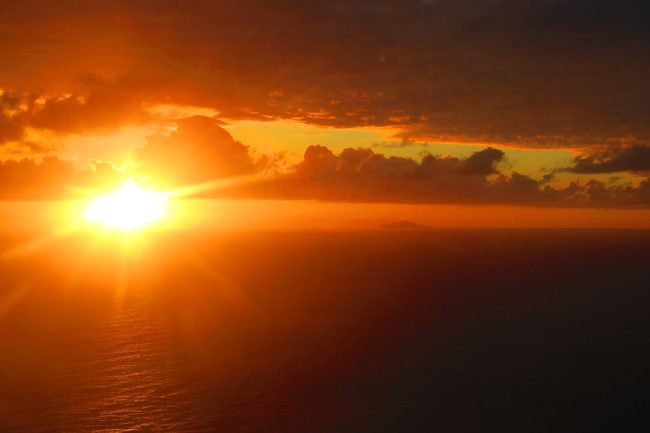 Bora Bora's airport is located on one of the outer motus, just like in Maupiti. I hopped on the ferry to the main island just as the sun was setting, with Bora Bora's signature peak glowing in the background.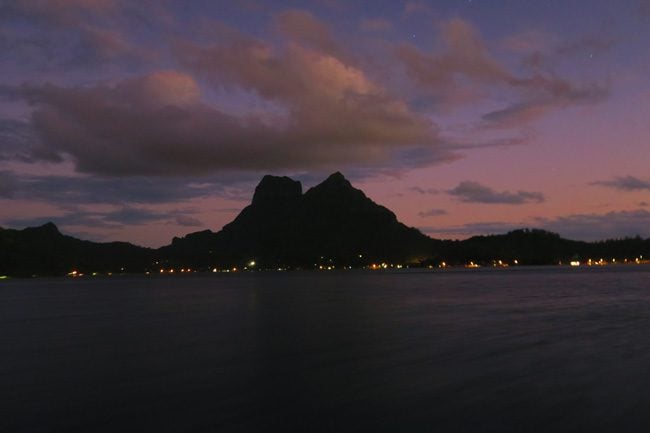 You don't have to stay in a luxury resort to properly enjoy Bora Bora, though I can imagine it's quite the experience. The main island has a few good options, and I opted to stay in the main village of Vaitape. The village was quite happening at night by local standards, with food trucks (roulottes) serving chow mein dinners and locals hanging around the pier to catch up on today's news.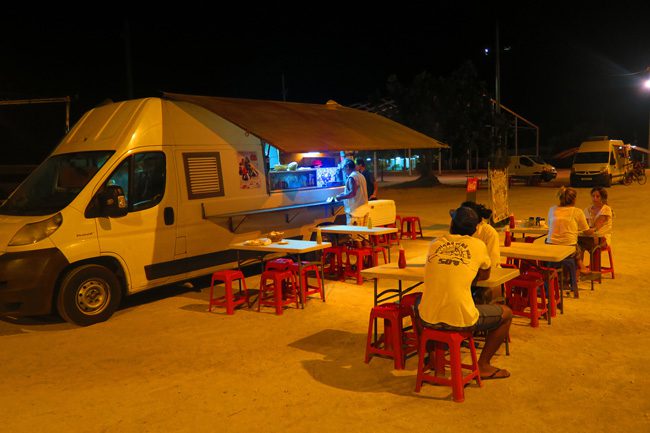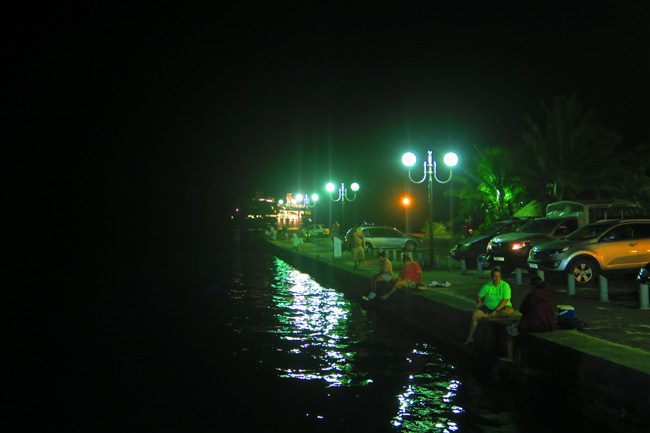 It really does look like this
My first day in paradise was greeted with a warm sun and hardly any clouds. It was time to hit the road and check out what all the hype is about. The task for the day was to pay a visit to the main island's prime beach, Matira Beach. Though a good 7 km's away, it was such a nice day so I opted to put my feet to work and get some tropical exercise. By early morning, the village of Vaitape was a happening place. Locals were running some errands, the kids were arriving at school and the local pearl shops were gearing up for another day of selling one of the country's top exports.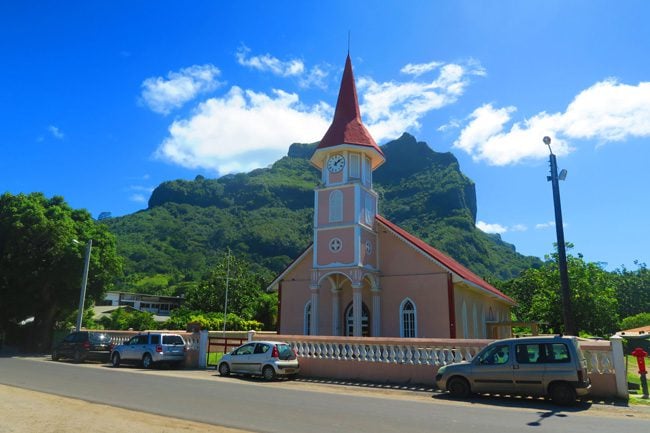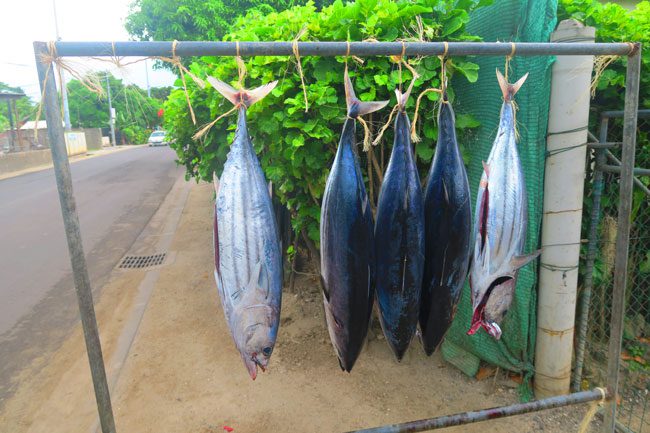 Locals on the main island live in sharp contrast to the glamour of the resorts out on the motus. Homes are very simple, much more than in Maupiti, and fishermen are always zipping in and out of the lagoon in search of today's catch. Don't feel bad for the locals of Bora Bora, their life seems to be pretty simple and they always have million dollar views, which others pay a fortune to see for a couple of nights.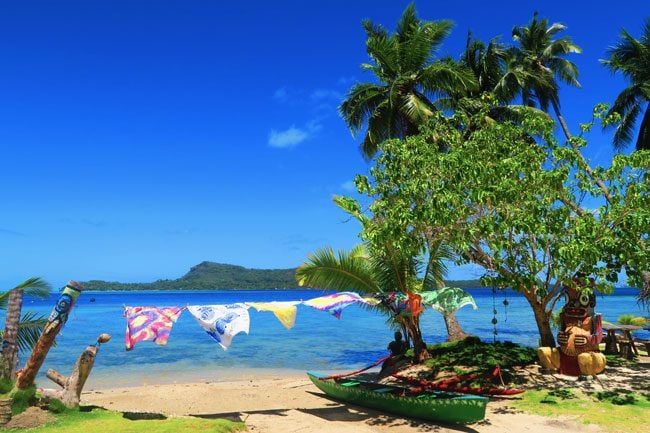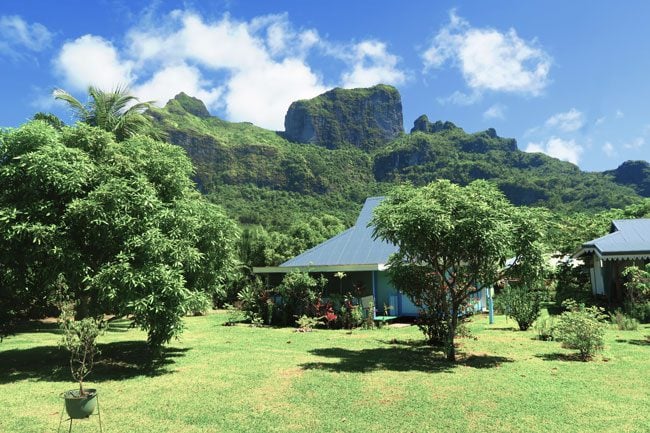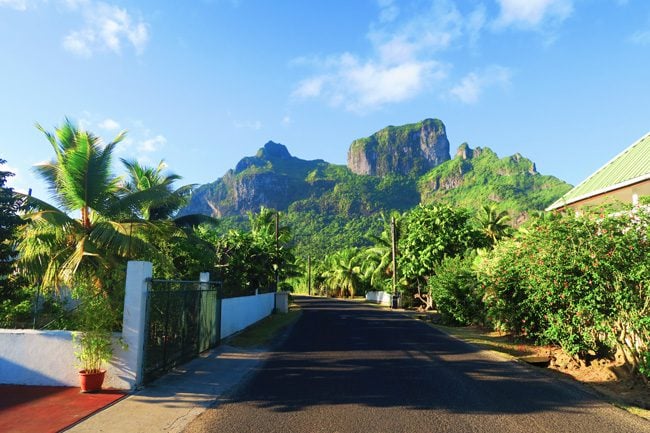 The views kept getting and better as Matira Beach was getting closer and closer. Palm trees everywhere, growing in all directions, and the mountain, oh the mountain. That's Mount Otemanu, standing proudly at 727m and posing for countless of postcards.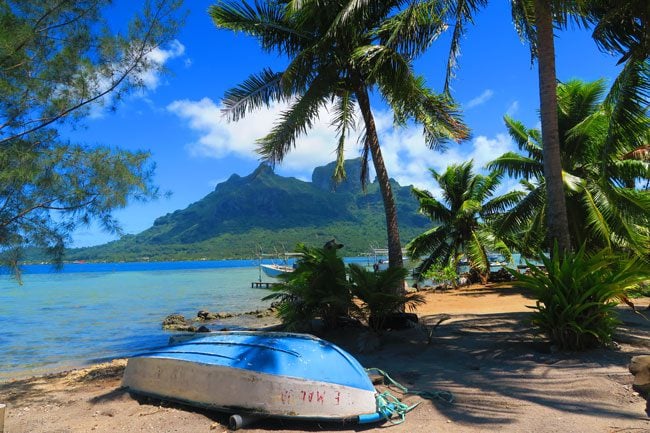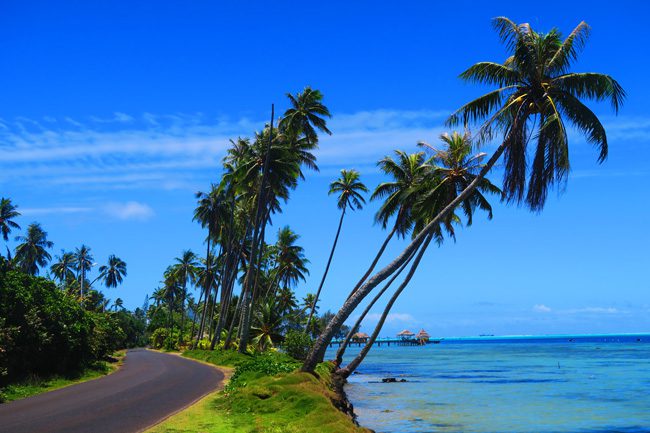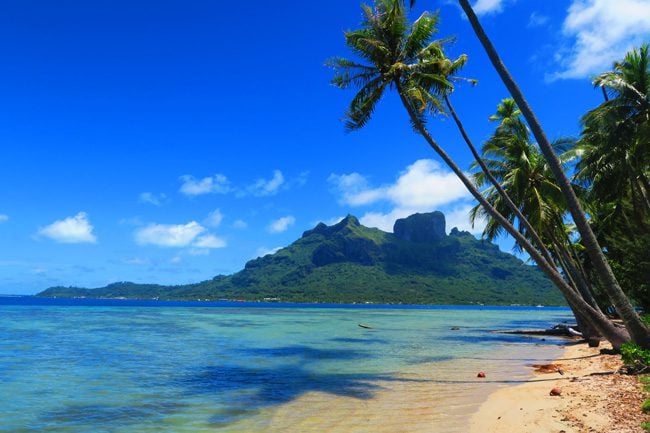 After a little over an hour of super fun walking, Matira Beach finally came into view. Wow, this is one of the prettiest beaches I've ever been to. I'm sure gonna have to update that list of my top beaches in the world when I get back home. Just look at this place, super white sand, a bit of shade provided by the palm trees and the water – turquoise blue, just how I like it!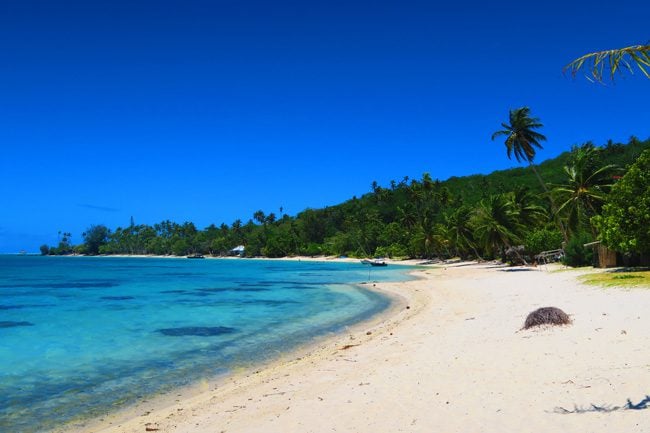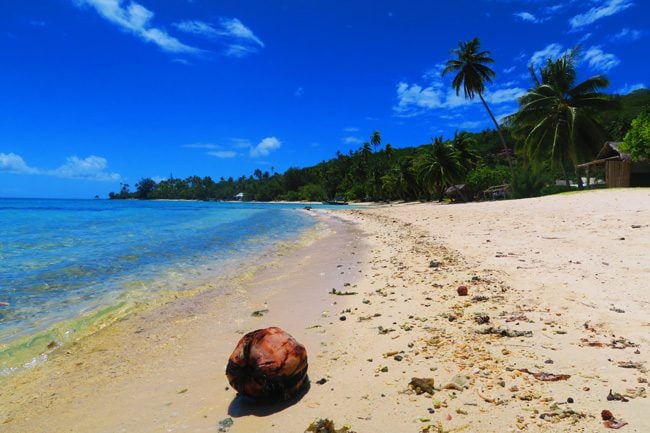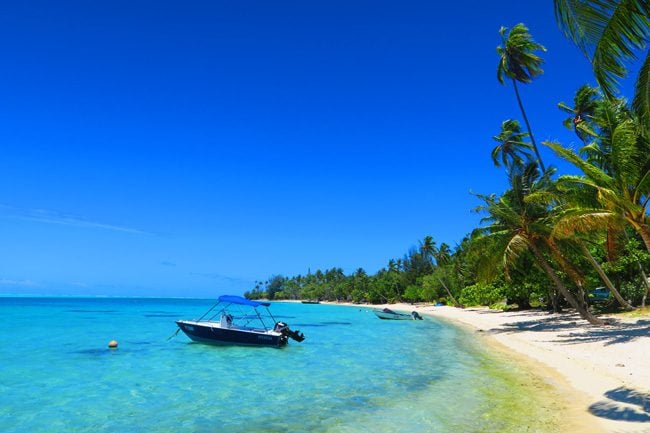 Matira Beach is not only beautiful, but it's also pretty big. That makes finding a spot all for yourself a pretty easy task. As for the underwater life, it really depends on the mood of the lagoon on a specific day. Much like in Maupiti, the visibility wasn't amazing inside the lagoon on this day, but it's still pretty nice… When the lagoon water is like this, it means there's some wind out on the surface – which is a good thing because this place is pretty damn humid.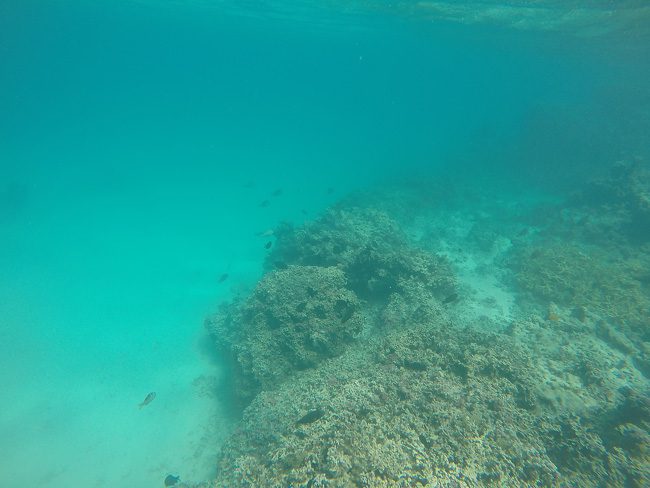 I grabbed a spot beneath a nice looking palm tree, making sure no coconuts can pull 'an Isaac Newton' on me, and killed a few hours.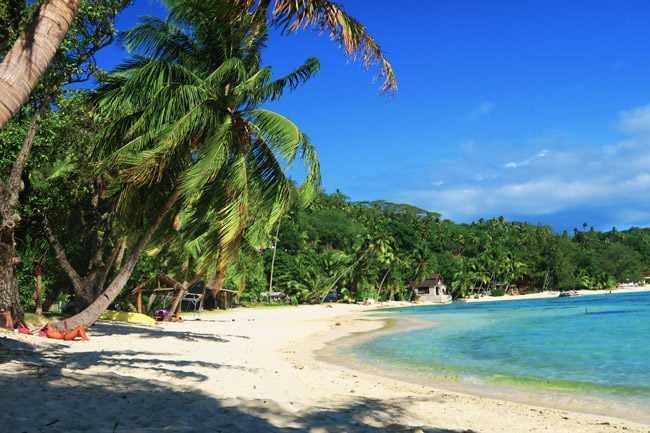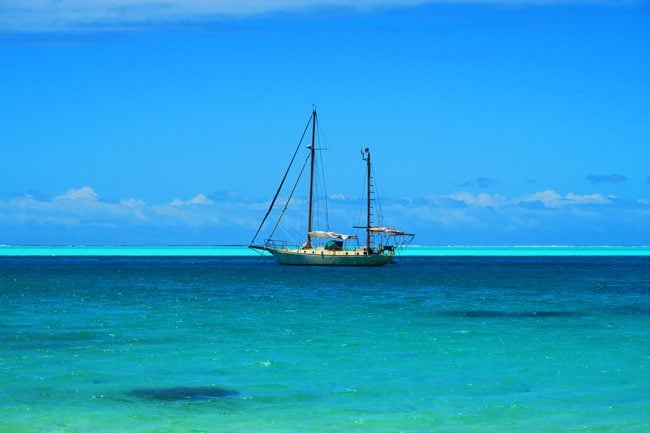 Back on the road, I made it to Matira Point, the very southern edge of Bora Bora. From here, the beach sweeps back to the other side of the island. It's a lot more crowded on this end with very little shade opportunities, but who are we to complain when it looks like this?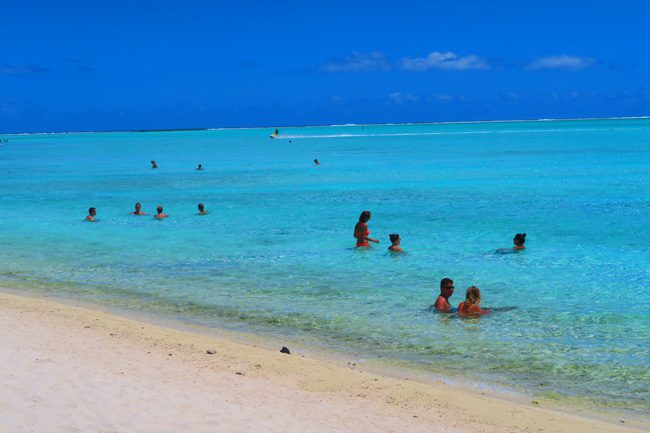 In search of that postcard view
The plan was to park it right here and call it a day, but those of you who know me personally, know that I am a very curious guy when traveling. I spotted an interesting looking hill in the distance and thought it's a good idea to check out the view from there. En route, I finally caught a glimpse of those overwater bungalows, for which Bora Bora is known. Hmm… anyone got $1000 to spare for the night?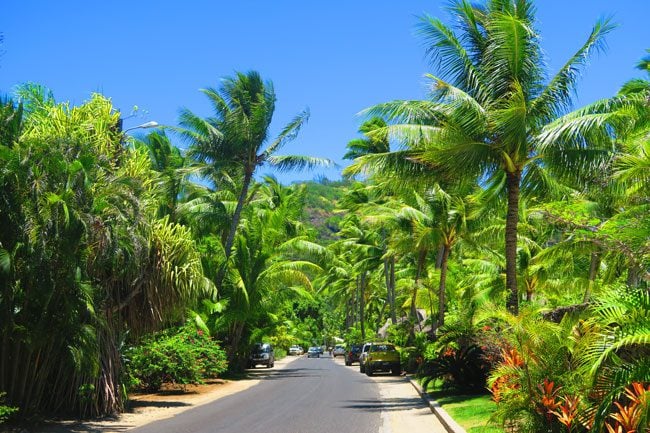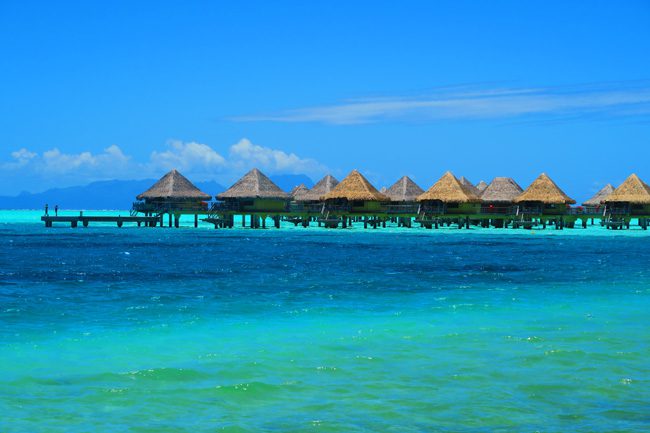 Another hour of walking and fending off a few angry looking dogs, I found a trail leading to the top via a sleepy local neighborhood of beach shacks. The view from up here was exactly what I, and probably you, were looking for. This is the Bora Bora we've all seen in pictures. I bet nobody's putting up their house for sale over here!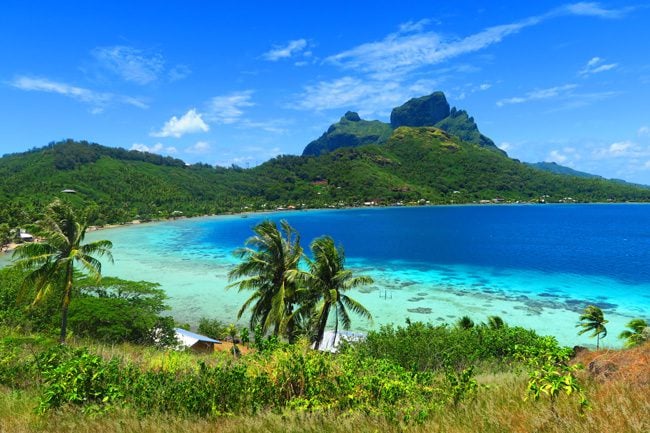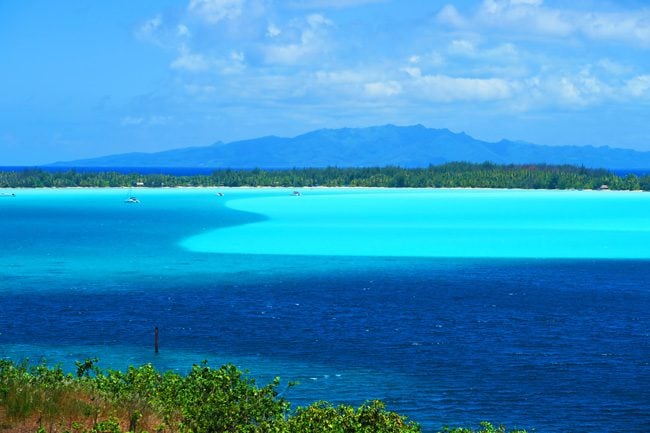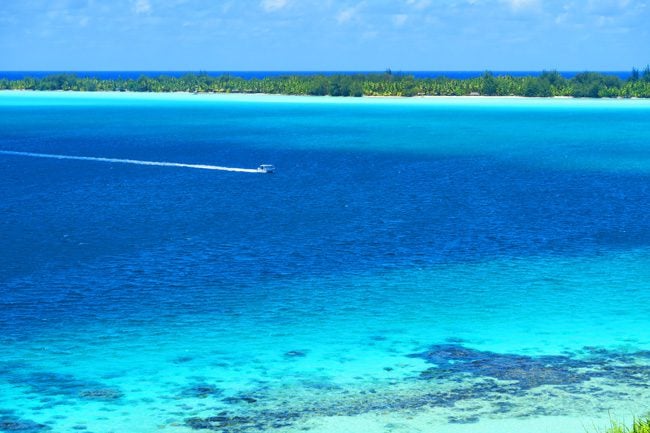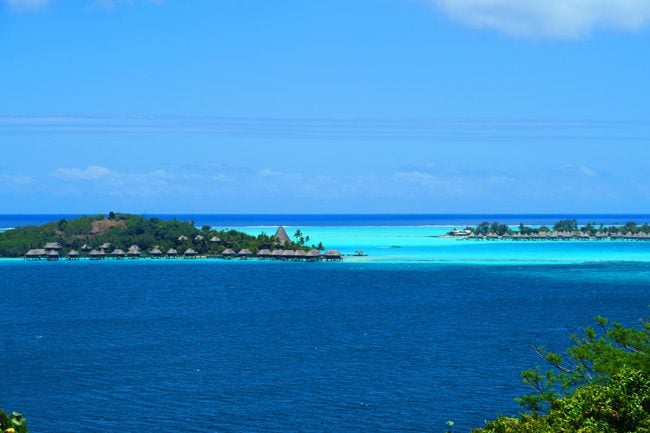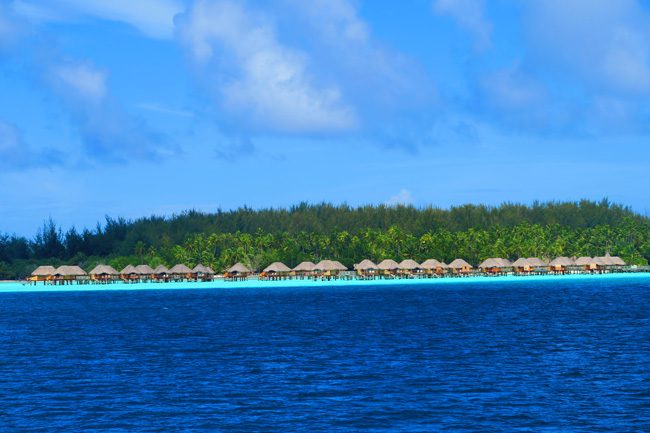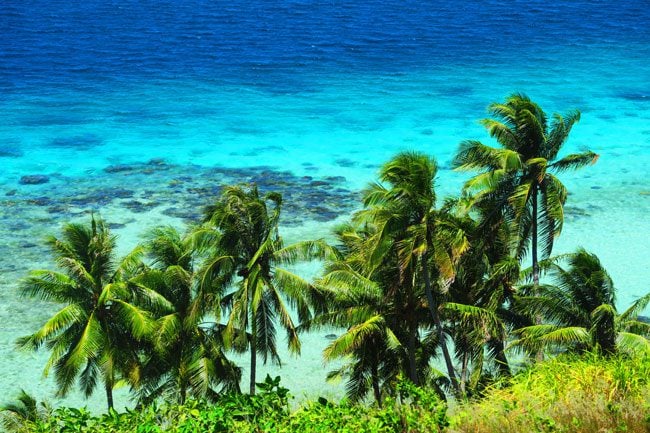 Tempted to continue my exploration of the island, I decided to call it a day and start walking back to Vaitape. As the sun was heading out west, the views were just as unique as during the daytime. I'm starting to see what all the fuss is about…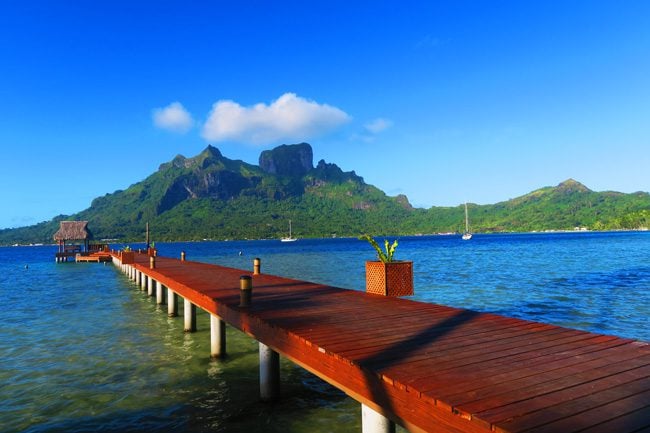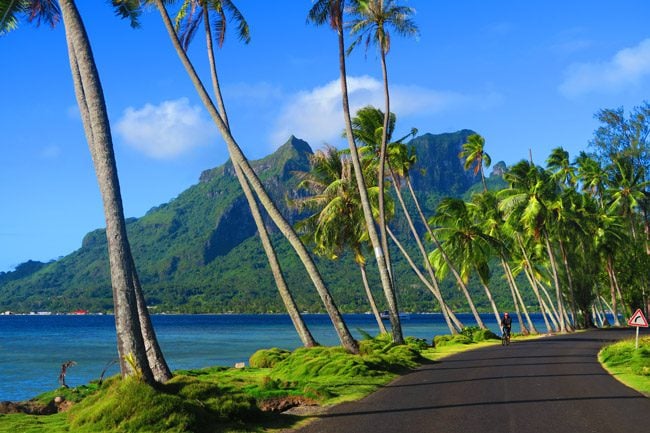 Ready to visit the pristine Bora Bora Lagoon? Click over to the next page and let's hit the water!
A day in the Bora Bora lagoon
The Sun Gods did not cooperate on the second day in Bora Bora. But that was OK because the show must go on. The pier in Vaitape was extra lively on this day, as two giant cruise ships were ferrying their passengers for the daily excursion. It was a busy scene and one that often repeats itself over here. Bora Bora gets a lot of visitors, and you gotta keep 'em busy.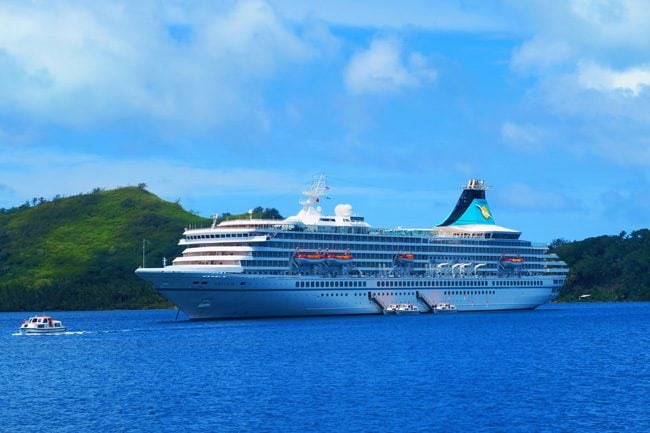 I was greeted at the pier by Didi from Bora Bora Lagoon Service, a happy looking local sporting a traditional looking Tahitian 'g-string'. I asked Didi if it feels like he's constantly got a wedgie, but he said it's the most comfortable thing in the world and what his ancestors used to wear all the time… even to weddings. I'm sure the ladies on the boat loved this cruise! He kind of reminded me of Teuai, my guide to the Papenoo Valley back in Tahiti, and a former 'Mr. Tahiti'. Didi is a multi-tasker as you'll soon see. He likes to entertain his guests with ukulele tunes and Tahitian songs while driving the boat with his foot. On this day, we'll explore the famed Bora Bora lagoon. There are lots of surprises on the way!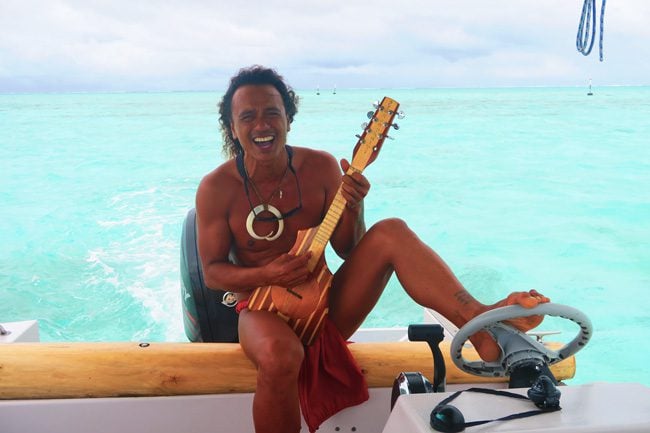 Our first stop was actually outside the reef, where the sharks like to hang out, according to Didi. We battled our way through the waves and exited the lagoon, as heavy rain was starting to come down. Didi instructed us to put our snorkeling gear and jump in, where it's wet anyway. As we saddled up with our gear, we noticed strange dark objects coming to check us out. 'Oh these are sharks', Didi said. I hope they've already had breakfast…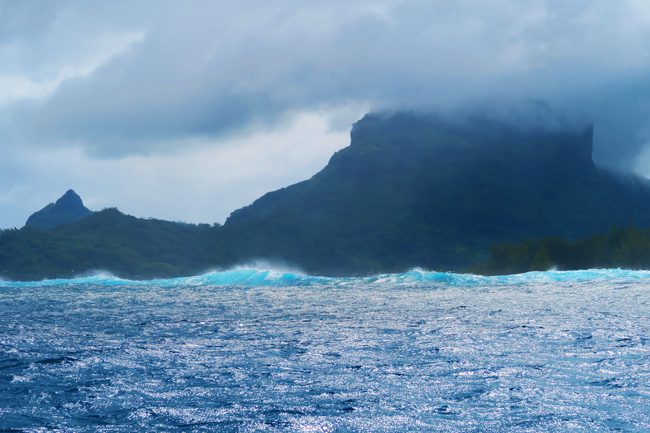 Oh Sh#T!
As we stuck our heads underwater, a crazy thing was unraveling right beneath us. Close to the surface, were dozens of blacktip reef sharks. No big deal… these guys are small and 'friendly'. But beneath them, were a few huge looking lemon sharks. These sharks are the real deal!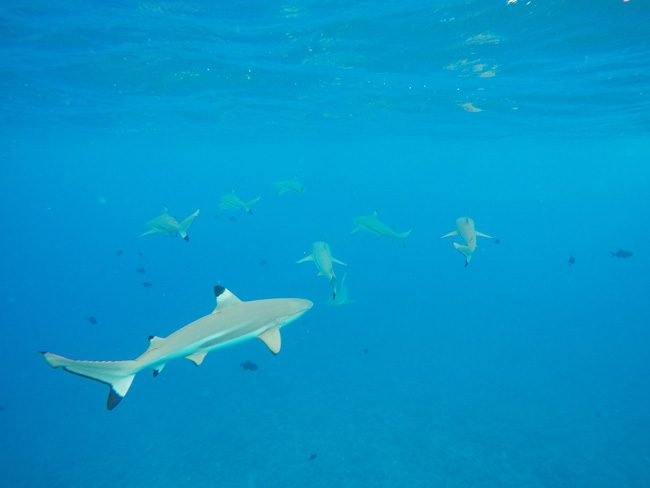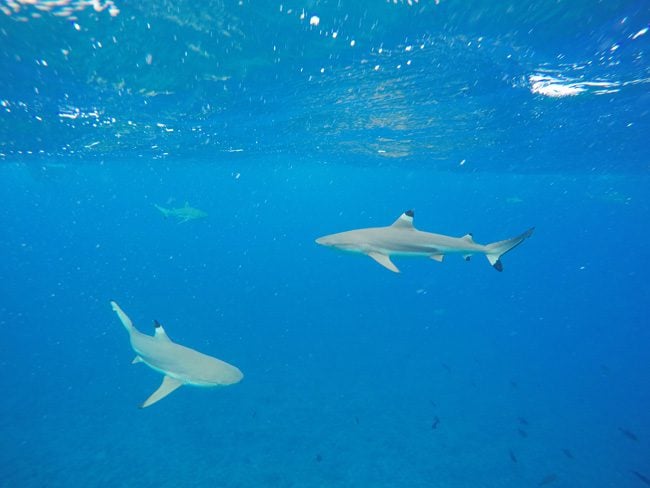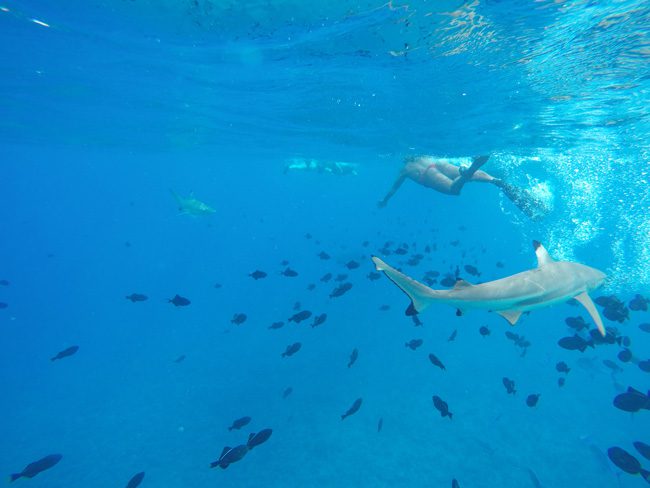 The sharks zip in and out of your eyesight but never get too close. That is until Didi plunged into the depths and just hung on to the fin of one of the giant lemon sharks. He cruised along with the shark, waving to us and seeming pretty happy about the encounter. We, on the other hand, were petrified and super impressed, all at the same time.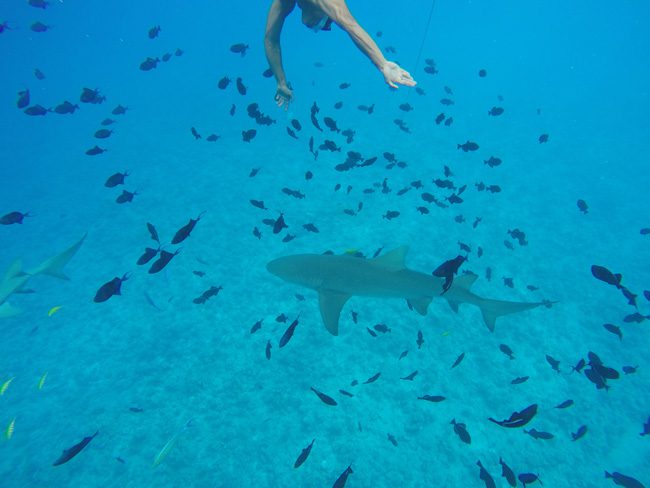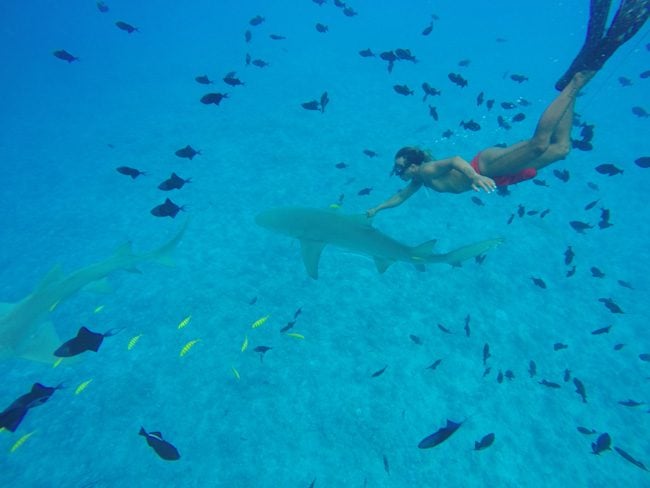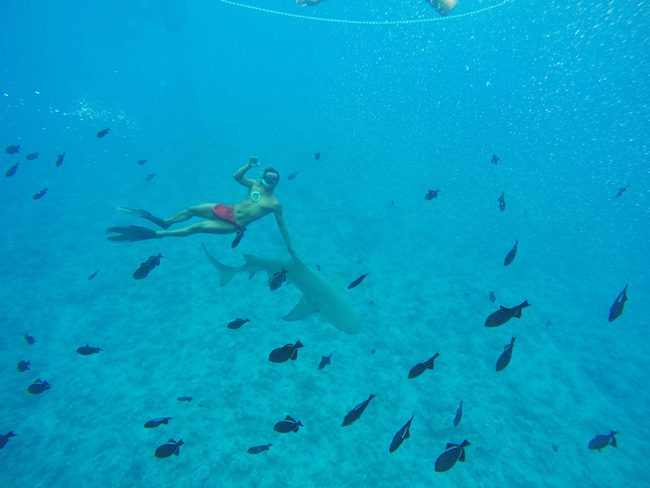 After swimming with the sharks, it was back into the comforting lagoon and a cruise to our next stop – the coral garden. En route, Didi took us as close as possible to the fancy resorts that lie on the motus. We got to see from up close those amazing looking overwater bungalows of the renowned St. Regis Resort (anyone seen Couple's Retreat?) and The Four Seasons. Is that Leo I see lounging on the deck?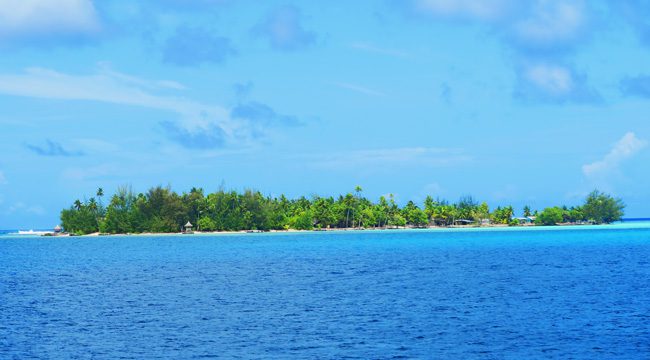 As we neared the coral garden, the sun started to make a slight appearance, so it was only fitting that we raise the morale on the boat. Come on folks, we're in Bora Bora! The colors of the lagoon are spectacular, even on a cloudy day.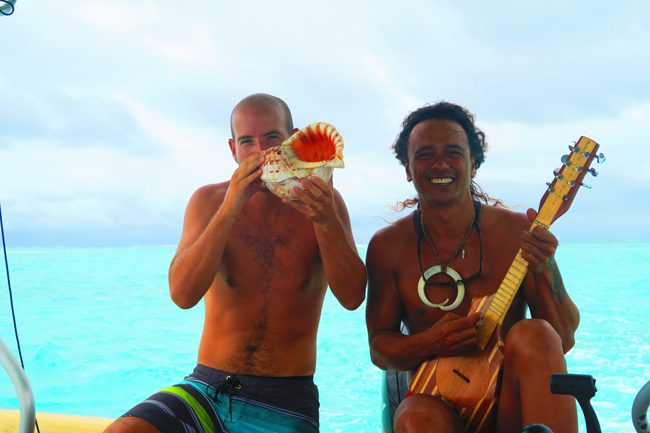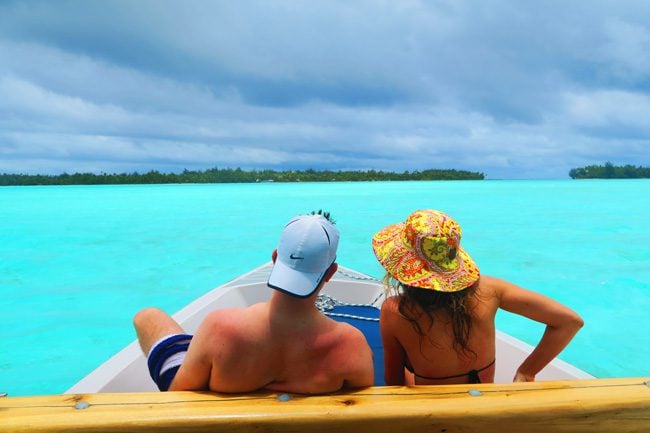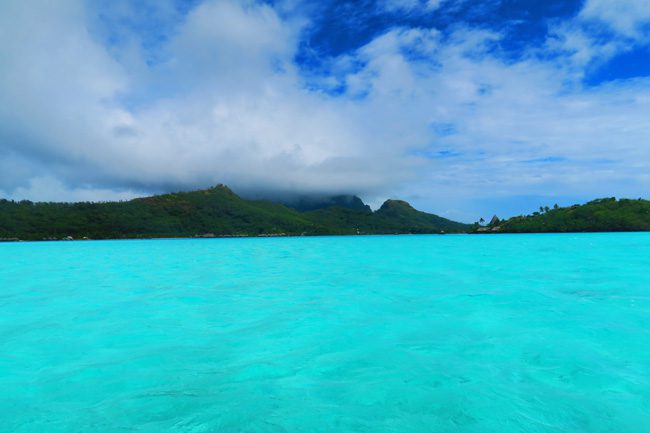 The coral garden was more like a giant aquarium. It wasn't like the coral garden back in Maupiti, but instead, there were thousands of fish swimming around us – and they get quite up close and personal with the visitors from dry land.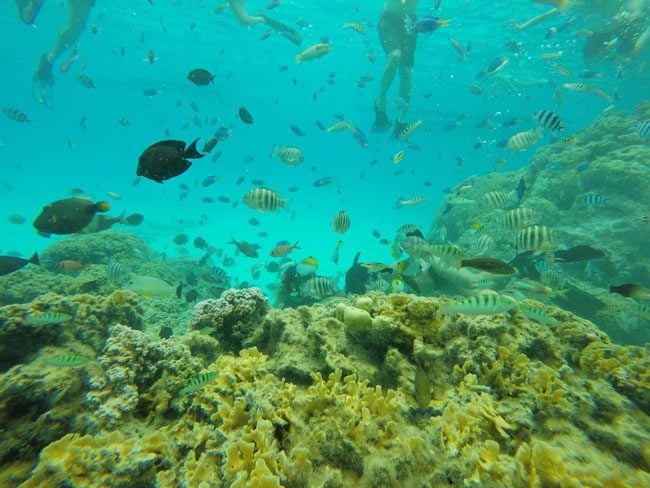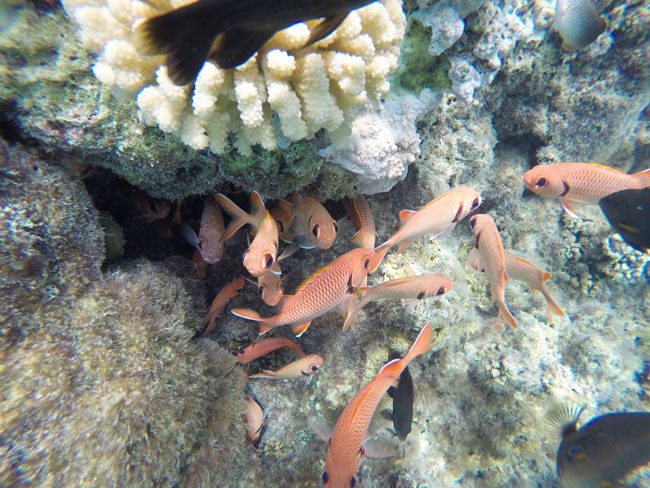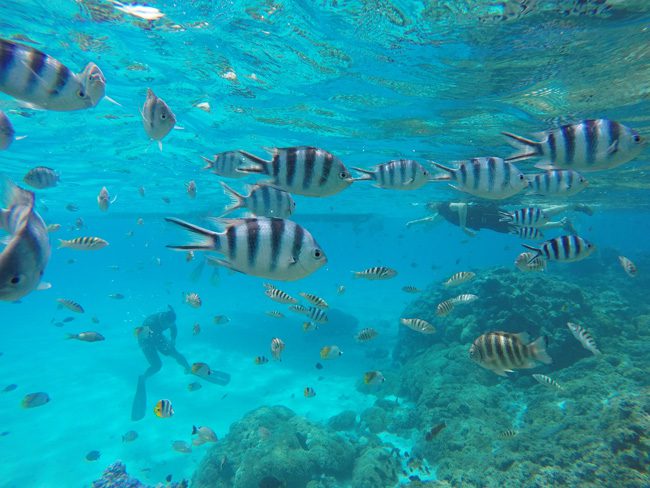 The definite highlight of the coral garden is spotting the huge moray eels that like to hang around here. These are scary looking and potentially dangerous animals, but Didi didn't seem to mind. After all, it's not like they're lemon sharks…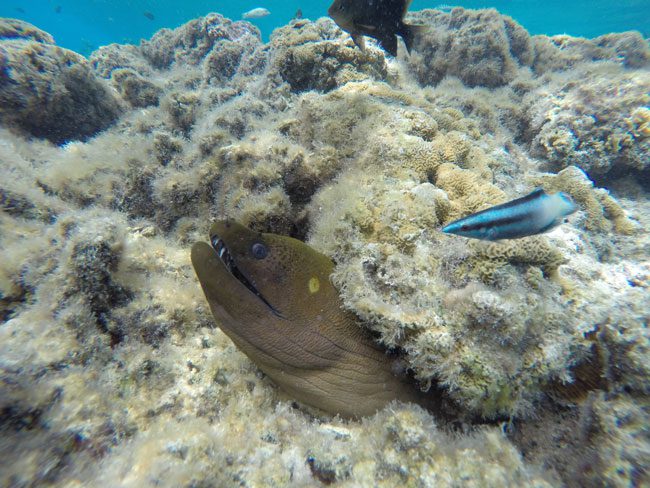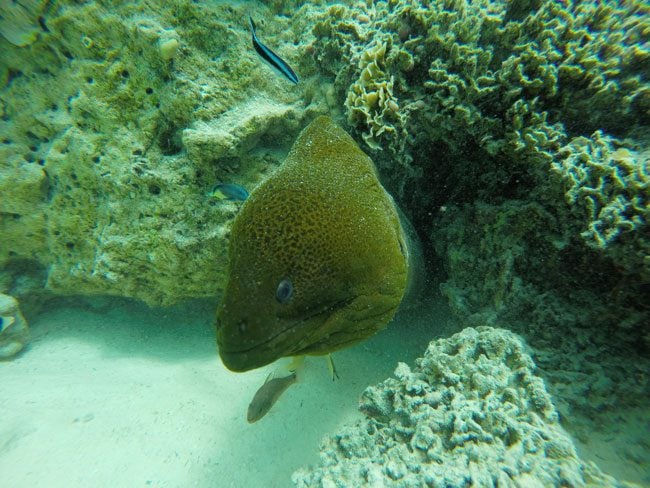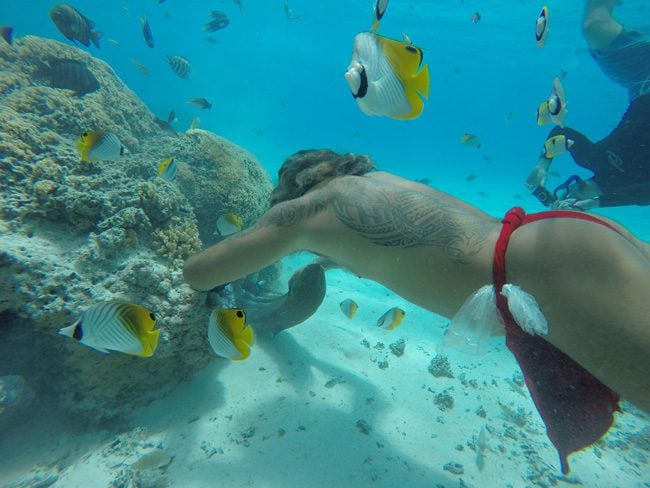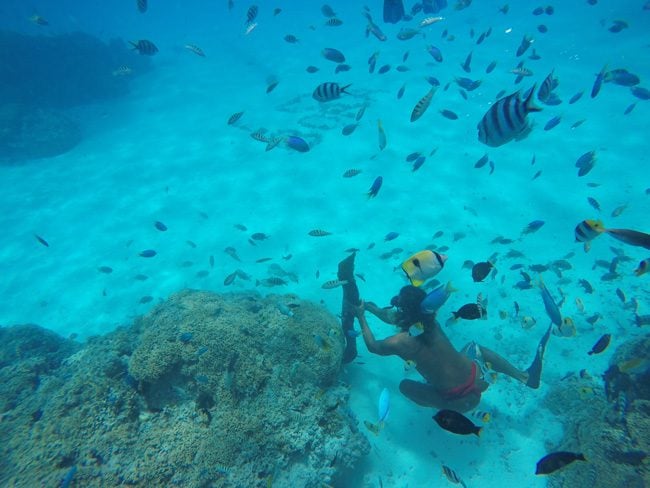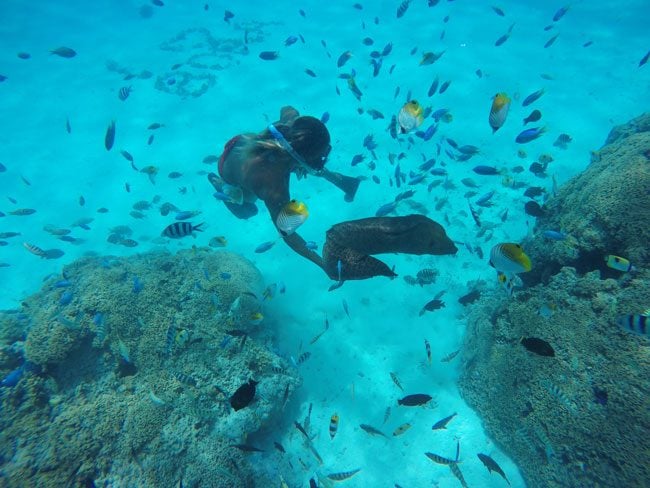 Feeding the stingrays
From the coral garden, it was further into the lagoon until we came to a stop in a super shallow area. We've already seen sharks, fish and moray eel – so naturally, it's time for the stingrays. We hopped into the water to the sight of dozens of stingrays coming to say hello, and around them, the black tip reef sharks. You just can't get rid of these guys…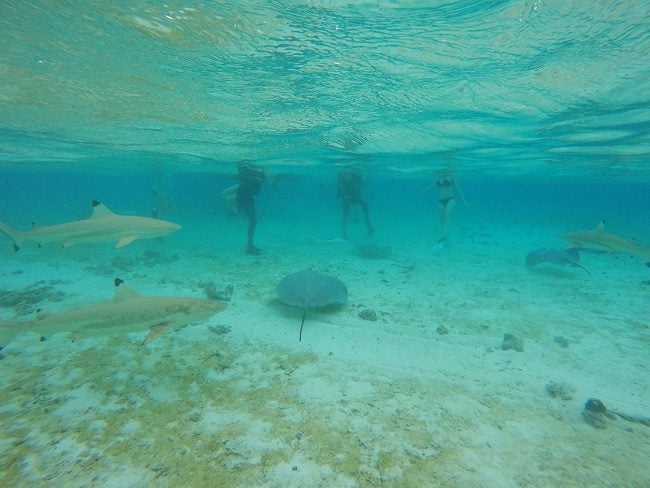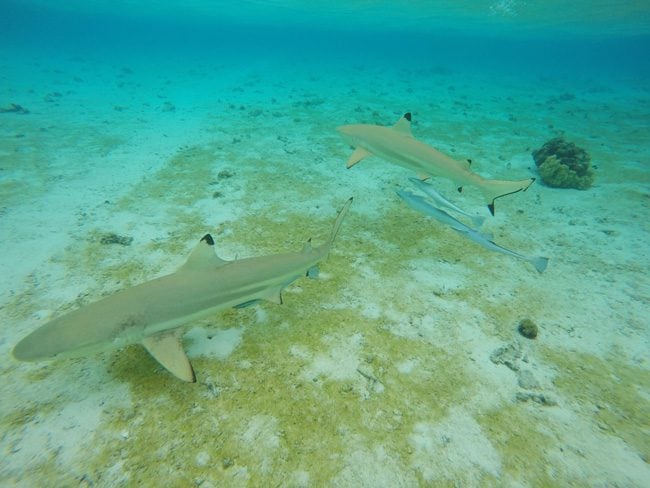 The stingrays are quite friendly… especially when you feed them. The experience of getting close to these guys is super cool. Their skin feels like jelly and they just suck the sardine out of your hand. They seem to be quite slow at understanding that the food you had is gone, and they just keep sucking for a few more seconds before their brain transmits the signal that it's time to move on.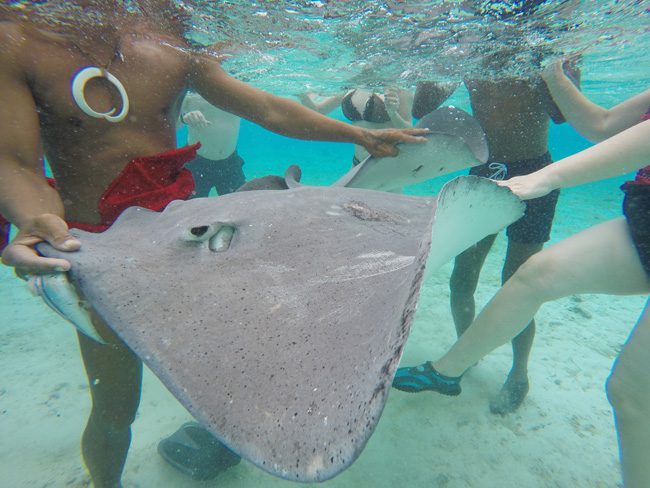 Back on the boat, it was a quick cruise for a late lunch on our very own private motu. We disembarked on a tiny little island, where an amazing Tahitian lunch was served in traditional plates made of palm leaves.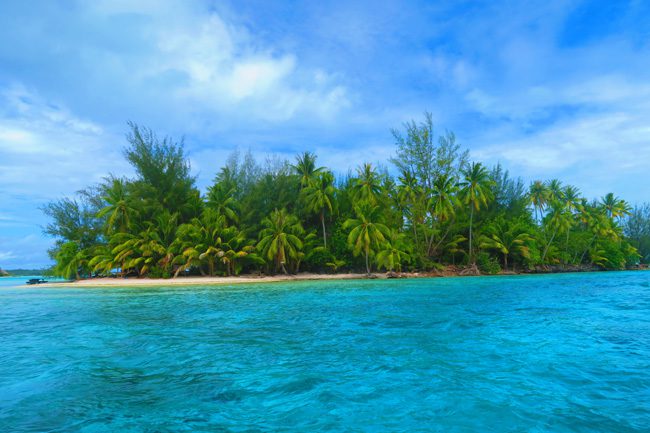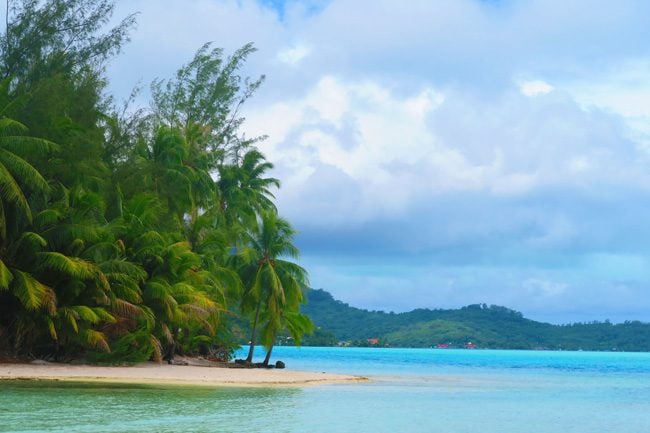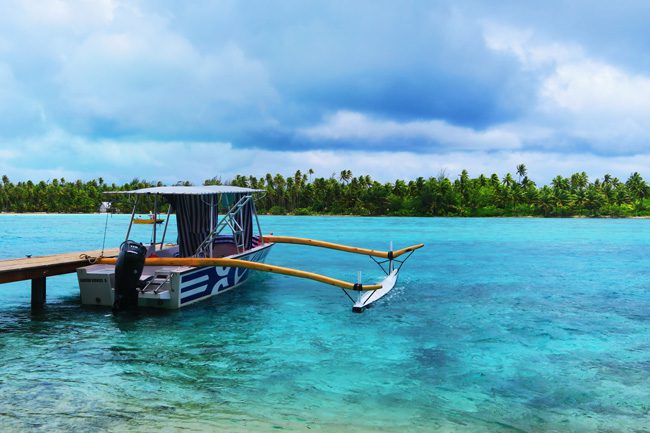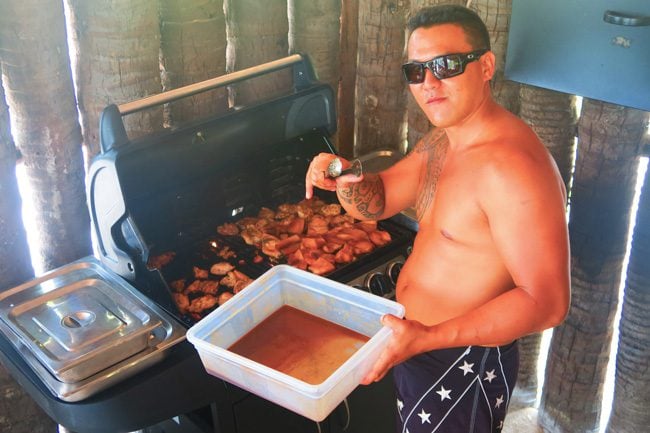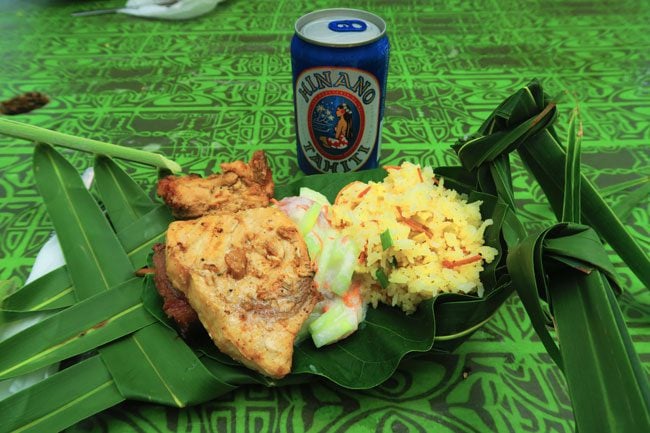 Post lunch, Didi showed us the quintessential lesson every visitor to French Polynesia must complete: a beginner's guide to making coconut cream.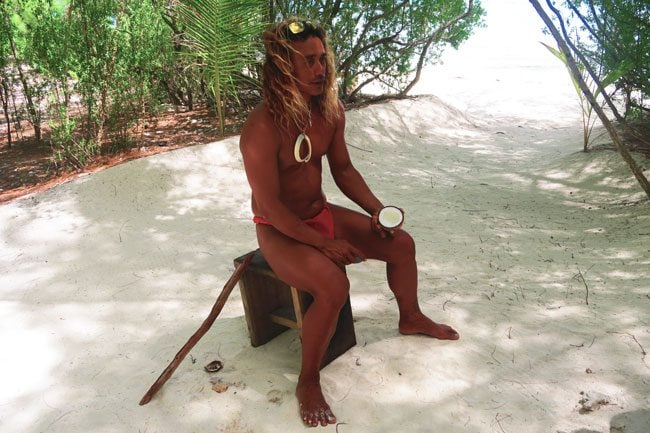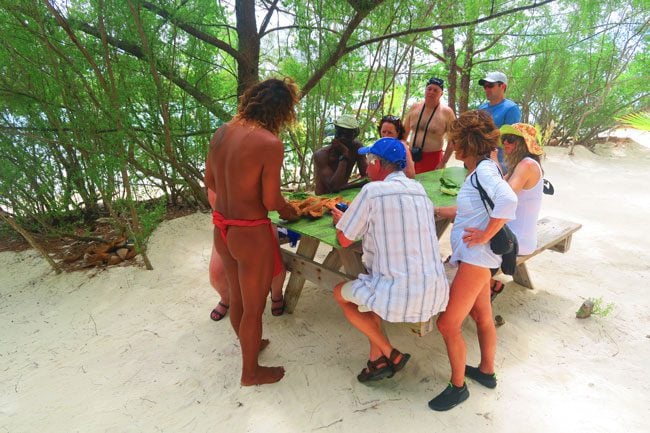 An amazing day in the Bora Bora lagoon had come to end and what a way to finish my three-day visit. The beauty of this island above and below the surface is just incredible! Here's a short video that summarizes the highlights of the day.
So what's the verdict?
So there you have it folks, Bora Bora! I can now die a happy man, having seen one of the most hyped destinations in the world. I must admit that Bora Bora is as beautiful as advertised, and the best part is that you don't have to break your savings account to enjoy this place. That said, the island is highly geared to mass tourism and you won't really find that traditional Polynesian charm as on many other islands in the South Pacific. You'll just have to come here yourself and be the judge… how about that?
I made it back to the airport sad and happy at the same time. There are still seven French Polynesian islands to visit after all. It was a beautiful day and I was tossing up the coin to determine which side of the plane to sit on.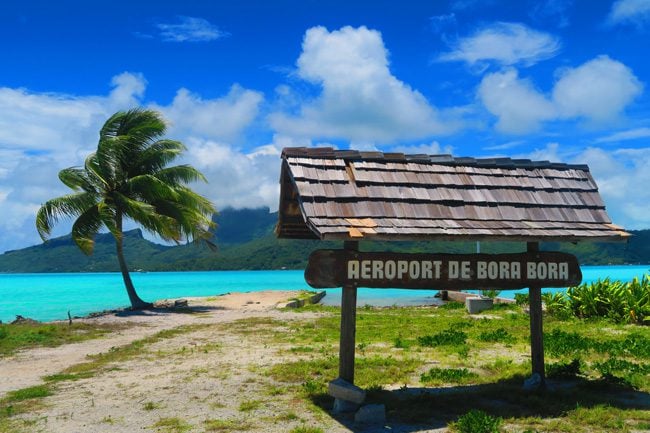 It appears my gamble worked this time… What do you think?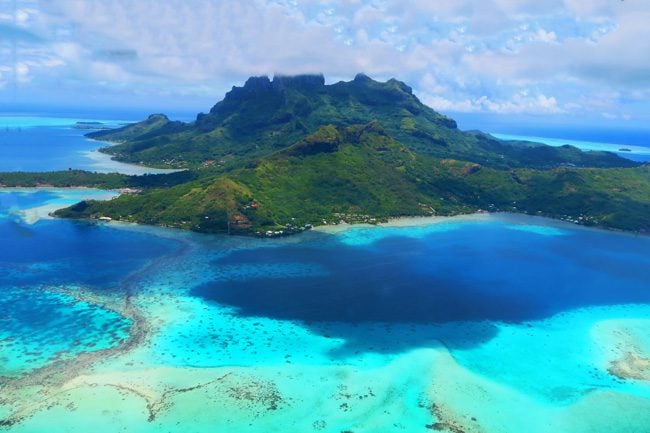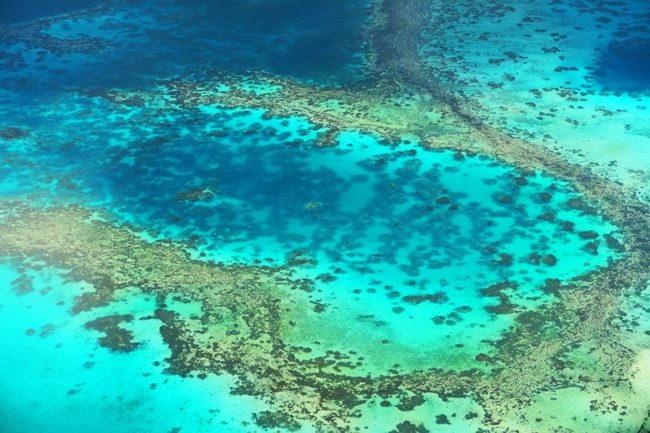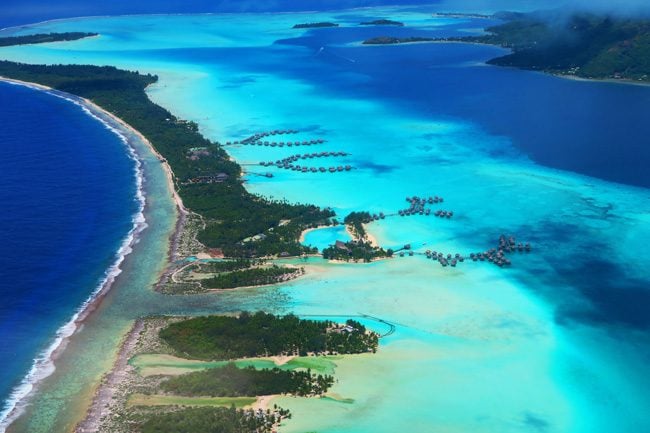 What's Next?
My next Pacific island destination is Tahaa. The island is home to some of the finest vanilla grown on earth and wild natural beauty. Can't wait. I'll also be tasting the life of luxury in a laid-back luxury alternative to the hustle and bustle of Bora Bora.