The smallest member of Utah's "mighty five", out-of-the-way Bryce Canyon is home to some of the strangest geology in the United States. Technically not even a canyon, Bryce Canyon's colorful hoodoos are a striking testament to the artistic forces of Mother Nature. This Bryce Canyon travel guide covers everything you need to plan a visit to the national park.
I first visited Bryce Canyon during a family road trip back in the mid-90s and recently returned for a two-day visit as part of a long road trip in the American Southwest. This Bryce Canyon travel guide is based on extensive research and my experience.
Why Visit Bryce Canyon?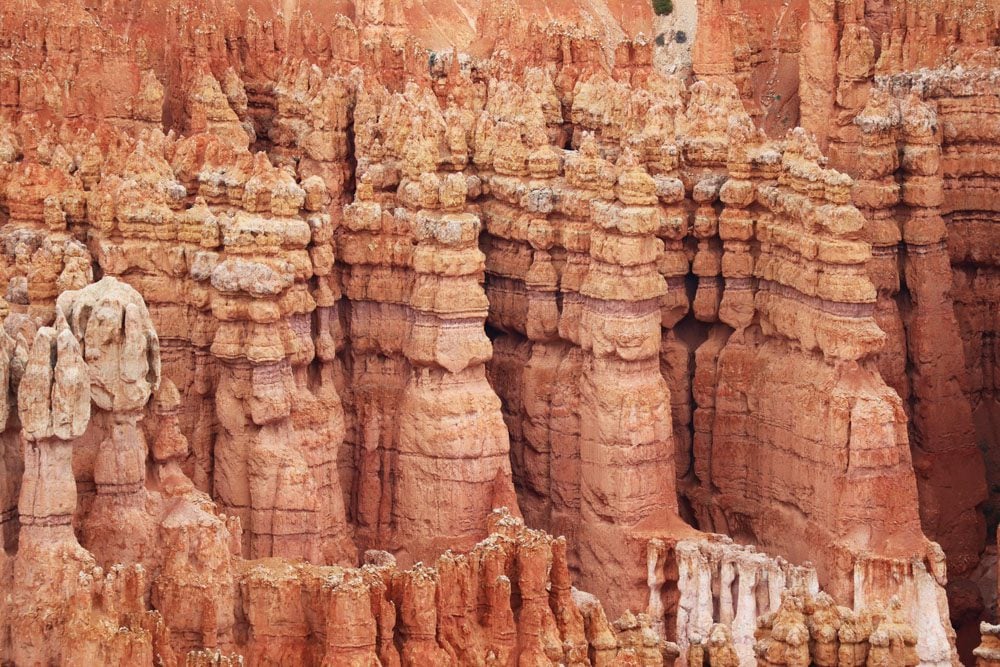 The Hoodoos
The natural forces of erosion seem to work at high speed in Bryce Canyon. Extreme overnight temperatures meet the morning sun and sculpt the reddish limestone into peculiar pillars like nowhere else.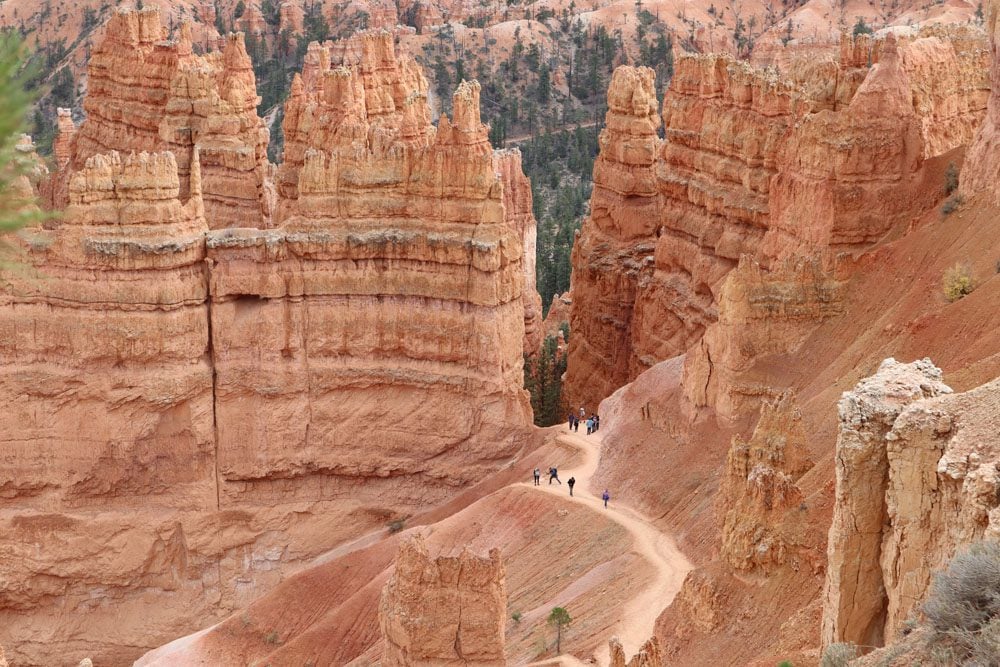 The Hiking
With over 65 miles of trails, every hiker can find a suitable way to get to know Bryce Canyon on foot. Easy rim trails offer solitude from the busy viewpoints, but for the best experience, descend to the Bryce Amphitheater floor to really get to know the hoodoos.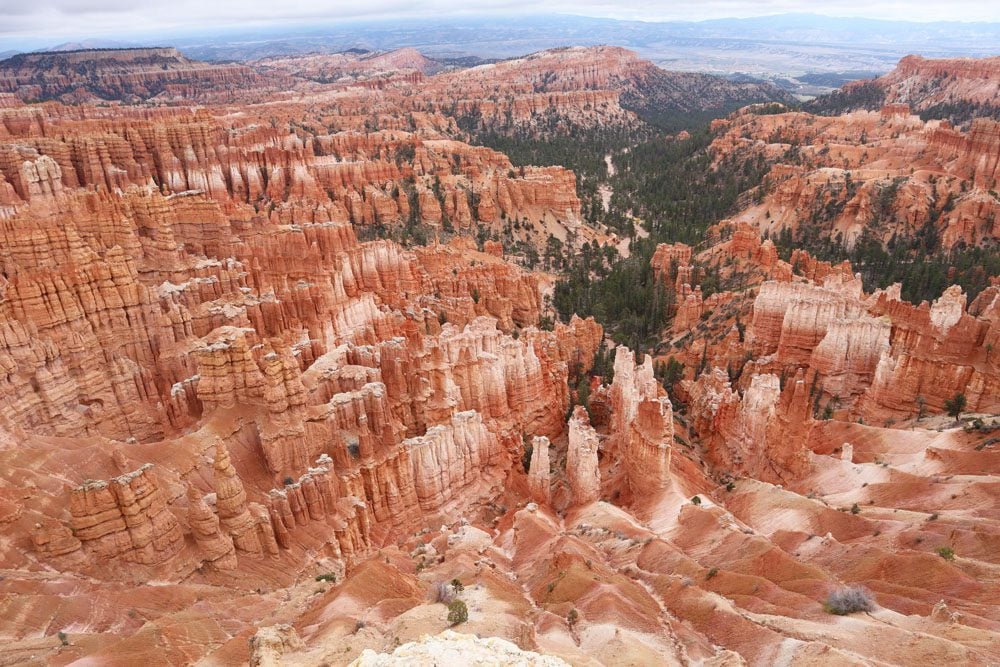 The Small Size
Bryce Canyon is small and adequately explored on a one-day visit that combines scenic viewpoints and short hikes. Overnighting around Bryce is a memorable stop on any Southern Utah road trip.
What's Included in this Bryce Canyon Travel Guide
Several sections make up this travel guide:
Additional Southern Utah Resources
Check out additional travel guides to Southern Utah and combine your visit to Bryce Canyon with additional members of Utah's "Mighty Five".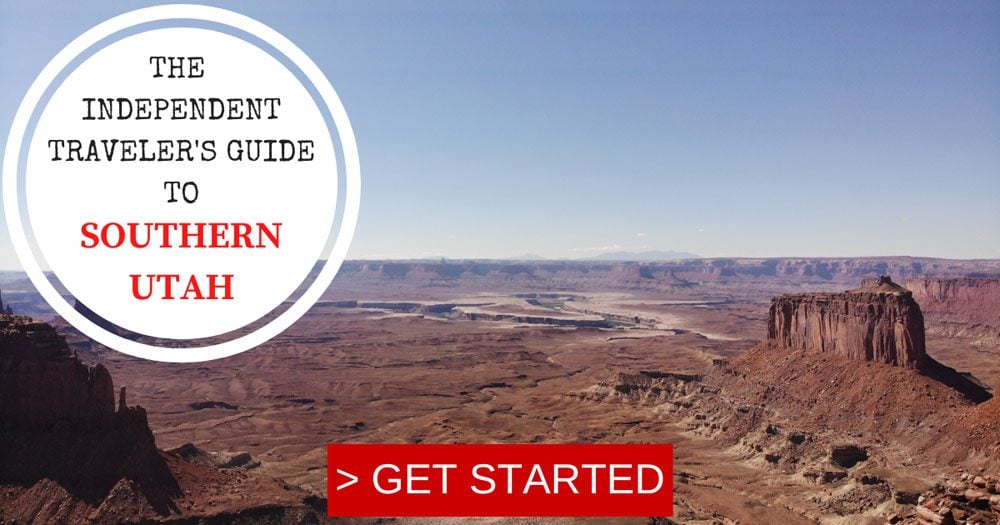 Background
Bryce Canyon National Park is one of Utah's "Mighty Five" national parks. However, due to its relatively small size and remote location, Bryce Canyon does not experience the same visitor numbers as some of the more popular members of this scenic club, such as Zion or Arches National Park.
From a geological perspective, Bryce Canyon sits at a high elevation at the edge of the Paunsaugunt Plateau, which is part of the Colorado Plateau. Bryce Canyon was not formed by erosion but rather from a different natural force that created large crescent-shaped amphitheaters at the very edge of the plateau. Therefore, Bryce Canyon is not technically a canyon. The most famous section of the "canyon" is the Bryce Amphitheater, the largest natural depression within the national park.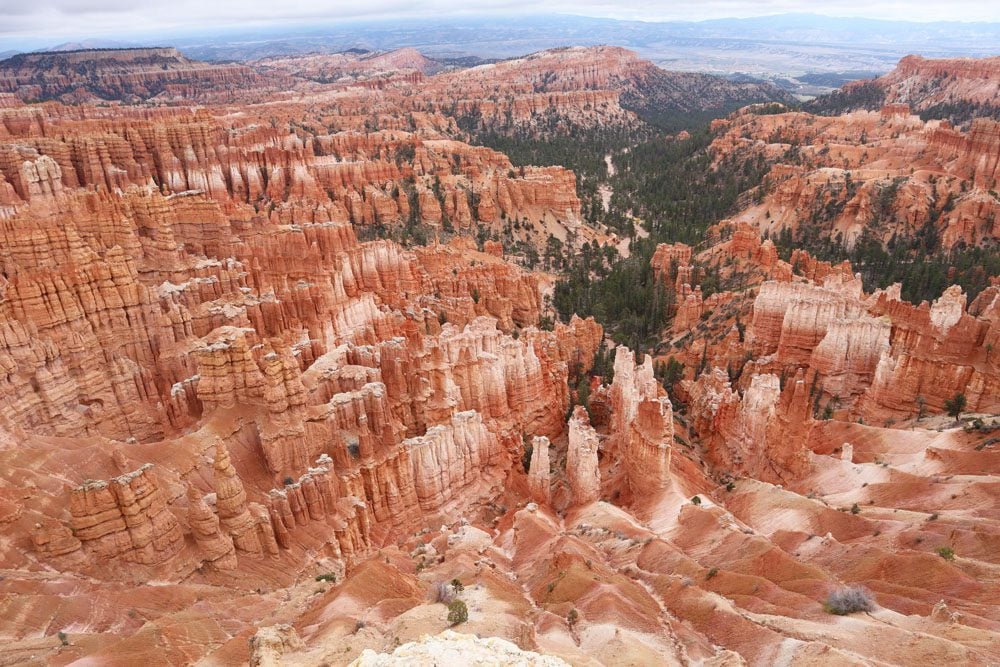 The unique geological forces that created Bryce Canyon are still at work and are responsible for the bizarre limestone pinnacles of red, yellow, and orange known as hoodoos. From the edge of the rim, visitors marvel at the colorful layers of Bryce Canyon's sediment, punctured by thousands of hoodoos, some of which rise to a height of up to 200 feet (60m). The hoodoos are constantly shaped by the extreme temperature fluctuations between night and day. During the freezing nights, ice expands inside small cavities. Then, as it melts during the daytime, it chips away at the soft rock.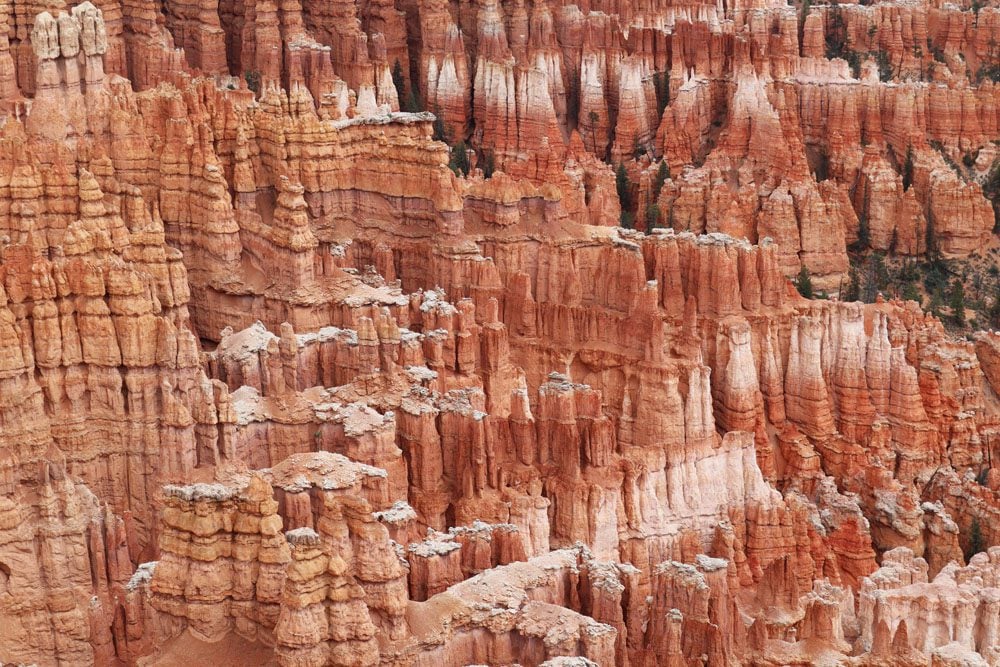 Hoodoos form when they completely detach from their surroundings. Before reaching "adulthood", neighboring pinnacles form windows, while yet-to-be-punctured younger limestone forms the canyon wall (rim).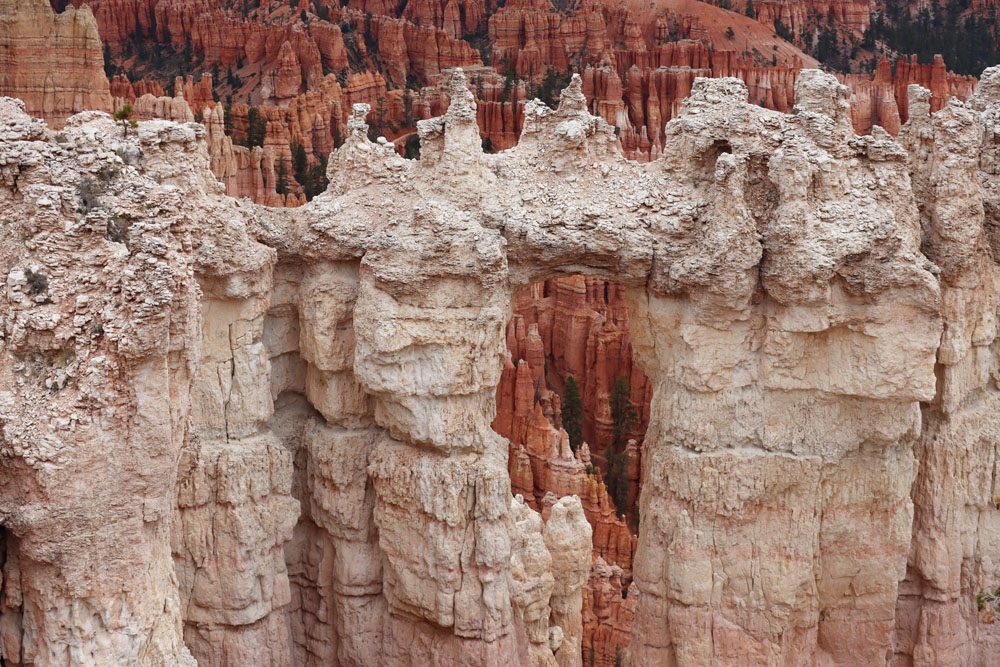 The Bryce Canyon area was settled thousands of years ago by Native American tribes who came and went with the changing climate. In the 1850s, Mormons arrived in the area looking for agricultural land to grow crops and cattle. In the 1870s, Ebenezer Bryce built his homestead in the Bryce Amphitheater area, for which the "canyon" is named. In 1923, Bryce Canyon was designated as a national monument. Its status was upgraded to a national park in 1928.
Bryce Canyon Travel Tips
This section dives deep into the essential ingredients for a successful visit to Bryce Canyon.
Where is Bryce Canyon?
Bryce Canyon National Park is located in Southern Utah along State Route 63. It lies just 72 miles west of Zion National Park and 250 miles east of Moab, the gateway town to Arches and Canyonlands National Parks. Grand Staircase-Escalante National Monument and Capitol Reef National Park take up the space between Bryce and Moab. The North Rim of the Grand Canyon is about three hours away, while the more popular South Rim is a five-hour drive.
How to Get to Bryce Canyon?
Getting to Bryce Canyon from Las Vegas via Interstate 15 is straightforward and easily combined with a visit to Zion. If heading to Bryce from Salt Lake City, use Interstate 15 or take scenic backcountry roads. When visiting from the Grand Canyon area, take scenic State Route 89 via Kanab and maybe also via Page (Arizona). Worthwhile stops in Page include Horseshoe Bend and Antelope Canyon. Finally, if coming from Moab, State Routes 12 and 24 slow the drive not only because of the terrain but primarily because of the incredible scenery at Grand Staircase-Escalante and Capitol Reef National Park.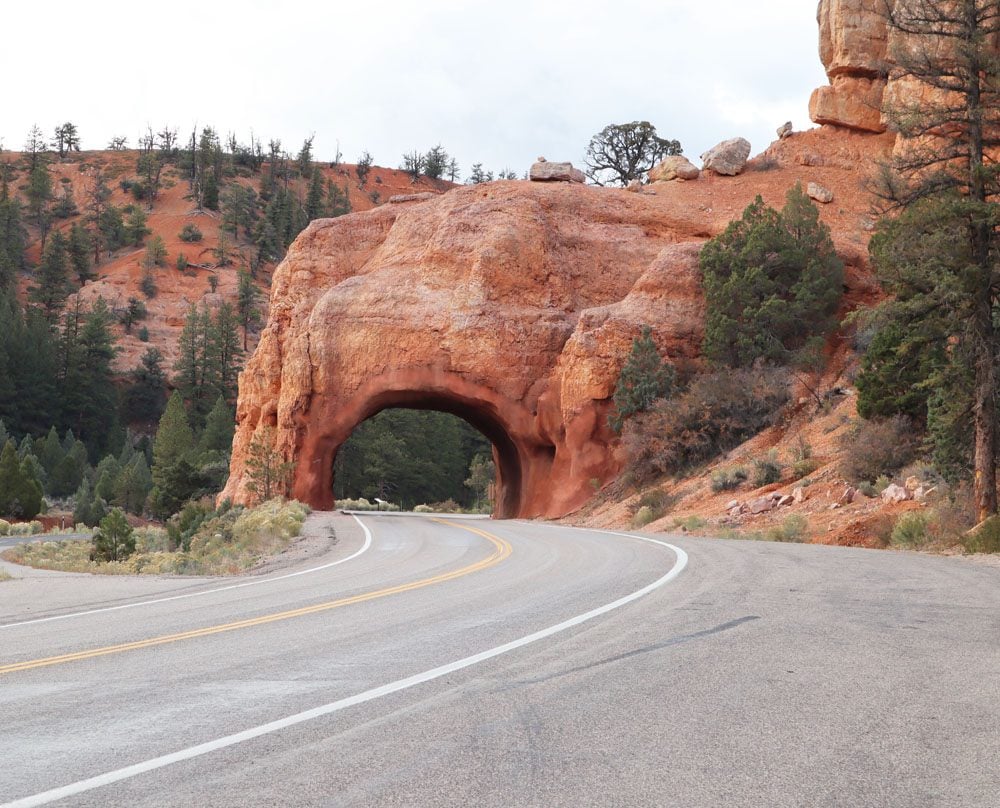 When is the Best Time to Visit Bryce Canyon?
The best time to visit Bryce Canyon is between May to September, when the daytime temperature is pleasant and nights are bearable. However, the park's high elevation means extreme weather can form throughout the year. Here's what to expect in each season at Bryce Canyon.
Winter: you can visit Bryce Canyon during the winter, but it's frigid during the day and much colder after sunset. Snow is frequent, and heavy snowfall can lead to road closures. However, seeing the Bryce Ampheateatre painted white is a lasting experience if you can overcome the chilling temperatures.
Spring: snow and rain are less frequent beyond April, but nights are still very cold. The crowds are beginning to return to Bryce Canyon but it's not something to worry about too much.
Summer: June is a perfect time to visit as the weather is at its calmest. As we progress to July and August, peak visitor season is reached and so is "thunderstorm season". Watch out for frequent afternoon storms with heavy rain and lightning.
Fall: September is still very pleasant in Bryce Canyon but October and November mark the return of cold weather, gray skies, and even snow. You'll still get stretches of good weather, but they are less frequent beyond September.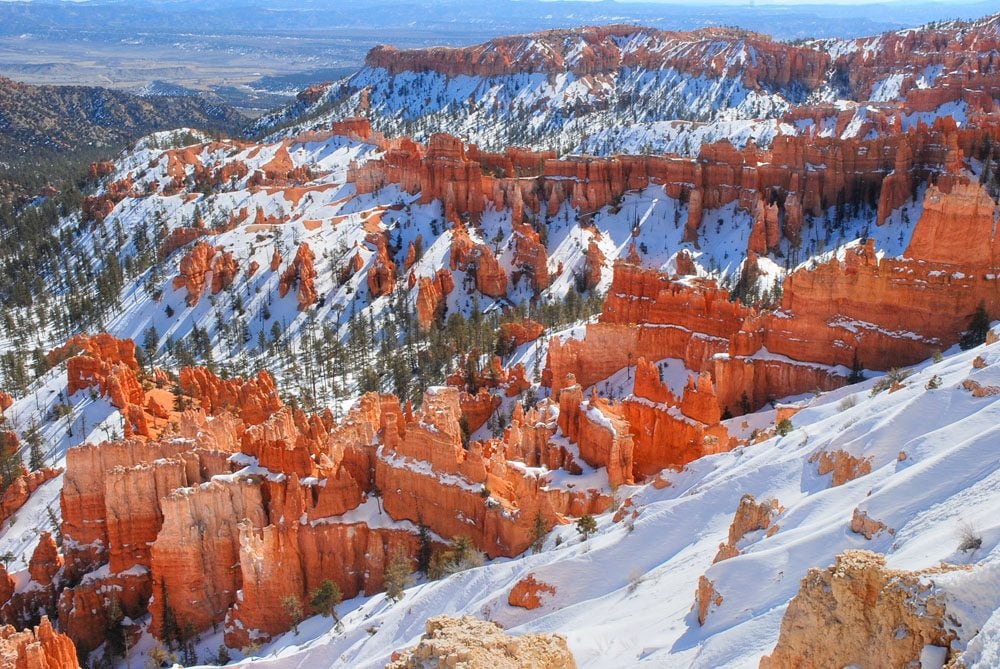 How Many Days Do You Need in Bryce Canyon?
Bryce Canyon can be seen in a single day, especially if you're staying near the park before or after your visit. During this one-day visit, you can drive the length of the scenic drive while stopping at various lookouts. You can also head on a short hike on the canyon floor and walk along stretches of the rim. On a two-day visit to Bryce Canyon, you can see more of the spectacular amphitheaters on longer hikes.
Zion and Bryce Canyon in the Same Visit
Bryce Canyon is just 72 miles (116 km) from Zion National Park, so combining the two is a popular option. Here's an in-depth sample itinerary for Zion and Bryce Canyon.
Where to Stay Near Bryce Canyon?
Inside the park: the historic Lodge at Bryce Canyon is the only hotel inside the national park, ideally situated close to Sunrise Point and Sunset Point. Advanced reservations are essential if you want to have a shot at staying here. As for camping options, the North Campground is closer to the rim compared to the Sunset Campground. Both likely do not accept advanced reservations, so finding a spot could be a hit or miss.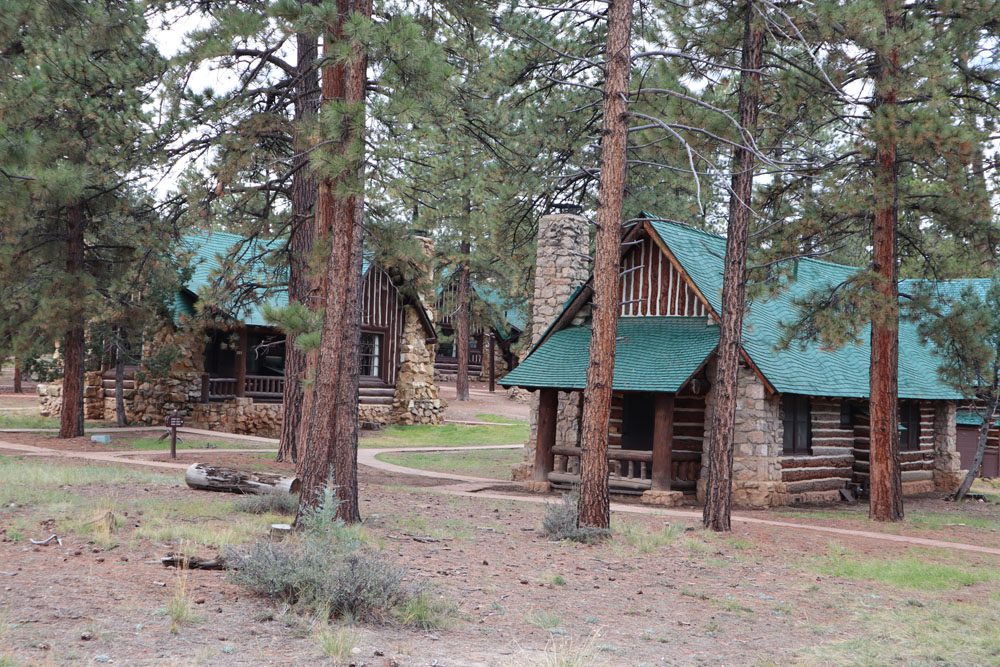 Outside the park: most overnight visitors to Bryce Canyon stay at accommodations in and around Bryce Canyon City. The primary purpose of this village is to cater to park visitors and staff. Camping options are also available at several campgrounds around this area. If you can't find anything suitable at Bryce Canyon City, check options in nearby Tropic.
I stayed at the Ruby's Inn, a vast and well-run lodge with all the amenities you can think of, including a heated pool, laundry facilities, restaurant, supermarket, and a unique gift shop. You can also buy your park ticket at the lodge's tour desk and use the park shuttle stop across the road.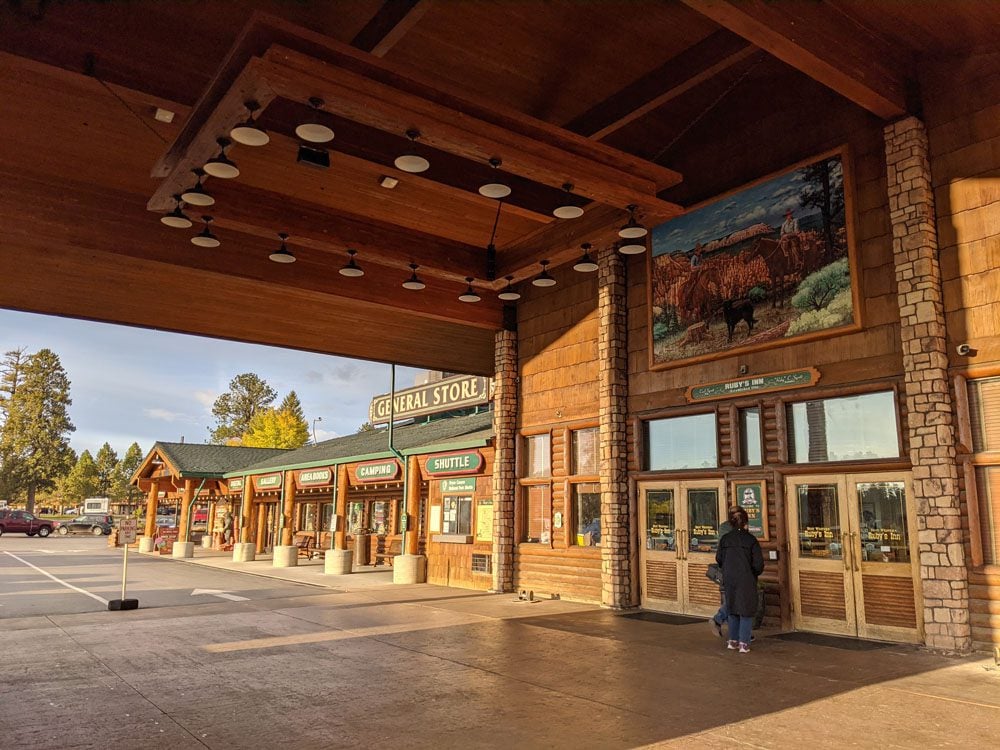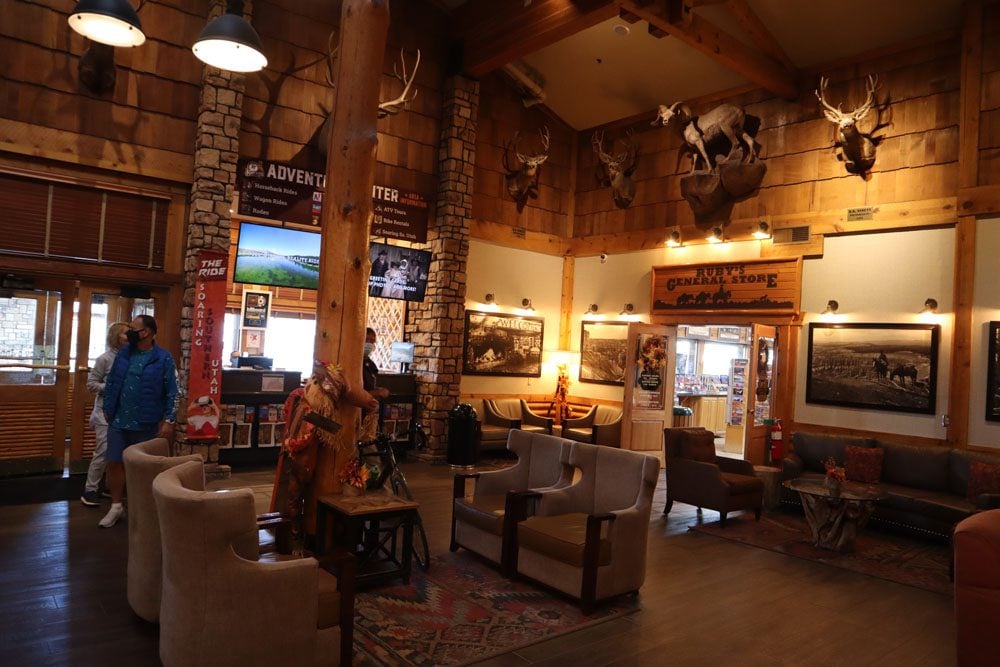 Planning Your Day
Consider a few factors when planning your day at Bryce Canyon.
Watching the sunrise or sunset is one of the top things to do in Bryce Canyon. Head to Sunrise Point and Sunset Point accordingly.
Some of Bryce Canyon's top hiking trails begin at the scenic lookouts mentioned above. Consider hiking in the morning hours before it gets crowded. Remember that during the summer months, afternoon thunderstorms are frequent. Moreover, the morning sun shines directly on the hoodoos, with only very minimal shade.
There's a slight difference in elevation between the Bryce Canyon Lodge area and the viewpoints at the very end of Bryce Canyon Road. Depending on the day's weather, it might make sense to start at the higher elevation and work your way down or vice versa. During my visit, visibility was close to none around Rainbow Point, but things were much better, albeit cloudy, at Sunset Point.
Getting Around Bryce Canyon
At the time of writing this Bryce Canyon travel guide, it is possible to enter the national park with your car and drive the length of the 18-mile Bryce Canyon Road, which stretches from the visitor center to Rainbow Point. However, the park also operates a free shuttle bus that runs from Bryce Canyon City to various points of interest around the Bryce Amphitheater, the main attraction in Bryce Canyon.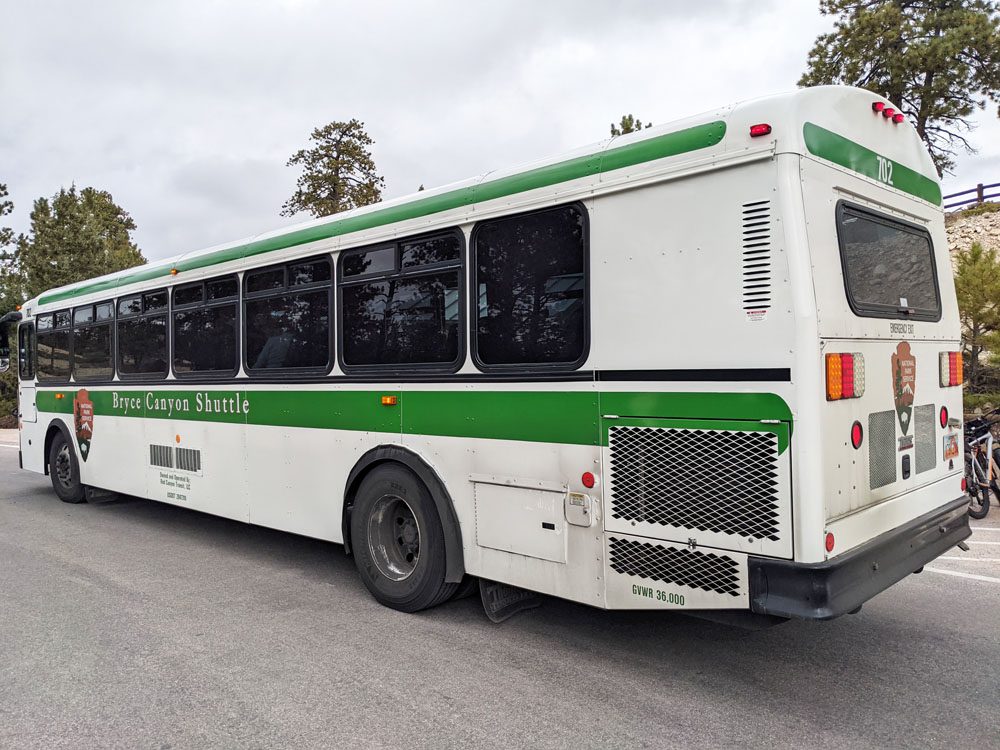 Parking is very limited in many popular viewpoints, and they often fill up quickly during the peak season to the point where incoming traffic is turned around. This can even happen in the large parking lot at Sunrise Point. If you're facing this challenge, I recommend visiting the scenic spots outside the shuttle-covered area and leaving your car at the visitor center in favor of the shuttle.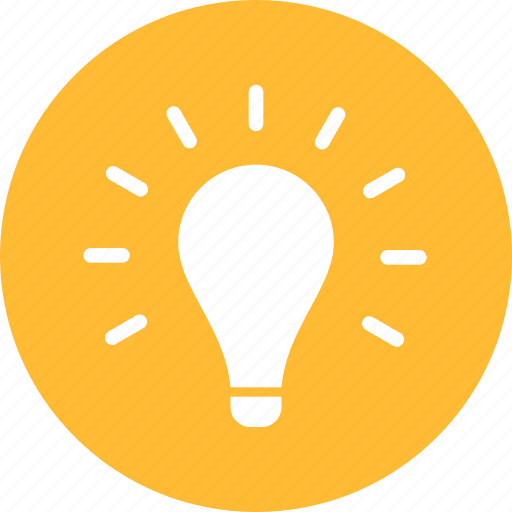 Pro Tip
To ditch the crowds and do some hiking, take the free park shuttle to the furthermost point you wish to visit and return to a shuttle stop via the rim trail.
Bryce Canyon City
This tiny village is the gateway to the national park. It's got everything a tourist needs on a visit to Bryce Canyon but also a few attractions worth considering if the weather is bad or if you're traveling with children. During your stay, see if there's a rodeo show taking place, check out the souvenir shops at "Old Town", explore the backcountry on horseback or motorbike, and catch the country music evening show at Ebenezer's Barn & Grill. Some attractions only open during peak tourist season.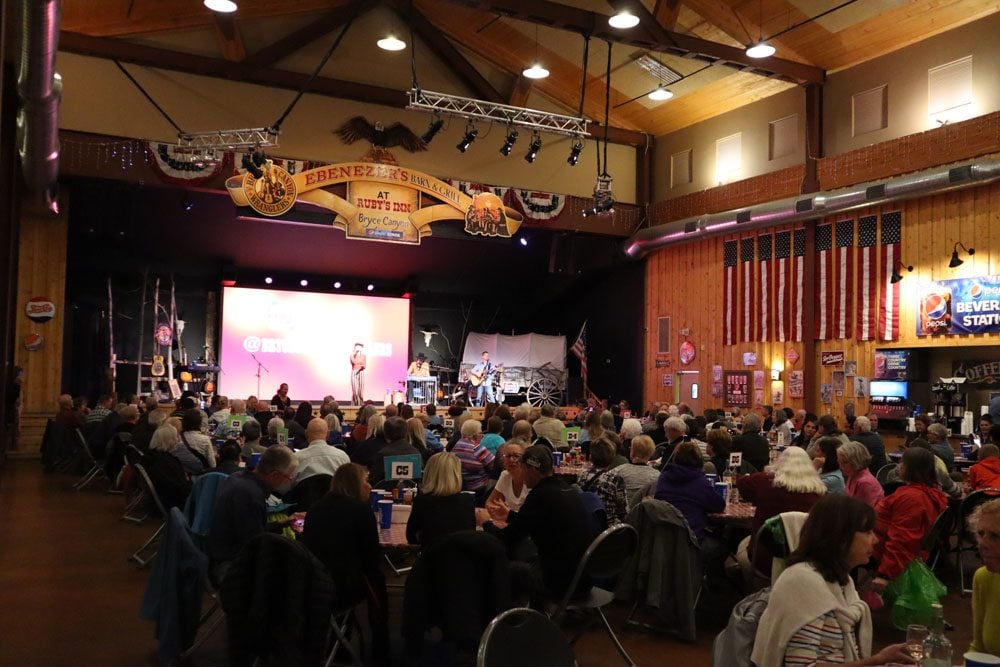 Hiking in Bryce Canyon
Hiking in Bryce Canyon is divided into three categories: rim hikes, hikes on the Bryce Amphitheater floor, and backcountry hikes. I recommend extending your visit to Bryce Canyon to allow for at least one hike on the amphitheater floor. Views from the rim certainly qualify as the "money shots", but only when you descend to the Bryce Amphitheater floor can you truly appreciate the hoodoos' unique geology.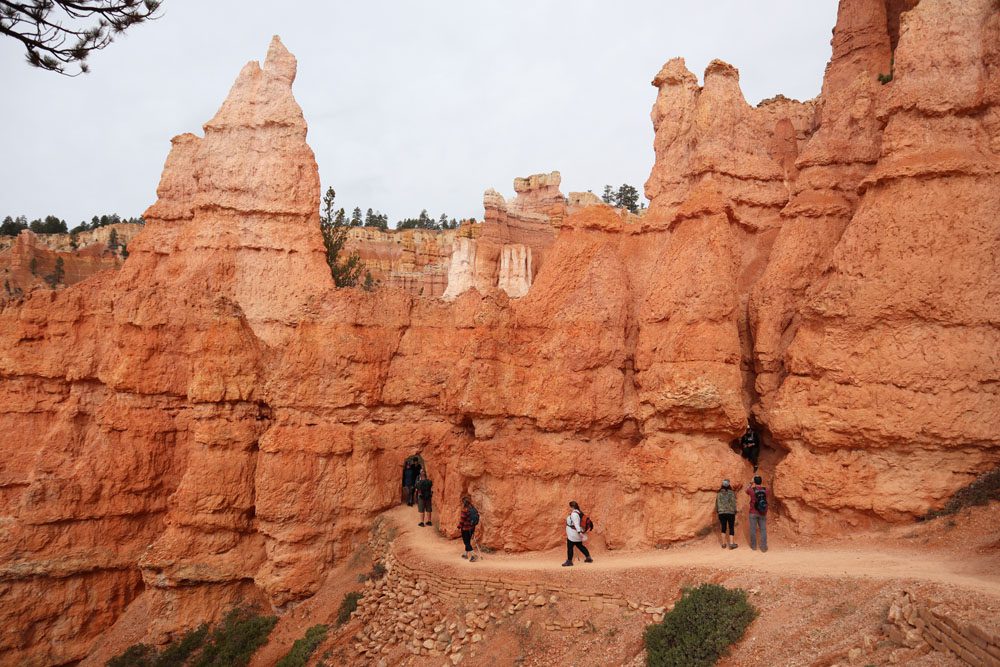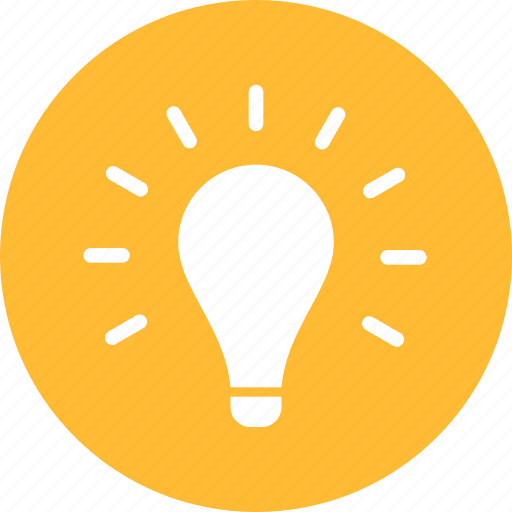 Pro Tips
(1) Many of Bryce's popular hikes interconnect with others, allowing visitors to cover large sections of the Bryce Amphitheater and extend their hiking adventure. (2) Check out these one-day or two days Bryce Canyon itineraries for recommendations on specific hikes.
Mobile Reception & WiFi in Bryce Canyon
There's good mobile reception and data in the Bryce Canyon Lodge area, which includes most of the famous scenic lookouts. However, the further you drive away from this cluster towards the end of Bryce Canyon Road, reception may not be available.
Be prepared by downloading an offline Google Map of the area. Mark the points of interest you wish to visit before heading out. That way, you'll still be able to navigate from point to point even without reception. I also highly recommend purchasing All Trails Pro and downloading trail maps of the hikes on your wishlist so you can navigate offline.
What to Pack for Bryce Canyon
Here are a few items worth considering when planning a trip to Bryce Canyon. This is not an exhaustive list. Check out the X Days In Y Packing List for more ideas.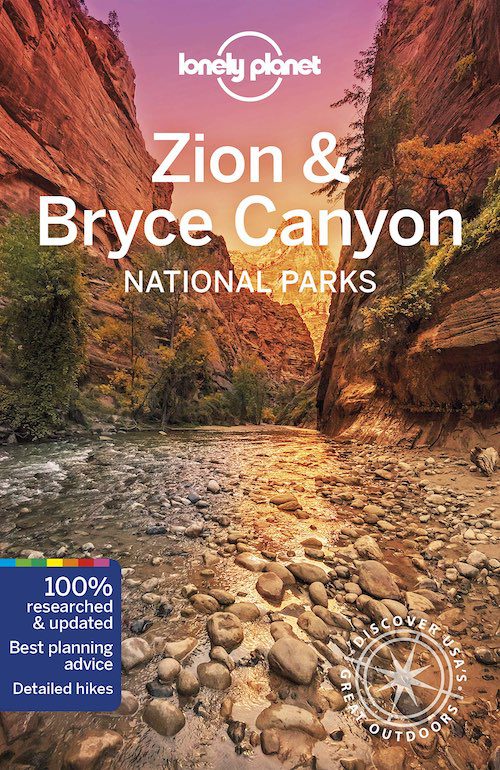 Get your copy of the Lonely Planet guide to Zion & Bryce Canyon. If your visit to Bryce Canyon is part of a more extended road trip, the Lonely Planet guide to Southwest USA is a good alternative.
Water: bottles or a water pack
Sun protection: hat, sunscreen, sunglasses
Clothing: lightweight and sweat-repelling layers but also warm layers
Dry weather: lip balm and tissues
Light rain jacket in case of afternoon showers
Safety: first-aid kit, walking poles (optional), sturdy hiking shoes, thick socks
Change of clothes for longer hikes that require car travel
Hygiene: alcogel, small garbage bag
Energy bars
USB charger to charge your phone in the car
Dress in layers
What's Next?
Now that we've covered the essential planning tips in this Bryce Canyon travel guide, it's time to start planning your trip. Visit this page to see how to structure your day with sample Bryce Canyon itineraries and check out the top things to do in the national park. Additional travel guides to Southern Utah are helpful if you combine your visit to Bryce Canyon with additional members of Utah's "Mighty Five".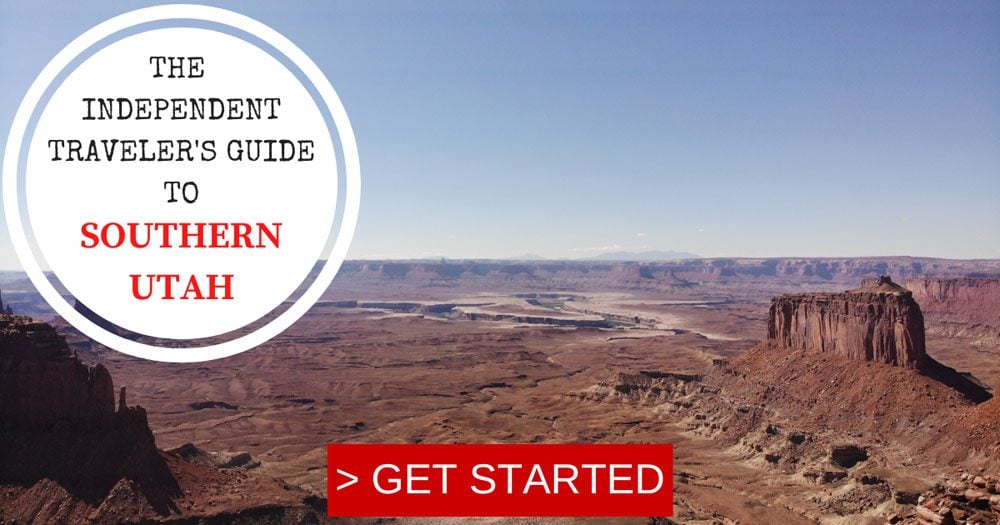 ---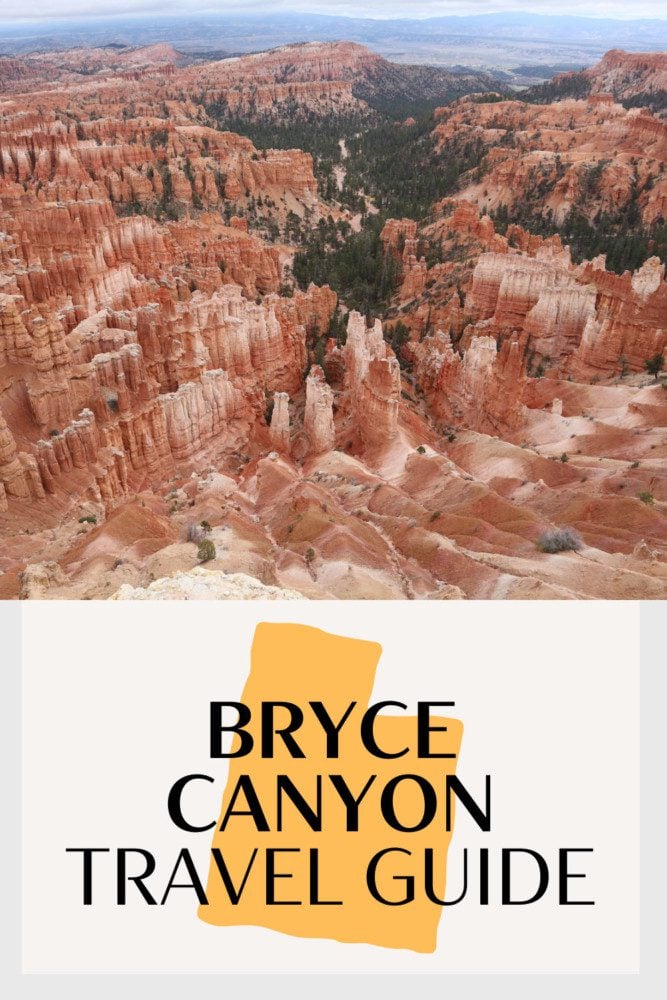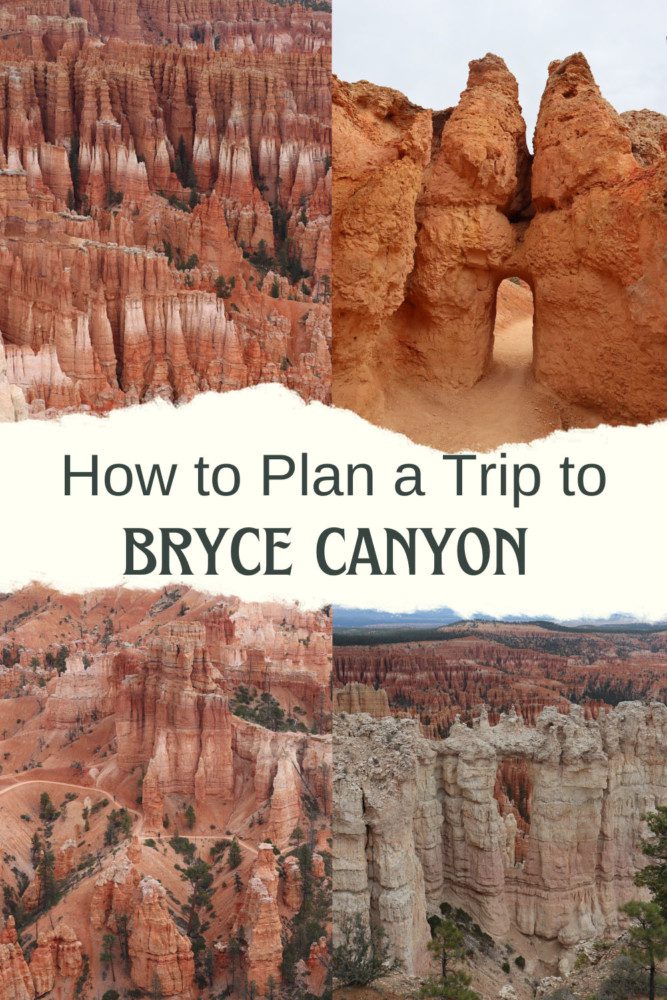 Pin These Images To Your Favorite Boards