A Guide For Going to the French Open – Roland Garros
The French Open, commonly known as the Roland Garros, is the second tournament of the Grand Slam tennis season. It's the second of four major tennis tournaments and every May – June, the best male & female players from around the world arrive in the City of Lights for a magical two weeks. If tennis doesn't flow in your blood and you just happen to be in Paris during the French Open, this post is for you. I'll be sharing with you tips for going to the Roland Garros, how to get tickets and what to expect on match day.
Heading to Paris?
Plan the perfect trip to Paris with free and in-depth Paris travel guides, including the Best of Paris collection and a guide to all major Parisian neighborhoods.
Quick Tips for Going to the Roland Garros
Start looking at ticket options in March on the official Roland Garros website. Tickets start as low as €20 even for good matches!
Prepare to spend at least a half day at the Roland Garros so it might not be appropriate for a quick visit to Paris that's not centered around the tournament
Photography is allowed
Bring a hat with you
Bring food and drinks with you
Getting Tickets to the Roland Garros
That was obviously the toughest part of going to the Roland Garros, requiring timing but also a lot of luck. It was mid-April and I had just moved to Paris for 3 months. I remembered getting upset with myself for not thinking about getting tickets to the tournament earlier, as I knew I would be in Paris during the French Open and this is a once-in-a-lifetime opportunity.
After taking a deep breath I decided to try my luck. The first step was to register for a free account on the official French Open website. Once registered, you can see which tickets are available – easy, right?
On the website, you need to click through every day of the tournament, on every match, and see if there are any tickets left at the various price ranges. Ticket prices range from €20 all the way up to well over €500. For the most interesting matches in the main stadiums, tickets start at a reasonable €40 – so if you plan ahead, you can get really cheap tickets to excellent matches!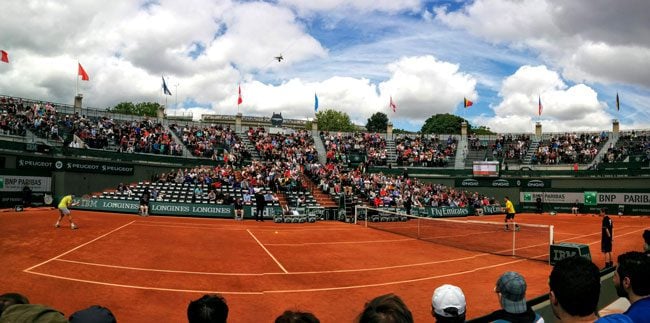 In my case, the best option was for the men's & women's quarter-finals on the outer courts, in addition to a few junior and mixed doubles matches – not bad for €20! Of course, I jumped at the opportunity as in these stages of the tournament, even mixed doubles can be interesting, let alone singles quarter-finals!
So the moral of the story is not to panic, go online as early as possible and you might get lucky and find a ticket.
The next step after payment is to wait. You will not get your ticket immediately. A few weeks before match day, you receive an email with a link to your e-ticket. You have to assign a ticket to a specific person and you have until one day before the match to do so. If you can't make it, not worry! The tournament has a partnership with Viagogo, and it is extremely easy to sell your ticket through their marketplace at no extra cost. Moreover, you can visit Viagogo and find last-minute tickets (just add an extra fee). I originally bought 2 tickets but ended up going alone. My extra ticket was sold within minutes without any special effort on my part and the money was wired to my account within days.
All that's left now is to put a name on the ticket online, print, and you're all set for match day!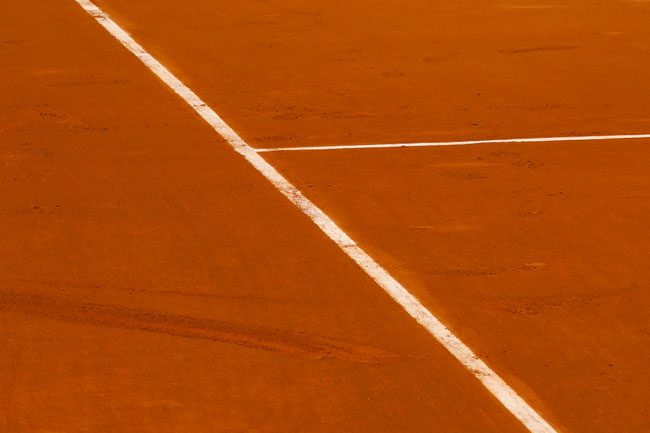 Getting to the Roland Garros
That's super easy if you're not coming here with a car, that is. As always in Paris, the most convenient way to get around is using the Metro. The closest station to the Roland Garros is the Porte d'Auteuil station. When you get out of the station, signs will point you towards the grounds but you can just really follow the crowd.
Match Day Activities
Matches usually start at around 10 am and last until the early evening on full tournament days. Keep in mind then, that going to the Roland Garros is at the very least a half-day activity. Let's take my ticket as an example. I had access to all the courts throughout the day aside from the two main stadiums. What you basically need to do is pick up a free copy of the daily Roland Garros newspaper and have a look at who is playing where. Plan your day around the most interesting matches. In my case, the marquee match was the men's quarterfinals between David Ferrer (a longtime top 10 player) and Marin Čilić (who won the US Open in 2014). This was a no-brainer! So for €20 I had access to over a dozen matches, among them a once-in-a-lifetime opportunity to see two top players crush it out!

I basically just headed straight to the stadium where this match would take place and grabbed a seat in the best possible spot I could find – second-row center court! There are no assigned seats in the outer courts so first come, first served!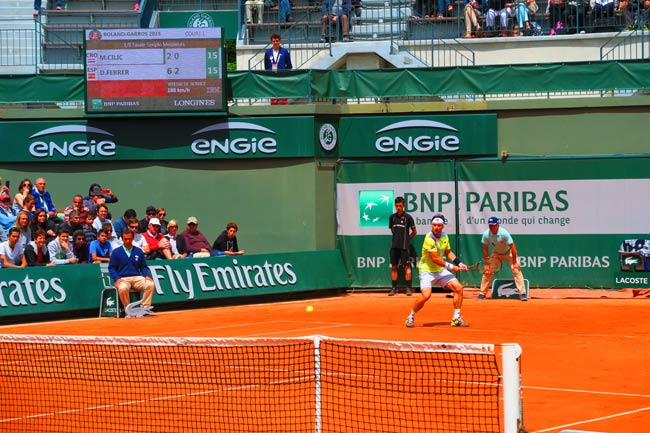 The match itself was a bit disappointing as Ferrer crushed Čilić in straight sets! It was nonetheless super cool to see the match and everything around it. Tennis is such a traditional sport and everything about it is classy (some would say a bit pompous): from the attire of the referees (sweaters in 25-degree heat?) to the way players are pampered during the breaks. What's not as classy but hopefully you'll get to see are the occasional eruptions of joy ('come on!') or anger – that can really only be felt when you're at the stadium, or the sound of a 120 mph serve that is just so impossible to return, or that perfectly timed slide on the soft clay surface – just enough to make that incredible passing shot!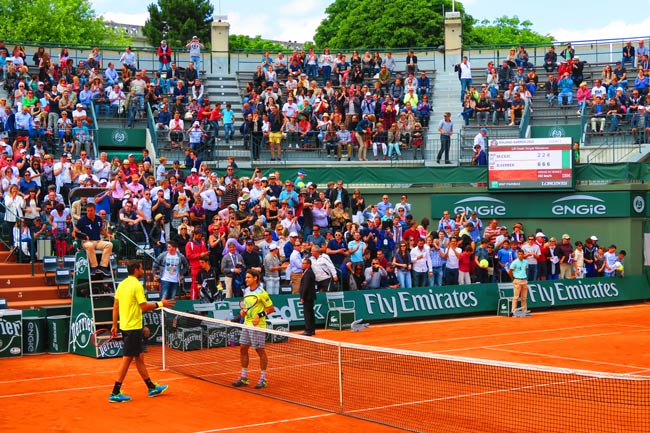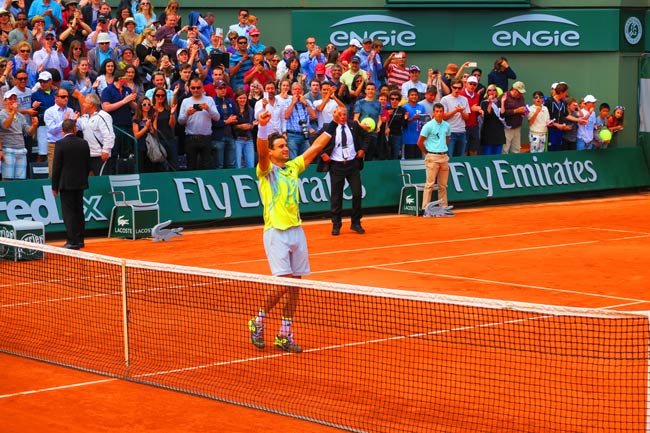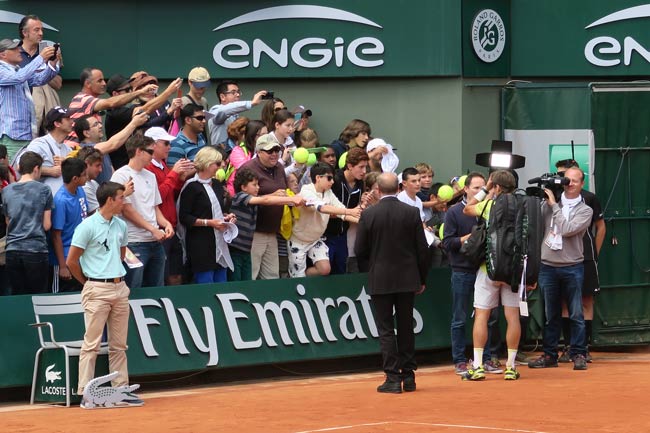 Other matches were also quite disappointing but I didn't care that much to be honest as just being there was the main attraction. Both woman's singles and the mixed doubles all ended up in straight sets wins – ah well…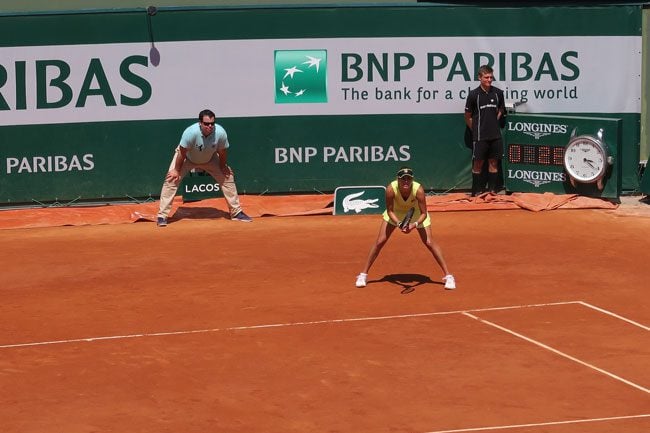 Let's touch on the topic of food and comfort. Do yourself a favor and bring these two things with you: a hat & food. May and June in Paris are beautiful and if you're lucky, there won't be a cloud in the sky! This means that after a few hours of roasting in one of the courts, things will get uncomfortable. In the culinary department, as you would expect, there isn't much selection here and prices are very high. If you don't have access to the VIP lounge, you'll have to settle for a ham sandwich and waffles. The good news is that you can bring your own food, or at least that's what I saw. I was super jealous of the folks who whipped out of their bag a nice-looking baguette. If you really want to be extra comfortable, I can also suggest bringing a small pillow with you to tuck in behind your back – stadium chairs are not very comfortable.
Lastly, if the match you're watching is boring and you hear a roaring crowd from the center court, the one you don't have tickets to, have no fear! It's actually pretty common to gather around the main square and watch the main match together with other bored fans who wish they had tickets to the main event! Walk around the grounds and suck in the atmosphere – this is a once-in-a-lifetime experience!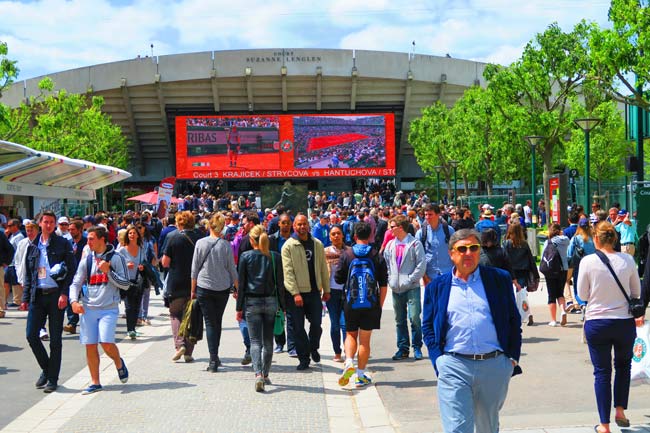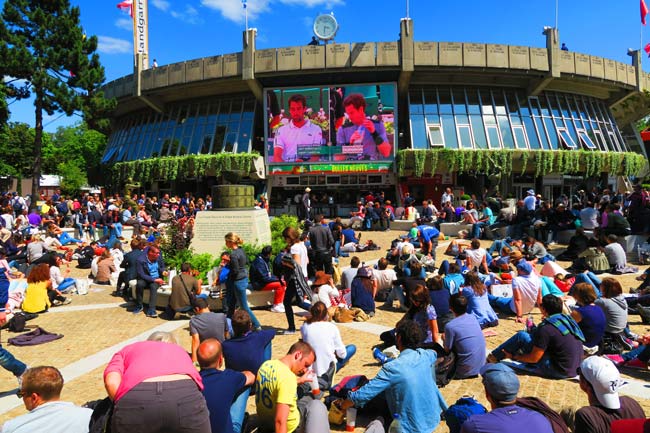 Final Thoughts
Going to the Roland Garros was an unexpected dream come true. I never really thought about making it to one of the Grand Slams but the best things in life are often unplanned. It felt even better knowing I only paid €20 for a full day of tennis and at the same time bittersweet since had I been a bit more alert, I am pretty sure I could have secured tickets for better matches. So, if you happen to be in Paris during tournament time and have at least a half-day to spend here, going to the Roland Garros would certainly be a super cool thing to do – just bring your own food!
What's Next?
Plan the perfect trip to Paris with free and in-depth Paris travel guides, including the Best of Paris collection and a guide to all major Parisian neighborhoods.