J'aime Paris: Forget Spring, It's Summer in Paris
Bonjour again from Paris! In the last post, I shared with you my first few days in the City of Lights. Arrival was full of surprises but I'm all settled into my cute little neighborhood. Today, it's time to get down to business and take you around town!
This week's theme is all about the sun. Paris has been hit with an unusually early summer and it's been nothing but sunshine for the last 10 days. I'm pretty sure I've had more hours in the sun over the past week than I've had in my entire 4-year stint in Dublin… ouch. But for all you folks still feeling the chill of winter, don't worry – this fine weather is forecasted to come to an end… at least for now.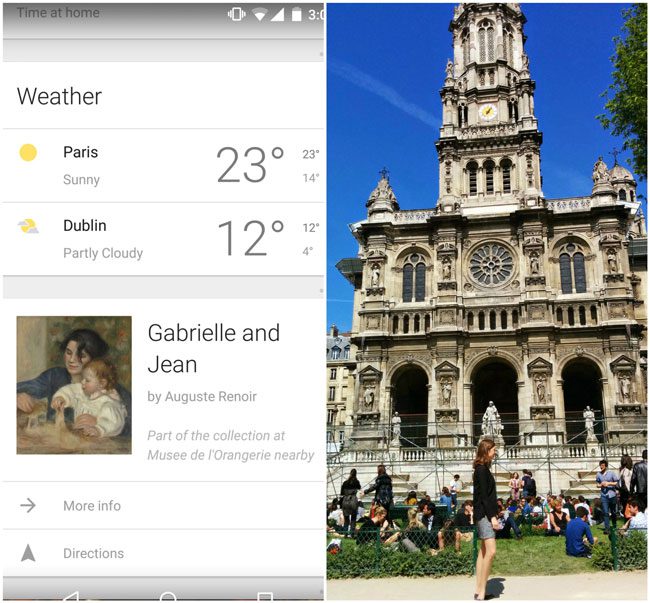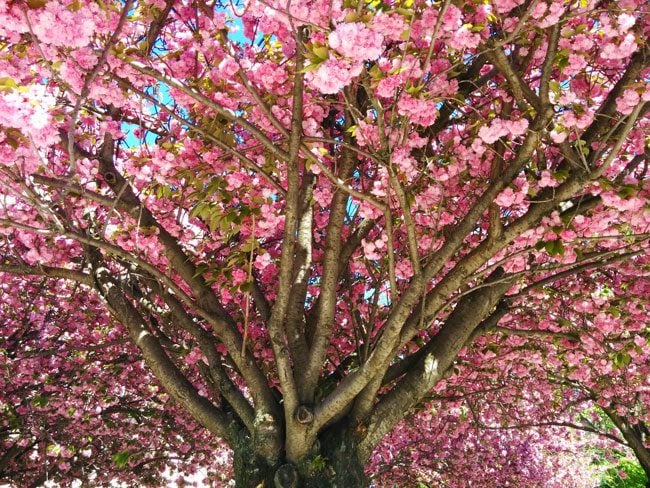 Yet to appreciate that pampering warmth of the sun, you first have to experience a good old-fashioned cloudy day and that's exactly how the second weekend started. What's great about Paris, is that there's always something to do, no matter what the weather is like and what do you do on a cloudy day? Shopping, of course. But not just any kind of shopping, it's Paris after all and since I am still not a wealthy Gulf prince who would have probably hit the Champs Elysees, yours truly headed to check out one of the best markets in Paris, the flea market, or Marché aux Puces.
Avichai, I'm gonna strangle you!
When I told Isabelle we were going to the flea market, she wanted to strangle me in the middle of the street. You see, the market is located in St-Ouen, which is just outside the Paris city limits and not in the best area of town (it's a great place to buy some counterfeit Nike shoes though). Believe me, as Isabelle will soon admit so herself, it's perfectly safe to visit the Paris flea market. In any case, it's great to see something authentic without thousands of tourists next to you.
The Paris flea market is one of the largest in the entire world and it's not just any flea market. It's actually a complex of 15 different markets spread across a few blocks, each with its own specialty. Sure, you'll find here cool old junk like at any flea market, but what's different here is that you can find exquisite 19th century furniture to decorate your €5M downtown Paris apartment! In fact, you can find anything here from chandeliers all the way to Uzi submachine guns, I kid you not! Some of the 'posh' areas of the market are, well… super posh. They don't even let you take pictures, let alone say a simple 'hello'.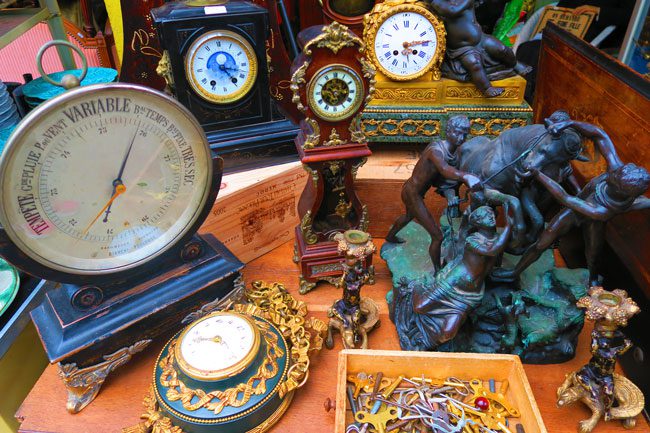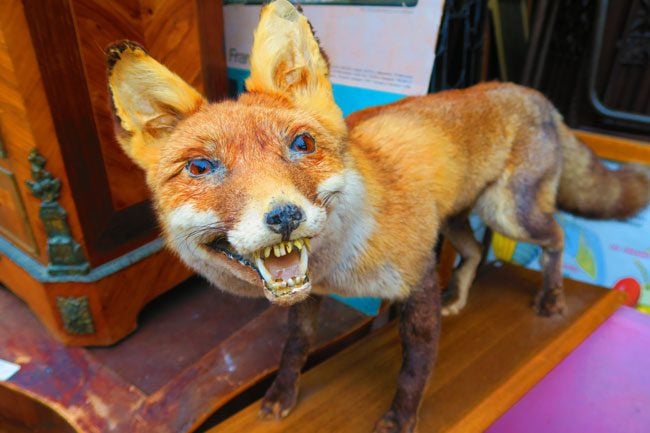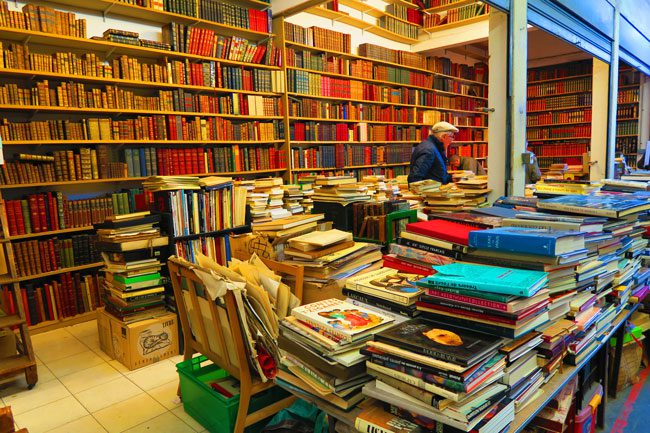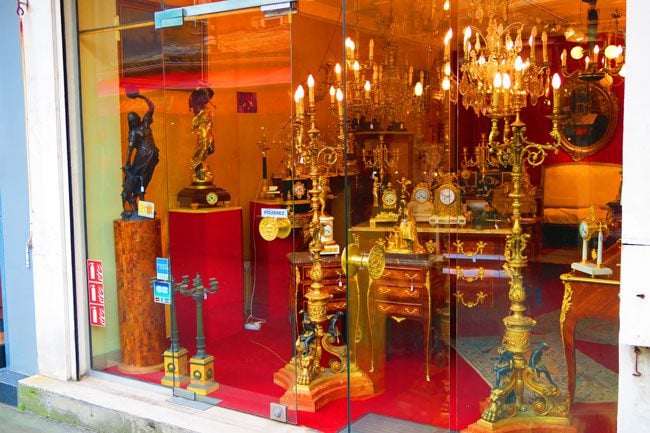 Encore Manuela, encore!!!
Among all the gems found at the Marché aux Puces, there is a special one. Tucked away in a little alley in the oldest market within the complex, the Marché Vernaison, you'll find the not-so-fine restaurant of Chez Louisette. You can come here for the food but that's entirely at your own risk. The gem I was talking about is Manuela – she cranks up non-stop Edith Piaf covers. Encore Manuela, encore!
The battle of the terrasse
Sunday was literally 'sun day' and it was time to wipe off the dust from their sunglasses, so rarely used in Ireland. It was actually the day of the Paris marathon but since I love sleeping in on a Sunday (who doesn't?), let's wish all the runners good luck!
One of the things to do in Paris on a Sunday is to spend the day in the Marais. This super trendy neighborhood is smack in the middle of Paris but it doesn't feel that way. It feels more like a large village, with lots of cafes, restaurants, markets and boutiques. It's hard to imagine that this place used to be marshland (hence the name, marais) but our good friends the Knights Templar put an end to this many centuries ago.
In fact, the Marais has a royal background as well. It's where Henri IV built a small palace and erected the beautiful Place de Vosges, a prime spot for picnics these days. Wait till you see this place…
As I mentioned already, it was a beautiful sunny day and the Marais is a prime spot for brunch in Paris. If there's anything that Parisians cherish more than their fresh baguettes, it's a spot in la terrasse on a sunny day. This means a spot in one of the outside tables overlooking the street, great for charging up your Vitamin D levels and for people watching.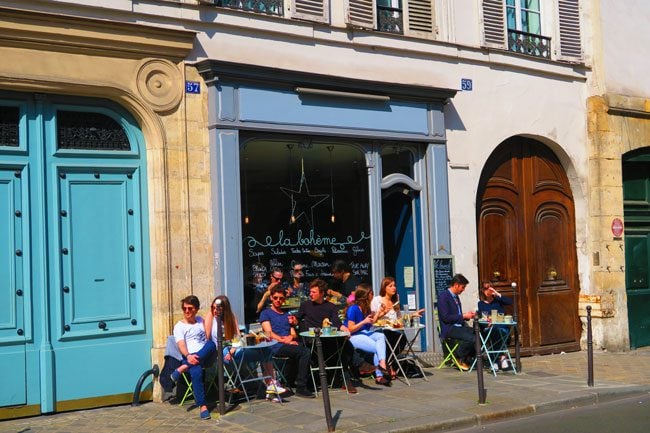 Good luck though finding such a spot on a sunny day in the Marais. Trust me, we waited and waited and nobody picked up the signal (or maybe they did but just didn't really care). When we did finally find a spot somewhere, conversations around us mainly revolved around brainstorming for the summer vacance – summer is definitely just around the corner!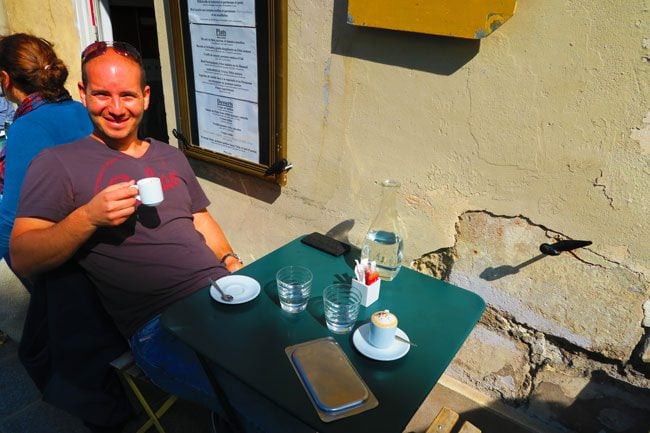 Preparing a picnic
The next task was to get ready for a lunch picnic. The Marché des Enfants-Rouges is just around the corner and though super petit, it's super cute. You'll find everything you need here. The guy at the bakery even threw in a few extra baguettes, 'on the house', as a way to welcome a new visitor to Paris. Who said Parisians aren't nice?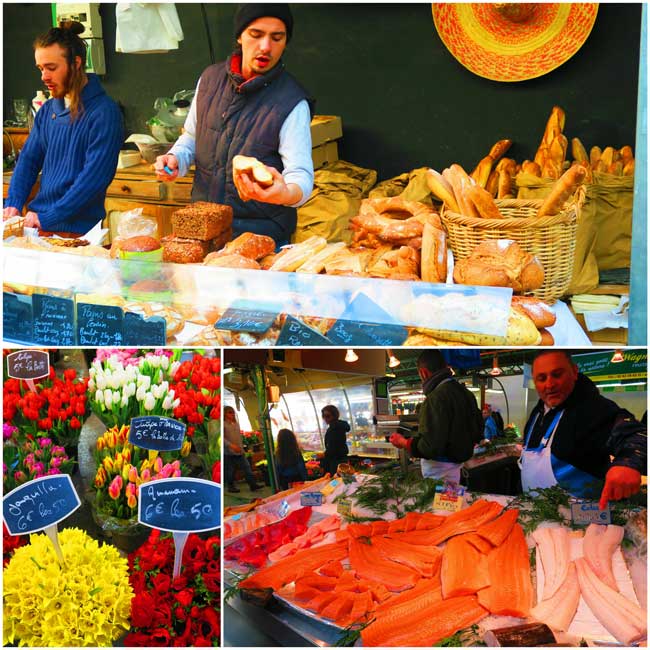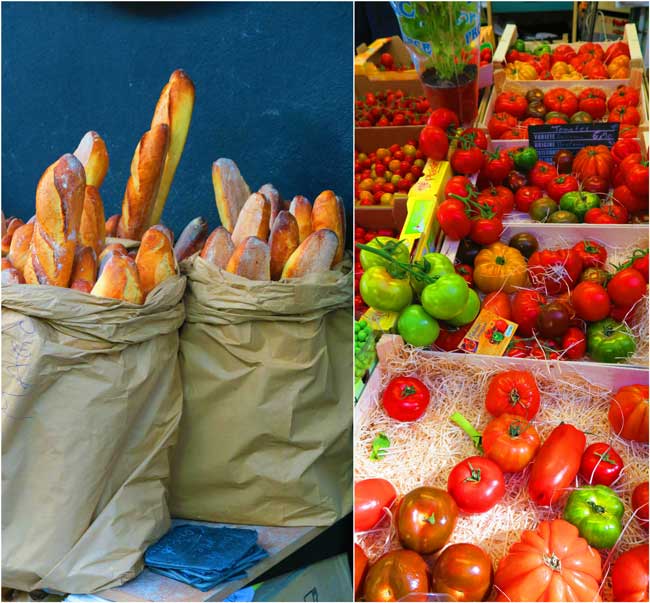 Walking down towards Place de Vosges, I once again noticed the obsessions around here with fresh baguettes. To identify the nearest boulangerie, one only needs to look for a queue spilling out into the streets. A fresh baguette is like gold around here!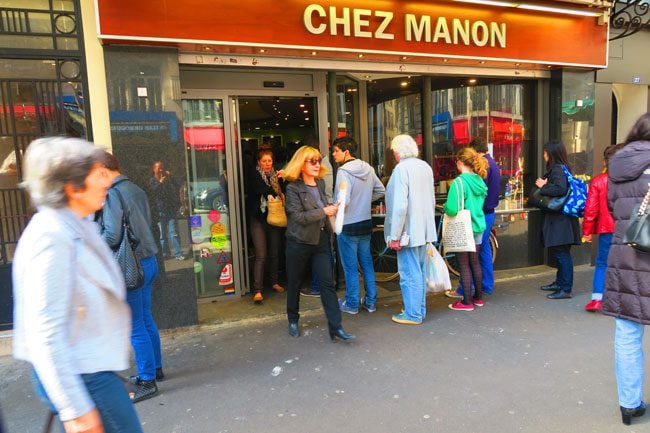 Picnic at Place de Vosges was definitely the highlight of the day. I mean, this place is so nice and it doesn't hurt to have a bunch of guys playing jazz or even someone playing the harp – just next to you.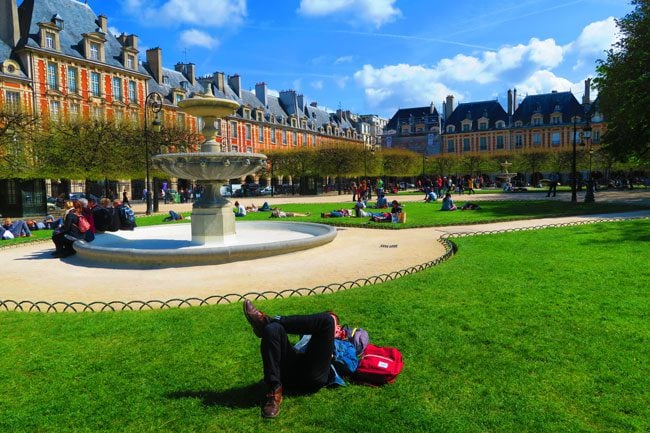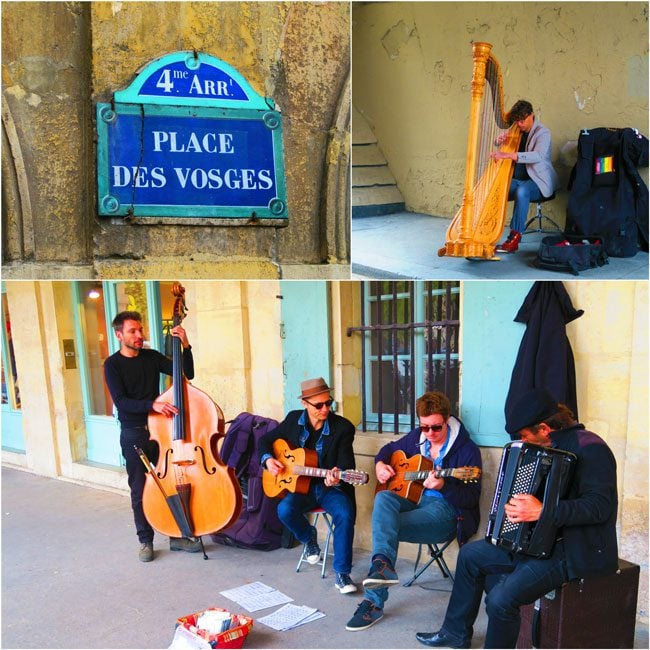 I won't bore with the rest of the details of the day but let's just say it involved being in the middle of a falafel war, visiting one of the most charming old churches in Paris that just happens to be in one of the most charming little streets in Paris and topping everything off with visiting a village within the city of Paris.
Can you do the Can Can?
Though the weekend was over, the fun wasn't and Monday meant a visit to the Moulin Rouge. I mean, what can I say. Yes, this show is mega touristy but it's been running for more than 100 years! The costumes are out of this world, you get to see the famous Can-Can and the dancers are most of the time…topless. What more can you ask for? Oh, there's also a hilarious comedy act, live giant snakes and an acrobatic duo that's from another planet! Photography is strictly prohibited… but you know me by now.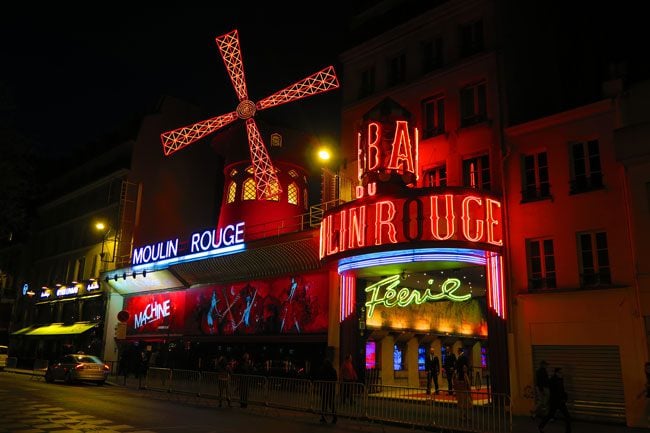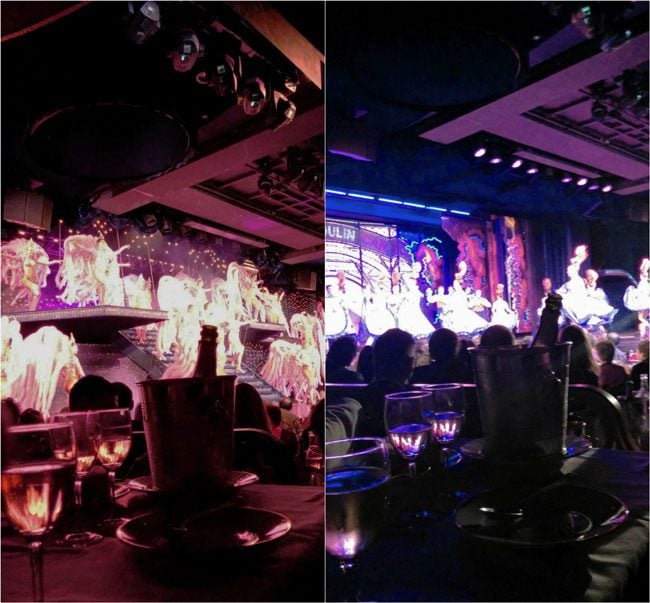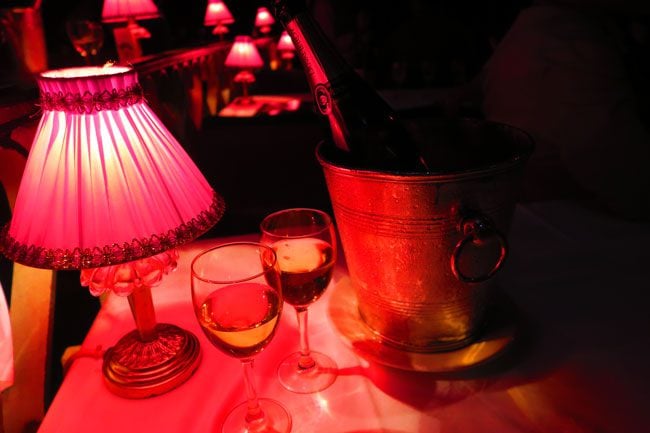 A secret spot with a great view of Paris
As the week continued, the sun refused to let go, which is a good thing. Everybody just seems happy when it's sunny and when it's not oppressively hot, as it is in July – August, people can actually breathe – another good thing. I got a great tip from a local colleague at work to head to the top of a nearby department store called Printemps for fine views of Paris. Boy was he right (Vincent, you my man!). Check out the view. What a perfect way to end your day.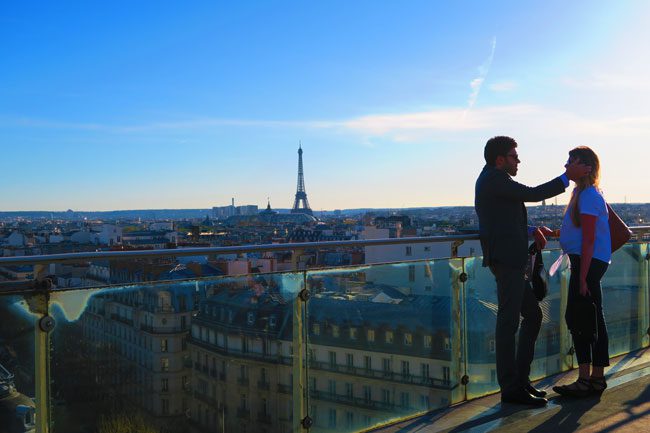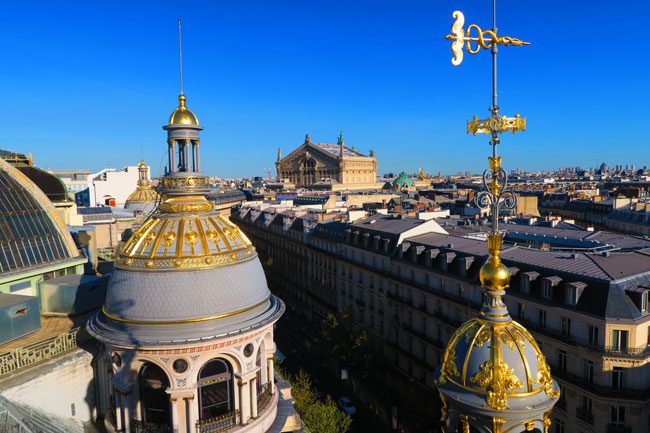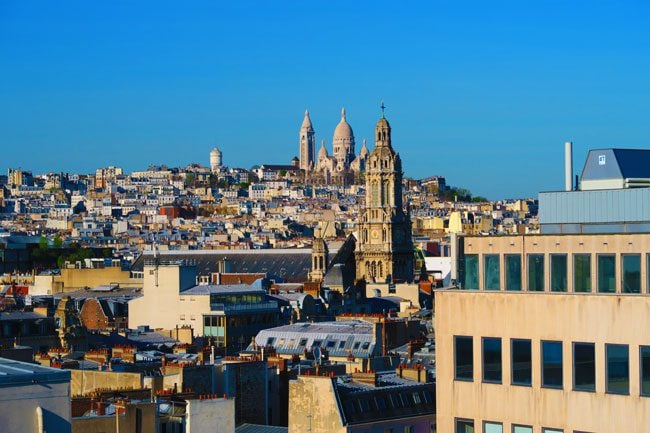 Later in the week, it was time to connect with old friends and meet some new ones. My friend Jeremie, who used to also work in Dublin, instructed me to meet him on the stairs of Opera Garnier – one of the most beautiful buildings in all of Paris. Apparently, this is a favorite meeting spot – kind of like meeting at the Molly Malone statue for all you Dublin folks.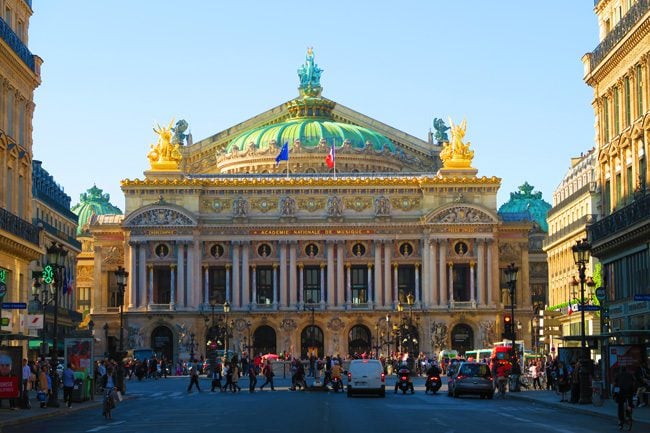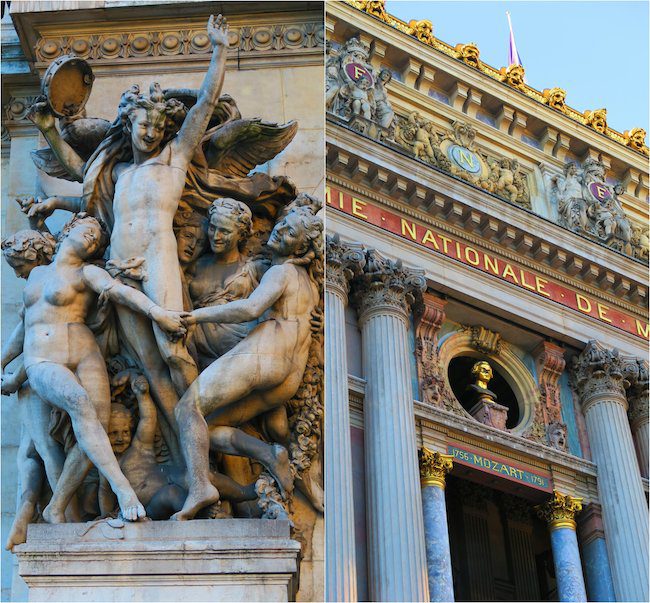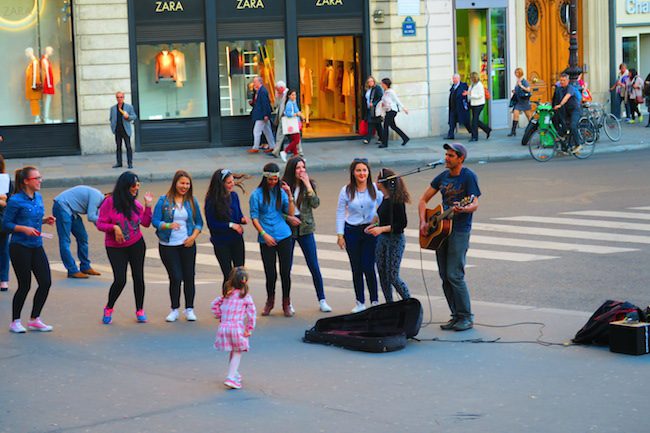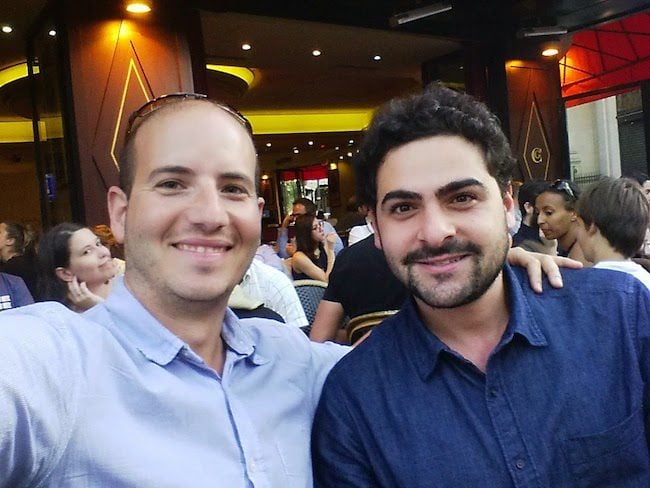 The City of Lights
Anywho, it was a good night on the town and hopefully a prelude to warm summer evenings to come. I could have taken the Metro home but on a night like this, let's walk home and enjoy some of Paris' famous monuments by night. This is the City of Lights after all!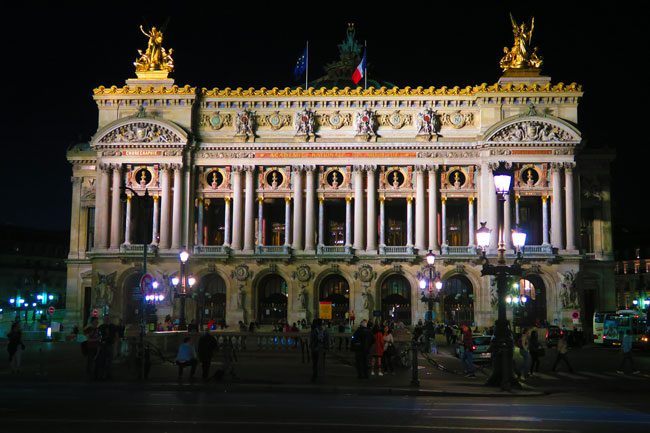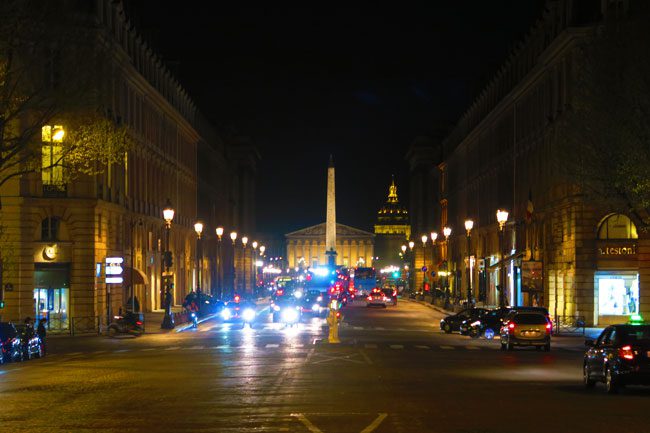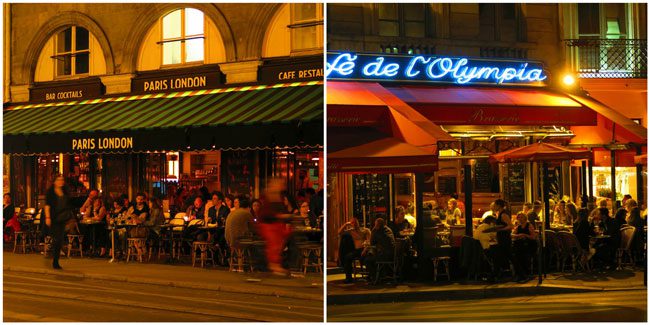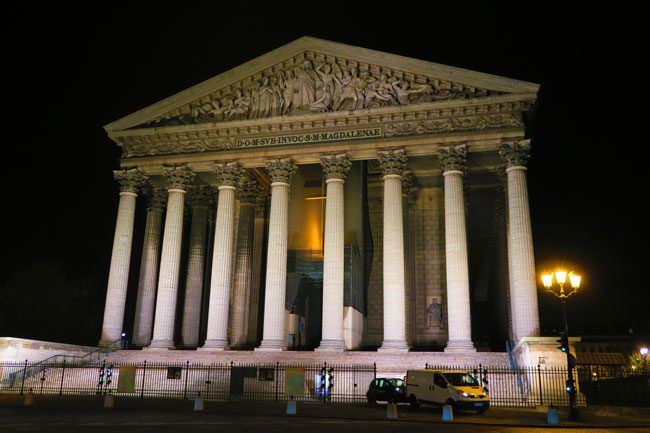 The following night, it was time to venture out of the poshness of the 8th and 9th districts and head over to the cool 10th district. Andrew, who is also on a three-month assignment over here, has a few local friends and we went to meet them, and their friends – you know how it works.
We met over at a cool little bar called Le Sully and got to meet Guillaume and his friends. It was super cool to meet some locals and hear about living in Paris. Guillaume is an electro musician and I finally learned the difference between techno, house and electro.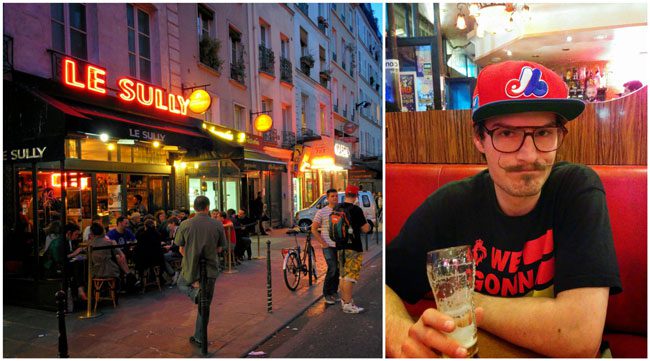 After a few beers at Le Sully, we all headed to the Canal Saint-Martin, a favorite local spot to hang around on warm summer nights. I'll definitely come back here.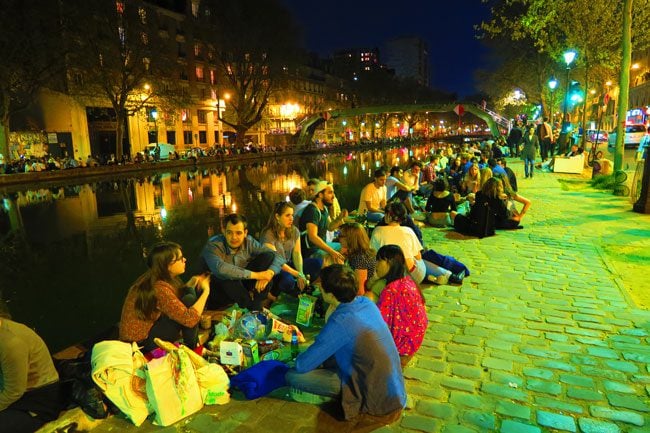 Oh, and P.S – here's another thing I learned about Paris life last week: in some situations, even guys will do the 2 bisous (kisses) when greeting each other. Weird, ah?