Trapped between two interstates slicing through the Mojave Desert between Los Angeles and Las Vegas, a visit to Mojave National Preserve is a worthy distraction for casino-bound road trippers, and an absolute delight for desert-lovers. Larger than Yosemite, the park's vast emptiness and interesting natural features are the main ingredients of a great desert adventure. In this Mojave National Preserve travel guide and itinerary, we'll explore how to plan a visit to this off-the-radar gem.
I spent a full day in Mojave National Preserve during a five-week road trip in the American Southwest that was planned "on the fly" with only a general sense of direction. The moment I saw an excuse to extend my Mojave Desert escapade after a couple of days in Death Valley, I knew that I would go out of my way to explore this park. This Mojave National Preserve travel guide and itinerary is based on extensive research and my experience.
Why Visit the Mojave National Preserve?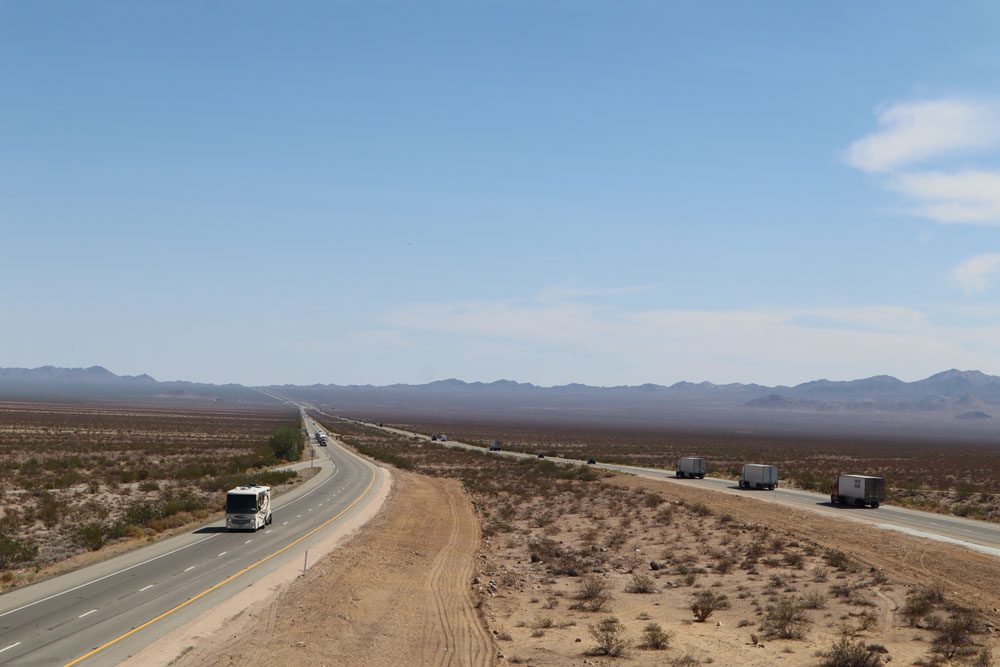 It's On The Way
If you're driving from L.A. to Las Vegas or Arizona, Mojave National Preserve is on the way. So why not spice things up, ditch the interstate, and explore the desert?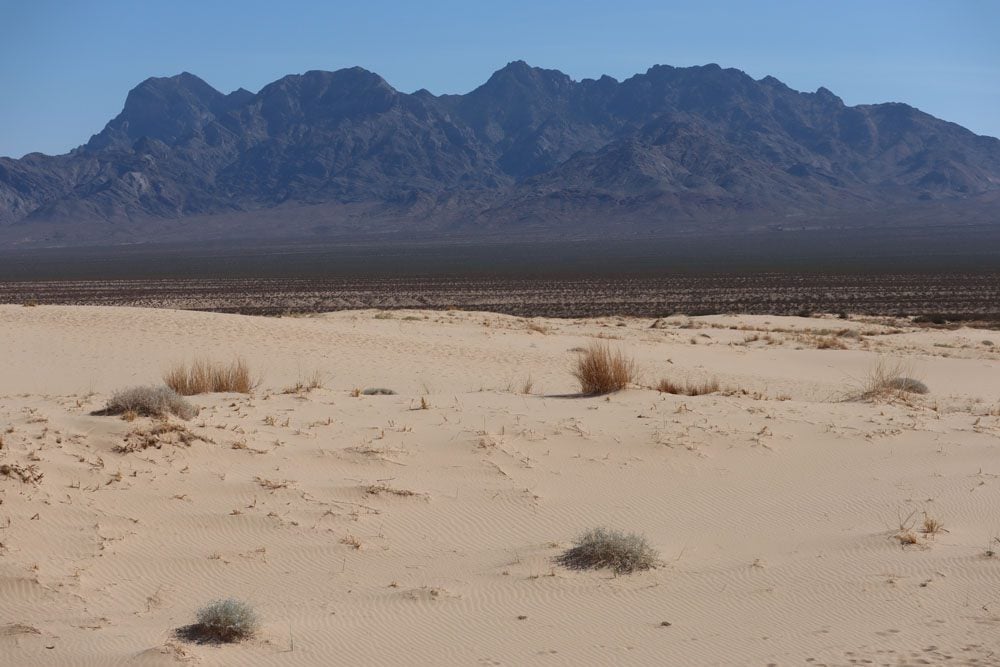 The Landscape
Rippled sand dunes, rocky domes, and cliffs punctured with mysterious holes, Joshua trees, and cactuses. These are some of the surprising natural features of this park.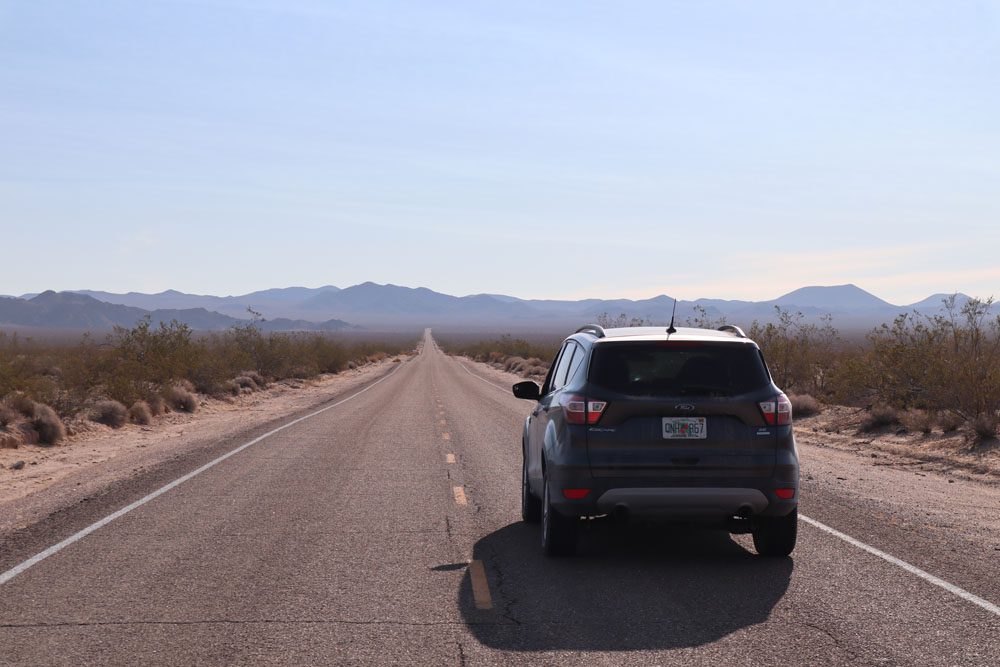 It's Off The Grid
Relatively close to Vegas, and the popular national parks at Death Valley and Joshua Tree, few are the travelers that visit the preserve. And that's not a bad thing.
What's Included in this Guide?
The Mojave National Preserve travel guide & itinerary contains the following sections:
Mojave National Preserve Map
All places mentioned in this Mojave National Preserve travel guide and itinerary can be found on this companion map. Simply click on the image to open it in Google Maps.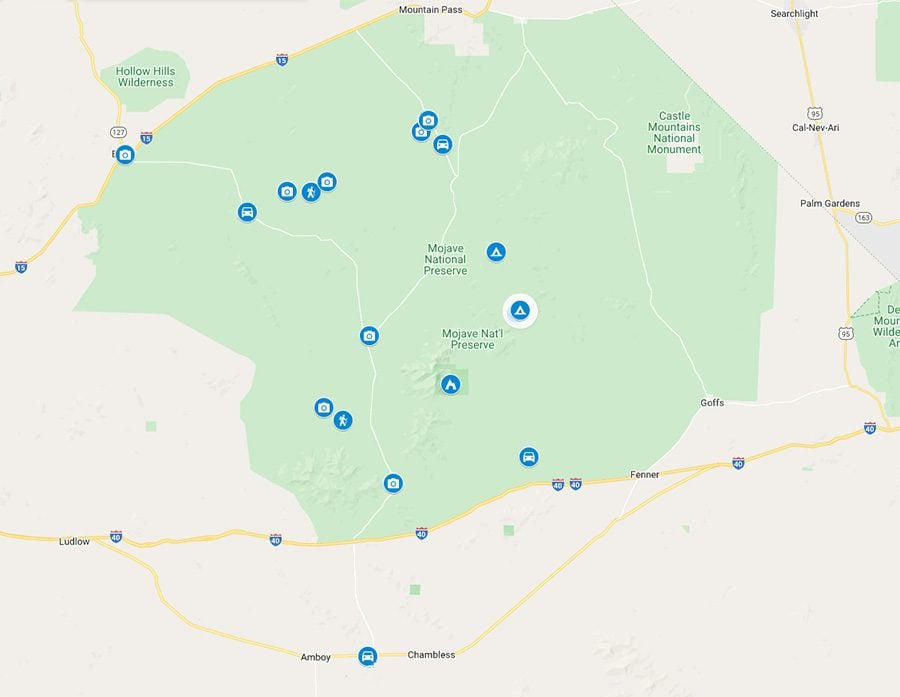 Brief Background
Mojave National Preserve was established in 1994 when Congress also established Joshua Tree and Death Valley as National Parks. The preserve is wedged between Interstates 40 and 15 that slice through the Mojave Desert along with some of the most scenic sections in the interstate system.
The preserve covers an extensive area in the Mojave Desert measuring 1.6 million acres, making it the third-largest park in the national park system and the largest natural preserve. About half of the park is designated as a wilderness area, meaning that motor vehicles and bicycles are prohibited, to protect the natural environment.
There's great natural diversity in Mojave National Preserve, both in terms of flora, fauna and the desert landscape. Perhaps this is owed to the varying elevation in the preserve, ranging from 800 feet near its entrance in Baker to 7,929 feet in Clark Mountain, or to the mountainous barrier that bisects the park. With low visitor numbers and a lack of funding, there's very little infrastructure inside the preserve. This presents an opportunity for travelers who wish to ditch the crowds that have become somewhat of a nuisance in some of America's national parks.
Mojave National Preserve Planning Tips
Listed in this section is helpful information for planning a successful visit to Mojave National Preserve.
Where is Mojave National Preserve
Mojave National Preserve lies between Interstate 15 and Interstate 40 in California and runs all the way to the Nevada state line. If you're driving from Los Angeles to Las Vegas, Mojave National Preserve is along the way. The closest "major" town is Barstow, about a one-hour drive from the Baker entrance to the preserve. A very small section of the preserve, home to Clark Mountain, lies just north of Interstate 15.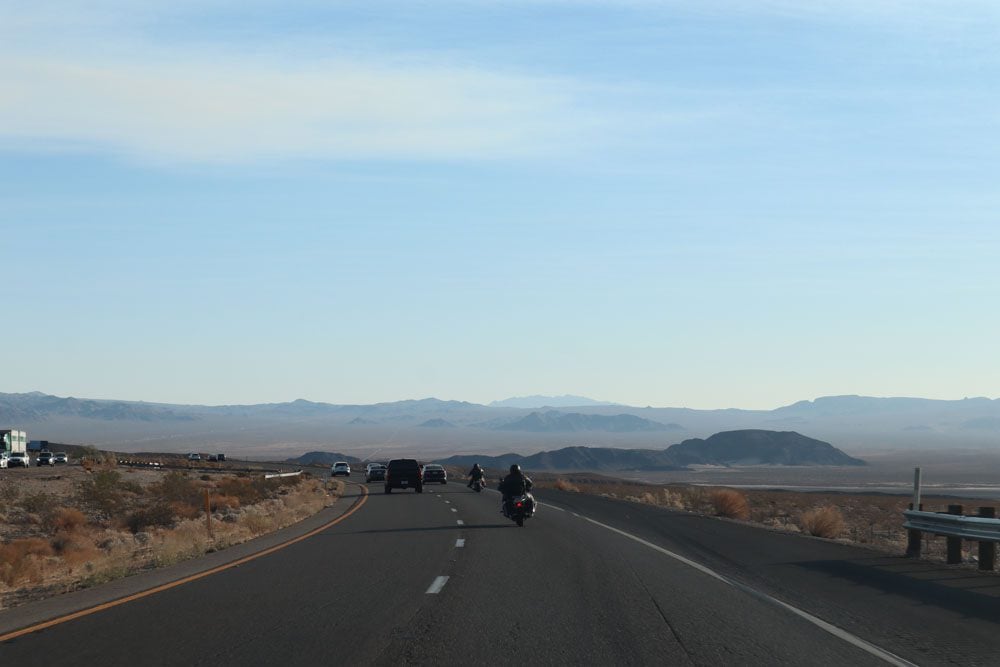 When to Visit
The best time to visit Mojave National Preserve is during spring and fall when the temperatures are bearable. During the summer, the Mojave's soaring temperatures make it hard to do anything but drive through the preserve, which isn't a bad idea if you aren't in a hurry to hit Sin City's casinos. During winter, the days are really short, there's always a chance of flash floods on the low ground or snow (and cold weather) on the high ground.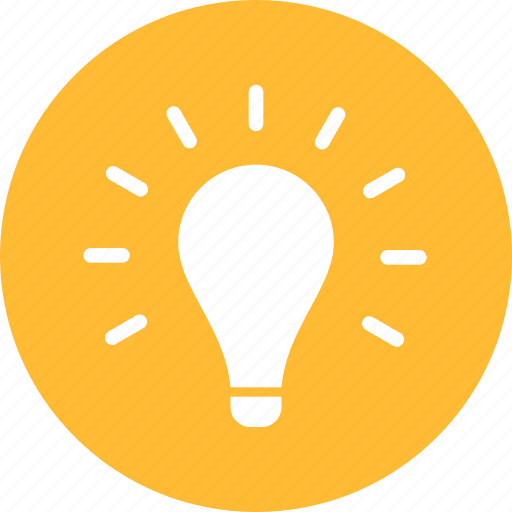 Pro Tip
If you aren't spending the night inside the preserve, another factor to take into account besides the temperature is the amount of daylight. If you can visit when the days are relatively long, a day trip to the preserve should be enough to see its top sites.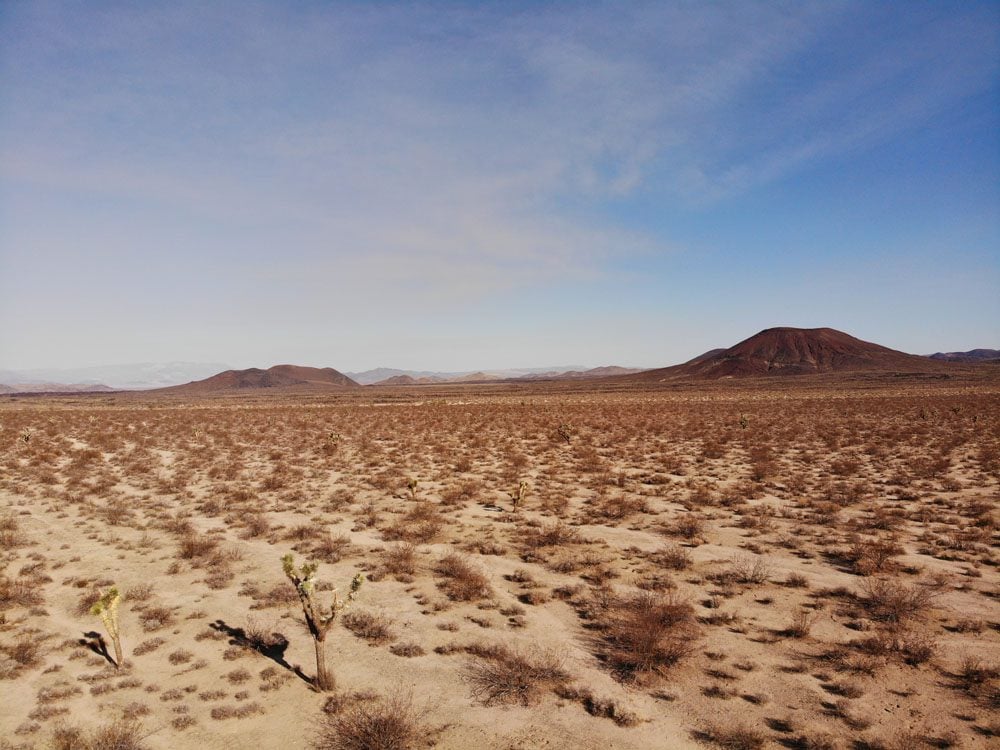 How to Get to Mojave National Preserve
Several backcountry roads enter Mojave National Preserve and they mostly run from north to south between the two interstates. There's also an entrance off Highway 164 close to the Nevada state line. Since there's a mountain range bisecting the park, very few suitable roads connect its eastern and western sections, with the Mojave Road acting as the primary artery between the two.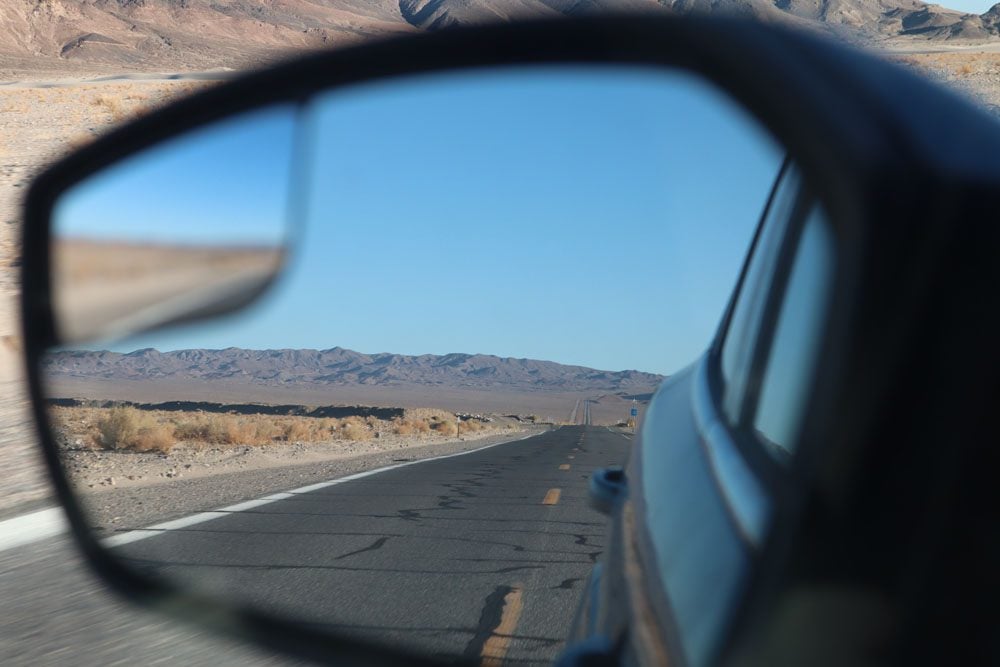 How Much Time Is Needed For Mojave National Preserve
If you're passing through Mojave National Preserve on the way from Los Angeles to Las Vegas (or vice versa), your visit will essentially be a scenic drive through the preserve with perhaps one or two stops. To get a sense of the park's top highlights, a one-day visit is recommended. In this case, you'll need to overnight in one of the towns on its periphery or camp inside the preserve. On a two-day visit, you'll be able to see its major sites and even embark on one or two serious hikes.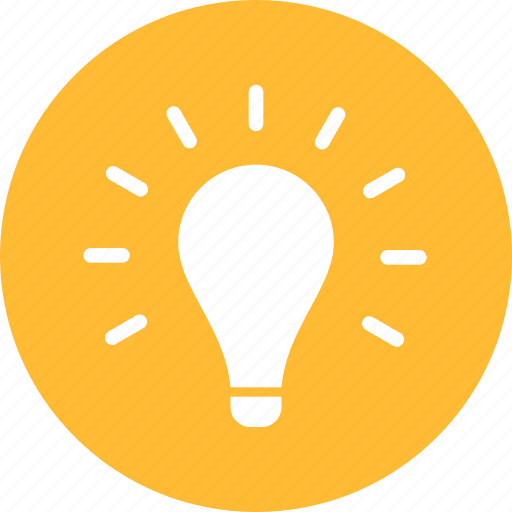 Pro Tip
Desert-lovers can combine a visit to Mojave National Preserve with Joshua Tree National Park and Death Valley National Park.
Where to Stay
Camping: this is the easiest option for overnighting inside Mojave National Preserve. There are two official campgrounds, both operate on a first-come-first-serve basis. One is at Hole-in-the-Wall and the other is at Mid Hills. If you're visiting the park during peak season and especially on weekends, get here early to secure your spot. That said, there are many roadside campsites inside the preserve so you should not have a problem finding a spot to pitch your tent. There's also a third campground but it's for groups of 15-20 and requires advanced reservations.
Hotels: there are no hotels, motels, or lodges inside the vast Mojave National Preserve. If you're looking to spend the night in such accommodation, it's crucial to research what's available along your driving route as many small towns have no motels or they have recently shut yet still appear in travel literature. If driving from the west, your best chances are at Barstow, California. If arriving from the east, try Bullhead City, Nevada, and its surrounding area.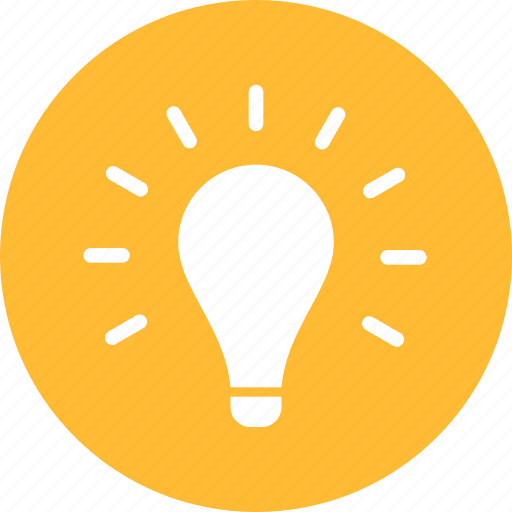 Pro Tips
(1) Check out the official Mojave National Preserve website for up-to-date camping information, including locations, fees, and available amenities. (2) If you're looking to spend the night outside the preserve, here are all available options that can be booked online via Booking.com.
Getting Around
A two-wheel-drive vehicle is sufficient for exploring the park's top site, even if it requires a bit of driving on dirt roads. Having a 4WD unlocks the opportunity to seriously go off-the-grid and explore the preserve's remotest spots. It might also unlock "shortcuts" between the park's paved roads which run mostly north to south between the two interstates.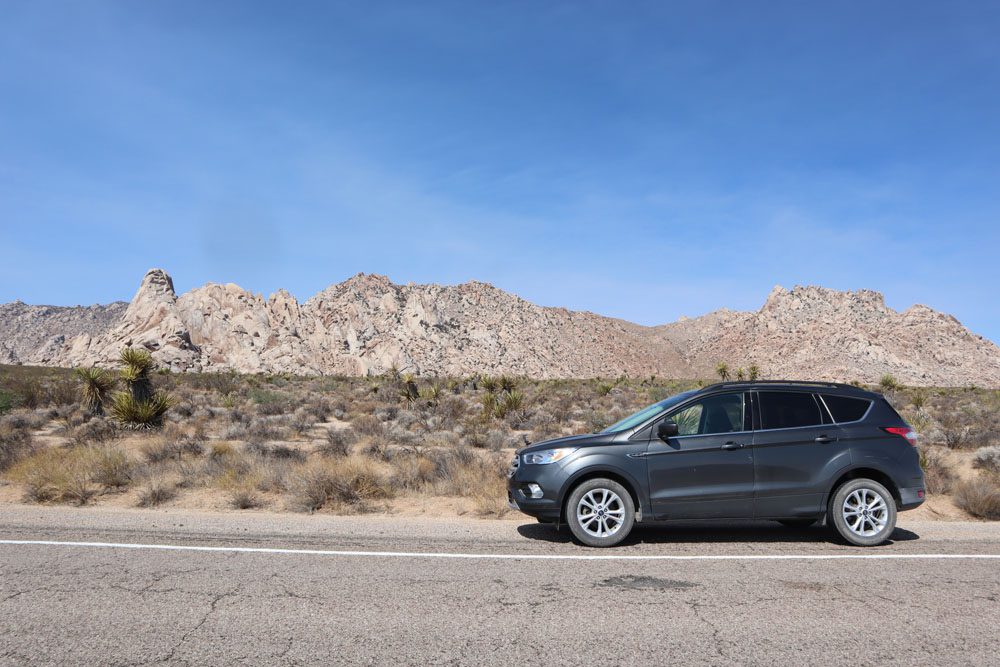 There are no gas stations inside the park so fill up before entering. Gas stations are available in all towns (even the small ones) along the park's periphery.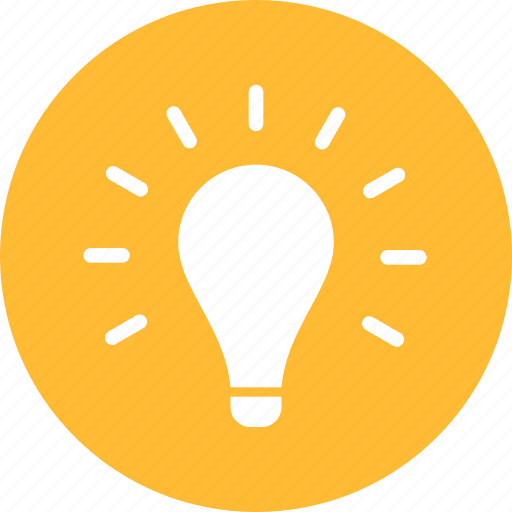 Pro Tip
I used half a tank of gas on my day trip visit to Mojave National Preserve (see the itinerary on the next page).
Driving Tips
Prepare your vehicle: personally inspect your spare tire and parts (even on a rental car), and check your oil and other essential fluids.
Fill your gas tank before entering the national park.
Download offline navigation maps.
Pick up a map of the park from the information center at Hole-in-the-Wall or the information kiosk at Kelso Depot.
Carry a USB car charger.
Stay on paved roads and only drive on official "off-roads" that suit your vehicle.
Familiarize yourself with what to do when your car overheats.
Carry a first aid kit and a flashlight.
Pack emergency water and food just in case you'll get stranded for a few hours.
Food & Water
There are no dining options inside Mojave National Preserve. Bring everything with you and leave nothing behind. There are a few spots where you can fill your water bottles but don't rely on them since they might be dry or out of service. I managed to fill up at the Hole-in-the-Wall information center.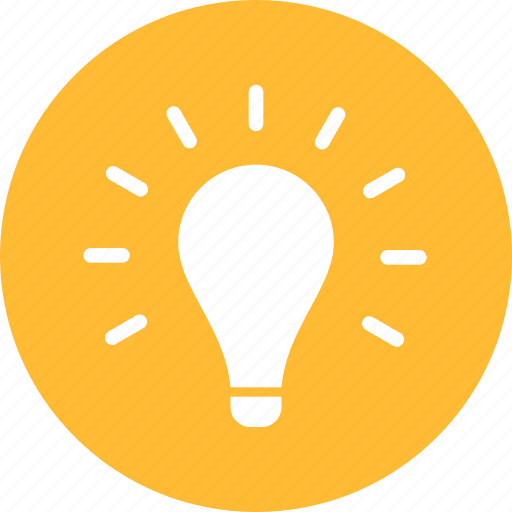 Pro Tip
Cima is a tiny settlement inside the preserve and it used to have a general store that was (permanently) closed at the time of my visit. It may have reopened since but do not rely on this option.
Mojave National Preserve Itinerary
This section highlights a day trip itinerary for Mojave National Preserve and covers its major highlights.
Where to Start From?
This Mojave National Preserve itinerary begins at its entrance just outside Baker, California. It's based on my experience exploring the park, having spent the previous night in Barstow (63 miles to the west). If visiting from the east, simply reverse the order.
Baker
There is absolutely nothing to do in Baker, the southern gateway to Death Valley, apart from filling up your gas tank and grabbing some fast food. This tiny town's main source of income is catering to truckers and interstate drivers in need of a break. Baker's claim to fame is the world's tallest thermometer, a steel electric sign that commemorates the weather record of 134 degrees Farenheight recorded in Death Valley in 1913.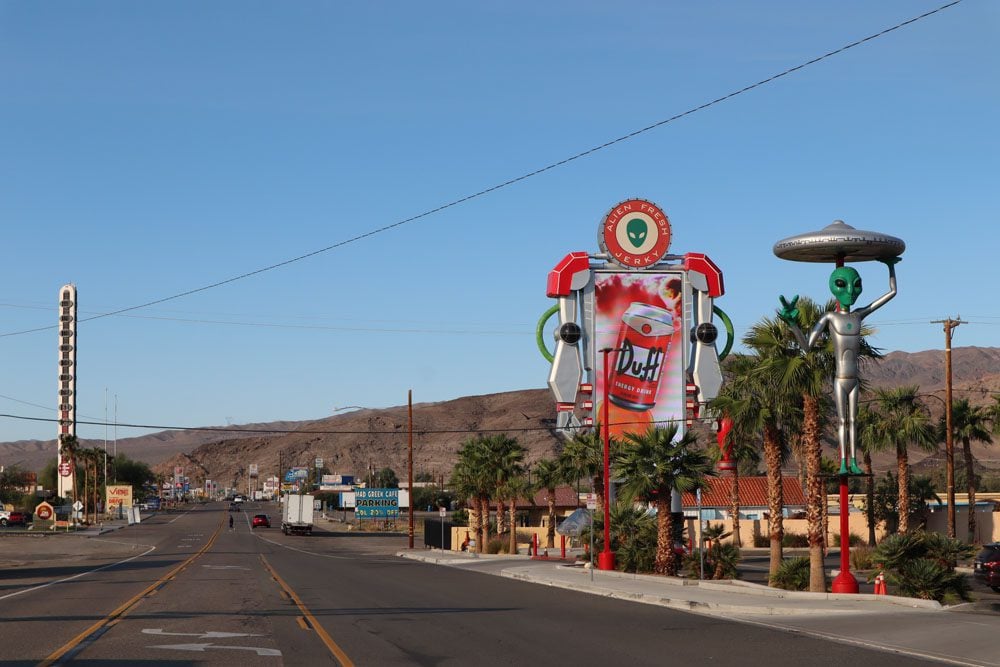 Baker to Kelso Depot
The 34-mile leg on Kelbaker Road is a beautiful stretch of lonely desert road. Stop to check out the seemingly out-of-place volcanic cinder cones and the Joshua trees. A few backcountry dirt roads cross the paved Kelbaker Road. If you have a four-wheel-drive vehicle, you can drive up to the cinder cone area by turning left on a dirt road about 15 miles north of Kelso. A high-clearance vehicle should be enough to get you to the lava tube. If you time your visit correctly, you might see a bright sunbeam streaming through the multiple ceiling holes. Slightly further is the Aiken Mine.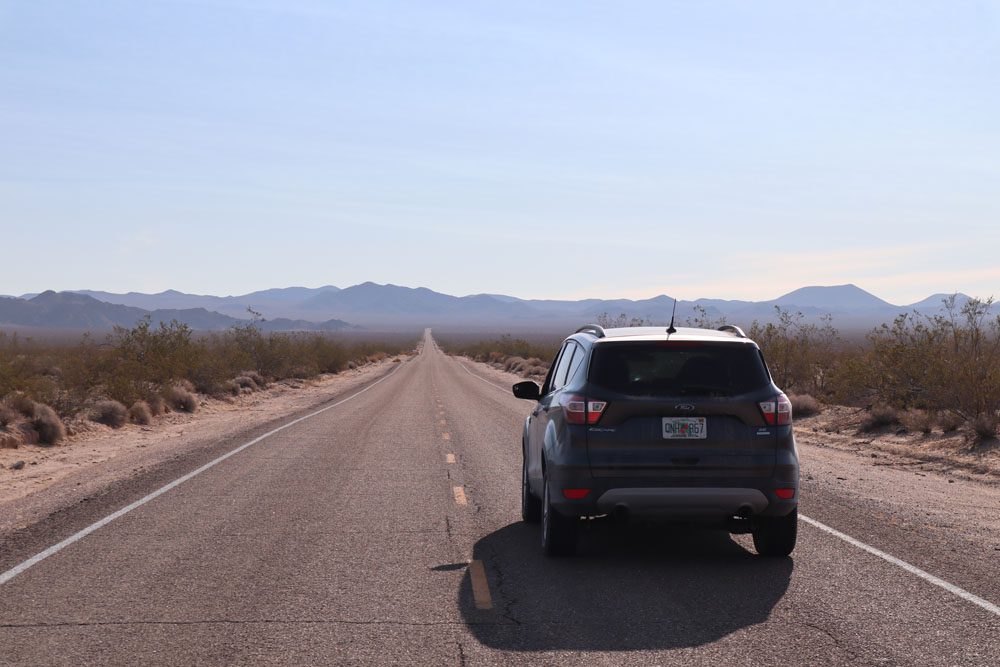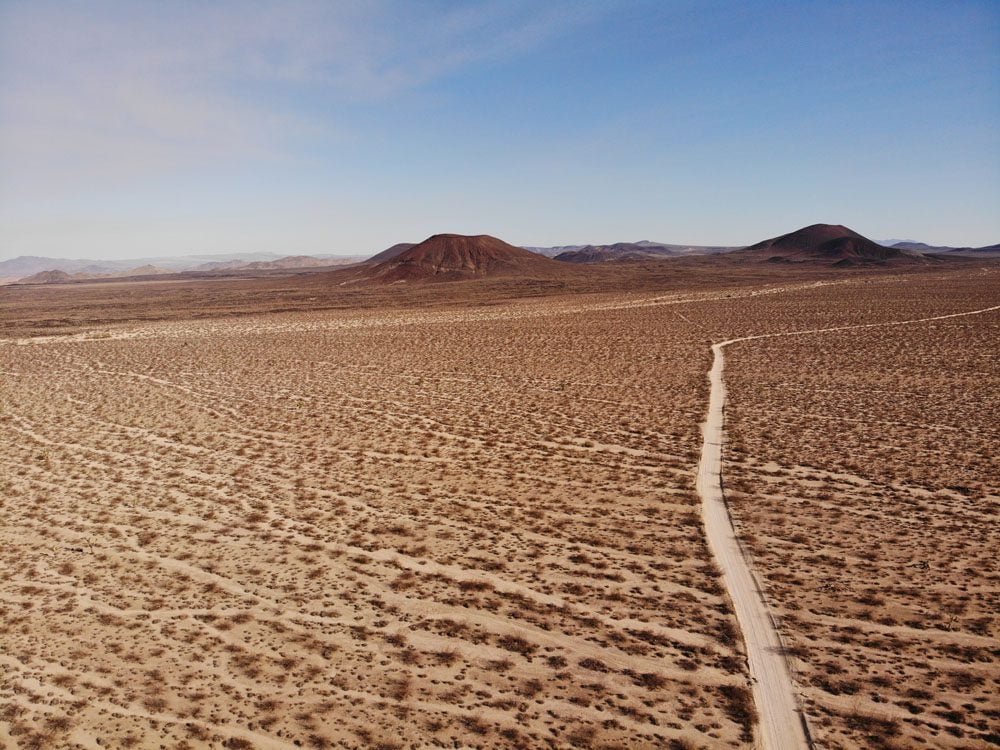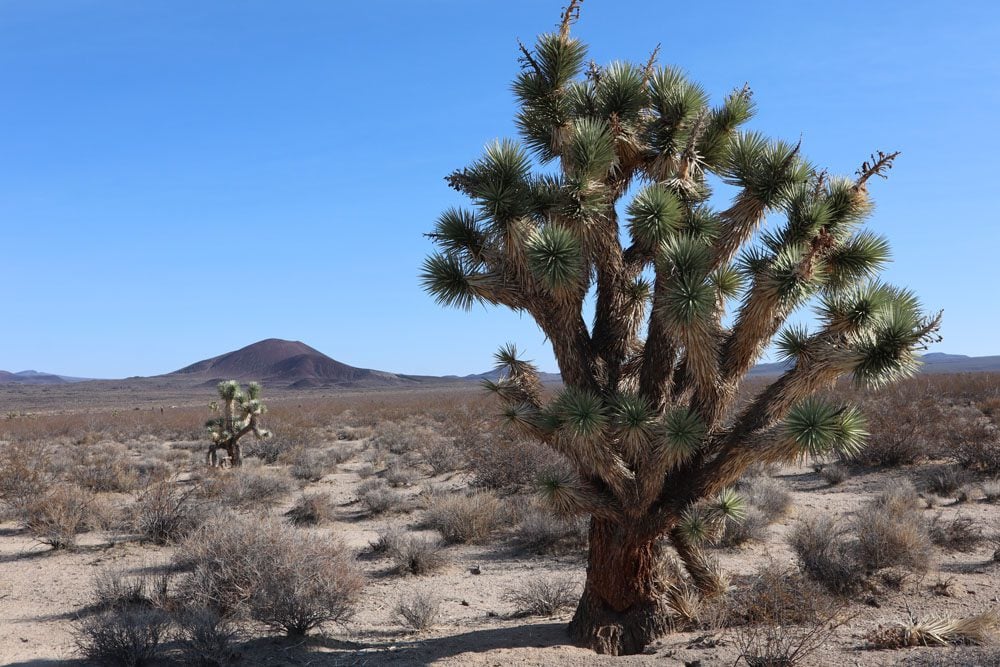 Kelso Depot
In the middle of the Mojave Desert, this impressive historical building seems completely out of place. Built in 1924, the Kelso Depot was part of Union Pacific's California network and it needed to be erected here to house small locomotives that would assist the train to overcome the steep grade further up the track. It not only served as a train station but also contained a restaurant and even dorm rooms for railroad employees. During WWII, Kelso was quite a busy place as part of the military's logistical effort in moving troops and machines across the nation.
These days, Kelso Depot serves as a visitor's center and museum. There used to be a small cafe in operation but it is most likely still not in operation after shutting down in recent years. If you're lucky, you'll see colossal freight trains stopping for a break in the middle of nowhere.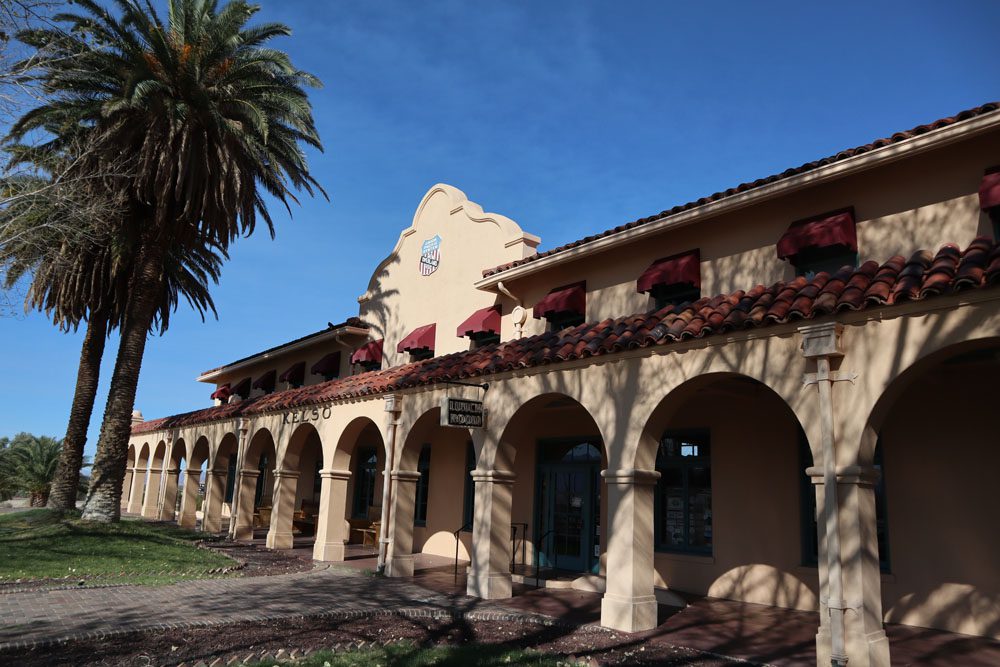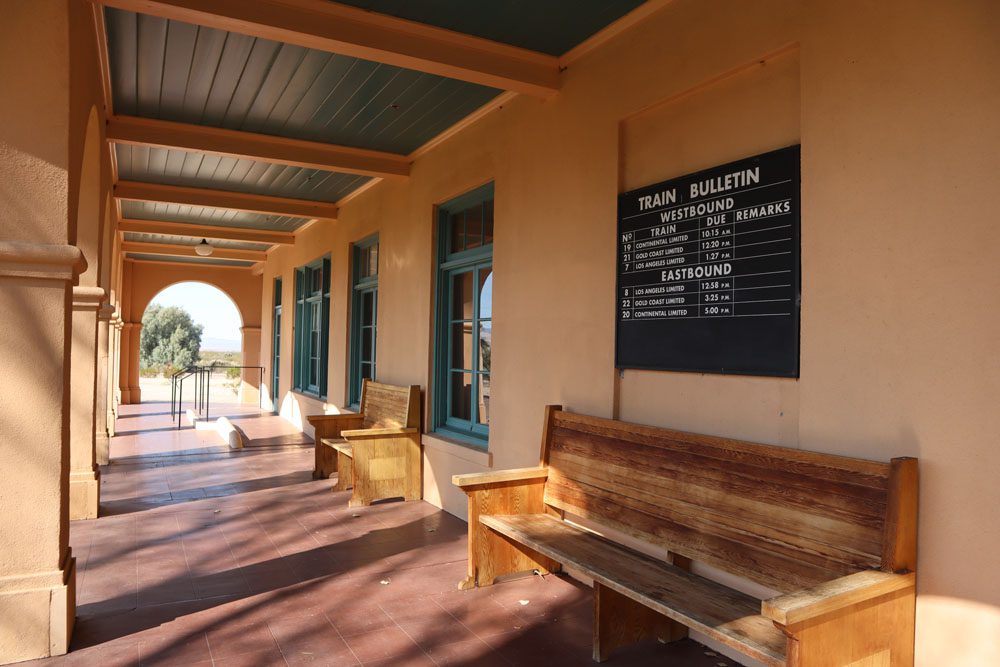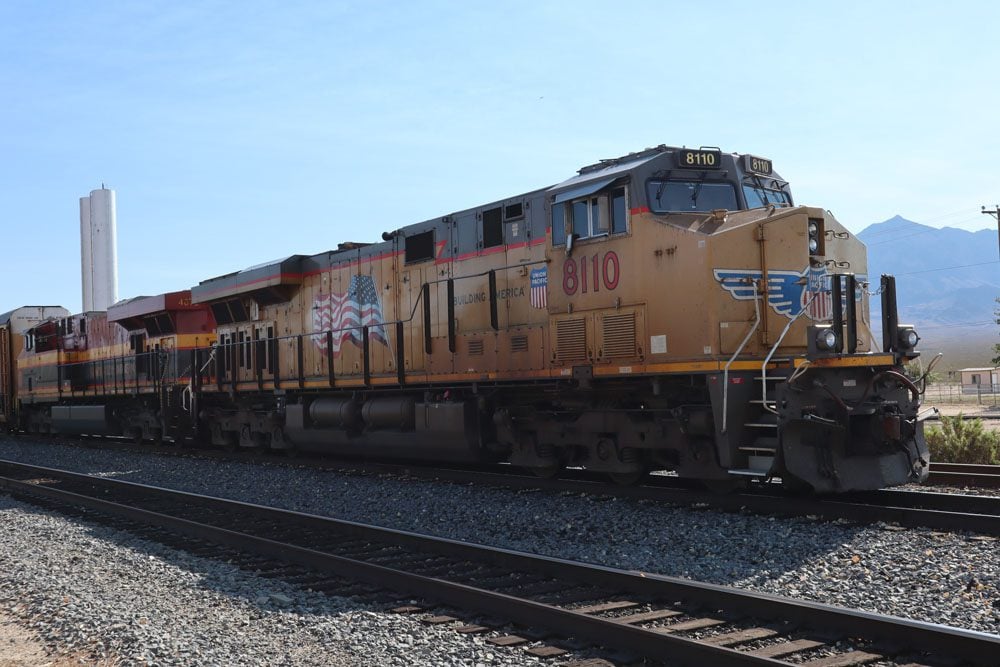 Kelso Dunes
One of the park's prime attractions, Kelso Dunes continues the out-of-place theme of the rail depot that carries the same name. This massive pile of cream-colored sand is as soft as they come, peaking at an impressive 700 feet (213 m). From the parking area, a hiking trail leads to the summit of the dunes from where spectacular vistas of the area are the reward. Carry plenty of water and protect yourself from the sun. Note that walking in the soft sand is slow going.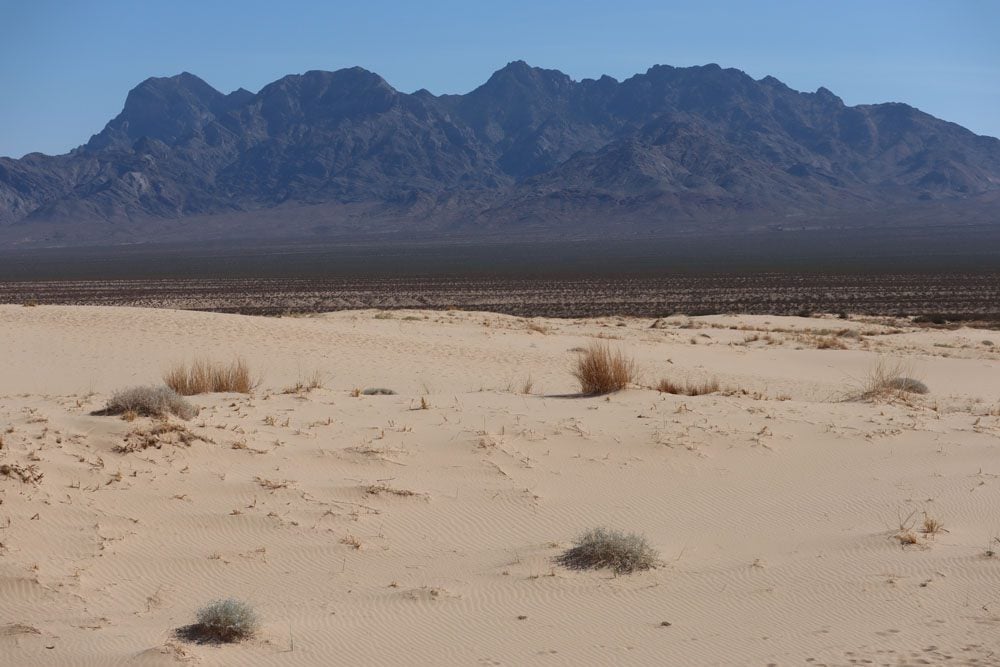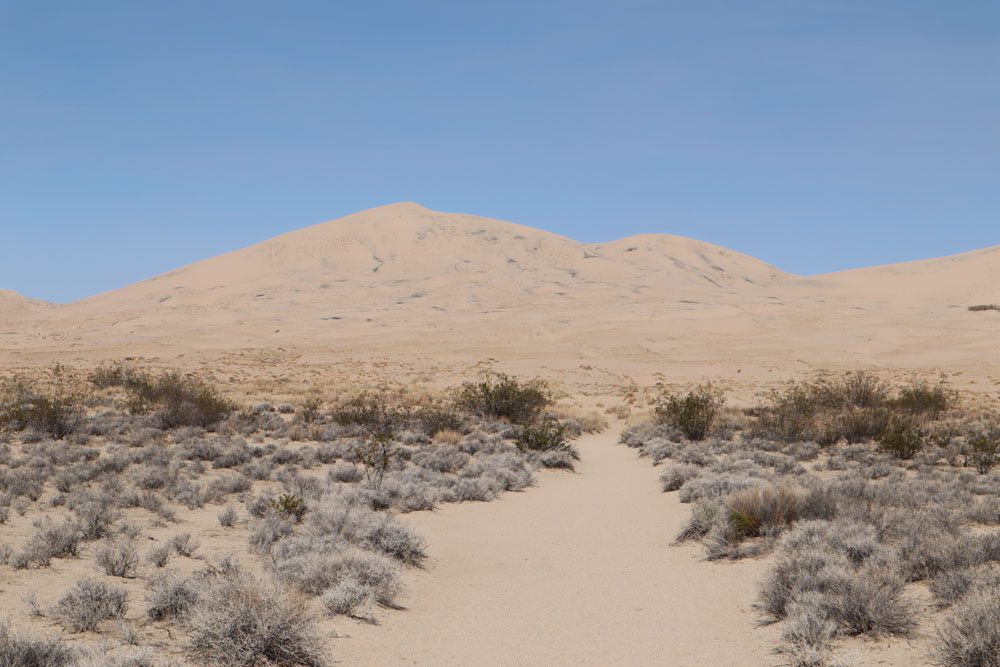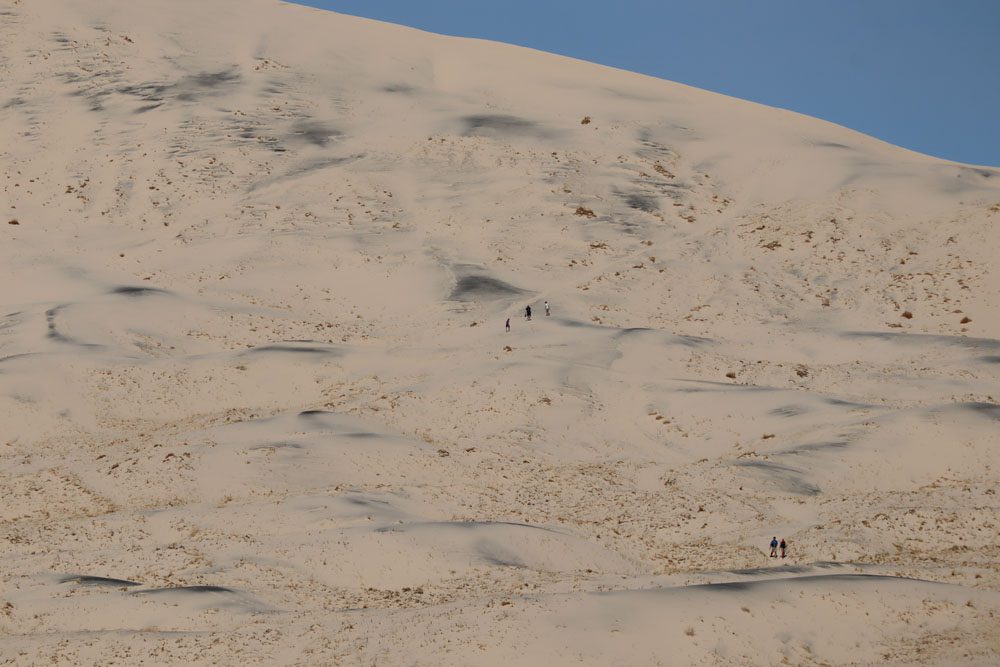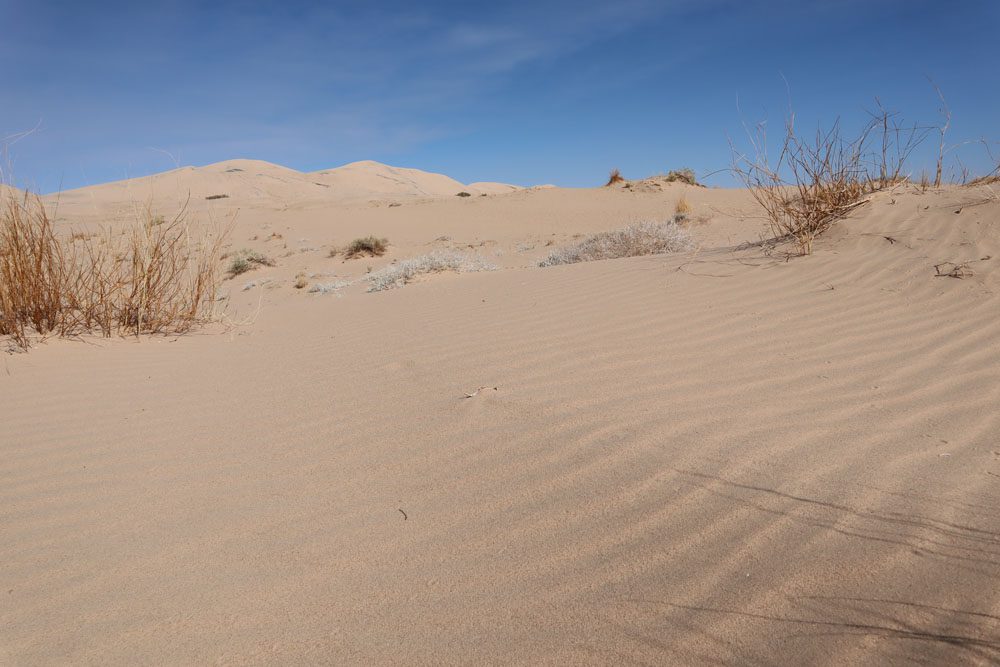 Boulders Viewpoint Area
Shortly after Kelso Dunes in the direction of Interstate 40, stop at this viewpoint and admire the strange rock formations that make up this granite mountain. If you have the time and the will, a trail from the viewpoint leads to close-up views.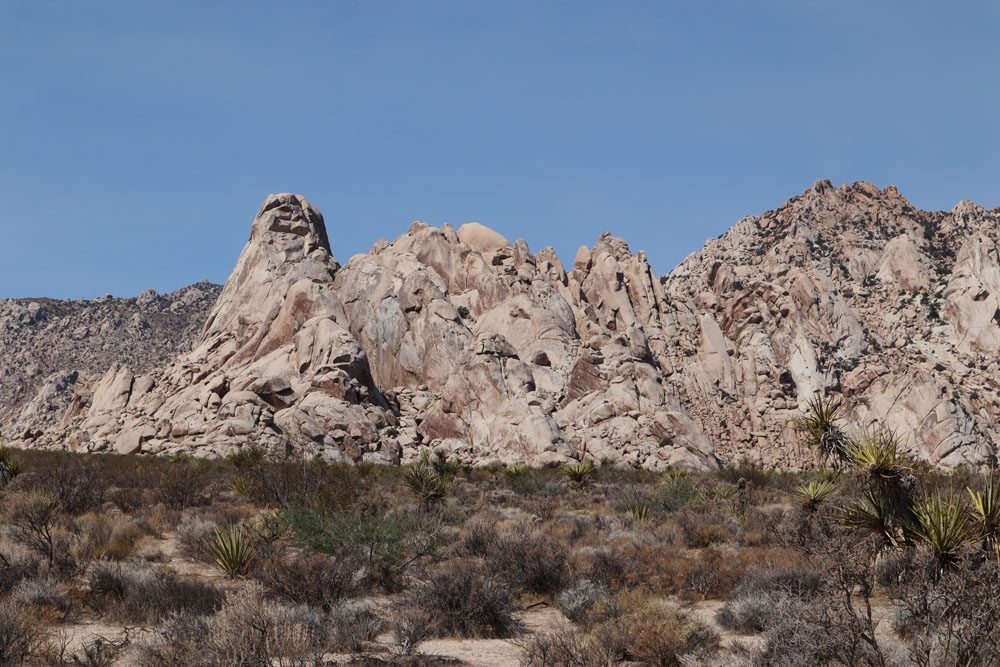 Drive to Interstate 40
The next stretch of Kelbaker Road heading south is simply stunning. The road meets I-40, where four lanes slice through the middle of nowhere. This has to be one of the most scenic stretches of the interstate network. Get on the interstate heading east, turn on the cruise control, and enjoy the short 22-mile (35 km) drive to Essex Road where we'll re-enter the preserve after bypassing the Providence Mountains.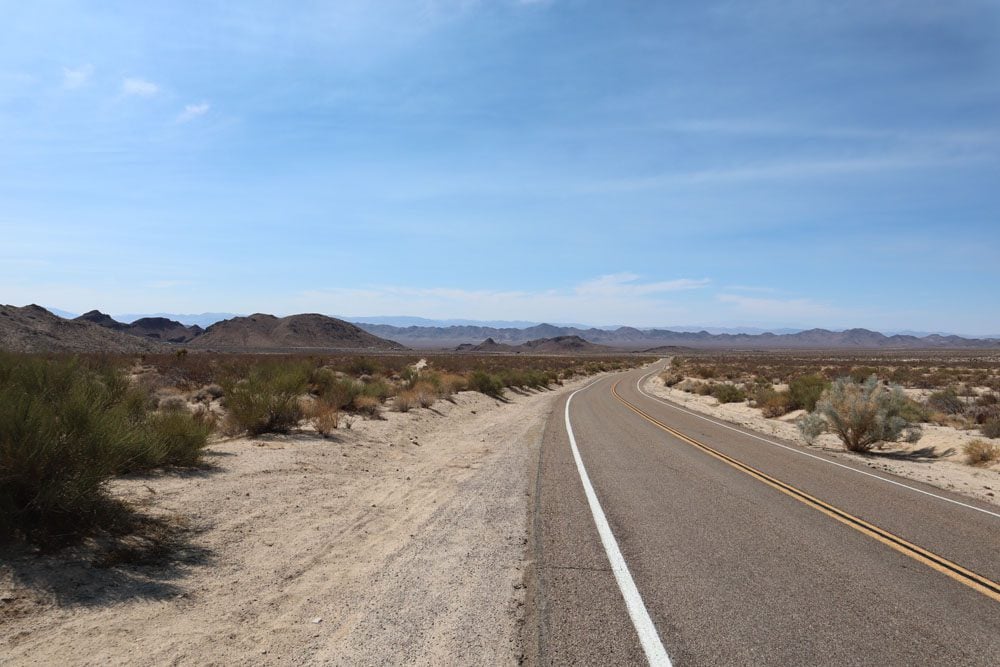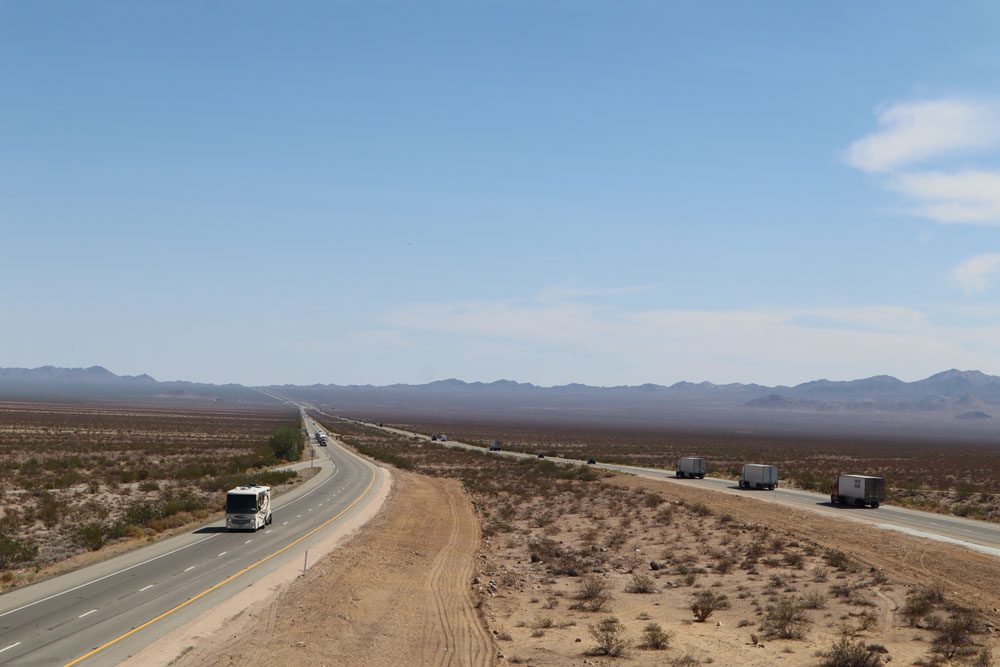 Route 66
If you're doing well on time or spending the night inside Mojave National Preserve or nearby, you can continue further on Kelbaker Road to a short section of historic Route 66. At the intersection with Route 66, turning left or right will take you back to I-40. Highlights include Bagdad, California (a ghost town with very little left to see), Amboy Crater, the Lion Of Amboy (a statue), and Chambless (a ghost town). If you're heading to Joshua Tree National Park and want to avoid the interstate, the backcountry Amboy Road will get you to Twentynine Palms.
Essex Road
Re-enter the park on Essex Road. The Providence Mountains are now to your left. We'll use this road to visit Hole-in-the-Wall. The scenery here is much different than on the other side of the mountain range. There's much less sand and way more rock (with a dash of red color), and it's relatively much greener on this side. What a difference a few miles make.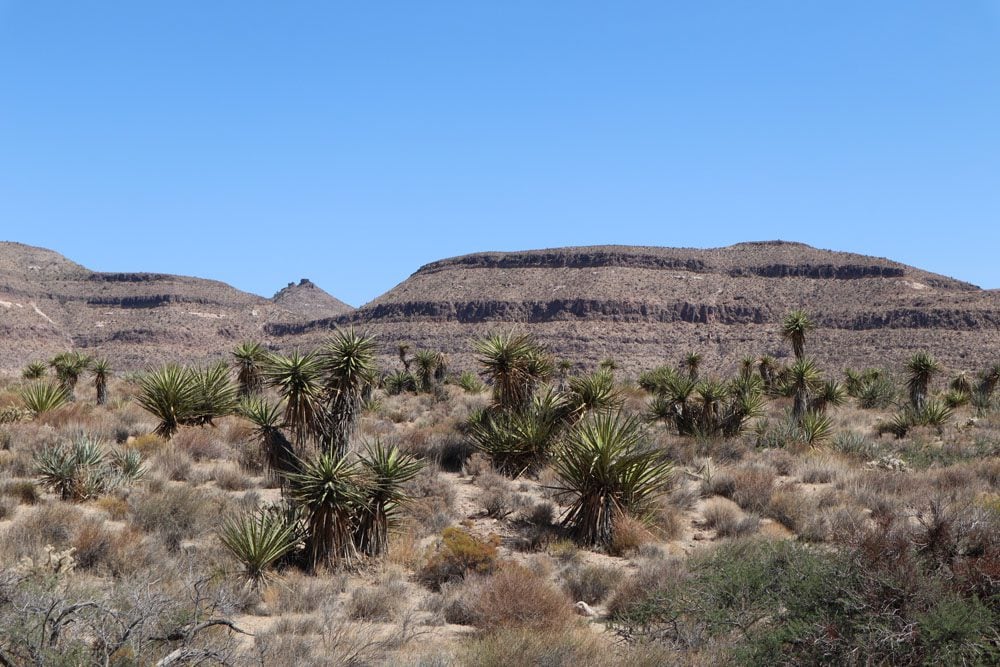 Mitchell Caverns
This trio of limestone caves sit at an elevation of 4,300 feet (1,311 m) and are part of the Providence Mountains State Recreation Area. The caves are connected via a man-made tunnel and can only be visited on guided tours led by park rangers. It might be tricky to time a guided visit in your itinerary but if you're spending the night inside Mojave National Preserve, your chances might be better.
Hole-in-the-Wall
Together with Kelso Dunes, Hole-in-the-Wall is Mojave National Preserve's top highlight and a must-visit spot. One of the park's main campsites is located right next to Hole-in-the-Wall and during various months of the year, a ranger information station is open. You can also fill your water bottles with fresh water from the station. This area of the park is also abundant with cattle ranches. You'll see (or smell) evidence of this as you explore the area (if you know what I mean). During the visit to Hole-in-the-Wall, scenes from the great film City Slickers became quite vivid in my memory.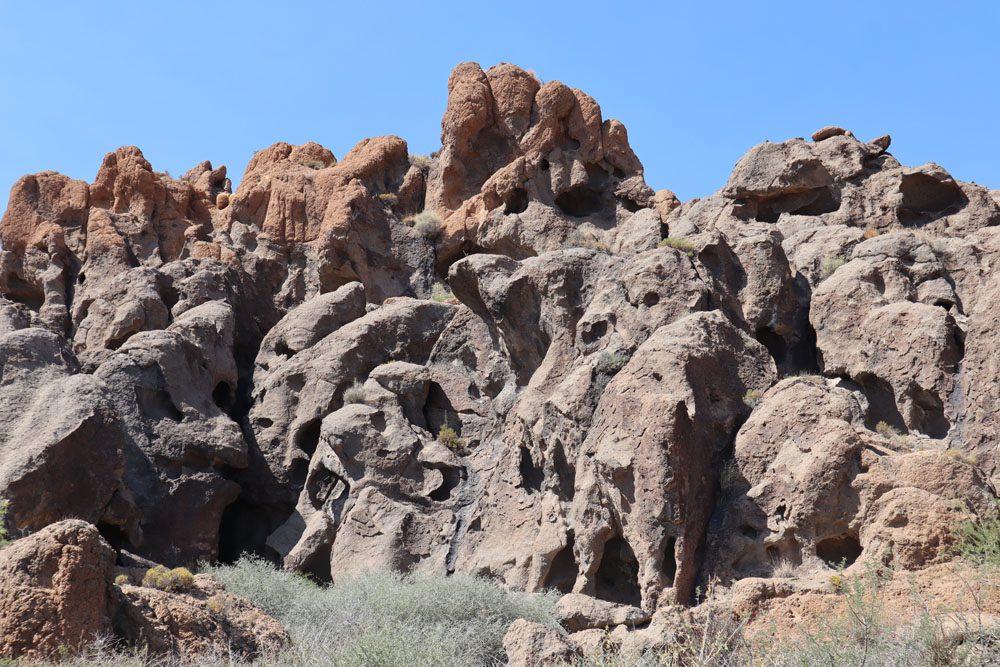 There are a few ways to explore Hole-in-the-Wall, the easiest of which is to simply walk to the start of the hiking trail and peak down towards Banshee Canyon from the overlook (slight climbing required). From up here, you can easily understand how this place got its name.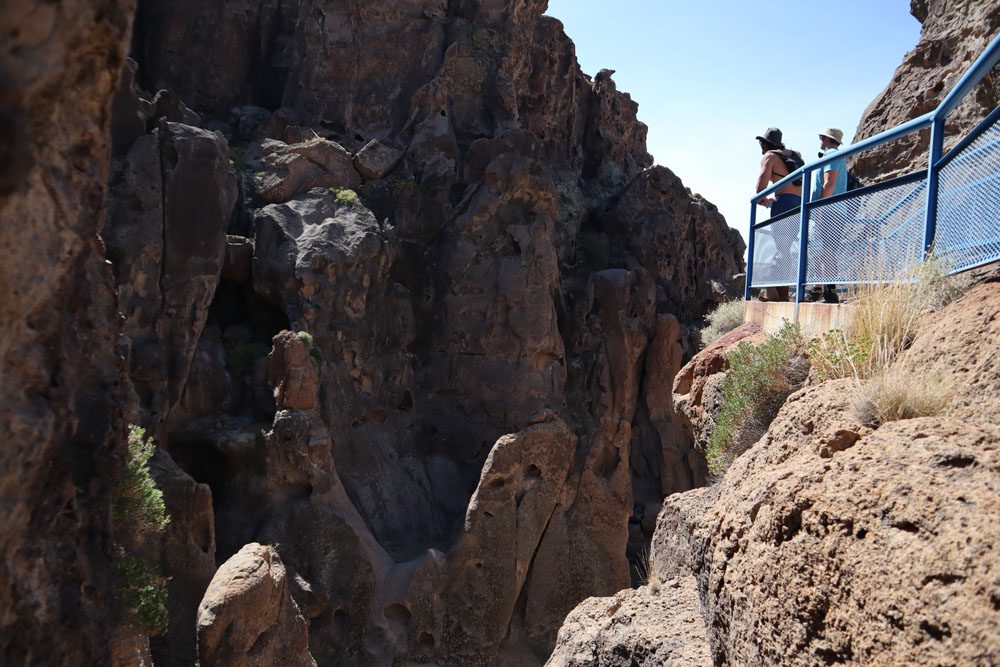 The best way to explore Hole-in-the-Wall is by hiking the Rings Trail. You'll need to be free of mobility challenges to complete this short trail as it ascends or descends Banshee Canyon using metal rings (depending on if hiking in a clockwise or counter-clockwise direction). The experience is memorable, not only because of the challenge but also for the close-up views of the holes in the rock.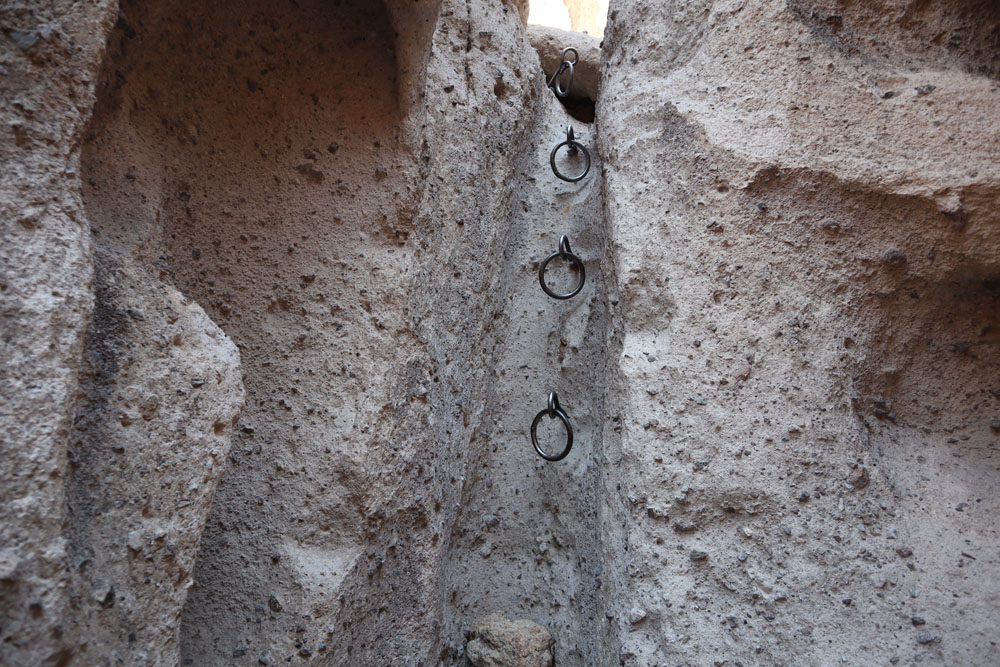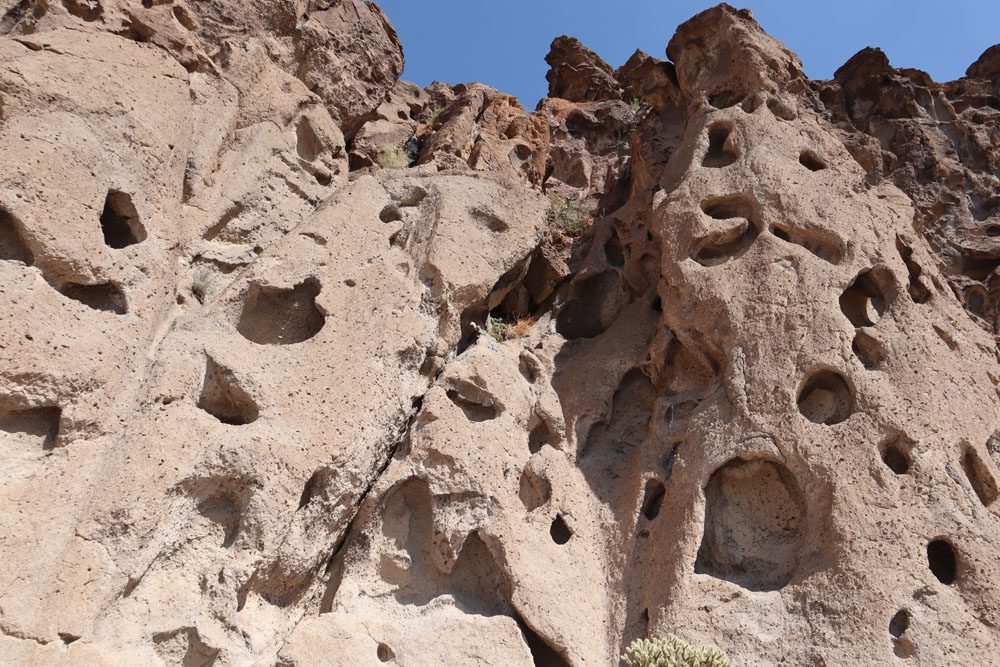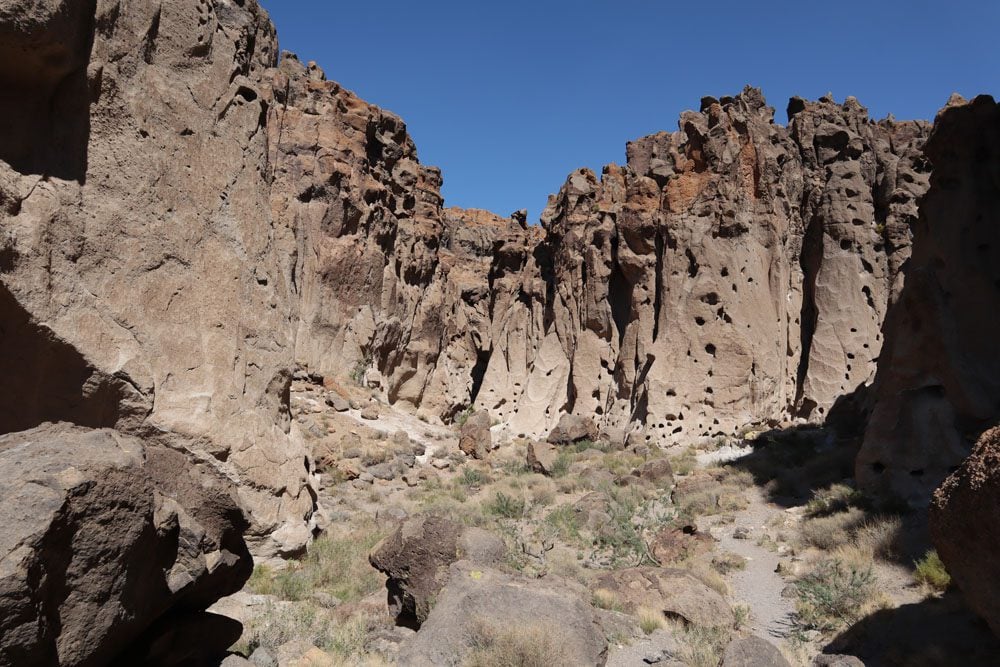 The trail then circles a small butte back to the parking area (again, this depends on your starting direction). On this easy section of the trail, you'll see wild cactus, Native American petroglyphs, and maybe even desert butterflies.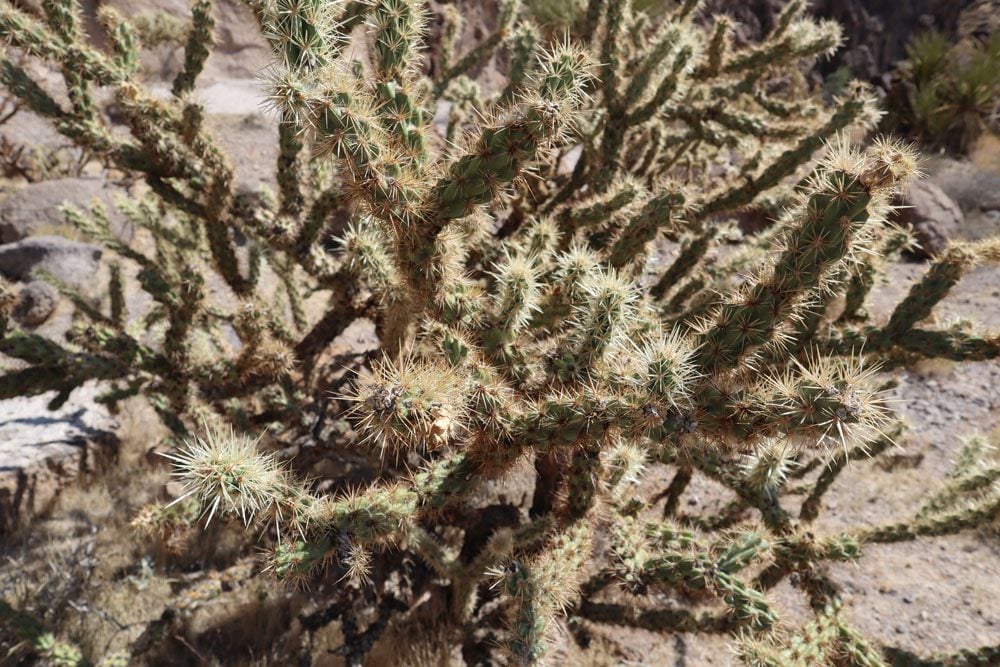 Hole-in-the Wall to Teutonia Peak
From Hole-in-the-Wall a dirt road that's passable also by regular sedans (in the dry season) heads to the intersection with the historic Mojave Road. This is a very scenic stretch of road that passes by forgotten ranches, small campsites, and untouched Joshua tree groves.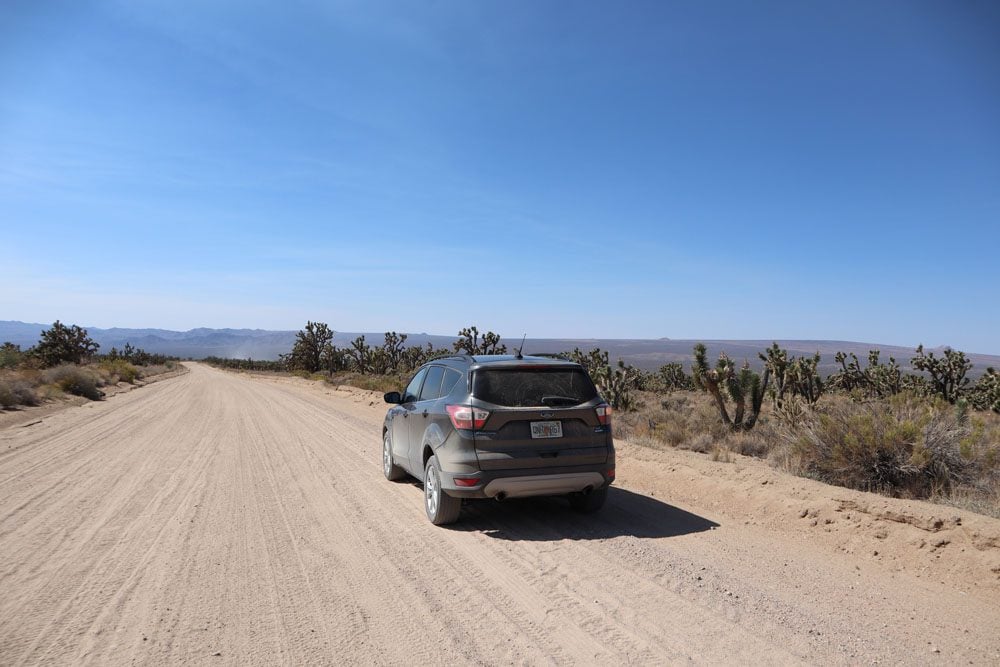 Cima Road
This stretch of road connects tiny Cima village with Interstate 15. Joshua trees on both sides of the road make this a pretty drive, but devastating wildfires in 2020 didn't leave much to enjoy during my visit.
White Cross World War I Memorial
Across the road from the Teutonia Peak trailhead, this scenic memorial was erected in 1934 to commemorate the fallen soldiers of the First World War. This is a popular spot for camping.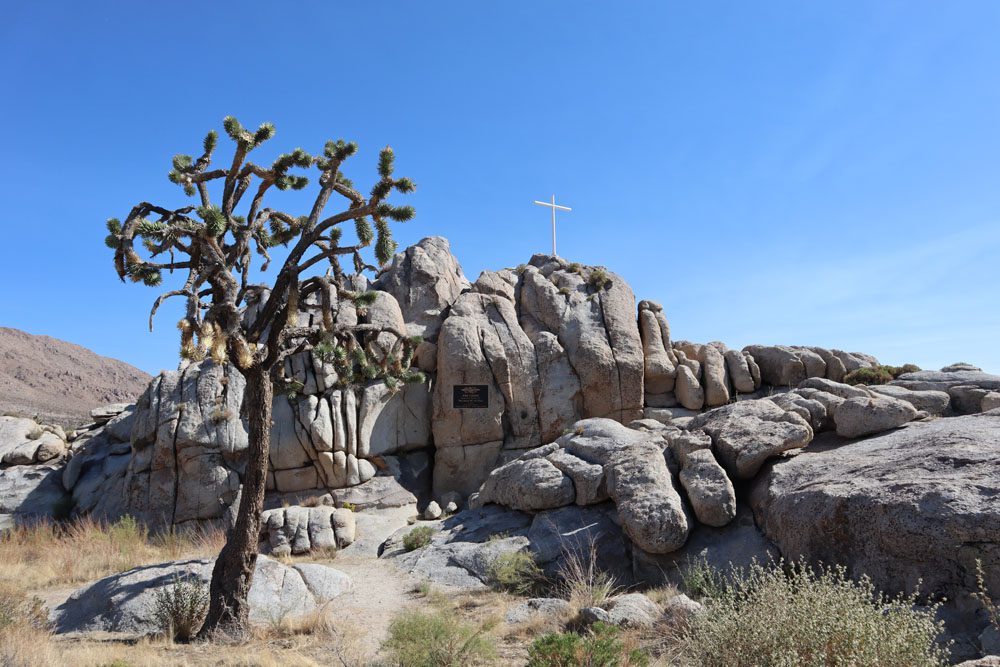 Teutonia Peak Trail
This is one of the most popular and rewarding hikes in Mojave National Preserve. The goal is to reach Teutonia Peak (5,755 feet) from where hikers are rewarded with sweeping views of the Cima volcanic field and its crown feature, the massive Cima Dome. Along the hike, you'll see Joshua trees and old mineshafts. Here's a good walkthrough explanation of the hike.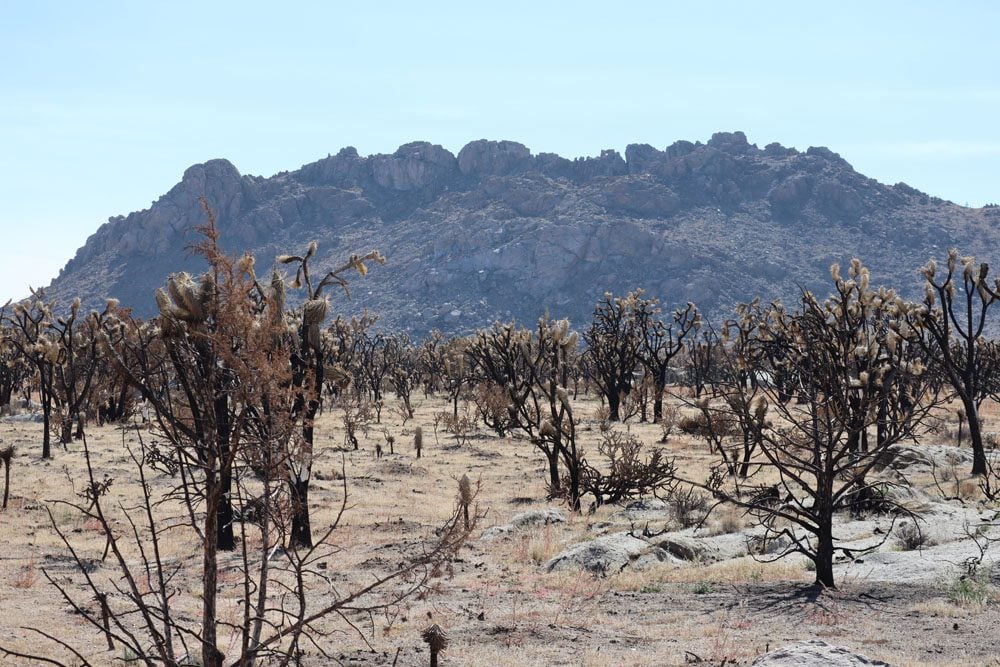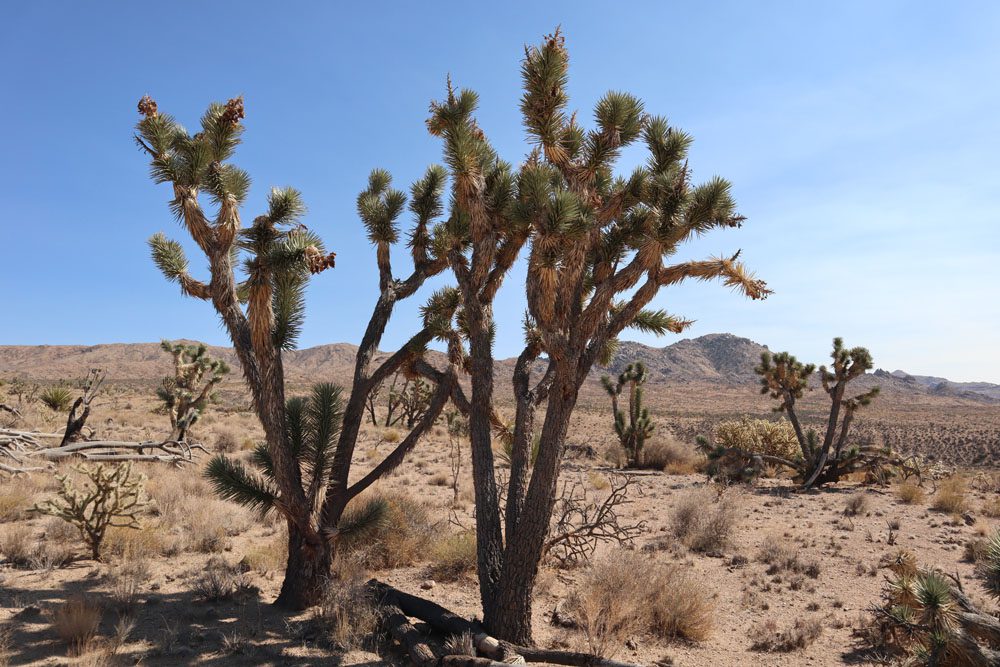 Spending the night in the desert?
Both Teutonia Peak and the Kelso Sand Dunes are good spots to end your sightseeing day. From these two highlights, you can enjoy the sunset and head to a nearby campground.
What's Next?
This Mojave National Preserve travel guide and itinerary should give you a good starting point for planning your desert adventure, whether as a detour on the drive from Los Angeles to Las Vegas or as an overnight adventure in the Mojave Desert. Check out additional California and Southwest USA travel guides if you're planning to explore more of this beautiful region.
---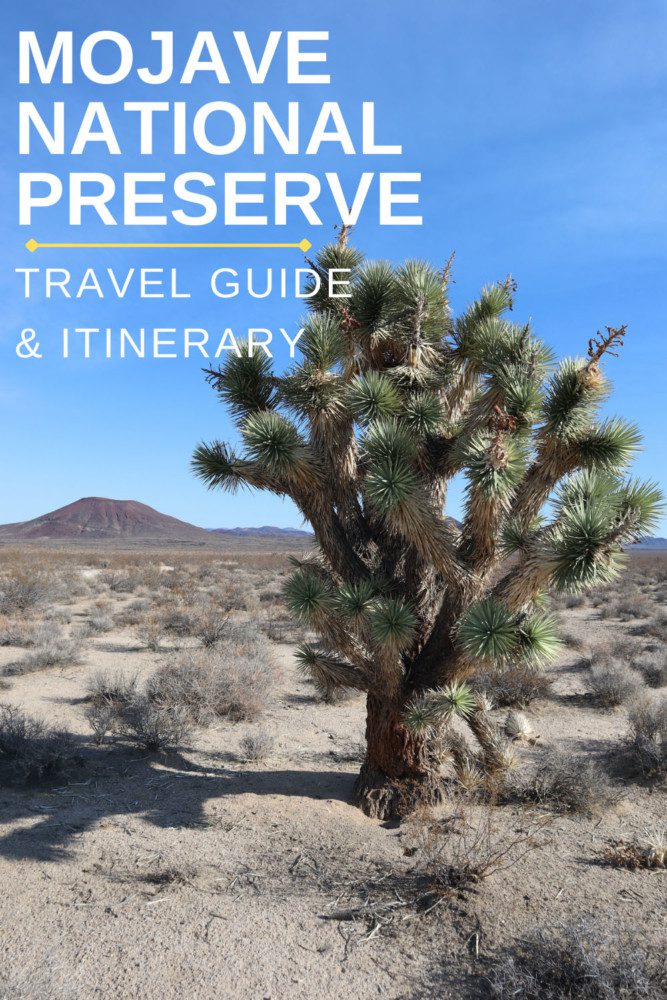 Pin These Images To Your Favorite Boards