Recommended Upolu Island Accommodations In Samoa
Upolu is the main island in beautiful Samoa, where you'll find some of this South Pacific Island nation's top attractions and highlights. I spent over three weeks in Samoa while backpacking across the South Pacific Islands, exploring Upolu, Savaii and even tiny Namua Island. I've compiled this list of the recommended Upolu Island accommodations based on my own experience. These range from simple beach fales to Samoa's best beach resorts.
Planning a visit to Samoa? Check out the Samoa travel guide collection, where you'll find in-depth travel guides to Samoa's main islands, sample itineraries, and essential planning tips!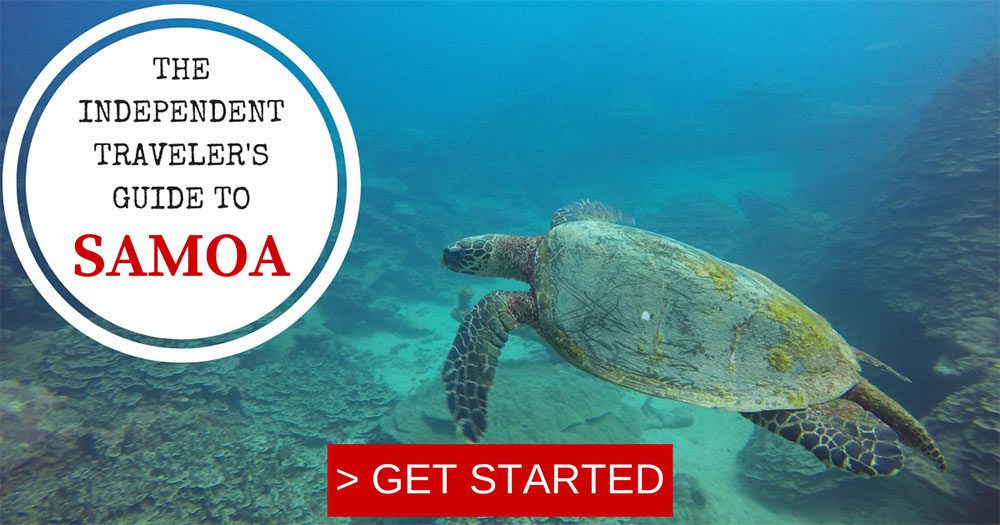 Apia Accommodations
Apia accommodations range from cozy bed and breakfasts to resorts, but you'll also find simple accommodations suitable to any budget.
Talofa Inn
I loved this place so much, that I stayed here on two separate occasions. Likely wearing a tropical flower in her hair, Leausa will greet you with a huge smile to this home away from home. The Talofa Inn is simply spotless and super well located. There are a supermarket and a pizza place right across the street, and you're minutes away by foot to Apia's main attractions. Choose from single rooms with a shared bathroom/shower or the larger rooms which have two single beds and a private bathroom/shower, plus a mini-fridge. All rooms have hot water, a ceiling fan and even air conditioning! A complimentary tropical breakfast is served daily, there's a cozy TV room, a large wooden deck, wifi hotspot and you can have your laundry done for a small charge. You won't regret staying here.
Hotel Elisa
For a real budget stay, the Hotel Elisa is a pretty good option. Conveniently located within walking distance of the central bus station, this Apia hotel does have proper hotel rooms but also budget options in the back. For T65 per night, I had my own single bedroom, with a ceiling fan and a shared bathroom/shower with hot water. There's a downstairs bar, plenty of parking and wifi hotspot. For what I paid, it was a great value.
Beach Fales
Beach fales are traditional Samoan huts. Most are very simple but some combine the comforts of a bungalow with the elements of a Samoan beach fale.
Taufua Beach Fales
One of the most popular and busiest beach fale accommodations in Samoa, Taufua Beach Fales is a favorite among backpackers, solo travelers, ex-pats and even Samoan families. The family-owned and operated beach fales are located in Lalomanu Beach, one of the most photographed beaches in Samoa and one of the best beaches in the South Pacific. You'll love stepping out of your brightly painted beach fale for a dip in the warm waters or go for long strolls on the soft sand beach. The snorkeling however is nothing to write home about, as the villages around here were pounded by the 2009 tsunami.
Accommodations: range from simple open fales with floor mattresses, to walled fales that include proper: beds, electricity and an outdoor deck. There are also a few ensuite fales with air conditioning. The easternmost fales are the best, and the farther you are from the noisy communal fale the better. You'll be sharing a large cold water shower and toilet facilities that are decently maintained but you'll have to bring your own towel. The place does have an internet wifi spot that you can connect to at a decent speed.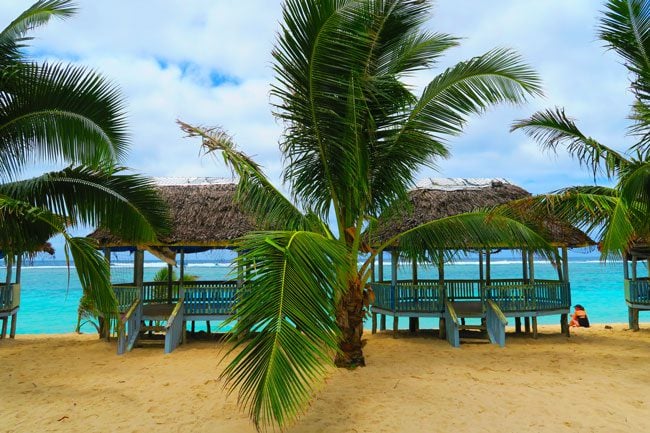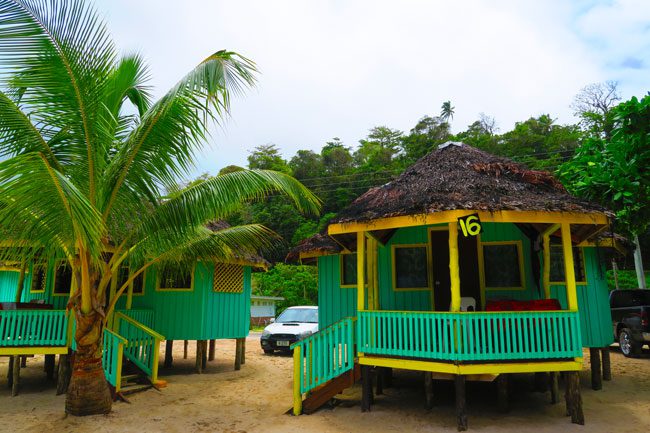 Food: huge breakfast and dinner is included in the price, served in the communal dining area which is a great way to meet other guests. You can buy snacks, lunch and drinks throughout the day, and there's even an awesome happy hour with half-priced cocktails. On Sunday, the family prepares a traditional to'onai (Sunday feast) and on Saturday and Wednesday nights you'll be treated to a traditional Samoan fire and dance show. On some nights, the place next door hosts a 'disco' after 10 pm when the beach fales turn off the music. Across the road, there's a small shop selling basic packaged food and water (even open on Sunday mornings).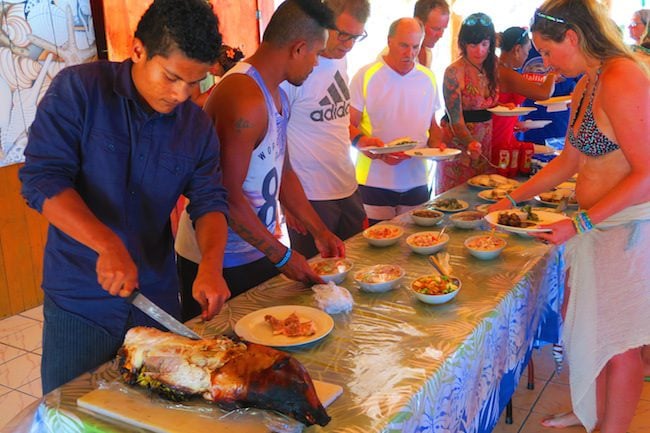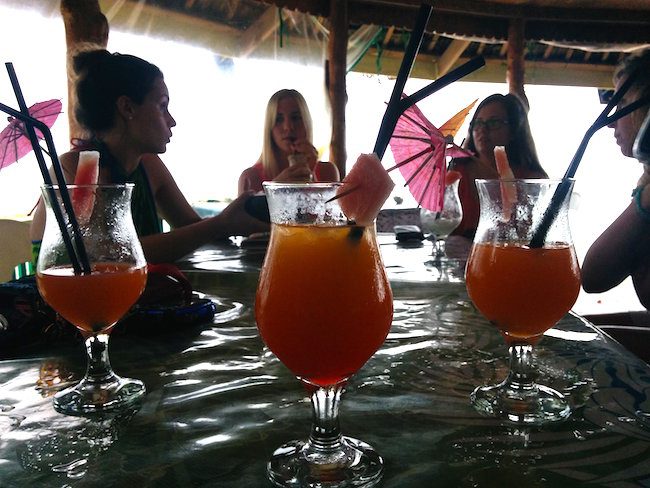 Bottom line: Prices start at T120 with discounts for stays of a week or longer. I spent 4 nights at Taufua Beach Fales and really enjoyed it. The hosts were very kind and I met other travelers while mixing beach and social life. If you're a backpacker or looking for a bit of action, this is the place for you!
Litia Sini's Beach Fales
Adjacent to Taufua Beach Fales, Litia Sini's Beach Fales are the higher-end option in beautiful Lalomanu Beach, though its showers and bathrooms are also shared among guests. The fales are more like small bungalows, some literally on the beach. Rates start at T245, including breakfast and dinner.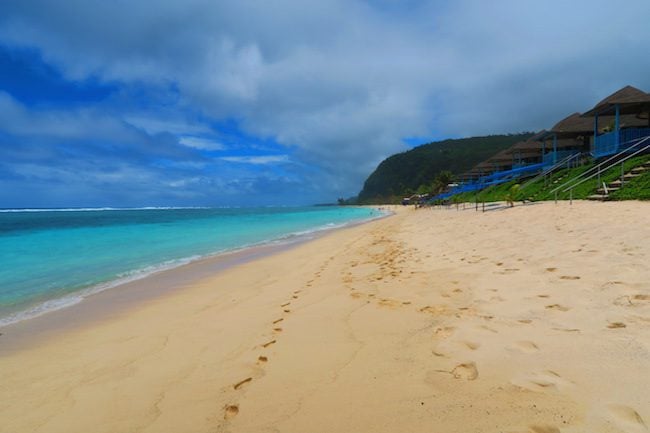 Le Valasi's Beach Fales
Located in Savaia Village in beautiful Lefaga Bay, I will never forget my stay at this warm family-owned beach fales. Le Valasi's Beach Fales is situated across the road from the Giant Clam Sanctuary and perfectly positioned for radiating sunsets, Hosts Helen, Taula and their lovely family will take excellent care of you. I arrived when a large group of schoolchildren from New Zealand had just left, so I had the place all to myself. Taula is actually a talking chief (orator), and he'll be happy to teach you about the Samoan culture and the meaning of his tattoos.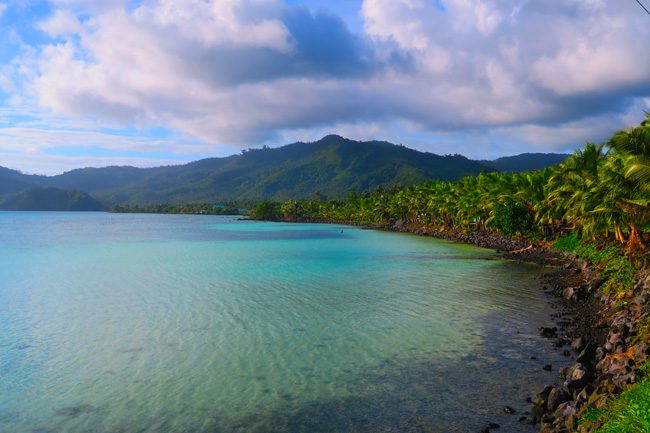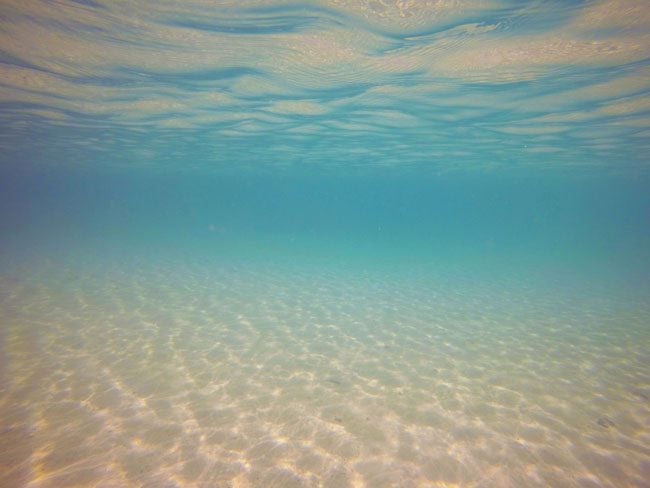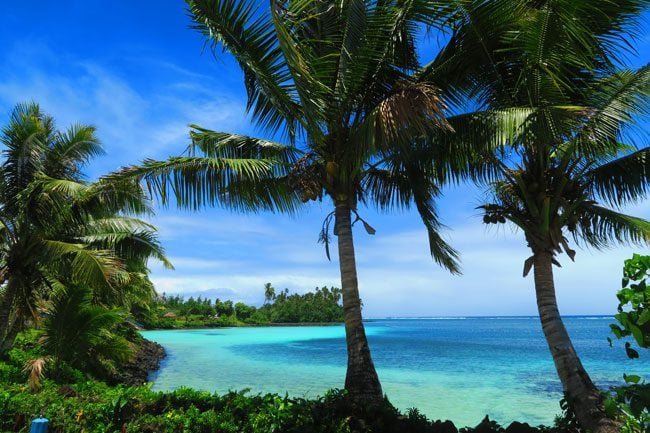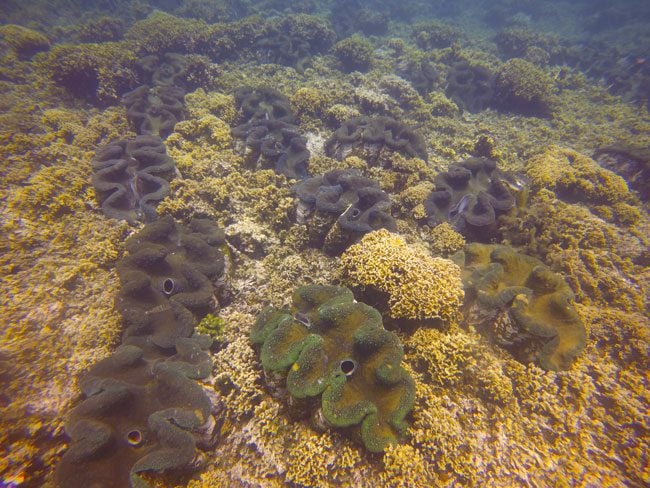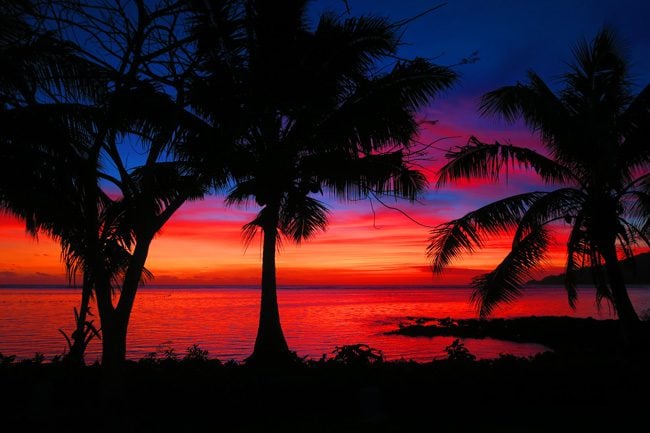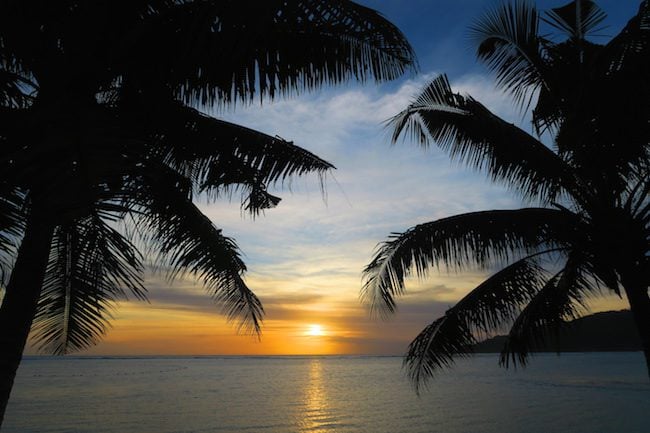 Savaia is a traditional Samoan village where the sacred hour of s'a is observed, where the dead are buried in the front yard and where swimming is not allowed on Sundays. Don't let this scare you in any possible way. This is the making of a wonderful experience in discovering the authentic side of Samoa. You're just minutes away from beautiful beaches, some empty and some home to resorts that welcome visitors – the perfect escape when you feel the need.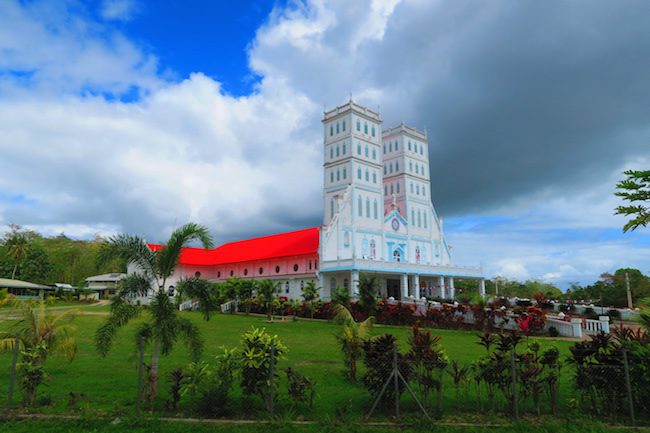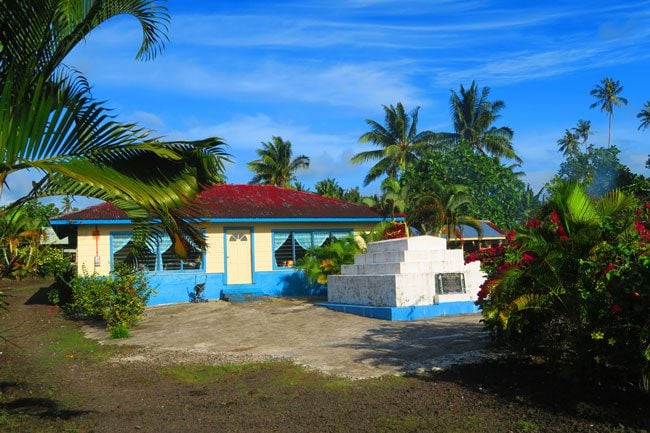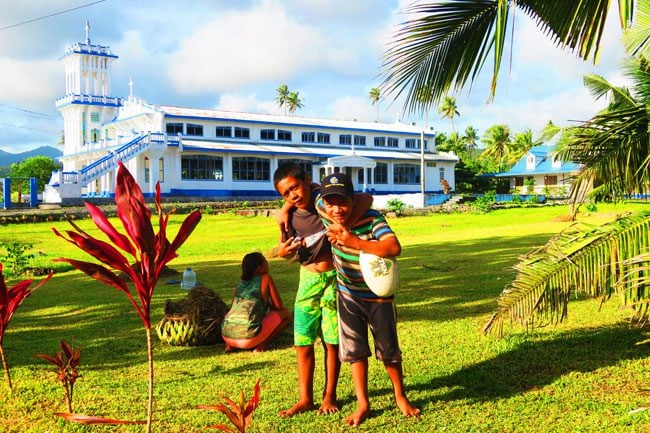 Accommodations: simple semi-open fales dot a lush tropical garden. They overlook an impressively large wooden fale that's been here for 60 years and built without using a single nail! Fales are covered with a thatched roof, fitted with woven blinds that can be rolled up or down, and equipped with: a proper bed, mosquito net and a seating area. However, there's no electricity available in the fales so you'll have to charge your gear in the main fale and use LED lights provided by the family. Three shared toilets and (cold water) showers are regularly cleaned.
As for the sleep quality, it's a pleasant island mix of palm trees swaying in the wind, crashing ocean waves and the ubiquitous Samoan roosters starting out their day in the early morning hours. There's no internet hotspot at the moment, but you can cycle to a nearby resort to connect or just use mobile data.
Food: Helen is quite the cook and she'll take excellent care of you, always asking you if you're in need of anything. A simple continental breakfast and awesome dinners are included in the price, with fresh fruit offered after you return from yet another happy day in the tropical sun. The highlight for me was spending Sunday with the family. I wanted to experience how Samoans spend their Sunday and the family graciously accommodated this. You can read more about my authentic local experience in the final section of this post which I published from the road. The village itself has a small food shop, good for ice-cold drinks but little else.
Bottom line: prices start at T120 with discounts for stays of a week or longer. I spent 4 nights with the family that made me feel right at home, and we still keep in touch. An added bonus is the free use of a bicycle, super convenient for exploring the nearby beaches. I highly recommend this place for those seeking a simple, quiet and authentic stay in Samoa with easy access to the southwest coast's beautiful beaches.
Namua Island Beach Fales
Namua Island is perfect for those seeking absolute peace and tranquility in Samoa. You can visit the island on a day trip, but even better, spend a night or two at Namua Island Beach Fales. The extended family that owns the island will pick you up from a designated spot on their tiny boat. You'll be ferried across the straight to the island, where a small number of basic open beach fales dot the beautiful beach. On the menu? Hiking, snorkeling, stargazing and a whole lot of relaxing. Have a look at the 'things to do section' of the Upolu Travel Guide for the small island's highlights.
Accommodations: the large but basic open-air fales are right on the beach. Some are under the shade of a coconut tree and some are under the sun and stars. Wherever your fale might be, the island's soundtrack is that of songbirds and gentle waves making landfall – here's what it sounds like. As the sun magnificently sets, the birds change shifts with the bats, as they circle above the canopy with the frogs playing the second tenor.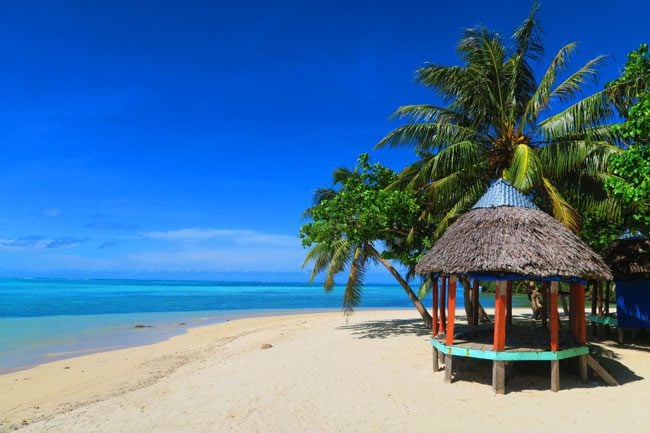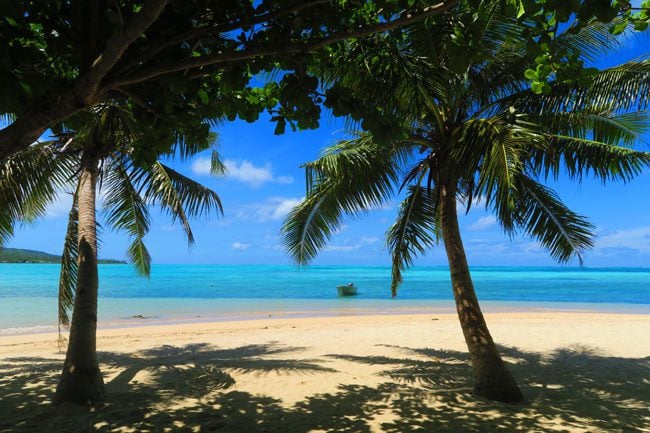 There's no electricity but you'll be equipped with solar lights. Keep in mind that you cannot charge your phone, but you will get a signal as well as mobile data. As with most beach fales, you'll be sharing bathrooms and cold water showers that in my case were always super clean.
The food: breakfast and dinner are included in the price, with the food actually being quite plentiful, authentic and tasty. There were even eggs for breakfast and despite having to leave early in the morning to catch the first bus to Apia, I was still given a proper breakfast. You will be able to purchase fresh coconuts and even lunch if you give the hosts enough lead time. The family does change shifts throughout the day and that's your opportunity to ask them to buy some snacks and water for you (or recharge your phone). I came here well prepared, doing a bit of shopping in the small village shop just before the boat picked me up. I did need to refill my water supply with an extra six-pack, but that wasn't an issue at all.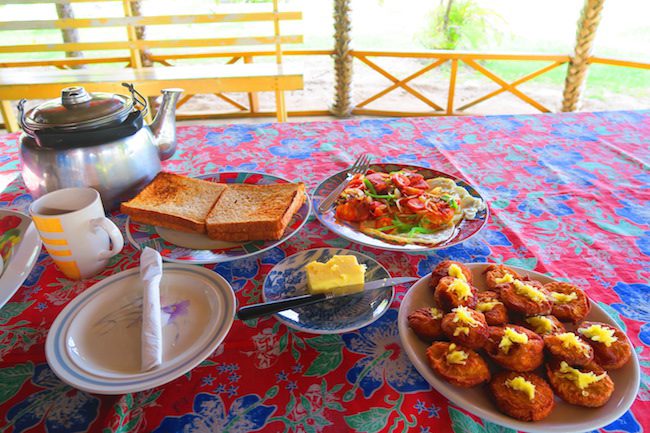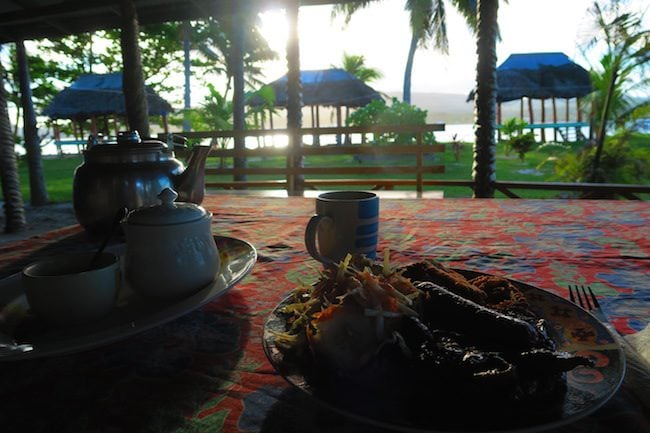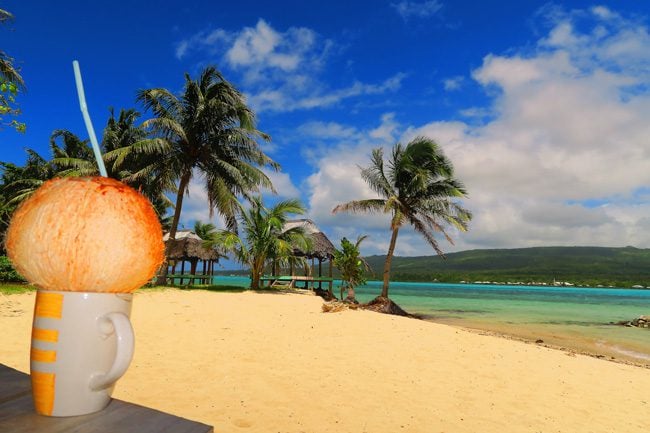 Bottom line: the price is T120 per adult per night which is totally worth it considering you're really off the grid. I spent two nights on the island and during one of them, I was the only guest around. In fact, there were a few hours post-sunset when the family went back to the mainland and I had the entire island all to myself! The snorkeling was far better than in Lalomanu (if you're lucky, you might even spot some turtles) and this was one of the better experiences I had in Samoa, though two nights were enough considering I was flying solo.
Resorts
Most of Samoa's top resorts are located on Upolu Island. They're a great option if you're seeking a comfortable stay in which sleeping in a beach hut is less appealing.
Taumeasina Island Resort
The Taumeasina Island Resort is a luxury resort situated on an exclusive private island just outside Apia. The resort is connected to the mainland and offers large villas and the usual pampering options you would expect to find at a luxury resort.
Aga Reef Resort
The Aga Reef Resort & Spa is one of the new resorts to open in Samoa. It's located on arguably the best beach in Samoa at Lalomanu and features beachfront air-conditioned units and a pampering spa.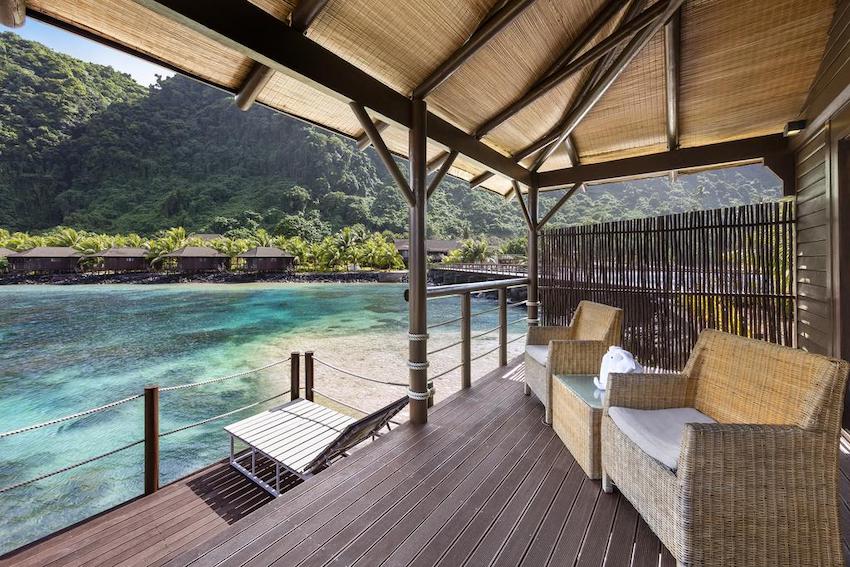 Return To Paradise
The Return To Paradise Resort's main claim to fame is its location: the very same beach where the 1953 hit movie 'Return To Paradise' was filmed. I must say that this beach is simply stunning! You can't really find a picture-postcard beach like this anywhere in Samoa, with towering coconuts overlooking a rugged white sand beach that's decorated with lava rocks here and there. The entire scene does look like something out of a paradise cliche. Planners did an excellent job at keeping a distance from the resort's buildings to the beach, really giving you the feeling of a tropical escape.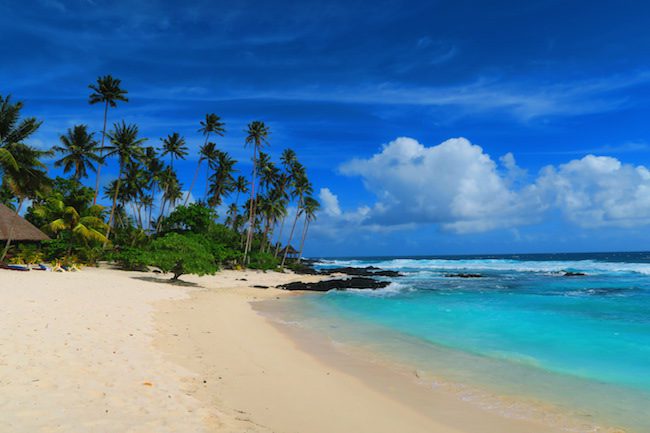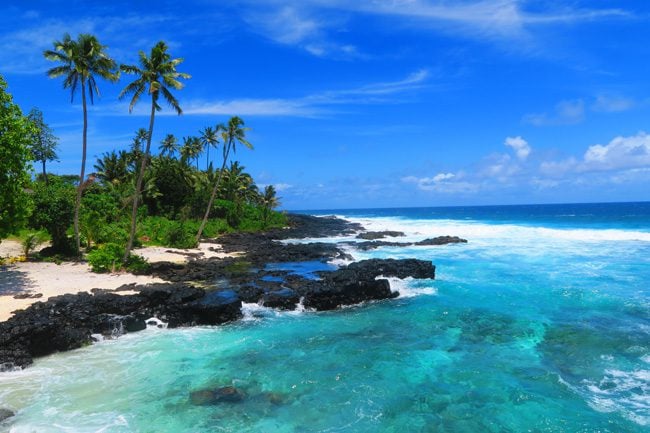 Though super dreamy, the beach is a little rough on swimmers so take extra care. The resort caters to honeymooners, couples and families with children. Heck, there's even a kiddy pool!
You can also visit the beach as a daytripper. Your T25 ticket is redeemable at the bar, which is also the internet hotspot. So if you won't be staying here, it's not a bad idea to come here for cocktails and lunch, followed by a nice snooze on the beach!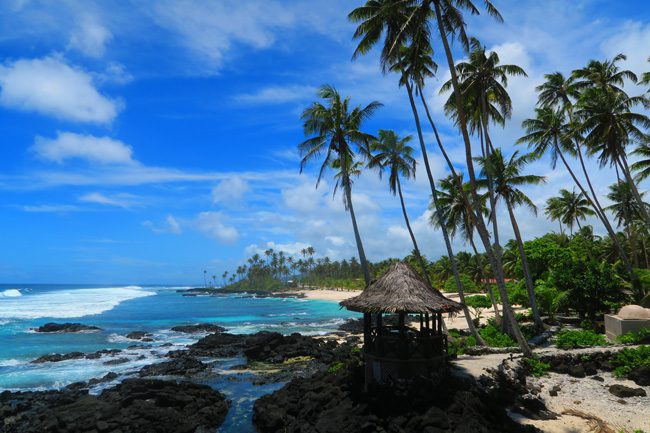 Sa'Moana Resort
The Sa'Moana Resort is located in Salamumu Beach, one of the best beaches in Samoa. It's considered to be one of the best resorts in Samoa, recently renovated and hugging a quiet stretch of pristine beach. Hammocks and chillout areas are scattered throughout the well-kept property, climaxing with the infinity pool which perfectly blends with the surrounding lava rocks and splashes straight into the azure lagoon – a true engineering marvel. This resort appeals to couples and families with older children. Come here for a bit of luxury and privacy.
In Conclusion
So these were my own recommended Upolu Island accommodations, but there are plenty of options to choose from. Keep in mind that if you have a car, it doesn't really matter where you base yourself so there's no need to switch places. If you'll be using the bus to get around (like I did), it's probably wise to stay on both the south coast's east and west ends, along with a night or two in Apia.