The End of Summer in Southern Spain
With the days getting shorter and a lot less warm, a narrow window of opportunity opened in early October to keep the summer vibes alive with a trip to Southern Spain. This is the story of a twelve-day, 2047-kilometer road trip in ageless Andalusia.
Andalusia 101
Andalusia derives its name from the Arabic word Al-Andalus. The former Islamic rulers used this name to describe the land under their control in the Iberian peninsula between 711 to 1492 AD. During this span, certain parts of Andalusia were reclaimed by Christian forces until Granada's final fall in 1492 during the Reconquista. Centuries of Islamic influence have left their mark, primarily with some of the most spectacular sites visitors see today.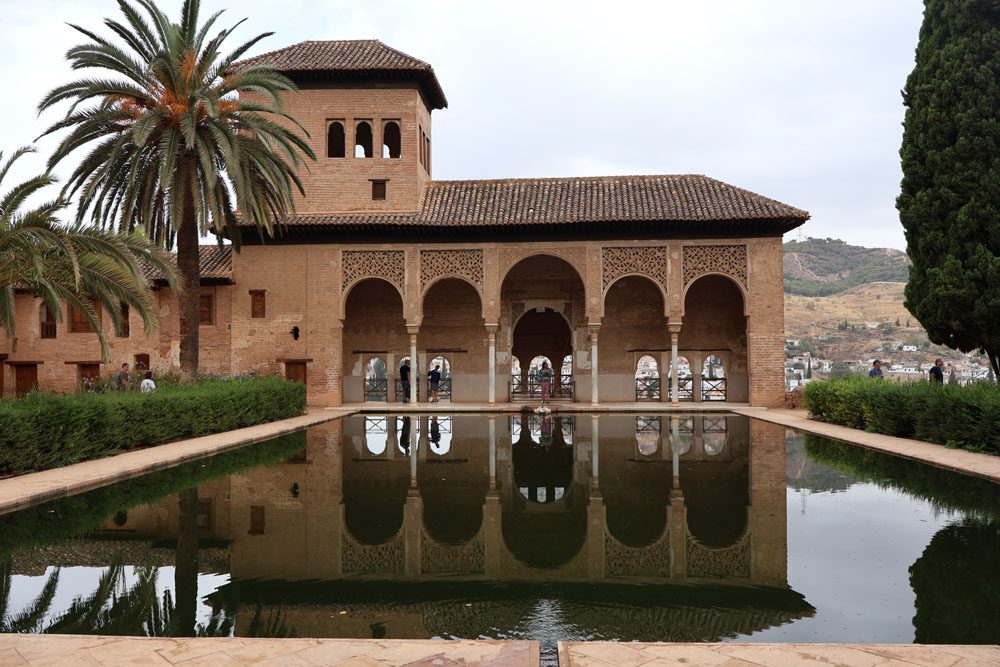 These days, Andalusia is divided into eight provinces, with the autonomous region's capital seated in Seville. Historically, Andalusia has been an agriculture-focused and less developed region compared to its neighbors. However, after the Franco years, vast investments in infrastructure, education, and the development of a tourism sector have turned Andalusia into one of Spain's key regions.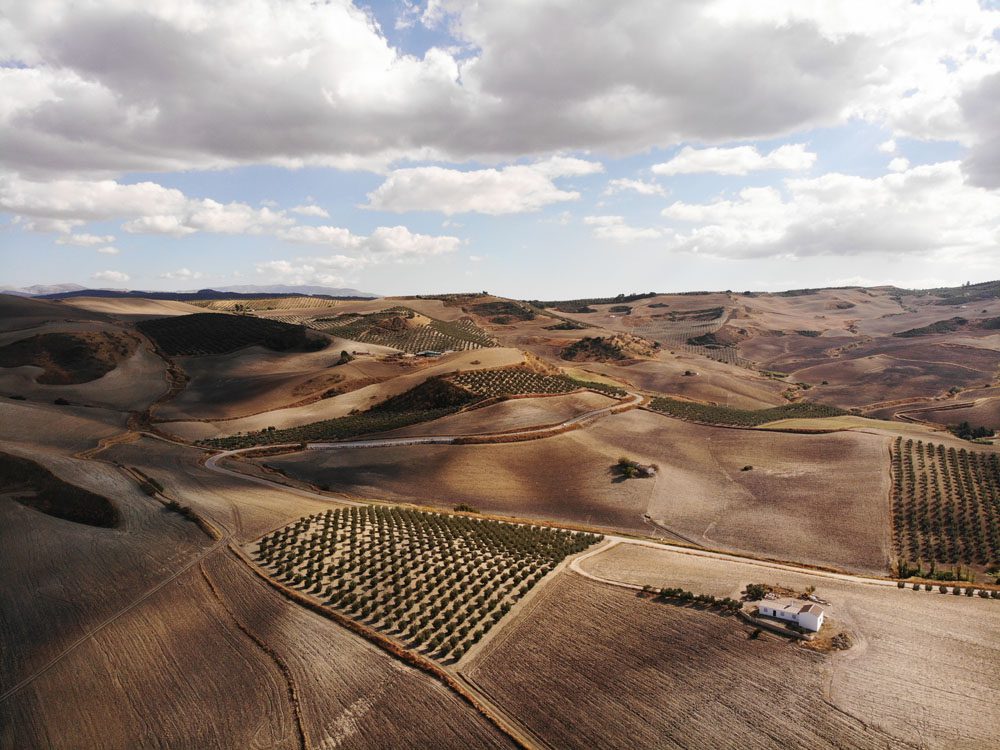 Despite scorching summer temperatures, over 10 million tourists flock to Andalusia every year to swim in its beaches, explore its hilltop white towns (pueblos blancos), marvel at the Moorish architecture and witness spectacular flamenco shows for which Andalusia is famous.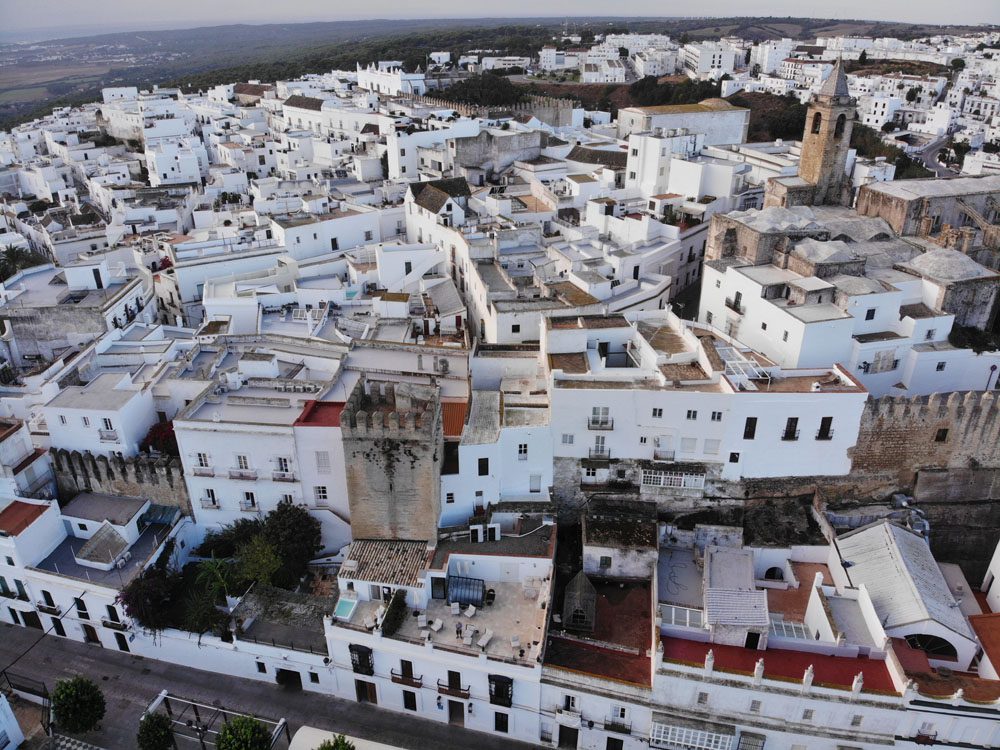 Cordoba
After picking up our wheels for the next 12 days, we embarked on a four-hour drive that took us 400 km south from Madrid to Cordoba (see our complete route here). For a long period during Islamic rule, Cordoba was the largest and most important city in Andalusia. We checked into a shoebox-sized room at Hotel Boutique Caireles but enjoyed views of Cordoba's star attraction, the Mezquita, from our bedroom window.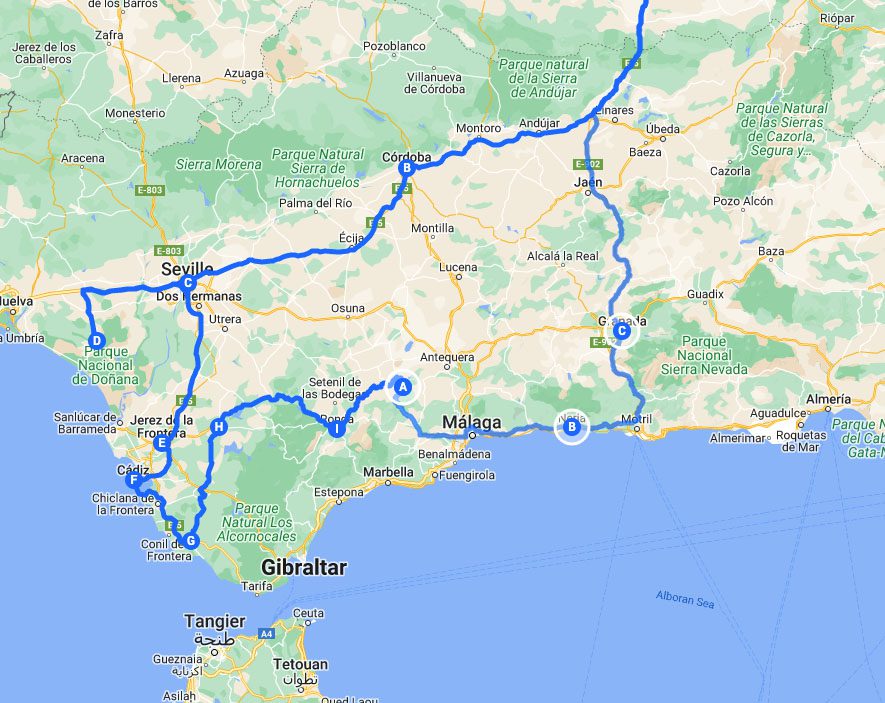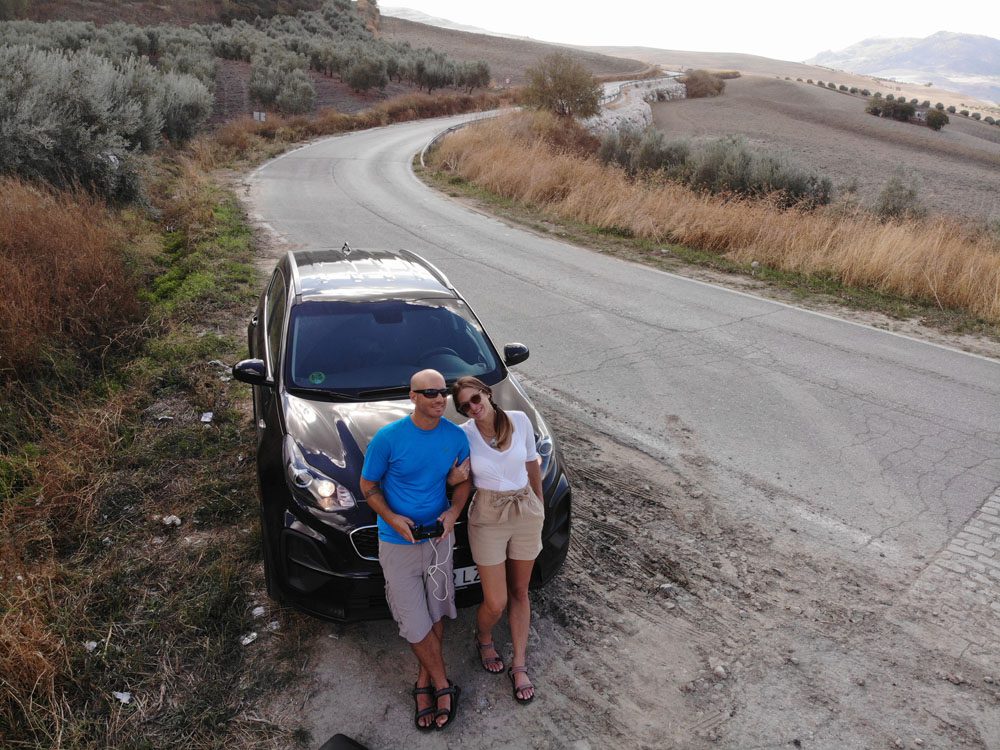 With a few hours of daylight left, we explored Cordoba's maze of narrow alleys in the former Jewish Quarter and the gardens of the Alcazar de Los Reyes Cristianos, a 14th-century cross between a fort and a palace. Before sunset, we crossed Cordoba's famous Puente Romano to the sound of Spanish guitar and hundreds of birds preparing for the night.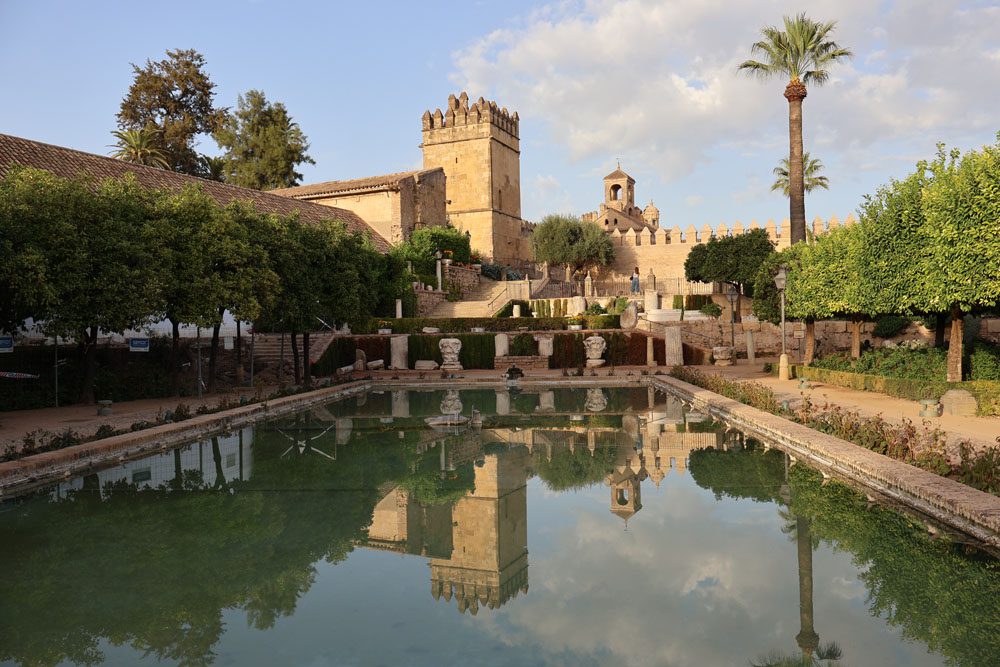 As for the nightly entertainment, there was no better way to kick off this road trip in Southern Spain than with a flamenco show at Tablao El Cardenal. Flamenco was invented in Andalusia, an exciting combination of song and dance that leaves you speechless. It all starts with a duo of guitar and chanting, followed by dance numbers that involve endless clapping and perfectly-timed foot tapping, the vibrations of which are felt by every spectator.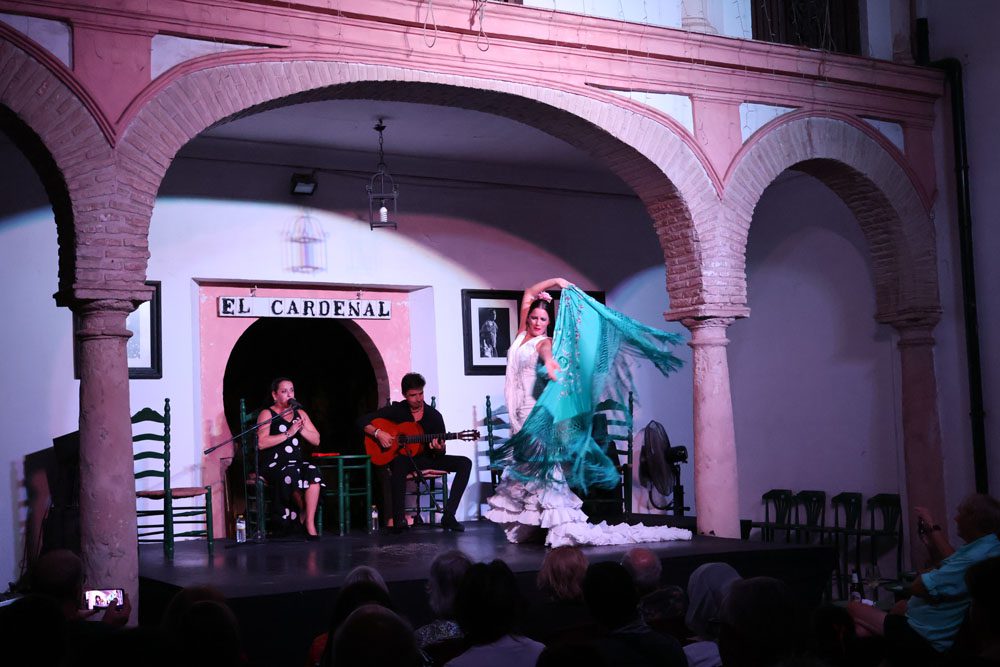 Before heading to our next stop, we paid a visit to the Mezquita, Cordoba's magnificent cathedral that was converted from one of the finest mosques ever built in Andalusia. The Mezquita's most striking features are the detail-oriented royal prayer rooms and the hundreds of arches used to create an immense praying hall, an architectural act of magic back in the day.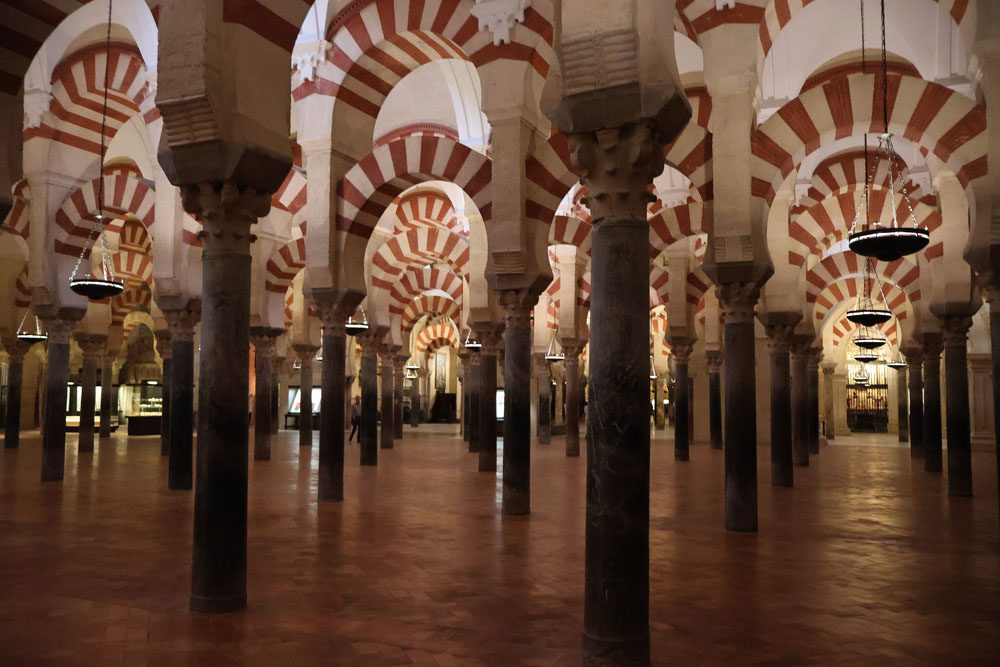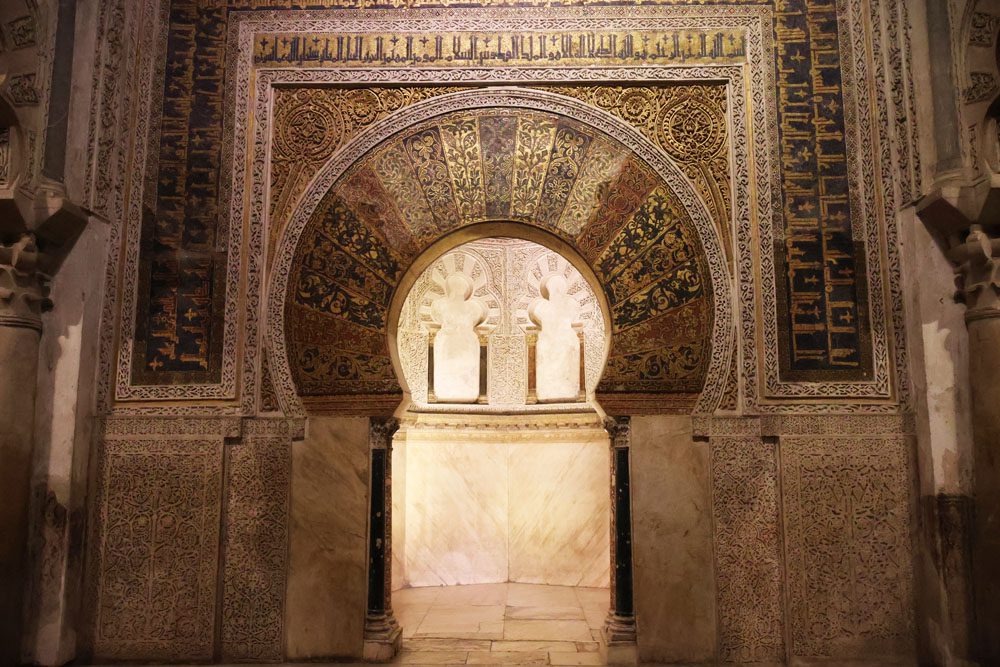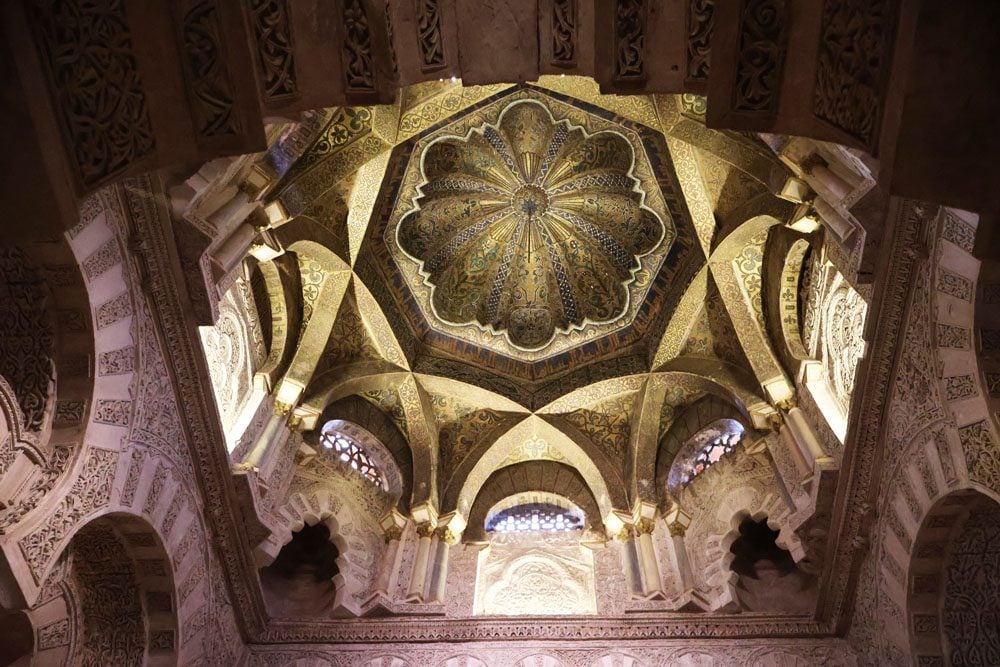 Seville
It was a quick drive from Cordoba to Seville, Andalusia's capital. Seville is one of the most visited cities in Spain, and for a good reason, as the historic city is home to two of Andalusia's most famous landmarks. We checked into the comfortable Catalonia Santa Justa for two nights and immediately set out to explore Seville's historic center on foot.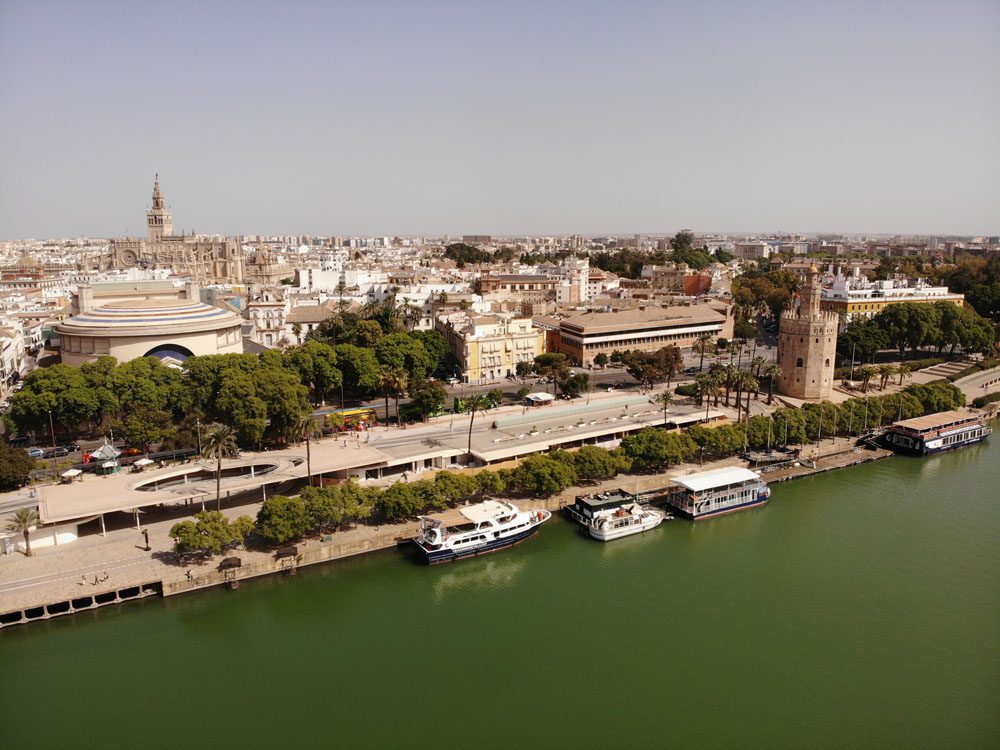 Covering Seville's vibe and all its top sites requires more than a few paragraphs. The city's historic Santa Cruz district, along with neighboring Arenal and beyond the Guadalquivir River in Triana, make for a pleasant walking tour (when it's not too hot), stopping here and there for tapas and sangria, catching some shade in a park and exploring sites such as Plaza de Espanya and the Seville's bullfighting stadium.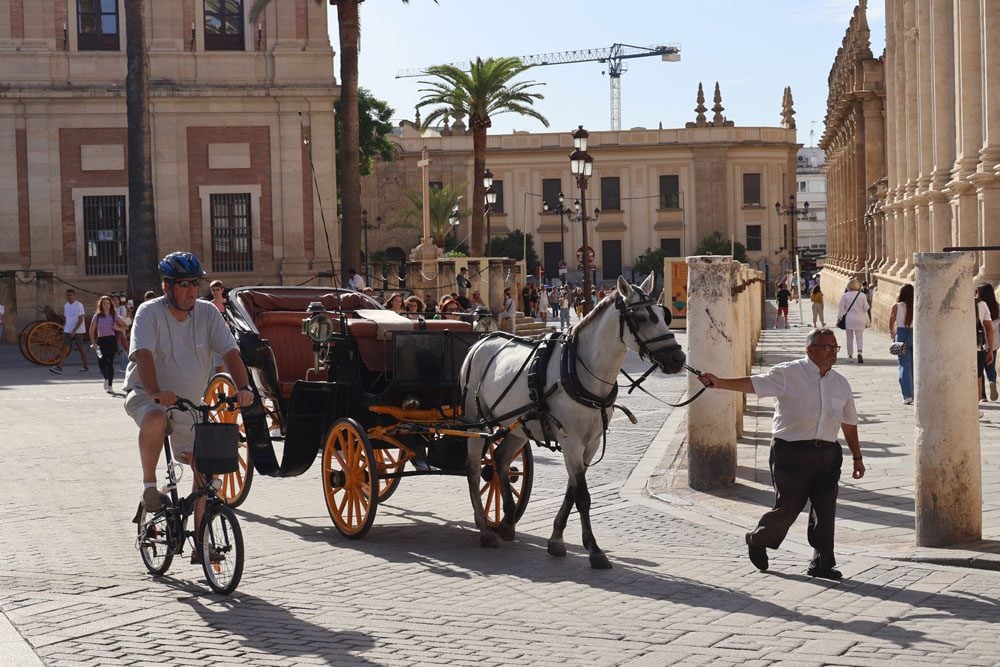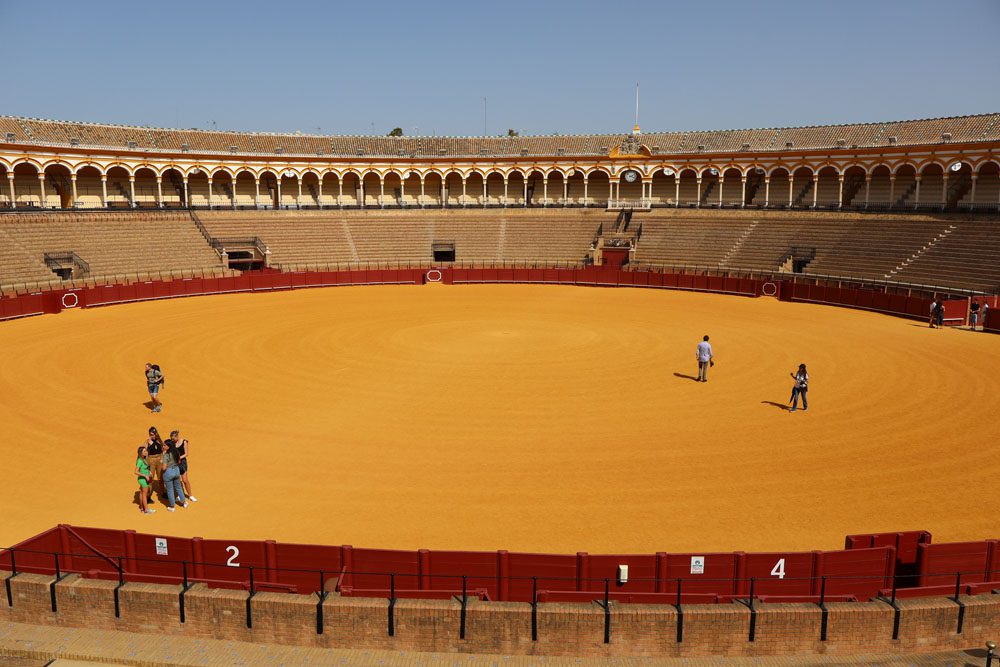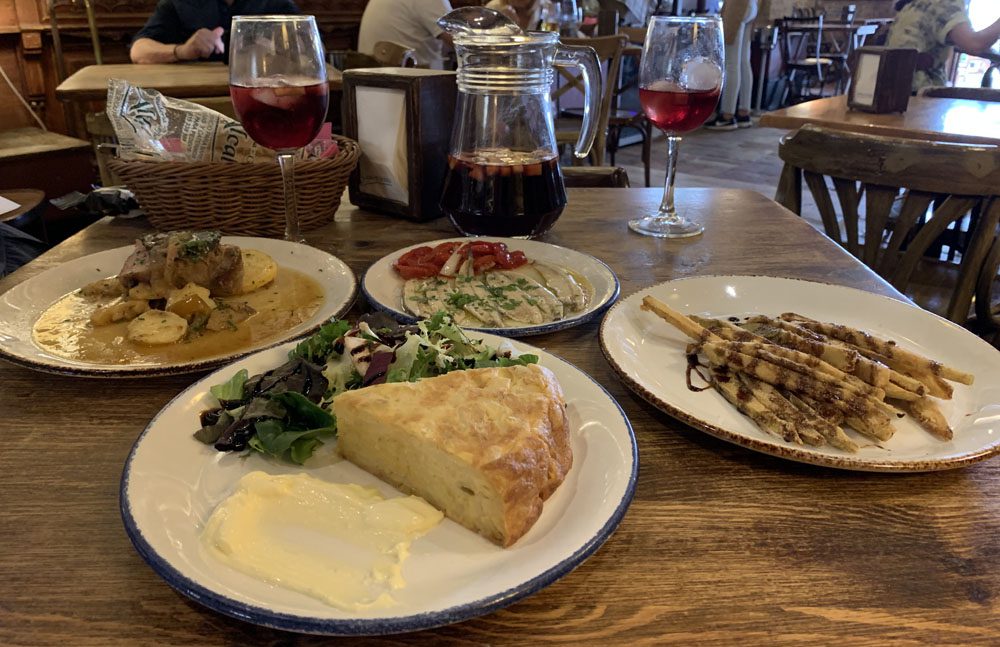 The recipe for recuperating from all that walking has two main ingredients. The first is to book a spot in AIRE Ancient Baths to hop between the various thermal pools and get a massage. The second ingredient is a good dinner. You can elbow your way to the counter at the popular Bodega Santa Cruz or head to the 17th-century El Rinconcillo for tapas or a proper sit-down meal.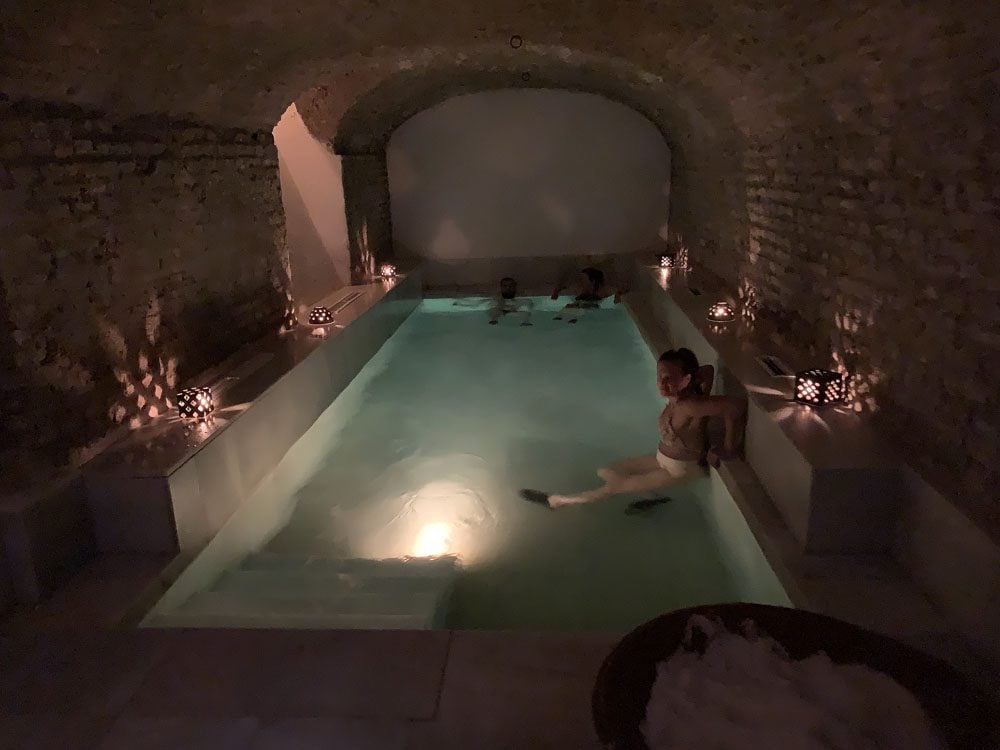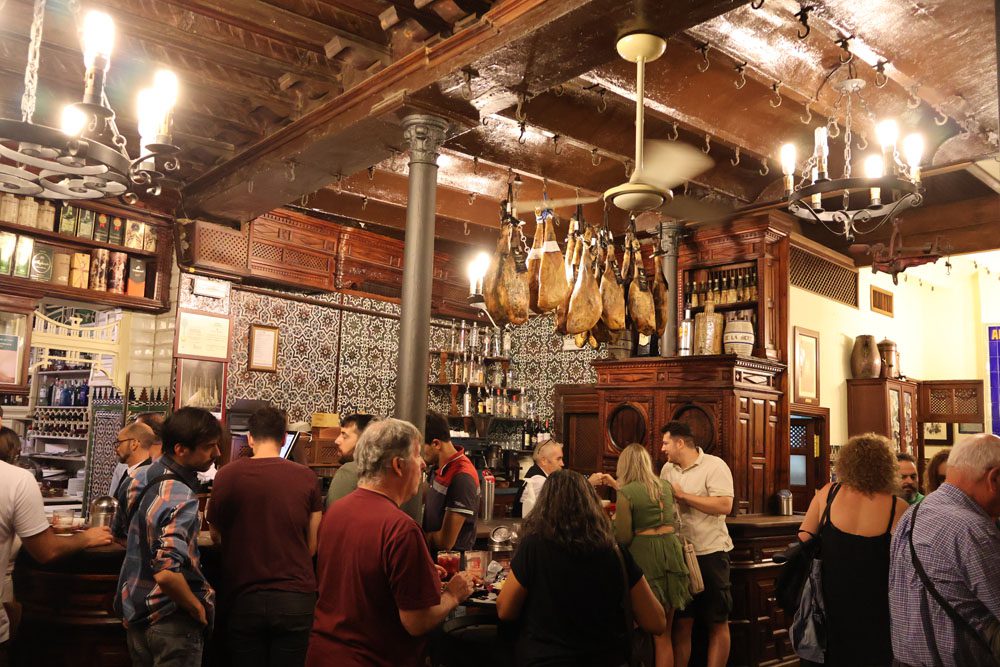 One can't visit Seville without visiting its grand cathedral and Alcazar.
The Seville Cathedral was built on a former mosque and is the world's largest Gothic cathedral. The cathedral's massive interior features the usual exquisite gold decorations and woodwork and the tomb of Christopher Columbus. As for the exterior, that's best experienced from the top of the Giralda, the cathedral's 104-meter-high signature tower.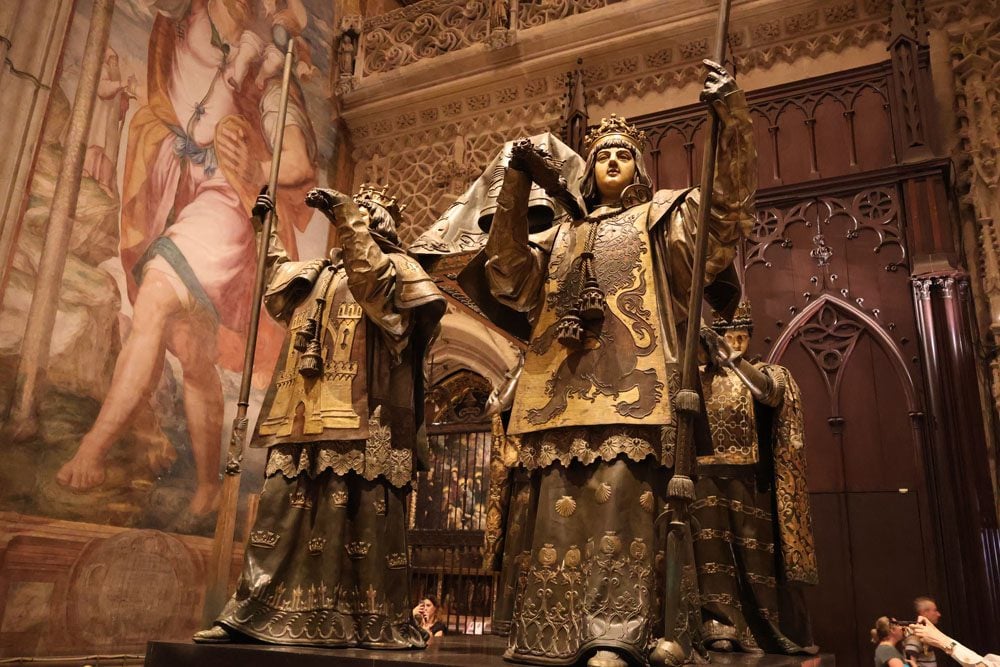 Across the cathedral is Seville's second top attraction. The Real Alcazar started as a fort in the 10th century, but over the following centuries, it was developed into a palace inspired by Mudéjar and Christian motives. The palace's interior is unpleasant to explore due to the tight space and high visitor numbers, but it is a must and later compensated by the Alcazar's sprawling gardens. Spain's current royal family still uses some palace rooms. And, if some images remind you of Game of Thrones, you're spot on, as some scenes were shot here.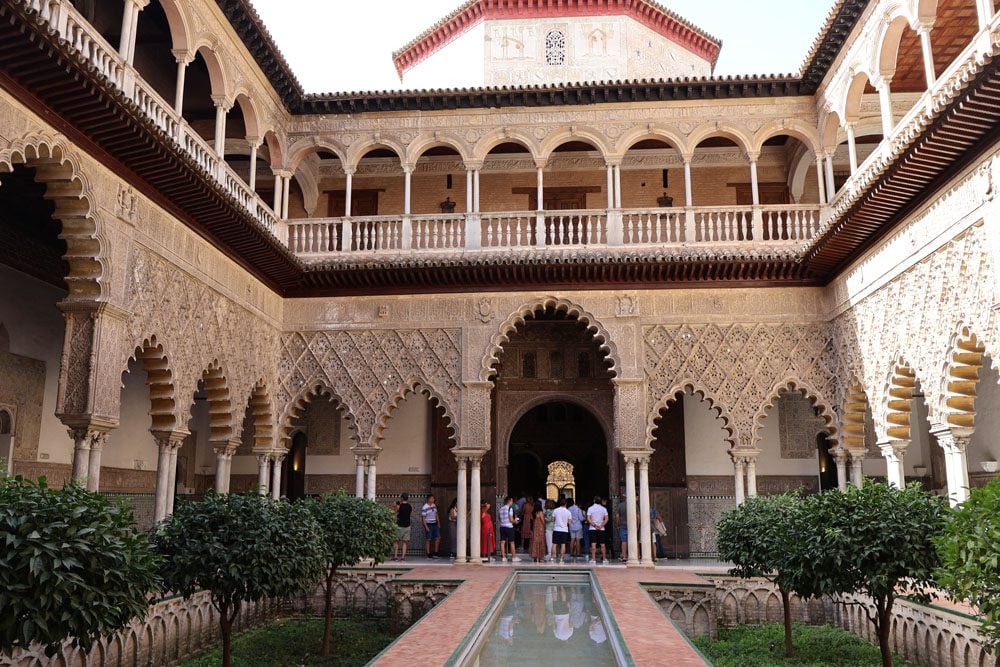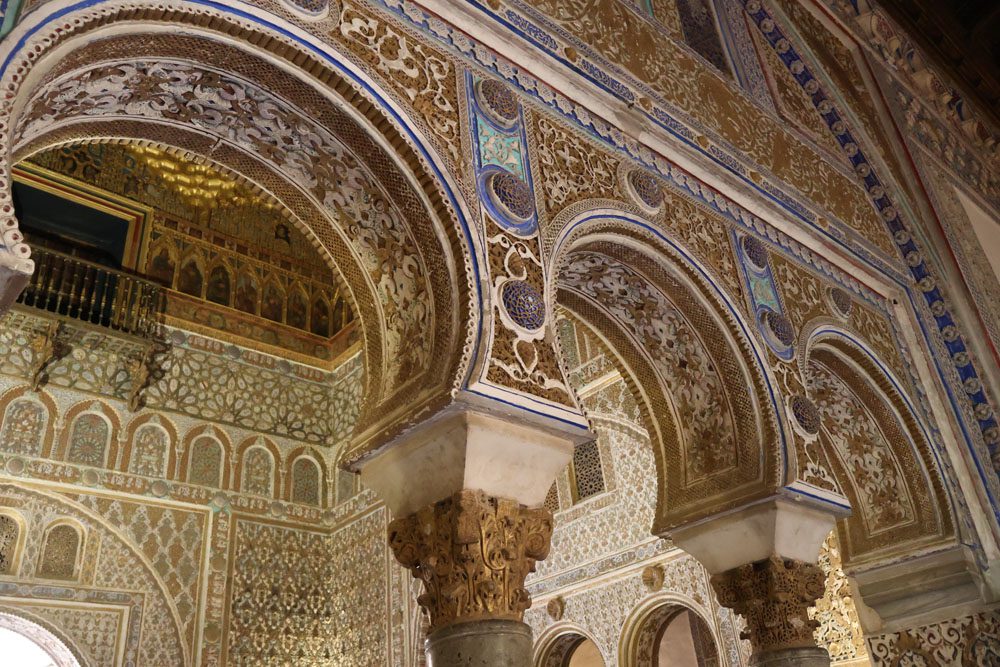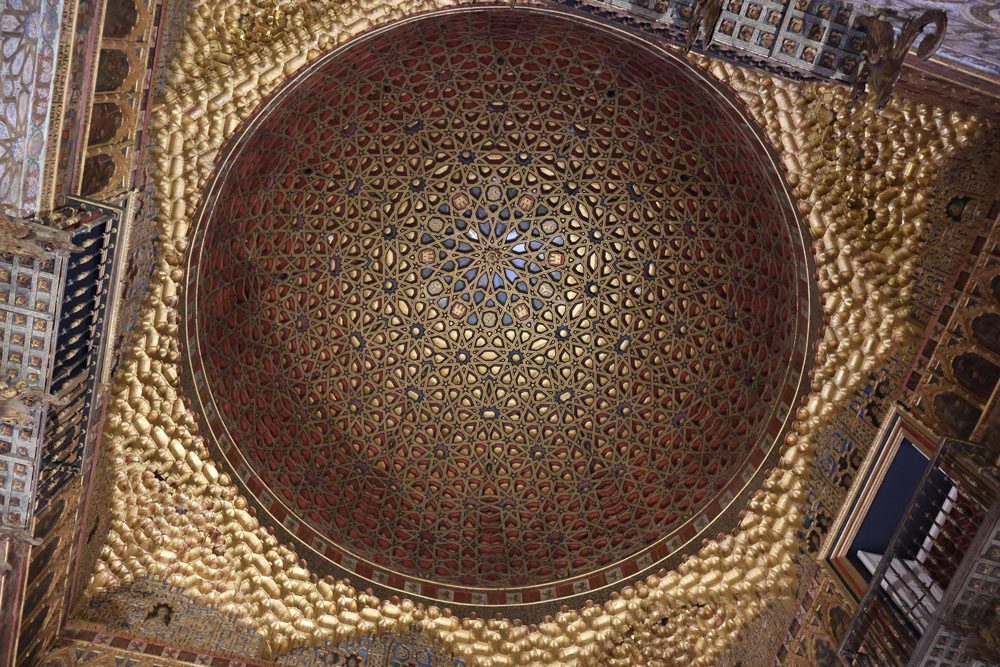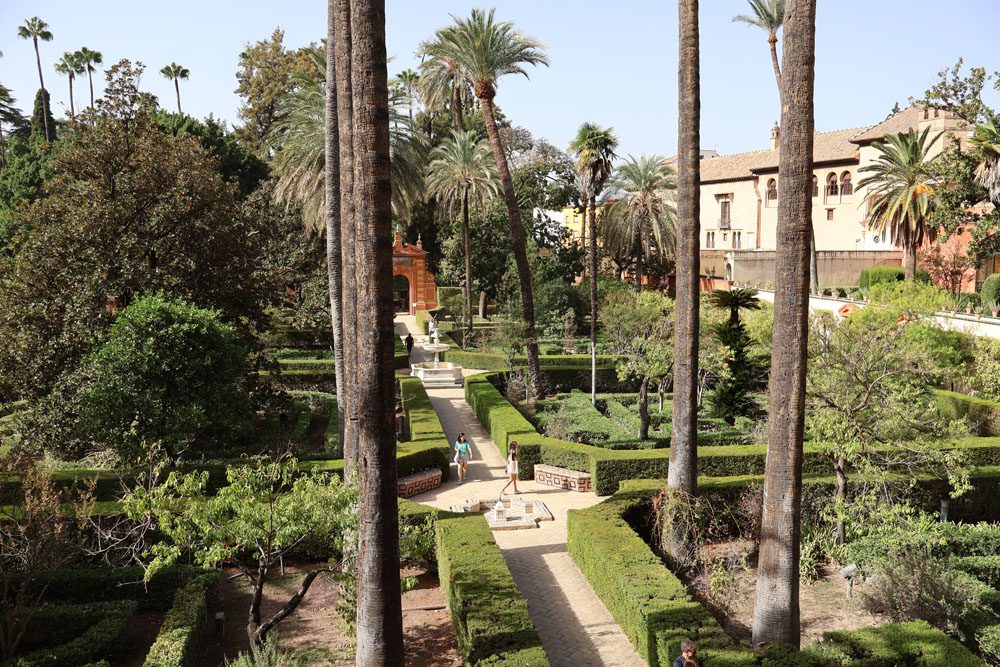 El Rocio & Doñana National Park
The next leg of the trip took us slightly south, first for some beach time in the six-kilometer-long Playa del Parador and then to the town of El Rocio for an overnight stay at the luxurious Hotel La Malvasía.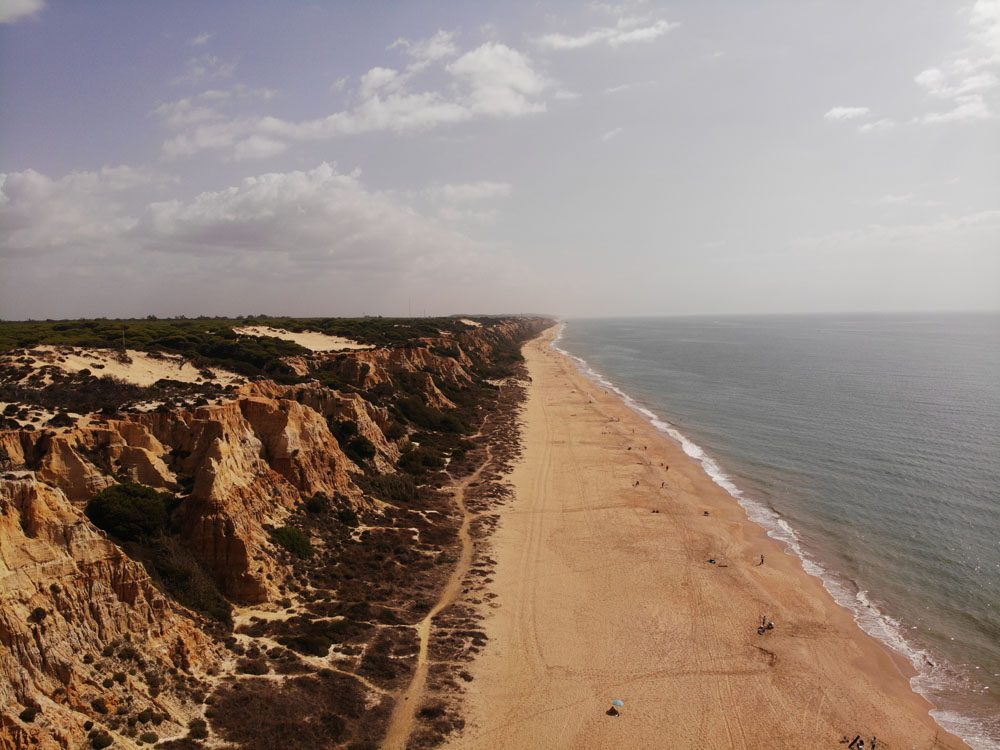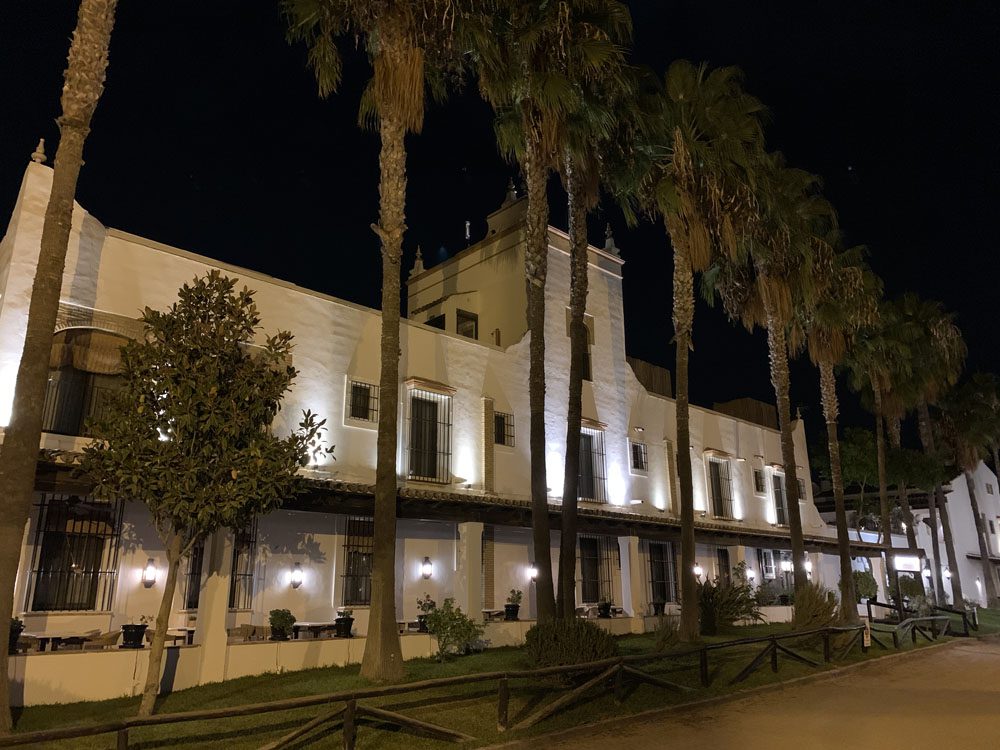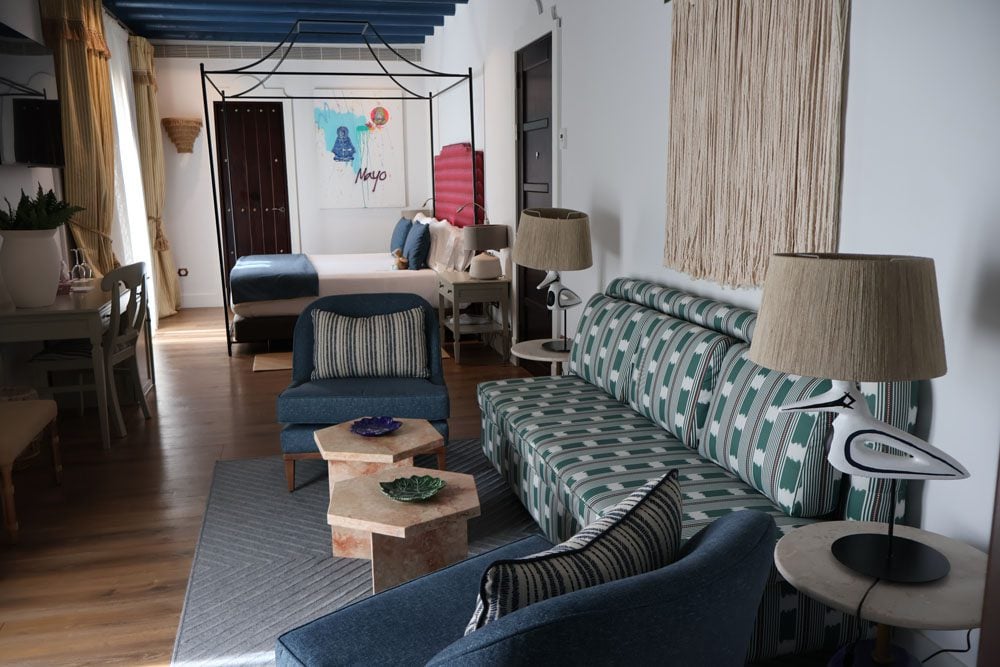 El Rocio is a strange town. It has no paved roads, only sandy avenues, horses and "cowboys" roam the streets, and most houses and shops appear to have been auctioned off from former sets of Western films. El Rocio also borders Doñana National Park, so it's not uncommon to see wild horses and deer at the edge of the town's boardwalk to see what's happening.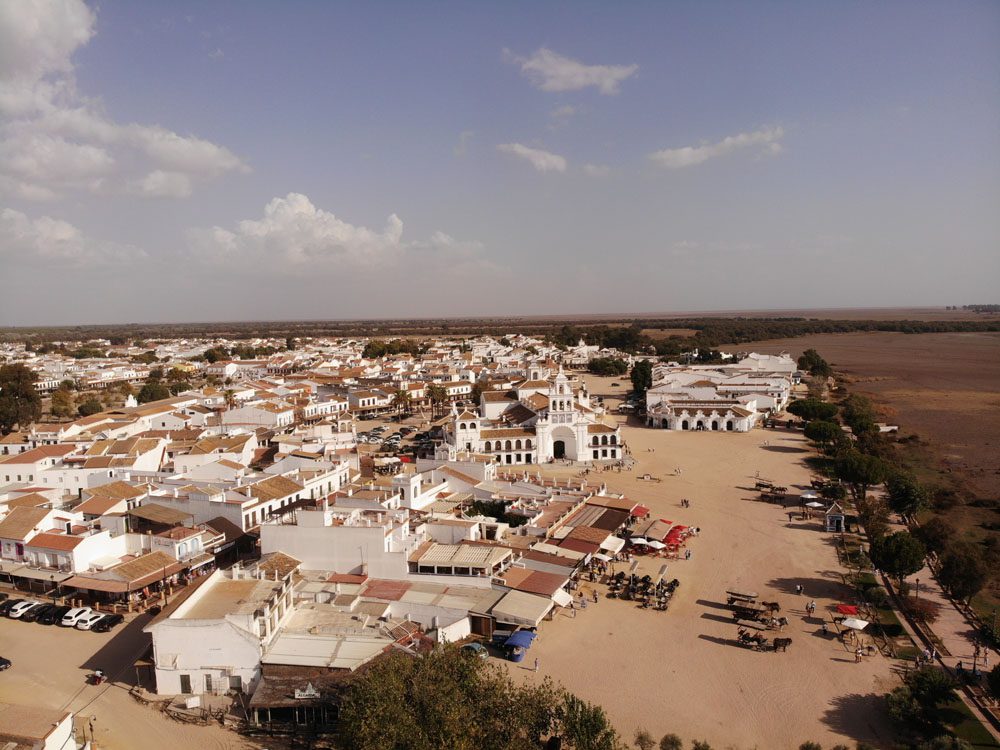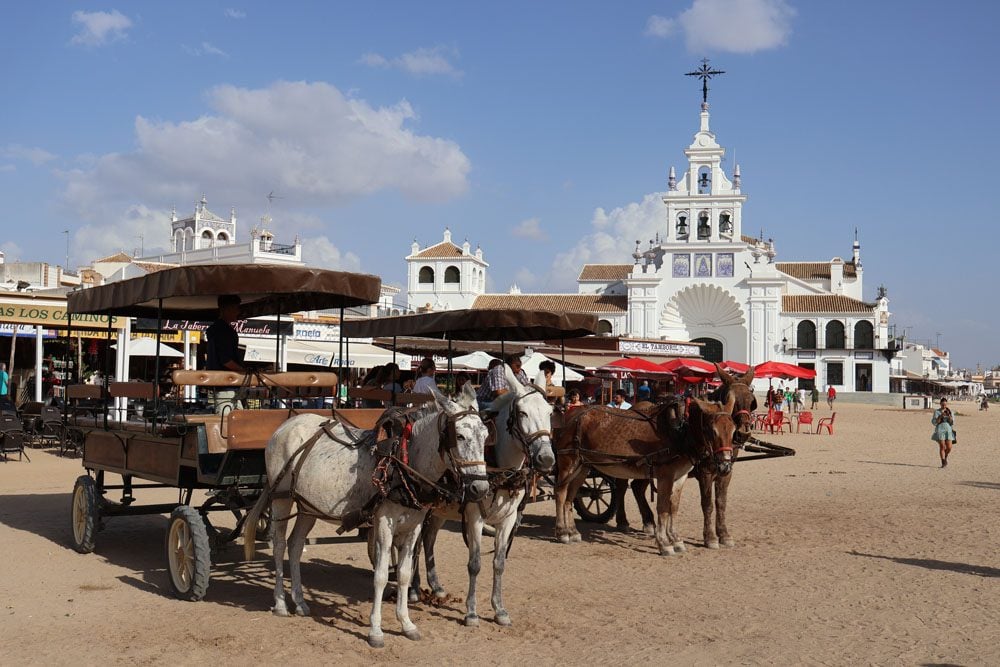 For most of the year, less than 1,000 residents live in El Rocio. However, during Pentecost, the population swells to 1.5 million, all devout pilgrims who often walk to El Rocio or ride horses just to get their hands on a small statue of the Virgin of El Rocio. When it's not festival time, the Virgin rests in the beautiful Hermitage of El Rocío.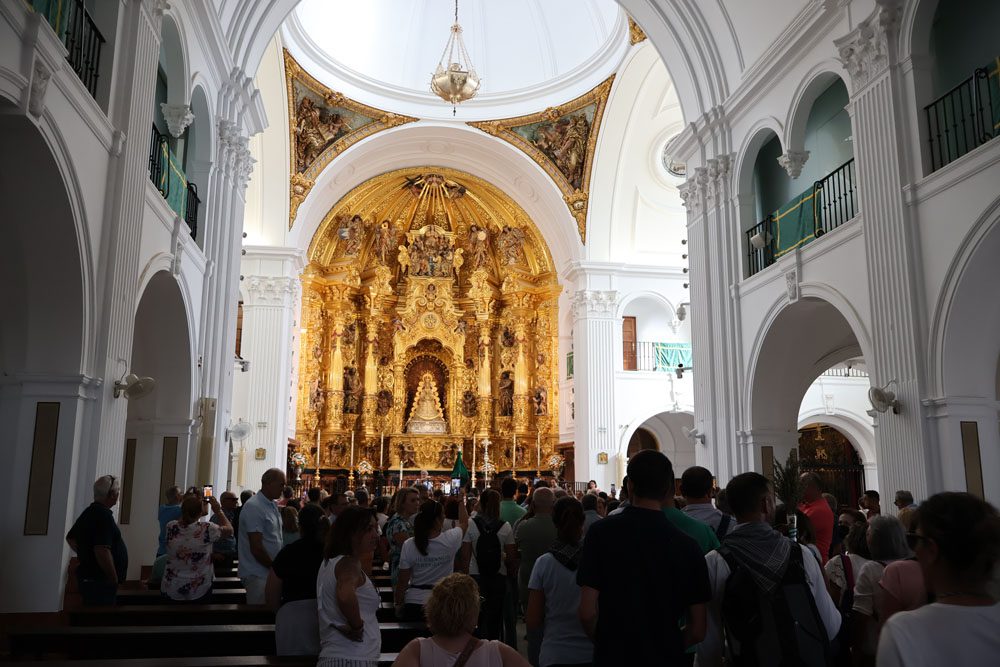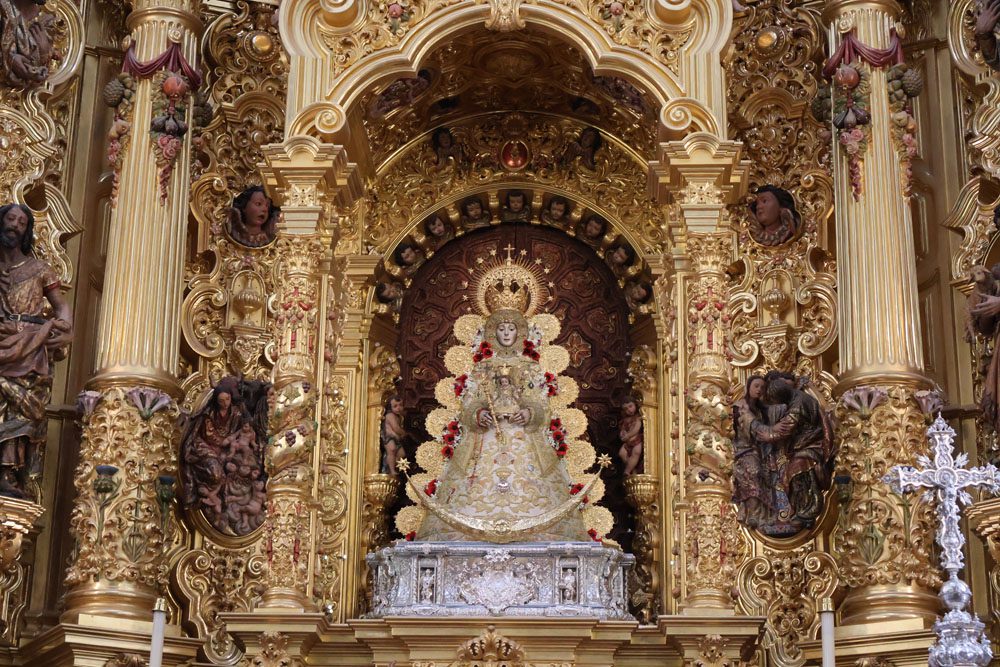 The prime reason for staying in El Rocio is to get an early start and explore sections of Doñana National Park, a 600 km2 natural wonderland. We toured the massive national park with this massive bus, visiting the forest and marshland, two of the park's four distinct ecosystems. If on an African safari you hope to see the "big five," in Doñana, it's flamingos and the elusive and highly endangered Iberian lynx one hopes to spot. Unfortunately, we weren't so lucky on this day, but we saw many vultures and wild deer.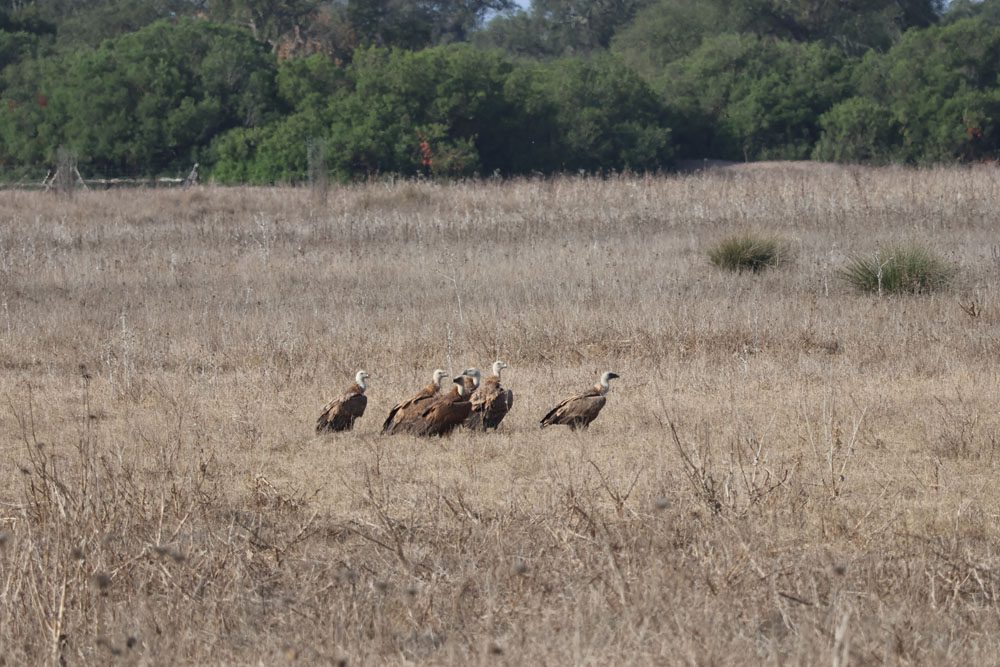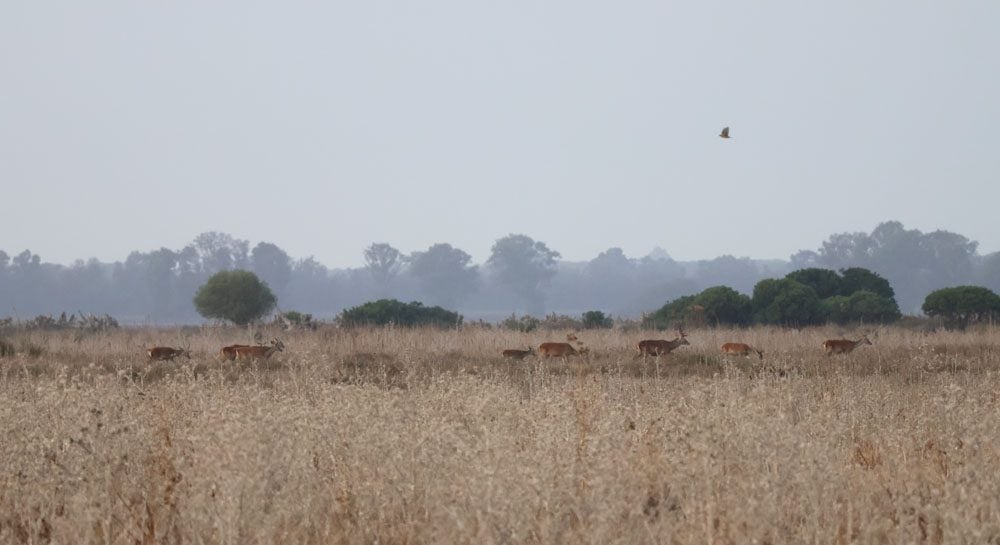 Heading in the direction of Cadiz, we got a tip from our guide to head 45 minutes south to a few ponds with guaranteed sightings of flamingos. And boy, was he right!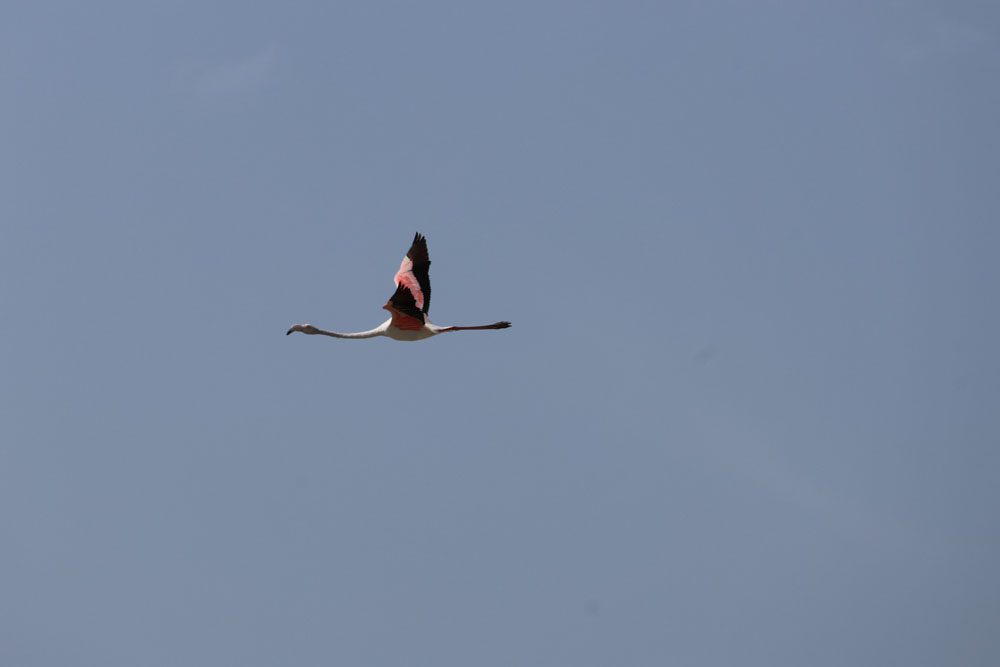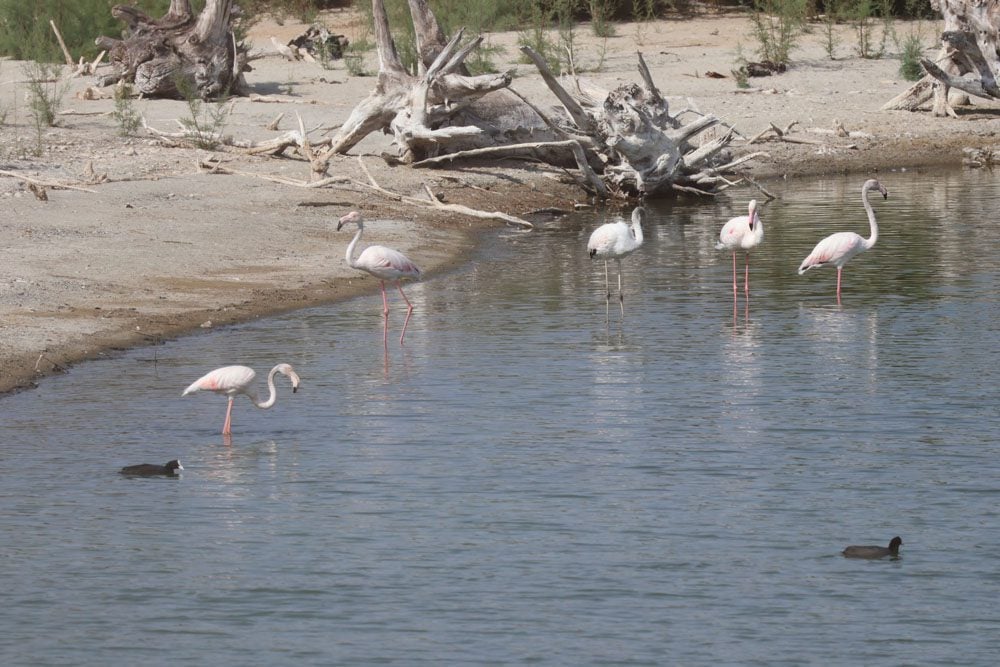 Cadiz
After a quick stop in Jerez de la Frontera, we checked into a lavish apartment in the heart of Cadiz. Established in the 12th century BC, Cadiz is Europe's oldest continuously occupied settlement. The seaside city's pretty waterfront and surrounding beaches make it an attractive stop for large cruise ships, but we luckily beat the boats by a few hours to enjoy an interesting night on the town with a small hint of what's to come tomorrow.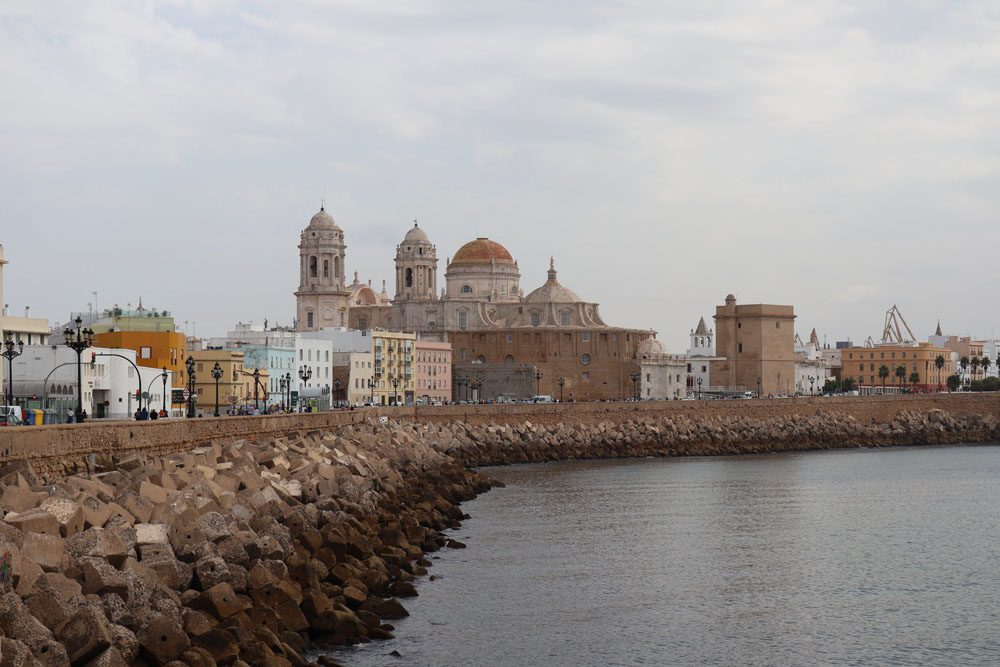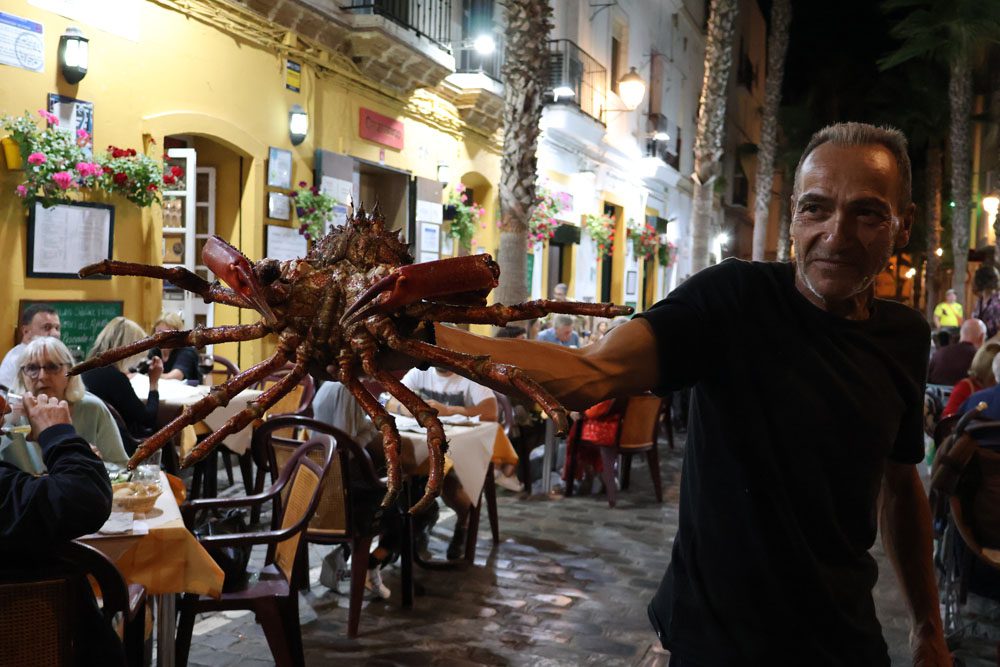 Of Cadiz's cathedrals, narrow lanes leading to charming squares, and tapas bars, the most memorable stop was at the Mercado de Abastos. Cadiz and the region are known for Almadraba Bluefin tuna, but the market's interior section puts on a fine display of the ocean's diverse bounty.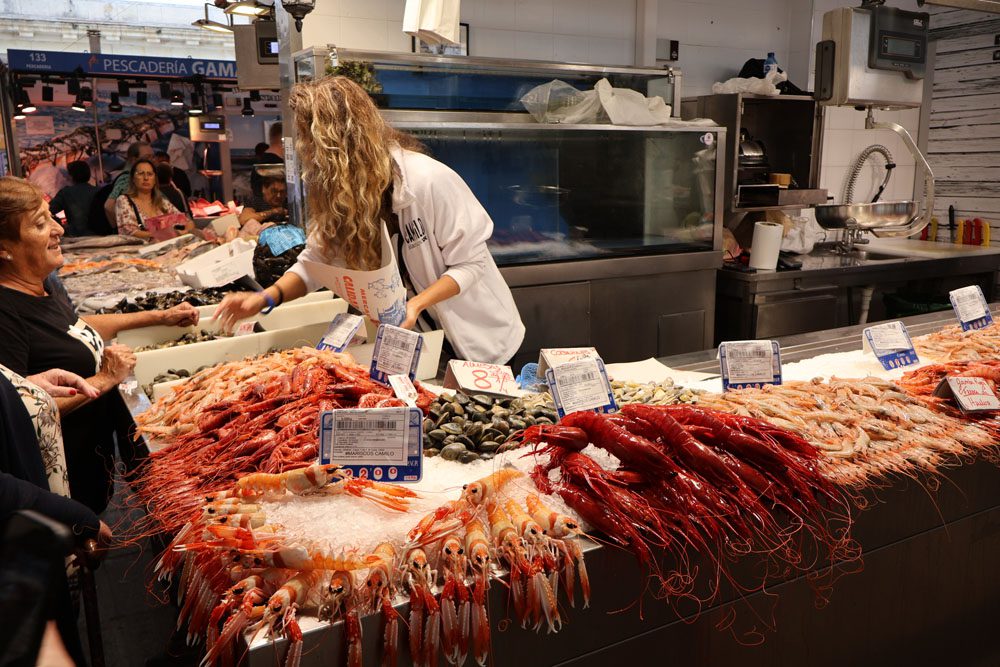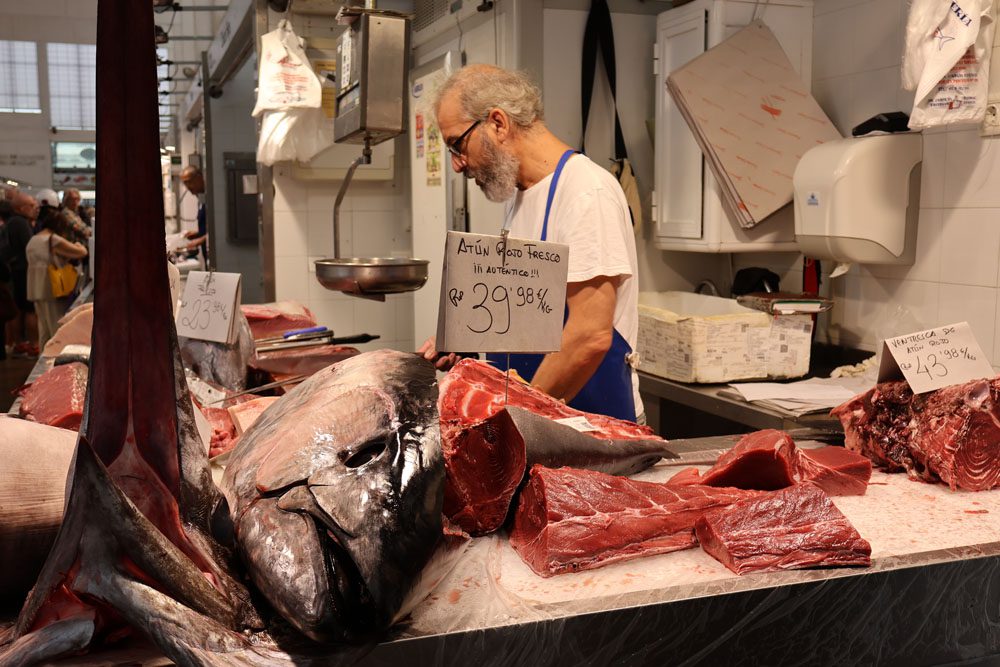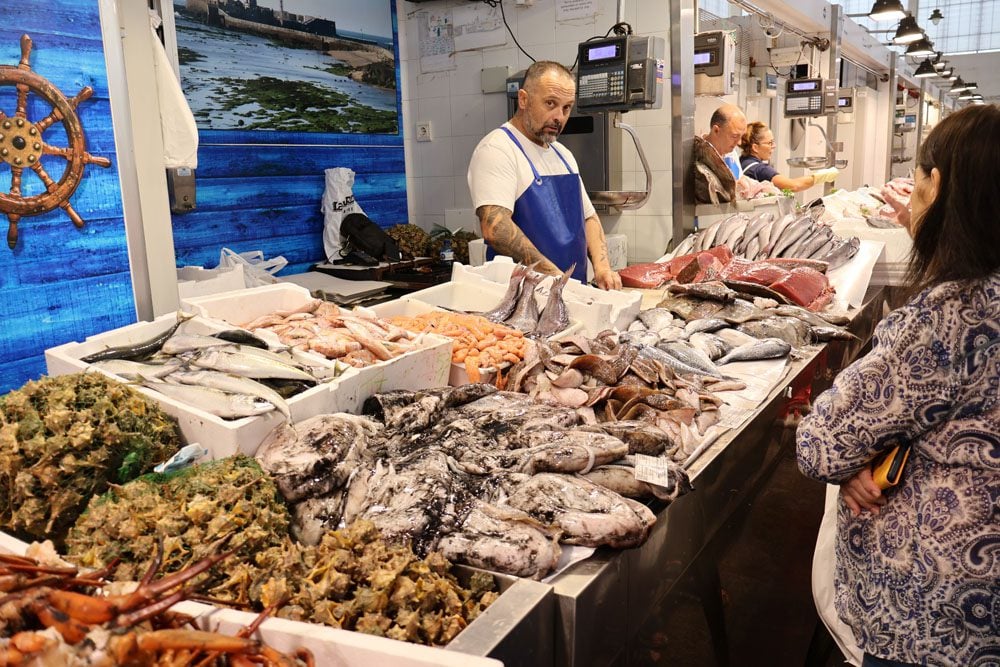 The stretch of coastline from Cadiz to Tarifa is home to some of Andalusia's best beaches. With an afternoon at the beach on the plan, the weather turned sour, but we did manage to enjoy the enormous sand dune at Punta Paloma Beach before climbing to Vejer de la Frontera for an overnight stay.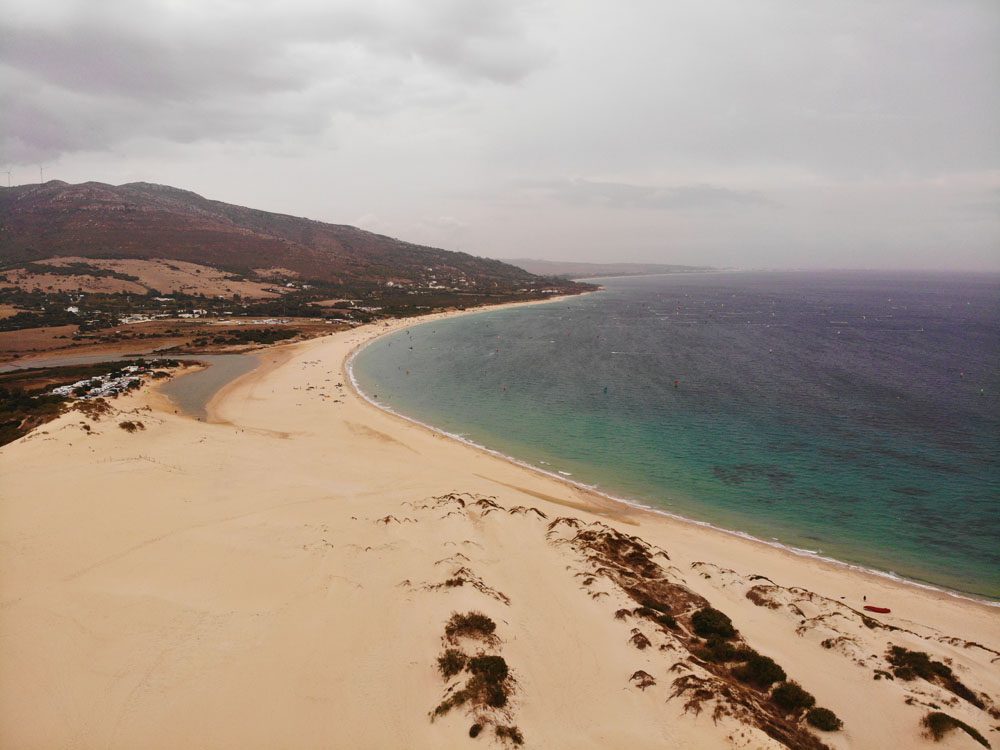 Pueblos Blancos
Vejer de la Frontera was our first taste of Andalusia's pretty hilltop white towns, where residents paint their houses in bright colors to lessen the burden of the summer heat. We spent the night at the newly-opened Casa Aura. This charming hotel has some serious views from its rooftop balcony. In the morning, we explored the small village, which had yet to wake up even past 9 am.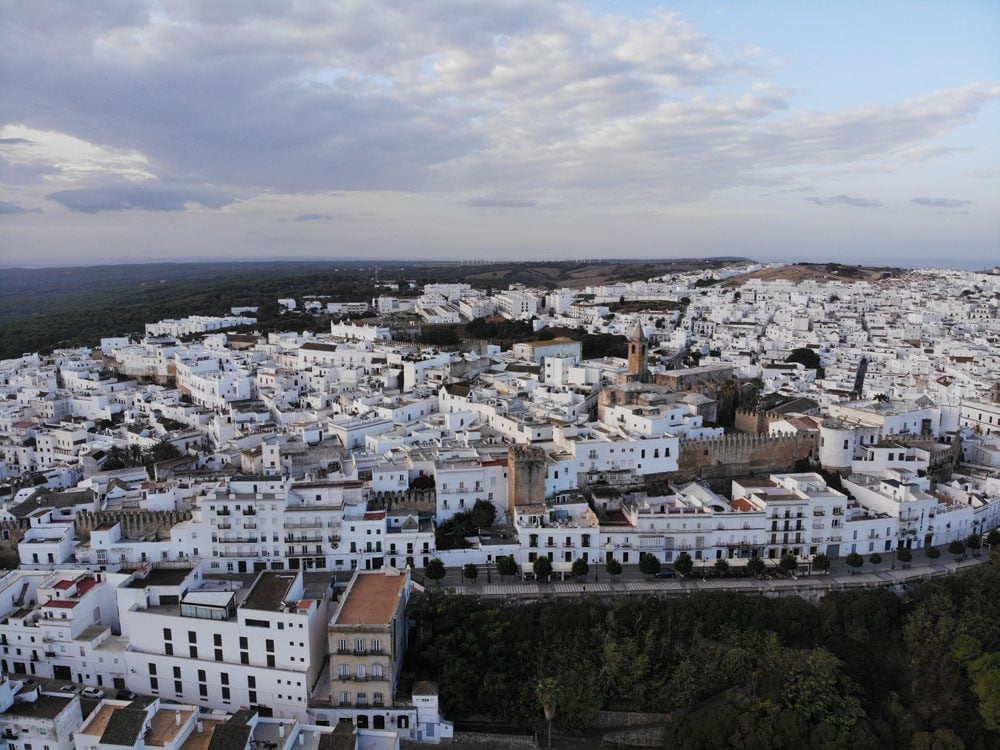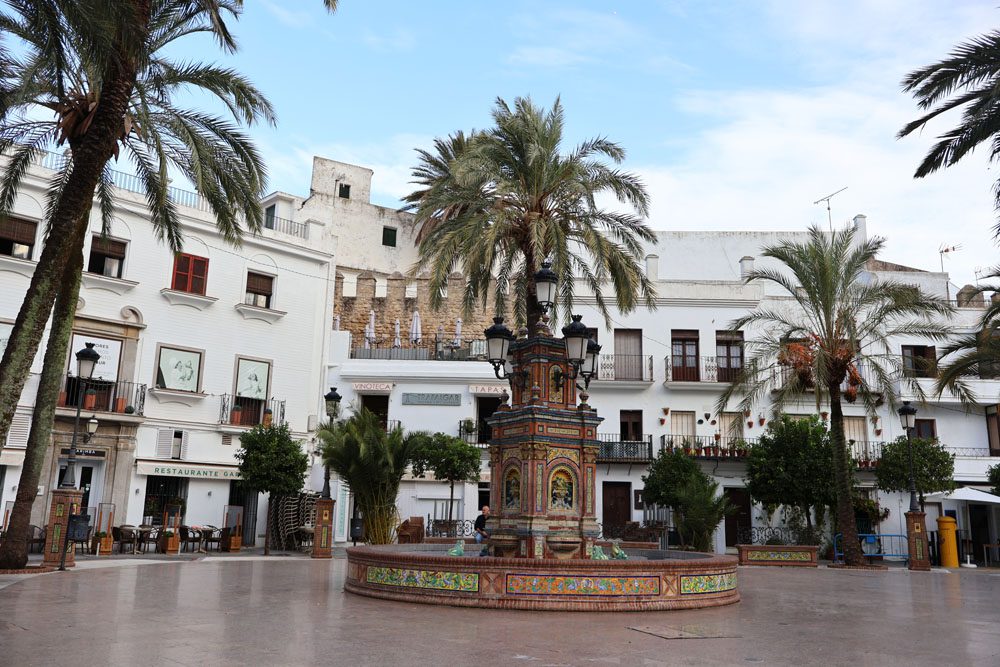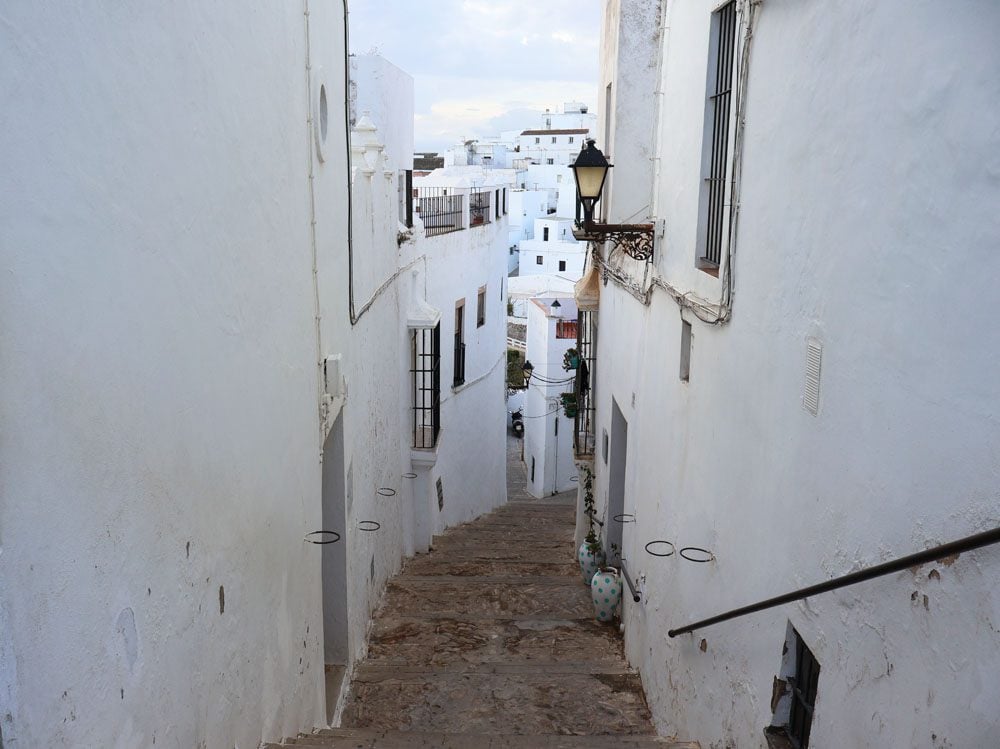 From Vejer de la Frontera, we continued to Arcos de la Frontera. Both village names suggest they used to lie at some point on the border region between two influencing powers. Arcos de la Frontera is considered one of the prettiest whitewashed villages, thanks to its scenic position on a small hill overlooking the beautiful countryside and blend of gothic architecture and bright-colored arches rising above impossibly narrow lanes.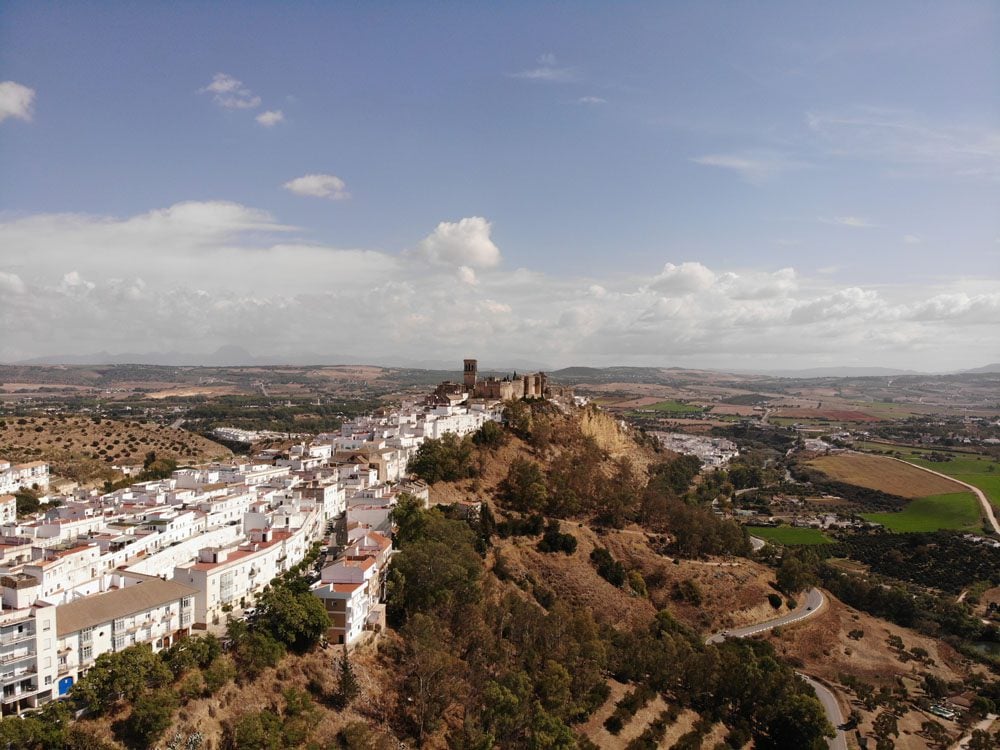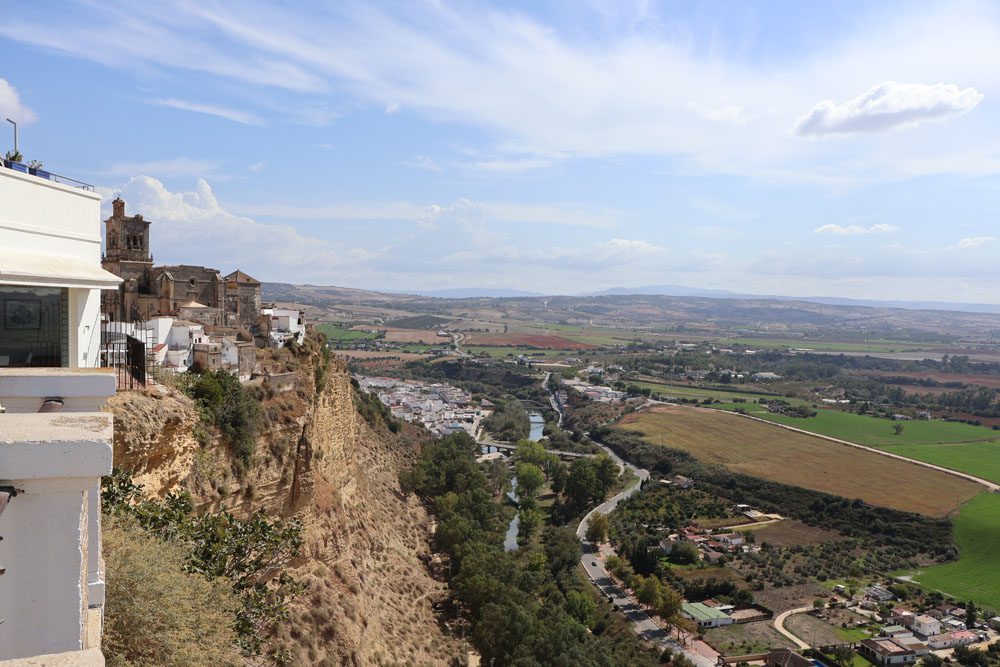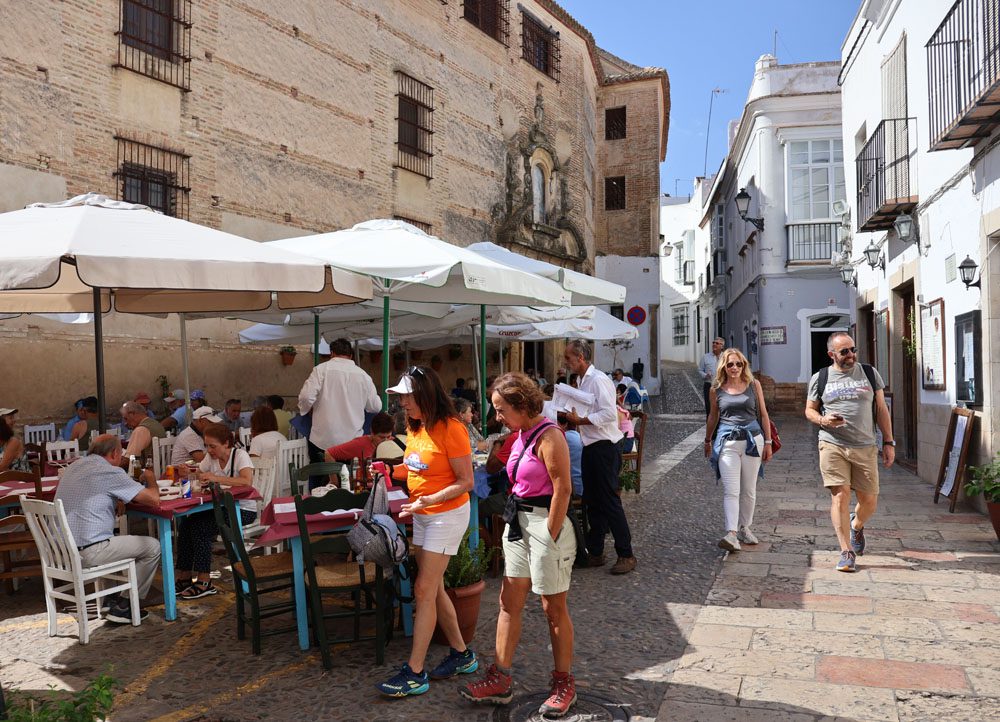 A short drive west of Arcos de la Frontera, the scenery dramatically changes as the soft hills give way to mountains. The narrow road twists as it gains elevation and eventually reaches the village of Grazalema. To properly appreciate the dramatic scenery, we huffed and puffed 450 meters up a steep trail to Mirador del Santo and then checked out the town from level ground.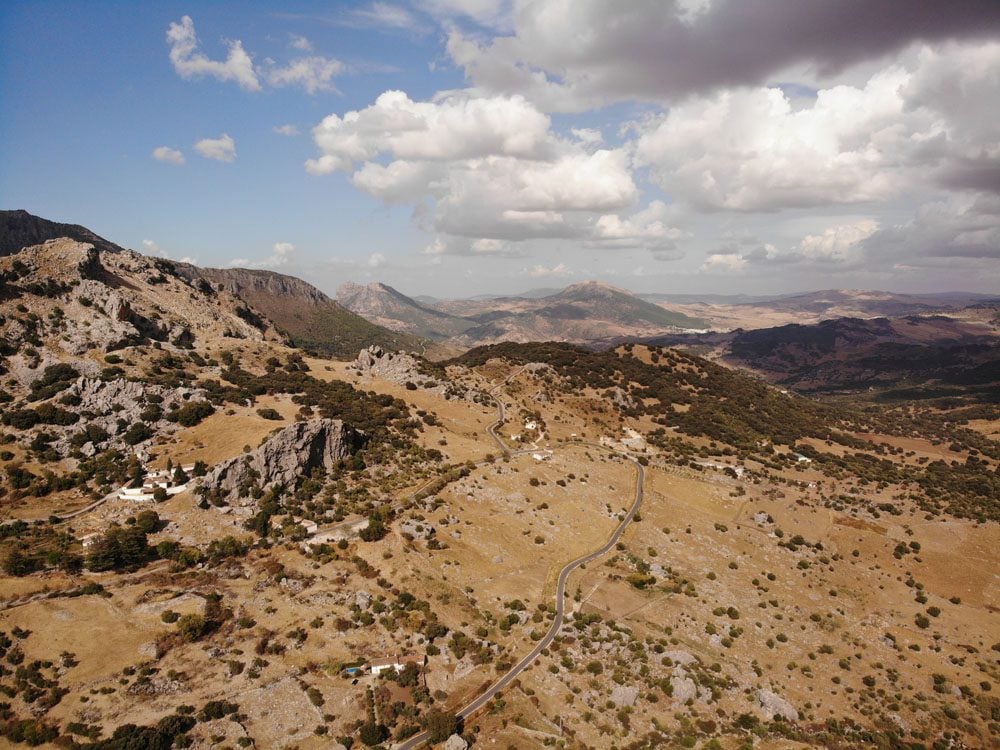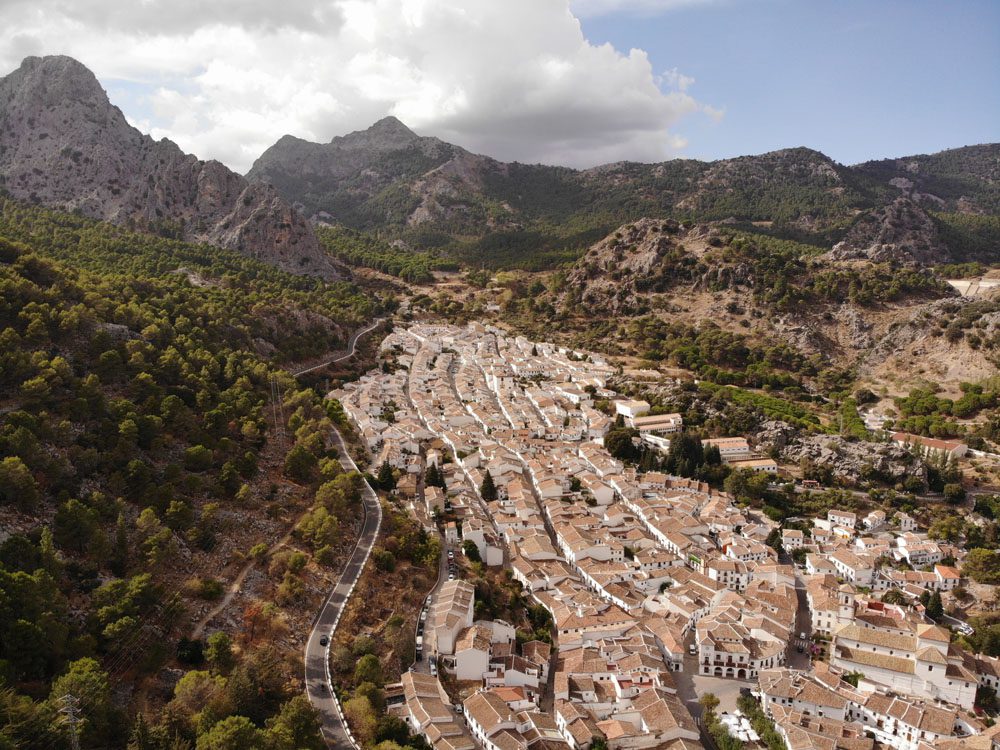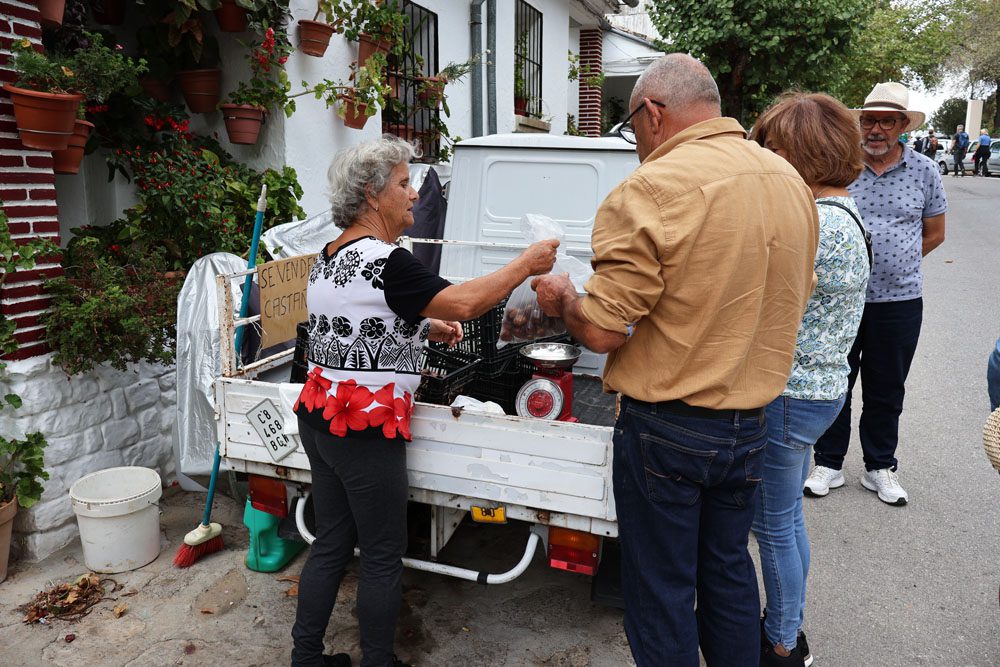 With nightfall nearing, we checked into El Molino Del Santo. The hotel is located in a rural area not far from Ronda and makes for a perfect base for exploring the region. We used the following day to hop between the area's prettiest towns and villages, separated by beautiful countryside dotted by remote farmhouses, windmills, and groves of oak trees stripped of their bark to produce cork.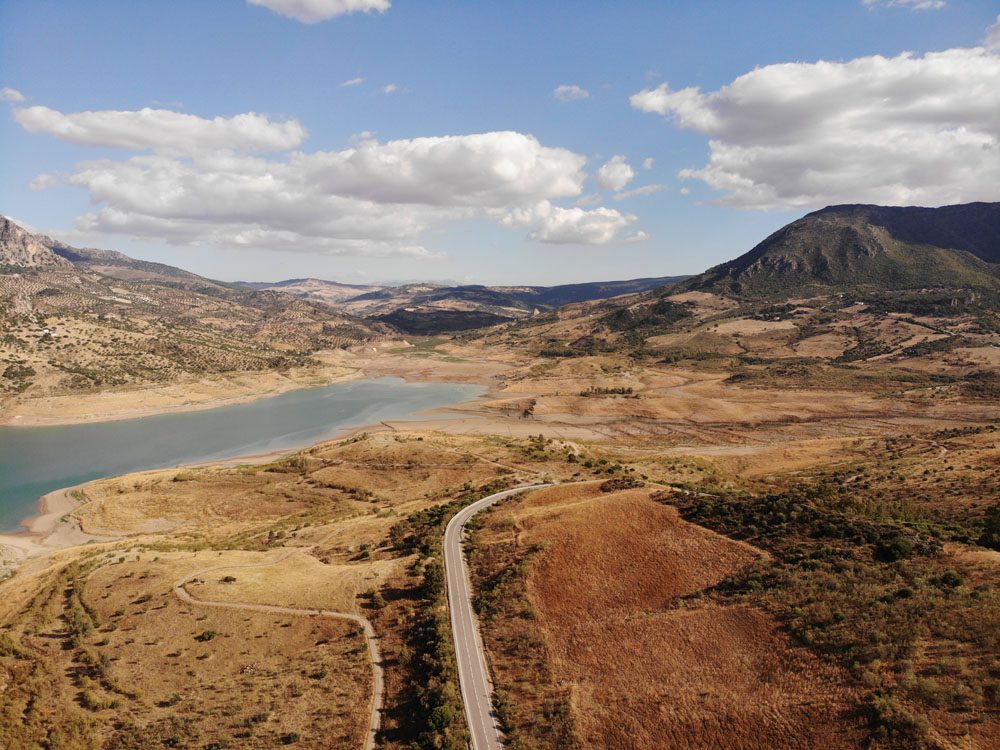 We started the morning in Ronda, one of the most famous towns in Spain. Apart from its rich and sometimes tragic history, Ronda is known for the Puente Nuevo, an impressive bridge spanning a deep gorge and connecting the town's two sections. Most of your time in Ronda is spent walking from one scenic lookout to another.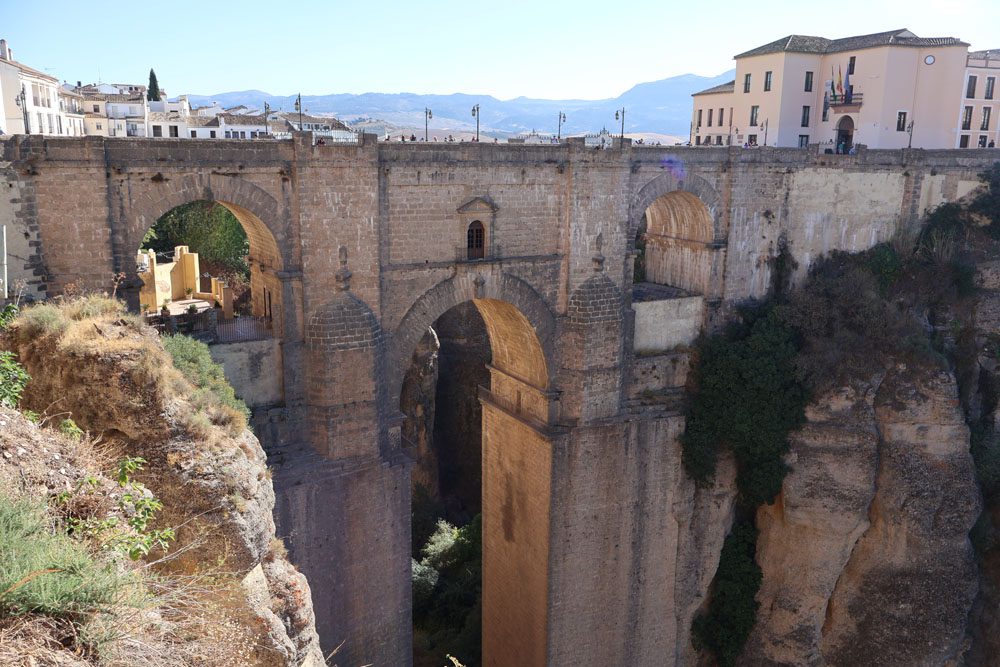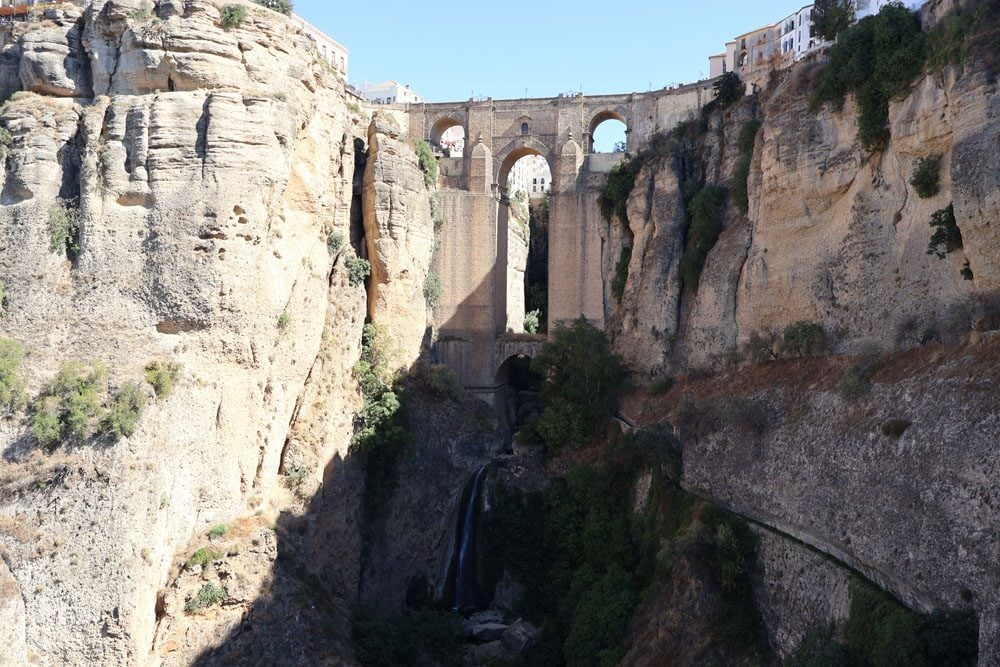 Our mini road trip then took us to Setenil de las Bodegas. If most of the region's towns are perched on a hill, large parts of Setenil de las Bodegas are carved into limestone cliffs. Many homes in the historic center are cave dwellings with very minimal natural lighting.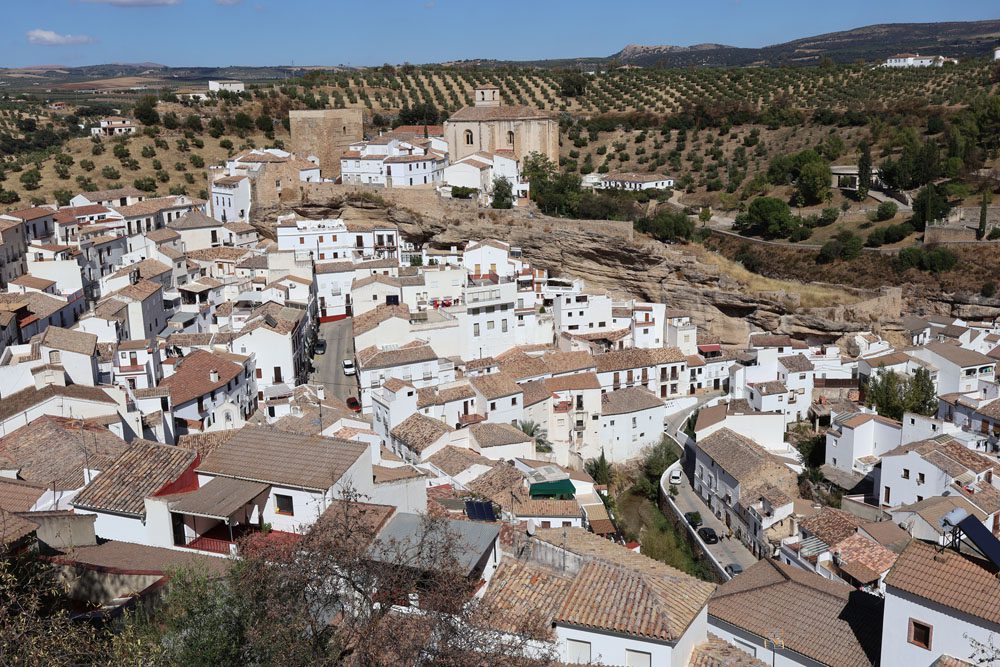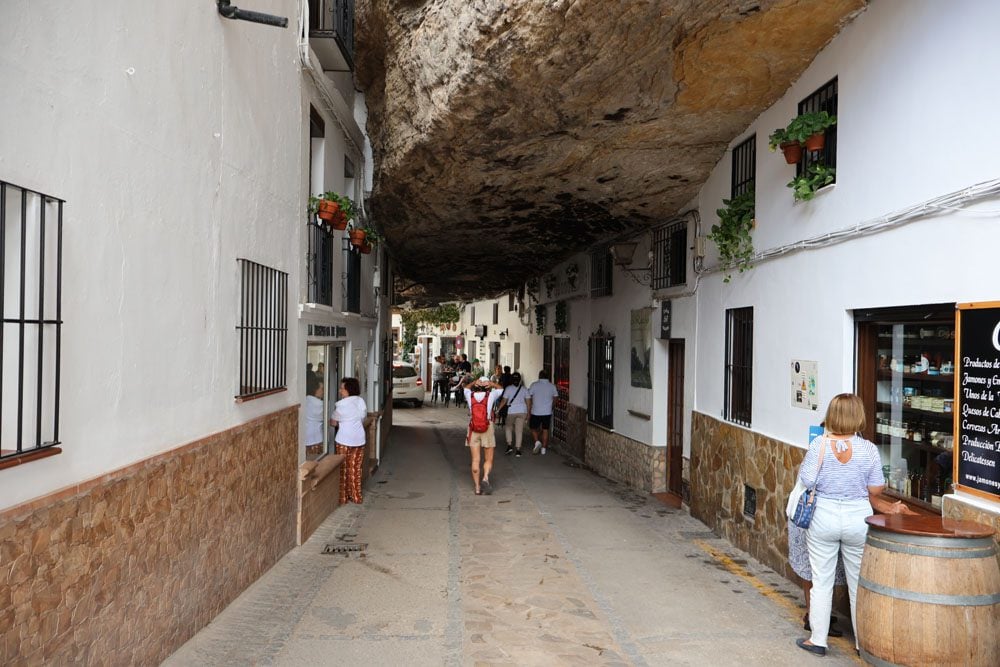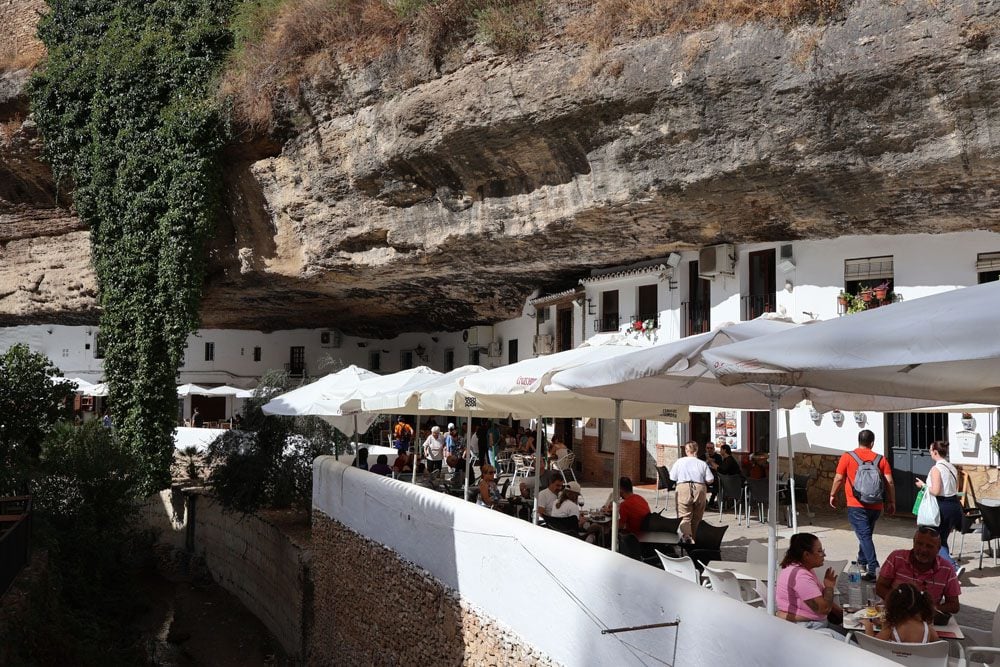 The last pueblo blanco for the day was at the glorious Zahara de la Sierra. The setting could not be more perfect in this whitewashed hilltop town, overlooking parts of the Grazalema Mountains and a large reservoir. In Zahara, we continued the theme of working hard to find a parking spot and explore the historic old center on foot, meandering between ancient cathedrals, squares with panoramic views, and the quintessential stop for refreshing sangria.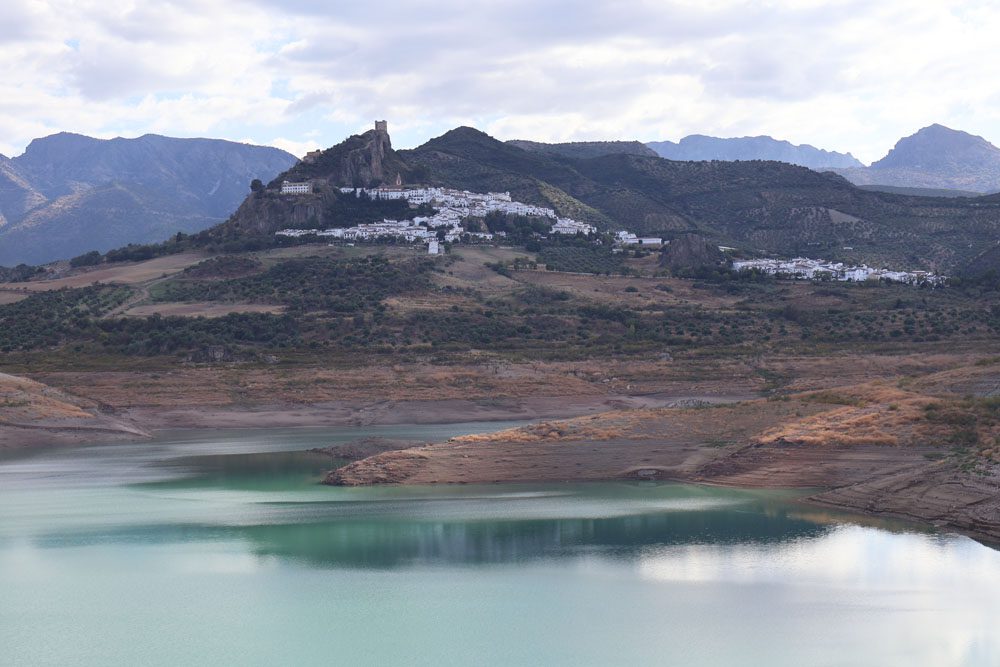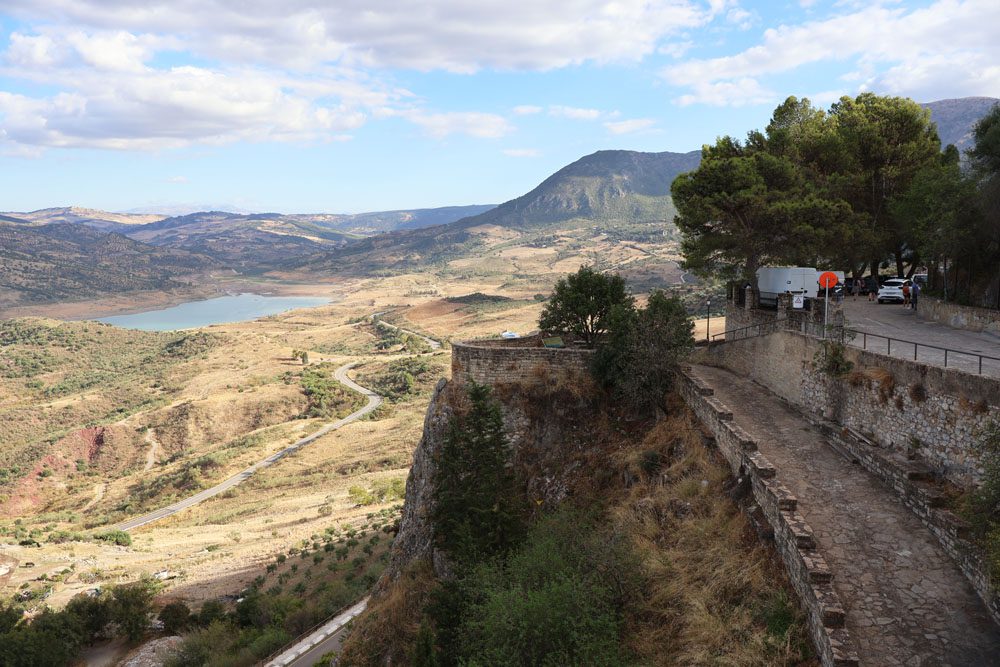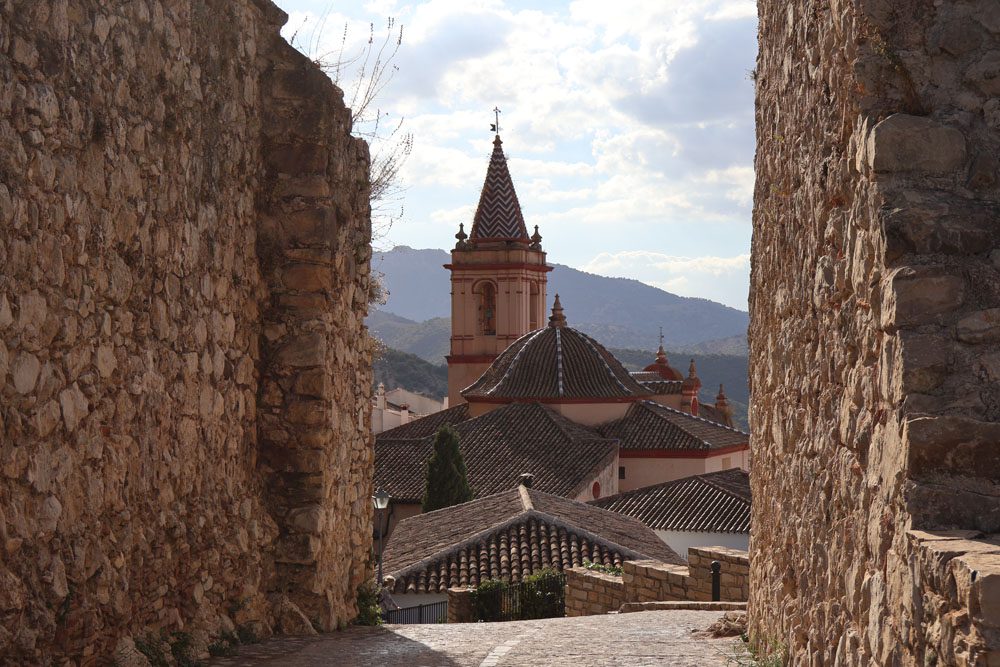 The Tropical Coast
There was one final task in the mountains before pushing south to the Mediterranean coastline. The Caminito del Rey (king's path) has to be one of Europe's most thrilling walks. With most of the trail's three-kilometer boardwalk somehow attached to a sheer cliff over 100 meters above a gushing river, don't attempt this if you have a fear of heights.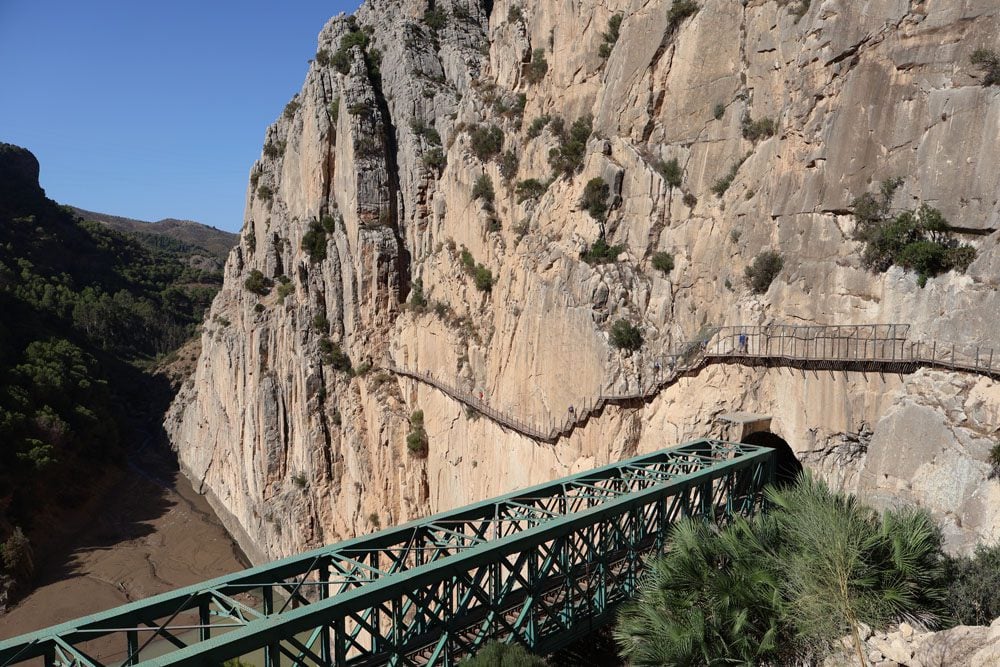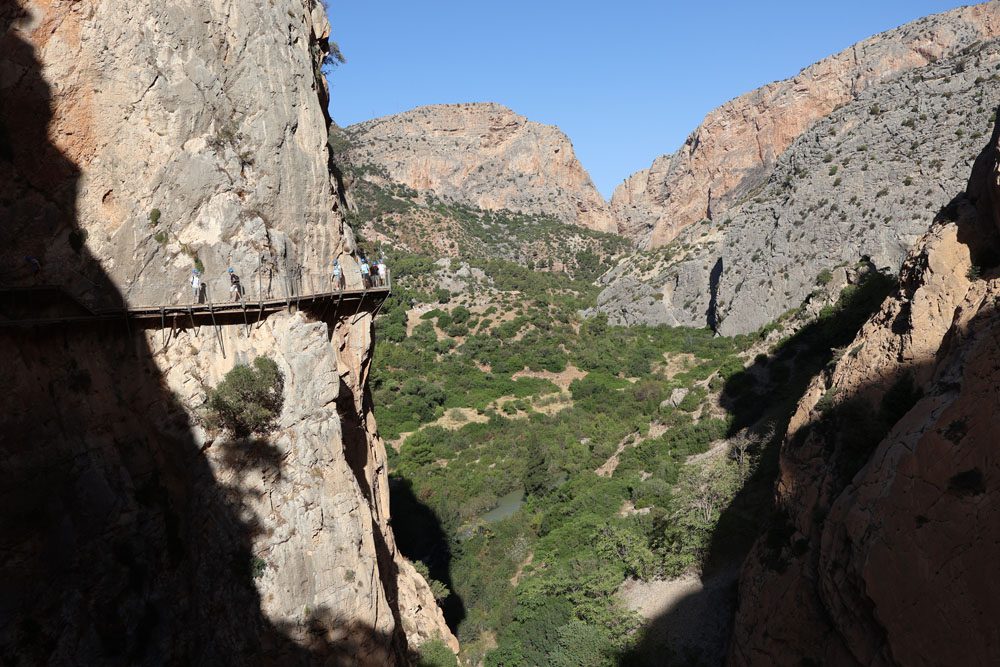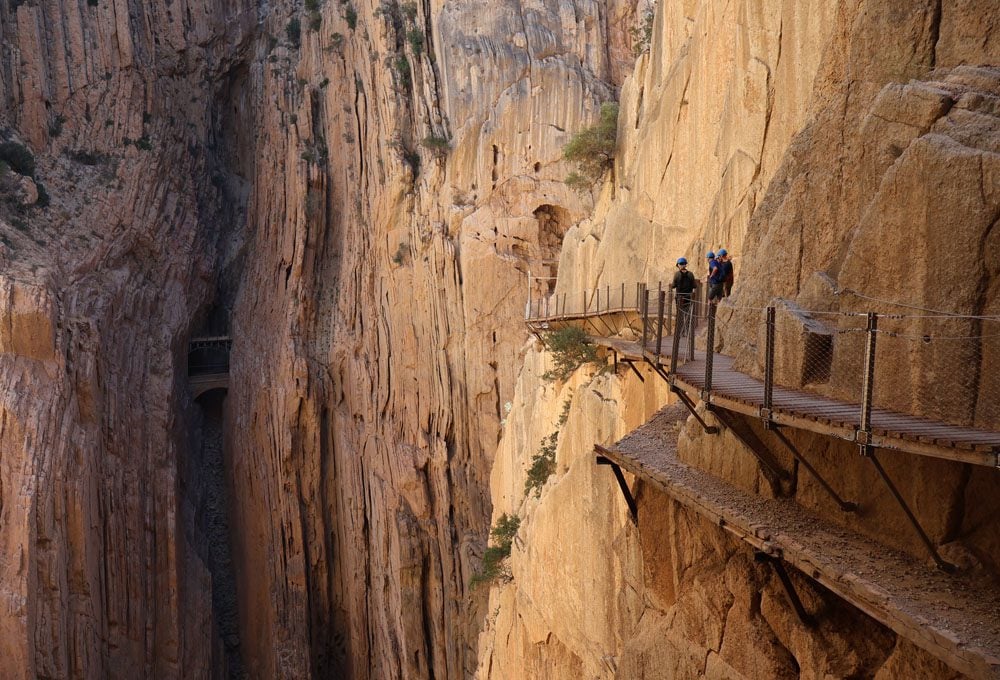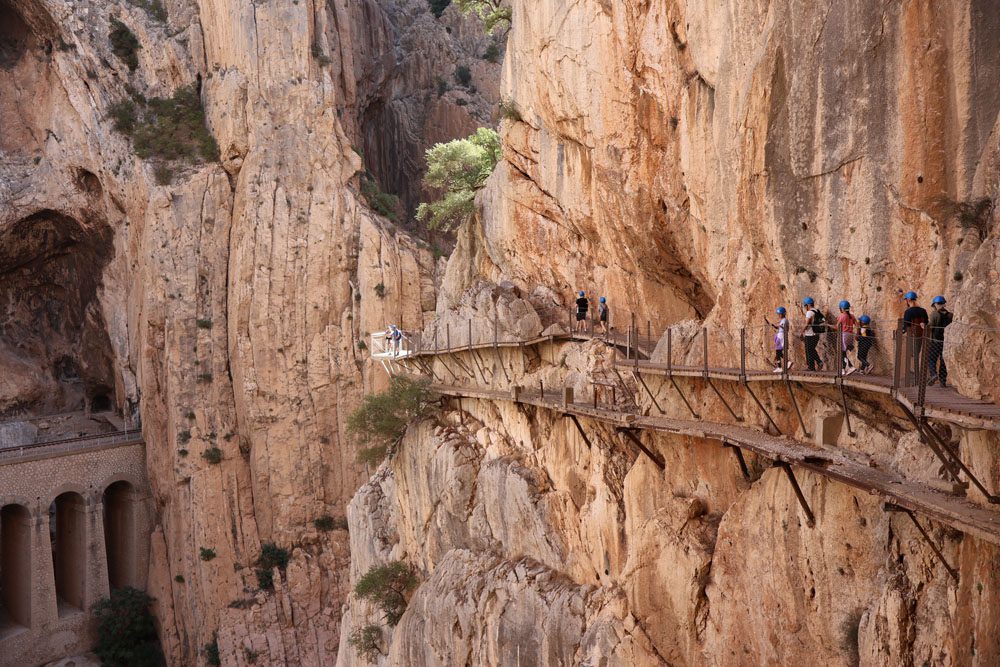 Skipping the tourist traps of the Costa del Sol, we spent the night at a charming bed and breakfast managed by Natalia and Kiko, a former stockbroker-lawyer power couple who left the stress of Madrid behind and moved to Nerja to enjoy life closer to nature. Their bed and breakfast is perfectly positioned for sunrise viewing, after which Natalia's delicious homemade Spanish omelet is prepared for breakfast with a view.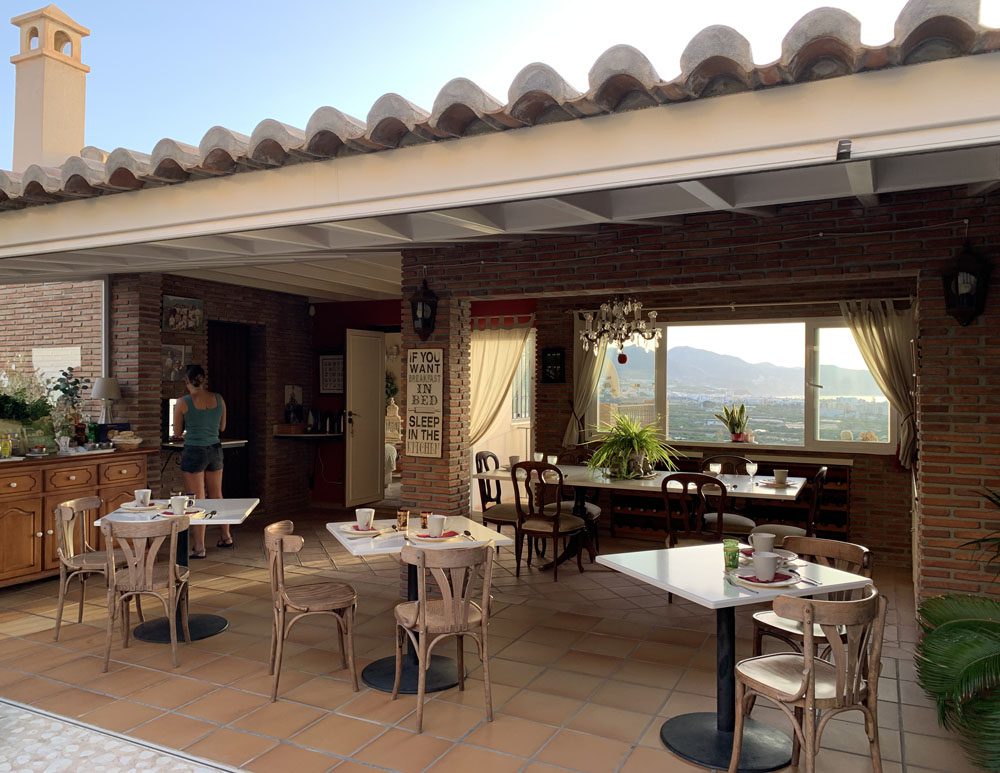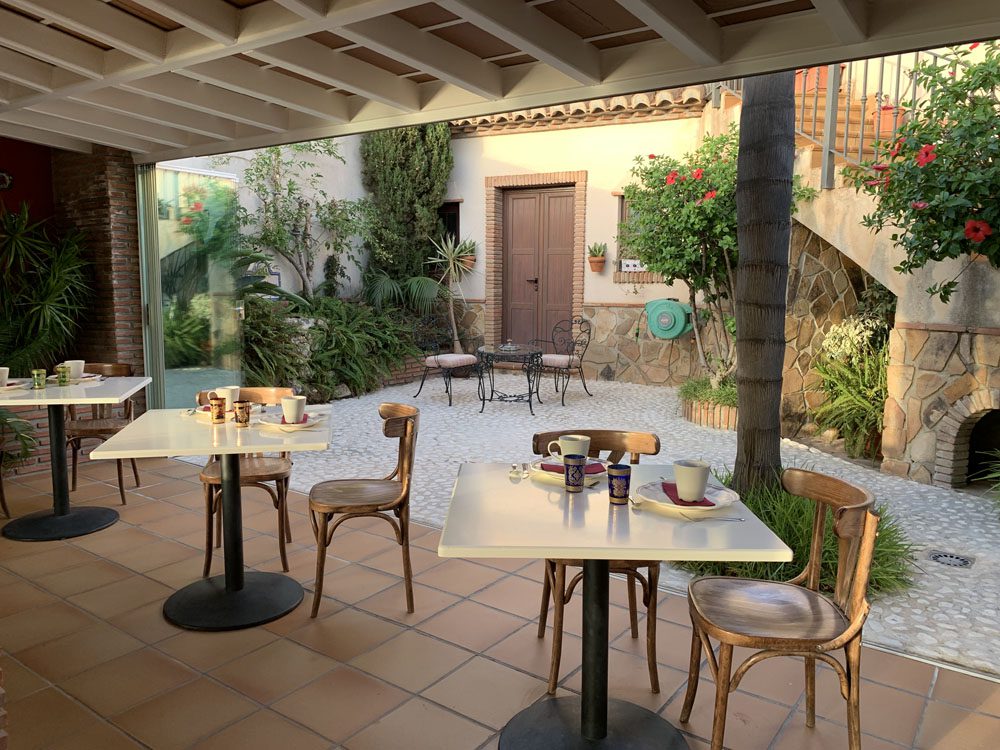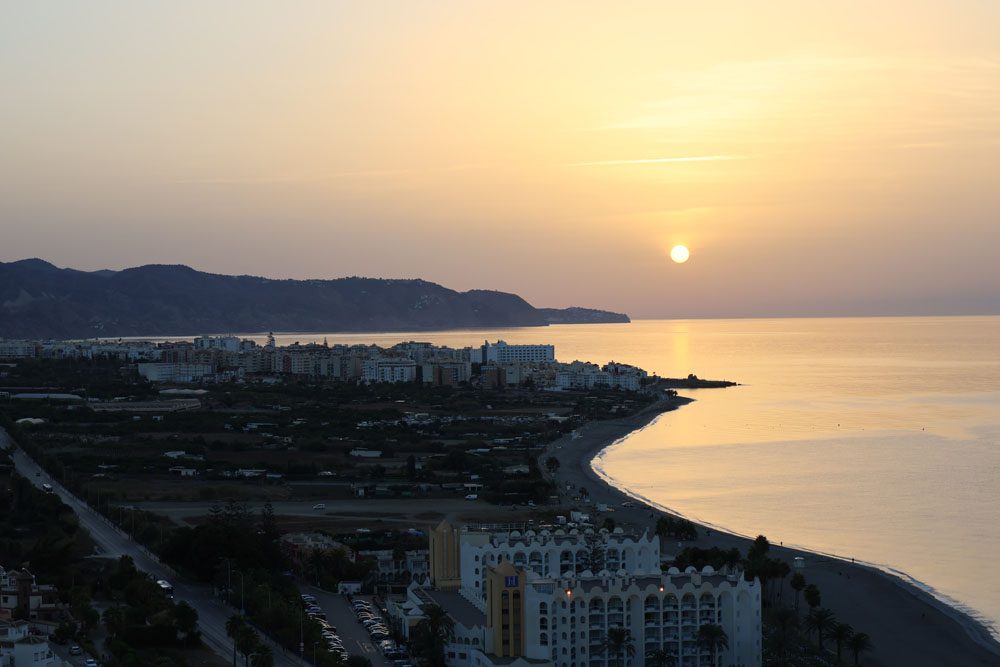 Nerja lies on Spain's "tropical coast," where mango, avocado, and British ex-pats are the main sources of income. The town's main highlight is the Balcón de Europa, but it also features a few pretty beaches and an impressive cave home to the world's tallest stalactite at 32 meters. Nerja is also just minutes away from Frigiliana, another highly regarded whitewashed town with narrow streets and panoramic views.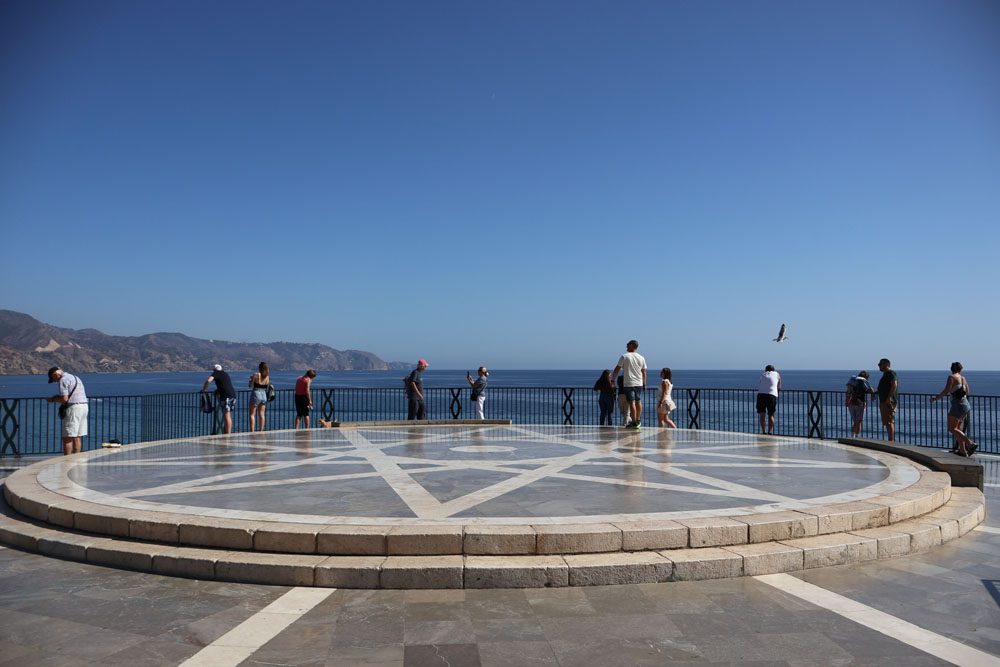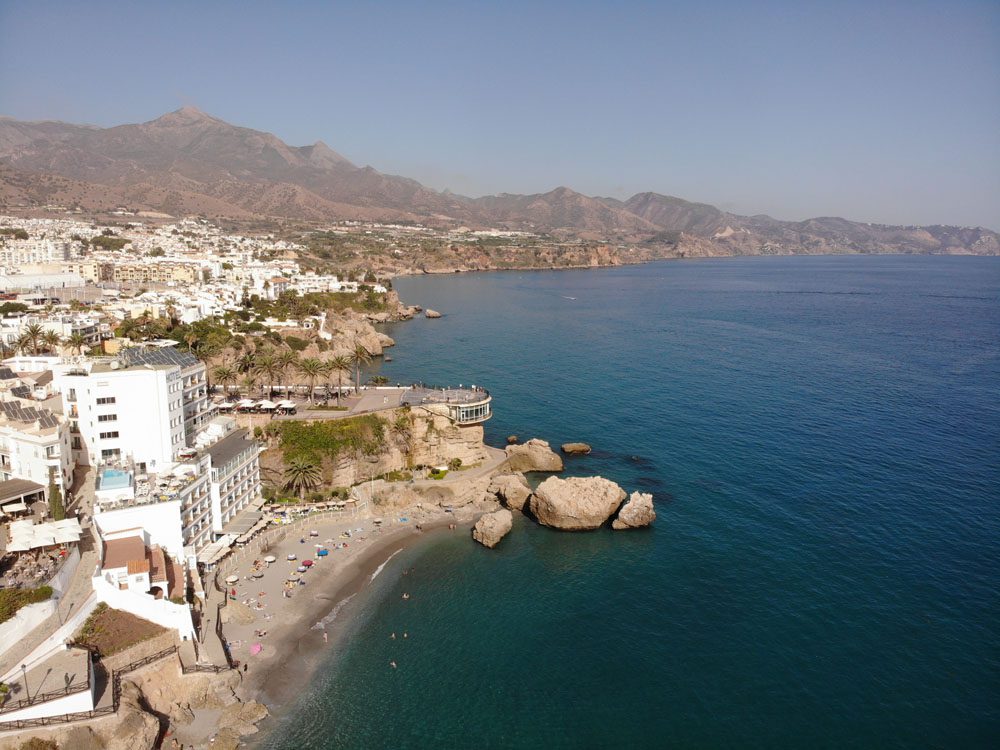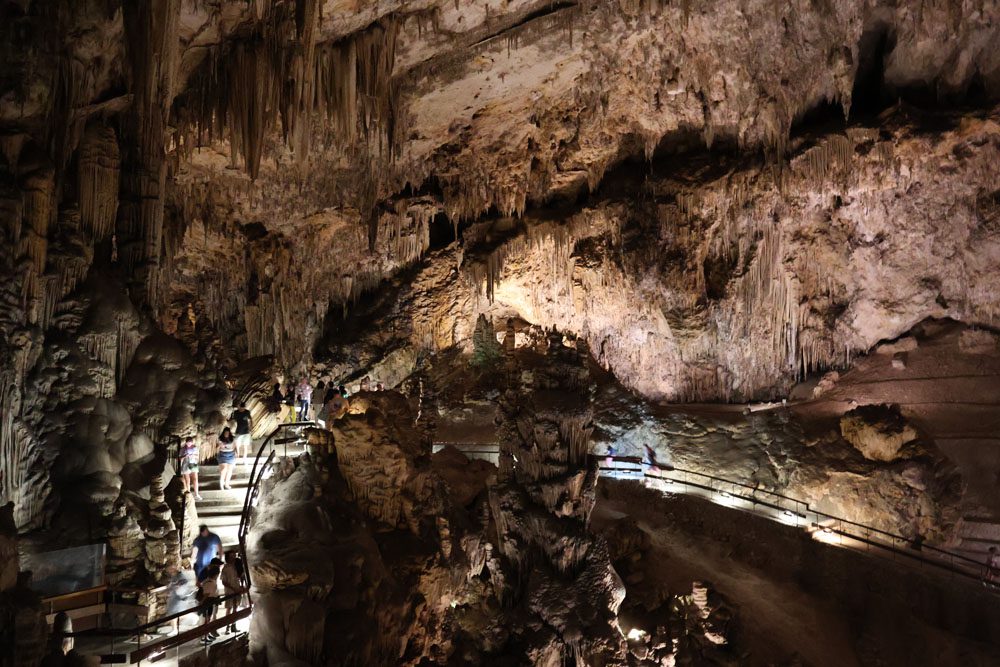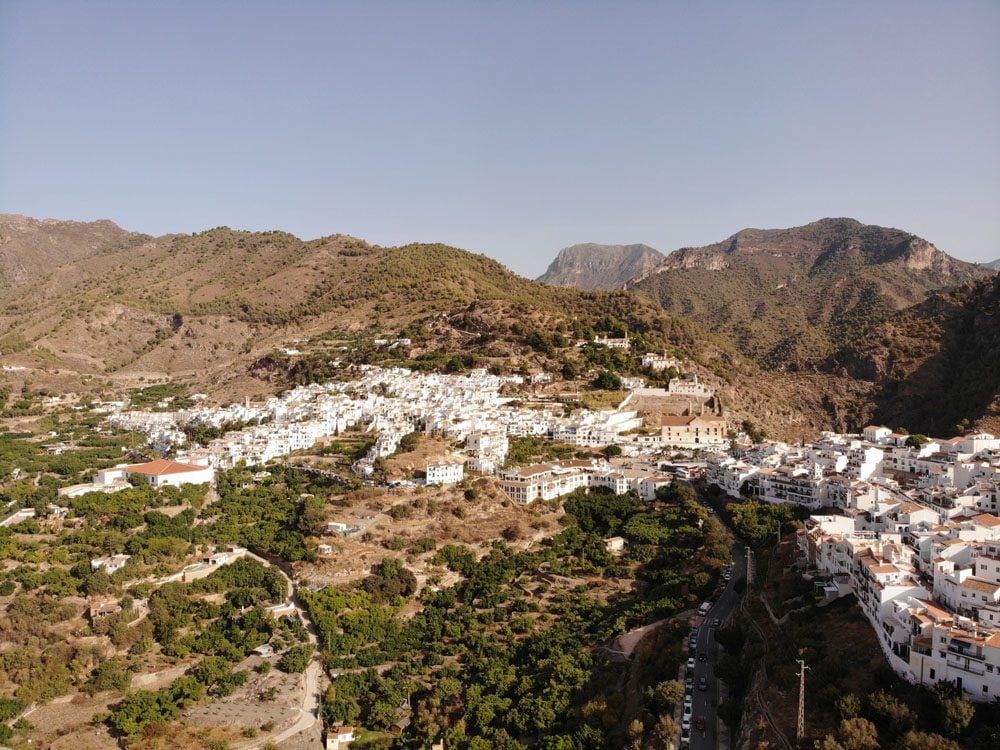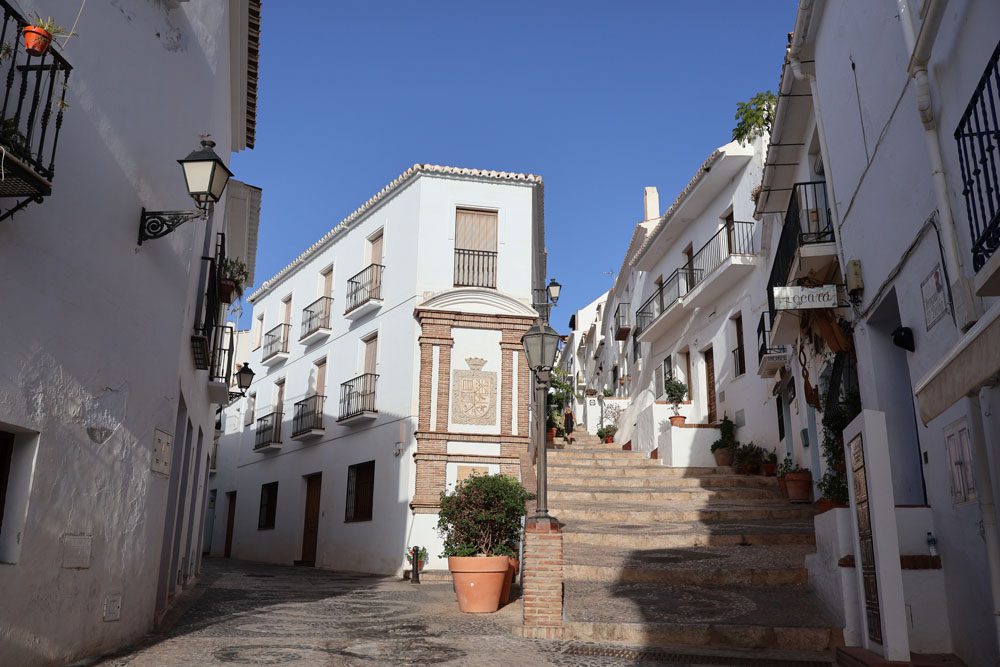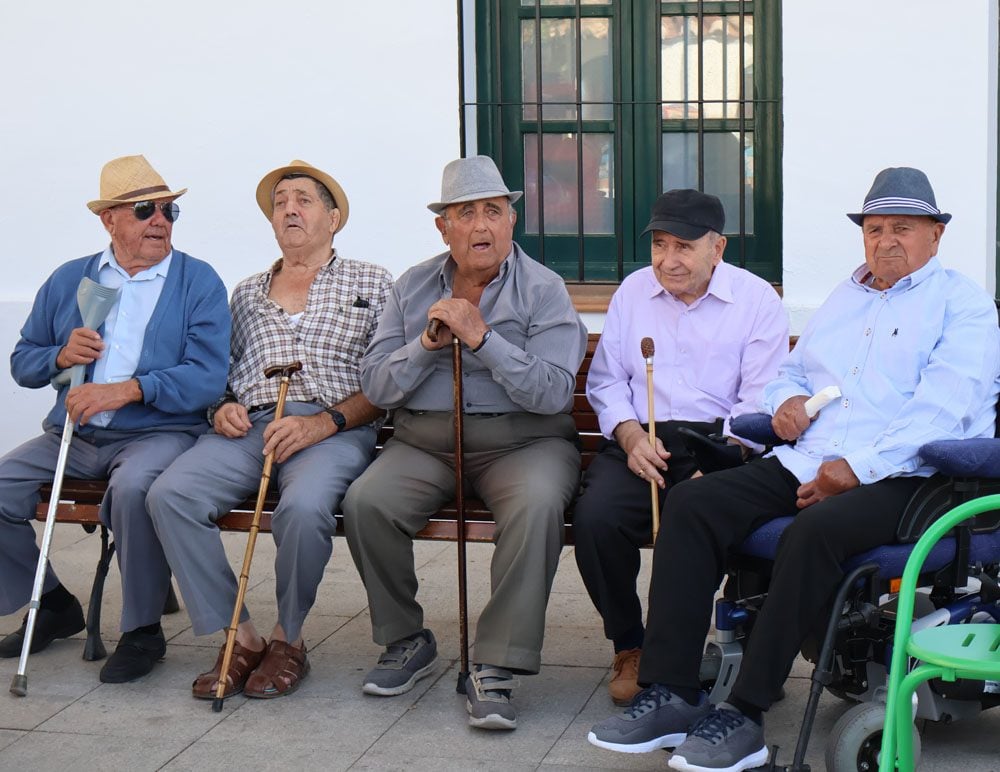 Granada
I couldn't think of a better place to wrap up this road trip in Southern Spain than in Granada. It's one of Spain's most beautiful cities, surrounded by the Sierra Nevada Mountains and dotted with hills reminiscent of Lisbon. Granada was the last seat of Arab power in Andalusia before the Christian victory of 1492. As such, the Moorish culture, with all its aspects, had the most time to flourish in Granada.
We spent two nights in the heart of Granada at Hotel La Bella Granada, exploring the city on foot and overcoming the steep streets to hop from one hill to the next. As with Seville, it would be far too challenging to bring to light everything Granada offers in just a few paragraphs.
At Calle Alcaiceria, the former Arab suk is nowadays lined with Maghreb-themed souvenir stalls. At the vibrant Mercado de San Agustín, you can buy fresh fish from a seafood stall and have it cooked next door. At the Basílica de San Juan de Dios, you won't find an inch uncovered in gold, woodwork, or art. And at Granda's main cathedral, you'll need to overcome a sore neck to appreciate its grandeur.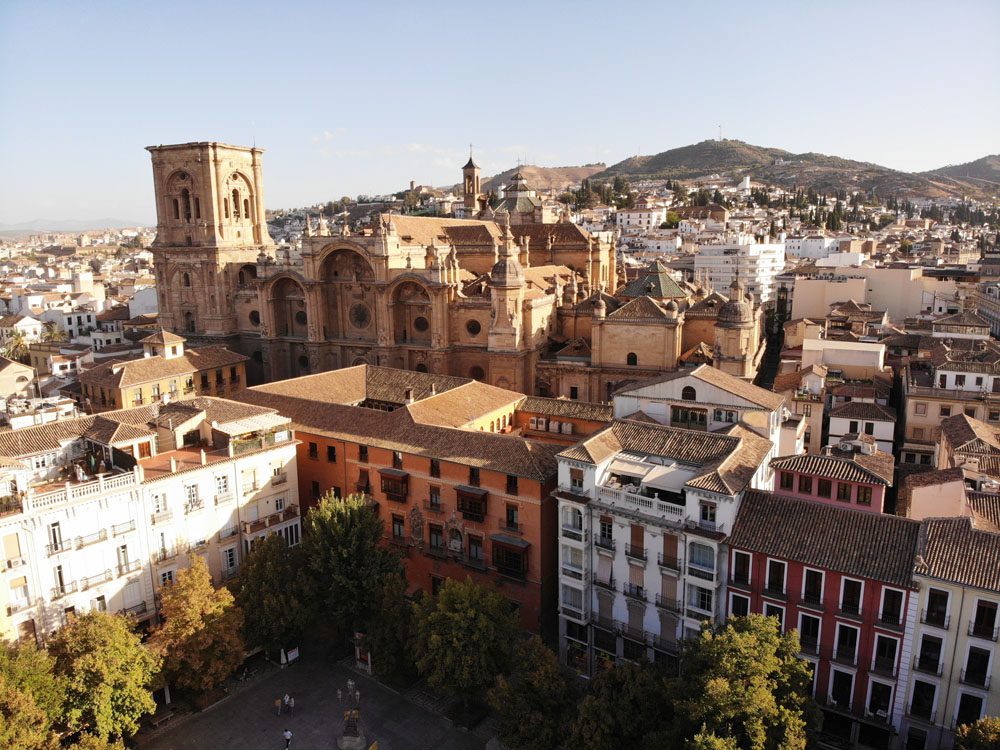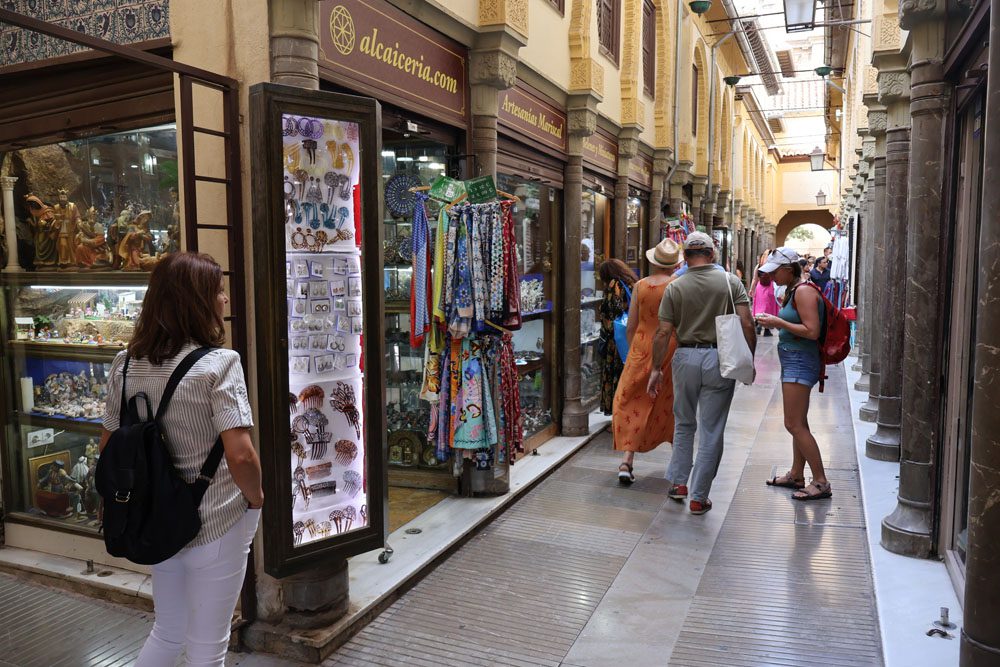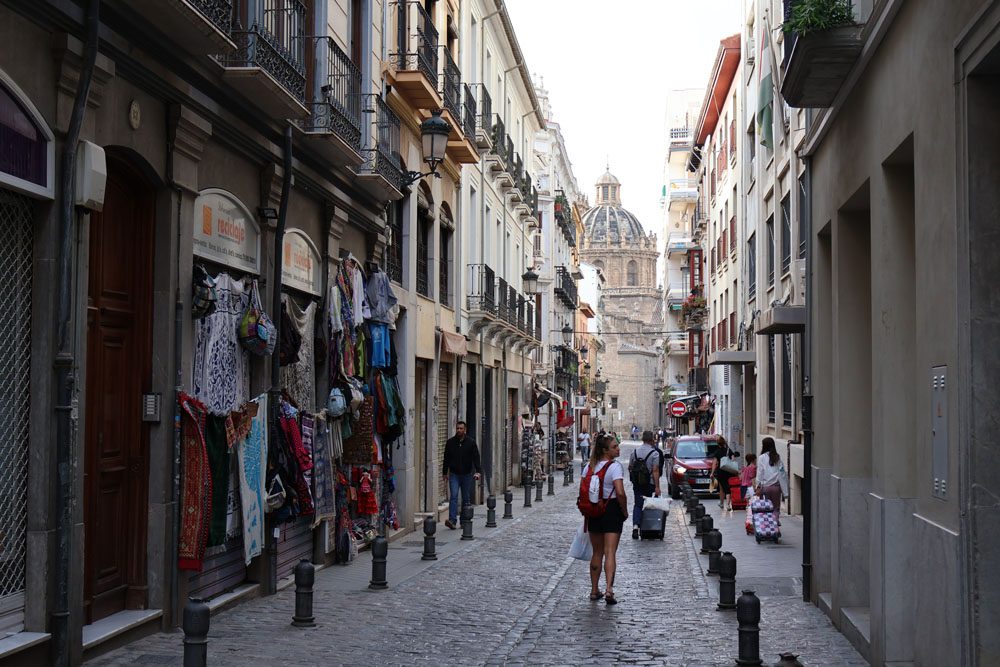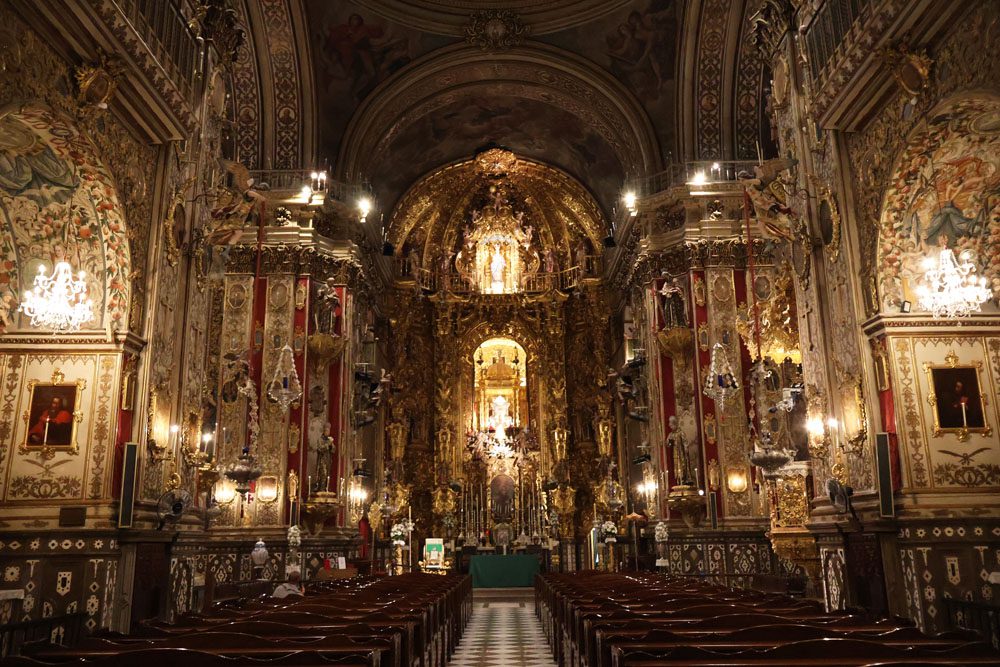 Calle Calderería Nueva is the best way to climb to Albayzin, Granda's old Muslim quarter. This suk-like street is lined with Moroccan-style tea houses and Aladdin-themed shops. Albayzin's maze of narrow cobblestone lanes leads to pretty squares that offer romantic views of the Alhambra, Granada's star attraction.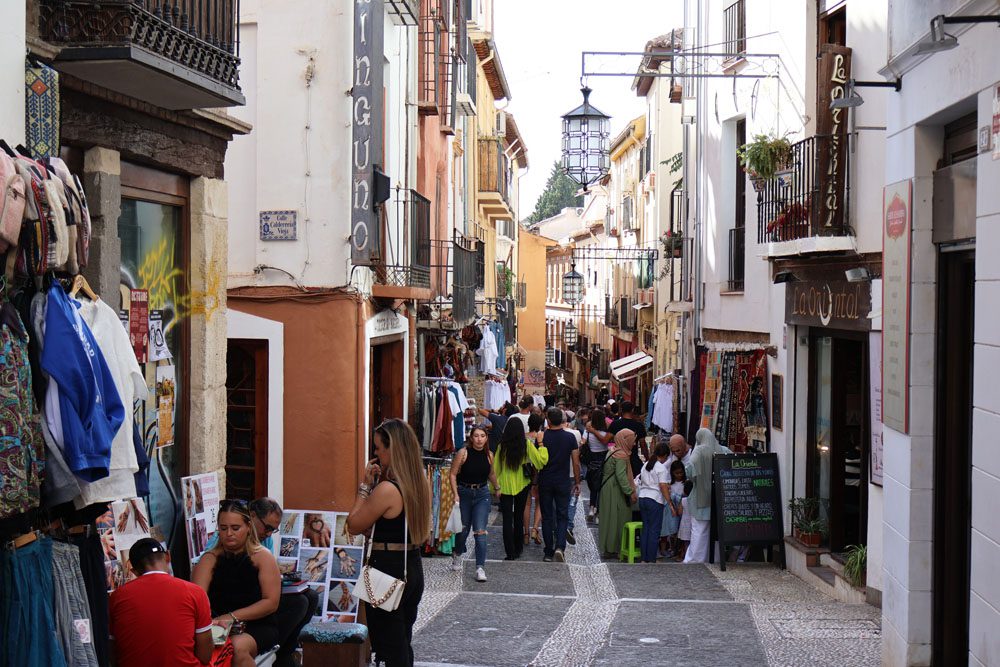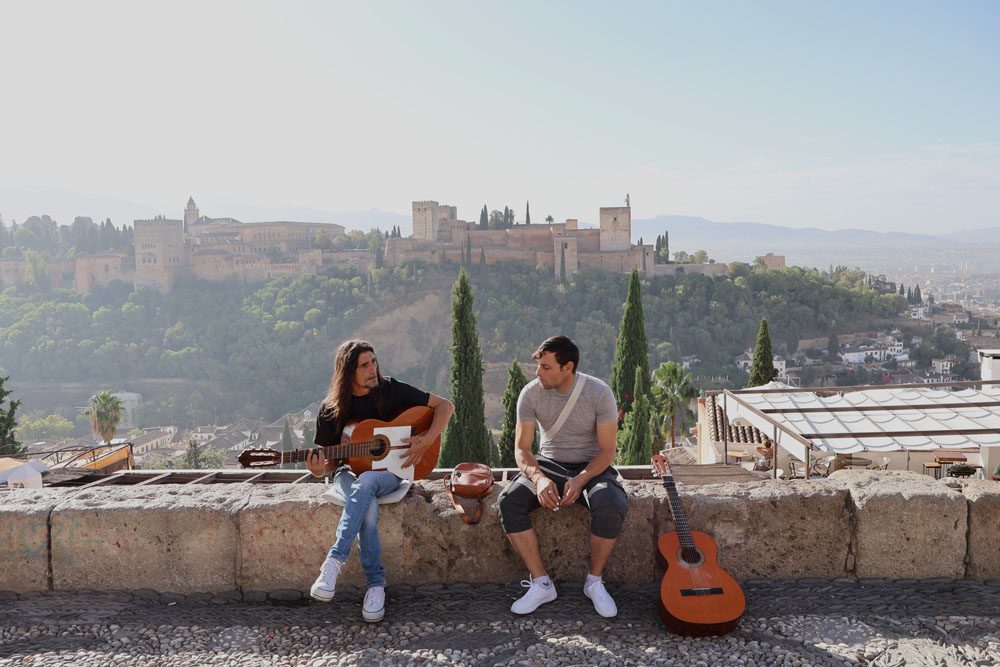 Before tackling the Alhambra, it was time for a night on the town. We started with dinner at busy Bodegas Castañeda before walking to the edge of Sacromonte, Granada's historic Roma district. Many of the city's Roma gypsies still live in cave houses. At Cuevas Los Tarantos, you can check out a cave house and enjoy an intimate flamenco show on the same ticket.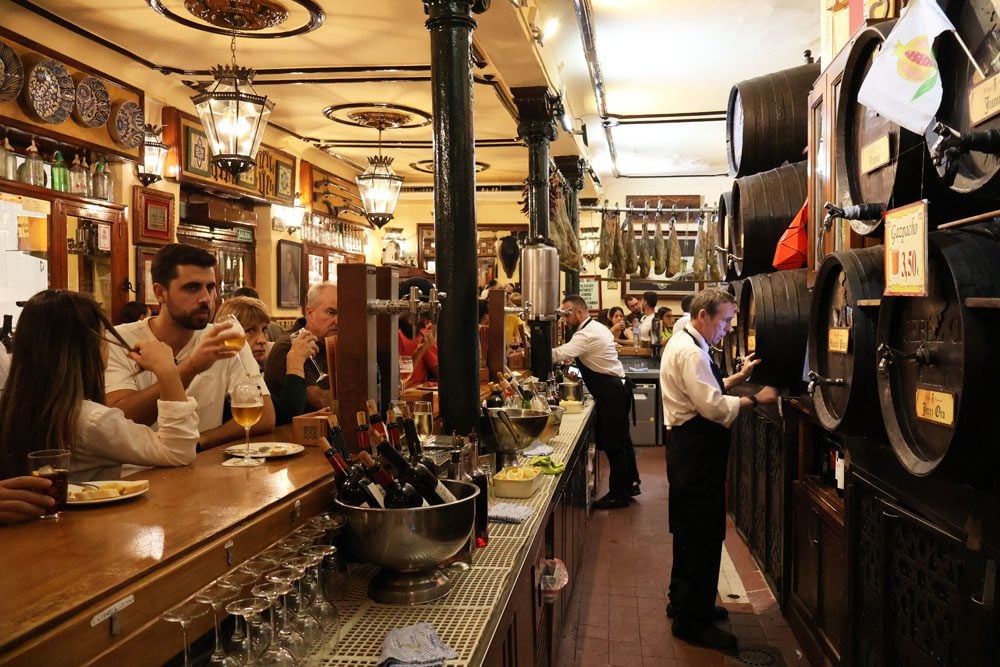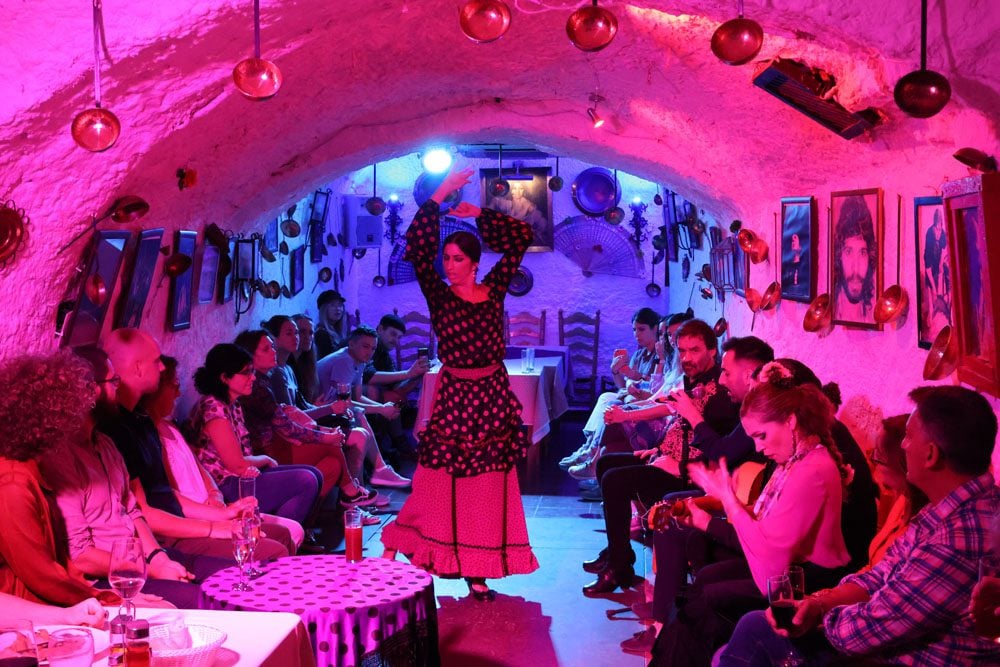 Our final act in Granada centered around the Alhambra. Construction on this strategic hill likely began in the 9th century, first as a fort and later as a grand Moorish palace for which the Alhambra is famous. You could spend the better part of the day exploring the Alhambra, with its pretty Generalife gardens, the commanding walls and watchtowers of the Alcazaba, and the Palace of Carlos V. But without a doubt, pilgrims to the Alhambra mainly come to explore the Nasrid Palace, the finest example of Islamic Moorish architecture in Spain.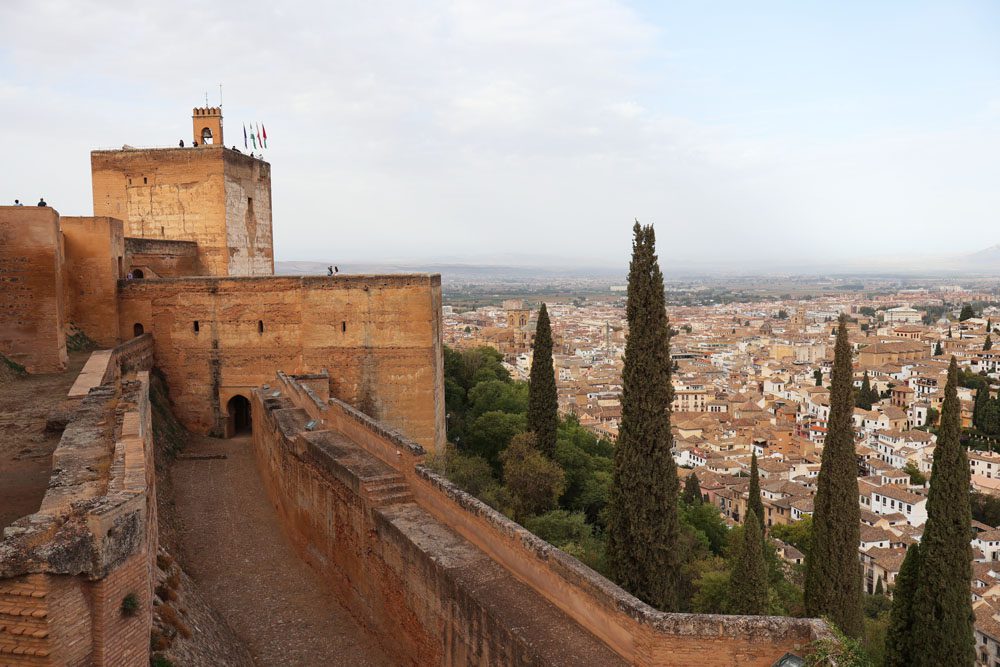 The Nasrid Palace is tougher to explore than Seville's Alcazar due to the visitor numbers and influx of Instagrammers and Tik Tokers. However, once you tune out the crowds and focus on the architecture and the attention to the details, the palace's gems are hard to forget.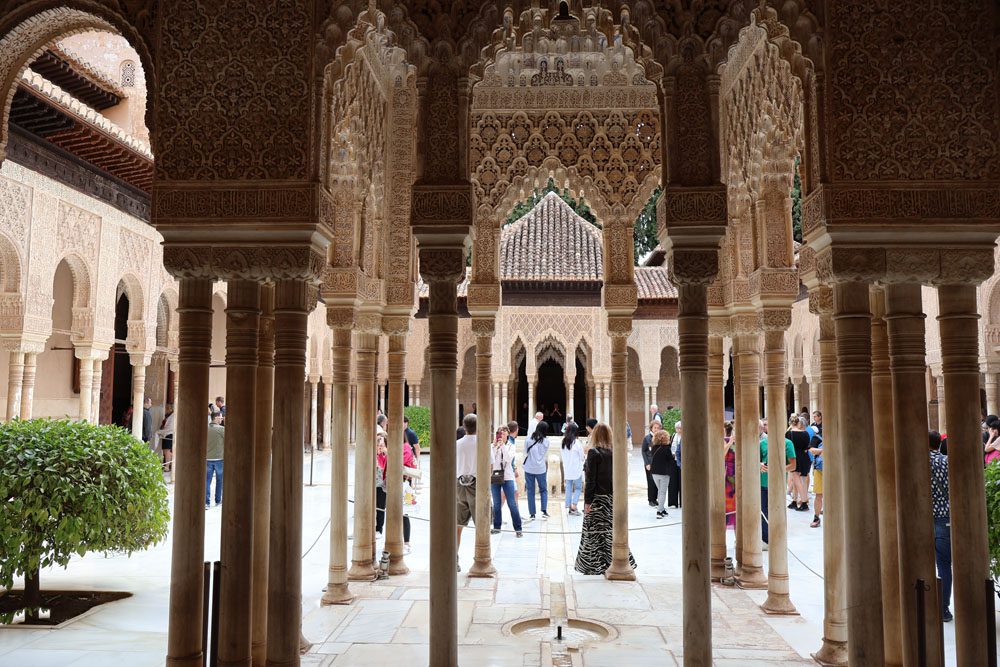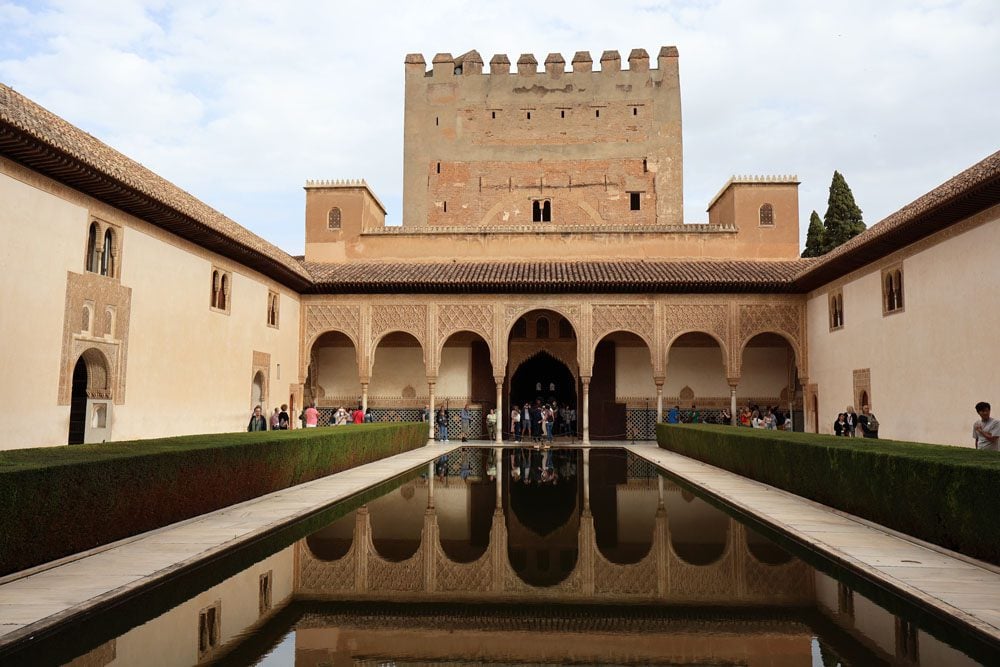 Having covered so much ground on foot in Granada, both horizontally and vertically, we wrapped up our trip to Andalucia with a visit to Hammam Al Ándalus. These baths were not as pampering as the ones in Seville but the romantic and exquisite Alhambra-inspired decor sent us a few centuries back in time. It was the perfect way to prepare for the long drive to Madrid on the following day.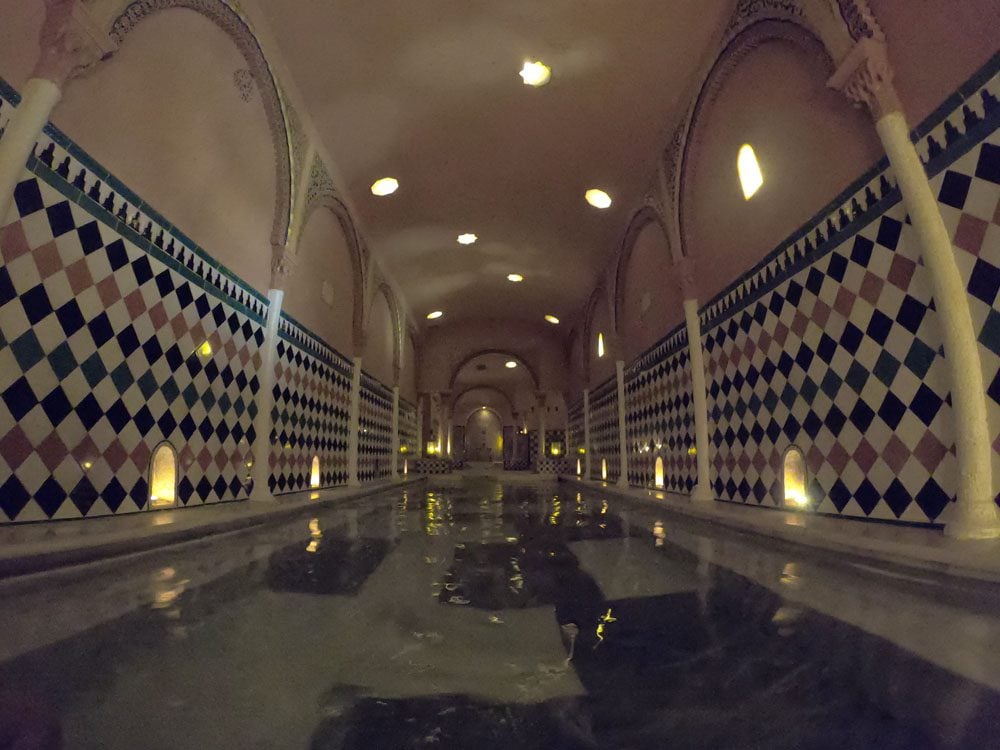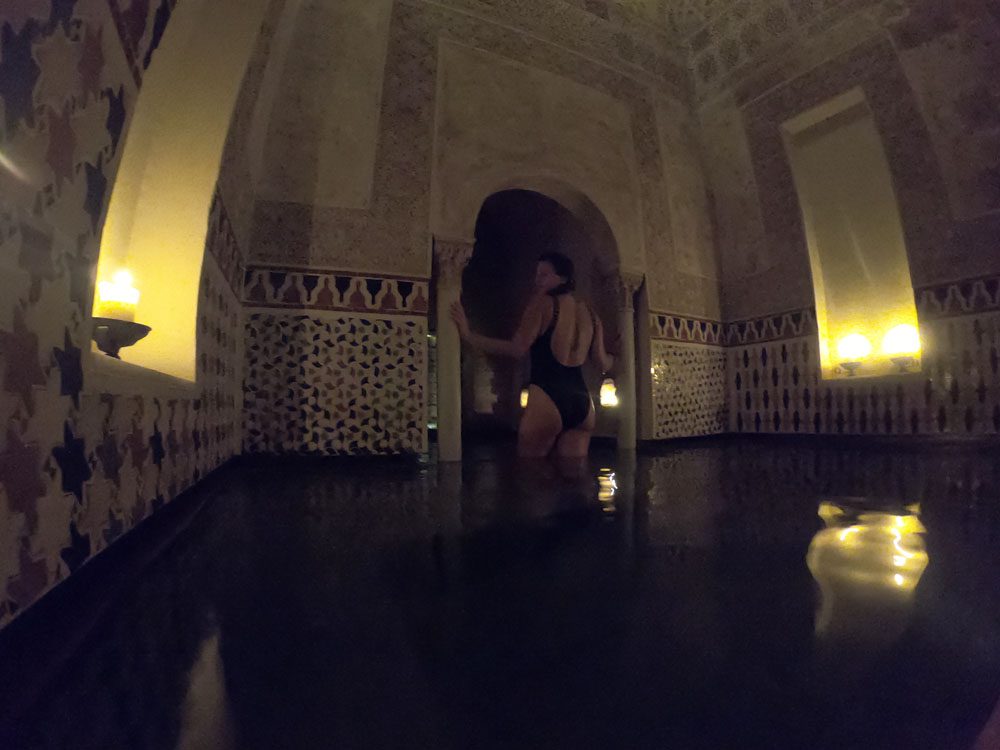 Closing Thoughts
Our time in Andalusia was memorable, and our timing was perfect because there is no way we could have covered so much had we visited during the summer. So, if you do head to Southern Spain in the hot summer months, focus on the beaches and hilltop towns and perhaps drive to the main cities for an afternoon of exploring. Until next time, hasta luego!