How to Sample Seoul on Business Travel
With a history spanning over 2,000 years, Seoul has transformed into one of the world's most important commercial and business centers. If you're among the millions of business travelers passing through South Korea's capital each year, the city has plenty of ways to fill the gaps in your busy schedule. On your next business trip, check out these ideas for sampling Seoul.
Shopping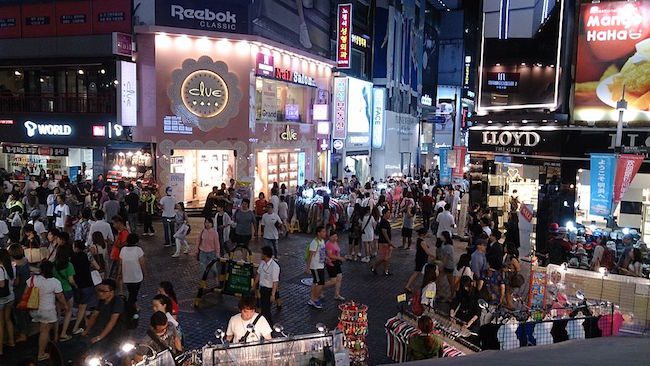 Image via Wikimedia by ProjectManhattan
Have a few hours to kill between business meetings? You can easily fill this precious time in Seoul with some shopping! The megacity has a few prominent shopping areas, so you're never too far from electronics, gadgets, clothes, or anything else your heart or family back home desires.
The best place to start is in the Myeongdong district, one of the busiest shopping areas in Seoul. If you don't mind the crowds, you'll be rewarded with a huge selection of shops, restaurants, and shopping malls, making this area perfect for rainy days.
Get there: Take the subway to Myeongdong Station
Nightlife
Your business colleagues might have a straight face during meetings, but that doesn't mean they don't like to party. In fact, Seoul has some of the best nightlife in Asia, which isn't a huge surprise considering South Koreans' affection for alcohol.
If you're after a classic over-the-top Seoul nightlife experience and want to impress your colleagues along the way, head to the Gangnam district. As the center for high-end nightclubs and the place to see and be seen, Gangnam is where you'll do some serious clubbing. With a few excellent business hotels like the InterContinental Grand Seoul Parnas within striking distance, it's also a wise idea to stay in this area overnight.
Get there: Take the subway to Gangnam Station
Sightseeing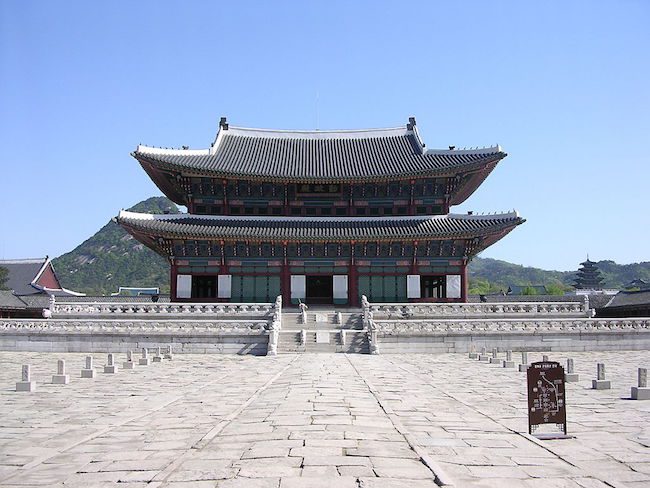 Image via Wikimedia by Blmtduddl
I'm a firm believer that no matter how tight your schedule may be, you should always make an effort to do a bit of sightseeing. In Seoul, this means visiting the Gyeongbokgung Palace. Built in the 14th century, it's considered the most beautiful of the five Joseon Dynasty palaces. It has been destroyed and rebuilt several times, most recently after the Japanese invasion. These days, the palace is one of Seoul's top attractions and the home of the National Palace Museum of Korea.
Get there: Take the subway to Gyeongbokgung Station
The Food Scene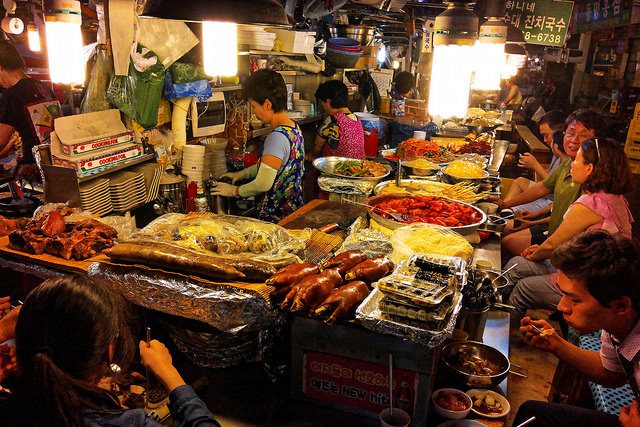 Image via Flickr by tongeron91
Sampling traditional Korean food is an integral part of any visit to Seoul. If you've had enough of business lunches and dinners in fancy restaurants, eat with the locals at the Gwangjang Market. This is technically a century-old fabric and textile market, but the food stalls at its heart attract thousands of locals who know a thing or two about authentic Korean food. From the bizarre to the familiar, you can try all sorts of dishes here. The market's signature dishes are mung bean pancakes and gimbap.
Get there: Take the subway to City Hall Station
These ideas merely cover the tip of the iceberg, but they'll help you get a small taste of this interesting city. Who knows? Maybe you'll decide to bring the wife and kids next time around!
This post is written in partnership with InterContinental Hotels Group.