The Best Island Night In Rarotonga: Review Of Te Vara Nui Village
It's a well known fact that all Cook Islanders love to sing, dance and play with fire. In Rarotonga, all three are combined with a buffet dinner for an 'island night' – an experience not to be missed by any visitor. While spending nearly three weeks in Rarotonga, I paid a visit to Te Vara Nui Village to see for myself what all the fuss was about. This exotic award winning experience turned out to be one of the highlights of my stay. Here's an insider's review of Te Vara Nui island night in Rarotonga.
Traveling to the Cook Islands? Start planning with The Cook Islands Travel Guide!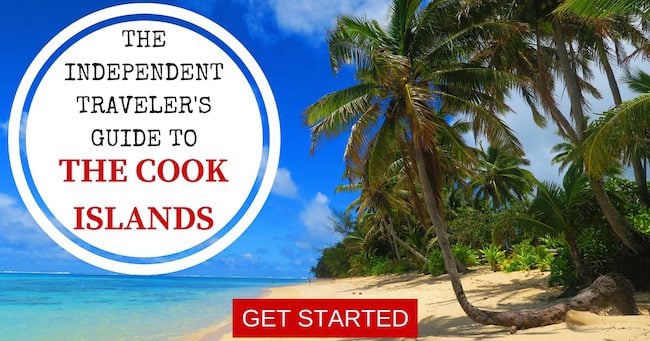 The Location
The purpose-built custom village is located in the heart of Muri Beach. Free shuttles will pick you up and drop you off no matter where you're staying in Rarotonga.
The Story
The village is named after Vara, a local islander who toured the Pacific for years, proudly showcasing her exotic Cook Islands culture. Together with her daughter and son-in-law, they purchased a swampy plot of land with plans of opening up a boutique hotel. However, the passion for preserving local culture led the three to swap the boutique hotel plans with that of a cultural village that would showcase to the world the riches of Cook Islands Maori culture. They somehow managed to transform the grounds into a lush tropical garden, utilizing an underground spring to spark new life.
In 2010, Te Vara Nui Village opened its gates, winning multiple awards and achieving the status of one of the top attractions in the Cook Islands. It offers visitors several options to choose from:
Village Tour
At precisely 5 pm, the large wooden gates protected by tiki statues on each side and one fearsome Maori warrior, open to welcome guests to the village grounds and a trip back in time. The two-hour tour swings from one hut to another, with important lessons to be learned at each one.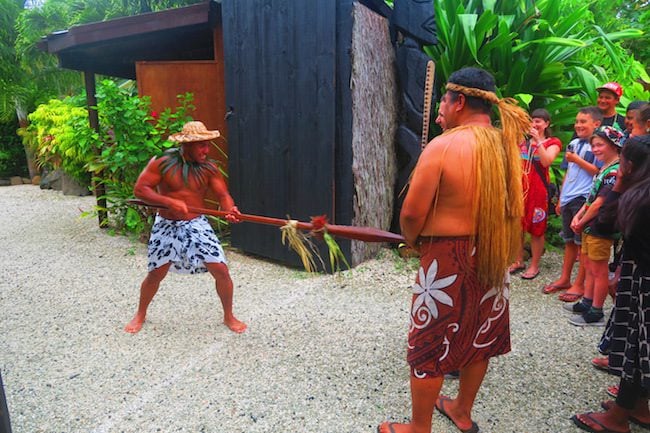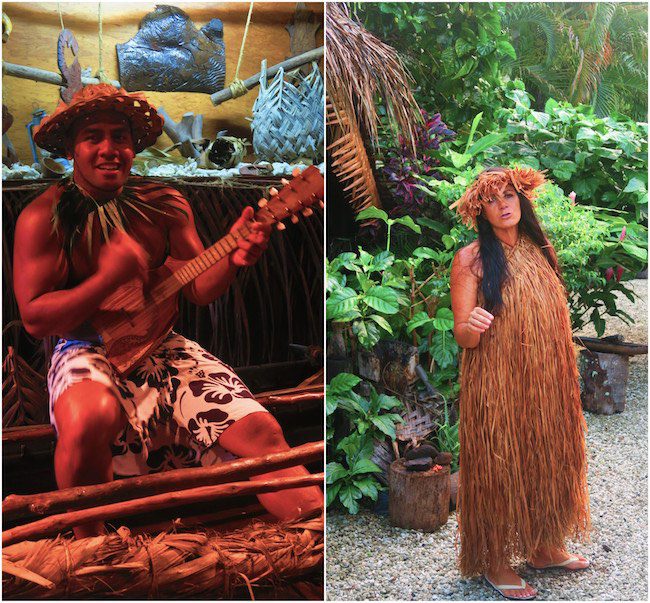 Discover traditional medicines that helped ancient Rarotonga's survive on this remote island, learn about the ancient religion in the restored marae, sharpen your coconut cracking skills, enrich your general knowledge with a lesson on the incredible marine voyage undertaken by original settlers, and plenty more surprises that I don't want to spoil.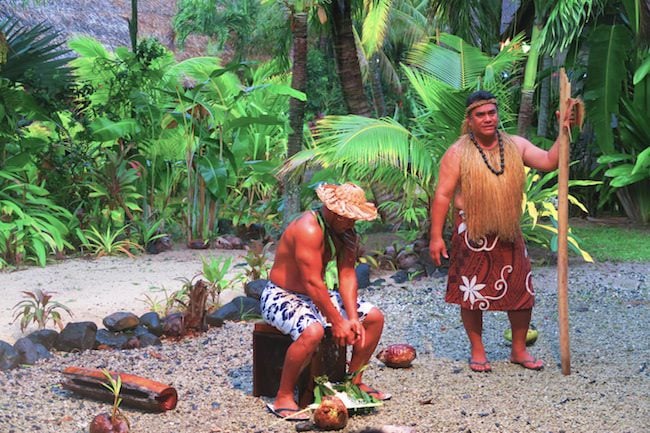 Children will absolutely love this part of the evening, together with those seeking to learn the basics of Cook islands culture – albeit in a purpose-built environment.
Island Night Show & Buffet Dinner
The magical part of the evening begins of course with dinner. Meet guests from around the world at shared tables or reserve a private one if celebrating a romantic evening with your loved one. Cocktails and drinks can be ordered, with the buffet dinner absolutely stuffing you full with an incredible selection of local delights and your favorites from back home. Do not miss the chance for some ikamata – pretty much the national dish of the Cook Islands. Chunks of raw tuna are mixed together with chopped vegetables, coconut milk, and lime. So simple yet so delicious.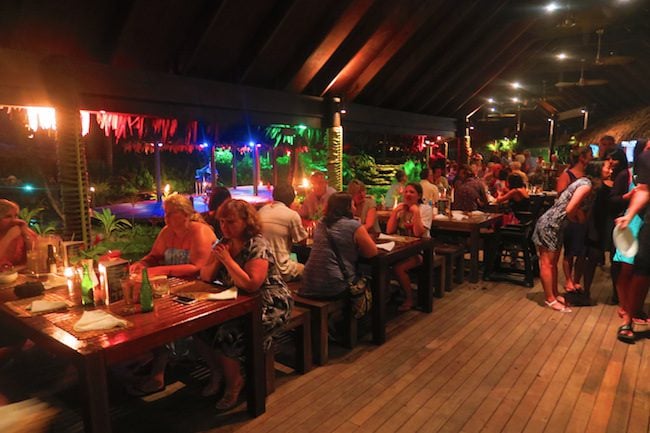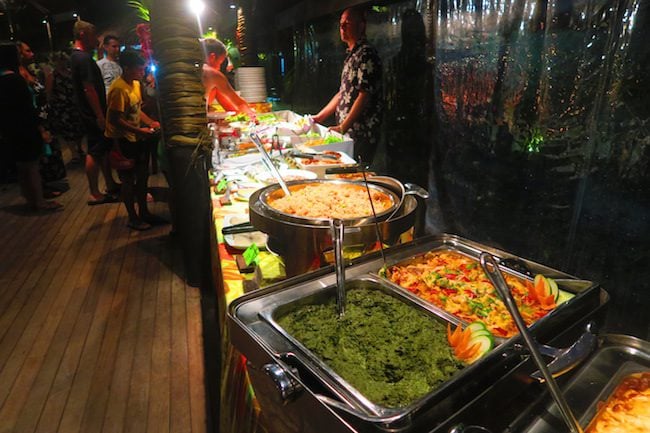 Anticipation reaches its climax as the heavy drums begin their beat. Over a spectacular overwater setting, group upon group of exotic and fit local dancers act out the legend of Tongaiti. Wearing elaborately designed traditional costumes that include the ever essential 'coconut bra' – male dancers captivate you with their knee twisting abilities, female dancers with their hip-shaking skills, and the live band with island rhythms that vibrate throughout the grounds.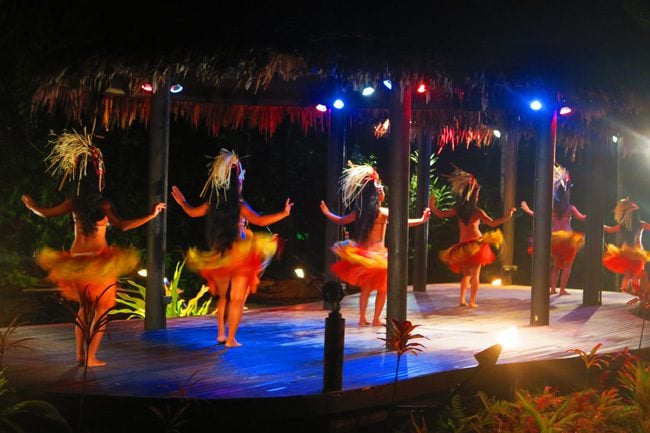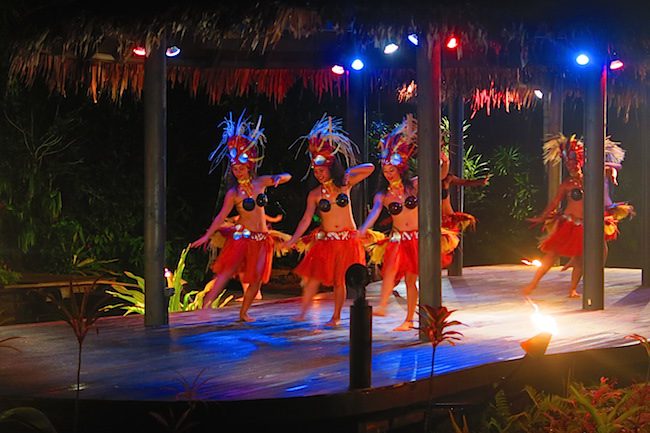 Without spoiling too much, Tonagiti arrives in Rarotonga with his family after months at sea. Naturally, the local chief is not too happy about this uninvited guest and his entourage and orders his warriors to attack. When the two realize they'll accomplish nothing with violence, Tongaiti's daughter is sent over to see if she can work some magic. It turns out that girl power existed even back in the day. The beautiful daughter marries the chief and everybody lives happily ever after.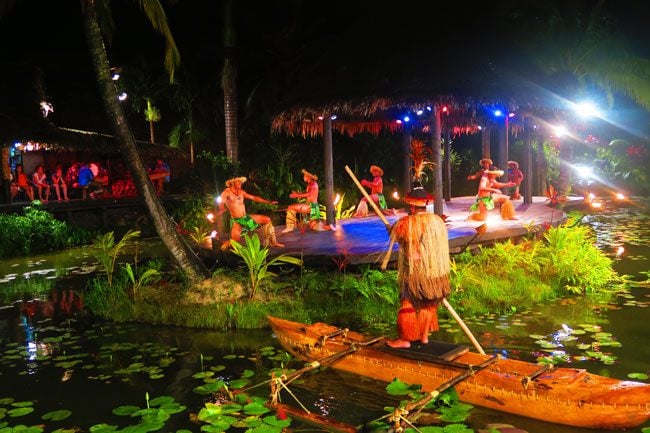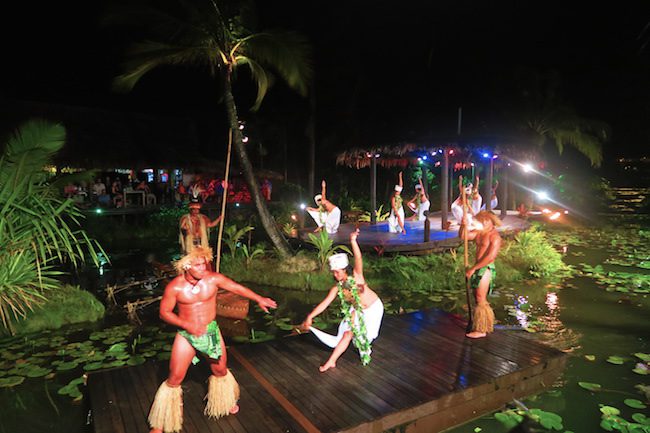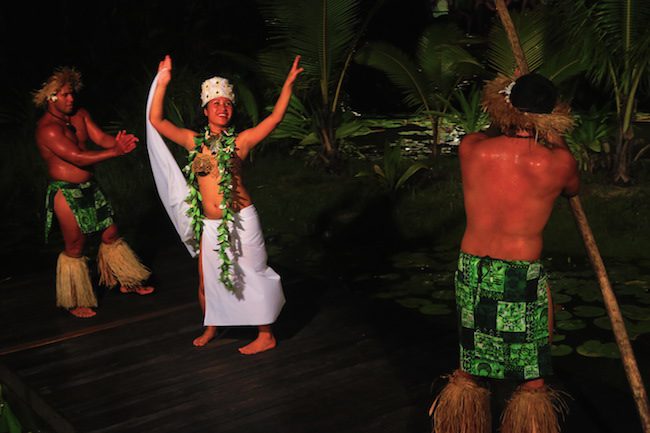 Maybe I did include too many spoilers… but I just couldn't resist. The show was simply out of this world and we haven't even gotten to the fire dancing. Maybe I'll leave that for you to discover. Here's what it felt like to watch the overwater show from the front row!
Combo Extravaganza
The 'combo extravaganza' includes both the village tour, the buffet dinner and island night show. It'll keep you entertained (and stuffed) from 5 pm until around 10 pm. I went for the full package and absolutely loved it. There were both couples, families with children, and school kids on a cultural exchange – and everyone seemed to have a great time.
Anything Else?
Inquire about family discounts and special offers (free for children 5 years of age or younger). Heck, why not have your wedding here too? They even do those, plus any special function you had in mind.
Bottom Line
Te Vara Nui is the mother of all island nights in Rarotonga. It looks and feels like a Las Vegas production, except you're on a magical tropical island and not some tacky mega-resort. You really must experience this island night for yourself and don't forget – bookings are essential!
What's Next?
Start planning your visit to paradise with the Cook Islands Travel Guide, complete with lots of tips, tricks, and in-depth travel guides to Rarotonga and Aitutaki.