Day 1: Exploring Amsterdam's Old Center
Arrival
We arrived the night before, on a Thursday to have a full long weekend in Amsterdam. We booked the Hotel Rokin which seemed to be in a perfect location close to Dam Square. Like many other hotels in Amsterdam's old center, this hotel was super basic (but for €125 per night) and seemed to have changed very little since the 1970s. To make a long story short, our room which was facing the 'quiet' rear was just above the back deck of a popular bar so the noise was unbearable. Rooms facing the front had to endure street noise from Rokin Street, which is a major thoroughfare. Add to that the major construction going on in the street, and you simply can't have a quiet night. More on this saga a little bit later.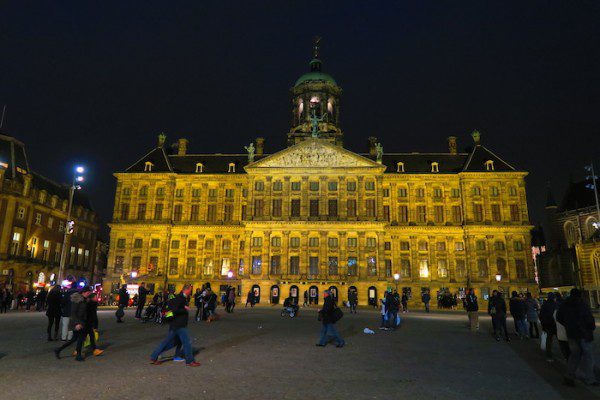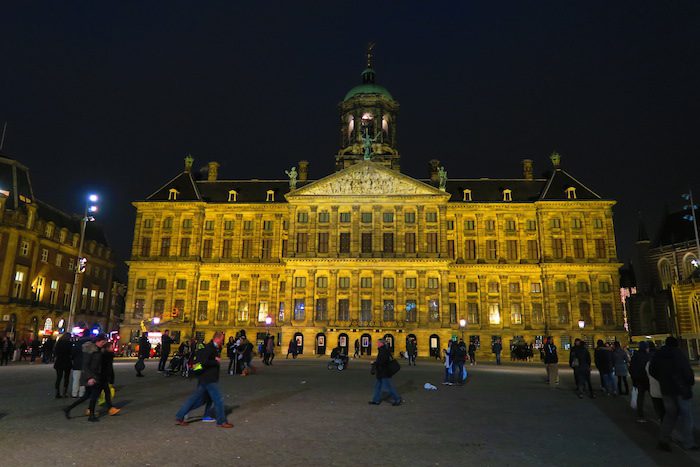 We didn't have much time for dinner so we ventured on a stroll around Dam Square. Though the french fries were invented just across the border in Belgium, the Dutch certainly have their way when it comes to making delicious fries. We've tried a few spots but by far, the best french fries in Amsterdam can be found at properly named Chipsy King on Damstraat just next to the National Monument in the extended Dam Square. The fries are dropped into the hot oil in real-time and are golden as they come out. You can choose from a variety of sauces but you can't go wrong with the classic mayo on top!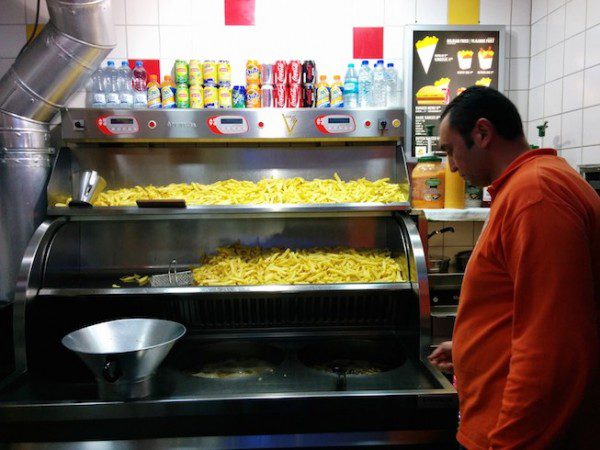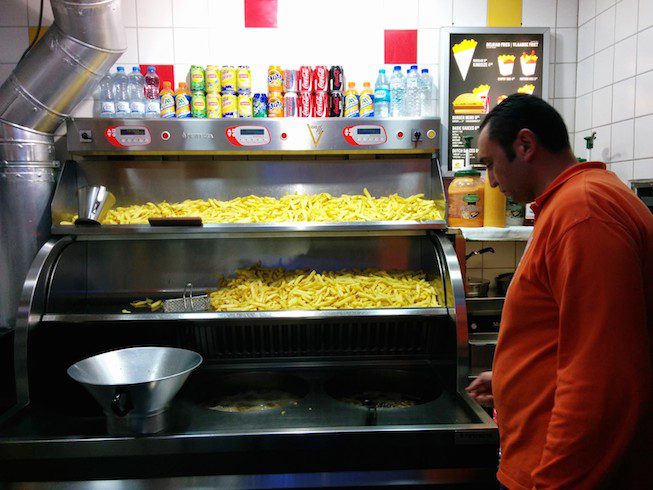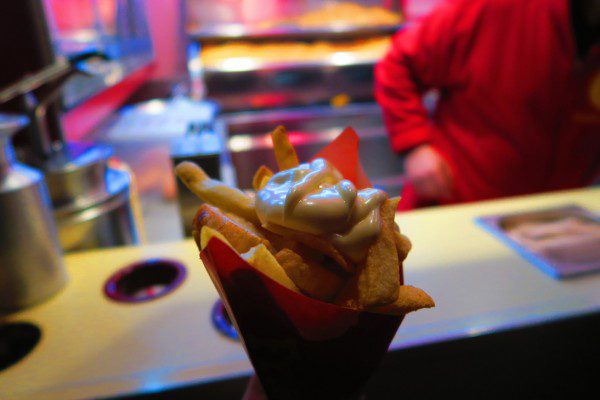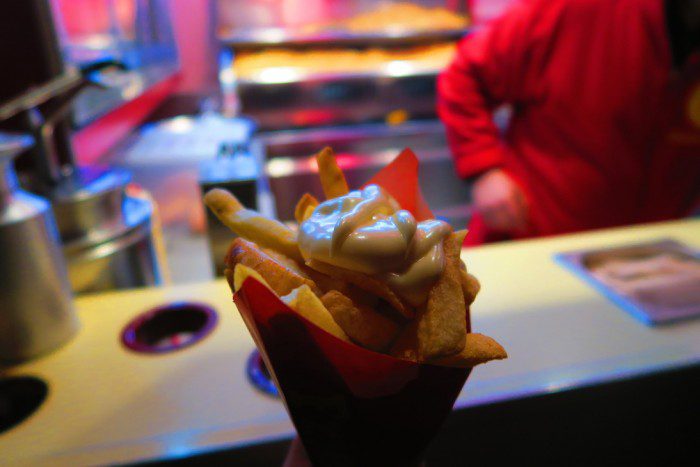 The following morning, the first of our 3 days in Amsterdam, we were graciously transferred to the Rho Hotel, a 'sister' of Rokin Hotel. The hotel is even closer to Dam Square and is housed in an art deco building that used to be a theater back in the day. Rooms are still basic but much larger. The shower is hot, the location perfect and it's quiet – what more do you need?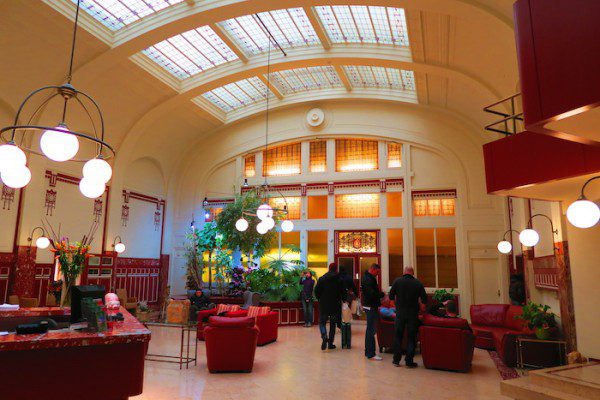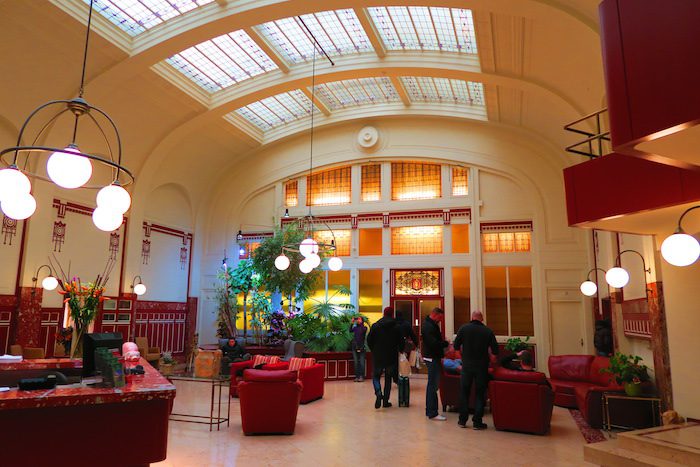 Around Dam Square
The plan was to visit the Royal Palace early in the day but since it only opens at 11 am, we spent the post-breakfast hours exploring the sites around Dam Square, Amsterdam's main square. The square marks the spot where the Amstel river was originally dammed and where Amstelredam, now Amsterdam, was pretty much born. You'll pass through the square many times and it's a prime spot for orienting yourself in Amsterdam. If you can't find it, follow the sounds of the music-playing-bells originating from the palace.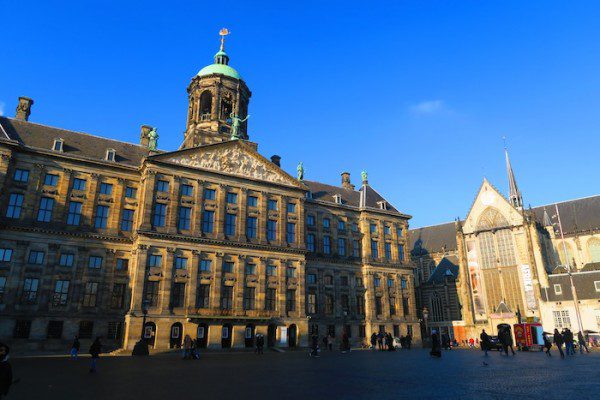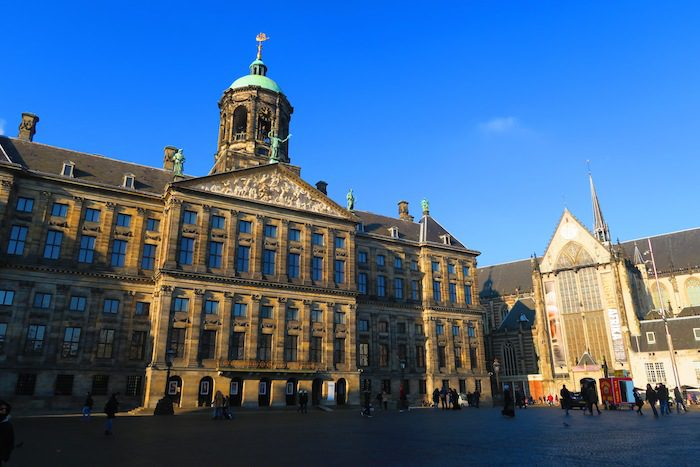 There are a few highlights around Dam Square. The Nieuwe Kerk, which is not as new as its name suggests was built in the back-then popular gothic style in the 15th century. Today it's used for exhibitions so if you don't fancy venturing inside, it's nice to look from the outside. Right behind it is Magna Plaza, a huge late 19th-century post office believe it or not. Today, it's a shopping center but worth exploring for those who appreciate old-school architecture. Back to the square and into Amsterdam's most famous department store, Bijenkorf. It's a chain of stores but this is the one you want to visit. It's been around since 1870 and deserves a visit if you fancy some shopping.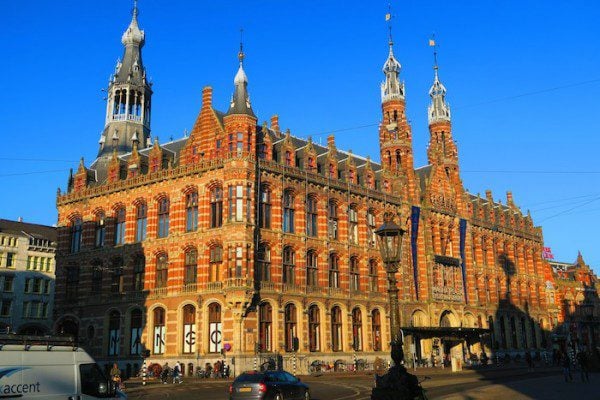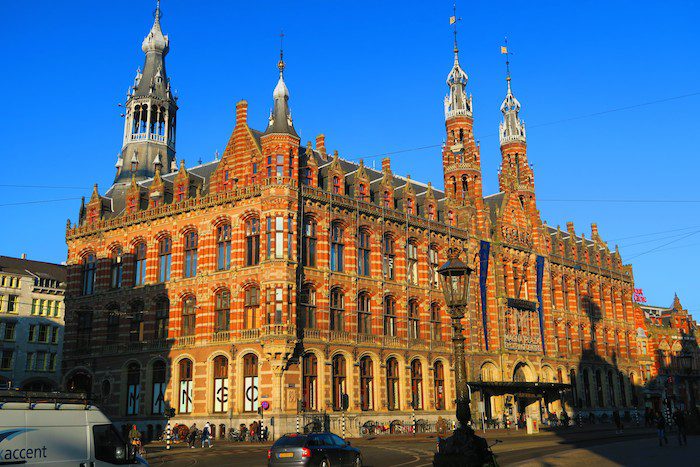 As the clock struck 11 am we were back in the Royal Palace. Originally built as Amsterdam's city hall in 1655, this massively impressive gothic structure was converted into a royal palace by Napoleon's brother, Louis – in 1808. It was built at a time when Amsterdam was the center of global commerce and symbolized the city's 'Golden Age'. It's now mostly open to the public but still used by the royal Dutch family on occasions. So the best thing to do is to check the website for opening days and to book your ticket in advance to avoid the queues.


The interior of the Royal Palace is even more impressive than the outside and as you climb the staircase to the main hall, the full beauty of this place is revealed. The main hall is decorated with fine marble and loaded with mythical figures and images depicting old Amsterdam. You should then start to explore the various rooms and I highly recommend opting in for the free audio guide, as you'll learn about the story behind each room. 'Room' is a very light way to describe what you see here. Chamber would probably be a better word. Each one is magnificently decorated in different colors and with lavish antique furniture, of course. Highlights include the Secretary's Office, City Council Chamber, and the Magistrate's Chamber – but honestly, every chamber is unique.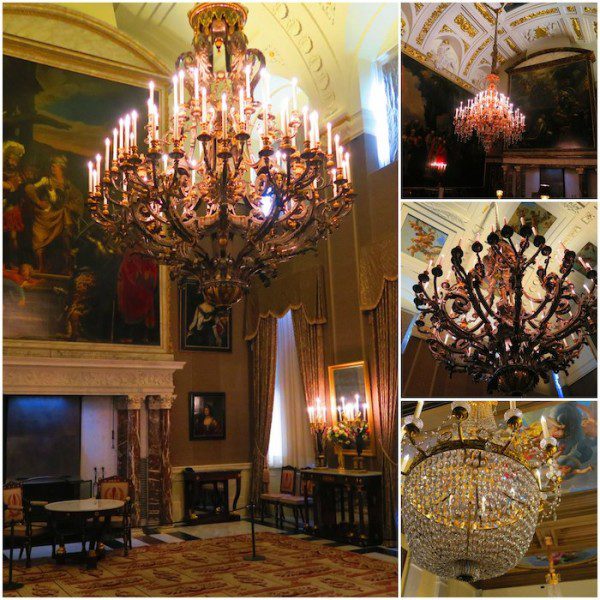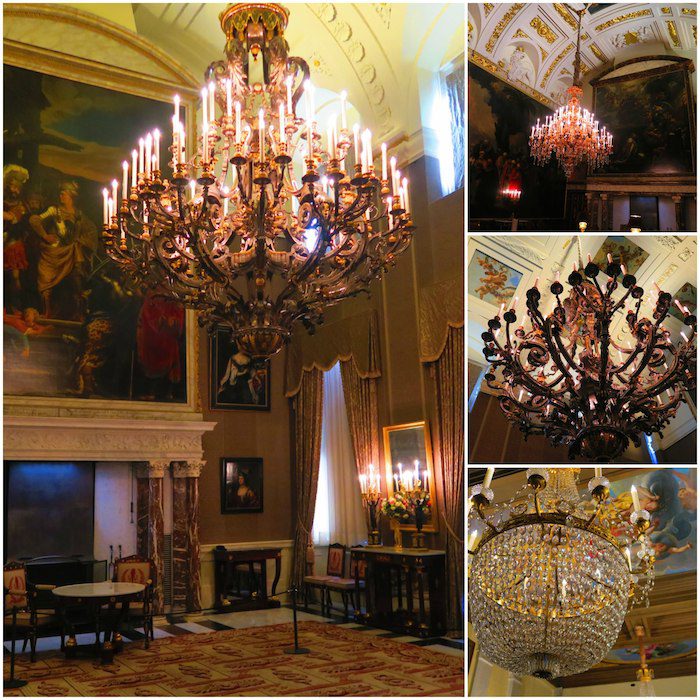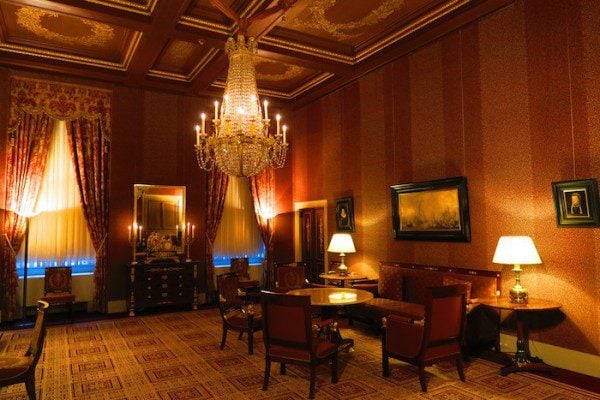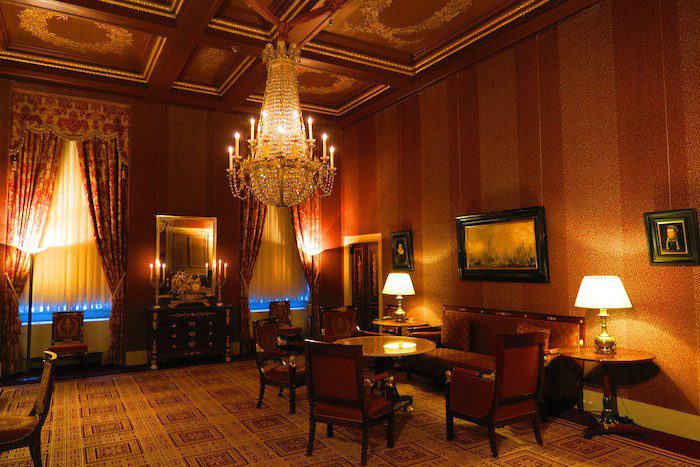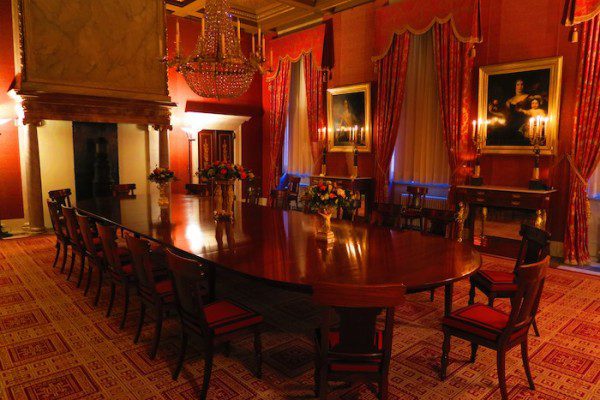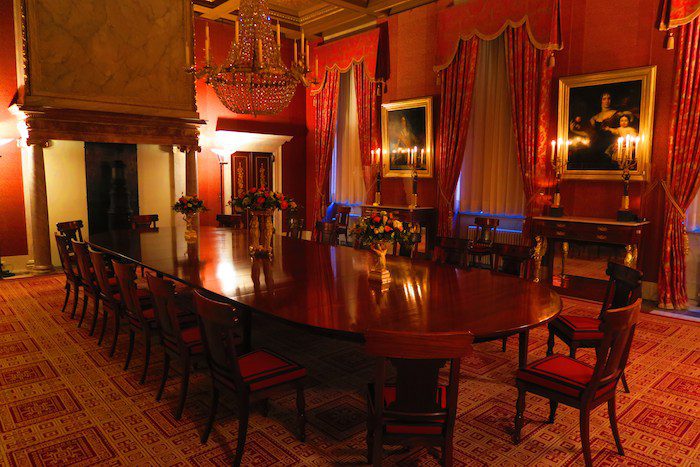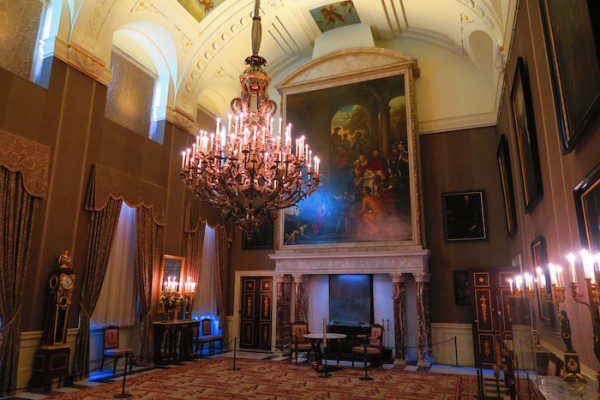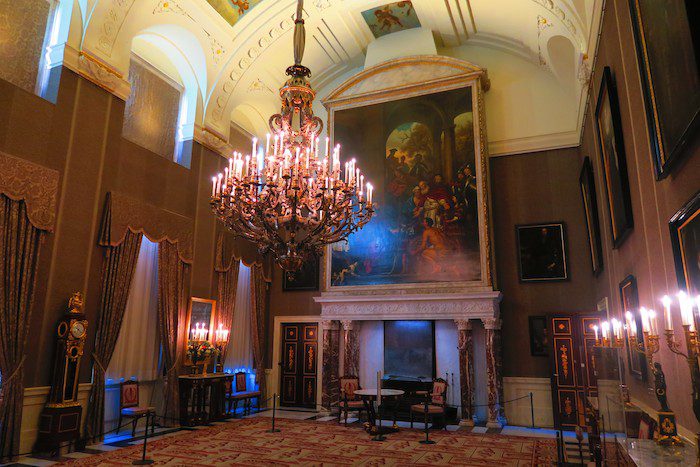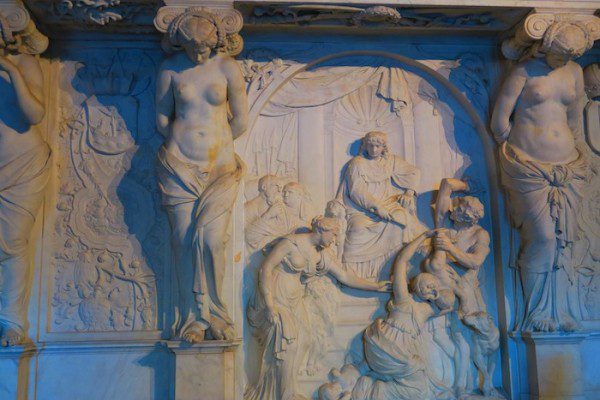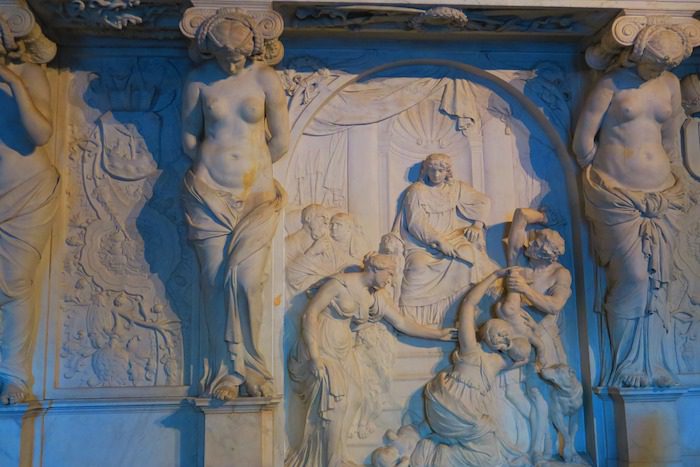 Window Shopping
After getting a taste of Amsterdam's Golden Age, head south via the pedestrianized Kalverstraat. This is one of Amsterdam's major shopping streets and you'll find here all your favorite brands along with a few original shops. One of those is De Posthumus, just off Kalverstraat. You'll recognize this shop by the huge rubber stamp greeting visitors on the outside. This shop has been around since 1865 making custom-made rubber stamps, fine paper, and all sorts of accessories pen pals needed back in the day. Even if you're not into pen and paper anymore, it's worth a stop as it's more like a museum here. In fact, this whole side street off Kalverstraat (Sint Luciënsteeg) is packed with stamp collector shops and other historical collectibles made of paper.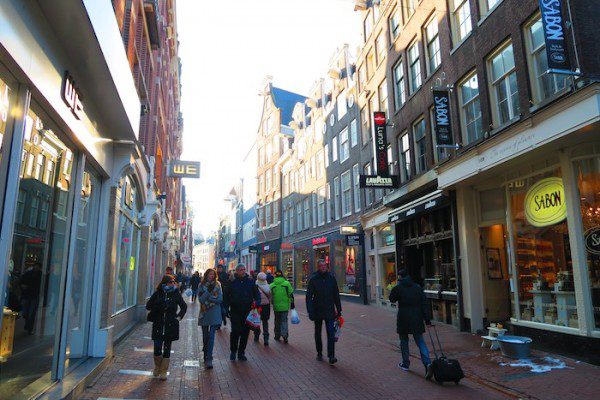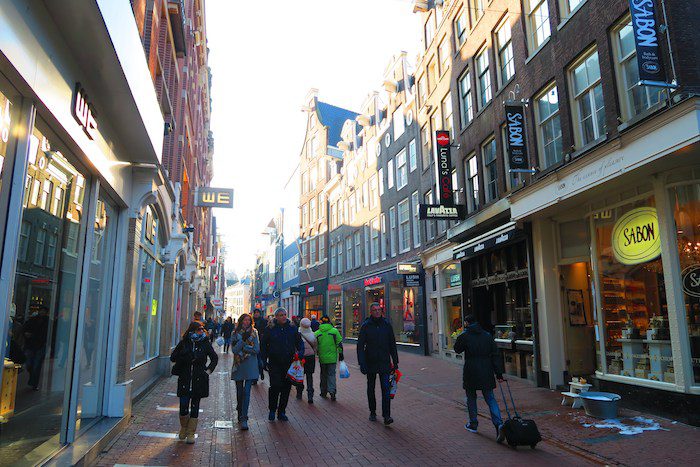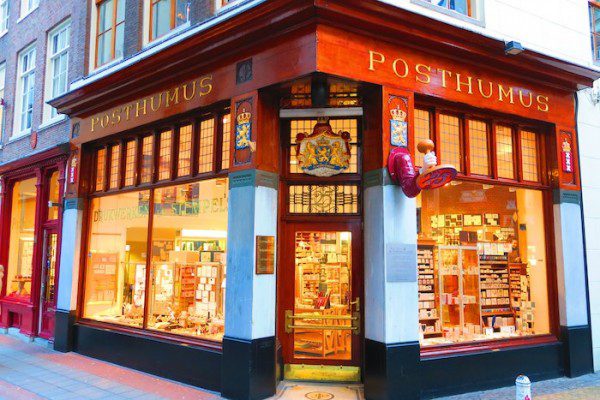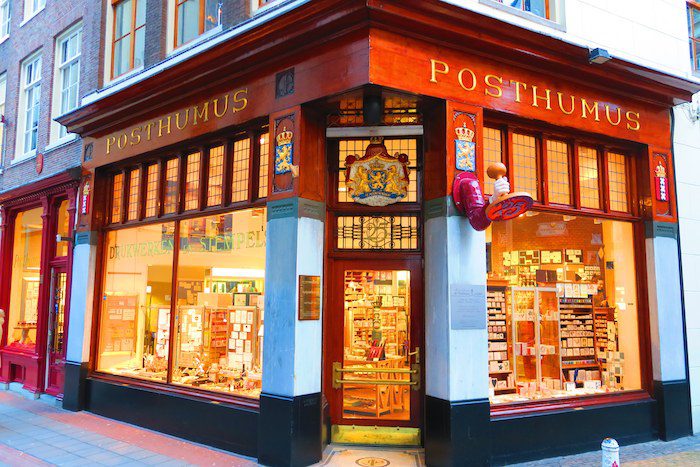 A Slice of Heaven
One more tiny detour off Kalverstraat is at Begijnhof. No, this isn't that department store from earlier on but rather a super tranquil little square in the heart of the old center and with lots of history. Originally built in the 14th century to house the Catholic sisterhood of the Beguines, this medieval complex changed many hands and is now for the most part home to classic Amsterdam apartment buildings with their decorated crowns (called 'gables') and those metal hooks on the top. If you're wondering what those are – well, since the apartments are so narrow, furniture would not fit in the winding staircases so it would be hoisted from the outside. This is also the reason why the apartments seem to 'lean' forward – they were built that way to make it easy to hoist stuff up. The Dutch are some of the world's top civil engineers and it is easy to see why once you visit Amsterdam.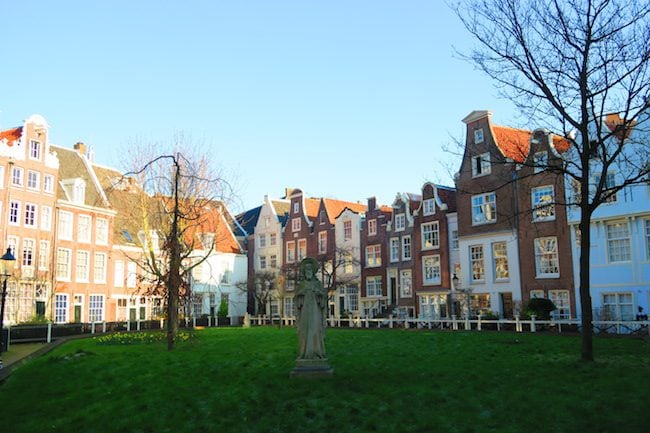 The Amsterdam Flower Market
Continue strolling down Kalverstraat until you eventually reach the Munttoren, a 15th-century clock tower that was once Amsterdam's mint. It now pretty much marks the start of the famous Amsterdam floating flower market, locally known as the Bloemenmarkt. It's not huge and only comprises a dozen or so floating shops but is one of the must-see attractions in Amsterdam. The market has been around since the 1860s and is still one of the major suppliers of flowers in Amsterdam. Sure, the shops do sell a lot of touristy souvenirs but they also put on display dozens of tulips and bulbs in all sorts of colors and sizes. Fancy some yellow tulips or maybe some roses? You'll find it here along with magnets and growing kits that you probably don't want to get caught with at airport customs (if you know what I mean).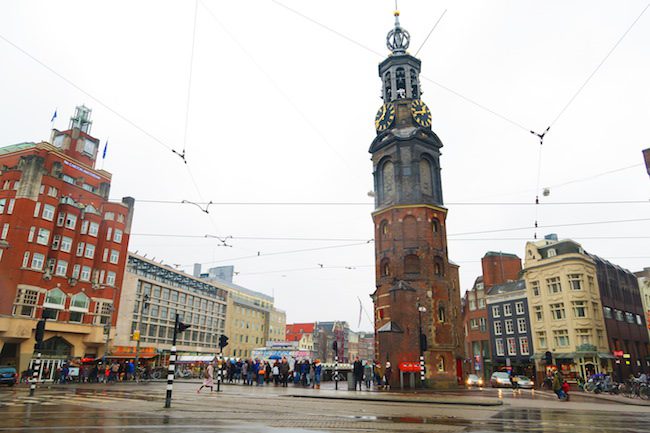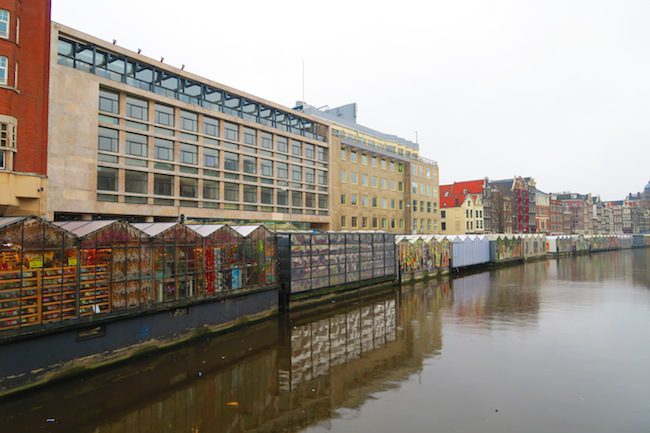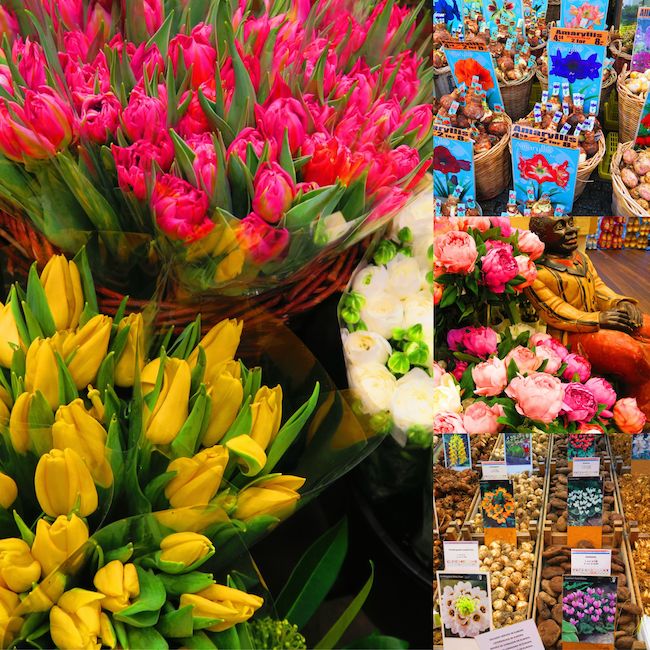 A Sandwich You Must Try
All those tulips will make you hungry and lucky for us, just as you exit the flower market you'll hit Frens Haringhandel in the tiny Koningsplein square. As we've seen with french fries, Amsterdam is a city of small (and guilty) pleasures and it's time for another one. A must-taste delicacy in Amsterdam is the broodjes herring, slices of fish served on a small bun with pickles, and finely chopped onions (€3.60). You'll find them all over town but this is one of the best places to grab this quick bite and experience some of Amsterdam's best street food.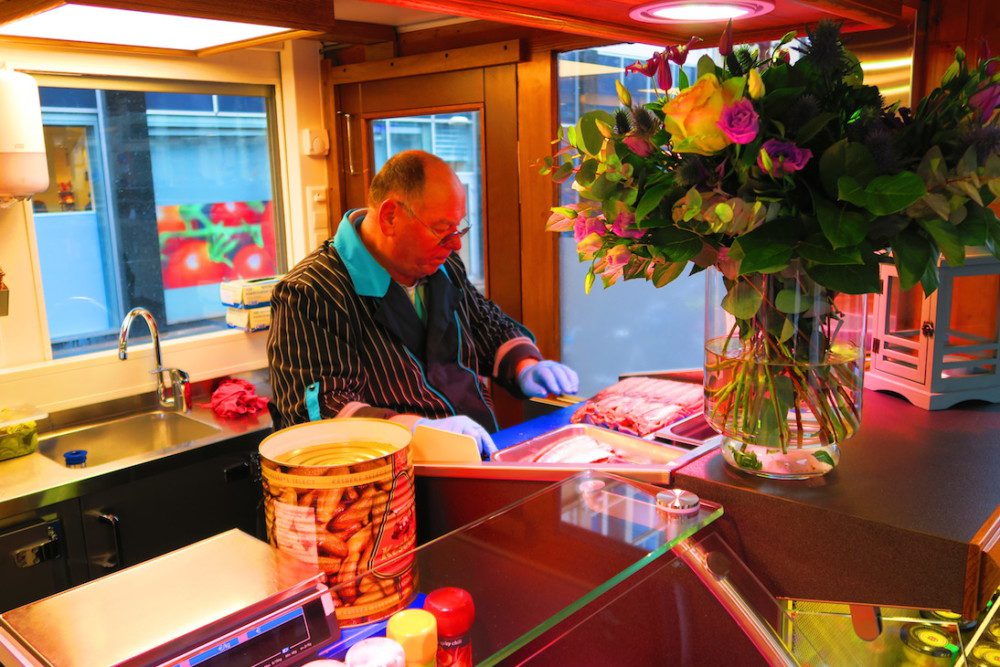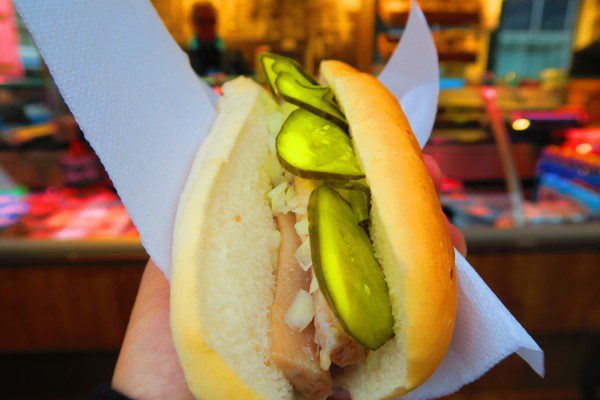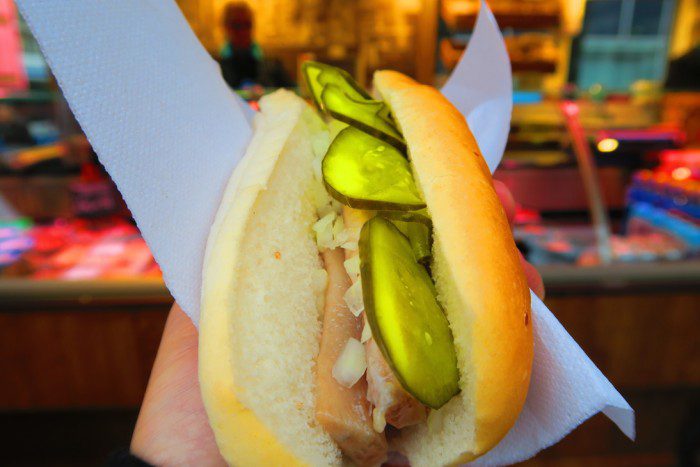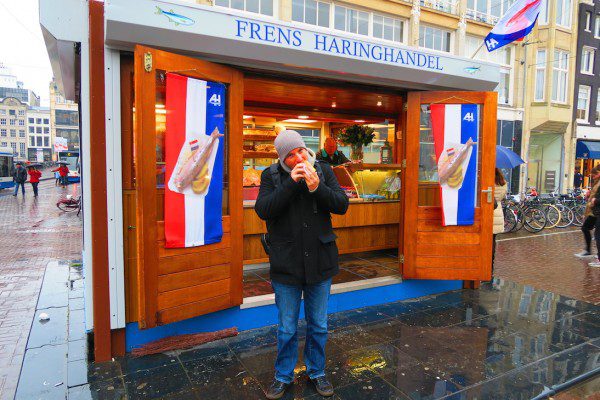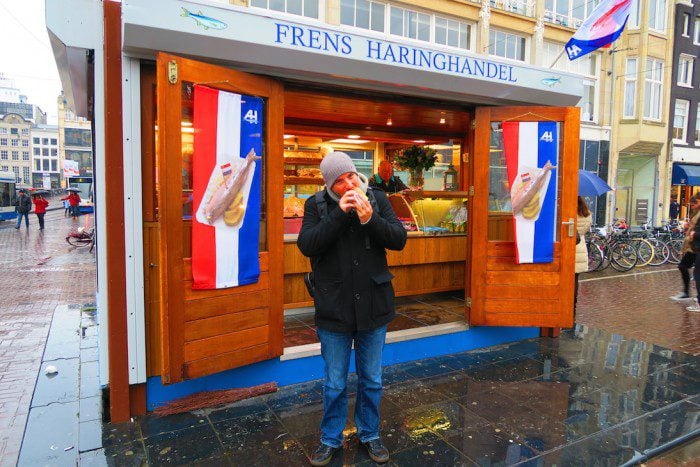 If you now feel like another tiny detour and are already loving Amsterdam's canals, walk along the southern side of Herengracht towards Nieuwe Spiegelstraat. Where these two intersect is known as the 'golden bend'. 'Bend' because the canal bends its way at this spot and 'golden' because of the mansions that occupy both sides of this canal. These mansions are a sharp contrast to the narrow buildings that make up most of the old center. It's not a must-see but architecturally impressive and not too far out of the way.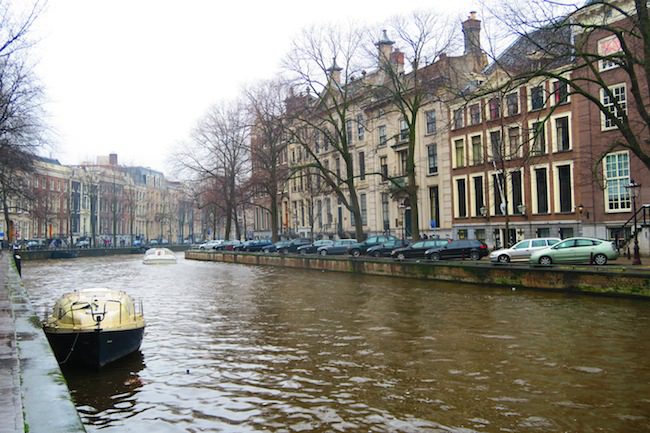 A Detour to the 'Skinny Bridge'
If you're in the mood for another detour, head along Kerkstraat until you reach the Amstel River (about a 10-minute walk). We're definitely out of the old center now but this doesn't mean it ain't nice over here. If you do venture out here, you'll walk along many cafes, bookshops, and antique stalls. As you near the Amstel River, this neighborhood is all of a sudden super quiet and tranquil, with narrow canals and tiny bridges. As you reach the Amstel River, you'll cross it via the Magere Brug or 'skinny bridge' – the reason why you walked all the way here. It's also Amsterdam's narrowest drawbridge. The original was built centuries ago and legend has it that it was built by two sisters who lived on either side of the river and the bridge was built to save them time – believe it or not.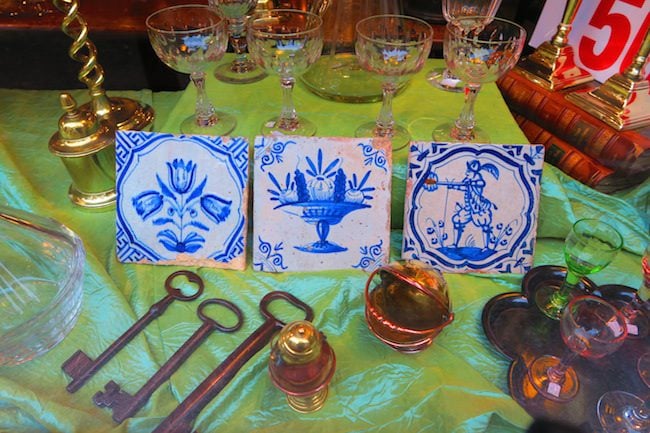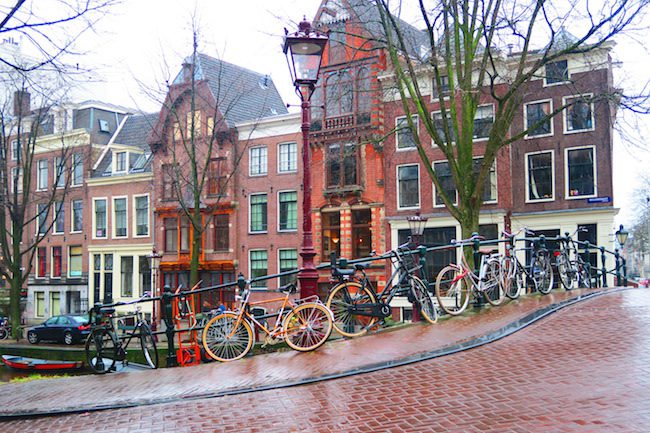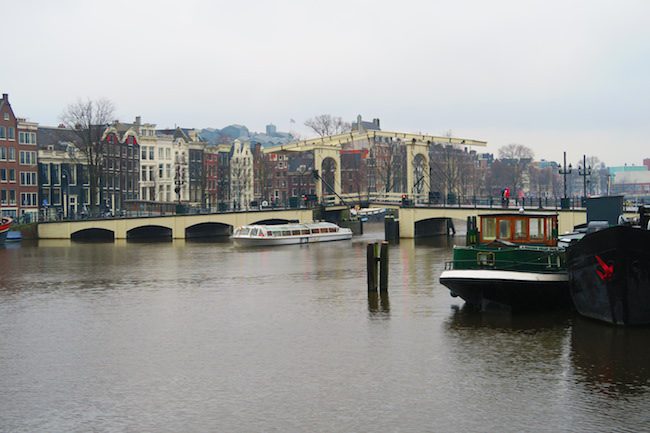 The Finest Chocolates in Amsterdam
Whether you detoured to the golden bend or the skinny bridge – we'll now head back into the old center proper and satisfy our sweet tooth. At Staalstraat 21, you'll find Puccini Bomboni, one of the best (if not the best) chocolate makers in Amsterdam. They have another location in the Jordaan but this is the original one. The chocolates are handmade and it's a shame to eat them since they're so pretty… but we will anyway. They don't come cheap but they're worth it. Grab a box and fill it up (price by weight).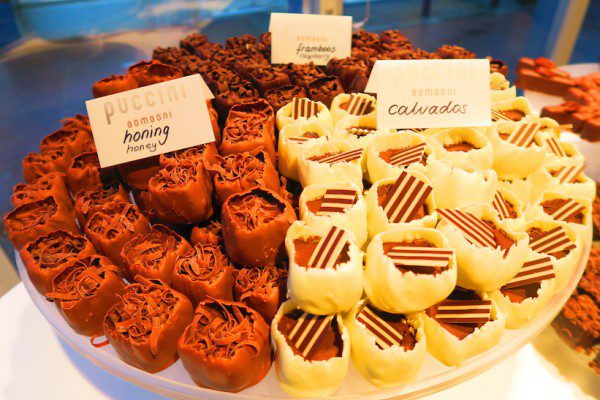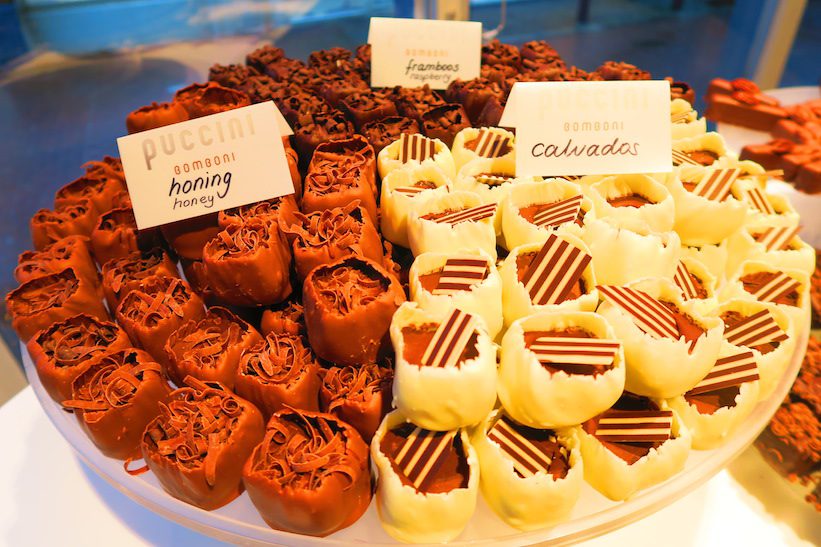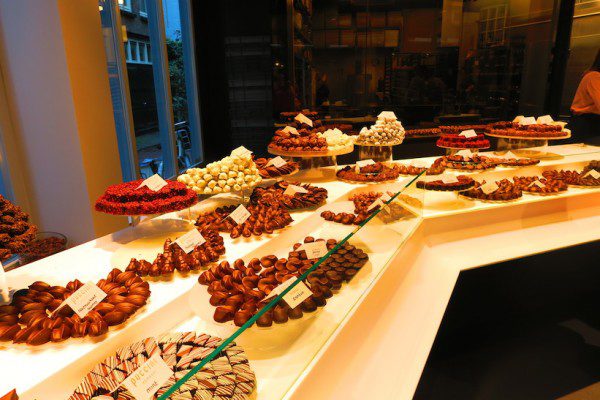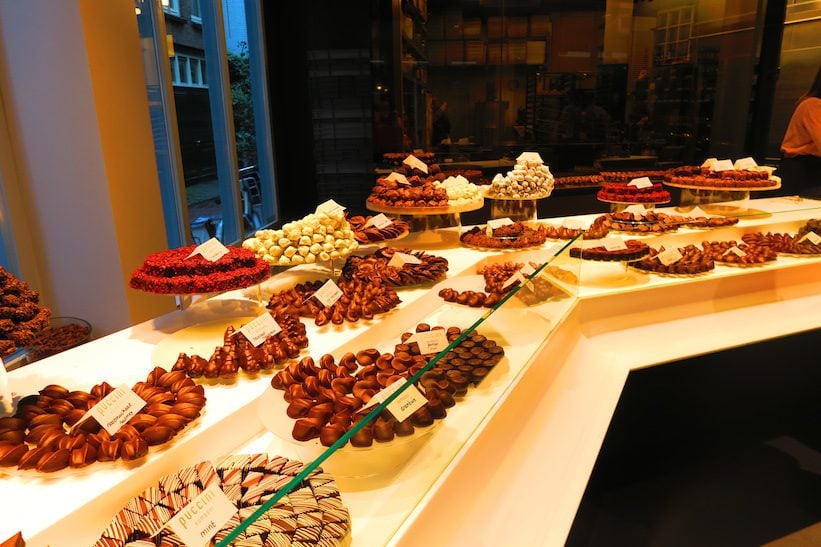 Adjacent to the chocolate shop, Puccini opened up a cafe and it was a great place to grab a light lunch. They make great focaccia sandwiches and as you'd expect from an Italian cafe, great coffee.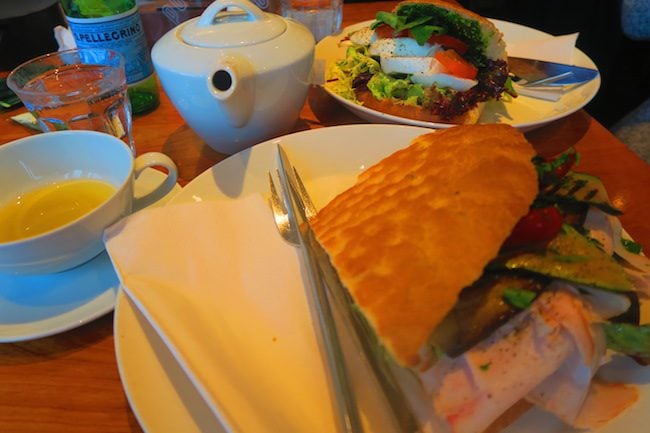 Exploring Old Amsterdam
After getting some carbs and sugar, we are now starting to head back with a few more highlights on the way. Very close by is the Zuiderkerk. You can't miss this former church with its tall and narrow clock tower (can be climbed during the summer for a great view apparently). This part of the old center is very peaceful to stroll around and on a misty winter day, this certainly adds to the atmosphere. The Zuiderkerk was unfortunately closed but nonetheless, it's on the way and worth the stroll.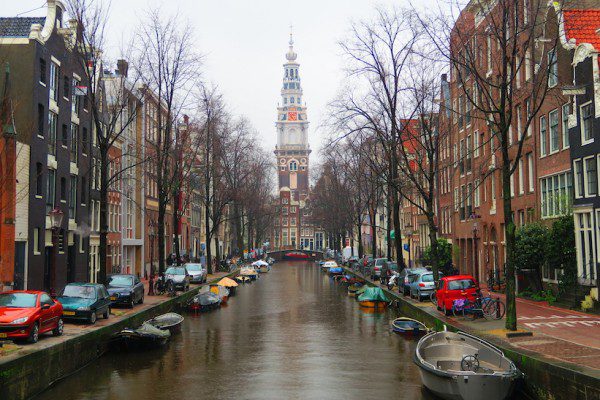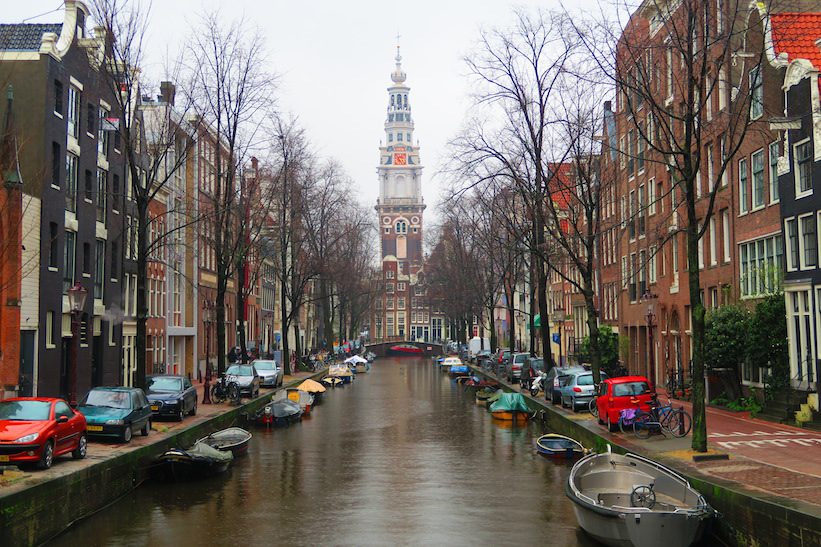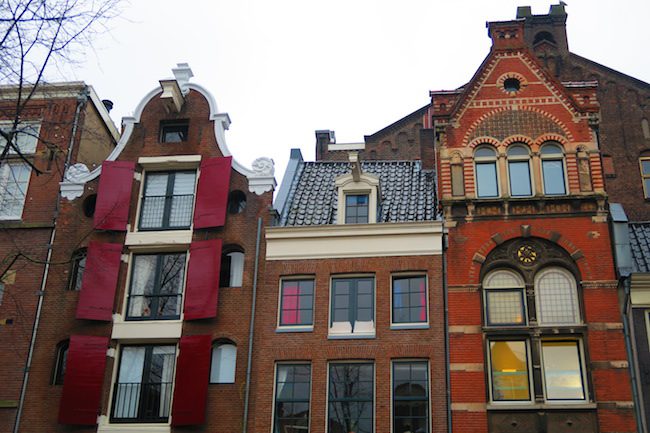 From here, it's a very short walk to Trippenhuis at Kloveniersburgwal 29. This huge mansion was built by the Trip family during the Golden Age. The mansion is nice and everything but for me, the real highlight was exactly on the opposite side of the canal – the Kleine Trippenhuis, one of the narrowest houses in all of Amsterdam. I wonder who lived there?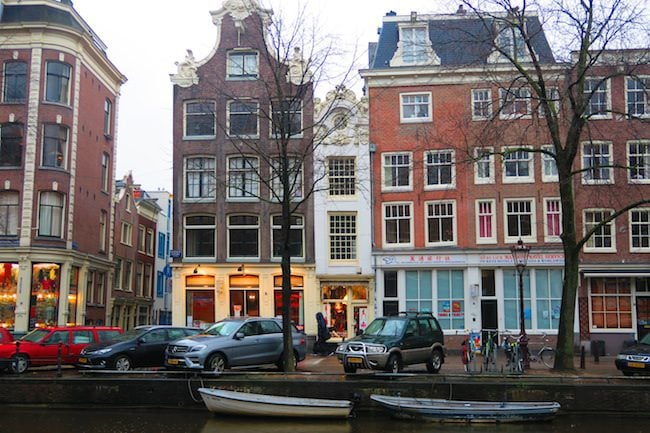 A few meters to the north, you'll see an open cobblestone square. This is the Nieuwmarkt, once a prime market in Amsterdam. The dominating building is the Waag, which was built in the 15th century and was one of the gates into the old center. Not much was happening in the square on this rainy day except for a flashing sign warning tourists of 'shady purchases'.
Crossing over a few canals to the west, you'll reach the Oude Kerk, one of Amsterdam's most impressive landmarks. The church has been around since the 14th century and was a mecca for pilgrims with even Rembrandt a frequent visitor. It's still the case today and every March, Catholics gather here to celebrate the 'Miracle of Amsterdam'. Legend has it that in 1345, a dying man threw up the Host he had swallowed and when the Host was placed in a fire – it did not burn. The Host was buried in a chest that has since gone missing. Inside the Oude Kerk, you'll find impressive painted glass and artwork.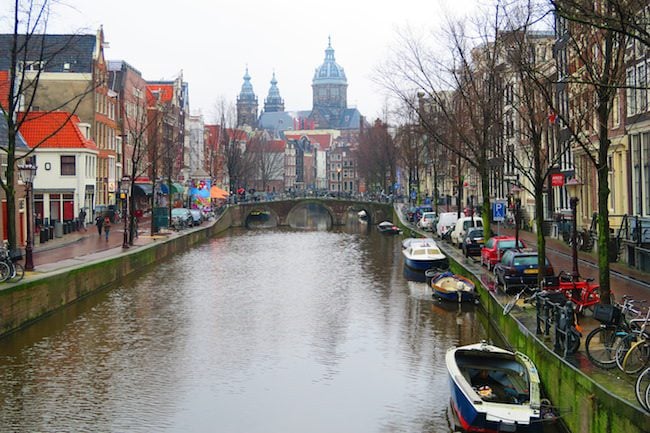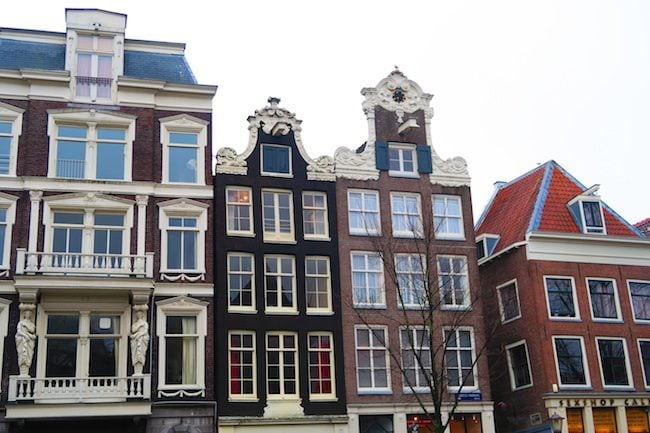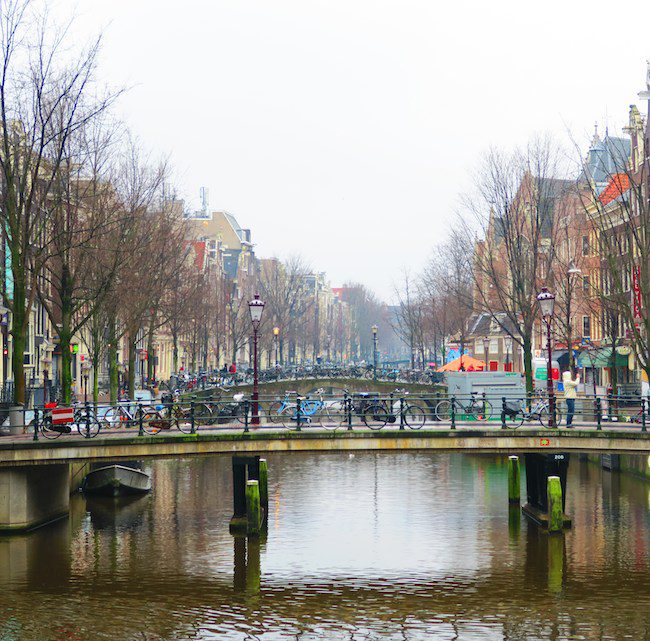 You're now in the center of old Amsterdam and if you stroll around the canals between the Nieuwmarkt and the Oude Kerk heading north, you'll notice shops which for better or for worse are associated with Amsterdam. Around you, are many Coffeeshops, 'smart shops', and erotic shops. This is also home of a very small 'little Asia' and we'll be back here for dinner shortly.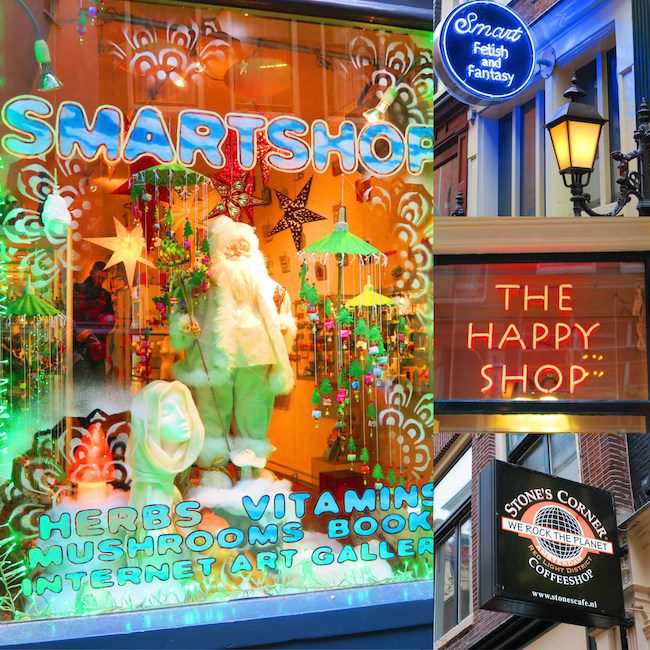 It was now just after 6 pm and we had done quite a bit of walking. After a short early evening power nap, we headed for some Thai food at Bird, in the old center. You might have to queue up as you can't book a table for 2 and this place is super popular – rightfully so. Authentically decorated and authentically tasting, Bird serves large portions of your favorite Thai dishes (around €15 per main dish). We had spring rolls for starters – of course, green curry and chicken cashew nut for mains while washing it down with a few Singhas.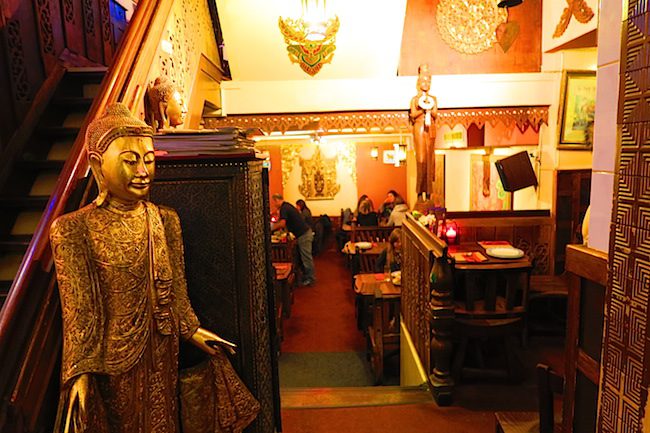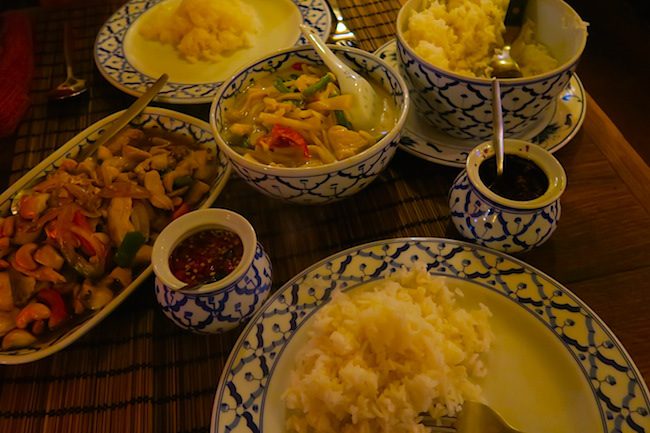 The Red Light District
We headed back towards the hotel via the famous (or infamous) Red Light District. Despite the efforts of local authorities to clean up this area – it's still a major draw. Scattered in the area between Oudezijds Achterburgwal and Oudezijds Voorburgwal are those famous windows with red lights on top and women of all shapes, sizes, and colors luring the next customer inside. Prostitution is legal here but it doesn't mean it looks right. Nonetheless, you can't come to Amsterdam without visiting the Red Light District at night when this place comes to life (more on that tomorrow night). Aside from the windows, you'll find here plenty of erotic shops and museums which may or may not appeal to your taste.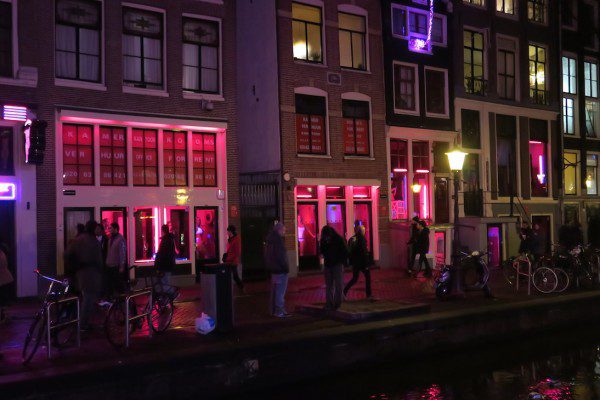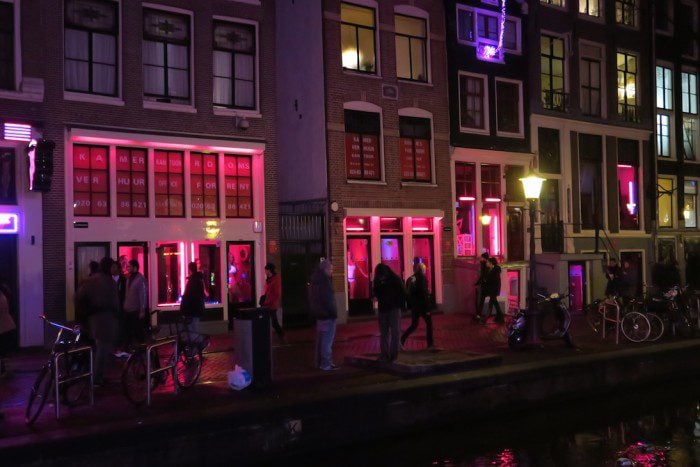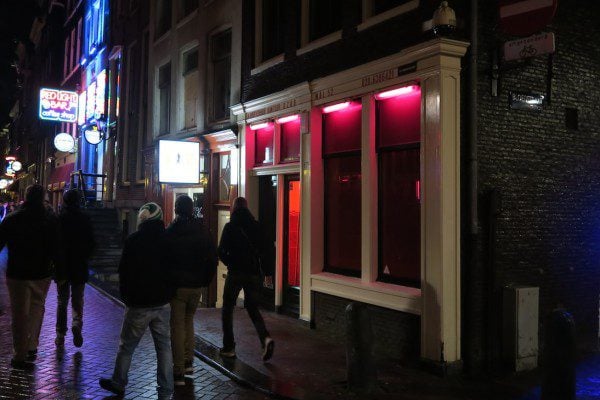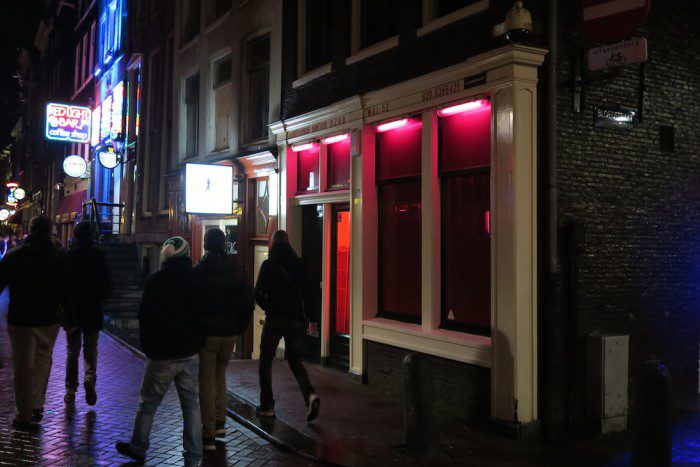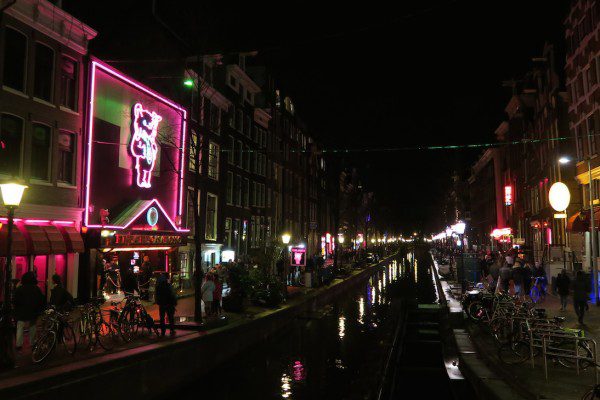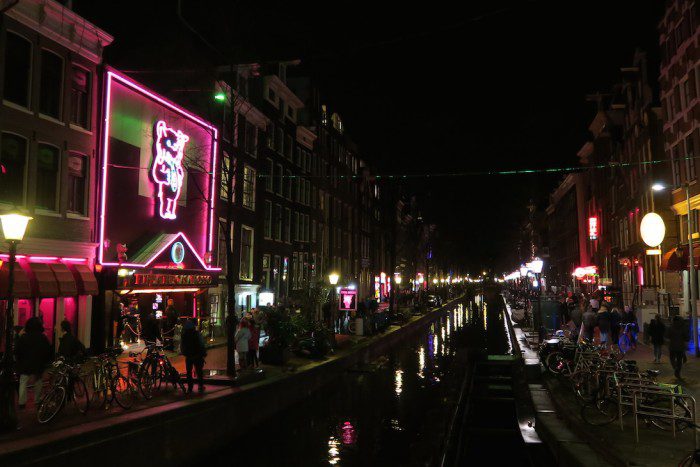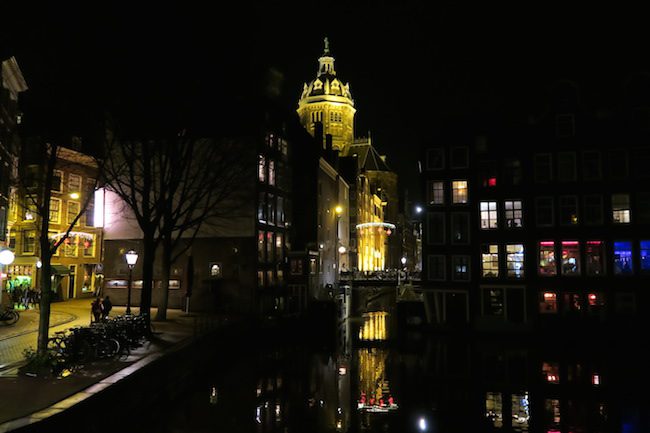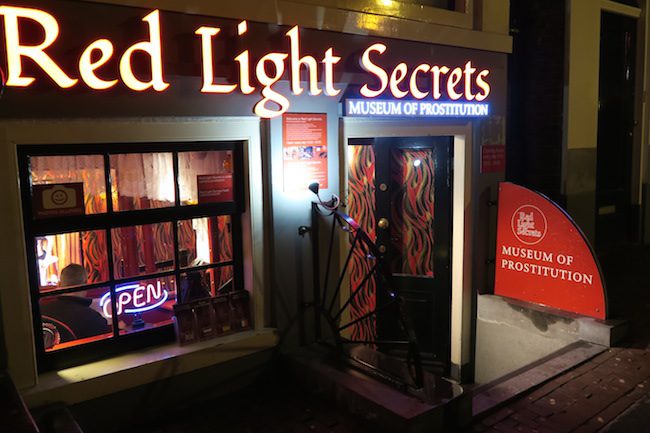 On a much sweeter note, right beside the Chipsy King, which we visited yesterday, is Rene's Croissanterie – an excellent place to grab dessert. The pastries in Amsterdam are far better than what you'd expect and the choice is tough. They're quite big here on waffles (probably a Belgian influence) and anything with vanilla custard inside – which is right up my alley!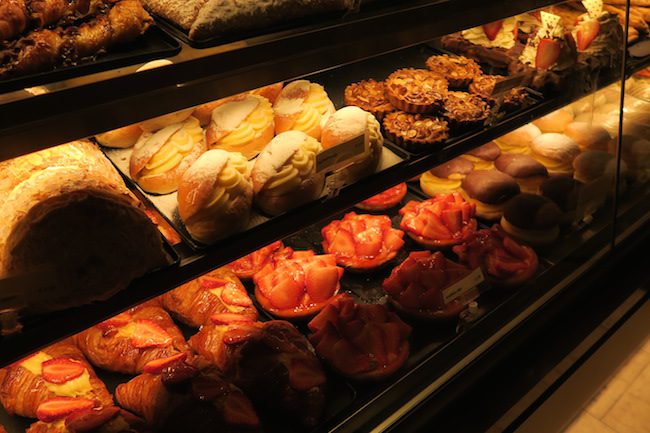 Any Regrets?
We wanted to visit the Pintohuis on Sint Antoniesbreestraat 69 which is a former mansion now turned into a public library. The painted ceiling is something to marvel at. Unfortunately for us, we didn't quite make it there.
Both the Zuiderkerk and Oude Kerk were closed when we visited and we would have loved to step inside. Better yet, both have climbable towers in certain months of the year for fine views of Amsterdam.