A 'Weather Dependant Day'
I'll do something a little bit different for this third and last day in our long weekend in Amsterdam and share an itinerary that's combined from two visits to Amsterdam. If the weather is nice (preferably in spring or summer) when you visit Amsterdam, then the full itinerary I'll share here would make sense and if it's rainy or 'winterish' outside, replace the outdoor stuff with more indoor activities.
After checking out from the Rho Hotel, we headed for breakfast at Cafe de Jaren, at the southern end of the old center. A very popular cafe, you wouldn't feel it due to its grand interior space. It's a great place for breakfast or brunch, serving quality food with fine views of the Amstel River. There's even a riverside deck for those rare sunny Amsterdam days.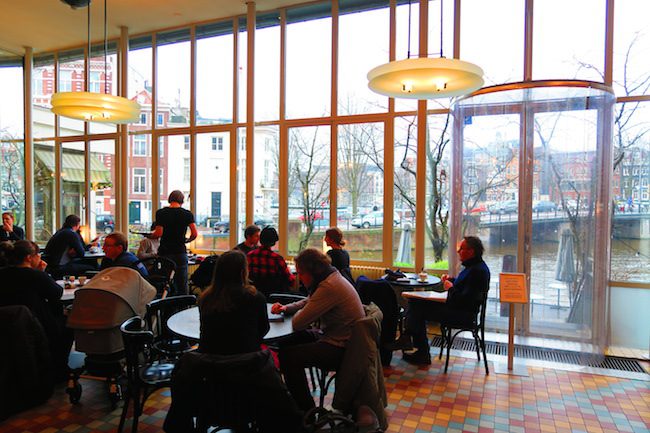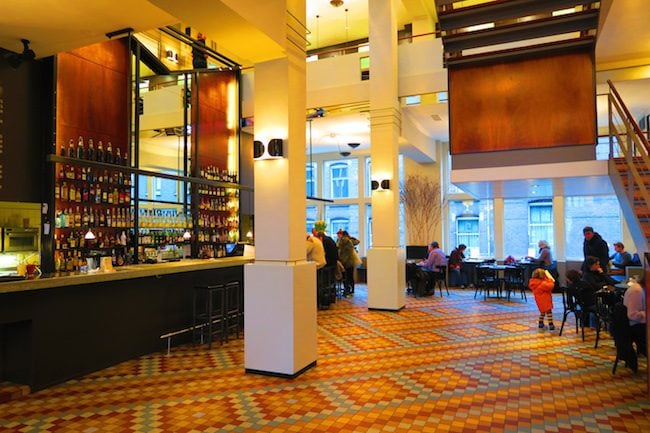 The Finest Museum in Amsterdam
Our next stop was the exquisite Rijksmuseum a definite must-visit for art lovers and even for folks like me, who prefer more outdoor activities. You can walk here (about 15 mins) or take the No. 5 cable car which stops right in front.
Amsterdam is a city loaded with great museums from the less serious erotically themed to world-famous ones such as the Van Gogh Museum. In fact, there's a dedicated 'quarter' for the best of them in the Museumplein, a huge open space dotted with the finest of Amsterdam's museums. You can technically see most of them but we'll visit the Rijksmuseum, arguably the best museum in Amsterdam.
Commanding the very top of Museumplein's green lawn, the Rijksmuseum cannot be missed. It's housed in a massive 19th-century grand building and home to the finest collection of Dutch art dating back to the Golden Age. This period saw Dutch influence reach the furthest corners of the globe with booming commerce, construction, and with it – the arts. As always, book your tickets in advance online to avoid the queues (€17.50) and be prepared for lots of fellow visitors between 11 am-2 pm. Once inside, you'll be treated to amazing artwork by the likes of Steen, Vermeer, Metsu, and others… oh, and one guy named Rembrandt. The artwork looks unbelievably real and isn't the type of art that looks like any kindergarten kid could draw – this is the real deal!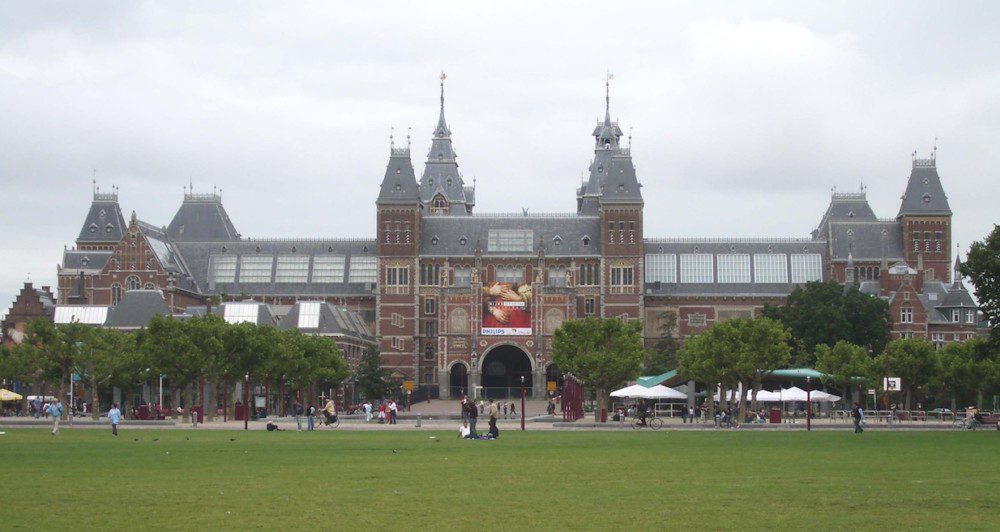 If you want to continue your artsy day (or if it's rainy/freezing outside), you can head to the nearby Van Gogh Museum. But assuming it's a sunny day, our next stop would be the Vondelpark, just a 10-minute walk from the Rijksmuseum.
Catching Some Sun
The Vondelpark is Amsterdam's best park and on a sunny summer day, it's packed with locals and tourists alike. The park was originally built on what was back then marshland at the very edge of Amsterdam by a group of prominent residents in 1865. It's named after the famous Dutch poet Joost van den Vondel and has so much to offer. In the summer, you might be treated to an open-air concert but even if not, it's great to stroll around the miles of footpaths or just relax in the sun.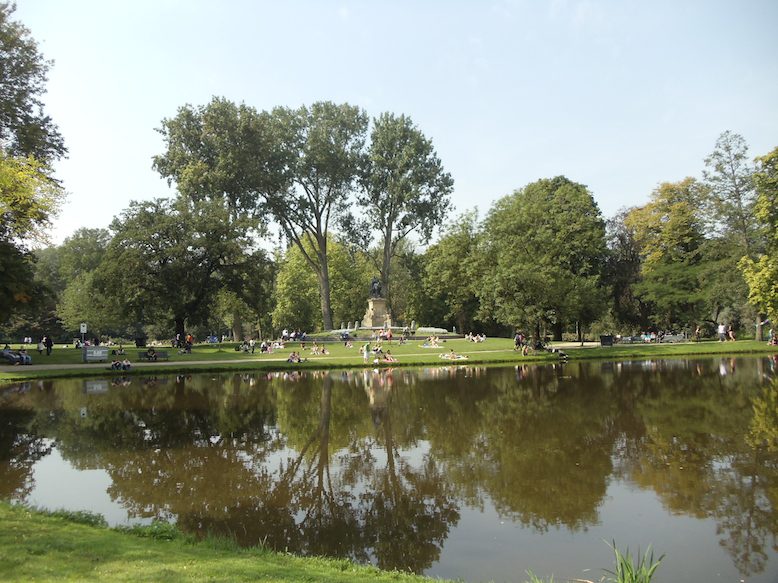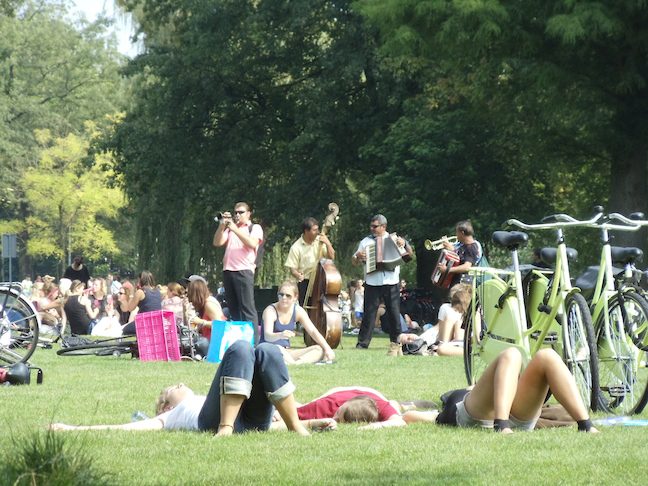 It was almost time to start making our way to the airport as our long weekend in Amsterdam was drawing to a close. A good way to get back to Dam Square is via Leidsestraat, a major shopping street where you can get some last-minute shopping done. You can also just hop on the cable car that runs from here straight to Dam Square.
At the very bottom of Leidsestraat is Leidseplein, a sort of square crossed only by the cable cars heading north and south. In the summer, it's the closest thing you'll find to an Italian piazza, with cafes and bars offering prime outside seating. Even in winter, it's a good way to take a break before heading back into the center.

Back to the Airport
After picking up our luggage, we headed back to where it all started, Amsterdam Centraal Station, and hopped on a train to Schiphol airport – probably the most convenient way to get to and from the airport to Amsterdam. Our 3 day long weekend in Amsterdam had come to a close but we had so much fun. I highly recommend putting Amsterdam on your top list of city breaks, whether in summer or winter. It's manageable by foot, with great food, culture, and oh… those cute canals. We'll definitely be back!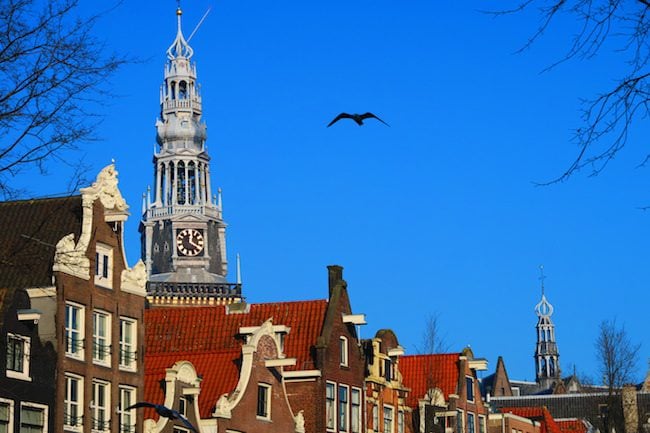 Any Regrets?
We would have loved to explore the Old Jewish Quarter, just east of the old center. Amsterdam's Jewish community flourished during the Old Age but was decimated during WWII. There are still a few spots worth visiting including some old synagogues.
The Albert Cuyp Market, outside Amsterdam's center, is the city's largest and open daily except for Sunday. It's out of the way but if you have the time and love city markets, you might want to attempt to visit.
It's not really a regret but didn't quite make it into this 3 days in Amsterdam itinerary. Amsterdam has quite a few restaurants without a set menu, where every week the menu changes. One of the best is Balthazar's Keuken in the Jordaan where I had dinner on one of my visits. For €32.50 per person, you're treated to five changing starters, a choice of meat or fish and a dessert. If you're the kind of person that is not picky with food (like I am), you'll probably love this super popular place – just be sure to book in advance (you can do this online).