Day 2: Exploring the Grachtengordel and the Jordaan
On the second day of our 3 days in Amsterdam, we would explore the western neighborhoods of the city center, Grachtengordel, and the Jordaan. These are lovely parts of town and getting lost in the maze of canals is part of the fun.
The Grachtengordel was a major expansion to Amsterdam when its population started to rapidly grow. The four main canals that make up this part of town from Singel to Prinsengracht wrap their way around the old city all the way east to the Amstel River. The canals here are wider and home to dozens of houseboats. This is Amsterdam in its finest beauty – arching bridges across canals lined with old houses, each decorated with a different style of gables. Since Amsterdam had a pretty uniform building code, the gables were a way for owners to differentiate themselves. Some are real works of art.
The Jordaan is just further to the west of the Grachtengordel. It's narrower canals and streets which are more like lanes make for a very pleasant stroll. And with its cafes, boutiques, and specialty shops – it really has a vibe of its own. It's no surprise that the Jordaan is a very sought-after neighborhood in the center of Amsterdam.
Visiting the Anne Frank House
As we did with the Royal Palace and to avoid the queues, we booked tickets to the Anne Frank House online (€9.50). The museum opens at 9 am so we had time for breakfast and decided to skip the hotel's buffet. We headed to Broodje Bert on Singel and had an amazing breakfast in their cozy little cafe. Portions are huge and you can choose from your regular breakfast usuals to special sandwiches.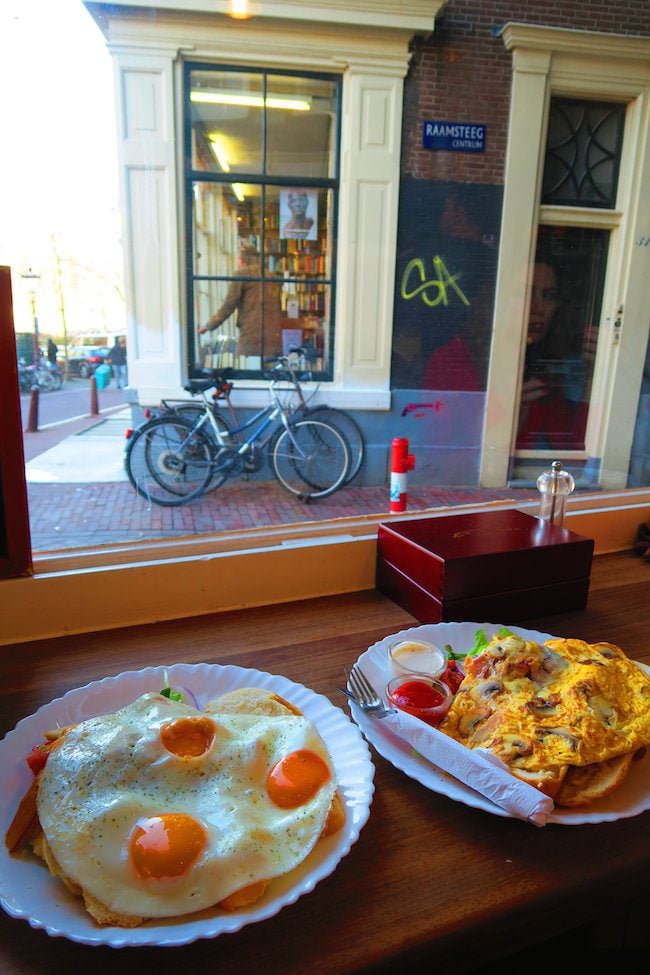 And now for the serious part of the day and a must-visit in Amsterdam – the Anne Frank House. I can't say I didn't know about Anne Frank's story but a visit to the museum, which is where she, her family, and a few others hid for two years during WWII, really moved me. The Frank family moved to Amsterdam in 1933 following the rise of the Nazis in Germany. Her father, Otto, set up a small manufacturing business on Prinsengracht, where the museum is today.
When the Nazis took over Amsterdam in 1942, the family went into hiding in the famous annex in the back of the house. A small trusted circle of Otto's employees agreed to help the family and provide them with the basic necessities, risking their own lives. This lasted for 2 years until the secret was exposed (nobody knows who exposed them even today) and the Franks were sent to the camps. The only Frank survivor was Otto and when he returned after the war to the house, he found a diary that Anne had kept during hiding. The famous diary, turned bestseller, along with the famous bookcase door that led to the annex are all part of the moving visit. This is definitely a must-see on your visit to Amsterdam and I recommend buying tickets in advance to avoid the huge queues – the house is very small after all.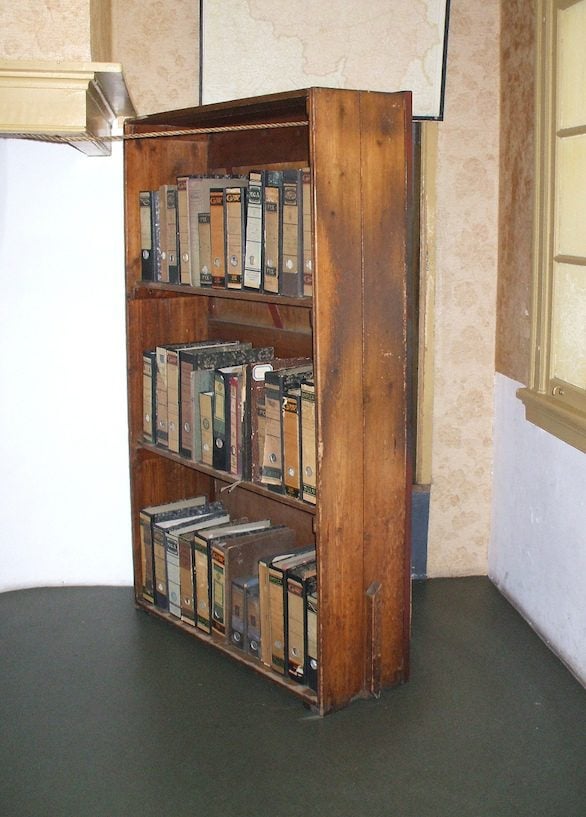 Right next door is the Westerkerk with its beautiful clock tower that cannot be missed. I can't imagine how hard it was for Anne Frank to listen to the church bells playing while she was trapped in the dark annex right next door. Unfortunately, it was closed when we were around but, like with the other churches in Amsterdam, you can climb its tower in certain months of the year. Nonetheless, it serves as an excellent backdrop to many 'classic' Amsterdam photos you'll be taking on this day.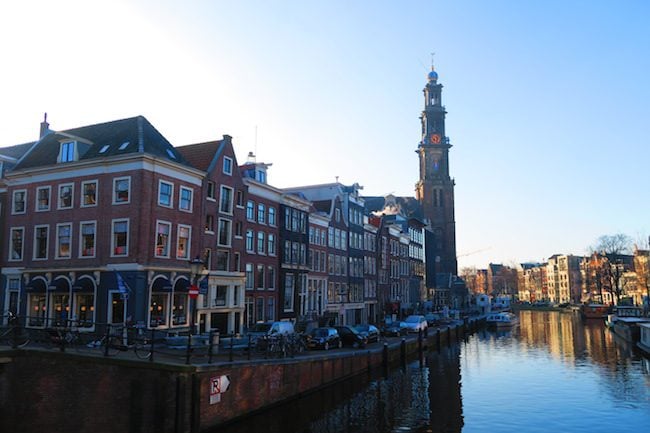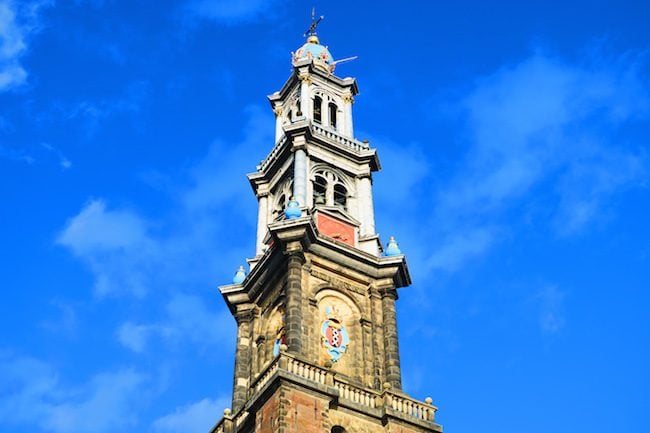 The 'Nine Streets'
I forgot to mention that the walk from Broodje Bert to the Anne Frank House will take you through what is known as the 'Nine Streets' or De Negen Straatjes (have a look at the map on the first page of this guide). The three main canals are intersected by three cross streets, forming the nine streets. These are some of the most photogenic streets in all of Amsterdam and also home to boutiques and other interesting shops. We'll be back here a little later on to explore.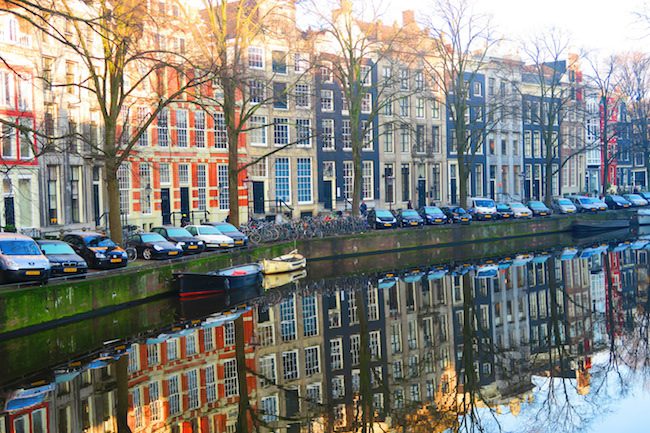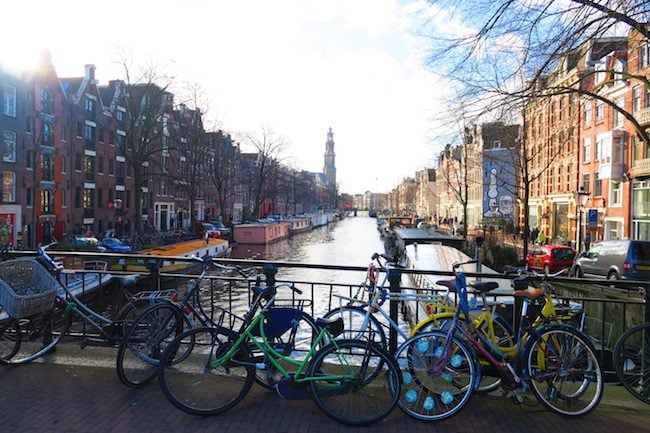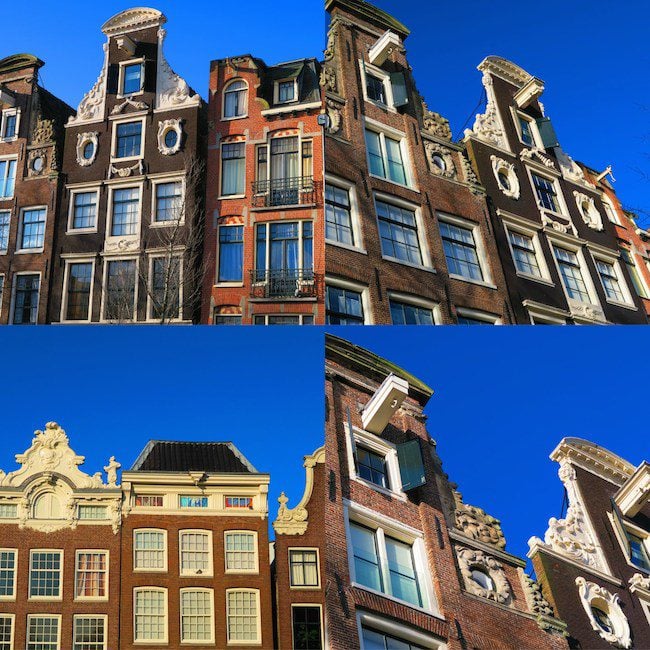 Street Market
After the Anne Frank House, it was time to lift the spirits, and what better way than visiting one of Amsterdam's best markets. Just a ten-minute walk along Prinsengracht and you're in the Noordermarkt. We're technically now in the Jordaan but we'll be swinging back and forth between the Jordaan and the Grachtengordel often today.
Noordermarkt square is home to the Noorderkerk (church) and is lined with cafes that are great for people watching on market days. Its most famous resident, therefore, is the Noordermarkt, an antique market on Monday and a farmers market on Saturday mornings (so plan accordingly). I personally love visiting European markets on weekends, when they are at their liveliest. On the day we visited, there was indeed a large food section but in the back, were quite a few antique stalls. Have a look at this video for some sights and sounds from the Noordermarkt, one of Amsterdam's best markets.
You can find pretty much everything you need for a good local meal in the Noordermarkt, from fresh oysters to vegetables and fine baked goods to of course – that famous Dutch cheese. Gosh, I didn't know so many flavors existed.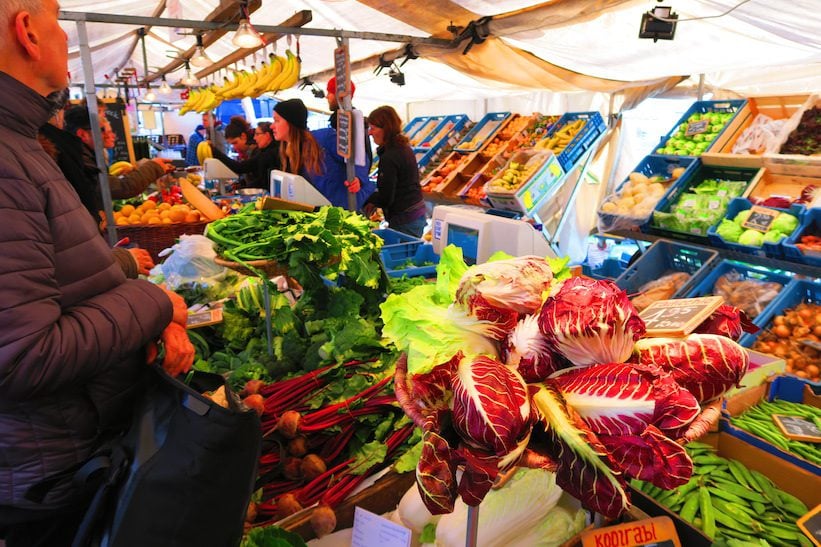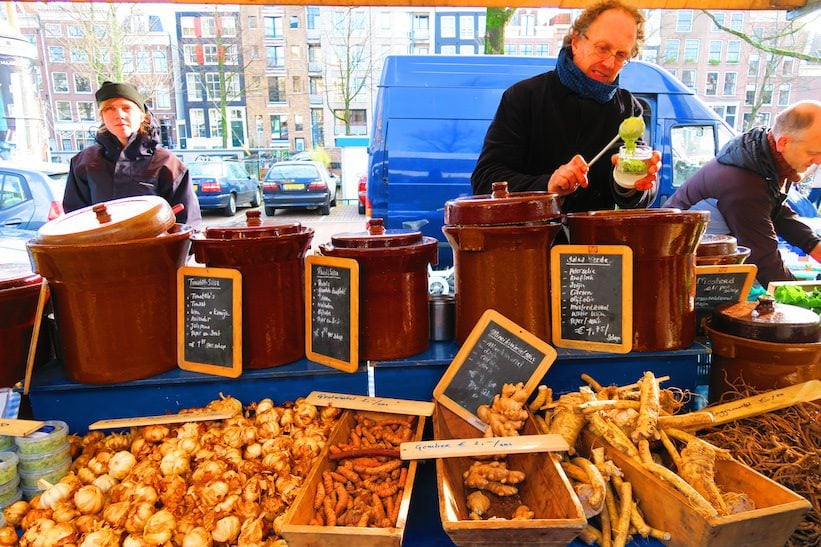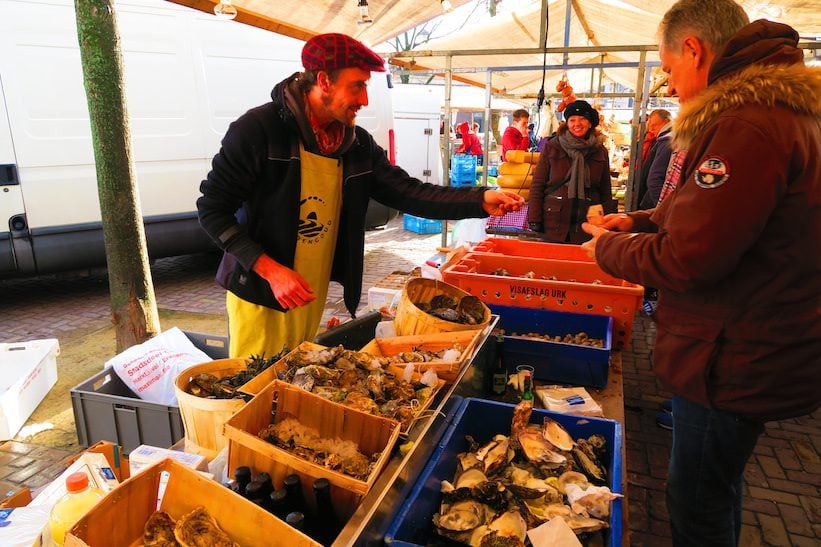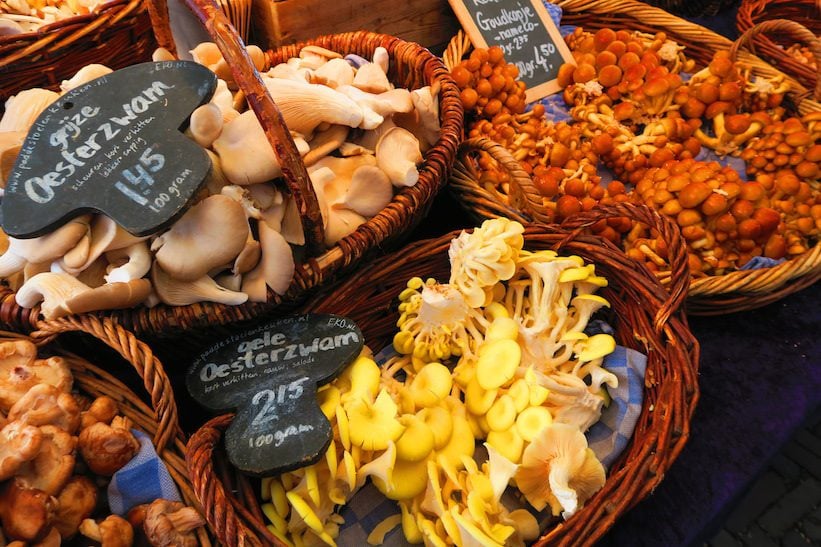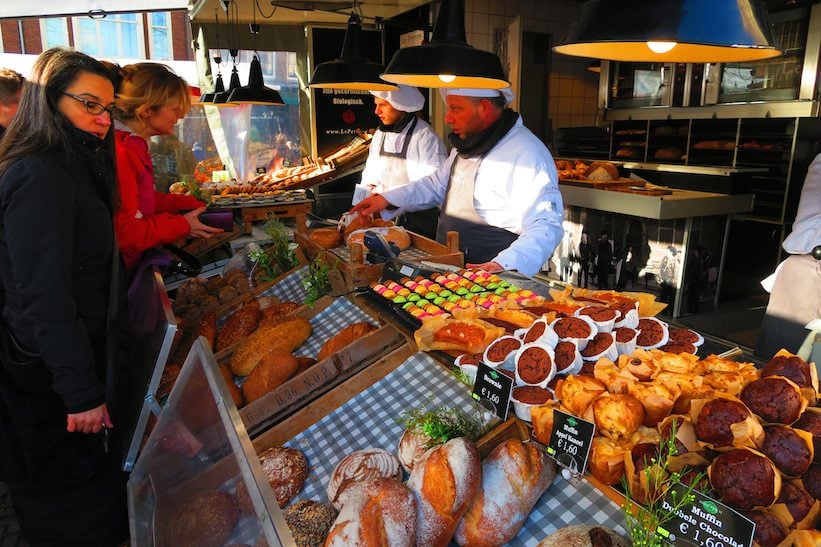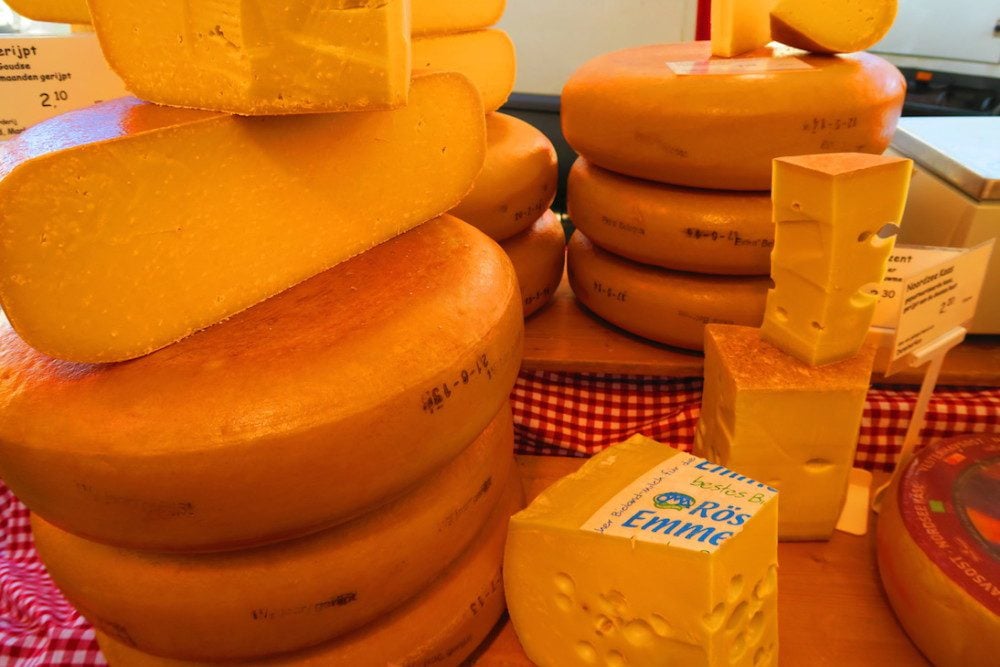 Let's not forget the great antiques you can find here – and this wasn't even the dedicated antique market day. I don't usually buy these, but I must admit that I love antique markets. It's really like taking a walk back in time. More on antique markets later in the day so stay tuned.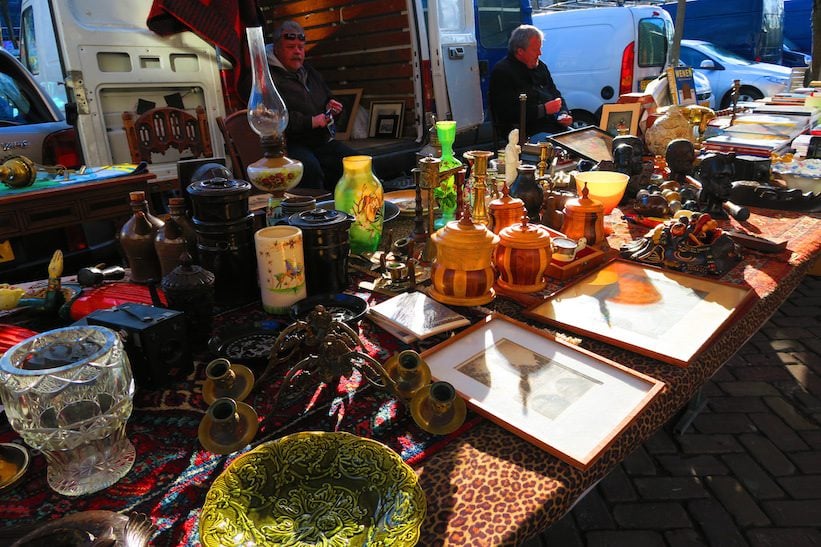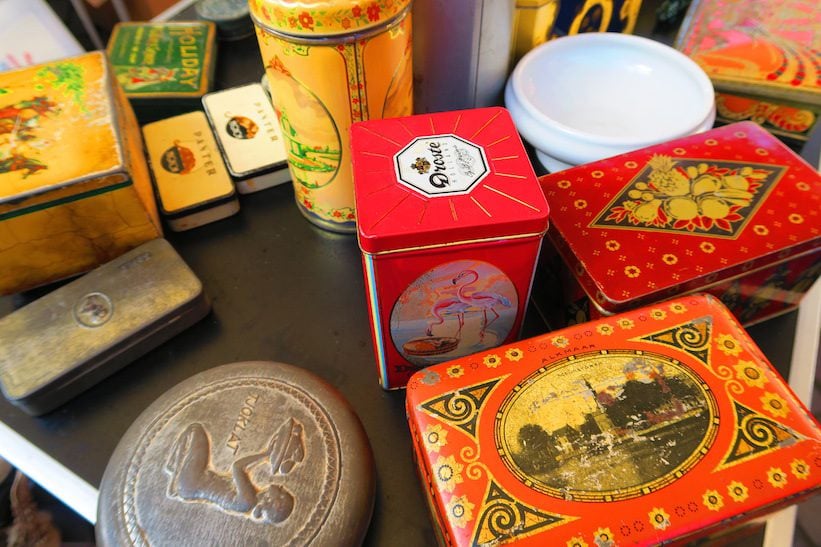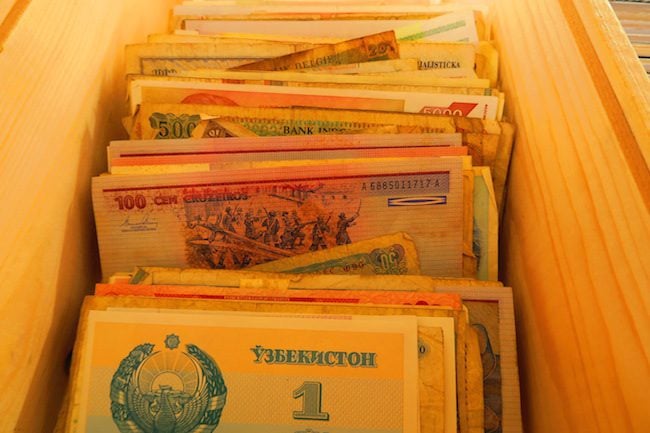 The Best Apple Pie in Amsterdam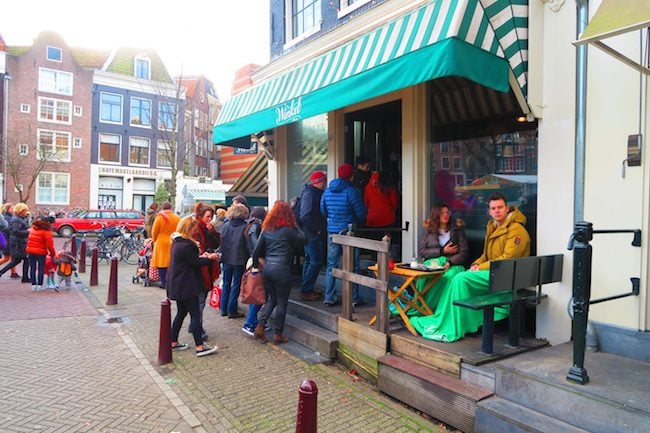 Noordermarkt Square is lined with cute cafes but there's only one that's reached celebrity status amongst Amsterdam locals – Winkel 43. You can't miss this cafe since pretty much everyone visiting the market queues up to taste the most famous apple pie in the city. The pies are always freshly warm and if you've got your head on straight, say 'yes' to some whipped cream on the side. Grab a spot wherever you can, inside or outside, and enjoy. I told you Amsterdam is a city of small (and guilty) pleasures!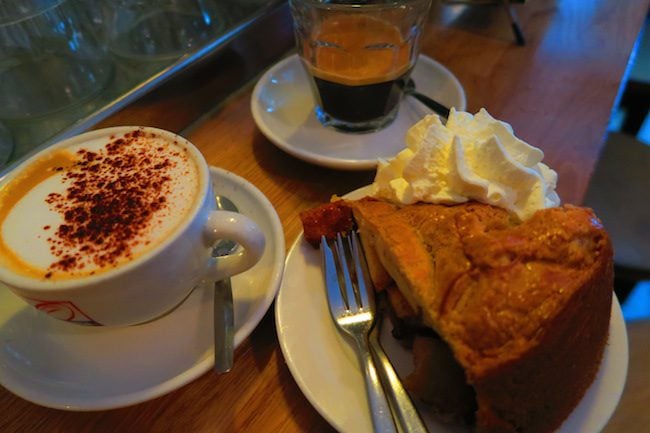 The Best Photo Spot in Amsterdam
The Noordermarkt pretty much intersects Brouwersgracht at its northern section and this area is definitely worth exploring. At the corner of Brouwersgracht and Papiermolen Luis is one of Amsterdam's prettiest sights and you might recognize this from postcards. Looking back towards the Noordermarkt area is a block of classic Amsterdam canal houses where some seem to be leaning on each other while others seem to be leaning forward – defying the forces of gravity. Add to that a pretty little bridge over two intersecting canals and large houseboats that make you regret taking that mortgage – and you have a picture-perfect spot!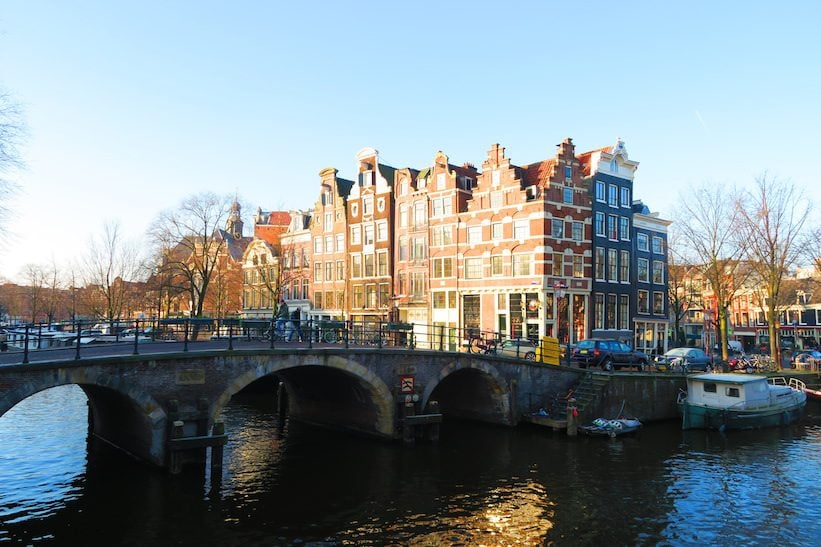 Once you snapped a dozen or so photos, continue east on Brouwersgracht. This used to be a warehouse area and is today recognized for its large wooden shutters that cover the windows. It's incredibly cute and a popular residential area these days. Large houseboats also take up residence in the canal and your neck will likely be a bit stiff as you wander around looking at these unique structures.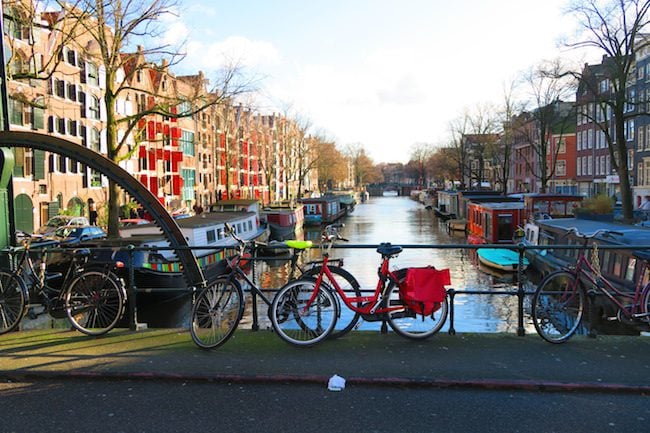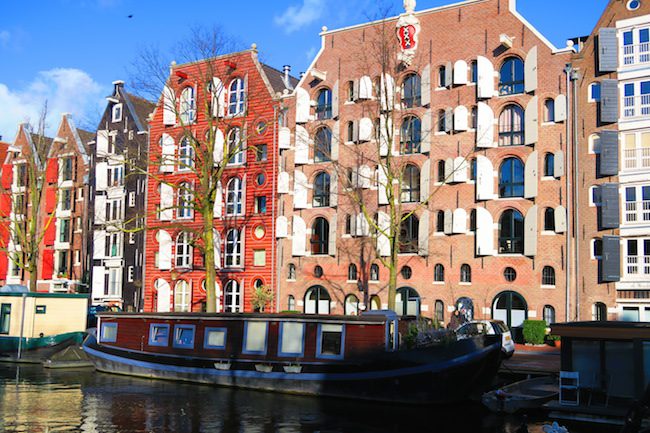 Another Street Market
After you've wandered enough on Brouwersgracht, head back south but this time on Lindengracht. This street used to be a major waterway but was covered a long time ago as the city expanded. Today, its avenue is lined with lime trees on a Saturday morning, the street is home to the Lindengracht Market, a very long stretch of mostly food stalls. It totally makes sense to combine the Lindengracht and Noordermarkt together on a Saturday morning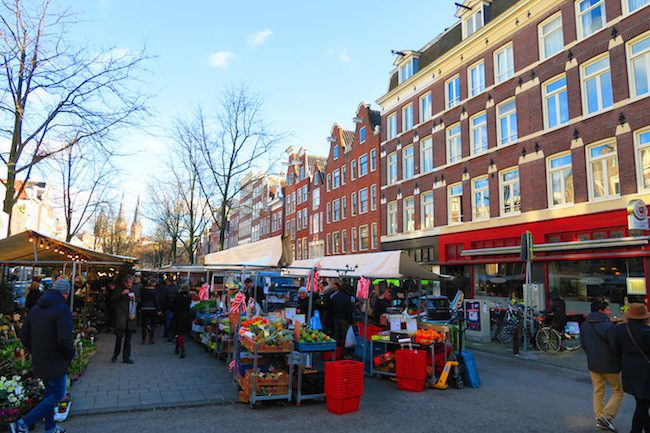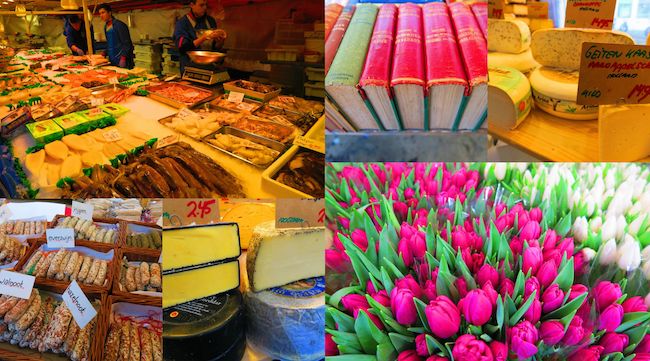 From here, we'll simply wander around the relatively quiet small streets of the Jordaan. The feeling is quite residential here with real Amsterdammers going about their weekend routine. It's probably why you'll find many cafes and small boutiques in the Jordaan and probably why it makes for such a pleasant stroll. We'll eventually make our way to Het Oud-Hollandsch Snoepwinkeltje and pick up some Dutch licorice. Not everyone likes this sour delight which is why it's so great if you actually do – you don't have to share! My favorite is the zout or better yet, the double zout – a painfully tasty sour licorice.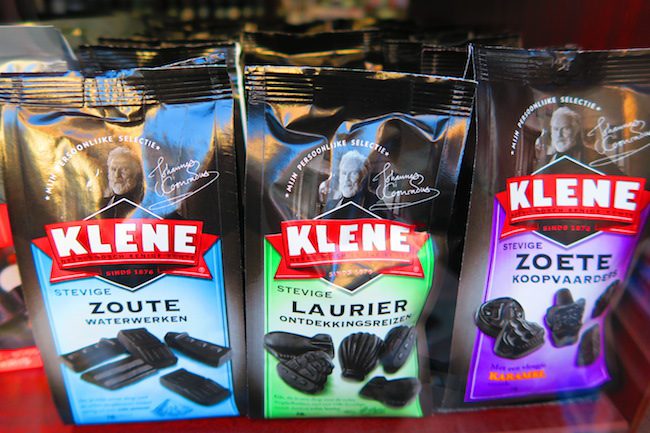 Now for a slight detour for the tulip lovers among our readers. Head over to the Amsterdam Tulip Museum on Prinsengracht 112 for a really good selection of tulip bulbs to take back home. There's also an exhibition in the back if you want to know more about tulips but I was simply impressed by the choice and quality of the tulips here.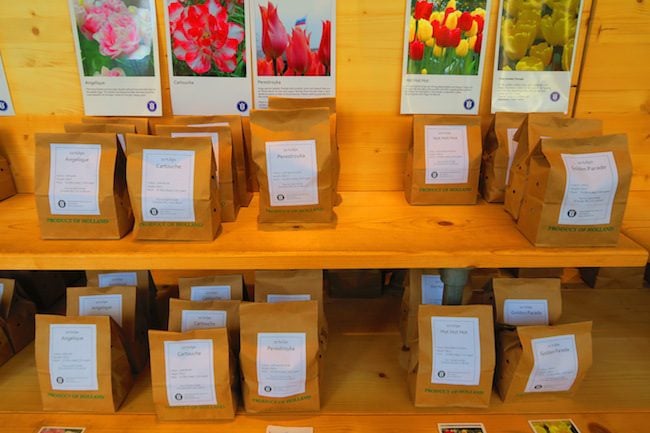 Wandering Around Amsterdam's Prettiest Canals
From here, we'll walk towards the Bloemgracht, preferably via one of the super narrow lanes that cross it. The Bloemgracht, or 'flower canal' is one of the prettiest in Amsterdam. Its murky waters are crisscrossed by arching bridges and leafy trees (in the summer) line both sides. You can't help but notice the decorated clock tower of the Westerkerk which is visible from pretty much any angle at this point. It helps in getting your bearings as well as for wonderful photos!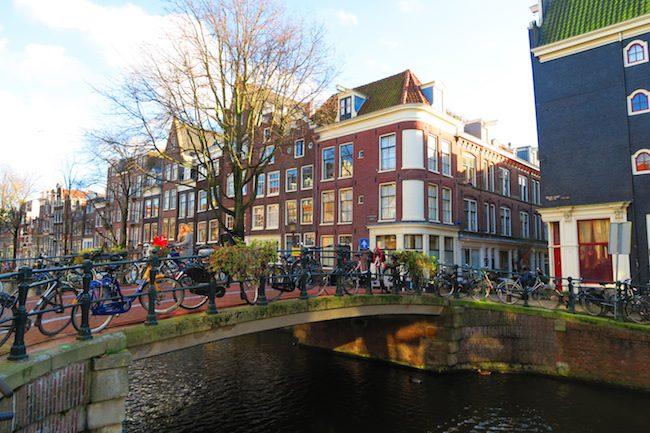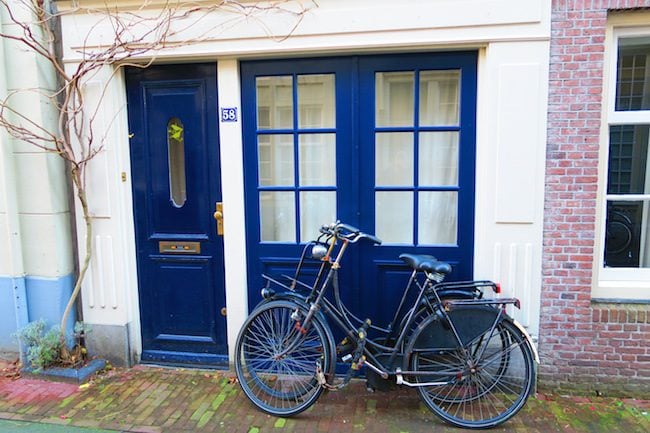 Once we've reached Rozengracht, we'll swing back west and explore the 'nine streets', which I've mentioned just after breakfast. The three main canals of the Grachtengordel are crossed by three intersecting streets, forming the nine streets. The houses on the main canals are some of the prettiest in town and you'll enjoy exploring every one of the nine streets.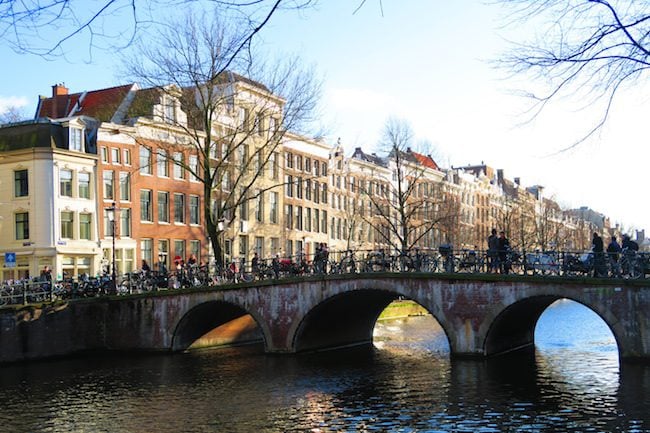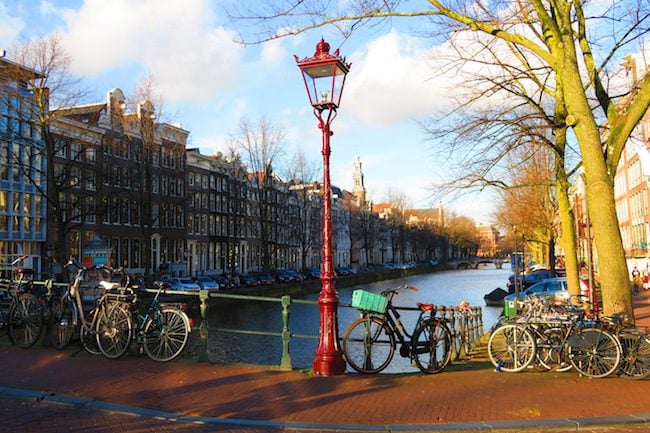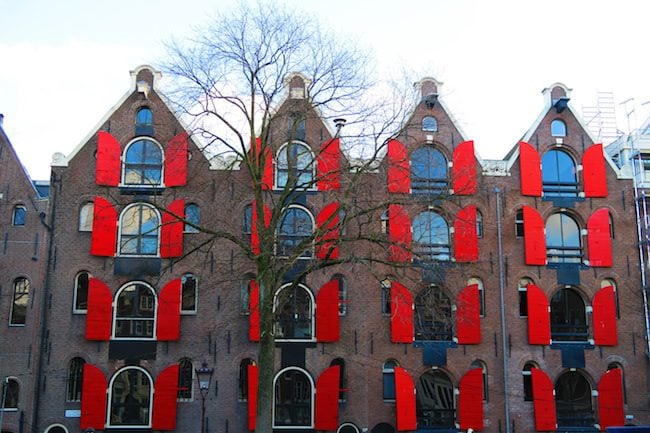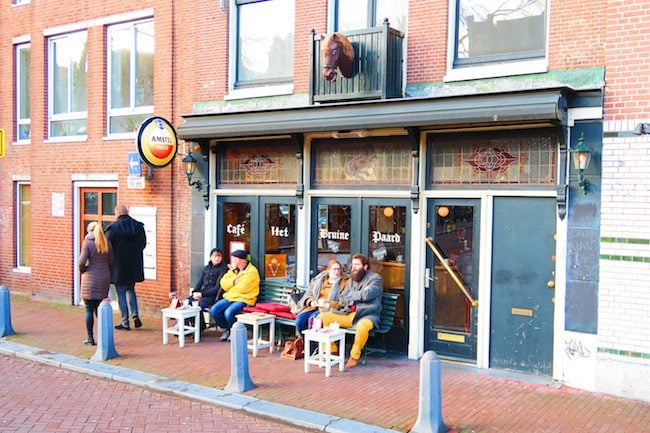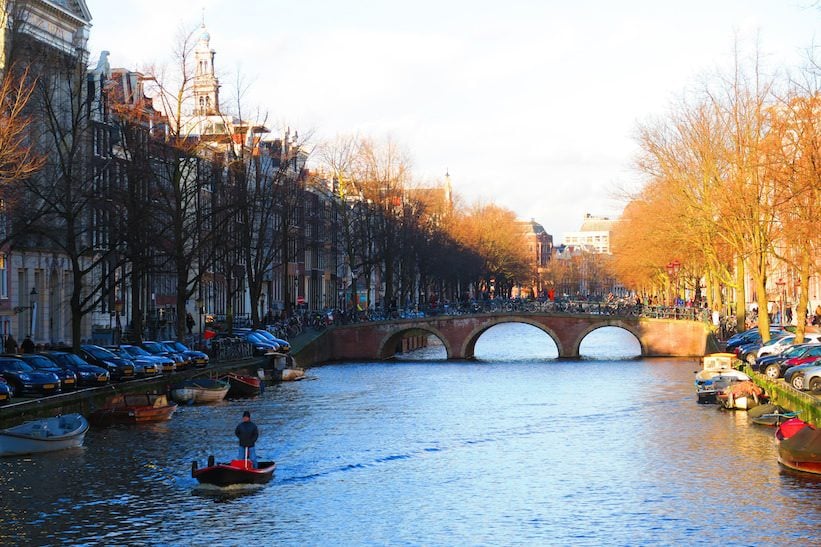 Cheese Lovers Paradise
Eventually, we'll make our way to Runstraat, at the southern end of the Nine Streets, which is filled with specialty shops. First up is geared once again to flower lovers, Gerda's Flowers. You must step inside and see some of the most extravagant and beautiful flower bouquets you'll ever see. It smells wonderful in here and most of the flower arrangements are probably even taller than you.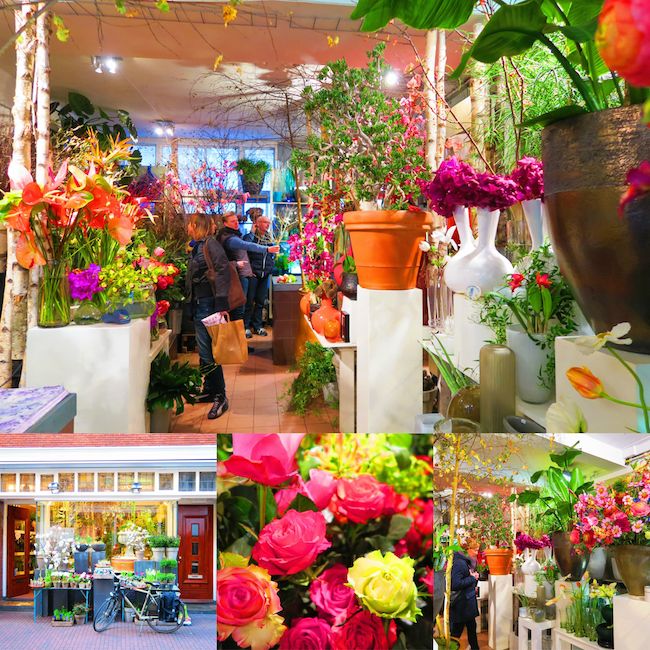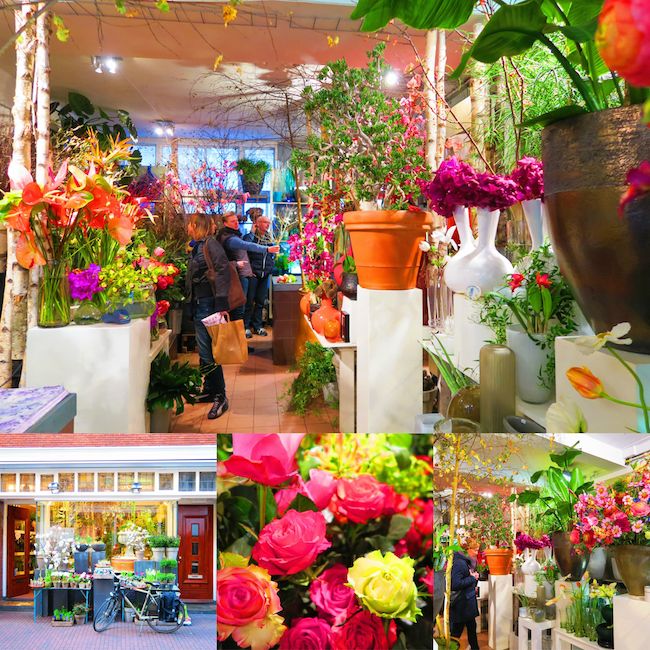 So I think we've got the flower lovers covered with our most recent stops. Now it's time for the foodies (once again). Lucky for you, right across from Gerda's is De Kaaskamer. The scent of cheese will hit you as you step inside and for cheese lovers, you'll think you've made it to heaven. The shop has been around for 15 years selling high-quality cheese mostly sourced from around the country and also from other parts of Europe. It also sells complimentary items like olives, sausages, and wine. The guys who work here know their stuff, some have been in the cheese business for over 30 years!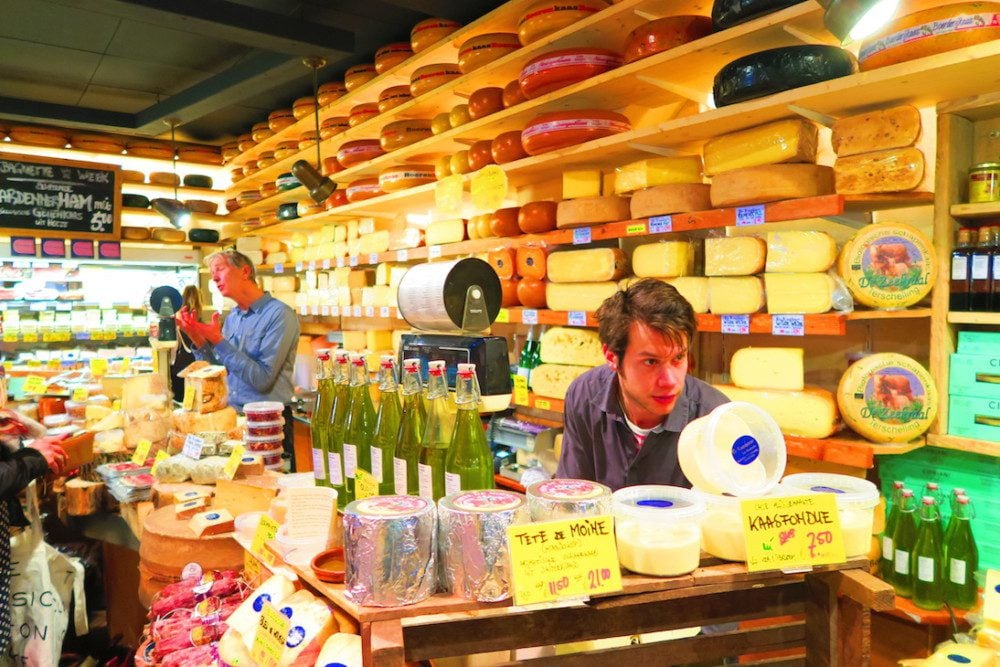 Now that we have some cheese and olives, we need bread to go along with that. Lucky for us, right next door is Bakkerij Paul Annee, known locally as the best place for sourdoughs and whole grain bread. We bought a few rolls and grabbed a bench at the nearest canal for a great improvised urban picnic.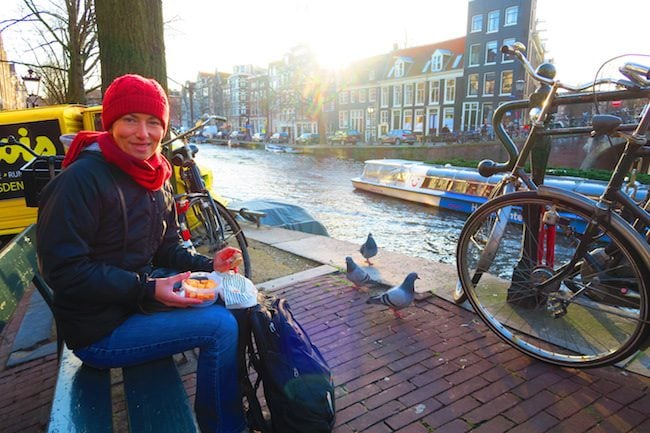 We've nearly reached the end of our sightseeing day but before our last stop, it's time for one last caffeine break. Swing back west and into the Jordaan once again and head to nearby Arnold Cornelis cafe at 78 Elangstarch. It'll be hard to choose between all those fine chocolates, pastries, and cookies but when you do, grab a spot in the cozy seating area upstairs and warn up with a strong cup of coffee.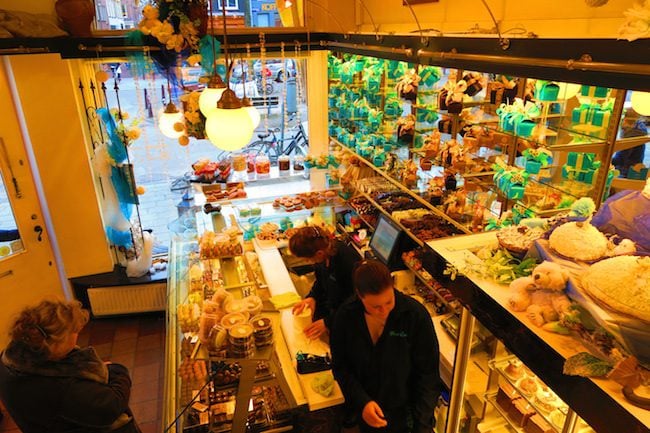 Amsterdam's Best Antique Market
Literally, a two-minute walk and we're at the last sightseeing spot of the day, the De Looier Antique Market. We've catered today for flower lovers and foodies and now it's time for the antique lovers. If you like antiques, you must visit this covered indoor market that's home to dozens of large open booths selling a whole lot of stuff you don't really need. It ranges from 15th century decorated ceramics to paintings, fine crystals, jewelry figurines, and even old Coca Cola and & Route 66 memorabilia. I had a blast wandering around the market and also looking at the serious collectors who come to find a bargain here.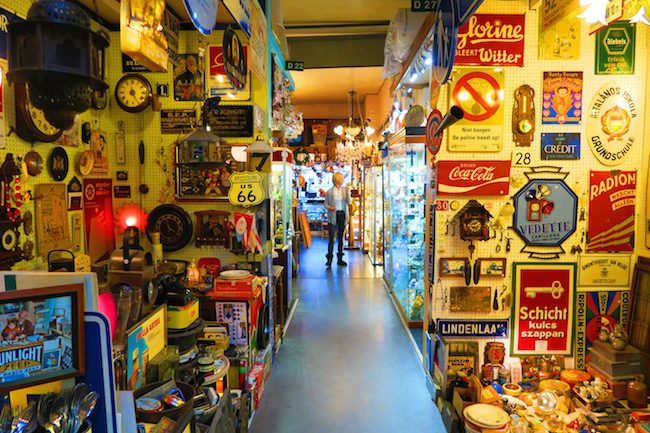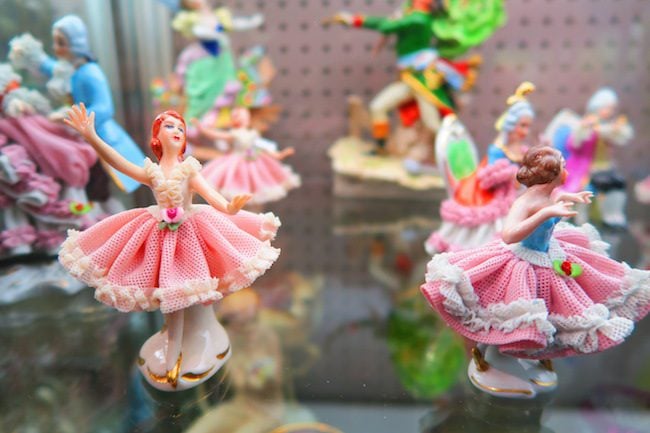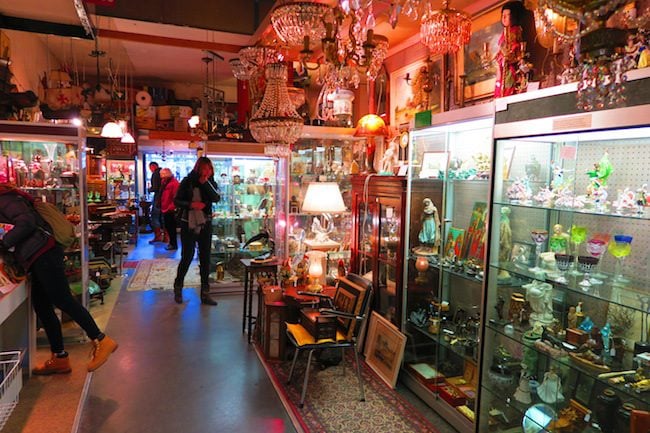 Once again it was around 6 pm and time for another power nap before hitting the streets again on a Saturday night in Amsterdam. Even with all this walking, it was less than a 20-minute walk back to the hotel in Dam Square. Amsterdam is pretty small and made for walking.
Saturday Night in Amsterdam
We made dinner reservations at La Oliva but before that, we went for drinks and appetizers at Gollem Beer Cafe, pretty close to where we had breakfast. This is a super cozy neighborhood bar with loads of Belgian beers to choose from and a few house brews. The place is small and the wooden chairs are on their final breaths but the atmosphere is great. Isabelle also went for a cheese platter (only €7.50) which comes loaded with cheese, Dutch bread, and olive jam.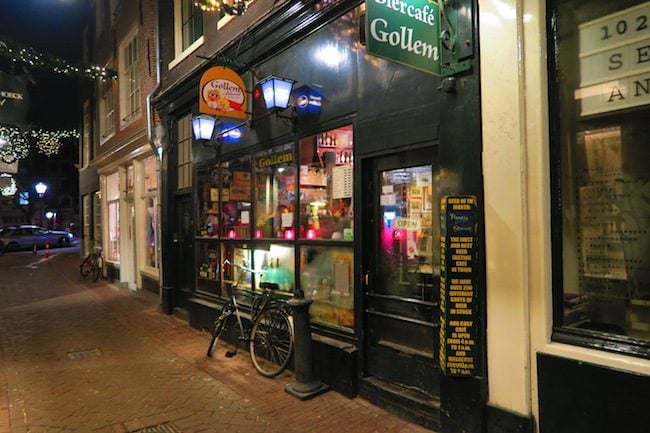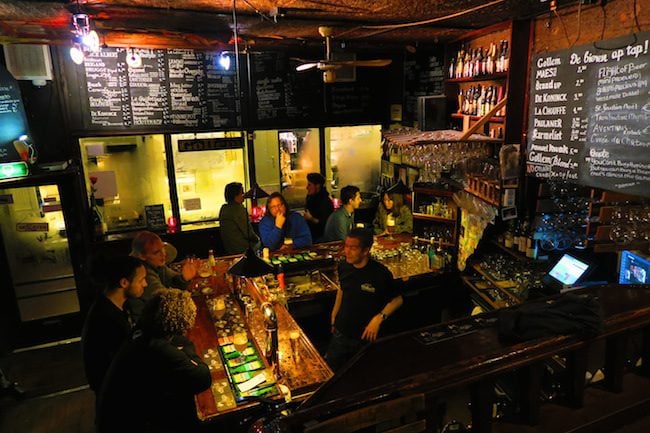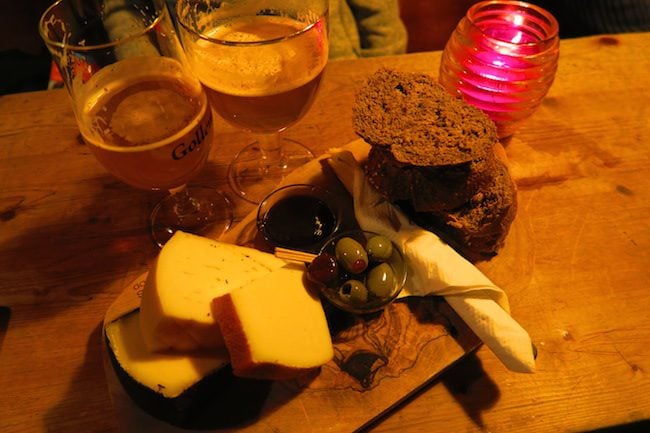 For dinner, we chose La Oliva back in the Jordaan, just a short stroll away. You can choose from a variety of freshly made pintxos, inspired by the Basque kitchen of northern Spain, or choose a la carte as we did. For an appetizer, we went for the salad with caramelized onions, green asparagus, and avocado. For mains, we had the Halibut with cava sauce and Sea Bream with vegetables (about €23 per main). The food was delicious, well prepared and the service was excellent. We couldn't resist topping everything off with that famous dessert from Spain's other self-identifying province – Crema Catalana!
Our action-packed day was coming to a close but not before we were treated to special sights as we walked back to our hotel. Amsterdam by night is just as charming as it is by day so strolling around is highly recommended. The streets are empty, the canals delicately lit and the church bells still ring with that Amsterdam chime.
In very sharp contrast to the tranquility of the canals by night in the western part of the old city, I took this video of the Red Light District on a Saturday night. This is probably the worst time to come here during the week. Aside from the usual weirdos, you'll have to struggle amongst the tourist 'pub crawlers' who are drunkenly led by their guides from one sketchy place to another.
Any Regrets?
The only thing I could recommend on what was nearly a perfect day is to perhaps visit the Anne Frank House on a weekday. We didn't have to wait in line since we booked online but the crowds were big and the house can only comfortably fit so many visitors. It was hard to spend time reading about the various artifacts, let alone seeing the pages from the original diary.