Charming water canals, a liberal vibe and Golden Age history, Europe's 'sin city' is the perfect destination for a city break. Amsterdam is distinctly unique, satisfying all your cravings in one long weekend.
One of the most charming cities in the world, Amsterdam is the perfect destination for a city break. Something of an engineering marvel, Amsterdam is pretty much defined by the web of canals slicing through it. Charming canal houses with their distinct gables seem to be leaning on each other and on the brink of tumbling down to the murky waters; little bridges connect the city's neighborhoods, each with its unique vibe. Amsterdam owes much of its grandeur to the Golden Age, a time when the city was pretty much the capital of Europe and the center of the world.
On a long weekend in Amsterdam, you'll be treated to many guilty pleasures with countless cravings to be satisfied. We've all heard about the liberal atmosphere of Amsterdam (with what's legal here….) and first-time visitors will surely think they've either reached heaven or hell or something in between.


But Europe's 'sin city' has so much to offer, with excellent food, cafes, specialty shops, markets and so much more. Easily explored by foot, nothing is ever too far and you'll have a blast walking along the canals, just watch out for the bicycles that rule this town!
On this 3 days in Amsterdam travel itinerary, I'll try to avoid the hyper touristy stuff but we'll cover some of this as well. I've visited Amsterdam on a few occasions but the itinerary I'm sharing here was mostly comprised of a January couple's visit, though I will augment it with a few summer highlights as well. Either way, I hope this itinerary will help you plan your long weekend in Amsterdam.
There's so much to explore so let's get started.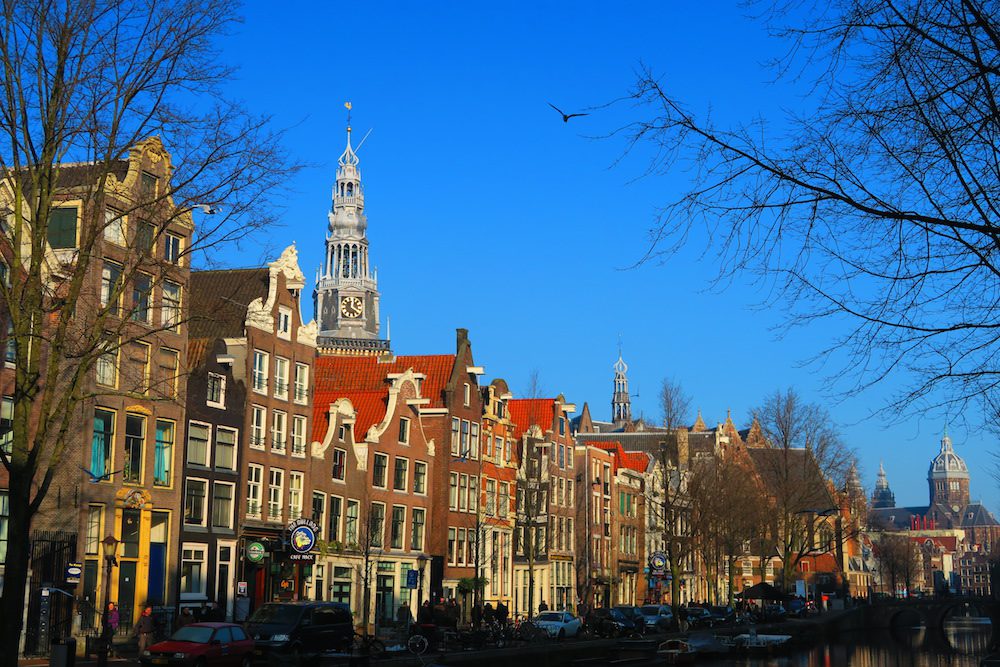 What's Included in this 3 Days in Amsterdam Itinerary?
Amsterdam Travel Tips
Don't leave home without the Pocket Rough Guide To Amsterdam,! It's got loads of information that together with this guide, will be your best friend in Amsterdam.
Browse through this collection of online tickets to Amsterdam's various sites, tours, and experiences. Tickets are immediately issued and delivered by email, and in certain cases, you can also enter via a 'special queue' (a.k.a skip the line). If you plan to combine multiple museum visits, consider getting the I Amsterdam Card which also offers free use of public transportation, canal cruise, and additional perks.
Amsterdam is a city of walking and in the center, nothing is too far. Get your walking shoes ready as it's the best way to explore Amsterdam. Navigating the seemingly similar looking canals can be confusing but it's also part of the fun.
That said, public transportation in Amsterdam is excellent. You can use the metro, buses and those famous streetcars to get around easily. You can buy tickets onboard (exact change not needed) or a GVP Pass in advance, but explore all your options on this official site.
The hotel situation in central Amsterdam, especially in the old center, is not amazing. Hotels are pricey and don't seem to have any incentives to upgrade. Many still use punch cards as room keys and seem to still be stuck in the 1970s. However, it's all about the location so book very well in advance to ensure a decent room and don't expect too much. On the bright side, most include breakfast in the price.
The best way to get from Schiphol Airport to the center of Amsterdam is to take the train. It will cost you €5.10 each way, with trains every 15 minutes. You'll get off at Amsterdam Centraal after a 20-minute ride and you're right in the center of town.
Bicycles rule this town! Be very cautious when crossing from one side of the street to the other. Their numbers can be overwhelming and an abrupt encounter can be painful.
Many shops are closed on Sundays or open very late. Plan accordingly and if there's a special place you want to visit, do check opening times.
Some markets are open throughout the week (like the Flower Market) and some only on Saturdays (like the Noordermarkt farmers market. Plan your trip accordingly.
Since this is more or less a 'family-friendly' travel blog, I'm not going to talk too much about the stuff we all know is legal in Amsterdam. If you do wish to explore this side of Amsterdam, the rule of thumb is simply to extensively empty all pockets before heading home … just in case.
3 Days in Amsterdam Guide Map
All places mentioned in this Amsterdam itinerary can be found on this companion map. Simply click on the image to open in Google Maps.