Great weather, amazing food, tons of history and the magic touch of Gaudi – Barcelona has it all and perfect for a long weekend city break. In this Barcelona itinerary, we'll see how to spend an active three days for those who seek to combine sightseeing with great food and local vibes.
Barcelona is one of those cities you simply have to visit. It's right up there with Paris and Rome and you can visit at any time of the year. Steeped in history and full of life, Barcelona is the capital of Catalunya (Catalonia) with its rich culture, cuisine, and heritage. A thriving metropolis without the big city feel, it's the perfect destination for a long weekend. I traveled here with my girlfriend, Isabelle and spent 3 days in Barcelona during a Valentine's Day weekend in February. I've also visited during the summer, where if the heat doesn't exhaust you, the tens of thousands of tourists will.
Barcelona has been around for centuries and a walk through town is a walk back in time. It's seen its fair share of hardships but also periods of rapid expansion, most notably marked by the Modernista movement – made famous by the likes of Antoni Gaudi.
So don't forget your walking shoes and more importantly, work up a good appetite because the food in Barcelona is amazing. There are so many things to do, see and eat in Barcelona and I hope this 3 days in Barcelona travel itinerary will help you plan your long weekend city break.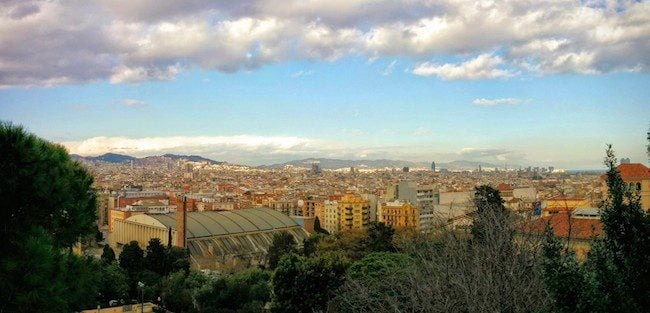 What's Included in this 3 Days in Barcelona Itinerary?
Barcelona Travel Tips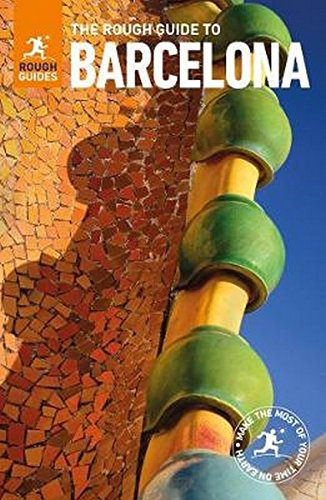 Don't leave without the Rough Guide To Barcelona. It's got loads of photos, restaurant listings and will be your best friend (along with this guide of course).
Barcelona is packed with tourists, year-round. If you want to ensure you see the sights, book tickets in advance online! This will shorten your wait and you'll be designated to a certain visiting hour. If you want to ensure you visit a specific place, at a specific time block – book a few days (at least) in advance.
Barcelona is the capital of Catalunya and believe me, you'll notice this. It's worth noting that the language spoken here is Catalan and not Castilian (the Spanish we all think about). Locals do speak Spanish but signs, menus etc. are all in Catalan.
The city is divided into quarters called 'barris' with the more recent ones built in a neat grid system. Each has its own character and separated from the others by major avenues or landmarks – use this city plan to your advantage and explore a few quarters each day of your visit.
It's easy to get around Barcelona and it doesn't feel like a huge city. It's the perfect destination for a city break. You can easily combine walking with the modern and surprisingly efficient public transportation system, TMB. The city's integrated system of buses and metro will get you anywhere, at a very low price. You can either buy single rides or a card loaded with 10 that can be used on the TMB system with free transfers. It costs only 9.95€ and can be used by multiple people (check out the TMB site)
Barcelona has become synonymous with Antoni Gaudi and this famous architecture has certainly left his mark throughout the city. Be aware of what I call 'the Gaudi tax' throughout Barcelona. You'll have to pay, and usually a lot, to venture inside the famous Gaudi apartments, cathedral and other spots.
Another 'tax' you'll have to deal with is a little bit more unjustifiable in my opinion than the 'Gaudi tax' and that is the admission fee to the hallmark cathedrals in Barcelona. Sure, they're gorgeous and a definite must see but doesn't the church have enough cash? Check opening times before heading out as nearly all major cathedrals have free visiting hours.
Same goes for restaurants (and even tapas bars) – book online in advance, if you can.
Opening times are another anomaly in Barcelona. Aside from many places simply shutting down during August, most shops and markets (as well as some restaurants) will not open on Sundays. Throughout the week, they will likely be open from about 9 am to 1 pm and after a long siesta, open up again in the afternoon.
That said, in Spain, it's perfectly OK to have a late lunch or dinner and even the 'norm'. No need to rush for a 7 o'clock dinner, 9 or even 10 pm will do just fine.
Where To Stay?
A short walk from Placa Universitat is the Hotel Praktik Vinoteca. As you rightly guess from the pictures (and the name, if your Catalan is up to standard), it's all about wine in this cute boutique hotel. The walls are lined with countless wine and cava bottles and the finishing touches are from fine cork. Grab your complimentary glass as you check-in or save it for later.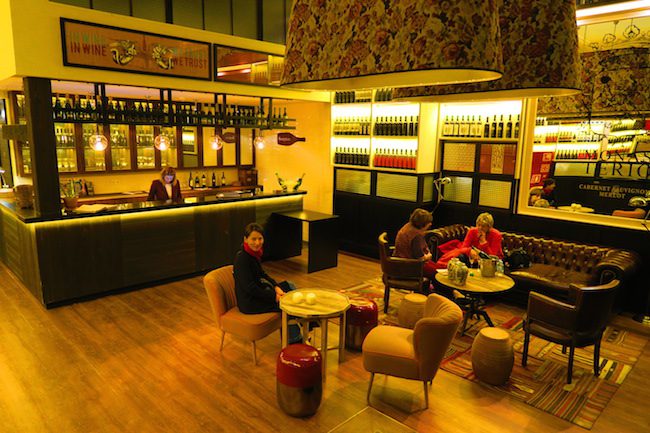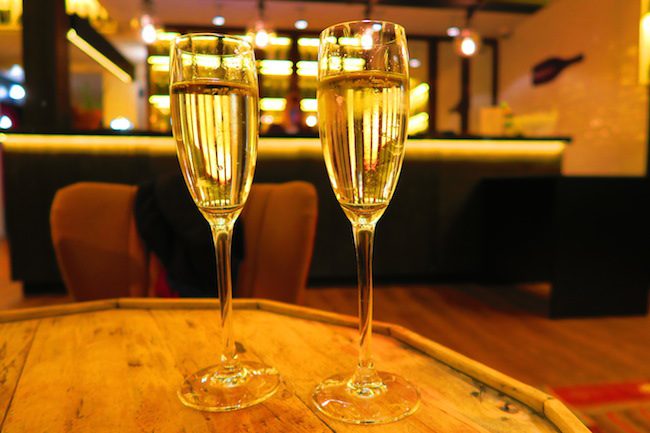 Rooms make the most use of the limited space but are super clean and comfortable. The bathroom and shower are actually part of the hallway but it's all very cutely done and the showerhead is the biggest I've ever seen. There's a safe and good wifi – what more do you need? We paid 200€ for 3 nights in February (breakfast extra if you want at 7€ pp) – what a bargain!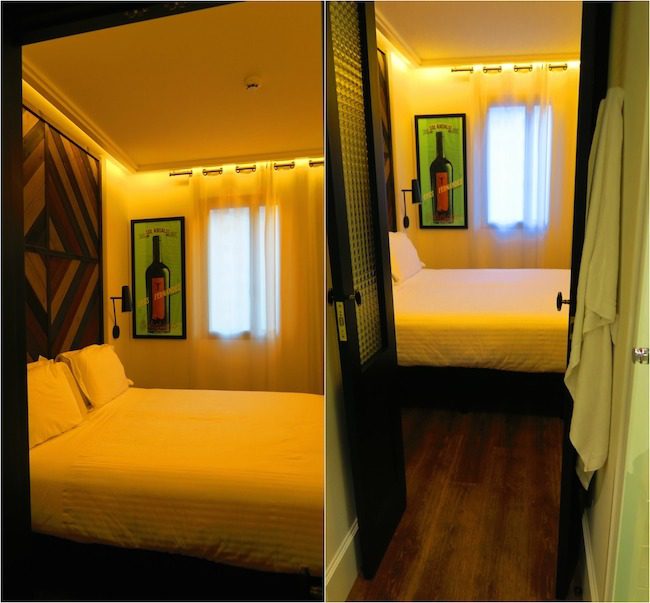 3 Days in Barcelona Itinerary Map
All places mentioned in this Barcelona itinerary can be found on this companion map. Simply click on the map to open in Google Maps
The first day of this Barcelona itinerary is pretty much dedicated to the man who is responsible for some of the city's signature landmarks.
Arrival
We landed at El-Prat airport, Barcelona's major airport which also serves low-cost airlines. Unless you're really fussy for time, there are two ways to get to the city center using public transportation.
One option is to take the Renfe train which departs from Terminal 2 (T2) and drops you off Sants Station but also making stops along the way most notably at Passeig de Gracia, which is super close to Placa de Catalunya. Another option is to take the Aerobus which runs separate lines from each terminal (T1 & T2). You can either pay by card at the machine or buy a ticket directly from the driver. There's wifi on board and the bus will make stops at Placa d'Espanya, Gran Via Urgell, Placa Universitat, and finally Placa de Catalunya. The only catch is that the return leg is non-stop from Placa de Catalunya so it might be convenient to mix both train and bus for each leg, as we did.
Dinner at a Tapas Bar
After checking into the hotel, the clock was showing 10 pm and our stomachs were sending signals of much-needed urgent refills. There's no better time for a Spanish dinner than a post 9 pm dinner. We cabbed our way to Tapeo in the Gothic Quarter, just in front of the Picasso Museum. As most tapas bars go, there's not much room for maneuvering and most of the action happens at the bar.

Tapeo specializes in traditional dishes with a new age twist. We started off with some cava (of course) and then proceeded to sample some Iberian Ham (how can you not)? along with some local cheese, courgette in honey sauce, croquettes filled with something, patatas bravas (the Spanish version of french fries but soooo much better), one Spanish omelet, and delicious bread rubbed with tomato and garlic. And if that wasn't enough, we topped everything off with some Crema Catalana – I told you we were hungry! All that cost 56€, not too bad for two people. There are so many good places to eat in Barcelona and Tapeo is a very good option.
By the way, just across from Tapeo you won't be able to miss El Xampanyet. This small place is loud and packed mostly with locals who might know a thing or two that I didn't. It's worth checking out.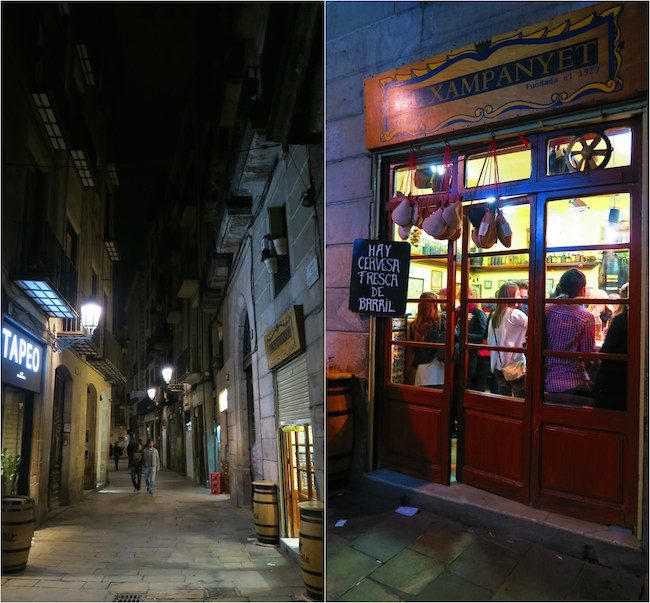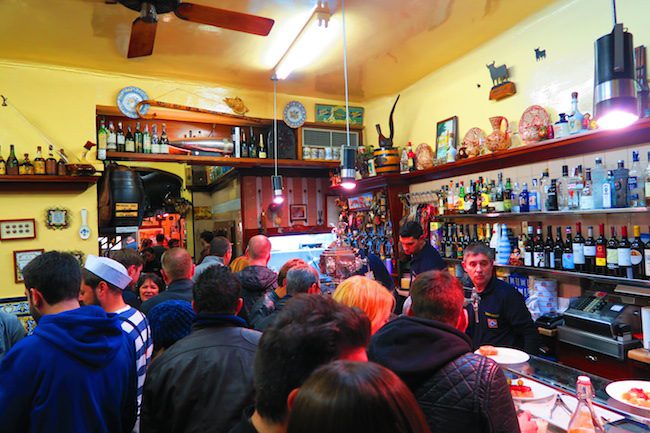 Sagrada Familia
The next morning was really the first of our 3-day long weekend in Barcelona. It was Friday the 13th but luck seemed to be on our side on this super sunny February day. We pre-booked tickets to the Sagrada Familia and grabbed a quick breakfast next to the hotel. If there's one cathedral / Gaudi structure you should visit – it's definitely the Sagrada Familia. This is a 'must see' when visiting Barcelona. Getting there is super easy on the metro from Passeig de Gracia all the way to the Sagrada Familia station – but getting inside is the tricky part. Do yourselves a favor and book tickets in advance. You're certainly not the only ones who know about this place.
Just next to the Passeig de Gracia metro station, there are a few culinary and architectural highlights. It might be the morning but there's no good or bad time in Barcelona to check out some of that famous Jamon Iberico (Iberian ham). At Reserva Ibèrica, they have a wide choice and it's pretty certain you'll get to taste one or two or three types. Just across the street, you'll find Colmado Quilez, one of the oldest grocery shops in town. To say it's a grocery store is quite an insult though and you can see why. You'll find here fine food from across Spain along with a huge selection of wines in the back. They still do it old school here and the folks haven't changed uniforms since the 1930s. If you're not packing for a picnic lunch later today in Park Guell, you'll certainly regret not paying extra for the checked luggage on the flight back home!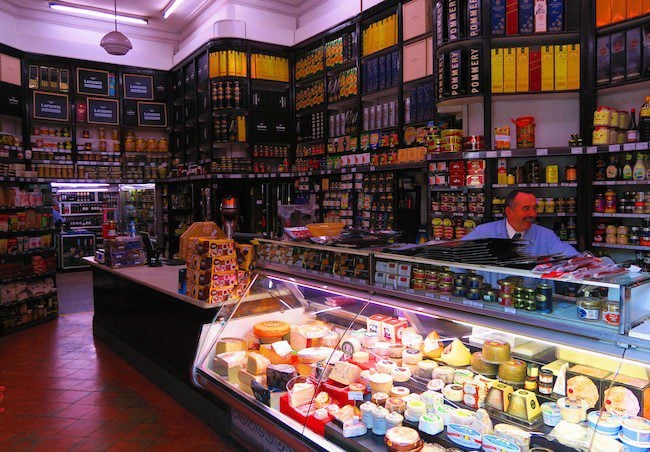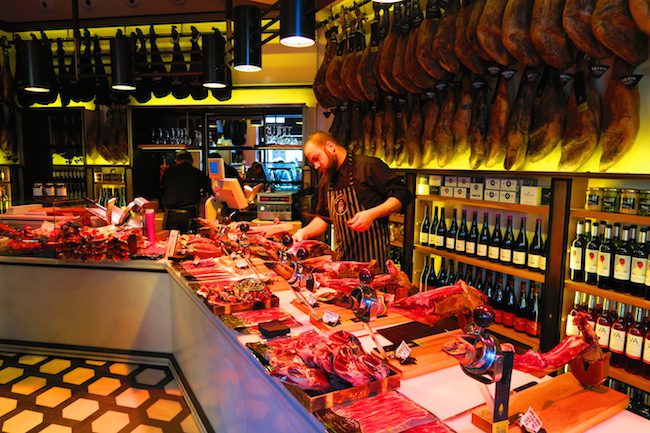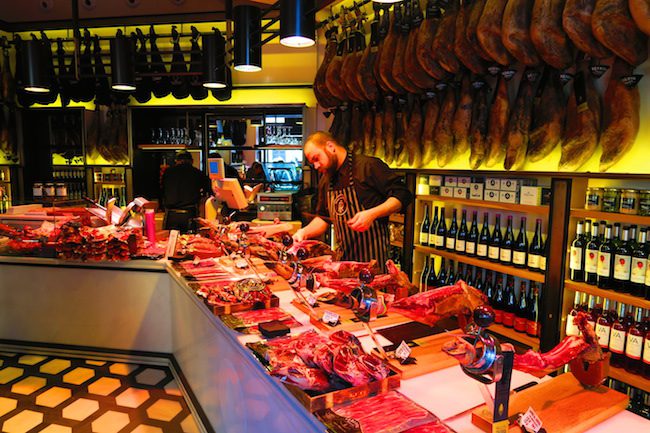 Lastly, look for a building that might seem at first to have had something terribly go bad. It's the Fundació Antoni Tàpies, now a museum dedicated to the famous Catalan painter. Its signature top is a tangled web of glass and aluminum wires.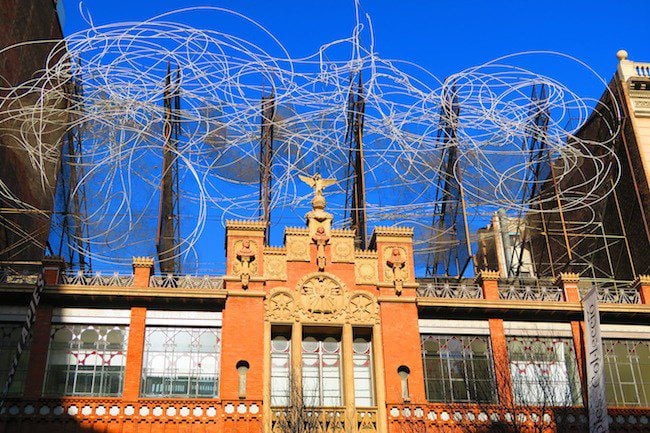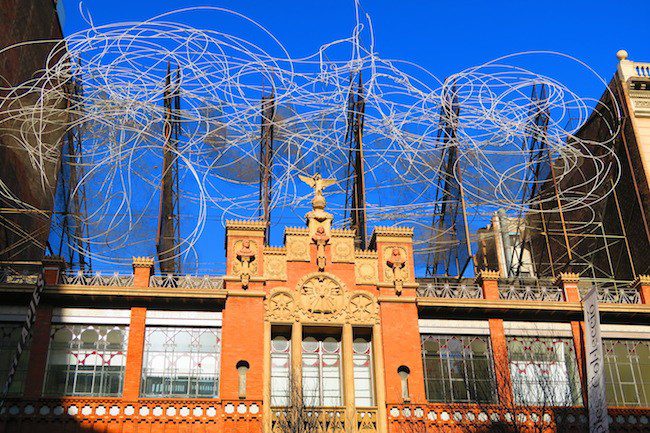 After a short metro ride, we arrived at the Sagrada Familia. The cathedral is open throughout the week and believe me, that's not even enough to accommodate all the visitors. There are different tickets that you can buy, including just the cathedral (15€) or the cathedral plus a visit to one of the towers. Entrance times are divided into different blocks and you'll need to select when you want to enter. If you visit both the cathedral and the towers, you'll have to coordinate two separate entrance times and on a busy day, they may not coincide all too well. This was the case when we visited as slots to visit one of the towers were too far apart from when we could enter the cathedral. That's OK, the cathedral is nice enough and on this sunny day, being outside was just as good – especially when visiting from Dublin, Ireland. If you don't book tickets in advance, expect long queues!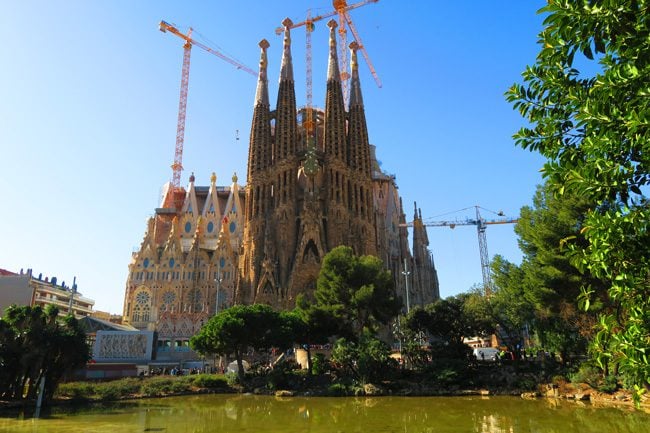 The Sagrada Familia is probably Gaudi's greatest work and certainly, the most famous but construction is still underway, even after well over 100 years in the making. The cathedral is a daring symbol of the Modernista movement (Art Nouveau) and is scheduled to be completed in the next few decades… Gaudi himself took over the failing project in its early days and was only 31 at the time. After his sudden and tragic death in 1926, progress slowed down and the Spanish Civil War didn't help either. Work picked up again in the 1950s and has gone on ever since as you can see.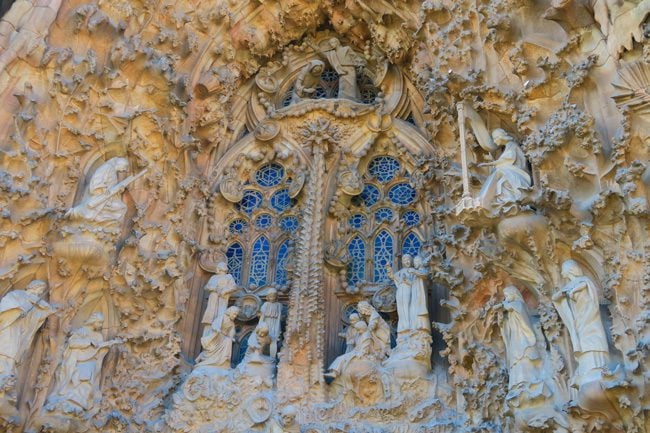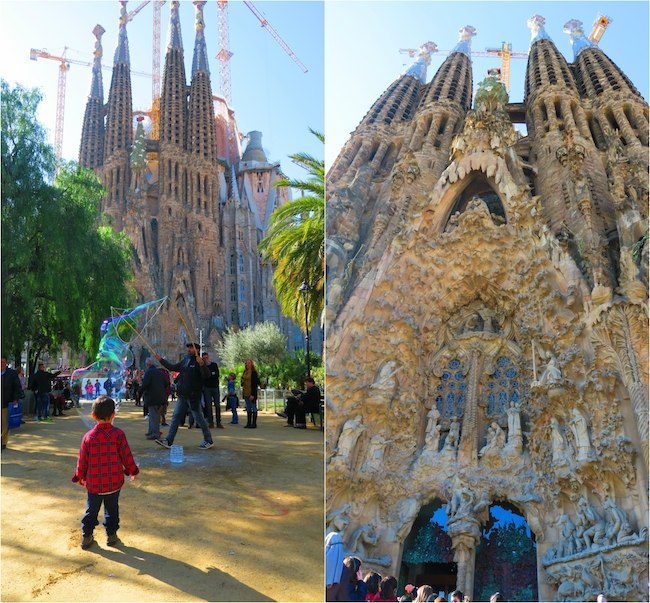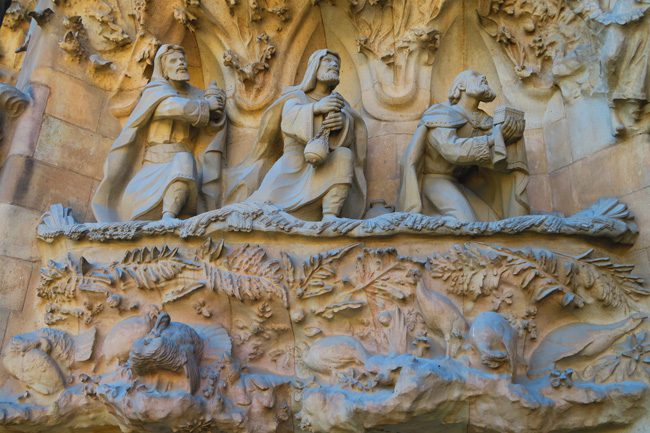 Words cannot describe the beauty and level of detail in this massive Gothic structure so I'll just let the pictures do the talking. Admire it from the outside and take the time to enjoy the interior as there's no other cathedral like this.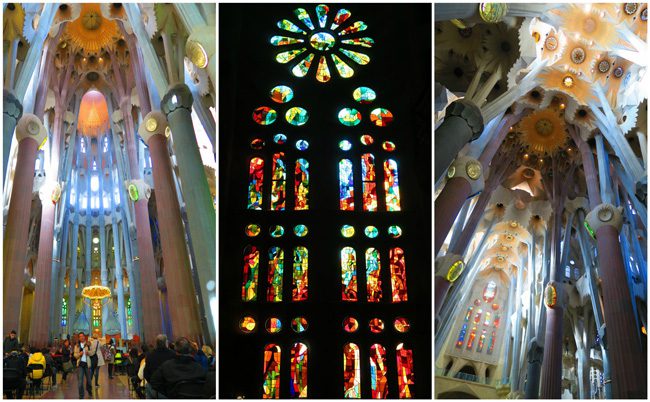 Whether you venture up to one of the towers or not, be sure to make your way down to the museum. Here, you'll uncover the story behind the making of the cathedral along with actual scaled-down models that were used for planning. Have a peek through the glass window into Gaudi's workshop, where engineers are still designing molds and parts, only that 3D printers have replaced the old school tools that Gaudi used. It's amazing how a human being could conceive such a structure.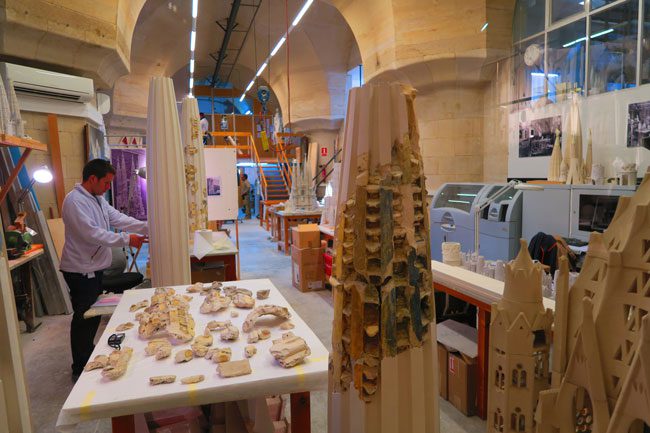 Historic Hospital
When you've had enough of the Sagrada Familia, head towards Hospital de la Santa Creu i Sant Pau along Av. de Gaudi. It's a short walk to the hospital, another beautiful relic of the Modernista days and there's no need to be sick to have an excuse to visit. The pleasant walk along Av. de Gaudi will take you via plenty of cafes and tapas bars. The views back towards the cathedral are worth all the fuss. It's a popular place for locals to catch some sun and a perfect stop for a quick caffeine break.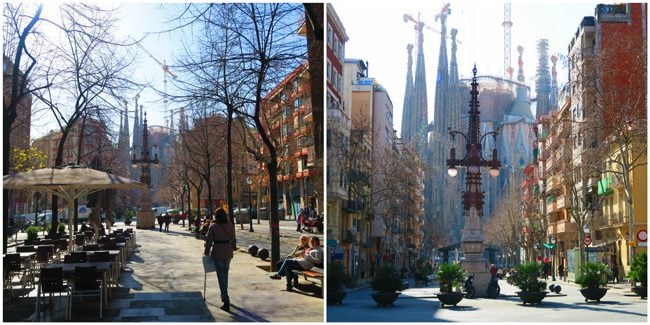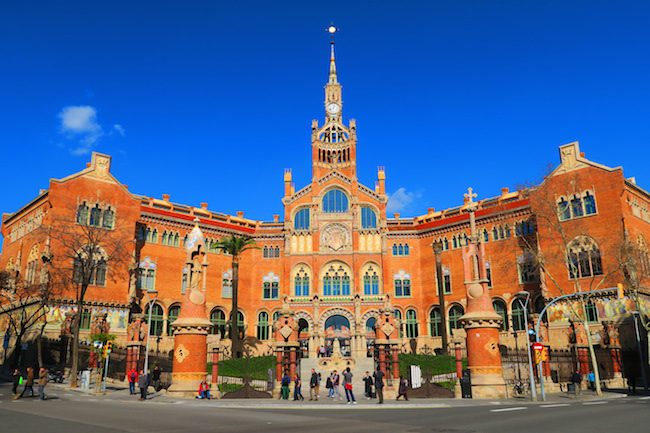 A short pit stop for chocolate lovers will be at Chocofiro, at the top of the avenue just before the hospital. Grab a box and start filling up! They even have a glass-covered floor with chocolates underneath, just like you would find in some excavated buildings with ancient artifacts below. Since our next stop is the park, grabbing some chocolates ain't a bad idea.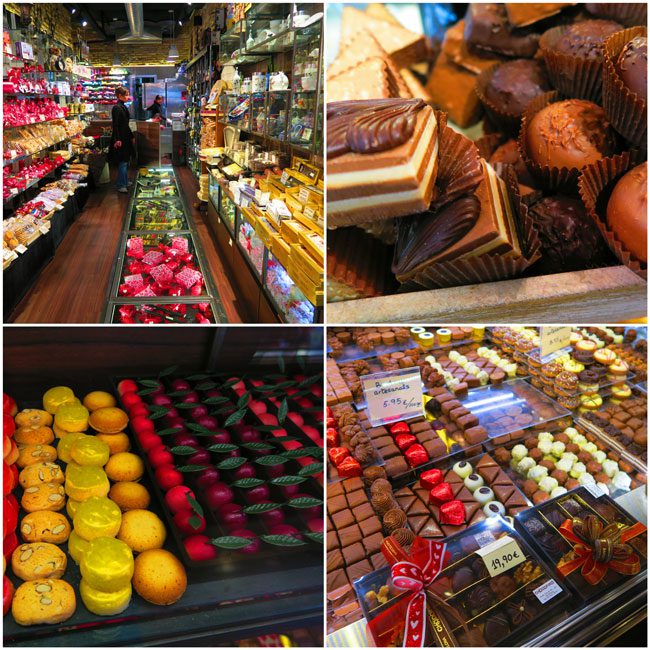 Park Guell
From the hospital, it's wise to catch a taxi and save yourself the long hike up the hill to our next stop, Park Guell. I'll admit it – we did have a few chocolates on the way but we really just couldn't resist!
Park Guell is another 'must see' attraction in Barcelona, not only for the psychedelic work of Gaudi but also for the fine views of the city below and the Mediterranean Sea. The park was the idea of one wealthy Eusebi Guell, who aspired to build a private housing estate for wealthy families in the back-then isolated hills overlooking an expanding Barcelona. Lucky for us, it didn't work out and the park was opened to the public in 1922.
Entrance to the park is technically free of charge but the real highlight is what's known as the Monumental Zone and you'll have to pay 7€ to get inside. The zone includes the famous Grand Terrace, Hall of Columns, and the Dragon Stairway. You can also buy a separate ticket to visit the Gaudi house, where the famous architect spent his time before moving down to the Sagrada Familia. Once again, this place is super popular so to control the crowds, the entrance to the Monumental Zone is by designated blocks of time. It's wise to book online to avoid the disappointment of either not getting in or having to wait. In our case, we had to wait an hour but that was actually a good thing on this sunny day.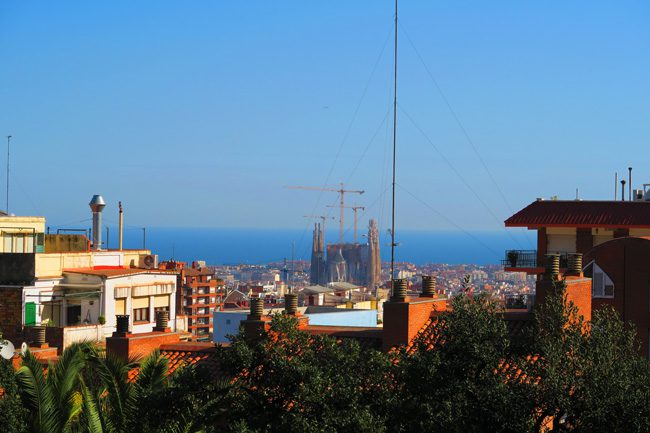 Park Guell has some lovely walking paths and on a sunny day, it's an ideal spot for a picnic. Take the time to explore the park and you'll surely stumble upon a Spanish guitar player or any other relaxing musical act.
After catching a few rays of light, it was our time to enter the Monumental Zone. You'll start off by descending onto the Grand Terrace, with its spiraling ceramic bench and iconic views of Barcelona and the Casa del Guarda. If you can negotiate your way amongst the crowd, this is the ultimate Barcelona photo spot.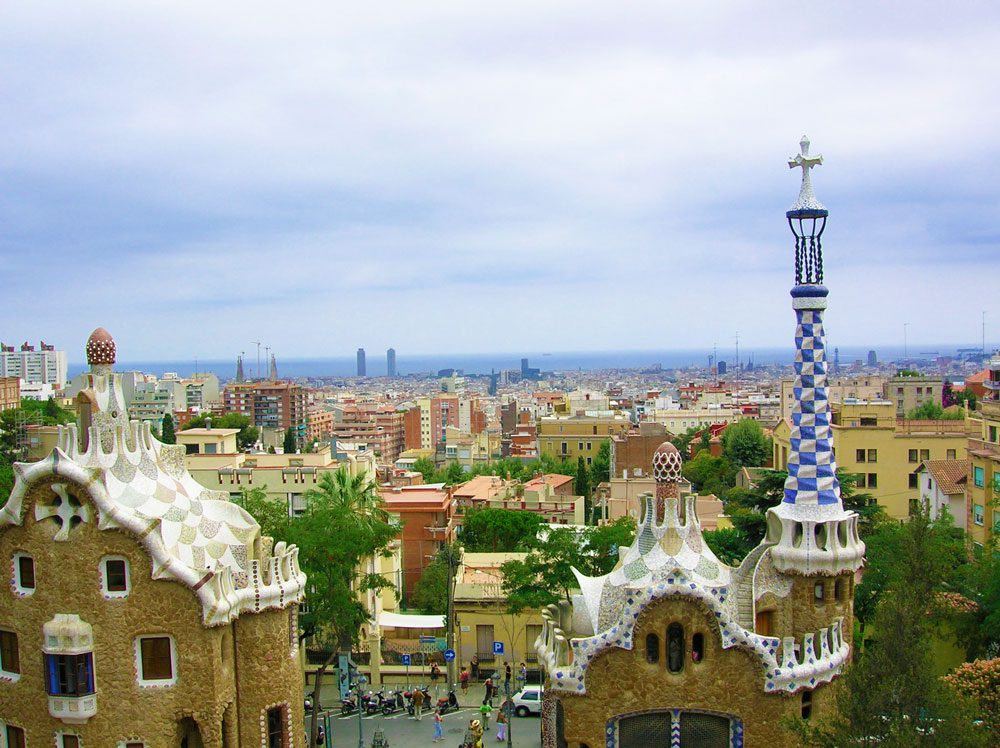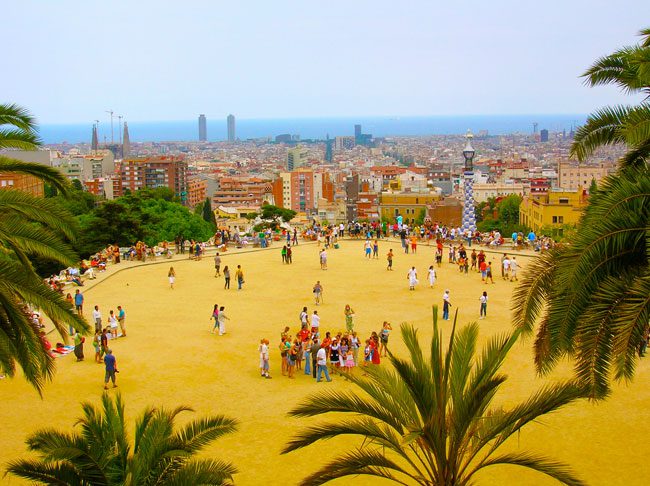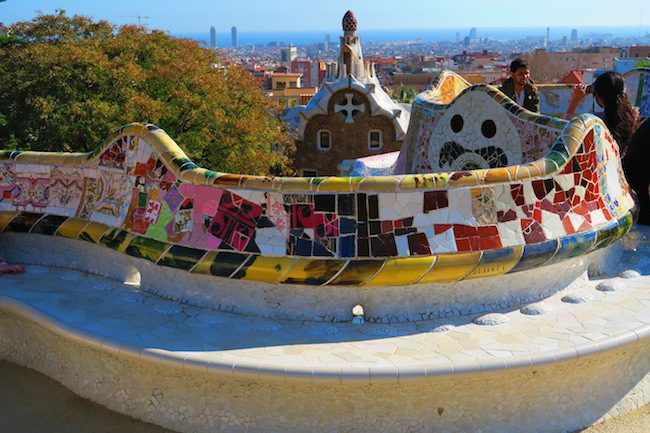 When you've had enough of the views (or the crowds), head down via the Dragon Stairway and into the Hall of Columns that actually supports the terrace above you. The amount of thought that was put into this place can certainly be appreciated from down here.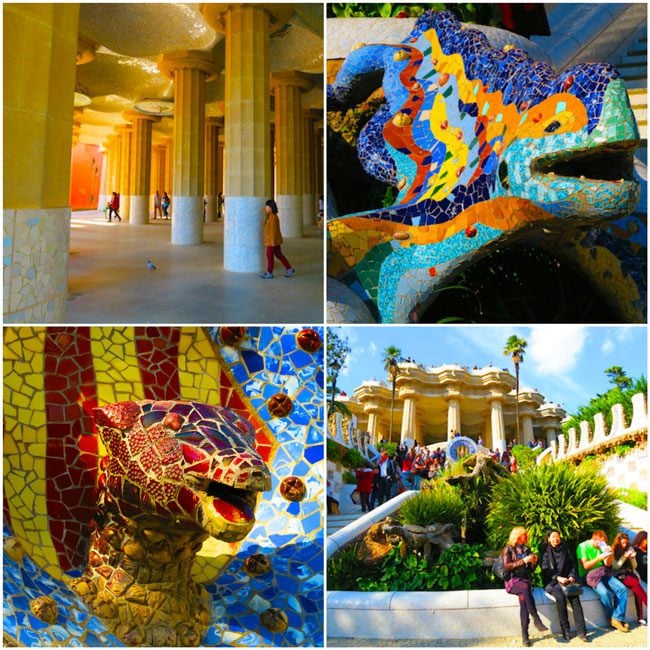 Gracia District
From Park Guell, it makes perfect sense to walk back into town via the Gracia neighborhood. It's about an hour's walk to Passeig de Gracia and there are lots to see (and buy) along the way. Gracia used to be a village on the outskirts of town and it still has a relaxed feel to it. It's fun to stroll along its streets, taking a coffee break in one of its squares or even exploring it by night. It's not a must-do in Barcelona but if you're already in Park Guell, it's worth the visit.
We meant to walk down the hill along a major street but lucky for us, we made a small mistake and wound up in front of an odd sign at Bar Casi. The sign reminded us that it was time for lunch so we took a chance and headed inside what would otherwise look like a very dull place.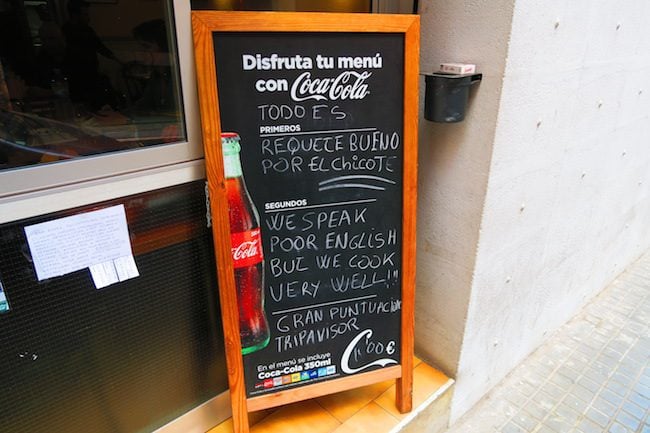 Inside is a real local gem and if you're looking for a good place to eat in Barcelona, just after visiting Park Guell – this is the one. There's nothing fancy about Bar Casi except good simple local Catalan food. It's probably more of a lunch place than dinner and certainly busy with the local crowd. A team of mother and son work the room so don't be surprised to hear "mom – 2 beers over here please!" For 10€, you can get a starter, a main, a drink, and dessert. We had an excellent Russian salad and cauliflower & potato to start things off. For mains, we had a tuna steak with parsley and aioli sauce along with Catalan meatballs. The sauce was delicious but a stick of gum could come in handy afterward. We washed everything down with a couple of cervezas and for dessert had some very simple stuff. Overall, the food is pretty good but extra points are awarded for the authentic atmosphere.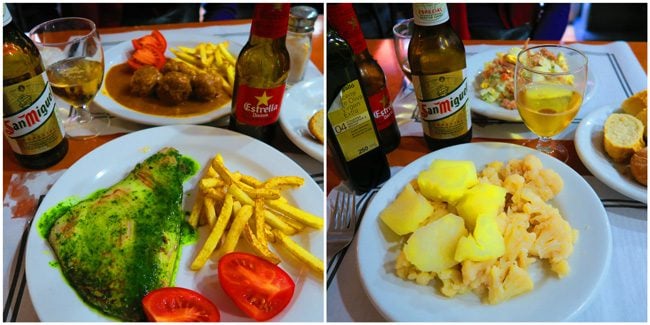 We continued our journey back to the center of town via the charming Plaça de la Virreina, a small square lined with cafes and bars. We were quite full and so continued our journey but couldn't help but notice the countless Catalan flags hanging proudly from the windows. They are certainly uber-patriotic here and if you're wondering why the flags in most photos resemble the Cuban flag – it's because this is the Catalan separatists' version of the flag which is otherwise simply just yellow and red stripes.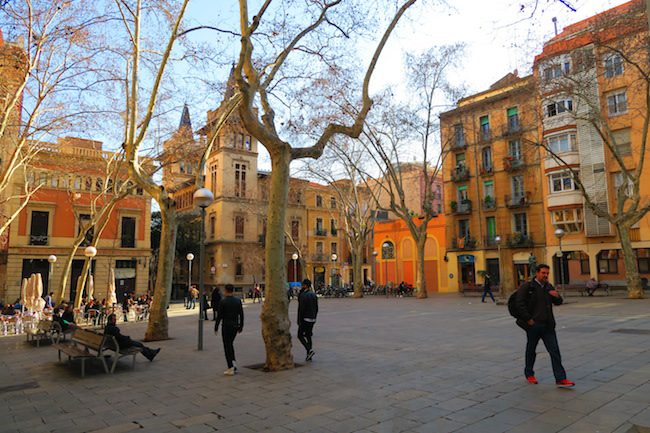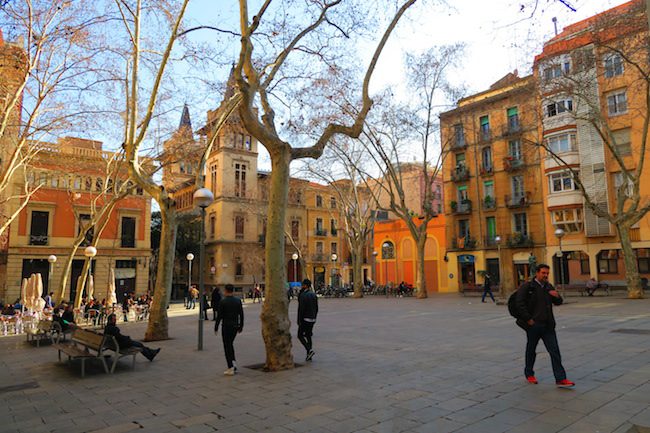 The Hunt for Modernista
Now approaching Av. Diagonal, the city center's main artery, we took a slight detour to catch a glimpse of Casa de les Punxes. We are now pretty much re-entering the Dreta de L'eixample district where most of the worthwhile Modernista buildings can be found. This district was the first major expansion outward from the old town and with this expansion, came a huge appetite to do something really special. Aside from the efficient grid system of streets and dissecting diagonal avenues, Modernista architectures among them Gaudi, created magnificent modern gothic style structures that are the envy of other cities to this day. The first item on our list of top buildings to see in Barcelona was Casa de les Punxes, built in 1903 and known as the 'House of Spikes'.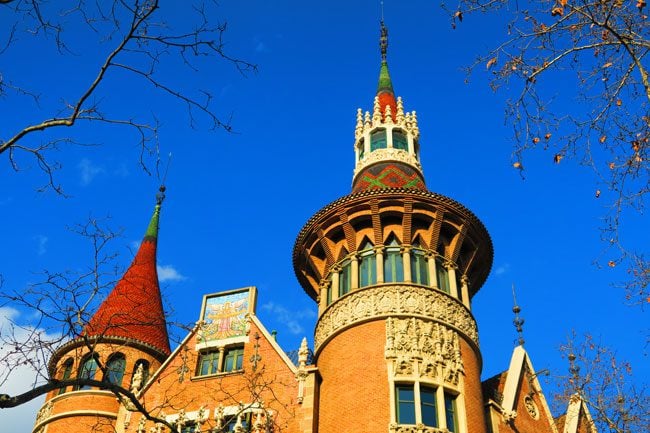 The next stop was at Casa Mila, also known as La Pedrera, super popular with tourists thanks to its rooftop terrace with its strange chimneys and city views. It's actually an apartment building that was completed in 1911 by Gaudi. Aside from the queues, you'll have to pay 20€ to get in with supplementary items you can add. Since we already paid the 'Gaudi tax' at Sagrada Familia and Park Guell, we decided to admire the rest of the Modernista buildings from the outside, which is just fine, and invest the saved cash in good meals.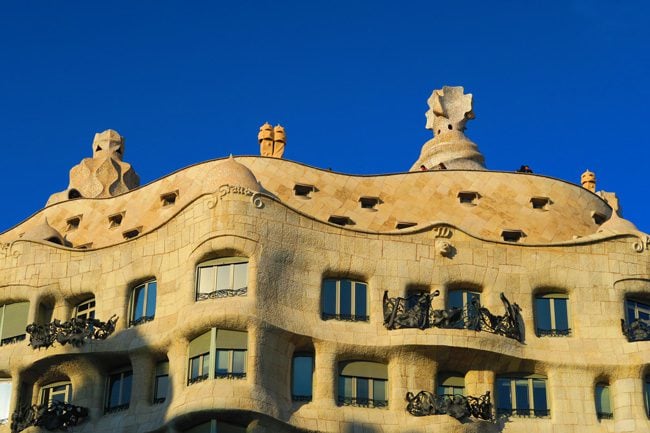 Our last two stops were just a few meters down the road at Casa Batllo and Casa Amatller. These two buildings, right next to each other, are the most beautiful ones and you can see why. Casa Amatller was built for a wealthy chocolate maker by Joseph Cadafalch and Casa Batllo for a wealthy industrialist by Antoni Gaudi in 1907. The facades, especially of Casa Batllo are simply out of this world.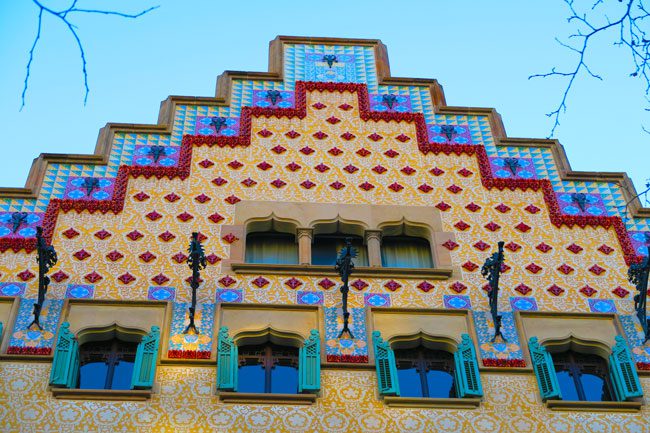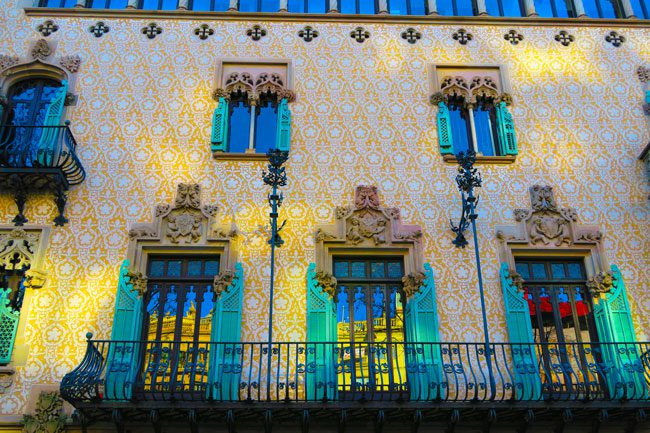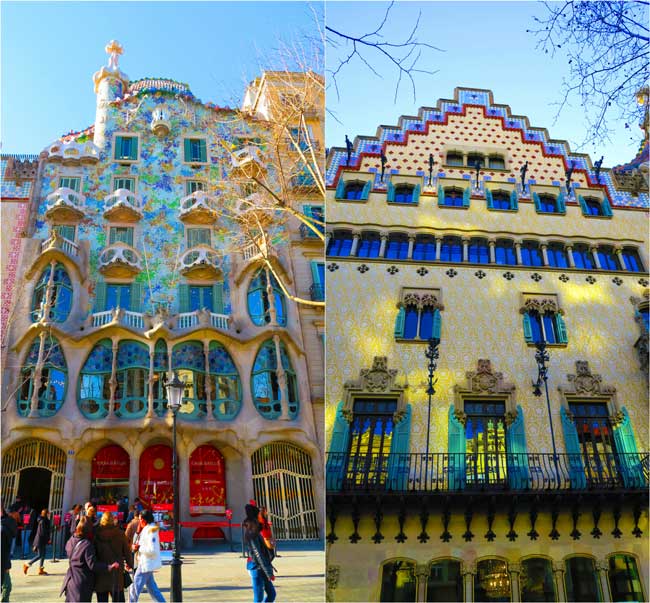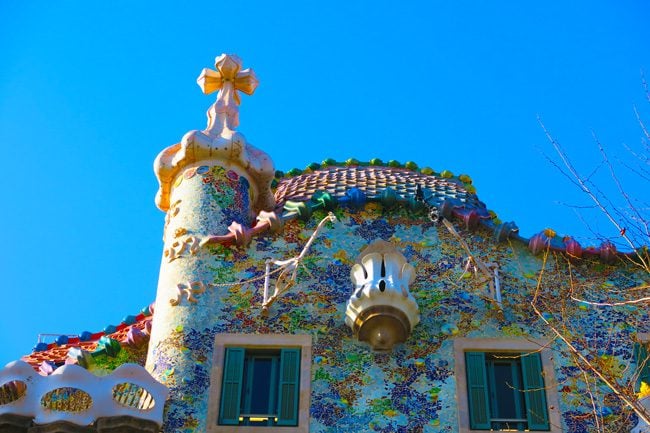 This officially concluded our sightseeing for the first day of our long weekend in Barcelona. Before taking a quick nap, we did some shopping along the main arteries of the district, Passeig de Gracia, and Rambla de Catalunya.
Fancy Dinner
With so many food options, it's really hard to choose the best places to eat in Barcelona. Lucky for you, I did some research and have a few local friends. In the morning, we booked an online dinner for two at Restaurant 7 Portes. Conveniently enough, the V15 bus stops just a few meters away so no need to cab here if you don't want to. This classic restaurant has little changed over the years and serves excellent Catalan food. You're very well taken care of by the staff and if the decor won't take you back in time, the live piano tunes will.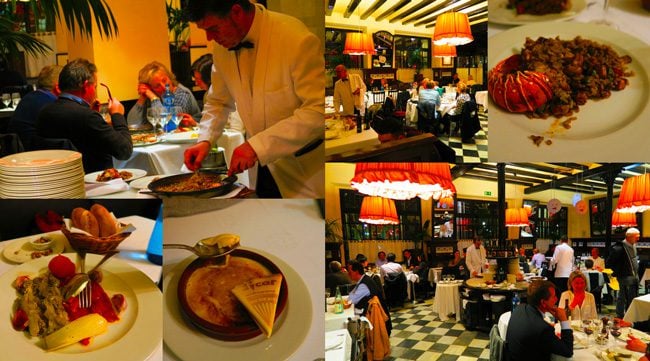 The food is not cheap but definitely worth it if you want to have a romantic dinner in Barcelona (as long as you book in advance). We started with some grilled vegetables and shared a seafood paella, which was simply amazing. For dessert, we were treated to the best crema Catalana around and washed everything down with local wine.
Everyone who is anyone has eaten here and their experience is shared along the walls, right behind you. Even the King of Spain has wined and dined here – so should you!
Barcelona by Night
With the little energy that we had left, we walked back to the hotel via the Gothic Quarter and La Ramblas. This 30-minute walk took us through beautiful narrow lanes, elegantly lit cathedrals, and the Passeig del Born, where you'll find the best bars in town. Barcelonians love to eat out and the city is full of life, even at night.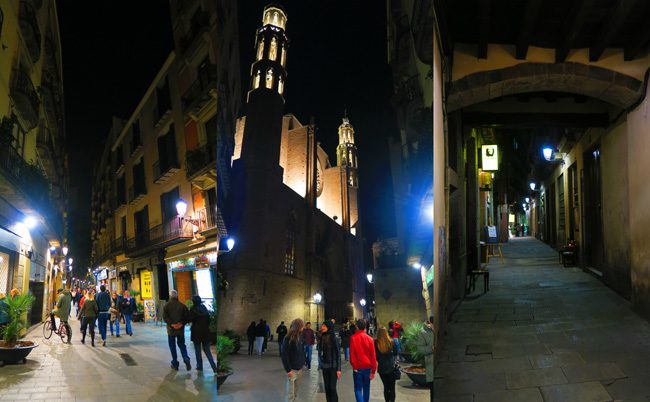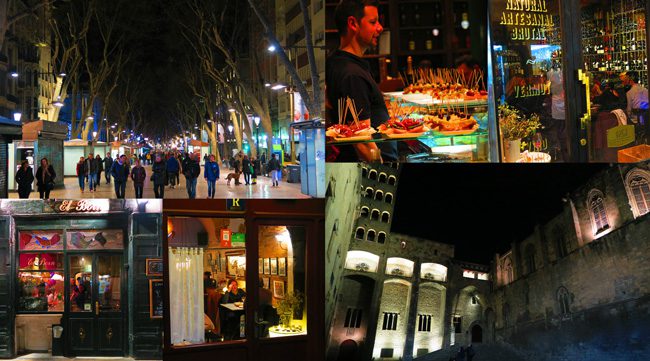 Any Regrets?
Had we booked more in advance, we would have been able to venture up one of the towers of the Sagrada Familia to see it up close and catch great views of the town.
Not that we didn't enjoy lunch but on such a sunny day, a picnic in Park Guell sounds like a good idea. You can stock up on some of your local favorites at Colmado Quilez before heading out.
I'm not gonna lie, it would have been nice to check out one of the Gaudi buildings from the inside, just for the sake of it. However, it's so damn expensive so decide for yourself.
Day 2: The Ramblas, Food Market, Gothic Quarter, La Ribera & Sant Pere
Brace yourself for a full day of walking so put your comfy shoes on. We'll explore the heart of Barcelona and reward ourselves with dinner at the best tapas bar in Barcelona
Barcelona's Most Famous Street
There's nothing too impressive about Placa de Catalunya. It's a large gathering area and pretty much marks the spot where the old city ends and the new city, to the north, begins. It also sits right at the top of the Rambla, the most famous avenue in Barcelona. No visitor can come to Barcelona and not walk down La Rambla. A busy stretch where pedestrians definitely rule the avenue, La Rambla is a wide and long tree-lined avenue heading from Placa de Catalunya all the way to the port. Filled with souvenir shops, flower stalls and street acts, it's also the gateway to our first major destination – Mercat de la Boqueria. Here's what it looks like during a Saturday winter morning.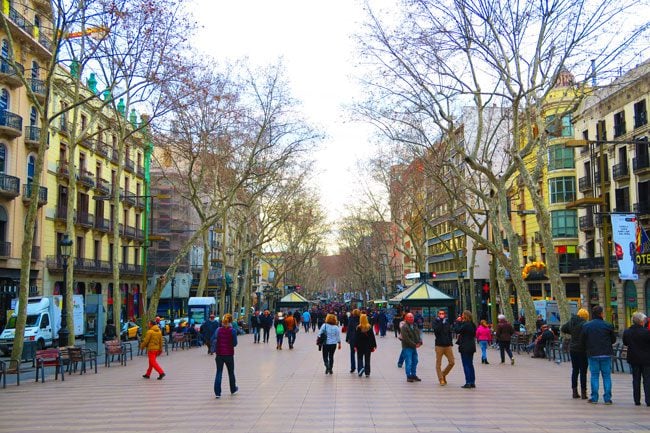 The first point of interest in La Rambla is Teatre Poliorama. Built in 1863 as the Royal Academy of Arts & Sciences, it was badly damaged in the Civil War and restored in 1985. Just one block further down is Esglesia de Betlem, built in 1681 and even more badly damaged during the war. There's nothing fancy inside but the exterior stonework is quite impressive and worth a quick stop.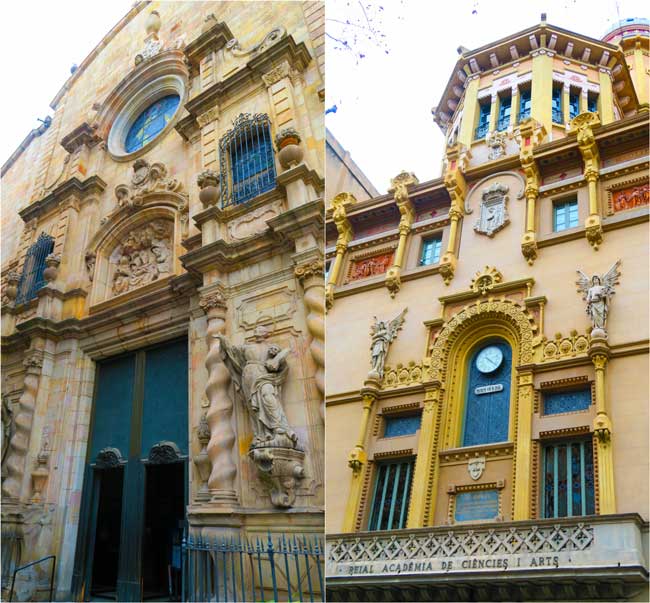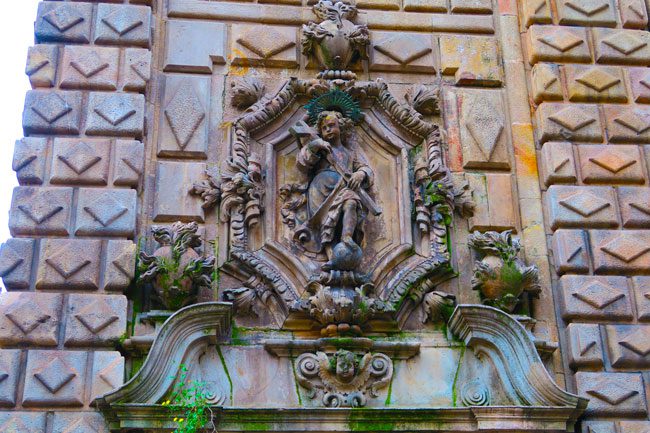 Boqueria Market
The first main stop on this day is arguably the best part of our long weekend in Barcelona. We're still debating over this. There's no way you can miss the entrance to Mercat de la Boqueria, which many regard as the best market in all of Spain.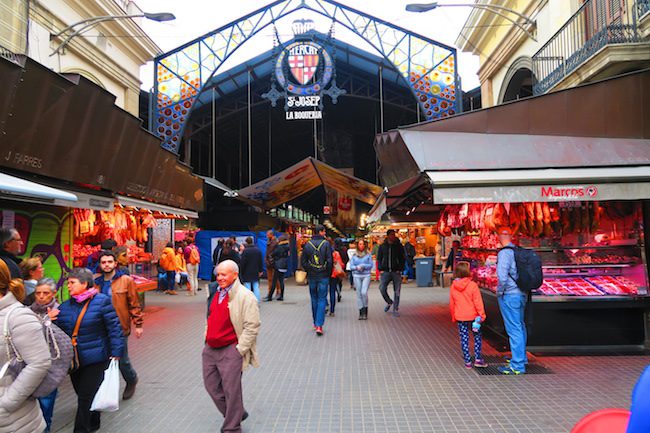 We've been to a Spanish market or two on our travels thus far, quite a few on our Mallorca holiday and also in Seville – but this one definitely trumps them all. It's been a Mecca for local shoppers since the mid-1800s and you'll find here EVERYTHING that is edible. Let's start off by visiting the fruits, vegetables, and meat sections of the market.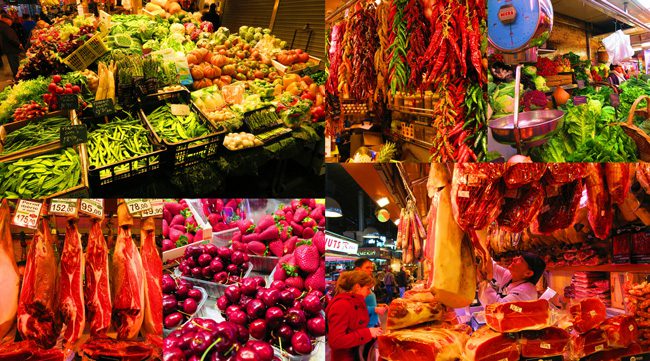 The real highlight for us was the seafood section. Honestly, I have never seen such a selection of seafood in my entire life, and it's all so fresh (maybe because some of the seafood is kept alive). I'm not just talking about the usual salmon and sardines – but check out the lobsters, shrimps in all colors, crabs, red tuna, and a whole lot of scary-looking stuff I still have nightmares about. Let's check out the seafood section.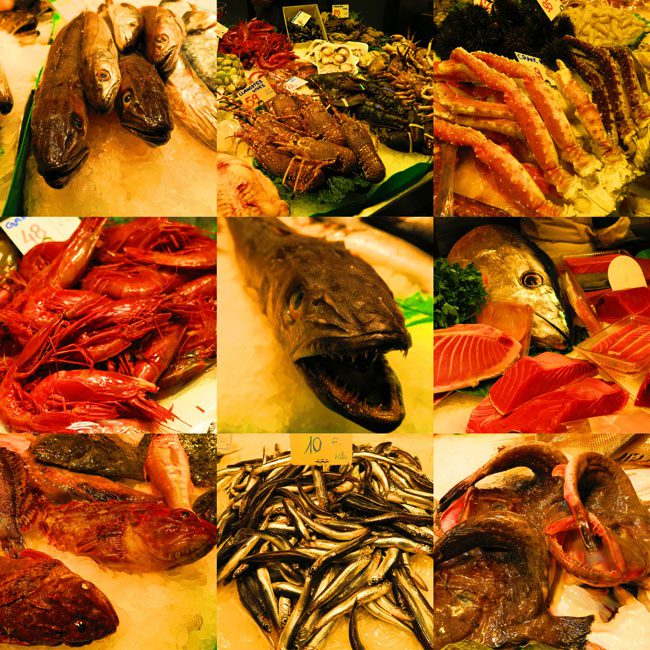 Aside from walking around, there are a few notable stops. Be sure to stop by Petras, all the way at the end of the market, which has an enormous selection of mushrooms. Also worth a stop is Frutas y Verduras Jesus y Carmen closer to the entrance. It's been around since 1864 and you'll recognize this colorful stall by loads of chilies hanging around.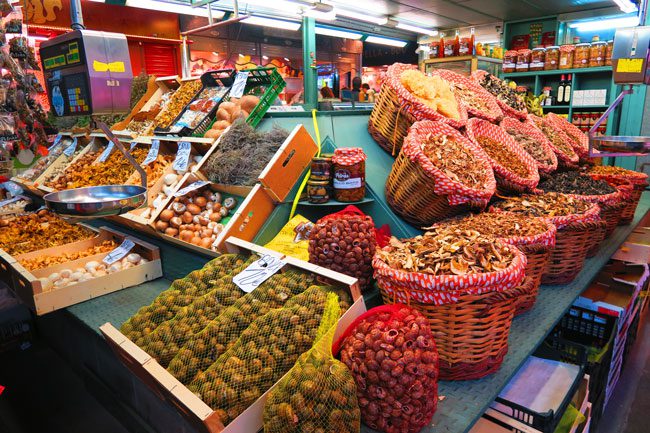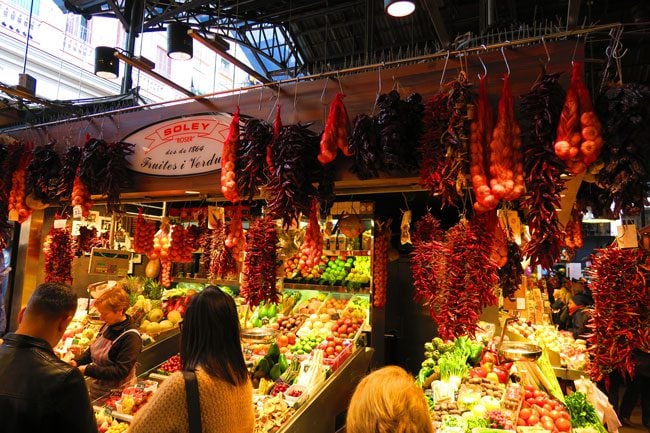 All this fresh produce will make you hungry and if you listened to my tip and didn't have a large breakfast – now is the time to reward you. Lucky for us, there are excellent places to eat in Barcelona's market, all geared towards shoppers looking for a quick bite. If you get thirsty – try and avoid the ubiquitous juice stalls as they weren't that good. You're better off going for a cerveza anyway!
Lunch in the Boqueria Market
The first and more expensive option is Bar Central, located somewhere in the meat section. It seems they specialize more in seafood and the place was certainly packed.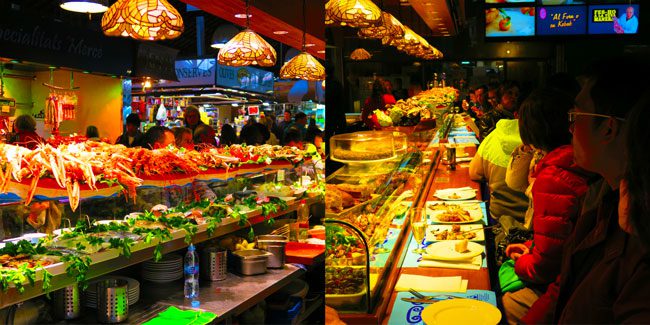 Also looking sharp is Bar Clemen's, which has all your favorites, like Spanish omelet, but also fresh seafood like massive oysters, shells, and one scary-looking octopus.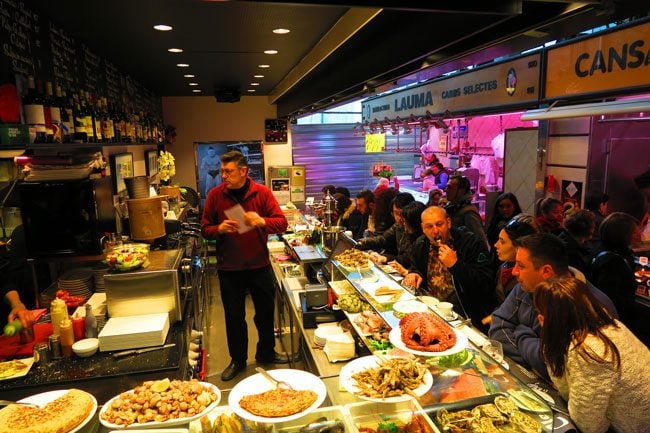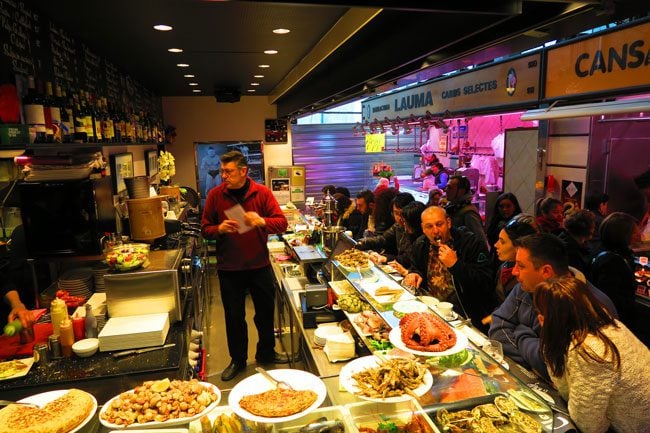 An even better option is Bar Pinotxo, which is a little harder to find but ever so authentic! Grab a seat at the bar, if you're lucky, and hear the day's menu. Isabelle went for a breakfast theme, with a delicious custard-filled pastry to go along with a cafe cortado and I went for a spicy chickpea salad which really hit the spot.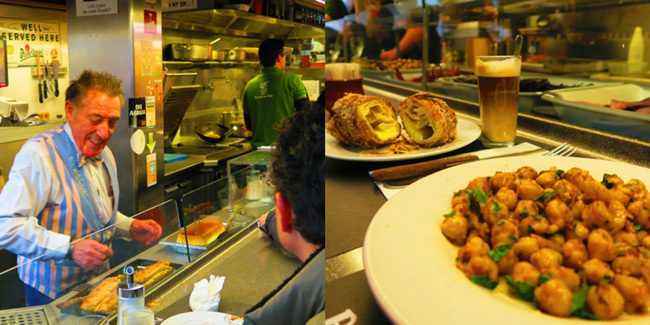 If you think we're done, think again! Just as you exit the market, you'll find Escriba, considered to be one of the best bakeries in Barcelona. Curious looking from the outside, it gets even better inside, with delicious pastries and decorated cakes galore. They even had a few interesting selections for Valentine's Day.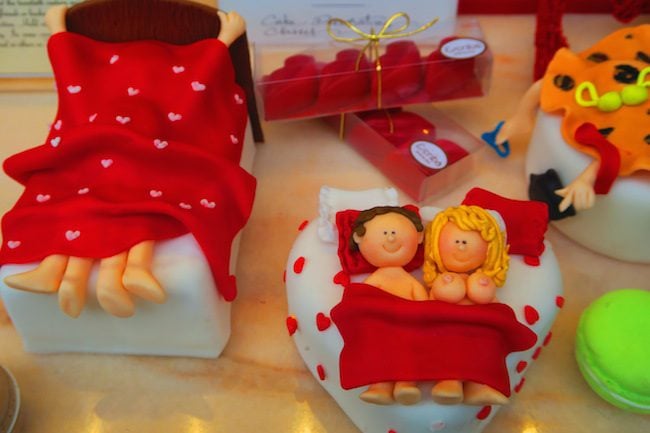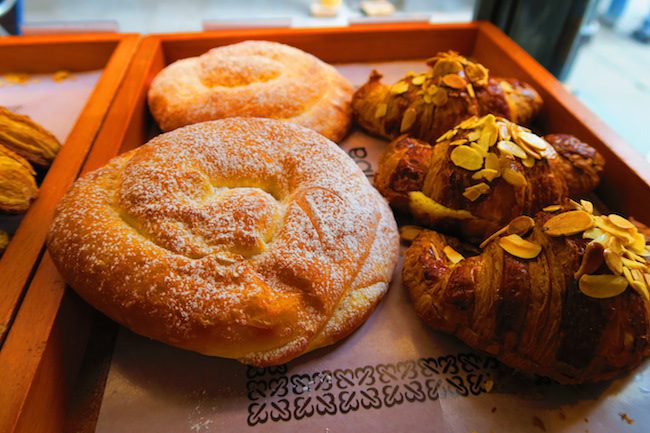 A few blocks down the road at Carrer de Ferran, you'll find the Gran Teatre del Liceu, Barcelona's long-time opera house. The interior is said to be impressive but we'll just grab a look from the outside. It also marks the spot where we'll veer east into the Gothic Quarter (Barri Gotic). The section of the Ramblas from Carrer de Ferran all the way to the Christopher Columbus monument (Colom) is a bit more rundown. It makes sense at this point, if you have a packed day, to detour and explore Old Barcelona.
Exploring Barcelona's Gothic Quarter
Walking through the Gothic Quarter is one of the things you must do in Barcelona and I don't think there's any visitor who doesn't come here. Narrow alleys meander their way into cute squares (placas), home to ancient Roman ruins, 14th-century Gothic cathedrals, cafes, restaurants, and boutiques (we'll explore the best ones so don't worry).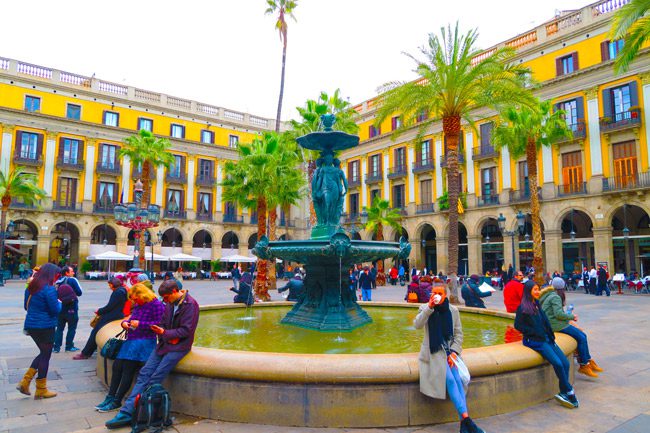 Since we're already so close, we'll start things off with a visit to Placa Reial. Built in classic Italian style in 1850, I can definitely see this square being super popular on a sunny day. Right next door, you'll find Herbolari del Rei. It's been mixing herbs since 1818 and is super cool inside. Feeling a bit stressed? Tired? Don't be shy and ask the staff. They know a thing or two about natural herbs and they'll whisk you tailor-made mix for whatever you need. I bought some natural tea to reduce stress – why not?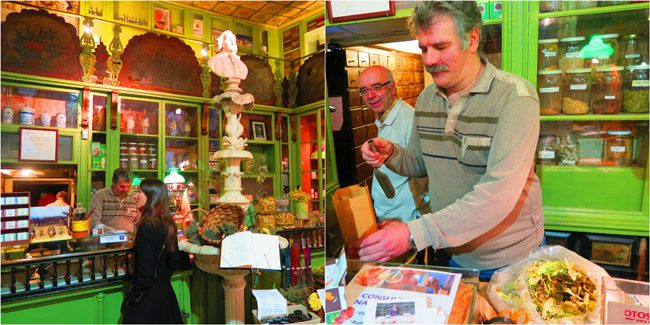 Next up was Placa de Sant Jaume which used to house a major market back in the day. For a while now, it's been home to Barcelona's impressive city hall on one end and the Palau de la Generalitat on the other – home to the Catalan government. Both are meant to be gorgeous on the inside but very hard to get into so check online. Either way, you'll pass here on your way to our next stop – the Barcelona Cathedral.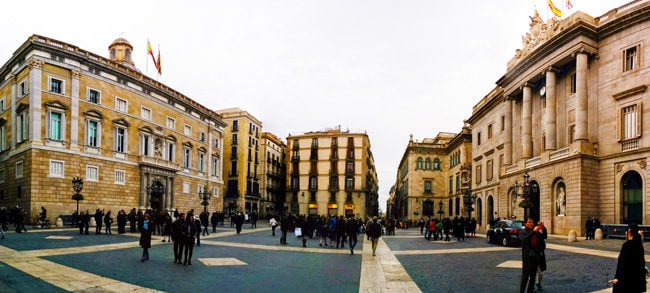 As you take a left from Placa de Sant Jaume towards the cathedral, you can't miss the famous Gothic bridge that appears in many Barcelona photos – the Bridge of Sighs. It was actually added in the 1920s so pretty new by Barcelona standards. But if you can't tell the difference, it means the architects sure did a good job to blend the bridge with its surrounding. It's also a popular spot for Spanish guitar players, something you'll find throughout the Gothic Quarter – but can never get enough of.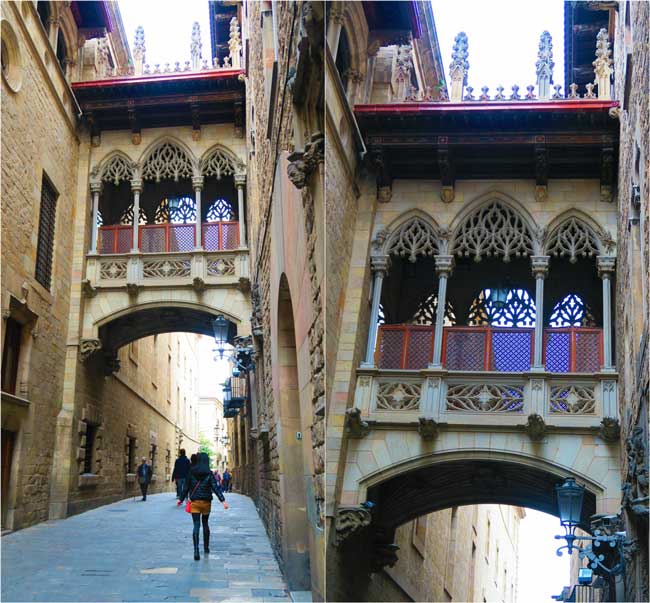 The Barcelona Cathedral
Rivaled by the uptown Sagrada Familia, the Barcelona Cathedral is impressive, considering it was completed in the 15th century. Even in a crowded Barri Gothic, you can still catch a glimpse of its towers from most areas. The site itself holds the remains of Santa Eulalia and her remains are kept in a crypt beneath the altar. There are free admission times to the cathedral so check in advance, otherwise, you'll need to pay a small entrance fee. The wood and stonework inside are exquisite and also be sure to check out the massive organ. You should also visit the famous cloister (enclosed courtyard) which is a real oasis in the heart of Barcelona. The cloister has been home to a pack of geese for hundreds of years and they sure grab a lot of attention. The Barcelona Cathedral definitely rivals the Palma Cathedral in Mallorca and I'm personally a sucker for old European cathedrals!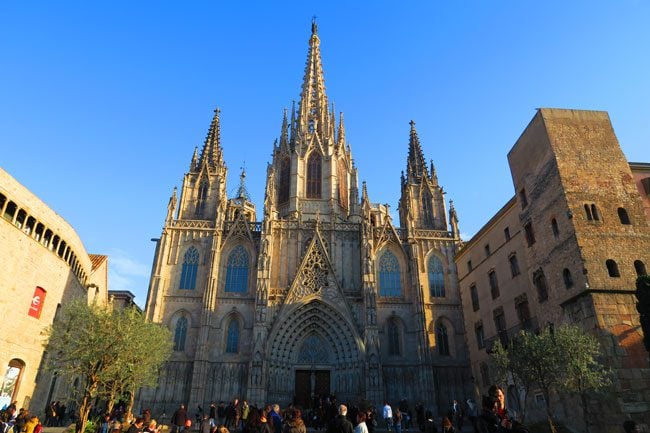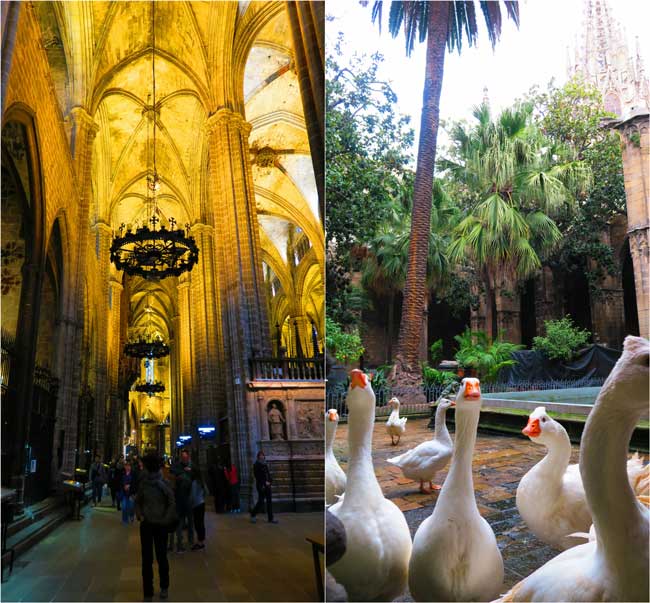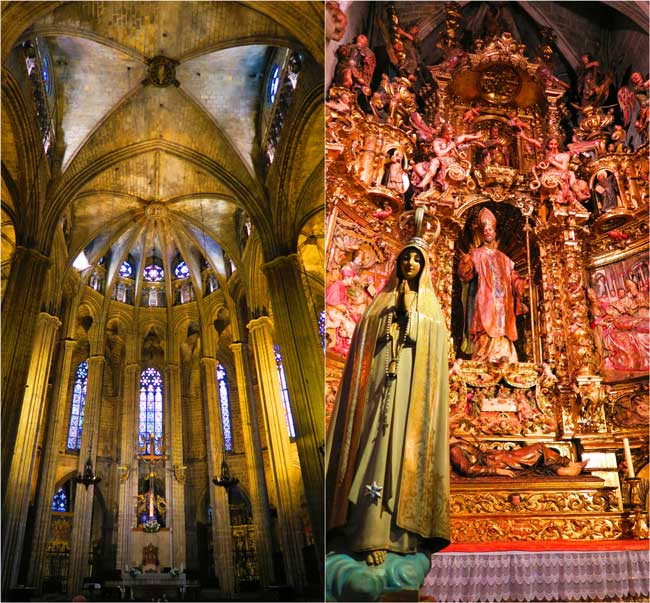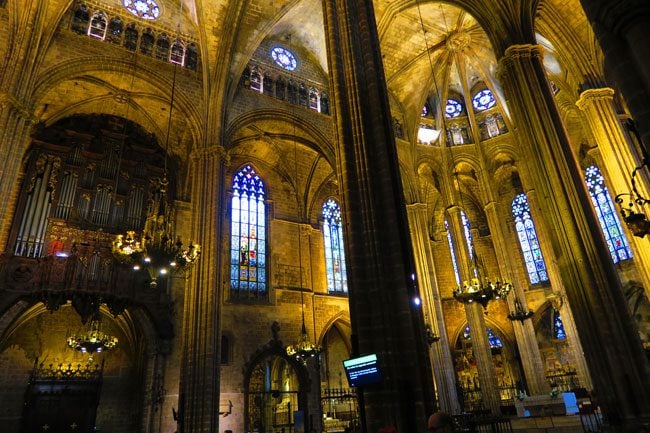 Coffee Break
The Placa de la Seu, just outside the cathedral, is a popular gathering spot. As you can imagine, there are a lot of street performers making a living here from hip-hop acts all the way to classic Spanish guitars.
There are a few museums and small places of interest around the cathedral. If you have the time and enjoy museums, go for it. We'll continue walking around the Barri Gotic and head via the narrow alleys to Basilica Santa Maria del Pi. We'll go inside a bit later but in the meantime, let's grab a Valentine's Day coffee break in either Placa del Pi or Placa de Sant Josep Oriol. The latter holds a weekend artists' market.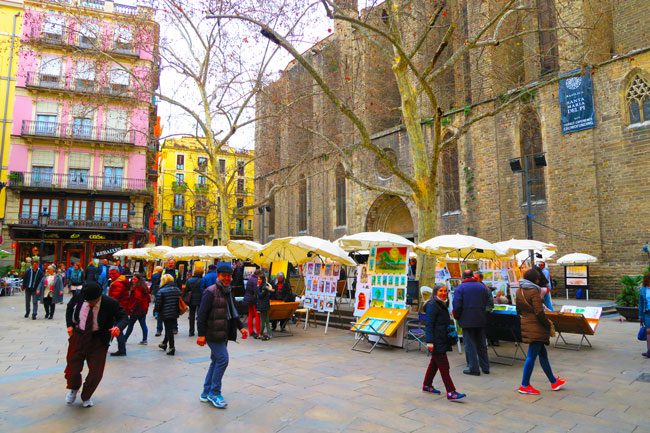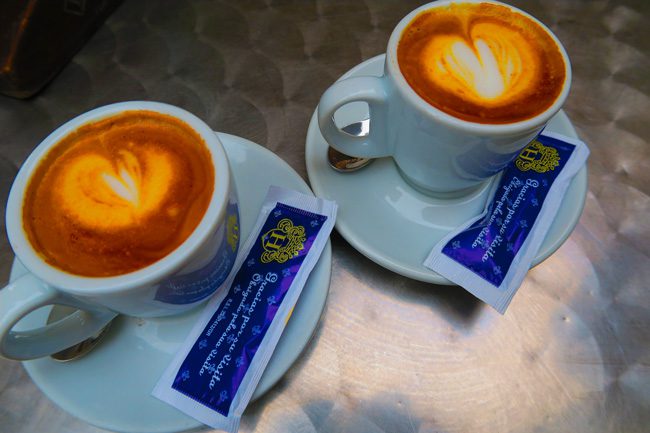 The Basilica Santa Maria del Pi doesn't look all too impressive from the outside and to be honest, neither from the inside. However, it houses a massive stained glass window that makes going inside worthwhile. Once again, check out the free admission times, otherwise, it's just 4€ to get inside. There's also a treasure room that's … full of treasures.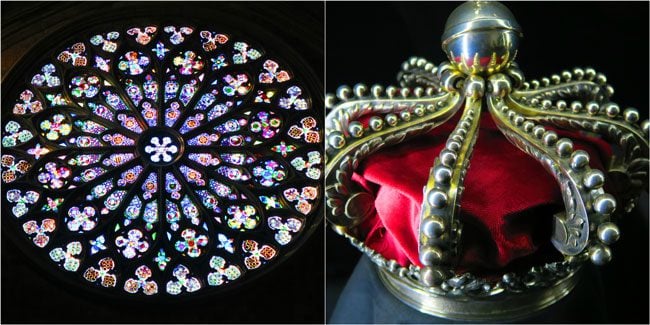 From here, we spent a good hour or so just walking around the narrow alleys. There are lots of cute shops and if you're with a girlfriend/wife – you won't really have a choice. The further you get from La Rambla, the less crowded the streets become. Take your time and enjoy – getting lost here is part of the fun.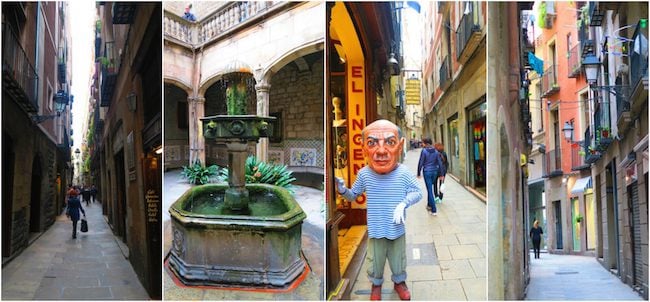 More Tapas
Our last stop in the Barri Gotic was for lunch at Bodega la Palma. This tapas bar is tricky to find but we came here at the recommendation of my friend Alejandro – and he did not disappoint. Massive wooden wine barrels greet you as you step inside this rustic place and the atmosphere is super relaxed (so is the service). The food is not too bad, to say the least, and you can either get some tapas or full rations. We purposely didn't eat too much to leave room for dinner but nonetheless, couldn't resist our usual favorites.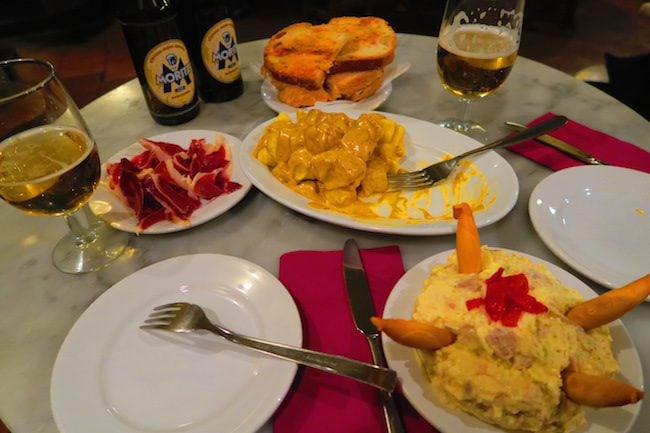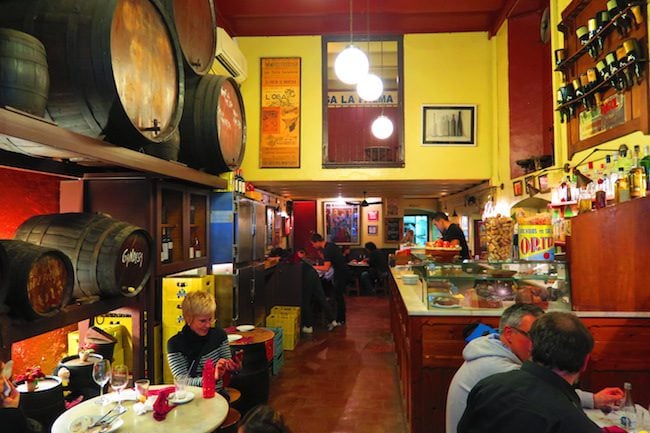 Exploring La Ribera
We now exited the Gothic Quarter but that doesn't mean the medieval vibe goes away. La Ribera's maze of alleys is home to many local artists so it's no surprise that you'll find the Picasso museum here. It's where we grabbed our first dinner at Tapeo and it was now time to explore La Ribera by day.
We started off by hopping over to Vila Viniteca, another must-visit gourmet shop for 'foodies' (I don't really like that word). Don't be overwhelmed by the thousands of local wines that are stacked pretty much everywhere. It looks like those old libraries where you have stairs so you can grab books from the top shelves – unbelievable. When you've found the ones you like, head next door to their deli for some smelly cheese and of course – cured ham.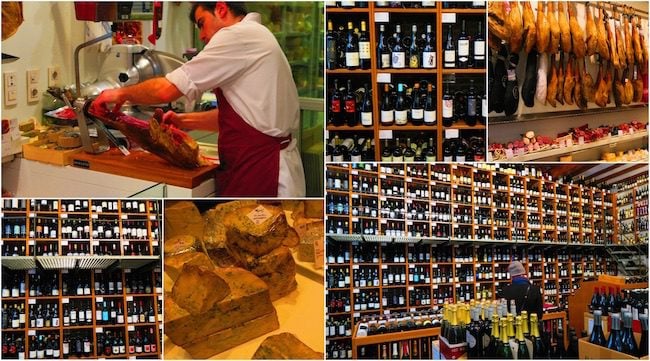 Continuing our exploration of La Ribera, we made our way to yet another church square, this time the classic Basilica of Santa Maria del Mar. This church is very dear to the hearts of local Catalans and was actually on the water's edge when it was built in the 14th century. You gotta love European churches – they are so beautiful both inside and outside, not to mention super old. There are once again, cafes and restaurants around the church and the street actually has some decent shopping.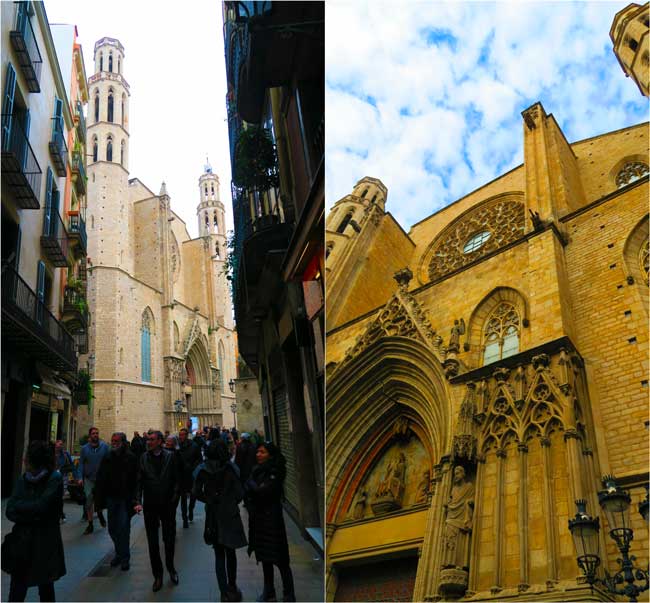 Passeig del Born
From the basilica, walk towards Mercat del Born via Passeig del Born. Now home to some of the best bars in Barcelona, this street used to play host to medieval tournaments and you can definitely imagine some jousting going on in this wide street.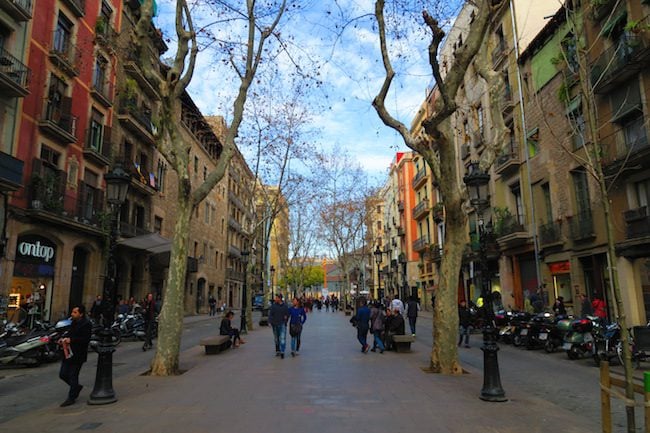 In front of you will be a large covered building that used to be home to the largest market in town until it was closed in the 1970s. Instead of being demolished, it was excavated to reveal dozens of historical Catalan structures dating all the way back to the 18th century. It's totally free to get in and totally worth it. Walk around the rim and be amazed at what was uncovered.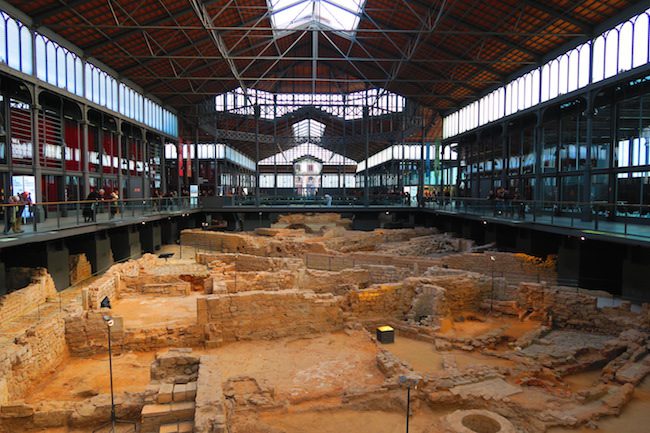 You Must Taste this Hot Chocolate!
We were pretty much done exploring La Ribera and would head back towards the main cathedral via tranquil Sant Pere. It's a laid-back walk via quiet streets, more squares with bars and cafes, and a few notable mentions.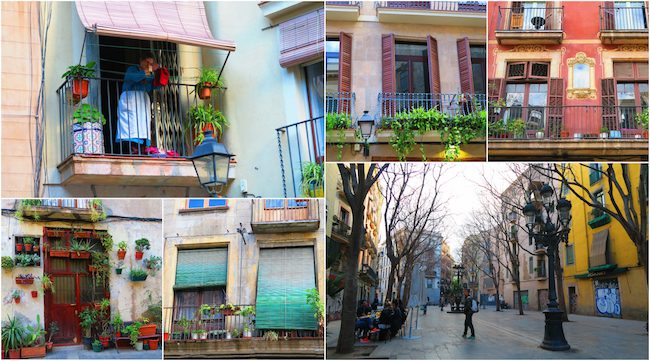 If you're still looking for a place to eat, you might want to check out Bar del Convent. Housed in an old convent as its name suggests, it looked super cool and also right next to the chocolate museum so that could come in handy. Another cool spot is Placa de Sant Pere with its strange-looking iron water fountain that still works even today.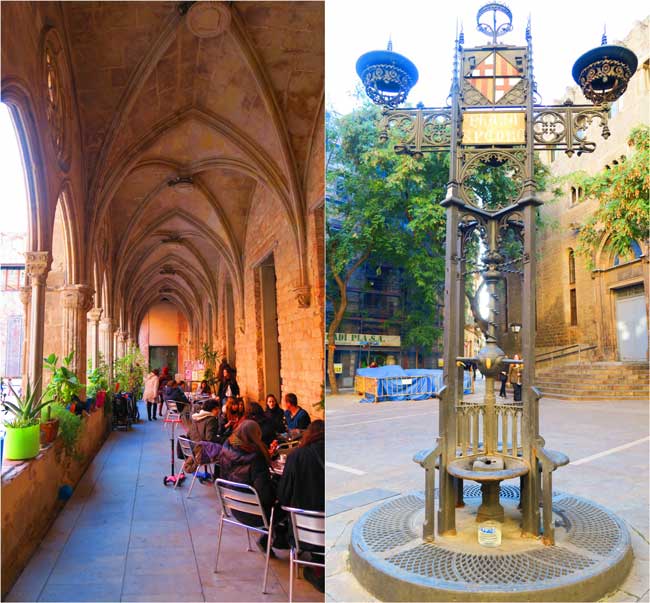 Back in the center of the Gothic Quarter, it was already past 5 pm and time for another authentic local delight – hot chocolate at Granja Dulcinea, right next to the basilica with the massive glass window. We struck out earlier as they closed for siesta so our timing was perfect for the second shift. If you come here, you must taste the thick hot chocolate along with a few churros on the side.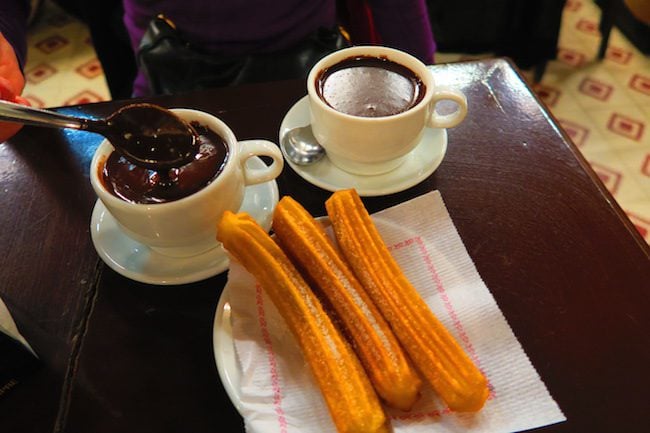 We headed back towards Placa Catalunya via Av. del Portal de L'Angel which is great for shopping and is much less crowded than La Rambla. You'll find your big Spanish brands as well as cool little shops. That said, Barcelona's streets are packed on a Saturday afternoon with shoppers and tourists but what can you do – they have a very good reason to be out.
The Best Tapas Bar in Barcelona
After a nice nap back in the hotel, it was time for a super late dinner, just like the locals do. It was Saturday night in Barcelona and we took the V15 bus to El Vaso de Oro, down in the Barceloneta district. Once again at the recommendation of my friend Alejandro (this guy has golden tips), we weren't that hungry but nonetheless wanted to experience another tapas bar and boy did we explore, and boy did we eat!
I would point you to their website but it's really not their thing. You can tell that this place has been around for ages and is super popular with the locals. There are no reservations here (that I know of) and it's every man for himself. Start to strategize who will be leaving soon and just stand next to them. It's cramped and the atmosphere buzzing. I'll let the video do the talking.
We didn't come hungry but ended up getting the works. Highlights included: a large chunk of spicy tuna, an incredibly soft salmon with lemon sauce, cheese, and one other item that I'd been searching for since we arrived – some pedron peppers (slightly mild salted peppers). We were in complete heaven! We ate (and drank) like there's no tomorrow and all for less than 40€. The atmosphere was great, you could see the staff got along well and they didn't even rush us with the bill. Alejandro – you da man! El Vaso de Oro gets a perfect 10!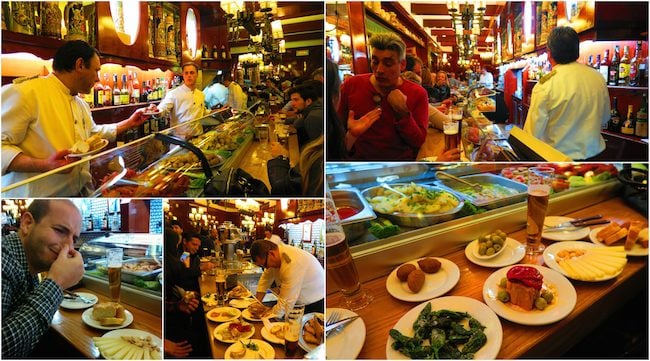 There was simply no way we could walk back to the hotel, A: because we ate so much and B: because we must have walked at least 15 km on this day. I already mentioned that Barcelona has excellent public transportation and right beside the restaurant is the metro station straight back to Passeig de Gracia. As you exit the station – you get a great view of the Modernista buildings by night, a nice treat before going to bed. What a great day!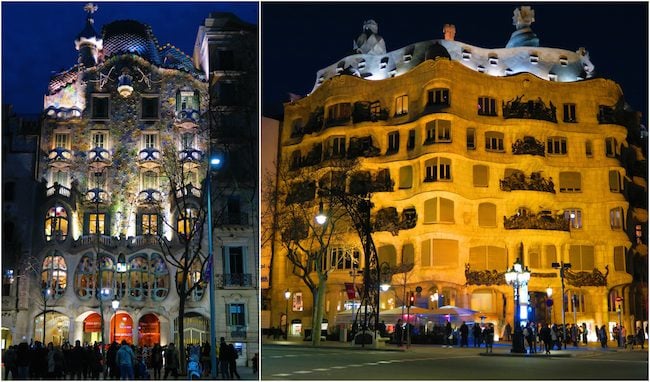 Any Regrets?
On such a perfect day? Come on? Ok – there are a few things
Things didn't work out again for us with cathedral towers. Apparently, you can catch nice views of the Gothic Quarter from the terrace of the Barcelona Cathedral.
At the bottom of the Ramblas is the Colom, a tall column with a statue of Columbus himself in the middle of a large traffic circle. It's nice to check out if you're around.
We wanted to check out the Palau de la Música Catalana, which is nice from the outside but even nicer looking from the inside.
We wanted to pay a visit to the old Jewish synagogue in the Barri Gotic, one of the oldest in all of Europe and now a museum. It was closed on Saturday and the next day as well.
Day 3: Ciutadella, Barceloneta & Placa d'Espanya
On the last day in Barcelona, we'll take things a little bit easier but still do quite a bit of walking.
Brunch in Barcelona
Barcelonians love a weekend brunch, so at the recommendation of my local friend, Sandra, we made advanced reservations at Picnic and definitely understood what all the fuss was about. It's in the area we wanted to explore so the location is perfect. Picnic is a warm and cozy spot where brunch is served tapas style and lemonades can be spiked with vodka for an extra few Euros. We had the eggs benedict with salmon and 'huevos rancheros' along with tapas cheesecake for dessert. They open at 11:30 and I recommend booking in advance because the entire neighborhood knows how good the brunch is at this place.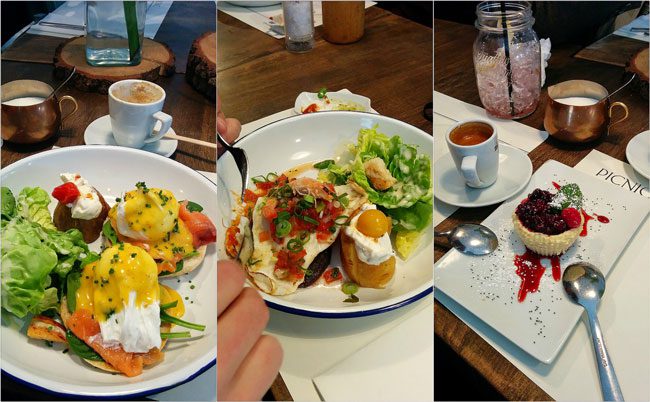 Parc de la Ciutadella
A few meters up the road and we arrived at the Arc de Triomf. No, we're not in Paris as Barcelona has erected its own at the top end of Parc de la Ciutadella. The park sits on what used to be a military fort built by King Philips V following the Catalan's loss in the War of Spanish Succession. Let's not go into historical details but just say that locals were happy to see this fort knocked down and even happier to see the park created just in time for the Universal Exhibition of 1888.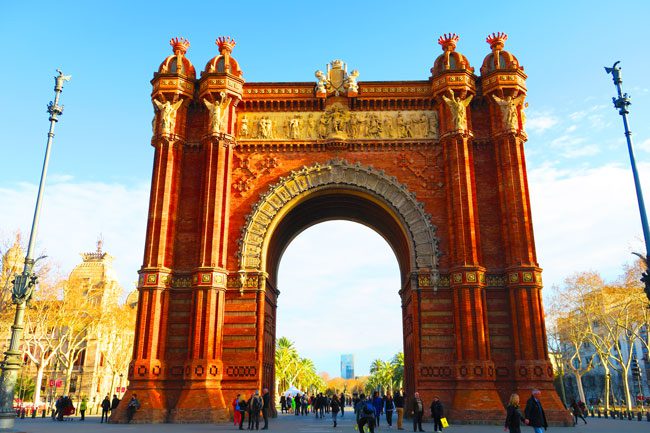 As you walk through the Arc de Triomf, you'll enter the park, a very pleasant escape from the big city noise. There are a few highlights here but it's mostly just a pleasant place to stroll through or catch some sun/shade – depending on the season.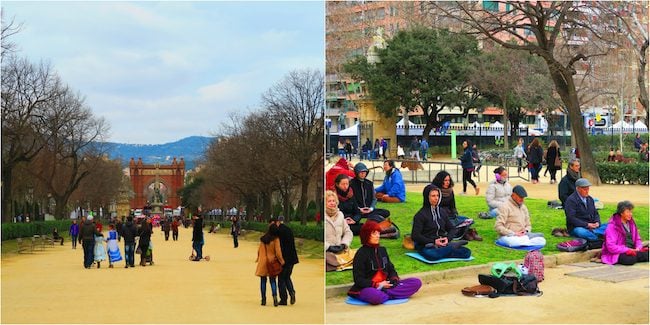 The park is home to a zoo and the Catalan Parliament but we'll head straight to the Cascada, a grand water fountain where a young Antoni Gaudi served as assistant to the head architect. The fountain is magnificent and I highly recommend walking up the stairs and getting a close look at the fine details.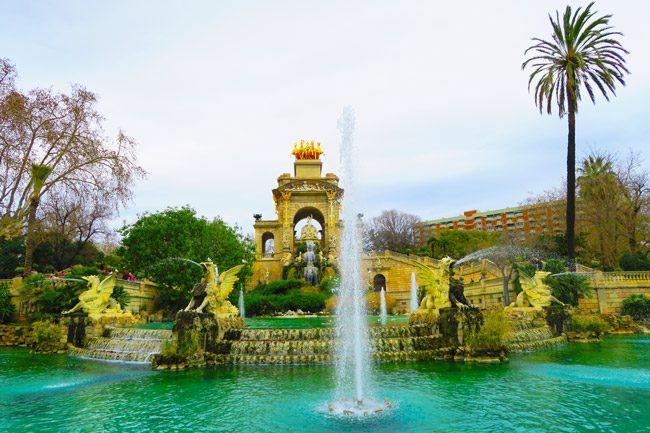 Ciutadella is such a popular park that it attracts all sorts of groups who gather here for their weekend activities. These range from meditation groups to hippies to ballroom dancers. Have a look at some of these guys and the contrasts between them.
Barceloneta and the Beach
From the park, we made our way towards the seafront and the 18th-century fish village of Barceloneta. The old village is now tucked between Barcelona's city beaches and the harbor. It's a great place to spend a weekend afternoon, even if it's not beach weather. Start off by walking along Moll de la Barceloneta. You'll find here lots of seafood restaurants with harbor views, street performers, and a small market where you have another chance of buying ham, olive oil, and other local delights.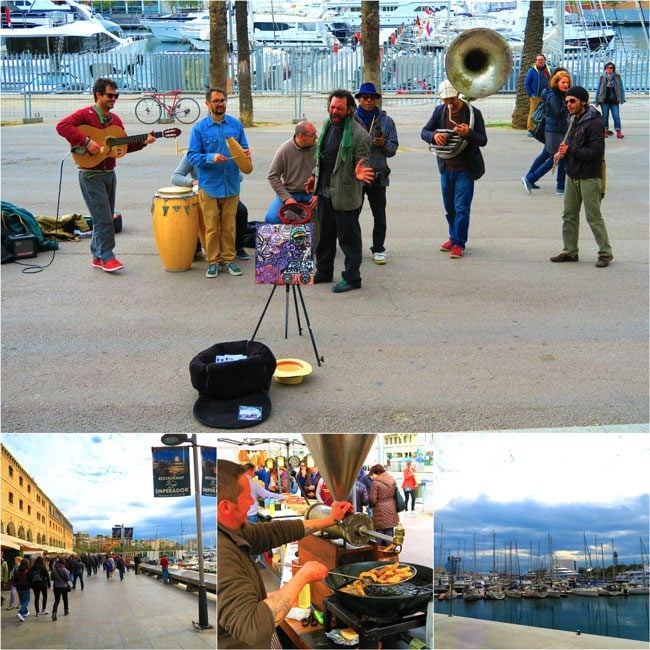 You'll eventually make it to the beach, which extends a few kilometers back east and into the suburbs. There's a nice wide promenade that must be super packed on a sunny day but on this cloudy winter day, only a sandy Jesus was out, along with Bart Simpson who could not hold his bladder and an excellent jazz group.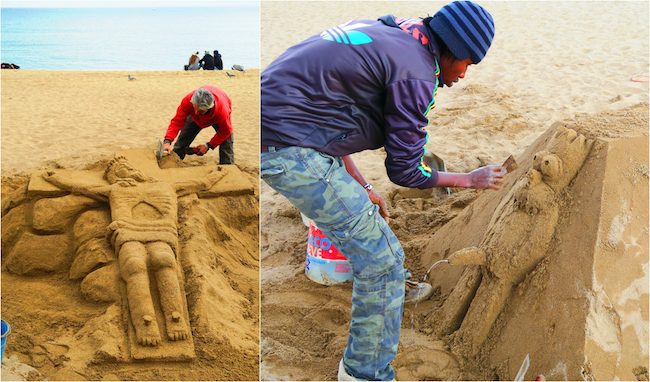 Placa d'Espanya
We still had a few hours to spend as our Barcelona city break was coming to an end. We thought about hopping on the cablecar to the nearby hilly district of Montjuïc and even at 11€ (one way), we were willing to pay and maybe get a bird's eye view of the city. Montjuïc is a steep hill overlooking Barcelona, home to quite a few sights including Olympic complexes, forts, gardens, and palaces. It probably deserves its own day to explore and we were really just interested in getting to Placa d'Espanya. The queues were long and we would have to do a lot of walking on Montjuïc so wisely decided to hop on the metro and get out right at Placa d'Espanya.
Placa d'Espanya was built in Classical style for the 1929 International Exhibition. It's a huge traffic circle with an impressive fountain at its center. Barcelona's former bullring-turned shopping center, the Arenas de Barcelona is right behind it (Catalunya was the first Spanish province to abolish bullfighting) and two massive Italian-style twin towers lead the way towards Montjuïc.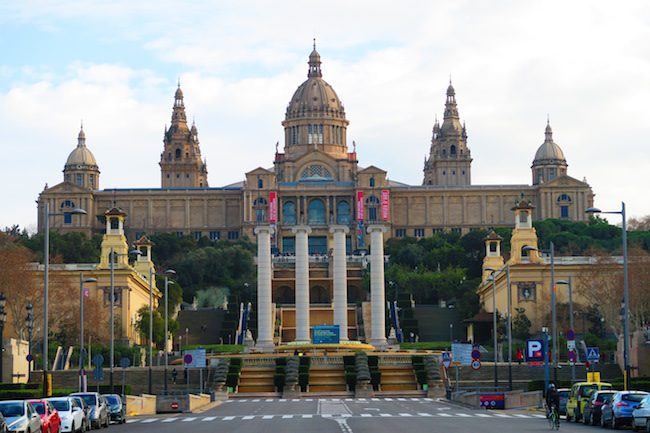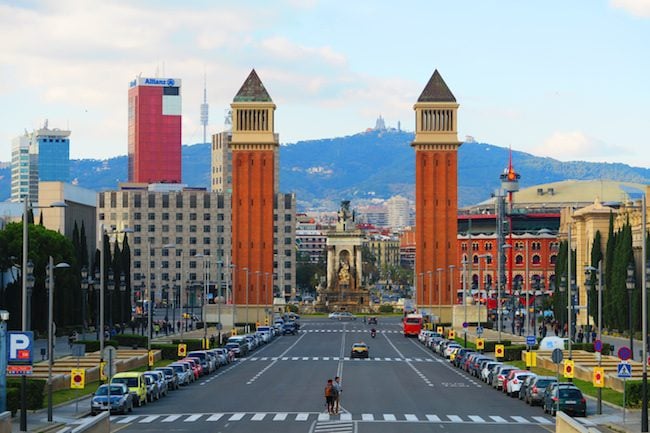 If you have the time, walk along this massively wide boulevard and head up the steps to the hill that houses the Palau Nacional, home to the Museu Nacional d'Art de Catalunya (MNAC). Even if you don't go inside, the views from the top are amazing– both back towards Placa d'Espanya and also just a few meters away in the mirador overlooking the city. Can you spot the Sagrada Familia? What a way to end our trip!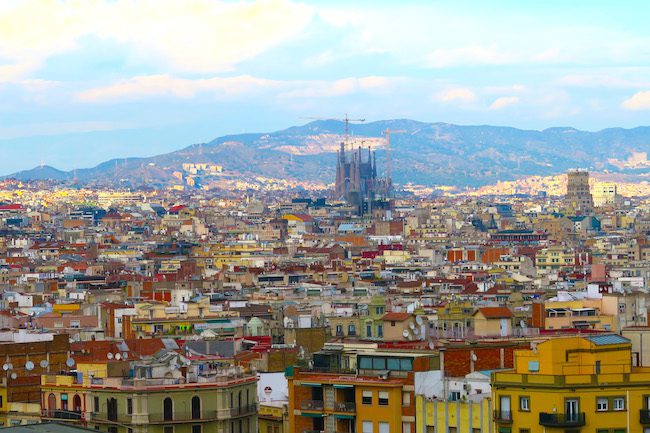 Wrapping Up
Our long weekend in Barcelona had come to a close. We just grabbed a few more tapas on the 30-minute walk back to the hotel and this time took the train to the airport from the Passeig de Gracia station. There are so many things to do in Barcelona, so many good places to eat and so much life in this city. We really had a great 3 days in Barcelona with just the right mix of things.
Any Regrets?
There are a few good tapas bars in Poble Sec, the district bordering Placa d'Espanya – most notably Bodega 1900 and the mega trendy Tickets. They are both close however on Sundays.
It would have been nice to really explore all of Montjuïc, especially on a sunny day. If you have to choose between Montjuïc and let's say, the Barri Gotic or the other places we visited, it should definitely rank at the bottom of the must-see list of things to do in Barcelona, when you just have a long weekend.
If you another full extra day and the weather is right, head out to Tibidabo, a hill overlooking the entire region. It's got unparalleled views and a popular amusement park.