Best Places To Eat In Barcelona
Barcelona is among Europe's finest cities and it makes for a perfect long weekend escape or a stop on Spanish road trip. Much like its architecture, Barcelona's cuisine leaves a lasting impression, in this case on your taste buds. In this post, I'll share with you some of the best places to eat in Barcelona.
I must admit that I'm by no means what they call a 'foodie'. In fact, I'm not such a huge fan of that word, though I do have a good friend who proudly admits he is one (and he really is).
I've always liked to explore on my holidays the most interesting places to eat, all the way from upscale establishments to local joints and street food. I also have another confession to make. Ever since I started X Days In Y, I make a point of snapping those annoying close-up photos of what I eat. I apologize in advance for anyone that I've annoyed but since the technology that allows you to transfer the sense of smell and taste over the internet has yet to be invented – photos and videos are the only way to share with you my culinary experiences.
We're about to go on a journey to the best places to eat in Barcelona. Of course, I didn't go to every single restaurant in town but I did make a point to sample a lot of places, ask my local friends, go with my gut feelings and follow my appetite where it took me. If you've been to Barcelona and have your own favorites, please do leave a comment with your own recommendation!
Whatever you do, the savvy traveler's rule of thumb is to avoid restaurants that display pictures of their menu. Those are usually tourist spots and the experience won't be as authentic as it can just a few blocks down the road.
Best Places in Barcelona for Breakfast
As you may have heard, Spanish people eat late. So it makes sense that breakfast is not really the most important meal of the day. We did find a few good pastry shops but there was nothing crazy and out of the ordinary. If you're going for pastries, the Ensaimada is probably the way to go. This swirly pastry is quite common in this part of Spain and you'll find it in most bakeries. Escriba, just off La Rambla, is considered to be one of the best bakeries in Barcelona.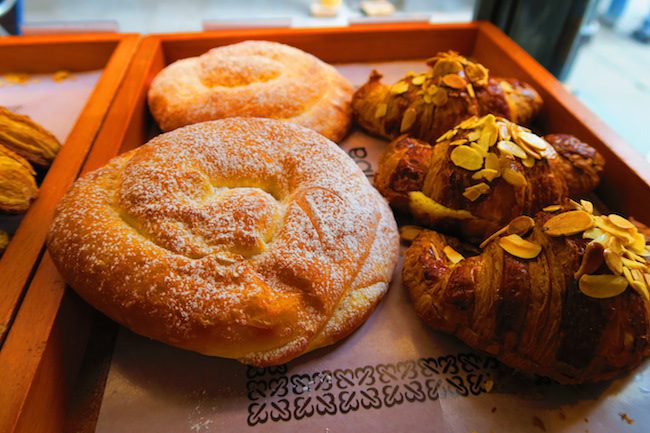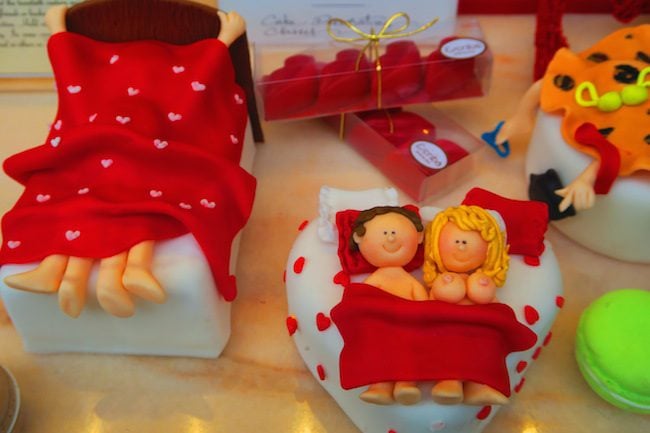 If you are in Barcelona on a weekend, brunch is a good idea. My local friend Sandra recommended a place called Picnic and she knew what she was talking about. Super close to the Ciutadella Park at the edge of old Barcelona, Picnic serves tapas-style brunch dishes, a very interesting twist. It's super popular with neighborhood folks, maybe because you can 'spike' your morning juice with some vodka.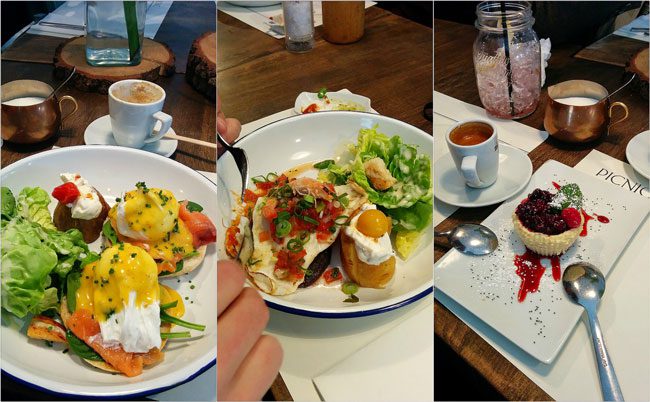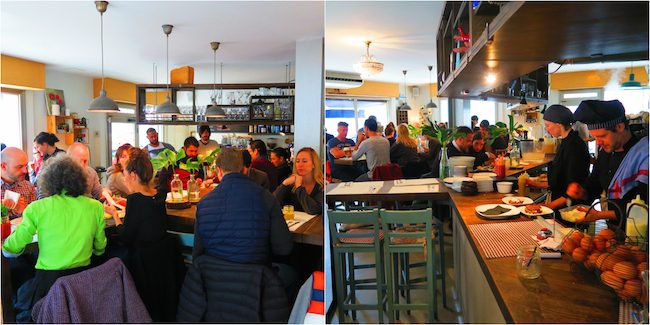 Best Tapas Bars in Barcelona
Tapas bars spring up all across town like mushrooms after the rain, so it's challenging to choose the best ones. In Barcelona, you'll find critically acclaimed modern tapas bars like Tickets, but since this is a working man's travel blog, we'll strike a balance between great food, atmosphere, and price.
The first recommendation goes to Bodega la Palma in the Gothic Quarter, recommended by my Spanish friend Alejandro. It's a bit tricky to find but certainly worth the hunt. The atmosphere is super chill and you'll find all your favorite tapas dishes deliciously made. If you've had enough cervezas, why not go for some house wine – the barrels are just as you enter the front door.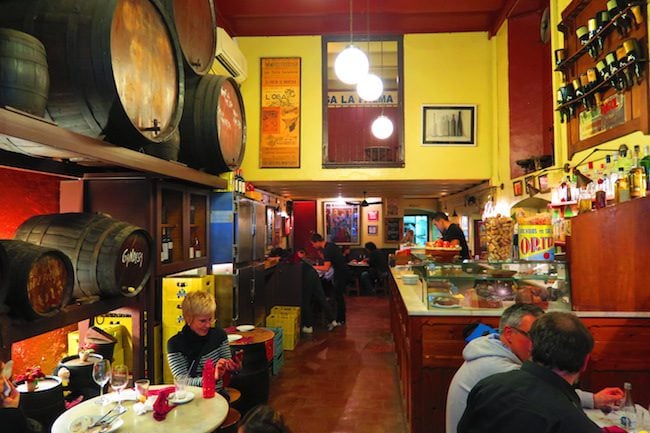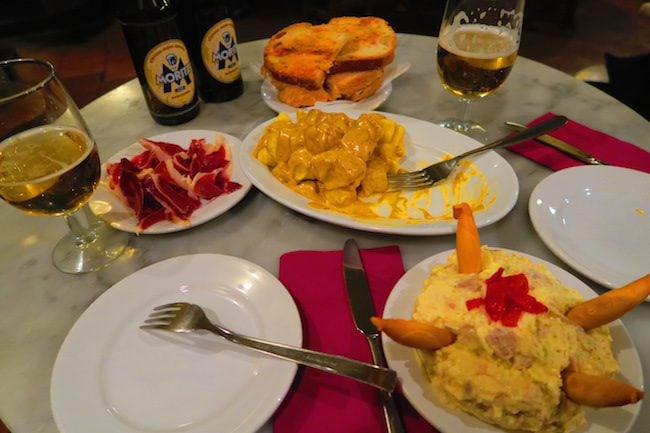 Next up is Bar Pinotxo in Barcelona's best food market, the Mercat de la Boqueria. It makes sense that the best food market will also have a few good dining options and this is one of them. Grab a seat if you can and check what's on the menu. There's nothing fancy here, just excellent food (even for breakfast).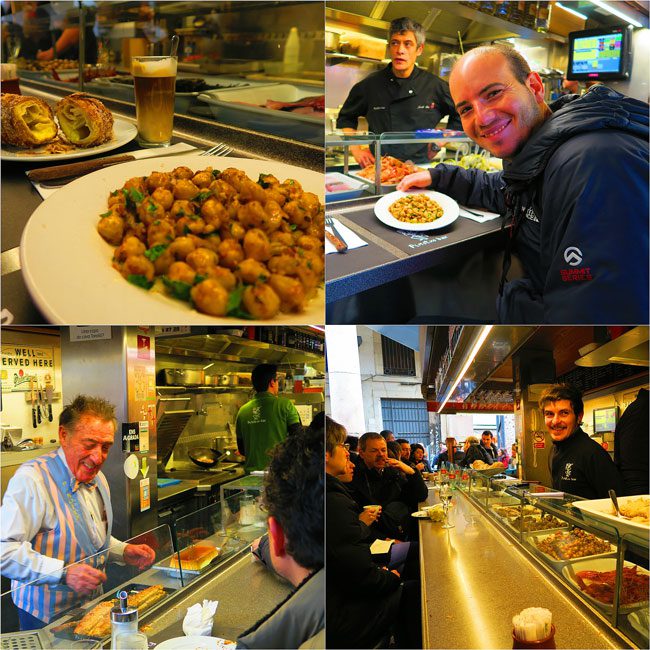 The jewel in the tapas crown was at El Vaso de Oro, down in the Barceloneta district. We came here quite late on a Saturday night but I guess at 10 pm, the kitchen is just warming up. The action happens on the bar, as with most good tapas bars and there are no reserved seats. Just bet on the couple you think will leave next and park right behind them, waiting for the kill. The atmosphere is warm and the food amazing. We didn't come hungry at all but ended up eating like there's no tomorrow.
Here's what it looks and sounds like inside.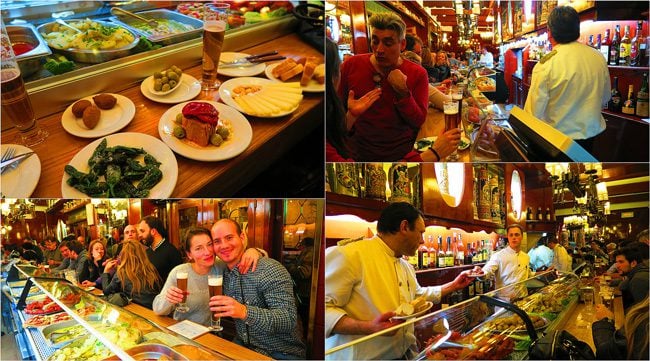 Simple Lunch
Some of the best places you end up visiting are the ones you randomly find. After taking a wrong turn walking back to town from Park Guell, we saw a very peculiar sign outside a dull-looking restaurant and decided to take a chance. This was Bar Casi, a simple place for an excellent lunch with no frills. You might be the only tourist inside, which is always a good sign. It's run by a mother and son team so if you hear "mom – 2 beers over here please!" – don't be alarmed. For 10€, you can get a starter, a main, a drink and a simple dessert. The food is basic yet delicious and extra points are awarded for the atmosphere.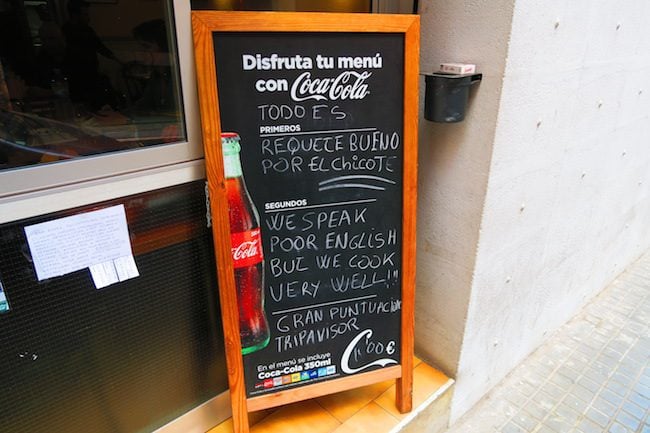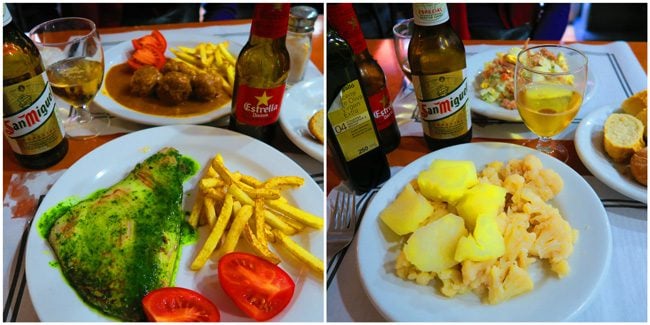 Best Place in Barcelona for a Romantic Dinner
You know a restaurant is good when a king has dined there and in the case of Restaurant 7 Portes, the King of Spain himself has paid a visit, along with many other famous folks whose thank you notes are lining the walls. So you probably want to book this place in advance if you're in search of a romantic dinner in Barcelona. You'll find here excellent Catalan cuisine, along with top-notch service, in a warm setting that has little changed in 175 years of service. They're famous for seafood and their huge paellas, so we decided to combine the two and have a … seafood paella. Restaurant 7 Portes also scored the highest grade on our unofficial quest to find the best crema Catalana, so do leave some room for dessert!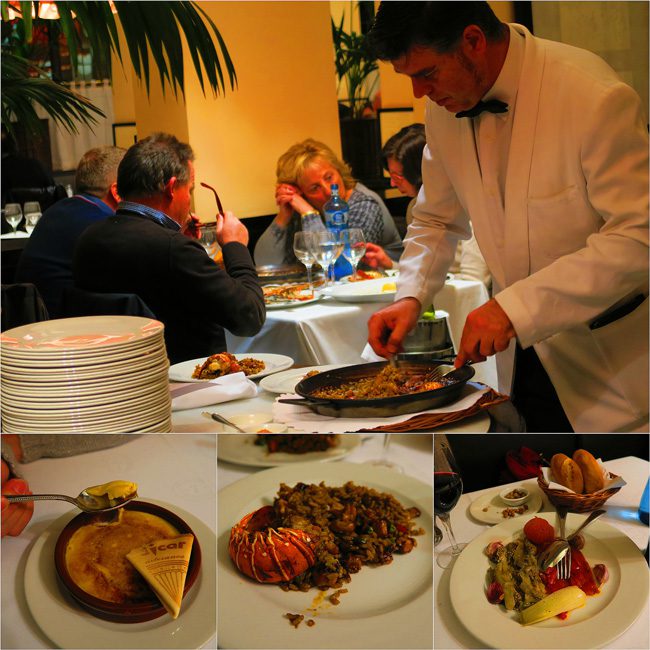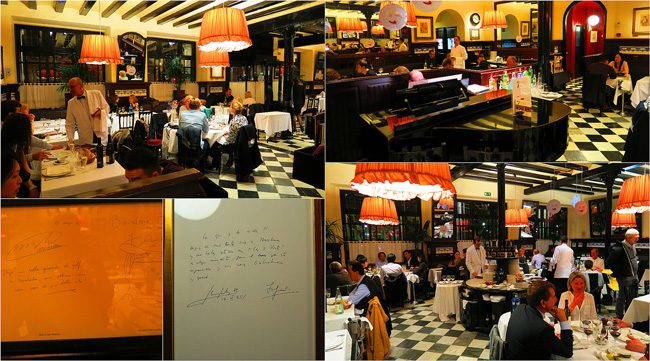 Best Place in Barcelona to Satisfy Your Sweet Tooth
If it's a little chilly outside and you're aching for some sugar, head over to Granja Dulcinea in the Gothic Quarter. Just be sure to arrive before 1 pm or after 5 pm, since they like their siestas over here. The signature dish is actually a cup of thick hot chocolate served up with some churros on the side. If you like to live life on the edge – top it off with some whipped cream.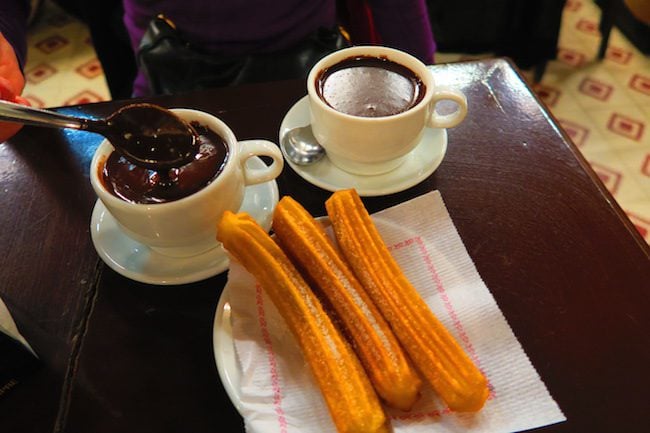 For those of you who already made the trip to the Sagrada Familia, you're just a short stroll away from chocolate heaven at Chocofiro. Chocolate lies beneath a glass floor, just like an old treasure and you'll want to grab a box and make some tough choices before heading out. You're probably on your way to Park Guell so why not pack a sweet snack?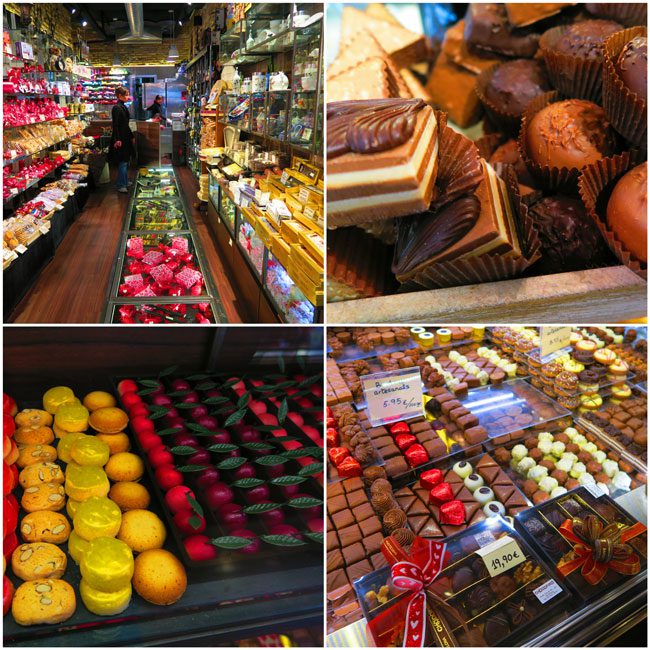 Best Place in Barcelona to Buy Gourmet Food
After visiting Vila Viniteca, you'll definitely double-check to see if you purchased checked luggage for the flight back home. Housed in the artsy La Ribera district, this gourmet shop is a heaven for foodies. In fact, this shop is so well known, that it split up its wine sales from the deli shop and you now have to make the 5-meter journey across the street to sample all the goods. In the wine shop, bottles are stacked like old books in a library and if you don't ask for expert assistance it'll take you several months to examine the entire collection. The deli shop is another foodie trap – lots of 'smelly' cheese and finely cut Iberian ham.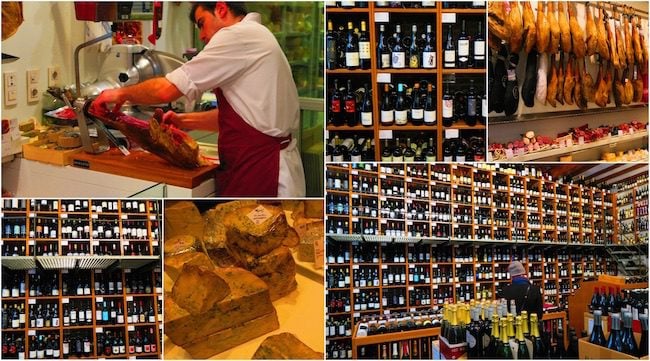 What's Next?
I hope this post has whet your appetite for a visit to Barcelona. Get started with this 3 day Barcelona itinerary or a list of the top 10 things to do in Barcelona.