A trip to Kenya casts a lasting spell on any traveler, especially the kind who appreciate the power of nature's forces and respect its fragility. But apart from close encounters with the celebrity wild animals that make up the "Big Five", Kenya's blinding white-sand beaches, small Swahili fishing villages and the smiles of its friendly locals, are the key ingredients of this lasting experience. So put your worries behind, get into the Hakuna Matata mode and let's explore how to spend 3 days in Kenya with this sample itinerary.
About this Guide
I visited Kenya as part of a trip to several African capital cities during June when temperatures are much milder during the "African winter". This was a solo trip where the goal was to stay active and maximize sightseeing.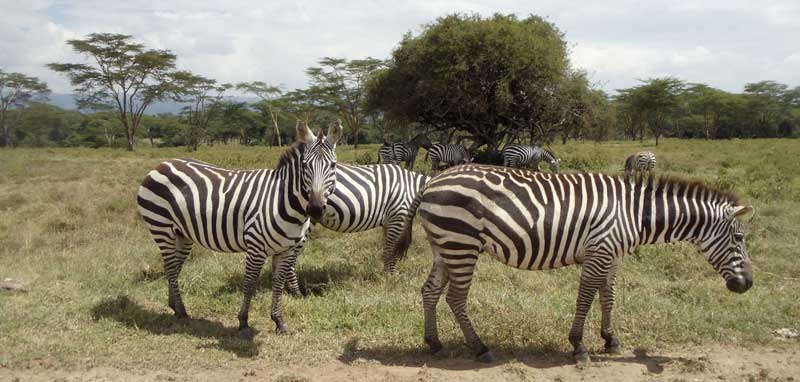 What's included in this 3 days in Kenya itinerary?
Several sections make up this itinerary:
Looking for Quick Reads?
Check out the top things to do in Kenya and extend your African voyage with a beach escape to neighboring Zanzibar.
Extending Your Visit Beyond 3 Days in Kenya
Safaris: Kenya is world-famous for its wildlife safaris. The top national parks to consider in Kenya are Masai Mara, Amboseli National Park, Tsavo East, and Tsavo West. You'll need to dedicate at least two nights inside the park for each plus travel time.
Hiking Mount Kenya: Africa's second-highest peak (5,199m) is a favorite goal for serious hikers. Unless you're a pro, your goal is to reach Point Lenana, the third-highest peak in the national park (4,985m). Apart from the travel time, you'll need at least 2 nights to scale the mountain and absolutely need to hire a guide for safety reasons.
Mombasa and east coast beaches: Kenya's historical and strategic port city is the gateway to the country's prime beaches. The coasts running to its north and south are home to stunning beaches, marine sanctuaries, and slow-moving Swahili fishing villages. If you're keen on exploring historical African cities, spend a night in Mombasa and then head to the beaches for another 2-3 nights.
Zanzibar: to perfectly combine wildlife with beach life on a single trip to Africa, fly from Nairobi to Zanzibar. Spend at least three nights on the island if you just want to relax on the beach and extend to five days or a full week to really get a taste for the Spice Island. Here's an in-depth Zanzibar itinerary to help plan your visit.
3 Days In Kenya Map
This map contains all the places mentioned in this sample itinerary. Click on the image to open in Google Maps.
Kenya & Nairobi Travel Tips
Listed below are essential travel tips that are specific to this itinerary. I have added a few more tips for travelers planning safaris in Kenya.
Planning: pick up your own copy of the Rough Guide to Kenya. Together with this 3 Days In Kenya sample itinerary, it will help in planning your itinerary and understanding the ins and outs of traveling in Kenya.
Packing: pack for both warm and chilly weather conditions to successfully deal with Kenya's microclimates. In addition, be sure to have the right photography gear to best document the rich wildlife encountered on this journey. Have a look at the X Days In Y Packing List for clothing and apparel ideas.
When to go: the best time to visit Kenya is between July and October, especially if wildlife watching is your prime objective. August is the peak migration season in Masai Mara National Park.
Travel vaccines: well before heading off to Kenya, consult your doctor on recommended travel vaccines for Kenya. You might also be required to get vaccinated against yellow fever if entering Kenya from countries where this virus exists. Do note, however, that if your visit to Kenya is centered around Nairobi, many vaccines are not necessary.
Travel insurance: as always, it's vital to have ample travel insurance. Get a quote and purchase your travel insurance from World Nomads who offer excellent policies to travelers.
Getting around: unless you are an absolute adventurer, it's highly recommended to hire a driver or a guide to take you around. Apart from Kenya's infamous high road accident rate, you'll feel much safer walking around with a local, get to know the history from a local's perspective, and save a lot of time. Kenyans know a lot about wildlife and are very excited to share their knowledge. For getting around Nairobi without a private guide, taxis, buses, and shared tours are your options. For day trips outside Nairobi, either hire a guide or join an organized trip from local operators. I highly recommend contacting Peter Wachira (+254722526210 | [email protected]) to guide you. Peter took me around for three days and we are friends to this day. He's a highly intelligent and lovable guide who takes so much joy in sharing the wonders of Kenya with visitors.
Nairobi traffic: the city-center and the roads leading to the capital are highly congested. Due to this, it's quite normal in the Nairobi business world to be late for meetings. Do give yourself extra time and consult with your local guide on how to beat the heavy traffic.
Safety: Kenyans are extremely friendly and welcoming people but many areas can be dangerous for tourists, even during the day but especially at night. Always check with your hosts for safety tips. At the time of my visit, I was advised not to walk around central Nairobi. It was close to election time and tensions were high.
Water: it is strongly advised to only drink bottled water in Kenya.
Be polite and patient: expect to always be approached by locals trying to sell anything from souvenirs to phone chargers. If you are not interested, a firm no with a smile while you keep walking will do the trick.
Taxes and tipping: a variety of tourist and service taxes will be added to your bill in most hotels and restaurants. This doesn't mean that you shouldn't leave a tip if you feel the service was good.
Where to Stay in Nairobi?
Like many African cities, Nairobi wasn't really well planned so its center is quite congested and chaotic. That said, there are a few top-notch hotels in central Nairobi but keep in mind that walking around at night (and possibly even during the day) might be ill-advised. The business-friendly Westlands area is easier to get in and out of and offers modern options, such as the Sankara Nairobi. For the bed and breakfast experience, head to the affluent suburbs of Karen and Langata. A recommended option in that area is Karen Blixen Coffee Garden & Cottages.
I personally stayed in the heart of the city center at the New Stanley Hotel, the reincarnation of the iconic Stanley Hotel. Founded in 1902, it's Nairobi's first luxury hotel, opening its doors when Nairobi was just a small settlement. The likes of Ernest Hemingway and various royals stayed here while on safari and a sense of history certainly shrouds every inch of this place. The rooms are very spacious and clean, the staff is friendly and there's a great pool and fitness center to enjoy.
The breakfast is a real treat, with an endless variety of fresh pastries, fruit, and traditional English breakfast delights. There are plenty of drinking and dining options as well, from the famous Thorn Tree Cafe, poolside at the Pool Deck Restaurant or a drink in the magnificent Exchange Bar, which really takes you back 100 years in time.
Day 1: Exploring Nairobi and Wildlife Attractions
The first full day of this 3 days in Kenya itinerary is mostly dedicated to experiencing wildlife without leaving the confines of metro Nairobi. We'll also do a bit of shopping and pay a visit to the national museum. Aim to leave the hotel by 7 am to not only maximize the sightseeing time but also to maximize the chances of spotting lions.
Nairobi National Park
With the backdrop of Nairobi's skyscrapers and commercial jets touching down in a nearby airport, it's hard to believe that wildlife can flourish so close to Kenya's largest metropolis. But that's the magic of Nairobi National Park, a 117 km2 sanctuary just seven kilometers away from the madhouse of the city center (~40USD per adult).
Partially fenced, the park is home to a huge range of wildlife including the endangered black rhino, lions, leopards, cheetahs, hyenas, buffaloes, and giraffes. The animals can freely roam the grounds and migrate here due to the partial enclosure.
Roads within the park are in generally good condition so you don't have to have a 4X4 vehicle. However, having a sturdier and higher vehicle will make things easier in rougher sections as well as for better-viewing animals. If you don't have your own car, you can pay a little extra and join the park's guided safaris.
Personally, I felt the added value of having my own local guide. We drove at our own pace and I greatly benefited from my guide's deep knowledge, enthusiasm, and appreciation of wildlife. We ventured away from the plain and into the hills, where we saw most of the giraffes on that day, and also paid a visit to the Ivory Burning Monument where, in 1986, President Moi famously torched 12 tons of ivory to mark Kenya's stance on conservation.
Pro Tip
Enter as early as possible or stick around for dusk if you're keen on spotting lions.
David Sheldrick Wildlife Trust
Located within the grounds of Nairobi National park, the next obvious stop is at the David Sheldrick Wildlife Trust, better known as the elephant sanctuary. Promptly at 11 am, visitors are escorted to a viewing area for an up-close and personal meeting with the orphaned elephants.
Local rangers begin the spectacle with an overview of the conservation effort undertaken by the trust while prepping huge bottles of milk for the upcoming feeding. Shortly after, young elephants emerge from the nearby bush on a race to grab the nearest bottle. What happens next is truly spectacular, as you witness the elephants gulp up their milk and play with each.
When all bottles have been emptied, you have the option of touching the elephants, a powerful and lasting experience. After the youngsters had their snack, it's time for the adults to get their milk and the process is repeated. On your way out, check out the orphaned rhinos.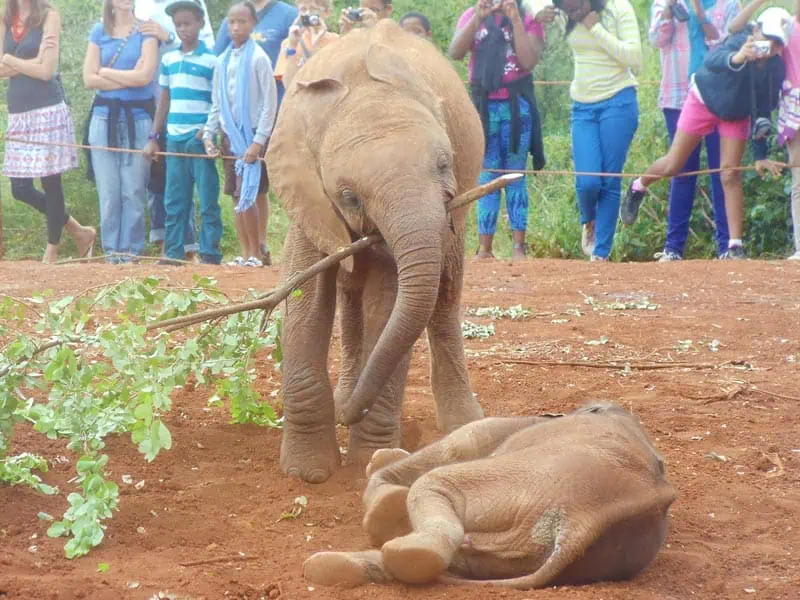 Pro Tip
Be sure to arrive slightly before 11 am to purchase tickets. On some days, a second session in the afternoon is offered.
Giraffe Center
After close encounters with elephants, it's time to get up close and personal with giraffes. It's about a 25-minute drive from the elephant sanctuary to the Giraffe Center, a highly acclaimed conservation center that focuses on the elegant Rothschild's Giraffe.
When conservation efforts began in the late 1970s, Rothschild's Giraffe was on the brink of extinction. Thanks to the efforts made, the numbers are rising. The center takes injured giraffes and releases them back into the wild as well as breeding new giraffes.
The highlight is the visit to the Giraffe Center is without a doubt the climb to the feeding deck and the chance to see and touch this magnificent animal. Think about it, even if you see giraffes in the wild because they're so tall, you never get to look them in the eye. This is what makes this experience so unique. To really remember your visit, ask nicely for a wet giraffe kiss.
Karen Blixen Museum
Fans of the classic novel and Hollywood film, Out of Africa, must pay a visit to the Karen Blixen Museum. The museum is the actual former residence of Blixen and the grounds offer a pleasant stroll. For lunch or a coffee break, stroll to the lovely coffee garden. We'll soon have a very carnivorous dinner so don't fill up too much. However, if all-you-can-eat meat isn't your thing, stick around for a bit longer and enjoy a proper lunch.
National Museum and Snake Park
If you have the time and enjoy natural history museums, be sure to spend a few afternoon hours at the National Museum. Highlights include an impressive (stuffed) bird and mammal collection as well as evidence of early human settlement in Africa in the form of skulls. To add to the educational experience, head to the Nairobi Snake Park, located within museum grounds.
If you love to do your souvenir shopping in open markets, the Maasai Market is the best option. As its name suggests, it's operated by the Maasai, arguably the most famous ethnic group in this part of Africa thanks to their unique culture (and jumping ability), but not exclusively. The market changes venues throughout the week so inquire with your hosts when checking in to fit it in your itinerary.
On the day that I paid a visit to the Maasai Market in Nairobi, the venue was the rooftop of the Westgate Shopping Mall, which made it convenient to buy souvenirs as well as local produce in the shops below such as Kenyan coffee and nuts. Do be prepared to be smothered by sellers in the market and to do a lot of bargaining.
Here are four useful tips:
It's useful to come here with a local guide who can help you determine the quality and the value of items you fancy.
Only bargain for items you are truly interested in.
Be friendly, yet firm
Reach a win-win situation where you pay a fair price and the merchant is happy. A few dollars in their favor is worth a lot more than a few dollars left in your pocket.
Pro Tip
Nairobi has several fine craft shops if you are keen on purchasing high-end souvenirs. You'll save a lot on local coffee, nuts, and dried fruit by purchasing in local supermarkets rather than on souvenirs shops or the duty-free.
Dinner at the Carnivore Restaurant
Not a recommended option for vegetarians, the Carnivore Restaurant is one of the most popular restaurants in Nairobi and not only among tourists. It's a bit pricey but well worth it if you enjoy eating meat. Apart from the all-you-can-eat option, the main draw at this establishment is the various types of game meats that are offered, in addition to the usual classics. Over the years, these options have been greatly reduced to reflect Kenya's change in attitude towards conservation.
You'll start with some salads before waiters keep coming at you with huge skewers of chicken, beef, pork, and wild delights such as ostrich and even alligator (not bad at all). When you've had enough, simply lower the small flag on your table.
Day 2: Day Trip to Lake Nakuru National Park
The second day of our 3 days in Kenya itinerary is spent in one of Kenya's finest national parks. We'll get a very early start and drive through the Great Rift Valley to Lake Nakuru National Park, revered for the flocks of pink flamingos that can be seen here along with other "wild celebrities".
Pro Tip
It's back to the Rift Valley once again tomorrow. If you wish to minimize driving times, you can swap the itinerary mentioned in Day 2 with that of Day 3 and sleep in the vicinity of either Hell's Gate National Park or Lake Nakuru (see accommodation options). I personally had a preference for using Nairobi as a base. Lake Nakuru is the furthest point from Nairobi on this 3 days in Kenya itinerary.
Drive from Nairobi to Lake Nakuru National Park
Lake Nakuru is located about 160 km northeast of Nairobi on the floor of the Great Rift Valley. If you leave very early in the morning, you will beat the traffic and reach it in about 2.5 hours, plenty of time to learn the words to Kenya's unofficial anthem, Jambo Bwana, better known as "Hakuna Matata".
Once you leave metropolitan Nairobi, the A104 highway quickly turns into a scenic road as it enters the fertile Great Rift Valley. It's a pleasant drive with multiple opportunities to pause in scenic lookouts and enjoy the view, though visibility not only depends on the weather but also on the level of air pollution which can be extremely bad. Before entering the park, you'll drive through the town of Nakuru. It's one of Kenya's largest towns but there's not much to do here apart from buying a picnic lunch.
Lake Nakuru National Park
Designated as a bird sanctuary in 1960 and established as a national park in 1968, Lake Nakuru National Park is one of Kenya's finest wildlife attractions. At an elevation of 1,200-1,800 meters above sea level, the park covers 188 km2 of diverse habitats including thick woodlands, flat grasslands, and high ridges.
The park's most famous residents are the pink flamingos that like to hang around the lake, but you can also expect to encounter hippos, black and black rhinos, gazelles, giraffes, buffalo, monkeys, zebras, and if you're lucky, lions!
Once you enter the park grounds, there's a circular route to follow with a few detours here and there. If your visit coincides with the pink flamingo migration, the lake is the best place to see them from up close. The park's roads and paths offer the chance to really see the wildlife from up close.
Other than driving at your own pace around the park, be sure to stop at Baboon Cliff View Point for a spectacular panoramic view of Lake Nakuru and the park. Keep your eyes peeled, especially if the sun is high, as you're likely to spot lizards and other animals basking in the heat of the day.
It's also worth taking the long track to Makalia Falls, located at the edge of the park. From here, we crossed the small stream and headed to the western side of the lake to complete the loop. Taking this longer approach, as opposed to the more popular short circular route, turned out to be a great move as it was on the far side of the park that we saw the most game.
Driving out of the stream and entering the vast expanse of savannah was one of the more memorable parts of the visit. We immediately saw numerous flocks of animals all grazing near each other in harmony. There were giraffes, zebras, wild pigs, and gazelle all roaming around, and we were the only ones here.
Though I didn't see any lions on this day and my visit didn't coincide with the mass flamingo migration, the day trip from Nairobi to Lake Nakuru still vividly lives in my memory. It might not be in the same league as the Tsavo, Amboseli, or Masai Mara, but it deserves a visit if you aren't able to make it to those three or if you enjoy bird watching.
Day 3: Hell's Gate National Park Or Hike Mount Longonot
The third and last day of our 3 days in Kenya brings us back to the Great Rift Valley but choices must be made. Head to Hell's Gate National Park if you fancy exploring interesting geology and to encounter wildlife outside the comforts of a safari vehicle. Alternatively, hike to the crater rim of Mount Longonot for sweeping views.
Pro Tip
If you want to minimize driving times and are flexible with using Nairobi as a base, you can spend the night between day 2 and day 3 in the Rift Valley (see accommodation options).
Hell's Gate National Park
Located about 120 km from both Nairobi in the south and Lake Nakuru in the north, Hell's Gate National Park is renowned for its geology and the opportunity it offers visitors to explore its grounds, which are teeming with wildlife, on foot or a bicycle. The drive to the park's main entrance at Elsa Gate offers a stunning view of the Great Rift Valley as you bend around the southern bank of Lake Naivasha.
Start your visit with a guided tour of Hell's Gate Gorge, its signature rock-formation towers, and thermal springs. After getting a feel for the unique geology of the park, rent a bicycle or strap on your hiking shoes and start exploring the park's ground. Hell's Gate is relatively flat so cycling and walking are great options, though cycling is preferable as you'll be able to cover more grounds. Unlike other parks, in Hell's Gate, you'll encounter wildlife from up close as no dangerous animals are said to be present.
Hike Mount Longonot
If you've had enough wildlife viewing and wish to do some hiking on this last day in Kenya, head to Mount Longonot National Park. This dormant volcano rises 1,000 meters above the floor of the Rift Valley and you can hike to its crater rim at a height of 2,545m. This is a challenging hike with several steep sections. It will take about 1.5 hours to hike to the crater rim from where you'll enjoy superb views of the Rift Valley but more exceptionally, the rich forest that covers the floor of the crater (look out for animals and birds).
Once at the top, you can spend another 1.5-2.5 hours circumnavigating the rim before heading back down, a total distance of 21 km. Allow for a full day of hiking and pausing to enjoy the views. The trail is well-marked and can be either done on your own or with a knowledgeable local guide.
What's Next?
We've covered how to spend 3 days in Kenya with this sample itinerary, focusing on Nairobi and day trips to nearby national parks. Have a look at these companion travel resources, covering the top things to do in Kenya and Zanzibar.
---
Pin These Images To Your Favorite Boards!