A tropical island rich with history, mystery and exotic beauty. Exploring 'The Spice Island' is like pealing off the layers of time and relaxing on one its remote tropical beaches, is the ultimate escape.
Karibu! Welcome to paradise! Just the sound of it immediately invokes thoughts of a far-off exotic destination, unchanged by time, rich with history, and blessed with tropical beauty. A trip to Zanzibar, The Spice Island, was on our 'to do' list for quite some time. We spent 10 magnificent days in Zanzibar during November with a mix of sightseeing, diving, and a whole lot of relaxing.
A semi-autonomous part of Tanzania, Zanzibar is located just off the coast of Africa and holds a population of 1.3 million inhabitants. Its capital, Stone Town, is its center and your usual point of entry. Most visitors travel to Zanzibar to relax after an African safari in Tanzania and will rarely see more than a beach resort.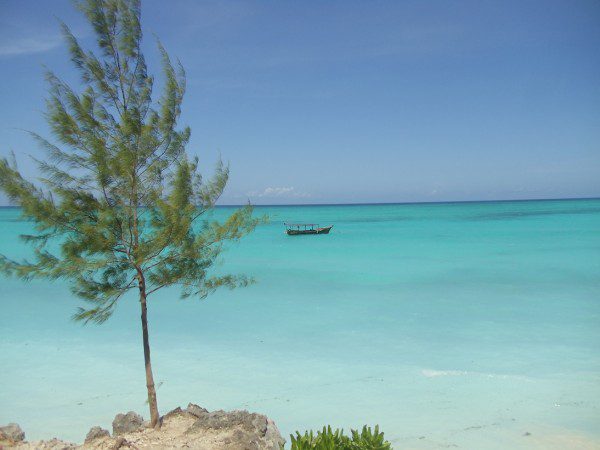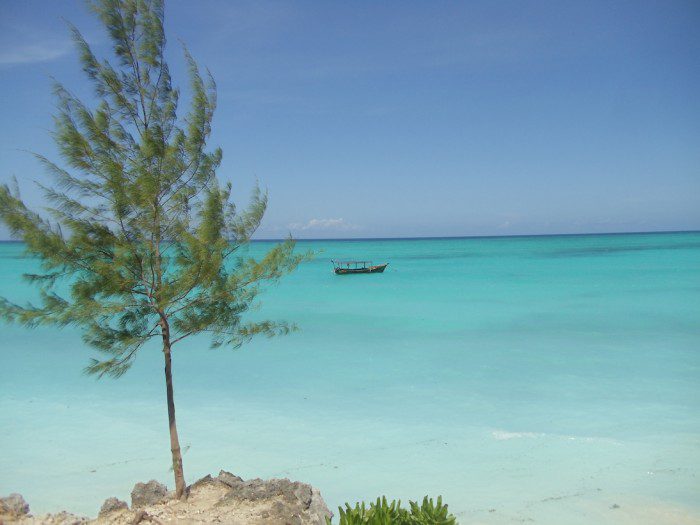 Zanzibar, and especially Stone Town, are magnificent to explore. It is a tiny piece of land where European, Arabian, Indian and African influences met and this is still evident today. We chose to travel to Zanzibar during November to avoid the Christmas crowds and its price hikes also it's the 'short rainy season' so not much rain was expected. I must say that we enjoyed exceptional weather through most of our visit with 3-4 short periods of rain, mainly around Stone Town and Nungwi with the East coast enjoying clear skies throughout. Neighboring Island Pemba is much less developed in general but offers superb diving and pristine beaches. You can inquire about getting to Pemba quite easily when you're in Stone Town. We focused our visit on the main island of Unguja however.
If you're going to go this far for your holiday, you should definitely plan well. I hope that this Zanzibar travel guide will help you plan your tropical dream vacation.
Planning a Trip to Africa?
Extend your African beach holiday to Zanzibar with a visit to neighboring Kenya. Here's a 3-day Kenya itinerary and a list of the top things to do in Kenya.
What's Included in this Zanzibar Itinerary?
Several sections make up this Zanzibar itinerary:
Essential Zanzibar travel tips, where to stay & itinerary map [This Page]
Travel Tips for Zanzibar
Listed here are a few key travel tips for Zanzibar that will help during the planning stage of your trip.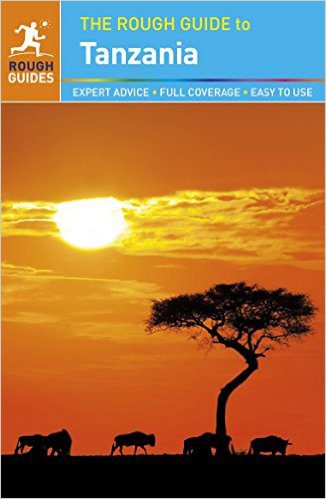 Don't leave home without the Rough Guide To Tanzania, only $25 on Amazon! It's got loads of useful information about Tanzania and Zanzibar. Together with this guide, will be your best friend on this epic trip to East Africa.
Will Zanzibar be your tropical ending to an African safari? Get in touch with Michael Shotii from Nature Experience Safaris for memorable private trips to Ngorongoro and Serengeti.
Zanzibar's beaches are beautiful but the water may have corals and sea urchins. Do yourself a favor and bring along a pair of water sandals. They will go a long way.
Don't forget to get your yellow fever shot and be sure to bring along your vaccination booklet. Be aware of the entry visa so bring along some US Dollars. You can get your entry visa at the Zanzibar airport.
Speaking of money, in most hotels, you'll be able to pay with a credit card (double-check before). However, they will add 1-3% to your bill. Therefore, have some cash with you. You can trust the Barclay's ATM in town and there are plenty of foreign exchange places around (a bargain for rates). There is also an ATM in the 'arrivals hall' at the airport if you want to take out some local currency.
Bargaining is expected and part of the fun but be sensitive to the local economic situation and ensure a win-win situation where both you and the merchant are happy.
The towns are full of locals trying to sell you things, from tour packages to transportation to art. They are commonly referred to as 'papasi' (ticks). Be firm and turn them away but always thanking them for the offer and with a smile.
Zanzibar is predominantly Muslim. This doesn't mean you cannot enjoy a nice cocktail but it does mean to respect local values especially when it comes to the dress code in urban areas where locals live. I advise men to refrain from sleeveless shirts and for women to cover their shoulders, especially in the market area of Stone Town.
Zanzibar's beaches are tidal and may not be suitable for swimming at all times of the day. Nungwi, Pongwe, and Kendwa are known for being tide-friendly but be sure to research this beforehand.
Transportation can be expensive if you're not taking local transportation. It can sometimes cost $50 pp to get from Nungwi to Stone Town. You might have luck in negotiating with your hotel for free transportation when booking directly through them.
Air connection to Zanzibar is usually achieved in small planes. Your large luggage may not arrive when you do (but will arrive eventually)! Do yourself a favor and pack the essentials for 3 days in a small carry-on suitcase. On departure, don't be alarmed if the official porter asks for a bribe to load your luggage to the plain. A few $1 bills will do the trick.
Electricity supply is not very reliable throughout the island and outages are very frequent, especially in Stone Town. Power is usually back within a short time and most places do have backup generators. Nonetheless, it's still advised to bring with you a good flashlight and take it with you when you go out so that you don't find yourself in a dark street.
Where to Stay in Zanzibar?
This is the million-dollar question! As mentioned above, Zanzibar's beaches are very tidal. In some places, the beach completely disappears during the tides – not too optimal for swimming. There are a few exceptions though. We stayed in Matemwe and (the good side of) Nungwi, but also looked at options in Pongwe. If I had to do it all again, here's where I would stay in order of preference. It's wise to stick to one or maximum two places.
Best places to stay
Matemwe: a gorgeously long beach with the whitest of sand. The beach is tidal but does have a few good swimming spots. It's so pretty out here, simple and quiet. Stay at the Villa Kiva Boutique Hotel which is perfectly located, intimate and offers delicious Italian-inspired local cuisine. Lots on Matemwe later on in this 10 days in Zanzibar sample itinerary.
Pongwe: one of the few beaches that doesn't seem to change much with the tides. Stay at the Tulia Zanzibar Unique Beach Resort and go for the full-board option that also includes unlimited alcohol! It's quite expensive but a good friend of mine just got back from there with rave reviews and incredible photos. The setting is intimate, the service is outstanding, and the beach is loaded with perfectly-shaped red starfish! Very few rooms are available so book fast.
Nungwi: the obvious choice for travelers to Zanzibar and sort of a tourist hub. The area is well-developed and everything is within a short distance. However, if it's peace and quiet you're after, stay at the Ras Nungwi Beach Hotel. It's located outside the village in a beautiful spot, away from the crowded scene. The beach is secluded and always great for swimming.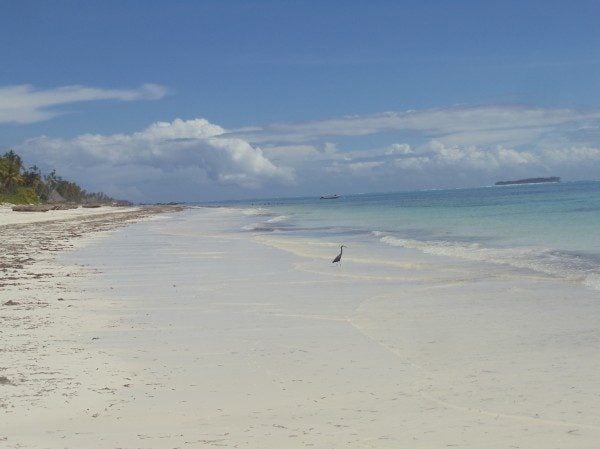 Day Trip Tips in Zanzibar
There are many popular excursions with dozens of tour operators to choose from for a day trip in Zanzibar. These range from spice tours, Safari Blue, snorkeling trips, dive trips, forest tours and more. The most popular ones are the Safari Blue and spice tours.
No excursion is cheap, decide on what you really want to get out of it, do some research and keep in mind that time on an excursion usually means less time to relax on the beach.
You can't do them all. Your Zanzibar travel holiday is probably meant to be a relaxing one.
When booking excursions, it is best to shop around first and ask other travelers. In most cases, booking a hotel outside of Stone Town will drive up the price considerably.
If you don't want to find yourself on a boat full of other travelers, try going for alternative excursions. We were fortunate enough to be able to visit Chumbe Island.
Diving Tips for Zanzibar
Scuba diving on a Zanzibar travel holiday is a must for any certified diver!
The finest dive spots are actually around Pemba Island. If you have the time and you're really into diving, look in Stone Town (or before arriving) for options.
In Unguja (the main island, where Stone Town is), the finest spots are around Mnemba Island and its reefs. Using Matemwe as a base, you'll be able to save lots of money and time to see the reefs here due to the proximity and relatively less commercialization.
If you're in or around Nungwi, booking from the dive shops that are located on the boardwalk (as opposed to the dive centers within the resorts) will save you a lot of money.
Zanzibar is heavily affected by tides so all diving departure times greatly fluctuate.
If you are into drift diving, there are excellent spots around Mnemba Island.
We used One Ocean who has multiple locations on the island. They have excellent equipment, professional staff, and reasonable prices. You may be obliged to take a refresher module if you haven't dived in a while but this totally in your favor and worth the 35$.
Zanzibar Itinerary Map
The image below displays the Zanzibar itinerary outlined in this travel guide. Simply click on the image to open in Google Maps.