With baroque, gothic and neoclassical monuments covered in blue-painted ceramic tiles, the red-tiled roofs of port wine warehouses radiating in the sun, and charming yet dilapidated buildings putting their fresh laundry on display – Porto is a grand city of romance. It's also one of the most affordable destinations in Europe, yet another excuse to visit Portugal's second largest city. In this 3 days in Porto sample itinerary, we'll explore the best the city has to offer both on the sightseeing and culinary fronts.
Background
We combined a November couple's trip to Porto together with a visit to Lisbon, with Porto being a place we wanted to pay a visit to for a very long time. Located not too far from the mouth of the Douro River, Porto was a strategic port city for centuries and responsible for the export of the sweet-tasting port wine. Unlike Lisbon, both banks of the river are interesting to explore and the iconic Dom Luis I Bridge makes it possible to cross the otherwise choppy waters of the river. Porto's historic city center, where you'll spend the bulk of your time, was named a UNESCO World Heritage Site in 1996.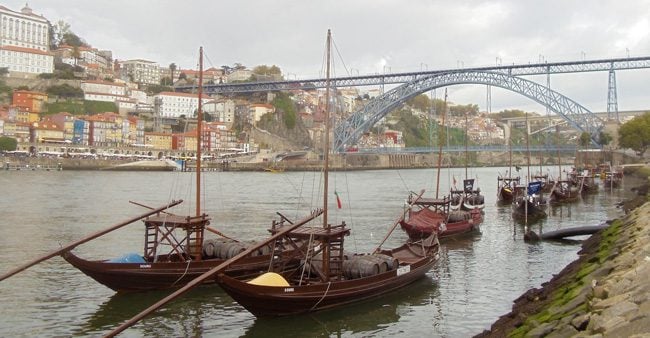 What's Included in this 3 days in Porto Sample Itinerary?
Several sections make up this Porto itinerary:
Day 1: Essential Porto Travel Tips, Ribeira & Vila Nova de Gaia [This Page]
3 Days In Porto Map
This map contains all the places mentioned in this sample itinerary. Click on the image to open in Google Maps.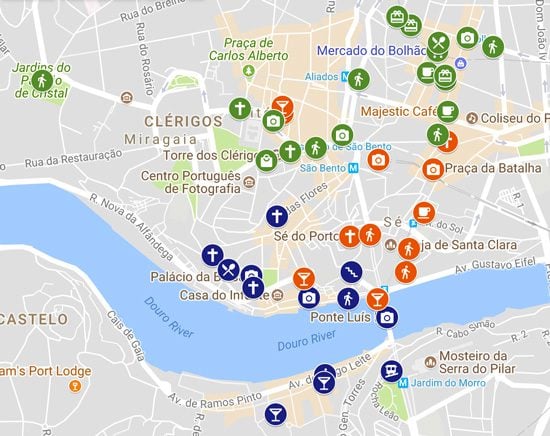 Visiting Lisbon or other parts of Portugal? Sample Portugal itineraries and an in-depth guide to Portugal's capital city are waiting for you in the Portugal Travel Guide collection. Bom dia!
Porto Travel Tips: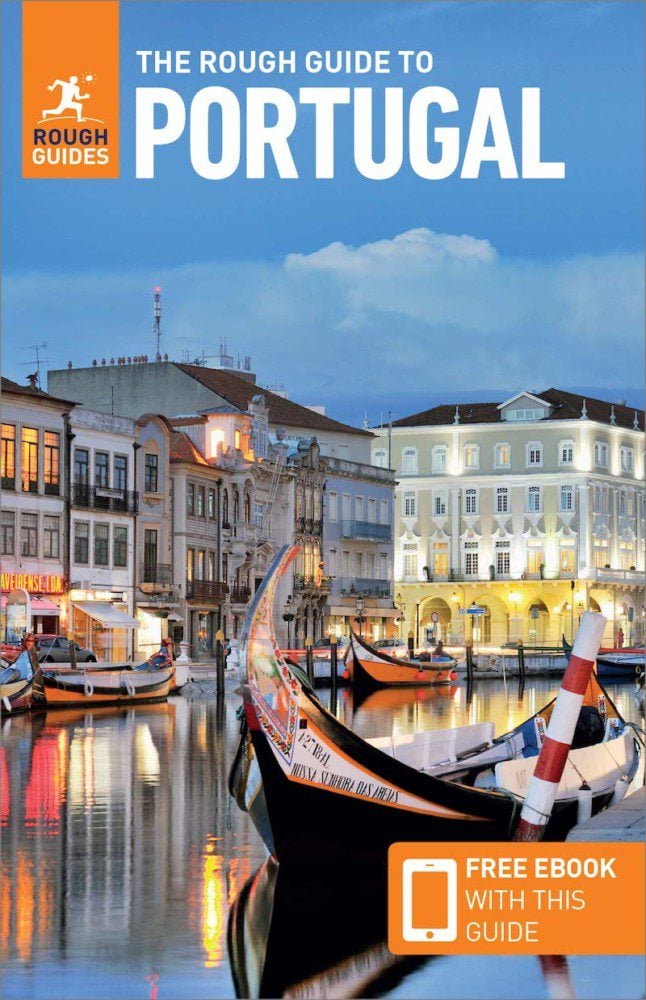 Pick up your own copy of the Rough Guide to Portugal, a useful reference in planning your trip to Porto and other parts of the country which I personally used. If you're combining your 3-day trip to Porto with a visit to Lisbon, also pick up a copy of the Pocket Rough Guide to Lisbon. It's got just the right amount of info about Lisbon and comfortably fits in a small bag when you wander the city streets
To extend your visit to this part of Portugal, consider visiting the Douro Valley wine region on a day trip from Porto. You can do this by renting a car for the day or by joining a riverboat tour from Porto.
Be prepared to check in at least one suitcase when returning home from Portugal. What's the reason? You'll want to bring home a few bottles of port wine, Porto's famous export.
Many of Porto's residents struggle to make ends meet, resulting in petty crime throughout the city. While violent crime is not a concern for visitors, be conscious of pickpockets in crowded areas and book a room which has a safe to lock your valuables inside. We had the unpleasant experience of having many items stolen from our hotel room in a "sting operation" where thieves posed as guests while rooms were being cleaned.
Despite its many hills, Porto is a city that is best explored on foot. Be sure to pack comfortable shoes and have a look at the X Days In Y Packing List for clothing and apparel ideas.
If you struggle with hills, plan your day so that it starts at the highest elevation and work your way down to the flat river bank.
When dining in restaurants, you'll almost always be served a few delicious appetizers right after you're shown to your table (olives, bread, and dumplings). These aren't free and you'll usually be charged 1€ per consumed item.
Spending 4 Days in Porto?
If you wish to extend your visit and spend four days in Porto, rent a car for the final day and drive to Arouca Geopark (about one hour by car from Porto). This UNESCO Global Geopark features exceptional hiking and walking trails. In 2021, the world's longest pedestrian suspension bridge opened within the park's grounds (516 meters).
How to Get to Porto from Lisbon by Train?
If you're combining your trip to Porto with a visit to Lisbon, you don't need to rent a car or take the plane. We took an afternoon train from Lisbon's Santa Apolonia Station and arrived at Porto's Campana Station outside the historic center. From there, we quite easily caught a connecting train to Sao Bento Station at the heart of the historic city center. Take note of two train options: a fast line and a "regular train". The difference between the two is around 10€ per person and 30 minutes. Check cp.pt for rail times and prices.
Where to Stay in Porto?
I recommend basing yourself in the Ribeira district – Porto's historic riverfront neighborhood. There's a good selection of accommodations around here as well dining and drinking options. The port houses of Vila Nova de Gaia are just a short walk across the iron Dom Luís I Bridge and the city-center hills are a stone's throw away. Another plus to sleeping in Ribeira is that you'll be walking downhill after a long day of sightseeing.
Here's a list of Porto accommodations that you can book online!
---
Day 1: Ribeira & Vila Nova de Gaia
We'll spend the first of our 3 days in Porto in the historic Ribeira district, later crossing to the opposite bank of the River Douro to sample some port wine in the Vila Nova de Gaia neighborhood.

Breakfast in Ribeira
We'll come back here a little later on to cross to the other side of the river, but I nonetheless recommend starting your day here with breakfast by the river. The riverside Cais da Ribeira and its main gathering spot – Praça Ribeira – are among the most picturesque spots in Porto, especially with morning fog partially covering the Dom Luis I Bridge.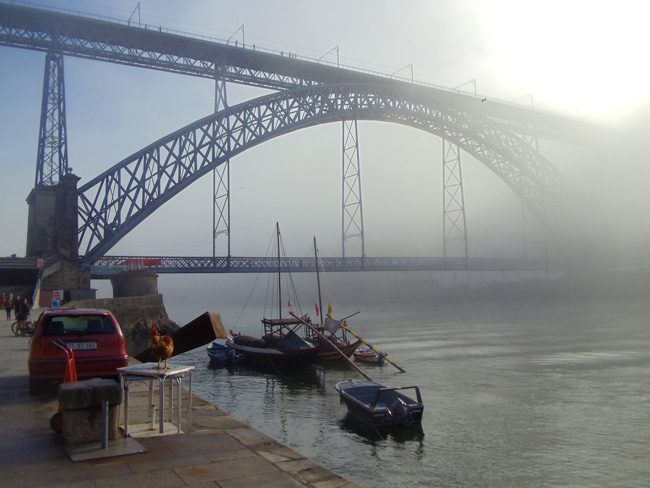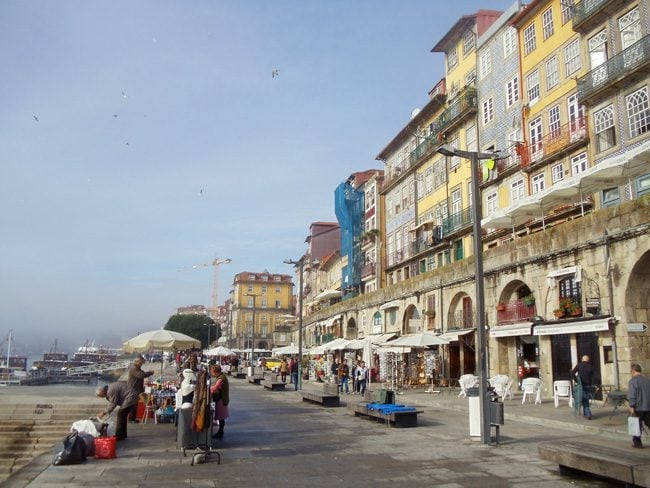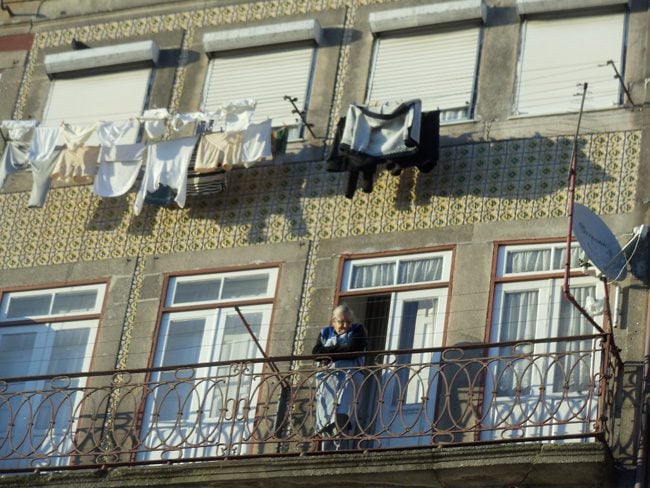 Grab a seat at the outdoor terrace of the cafe of your choice and enjoy watching the neighborhood's mostly senior residents starting their day. Take note of the charming houses, whose facades are covered with colorful tiles (azulejos) and laundry drying in the sun. This entire area is a UNESCO World Heritage Site.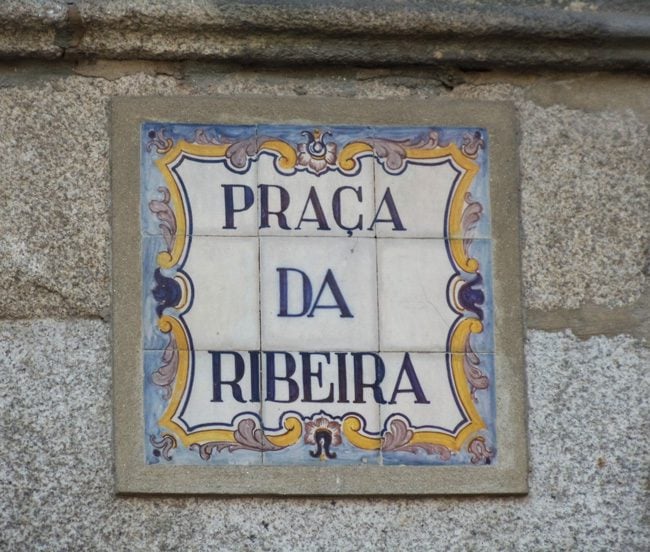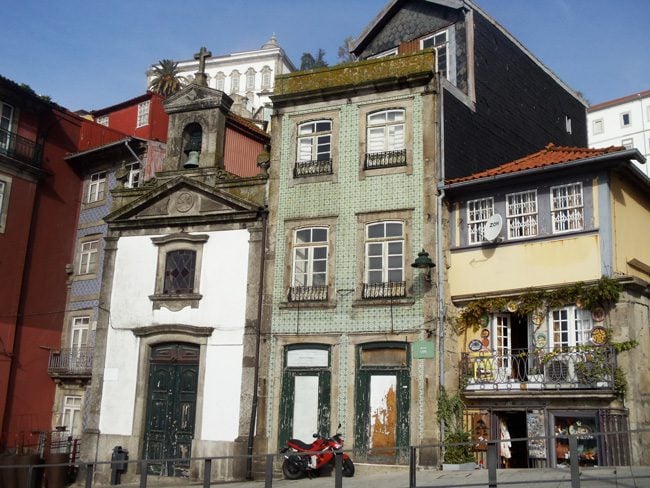 Igreja da Misericórdia
Start the sightseeing portion of this first day at this 16th-century church and the highest elevated spot we'll walk to on this side of the River Douro. The church's Italian-influenced facade is quite impressive but if you fancy art, pay the symbolic admission price to experience its interior and to see its famous resident painting dating back to the Renaissance Era.
Ribeira Alleys
Make your way to the first real stop of the day – Palacio da Bolsa – via the narrow streets of the Ribeira. These cobblestone lanes are crowded with old residential buildings, small squares, and lots of charm. Though not a must, feel free to check out the Church of Sao Joao Novo – a pretty 16th-century cathedral.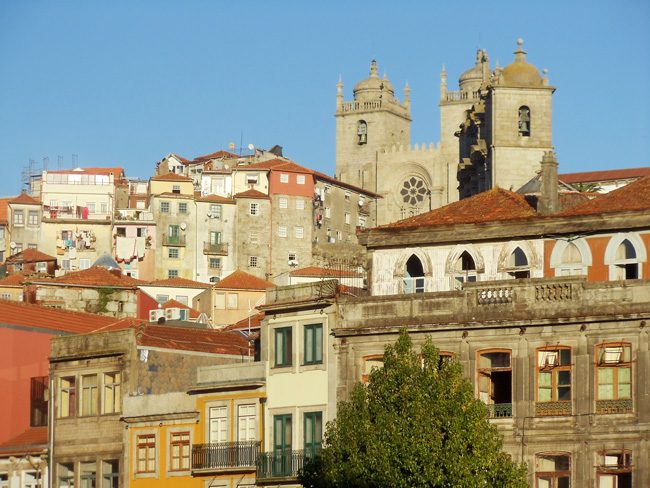 Palácio da Bolsa
Porto's former stock exchange is among the city's most magnificent buildings. Built in neoclassical style, the 19th-century palace was constructed to honor the city's bankers and financiers. While the palace looks impressive from the exterior, it's what lies inside that will blow you away but you'll need to join a guided tour (~6€). The absolute highlight is the Arabian Hall – a grand Moorish-influenced ballroom whose walls are decorated with gold. Guided tours run for about 30 minutes but it's worth checking the seasonal opening times.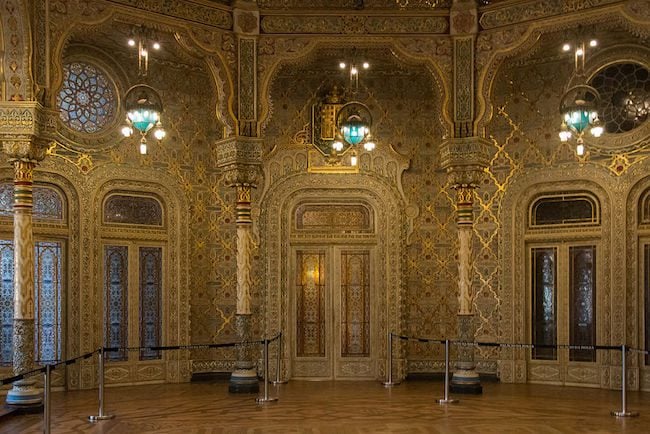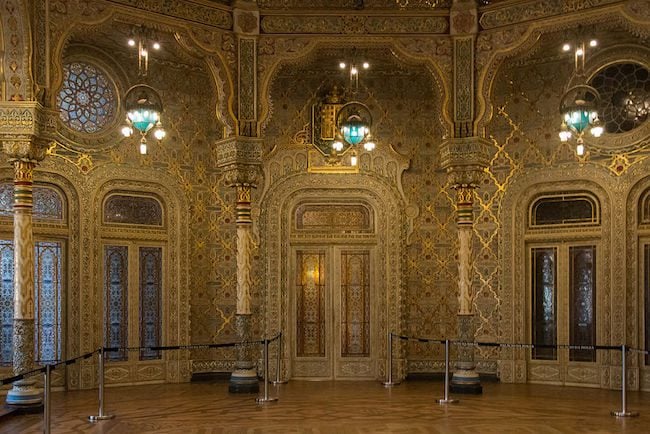 Church of St. Francis
The Igreja de Sao Francisco resembles other gothic-influenced churches you come across in the city. The twist, however, is its interior chapel – one of the most impressive I've ever seen. Tickets cost ~3.50€ per person but take note that photography of any kind is not allowed inside (at least not when we visited). Therefore, I had to "risk it" and snap a few covert photos to share with you the magic of this place.
Inside the church, there's a small museum housing impressive religious artifacts and a crypt. However, the jewel in the crown is the chapel – an unfathomable accomplishment of Baroque-style woodwork covered with kilograms of gold. This is simply an amazing sight which you do not want to miss!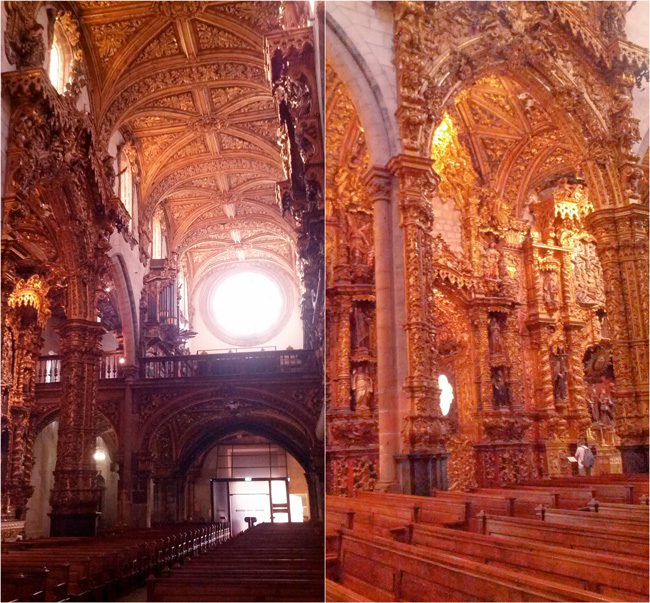 Ponte Dom Luis I
It's back to riverfront Cais da Ribeira, where you can grab a cup of coffee or a drink with a side of tapas at the trendy Bar Ponte Pensil. We'll return to this side of town from the lower deck of the Dom Luis I Bridge but to get across to the Vila Nova de Gaia district (Gaia), take the steps from the Ribeira (see map) to the more scenic and pedestrian-friendly upper deck of the bridge. The famous bridge was completed in 1866 by a student of Eiffel, solving a major traffic challenge that plagued the city's expansion at the time. Together with the backdrop of the tiled facades of the Cais da Ribeira – this is Porto's most iconic photo spot.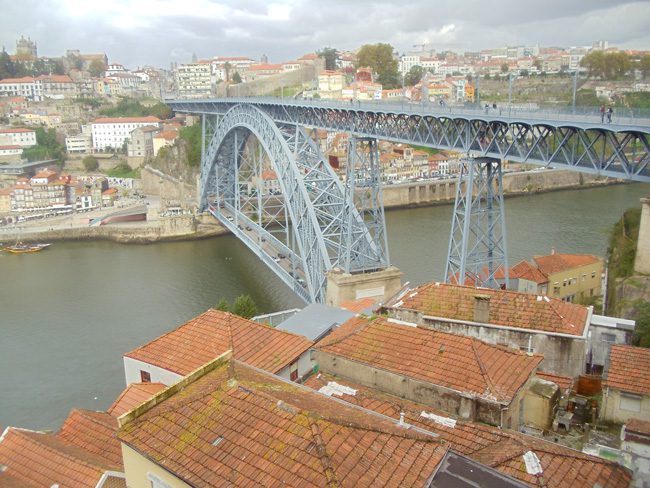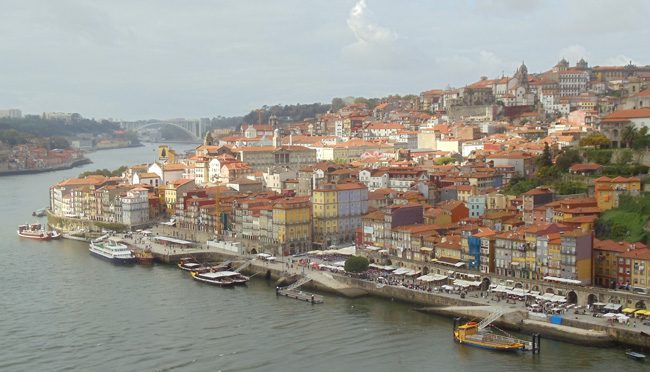 Jardim de Morro & Cablecar
Once on the other bank of the river, you can visit the Mosteiro da Serra de Pilar – a former church that's now a military. But from up here, you basically need to head down to the riverbank Avenida de Diogo Leite either by foot or via the scenic way – the 63-meter high cable car. The five-minute ride costs 6€ (a one-way ticket is enough) and whisks you 600 meters down to the riverbank. The views on the ride are totally worth the price of admission and your ticket should include a voucher for free port wine tasting at one of the participating wineries.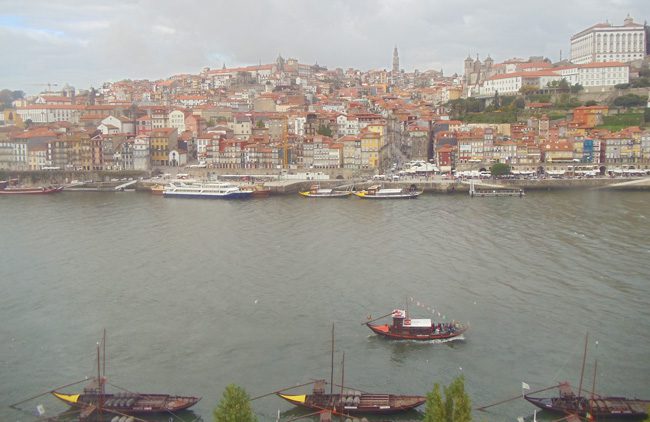 Port Wine 101
Vila Nova de Gaia (a.k.a Gaia) is the world's port wine capital – the sweet-tasting wine that once fueled the city's coffers like oil in Arabia. The grapes themselves are grown in the Douro Valley, where they are turned into wine and shipped downstream for aging in the warehouses of Vila Nova de Gaia. Among the legendary brand names are Taylor's and Graham's – not exactly Portuguese-sounding. You see, it is the British who are credited with commercializing the production of port wine, rising out of their need for an alternative to French wine back when the two former superpowers were at war.
Port wine (red, white or rose) can only be made from grapes growing the Douro Valley – kind of like champagne. With very hot summers and cold winters, grapes grow in very harsh and rocky conditions, forcing the vines to dig deep into the ground to find nourishment. Once harvested, they are crushed (still mostly by feet) and almost immediately added to a blend of brandy. The brandy's high alcohol content stops the fermentation process and preserves the sweet taste of the grapes. Port wine goes great with light food such as nuts, cheese, and fruit – making it an ideal dessert wine.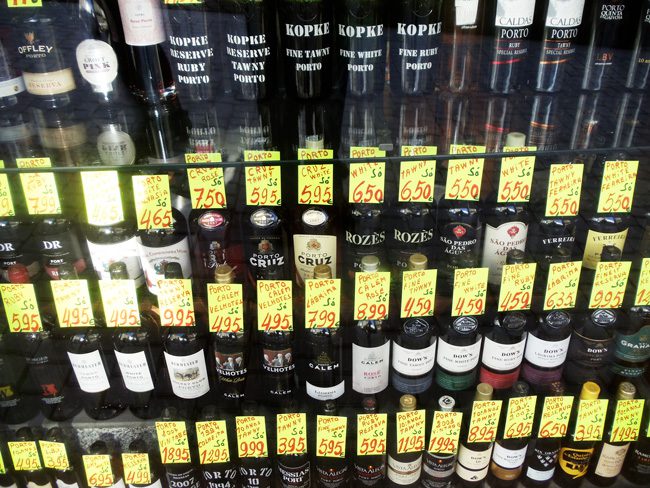 There are many types of port wine and you'll learn about them in the tours but here are the most common types:
Common types of port wine
Ruby: the simplest port wine, made from average grapes and aged in large, usually metal tanks for at least two years before bottling. It tastes very sweet and fruity, with bottles going for as little as 10€.
Tawny: port wine that's made from a blend of grapes and aged in wooden barrels for up to 40 years. It is very aromatic with wooden flavors and offers excellent value for money (15-20€) especially if you buy the aged tawnies. Here's an important tip: tawny port can be stored in an upright position.
Vintage: a rare type of port that's produced only from the best grapes of exceptional harvests (typically a few times every decade). The wine is aged for two years in the hopes of qualifying for vintage status upon an inspection by experts, afterwhich it is bottled long before it's ready to be consumed. Unlike other ports, vintage is not filtered when bottled and since you don't want to have sediment at the bottom of the bottle, the wine is aged for ten additional years lying flat. Vintage port has very heavy aromas and deep complex taste. It must be consumed at the time of opening so only appropriate for special occasions (like champagne). Prices start at around 50€ and up to the hundreds the older you get.
Late Bottled Vintage (LBV): made from the best grapes of a single year then aged in wooden caskets for a 4-6 years before being bottled (that's why it's called "late bottled"). LBV is fruity with a very smooth texture and can only be kept for two years once bottled so always look at the bottling date before buying. Once opened, it must be consumed within less than a year. LBV starts at around 20€, making it very affordable for such excellent quality.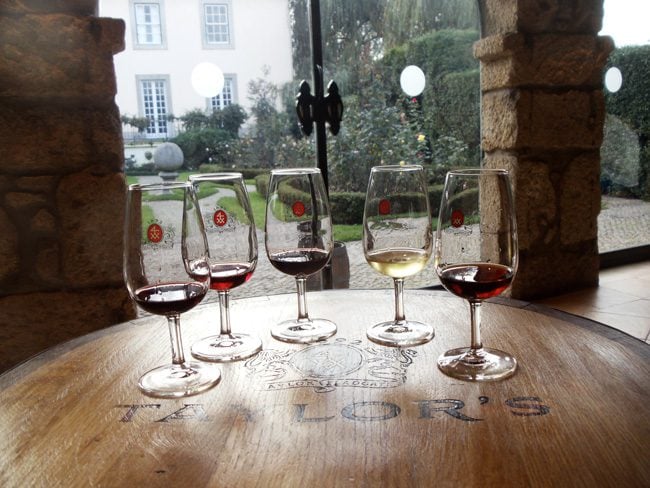 Riverfront
Once you disembark the cable car you're right on Avenida de Diogo Leite – the riverfront promenade of the Gaia. Have a look at the classic rabelo boats – a Porto signature. Nowadays replaced by trucks, these specially-designed boats were used to transport barrels of port wine to be aged in the warehouses of the Gaia. Every year, the district's wineries take a break from competing over the pallets of drinkers and instead race these boats in celebration of old times.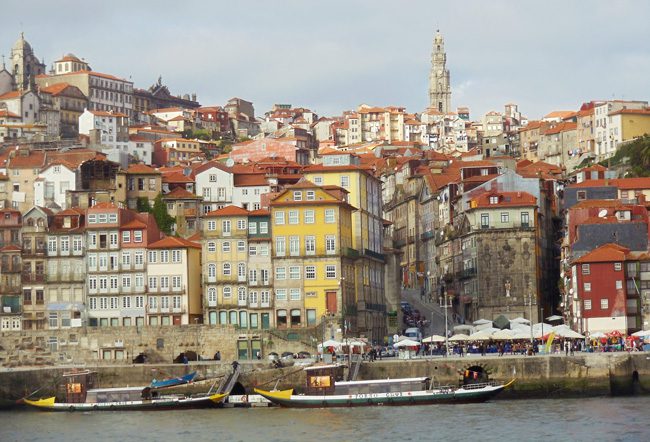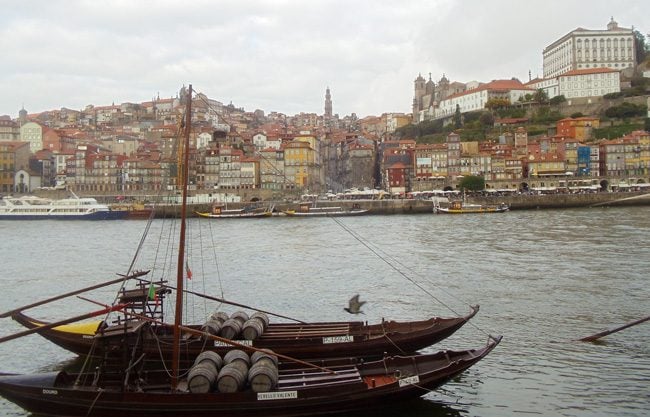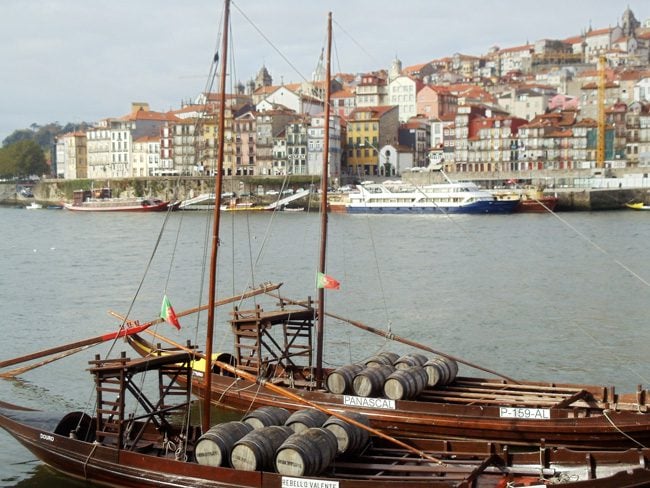 The charming pedestrian avenue is a place you'll want to hang around for a while. The view across the river to the Ribeira backed by the upper sections of the old city center is sublime and you can have lunch with a side or port wine, do some souvenir shopping and buy a bag of hot chestnuts in winter months.
Taylor's Winery Tour & Tasting
Most of the Gaia's port houses and wineries used to offer free tours which also included a tasting. These days, you'll usually need to pay 5-7€ for either a tasting or a tour plus a tasting – still a pretty good deal considering you get to taste four different port wines. There are a dozen or so places that you can visit so choosing the best ones is key unless you really want to get drunk. I recommend visiting a maximum of 2-3 wineries, with Taylor's being the port winery that you don't want to miss!
Producing port wine since 1692, Taylor's is among the finest makers of port. Their warehouse is located a pleasant 10-minute walk up a hill overlooking the Gaia and Riberia, away from the hustle and bustle of the riverfront. The visitor's center is more like a museum and you'll love walking around as you learn about the history behind the famous brand. There's also a highly acclaimed restaurant on the premises with a terrace overlooking the historic city center of Porto.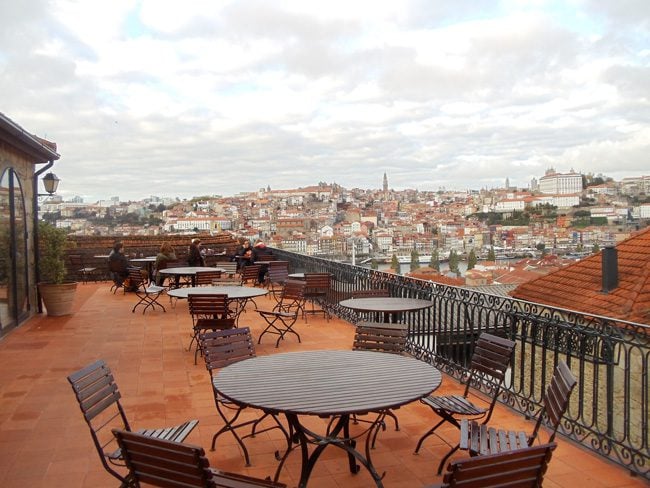 Tours and tasting cost 12€ per person, not exactly cheap but really worth it. The tour takes you around the large property, including a visit to the cellars where thousands of barrels are slowly aging. You'll wrap things up with a very generous tasting of four port wines and you can (of course) pick up a few bottles from the gift shop.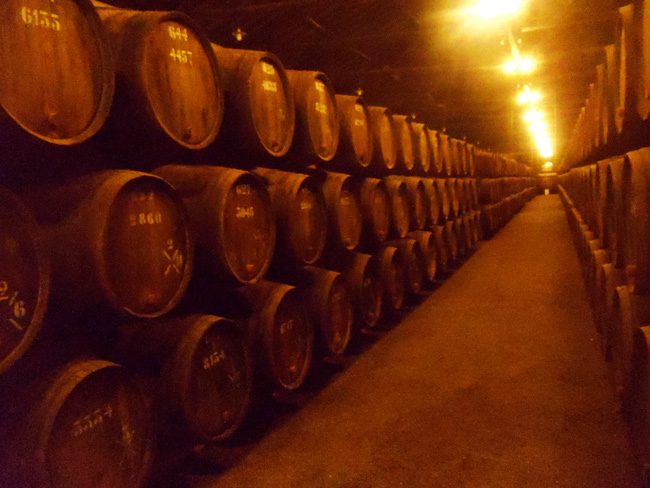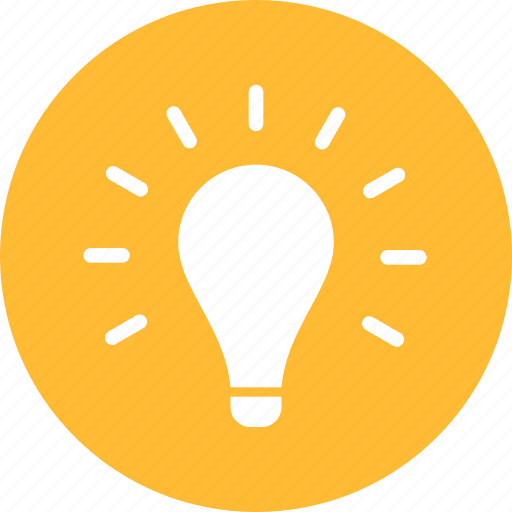 Pro Tip
Note that buying bottles of port wine at the source isn't necessarily cheaper than buying in specialty shops in town. In fact, we discovered a price difference of up to 30%!
Dinner in Ribeira
You'll likely feel slightly tipsy after visiting a couple of wineries so heading back to the hotel in preparation for dinner is a good idea. If staying in the Ribeira, simply take the lower deck of the bridge.
For an authentic dining experience in Porto, head to O Bom Talher on Rua Comércio. This is a family-owned restaurant recommended to us by a local friend. The atmosphere is not touristy at all and the menu is very modest despite the close proximity to the large eateries of the Ribeira. We went for the grilled codfish – a Porto specialty. It can be ordered either as a ½ portion or a full one but whatever the case may be – you won't leave this place hungry! For the main dish, wine plus desserts, we paid under 30€ for both of us and it seemed as though the entire family was on hand to make us feel welcomed.
Day 2: Historic Center & Night Out
On the second of our 3 days in Porto, we'll explore on foot parts of the historic city center, including a number of famous monuments that aren't to be missed.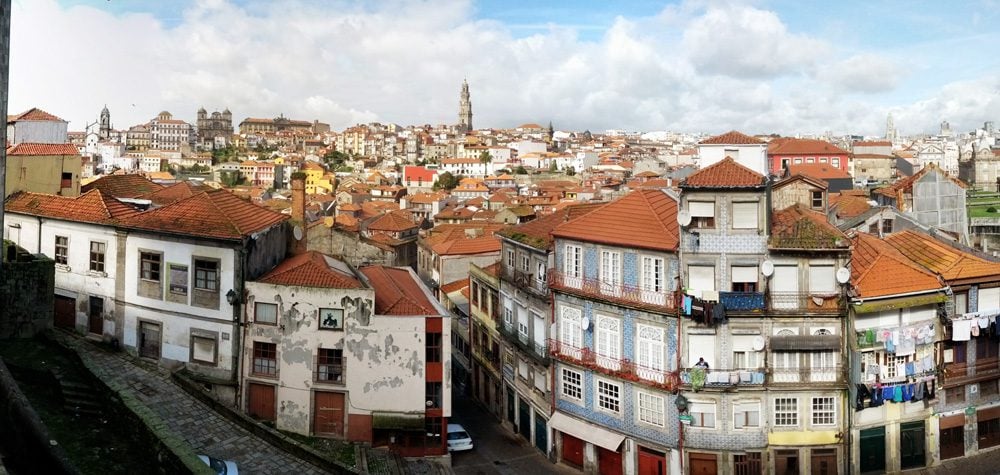 Classic Porto Breakfast
Start the day in Cais de Ribeira and take the narrow staircase of Escada dos Guindais which leads to the steep Rua de Arnaldo Gama. Much like Lisbon, Porto is a city of hills but this doesn't only mean a strenuous effort on the feet but also awesome views from just about everywhere. Using this route to get to the upper neighborhood of Batalha is a great way to see local residents starting out their day. You'll eventually reach "flatter ground" along the remaining parts of the ancient city walls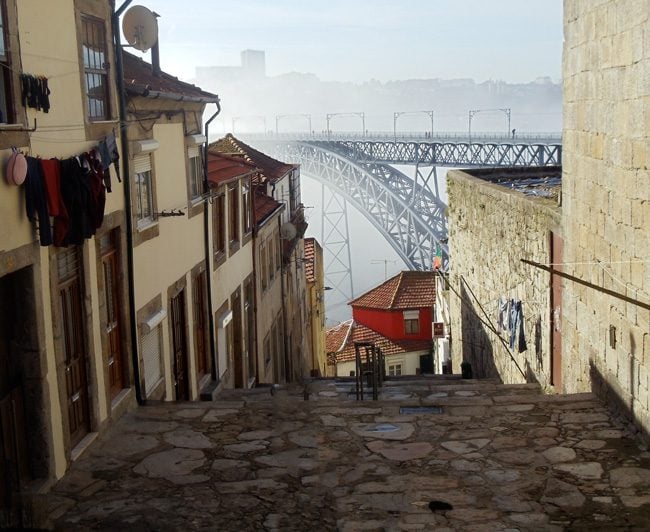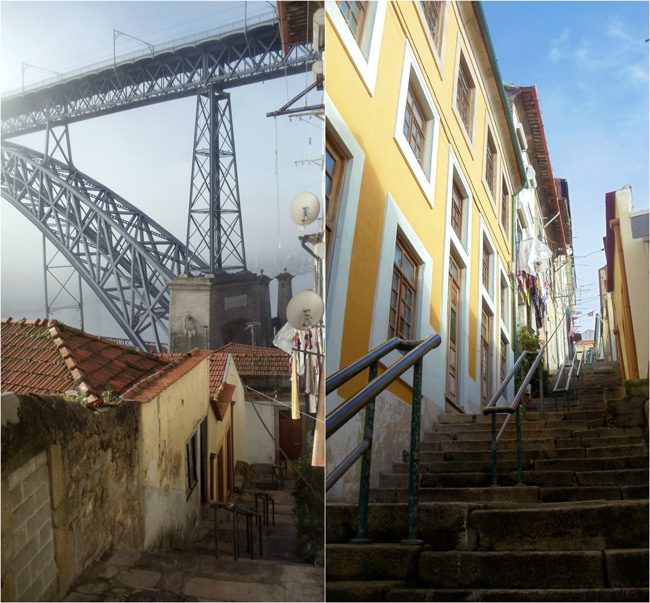 For breakfast, head to Padeirinha Doce on Rua Augusto Rosa. We were the only tourists at this cafe that wasn't only packed with locals but also with freshly-baked pastries. This is just about the right time to put the calorie counting into snooze mode and go for a round of custard-filled almond croissants. This is place is super cheap and super hard to leave.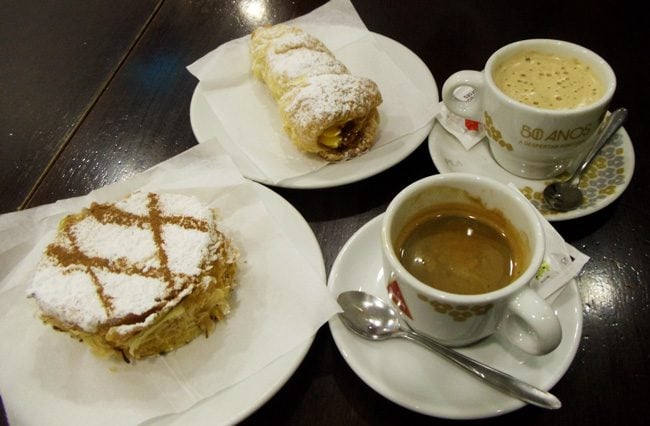 Batalha Square
The next stop after breakfast is Praça da Batalha, home to the national theatre and the church of Santo Ildefonso – a gorgeous cathedral perched on a small hill. Its impressive facade is covered in light blue ceramic tiles that depict religious stories and key scenes from the city's history.
The small open space in front of the twin bell-towered cathedral also offers a great viewpoint to the city center further downhill and the Torre dos Clerigos – Porto's signature tower which we'll later visit.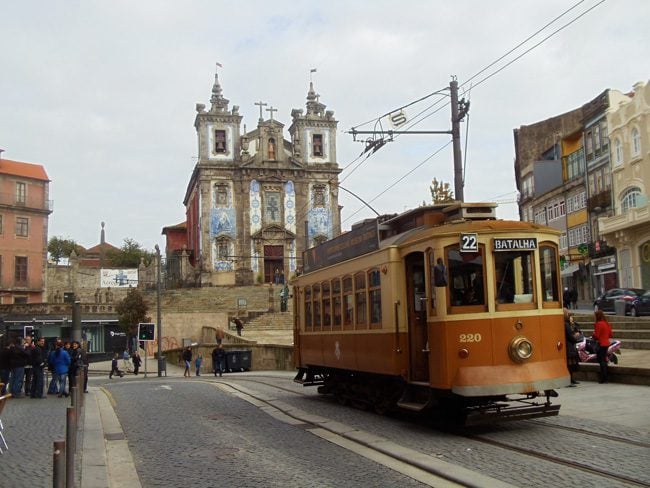 São Bento Train Station
São Bento is the city center's main train station and you'll arrive here if taking the train to Porto from Lisbon. But even if you're not hopping a train, it's absolutely worth it to make the short downhill trip to check out the station's incredible tiled walls. Over 20,000 intricately painted tiles depict historical events in the history of Portugal, turning this ordinary train station into a living museum.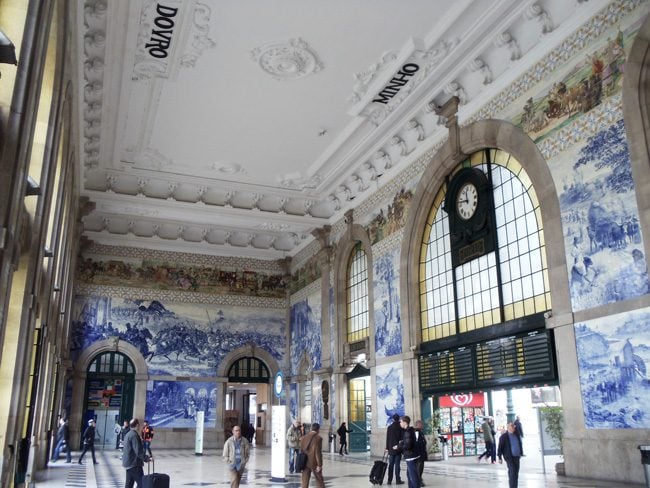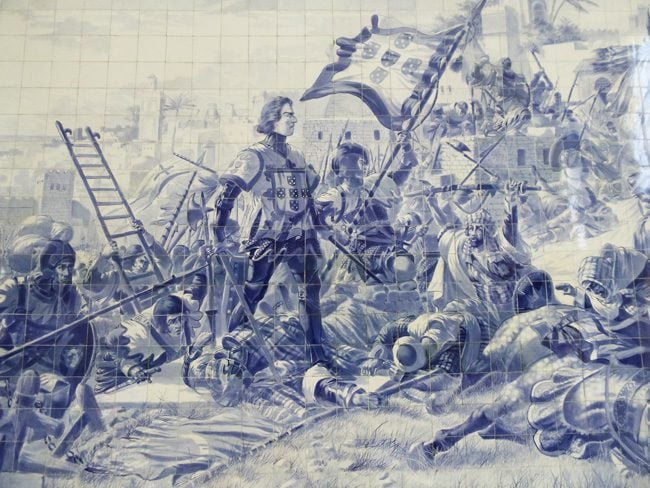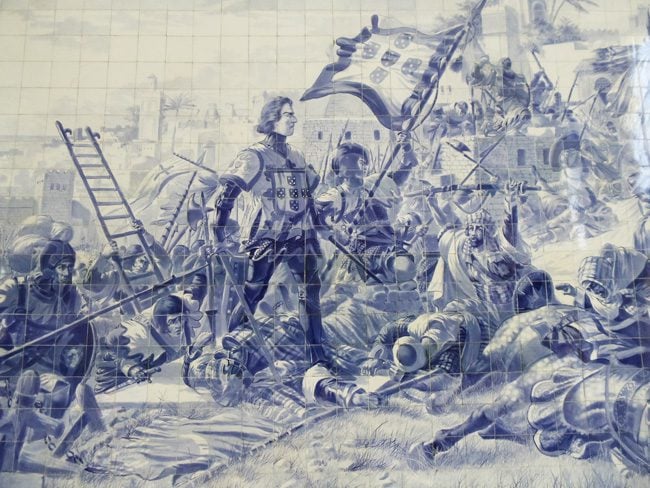 Porto Cathedral (The Se)
A visit to Porto's Romanesque main cathedral is not to be missed. Dating back to the 12th century, it technically should cost a few Euros to get inside but nobody was checking tickets on the day we visited.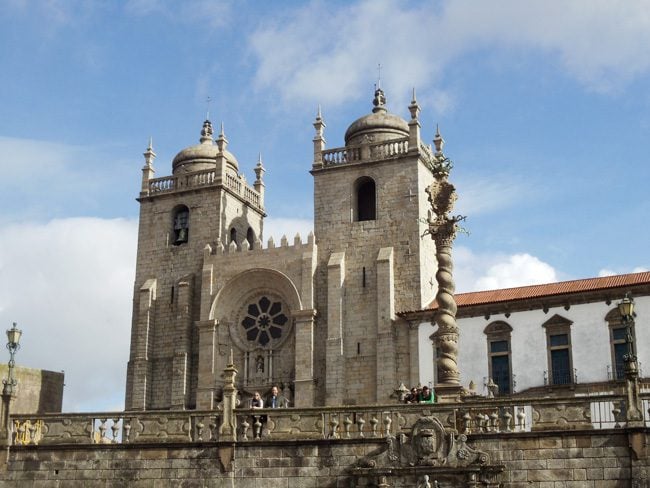 Walking up to the Se is a pleasant experience on its own as the cathedral's location on a commanding hill affords panoramic views of Porto along with a unique vantage point to the charming yet dilapidated apartment building of the surrounding area.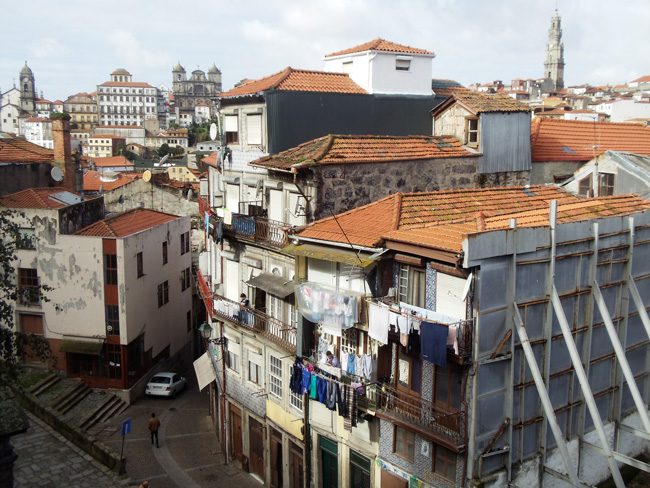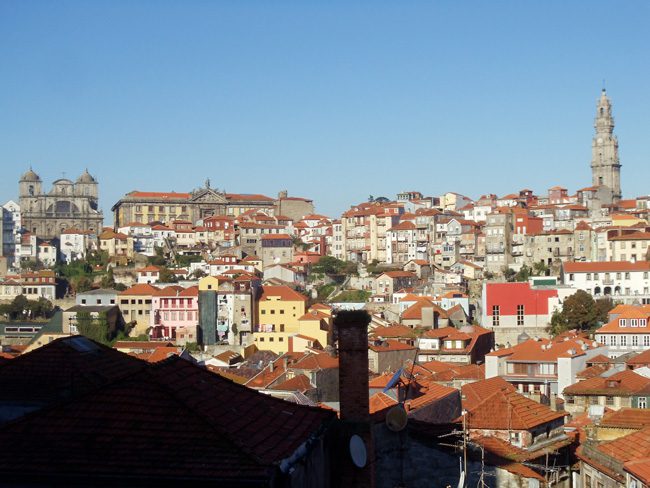 Apart from visiting the interior of the cathedral, you should wander around the lanes leading to the cathedral, check out the Pelourinho – an interesting twisted-column statue, and visit the Igreja de São Lourenço archeology museum if you fancy some more fact-finding.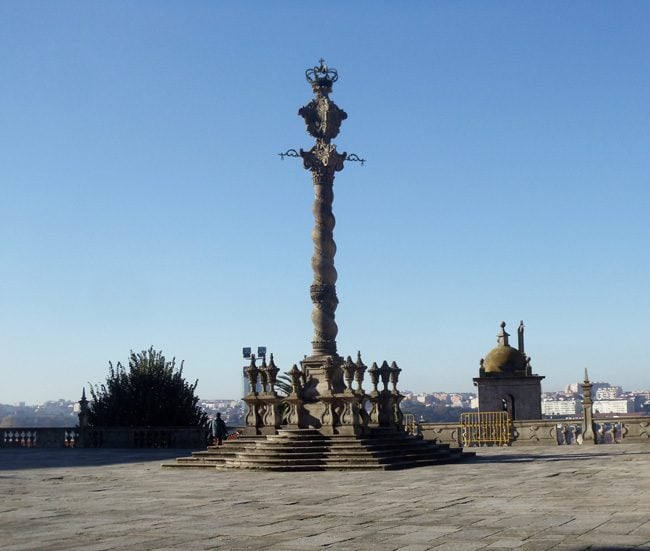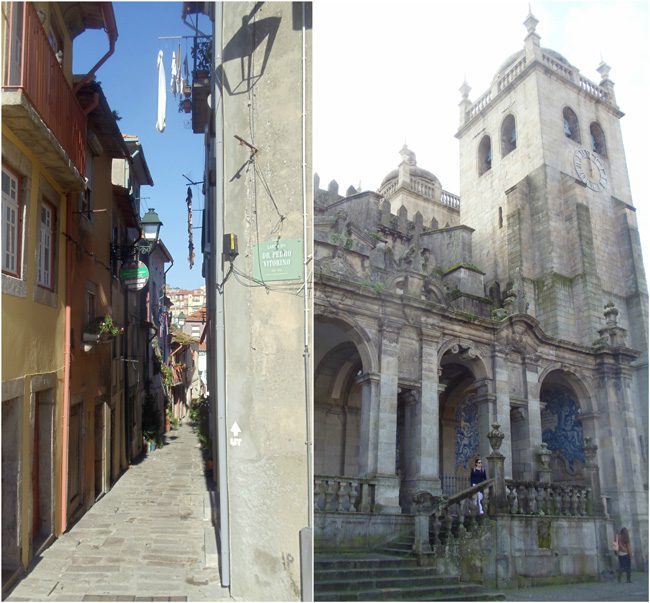 Options for the Rest of the Day
I'll recommend two options for how to spend the rest of this second day in Porto.
Option 1: City Center and Night Out in Porto
If you crave additional panoramic views of Porto from the Pont Dom Luis I Bridge, head from the Se to Avenida Vimara Peres and walk until the views are sufficient. Alternatively, you can explore the alleys extending from the Se, grab some lunch in the Ribeira and go back to your hotel to rest before going out.
As far as drinks go, I already mentioned the trendy Bar Ponte Pensil which is, in this case, a good way to start the evening off with a few tapas and wine beneath the famous bridge. If you want to stick around the Ribeira, head to Vinologia on Rua de Sao João. This is one of the most popular wine bars in Porto and always draws a decent crowd.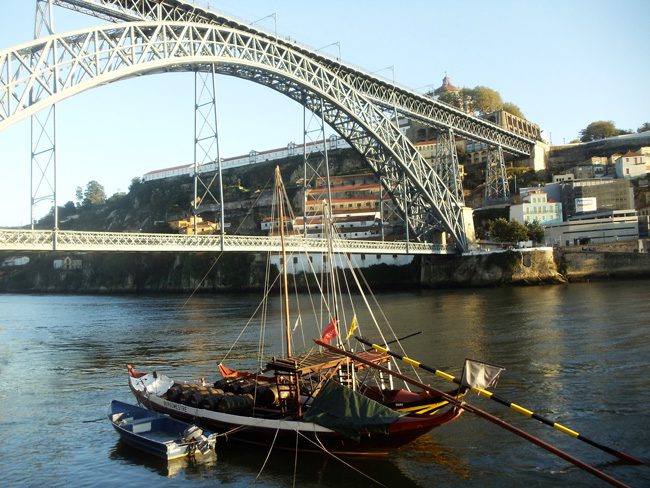 For a truly night out in local fashion, head up Rua das Flores to the Clerigos Tower (Torre dos Clerigos). Porto nightlife centers around three small streets that head north from this church: Rua do Conde de Vizela, Rua de Cândido de Reis, and Rua da Galeria de Paris. By day, this is a lively area with cool shops and cafes (which we'll explore tomorrow) but by night, you'll find a rich selection of trendy bars and clubs. Just in case you're wondering, we went for cocktails at Casa do Livro and Galeria de Paris.
Before heading back down to the Ribeira, check out the beautifully lit historical building around Praca da Liberdade at the bottom of Avenida dos Aliados.
Option 2: Afternoon and Evening in Afurada
Afurada is a charming traditional fishing village located just outside of Porto at the mouth of the River Douro. The main reasons for coming out here are the lovely scenery of "old-time Portugal" and the wealth of excellent dining options. To get here, either take the bus from the city center or catch the ferry next to the Arrábida Bridge (Ponte da Arrábida).
Day 3: Market Area, City Center & Gardens
On the third and last of our 3 days in Porto, we'll wrap up our visit to the city's major landmarks and visit a few cool shops before an afternoon snooze in the park.

Breakfast in Rua de Santa Catarina
Head north to the Bolhão district on Rua de Santa Catarina – one of the city's major shopping streets. The street's morning vibe helps you wake up with people coming and going and the air filled with the aroma of roasted chestnuts.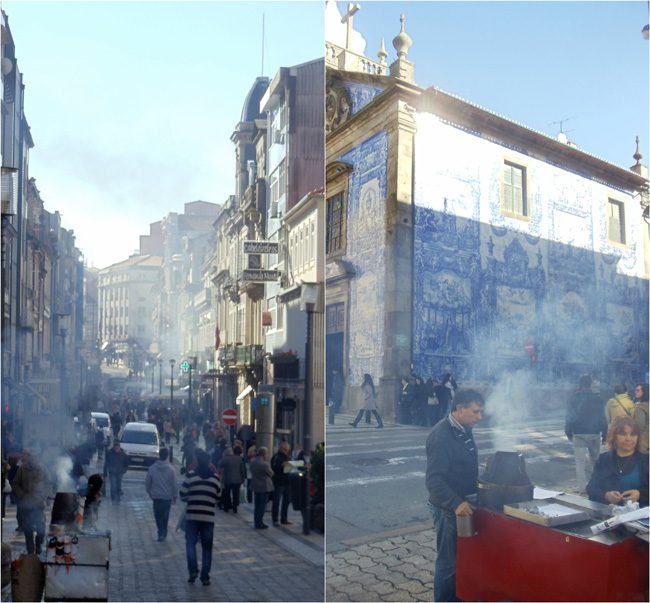 For breakfast in a classic setting, head to Cafe Majestic – the city's iconic tearoom, where waiters are finely dressed and the walls painted gold. For a more down-to-earth experience, head to Confeitaria do Bolhao and expect a similar taste to yesterday's awesome breakfast.
Before continuing the walk up Rua de Santa Catarina, check out A Pérola do Bolhão and Comer e Chorar Por Mais – two specialty shops selling fine selections of meat, cheese, jams, port wine, and lots more.
At the intersection of Santa Catarina with Rua de Fernandes Tomas – pause to admire the unmissable Capela das Almas. This beautiful church is covered with azulejos (blue ceramic tiles) and is a real work of art in the middle of the street.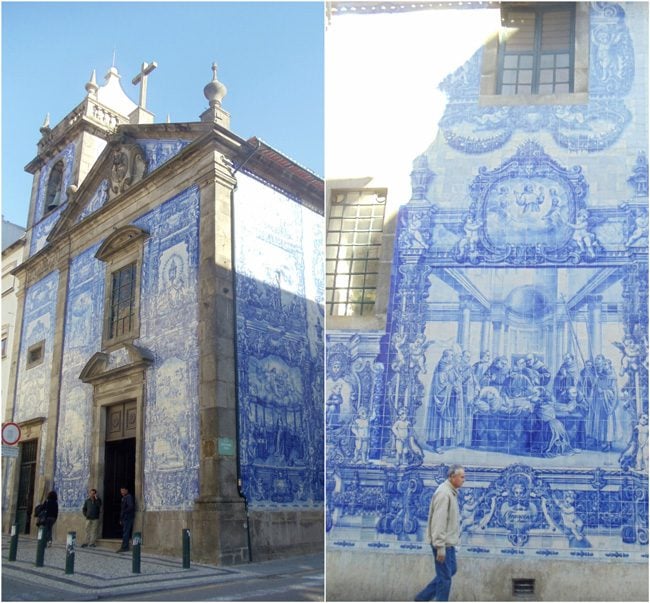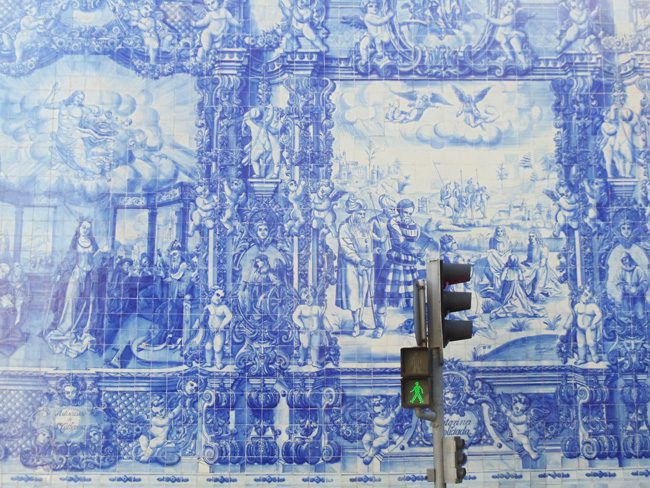 Mercado do Bolhão
Porto's main market is a fun place to stroll through and buy some fruit and snacks for later in the day. The market consists of two floors with the fruits and vegetables largely concentrated on the top floor. What I especially liked about this market is the people and the tools they use (super ancient-looking scales). It clearly shows they've been here for decades and who knows what will become of the market when they pass.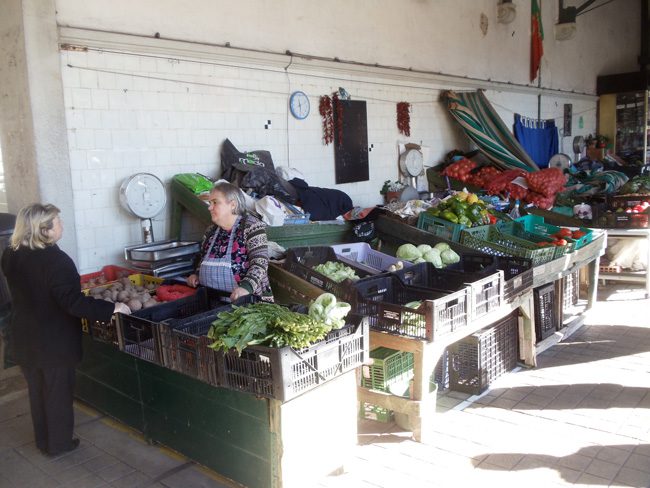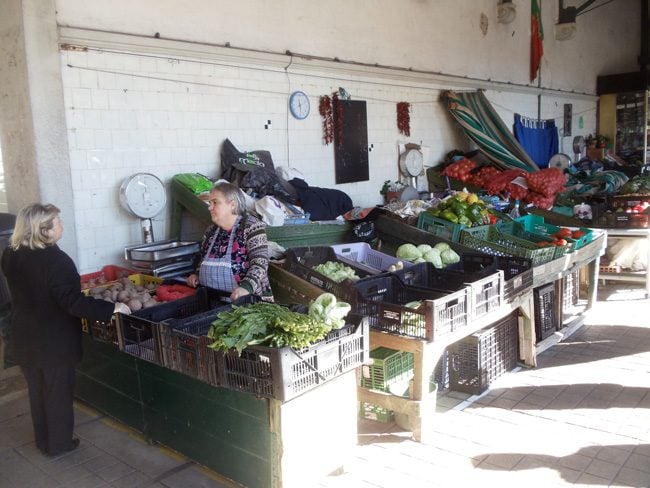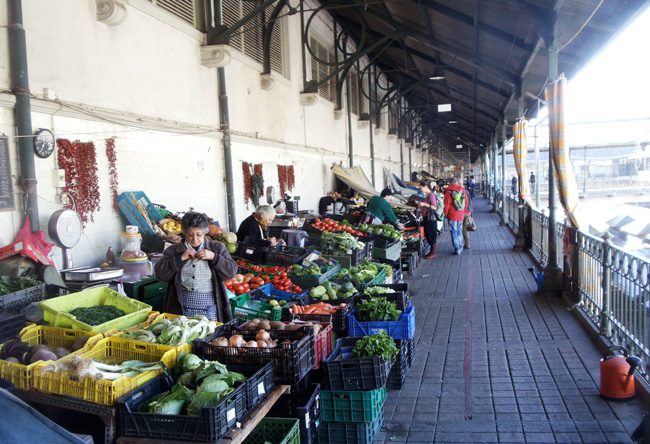 Down on the bottom floor, you'll find a good selection of gourmet shops selling meat, dried fruit, cheese and canned pickles as well as a few flower shops, fruit stalls, and souvenirs.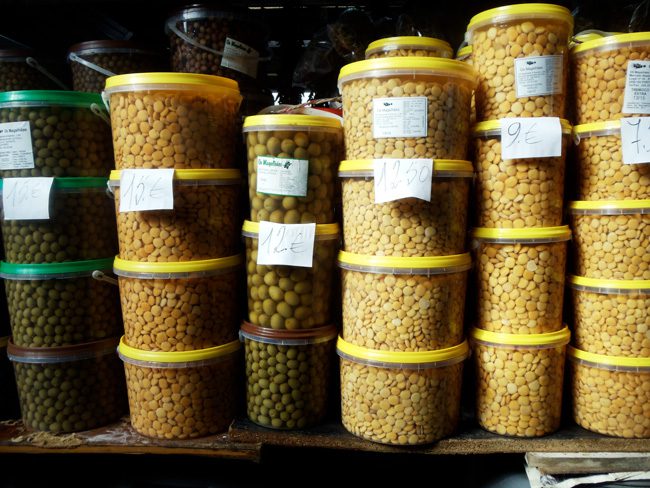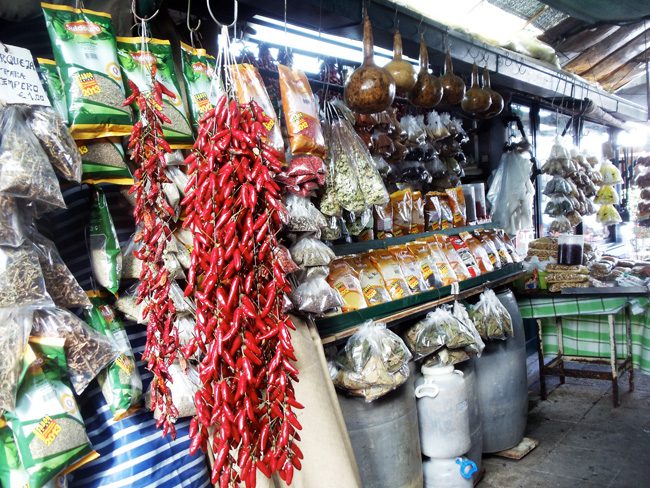 There's an excellent "worker-style" restaurant down here – Cafeteria Pintainho – which you might want to circle back to when you're hungry (inquire about opening times). The small restaurant specializes in fish and seafood which are bought at the market. For about 10€ you can enjoy a really big lunch plate. Over the years, hundreds of diners from around the world have left a recommendation in their mother tongue on a piece of paper displayed on the walls.
Clerigos
From the market, head in the direction of the Clerigos district. A good route to take is via Rua de Fernandes Tomás where you'll find additional fine food shops on both sides. We found the price of port wine to be much cheaper in these shops than their price in the port houses themselves. Casa Natal on #833 and nearby and Casa Lourenco (at the intersection with Rua do Bonjardim) are two of the shops we especially enjoyed.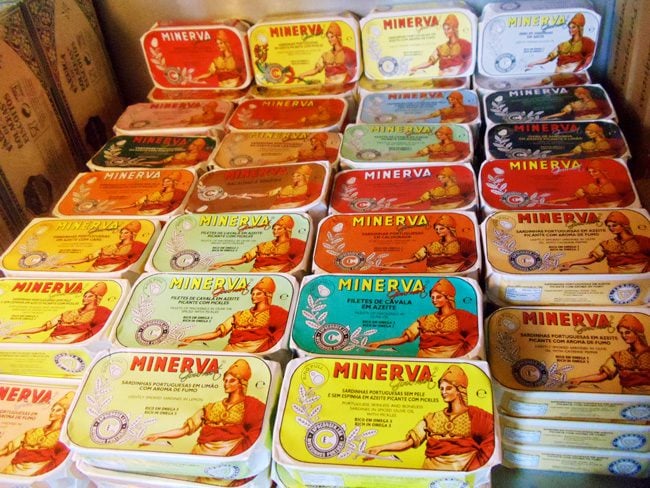 You'll eventually reach the grand boulevard of Avenida dos Aliados. Walk down to Praca da Liberdade and take note of the gorgeous classical buildings around you. At the Liberdade Square, check out the Porto town hall with its 70-meter bell tower and the bronze statue of King Pedro IV riding a horse. The cafes around Praca da Liberdade pose a good opportunity to fill up on some caffeine.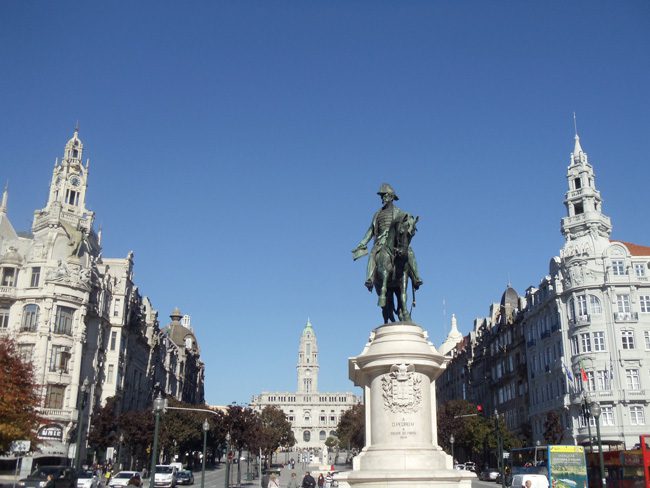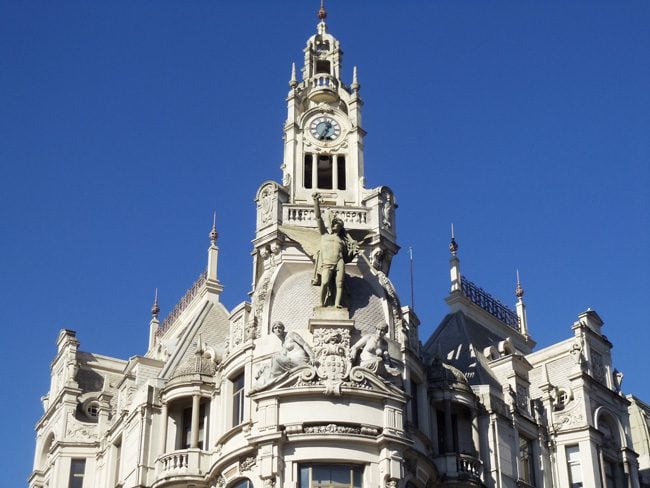 Torre dos Clerigos
The interior of the 18th-century baroque church will not knock you off the ground but its 76-meter tower is well worth the climb. By now, you'll have surely seen the tower on a number of occasions so it's only fitting to climb the spiral staircase and enjoy the 360-degree views from the top (2€).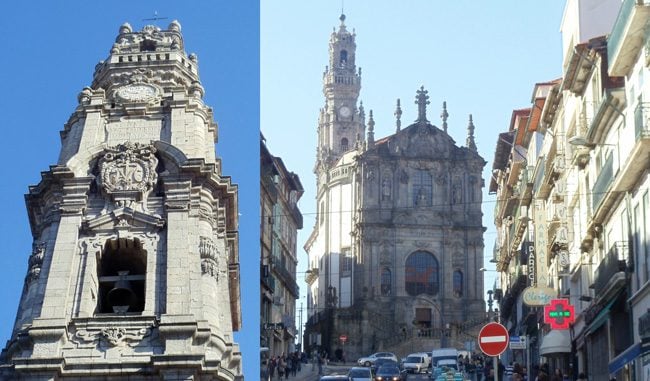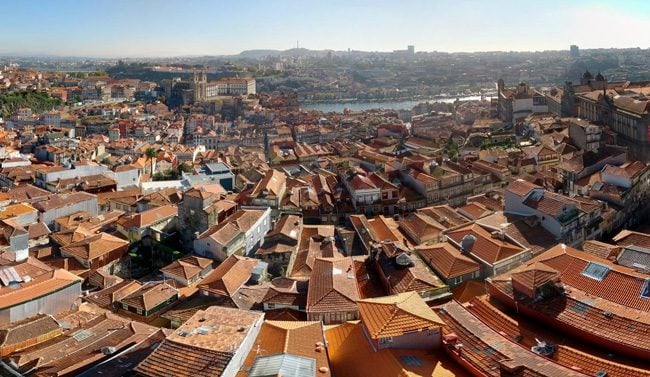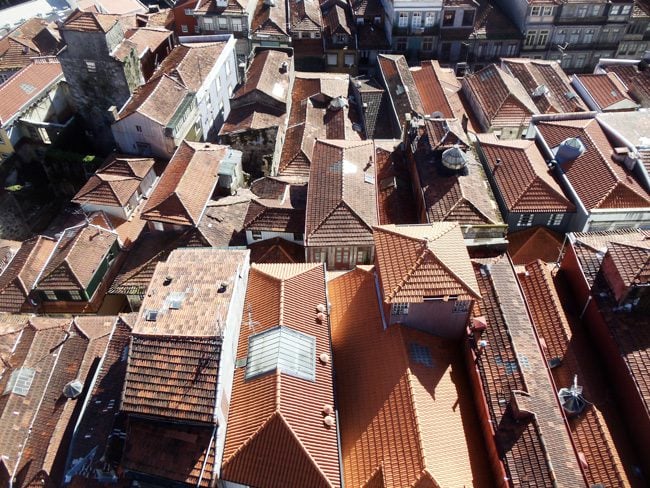 In the small plaza just in front of the church, check out Casa Oriental – another cool food and wine shop that's worth checking out.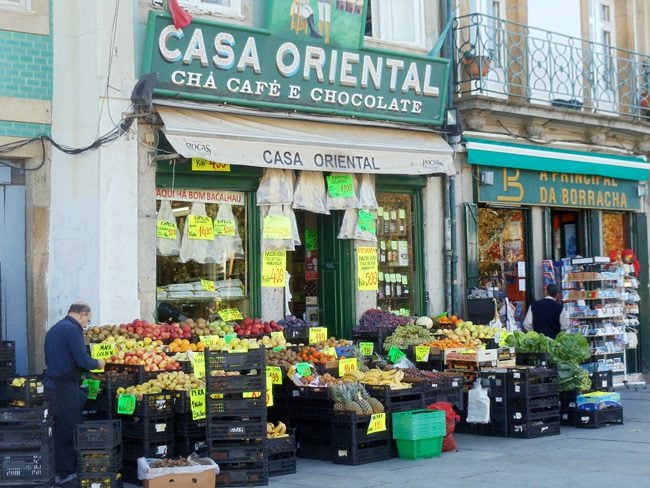 "Harry Potter" Bookstore
From the tower, head to Rua de Galeria de Paris – where we had drinks last night. By day, it's worth checking out its trendy hipster shops and cafes. However, the area's crown jewel is the Livraria Lello on Rua das Carmelitas.
This 19th-century book store is the oldest in Portugal. Admire its neo-gothic exterior and step inside to where the real magic lies. This particular shop inspired a number of scenes from the Harry Potter book series (J.K. Rowling often visited when living in Porto), with walls lined up with an impressive selection of books stacked on wooden shelves. The book store's signature feature is its butterfly staircase which leads to the second-floor cafe. Photography is absolutely prohibited inside the store so, once again, I had to sneak a fast one…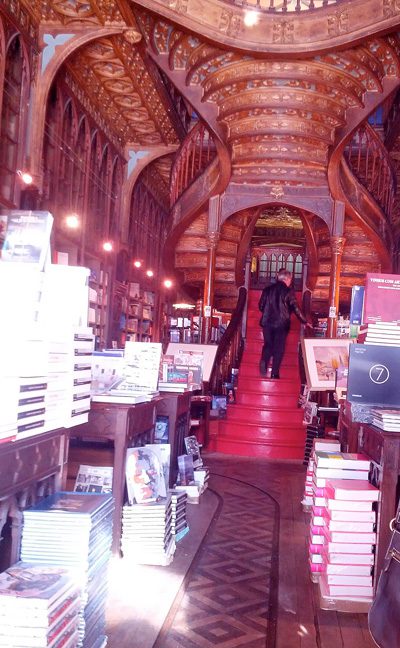 If you fancy some more classic Portuguese architecture, take the short stroll to Igreja do Carmo – yet another impressive cathedral whose facade is beautifully decorated with ceramic tiles. These azulejos were actually hand-painted – a true work of art!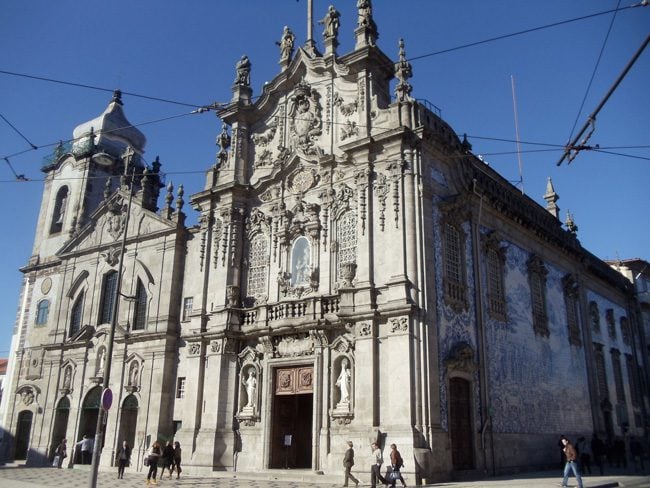 Jardim do Palácio de Cristal
Our last stop for the day was the Crystal Palace Garden and to get there, we walked past the lovely Praca de Carlos Alberto onto the major shopping street of Rua de Cedofeita, before turning on Rua de Miguel Bombarda all the way to the gardens.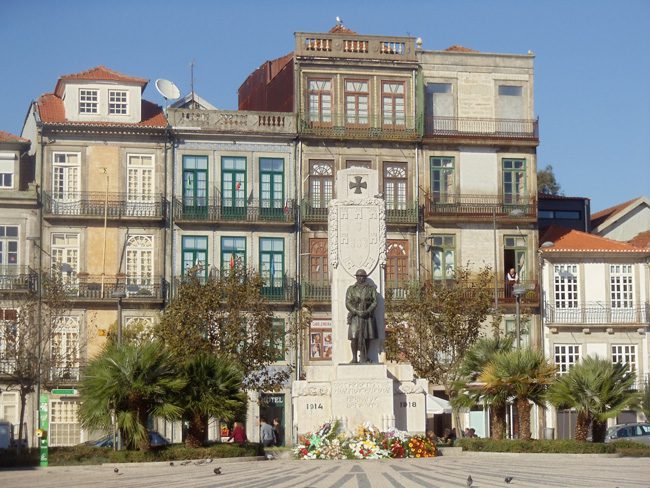 The gardens are a great place to kill a few hours, soak up the sun, and enjoy the "stuff" you either bought at the market or the specialty shops along the way. But don't get too lazy, as the hilltop garden overlooks the Ribeira on one end and the mouth of the River Douro on the other. There are also a number of lovely walking paths and ponds – quite the romantic place for couples.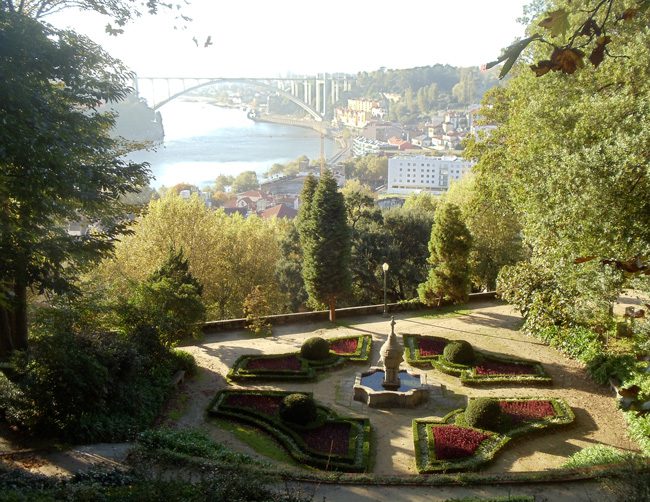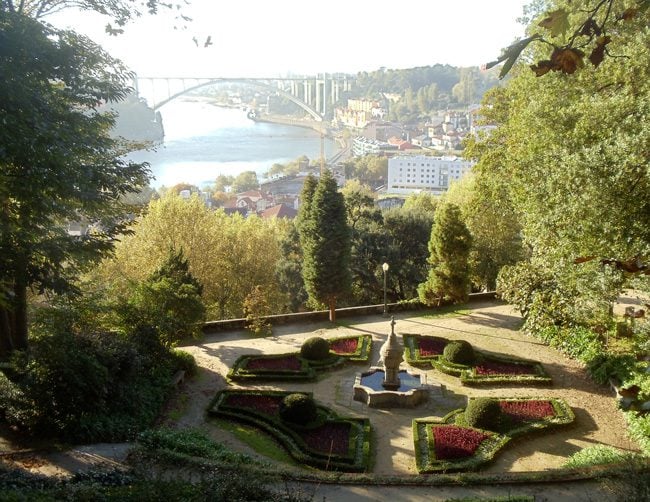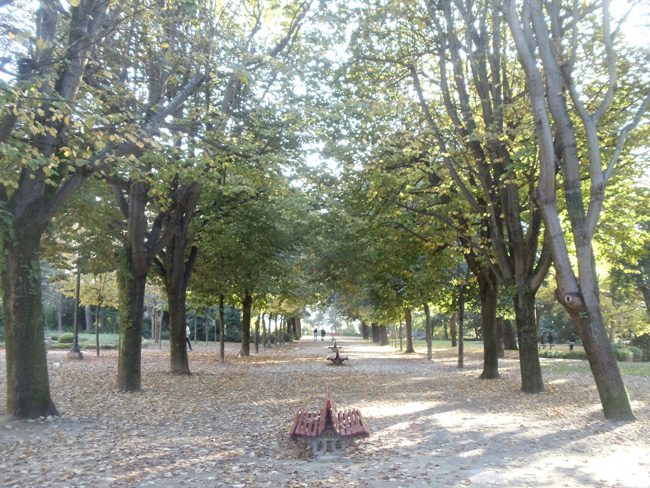 Departure from Porto
This day's itinerary wraps up in the late afternoon, so you can either enjoy the rest of the day in Porto or depart to your next stop.
What's Next?
I hope you've found this 3 days in Porto sample itinerary useful for planning your own adventure! Are you including Lisbon or other parts of Portugal in your travel plan? Sample itineraries and an in-depth guide to Portugal's capital are all waiting for you in the Portugal Travel Guide collection. If you wish to extend your visit and spend 4 days in Porto, rent a car and spend the day exploring Arouca Geopark.
---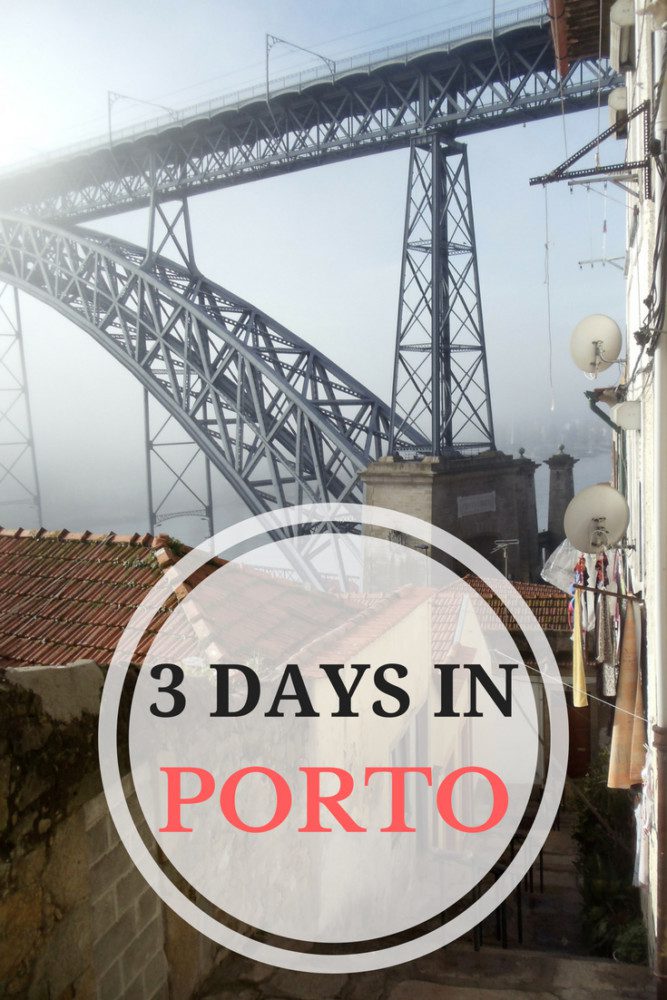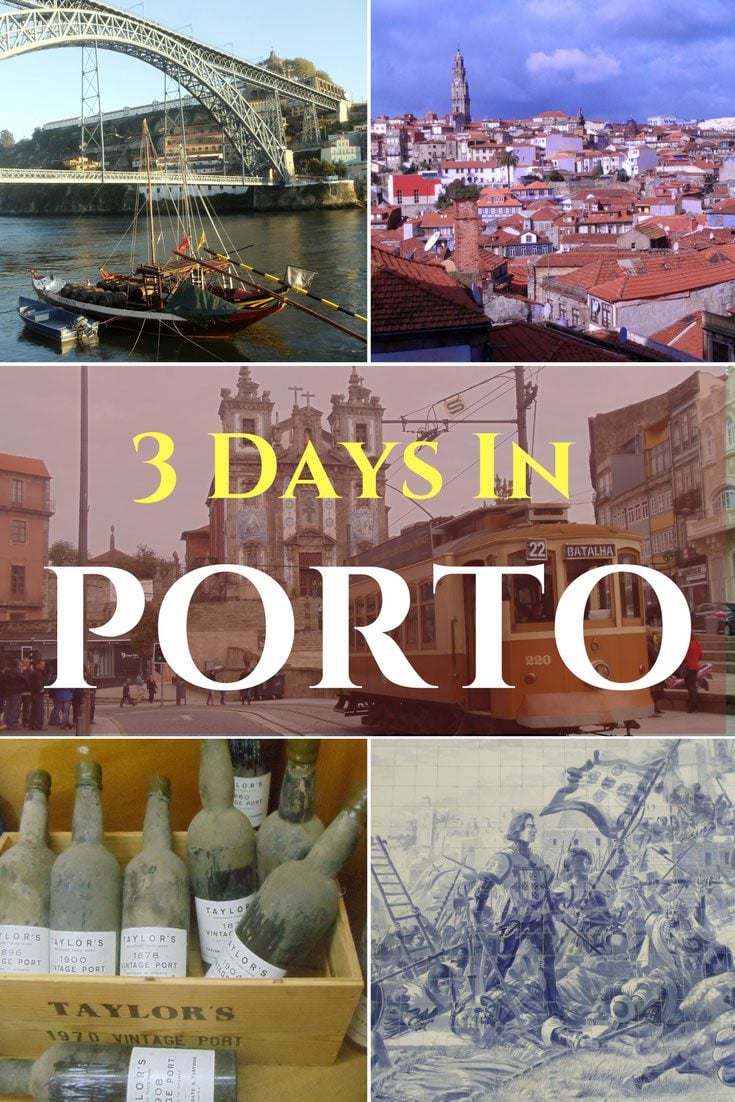 Pin These Images To Your Favorite Boards!