Tucson Travel Guide & Itinerary
Tucson is an exciting desert destination, surrounded by jagged peaks, sun-drenched throughout the year, and dotted with saguaro cactuses even in gas stations. In this Tucson travel guide and itinerary, we'll cover the ins and outs of exploring the city but also focus on the national park at its doorstep and the attractions within a day's driving distance.
Despite first visiting Tucson as a small child in the late 80s, I still had vivid memories of the place, even as an adult. Fast forward 30 years, I returned to Tucson for an extended visit as part of a five-week road trip in the American Southwest. This travel guide and Tucson itinerary is based on my experience and extensive research.
Why Visit Tucson?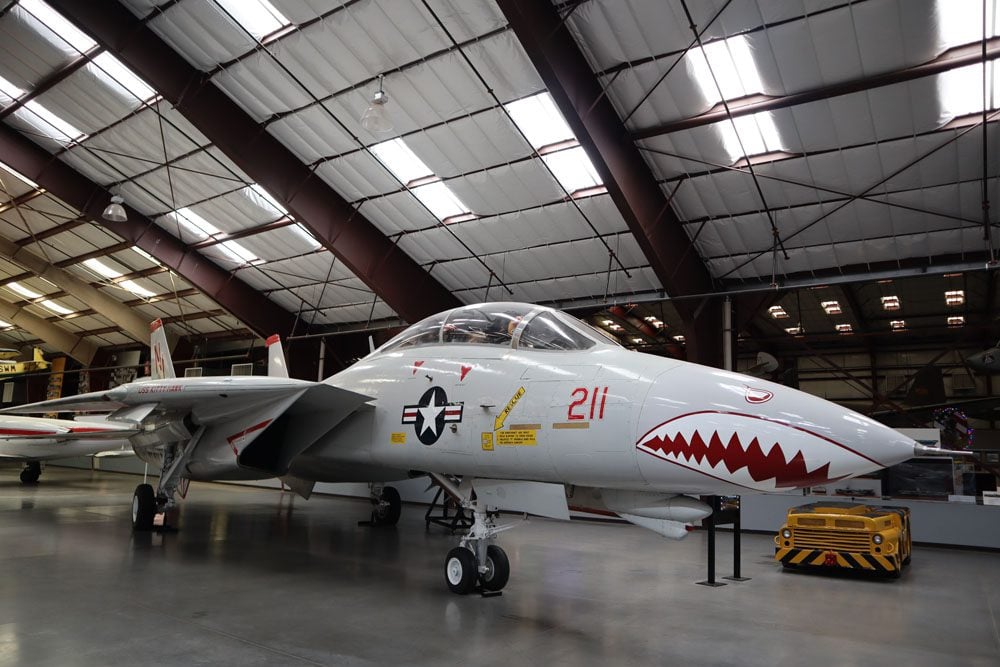 Museums Galore
From the university district's history museums to the superb Pima Air & Space Museum, and the Titan Missile Museum, Tucson is never boring, even in the sweltering summer heat.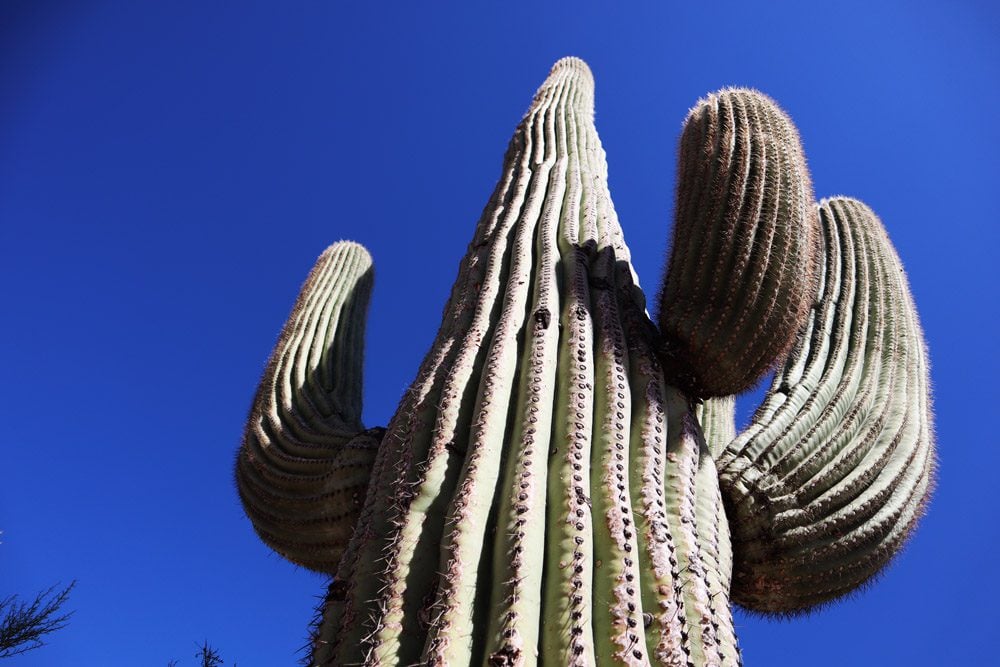 Saguaro National Park
Tucson is a stone's throw away from the national park, where dense groves of saguaro cactuses are the norm. Stroll amongst these giants and hike to panoramic desert viewpoints.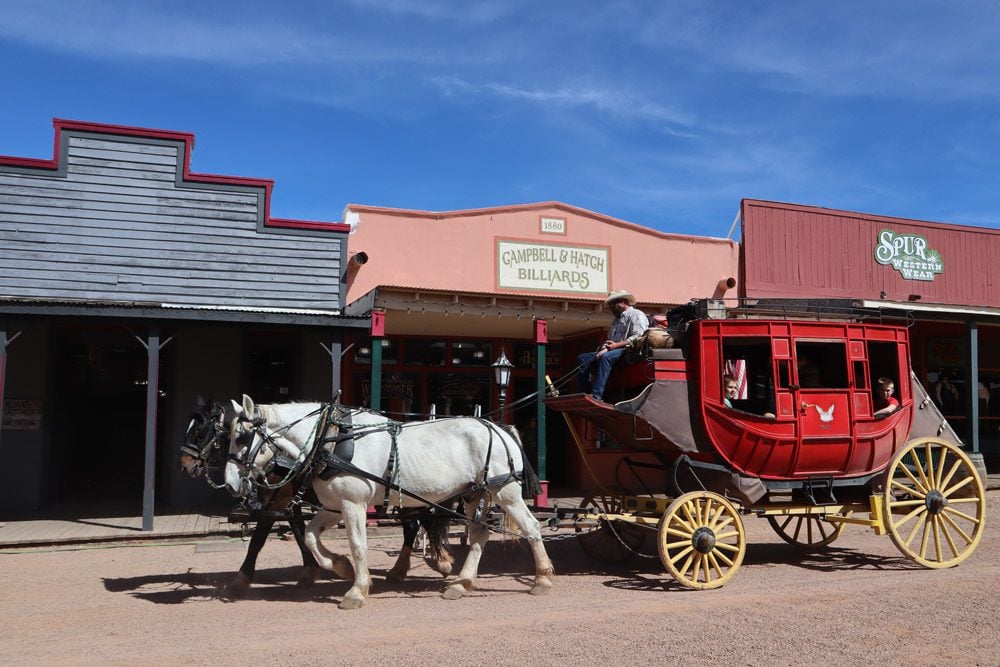 Road Trips
Leave the city behind and hit the road to some of the loneliest spots in the Southwest. Relieve the Wild West days in Tombstone and head deep underground in Bisbee's former mines.
What's Included in this Tucson Travel Guide?
Several sections make up this travel guide:
Essential planning tips for visiting Tucson and the region
An itinerary for spending up to 3 days in Tucson
Additional Arizona Travel Resources
Check out additional Arizona and Southwest USA travel guides to combine your visit to the Grand Canyon with additional desert highlights.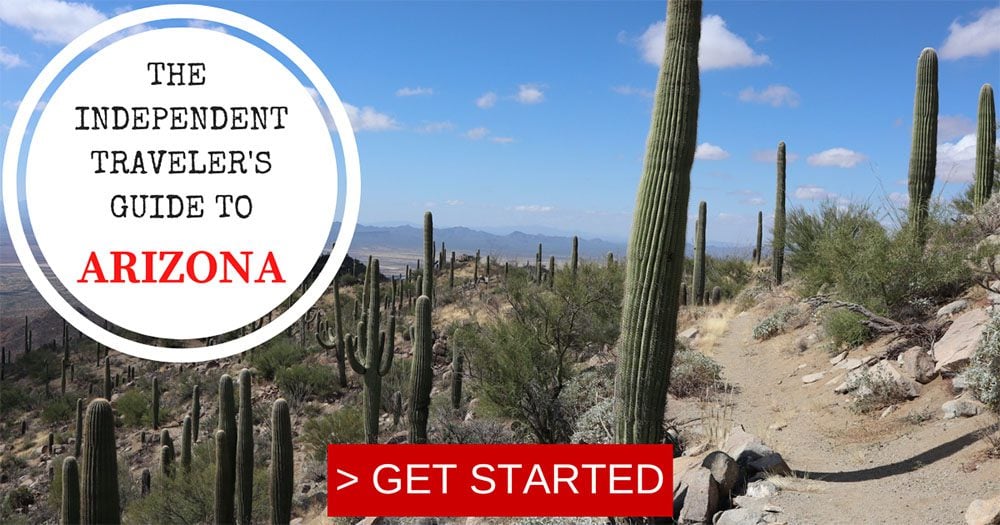 Tucson Itinerary Map
All places mentioned in this Tucson travel guide and itinerary are marked on this companion map. Simply click on the image to open it in Google Maps.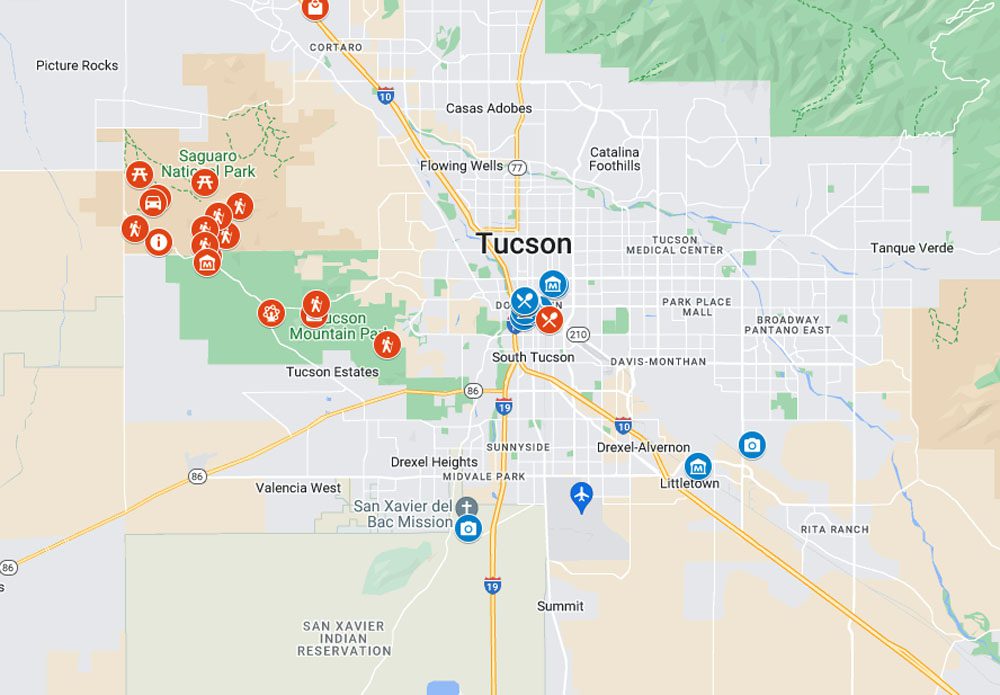 Tucson Travel Tips
This section deep dives into the essential ingredients for a successful visit to Tucson and Southern Arizona.
Where is Tucson?
Tucson is located in Southern Arizona, just 60 miles north of the U.S-Mexico border and 112 miles south of Phoenix. The city is built on a sandy plain in the northern reaches of the Sonoran Desert while surrounded by mountain ranges, the most famous of which are the Catalina Mountains.
How to Get to Tucson?
Tucson is easy to reach by public transportation, with frequent rail and bus services from Phoenix. However, if you aren't planning on exclusively staying in Tucson during your visit, a car is the best way to explore the region. You can rent a car from the Tucson Airport or drive to the city as part of a desert road trip. From Phoenix, Tucson is 112 miles south, along Interstate 10. Further north, Flagstaff is about 260 miles from Tucson.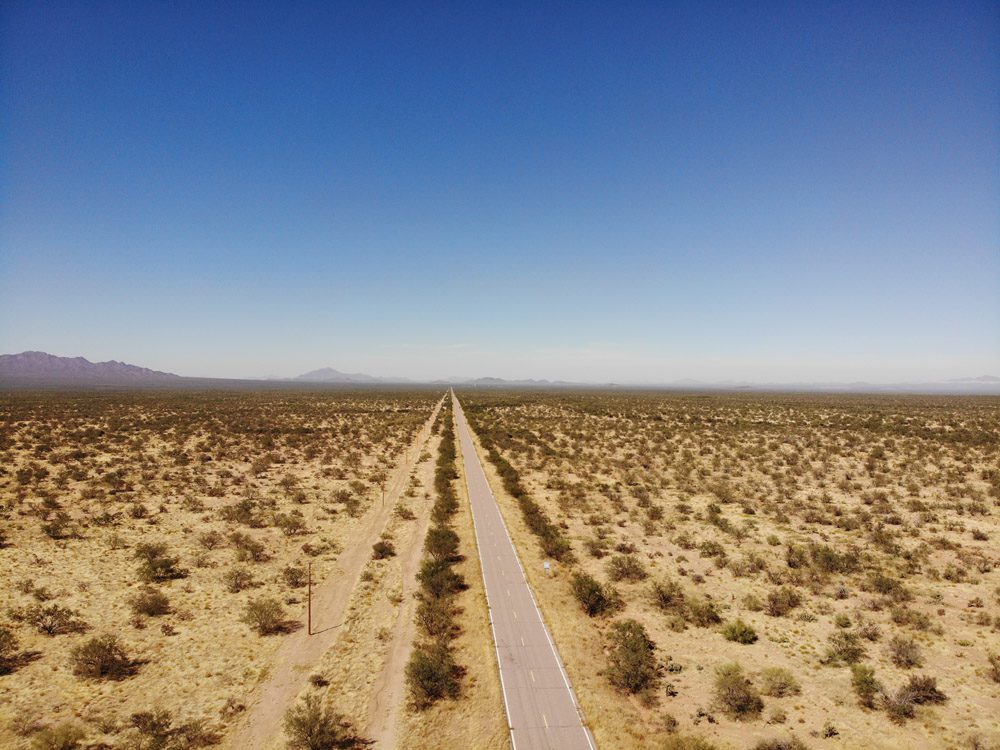 Arizona's major tourist highlights are quite a distance from Tucson, but the drive south is an adventure on its own. Stunning Canyon de Chelly is 340 miles north of Tucson, reached either by lonely backcountry roads or via Interstate 40 and Flagstaff. Spend a night along the way and explore Petrified Forest National Park and forgotten Route-66 towns such as Holbrook and Winslow. The Grand Canyon is about the same distance from Tucson as Canyon de Chelly, and Monument Valley adds another night and 100 miles to the road trip.
From the California side, Tucson is about 400 miles east of San Diego, reached via Interstate 8. To make the drive more interesting, exit the interstate at Gila Bend and drive through one of the remotest areas in Arizona on State Routes 85 and 86. Reached via scenic Interstate 10, Joshua Tree National Park and Palm Springs are about the same distance from Tucson. Further north, Mojave National Preserve and Death Valley National Park extend the road trip to Tucson.
When is the Best Time to Visit Tucson?
The best time to visit Tucson is during spring and late fall, when temperatures are comfortable during the day and night. However, Tucson is a year-round destination. In the winter, days are pleasantly mild, but nights are cold. During summer, temperatures hover around 100 degrees Fahrenheit (38 Celsius) during the day, so doing any outdoor activity requires planning and extreme caution. Heavy thunderstorms also tend to make an appearance during the summer months.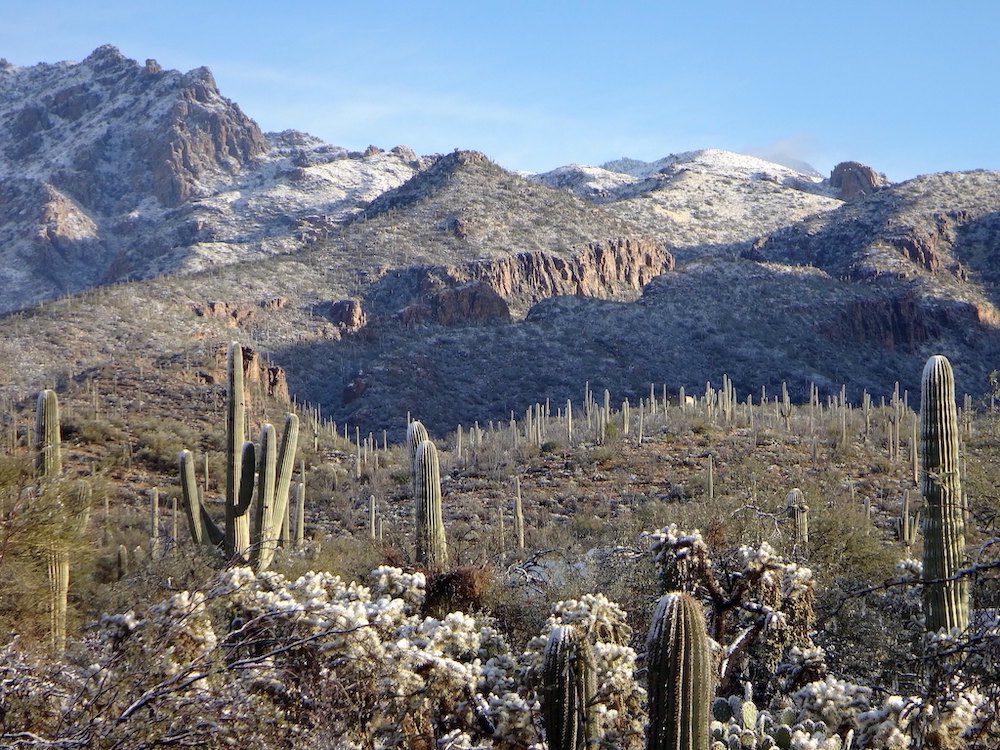 How Many Days Do You Need in Tucson?
One day in Tucson is enough if your visit focuses on exploring the city. However, if you have extra days, use Tucson as a base for exploring the region. For example, with two days in Tucson, you can explore one of Saguaro National Park's sections. With extra days, you can either complete the visit to the national park, visit museums and historical sites on the city's outskirts, or take a road trip to interesting spots south of Tucson.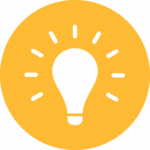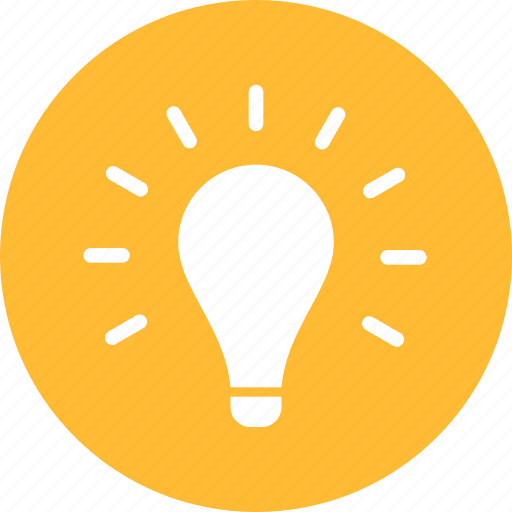 Pro Tip
See the next section of this travel guide for a detailed itinerary for spending up to three days in Tucson and around.
Where to Stay in Tucson?
Tucson has no shortage of hotels, especially in the downtown and university areas. If you're looking for a quiet accommodation with a local vibe, see if there's any vacancy at El Amador Downtown Luxury Inn. This charming collection of private units is located in an unassuming residential area within walking distance of downtown.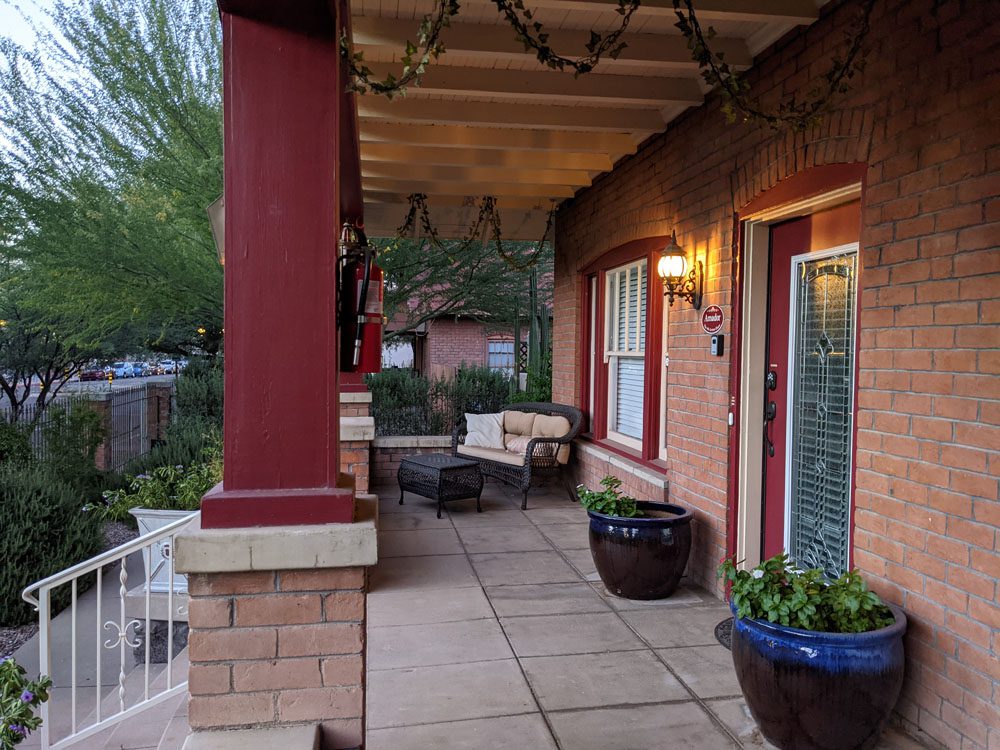 Rooms are pampering and huge, furnished with everything you need, including a fridge, coffee machine, microwave, and a television with more channels than you can handle. However, the real charm lies in the Spanish-style courtyard, complete with a water fountain and a BBQ area. I stayed in the 4th Avenue room, which faces the main street and the bus stop. If you can score a room in the back of the property, don't even think twice, but take into account that freight trains can be heard during the night.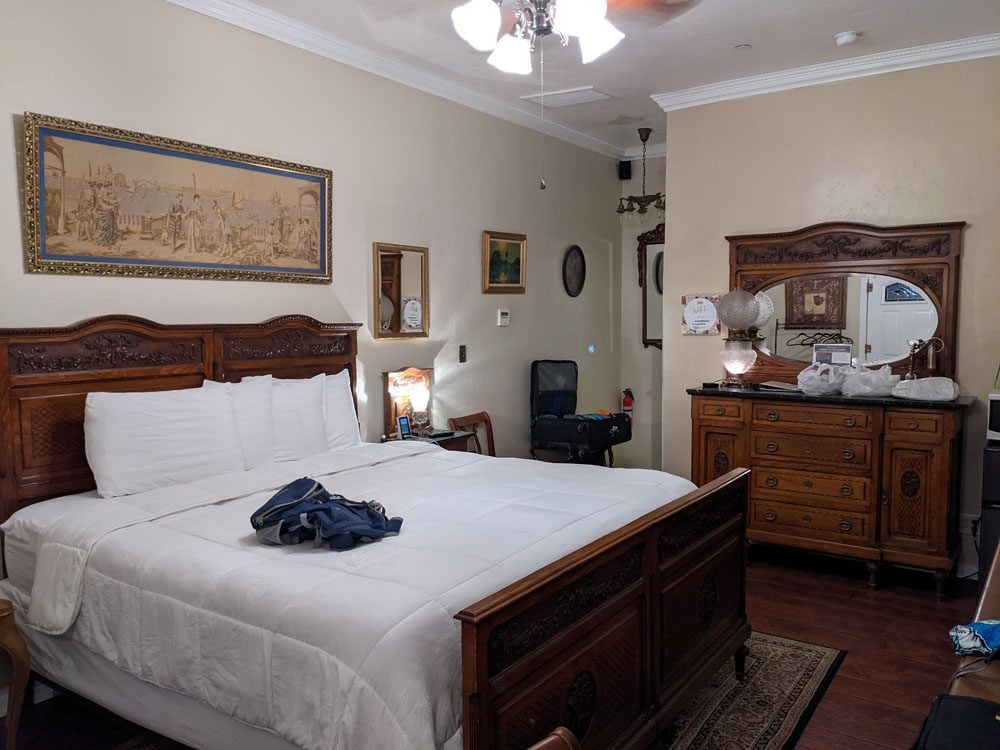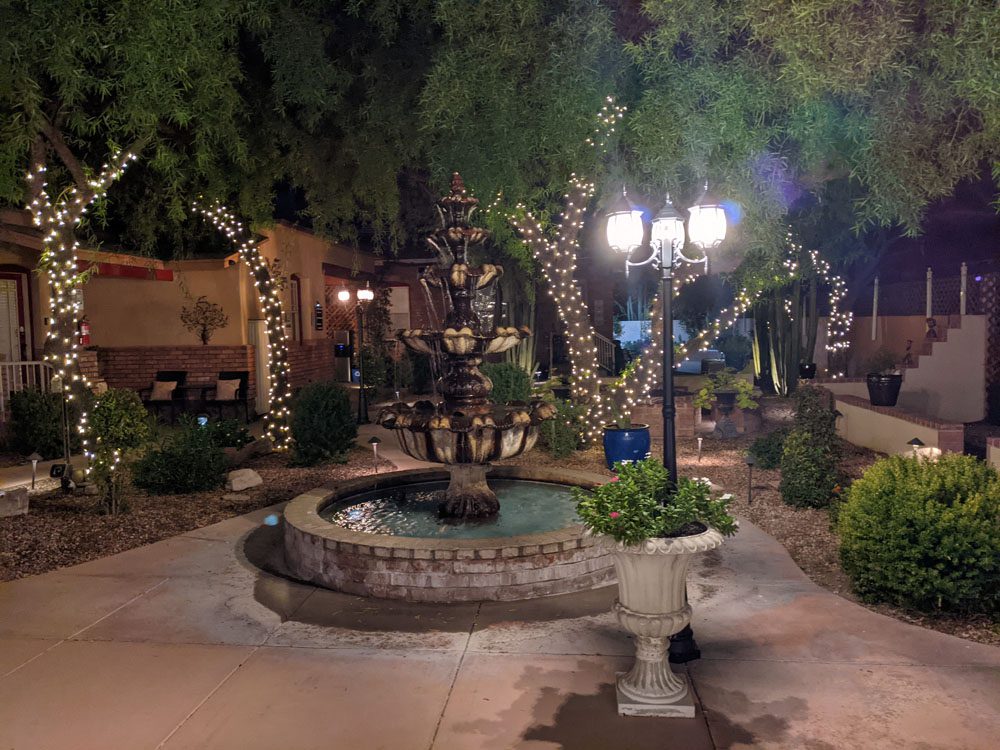 What to Pack for a Trip to Tucson
Here are a few items worth considering when planning a trip to Tucson and the surrounding region.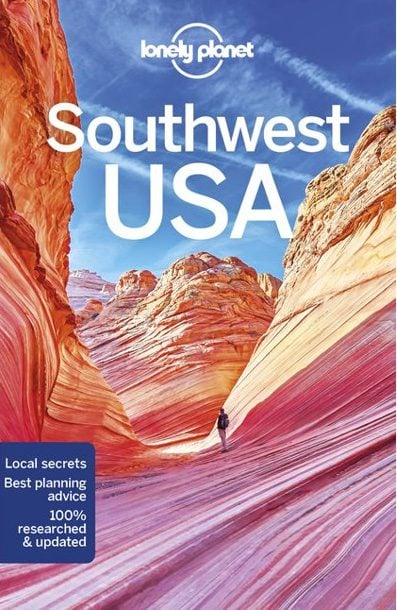 The Lonely Planet guide to Southwest USA is an excellent resource if Tucson is part of a more extended desert road trip.
Comfortable walking shoes.
If you're visiting Saguaro National Park: Hydration backpack, hiking shoes, thick socks, walking poles (optional), first-aid kit, snacks, and picnic gear.
Sun protection: hat, sunscreen, sunglasses
Clothing: lightweight and sweat-repelling layers.
Dry weather: lip balm, tissues, hand cream.
USB charger to charge your phone in the car
Check your car and ensure all spare tire parts are present.
Tucson Itinerary
In this section, we'll explore an itinerary for spending up to three days in Tucson and Southern Arizona.
Day 1: Downtown, Air Museum & Road Trip to Tubac
On the first day in Tucson, we'll spend the first half exploring the city and its university-area museum. Then, we'll hit the road and drive south, wrapping up the day in artsy Tubac.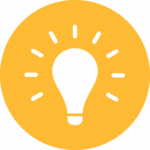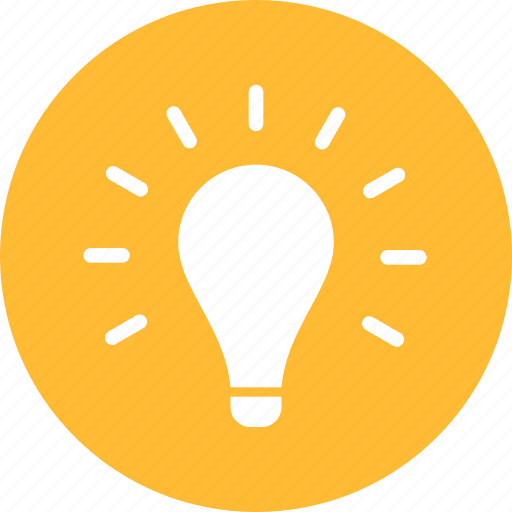 Pro Tip
If you're driving into Tucson and don't have a full day of sightseeing, consider skipping the downtown walking tour and starting the sightseeing at the Pima Air & Space Museum.
Downtown Tucson
I visited Tucson during the COVID epidemic, so the downtown area resembled a ghost town at times. Taking this into account, I still can't say that devoting half a day to exploring the city is an absolute must, especially if you're pressed for time.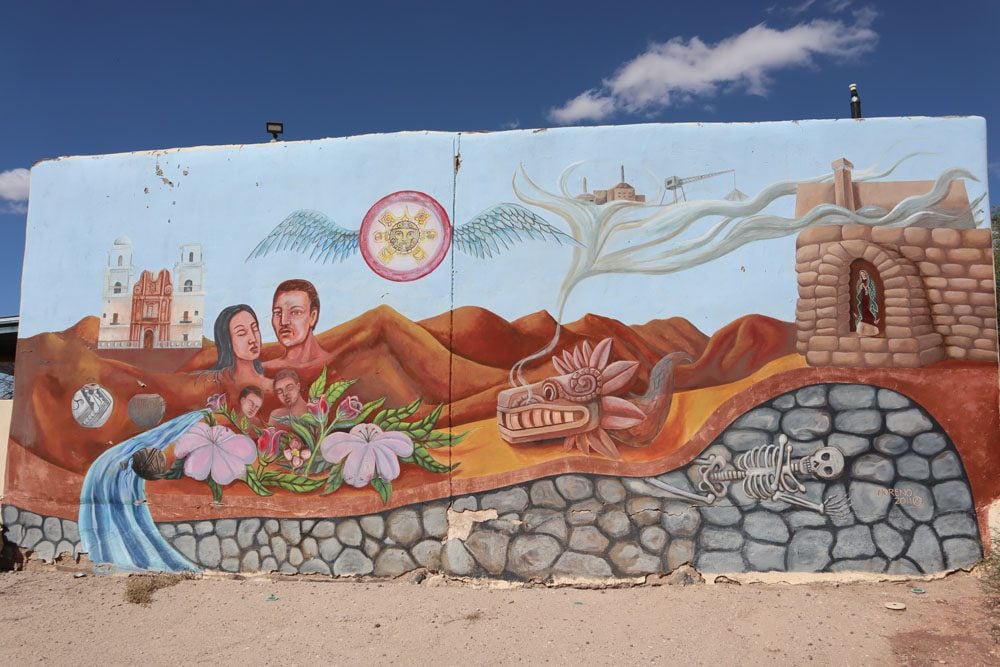 However, if you feel like stretching your legs on a walking tour, start at the Barrio Historico, the city's 19th-century business district where adobe-style homes are the norm. At El Tiradito Wishing Shrine, light a candle and write your wishes on a piece of paper. This site is believed to be the burial ground of a man who was killed by his father-in-law for having an affair with his mother-in-law. Next, check out the St. Augustine Cathedral, Tucson's historic Catholic church, followed by an optional visit to learn about life on the frontier at the Sosa-Carrillo-Frémont House.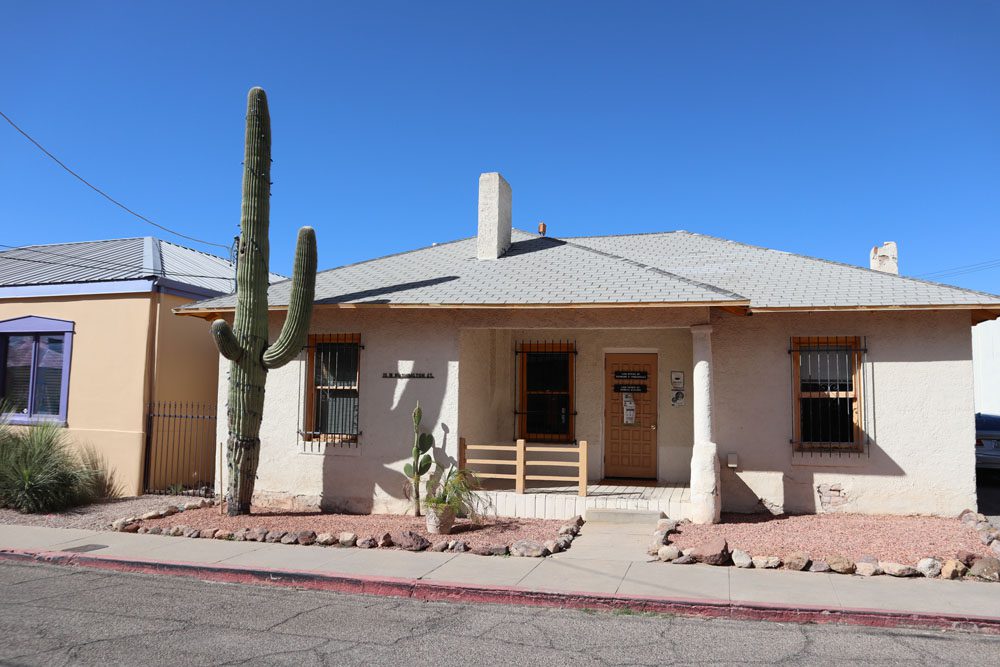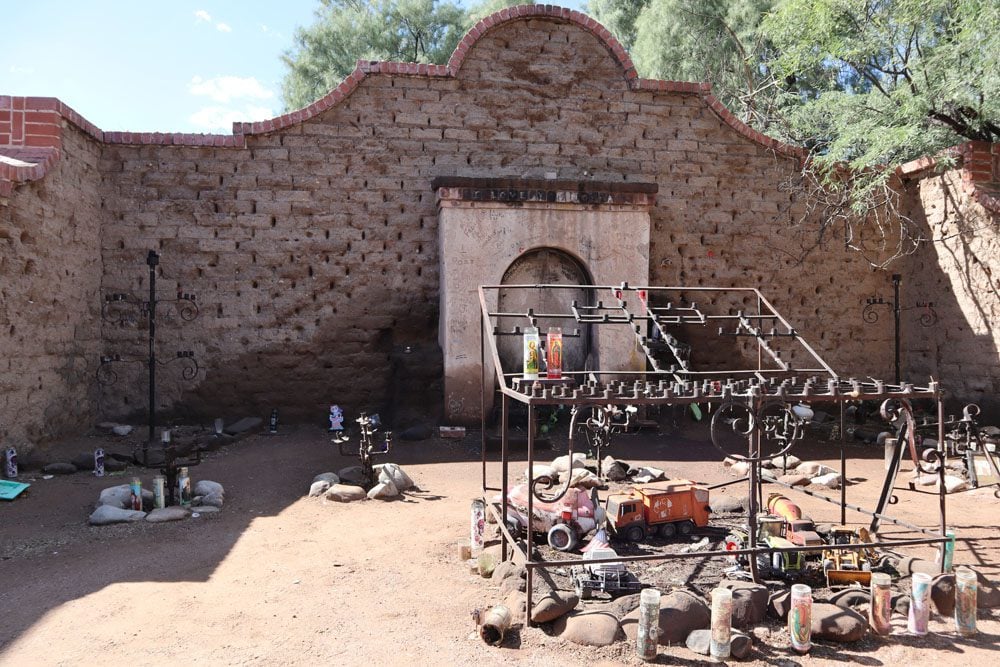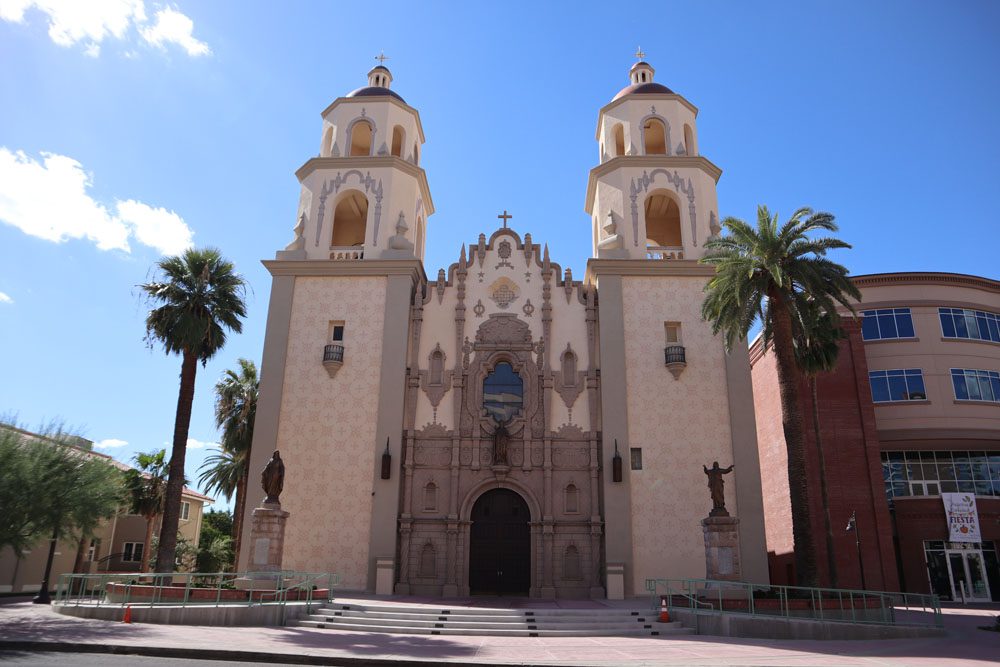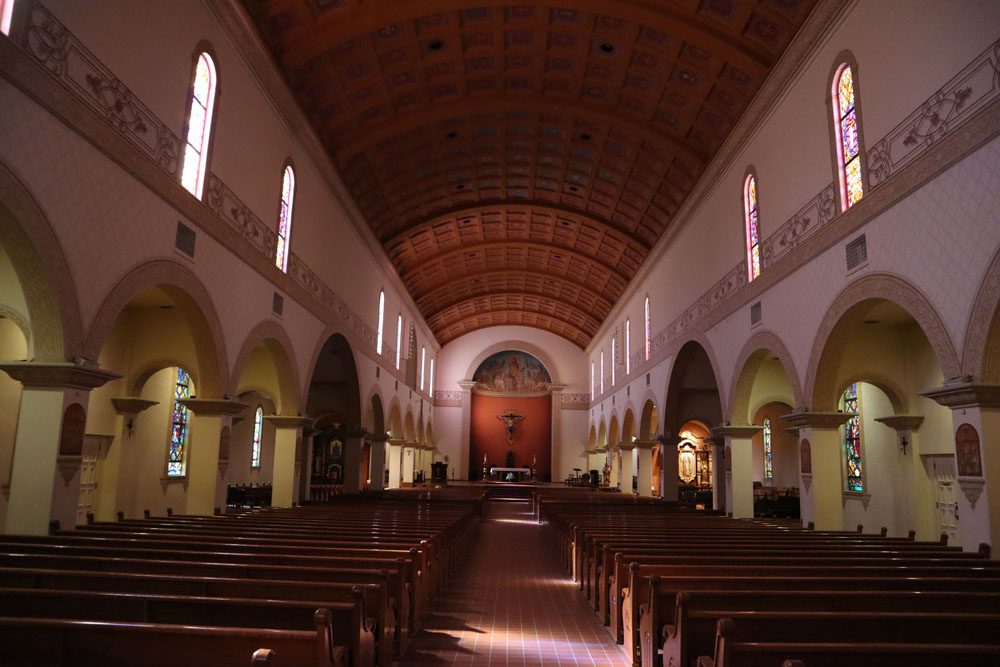 A few blocks north and out of the historic district, head to the Pima County Courthouse and take a break in the small park at its back. At La Casa Cordova, step into one of the oldest structures in Tucson and learn about the city's Mexican influence. One block east, wrap up the downtown walking tour at Presidio San Agustín del Tucson Museum, a recreation of the original Tucson presidio, which was built in 1775. Don't walk too far for lunch and dine in LaCo Tucson or at their sister restaurant, TallBoys.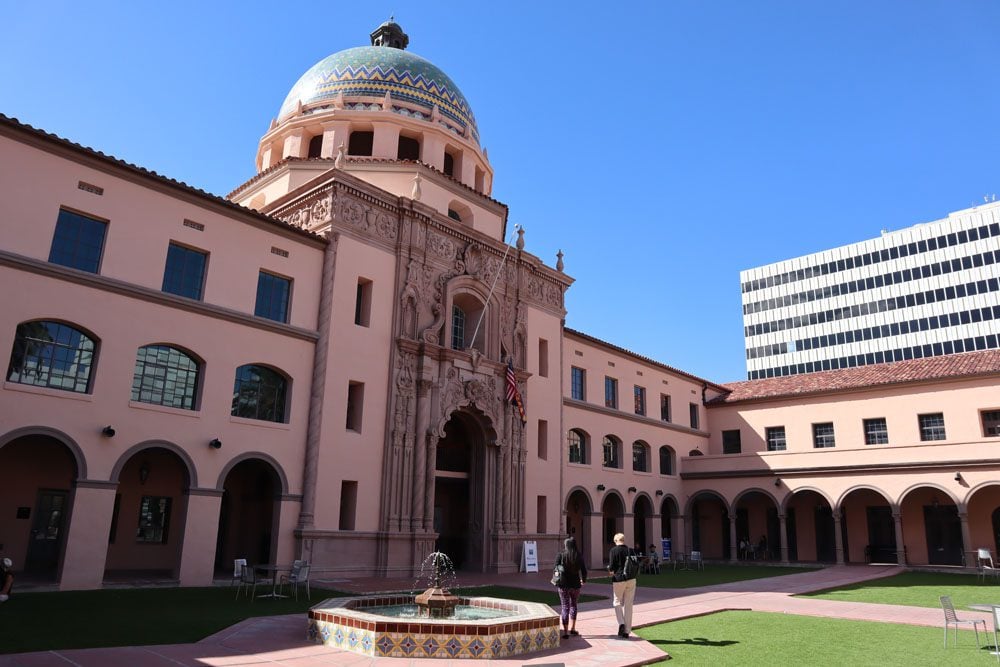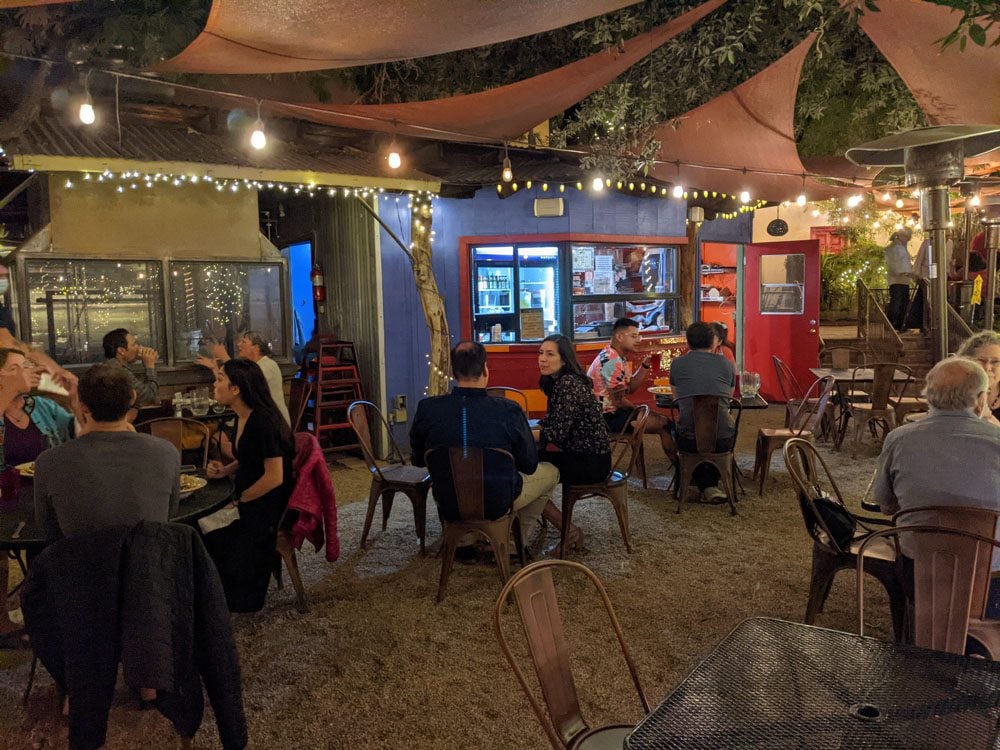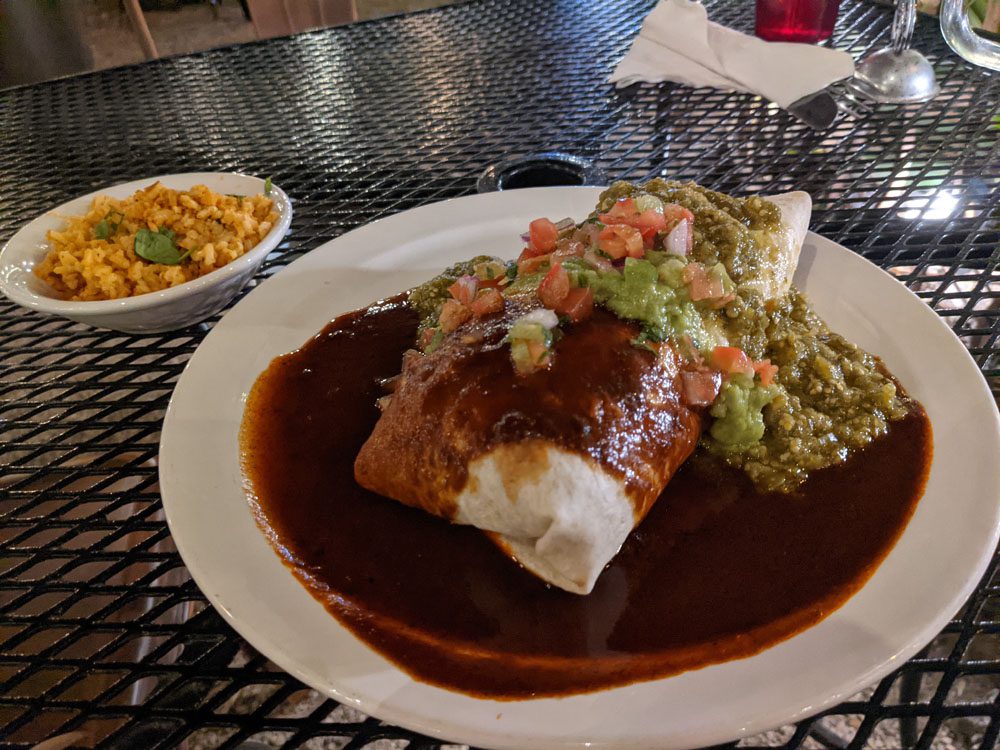 University Museums
If it's too hot outside or you wish to stick around the city, head to Tucson's lively university district. Visit the Arizona State Museum and explore its collection of artifacts from past cultures that resided in the region. Across the street at the Arizona History Museum, learn about Southern Arizona's past and see Geronimo's rifle.
Pima Air & Space Museum
If you're traveling with children or can't get enough of Top Gun, a visit to the Pima Air & Space Museum is simply a must. Dedicated to celebrating America's aviation and aerospace history, the museum houses hundreds of aircraft across over 80 acres and five hangars.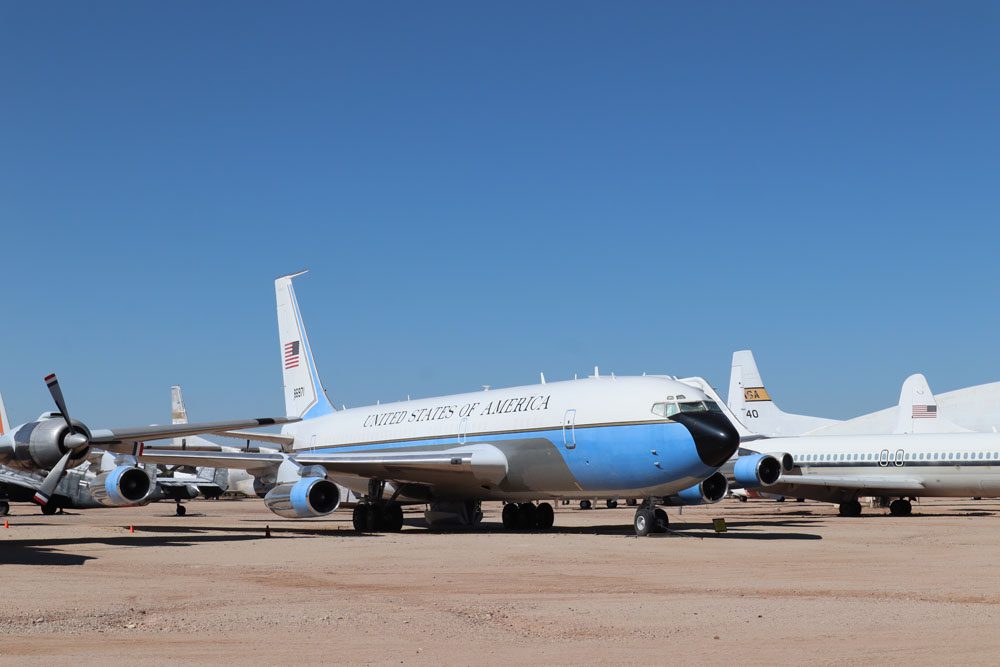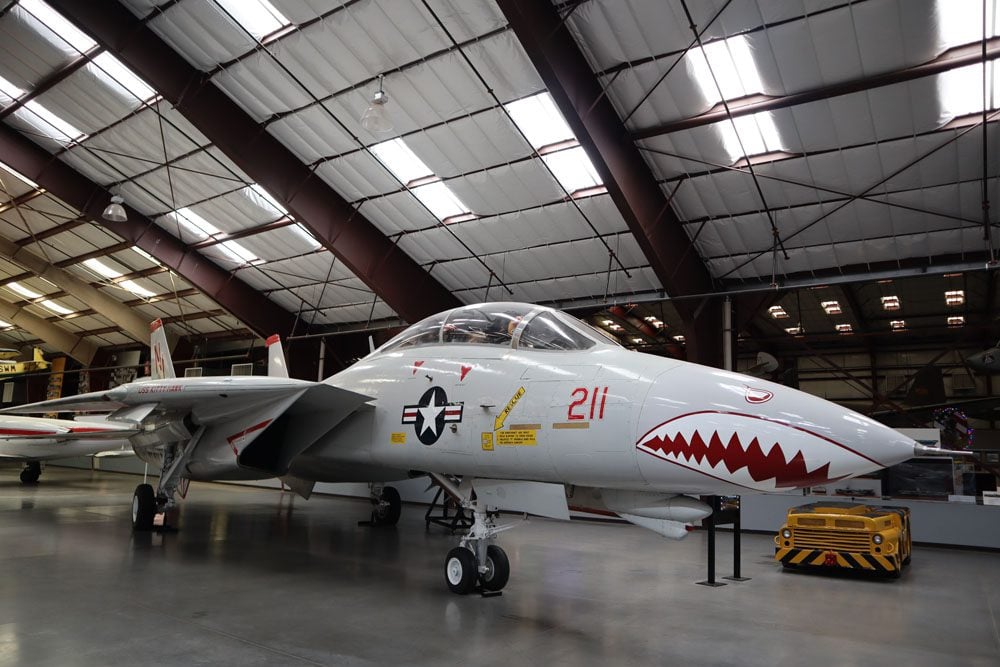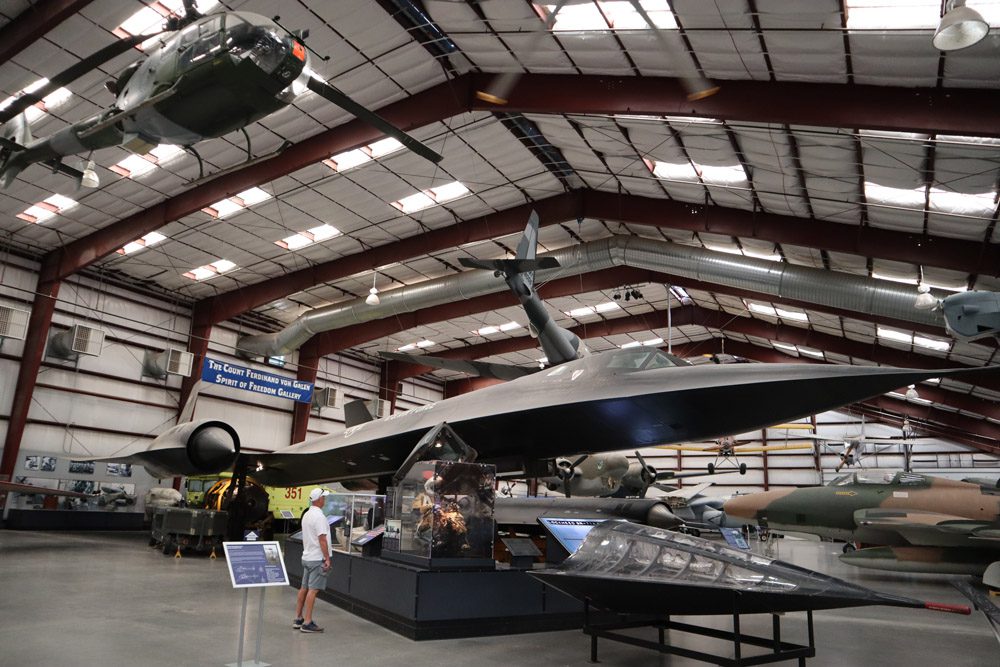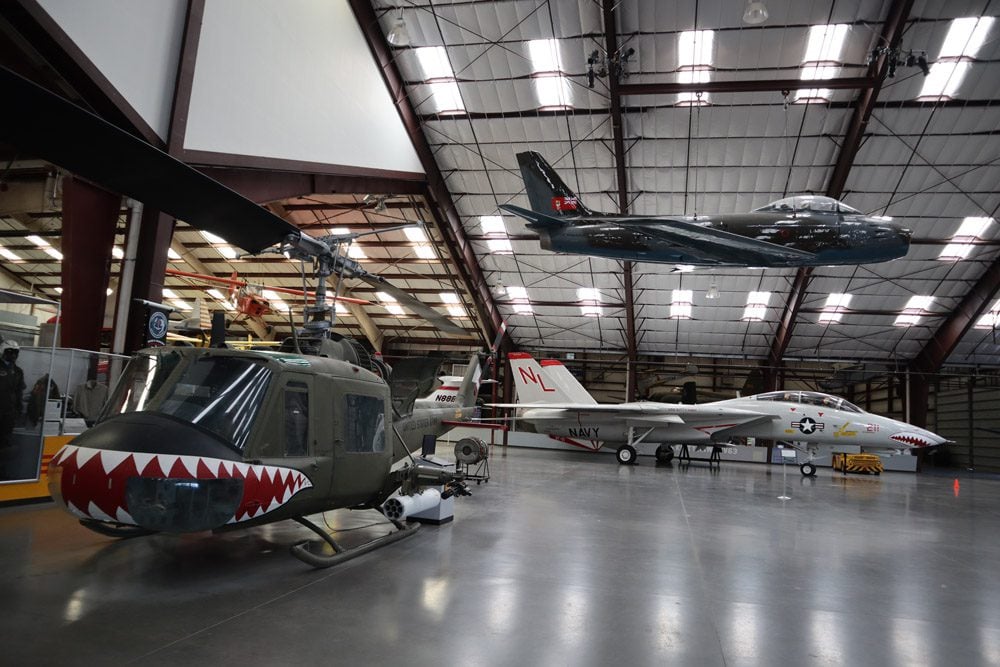 Due to its scale, visiting the museum can be quite overwhelming. Start your visit in the hangars and then go for a stroll in the outdoor sections as the day gets less hot. Use the maps available at the entrance to pinpoint the highlights dear to your heart.
Visiting the Boneyard
There's a very good chance you've seen photos of the Davis-Monthan Air Force Boneyard in Tucson at some point in your life. This vast complex is the largest aircraft boneyard in the world, where tens of thousands of U.S. military aircraft are stored thanks to optimal weather conditions. Until recently, it was possible to visit the boneyard on a guided bus tour. However, the Air Force now restricts access, and tours are no longer available. Check if tours are once again offered when you visit Tucson, as things may have changed since writing this travel guide.
San Xavier del Bac Mission
It takes about twenty minutes to drive from the air and space museum to San Xavier del Bac Mission. The historic mission sits on the San Xavier Indian Reservation and was founded by Father Eusebio Kino in 1692 as the Spanish colonists pushed to convert the area's Indian tribes. The present-day mission was built in the late 18th century. It's a stunning example of Spanish colonial architecture and well worth the quick visit.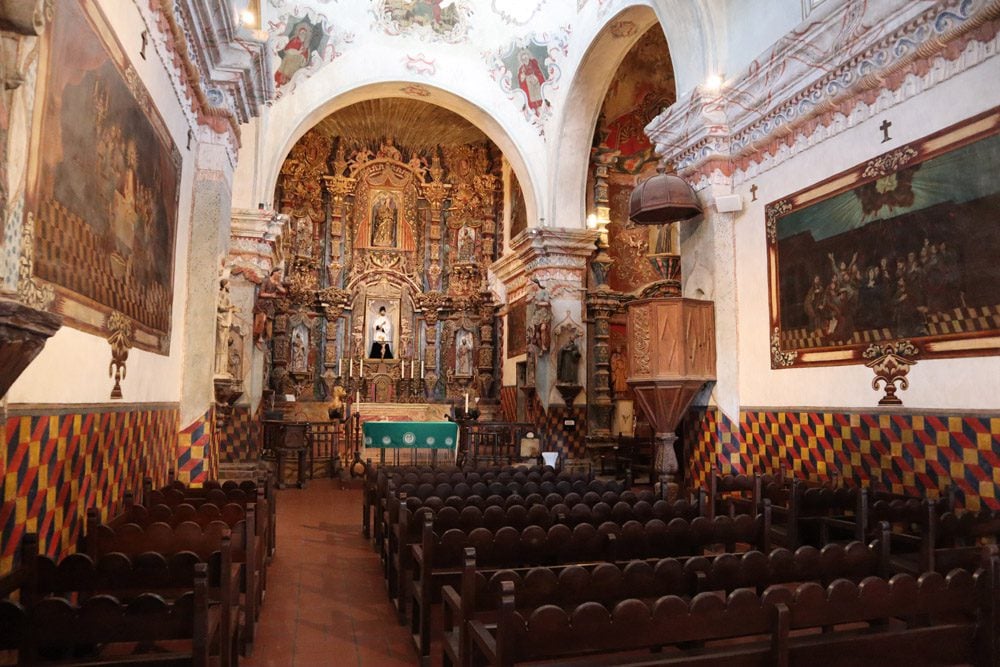 Titan Missile Museum
Our road trip continues with a 16-mile drive south to the Titan Missile Museum. This is an optional stop for curious travelers and history buffs. Between 1963 to 1987, Titan missiles were housed in 54 silos across the United States. In less than 60 seconds, a missile could be launched from its silo and deliver a nine-megaton nuclear warhead to a target over 6,000 miles away. The Titan Missile Museum is the only remaining site still open to the public.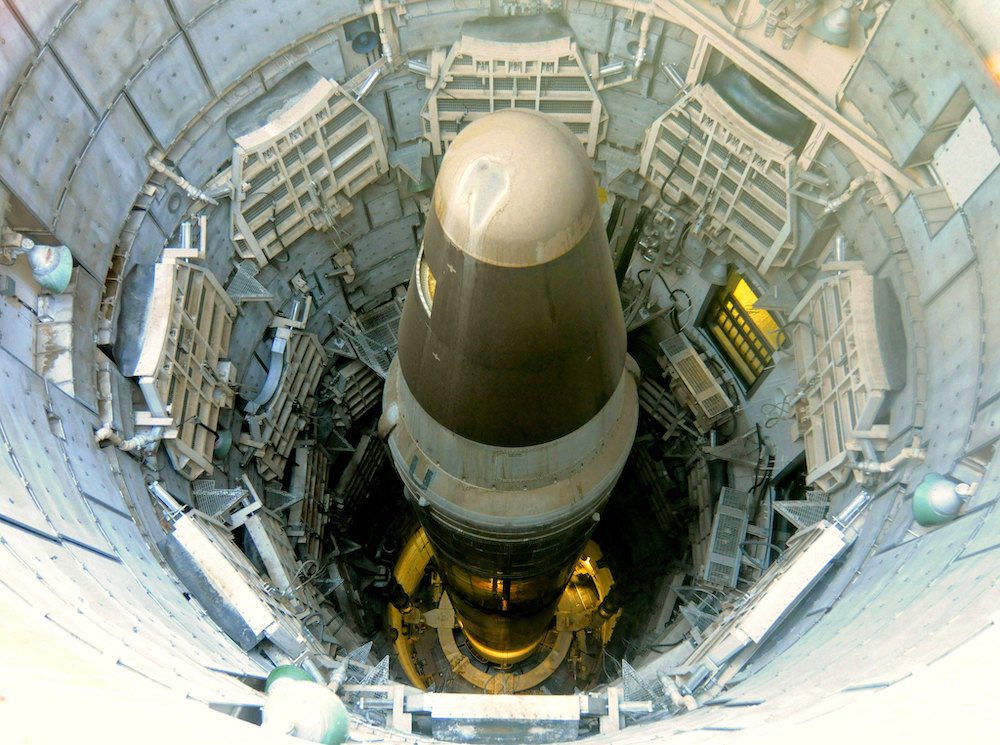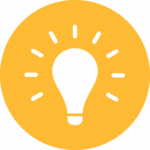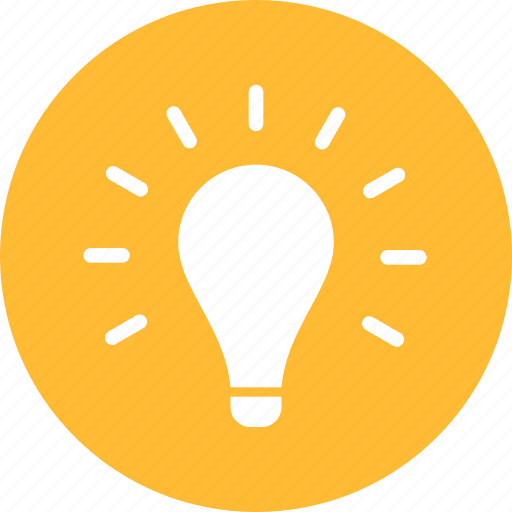 Pro Tip
You must join a guided tour of the Titan Missile Museum. Book in advance to ensure a tour time that fits your Tucson itinerary, or try your luck on the spot.
Tubac
Tubac is about 25 minutes south of the Titan Missile Museum. Founded in 1752 as a Spanish fortress to guard against Native American raids, Tubac is Arizona's first permanent Spanish settlement. These days, Tubac is a trendy village, home to dozens of art galleries, working studios, boutiques, and restaurants. It's a great spot to end your first day in Tucson, especially if you want to bring back some Southwestern art. Besides going for a stroll in the village center and grabbing dinner, walk to Tubac Presidio State Historic Park and drive to Tumacacori National Historical Park if you want to learn about the region's rich history.
Day 2: Saguaro National Park
The second day of this Tucson itinerary is mostly dedicated to the western section of Saguaro National Park. Get an early start, beat the heat, and spend the late afternoon in nearby attractions.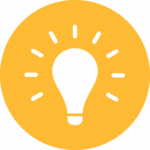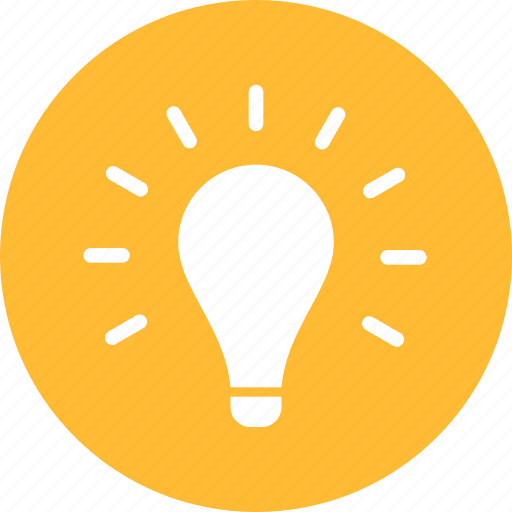 Pro Tip
If you're traveling with small children, spend a couple of hours hiking the short trails in the national park. Then head to the Arizona-Sonora Desert Museum and wrap up the day in Old Tucson.
Saguaro West vs. Saguaro East
Saguaro National Park is divided into two sections that are cut off by the city of Tucson. The park's western section has a far greater concentration of saguaro cactuses than the eastern section, as well as hiking trails on all levels. The eastern section is more fitting for backcountry hiking. Therefore, if you only have one day to spend in Saguaro National Park, devote it to the park's western section.
The Drive from Tucson
It takes about 30 minutes to drive from downtown Tucson to the Red Hills Visitor Center. Once the city gives way to nature, you'll start seeing groves of saguaro cactuses. Keep driving on W. Gates Pass Road to Gates Pass Scenic Lookout. From this viewpoint, you're rewarded with impressive panoramic views of the surprisingly lush Sonoran Desert plain. If you wish to hike in the area before entering the national park, hike a short portion of the Gates Pass Trail. For a more challenging hike with a view, check out the Yetman Trail.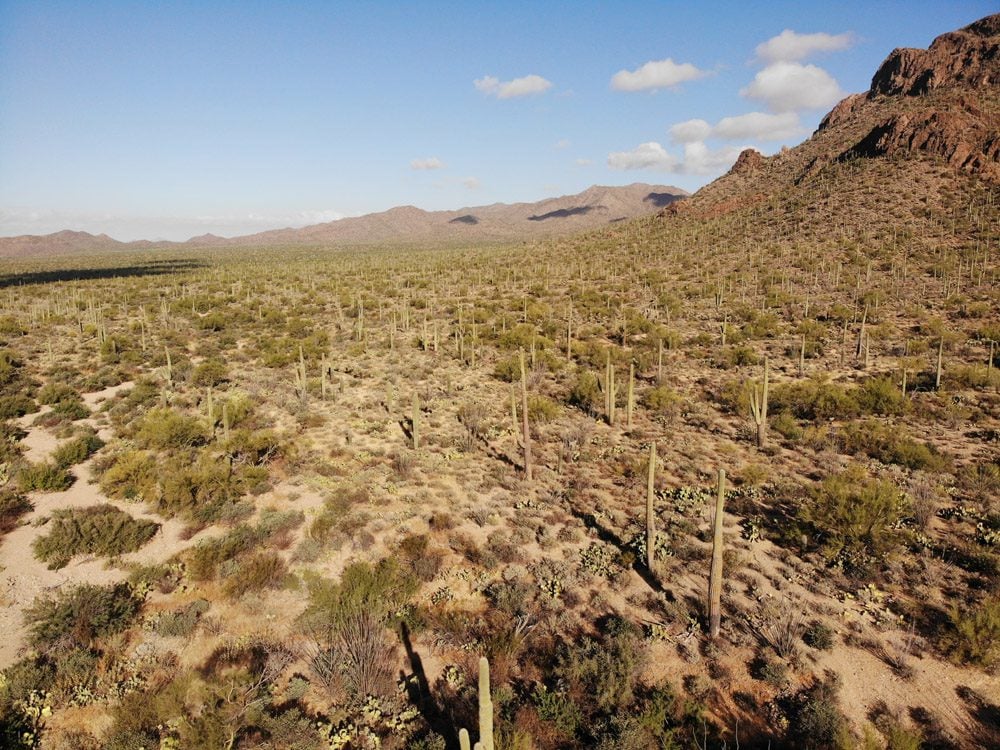 Entering the National Park
Enter Saguaro National Park via N. Kinney Road and pay the park fees at the Red Hills Visitor Center. If park rangers are around, "sanity check" the day's itinerary and see if any special ranger-led programs are taking place.
Hiking
The best way to experience the park is with your feet. The western section has over 40 miles of hiking trails suitable for all fitness levels. If you have children, don't miss the Desert Discovery Nature Trail. The Valley View Overlook Trail is another highly recommended short yet rewarding hike.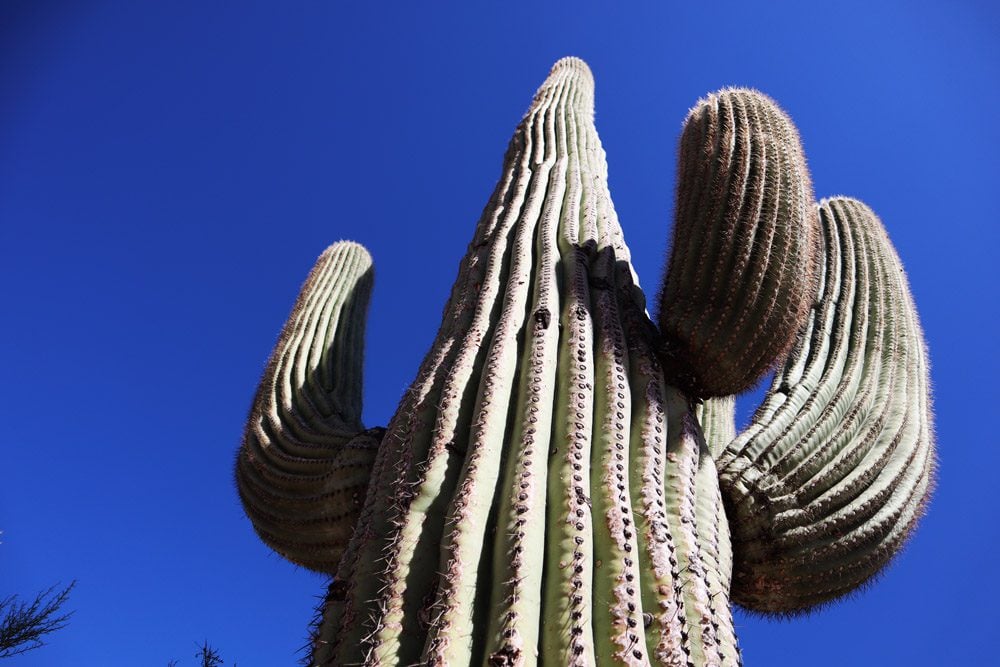 For longer hikes, look to the trail network that mostly leads to Wasson Peak (4687 ft). I recommend taking the King Canyon Trail to Wasson Peak. To return to the trailhead and complete the loop, descend via the Hugh Norris Trail, connect to the Sendero Esperanza Trail, and hike the final leg on the Gould Mine Trail (see the trail map).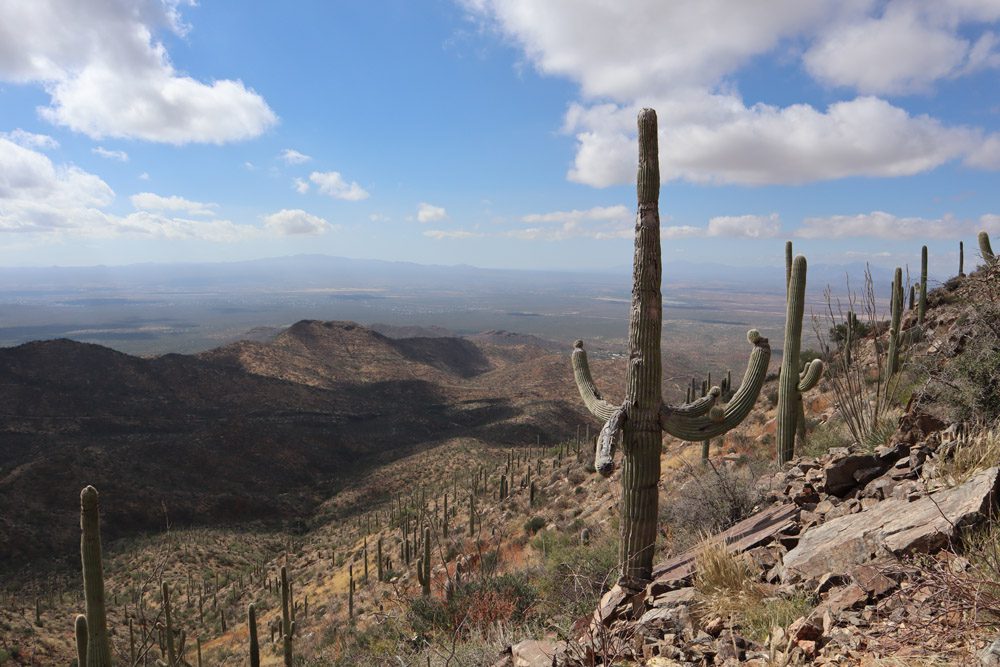 Scenic Drive
Complete the five-mile Bajada Loop Drive before exiting the park. The unpaved road is suitable for 2WD vehicles. The scenic drive leads to Valley View Overlook Trail and Signal Hill, a popular picnic area with nearby petroglyphs. If the picnic area is full, take Golden Gate Road to the secluded Ez-Kim-In-Zin picnic area.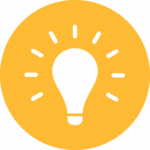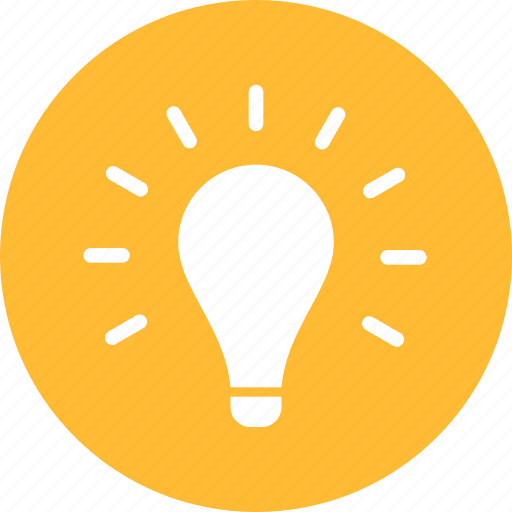 Pro Tip
Here's an in-depth travel guide for visiting Saguaro National Park from Tucson, including essential planning tips.
Arizona-Sonora Desert Museum
It's likely mid-afternoon by now and perhaps dangerously hot to do any more hiking. As you exit the national park, head to the Arizona-Sonora Desert Museum and explore its botanical gardens and live animal displays, including reptiles. The kids will love it!
Old Tucson
Children and adults alike will enjoy visiting Old Tucson. Since 1939, this movie studio has served as the filming location of westerns and television shows such as Little House of the Prairie and Tombstone. Since 1960, the studio also doubles as a theme park featuring guided movie set tours, gunfights, and stunt shows.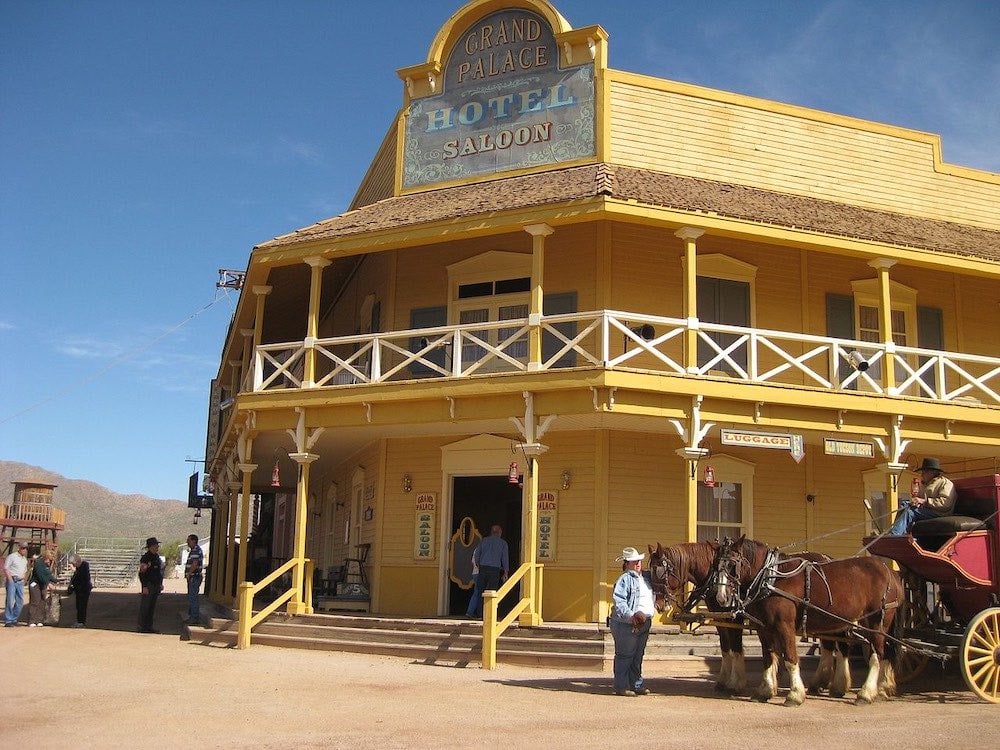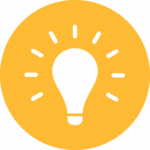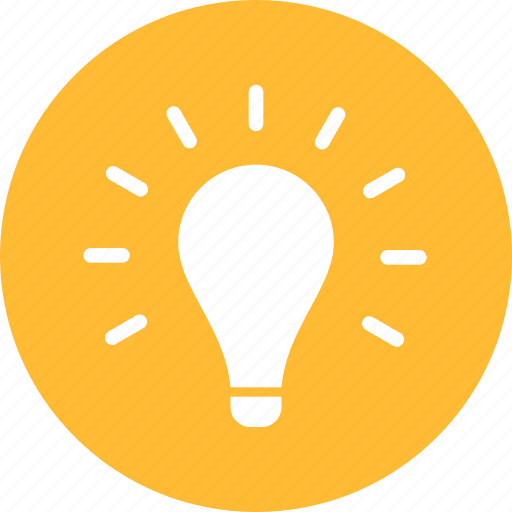 Pro Tip
If you want to do some shopping on your visit to Tucson, head to the Tucson Premium Outlets before returning to your hotel.
Dinner in Tucson
For dinner, head to a recommended restaurant in Tucson. At the Barrio Brewery, choose from six locally-made beers to go along with classic southwestern dishes and sports matches from coast to coast.
Day 3: Tucson to Bisbee Road Trip
On day three of this Tucson itinerary, we'll hit the road and head toward the Mexican border. We'll start the day at historic Tombstone, later venturing deep into the mountains through an abandoned mine before wrapping up the day in artsy Bisbee.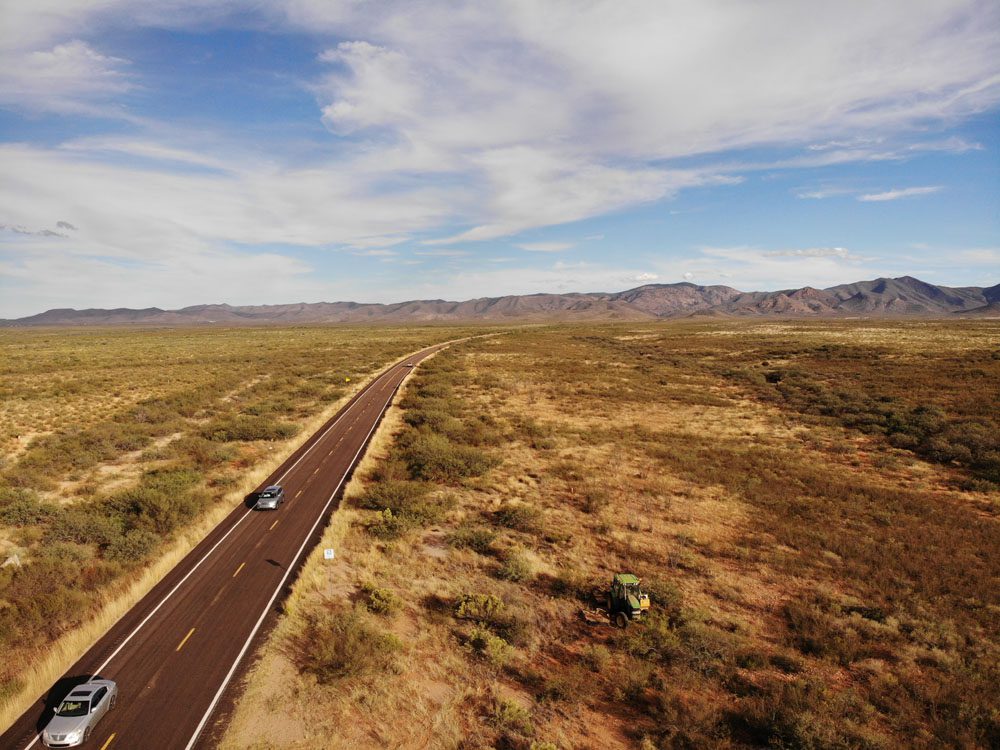 Alternative Itineraries
If you want to spend more time outdoors, use this day to explore the eastern section of Saguaro National Park, with its scenic drive and myriad hiking trails. Alternatively, drive south for about 90 minutes and spend the day at Coronado National Memorial. See the spot where the 1540 Spanish expedition first entered the present-day United States, hike in the Montezuma Pass, complete the Coronado Peak Trail, and see if you can enter the Coronado Cave.
Tombstone
Best known for the Gunfight at the O.K. Corral, Tombstone is only 75 miles from Tucson. This historic mining town boomed in the 1880s as silver mines filled the pockets of mine owners and prospects. Service providers also enjoyed this economic boom, with theaters, ice cream parlors, a bowling alley, and over 100 saloons keeping folks busy.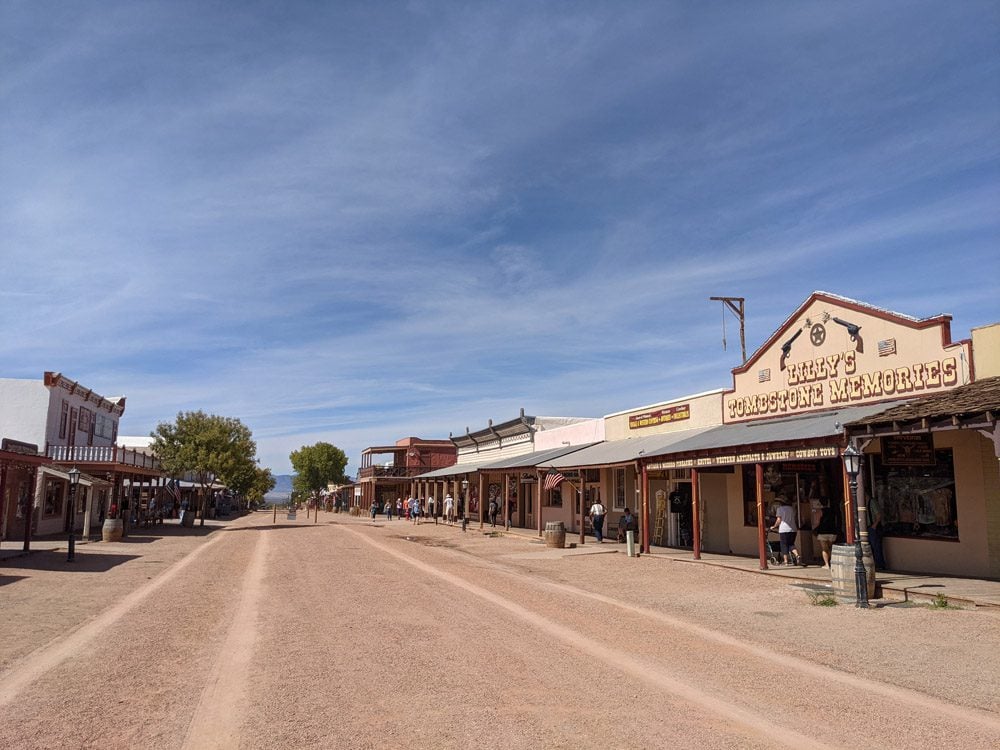 As the decade was coming to an end, mines penetrated the water table, creating substantial flooding that was too costly to fix. The boom turned into a bust, and Tombstone was nearly completely abandoned. These days, Tombstone's historic center draws history buffs and countless tourists who relive the Wild West's heyday.
Start your visit to Tombstone at Boothill Grave Yard, where some of the town's first pioneers are buried alongside outlaws, law enforcement officers who fought them, and innocent victims of violent crime.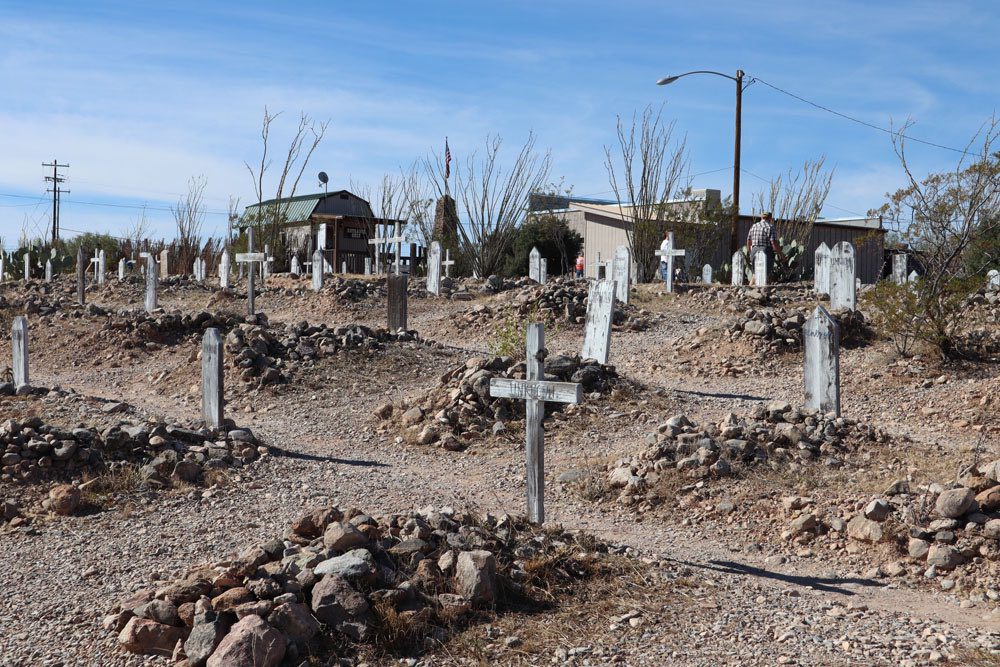 Next is Tombstone's historic center, an authentically-preserved National Historic Landmark District. Park your car at the Fremont Street parking lot or in one of the two lots at the bottom of Sixth Street, and begin the walking tour of Tombstone.
The grid of streets stretching between Second and Sixth, and Toughnut and Fremont, combine to create a time machine back to the classic days of the Wild West. Bands of tough-looking cowboys with mustaches and horse drawn carriages roam the streets, often stirring a fight for a fist full of tourist dollars. Smoking is certainly not frowned upon in Tombstone; neither is daytime drinking in one of the town's saloons.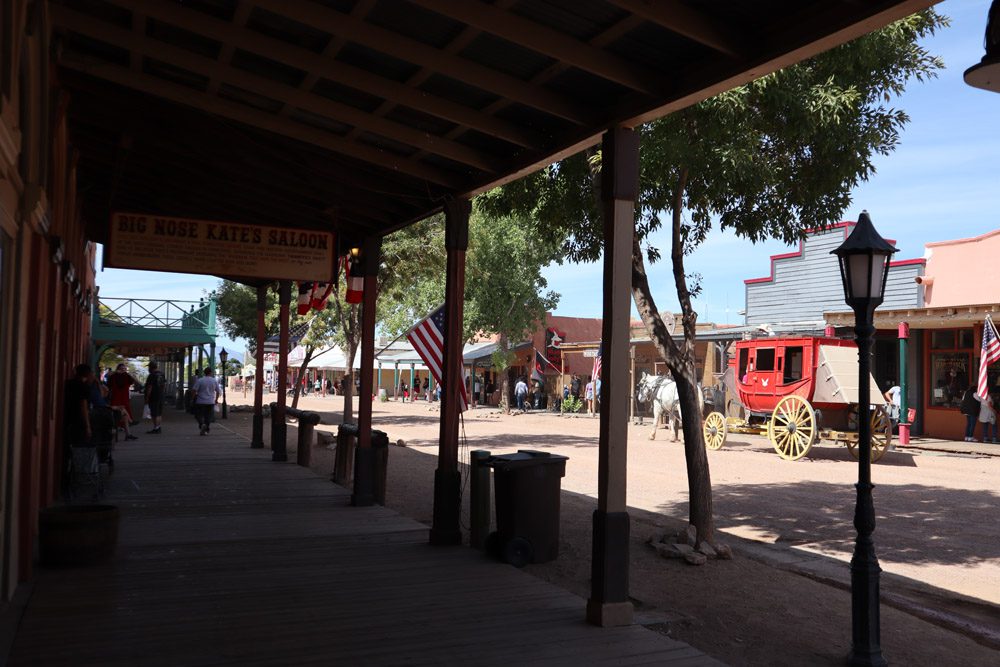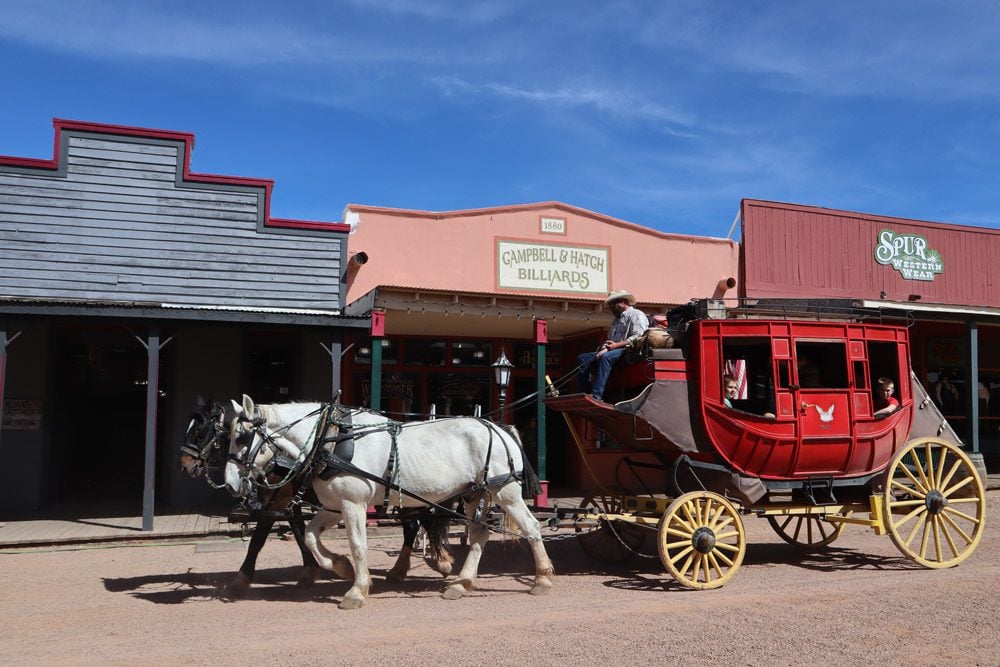 Head to the Tombstone Courthouse to peek into the town's past, from Geronimo and the silver mining days to the O.K. Corral gunfight and its aftermath. Built in 1882, the State Historic Park housed the sheriff's office, county prison, courthouse, and county clerks. Their departmental artifacts are neatly displayed in the museum's rooms and courtyard.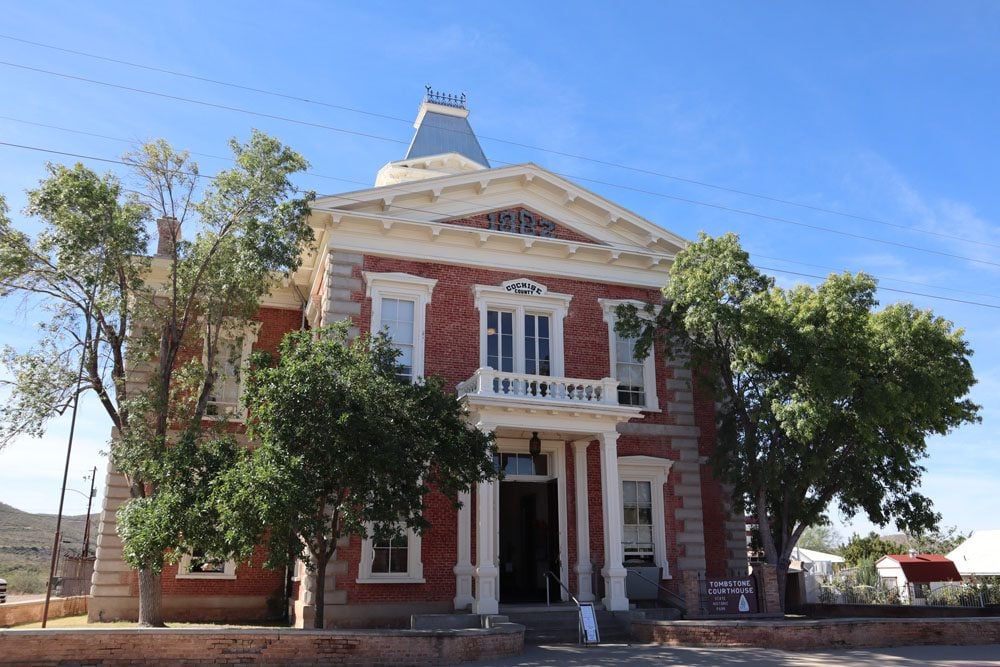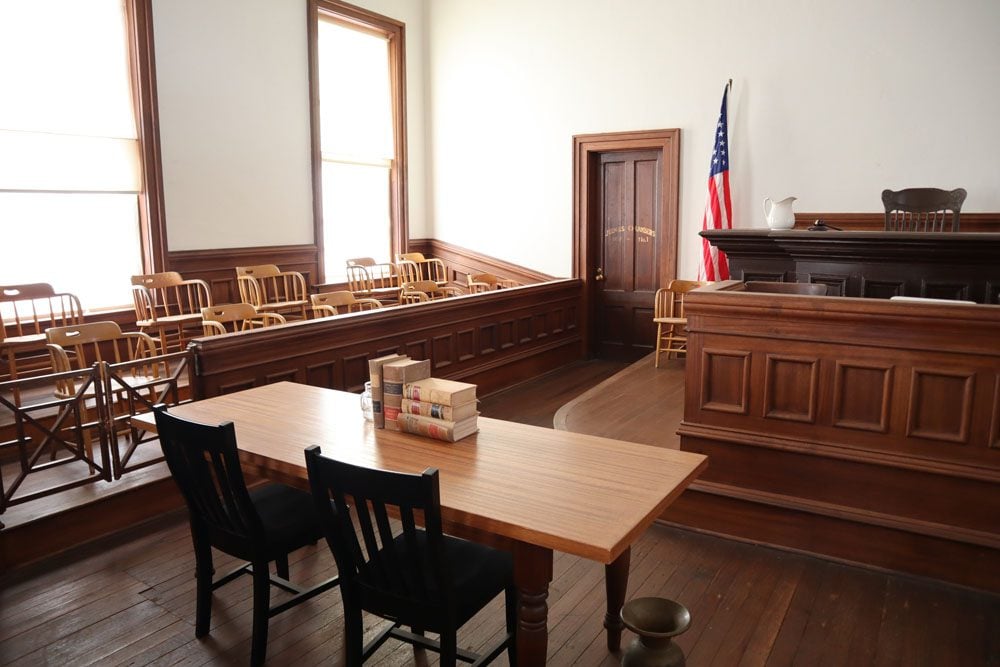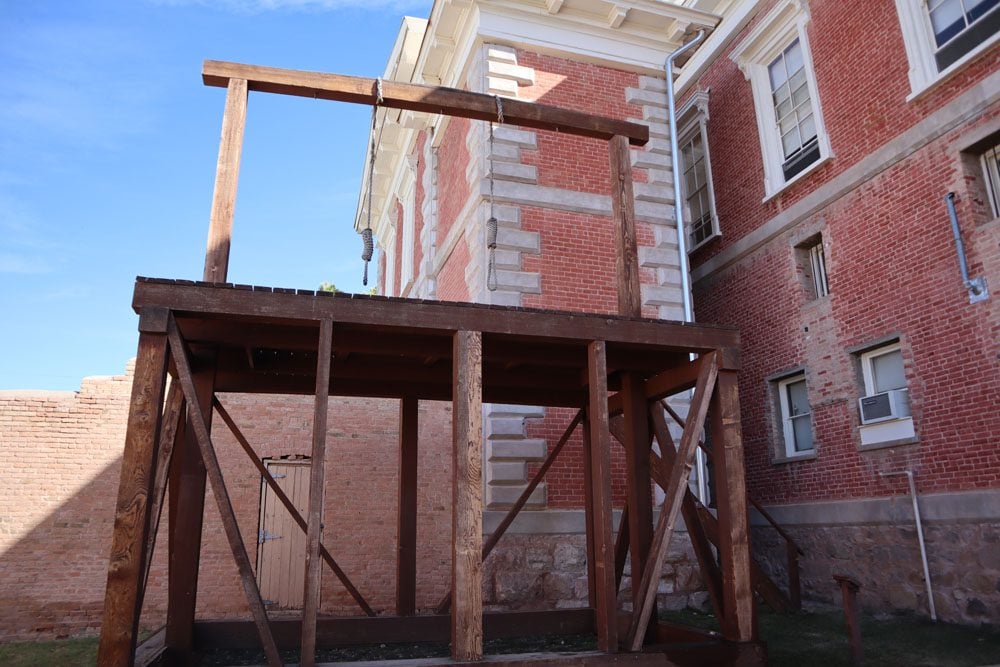 There are quite a few "theater-staged" gunfights in Tombstone, but if you only have the time and the cash for one, invest them at the O.K. Corral theater and museum. As the famous saying goes, the more money you have, the more problems you see. During the boom years, rough outlaws terrorized the town's citizens to the point where something radical had to be done.
The famous Gunfight at the O.K. Corral took place near this site on October 26, 1881, when Police Chief Virgil Earp and his brothers Wyatt and Morgan decided to end the tyranny brought about by a band of infamous outlaws. The gunfight lasted only seconds, but its place in history was sealed for eternity. Purchase show tickets and kill the waiting time by exploring the museum grounds.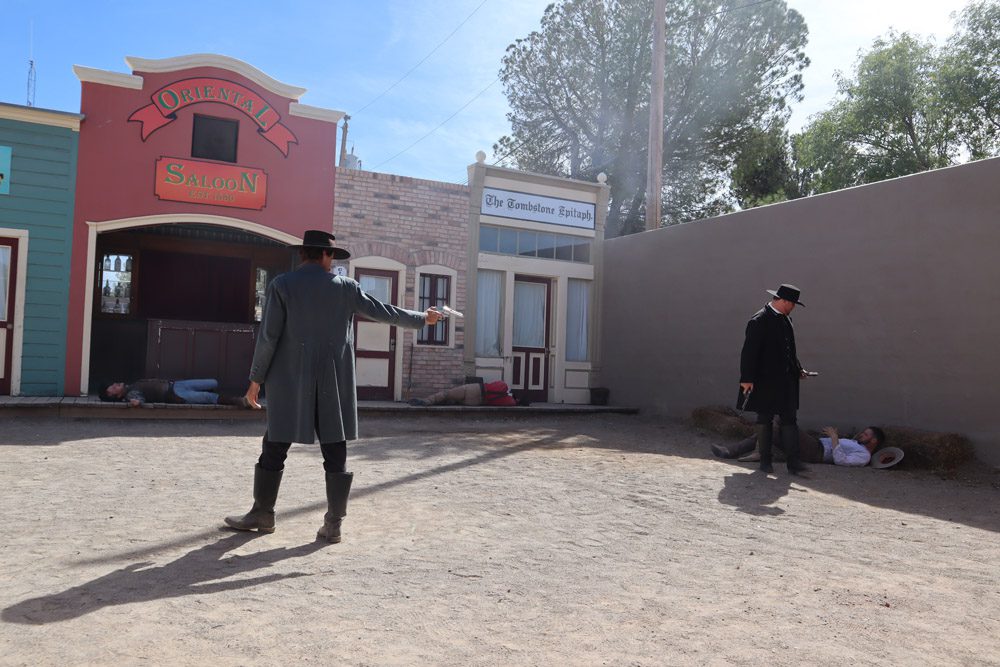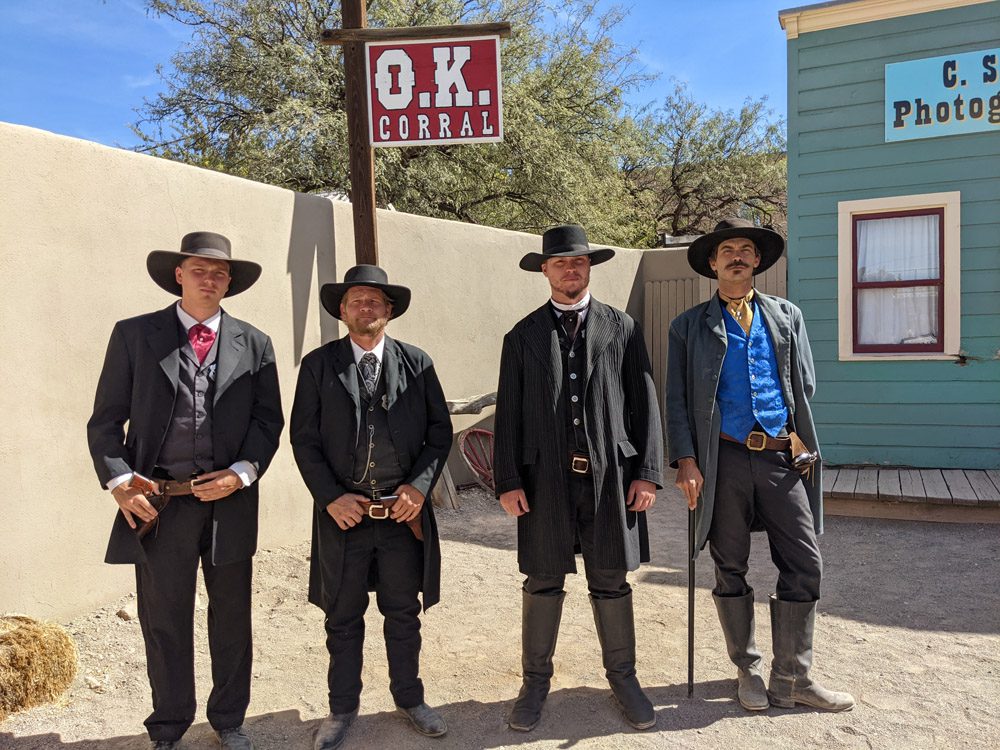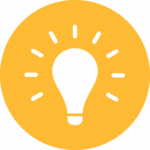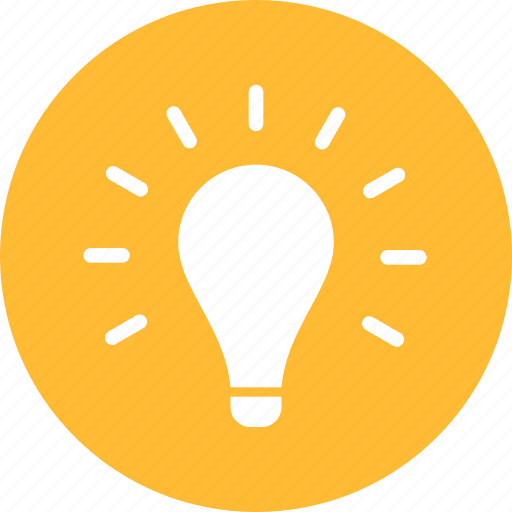 Pro Tip
Your admission ticket to the O.K. Corral is also valid in other spots in Tombstone.
If you want to experience more gunslinging action or prefer enjoying your gunfight with a drink in your hand, head to the Crystal Saloon or the Oriental Saloon. The former is a relatively low-key saloon, while the latter is said to have been Wyatt Erap's favorite drinking hole. If you're traveling with children and saloons are out of the question, head to Old Tombstone, a small "theme park" with attractions extending beyond gunfights.
For lunch, head to the exquisitely decorated Big Nose Kate's Saloon for mouthwatering Southwestern classics, with a refreshing glass of ale with a side of live music.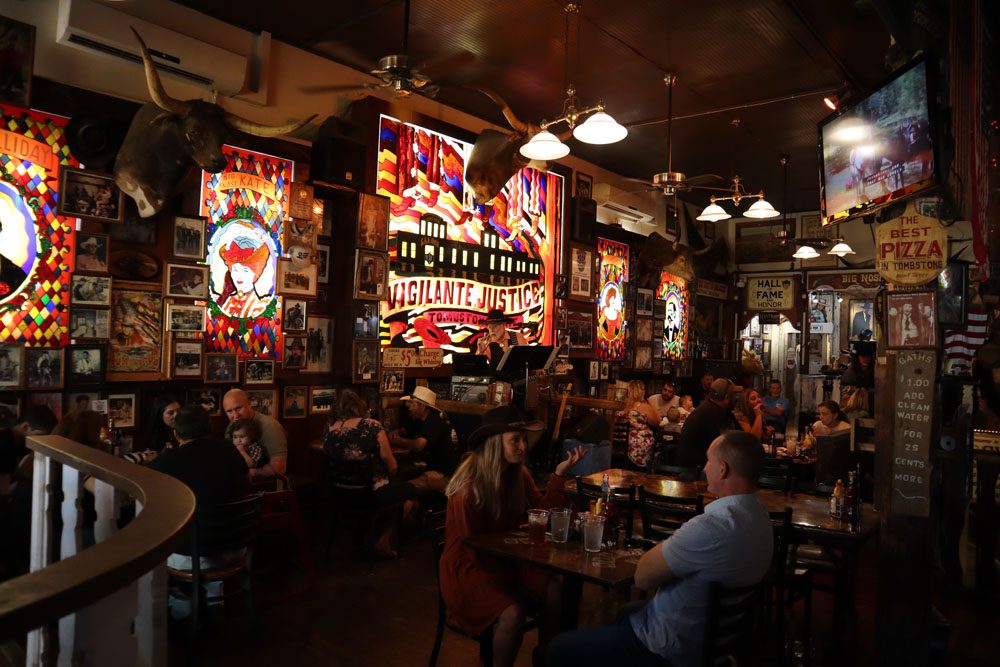 Bisbee
Rising from a narrow gorge about 25 miles south of Tombstone, Bisbee is a former mining town that has morphed over the decades into a trendy art-focused hub. Officially founded in 1880, Bisbee's silver, gold, and mainly copper mines extracted over six billion dollars worth of minerals until shutting down in 1975. After a period of decline, hippies and artists moved in. Drawn by the optimal weather, remote location, and Victorian-style architecture, these new residents have transformed Bisbee into an attractive town.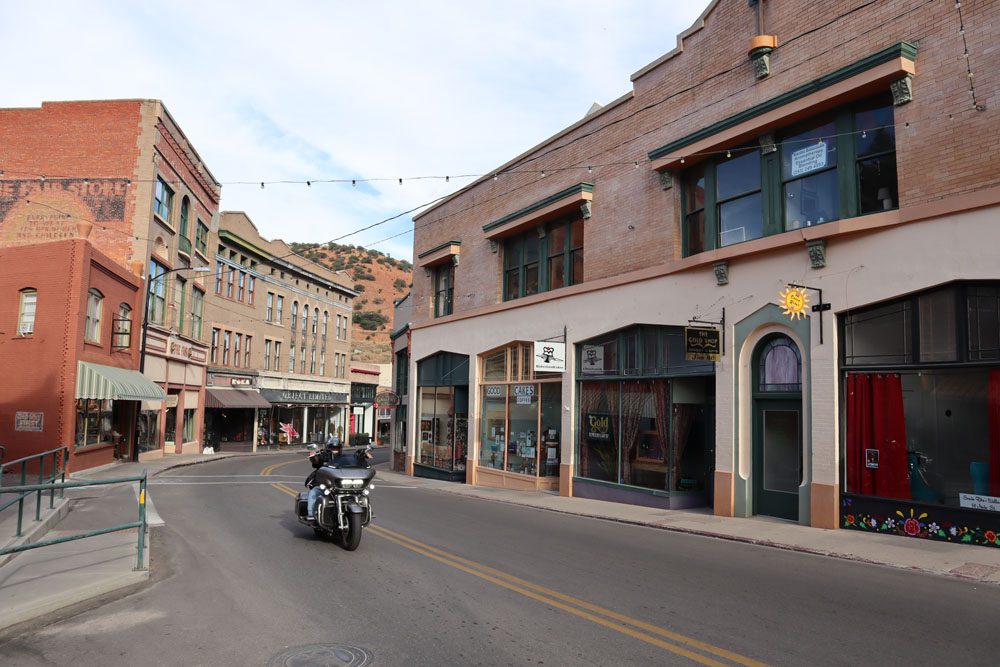 Park your car in the large parking lot at the historic center's entrance and take an aimless stroll, taking in the beautiful architecture, art galleries, breweries, and museums.
If you can tolerate claustrophobic conditions, don't miss the Queen Mine Tour in Bisbee. Put on a hardhat and a miner's headlamp, descend 1,500 feet (457m) underground, and unwind the hands of time to the region's successful mining era. With over 2,500 miles of underground tunnels around Bisbee, the Queen Mine Tour is a thrilling opportunity to learn how unprecedented amounts of copper, silver, gold, and zinc were extracted from this site and how miners worked in such harsh conditions.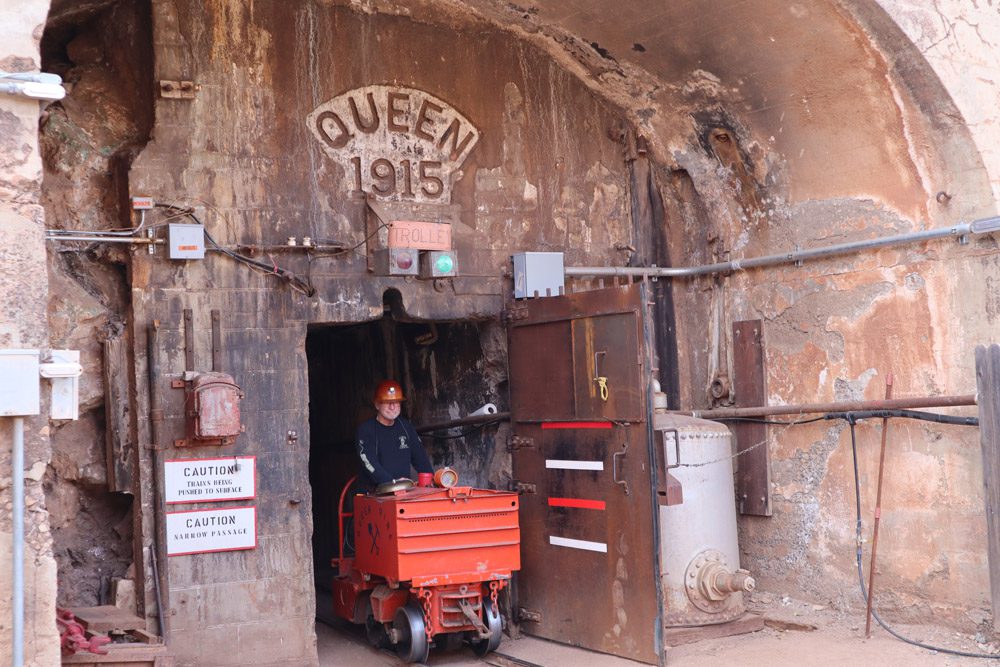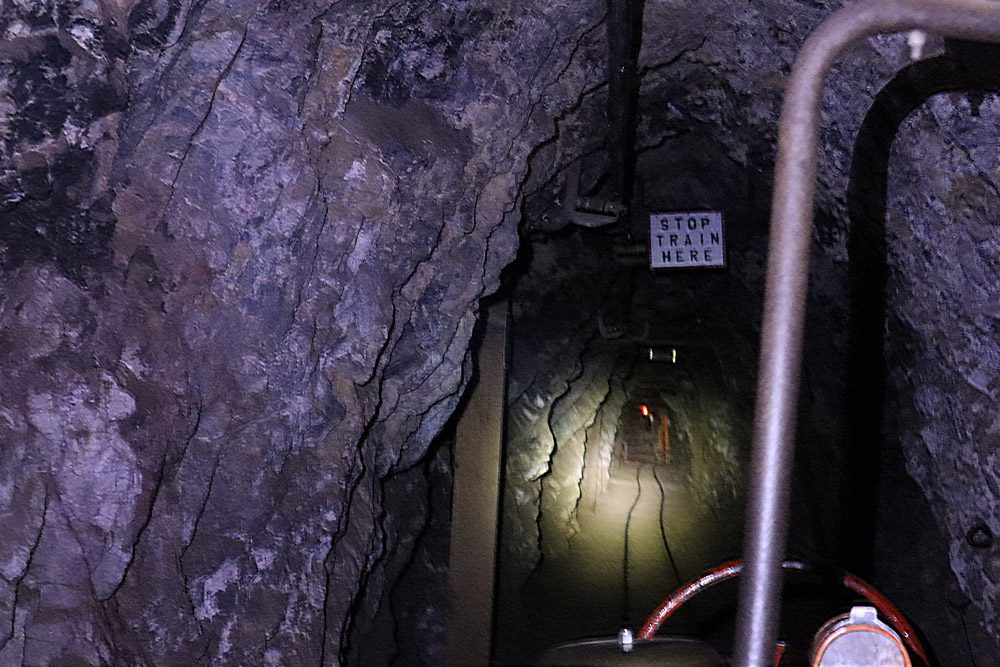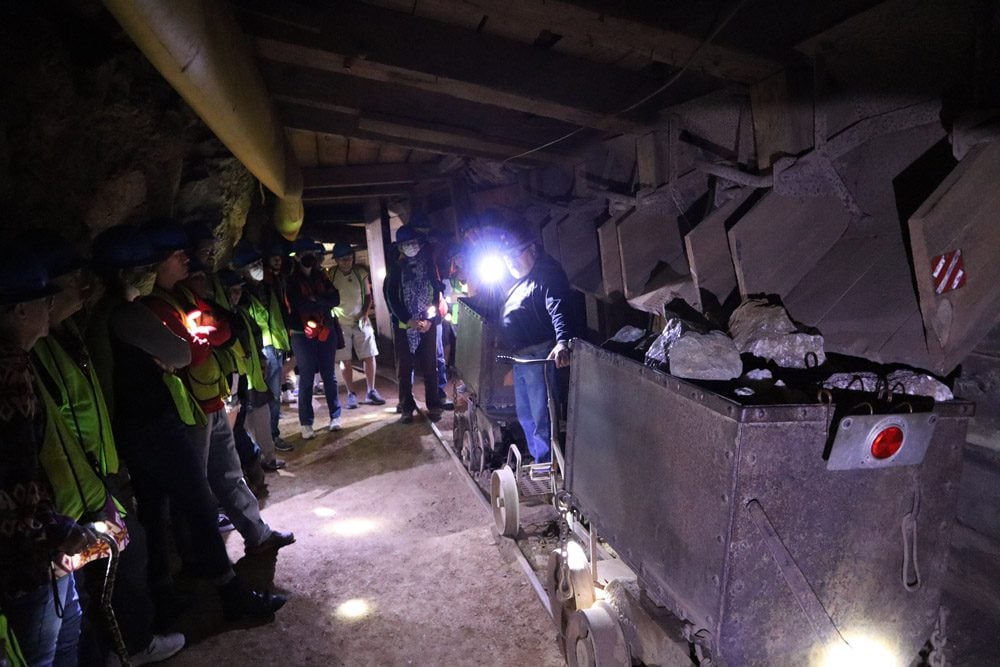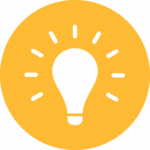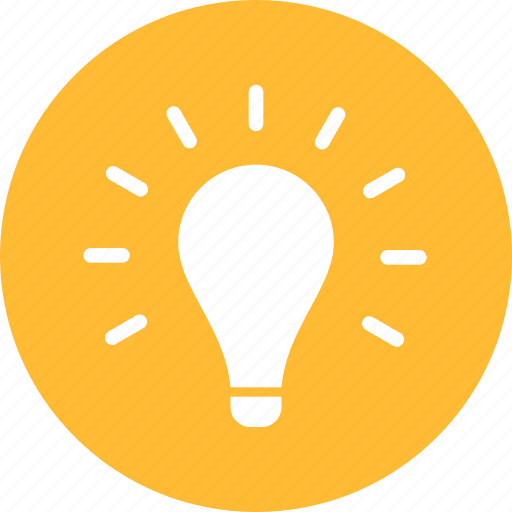 Pro Tip
Walk-in reservations might be possible in the off-season, but I recommend making advanced reservations, considering the day's itinerary. It's best to start with the Queen Mine Tour and wrap up the day with an early dinner in Bisbee.
Drive Back to Tucson or Overnight in Bisbee
It's time to head back to Tucson, about 100 miles from Bisbee. If you want to stick around and spend the night in Bisbee, choose from a surprisingly wide selection of boutique hotels and motels in and around Bisbee (see options here).
What's Next?
As you've hopefully seen in this Tucson travel guide and itinerary, there's lots to see and do in this part of Southern Arizona. Tucson in itself may not be all that exciting, but its use as a hub for exploring the region's superb natural sites, historic monuments, charming towns, and museums makes exploring this remote desert region very comfortable. Be sure to check out additional Arizona and Southwest USA travel guides, and plan the next legs of your adventure in the American Southwest.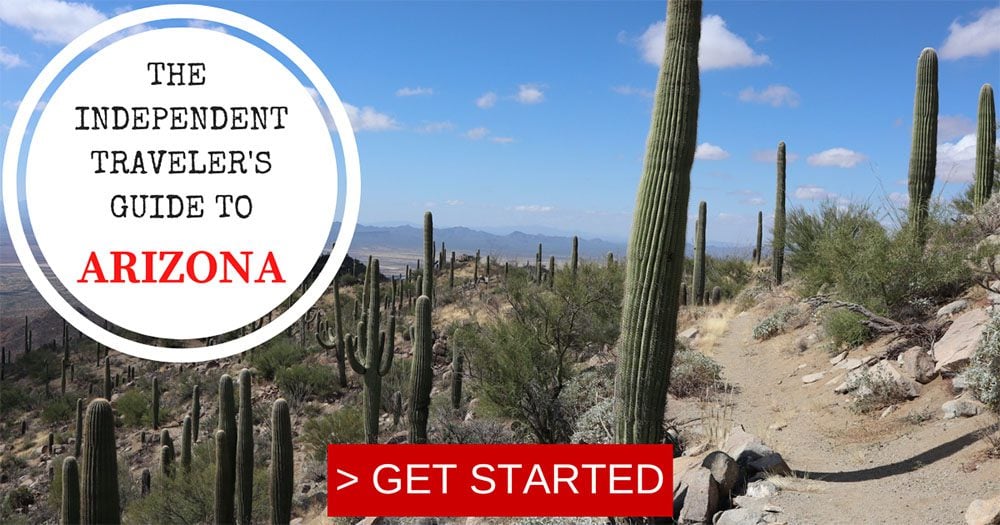 ---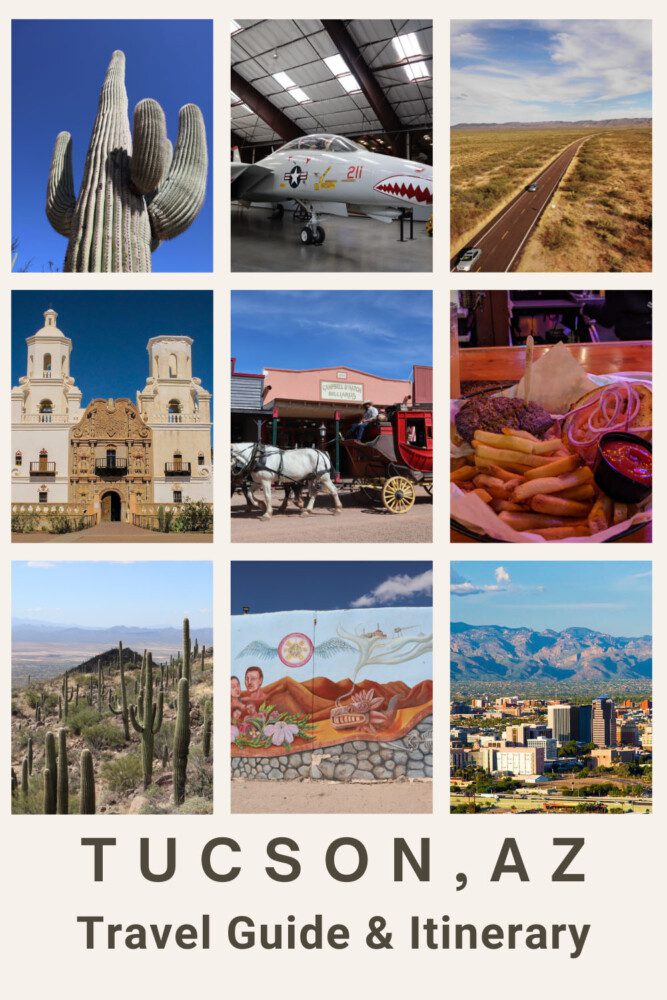 Pin These Images To Your Favorite Boards