How to Plan the Perfect Honeymoon in Tahiti
A honeymoon in Tahiti is the ultimate way to celebrate the birth of a new couple. The tropical islands in the heart of Polynesia are among the most stunning and romantic spots on our planet. In this guide, you'll discover how to plan a perfect honeymoon in Tahiti and how to best plan a trip to paradise.
Heading off to French Polynesia? In-depth island guides to all 5 archipelagos await you, including sample itineraries and essential travel tips & tricks.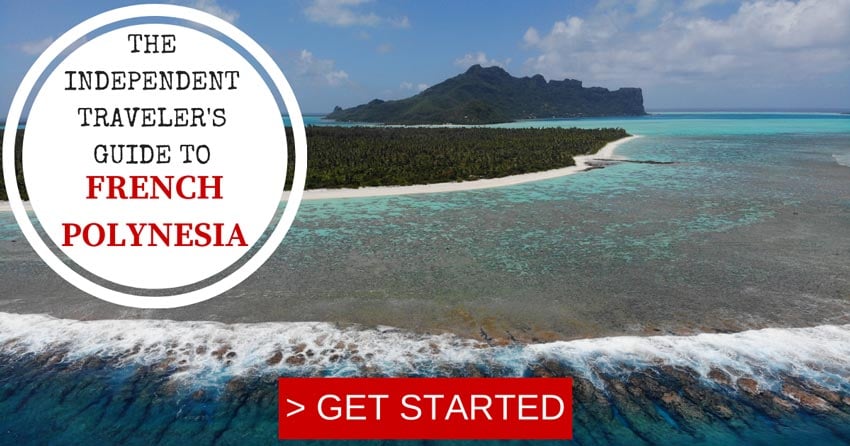 About this Guide
After many years of dreaming, I first made it to Tahiti at the very end of a long voyage across the South Pacific Islands in 2015. It was a life-changing experience for me and I have since returned to Tahiti on six additional occasions, including for my honeymoon in 2023. I have written extensively about traveling to Tahiti on this website and in other publications. My passion has led me to extensively research Polynesian history and I currently lead organized tours to Polynesia in addition to helping independent travelers plan tailor-made trips to French Polynesia.
Tahiti, Tailor Made!
The Islands of Tahiti are among the last places to be colonized by mankind, 118 islands, each with its unique personality.
Get expert advice and assistance with planning your trip to the destination where tropical dreams come true!
Honeymoon in Tahiti Video
Check out this two-part video series highlighting a honeymoon island hopping adventure to six islands in 30 days.
Part 1: Arrival & the Atolls
Part 2: Heiva Festival & the society islands
Tahiti = French Polynesia
Before we tackle how to plan a honeymoon in Tahiti, it's important to note that Tahiti is just one island among the 118 islands and atolls that make up the Polynesian territory of French Polynesia. Tahiti is the largest island in French Polynesia and where about 65% of French Polynesia's population of roughly 285,000 citizens live. The confusion stems from the fact that Tahiti is also the brand name used to market French Polynesia as a travel destination, especially to the US market. So when you're planning a honeymoon in Tahiti, you're actually planning a honeymoon in French Polynesia.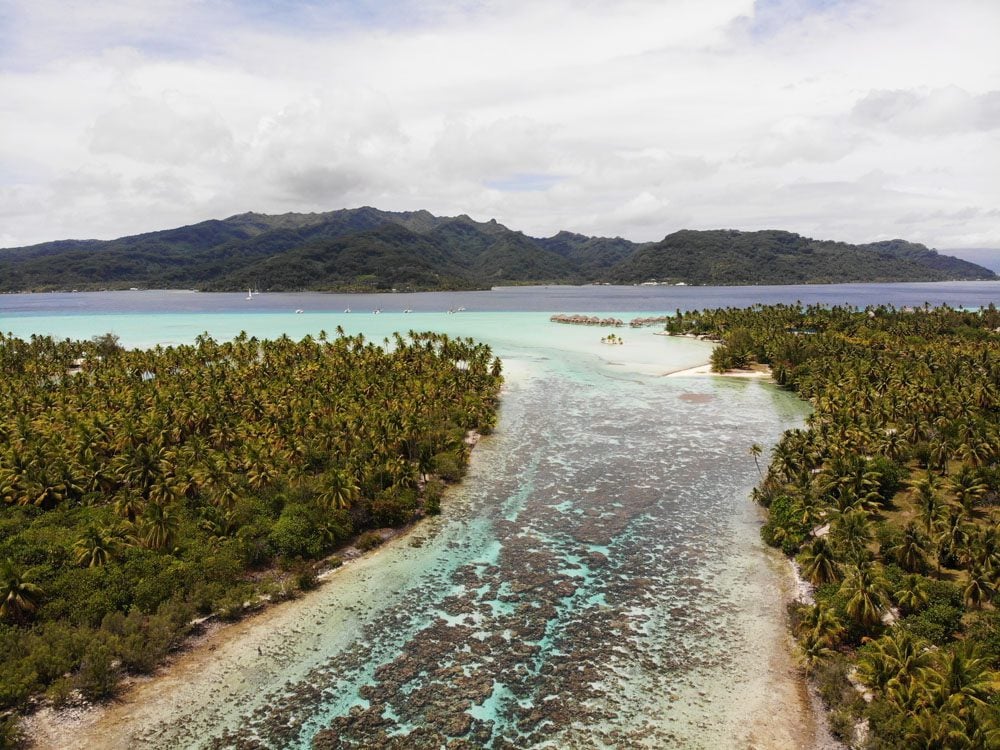 Where is Tahiti
Tahiti is an island in Polynesia, a vast area of the Pacific Ocean that extends from Hawaii in the north, New Zealand in the West, and Easter Island in the east. This area is known as the Polynesian Triangle, sprinkled by 1,000 tropical islands and atolls and home to a distinct native population known as Polynesians. About 3,000 years ago, Polynesian ancestors embarked on multiple migration waves from Southeast Asia until reaching the far corners of the triangle just a few centuries ago.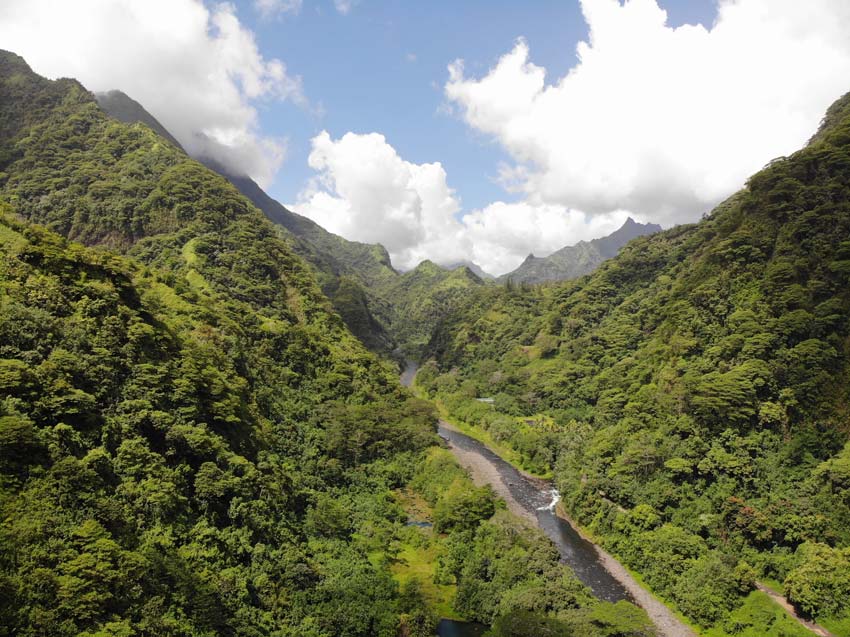 The island of Tahiti is the international gateway to French Polynesia. It's located roughly at the center of the Polynesian Triangle, at a distance of about 8 hours by plane from the west coast of the United States, about 5.5 hours from New Zealand, and 6 hours from Hawaii.
Why is Tahiti the Perfect Honeymoon Destination
The quick answer is that it doesn't get more exotic than this. As far as tropical islands go, the islands of French Polynesia are nature's finest creations. Diving a bit deeper into the topic, here are the ingredients that make Tahiti a perfect honeymoon destination.
Remoteness

: simply locate Tahiti on a map and you'll understand that all newlywed couples have much closer alternatives for their honeymoon. Tahiti's visitor numbers are quite low which means you'll feel a lot more welcomed and have a lot more space for yourself.

Luxury

: did you know that overwater bungalows were invented in Tahiti? This took place on the island of

Moorea

sometime in the 1960s. French Polynesia is home to some of the most spectacular and exclusive resorts in the world, a perfect way to spend a luxury honeymoon vacation.

Nature

: It's enough to look at images of

Bora Bora

to understand just how perfect the blend of land, lagoon, and ocean are in French Polynesia. Nowhere on Earth will you find such perfectly crafted islands, owing their shape and lagoon to millions of years of volcanic activity followed by erosion.

Diversity

: French Polynesia's 118 islands and atolls are divided into five distinct archipelagoes: the

Society Islands

, the

Marquesas Islands

, the

Tuamotu Atolls

, the

Gambier Islands

, and the Austral Islands. Each archipelago has unique geology and vibe so hopping from one archipelago to the next is like traveling to a new destination. Within the archipelago, every island looks and feels different as well.
The people

: Polynesians are among the friendliest people you will ever meet. They are very connected to their ancestral heritage and to the beautiful land and sea that is their home. Flower necklaces, smiling, and saying hello when passing by are all genuine parts of life in these islands. You will find that making a connection with the locals unlocks memorable experiences and life lessons.

Mana

: Polynesians believe their islands were blessed with a supernatural power called

mana

, and many believe it can still be felt around various sites throughout the islands. After a few days in Tahiti, you too will feel the mana. I kid you not. The combination of the reasons listed above plus a mysterious "x-factor" casts a spell on you, only fully realized when you return home.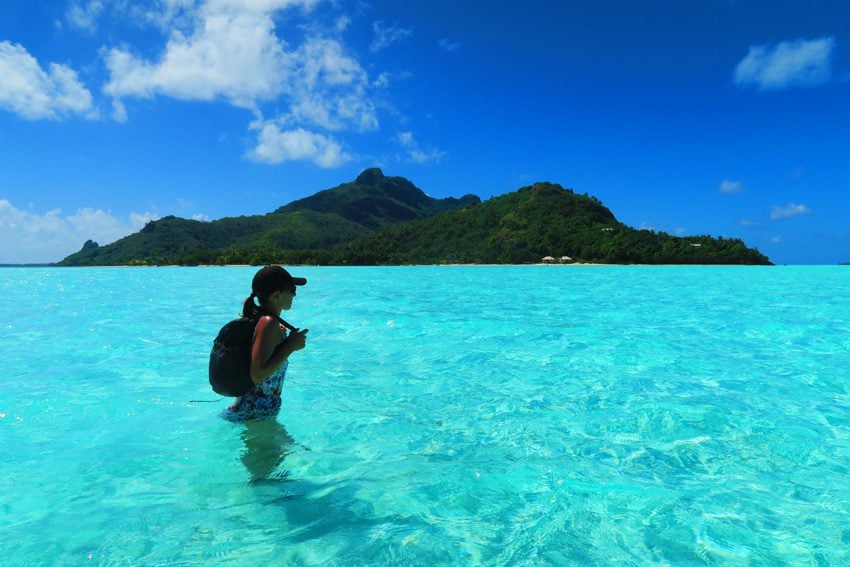 Video Tour of the Islands of Tahiti
Here's a relatively lengthy but (I guarantee) enjoyable video that takes you across all five archipelagos in French Polynesia. You might need to disable your ad blocker for the video to load.
When is the Best Time to Honeymoon in Tahiti
Tahiti has two distinct seasons, a dry season that runs from roughly June to October and a wet season that runs from November to April. The best time to visit is in the heart of the dry season during August and September, perfectly timed with the peak of the wedding season. These months enjoy stable and relatively dry weather. Though it is considered to be the "cooler" season, temperatures are warm during the day and might be mildly chilly in the evening due to the trade winds. If you're interested in Polynesian culture, consider planning a honeymoon in Tahiti during the July Heiva Festival.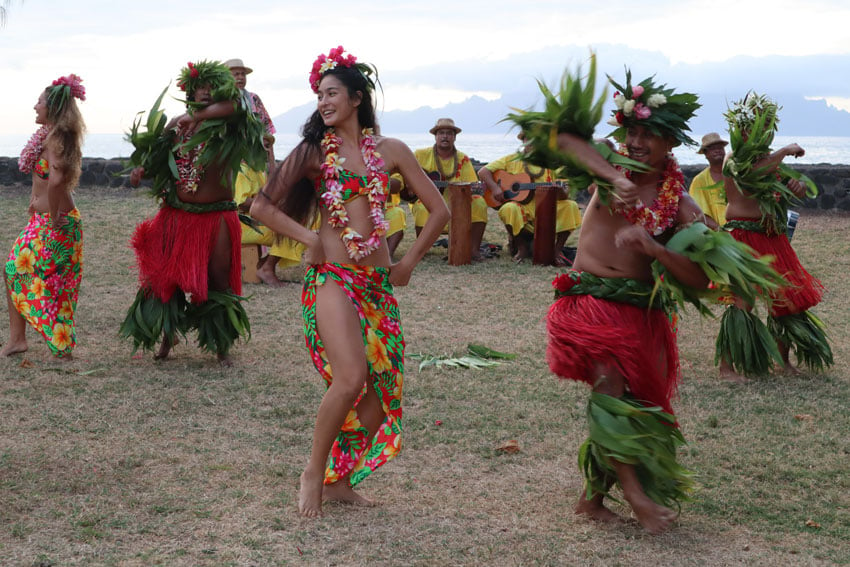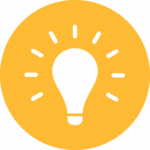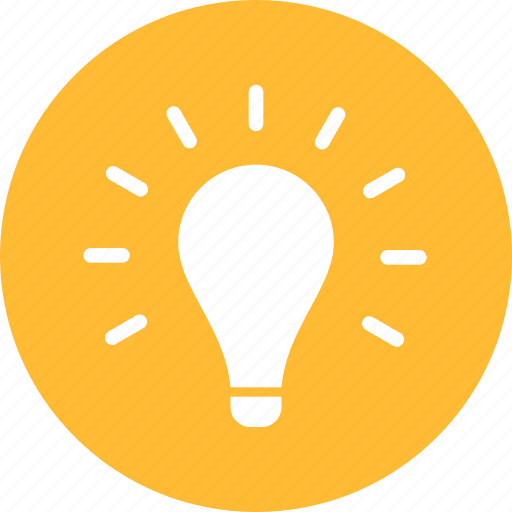 Pro Tip
The shoulders seasons are also a good time to visit and the wet months should be avoided if planning a short honeymoon, where you'll only spend a few nights on a given island.
How to Get to Tahiti
The only practical means of getting to Tahiti is by plane, though many cruise lines offer itineraries that include a few islands in French Polynesia. At the time of writing this guide, you can fly to Tahiti from Los Angeles, San Francisco, Hawaii, Auckland, Easter Island, Paris (with a stopover in North America), Japan, and the Cook Islands.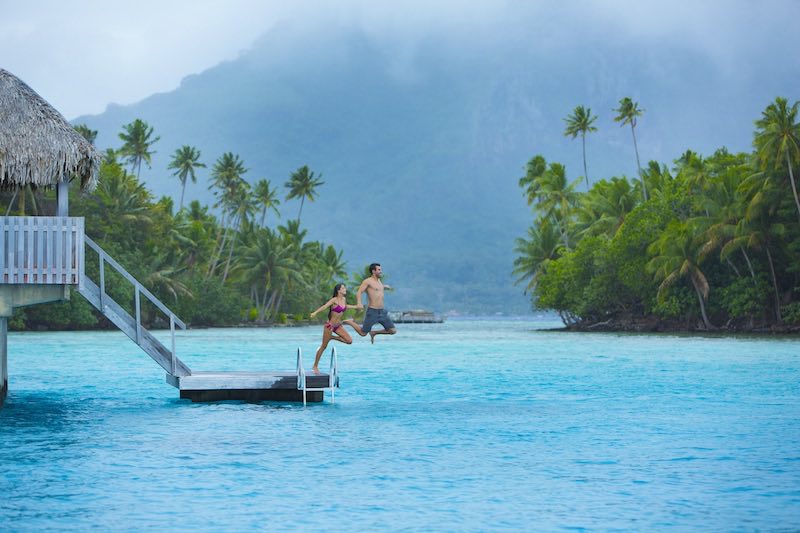 Tahiti Honeymoon Itineraries
With 118 islands and atolls covering an area of the South Pacific roughly equal in size to Europe, it's important to choose the right ones when planning your honeymoon in Tahiti. In case you're wondering, here's my list of the best islands in French Polynesia.
The most common honeymoon itinerary in French Polynesia is Tahiti, Moorea, and Bora Bora. The next paragraphs outline this itinerary's highlights plus a few "add-ons". It's important to note that all itineraries begin and end in Tahiti since it's where the only international airport in the territory resides.
Tahiti, Moorea, Bora Bora
This is the classic Tahiti honeymoon itinerary that can be done in as little as a week but more optimally in ten days. These three islands are part of the Society Islands archipelago, home to high volcanic islands that are surrounded either partially or fully by a lagoon.
Tahiti

: the international gateway to French Polynesia. If you're purely seeking the luxury resort by the beach experience, use Tahiti only as a base (you might need to overnight depending on flight times). However, if you enjoy scenic road trips and especially hiking, Tahiti is worthy of two or three nights. Have a look at the

top things to do in Tahiti

and check out

one

,

three

, and

five-day

itineraries to Tahiti.

Moorea

: thirty minutes away by ferry from Papeete or 10 minutes by plane from Tahiti's airport, Moorea is the obvious next stop. Thanks to the twin bays carved into its north coast, Moorea resembles the shape of a heart when viewed from above. It is a stunning island that offers a wide range of accommodations and activities. Have a look at the

top things to do in Moorea

and an itinerary for spending

up to seven days

in Moorea.

Bora Bora:

the best way to finish your honeymoon in Tahiti. Bora Bora is known as the most romantic island in the world, famous for its overwater bungalows and its breathtaking lagoon. Have a look at the

top things to do in Bora Bora

and check out a

three-day Bora Bora itinerary

.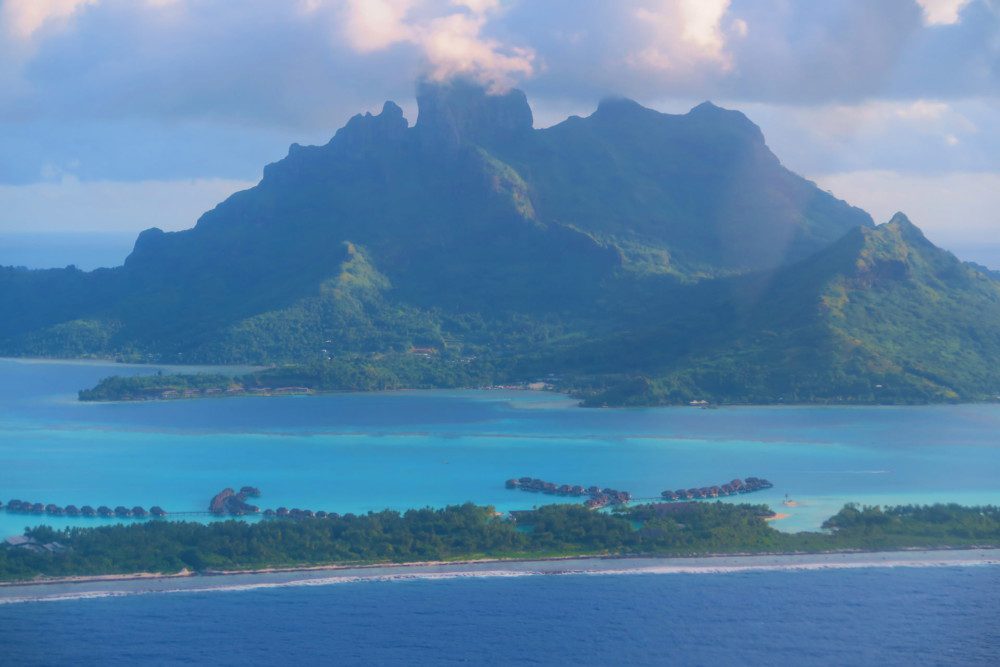 Huahine, Raiatea, Tahaa, Maupiti
The "other" stops in the Society Islands group are more off the beaten track. Each island deserves at least three nights and it would be very hard to visit all of them on a single visit (but possible) due to domestic flight routes. The island of Huahine is known for its lagoon, ancient Polynesian temples, and vibe. The islands of Raiatea and Tahaa share a common lagoon, with Raiatea appealing to hikers and Tahaa for lagoon-lovers. Finally, Maupiti is known as "mini Bora Bora" thanks to its topography, but you won't find here any resorts, just a laid-back vibe, and unparalleled natural beauty.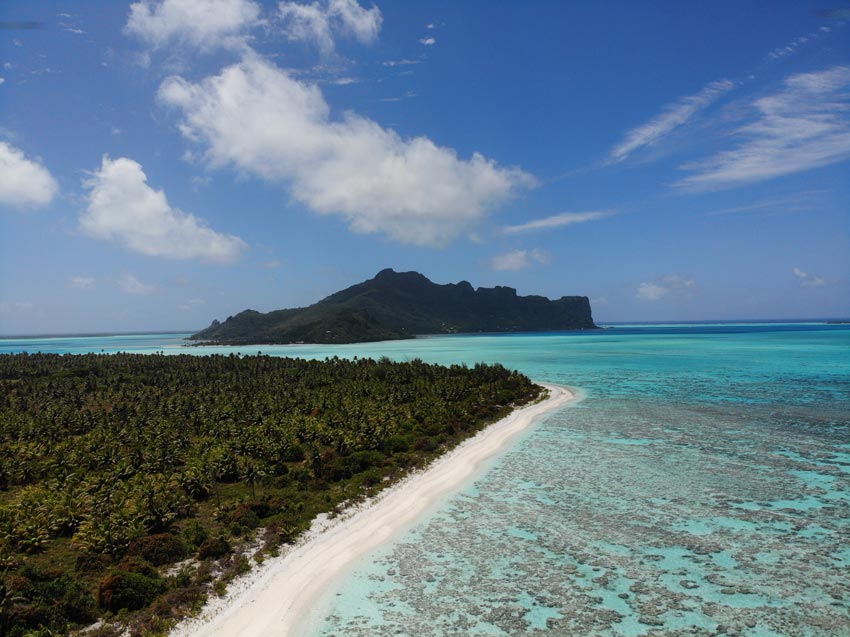 Tikehau, Rangiroa, Fakarava
Moving north of the Society Islands into the Tuamotu Group, you're now visiting coral atolls that were once high islands but have since sunk beneath the waves, only leaving a narrow stretch of the land made of coral sand in the shape of a pearl. This is the largest chain of coral atolls in the world. The prime reason for visiting these islands are for their rich marine life and the remote beaches that lie in the far edges of their lagoons, seldom visited by humans. You'll need at least three nights at each stop and possibly more if you want to do a lot of scuba diving.
Tikehau: famous for its pink sand beaches, bird sanctuaries, scuba diving, and snorkeling. Tikehau is still a low-key destination where peace and solitude can be found.
Rangiroa

: the largest atoll in the chain and one of the best places in the world for scuba diving. Apart from diving and snorkeling,

Rangiroa

is home to several stunning remote beaches.

Fakarava

: a laid-back version of Rangiroa, Fakarava's lagoon is a designated UNESCO Biosphere Reserve so the diving and snorkeling are superb.

Fakarava

has a few legendary dive sites where "shark walls" are commonly seen.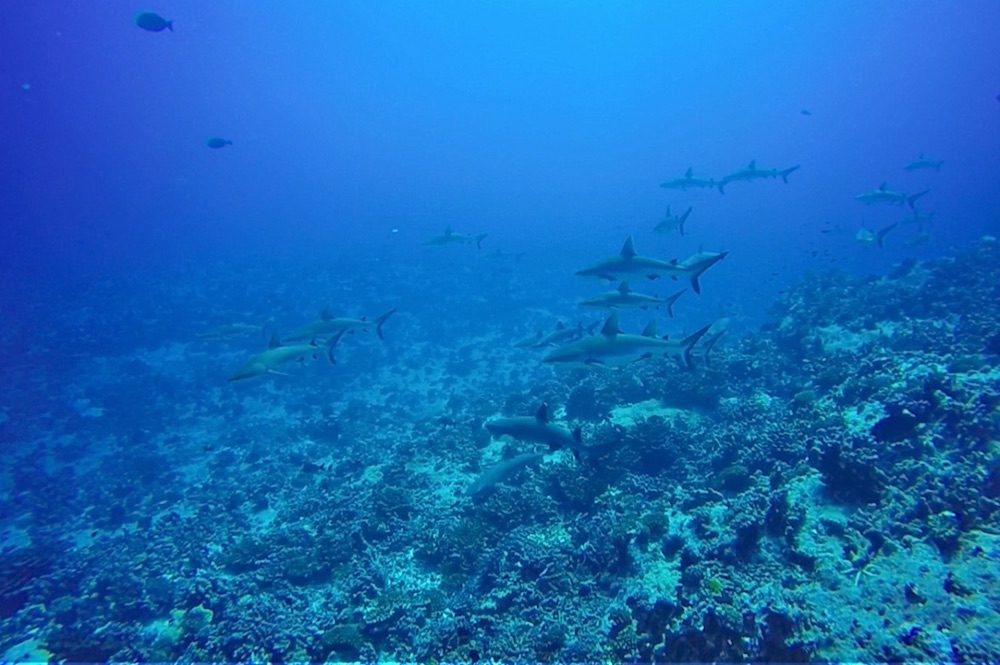 The Marquesas Islands
The most impressive of French Polynesia's high islands from a geological perspective, the Marquesas Islands form the northernmost archipelago in French Polynesia. The high islands are not protected by a lagoon and their population is small. This is the ultimate destination if you want to witness what a Polynesian island may have looked like before settlement. Nature here is "on steroids", best enjoyed on hikes, scenic road trips, or on horseback. The islands are also home to the best-preserved Polynesian temples and its local population authentically preserves their proud heritage. Due to its remoteness and the cost of travel, aim to spend a week in the archipelago with a visit to two islands.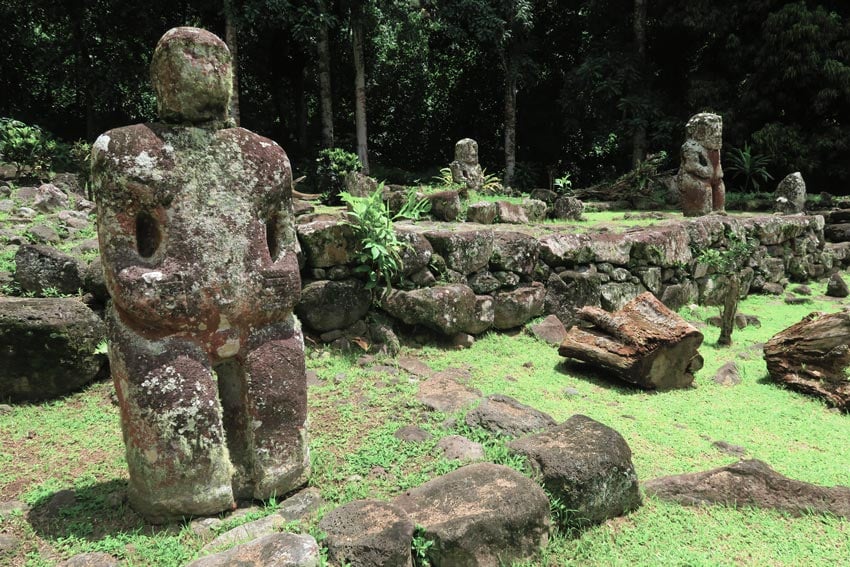 The Austral Islands
French Polynesia's southernmost archipelago is a wonderful option if you're seeking to get off the beaten track. The Austral Islands run west to east and every island in the chain has its own unique personality. In Rurutu, explore eerie limestone caves, hike across its highest peaks, and swim with humpback whales between July and October. In Raivavae, visit one of the best beaches in French Polynesia at Motu Piscine and hike to the summit of Mount Hiro.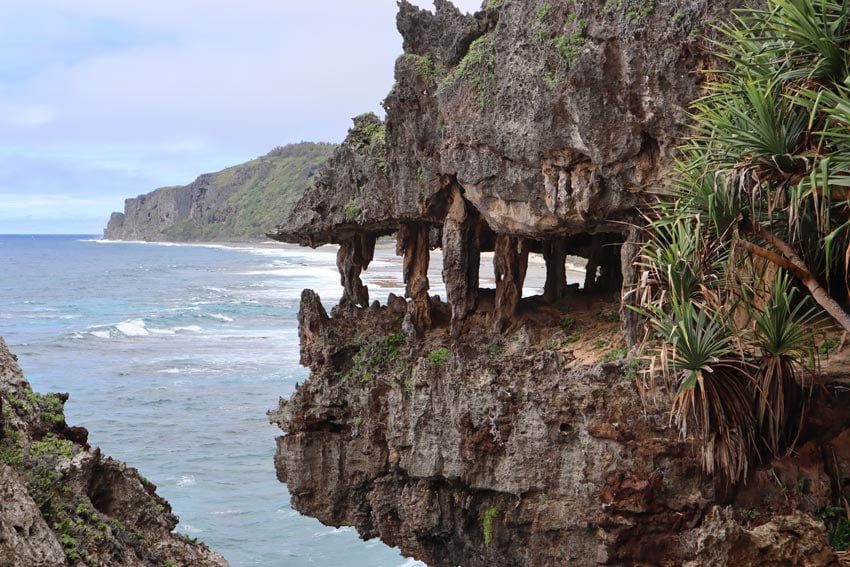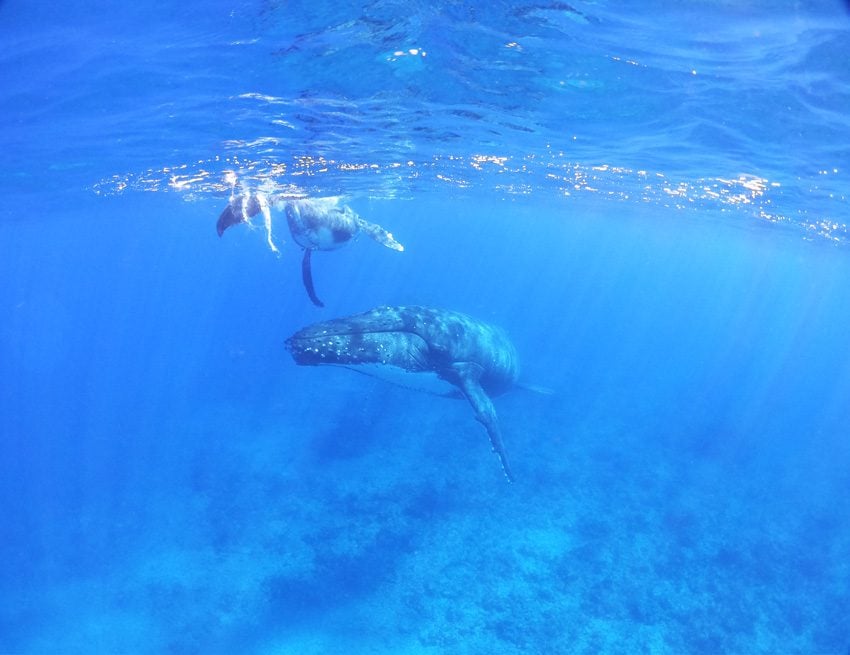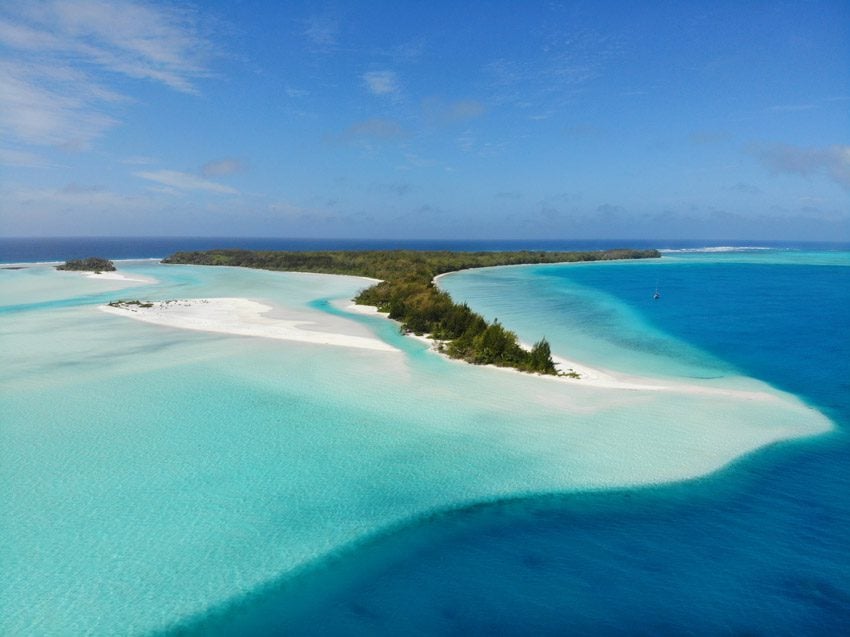 The Gambier Islands
I can't really see a reason for honeymooners to head to French Polynesia's hardest to reach and most remote archipelago. The Gambier Islands are clustered together, with most islands floating inside a massive single lagoon. The islands are home to exquisite churches and pearl farming is the major source of income.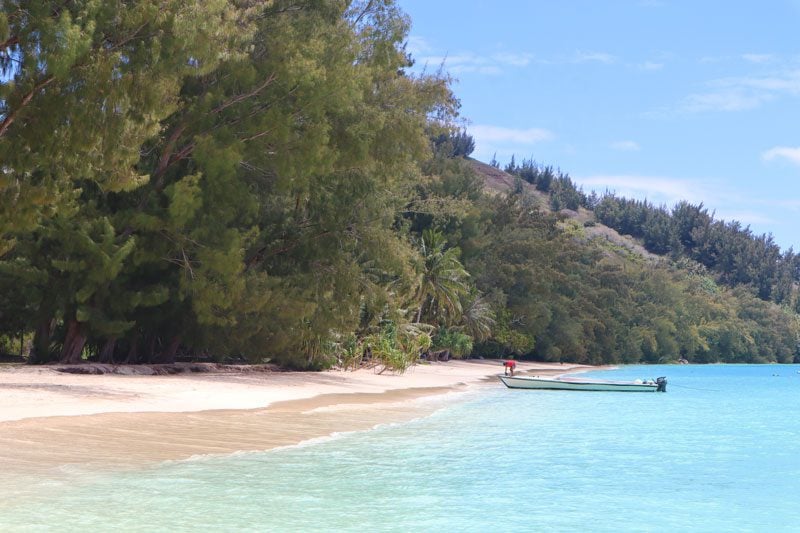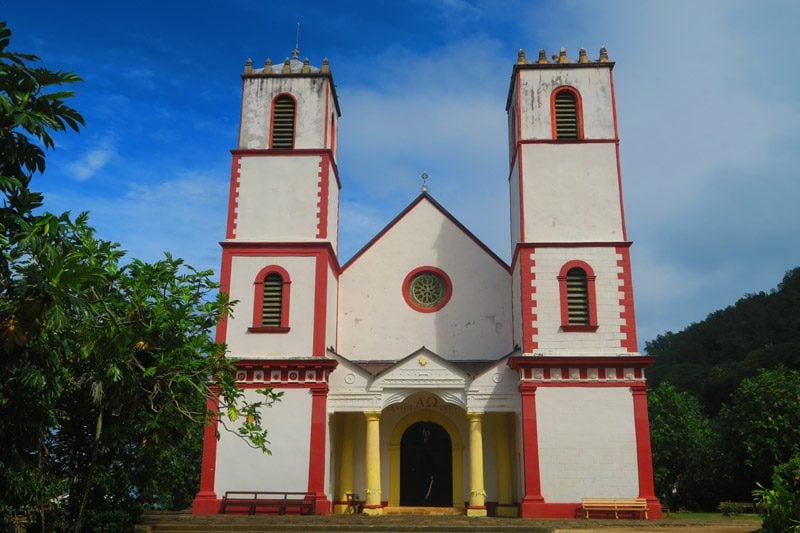 How to Island-Hop in Tahiti
Apart from the ferry connecting Moorea with Tahiti, there aren't any other reliable ferry services connecting other islands. That said, things are changing with the launch of ferry service from Tahiti to Huahine, Bora Bora, and Raiatea in 2021, and the relaunch of the Maupiti Express. For the most part, domestic flights are the only practicals means to island-hop in Tahiti. At present, Air Tahiti is the only domestic carrier. Depending on your itinerary, Air Tahiti air passes are the best way to save on costs if visiting multiple islands. If you want to travel in style from one island to another, you can also charter yachts, seaplanes, and helicopters.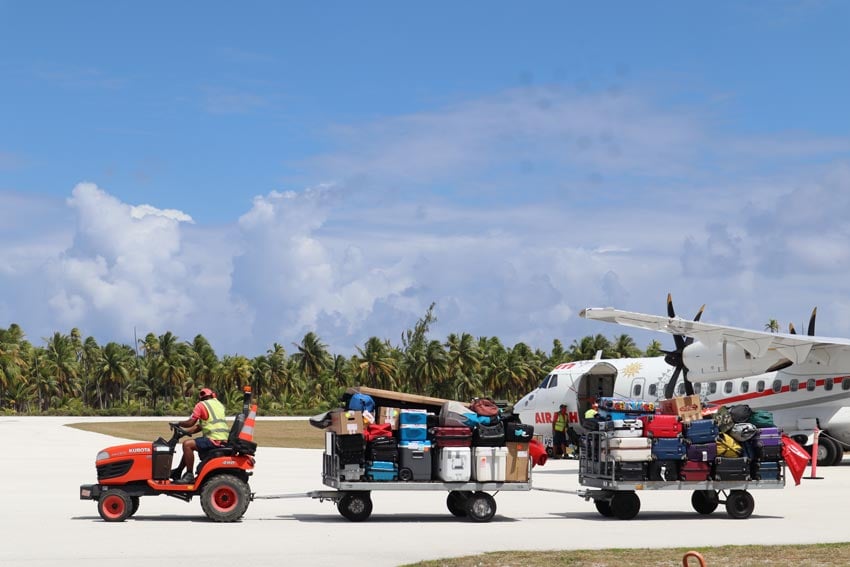 Best Honeymoon Resorts in Tahiti
French Polynesia's signature hallmark is the overwater bungalow, the quintessential ingredient of a memorable honeymoon. Listed below are the top honeymoon resorts in French Polynesia at present.
Tetiaroa: a private atoll not far from Tahiti that was purchased by the late actor Marlon Brando. The atoll is home to nesting bird colonies and rich marine life. Though you can visit small sections of the atoll on a day trip from Tahiti (by boat), the only way to stay here as at The Brando, one of the finest resorts in the world.
Tahiti: the best resorts in Tahiti are currently the InterContinental Tahiti Resort and the recently-opened Hilton Tahiti. They're both located on the sunny west coast of the island together with Tahiti Ia Ora Resort. Another good option is the Tahiti Pearl Beach Resort, just north of the capital, Papeete.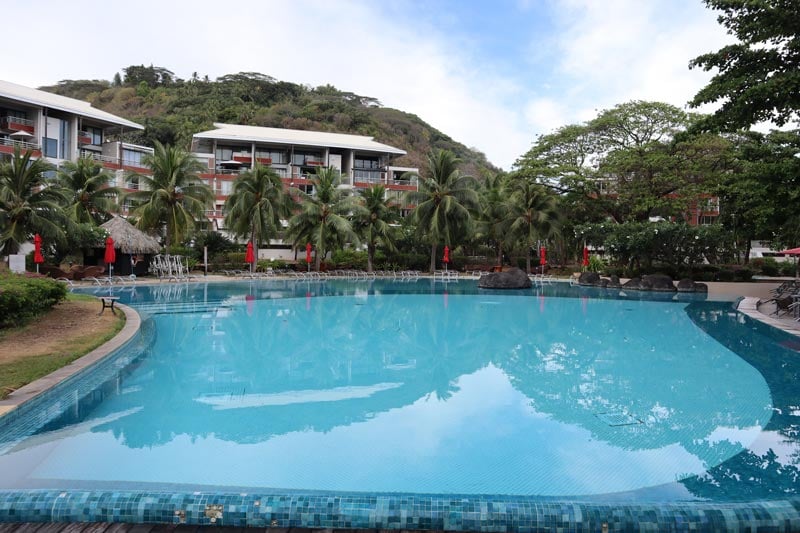 Moorea: the Hilton Moorea Resort is the only five-star resort on the island and it's located on prime real estate at the heart of the north coast. Following the closure of the InterContinetal Moorea Resort in 2020 (no replacement yet announced), the next recommended honeymoon resort is the Sofitel Moorea Ia Ora Resort.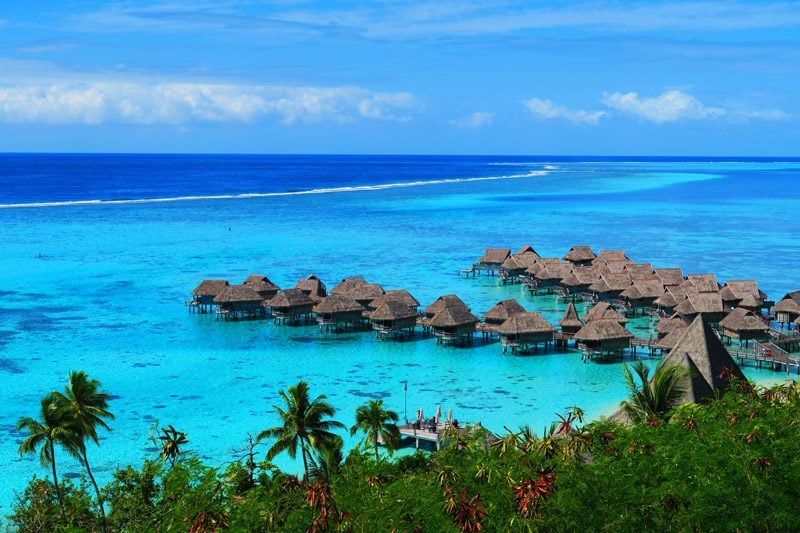 Tahaa: located on a small islet at the edge of the lagoon and perfectly facing Bora Bora, the Le Tahaa Island Resort & Spa is one of the top resorts in French Polynesia. It's a great option for those who seek the Bora Bora experience without the crowds. Vahine Island is a great under-the-radar option.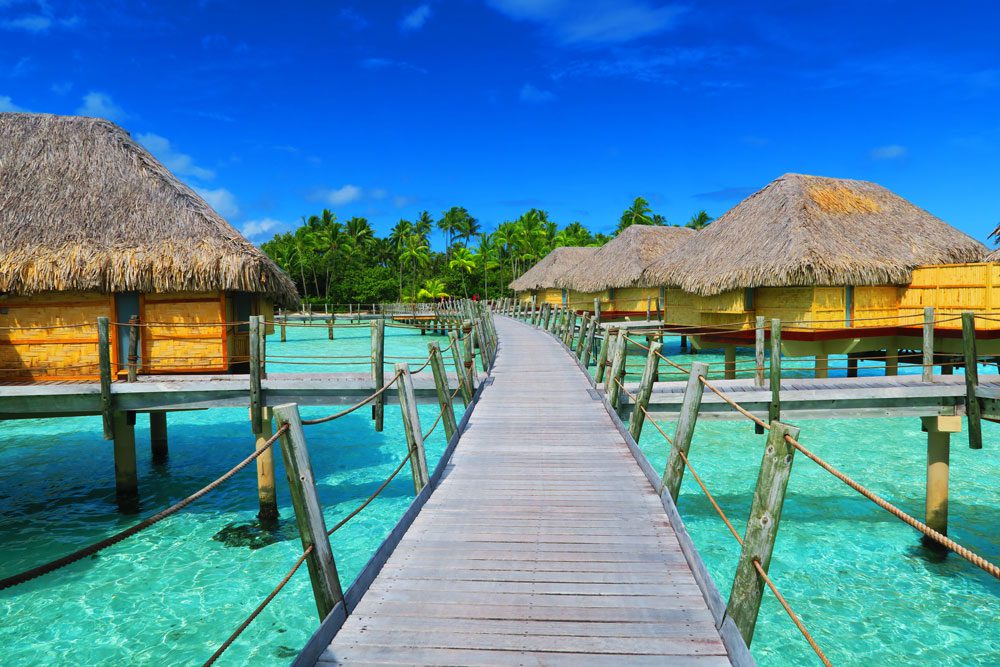 Bora Bora: lots of options on the prime honeymoon island. At the very top, both the St Regis Resort and the Four Seasons are the ultimate honeymoon choice, thanks to their location and amenities. In their vicinity, the InterContinetal Thalasso Spa and Le Meridien are good choices. My personal top choices are the more secluded (yet still five-star) Conrad Bora Bora Nui and the Bora Bora Pearl Beach Resort. If you're planning to honeymoon in Bora Bora, here's a guide on how to choose the right accommodation.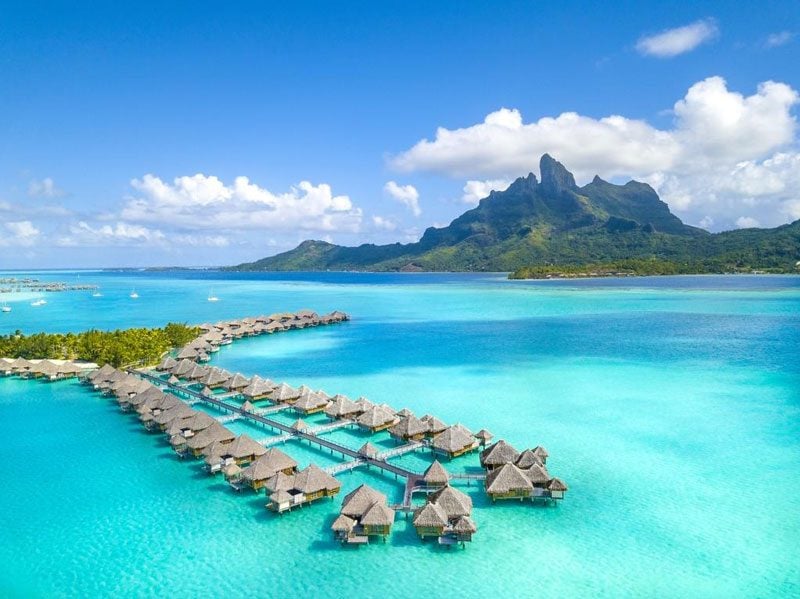 Tikehau & Rangiroa: the Pearl Beach Resort is the top honeymoon choice in Tikehau. The island's famous pink sand beaches are right at your doorstep. In Rangiroa, the Kia Ora Resort has a few overwater bungalows backed by a beautiful coconut grove.
Special Honeymoon Offers in Tahiti
When thinking about how to plan a honeymoon in Tahiti, especially if you're after the resort experience, it's important to keep in mind that some resorts in Tahiti will go above and beyond to welcome honeymooners. The leading chains have resorts on every major island and some resorts have paired up with "sister" resorts to fill in gaps. Taking advantage of chains and resort partnerships can unlock major discounts on luxury accommodations in Tahiti, especially if you book in advance. Moreover, all resorts should offer complimentary honeymoon amenities, such as flower arrangements on your bed, champagne, drinks, and more.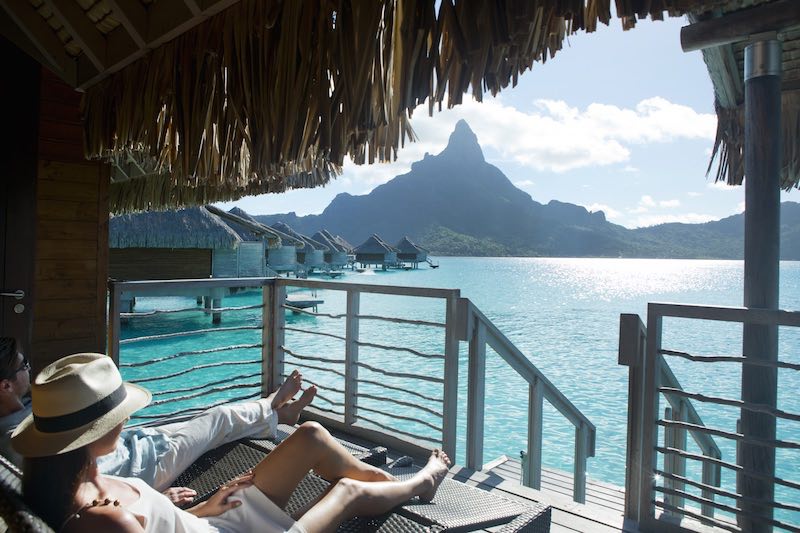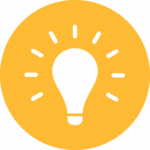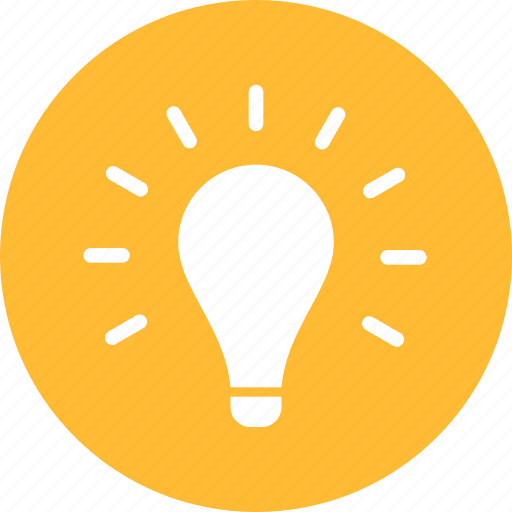 Pro Tip
Get in touch and let's plan a honeymoon in Tahiti that's tailored to your needs while maximizing available discounts.
Romantic Honeymoon Experiences in Tahiti
Contrary to popular belief, Tahiti is not merely a beach holiday destination, though the destination does have its fair share of stunning beaches. I have highlighted the top experiences in French Polynesia on this planning guide and on which islands to best experience them. Those include the best hikes in French Polynesia, lagoon tours, and more. In this guide on how to plan a honeymoon in Tahiti, I want to focus on unique honeymoon-specific activities.
Polynesian wedding:

the ultimate way to remember your honeymoon in Tahiti. Every resort offers a different package but the theme is always the same, lots of heavenly-scented flowers, a stunning beach setting, Polynesian attire, and a traditional wedding ceremony just like in the old days.

Canoe breakfast:

if you're staying in an overwater bungalow, you can have a special breakfast delivered via a traditional Tahitian canoe.

Romantic private dinners:

whether in secluded spots on the beach or even on small private islands, enjoy a gastronomic dinner under the stars.

Sunset lagoon tours:

embark on a traditional outrigger canoe to enjoy the magical colors of a Tahitian sunset. Some tours also include disembarkation on a private island for dinner.

Scenic flights

: these range from

scenic helicopter flights

where some routes even include stopping on a mountain summit, to seaplane trips to uninhabited islands and atolls.

Polynesian spa treatments:

every worthy resort offers world-class spa treatments. The Polynesian treatment will include the use of scented

monoi

and

tamanu

oils.
What's Next?
Now that you know the basics of how to plan a perfect honeymoon in Tahiti, check out an extensive list of related Tahiti travel resources and in-depth information, including travel guides to all the major islands.
---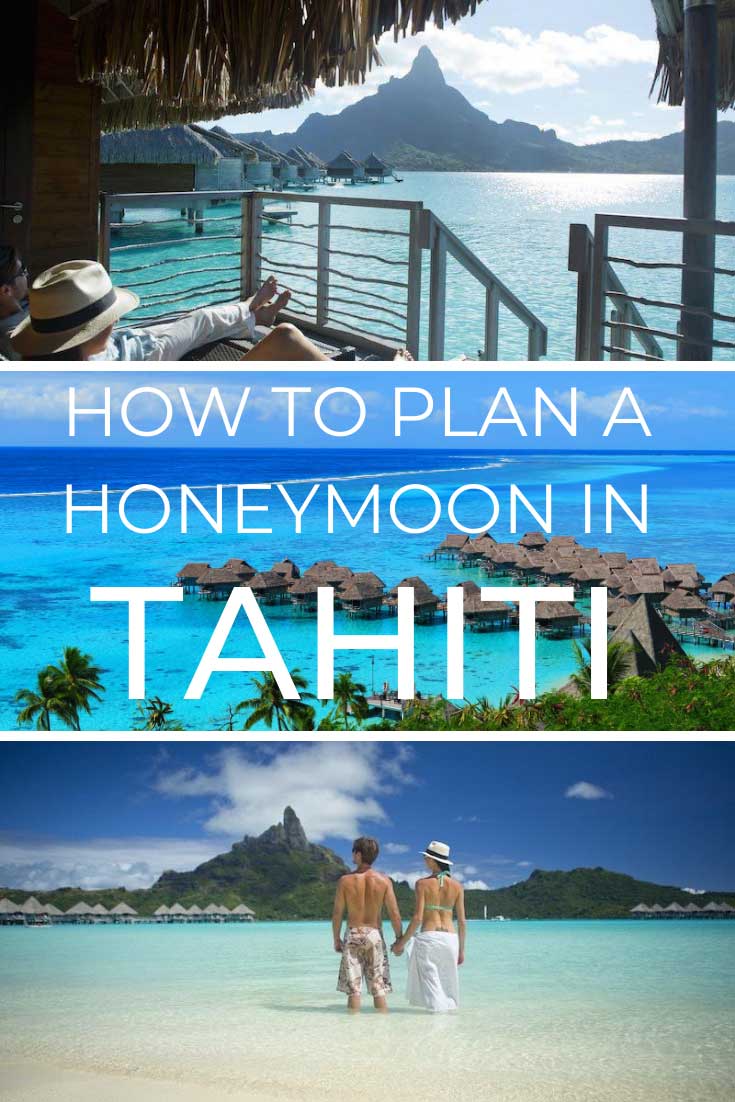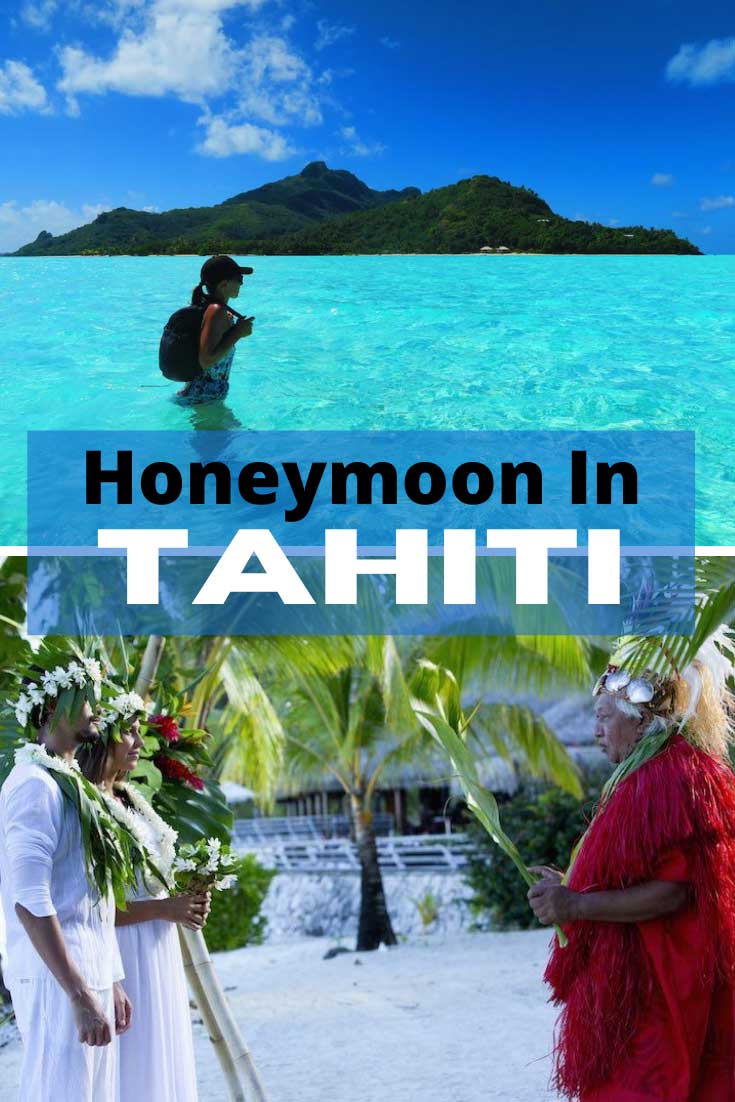 Pin These Images To Your Favorite Boards!