Tucked between Table Mountain and the Atlantic Ocean, Cape Town visitors are spoiled with fantastic sites, white sand beaches, world class food and renowned wine – set in centuries of multicultural history
The 'Mother City' as it is affectionately known, Cape Town is the oldest city in all of South Africa and one of the most beautiful cities in the entire world. Dominated by the iconic Table Mountain, Cape Town offers its visitors a unique mix of historical sites, top-notch beaches, great food, and unrivaled natural scenery for a large metro. It's also a good base for exploring the surrounding Winelands, where award-winning wine has been made for hundreds of years as well as rugged Cape Point to the south, where ships have been rounding their way to the Far East for centuries.
Cape Town was founded in 1652 by Dutchmen Jan van Riebeeck as the supply station for the Dutch East India Company's ships that were headed for the Far East. Throughout the years, Dutch, French, Muslim, English, and African influences – have created a highly multicultural city. Cape Town is the legislative capital of South Africa and the old Cape Dutch influence is still evident in the unique architecture and the Afrikaans, which is still widely spoken throughout the province.


Today's Cape Town is a prime destination for visitors from around the world and a symbol of tolerance. The people are friendly and the city sits in sharp contrast to the hustle and bustle vibe of Johannesburg with Cape Town's laid-back and relaxed atmosphere. I had the privilege of spending 4 days in Cape Town during October when the weather is comfortably warm and the days getting longer and longer. You can't go wrong with a visit to the Mother City and I hope this Cape Town travel guide will help you plan a memorable visit.
What's Included in this 4 Days in Cape Town Itinerary?
Several sections make up this Cape Town itinerary:
Cape Town Travel Tips:
I'll start off by sharing a few essential travel tips for planning a successful trip to Cape Town and the surrounding area.
Don't leave home without the Rough Guide To Cape Town. It also includes the Cape of Good Hope, wine country, and the Garden Route. Together with this guide, it will be your best friend on your visit to Cape Town.
Check out a few Cape Town online tour tickets that will also save you the long wait in line.
Unlike the horror stories that you might hear about Johannesburg, Cape Town is a relatively safe place to visit. You can relax and enjoy walking through town during the day and in many parts, also at night.
South Africa uses a 3 pin electric plug so most universal adaptors won't accommodate this. Pick one up at the airport or simply make sure your converter will be able to make its way into South African electric sockets.
Cape Town weather is pleasant and even in the winter months (Europe and the USA's summer months), you'll get plenty of pleasantly warm days. However, nights can be chilly in the summer and occasionally, the Cape Doctor or the stronger Southeasterly wind will blow across town. Always pack for hot and chilly weather and you'll be fine.
Table Mountain has its own weather conditions and even if it's pleasant in the city down below, the mountain might be foggy or completely shrouded in clouds. Check weather conditions on the mountain before heading out.
If you'll rent a car and need street parking, don't be alarmed by the 'parking marshals' that'll guide you to an open parking spot. This is totally legit.
An easy way to get around if you don't have your car is with taxis. Note that not all taxi meters born equally. The more old looking taxis have notoriously quick meters so riding those will be more expensive (though these are the most widely available taxis). There are a few companies with better services, newer vehicles, and more friendly meters – you'll have to call in advance for these usually or if you're lucky, one will be waiting at a local stand. You can always use Uber through your mobile phone to get around in comfort.
The Western Cape is known for its fine wines. You can buy wines directly from the wineries but in local supermarkets, you'll find a wide range of excellent wines. A good bottle will set you back 100-200R (less than $20).
Lion's Head is a great place to hike. There have been reports of robberies along the way so its best to check with your hotel before for the most recent recommendation.
Cape Town Itinerary Map:
All places mentioned in this Cape Town sample itinerary can be viewed on this map. Simply click on the image to open in Google Maps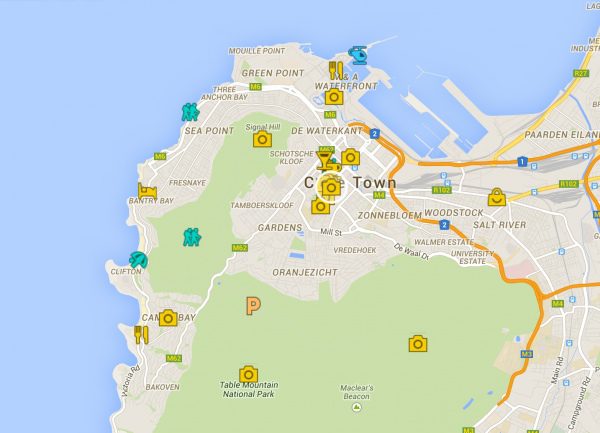 Day 1: Table Mountain & City Center
Arrival
I arrived the evening before on a flight from Europe. At the airport, you can either book a ride to town with one of the minibus companies for under $20 (they'll have stands in the arrival hall) or take your own taxi which will set you back about $30. On your way into town, you can't help but notice the shanty towns which dot the roadside. Though the Western Cape boasts plenty of wealth and beauty, you'll always notice the sharp contrast at times that remind you that this country is still rebuilding and trying to get over decades of hardships. Nonetheless, the people of the Western Cape are some of the friendliest and most open-minded in the country.
Bantry Bay
I decided to stay a little further outside of the city proper in quiet Bantry Bay. This beautiful neighborhood commands prime real estate and is built pretty much on the slope of the Lion's Head. Smart and fancy homes along the ridge give way to self-catering apartments, condos, and hotels along the Atlantic seaside. It's far enough from the city to offer a uniquely relaxing stay yet close enough to plenty of restaurants in nearby, vibrant Sea Point and a short taxi/bus ride into town.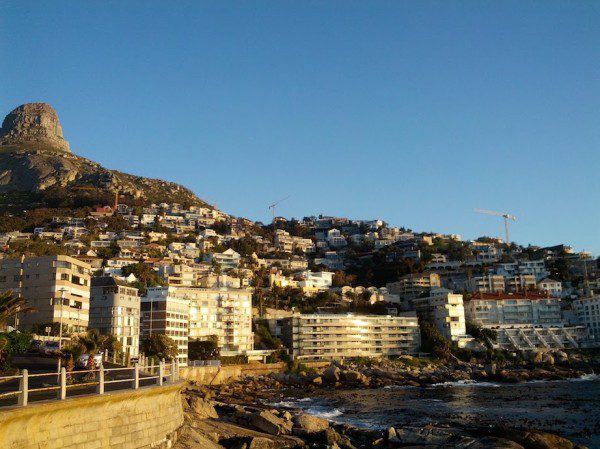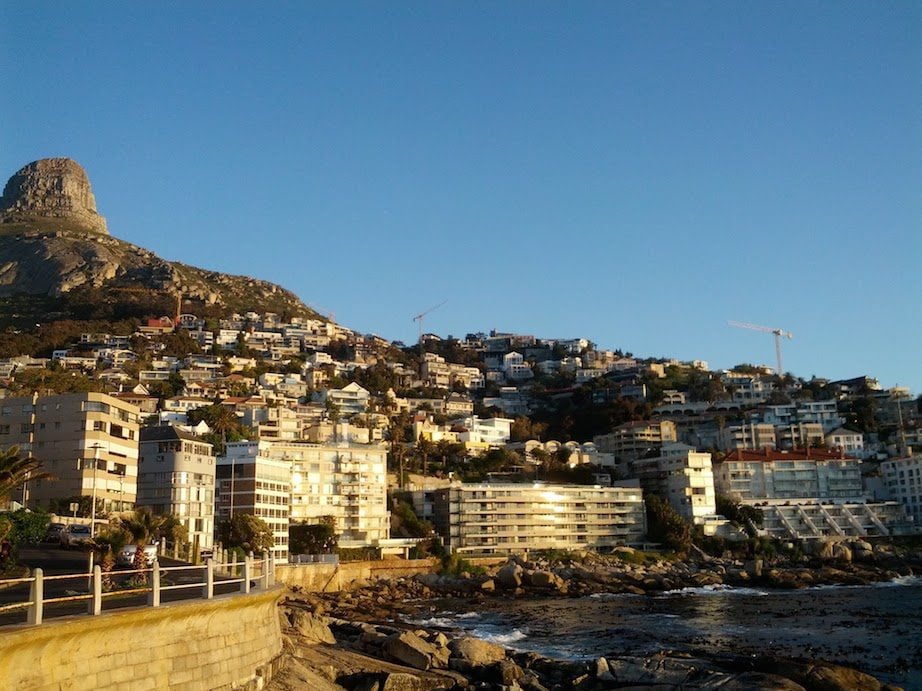 I checked into the Ambassador Hotel on Victoria Road, at the edge of Bantry Bay. You can stay in one of the self-catering apartments in the building across the road, which also has a good cafe and deli on the ground floor, or stay in one of the hotel rooms in the main oceanside complex. Rooms are comfortable and if you're in the apartment across the road, you'll have memorable ocean views and a balcony to enjoy all of this, especially during sunset.
Wifi is available though can be slow at times but the breakfast buffet is solid, served in the main glass covered dining room with the Atlantic just a stone throw away. As for the rates, they highly fluctuate throughout the seasons and even throughout the week so check the hotel's site for the latest deals.
The great thing about staying here is that you're not too far from town ($10 taxi ride with bus options as well). In fact, you can walk pretty much from the hotel along the seaside promenade towards Sea Point and even further. This is a great way to start or end your day and if you like jogging, this is one of the best routes in town. There are other boutique hotels in Bantry Bay as well as in nearby Sea Point so if you're asking yourself where to stay in Cape Town and the Ambassador doesn't suit your needs this part of town is still a great place to base yourself.
Here's a list of all Cape Town accommodations that you can book online.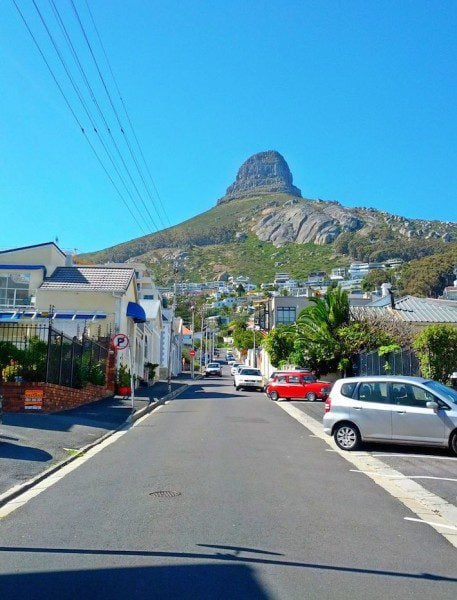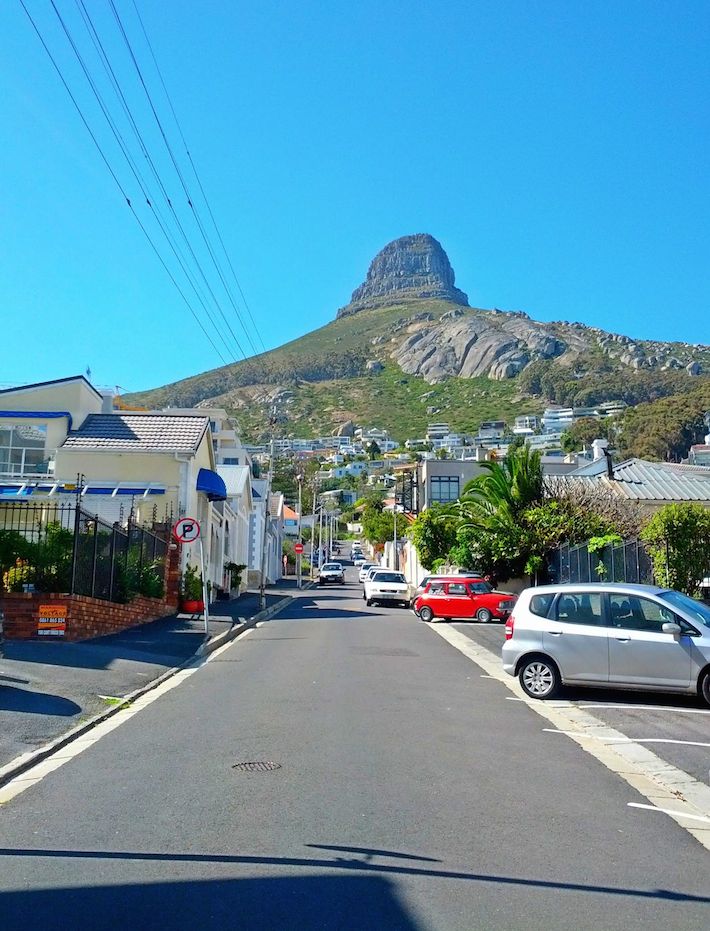 Up To Table Mountain
After the wonderful breakfast, I headed to the #1 attraction in Cape Town and a definite 'must-do' in your Cape Town travel, Table Mountain. This mountain is synonymous with Cape Town and in many ways, defines it (it definitely impacts the weather). Voted as one of the 'New Seven Wonders of the World', Table Mountain is visible from almost every point in Cape Town. The 1,087 square meters flat-top mountain is filled with gorges and rugged peaks including Devil's Peak to the west, Signal Hill and Lion's Head in the northern section, and the 12 Apostles in the south.
You can climb Table Mountain but the most popular way to reach the top is by cable car. You'll need to make your way to the lower cableway station on Tafelberg Road where you'll depart from 225R for a two-way journey up the mountain. It's best to get the latest weather conditions at the top before heading out (check the travel tips section) as the top of the mountain can get extremely foggy, wet and windy – as was on this day, making the visit to the top no more than an expensive cable car ride to nowhere. If the weather is clear you'll enjoy panoramic views of the Cape Town and if you enjoy hiking, there are plenty of options here as well (do stick to the marked paths as it's easy to get lost up here). As visibility at the top was practically zero on this day, it felt more like an alpine trek than a visit to Africa – quite disappointing. I headed back towards the town where it was a relatively pleasant day but would not give up on Table Mountain. More on that later.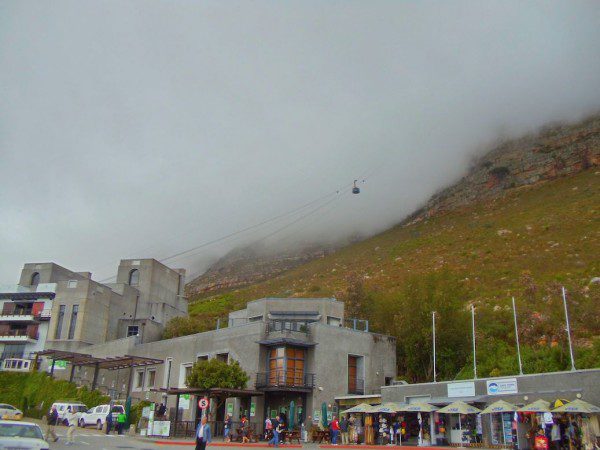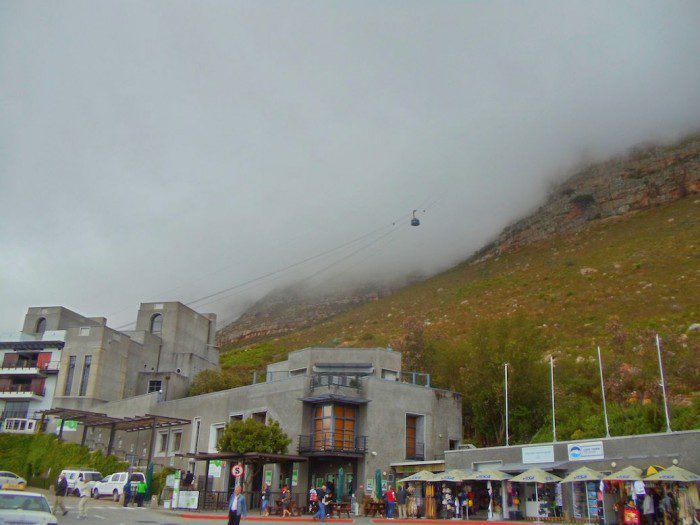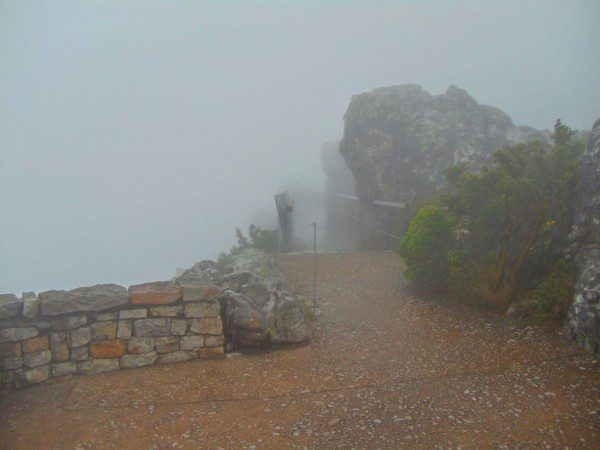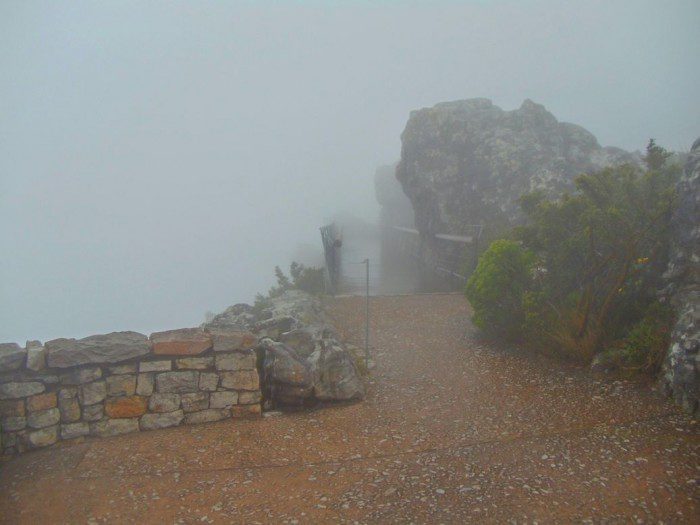 Exploring Cape Town's City Center
Next up was exploring Cape Town's city center, which is the oldest urban area in South Africa. Cape Town's center has a great vibe and the heavy European influence is quite evident with the Victorian architecture.
I started to explore Cape Town's center with St. George's Mall, a vibrant pedestrian street that is filled with local traders selling their goods and lined with cafes. Lots of people come and go through this street and it makes for a nice stroll to start your visit.
Continuing on St. George's Mall for a few blocks, you'll eventually reach Shortmarket Street. Turn right and you'll quickly reach Greenmarket Square. This place used to be a vegetable market, hence its name but is now a vibrant cobblestone square filled with cafes and shops. One of the highlights of Greenmarket Square is the flea market in its center where dozens of mostly African migrants sell a wide range of souvenirs from traditional clothes to African tribal masks. As you would expect, you wouldn't come here for the quality but if you like craft markets, you'll love this place. Bargaining is part of the game and expected by the merchants but do be sure to reach a win-win situation as an extra few dollars won't make a difference to you but probably will for the merchants. As a collector of tribal masks, I found a few gems here and managed to leave with my hands full.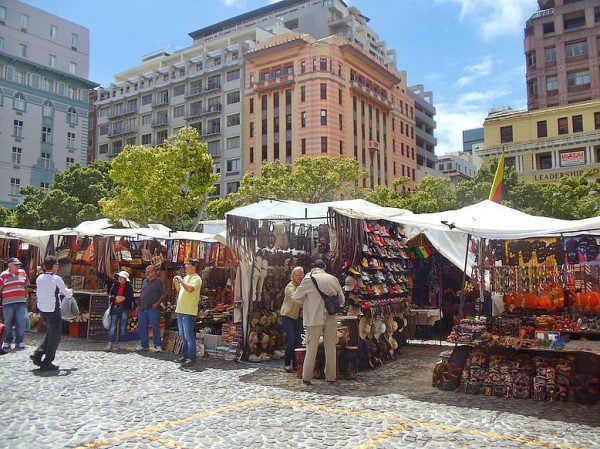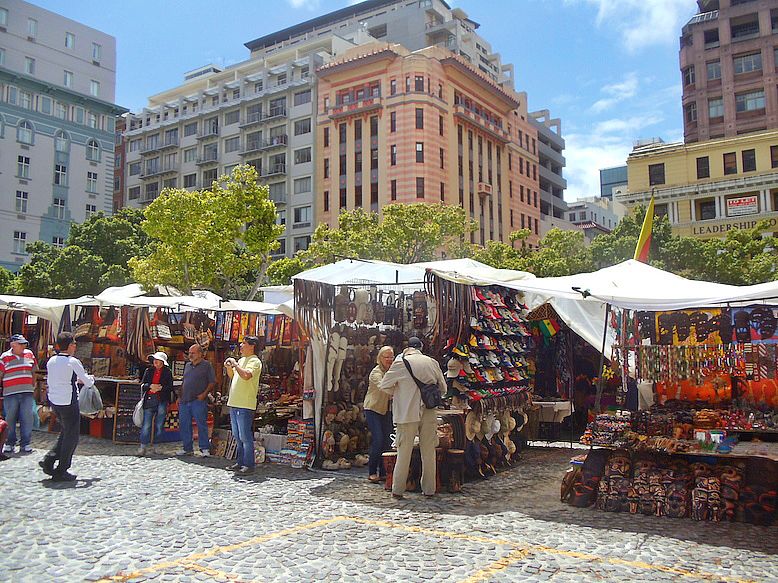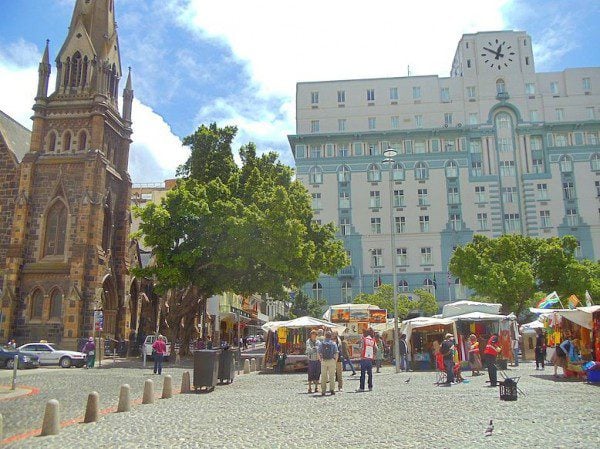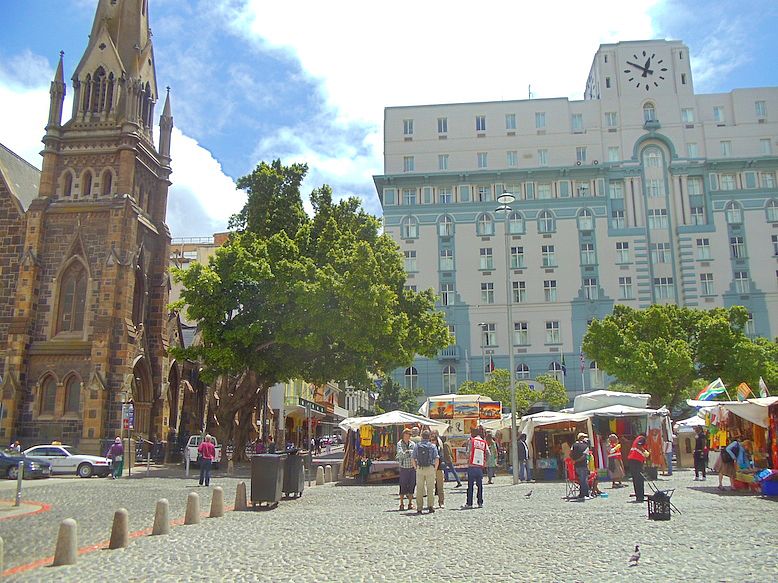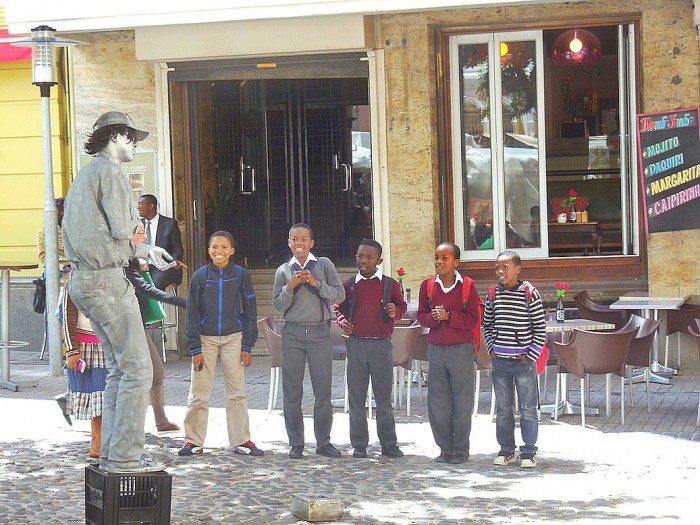 For lunch, I stopped at Cafe Sante in the square, which serves great simple food. The service is excellent and the wifi even better. This is a good spot to enjoy the sights and sounds of the square in the outside seating area. Right on the square and cannot be missed, you'll see the Old Town House, a beautiful Dutch-style 18th-century building that now houses the Michaelis collection of art.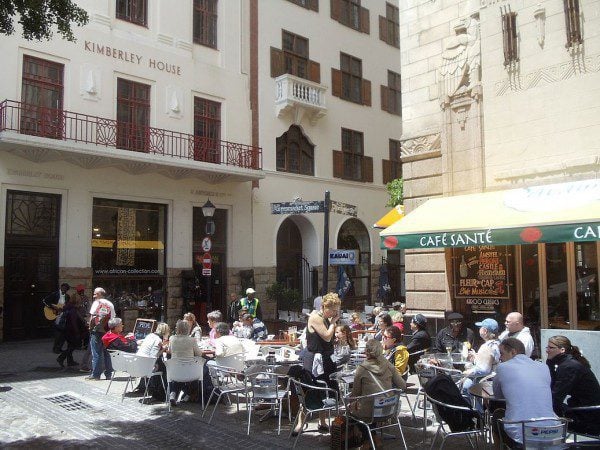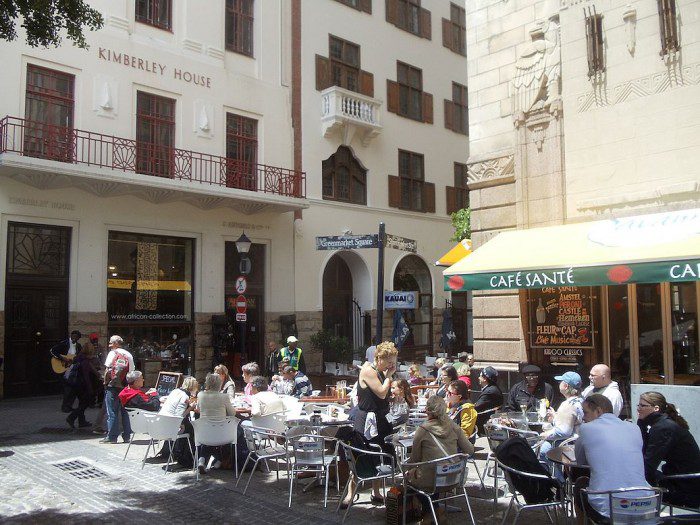 From Greenmarket St, you can continue on Shortmarket St for a few blocks until Bree St and you'll eventually reach the Cape Heritage Square. The highlight here is the restored Cape Heritage Hotel. Built in 1771, this stylish hotel caters to those who want to spin back the wheels of time and is one of the finer hotels in Cape Town. For those of us not staying here for the night, a visit to the square makes for a lovely spot to relax over wine and escape the rush of the city.
I headed back on Shortmarket St and turned right on Long St and into the heart of the historic city center. Lots of charming low-lying Victorian buildings line up this street with restaurants and cafes galore. It's a pleasant walk during the day and at night can get a bit noisy thanks to the bars and clubs which take center stage after hours. It's very popular with the backpackers as you would imagine so if you're looking for a quiet sleep, Bantry Bay is a good option once again.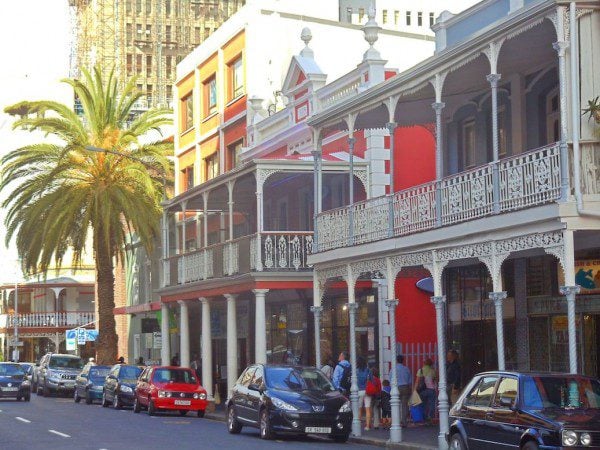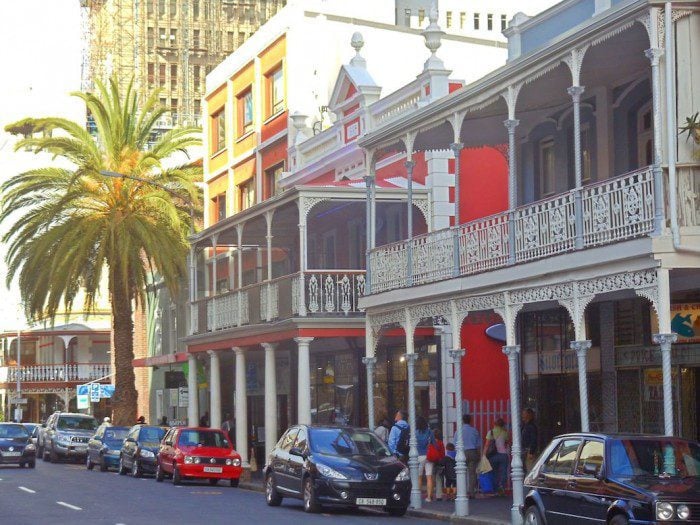 Real African Crafts
At #76 on Long St, look hard enough and you'll find the Pan African Market. It's a little tricky to find and I had to ask around for directions but it's worth the search if you like African crafts. This building houses several floors of craft makers and dealers. In some shops, you'll see tribal masks coming into form and traditional jewelry made. It's the best collection of African art that I've seen, reminding me of my shopping experience in the streets of old Stone Town, in Zanzibar. Be sure to explore several floors as well as the less obvious shops in the corridors as some of them hold truly wonderful crafts from all over the continent.
The Quiet Part of City Center
From the Pan African Market, you can continue on Long St and either turn left on Wale St or left on Church Street. Both will lead you to Government Avenue but if you take Chruch St, you'll find many more antique and African craft shops. At the corner of Wale St and Government Avenue, you'll notice St. George's Cathedral. This gothic style cathedral is not all too impressive but does hold some historical significance. In 1989, it was the site where Reverend Desmond Tutu led a march towards city hall, marking the beginning of the end of Apartheid.
Right after the cathedral, make a right onto Government Avenue. This is another lovely pedestrian street and makes for one of the best and most tranquil walks in Cape Town. As the name suggests, it's home to numerous government buildings and a few historical landmarks as well. The boulevard itself is lined with oak trees and there are a few gardens that you can venture into.
Just after St. George's Cathedral, you'll notice a beautiful neoclassical building with a smooth pastel finish. This is the Houses of Parliament building, completed in 1885. This is the 'old' parliament building, where many of the repressive laws of Apartheid were passed. It's now the legislative body of South Africa.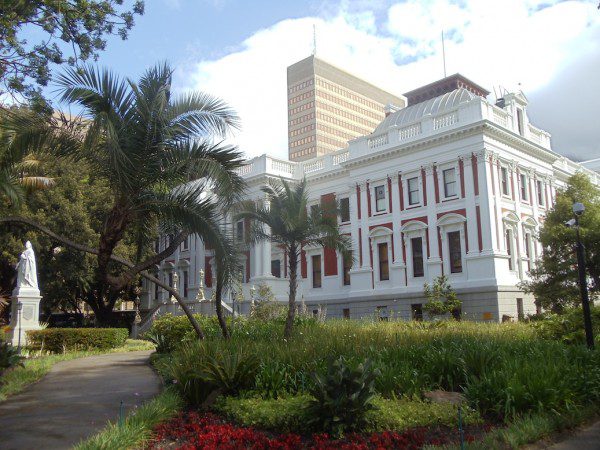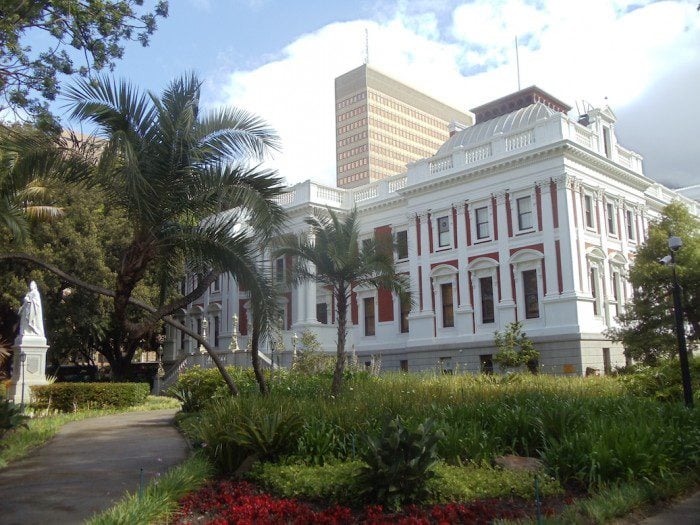 A further short stroll along the avenue and on your right, you'll see the South African Library building. It was opened in 1882 and now houses a fine collection of historical texts. I ventured out here for the Company Gardens. Originally built by the Dutch East India Company, the gardens today offer a tranquil visit amidst a wide range of local plants and flowers. It makes for another great escape from the noise of the city.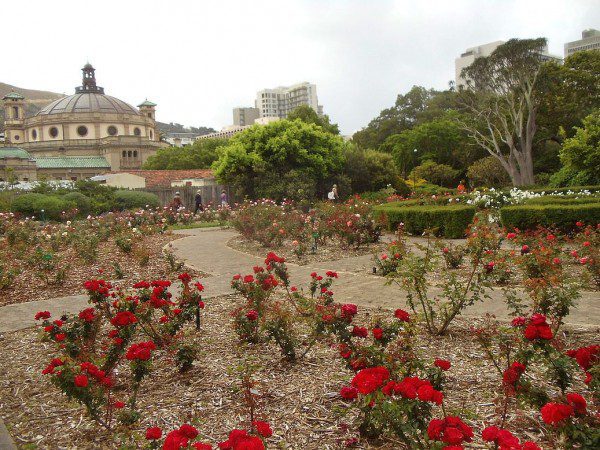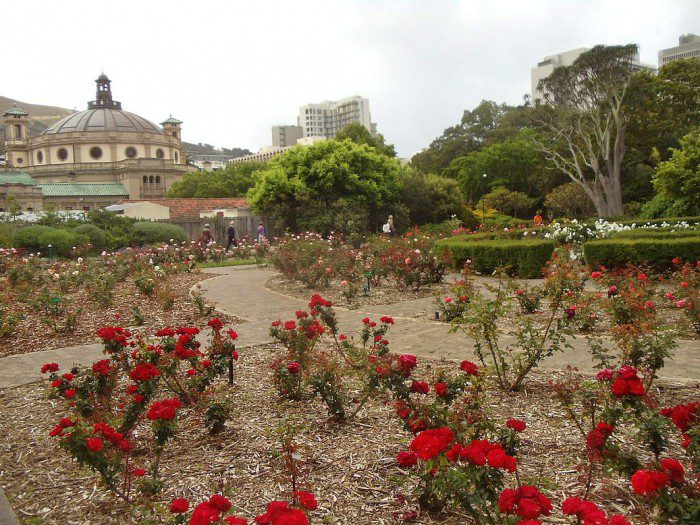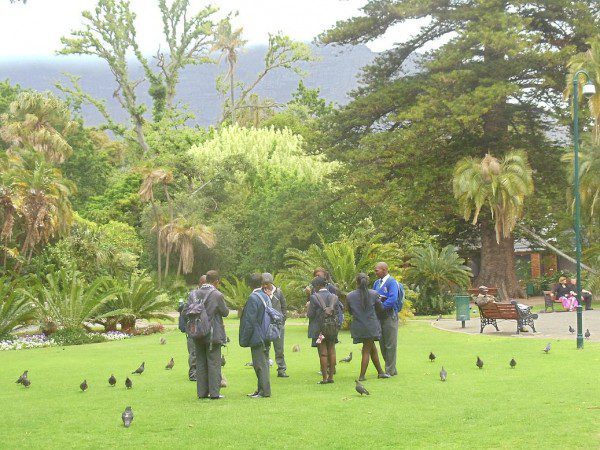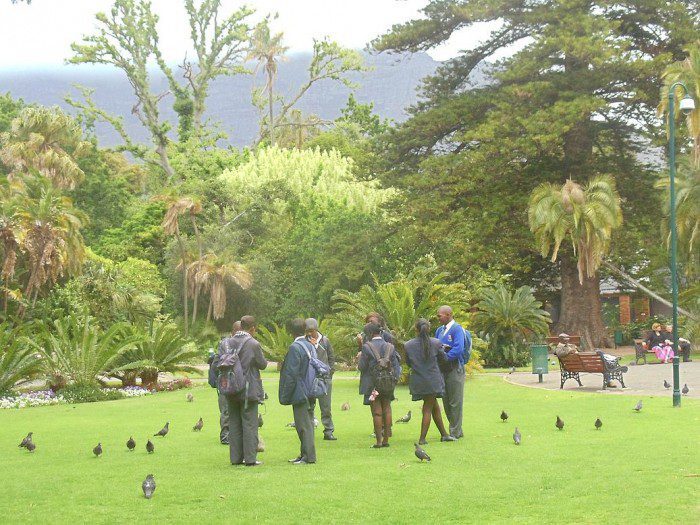 Back to Government Avenue heading south, you'll notice on your right a beautiful colonial-style stretched flat house behind a gate. That's De Tuynhuys or Garden House, the office of the president of South Africa.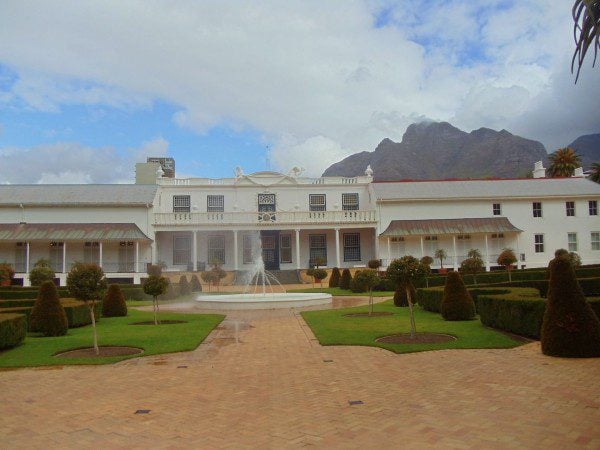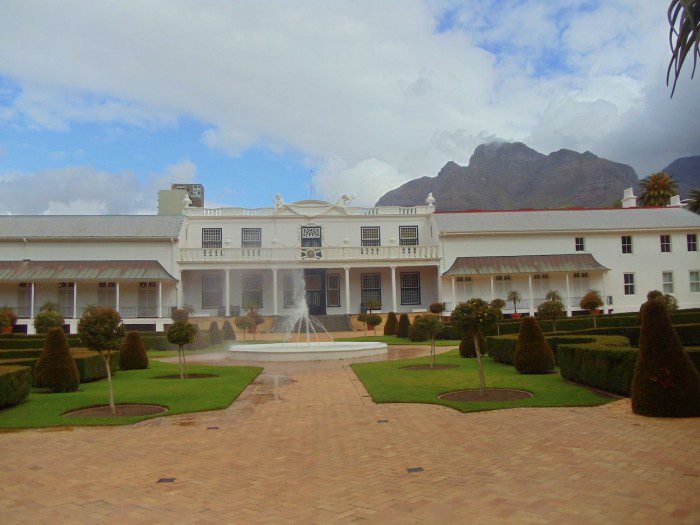 Continuing on the avenue and just after Gallery Lane, you'll see to your right the South African National Gallery. This is a nice building in its own right and worth a glance even if you don't want to venture inside and check out the local art collections housed here.
This was my final stop on Government Avenue and what a pleasant stroll it was. I headed back into town on Adderley Street which is one of the main streets in Cape Town. On the way, there's the Slave Lodge that's worth checking out if you have time and are into history. Other than that, there's not much to see on this street aside from lots of people coming and going as well as numerous 1970's style shopping centers that are quite run down these days.
Dinner at the V&A Waterfront
You can skip onto adjacent Long St for a wide selection of restaurants and bars but I decided to cab to the Victoria & Alfred Waterfront for dinner. The V&A Waterfront, better known simply as the Waterfront, is another highlight of your Cape Town travel and along with Table Mountain, is another 'must-see'.


The Waterfront now sits on what was Cape Town's old major harbor. Undergoing a massive facelift in the 90's it's now a major tourist destination as is still a working harbor. More on the Waterfront a little later on but now onto dinner. There are loads of excellent dining options here, all with Table Mountain views so do arrive before sunset. The popular dishes here are seafood and meat and I felt like having a good steak. I headed to Karibu Restaurant which not only offers great views but has excellent local meats to choose from. Grab a blanket if it's chilly outside and enjoy a good steak for under 200R. Try the Braai menu (South African for BBQ) if you want to experience a wide range of local meats.
Any Regrets?
One of the more colorful and oldest places to explore in Cape Town is the predominantly Muslim neighborhood of Bo-Kaap. Brightly colored flat Dutch & Georgian style houses line the streets here and it's worth exploring either on foot or as part of a tour. Unfortunately, I didn't make it here.
Cape Town has plenty of good museums to explore and historical sites such as the Castle of Good Hope. If you're into history and have the time, this could be a good option. I only had a day to spend in the city center so focused on more outdoor sights.
Day 2: V&A Waterfront, Helicopter Tour, Clifton Beach & Camps Bay
The following day was a beautiful clear day. I decided to take advantage of the seaside promenade that runs from Bantry Bay to Sea Point and to Green Point, which is the home of the stadium constructed to host the 2010 World Cup. Even if you don't fancy a morning run, simply head out for a fresh walk along the Atlantic. You can spot Robben Island from here and might need to duck out of the way when the occasional splashing wave hits the rock wall. Some steps lead down to the beaches but it's probably more enjoyable to watch the surfers that come here to catch these rugged waves. Once you reach Sea Point, there are lots of cafes and restaurants to help you start your day.


Helicopter Ride Thriller
I still had a great sense of disappointment from not being able to see Table Mountain properly. Visibility was practically zero the day before and I was contemplating simply heading back up there via the cable car. There are other, more unconventional, ways to see the mountain and I decided to be adventurous this time. I headed back to the Waterfront and checked out a few paragliding and helicopter ride options. I eventually settled for Helicopter Tours Cape Town who had a small shop in Market Square. They offer a few choices including flying over Robben Island, Cape Town to the Cape of Good Hope, a two oceans tour, and the one I went for, the Atlantic tour. for 1300R, you'll be flown for about an hour for spectacular views of the city and the surrounding countryside.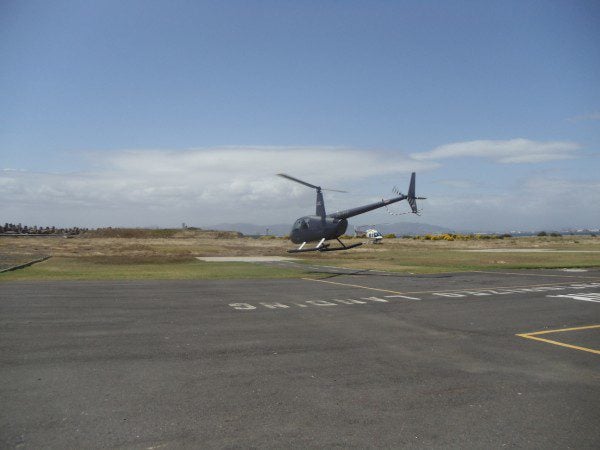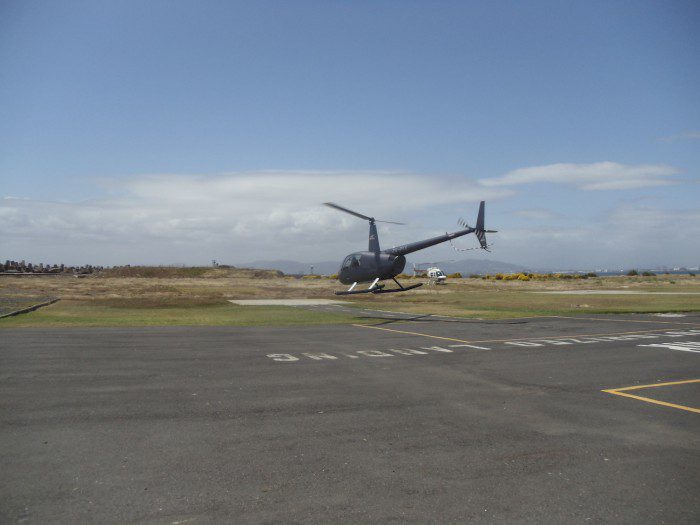 You'll start by flying over the Waterfront and getting excellent views of Table Mountain. From up here, you can now better understand how the city is essentially nestled between mountains and peaks.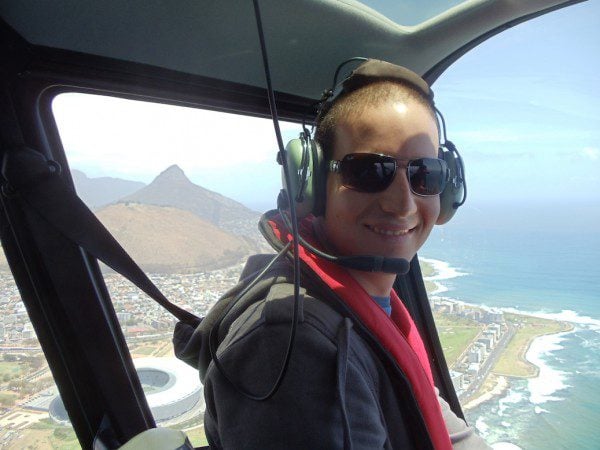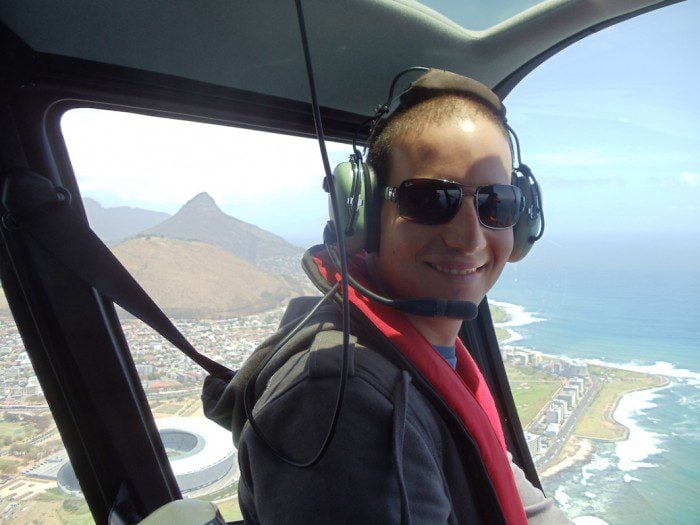 From here, it's south along the coast and over Cape Town's finest beaches at Clifton and Camps Bay.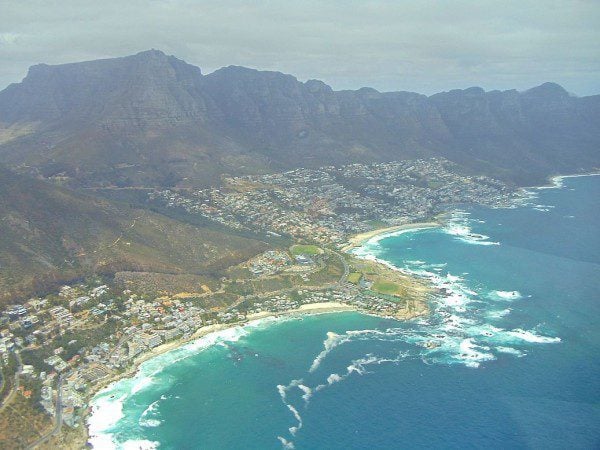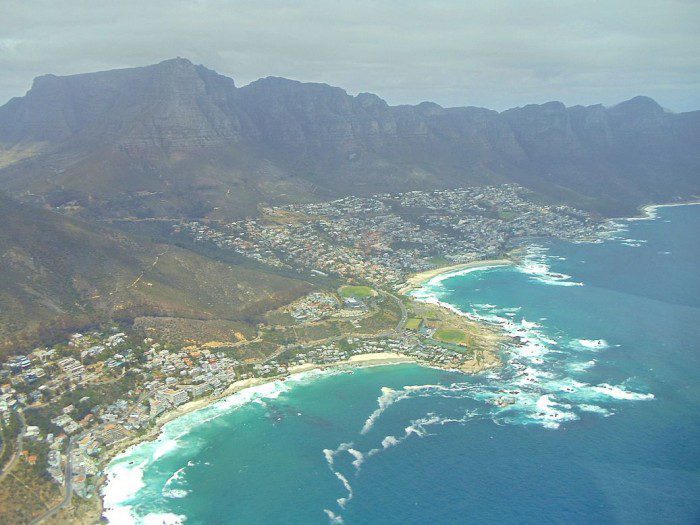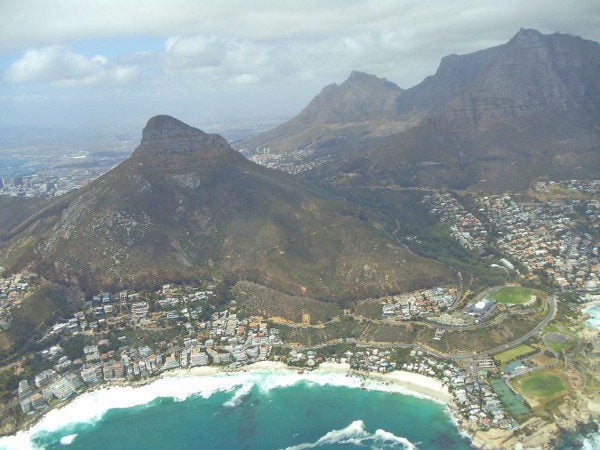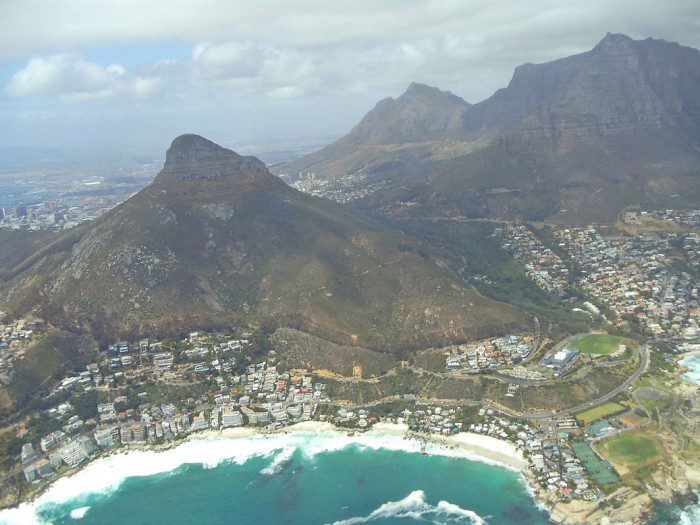 You'll then fly further along the rugged coast towards Hout Bay. You'll be able to get up close and personal with the 12 Apostles and get a better sense of the sheer magnitude of the Table Mountain range.
After flying over Hout Bay and its harbor, you'll see how the road starts to snake its way towards Chapman's Peak. We'll explore this famous scenic road by car tomorrow so this is a great sneak preview of what's to come. It's one final push southward on this flight over long Noordhoek Beach before turning around and flying towards Cape Town from its eastern side, along lush countryside and vineyards.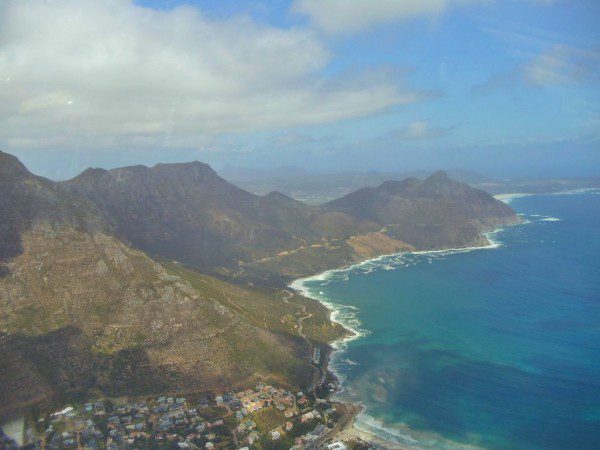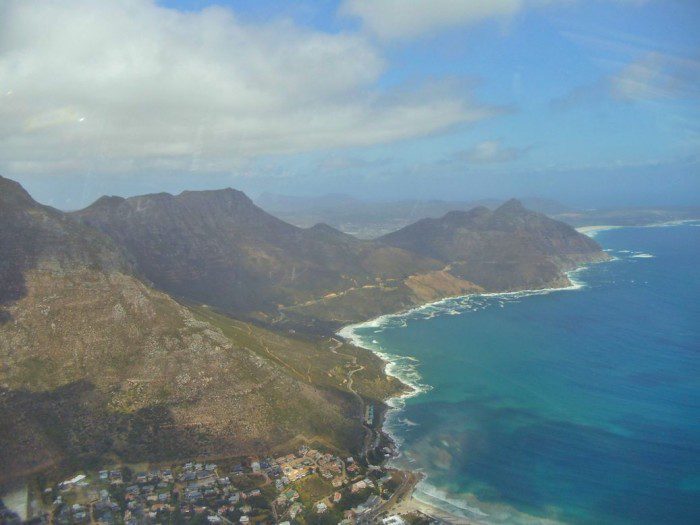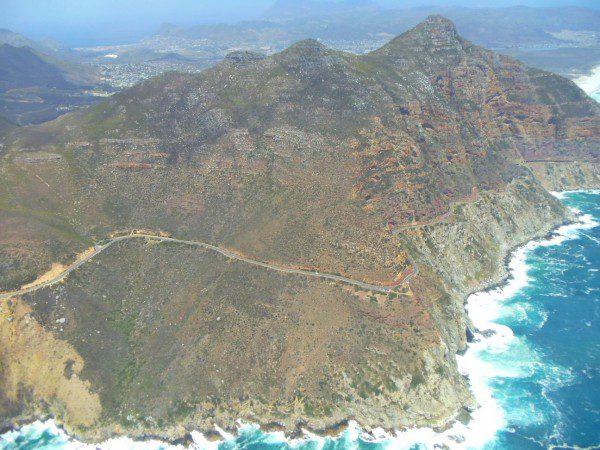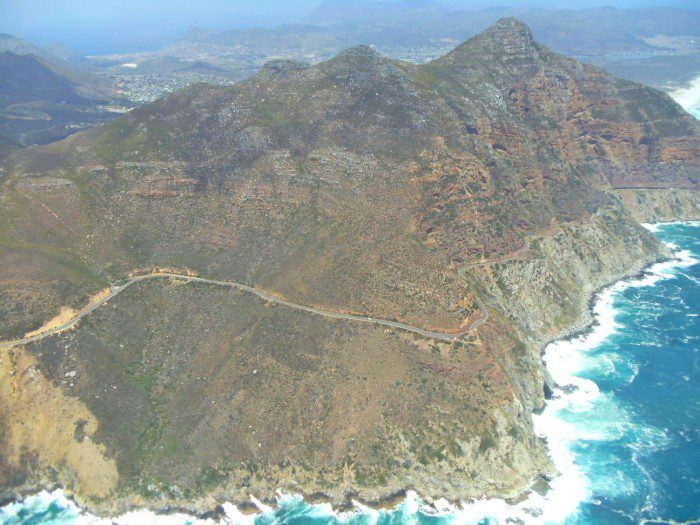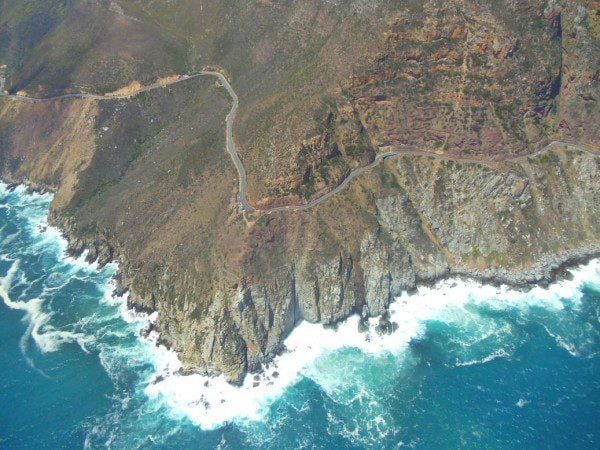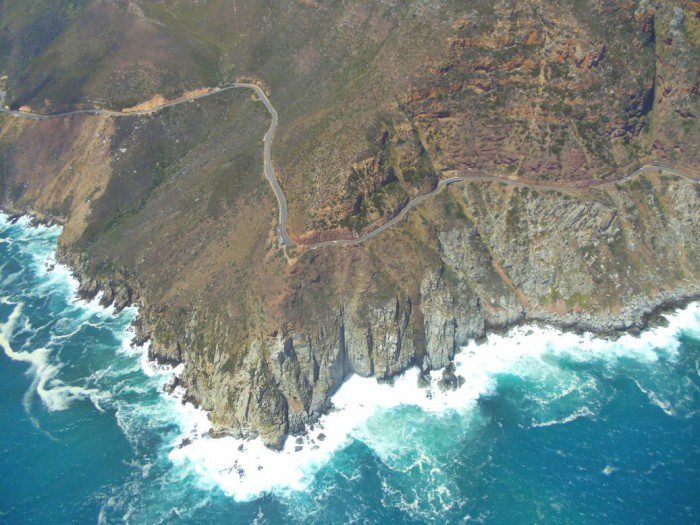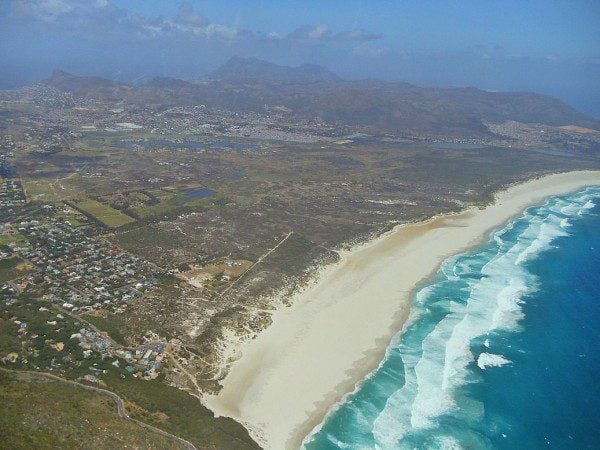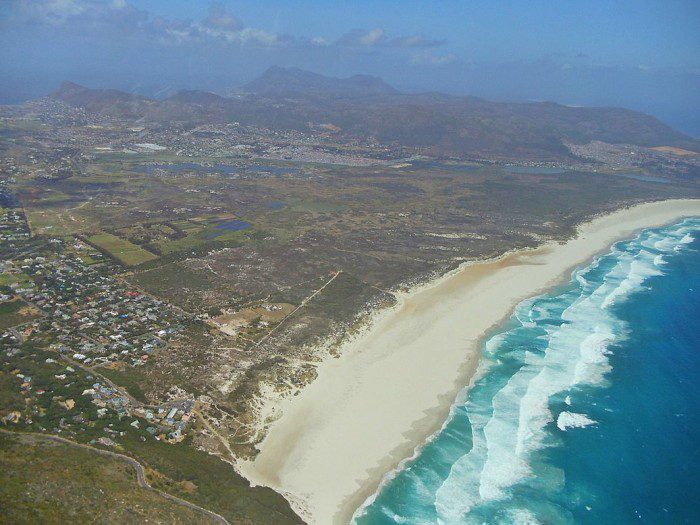 This was a memorable experience and a much better option than going back up via cable car. I got to not only see Table Mountain, but also the beautiful rugged coastline and flying over the Table Mountain peaks. A helicopter ride in Cape Town definitely ranks up there in the list of things to do and it's not overly expensive.
Exploring the V&A Waterfront
Back on land, it was time to explore the Waterfront where pretty much from any point, you'll find great views of Table Mountain. I started by exploring the docks as the Waterfront is still a working harbor. If you're lucky, you'll see massive fishing boats that venture way out into the ocean or even research boats that make their way as far south as Antarctica.
The obvious next stop is the Victoria Wharf which is an upscale shopping center. It's a good place to catch some cold air if it's hot outside but other than that, it's just a nice shopping center. There are lots of restaurants just outside and a food court on the ground floor of the mall.
The main spot in the Waterfront is Market Square with the unmissable ferris wheel. There are some cool street performances taking place here and I got to see an incredibly flexible performer twisting into what I thought were impossible positions for a human being. He certainly earned his wage on this day.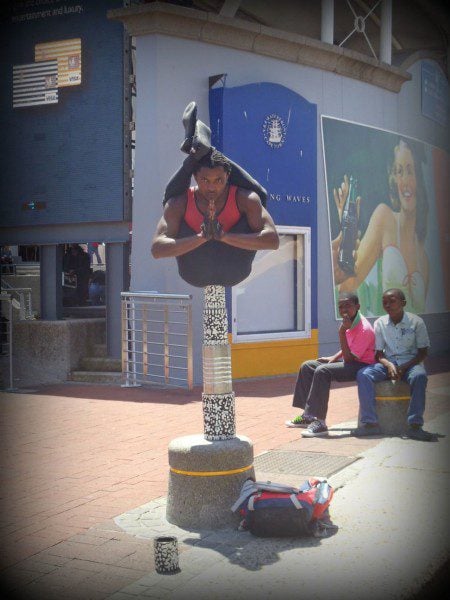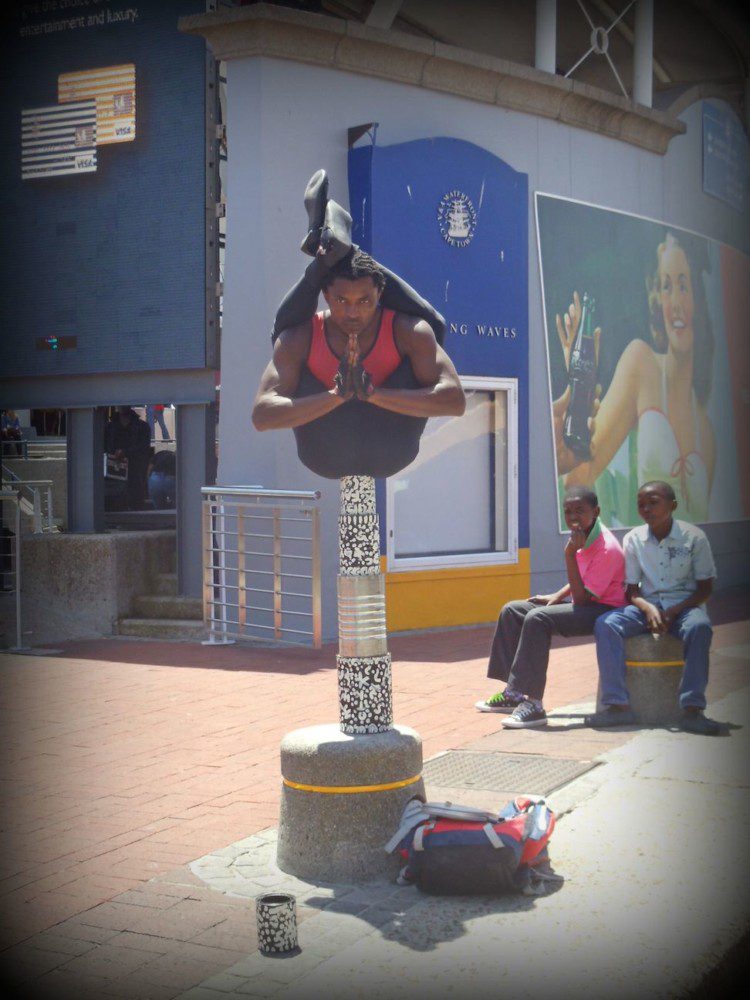 From Market Square, I headed via the rows of shops to The Grace Hotel and the nearby clock tower. This is a super elegant hotel with nice galleries to check out.
Catching Some Sun at Clifton Beach
It was afternoon and the weather was just perfect. I cabbed back to the hotel, stocked up on some groceries, and headed to the beach. Cape Town has a few beautiful beaches and the best beaches are in Clifton, right on Victoria Road.
You can take a bus or cab your way to the beaches but a great way to enjoy the sights is simply by walking along Victoria Road. Walking from Bantry Bay to Clifton beach will take you about 30 minutes. This road is very popular with runners and cyclists and it's easy to understand why. To your right, the mighty Atlantic Ocean splashing onto beautiful beaches capped by white sand and scattered with massive smooth rocks. In front of you, million-dollar homes and the 12 Apostles, beautifully built right on the cliffs on either side of the road and to your left, Lion's Head.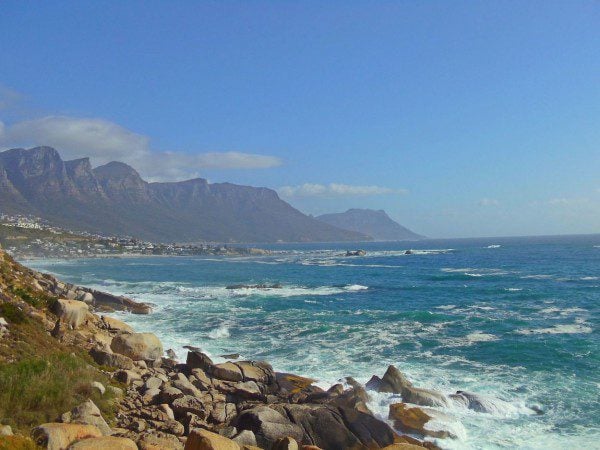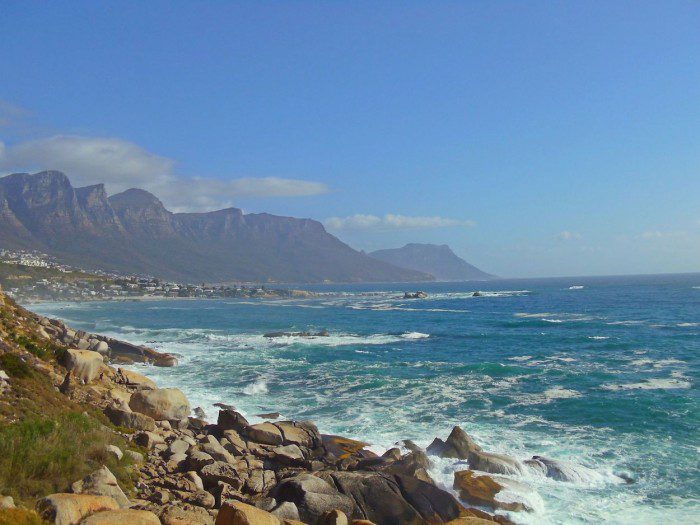 Clifton has four main beaches numbered 1-4. You reach them by walking down steep flights of stairs that also lead to the residents' homes (the lucky ones). I headed for #4 beach but they are all beautiful. If you're lucky enough to come here in the middle of the week, you might have the beach all to yourself as, during the weekend, it's very popular with the locals. Don't let the warm air fool you, the water is bloody cold! You can't buy food or drink here so do pack a lunch and a few cold ones with you. While on the beach, I met Jaco Le Roux, a local resident who works at Amazon. As I work at Google, this made for some pretty interesting talk.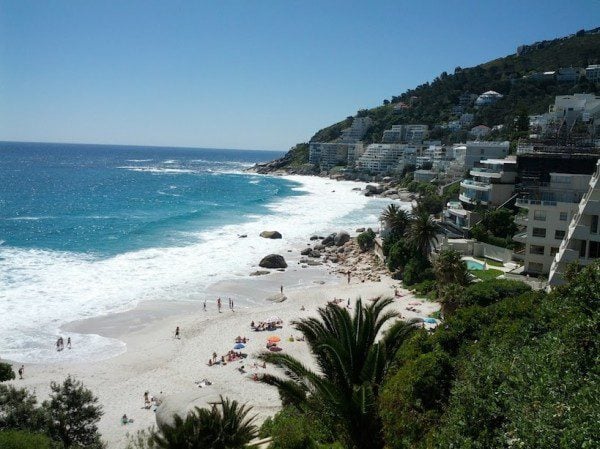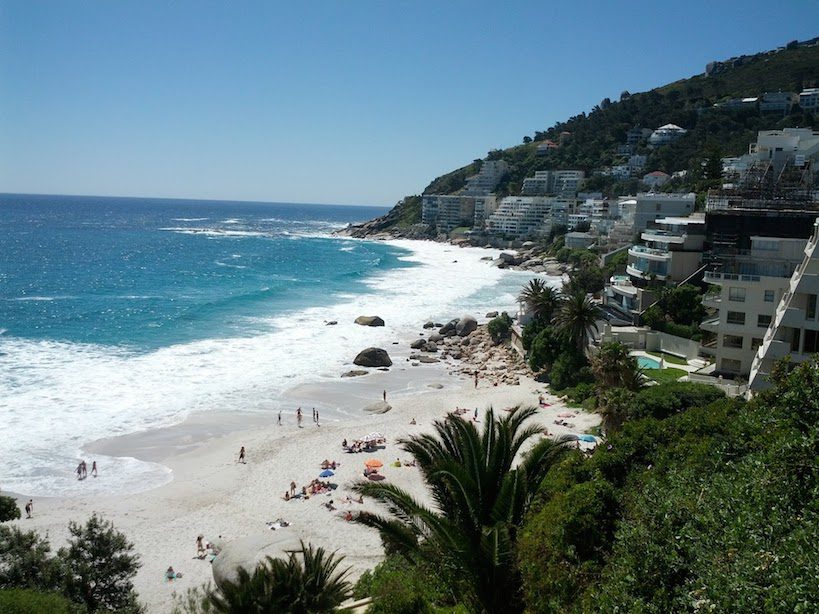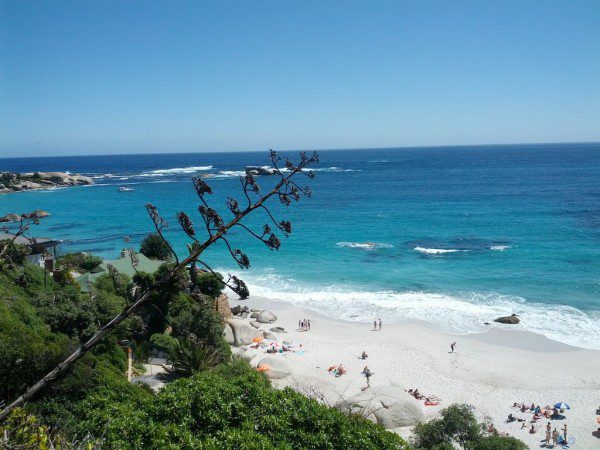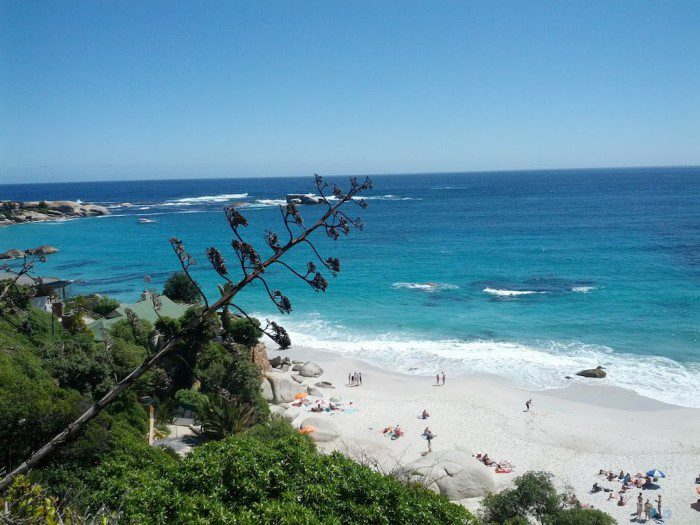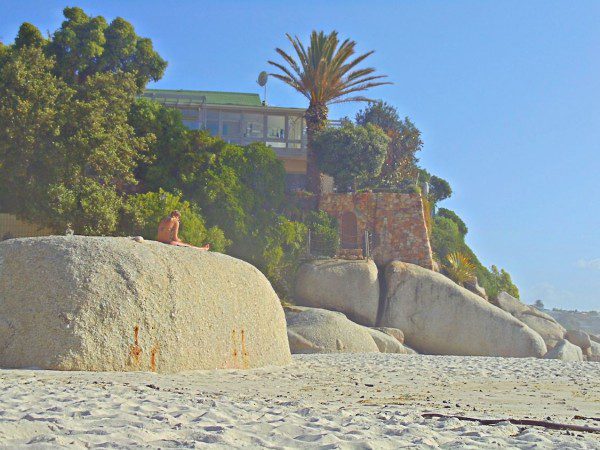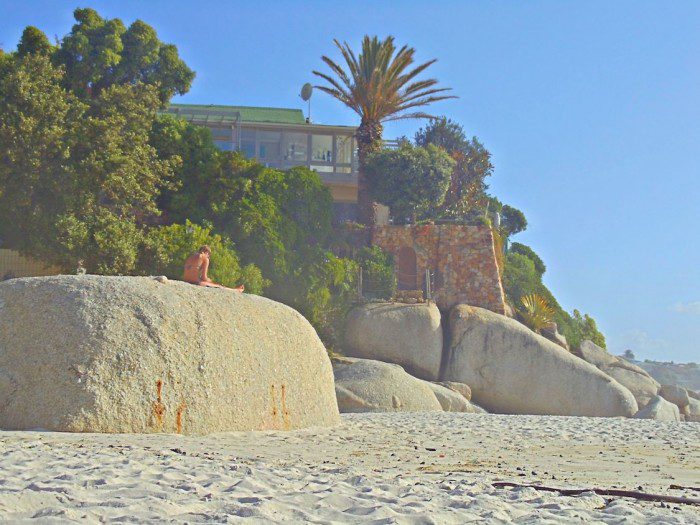 Enjoying the Sunset in Camps Bay
After catching a few hours of sun, it was time to prep up for the sunset. One of the best spots to watch the sunset in Cape Town is in trendy Camps Bay, a quick ride from Clifton (you can catch the #108 bus right from Victoria Rd). Camps Bay is a very sought after little neighborhood and it's easy to understand why. Fine ocean views and the 12 Apostles visible from your backyard, will tend to drive property prices up. But even if you don't live here, do head over to catch the sunset. The vibe on the main street is great and there are plenty of restaurants, bars, and cafes – all with ocean-facing terraces. The quality of life here is certainly enviable. Jaco and I grabbed a great burger dinner along with some cocktails at Blues Restaurant, right on the promenade. This was a great way to cap off a great day.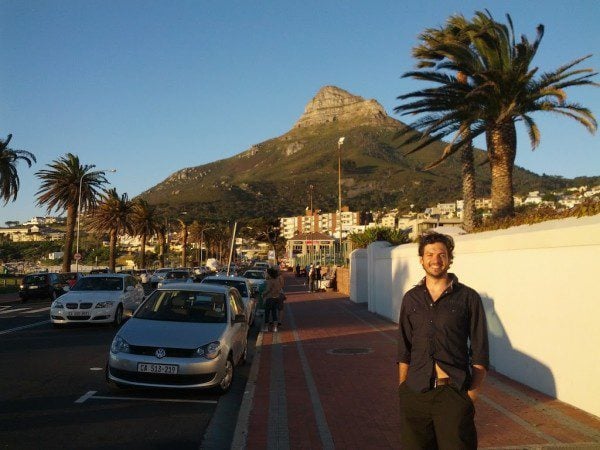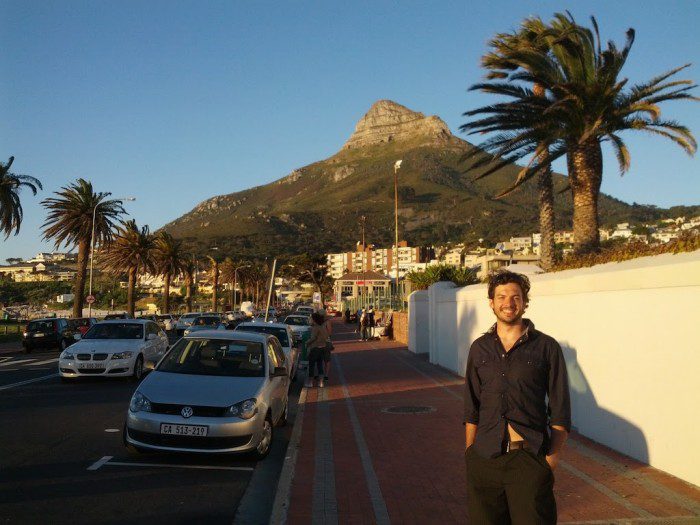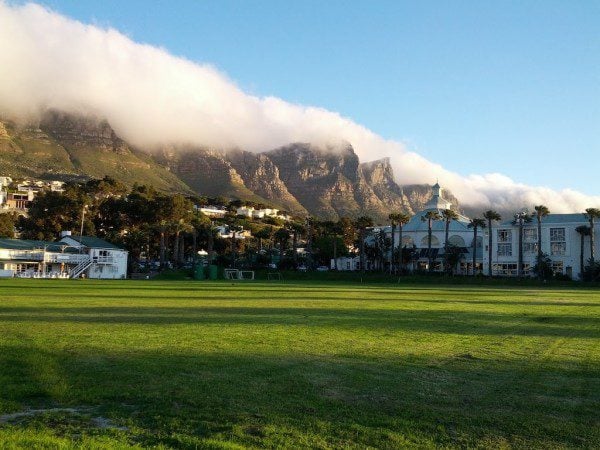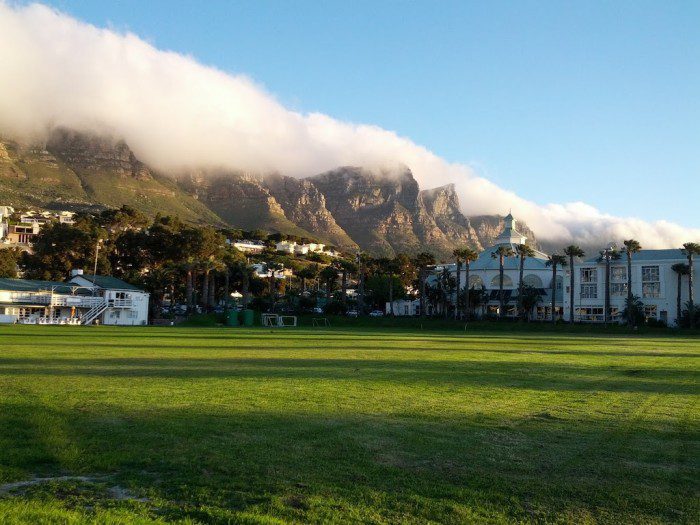 Any Regrets?
I didn't venture out to Robben Island, which to many is kind of a 'must-do' in Cape Town. For those who aren't familiar, this is the notorious prison where the Apartheid regime kept many political prisoners behind bars. Its most famous inmate is, of course, the late Nelson Mandela.
Another cool part of town that I didn't get to explore is the City Bowl suburbs that run along Kloof Street, on the eastern side of the mountain. The houses are pretty much built on the slopes of the mountain and the area has some of the best bars and restaurants in town.
Day 3: Chapman's Peak Drive & The Cape of Good Hope Day Trip
On my third day in Cape Town, I embarked on one of the top scenic drives in South Africa and certainly one of the best in the world. This day trip from Cape Town would take me 75 kilometers south to the Cape of Good Hope and through the spectacular scenery of seaside towns, rugged beaches, endless Atlantic ocean views – all squeezed by the Table Mountain range into a tightly compact scenic drive. The drive itself would take you on roads that defy the laws of human engineering and at times, are carved directly into the mountainside.
Cape Town to Cape of Good Hope Route:
All the spots mentioned on this road trip are available on this map. Simply click on the image to open in Google Maps.
The best way to enjoy a day trip from Cape Town to the Cape of Good Hope is by car. There are so many beautiful spots along the way, that you want to have the freedom to stop whenever and wherever you want. I rented a car for two days from one of the major global operators in town, as tomorrow, I would head out to wine country. The rates are not bad at all and the cars are in good condition. For convenience, I chose an extra service which would drop the car off at my hotel where we would do all the paperwork. This saved me the hassle of getting into town in morning traffic only to have to head back south again. It wasn't cheap but in my case, well worth it. The Ambassador Hotel also provides free valet parking overnight so that was super convenient as well.
Secluded Beaches
From Bantry Bay, it's pretty easy to hit the road. Just head south on Victoria Road passed Clifton and Camps Bay, heading towards Llandudno. Once you pass Camps Bay, you'll start getting excellent views of the 12 Apostles. These towering adjoining peaks make up the southern end of Table Mountain on the Cape Town side and spill to the Atlantic with sporadic development on their slopes here and there. You'll also get a better perspective on Lion's Head, which is much closer to the city and from this vantage point, looks like a lonely towering pillar rising from the ocean, much like a volcano.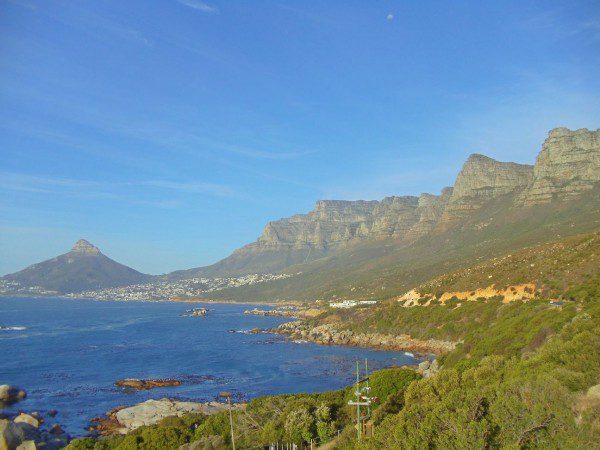 After about 20 minutes, you'll reach the affluent town of Llandudno. Make your way down the steep roads to the car park by the beach. Not much happens in Llandudno but the beach itself is beautiful. Modern homes cling to the beach with only a bunch of massive scattered granite rocks protecting them from the pounding waves. It's a nice stop but the real highlight lies a short walk away.
From the car park, head via the unmarked footpath to Sandy Bay, 15 minutes away. The walk itself is super easy and you are rewarded for your efforts. Sandy Bay is a beautiful white sand beach and you might have it all to yourself, as I did. It's known is as Cape Town's nude beach but there weren't any nudies around when I was there. The beach itself is quite wild and protected by towering cliffs on the southern end. It's a cool place to take a break but do bring your own food and drinks as there are no other options here (thankfully).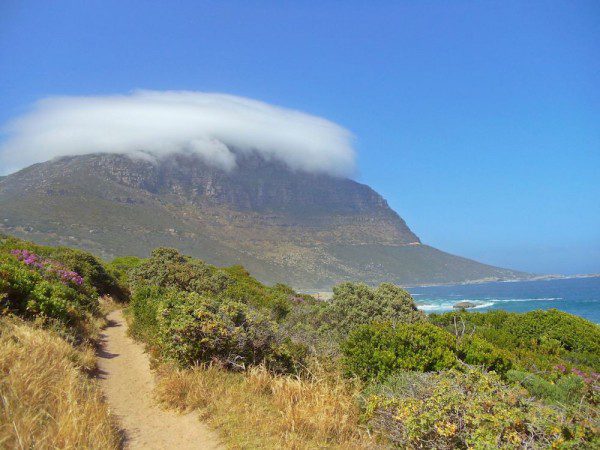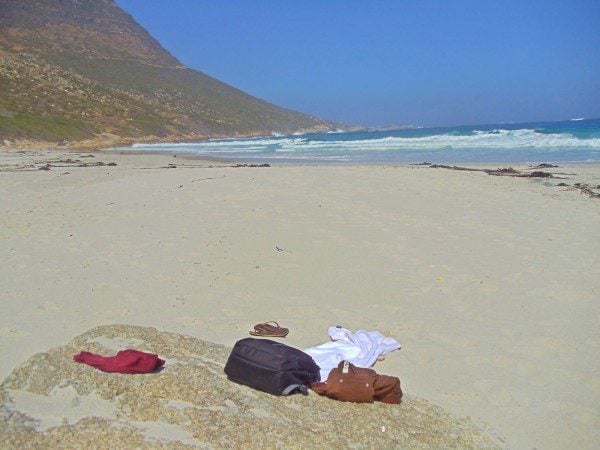 Taking a Break in Hout Bay
Back to the car park at Llandudno for another 10-minute drive to Hout Bay. This picturesque fishing town is perfectly situated between mountains on three sides and is also the starting point for one of the best scenic drives in South Africa, Chapman's Peak Drive. Hout Bay is home to one of the busiest fishing harbors in the Western Cape, specializing in tuna, snoek, and crayfish. I parked the car near the harbor and went for a stroll around the piers, watching the fishing boats come and go with their daily catch. It's a good place to grab some seafood or catch the locals feeding seals off the pier.
Scenic Ride at Chapman's Peak Drive
As mentioned, Hout Bay is the starting point for Chapman's Peak Drive, one of the finest ocean roads in the world and a 'must-do' if you already made it out here. This road connects Hout Bay to Noordhoek, 15 kilometers away, and is a real piece of engineering marvel. The road twists its way through beautiful Atlantic scenery and is squeezed by towering mountains on its eastern side so much so, that in parts, the road itself was simply carved into the mountain. In many ways, Chapman's Peak Drive resembled parts of our California road trip on the Pacific Coast Highway.
This road has beaten all odds but it wasn't always this case. Many times in the past, the road was closed for long periods of reconstruction. In recent years, it has been permanently opened after extra reinforcements were put in place. Such excellent views don't come for free unfortunately and Chapman's Peak Drive is a tolled road costing 38R per vehicle. It's totally worth it.
Just before the toll booth on the Hout Bay side, there's a great lookout point back towards the bay. Stop the car before paying the toll to suck in the views and prepare your camera (and patience) because you'll be stopping frequently over the next few kilometers.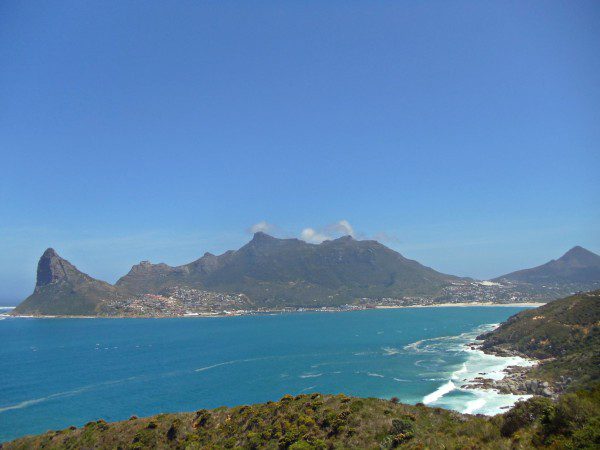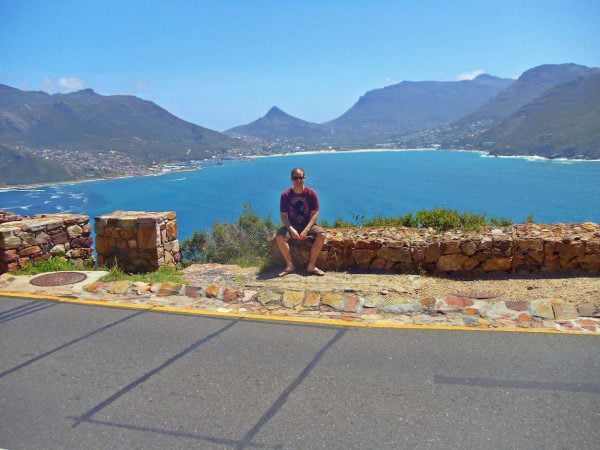 Once reaching Chapman's Peak, many just cross over to the other side of the peninsula and Simon's Town, in their rush to get to Cape Point. If you do have the time, continue along the coast to enjoy this beautiful ocean scenery for a little longer. You won't be disappointed.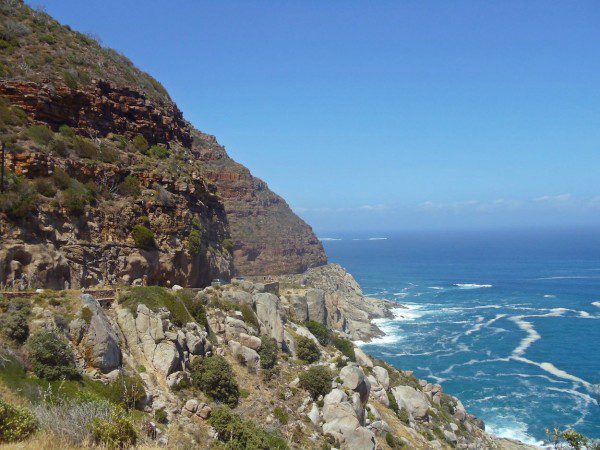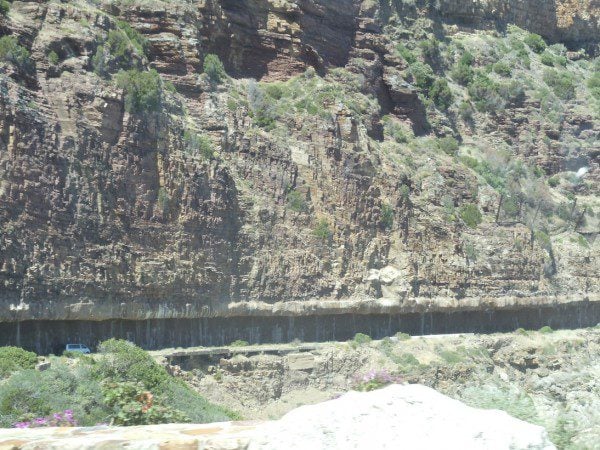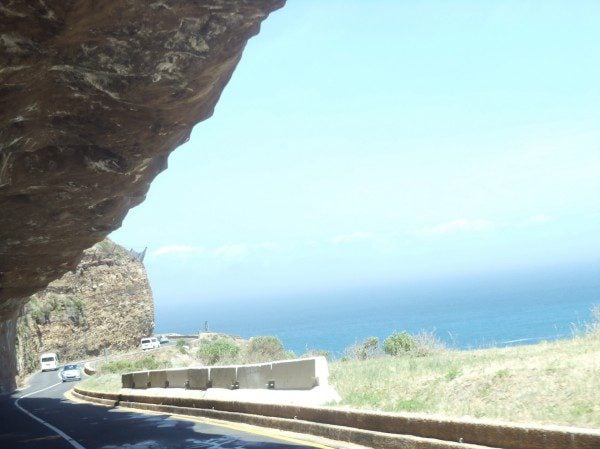 I continued along the coast stopping on the road just to get a glimpse of the unspoiled Noordhoek beach. This massively long rugged beach is popular to explore on horseback and if you have the time, looks well worth detouring for further exploration.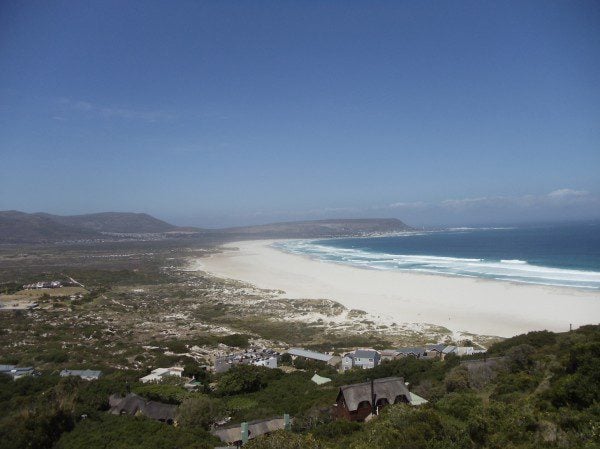 From Noordhoek, it's another 25 minutes along the coast to Scarborough. The further you drive south on this side of the peninsula, the fewer people you'll see and Scarborough is, in fact, the last settlement along this end. It's a small and rugged seaside town, quite remote and isolated but with a wild beach that's worth getting a glimpse of.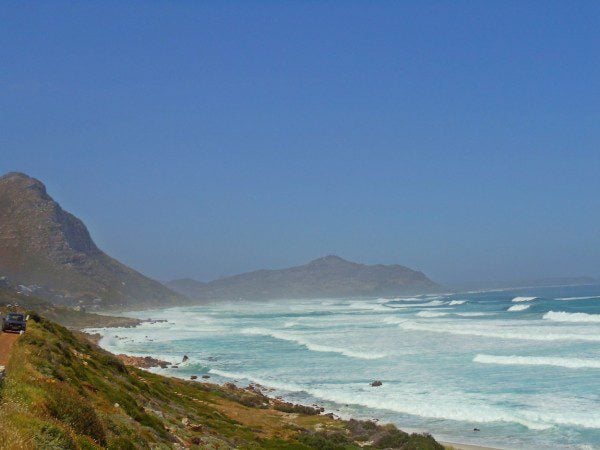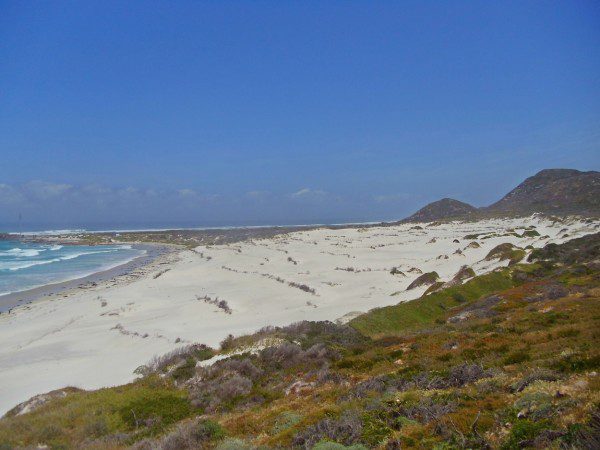 From Scarborough, continue along the M65 and start climbing the mountain. Eventually, you'll be faced with 2 options: continue south on M65 or east on M66 towards Simon's Town. You'll want to head towards Simon's Town and the road will eventually start to sharply twist and turn its way down towards this cute little town.
Lunch in Lovely Simon's Town
Simon's Town is the perfect spot for a break before heading down Cape Point. Its Cape Dutch style buildings set the stage for a laid-back atmosphere in a town that was founded back in 1687. You can get to Simon's Town from Cape Town via train so it makes for a popular destination for day-trippers. Simon's Town is also home to a naval base and you might see a few massive ships docking in the bay.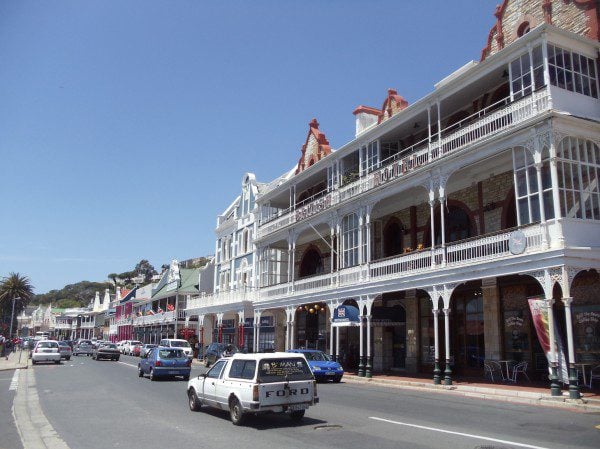 Park the car virtually anywhere and eventually make your way to the marina and Jubilee Square. The main activity here is just strolling around and taking in the sights and sounds of the bay. It's also a good place to grab some lunch before continuing the day.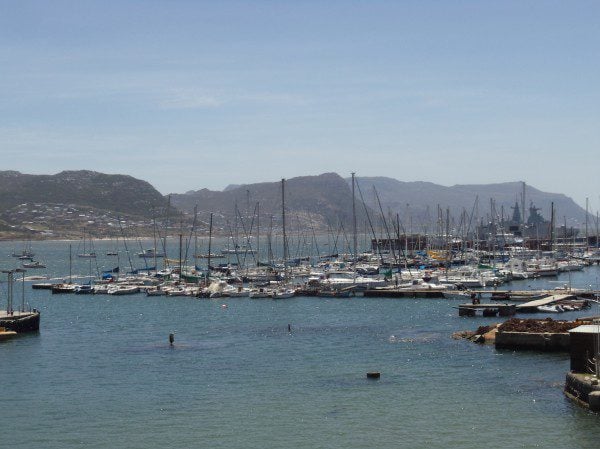 The African Penguin Show
The obvious next stop if you've already made it to Simon's Town is nearby Boulders Beach. This beautiful set of coves are sheltered by massive boulders and the main stars here are the African Penguins, which have called this place home since 1983. Park the car and head to one of the viewing areas to watch this endangered flightless bird. The scene here is quite surreal; one the one end is a lovely beach that's popular with Simon's Town folks, on the other end are seaside mansions and sandwiched between the two is a little cove where the penguins live and play.
This place is needless to say very popular with tourists but it's still a worthwhile spot to get a rare glimpse of the African Penguin. Be on the lookout for penguins 'hiding' in the bushes along the marked path.
Cape Point & The Cape of Good Hope
It was now time for the climax of this day trip from Cape Town and I started making my way towards the Cape of Good Hope and its famous Cape Point. Continue the drive along the coast from Simon's Town for about 10km and just before the park entrance you'll see a pretty cool set of beach homes way down below you. This is Smitswinkelbaai (no clue how to pronounce this), a beautiful little cove nestled between the mountains. It won't be possible to get down there with the car so just admire the view from the top.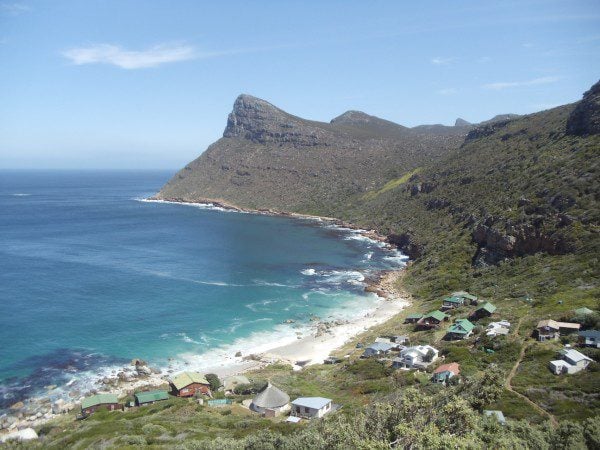 You'll then enter the Cape of Good Hope – Table Mountain National Park (105R per adult). Most venture out here to visit Cape Point but there's a lot more to see here and you can practically spend a whole day just in this park. There's a common misconception that Cape Point is also the southernmost point on the continent and where the Atlantic and Indian oceans meet. This is not accurate and Cape Point is branded as the southwesternmost point in the African continent. Record or no record, this place is gorgeous and definitely, a must-visit.
The cape was first reached by Portuguese sailor Bartolomeu Dias in 1488 and was named the Cape of Good Hope because the Europeans finally had found an 'easy' way to navigate to India and the Far East. The park is not only home to wild ocean scenery but also to a very diverse ecosystem of plants and animals including many ostriches that you'll catch roaming the grounds here and there.
The highlight, of course, is the famous lighthouse at Cape Point, right at the edge of the peninsula. Beyond this point, Antarctica is the next landmass. Once you enter the park, you'll eventually reach a fork in the road and you'll continue straight to get to the lighthouse. It's very busy here as you can imagine with visitors hauled in by the busloads. If you can get here early in the day, that's great – but if you can't, you'll just have to walk a little bit more.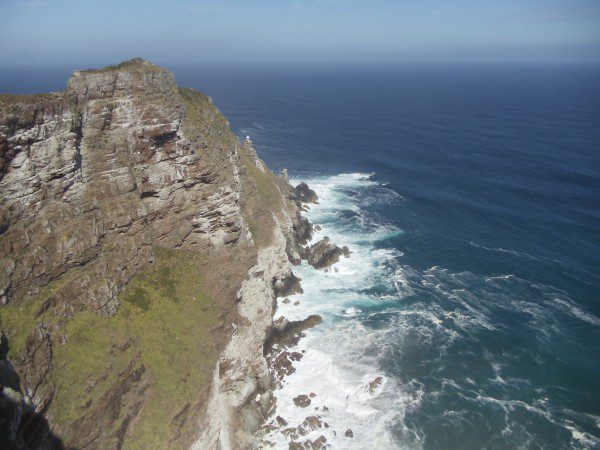 Once you park the car, climb the stairs towards the original lighthouse. The views from here are amazing and you'll see Diaz Beach to your right with its fine white sand and pounding waves. You don't want to be swimming in these waters. Speaking of swimming, this stretch of ocean has claimed the lives of many seamen. Countless ships have been lost along Cape Point as they were trying to round the cape and were too close to the rocks. The wind didn't help much either and you'll feel it as you're climbing up to the lighthouse.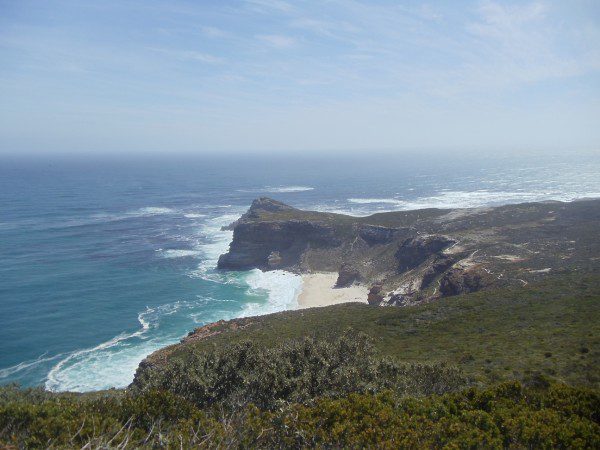 The original lighthouse was built in 1859 but was quickly discovered to be ineffective. Despite being built on high ground, at the top of the ridge, the fog, and low clouds deemed its beacon practically invisible. Following the 1911 sinking of a Portuguese ship, work on the new lighthouse just below was started. Today, the new lighthouse shines the brightest light of any other lighthouse in the country with the equivalent of 10 million candles, visible for about 60km out to sea.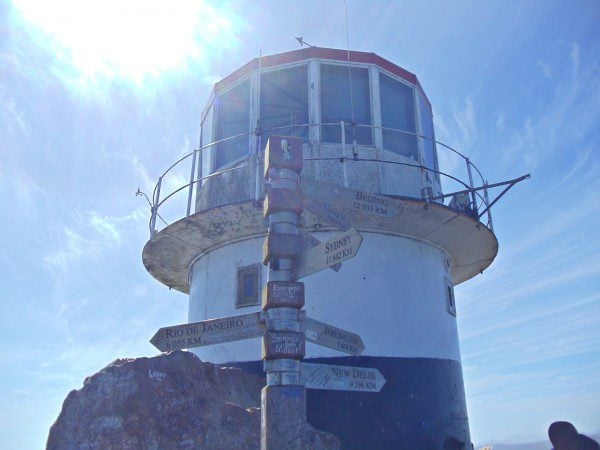 Once you're done visiting the original lighthouse, you can continue walking towards the new lighthouse below via a marked path for even more beautiful (and windy) views of the area.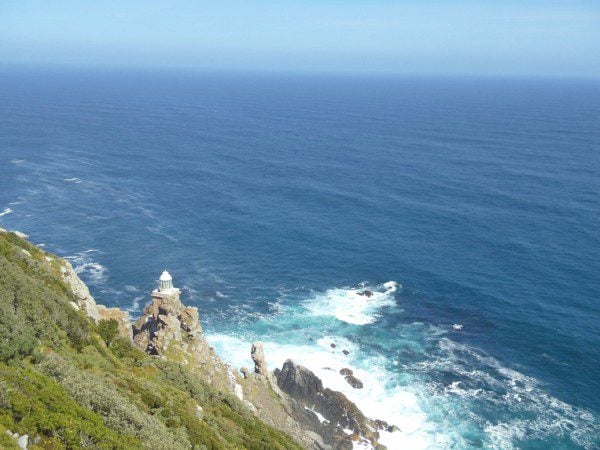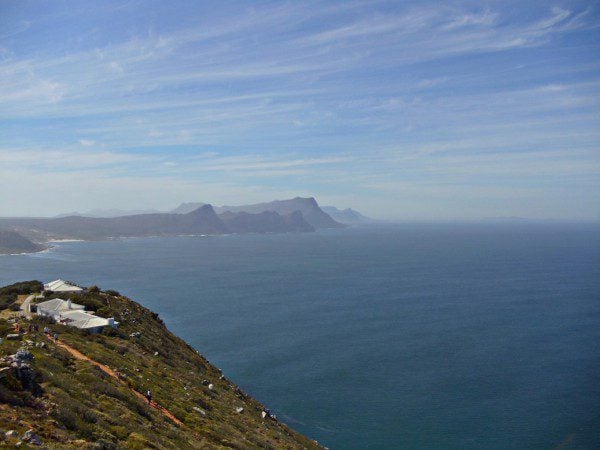 Back in the car and back at the fork in the road, it was now left towards the Cape of Good Hope. Park the car and walk down along the rocky beach. You'll immediately recognize the famous sign indicating that you've finally made it! You won't be along here though and I don't only mean other fellow travelers. Look around you for ostriches also out for some views (and probably food as well)!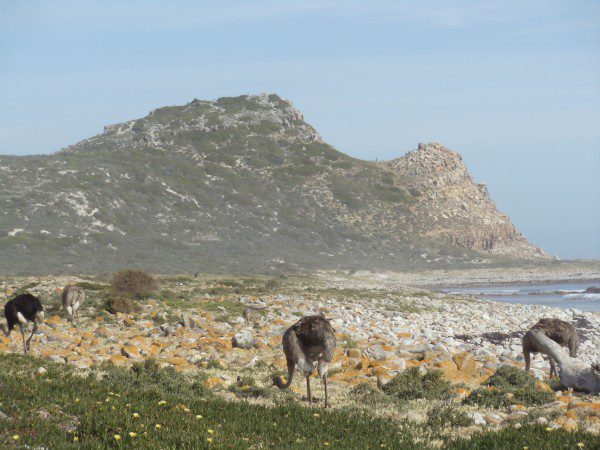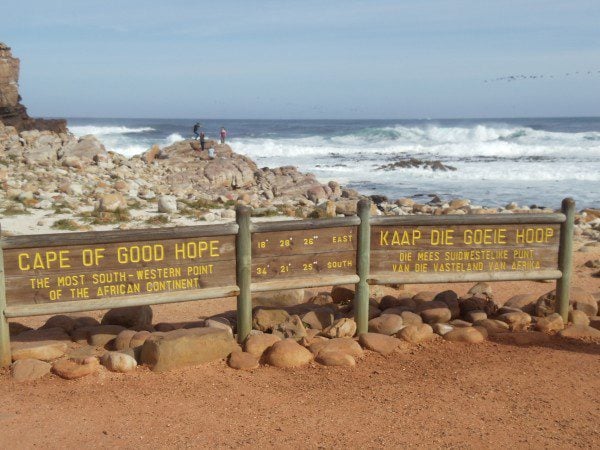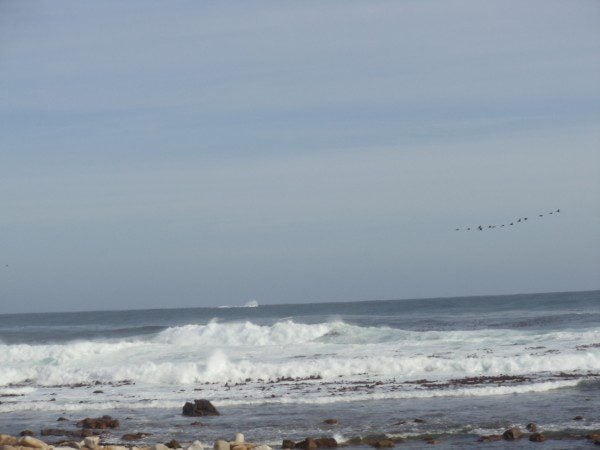 Sunset at Hout Bay
With this 'achievement unlocked' I was happy enough to start heading back towards Cape Town. On the way, I stopped again at Hout Bay, this time to enjoy the last hours of sunshine on the beach. What an incredible day this was. If you make it to Cape Town, this is a day trip that's worth doing.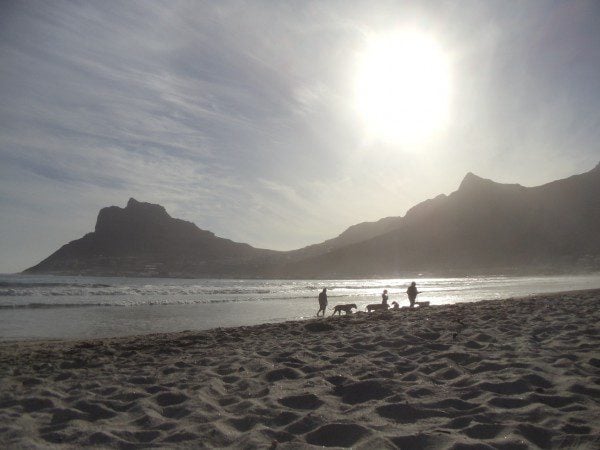 Any Regrets?
There's a lot to see inside the Cape of Good Hope – Table Mountain National Park including some fine walks. It's probably worth it to spend an entire day here and explore the area a bit better. I didn't have time for this so just hit the popular spots that you can do on a day trip from Cape Town.
Day 4: Stellenbosch Wine Country Day Trip
On the last of this 4 days in Cape Town trip, I would embark on another recommended day trip, this time to explore the Winelands. The Western Cape is famous throughout the world for its great wines and I wanted to see what all the fuss was about.
Cape Town Winelands Day Trip Route:
All the spots mentioned on this road trip are available on this map. Simply click on the image to open in Google Maps.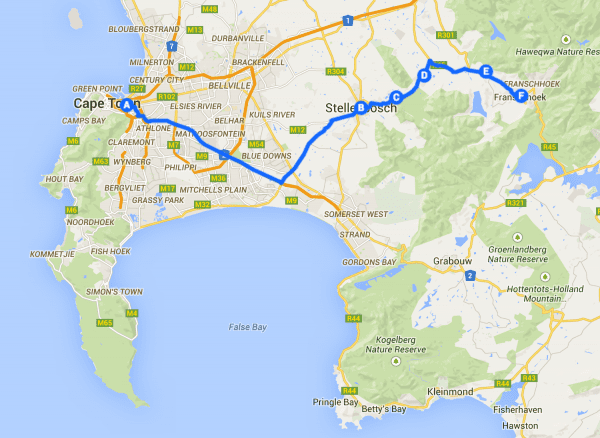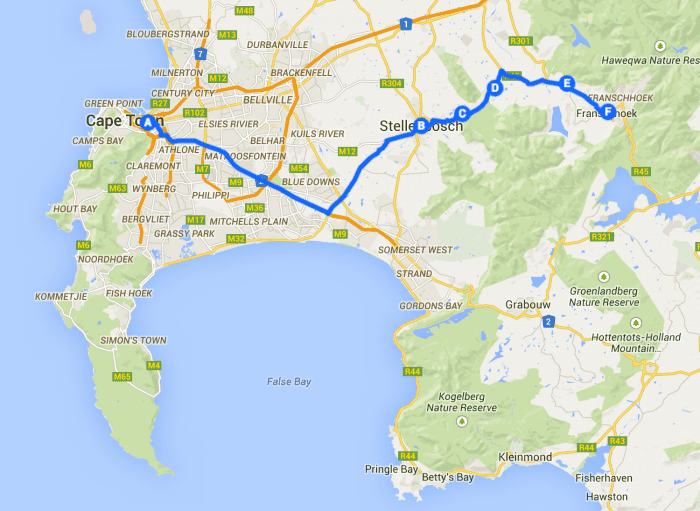 Saturday Morning Market
Before heading out, I got an early start and headed on this beautiful Saturday morning to the eastern neighborhood of Woodstock and The Old Biscuit Mill on 375 Albert Rd. This former biscuit factory is now the best city market in Cape Town and best visited on a Saturday morning. Throughout the week, you'll find here fashion boutiques, craft, and gourmet shops but the real attraction happens on Saturday (from 9 am to 2 pm) when local farmers from across the region put their fine produce on display and food stall galore line up to serve you anything from delicious meats, cheese, coffee to gourmet bites.
It's here that I found the best biltong throughout my travels (the South African version of American beef jerky but so much better) and as you can see in the video, it can get pretty lively as well. A visit to the Old Biscuit Mill is a great way to start your weekend.
Now it was finally time to hit the road and explore the wine country. The Western Cape is world-renowned for its wine, primarily the whites of Sauvignon Blanc and Riesling. The Winelands as they are referred to are the towns of Stellenbosch and Franschhoek, along with Paarl and Somerset West.
A day trip from Cape Town to the Winelands is a great choice not only because of the fine wines you'll be tasting but also for the cute Dutch colonial style towns, beautiful wineries, lush valleys and the majestic setting for all of this with the mountains on every side. You can't go wrong with a visit here, especially if you enjoy wine.
A few tips to help you plan your Winelands visit:
Wineries are closed on Sundays
It's not humanly possible to visit all the wineries or even 'the best' ones so just choose 2 or 3 and take the time to enjoy the beautiful grounds that most of these wineries occupy.
Wineries are also a good place to relax and grab a bite to eat. Choose one that has outside open spaces to enjoy the view.
Opening hours change in the wintertime and summer is the best time to visit as opening hours are long and there are more hours of sunshine.
Strolling Around Stellenbosch
The capital of the Winelands is undoubtedly Stellenbosch and it'll only take you about 45 minutes to get there from Cape Town (if there's no traffic) along the R310. The drive is pleasant and once out of the city, you'll start seeing wide-open farmland on each side of the road and the mountains getting closer and closer.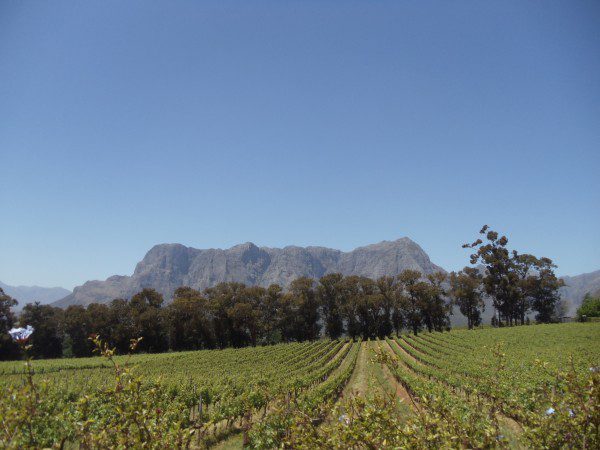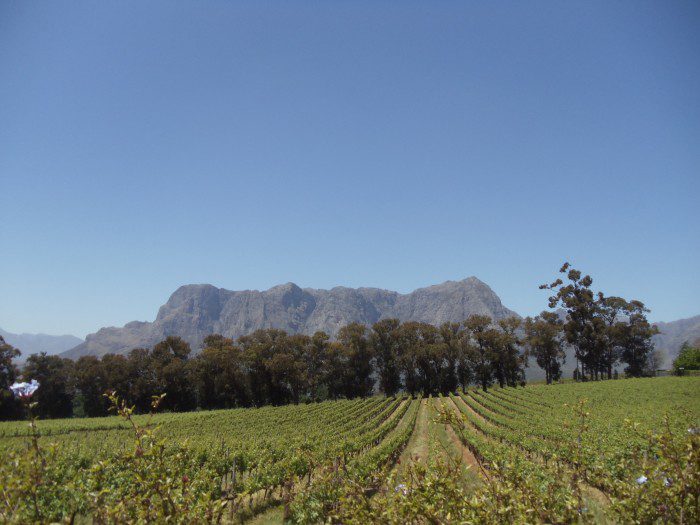 Stellenbosch is the second oldest town in the Western Cape after Cape Town and the center of wine country in the province. It's also the first stop on this day trip. Stellenbosch was founded in 1679 by Governor, Simon van der Stel, who named it after himself – Stellenbosch means "(van der) Stel's Bush". This theme would be repeated with other towns he founded. He was looking for new places to settle outside of Cape Town and discovered this spot nestled along the Eerste River.
Dutch and Afrikaans influences are evident throughout this region from the people to the architecture to the wineries. It feels very 'Europeanness' around here. The town is also home to Stellenbosch University, a top-notch school in South Africa, and is famous for its 300-year-old oaks which line the side of its streets (Stellenbosch is also known as 'the city of oaks').
Park the car near the Braak, the large park in the center of town, and simply head out to stroll around town. You might even be greeted by a 'local' band who will welcome you to town!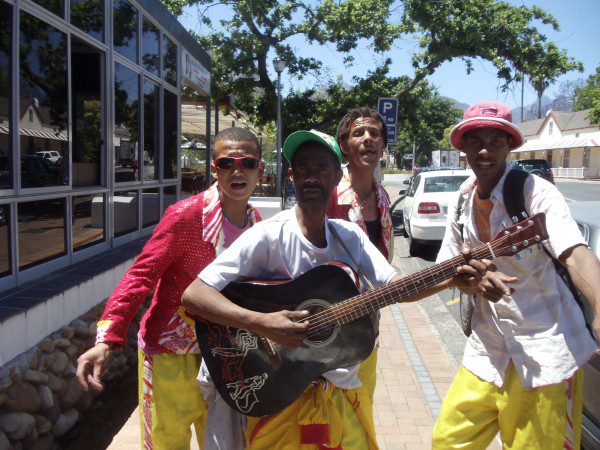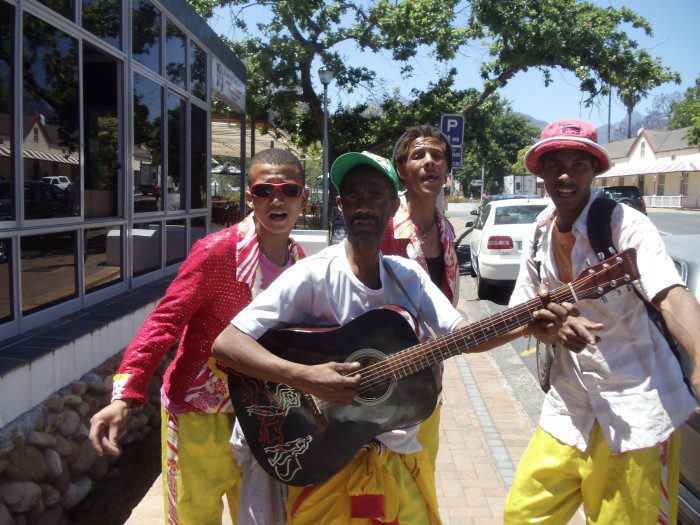 A good place to start is by exploring the historic area around the Braak, which holds numerous restored whitewashed buildings. You'll find here the former Dutch East India Company building and the Rhenish Church, which are worth a stop.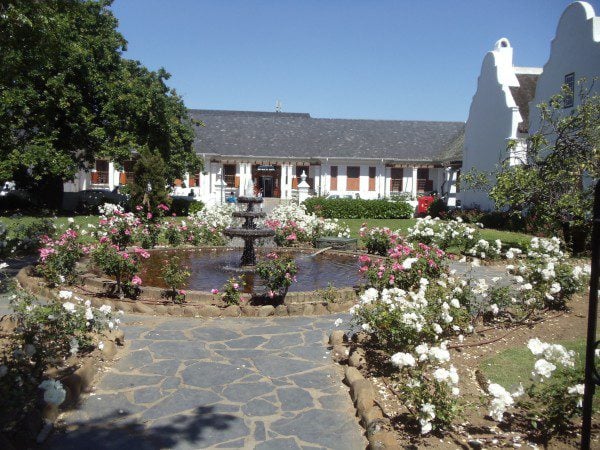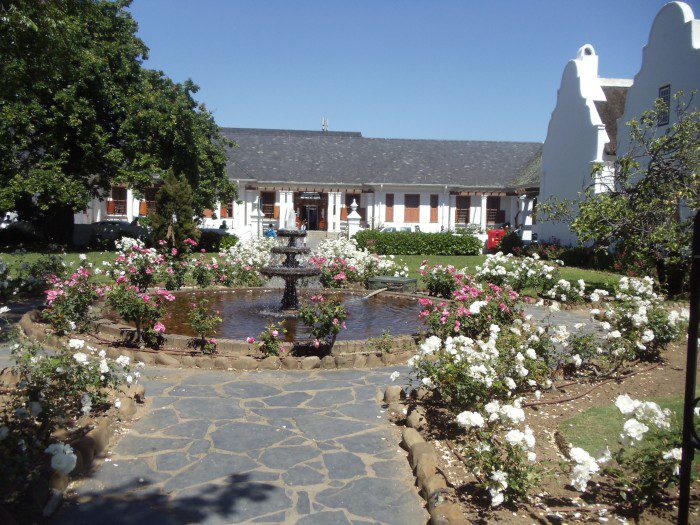 Then, head into town and explore the areas of Church and Dorp Streets as well as their intersecting streets. This is the most interesting part of town with dozens of historical buildings meshed between shops, restaurants, and cafes.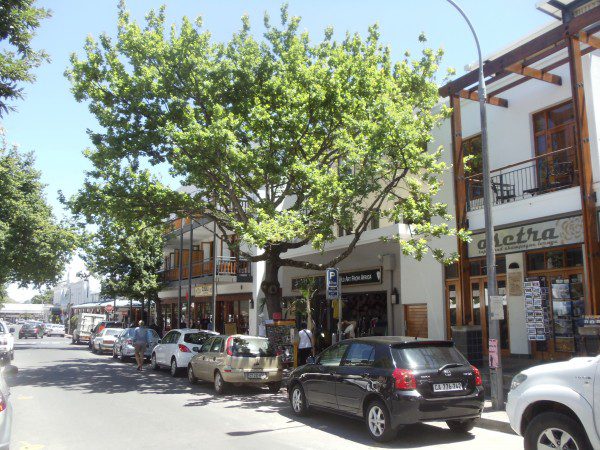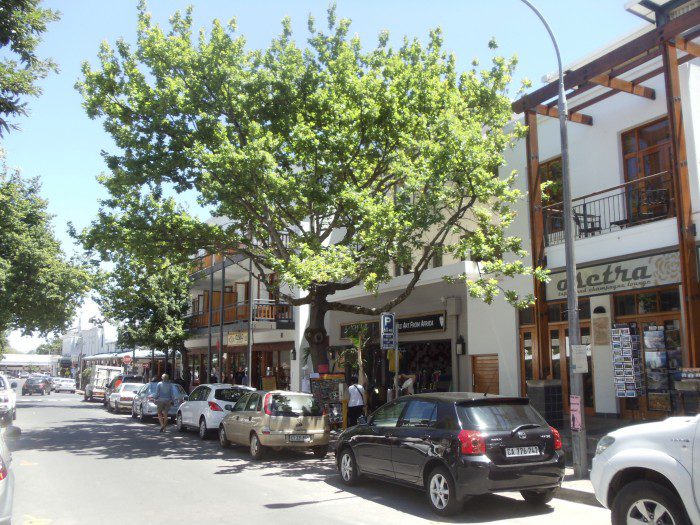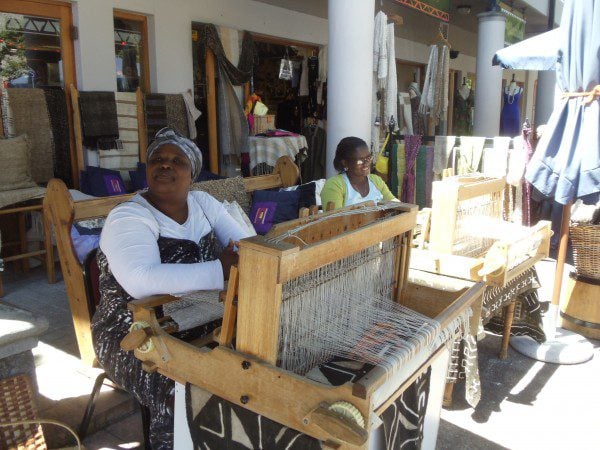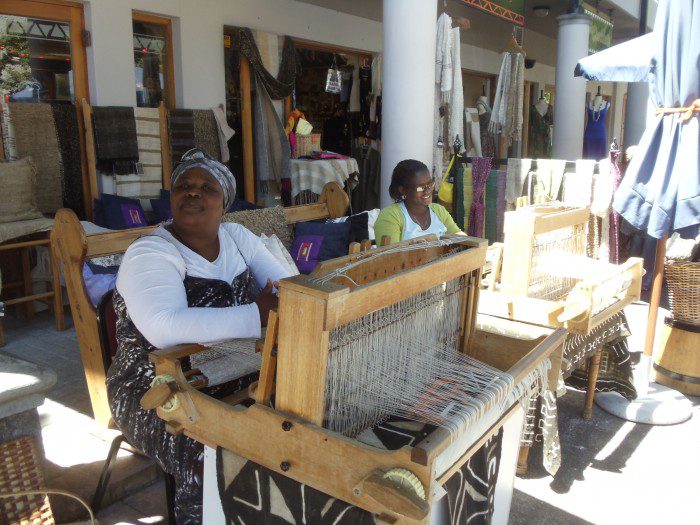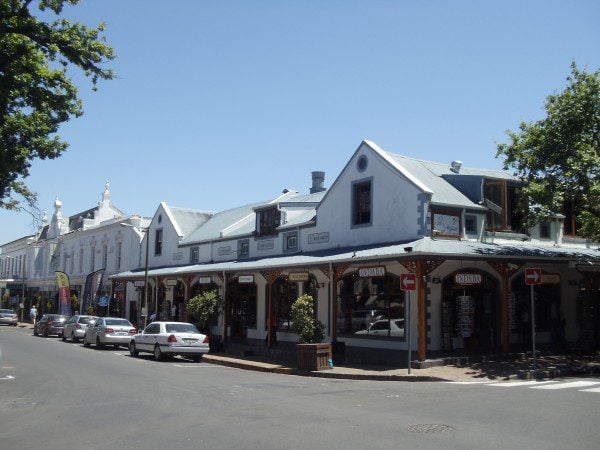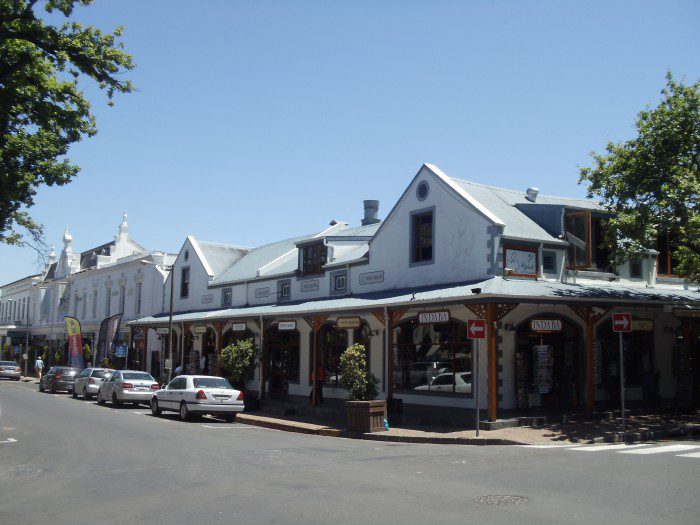 A worthwhile stop if you like architecture, is at the Theological Seminary at 171 Dorp St, a beautifully restored 18th-century building where you'll be greeted by two giant palm trees. I later stopped for a short coffee break at Manouche on Andringa St but there are many good options in this cute little town. If you'll be spending more than one day exploring the Winelands, Stellenbosch is a good place to base yourself. There are many accommodation options and plenty to see. I wish I had more time to explore but it was time to taste some wine.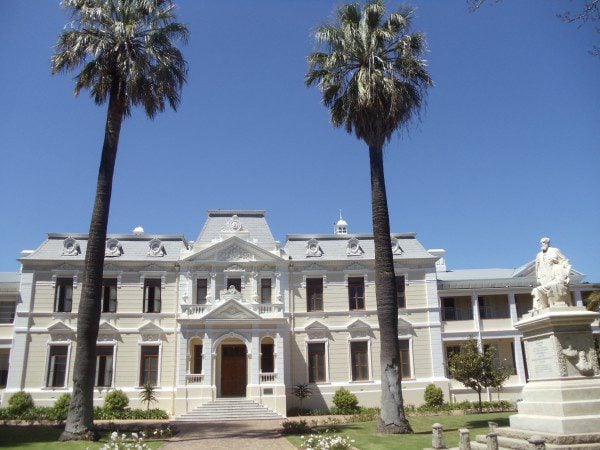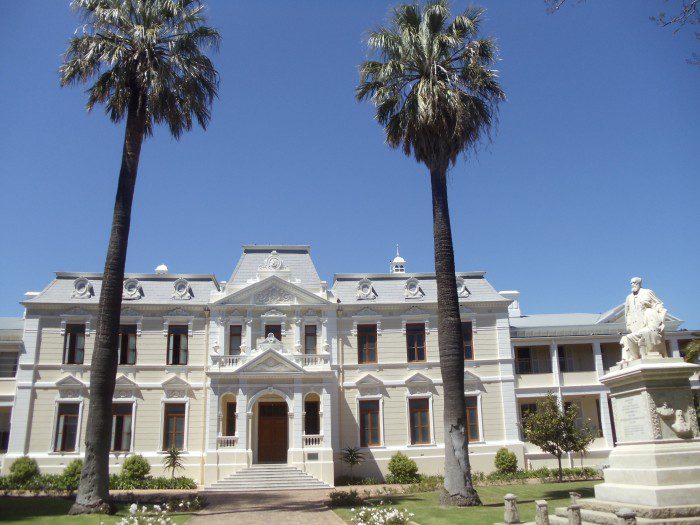 Stellenbosch Wine Route
I headed out of Stellenbosch via the R310 which over here is also known the Wine Route and is clearly signposted. The road twists its way through a lush valley nestled between two mountain ranges and dotted with countless wineries. The dilemma here is where to stop as it all seems so beautiful. I did a bit of research beforehand but pretty much stopped where it looked nice. You can get more scientific in your quest for the best winery but what I was looking for the most, is a place to not only taste great wine but also to relax outdoors as the weather was pleasant.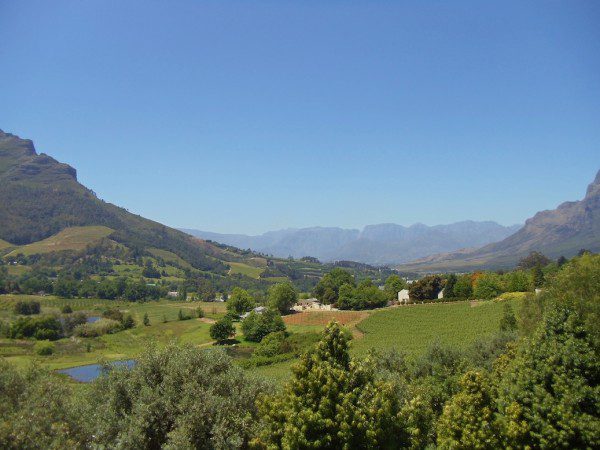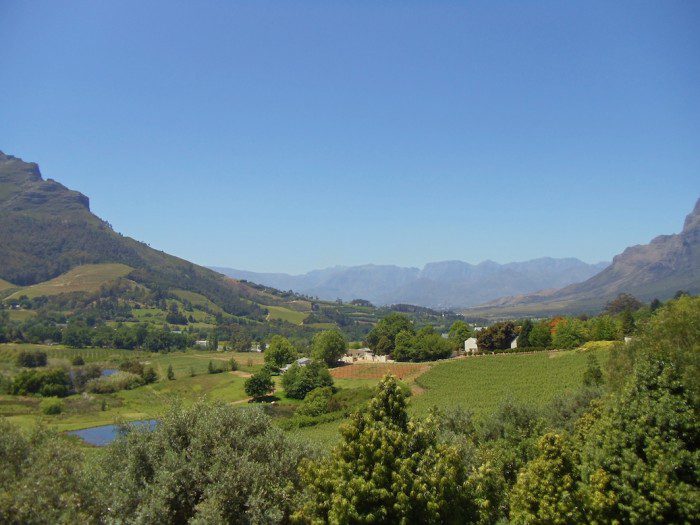 My first stop was at Tokara, which offers a modernly designed tasting area along with a large selection of wines and brandy. There's also a restaurant and other fine food for sale such as olive oil, cheese and much more. The property itself is beautiful and you can get excellent valley views from here.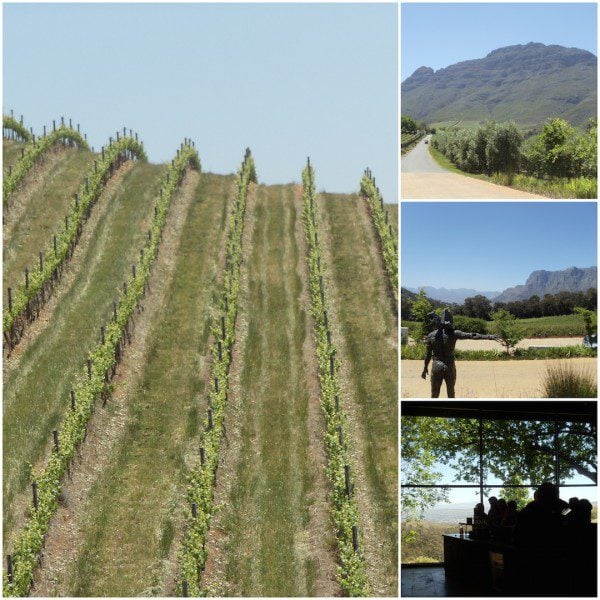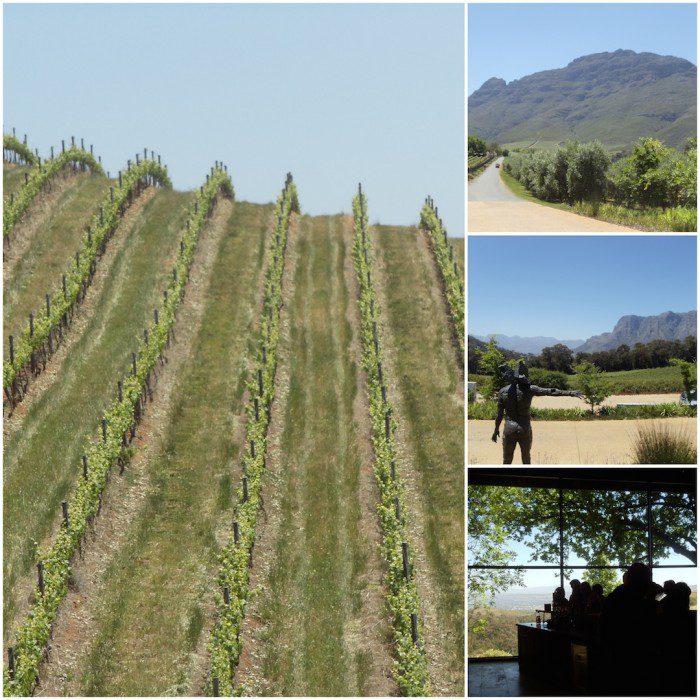 After my first taste, I continued to drive on the Stellenbosch Wine Route towards Franschhoek for about 10 minutes. This stretch of the road takes you into prime farm country in a very lush valley. On your right, you'll see a turn to the Boschendal Wine Estate. This place has been making wines for over 300 years and you'll immediately notice the Cape Dutch influence on the residential buildings as you enter the grounds with its tree-lined pavements.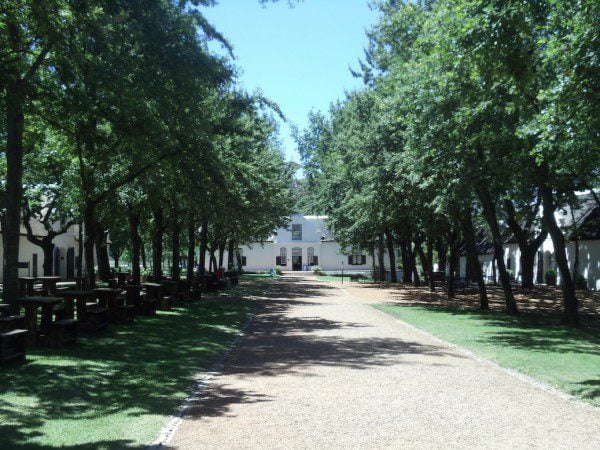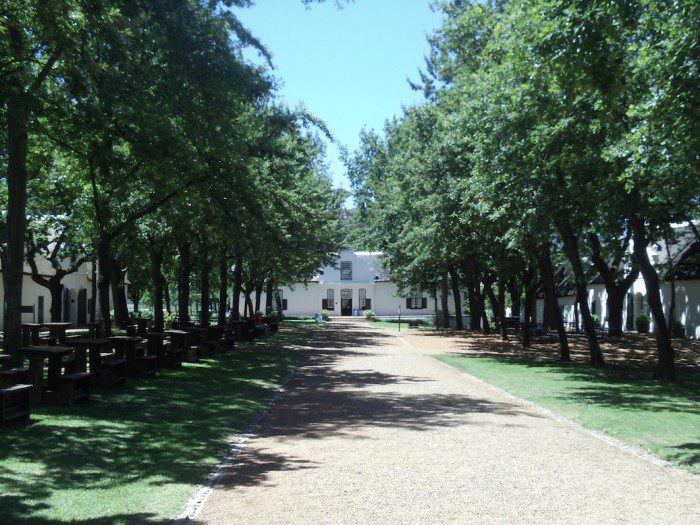 Boschendal is not only a winery but also a working farm. This lush piece of property is also scattered with gardens and is popular with weddings. You can visit here for the day or even stay the night. Aside from wine tasting, Boschendal offers tours of the vineyards and old manor house as well as a few fine dining options (check their website for times).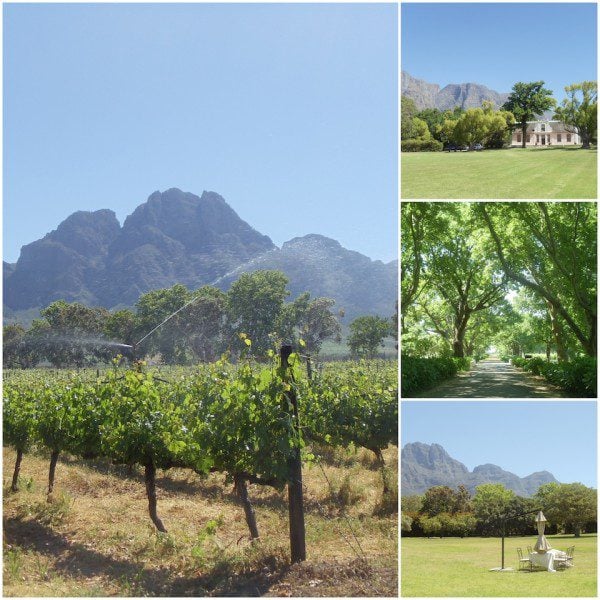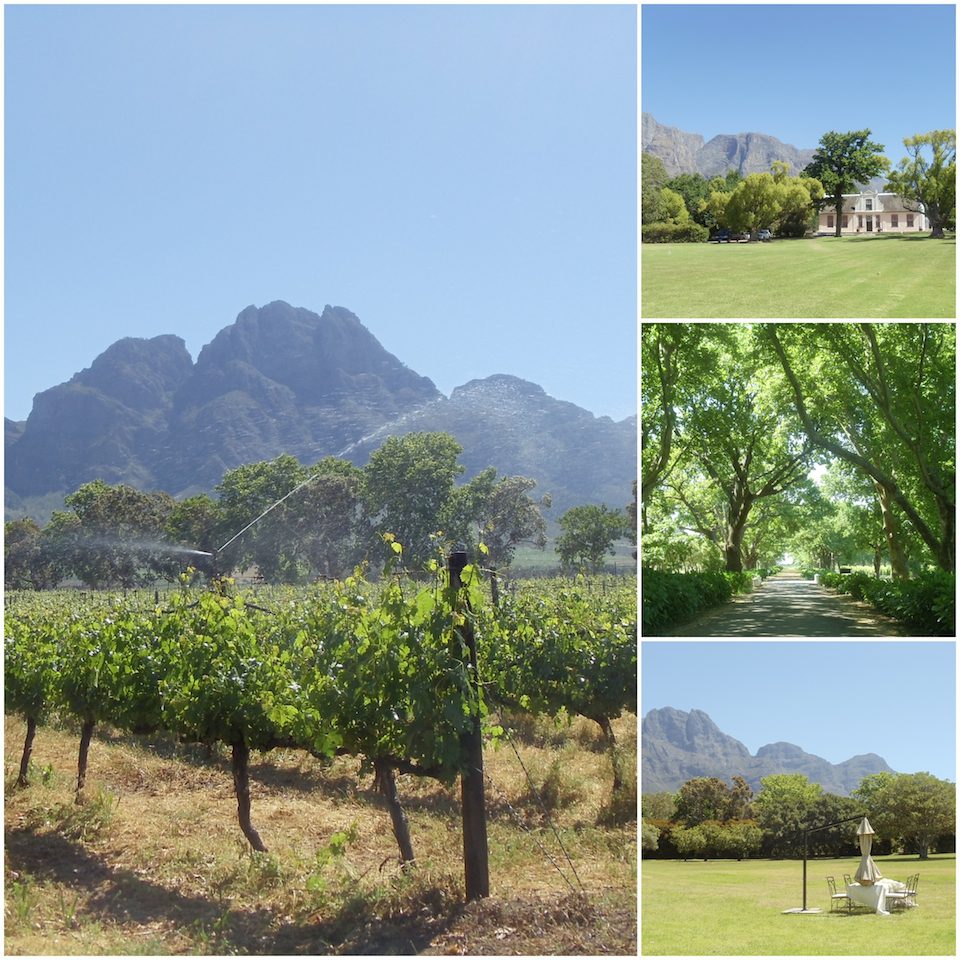 I made my way to the tasting room to enjoy a wide selection of wines including Cabernet Sauvignon, Shiraz, Merlot, Chardonnay and Sauvignon Blanc. The staff here are very friendly and take the time to explain to you the science behind the wine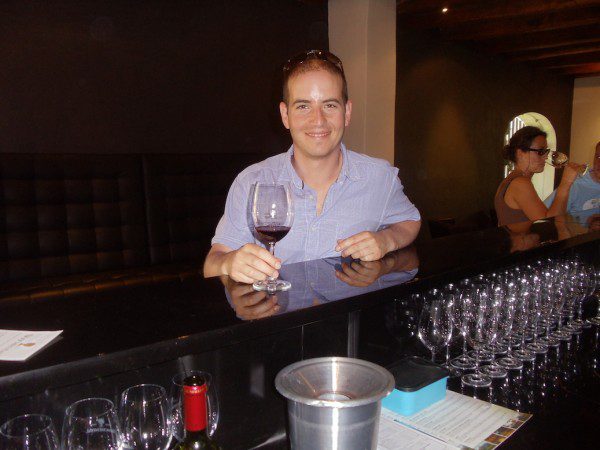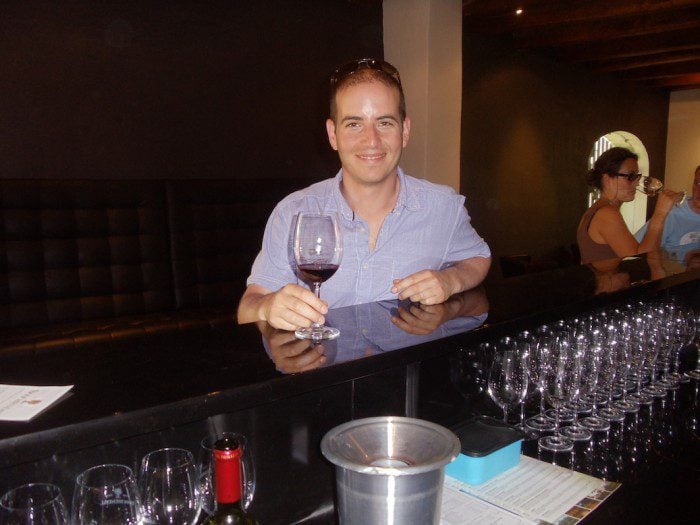 Since Boschendal was so beautiful with plenty of sunny spots as well as shaded areas, I headed to the Farmshop & Deli which is situated in the original wagon house. This place serves excellent lunches and you can grab a seat in the outside area under the shade. There are other dining options here and some require a reservation in advance.
Franschhoek Wine Route
After letting the wine settle and a short snooze on the grass, I headed back to the car and drove towards Franschhoek. After a few minutes, you'll reach a fork in the road and the R45. It's left to Paarl and right to Franschhoek. Take a right and you're now officially on the Franschhoek Wine Route. If you think you are driving through Provence you're not too far off. The area in and around Franschhoek was settled by herdsmen but looks and sounds the way it does today because of French influence. Huguenots Frenchmen settled here in the late 17th century at the grant of the Dutch East India Company to escape persecution at home. They brought with them their winemaking skills and took advantage of the lush valley surrounded by mountains, to make Franschhoek one of the prime winemaking towns in the Western Cape. The French love of food was also imported here and Franschhoek is known for its high culinary standards, primarily in French cuisine of course.
Having visited two wineries already, I couldn't keep tasting wine and driving but did a stopover at one of the more impressive of the area's wineries at La Motte. Not only is this place an award-winning winery but it's also beautiful in its own right. I walked around for a bit to enjoy this beautiful property before hitting the road again.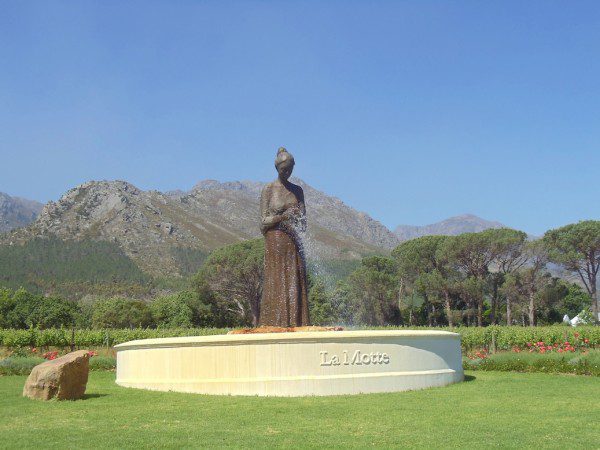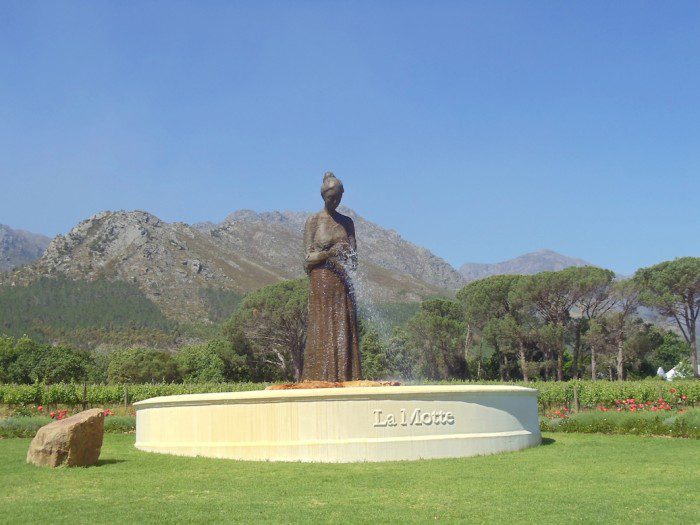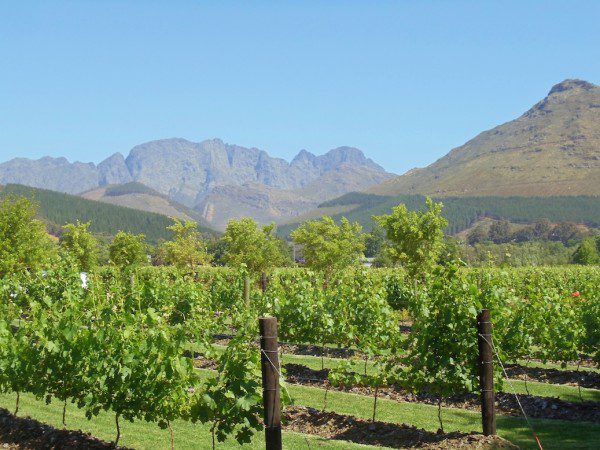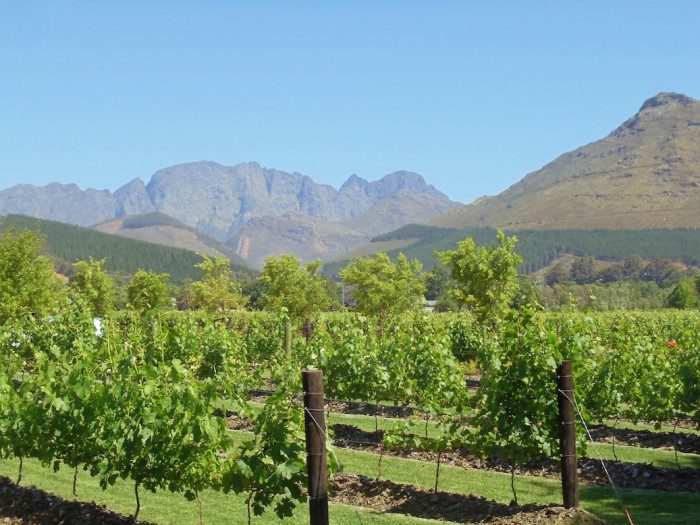 My last stop would be right at the foothills of Mont Rochelle on the beautiful property of another famous establishment, Haute Cabrière. This place is uniquely positioned with unparalleled views of the vineyards in the valley below and the surrounding mountains. You'll find here an award-winning restaurant as well as wine tasting of course but I simply enjoyed some coffee on the outdoor terrace to enjoy the sun and the views before heading back to Cape Town.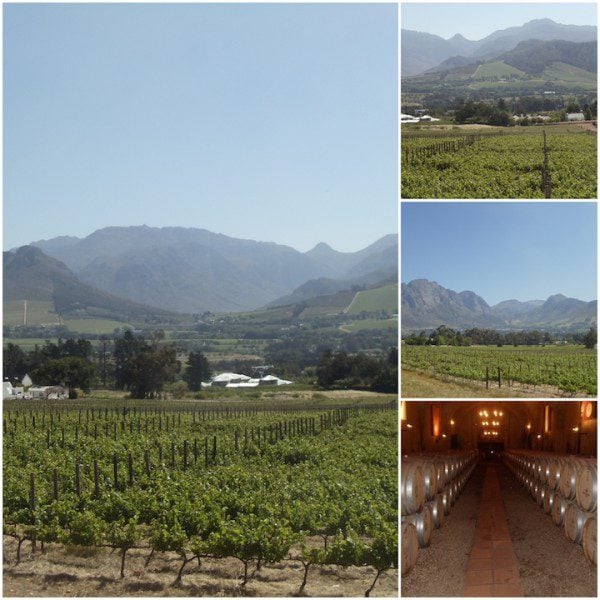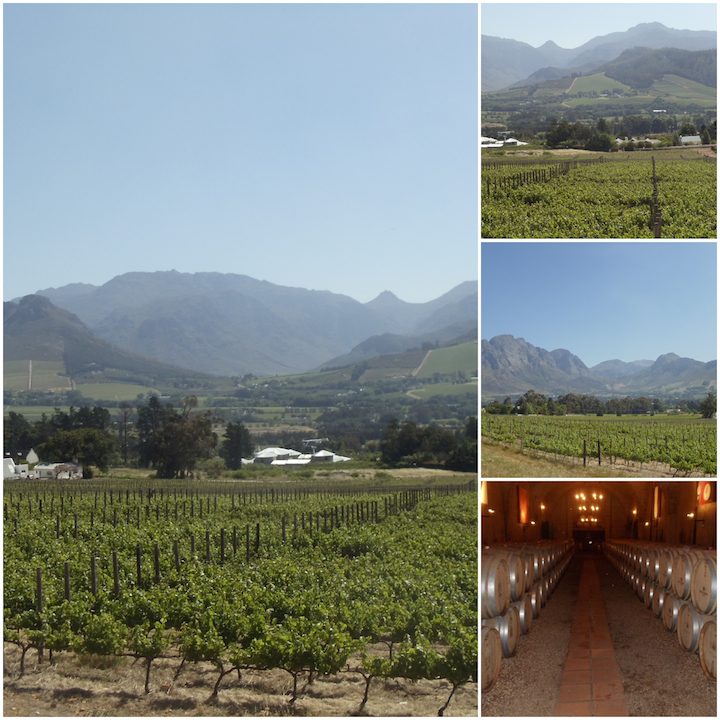 My wine tasting day trip from Cape Town was coming to a close and what a day it was. Not only are the wines as good as they say but the scenery here is spectacular.
Before this trip was coming to a close, I had one more trick up my sleeve. There was still light outside as the days are long and I had time to prep up for sunset. I got back to Cape Town within 90 or so minutes and instead of driving back through Stellenbosch, I continued on the R45 which connects with the M1. The M1 takes you right into the city and just before the V&A Waterfront, I turned left onto the M62. After climbing for a little bit, you'll reach a roundabout, take a right onto Signal Hill Rd and start climbing the mountain until reaching the flat plateau.
Sunset at Signal Hill
On your left, you'll see the Lion's Head but you can continue straight towards Signal Hill and park the car for great sunset views of the Atlantic, Cape Town, and Table Mountain. What a way to finish off this 4 days in Cape Town adventure.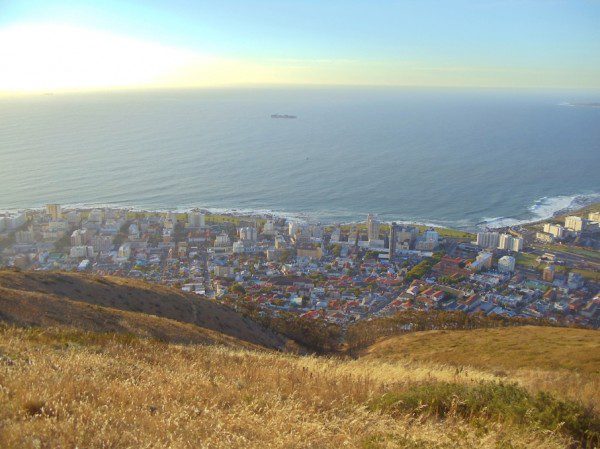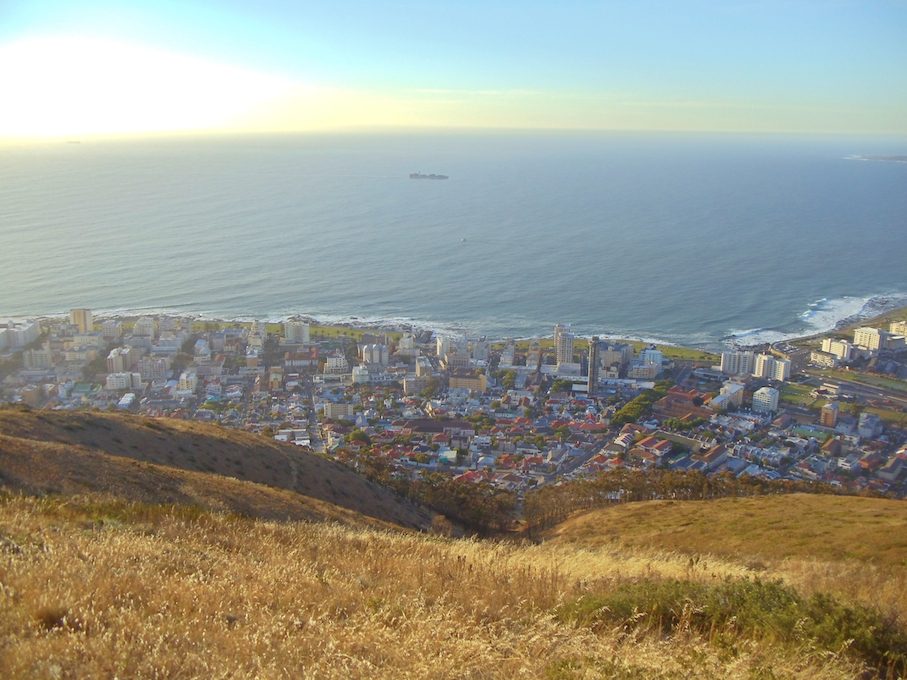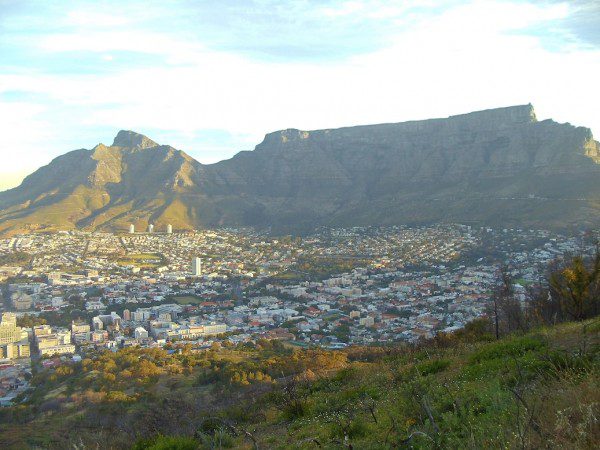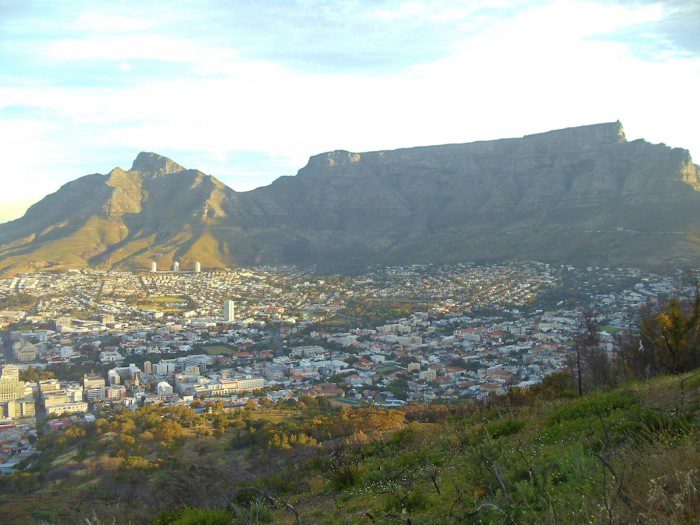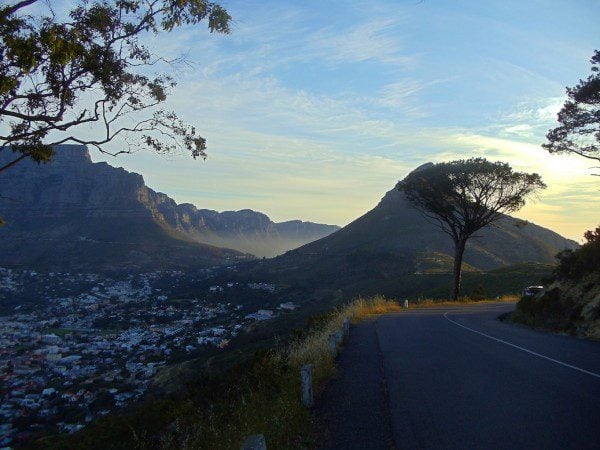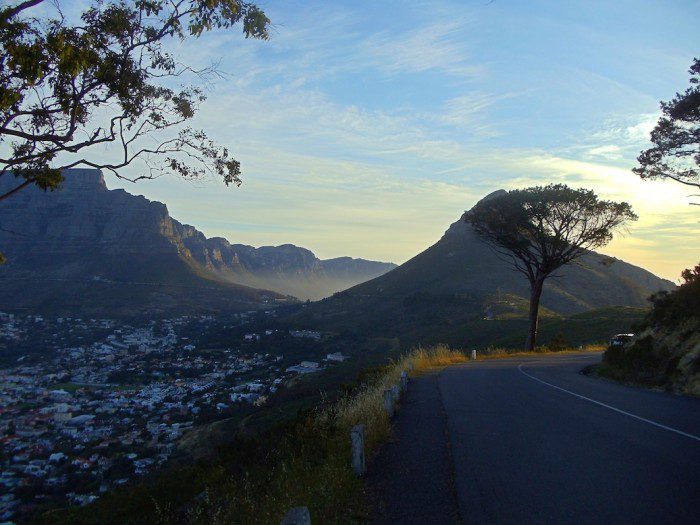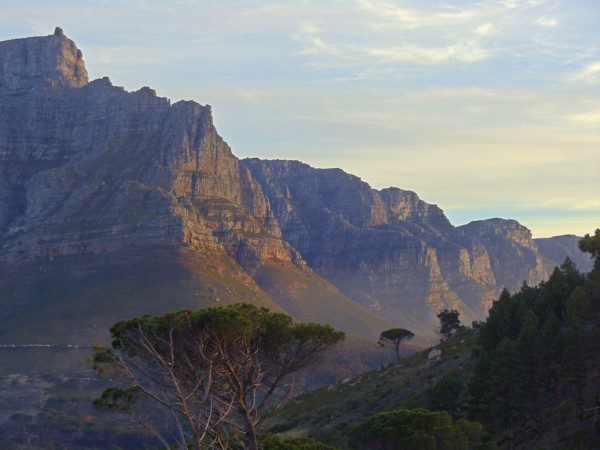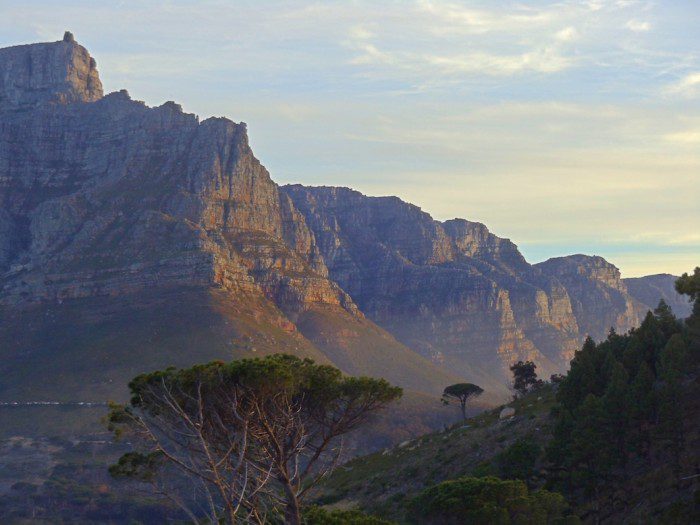 Any Regrets?
Another popular trip to do from Cape Town is the Garden Route. The N2 heading east takes you through beautiful forests, valleys and ocean scenery. You'll need at least a couple of days to discover the Garden Route.
There are plenty of hikes you can do in and around Franschhoek. A popular thing to do is to explore the mountain pass on horseback and enjoy a picnic in the great outdoors. You'll obviously need a full day for this.