Day 1: Table Mountain & City Center
Arrival
I arrived the evening before on a flight from Europe. At the airport, you can either book a ride to town with one of the minibus companies for under $20 (they'll have stands in the arrival hall) or take your own taxi which will set you back about $30. On your way into town, you can't help but notice the shanty towns which dot the roadside. Though the Western Cape boasts plenty of wealth and beauty, you'll always notice the sharp contrast at times that remind you that this country is still rebuilding and trying to get over decades of hardships. Nonetheless, the people of the Western Cape are some of the friendliest and most open-minded in the country.
Bantry Bay
I decided to stay a little further outside of the city proper in quiet Bantry Bay. This beautiful neighborhood commands prime real estate and is built pretty much on the slope of the Lion's Head. Smart and fancy homes along the ridge give way to self-catering apartments, condos, and hotels along the Atlantic seaside. It's far enough from the city to offer a uniquely relaxing stay yet close enough to plenty of restaurants in nearby, vibrant Sea Point and a short taxi/bus ride into town.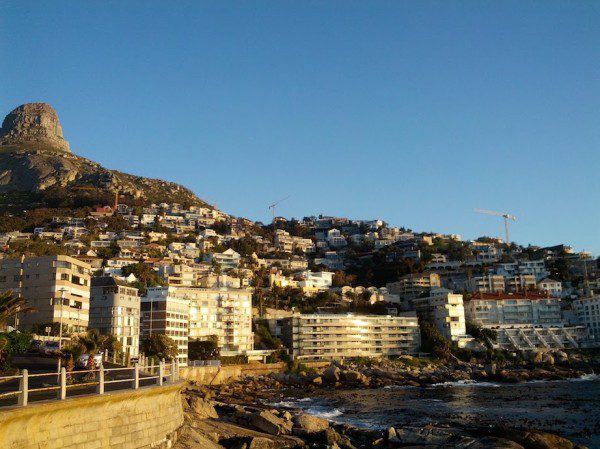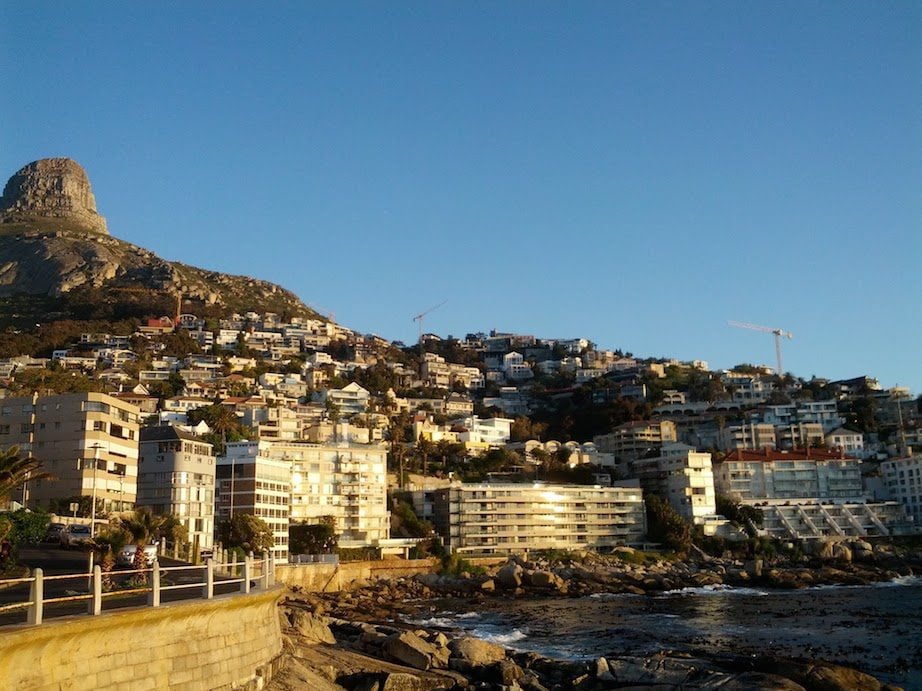 I checked into the Ambassador Hotel on Victoria Road, at the edge of Bantry Bay. You can stay in one of the self-catering apartments in the building across the road, which also has a good cafe and deli on the ground floor, or stay in one of the hotel rooms in the main oceanside complex. Rooms are comfortable and if you're in the apartment across the road, you'll have memorable ocean views and a balcony to enjoy all of this, especially during sunset.
Wifi is available though can be slow at times but the breakfast buffet is solid, served in the main glass covered dining room with the Atlantic just a stone throw away. As for the rates, they highly fluctuate throughout the seasons and even throughout the week so check the hotel's site for the latest deals.
The great thing about staying here is that you're not too far from town ($10 taxi ride with bus options as well). In fact, you can walk pretty much from the hotel along the seaside promenade towards Sea Point and even further. This is a great way to start or end your day and if you like jogging, this is one of the best routes in town. There are other boutique hotels in Bantry Bay as well as in nearby Sea Point so if you're asking yourself where to stay in Cape Town and the Ambassador doesn't suit your needs this part of town is still a great place to base yourself.
Here's a list of all Cape Town accommodations that you can book online.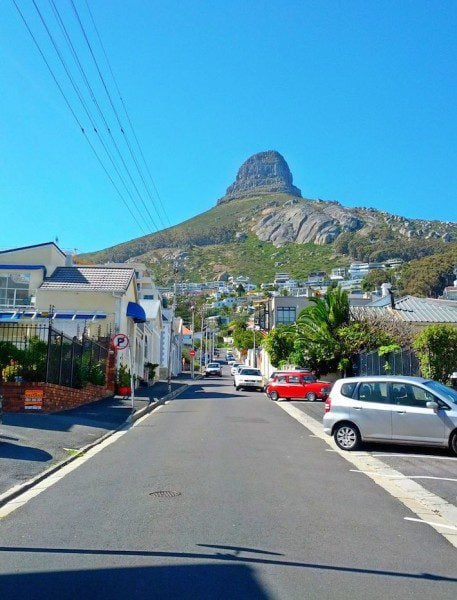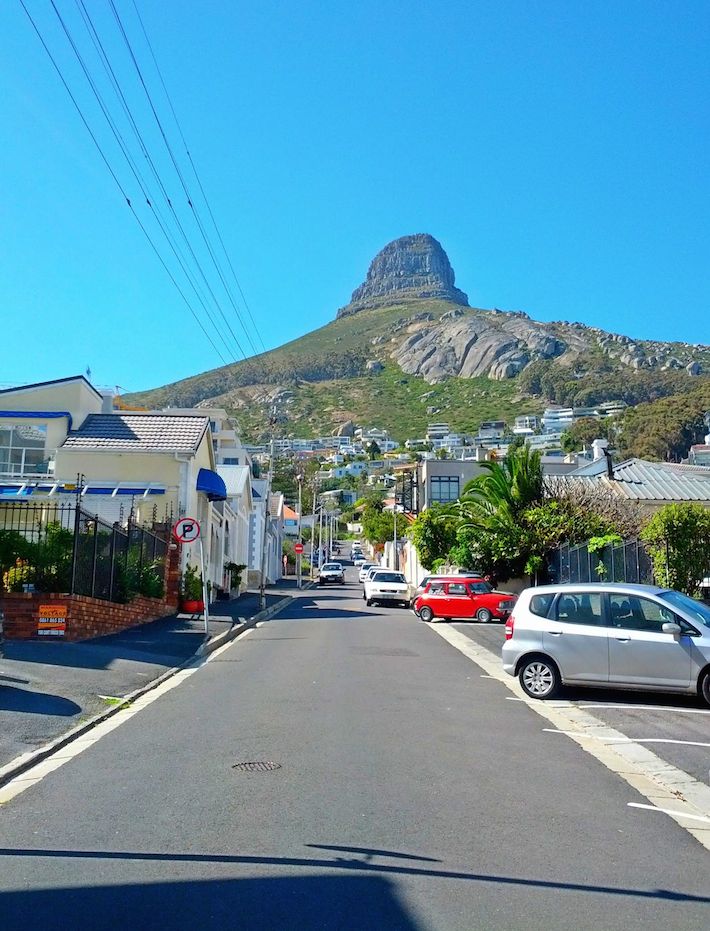 Up To Table Mountain
After the wonderful breakfast, I headed to the #1 attraction in Cape Town and a definite 'must-do' in your Cape Town travel, Table Mountain. This mountain is synonymous with Cape Town and in many ways, defines it (it definitely impacts the weather). Voted as one of the 'New Seven Wonders of the World', Table Mountain is visible from almost every point in Cape Town. The 1,087 square meters flat-top mountain is filled with gorges and rugged peaks including Devil's Peak to the west, Signal Hill and Lion's Head in the northern section, and the 12 Apostles in the south.
You can climb Table Mountain but the most popular way to reach the top is by cable car. You'll need to make your way to the lower cableway station on Tafelberg Road where you'll depart from 225R for a two-way journey up the mountain. It's best to get the latest weather conditions at the top before heading out (check the travel tips section) as the top of the mountain can get extremely foggy, wet and windy – as was on this day, making the visit to the top no more than an expensive cable car ride to nowhere. If the weather is clear you'll enjoy panoramic views of the Cape Town and if you enjoy hiking, there are plenty of options here as well (do stick to the marked paths as it's easy to get lost up here). As visibility at the top was practically zero on this day, it felt more like an alpine trek than a visit to Africa – quite disappointing. I headed back towards the town where it was a relatively pleasant day but would not give up on Table Mountain. More on that later.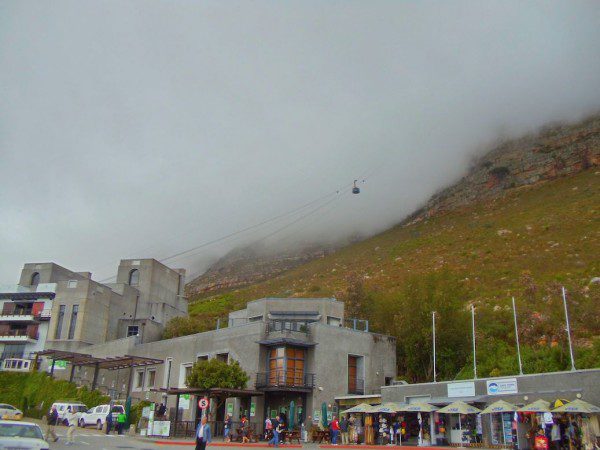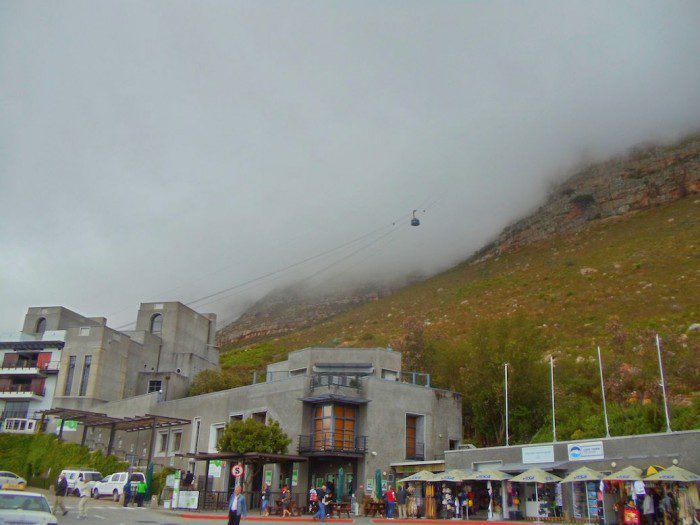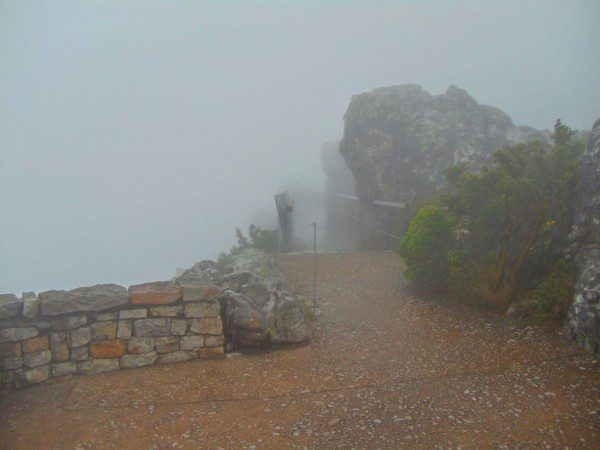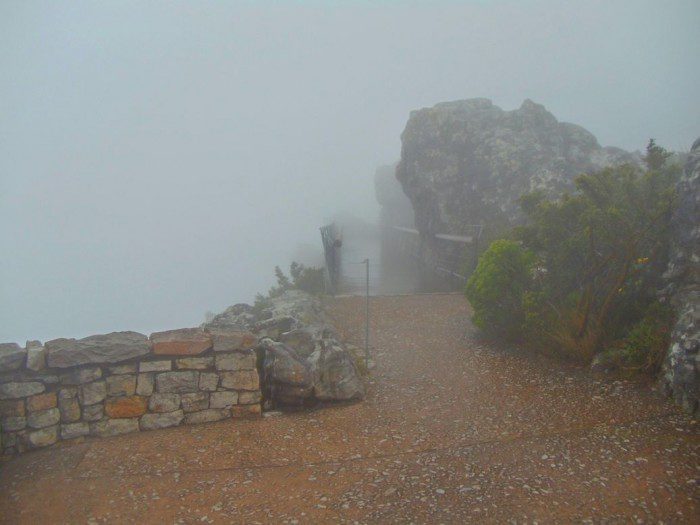 Exploring Cape Town's City Center
Next up was exploring Cape Town's city center, which is the oldest urban area in South Africa. Cape Town's center has a great vibe and the heavy European influence is quite evident with the Victorian architecture.
I started to explore Cape Town's center with St. George's Mall, a vibrant pedestrian street that is filled with local traders selling their goods and lined with cafes. Lots of people come and go through this street and it makes for a nice stroll to start your visit.
Continuing on St. George's Mall for a few blocks, you'll eventually reach Shortmarket Street. Turn right and you'll quickly reach Greenmarket Square. This place used to be a vegetable market, hence its name but is now a vibrant cobblestone square filled with cafes and shops. One of the highlights of Greenmarket Square is the flea market in its center where dozens of mostly African migrants sell a wide range of souvenirs from traditional clothes to African tribal masks. As you would expect, you wouldn't come here for the quality but if you like craft markets, you'll love this place. Bargaining is part of the game and expected by the merchants but do be sure to reach a win-win situation as an extra few dollars won't make a difference to you but probably will for the merchants. As a collector of tribal masks, I found a few gems here and managed to leave with my hands full.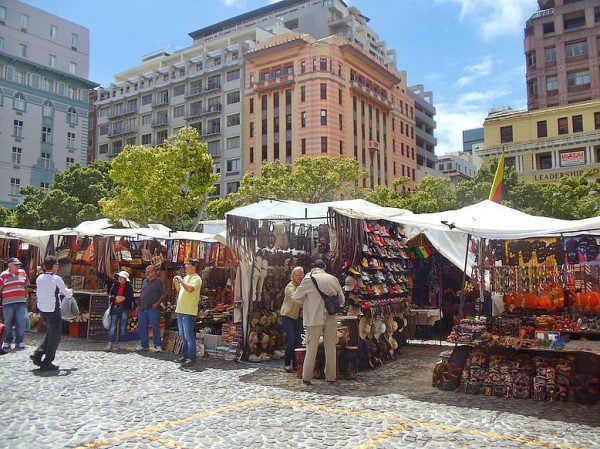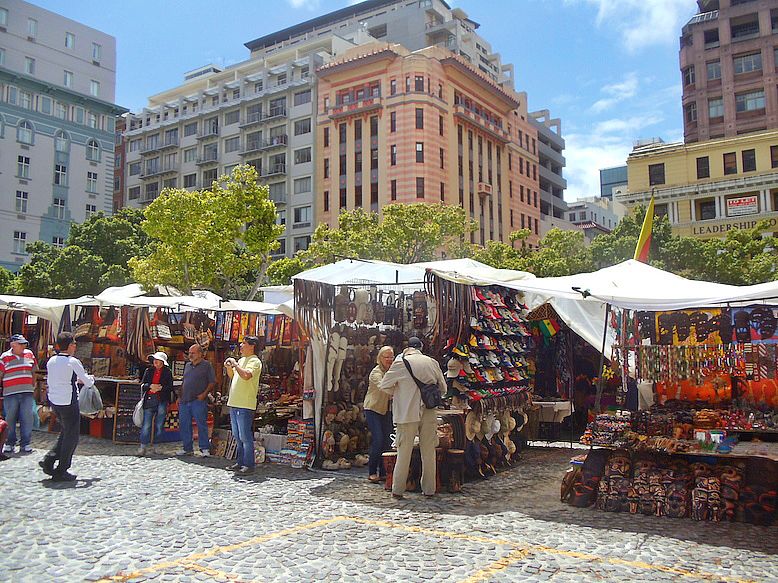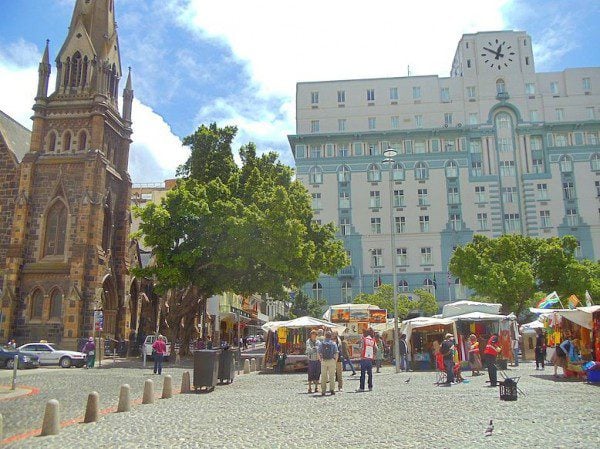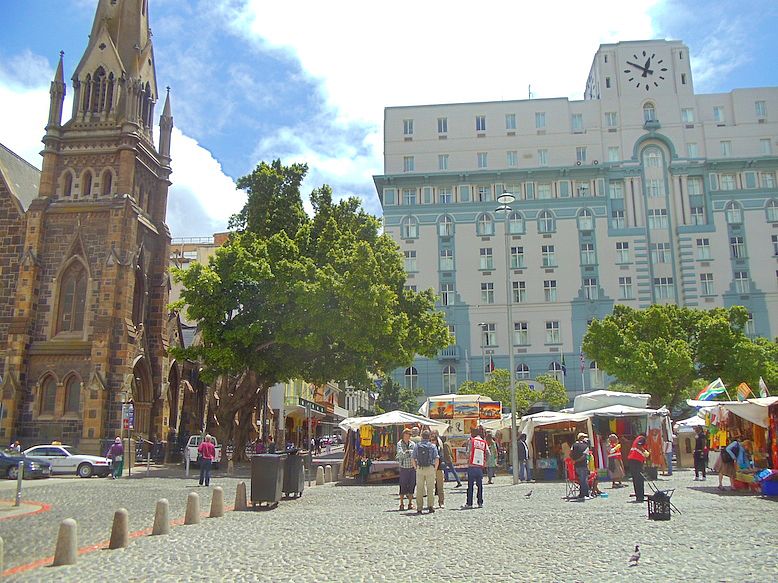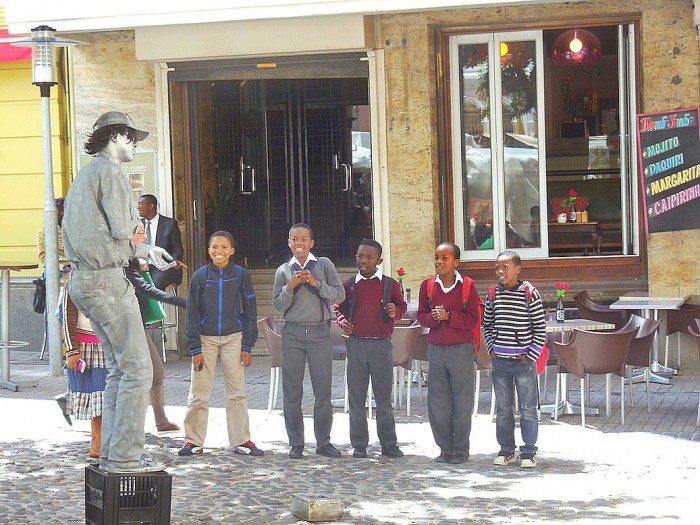 For lunch, I stopped at Cafe Sante in the square, which serves great simple food. The service is excellent and the wifi even better. This is a good spot to enjoy the sights and sounds of the square in the outside seating area. Right on the square and cannot be missed, you'll see the Old Town House, a beautiful Dutch-style 18th-century building that now houses the Michaelis collection of art.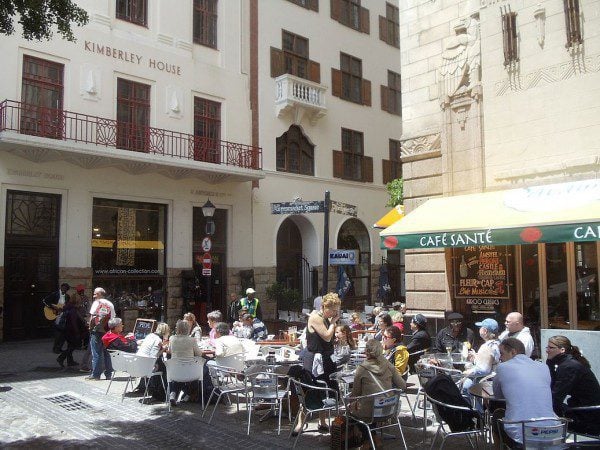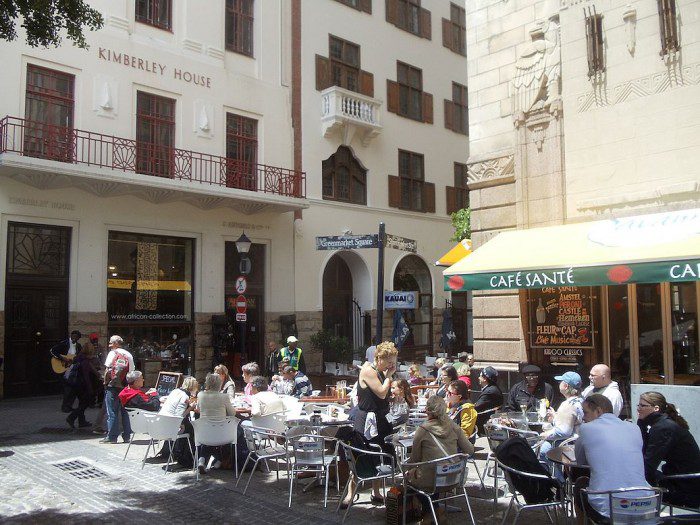 From Greenmarket St, you can continue on Shortmarket St for a few blocks until Bree St and you'll eventually reach the Cape Heritage Square. The highlight here is the restored Cape Heritage Hotel. Built in 1771, this stylish hotel caters to those who want to spin back the wheels of time and is one of the finer hotels in Cape Town. For those of us not staying here for the night, a visit to the square makes for a lovely spot to relax over wine and escape the rush of the city.
I headed back on Shortmarket St and turned right on Long St and into the heart of the historic city center. Lots of charming low-lying Victorian buildings line up this street with restaurants and cafes galore. It's a pleasant walk during the day and at night can get a bit noisy thanks to the bars and clubs which take center stage after hours. It's very popular with the backpackers as you would imagine so if you're looking for a quiet sleep, Bantry Bay is a good option once again.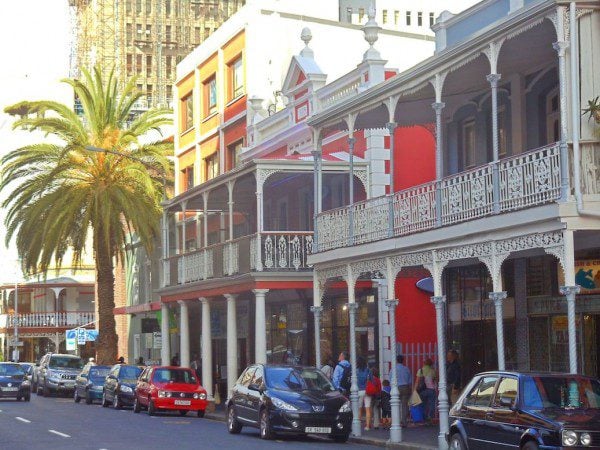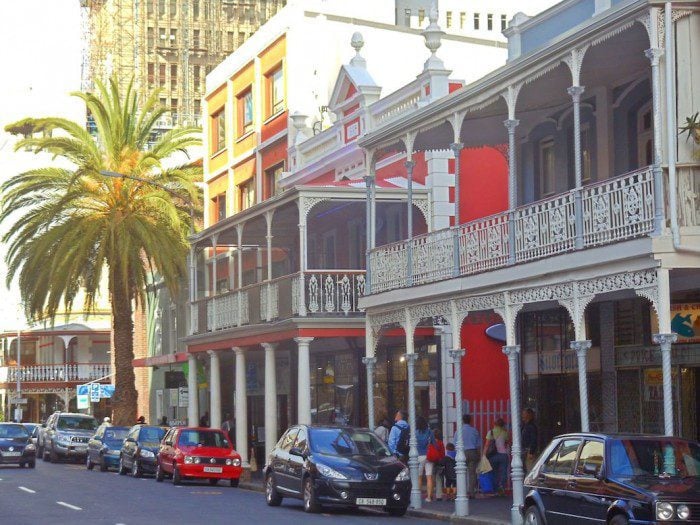 Real African Crafts
At #76 on Long St, look hard enough and you'll find the Pan African Market. It's a little tricky to find and I had to ask around for directions but it's worth the search if you like African crafts. This building houses several floors of craft makers and dealers. In some shops, you'll see tribal masks coming into form and traditional jewelry made. It's the best collection of African art that I've seen, reminding me of my shopping experience in the streets of old Stone Town, in Zanzibar. Be sure to explore several floors as well as the less obvious shops in the corridors as some of them hold truly wonderful crafts from all over the continent.
The Quiet Part of City Center
From the Pan African Market, you can continue on Long St and either turn left on Wale St or left on Church Street. Both will lead you to Government Avenue but if you take Chruch St, you'll find many more antique and African craft shops. At the corner of Wale St and Government Avenue, you'll notice St. George's Cathedral. This gothic style cathedral is not all too impressive but does hold some historical significance. In 1989, it was the site where Reverend Desmond Tutu led a march towards city hall, marking the beginning of the end of Apartheid.
Right after the cathedral, make a right onto Government Avenue. This is another lovely pedestrian street and makes for one of the best and most tranquil walks in Cape Town. As the name suggests, it's home to numerous government buildings and a few historical landmarks as well. The boulevard itself is lined with oak trees and there are a few gardens that you can venture into.
Just after St. George's Cathedral, you'll notice a beautiful neoclassical building with a smooth pastel finish. This is the Houses of Parliament building, completed in 1885. This is the 'old' parliament building, where many of the repressive laws of Apartheid were passed. It's now the legislative body of South Africa.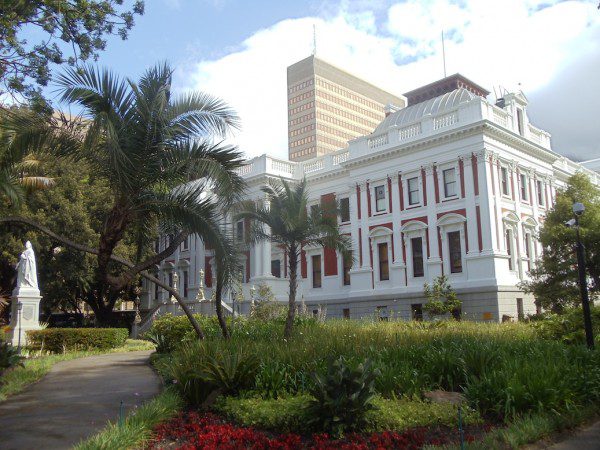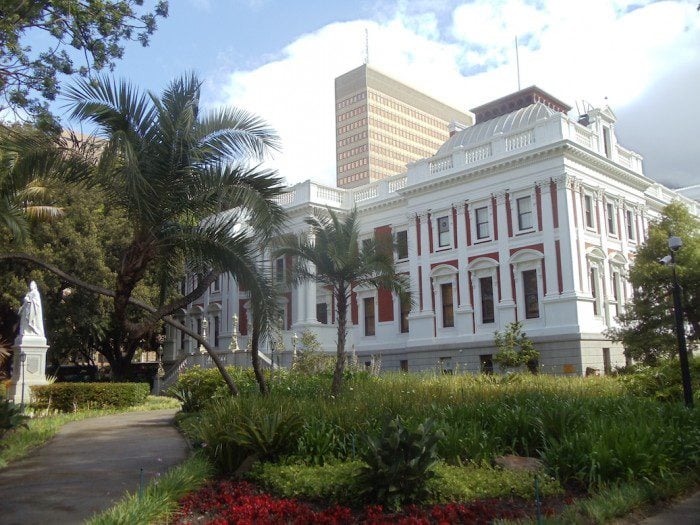 A further short stroll along the avenue and on your right, you'll see the South African Library building. It was opened in 1882 and now houses a fine collection of historical texts. I ventured out here for the Company Gardens. Originally built by the Dutch East India Company, the gardens today offer a tranquil visit amidst a wide range of local plants and flowers. It makes for another great escape from the noise of the city.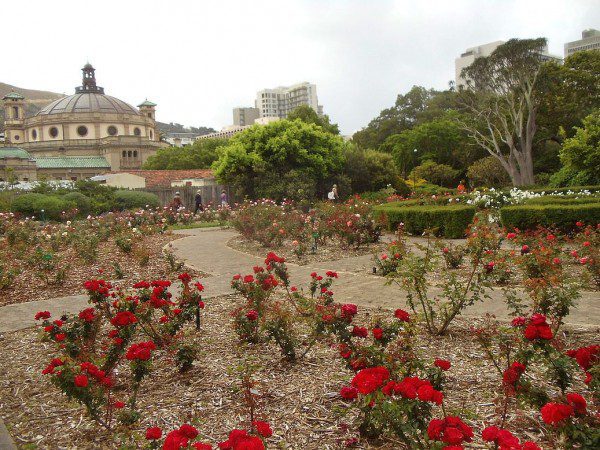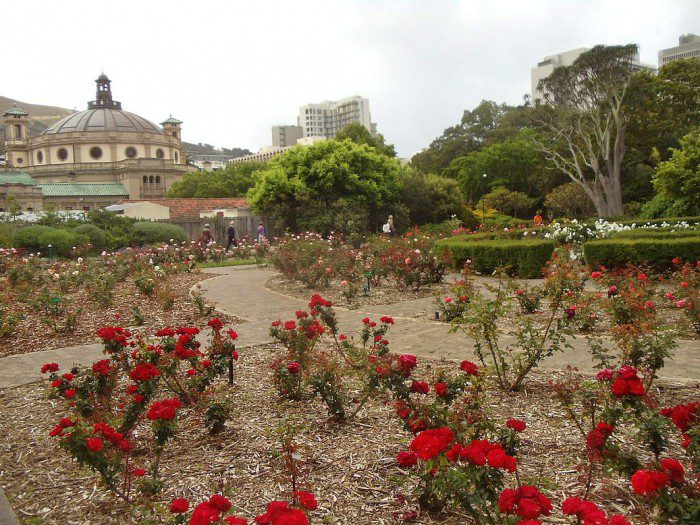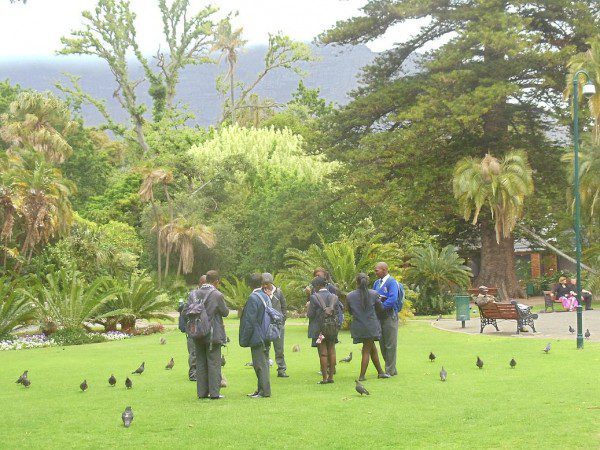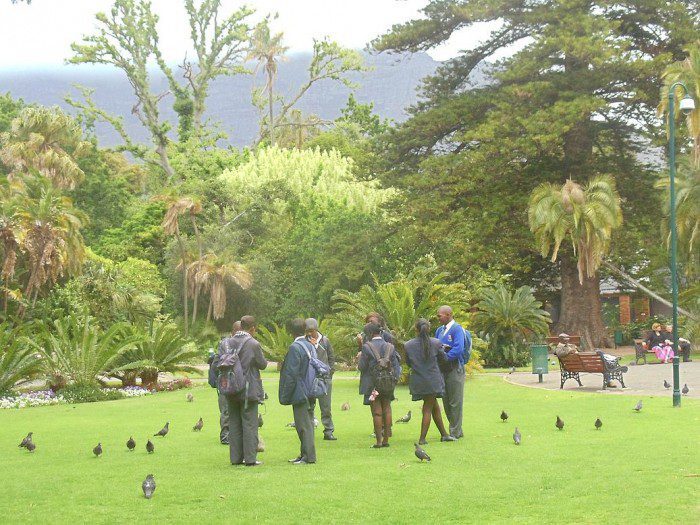 Back to Government Avenue heading south, you'll notice on your right a beautiful colonial-style stretched flat house behind a gate. That's De Tuynhuys or Garden House, the office of the president of South Africa.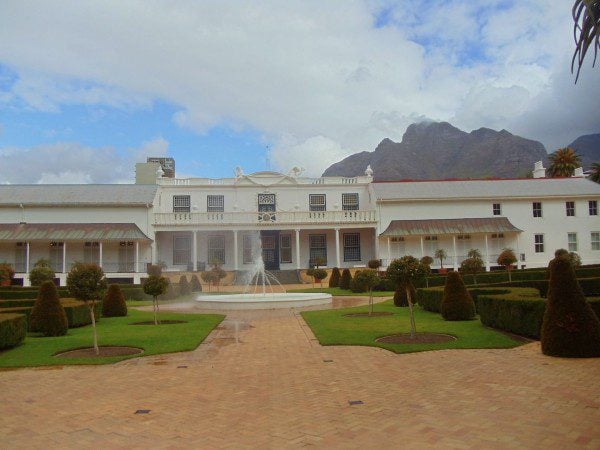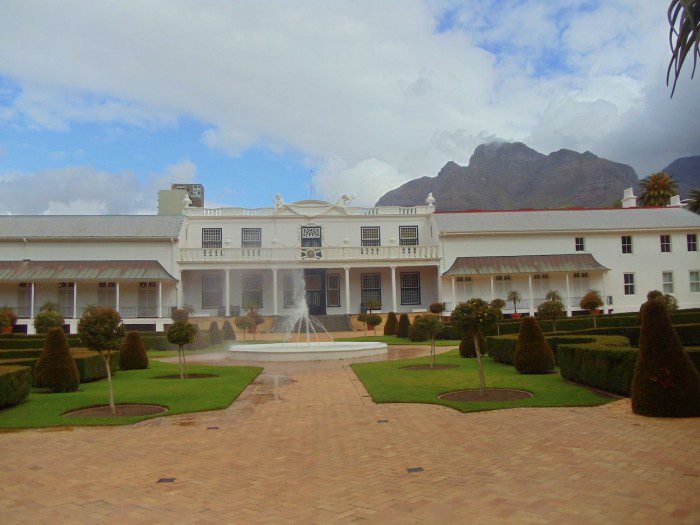 Continuing on the avenue and just after Gallery Lane, you'll see to your right the South African National Gallery. This is a nice building in its own right and worth a glance even if you don't want to venture inside and check out the local art collections housed here.
This was my final stop on Government Avenue and what a pleasant stroll it was. I headed back into town on Adderley Street which is one of the main streets in Cape Town. On the way, there's the Slave Lodge that's worth checking out if you have time and are into history. Other than that, there's not much to see on this street aside from lots of people coming and going as well as numerous 1970's style shopping centers that are quite run down these days.
Dinner at the V&A Waterfront
You can skip onto adjacent Long St for a wide selection of restaurants and bars but I decided to cab to the Victoria & Alfred Waterfront for dinner. The V&A Waterfront, better known simply as the Waterfront, is another highlight of your Cape Town travel and along with Table Mountain, is another 'must-see'.


The Waterfront now sits on what was Cape Town's old major harbor. Undergoing a massive facelift in the 90's it's now a major tourist destination as is still a working harbor. More on the Waterfront a little later on but now onto dinner. There are loads of excellent dining options here, all with Table Mountain views so do arrive before sunset. The popular dishes here are seafood and meat and I felt like having a good steak. I headed to Karibu Restaurant which not only offers great views but has excellent local meats to choose from. Grab a blanket if it's chilly outside and enjoy a good steak for under 200R. Try the Braai menu (South African for BBQ) if you want to experience a wide range of local meats.
Any Regrets?
One of the more colorful and oldest places to explore in Cape Town is the predominantly Muslim neighborhood of Bo-Kaap. Brightly colored flat Dutch & Georgian style houses line the streets here and it's worth exploring either on foot or as part of a tour. Unfortunately, I didn't make it here.
Cape Town has plenty of good museums to explore and historical sites such as the Castle of Good Hope. If you're into history and have the time, this could be a good option. I only had a day to spend in the city center so focused on more outdoor sights.