Few are the places in the world where you can snorkel in pristine tropical water and hike on a snowcapped volcano in the same day. But the Big Island of Hawaii is all about contradicting experiences. After all, 11 of the 13 microclimates that exist on our planet can be found on the island. And they don't call it the Big Island for nothing, a diverse paradise larger than the rest of the Hawaiian Islands put together. This 5 days in the Big Island sample itinerary covers the very best the island has to offer.
I spent three magical months on the Big Island while doing some volunteering work on the Kona Coast. It's important to note that, like in all Hawaiian islands, there's a wide range of organized tours and activities offered to visitors. In this Big Island 5-day itinerary, we'll mainly focus on self-guided activities, but I'll also highlight guided excursions worth considering.
Why Visit The Big Island?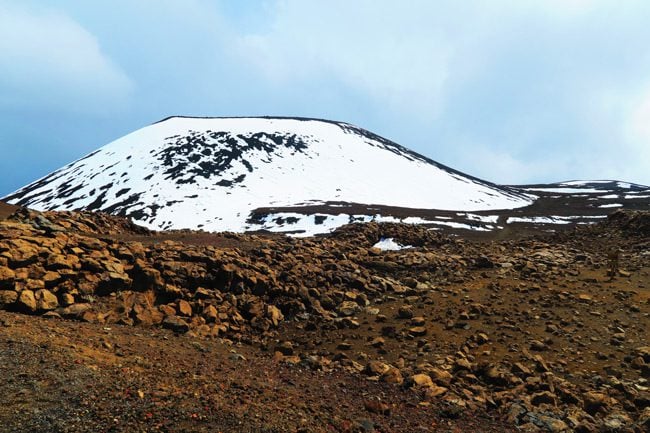 Diverse Nature
Where else can you visit a tropical rain forest in the morning, play in the snow in the afternoon and enjoy the sunset with a beach cocktail?
Beach, Hike, Drive
The Big Island offers endless ways to explore nature by car or on foot, not to mention soft sand in every possible shade of color.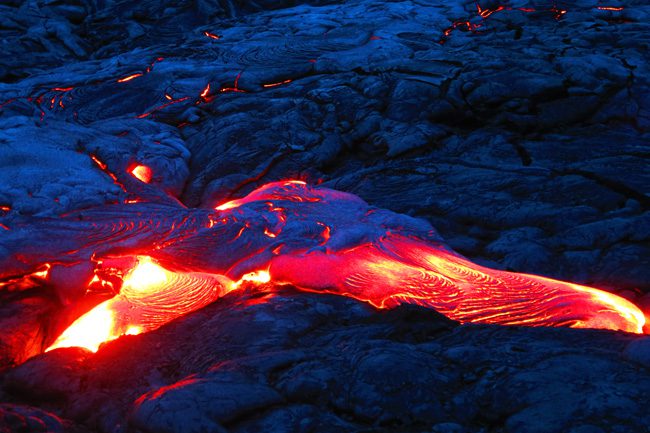 Lava
Home to Kilauea, one of the most active volcanoes in the world, fire is the Big Island's dominant element.
What's Included in this Big Island Sample Itinerary?
Day 1: Essential Big Island Tips, Kona Beaches & Kailua Town [This Page]
Additional Resources
Explore additional Big Island and Hawaii travel resources, including sample itineraries, guides to the best beaches and hikes, and the must-see highlights in all five of Hawaii's major islands. Aloha!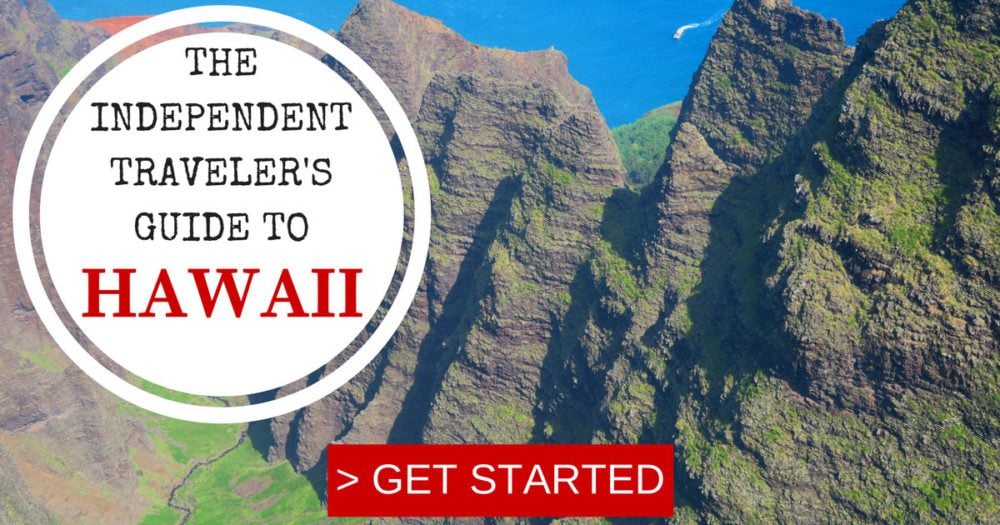 ---
Big Island Video Tour
---
Big Island Itinerary Map
The following map contains all the places mentioned in this 5 days on the Big Island itinerary. Simply click on the image to open it in Google Maps.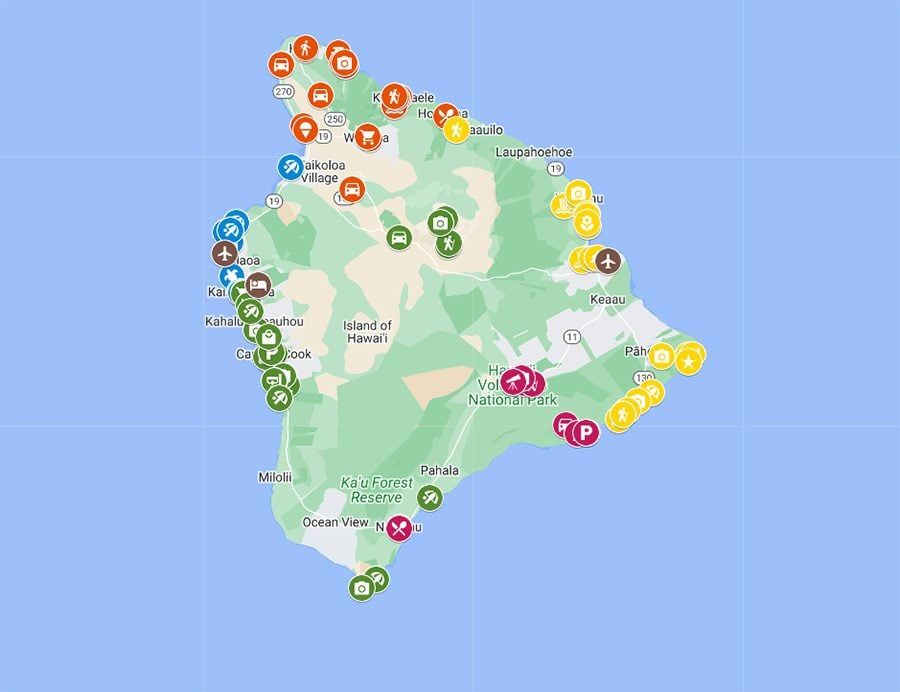 Big Island Travel Tips
Here are a few essential travel tips for the Big Island of Hawaii. Don't forget to go over the things you need to know before visiting Hawaii, where you'll find general advice on visiting the Hawaiian Islands, including how to save on costs.
Where to Stay
If your plan is to see all of the Big Island's top sites (and I do recommend that), it's best to split your time between the Kona Coast and the Hilo side as noted in this sample itinerary. The reason for this is to minimize driving times and maximize sightseeing times. The Hilo side is close to Volcanoes National Park, the lava fields, and Akaka Falls, while the Kona side is near the best beaches, snorkeling spots, and Pololu and Waipio Valleys.
Here's a link to a complete list of Big Island accommodations that you can book online.
Kona vs. Hilo
It's worth mentioning the difference between the west coast (Kona coast) and the east coast (Hilo). The West is where you'll find the island's top beaches, resorts, dining, and snorkeling. It is also the drier side of the island which means more sunshine! The east coast is wetter and more tropical, with many of its residents living off organic farming. It offers more of that stereotypical Hawaiian island feel but also requires navigating through rainy periods of the day.
Beach Resorts
With a few exceptions, the Big Island's top beach resorts are located in Waikoloa, about 45 minutes north of Kailua-Kona. It is here that you'll find an array of romantic and family-friendly beach resorts, usually fronting top-notch beaches and offering a wide range of activities ranging from golf to watersports and scenic helicopter flights.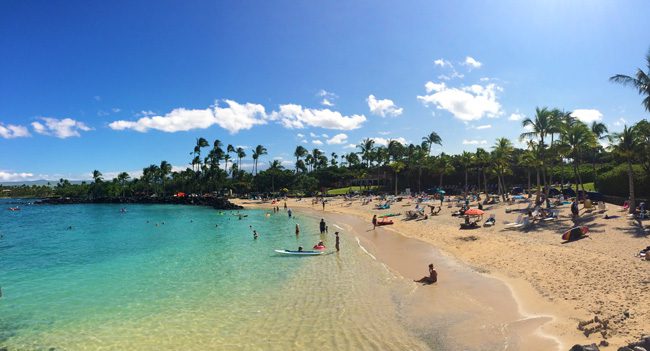 Have a look here to find the Big Island resort that suits your preference.
Bed & Breakfasts
If you're looking for a more authentic and laid back setting, I highly recommend the Lilikoi Inn on the Kona side. In fact, I spent here three memorable months and can honestly say that there are few places like this on the island at this affordable price range.
Friendly owners Shai and Trina left a successful catering business in California to fulfill their dream of living in paradise. They have created a lush tropical setting that truly feels like your home away from home. Their four-bedroom bed and breakfast is located in the hills overlooking the Kona coast near the artist village of Holualoa – just a short drive from all the action. This is Kona coffee country, and the bed and breakfast also doubles as a small coffee farm.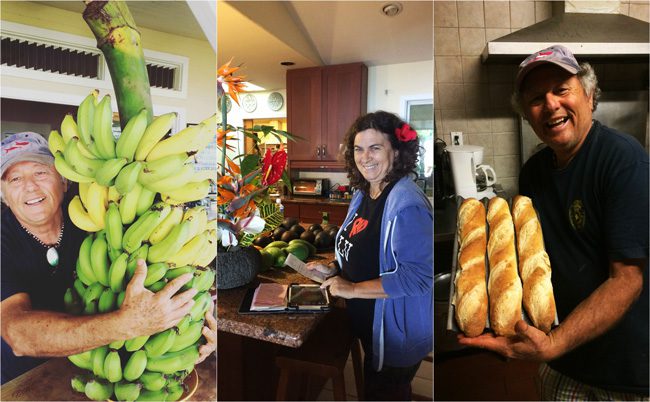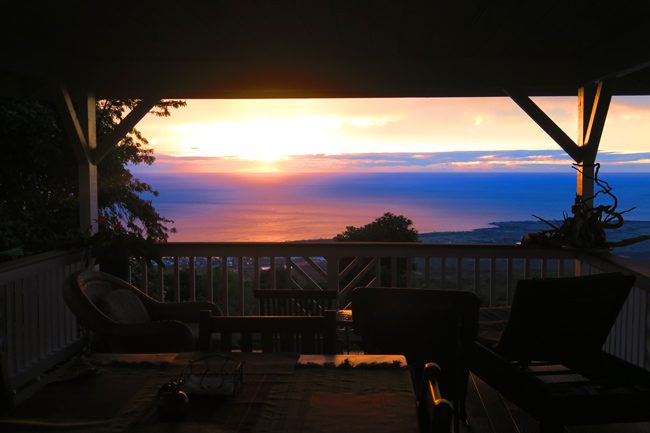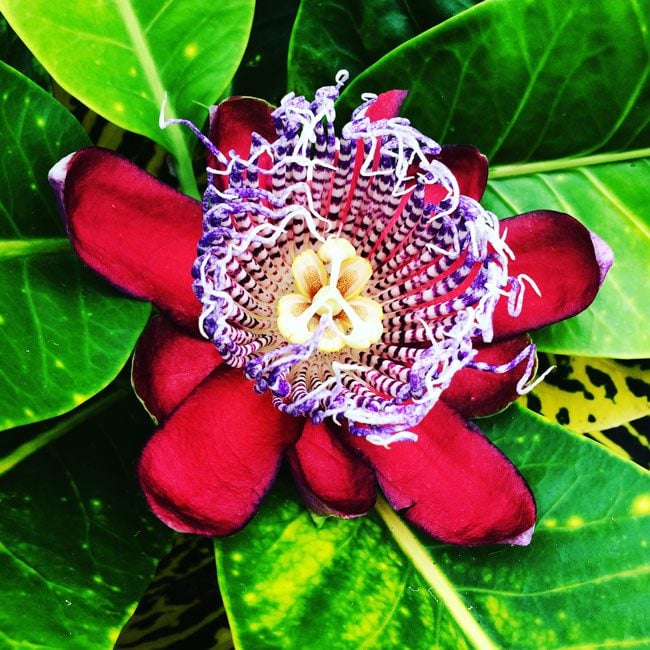 Rooms are tastefully decorated, the grounds are blooming with tropical fruits, exotic flowers, avocado, and organic vegetables, and sunsets from the wooden lanai are 'to die for'. Oh and the breakfasts… These are an absolute highlight as Shai – a former chef – uses his magical touch to create delicious ways for guests to wake up. Locally grown ingredients are blended together in a rotating menu while Kona coffee grown on the property is poured like water! Guests are treated like family and you rarely leave for the day empty-handed as Shai will often stock you with fresh fruit and homemade guacamole.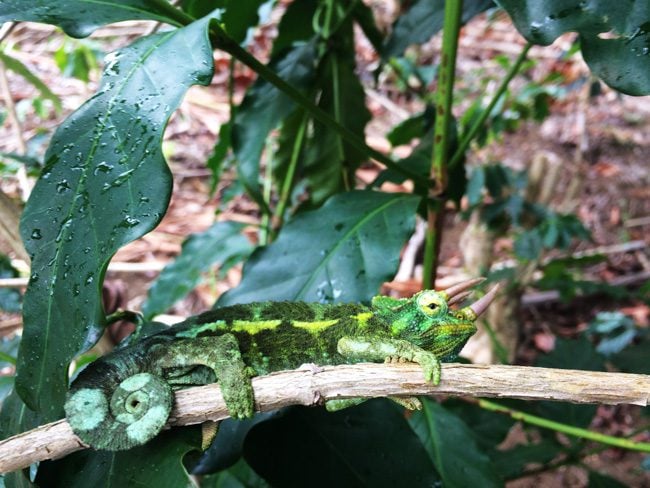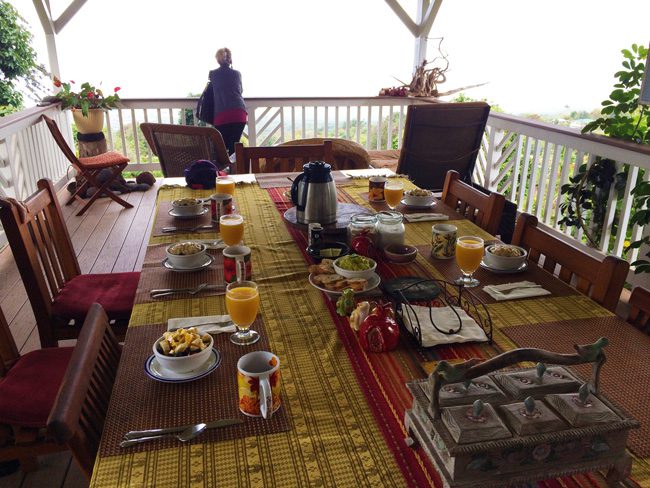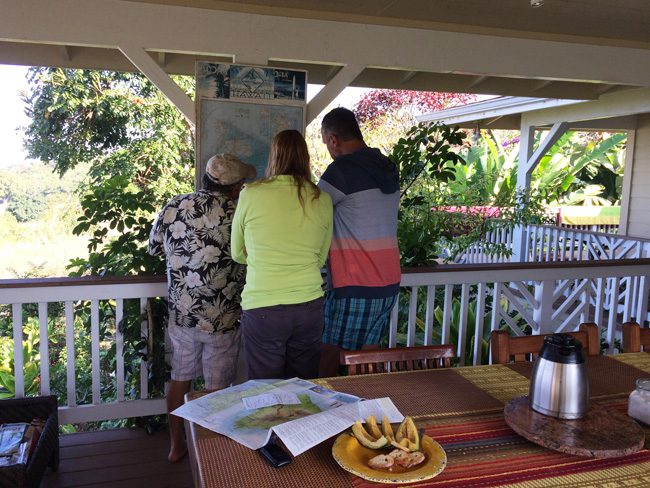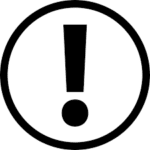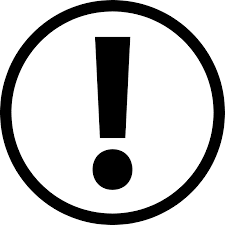 Update
The Lilikoi Inn is transitioning from a bed- & breakfast to a vacation rental (two units are planned). Check out additional accommodation options in Holualoa that can be booked online.
What to Pack
Together with this 5 days in the Big Island itinerary, I recommend grabbing a Lonely Planet guide to Hawaii to have useful information at your fingertips and to better understand Hawaii's culture and interesting history.
As far as packing goes, the Big Island requires you to have the right gear for the island's myriad of activities and climates. For example, be ready for the beach with reef shoes and snorkeling gear, for the hikes with proper shoes and quick-drying clothing, for the tropical areas with rain gear, and for the high peaks with proper winter clothing (that's right!). Have a look at this page for more information and recommendations.
Getting Around
They don't call it the Big Island for nothing! Travel times from point A to point B can sometimes take well over an hour so it is essential to rent a car on the Big Island if proper sightseeing is what you're here for.
By car: my advice is to 100% rent a car upon arrival at the airport for the entire duration of your visit and to simply drop it off before your return flight. Nearly all car rental companies are located at the airport and competition means decent prices, especially out of season. Renting a 4WD will come in handy (if the price is right) as it will allow you to drive to the very summit of Mauna Kea, Green Sand Beach and down to the floor of the Waipio Valley. If you cannot afford one or if none are available, it's not the end of the world.
Keep in mind that aside from the long driving times on the Big Island, road conditions may not allow you to drive at the speeds you're used to from back home. You often find yourself having to either drive at 60-80kph or agonizingly getting stuck behind a slow-moving vehicle on a one-lane road. Moreover, the roads near Hilo and Kailua can get congested with traffic during rush hour and weekends (but never gridlocked).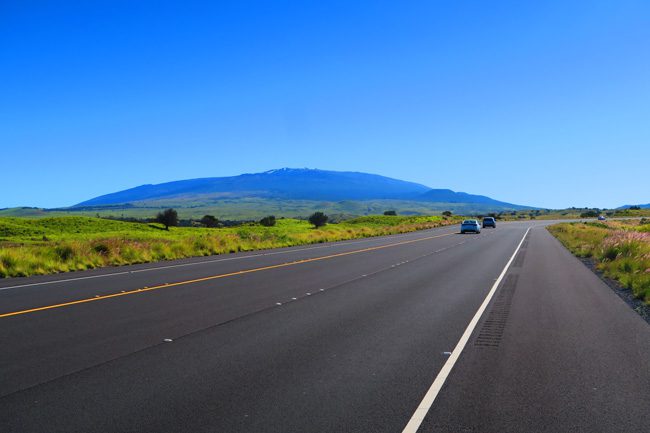 By bus: there is a bus service on the Big Island which offers an inexpensive way of getting around. However, it is more suitable for locals traveling between Kona and Hilo and less for tourists. Perhaps backpackers will find it useful.
Cycling: quite common on the Big Island but due to the vast distances and changes in elevation, this is more a sport rather than a means of getting around. Cyclists will find miles of cycling lanes with lots of respect given by drivers.
Hitchhiking: not that common by locals but quite common among backpackers and young tourists. You should have no problem flagging a ride within a few minutes but, as always with hitchhiking, it's best to avoid if traveling solo and always listen to your gut feeling.
The Weather
The Big Island's landscape is diverse and so is its weather. As mentioned in the intro, you can experience 11 out of the world's 13 climate zones on the Big Island. So, as expected, the weather can greatly vary and be hard to forecast. In general, the Kona side (west coast) is sunny and dry while the Hilo side (east coast) is tropical and wet. The middle (Mauna Kea and Mauna Loa) can experience both snow or extreme sunlight and are very cold once the sun sets.
Your best bet is to check the National Weather Center's website, where you can drill down by region or zone. However, a word of advice: unless it's a completely cloud-free day (or completely stormy), take the weather forecast with a big grain of salt. It can change quickly and be highly unreliable. However, do understand which climate zones you'll be visiting on a particular day and pack accordingly. Another thing to note is the vog (volcanic fog). The volcanic activity from the Kilauea Volcano releases gasses into the air which are typically carried towards the Kona side, resulting in hazy conditions and respiratory challenges for those susceptible to such conditions.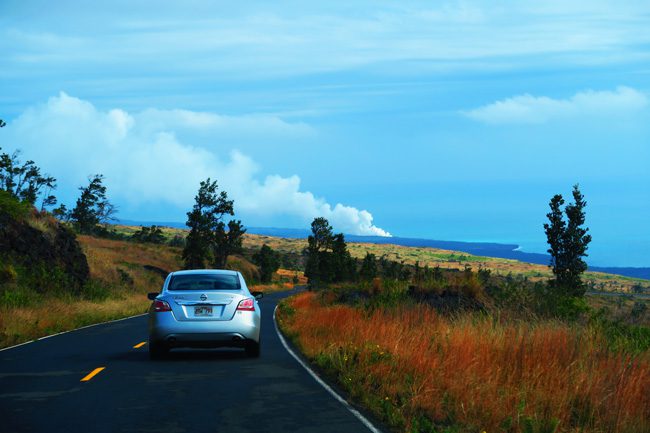 Staying Safe
The Big Island is a very safe travel destination but, as always, some caution is required:
When sightseeing,

do not leave anything visible inside your car

or even in the trunk. Car break-ins are

unfortunately common

in

some

parts of

some

of the islands in Hawaii.

Driving long distances at night on country roads can be a tiring affair, and the light from oncoming traffic can feel a bit blinding in the absence of street-lighting. Keep this in mind and stop for a stretch here and there.

Having access to

mobile data

and phone calls is highly recommended. This will help with directions, understanding driving times and making calls when needed. T Mobile has good phone and data plans for visitors to the Big Island but in any case, download an offline Google Map of the Big Island to your phone.

If hiking off the beaten track (especially Mauna Kea and Mauna Loa), be sure to have proper equipment, to check weather reports, and to inform park rangers or your hosts about your estimated arrival time.

Big Island beaches can be dangerous

at times with high surf and strong currents. State parks will have proper warning signs but unofficial beaches will not. It's best to not venture into the water during high surf periods and to avoid swimming in beaches without lifeguards during periods of rough ocean.

Take note that in official state and county beach parks, entrance is restricted to specific times. If you

don't want to get locked out

, be sure to read the signs before crossing the gate. Don't worry too much about this though as gates usually close after sunset.

If you're driving from Kona to Hilo (or vice versa) via

Saddle Road

, be sure to fill up the tank and avoid overheating your brakes by shifting into lower gear in downhill sections.

If you're suffering from asthma or other respiratory condition, stay up to date with the

Big Island weather forecast

as vog and haze on the Kona coast can make breathing difficult for

some

people and cause severe headaches.

Always

pack accordingly

and take extra layers/water/food.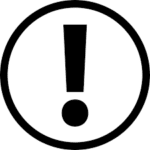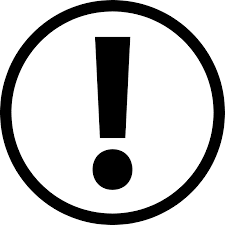 Update
In late 2022, Mauna Loa erupted for the first time since 1984. This likely affects hiking opportunities in the area and perhaps the traffic as well.
---
Day 1: Kona Coast Beaches & Kailua Town
Spend the first of your 5 days on the Big Island on the sunny Kona coast. We'll do a bit of beach-hopping and check out the charming historic town of Kailua-Kona.
Start your day with a bit of relaxation, bodyboarding or swimming in one of the Kona Coast's fine beaches. I'll briefly list a few top choices but have a look at a complete menu of the Big Island's best beaches for more info on these and other sandy spots. Choose the one (or two, or three) that you fancy the most.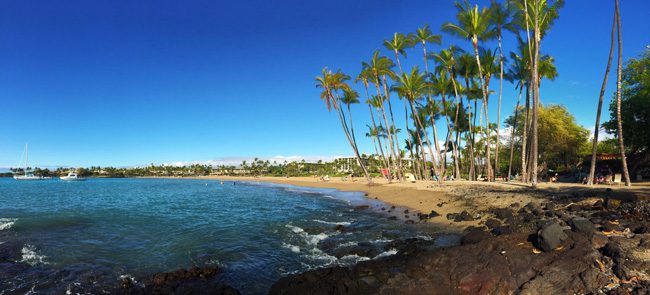 Cool Lava Tube
If driving north from Kailua to the beaches or coming south from the Waikoloa resorts, pull over around mile marker 90 (you'll likely see a few cars already parked) and check out a massive lava tube. The noise of the busy highway quickly fades away as you venture inside. It is here that you get your first taste of the maze of volcanic pipelines that crisscross the island. It is said that this particular lava tube runs deep inland but you can just have a quick look and carry on with your day. The kids will love it!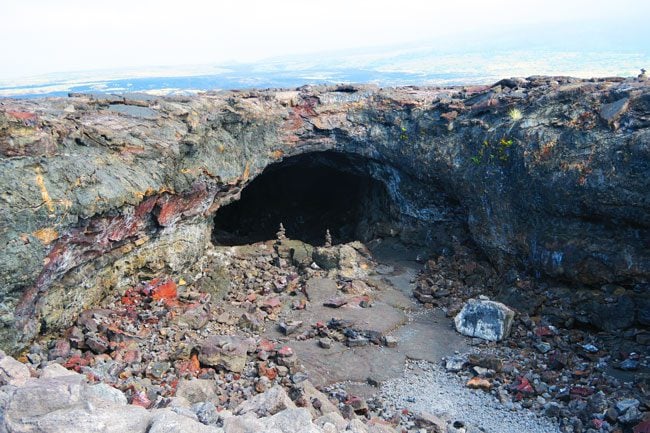 Kua Bay
Manini'owali Beach – better known as Kua Bay – is part of Kekaha Kai State Park, a dreamy section of the Kona Coast that hides four spectacular beaches amid a vast and barren lava field. Kua Bay is the only beach within the park that is accessible via a paved road, which means that parking can be challenging on weekends and holidays.
The beach itself is a beautiful blend of azure waters, rocky outcrops and soft white sand. When the surf is up, swimming is hazardous but bodyboarding is at its best. Need another reason? Where else can you swim in a tropical beach with palm trees around you while in the distance, a snow-capped volcano is looming?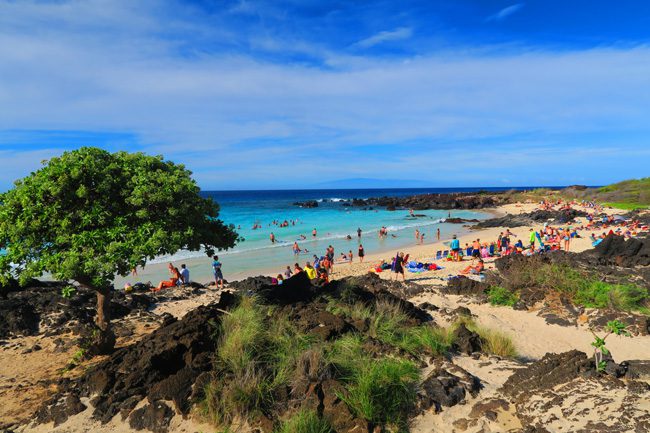 Mahai'ula Beach
Mahai'ula Beach is my favorite beach on the Big Island and maybe even all of Hawaii. It is also part of Kekaha Kai State Park but reached via the southern entrance to the park. Once you pull over from the main road, you'll need to drive for a good 20 minutes or so on a rough unmaintained road, however, a 4WD is not needed (just take it slow). Just before the main parking lot, you'll see a metal chain restricting access to a dirt road that leads to the beach. Grab your stuff, hop over the chain and head to paradise!
The beach is absolutely worthy of a postcard, with soft sloping salt and pepper sand, clear waters and palm trees galore. But the best part? Because Mahai'ula is harder to reach, it's a prime destination for escaping the crowds. From this remote spot, you can also further hike to Makalawena Beach.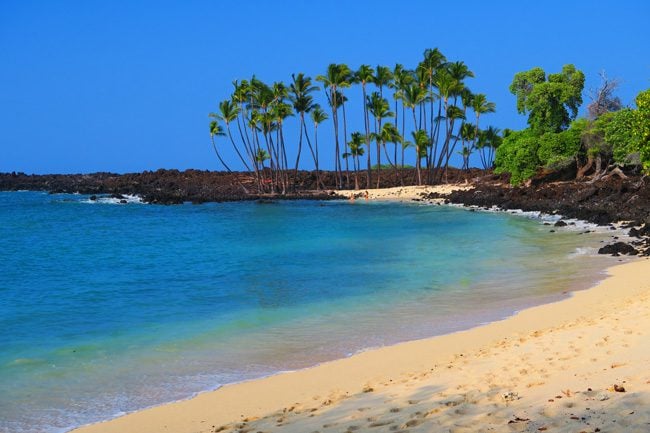 Waikoloa Beaches
The Waikoloa resort area is home to a number of fine beaches that are mostly backed by one or more large resorts. An exception to this is Hapuna Beach State Park, a beautiful half-mile stretch of fine golden sand. If you're not a resident of Hawaii, you'll need to pay a $5 parking fee and do be cautious of rough swimming conditions during periods of high surf, though lifeguards are on duty. I visited Hapuna on a very windy day when it was just brutal to stay anywhere close to the beach. However, if the seas are calm, the lack of rocks in the water makes Hapuna a perfect swimming spot and snorkeling is even possible in the rocky cove on one of its ends.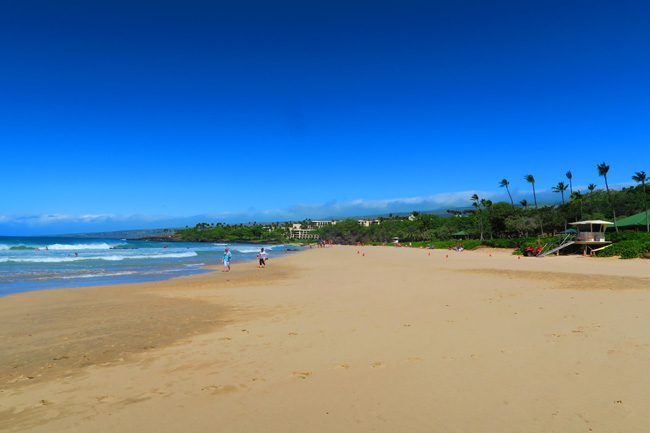 Hang Out with Sea Turtles
After catching some color and before checking out Kailua town, go for a stroll along Honokohau Beach and get acquainted with the Big Island's cutest residents – the Green Sea Turtles. The beach is part of Kaloko-Honokōhau National Historic Park and is free to enter. Just park your car at the small harbor's lot and walk past the signposted gate onto the trail.
The Green Sea Turtles are VIP residents on the Big Island – a protected species awarded with a 20ft (6m) restraining order from humans. Their favorite activity is to laze on the beach and bake in the warm rays of the sun. Visiting this beach (along with Kiholo Bay) is a sure guarantee of seeing sea turtles from up close so I recommend adding this stop to your list, especially if you are traveling with children. The beach itself is beautiful, less for swimming but more for finding your own space and pondering life's big questions. It's also a good spot for watching the sunset.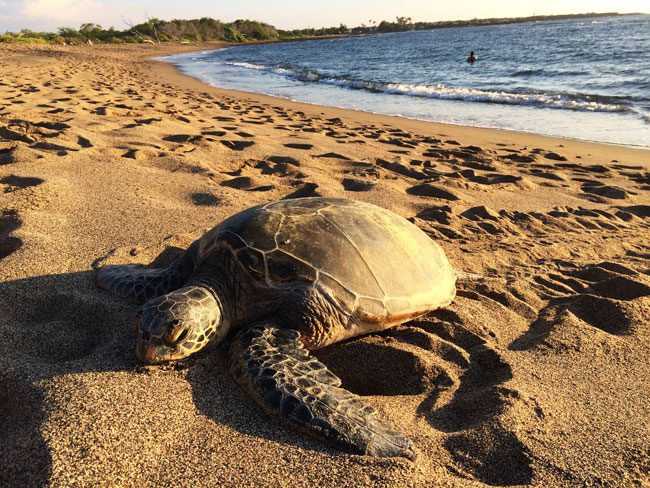 Kailua Town
The Big Island's tourist hub, Kailua-Kona is a laid-back upscale beach town definitely worthy of a visit. I loved coming down here from my mountain home in Holualoa to watch the sunset, grab a bite and a drink, and just do some people-watching. Nowadays, the town is pretty much 100% focused on tourism but it does have a deep historical significance. Kailua was the seat of King Kamehameha the Great's government prior to his unification of the Hawaiian islands.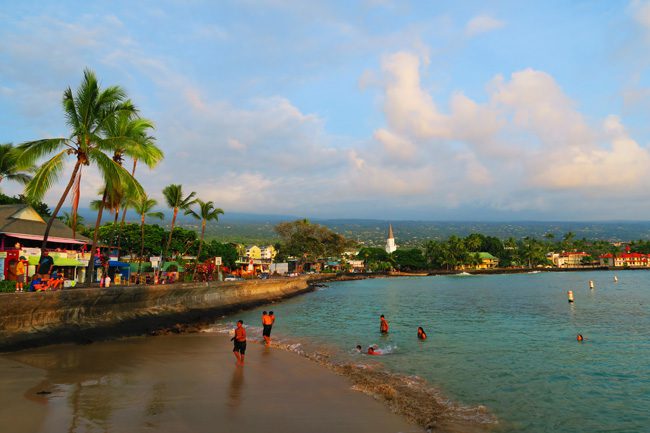 Kailua's outskirts are where you'll find your Walmart, Target and all those other wonderful American wonders, but its charm centers around Ali'i Drive – the seaside thoroughfare where you want to spend most of your time. I recommend parking your vehicle somewhere around the Marriott (near the pier) and begin strolling along Ali'i Drive.
This seaside walk offers a glimpse at local life on the wealthy Kona coast while seeing the town's main attractions and taking advantage of its dining options. Be sure to check out Mokuaikaua Church – the oldest church on the island, Hulihe'e Palace (if it's open) and its adjacent giant banyan tree, and Hale Halawai Park – a great spot for watching the sunset. You'll also pass a plethora of souvenir shops and tour operator stands.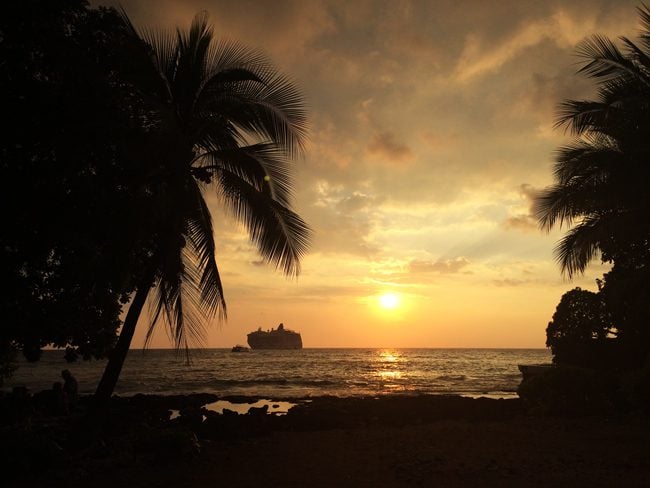 If you haven't already done so, it's time to taste Hawaii's signature dessert – shave ice! It just so happens that Kailua is home to the island's best place for shave ice – Scandinavian Shave Ice. We're basically talking about a large slab of ice that's mechanically shaved to perfection and topped by your flavored syrup of choice. It doesn't sound like much but on a warm day, you really can't beat it!
Fancy a cocktail over shaved ice? Not a problem! Head to Chill'n On The Bay and enjoy the sweet pace of life with a maitai in your hand. They do serve food as well but I recommend waiting just a bit more. Another good spot for sunset drinks is at Huggo's On The Rocks – a classic beach bar with a sandy bottom and a generous drinks menu. If you come here after dinner, there's a good chance to catch some local live music. For a real Polynesian experience, head to Kanaka Kava and experience what it was like to get a 'buzz' before alcohol arrived on the islands. Kava is a popular drink in Polynesian and Melanesian islands, a muddy-looking concoction made from the roots of a plant. When drank in the right dosage, it can lead to a wonderfully relaxing sensation (and may lead to a feeling of numbness in your tongue).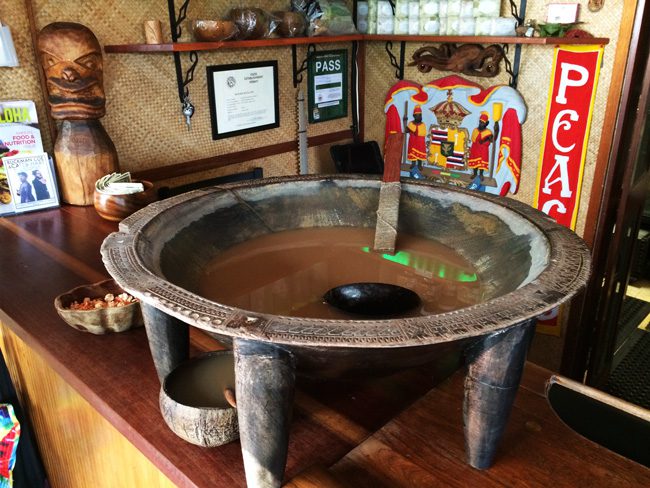 Dinner & Drinks or Luau
It's been a long day and it's now time for dinner. For a taste of great Hawaiian food, make reservations at Umeke's Fish Market Bar & Grill. It's well worth the five-minute drive from the center of Kailua, especially if you haven't already gobbled up a poke bowl – my absolute favorite Hawaiian dish. Raw chunks of fresh red tuna are marinated in a variety of yummy flavors (soy, oyster sauce, wasabi, spicy mayonnaise and more) and served on a bed of white rice that's sprinkled with spices. If beachfront dining is what you're after, make reservations at either Island Lava Java (facing the beach across Ali'i Drive) or at Huggo's On The Rocks.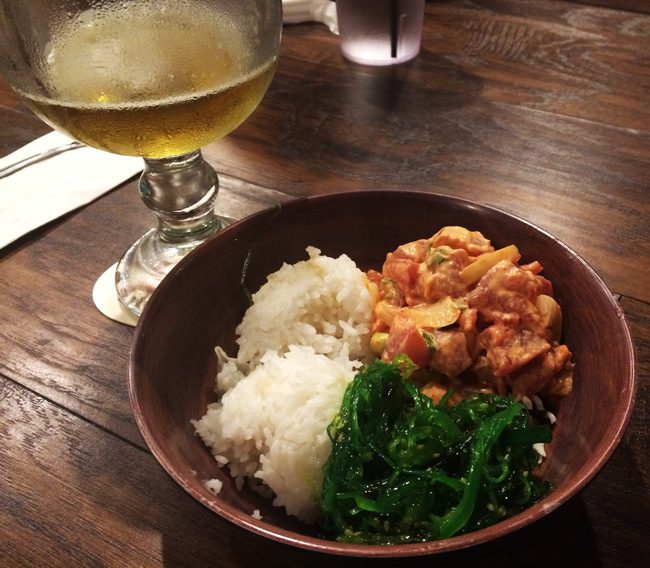 Another good dinner option is to take part in a luau and treat yourself to a spectacular Polynesian fire and dance show to go along with dinner. The best luau on the Big Island is currently the Island Breeze Luau at the Marriott. The price of admission is a bit steep, like all good luaus, and there's no way of skipping dinner and just attending the show.
Don't want to go to sleep quite yet? Head to Sam's Hideaway and hang out with real locals. There's nothing fancy about this typical small-town bar, just cheap drinks, chit-chatting with locals and, oh yeah, karaoke!