Aloha! Welcome to the Big Island of Hawaii
It's been well over a year since I left my comfortable job at Google to fulfill a lifelong dream and travel across the remote islands of the South Pacific. This magical voyage was, as expected, life changing and a real eye opener. From all the beautiful sites, star-filled nights and pristine beaches – the thing that struck me the most was a lesson I learned from Pacific Islanders themselves: fully embrace the present. Not quite ready to return to the fluorescent-lit open space and dual monitor screens filled with spreadsheets, I decided to continue my experiment with life and follow my mini obsession with Polynesia to the Hawaiian islands.
The Hawaiian Islands form the northern tip of the Polynesian Triangle – a vast expanse of ocean sprinkled with some of the most remarkable islands in the world. These beautiful islands were settled by brave Polynesians from the mysterious Marquesas Islands of French Polynesia – some 3,700 km south. The magical few weeks I spent on these remote islands fueled my curiosity to follow the path of ancient Marquesans to Hawaii – the perfect destination for my next great adventure. Inspired by the grandmaster of travel writing, Paul Theroux, I decided to take things slow this time, live as close to a 'local' lifestyle as possible, and really see what it's like to live out here. The only problem? Hawaii is SUPER expensive, even more costly than Tahiti!
Visiting Hawaii? Sample itineraries, guides to the best spots, and the must-see highlights in five islands are all waiting for you in the Hawaii Travel Guide collection. Aloha!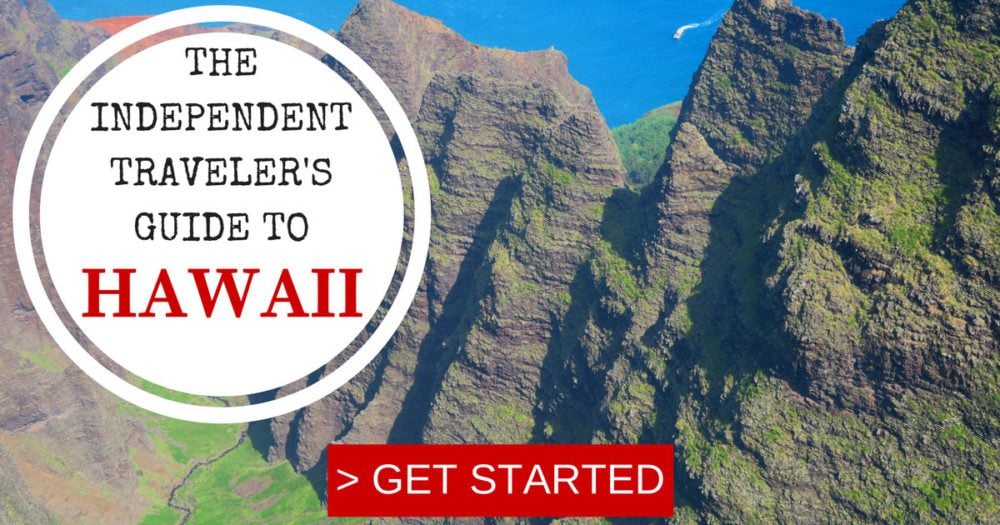 Hawaii, Tailor Made!
The Hawaiian islands are among the last places to be colonized by mankind, five main islands, each with its unique personality.
Get expert advice and assistance with planning your trip to the destination where tropical dreams come true!
After weighing a few options, I revisited my 'for future use' bookmarks folder and found a great option for achieving my travel goals on Workaway – a website that connects travelers willing to do some volunteering with local hosts from around the world. Just like magic, I found hosts Trina and Shai from the island of Hawaii – more commonly known as the 'Big Island'. And get this, Shai is originally from my hometown in Israel. What are the odds?
The Lilikoi Inn
A few years back, Trina and Shai packed their belongings and moved from Northern California to the Big Island. After years of hard work running a successful catering and restaurant business, they finally decided to 'live the life', shift into low gear and be closer to the outdoors. So they opened the Lilikoi Inn – a beautiful bed and breakfast that also doubles as a coffee farm. My timing was perfect, and after a few weeks of the usual case of resfeber and a two-day layover in Los Angeles – I found myself in Hawaii!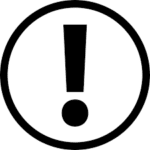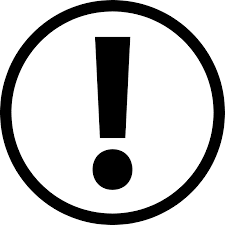 Update
The Lilikoi Inn is transitioning from a bed- & breakfast to a vacation rental (two units are planned). Check out additional accommodation options in Holualoa that can be booked online.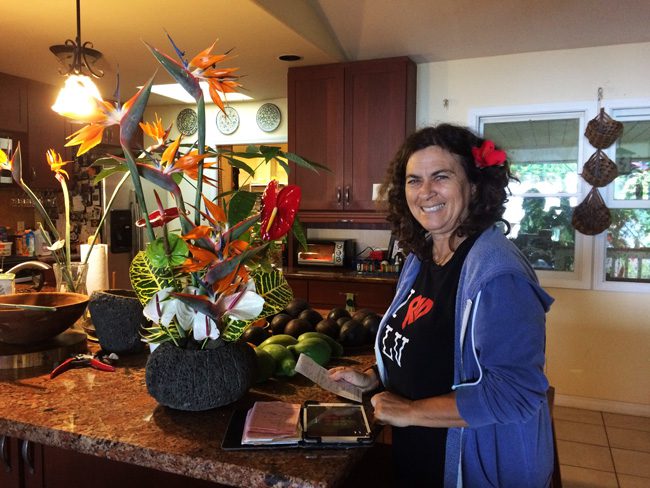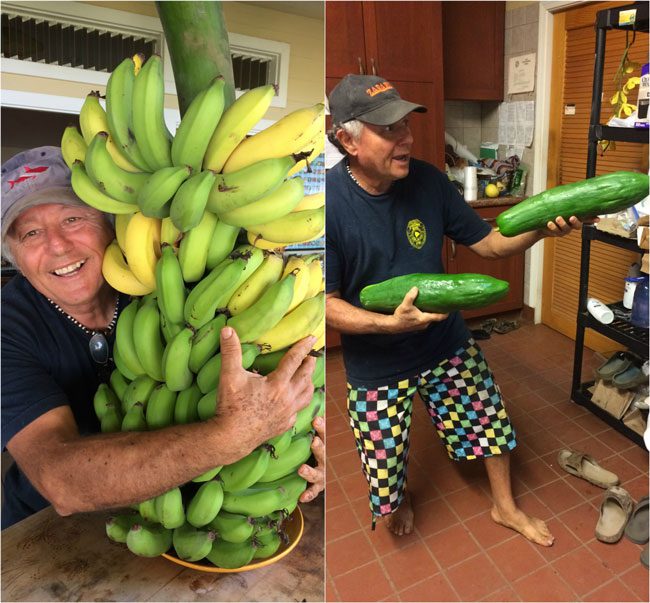 The Lilikoi Inn – my home for the next three months – is nestled on three acres of lush land clinging to the slopes of Hualalai Mountain – an active yet dormant volcano that's hard to miss from the sunny Kona coast and that is beautiful to hike to its crater-filled summit.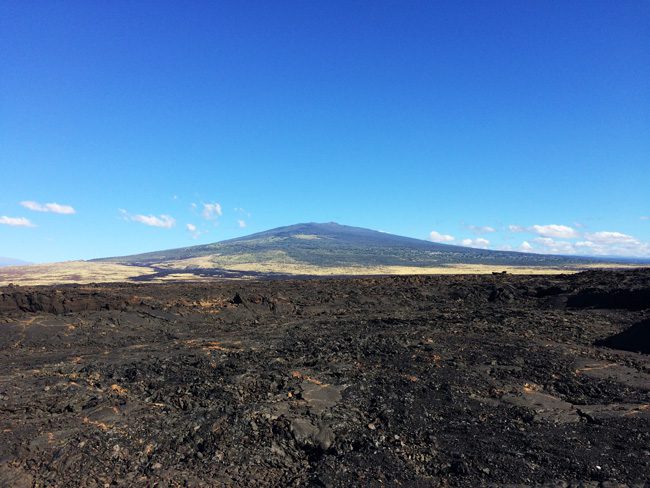 The inn is a short drive from the artist's village of Holualoa. It overlooks the endless blue of the Pacific Ocean with picture-perfect sunsets from the spacious wooden lanai and the occasional sighting of whales breaching afar. But aside from art galleries galore, the lush slopes of Hualalai offer the perfect climate for coffee growing. But not just any coffee – it's Kona coffee! Renowned across the islands and the US mainland, this coffee is full-flavored, the perfect way to wake up to another day in paradise.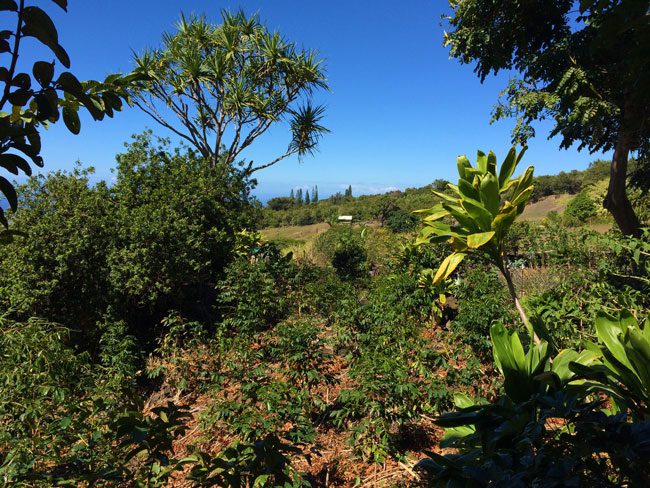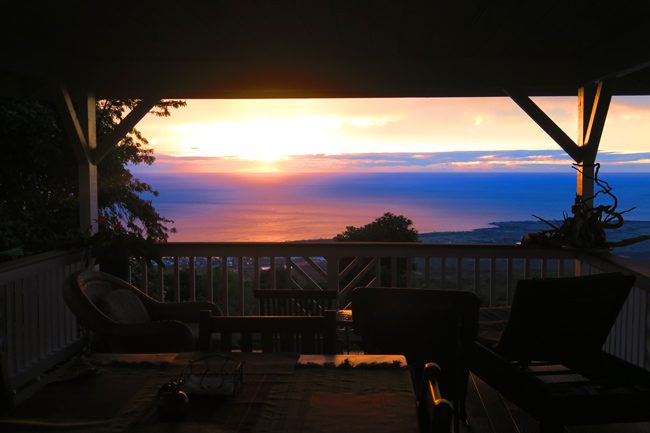 The inn is the kind of place where doors are left unlocked, shoes are not welcomed, and nature is all around you. Trina teaches English at a local public school and also takes care of HR (recruiting volunteers), reservations, accounting, and guest relations (chit-chatting over breakfast), while Shai takes care of the cooking (he's an amazing chef and baguette baker), coffee-growing, gardening and helping guests sort out their daily itineraries with the help of a huge map of the island which hangs over the lanai – by far his favorite moment of the day.
A dozen or so chickens are running around, hundreds of exotic lizards and geckos, three cats and two dogs – Izzy and Frida – though sometimes the neighbor's dog Rusty comes down the mountain to play.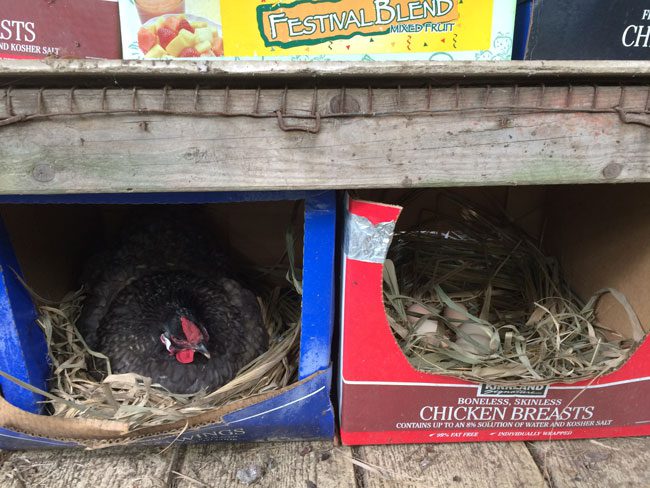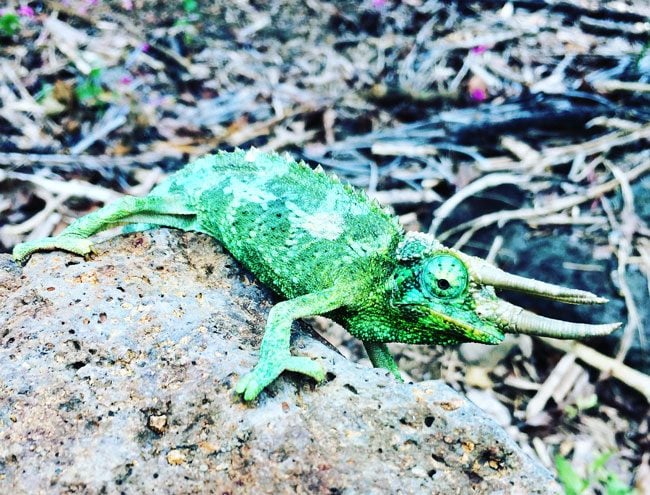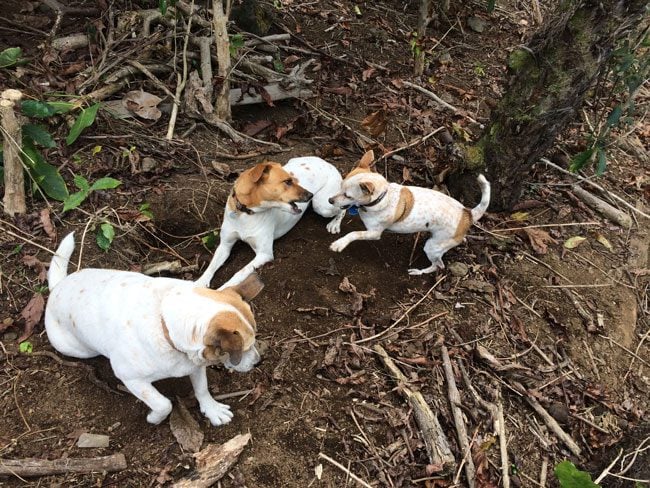 All-You-Can-Eat Guacamole
Everything seems to grow in abundance on this property. There are way more avocados than a hungry platoon of soldiers can handle, bananas, macadamia nuts, papayas, grapefruit, oranges, Hawaiian lemons (so juicy), rambutan, and I'm probably forgetting plenty more. Oh, and in the vegetable corner, there's enough variety for a week's worth of salads without getting close to boredom.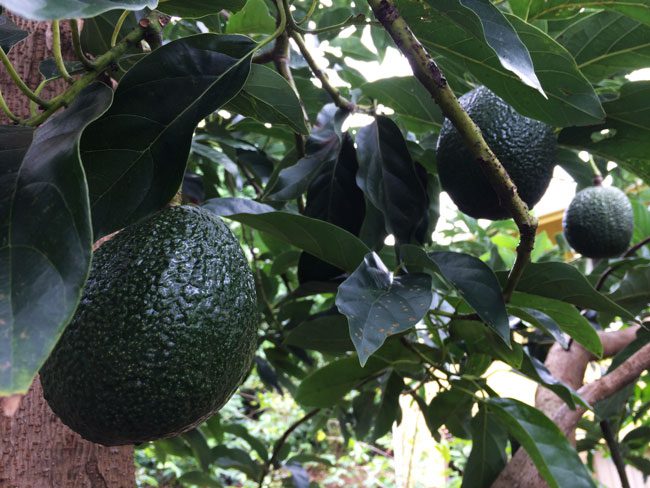 But without a doubt, the flora department's superstars are the lilikoi and coffee.
Lilikoi – Hawaiian for passion fruit – is falling off the trees here. They don't call it the Lilikoi Inn for nothing. But it's not just any passion fruit; it's the yellow kind – the best kind, believe me (that was a Trump reference). Growing out of a beautiful flower, lilikoi is collected by the hundreds each week and used in breakfasts and bartering at the local market for other goods. In Hawaii, money literally grows on the trees!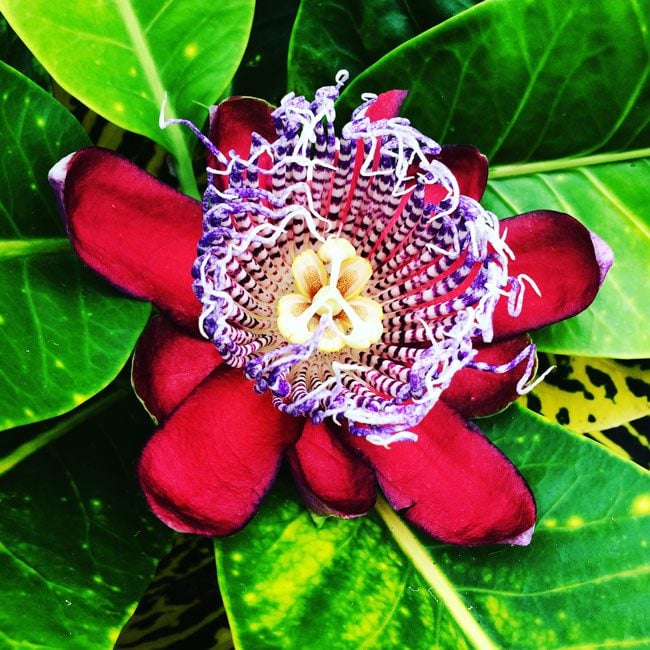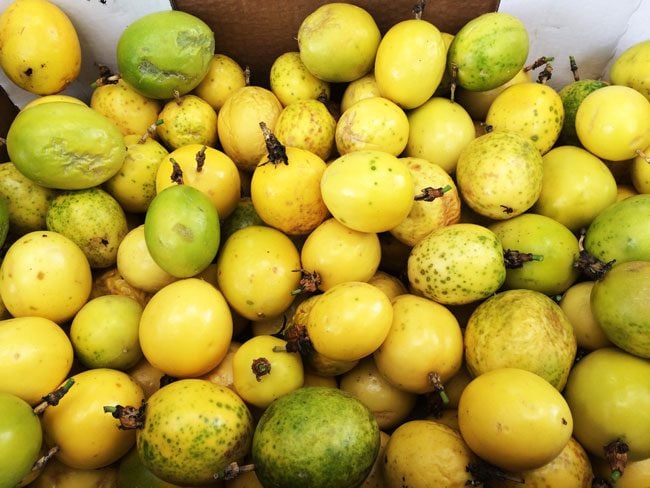 The main ticket is undoubtedly the locally grown coffee, served in abundance during breakfast until all guests are fully awake. The property is scattered with plots of coffee trees that I'm only now figuring my way around. Getting the coffee from tree to cup is a very hard and manual process, hardly what comes to mind when sipping on a latte. Without going into the hours of tending to the actual trees, volunteers manually pick ripe cherries and collect them in large buckets. They are then pulped to extract the beans, sun-dried for a week or so, and then roasted and bagged. This year was a particularly good harvest, and drying had to be done on a friend's tennis court further down the mountain, where it's sunnier.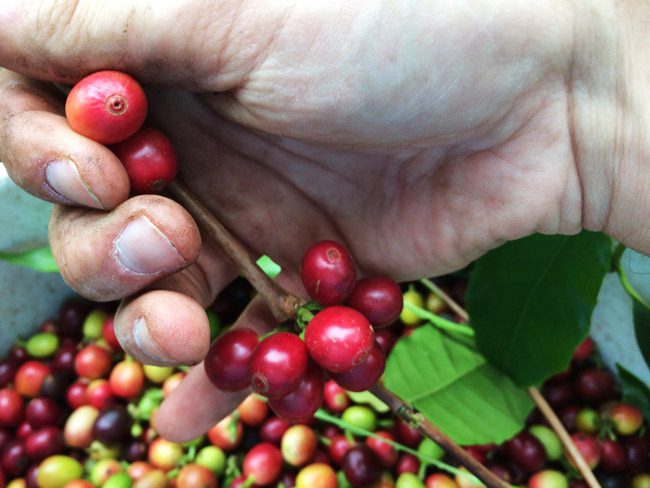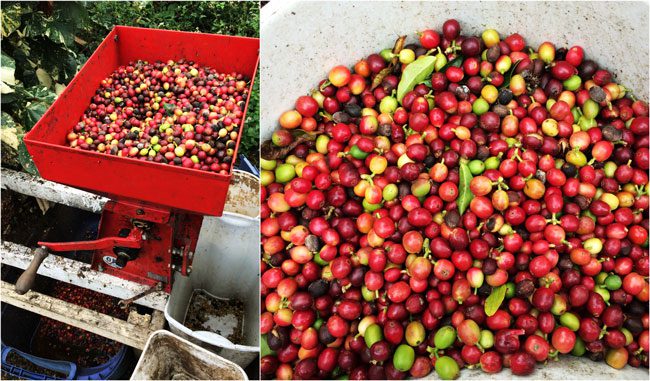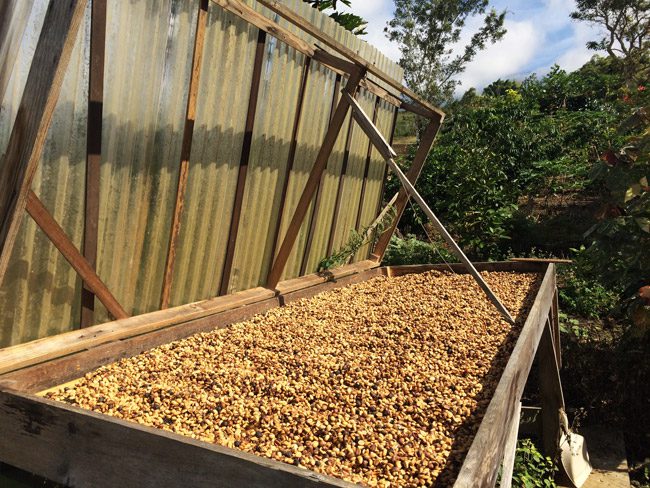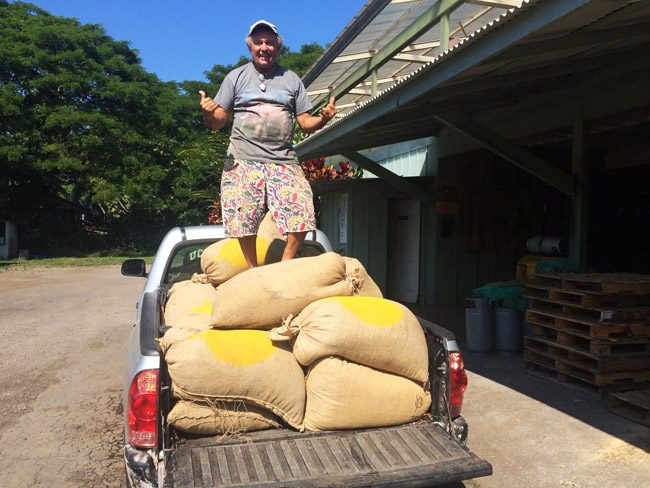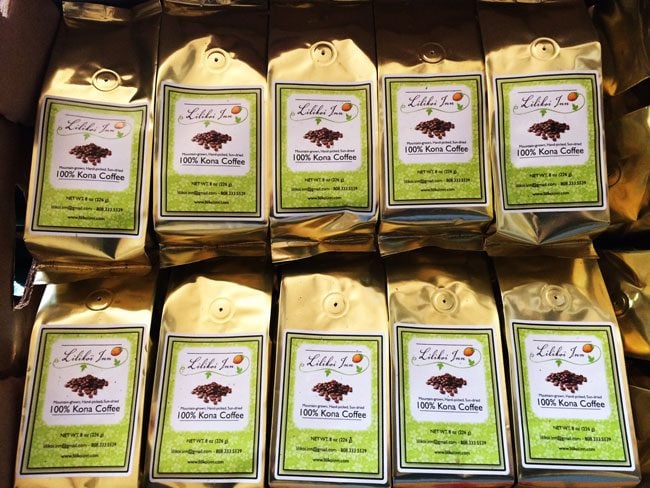 It helps to have good neighbors and friends, and in Hawaii, friends seem to form this invisible social safety net that replaces the need for paying for a lot of things like we do back home. Everyone seems to have a mechanic friend, a friend with extra avocados, an electrician, a hula dance teacher, and, you get the point.
Moana, My Savior!
During weekdays, I work for five hours to the tune of Hawaiian music on the stereo, birds singing, and chainsaws in the distance. In exchange, I have a comfy room at the inn, all the food I can eat, and most importantly – weekends off.
But there's another problem: they don't call it the Big Island for nothing!
To get around the island, I bought this 2005 Suzuki Vitara. I named her Moana – Tahitian for big ocean. With the help of Moana, I am free to hit the beach after work and do some serious road-tripping and hiking over the weekends.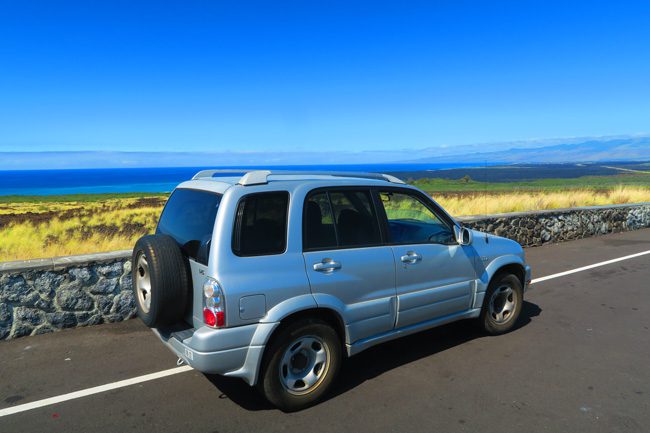 Big Island 101
The Island of Hawaii (a.k.a the Big Island) is so big that all the other Hawaiian islands could fit in it with plenty of room to spare. It is the youngest island in the archipelago, home to five volcanoes, including Kilauea, which has continuously erupted since 1983. The Big Island is big, and it is getting bigger by the minute as lava keeps pouring into the ocean as you're reading these very lines.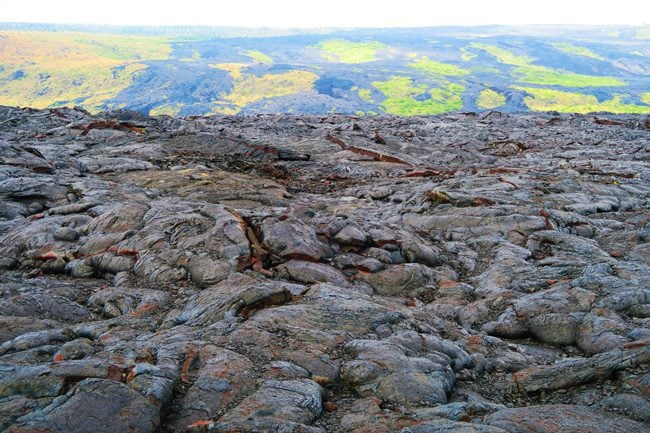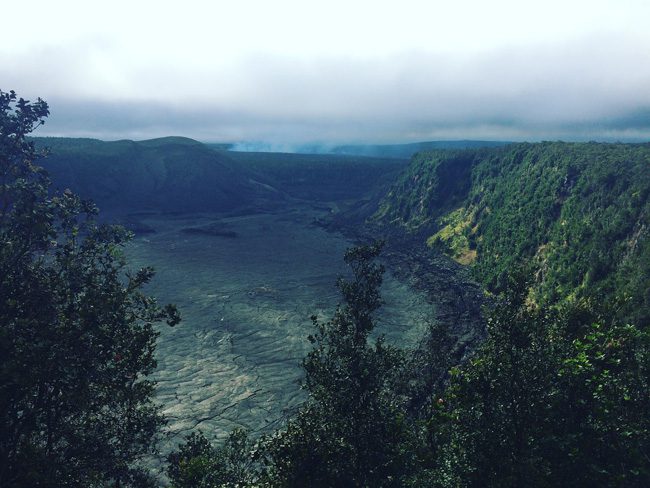 Out of thirteen climate zones found on our planet, eleven can be found on the Big Island. So you can start your morning with some snorkeling off the coast, spend the afternoon hiking in a rainforest and finish things off with some stargazing on a snow-capped mountain. This island is beautifully unique and a remarkable place to live on.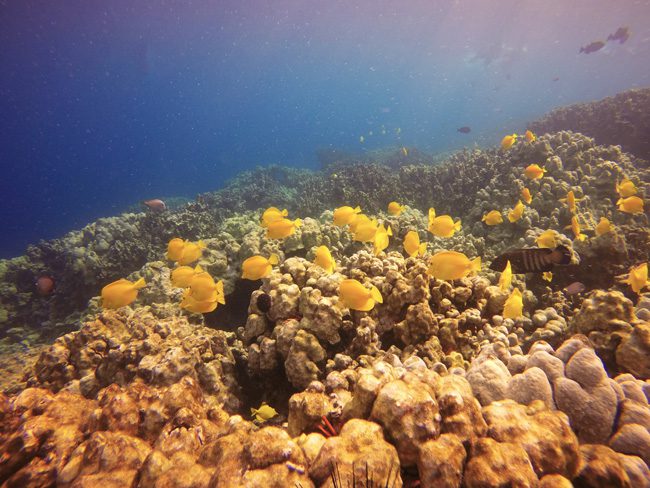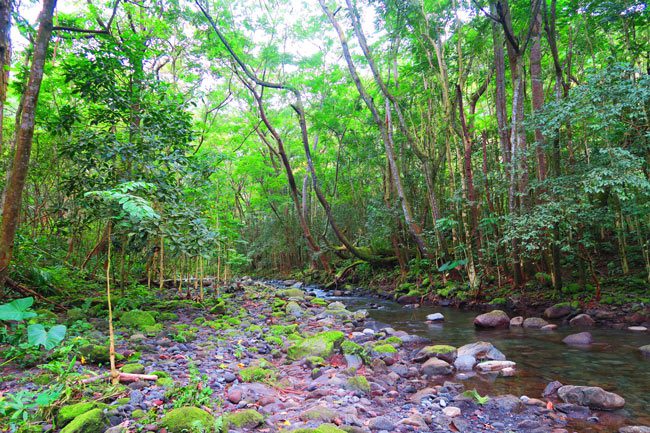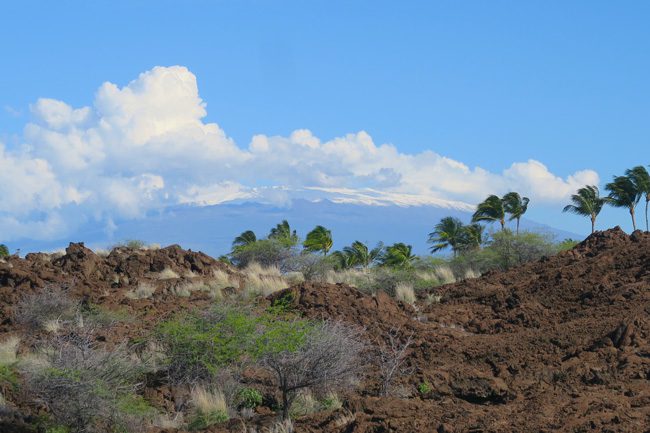 And speaking of mountains, towering above them all is Mauna Kea. If measured from the ocean floor, Mauna Kea is the world's tallest mountain, even taller than Mount Everest! Its thin-aired summit is usually free of clouds and always free of light pollution, making it the perfect place for watching the heavens. In fact, Mauna Kea is home to the largest collection of high-powered telescopes, where scientists from around the world watch the night sky in search of 'that something'.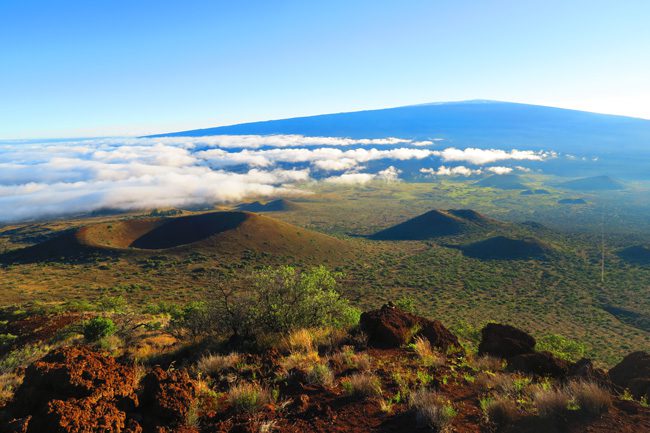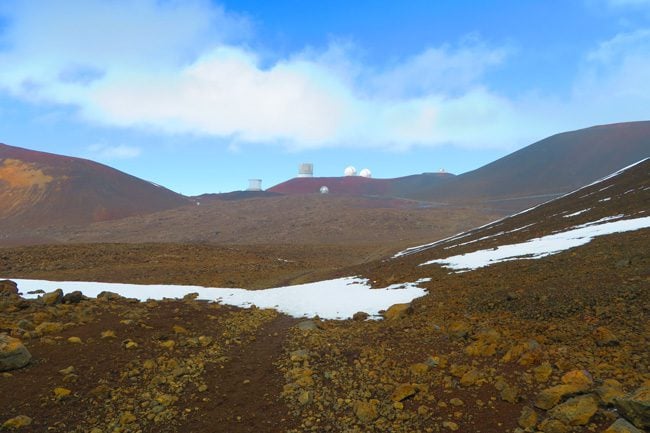 All these enormous mountains create very interesting weather patterns on the island.
Kailua vs. Hilo: Sun vs. Rain
Over on the east coast, it's almost always cloudy, wet, and humid. It's where you find pristine rainforests, waterfalls, deep valleys, and Hilo – the largest town on the island, an authentic place where hippies, farmers and native Hawaiians all mix.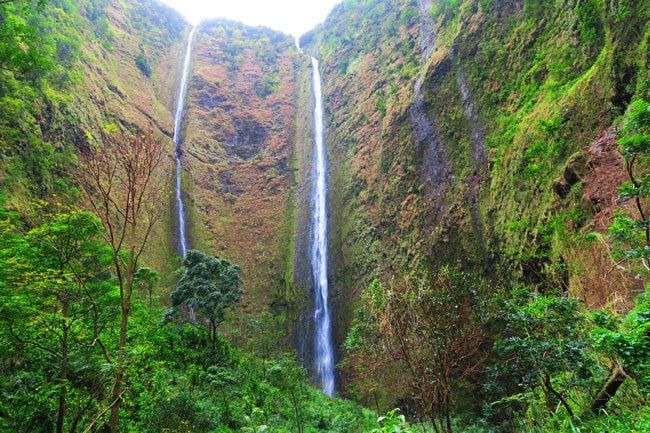 In sharp contrast, the island's west coast is almost always sunny and dry. It's where whales like to breach, where coffee is grown, where you find the best beaches, and the charming little town of Kailua-Kona – a magnet for tourists, sunset-lovers, and the complete opposite of Hilo in terms of vibe.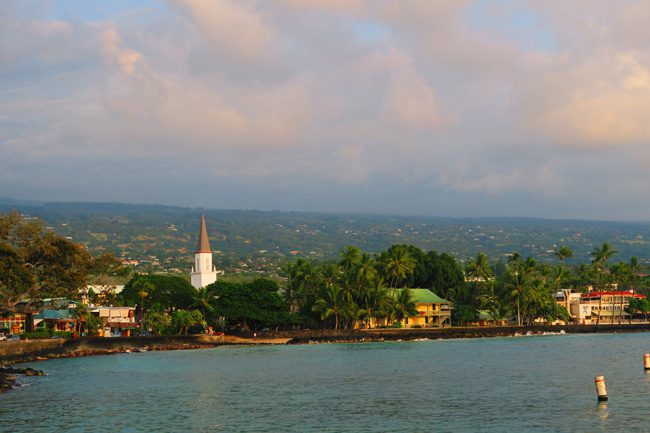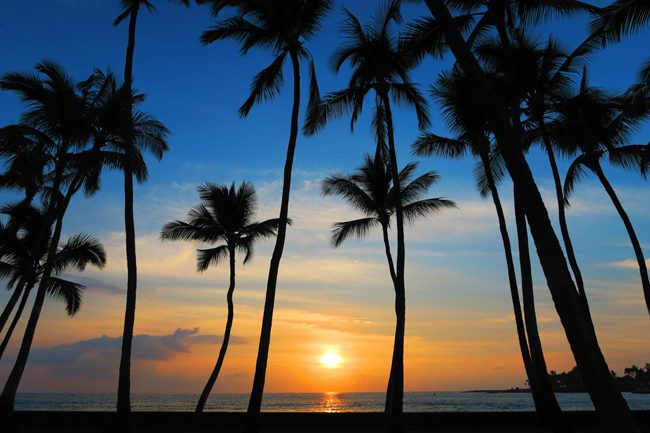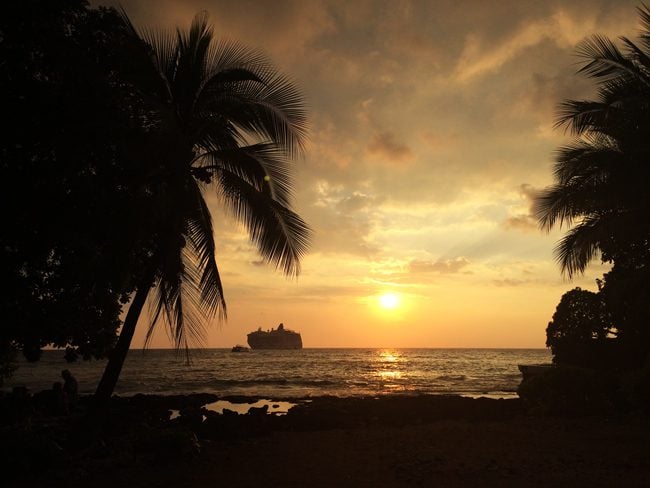 What About the Beaches?
And speaking of beaches, there are plenty of those. What do you fancy: white sand, black sand, salt & pepper sand, or perhaps green sand? While the Big Island's beaches are not comparable to the South Pacific's, they are beautiful and perfect for after-work hours or lazy weekends.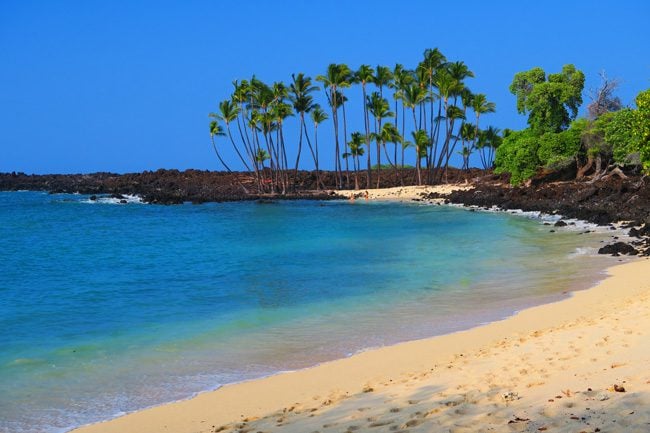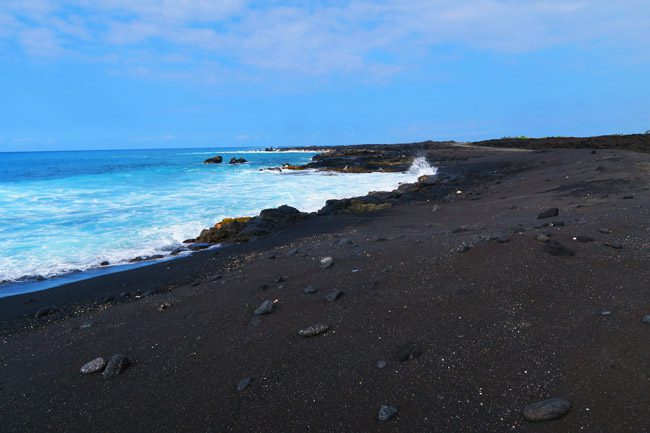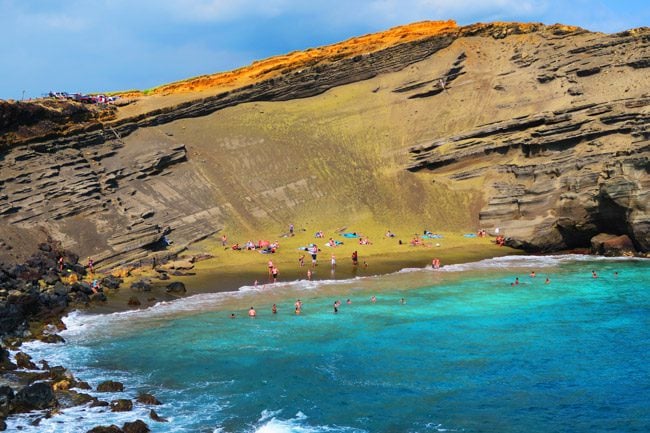 Aside from avid surfers, the beaches' most exciting residents are, without a doubt, the green sea turtles. These cute little guys just love tanning on the beach, occasionally putting in some effort and scrubbing themselves with the sand.
America vs. Hawaii
What about the vibe? Well, this massive chunk of land is only shared by about 185,000 people, of which only 12% are somewhat native Hawaiian. There's definitely a very American feel to the island, much more than in the remote US territory of American Samoa. Wal-Mart and Costco are never too far away, and commercials and 'special sales' are always on the radio. But people here never miss an opportunity to greet each other, nobody honks their horn, and there's a general sense of aloha (also meaning love) being shared.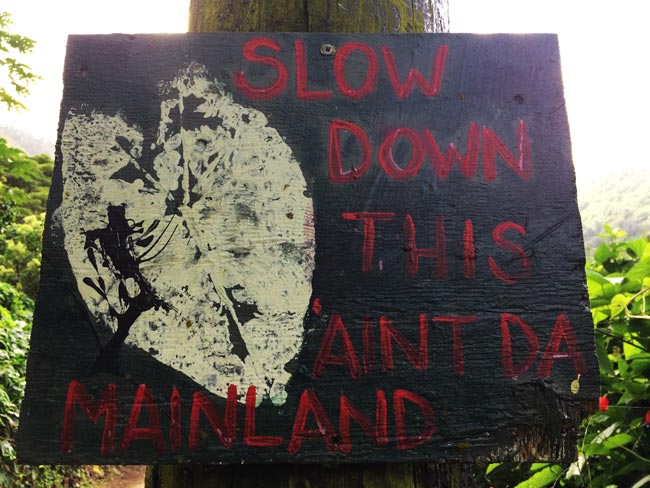 And the food? My favorite dish is poke: chunks of raw tuna or other fish marinated to suit all tastes and served with a side of rice and seaweed salad. Spicy wasabi takes first prize, in my opinion, but this question is probably as disputed over here as the Middle East peace process is back home.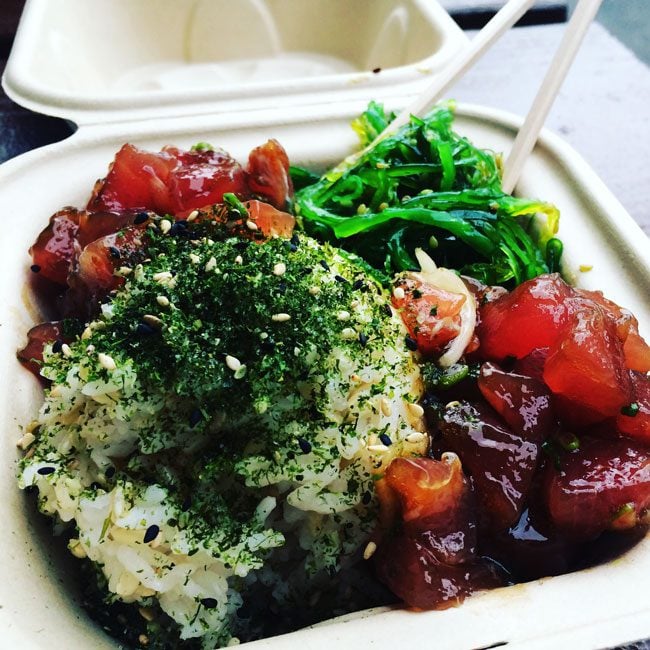 The End of the World
Looking back, the Big Island was settled hundreds of years ago (if not more) by Polynesians, who gave the island a name that sounds very familiar to the wild Samoan island of Savaii, which I visited in 2015 (Hawai'i is pronounced ha-va-i). The great Captain Cook was the first European to set foot on the island in 1779, and it is also where he was killed in what is now regarded as a 'huge misunderstanding' with the native Hawaiians who greatly respected him. The Island of Hawaii is also the home of King Kamehameha the Great, the skillful statesmen and ruthless military chief who successfully 'united' the Hawaiian Islands under his rule and took his seat of power in what is today downtown Kailua-Kona.
King K is kind of 'da man' around the island. He's got schools, roads, shopping plazas, and probably even a clothing line named after him. His son, Kamehameha II – credited with forever breaking the ancient and rigid kapu code of behavior – clashed with his rival cousin's army in a beautiful spot not too far from town, named 'The End of the World'. Rock structures, remnants of the battle, are still all around as wave after wave pound the volcanic sea cliffs.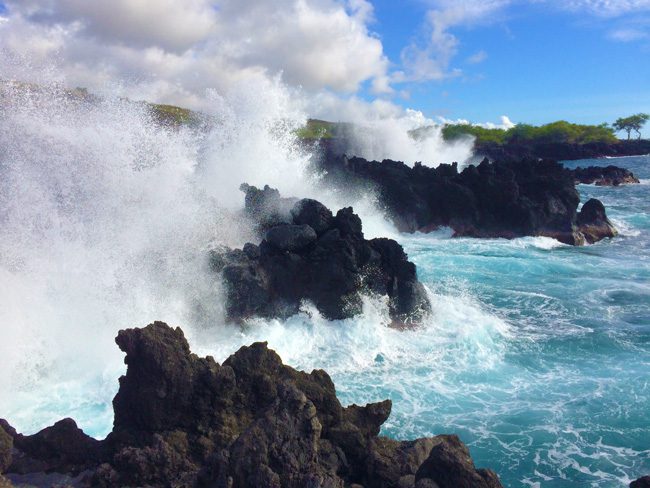 What's Next?
Over the next few weeks, I'll share the unique sites of the Big Island, starting with the Big Island's stunning valleys. After that, we'll explore the rest of the Hawaiian Islands, some more familiar and some less.
For now, Aloha from the Big Island and E Komo Mai – welcome to Hawaii.
Visiting Hawaii? Sample itineraries, guides to the best spots, and the must-see highlights in five islands are all waiting for you in the Hawaii Travel Guide collection. Aloha!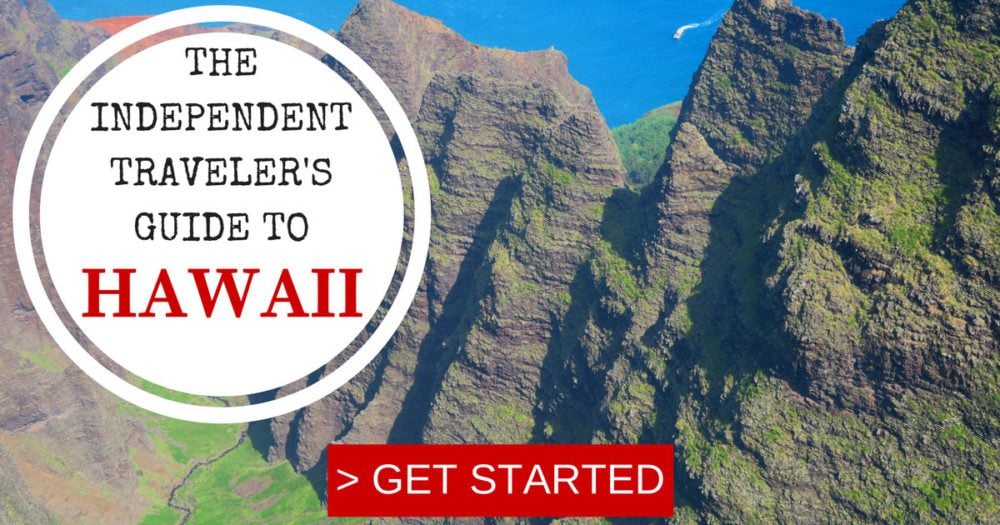 Hawaii, Tailor Made!
The Hawaiian islands are among the last places to be colonized by mankind, five main islands, each with its unique personality.
Get expert advice and assistance with planning your trip to the destination where tropical dreams come true!