Welcome to beautiful Samoa, not only one of the most interesting tropical destinations you'll ever visit, but also one of the prettiest. I spent nearly a month in Samoa while backpacking across the South Pacific Islands. Here's a 5 days in Samoa sample itinerary that focuses entirely on Upolu Island. In such a short vacation, I wouldn't recommend trying to squeeze in Savaii as well.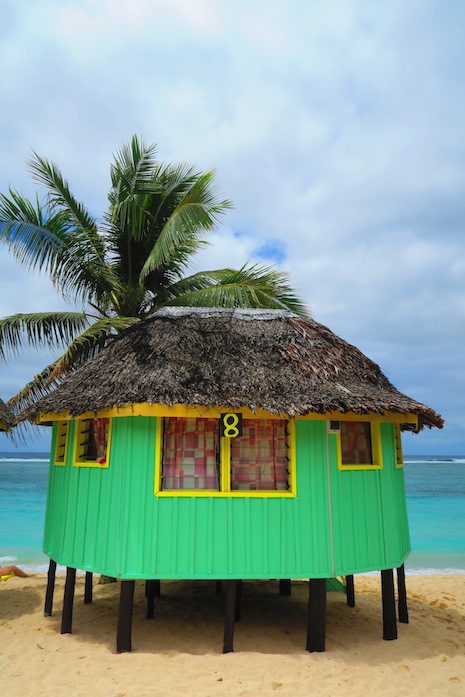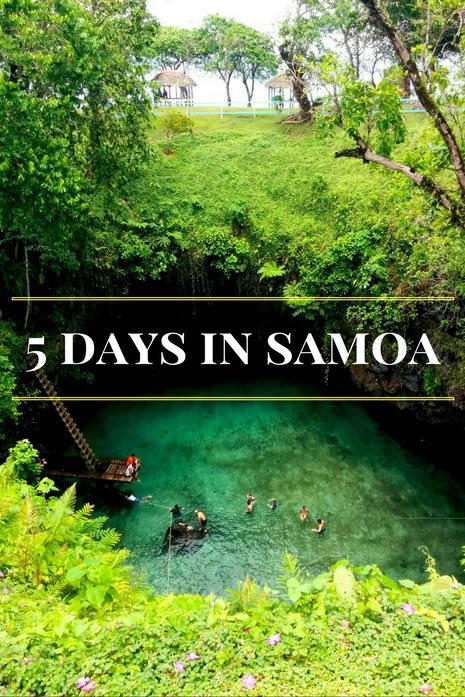 Pin These Photos To Your Favorite Boards
Before we begin, since you're only spending 5 days in Samoa, it's worth renting a car starting from day 2. With prices starting at T120 per day (discounts for long rentals are possible), AA Rentals will drop the car off at your Apia hotel. You totally can use a bus to get around Samoa, but it will be difficult to see everything mentioned in this sample itinerary within the allotted time. Also note the entrance fees at almost every stop, a normal occurrence in Samoa as most land is historically owned by villages. Lastly, if you're staying at beach fale accommodations, breakfast and dinner are almost always included in the price.
Visiting Samoa? Start planning your trip with the Samoa Travel Guide, filled with essential planning tips and in depth information about all the highlights mentioned in this sample itinerary.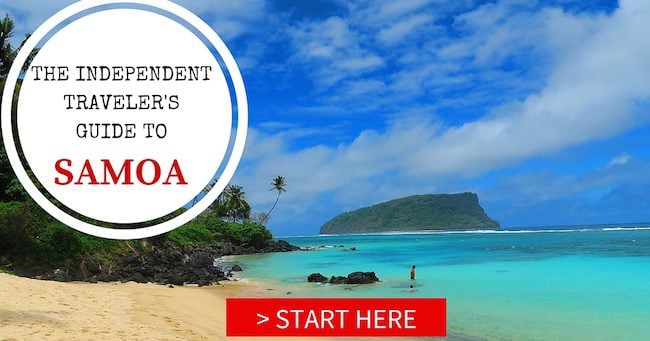 5 Days In Samoa Itinerary Map
Click on the image to open in Google Maps: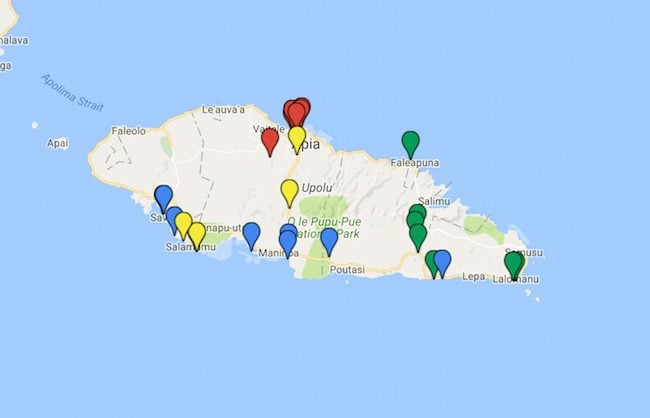 Day 1: Apia
Where To Stay?
I loved the centrally located Talofa Inn so much, that I stayed here on two separate occasions. This bed and breakfast offers clean and air conditioned rooms, a tropical breakfast and it really feels like your home away from home. Here's a full review of the Talofa Inn and other recommended accommodations in Upolu.
Morning
Start your first day in Samoa down by the waterfront at the fish market. For the best experience, aim to arrive early in the morning to watch the fishermen unload the nightly catch of yellowtail tuna, lobsters and crabs.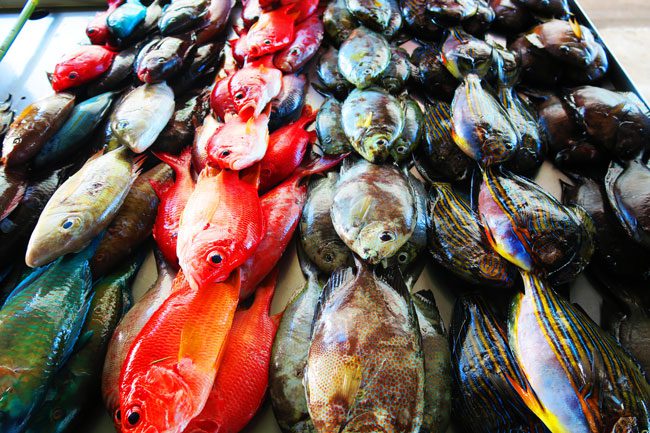 From the fish market, walk to the Mulivai Catholic Cathedral via the clock tower at the bottom of Vaiea Street (also known as the WWII memorial). Position yourself in front of the cathedral just before 9am, this is very important!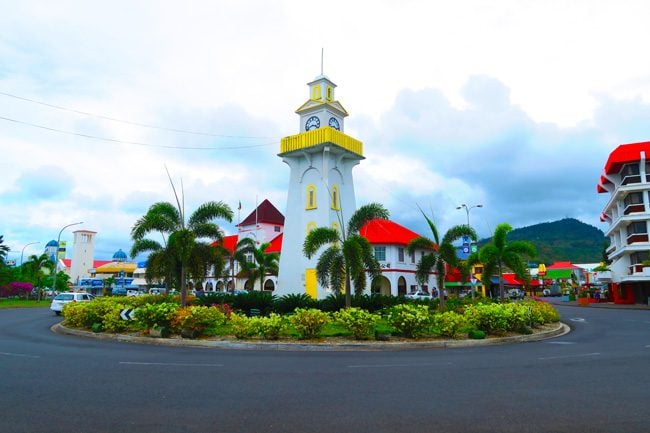 Every weekday morning at 9am, a siren signals the start of the Samoa Police Band's flag raising ceremony. They proudly march from headquarters to the grassy field behind the clock tower, wearing lavalava skirts and displaying patriotic love for their beloved Samoa.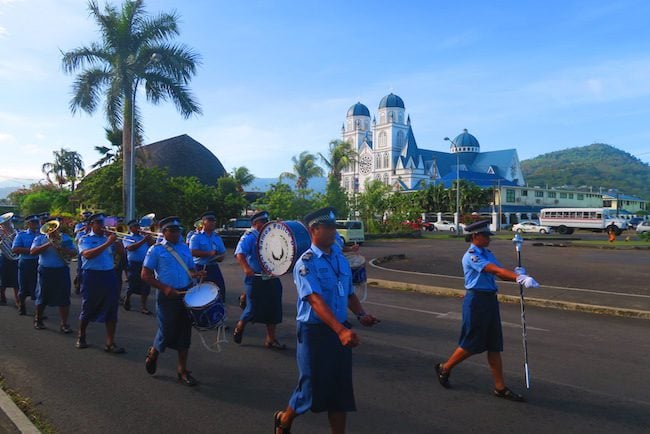 When the show wraps up, enter the cathedral and wander around its impressive interior. If you just happen to be in Apia on a Sunday, I highly recommend joining morning service whether you're a believer or not. The attire, the singing and the strong sense of community are a souvenir of Samoa to take back with you for eternity.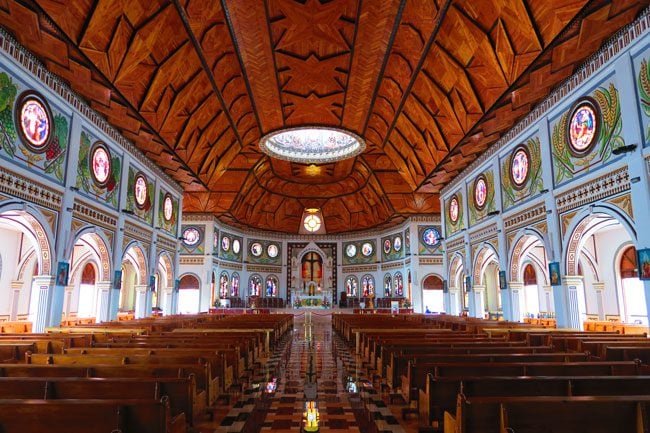 Staying in the same area, head to the Samoa Cultural Village for a 10:30am free tour that's not to be missed. The two hour village tour is guided by Samoans that are as real as they come, with men sporting traditional tattoos and hibiscus spicing up women's hairdos.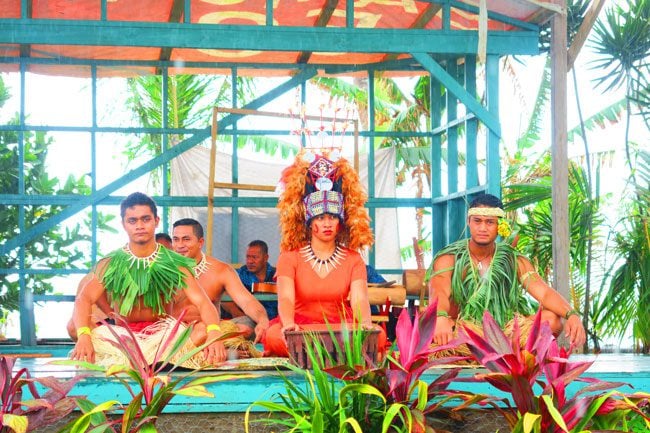 The tour will take you through various stations such as: traditional food preparation in an earth oven (umu), an ava (kava) ceremony, a beautiful dance show, tattoo, woodworking and siapo making (tapa cloth). Along the way, you'll learn about fa'a Samoa – the Samoan way. This traditional code of behavior and social structure is the backbone of Samoan society.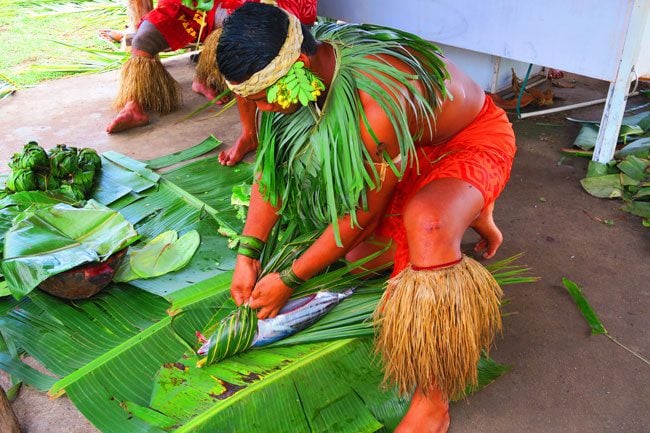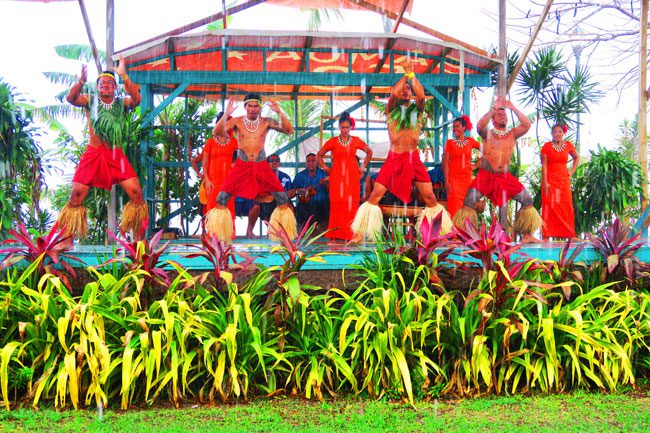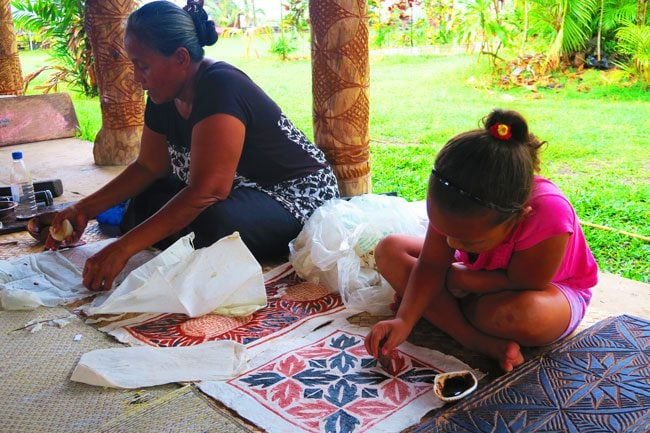 The informative and interactive tour will put the rest of your visit to Samoa in the right context. Lunch is included and you can purchase Samoan art directly from the artists at bargain rates.
Afternoon
Walk from the cultural village to Samoa's main market – the Maketi Fou. An oasis of tropical fruits and vegetables from around the island, if you're still a little hungry, you can buy ready to eat taro, breadfruit and palusami and really act like a local.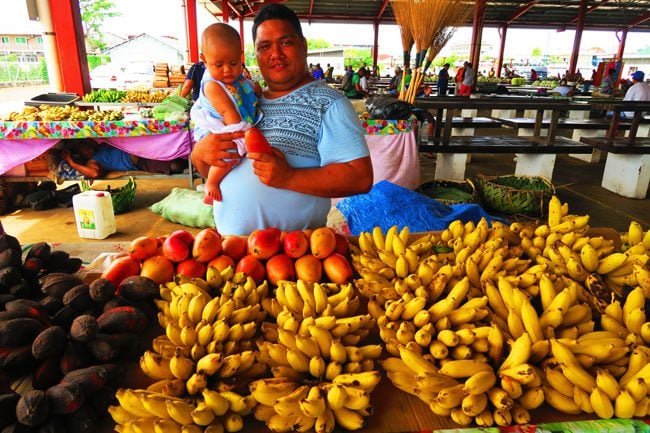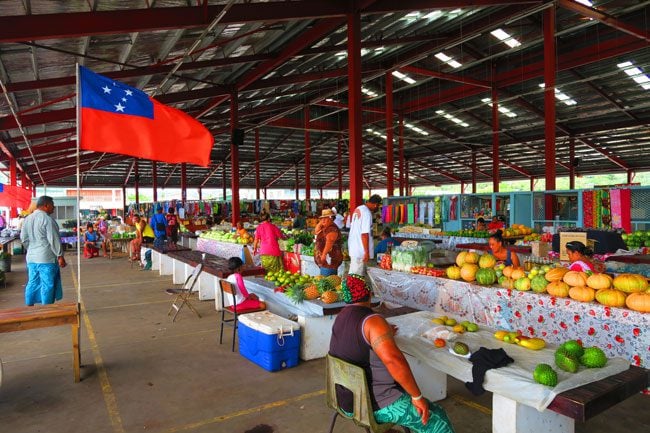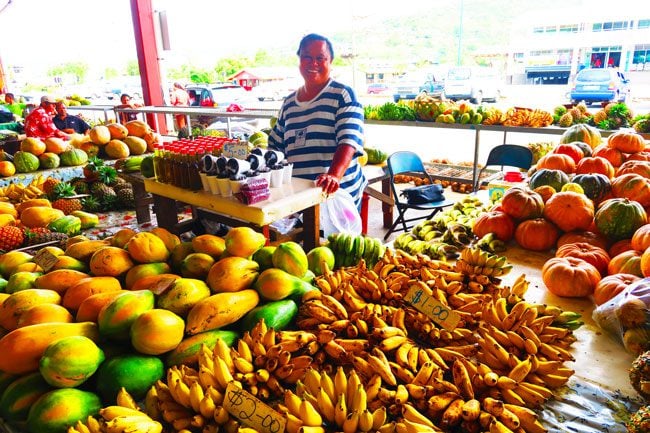 Now is the perfect time to head to Apia's third market – the flea market. This covered market is the best place to buy Samoan souvenirs, sarongs and island fashions. You'll get here just in time as school wraps up and students flock the market's food court for a greasy snack before catching the bus back to their village.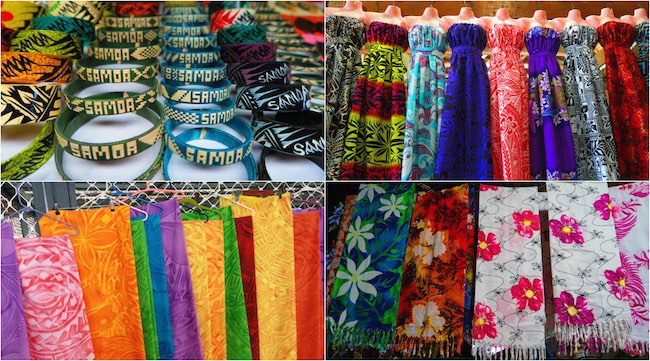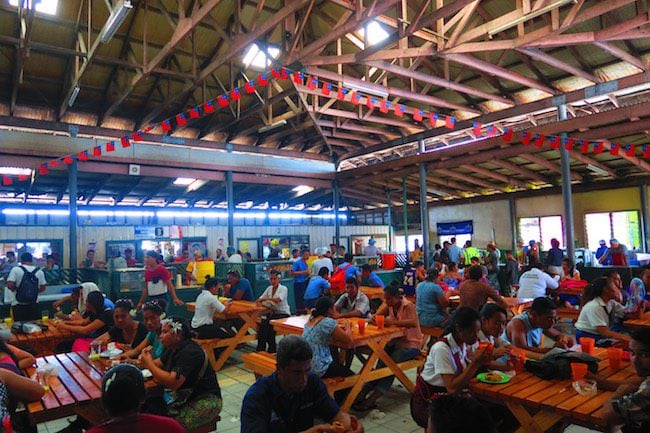 Walk across the road towards the central bus station. Samoan busses are an attraction on their own and a great way to not only get from point A to B, but also to discover yet another layer of Samoan culture. Busses are totally pimped out, always with music blasting and if you ride one of these, you'll witness the unique seating etiquette that demonstrated just how well Samoans get along with each other.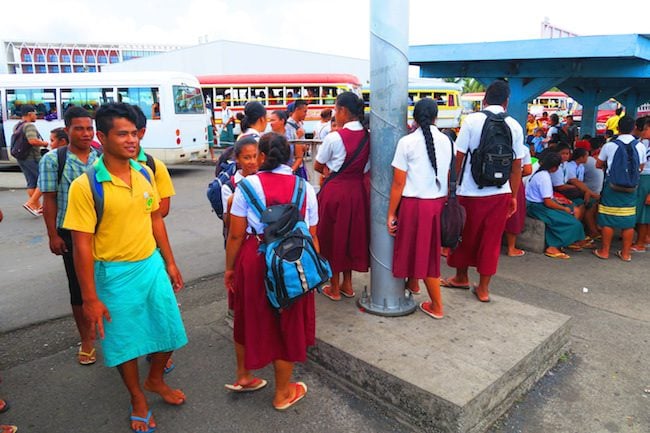 The last highlight of the day is in the outskirts of town but I guarantee you'll love it… that is if you feel like getting wet. Take a taxi or bus to the Papaseea Sliding Rocks (T20 entrance). As its name suggests, the purpose of your visit is to slide down the smooth volcanic rock down to the pool. Just check water levels before sliding down, as it can be a bumpy landing in the dry season.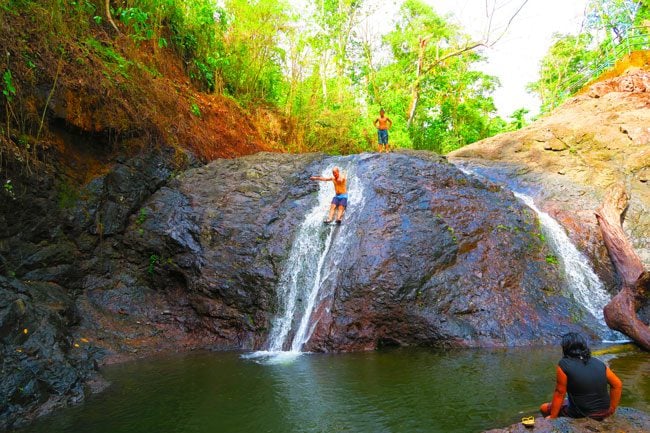 Alternatively, you can walk along Beach Road for awesome views of Apia. The road will eventually lead to the Palolo Deep Marine Reserve where the best snorkeling in Samoa can be found. In any case, the road is also where you'll find the Seafood Gourmet Bar & Grill and Cocktails On The Rocks, great options for dinner and drinks.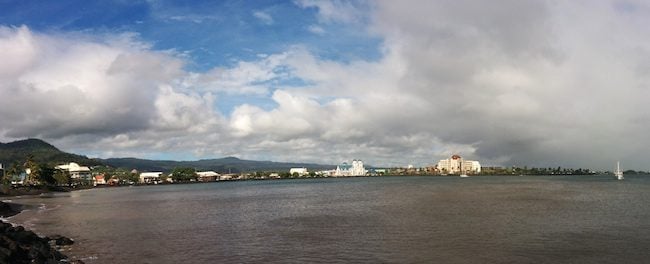 Day 2: Island Tour & Beach Fale
Check out of your Apia hotel and embark on a small island road trip. Today will take you to natural pools and waterfalls in Upolu before checking into your beach fale accommodation right on the beach.
Morning
Getting out of Apia, drive on the Main East Coast Road to the Piula Cave Pool (T5 entrance). The road actually runs along the north coast of the island so the name is a bit confusing, I admit. Aim to reach the cave pool early in the morning before 10am. Why? The incredibly transparent water of this pool will be fully appreciated when there's nobody else around. The natural pool is fed by water trickling from the highlands and its residents include weird looking silver fish and even eel. Here's what it feels like swimming in the Piula Cave Pool. Pure magic!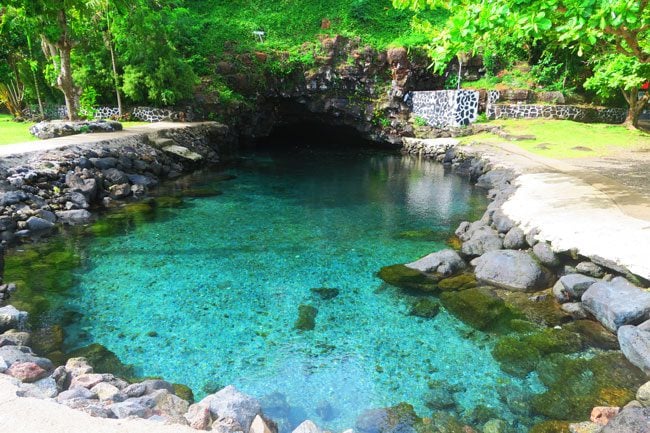 The coastal road then turns into the Richardson Road, eventually leading to the Le Mafa Pass. This scenic road cuts through the mountains and offers sensational views of a lush valley that meets the blue ocean. On a clear day, it's that 'classic' tropical island view you had in your mind when booking the trip to Samoa.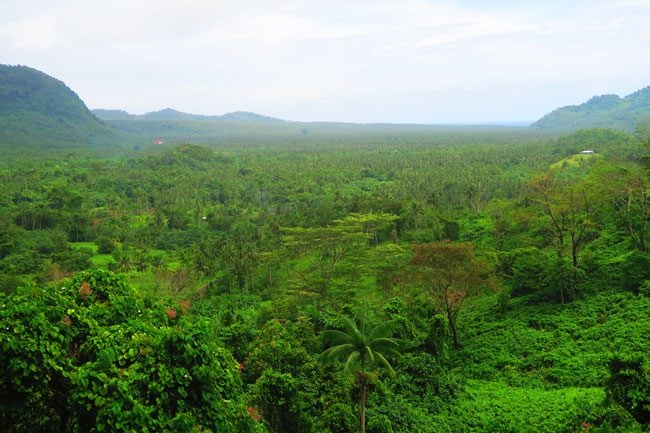 Continue on the Le Mafa Pass road to the Fuipisia Waterfall (T7 entrance). Park the car and walk along the trail that eventually leads to the very top of this 55 meter high waterfall. The views from up here are scary and exhilarating, offering a close look nature's awesome forces at work.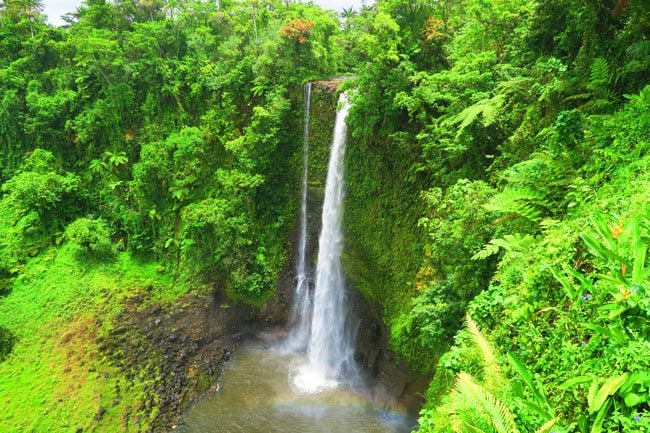 A little further down the road is my favorite waterfall in Samoa – The Sopoaga Waterfall (T10 entrance). Secretly emerging from the jungle, the waterfall magically cascades from one pool to another before feeding the river. The lush vegetation around leaves no margin of error for your thoughts – this must be what paradise looks like!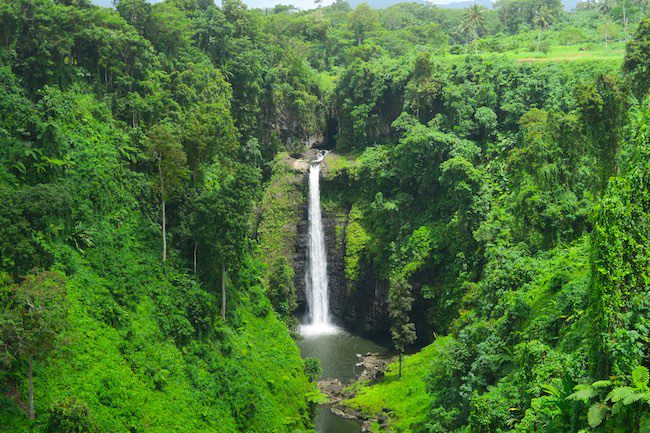 Afternoon
At the fork in the road, head east on the south coast road to the To-Sua Ocean Trench (T20 entrance). This natural swimming hole is the face of Samoa in travel brochures and lists of places to visit before you die (so here's your chance).
Out of a seemingly flat grassy surface, two sinkholes are connected by a lava tube, one of which is filled with aqua blue waters delivered straight from the nearby ocean. Bravely step down the ladder and float for as long as you want in this magical swimming pool.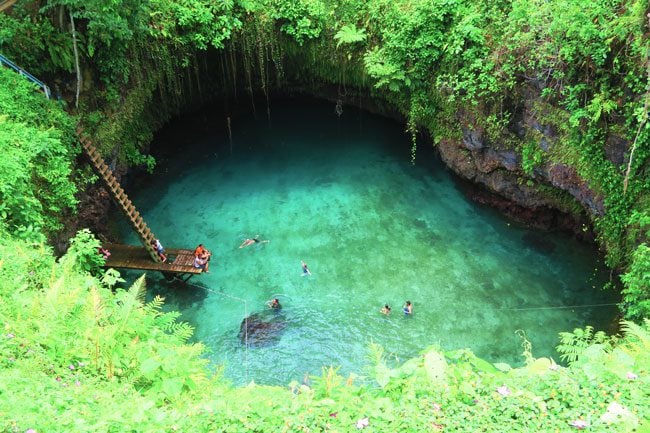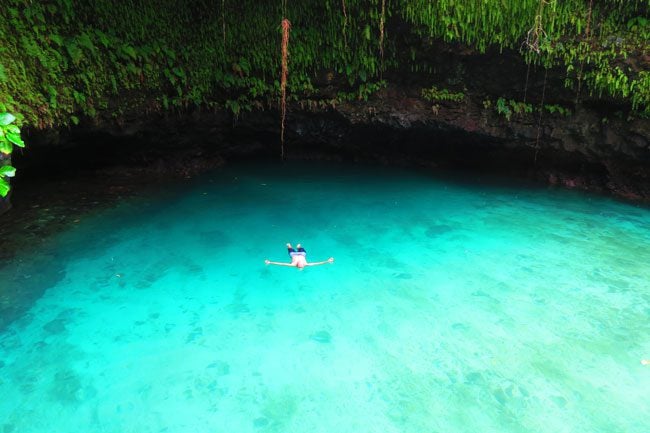 When you've had your swim, climb back up and walk down the path to the tide pools. There are awesome views of the rugged coastline from here and back up at the top, you can enjoy a picnic lunch (just bring your own).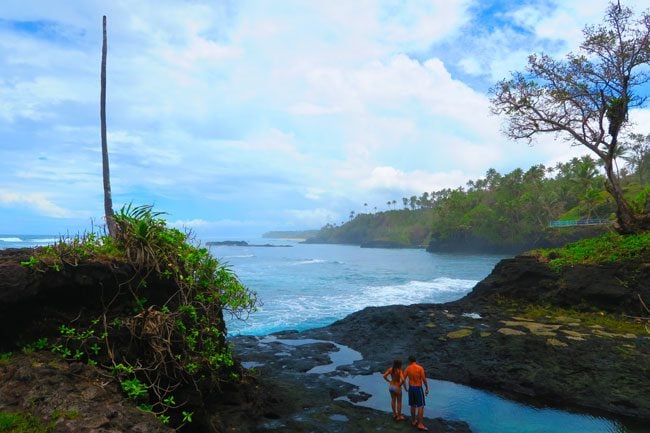 Back in the car, it's a quick drive to Lalomanu Beach, where you'll either check into the backpacker friendly Taufua Beach Fales or the more upmarket Litia Sini's Beach Fales. These charming beach huts are literally right on the beach and with breakfast and dinner included in the price – this is quite a bargain. Both options are reviewed in this article in greater detail.
Evening
Lalomanu Beach is super popular with visitors to Samoa and for a good reason. On Wednesdays and Saturdays, Taufua Beach Fales hosts a Polynesian dance and fire show that's not to be missed (donations expected). Here's what the dancing looks like and here's a glimpse of the amazing fire show.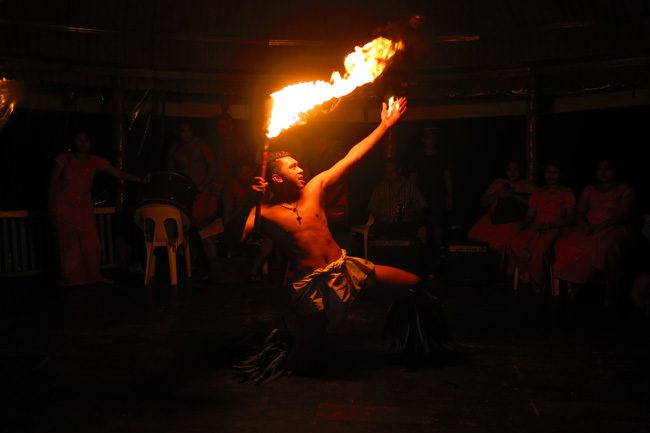 Day 3: Lalomanu Beach
Let's call today a 'day off', where you'll spend your time relaxing on one of the best tropical beaches in Samoa. Lalomanu Beach is as pretty as they come: the water is intensely blue when the sun is shining, the sand just melts between your toes and the palm trees manage to grow in bizarre angles reminiscent of an Olympic gymnast.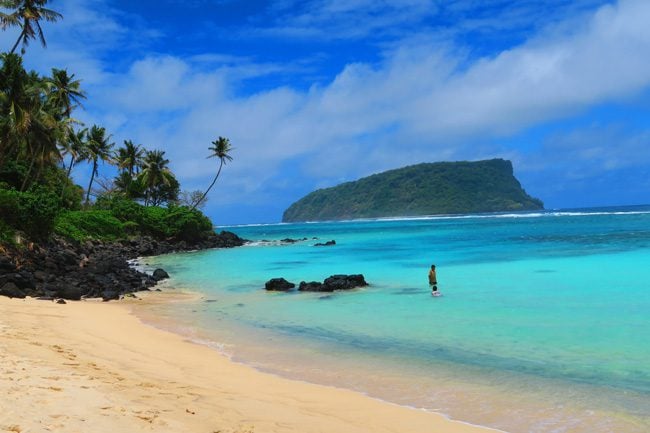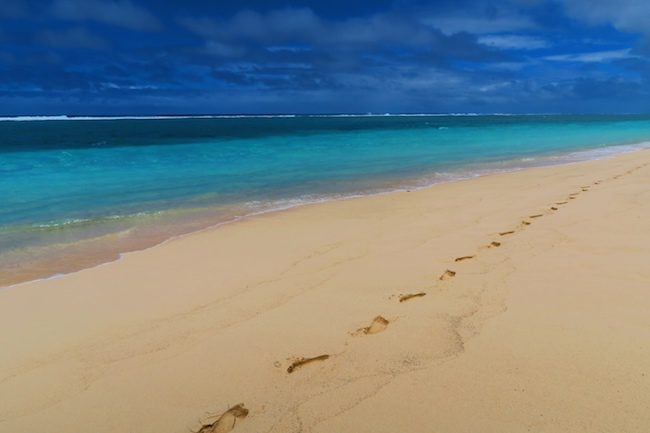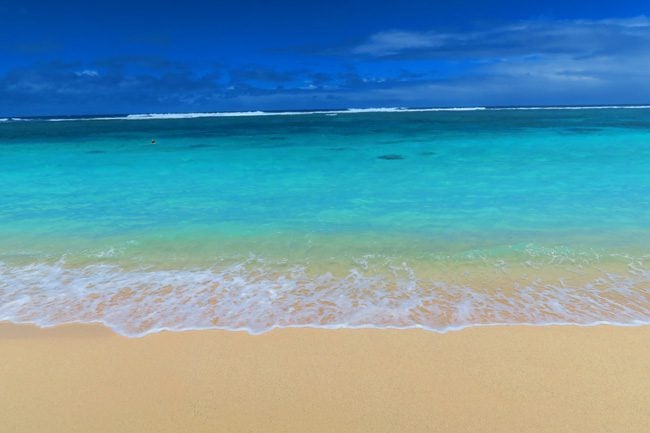 The area was badly damaged by the 2009 tsunami that struck this part of Upolu. Along with a few villages, the reef was also destroyed, so don't expect much in terms of snorkeling. At least not for the next few years…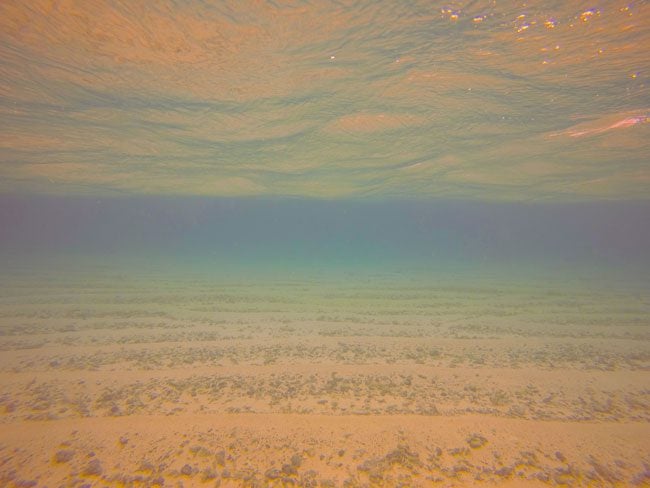 So just kick back, relax, read a book, take a nap and treat yourself to a day of pure relaxation. Polynesian massages are available at both accommodations and don't forget about happy hour cocktails!
Day 4: South Coast & Savaia Village
Morning
You can stay in Lalomanu another night if you feel like it, but for those who want to see more of the island, let's check out and get back in the car. Drive along the Main South Coast Road the Togitogiga Waterfall. En route, you can stop at Vavau Beach if you feel it's necessary to go for a swim. Vavau is another top beach on the island, quite secluded and that might explain why locals charge T20 to get in.
The Togitogiga Waterfall on the other hand is part of a recreation reserve so it's free to get in. A path will lead you through a tropical garden to a series of cascading pools. Ancient Samoan warriors loved swimming here, so feel free to hop in for a quick dip.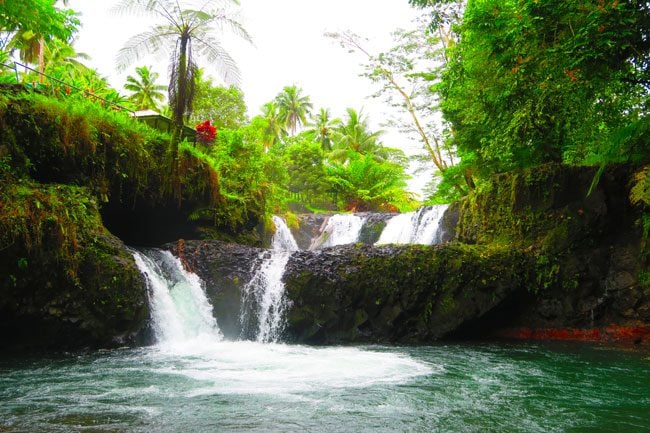 Just before intersecting with the Cross Island Road, stop at the Ma Tree Walk. A short and easy hike through the rainforest will bring you to this massive mape tree with enormous roots fanning out in all directions. Quite ubiquitous in French Polynesia, this tree is a rarity in Samoa.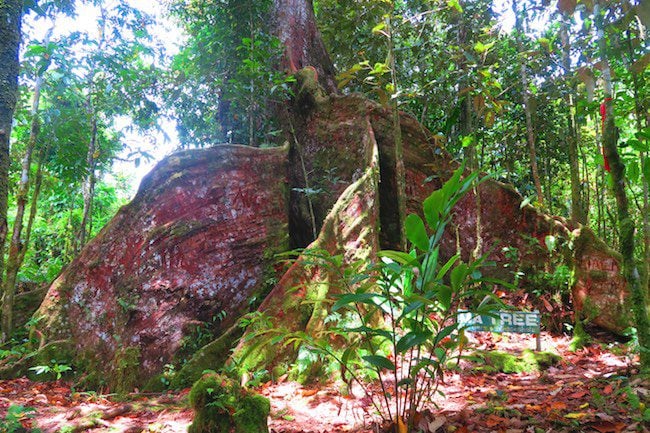 From the Ma Tree Walk, you can drive to the Aganoa Black Sand Beach if you have a 4X4, or continue hiking along the Coastal Walk. Just follow the signs from the main road and hike for about one hour along sea smashed cliffs.
Afternoon
Continue along the south coast to the village of Savaia at the mouth of Lefaga Bay. Savaia is a traditional Samoan village where almost all residents are somehow related. Evening curfew (sa'a) is observed from 6-7pm, when villagers must stay indoors and either do their evening prayer or have some quality family time. Don't let that scare you though as this is part of authentic Samoan life.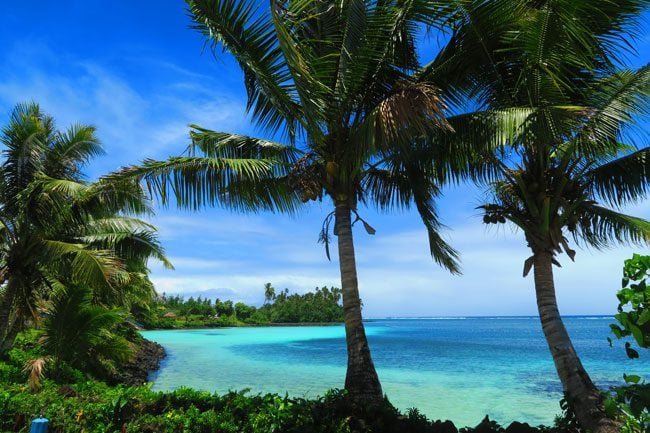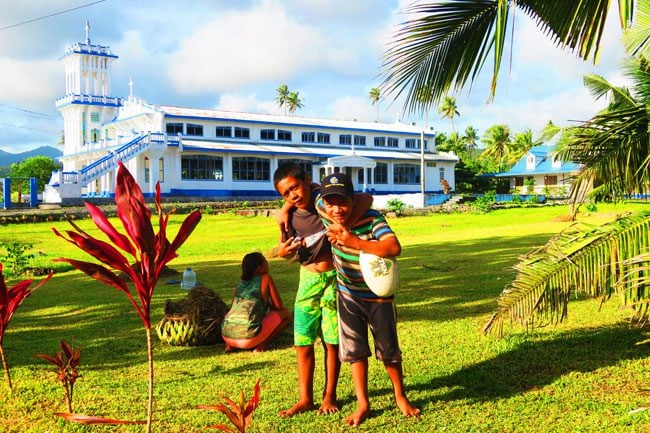 Savaia is home to the best sunsets on the islands and to Le Valasi's Beach Fales. Helen, Taula the Orator and their family will take excellent care of you. If you stay with them on a Sunday, you'll get the real Samoan experience (scroll to the final paragraphs).
Right across from the beach fales is the Giant Clam Sanctuary (5T entrance). Swim out to the protected area and watch as giant clams in all colors of the rainbow open and shut as you cruise past them.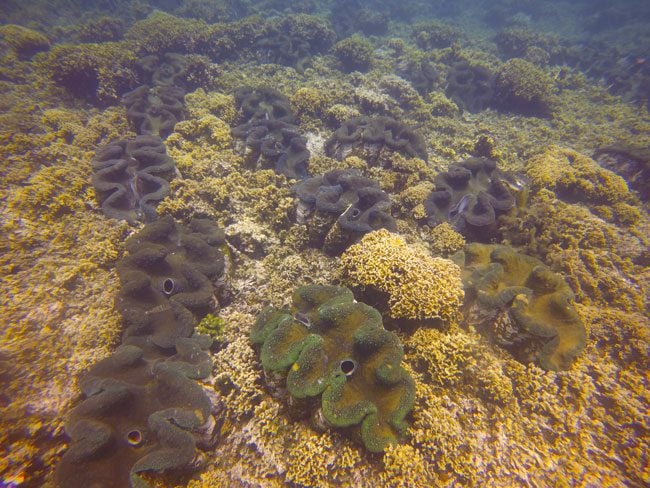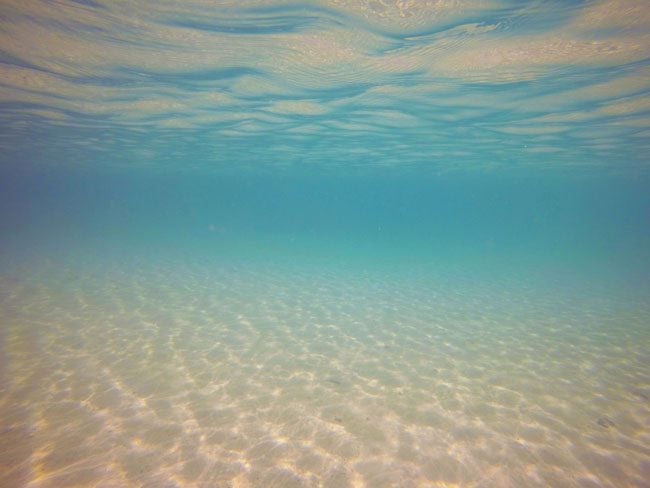 The beach in Savaia Village is gorgeous but not that great for lying on the sand. For that, use the free bicycles from the beach fales and cycle (or drive if you have a car) to the nearby Return To Paradise Resort.
The beach was the filming location of the hit 1953 movie of the same name and it is simply stunning, even if a bit too rough for swimming. If you're not staying here as a guest, your T25 day pass is redeemable at the beach bar, so you can not only catch up on some reading, but do so with a cocktail in your hand. The resort is also a great place to grab lunch.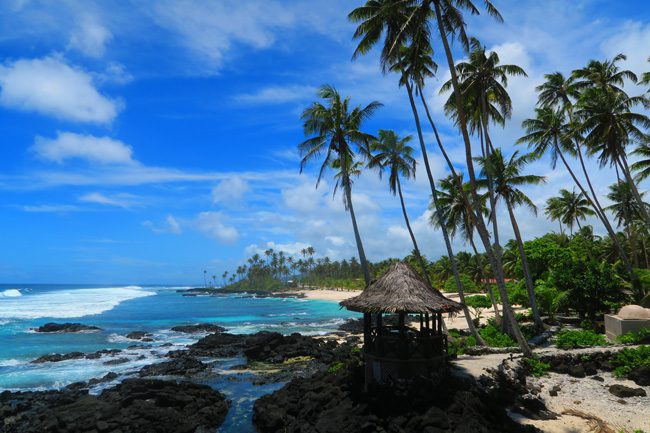 Evening
Get back to the village before 'curfew hour', have a shower and get ready for sunset. Helen has probably cooked up a wonderful dinner for you and the nightly stargazing show is about to begin.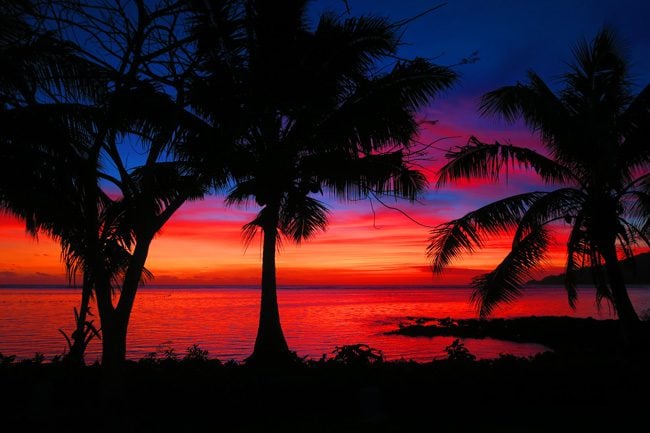 Day 5: Tropical Beach Hopping
This is your last full day in Samoa and you'll spend it tracking down two of the finest beaches in Upolu. You can totally use a bicycle today but keep in mind that access to the beaches are via dirt tracks running from the main road. So there is a bit of exercising to do and you'll need a hat and plenty of water. Of course, you can use a car if you have one. Expect to pay T2-10 entrance fees depending on your mode of transport.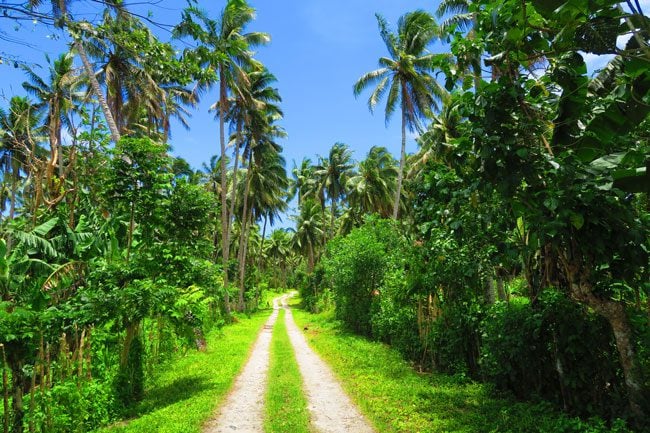 Morning
Start with Salamumu Beach, watching young fishermen trying their luck before reaching the end of the line at the Sa'Moana Resort. Daytrippers can also use this oasis for a fresh drink under the gazebo shade.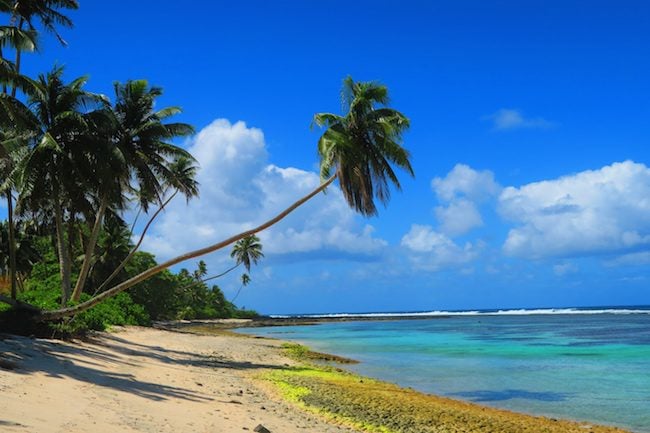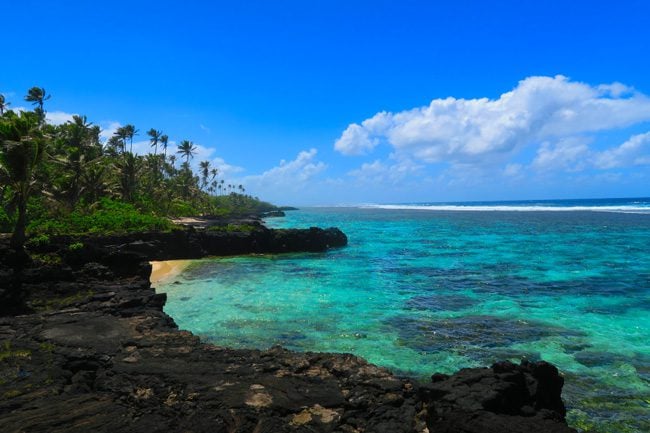 Afternoon
The next beach is Matareva Beach, which is actually a series of beaches culminating in a crescent shaped stretch of blindingly white sand. Does it get any better than this?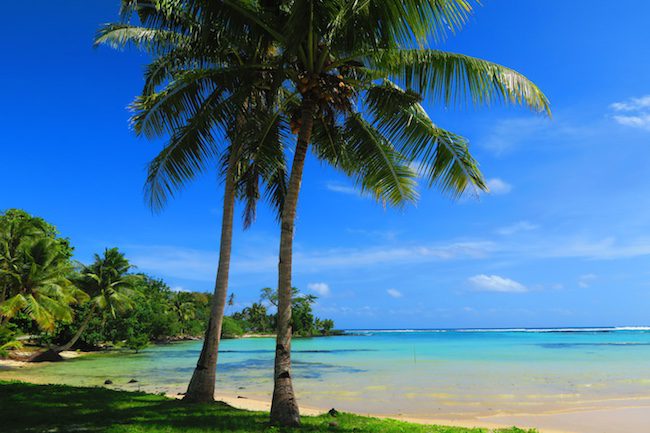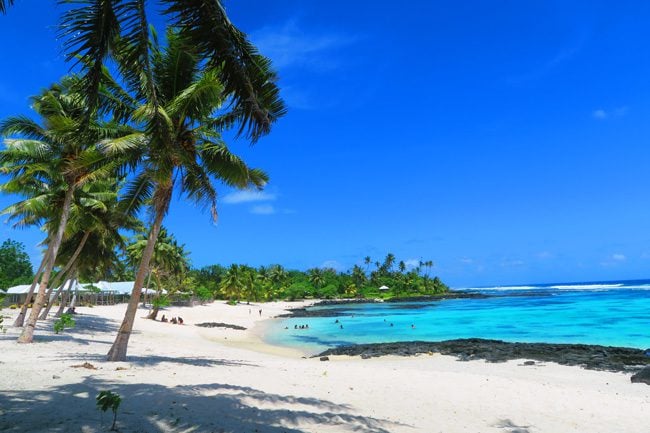 For lunch or if you didn't come here yesterday, stop at the Return To Paradise Resort for the final beach in this tropical beach hopping day.
Quick Note
If your flight is later this evening, it's time to head to the airport. However, if your flight is tomorrow, you can either take the shortcut to the airport via the Cross Island Road on the western side of the island, or drive through apia, stopping at two more places of interest. This all depends what at time your flight departs.
In case you do have time, drive to Apia via the Cross Island Road that cuts right through the middle of the island. You'll ascend to the highlands, stopping at the viewing area for the Papapapaitai Falls. At 100 meters, this is highest waterfall in Samoa and it's often covered in cloud.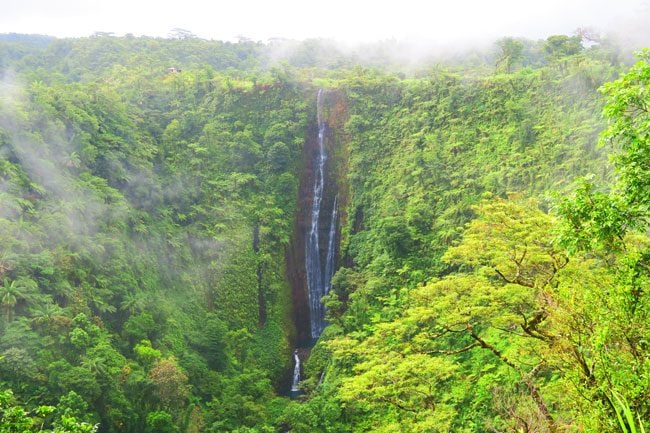 Descending back to Apia and the north coast, stop at the Robert Louis Stevenson Museum (T20 entrance). The Scottish author of Treasure Island is revered by Samoans, having greatly advocated on their behalf for independence and immersing himself in local life. Stevenson came to Samoa hoping its tropical climate would help with his tuberculosis. The beautiful mansion he built is the present day museum, and you can also hike to the top of Mount Vaea just next to mansion to visit his grave and to enjoy panoramic views of Apia.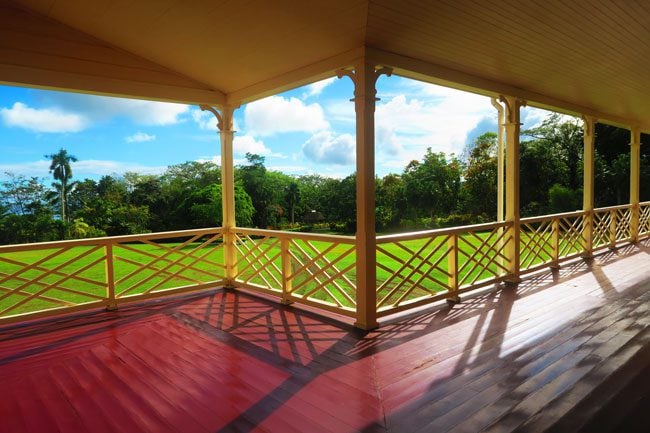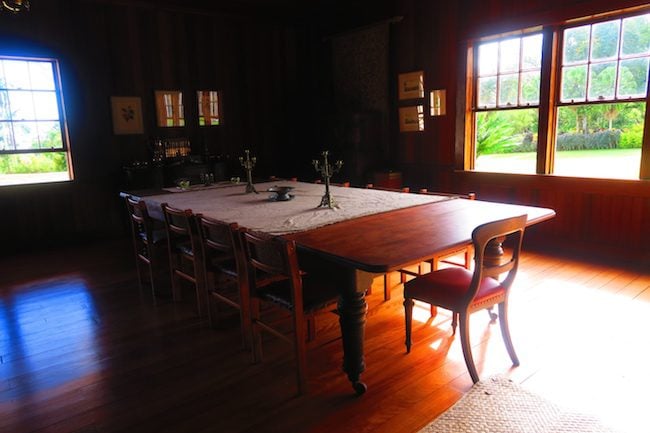 Ready To Visit?
This 5 days in Samoa sample itinerary is action packed yet includes some relaxation time. If you're visiting Samoa, start planning your holiday with the Samoa Travel Guide, filled with essential planning tips and in depth information about all the places mentioned in this sample itinerary.
Have any questions? Leave a comment below and let's get the conversation started!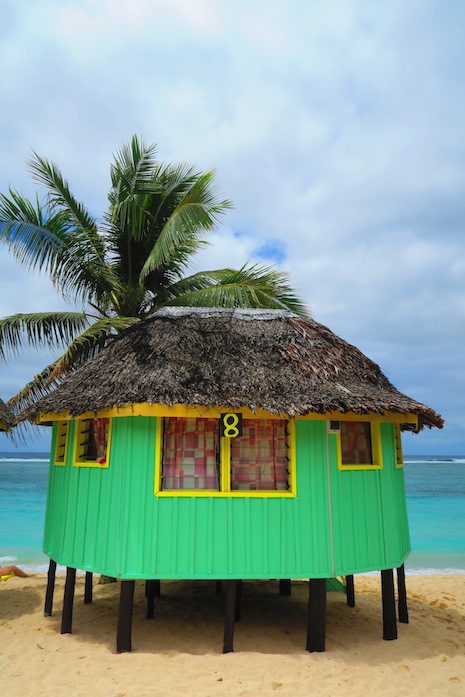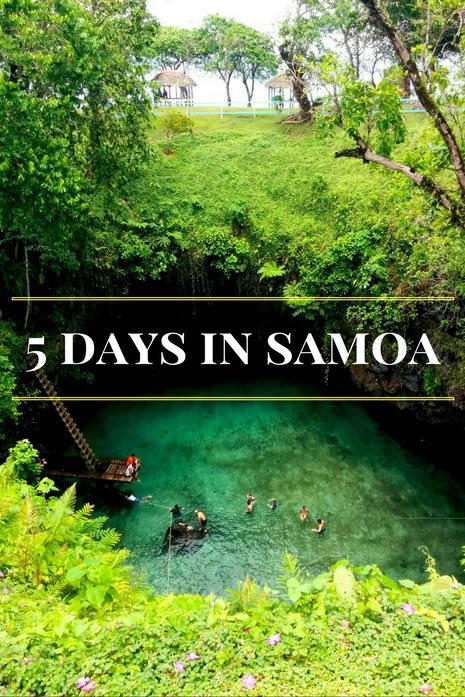 Pin These Photos To Your Favorite Boards