Part 3: One Day In Capri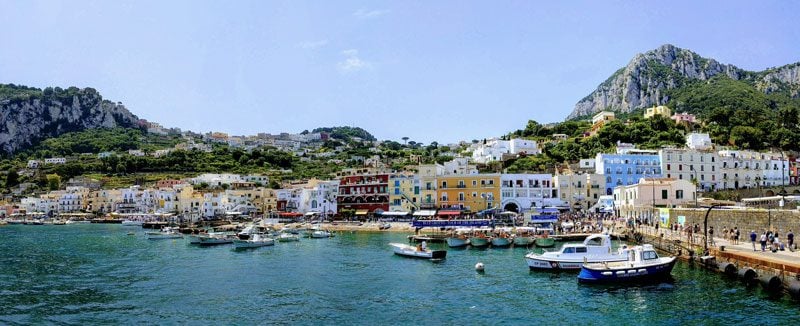 The third leg of our 7 days in the Amalfi Coast takes us to the "celebrity" of the coast. We'll start the day with a drive from Amalfi to catch the ferry to Capri from Sorrento and spend the rest of the day exploring the island. Spending the night in Capri, we'll see what's in store when the bulk of the tourists have left and enjoy a beautiful morning stroll in the island's remote side.
Follow all the places mentioned in this section with this companion map, simply click on the image to open Google Maps
Day 5: Capri
Capri's status of extreme glamor far outweighs its geographical size. Over the years, Hollywood stars, royalty and folks with lots of cash, have elevated Capri high above its closest neighbors. Though Capri boasts incredible natural scenery of intense blue meeting sheer limestone cliffs, its biggest drawbacks are its unbearable crowds and the cost of pretty much everything. If it's serenity that you're after, consider swapping Capri for the less popular island of Ischia. Here are a few essential tips for visiting Capri.
Capri Travel Tips
When is the best time to visit Capri? The best way to answer this question is recommending when to avoid Capri and that would be during July and August. We visited at the start of June and Capri was crammed with tourists. It was bearable but unpleasant at the same time.
How to get to Capri by ferry? The only way to reach Capri is by boat and unless you own or charter one, the ferry is the way to go. Ferries to Capri depart in the summer season from most major Amalfi Coast towns, including Naples, with frequency the highest from the major ports of Naples and Sorrento. We took the ferry from Sorrento and paid about 20€ each way. Unless you are flexible with your time, I recommend buying your tickets in advance since finding parking and long queues may cause you to miss your desired departure time. Check out this website which lists ferry schedules to Capri from various shipping lines.
Taking the ferry to Capri with a car: it is not possible to take a car to Capri so you will need to park it somewhere before boarding the ferry. There are several parking garages along the access road to the port (Via Luigi de Maio), usually charging 20€ for 24 hours. Since the location was quite central, we stayed longer after returning from Capri and explored Sorrento. The total cost was 40€ in our case.
How to get around Capri? The biggest challenge is getting from the port up to Capri town. Capri's famous open top taxis will take you on the 10-minute drive for 25€ but note they cannot drop you off in every spot since some areas are pedestrian-only zones. Your other options are the miniature buses (2.50€ + 2.50€ per luggage) and the cable car – funicular (2€ + 2€ per luggage) but those often experience long queues whenever a ferry arrives. To get from Capri to Anacapri and its vicinity, the bus is the best way to go. Technically, you must buy your bus ticket in advance from a kiosk or machine but we did see people paying cash when boarding the bus along its route.
Capri boat tours: it's quite popular to charter a yacht in Capri and have it take you around the island. Prices are around 150€ for two hours and 200€ for three. We opted out in favor of land-based activities.
How long should you stay in Capri? Unless you're coming with the kids for a quick visit, I highly recommend spending a night in Capri. In the late afternoon, all the organized groups and families head back to the mainland, leaving Capri a completely different paradise. This also means that calmness will be kept the following morning until the herd arrives, leaving you a few hours of exploring the island while still being able to hear the birds. If you'll be overnighting in Capri, consider bringing along a small bag and leaving the suitcases behind. Capri's streets can be a bit steep and they're layered with cobblestone so pulling along a suitcase can be annoying. This makes more sense if you can leave your large bags in the hotel you'll be staying at post-Capri visit.
Capri on a day trip: I recommend checking the weather forecast if planning a day trip to Capri. If it's super cloudy and definitely if heavy rain is forecasted, your efforts will certainly not be rewarded. In addition, make an effort to arrive on the first ferry before the crowds make landfall.
Is Capri expensive? Let's put it this way, it's more expensive than Bora Bora! Especially if you're traveling with a family or on a budget, I recommend packing some sandwiches, drinks, and snacks for the day (and skipping the overnight stay). Everything is outrageously expensive with about a 40% premium compared to the mainland. That said, things are slightly cheaper around Anacapri than they are around Capri town.
Where to stay in Capri?
Anacapri is Capri's larger and more "local" town and as such, it boasts a wider range of budget options. However, if you're already spending the night in Capri, I recommend splurging a bit and staying in Capri Town where the views are far more impressive and the vibe on the outrageously glamorous side of the scale.
We stayed at the Villa Helios in Capri town for one night. Located just five minutes from the central square, Villa Helios is reached via the pedestrian lanes and commands sensational views from its 800-year-old property. Under new management since 2016, this place is exceptionally well maintained and offers excellent value for money. Rooms are clean and air-conditioned, breakfast is adequate, and the staff is super friendly.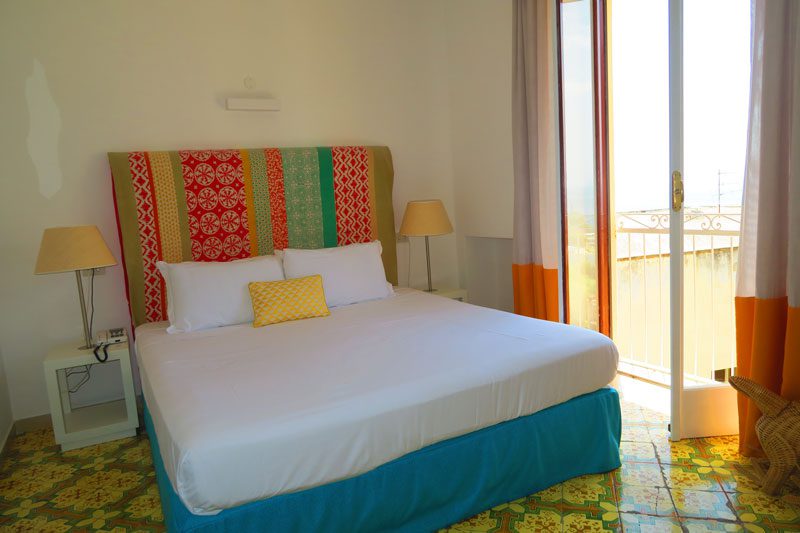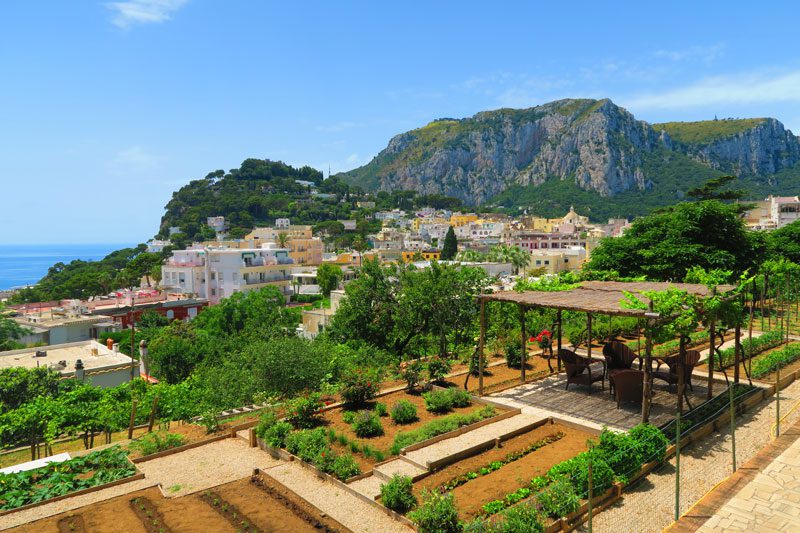 Here's a list of all Capri and Anacapri accommodations that you can book online
Amalfi to Sorrento
The drive from our accommodation near Amalfi to Sorrento took about 75 minutes, with the leg between Praiano and Positano especially slow going. With many sharp bends, buses, and opportunities to stop and snap some photos, I recommend planning extra time for this drive. A particular scenic stop is atop the Furore Gorge, a picturesque natural setting with a small fishing outpost by its pebble beach. You can take the stairs from the bridge all the way to the beach.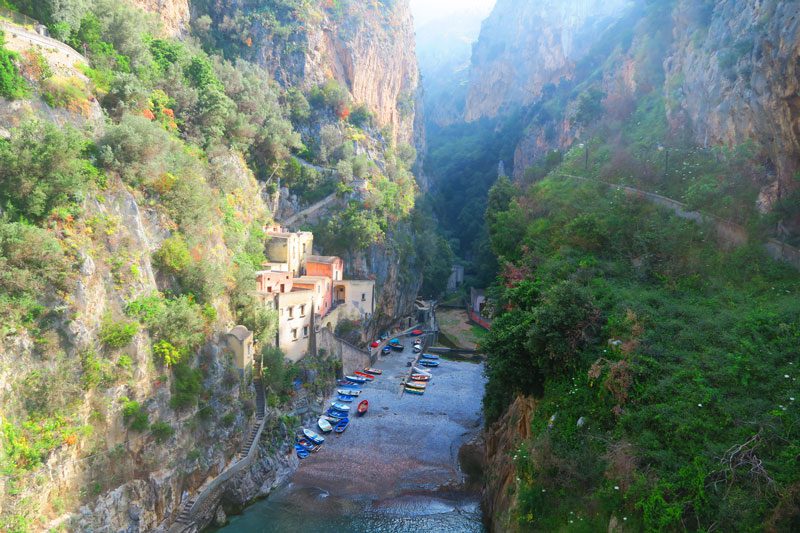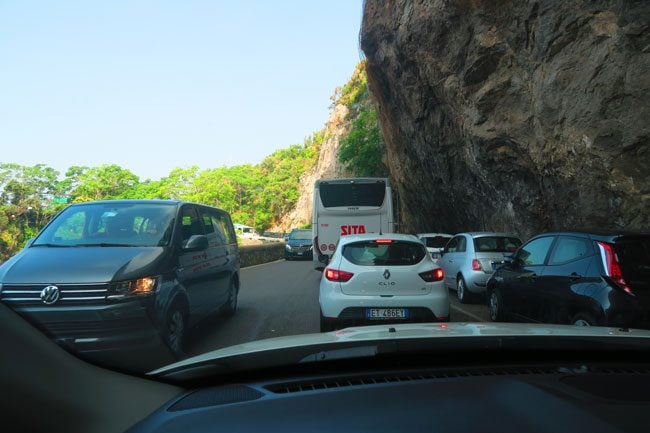 Ferry to Capri from Sorrento
If the weather is nice, be sure to grab a seat on the outer deck and enjoy awesome views of Sorrento, the Sorrentine Peninsula and finally of Capri as you approach the beautiful island.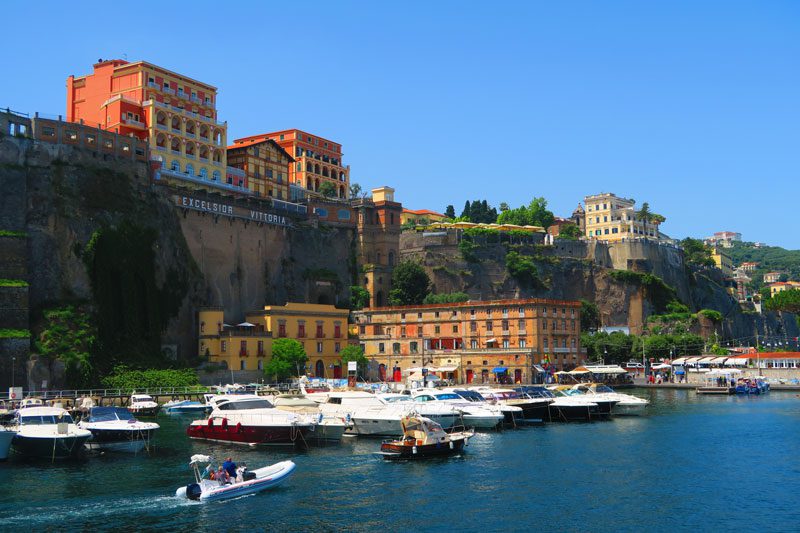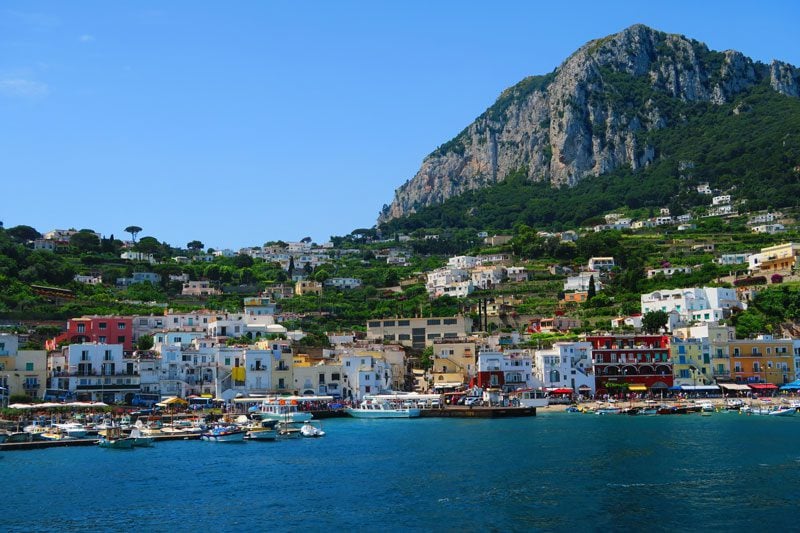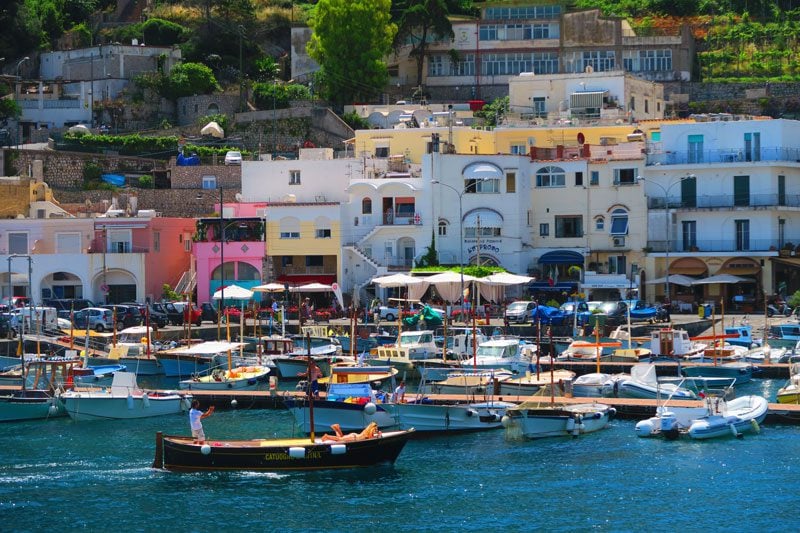 Capri Town
After checking in to Vila Helios, we set out to explore sections of Capri town, the historical heart of the island. By noon, the town was overrun by tourists and selfie sticks. Most of the action happens around Piazza Umberto (La Piazzetta) – the main plaza, where you'll find many restaurants, cafes, and the historic Santo Stefano church which was closed when we visited.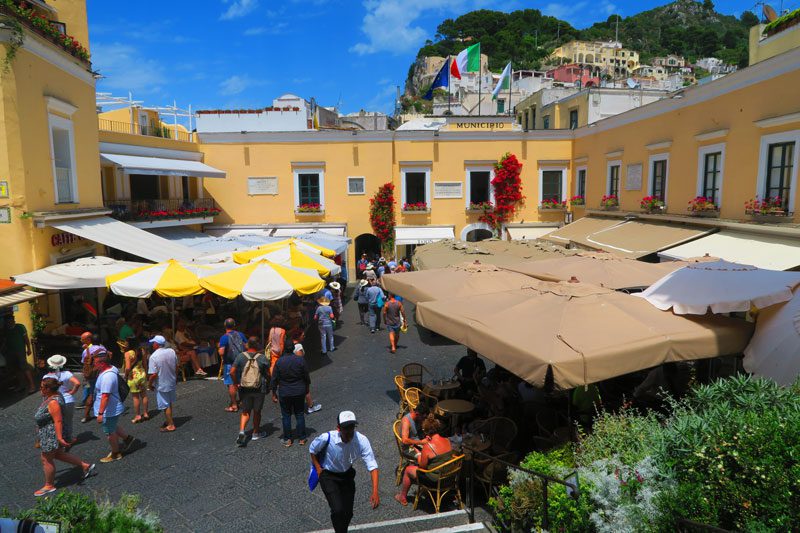 On the north end of La Piazzetta is the entrance to the cable car station and a terrace which commands views mainland views and Capri's mountainous interior that are not to be missed.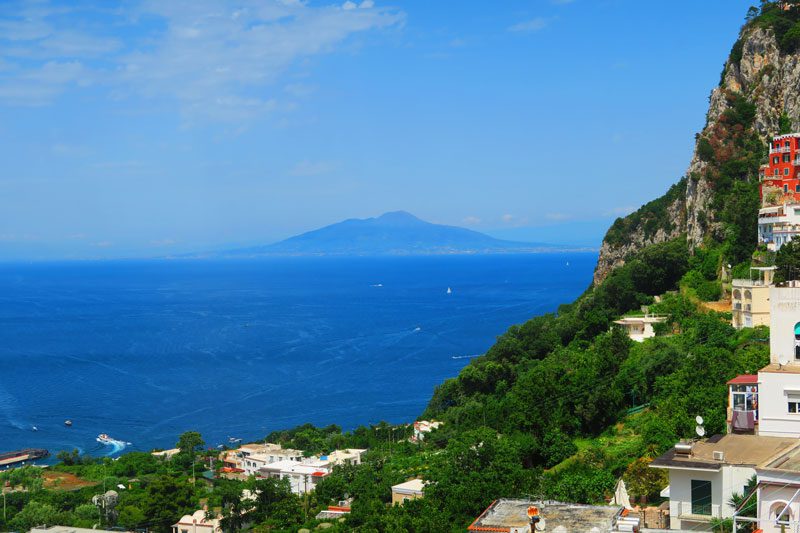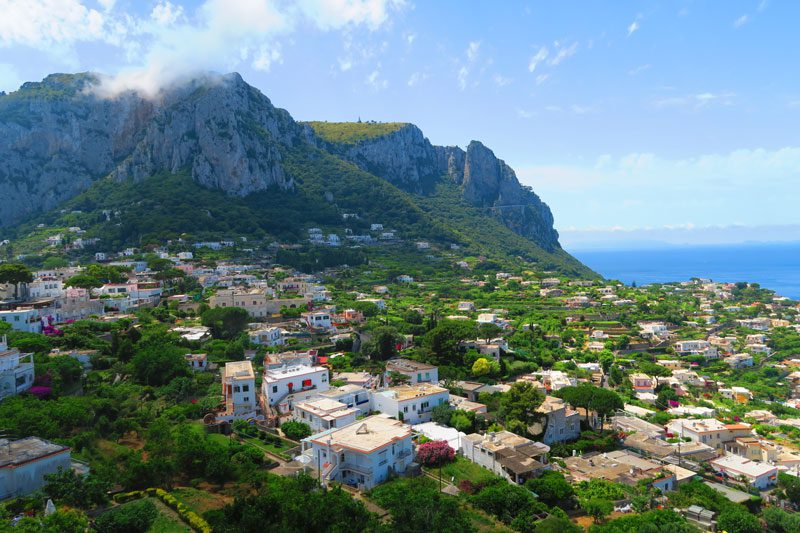 From the central square, a number of pedestrian lanes branch out. These make up Capri's main shopping area, though, with names such as Louis Vuitton and Dior, you'll likely be doing more window shopping around here.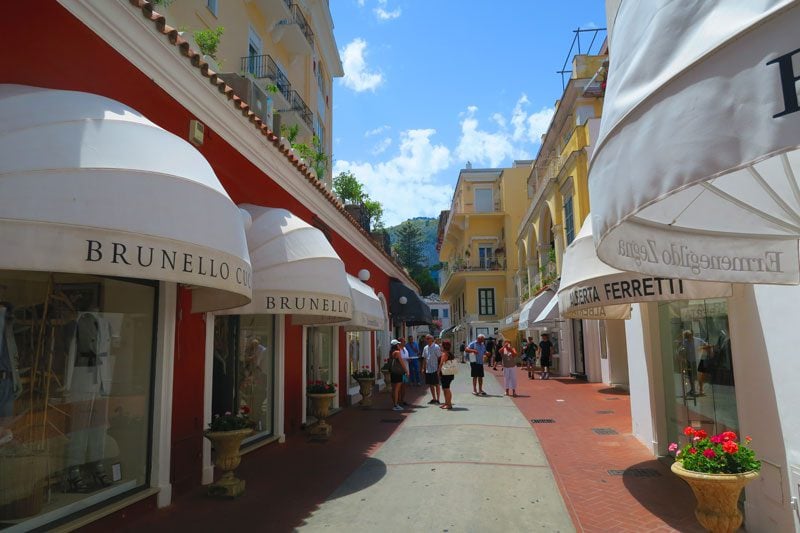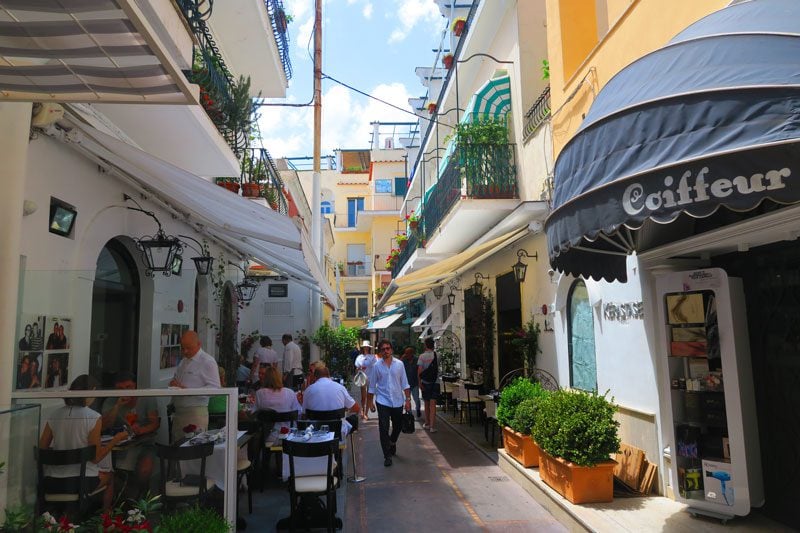 Pro tip: Capri town's impressive sites are best enjoyed from the southern side of town, where we'll head tomorrow morning in this itinerary so be sure to follow along.
Bus from Capri to Anacapri
Leaving some Capri town sites for tomorrow morning, we hopped on the bus for the short ride to Anacapri on the island's western side. The bus route literally takes you through the mountains, and the views are sensational and frightening at the same time.
Monte Solaro
Absolutely worth it unless it's an absolutely cloudy day, the 11€ cable car ride to the summit of Monte Solaro is not to be missed. It takes about 10 minutes to reach the top via the single-seat chairlift, giving you enough time to soak in the views along the way. The more you ascend, the quieter it gets and you can actually hear the birds as you leave the noise of the village behind.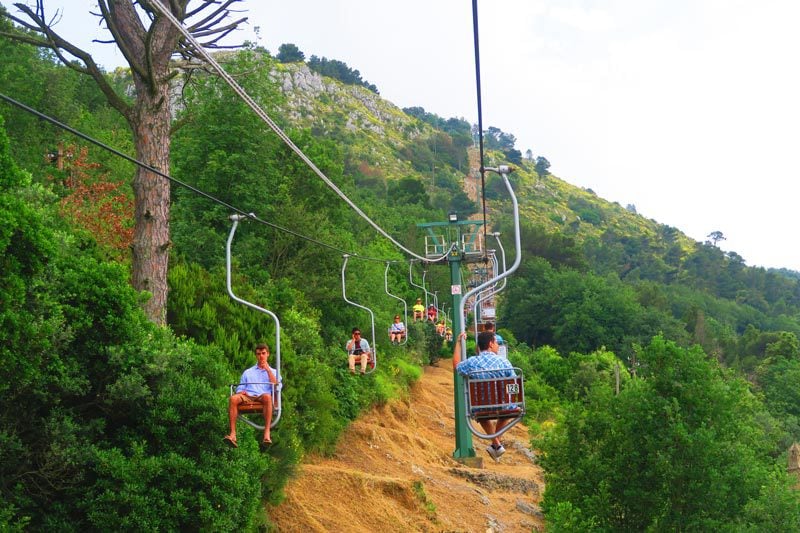 At the summit (589 meters), you'll be treated to the finest 360-degree views of Capri. Here's a teaser…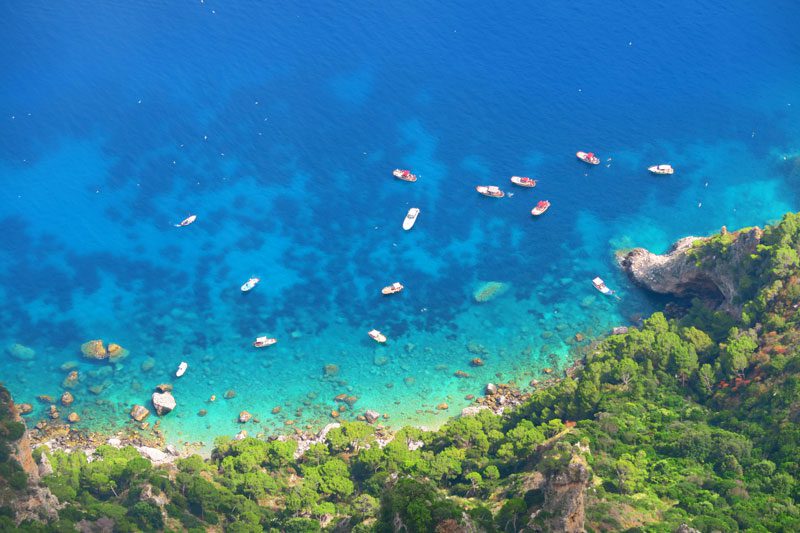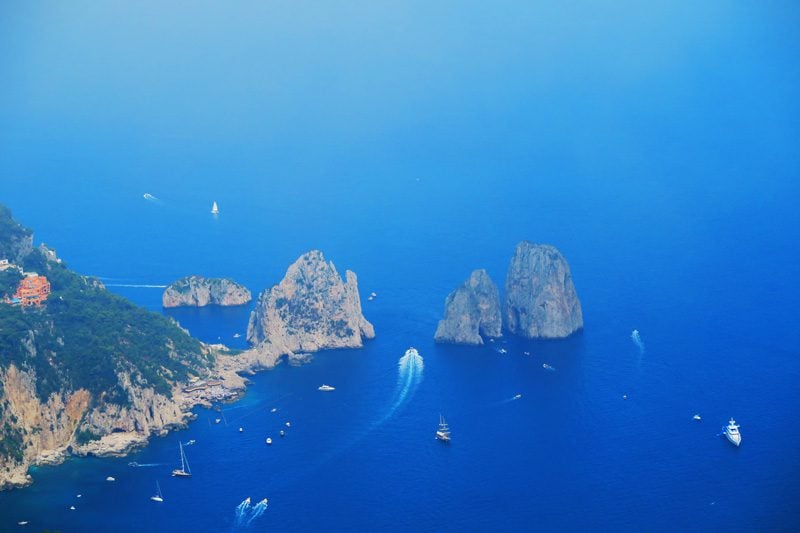 Anacapri
Back down on level ground, we strolled for about 30 minutes in the historic center of Anacapri before heading back to Capri Town. It's clear there's a lot less action around here but that might not be such a bad thing. Be sure to visit the shop of Antonio Viva – probably the island's most famous shoemaker. Capri is famous for a particular type of sandal and Antonio has sold his fair share of pairs to the world's rich and famous. Watch him in action and buy a pair of two if you fancy, though prices average around 150€.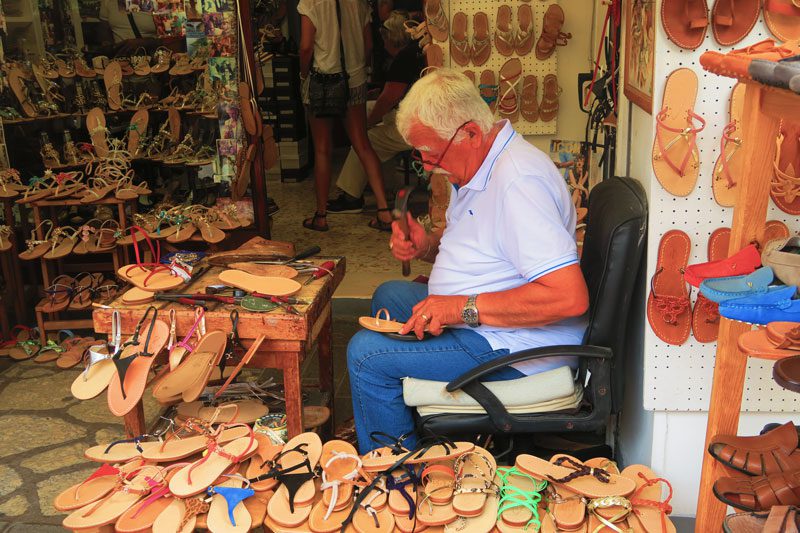 The Blue Grotto
The Grotta Azzurra is Capri's top attraction, a cave that can only be entered from the open sea and where sunlight illuminates its water to intense blue color. As the island's top attraction, visiting the Blue Grotto is very time consuming and expensive. It is best visited in the morning hours when the sea is calm but even if you've set out on your adventure, you might not get the "green light" to enter. We opted out of visiting this tourist trap and had no regrets.
Dinner in Capri Town
With the day trippers back on the mainland, Capri's charm was much easier to sense. After checking a few places out, we dined at La Capannina Wine Bar where we sat in its interior facing one of the pedestrian lanes. Like many restaurants on the Amalfi Coast, La Capannina's walls are decorated with pictures of its most famous diners over the years such as Bill Clinton and Jackie Onassis.
Besides the romantic vibe, we enjoyed some marinated anchovies and tomato salad for starters (Capri is famous for its local tomatoes), spaghetti and salmon for mains, and some tiramisu for dessert along with a bottle of wine for 115€ (including cover and service charges). Other recommended dinner options include Ristorante Da Tonino (good views but a bit of a walk from the center of Capri) and Ristorante Le Grottelle.
Day 6: Morning in Capri
Spending the night in Capri was a great decision. Not only was the evening quite romantic, but mornings in Capri are absolutely glorious. We used our last few hours in Capri for hiking and for visiting a few leftover spots in Capri town that we had skipped a day earlier in favor of the climb to Monte Solaro on the Anacapri side of the island.
Hiking in Capri's Southeast Coast
Overall, it took us about 2.5 hours to visit the Capri's rugged and less visited side. I recommend packing some snacks or sandwiches and wearing comfortable shoes as it can get a bit slippery if it has recently rained. In addition, you will have the opportunity to head down to the beach so if you have some extra time and feel the need to get wet – pack accordingly.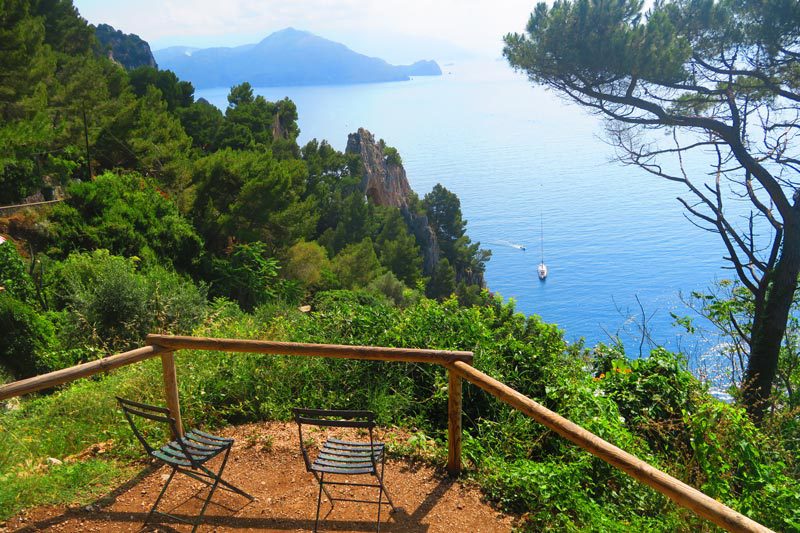 Arco Naturale
About 20 minutes on foot from Capri town's main piazza, the Arco Naturale feels a world away from the madness. The sound of seagulls and pine trees swaying in the wind are only interrupted when speedboats zig-zag up and down the coast. From here you can really start to appreciate the dramatic landscape of Capri. It's amazing how vertically the cliffs rise of the sea, beautifully eroded over time to form sharp pinnacles where only the birds can visit.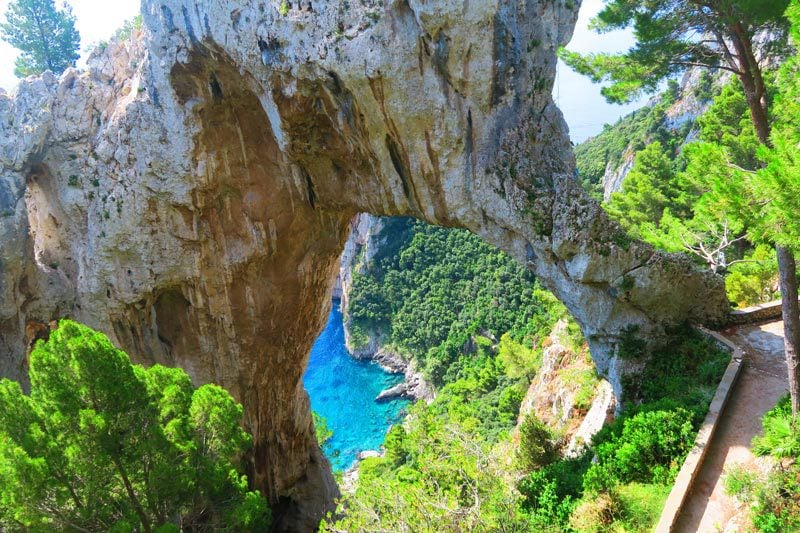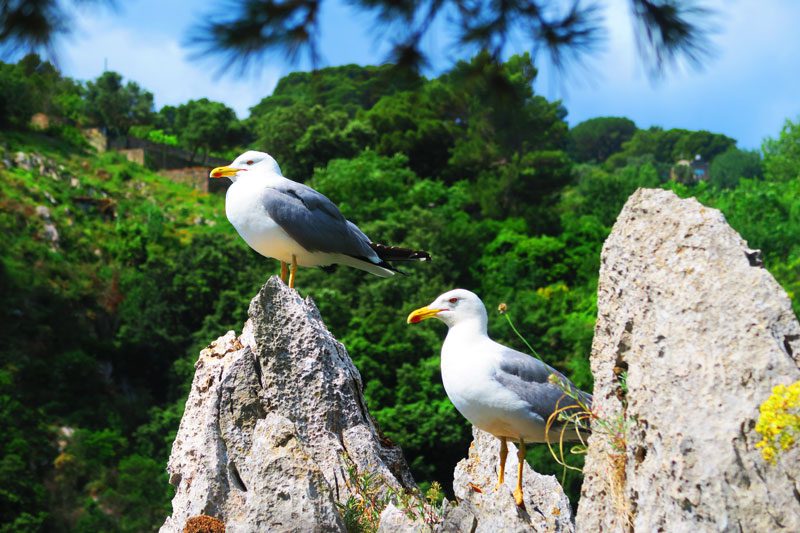 Grotta di Matermania
From the Arco Naturale, walk back in the direction of Ristorante Le Grottelle and pick up the snake-line staircase that descends to Grotta di Matermania (about an eight-minute walk). Though there's not much evidence left, this limestone cave was once the site of a bizarre religious ritual but, in any case, it's on the way to our next scenic stop.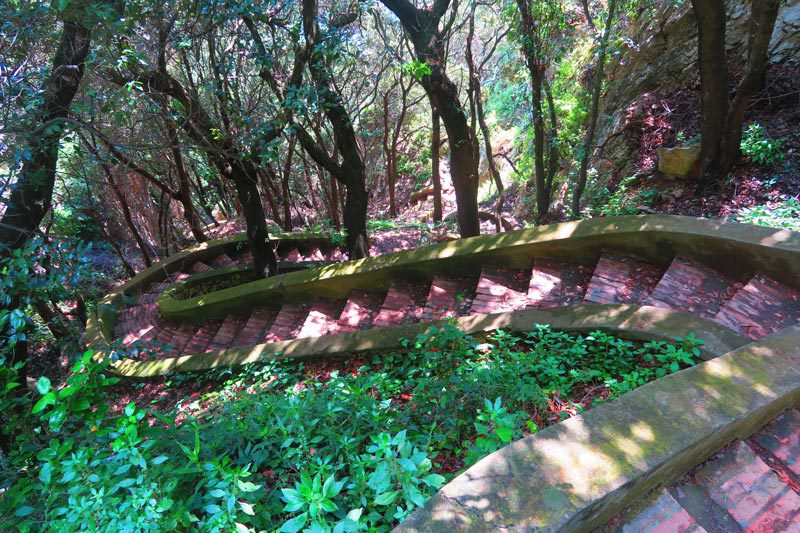 Villa Malaparte
From the cave, the trail ascends back to the cliff's edge and the views are incredible without a single soul around. From up here, you can catch a glimpse of the historic Villa Malaparte.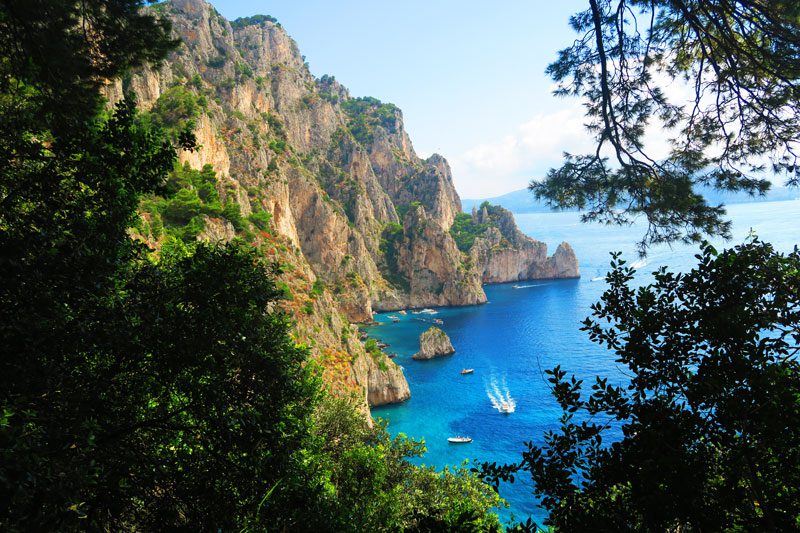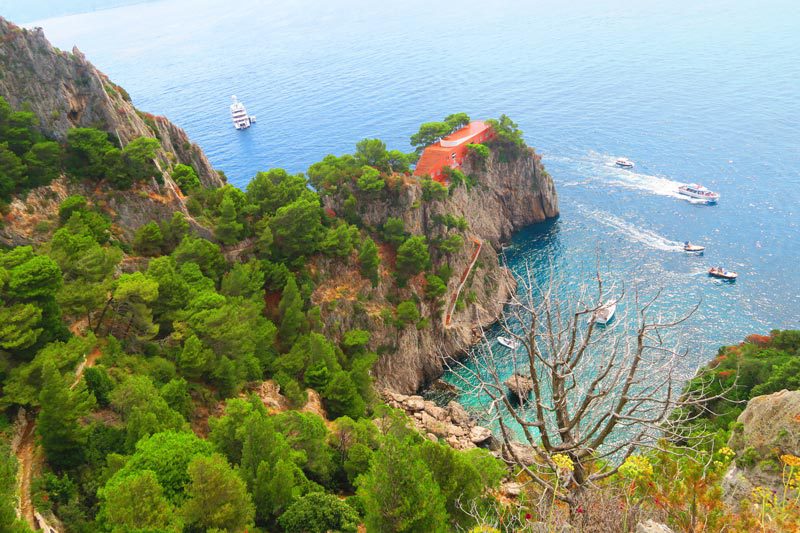 Faraglioni Cliffs
A few minutes later, you'll reach an unofficial lookout towards Capri's most iconic natural landmark, the Faraglioni – three limestone stacks which rise off the Capri coast up to a height of 111 meters. There are so many boats racing from all directions that the scene appears to be of a maritime highway, but the views are just fine from up here. A few minutes further, you can detour via a 300-meter trail down to a beach and get even closer to the cliffs. The Faraglioni of Capri is also home to the "blue lizard" which is only found on one of the pinnacles.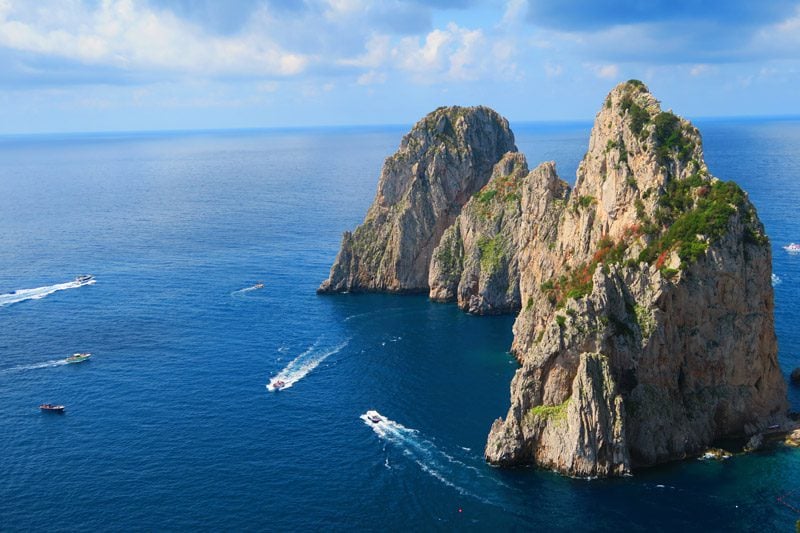 Belvedere di Tragara
The scenic trail merges with Via Tragara and this is a good opportunity to rest for a few minutes while enjoying the views from this lookout.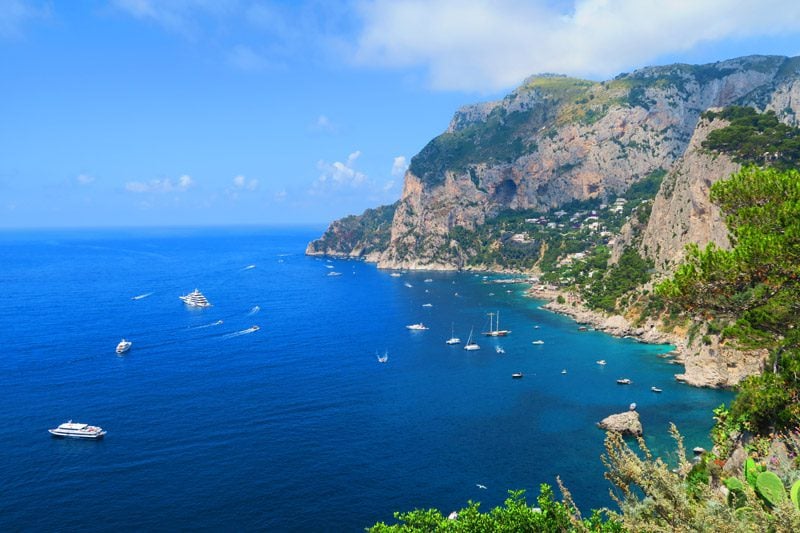 Giardini di Augusto
From the Belvedere di Tragara, it's a pleasant 20-minute walk to the Augusto Gardens (1€ entry fee). The gardens are not that impressive (besides a ceramic-tiled bench) but the views totally are. From here, you're treated to an additional angle towards the Faraglioni cliffs but, more interestingly, towards Via Krupp and Marina Piccola.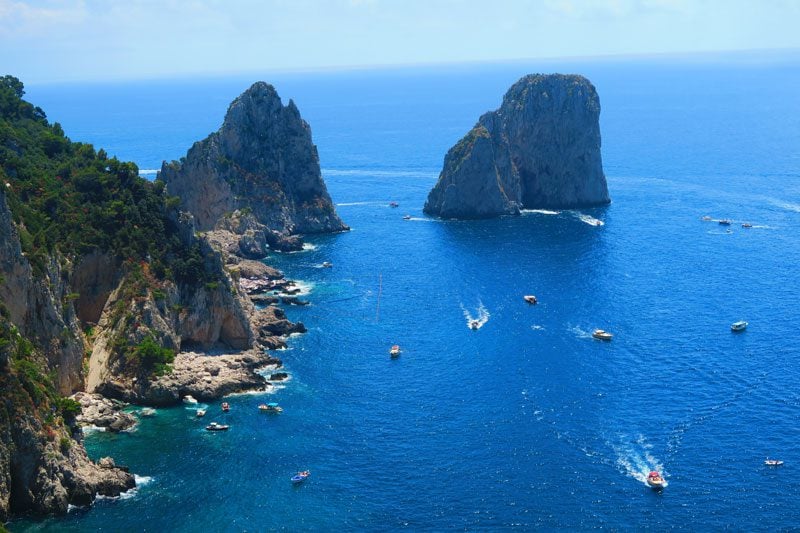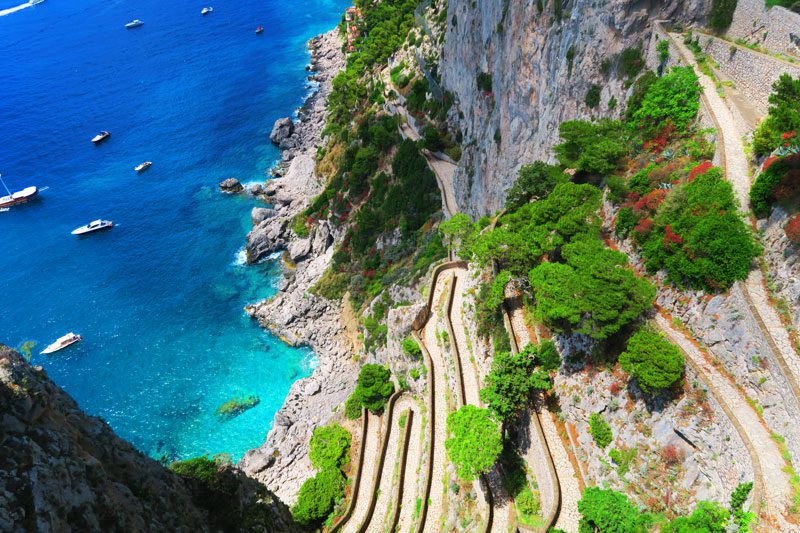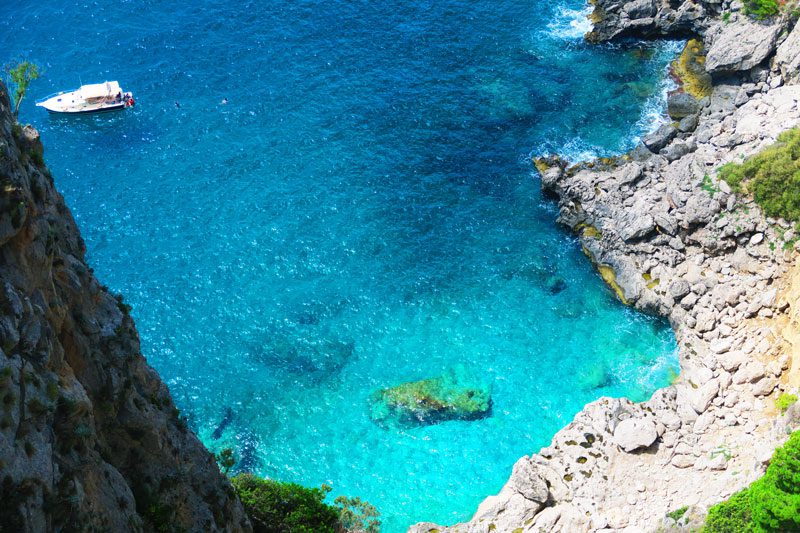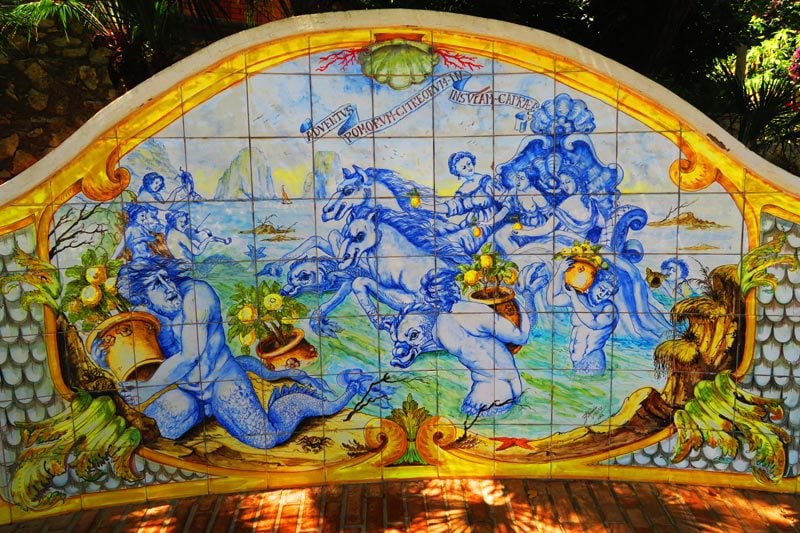 Via Krupp
By far the most interesting street in all of Capri, Via Krupp connects the area of the Augusto Gardens and Marina Piccola. There's an incredible beach along the way but, unfortunately, the snake-trail is currently closed without any signs of reopening. Apparently, you can explore Via Krupp coming from Marina Piccola but do note that you will need to head back the same way you came from…
Belvedere of Punta Cannone
If you have another 30 minutes to spare, consider heading even further up to this scenic lookout for additional views of Capri's southern coast. We did not have time for this detour and headed back to the port to catch our ferry to Sorrento.