Rarotonga is the busiest of the Cook Islands, with plenty of things to do to fill up your holiday calendar. But then again, it is a tropical South Pacific island so doing a whole lot of nothing is certainly on the table. I spent nearly three weeks in Rarotonga while backpacking across the South Pacific Islands. Here's a sample 7 days in Rarotonga itinerary to help you plan your holiday. A week in Rarotonga is enough time to see all the highlights, catch up on your reading, and adjust to the beautiful pace of island time.
Traveling to the Cook Islands? Start planning with The Cook Islands Travel Guide!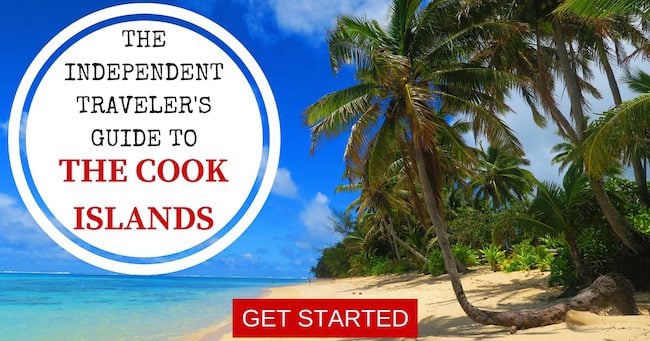 Where To Stay?
Rarotonga has no shortage of accommodations to cater to all types of travelers, from backpackers to luxury travelers. Self-catering holidaymakers will find plenty of choices in all price ranges, and renting your own beachfront cottage is certainly within reach. Check out the 'where to stay' section in the Rarotonga Travel Guide for accommodations I personally stayed at and loved, with exclusive offers for X Days In Y readers!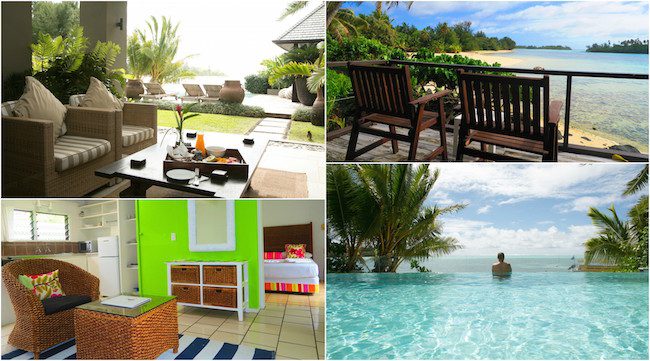 How To Get Around?
With low prices and excellent deals on long-term rentals, having your own wheels in Rarotonga will certainly add an extra degree of freedom. Have a look at the Rarotonga Travel Guide for more information on how to get around the island, including recommended providers and public transportation info (yes, there is a bus).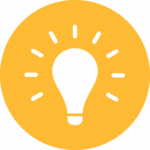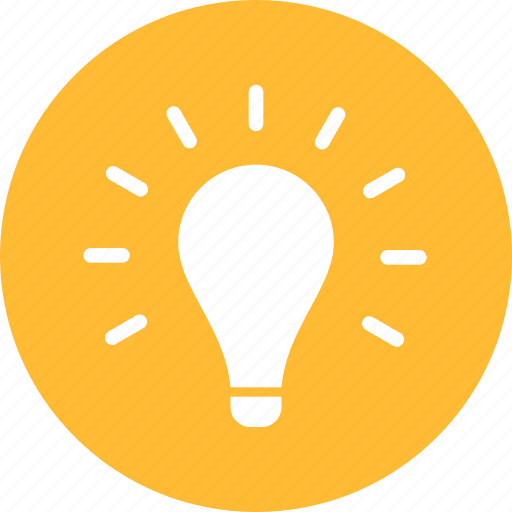 Pro Tip
While a week might not be enough for a visit to two islands, you can swap one of the days mentioned in this sample itinerary for a day trip tour to Aitutaki. Have a look at this 7 Days In The Cook Islands Sample Itinerary for more info.
7 Days In Rarotonga Itinerary Map
All places mentioned in this travel guide can be found on this companion map. Simply click on the image to open in Google Maps.
Day 1: Avarua & Around The Island Roadtrip
Spend your first day on the island exploring its only town and then hot the road and circle the island.
Walking Tour Of Avarua
Start your first day in Rarotonga in the island's main town. Avarua is quite a cute South Pacific settlement, small enough yet with all the amenities for a comfortable and easy-going life. For breakfast, grab one of the outdoor tables at The Lucky Rooster (formerly Cafe Salsa) and do a bit of people watching.
You'll now embark on a short walking tour of the town, starting with the Para O Tane – the site of the treaty signing which accepted the British protectorate over the Cook Islands in 1888. From here, walk over to the Avarua CICC, the island's major house of worship. It was built in 1853 and you'll come back here for Sunday church service, an experience I highly recommend whether you're a believer or not.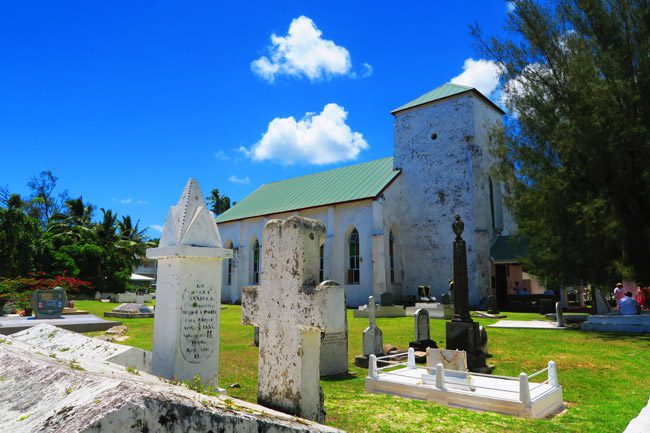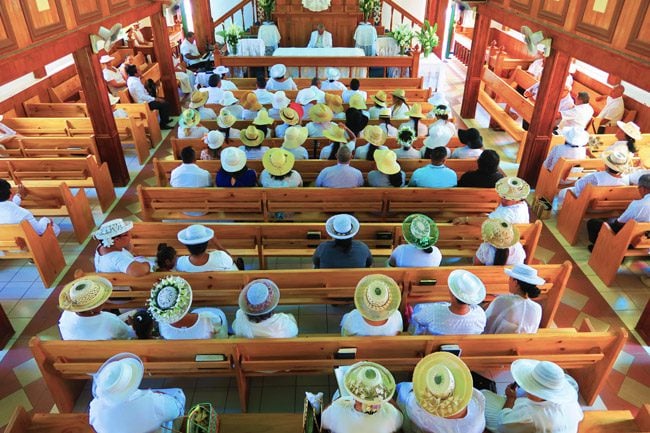 History enthusiasts can continue to the Takamoa Theological College and National Museum, but in any case, we'll wrap up this walking tour of Avarua at the Beachcomber Pearl Market. This historic waterfront building served as a missionary school back in the day. These days, it's a trendy art gallery and a great spot for a hot cup of coffee, something small to eat and cool off with the help of the incoming lagoon breeze.
Panoramic Views & Snorkeling
Hop on your scooter or fire up the car and head in the direction of the hospital. The (hopefully) only reason to drive up this road is for the panoramic views over the island's northwest coast.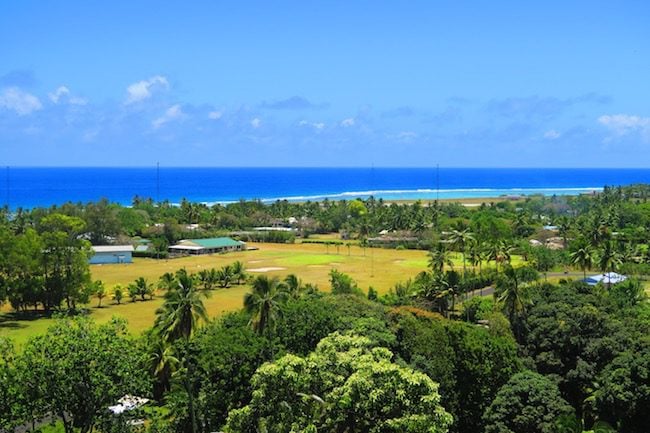 Back on the coastline, park it next to the black rocks beach and hop down from one massive boulder to another until you land on the soft sand. It's quite an empty beach if you want to relax a little bit, but it's also a decent snorkeling spot if the lagoon is not too rough.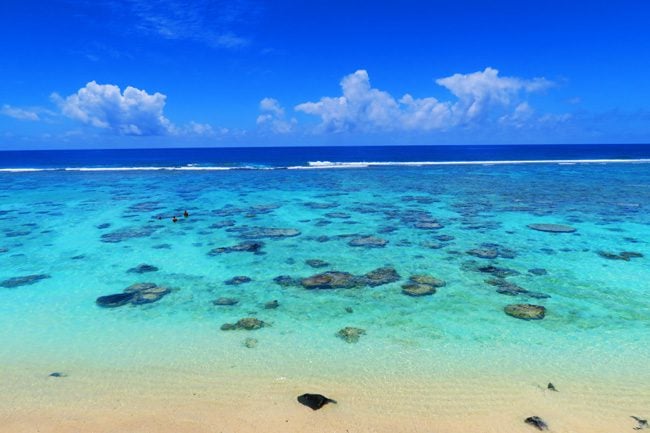 Circle The Island
Since it's your first day in Rarotonga, I recommend just circling the island with your car or scooter. It takes about 45 minutes to complete the 35-kilometer road that hugs the island's coastline, and it's a great way to start scouting your favorite spots for later.
For dinner, head back to town to Trader Jacks. The atmosphere is always buzzing at one of Rarotonga's iconic eating and drinking spots. Go for their smoked marlin, prepared in-house and tasting absolutely delicious. If you book in advance, you can get a table right on the water.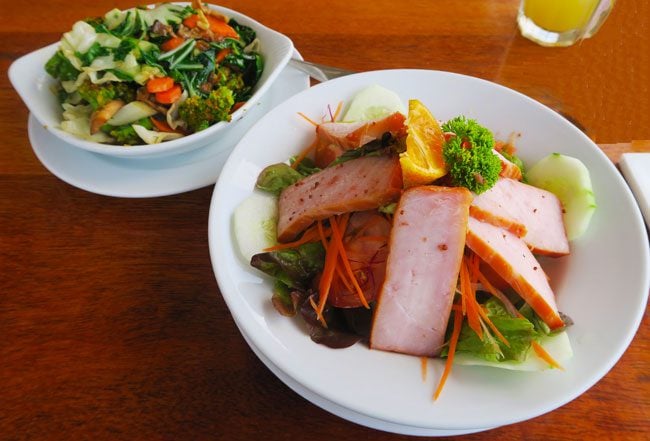 Day 2: Muri Lagoon & Island Night Show
Spend the second day on the island at its most sought-after location and during the evening, witness a spectacular Polynesian show.
A Pampering Massage
Today you'll focus your attention on the Muri Lagoon, one of the prettiest and most popular parts of Rarotonga. For breakfast, head to the LBV cafe in Muri Village for a culinary voyage to Paris. When you're fully awake, walk or drive down to Rumours Waterfall Spa for a jet lag recovery massage or better yet, their signature Vichy Shower natural water massage. This award-winning spa is the perfect way to pamper yourself on this tropical vacation to Polynesia.
Muri Beach & Lagoon
Now that you're relaxed, it's time to get back into a horizontal mode in Muri Beach. The southern end of the lagoon is quieter, but if you feel like getting some aqua exercise – the Muri Lagoon is the best spot on the island for kayaking, kitesurfing and standup paddleboarding.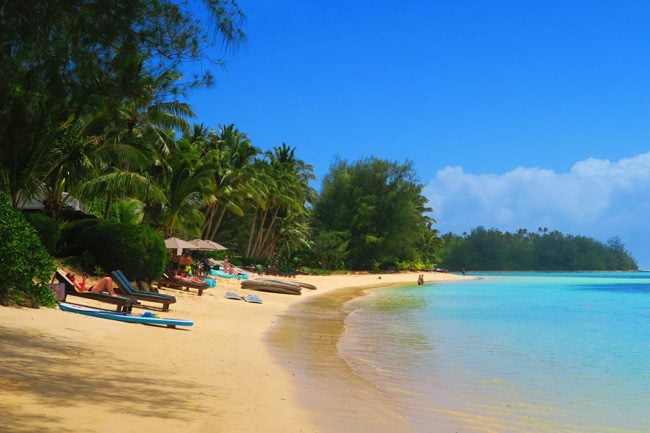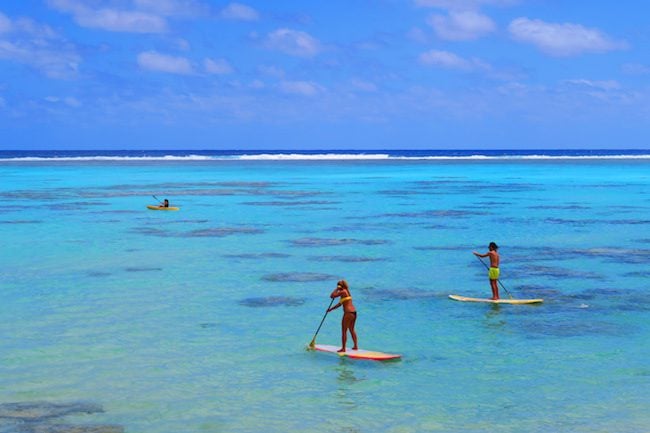 For lunch, head to Avana Harbor and the Mooring Fish Cafe. The sandwiches are so out of this world, that you'll probably come back here again during your week in Rarotonga. The location itself is of historical significance as well. It is from here that Rarotongans set sail on massive outrigger canoes (vakas) on a bold voyage that would eventually lead to the discovery of Aotearoa – better known as New Zealand.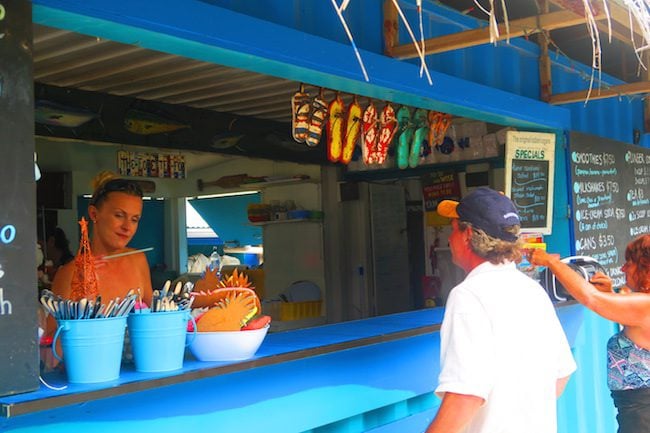 Island Night Show
After a bit more relaxing, head to Te Vara Nui Village or be picked up by their complimentary shuttle. It's a well-known fact that all Cook Islanders can sing, dance and play with fire. In Rarotonga, all three are combined with a huge buffet dinner in a memorable evening that showcases the exotic Polynesian culture of the Cook Islands. The evening reaches a climax with the spectacular overwater show.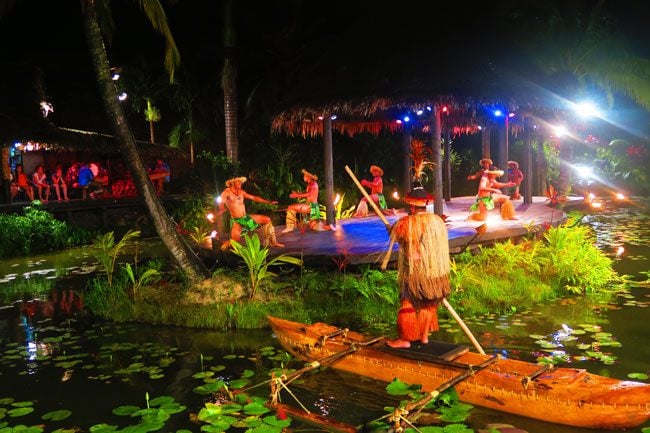 Professional dancers wearing exotic costumes, act out the legend of Tongaiti – an ancient fearsome warrior. I don't want to spoil things too much so let's just say you have to see this for yourself. Here's a full review of Te Vara Nui Village, including all packages and key information you need to know.