Awesome Arizona: Cool Places To Stay
Arizona is one of my favorite destinations in the U.S. There is something in that old Wild West vibe and all that open space that really gets my senses going. If you're heading to the American Southwest on a romantic or family vacation, here are a few overnight options to consider.
Cool Place in the Desert
The Phoenix metropolitan area offers plenty of accommodation options, but for those who like to stay outside of large cities, the Scottsdale Marriott at McDowell Mountains offers close proximity to world-class golf courses and the McDowell Mountains Regional Park. Between hitting the links and doing a bit of hiking, you can get some shopping done and relax in this Four Diamond Resort hotel's heated pool – though I am not sure why heating the pool is really necessary. Rooms are very spacious, and some have wicked views of the McDowell Mountains.
In the Heart of Scottsdale
One of my favorite places in the Phoenix area is Scottsdale. Maybe it's because it's so well-kept, maybe it's all those golf courses, or maybe it's because my uncle lives there. This part of town is definitely an excellent area to base yourself in. The Aloft Scottsdale is perfectly situated in the very heart of Scottsdale. You're just minutes away for Old Town, with its trendy shops, eating and drinking options, and the Echo Canyon Recreation Area is not too far away, with the Camelback Mountain hike not to be missed. As for the hotel itself, the large rooms are luxuriously pampering, and the outdoor pool will definitely come in handy on those hot summer days.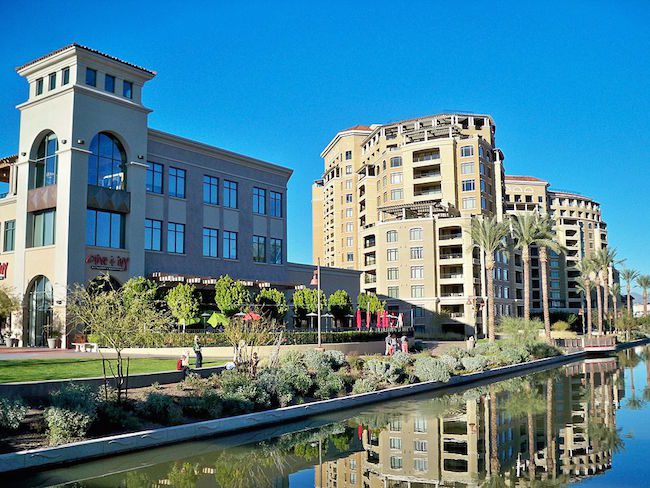 Image via Wikimedia by: Joseph Plotz
What a View!
Those who appreciate the beauty of deserts should not miss a trip to Sedona. Known for its red sandstone formations, the entire area glows in bright colors at sunrise and sunset. Sounds great, but what about a place to stay? If it's more of the gorgeous views that you're after, the Amara Resort & Spa, a Kimpton Hotel, is for you. Rooms are simple, yet very comfortable, but the infinity saltwater swimming pool and the red mountains all around are the real kicker. This setting couldn't be prettier. The resort is also within walking distance of Sedona's shopping and dining, if you manage to pull yourself from the view.
Pampering and Relaxing
Since Sedona is just so pretty, here's another option for you, this time putting luxury above everything else. If you're celebrating a special occasion or are simply after a relaxing long weekend, the L'Auberge de Sedona will take care of all your needs. Luxury cottages and lodges are scattered across a beautiful wooded property. As its name suggests, the French touch is everywhere, especially in the gourmet food served in the resort's restaurant. While rates are high, there's no price tag on romance, so check it out for yourself.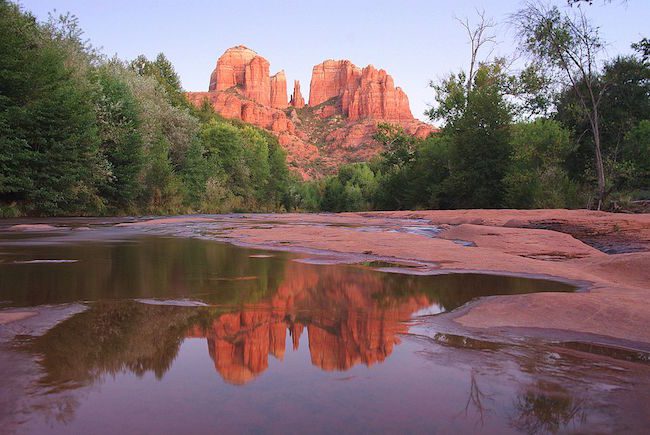 Image via Wikimedia by: Adam Baker
Great for the Family
Still in Sedona, here's a good option if you're traveling with the kids, and even your pets. The Sedona Real Inn & Suites offers everything you need for a good family stay: a comfortable room with the option to add a rollaway bed, free Wi-Fi, free breakfast, and easy driving to all the main attractions. Oh, and there's even a dedicated park filled with activities for the kids and pets.