The Best Beaches On The Big Island Of Hawaii
The Big Island of Hawaii is so big, that you it can fit the rest of the Hawaiian islands within its limits and still have plenty of leftover space. So it's no wonder this land of contradictions is home to a few awesome beaches, some of the best in Hawaii. I spent three months on the island and in this post, I'll share with you the very best beaches on the Big Island of Hawaii.
Visiting other Hawaiian islands? Sample itineraries, guides to the best beaches and the must-see highlights are all waiting for you in the Hawaii Travel Guide collection. Aloha!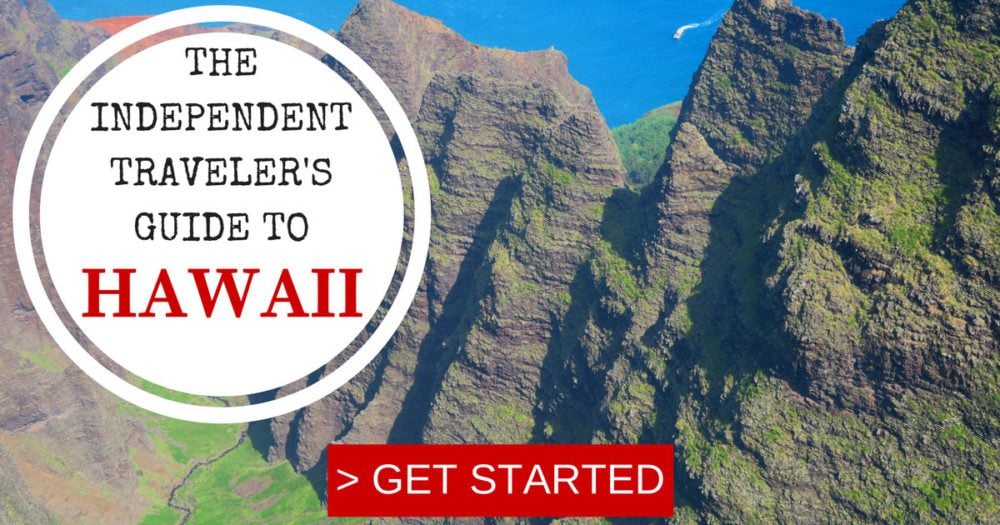 Things To Keep In Mind
This extensive list of the best beaches on the Big Island will cover the entire coastline of the island so you can choose the ones that can fit into your itinerary. Keep in mind two things:
Some beaches have facilities (showers, toilets etc.) and lifeguards while others don't.
Beaches inside official state or county parks have opening hours so have a look at the signs before entering. Some allow camping.
Hawaii, Tailor Made!
The Hawaiian islands are among the last places to be colonized by mankind, five main islands, each with its unique personality.
Get expert advice and assistance with planning your trip to the destination where tropical dreams come true!
---
Map of the Best Big Island Beaches
This map outlines all the beaches mentioned in this article. Click on the image to open in Google Maps.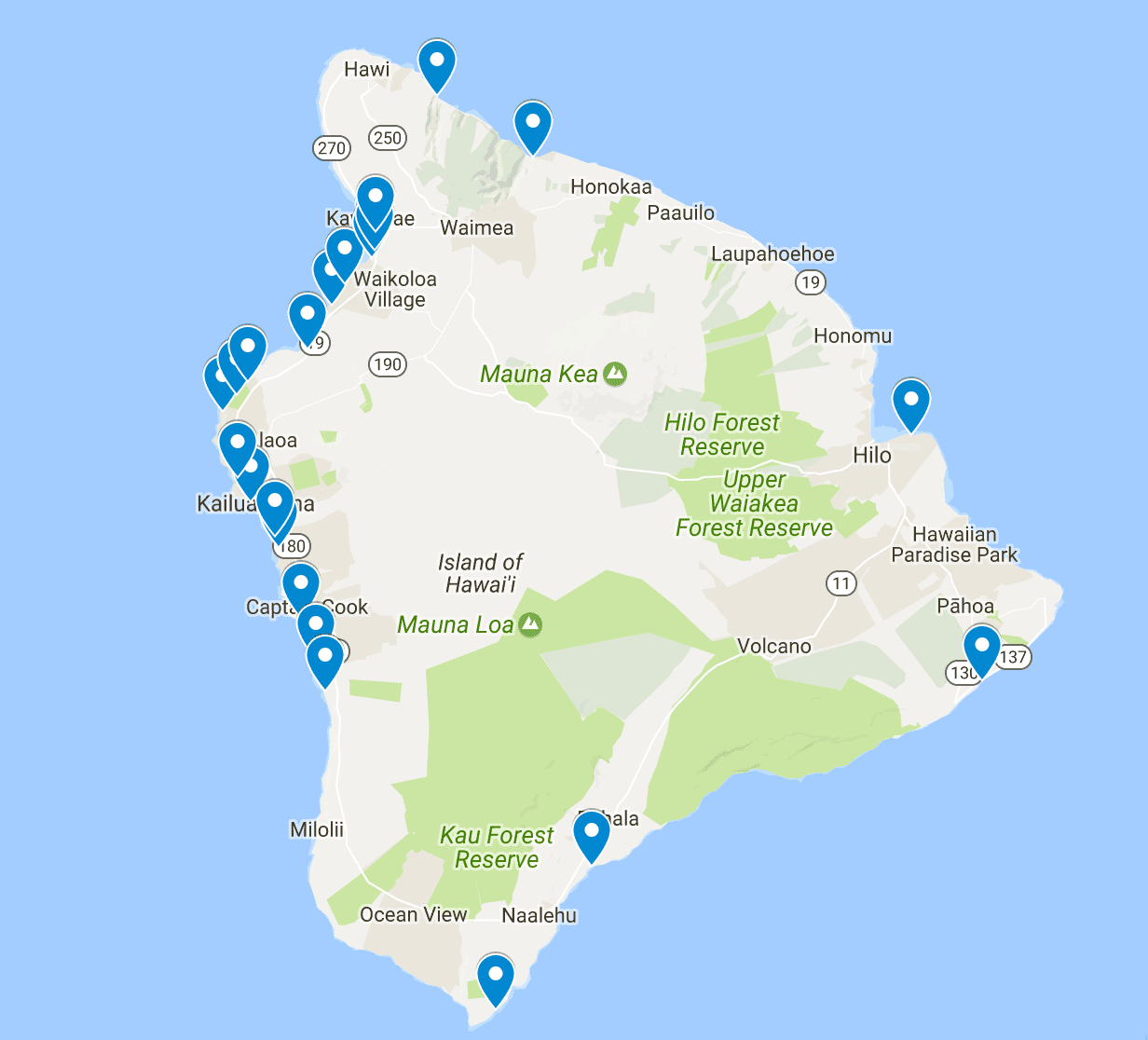 Best Kailua-Kona Beaches
Sunny Kailua-Kona is the de facto tourist capital of the Big Island. On both ends of its charming 'downtown', there are a number of pretty beaches, all perfect options for experiencing the magical sunsets of the Big Island.
Kaloko-Honokohau – a.k.a 'Sea Turtle Beach'
Miles of gorgeous beach, radiating sunsets and guaranteed a sighting of sea turtles. All those plus more are waiting for you at Kaloko-Honokōhau National Historical Park and its beach. Located behind the Kona harbor, a trail leads visitors to the beach where the Big Island's VIP residents – the green sea turtles – are likely basking in the gentle sun. The best time to visit is during late afternoons and be sure to keep a safe distance of 20 ft (6m) from the green sea turtles – a protected species in Hawaii. No facilities and limited lifeguard coverage.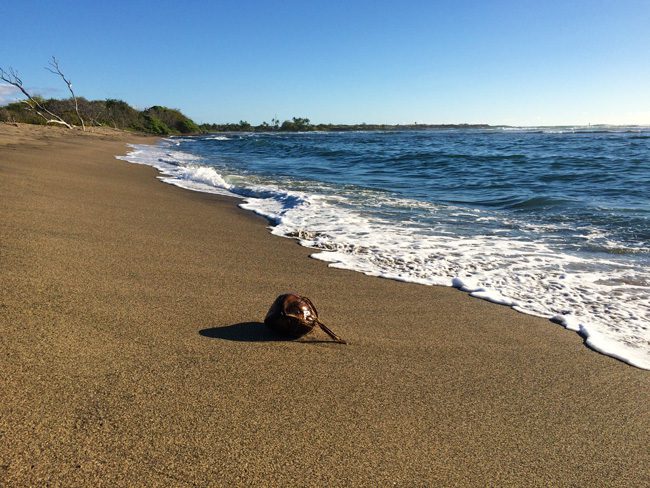 Old Kona Airport
The former Kona airport is now a beautiful beach park. There are jogging tracks, a small garden, thousands of parking spots on the old runway, and not that many visitors. The beach is a perfect place for a picnic, long walks, watching the sunset or all of the above. Though the swimming isn't great, it's the views and glorious sunsets that award this beach extra bonus points. At its northern end, you'll also find a secluded cove where locals like to fish. Full facilities, BBQ and picnic pavilions, no lifeguard on duty.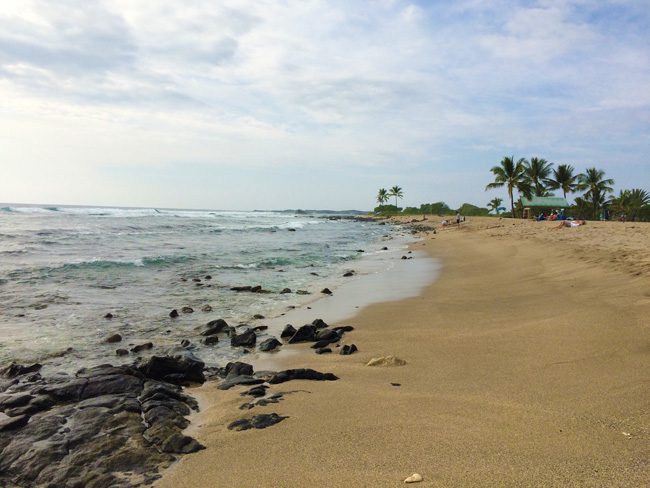 Magic Sands Beach
South of downtown Kailua, this beach gets its name from the winter disappearing act it likes to pull on locals. During these months, the surf literally strips the beach of much of its fine sand, leaving half of the beach decorated with exposed lava boulders. Swimming can be rough (and rocky) when the surf is up, but the vibe is excellent and bodyboarding enthusiasts will have a blast. It's also a great spot for sunsets or showing your talent off in a round of beach volleyball with the locals. It's also close to Da Poke Shack – one of the Big Island's best poke bowls. Toilets, outdoor showers, and lifeguard on duty.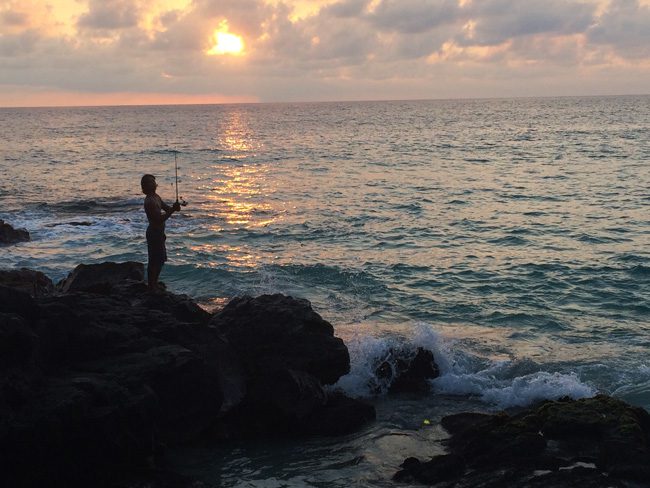 Kahaluu Beach Park
The beach is popular with families with small children. Thanks to a protective reef, the bay is home to calm and shallow waters that are safe for swimming and offer decent snorkeling if you cannot make it to Two-Step beach or the Captain Cook Monument (the best snorkeling spots on the Big Island). You might even spot Green Sea Turtles if you have a bit of luck. Chilling on the beach itself, however, is not that pleasant and I definitely recommend bringing a couple of beach chairs and some shade. Full facilities and lifeguard on duty.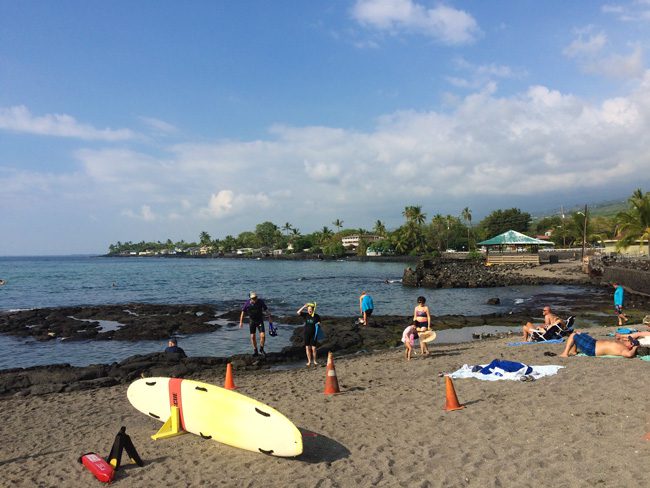 Best North Kona Beaches
The coastline north of Kailua is characterized by barren lava fields running for miles inland. But don't let the desert-like scenery fool you. This is where some of the Big Island's finest beaches are to be found. Black sand or white, the choice is up to you. But never forget to look east to catch a glimpse of snow-capped Mauna Kea as you're wetting your feet in tropical waters!
Makolea Beach
Part of Kekaha Kai State Park, Makolea is the best black sand beach on the island in my opinion. Despite not a single palm tree in sight, the beach is a real stunner – a small crescent of fine black sand that slopes into the rough water. Swimming is not advised but what is totally recommended is visiting in the afternoon when it's not too hot, putting your towel down on the gentle sand and enjoying one of the best naps you'll ever experience thanks to the breeze and aquatic symphony. Oh, and there's very little chance of seeing any humans around here aside from jets on the final approach to nearby Kona airport. I loved coming to this isolated beach in the late afternoon and simply getting away from it all.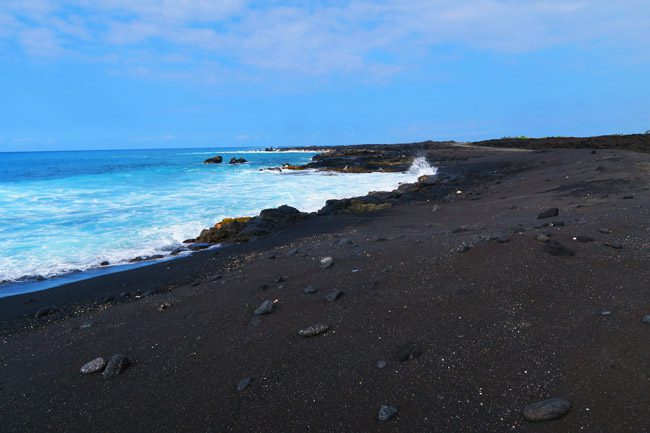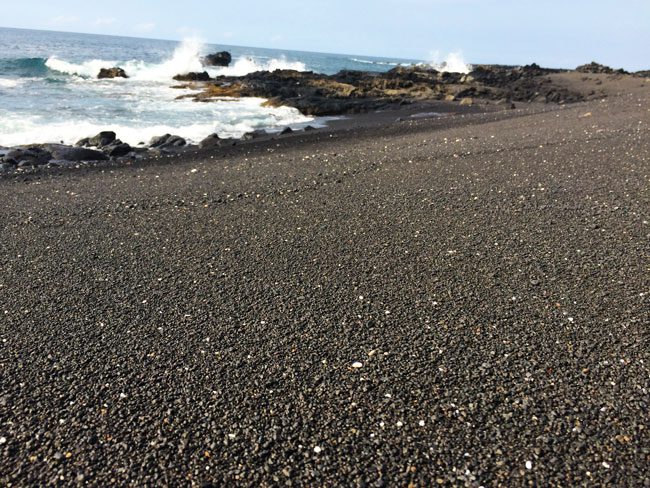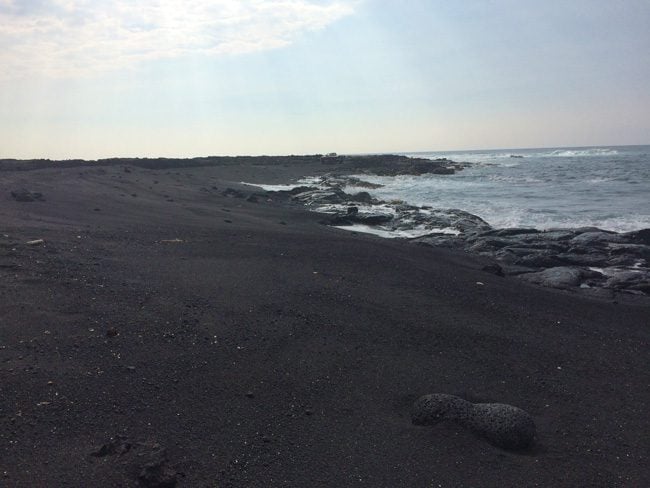 To get here, turn west at the southern entrance to the park. You'll need to drive for about 20 mins on a rough unpaved road but taking it slowly with a 2WD will do the trick. Once you reach the parking lot at the very end of the road, begin walking south along the coastline on the beautiful lava field. After a further 15 minutes, you'll see the beach! No facilities, lifeguard or shade. Toilets are available in the main parking lot.
Mahai'ula Beach
Also part of Kekaha Kai State Park, Mahai'ula is, in my opinion, the best beach on the Big Island! It's that stereotypical tropical beach, a mix of salt and pepper sand, palm trees galore, and beautiful azure waters. And because getting here requires driving on the same rough road as Makolea Beach, the masses seem to overlook this beauty, which means more space for you! Mahai'ula Beach is so pretty, that even sea turtles like to hang out on the shoreline. Its sloping sand is perfect for doing nothing, and there's plenty of shade for everyone! A further short hike from Mahai'ula will bring you to Makalawena Beach, another Big Island gem.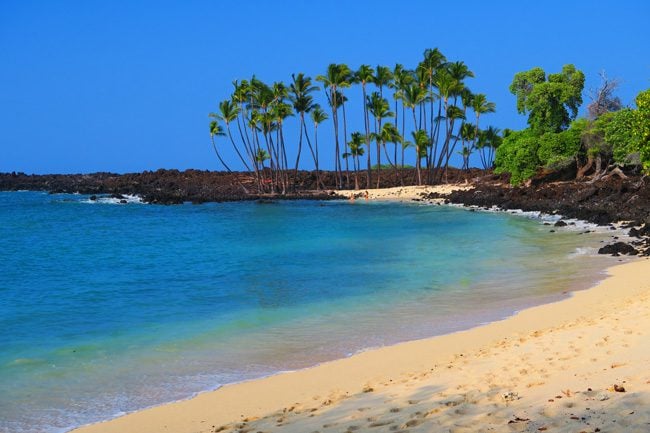 To get here, follow the same instructions as with Makolea Beach but instead of driving all the way to the parking lot at the end, park the car by the metal chain restricting access to a trail (you can't miss it as there will be other cars here). Skip over the chain and head for about 10 minutes over the lava field to the beach. No facilities or lifeguards, portable toilets available.
Kua Bay
Manini'owali Beach – a.k.a Kua Bay – is one of the most popular beaches on the Kona coast. The northernmost beach in Kekaha Kai State Park is accessible via a paved road so parking can be tricky on weekends and holidays. The beach itself is a beautiful cove, a mix of rock and sand meeting the bluest of waters. It's difficult to find a private spot, but the beauty of the place makes you quickly forget you're not alone out here. Swimming is a bit rough during winter months, but bodysurfing conditions are usually perfect! Full facilities, no lifeguard or shade. Food trucks are sometimes present.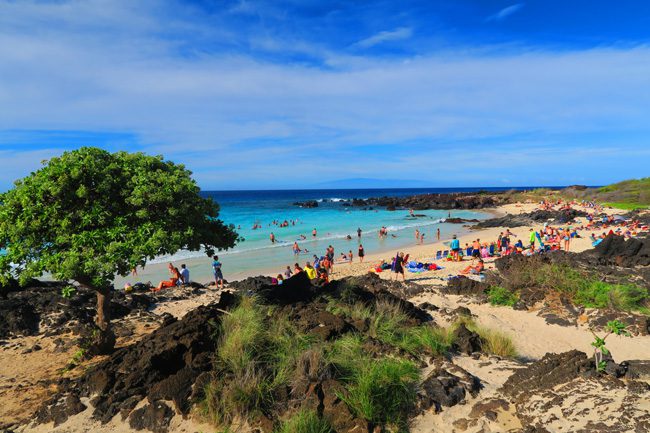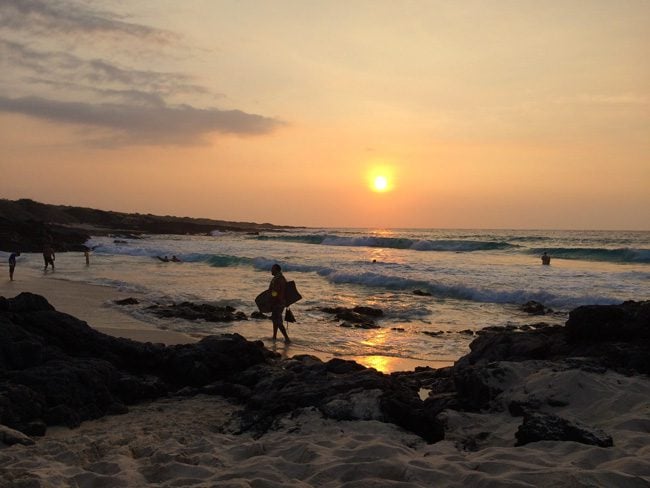 Kiholo Bay
Home to one of the Big Island's prettiest black sand beaches, Kiholo Bay is likely the most accessible beach on the Kona Coast for those who seek to get away from it all. From the parking lot (leave nothing inside), paths head south to secluded ponds and north along the black sand beach to a favorite hangout spot for sea turtles. As with Kaloko-Honokohau Beach in Kailua, you are pretty much guaranteed to spot green sea turtles over here but just make sure to respect the 20f buffer they're awarded with (by law).
As you head north, you'll pass a massive private mansion before reaching a freshwater channel that leads to a series of large fishponds. If you didn't have luck spotting turtles up until now, your luck is about to change. These cuties love swimming in the channel to their chillout spot nearby so just park it here for a while. If you continue past the pond, you'll reach a large and barren lava field where you can keep walking for who knows how long. No lifeguard or water available (only portable toilets), camping allowed with a permit.
Anaeho'omalu Beach
Despite its location within the Waikoloa Resort area, Anaeho'omalu Beach somehow manages to maintain a sense of authenticity. Perhaps it's the large number of coconut trees flanking one end of the beach, perhaps it's the ancient fish pond separating it from the concrete, or perhaps it's the perfect sunset angle and calm waters. Whatever it may be, this is a great beach option if you have young children or just want to catch up on your vacation reading list. Full facilities, plenty of free parking.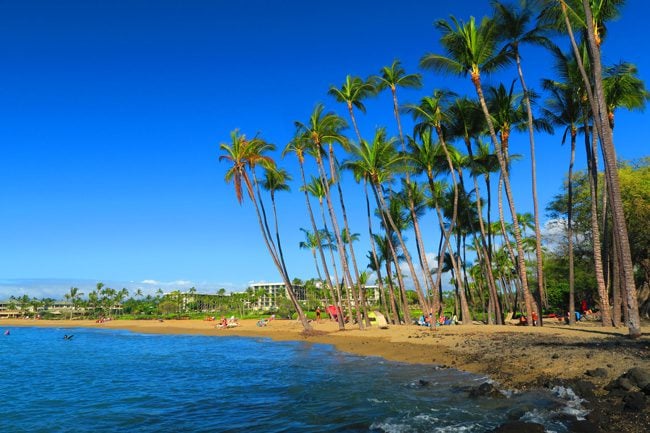 Makaiwa Bay (Mauna Lani Beach)
Another pretty stretch of beach overtaken by Resorts, this time the Mauna Lani Bay & Bungalows. You don't actually need to be staying here to enjoy the beach, but non-guest parking is very limited so arrive in the morning hours. The beach itself is essentially a protected cove. The snorkeling is incredible at about 100 meters from the beach and there's a paved path that curves around the bay where you can catch awesome views of Mauna Kea, the island Maui and the Kohala Coastline. It is off this path that you can also go snorkeling in rocky waters but this can be dangerous if the ocean is choppy. Full facilities and food options limited free parking.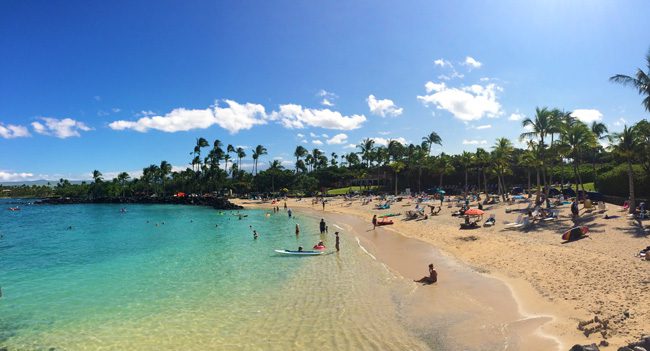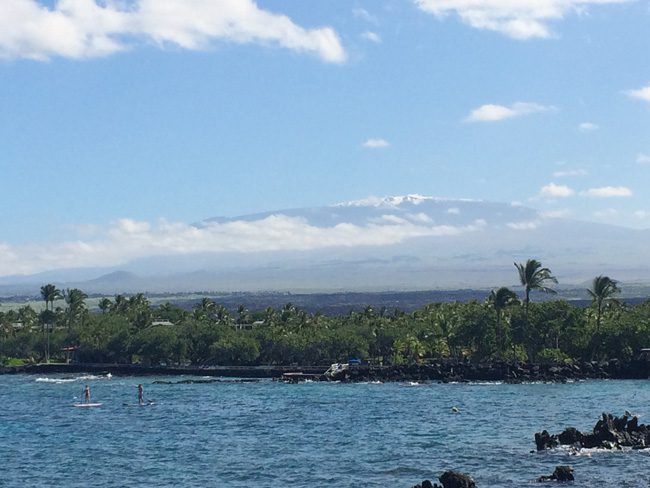 Beach 69
If you're looking for a local secret, Beach 69 is for you. The setting is magnificent and there's plenty of shade for everyone. This beach is wild and not "sterile" like its siblings on this stretch of North Kona coastline – exactly what I was looking for. Swimming is rough in winter months yet the sound of the crashing waves makes up for the inability to swim. During calmer months, there's actually decent snorkeling and very good swimming. Toilets and showers available, nonresidents must pay $5 in an honesty box.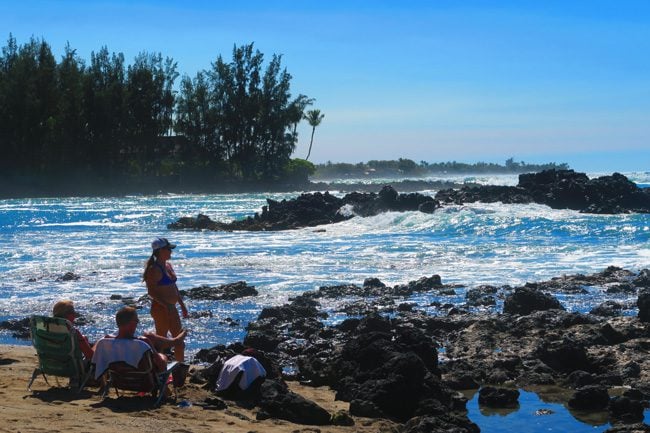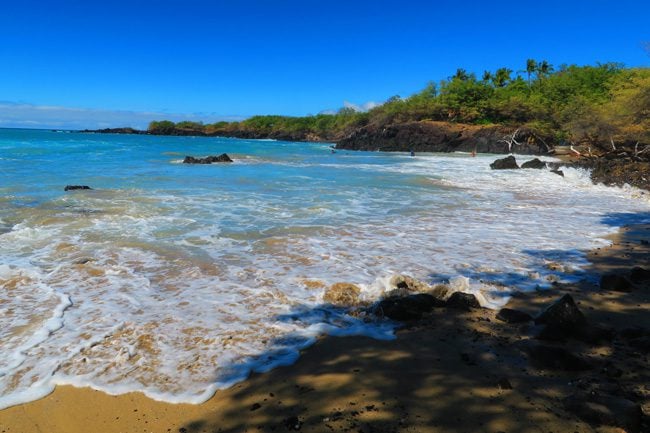 Hapuna Beach
Considered one of the best beaches on the Big Island, it's easy to understand why Hapuna Beach wins the hearts of locals and tourists alike. Its long and wide patch of soft creamy sand melts between your toes and the azure colors of the Pacific invite you to go for a dip. But wait, especially during winter months, the waves can be a bit too rough and the gusts of wind unbearable. However, when the weather is calm, this is a great place for swimming and snorkeling thanks to a sandy bottom and a rocky cove at its southern end. If you want to park it on the beach itself, you better bring your own shade. Nonresidents must pay $5 parking fee, full facilities, and lifeguards on duty.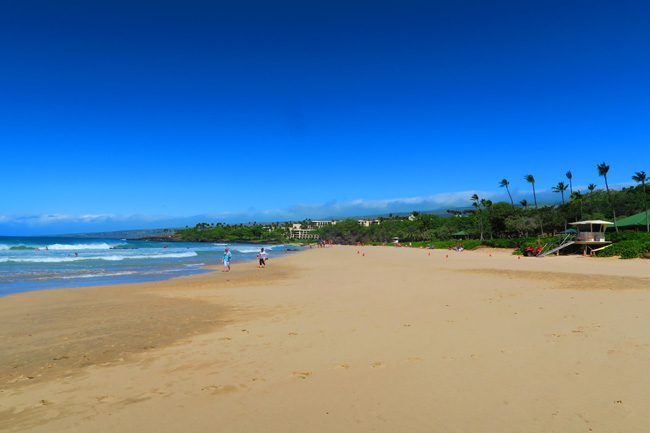 Mauna Kea Beach
Officially named Kaunaoa Beach, this famous beach is more commonly known as Mauna Kea, thanks to the top-notch resort it plays host to. As in the case of Mauna Lani Beach (see above), access to this beach is possible for nonguests, however, there is a very small number of parking spaces available. Your best shot of splashing in its calm waters and lying on the soft creamy sand is by getting here in the early morning hours or late afternoons. Despite the beach's claim to fame, I didn't find it all that special. I can see why resort guests would come here as well as families with children, but if you're looking for that perfect beach, head elsewhere in my opinion. Full facilities and lifeguard on duty, very limited parking.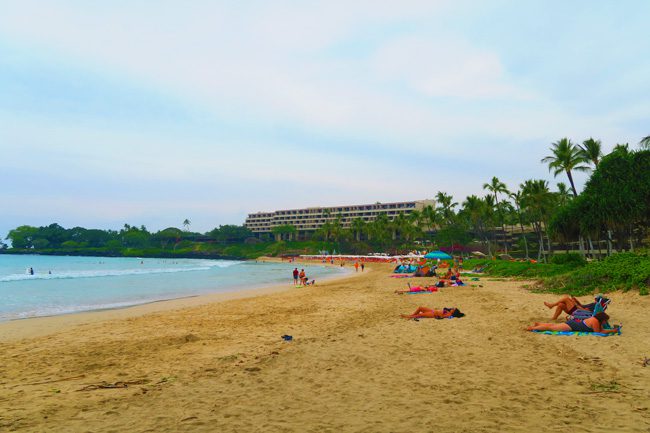 Mau'umae Beach
No parking space left at Mauna Kea Beach? No problem! Finding a secluded beach in the heart of 'Waikoloa resort country' is no easy task. However, since you're reading this post, I'll share the secret with you. A few minutes by car from Mauna Kea Beach, Mau'umae Beach is as removed from the resort scene as can be. A secluded cove that's perfect for swimming, snorkeling and meditating, Mau'umae is a favorite local beach. To get here, enter the gates of the Mauna Kea resort access road (Mauna Kea Beach Drive) and turn right on Kamahoi Place. Cross the wooden bridges and look for the numbered telephone poles on the left side (seaside). Right after #22, you'll see a small parking lot to your right and a marked trail to your left! No facilities (thank God) or lifeguards.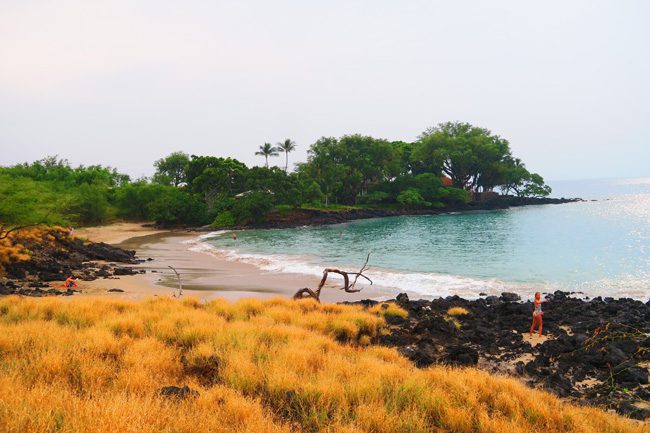 Best South Kona Beaches
Away from the resorts and deep into the beautiful coastal countryside of the Kona Coast, you'll find here a small handful of worthwhile beaches, two of which are purely for snorkeling.
Captain Cook Monument
In 1779, the great Captain Cook sailed into Kealakekua Bay and was the first Westerner to land on Hawaiian shores. His encounter with the locals was, at first, a huge success, but a return visit just a few weeks later proved to be disastrous with the captain losing his life. These days, the hike to Kealakekua Bay and the monument commemorating the site where Cook was killed is one of the prettiest spots on the Kona Coast and the snorkeling is superb. Expect to hike for about 45 minutes down on the Ka'awa Loa Trail and 60-90 minutes to get back up. No facilities at all and snorkeling gear is a must. See this 5 days in the Big Island sample itinerary for more details.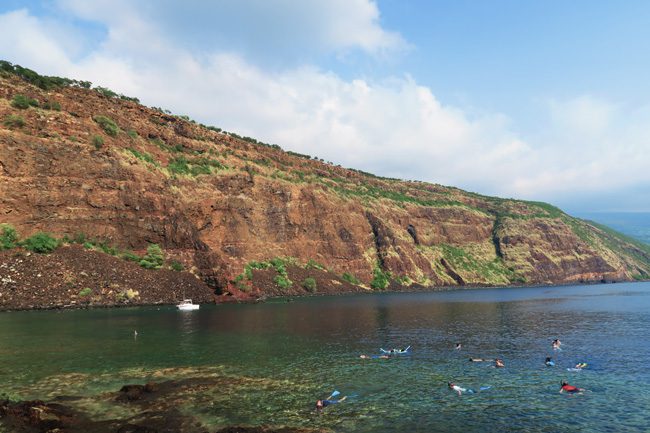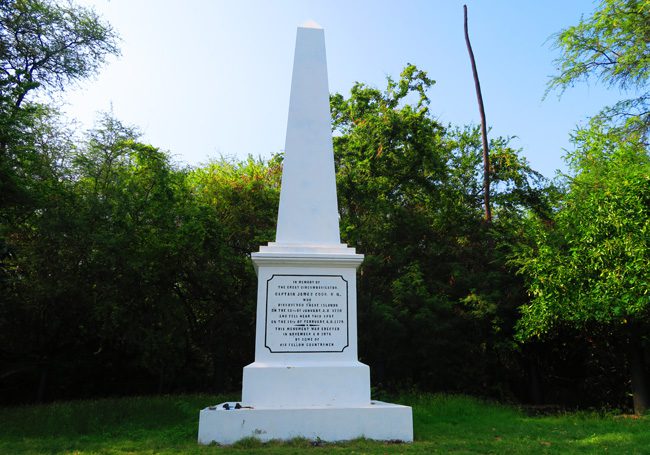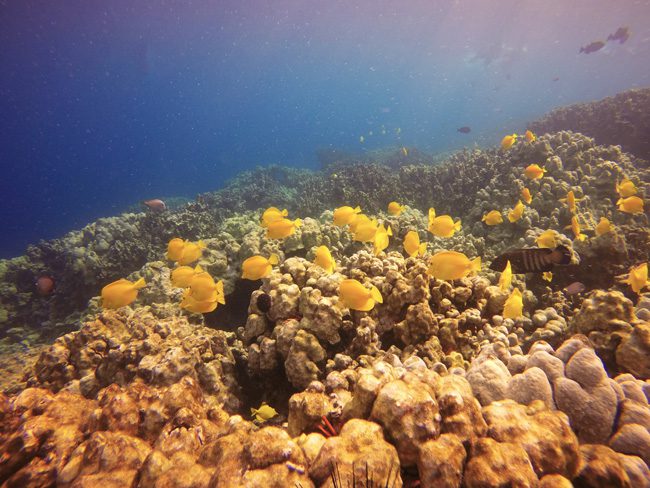 Two Step Beach
After Kealakekua Bay, this is the best place for snorkeling on the Big Island and it's a popular spot since it is accessible by car. The beach gets its name from its close proximity to the coral garden – take just "two steps" from the shore, and voila, there it is. The snorkeling is not quite as impressive as around the Captain Cook Monument, but it's still pretty and you might get lucky on the day you visit. Another bonus is Pu'uhonua o Honaunau National Historical Park (a.k.a 'City of Refuge'). This park is adjacent to Two-Step and the two can be combined along with a few other short stops, including the next listing. Free parking, no shade, portable toilets, bring full snorkeling gear (including reef shoes or fins).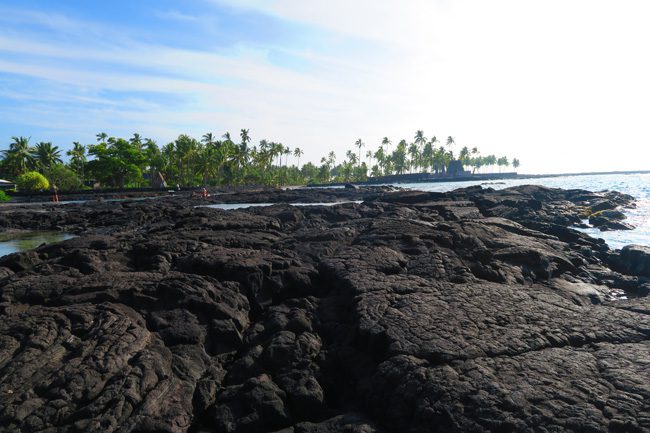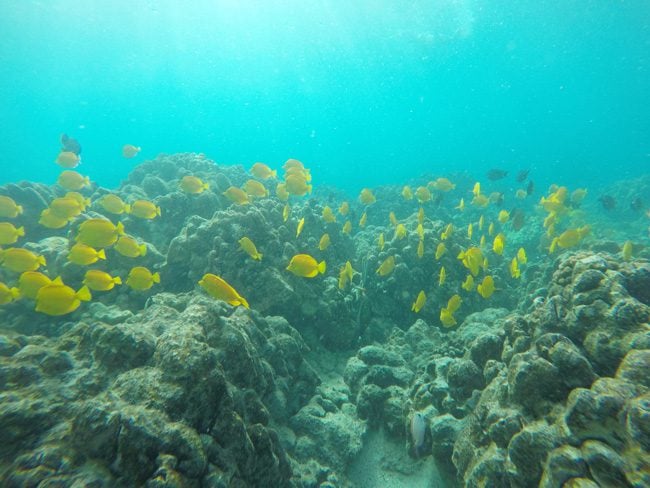 Ho'okena Beach Park
One of the most rewarding beaches in the Big Island and a favorite hangout spot for locals, especially its campground over the weekend. The setting is magnificent – charcoal-like sand, beautiful surrounding cliffs, and a good chance of spotting spinner dolphins offshore. Swimming can be a bit rough during the winter months (but perfect for bodyboarding), but just parking it for the day in the shade of a coconut tree is more than enough. Free parking, full facilities, no lifeguards.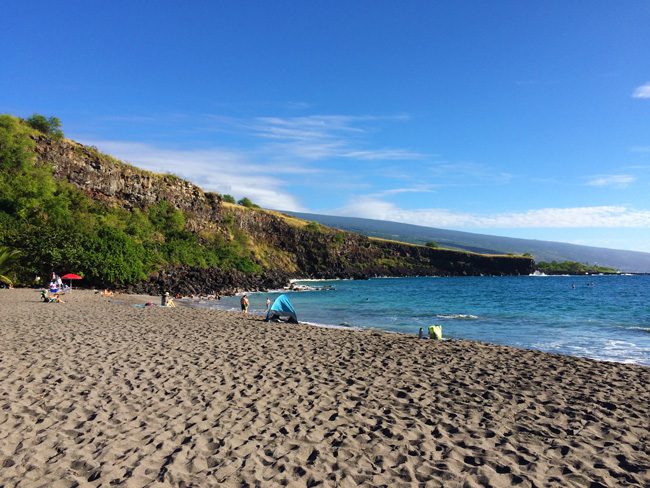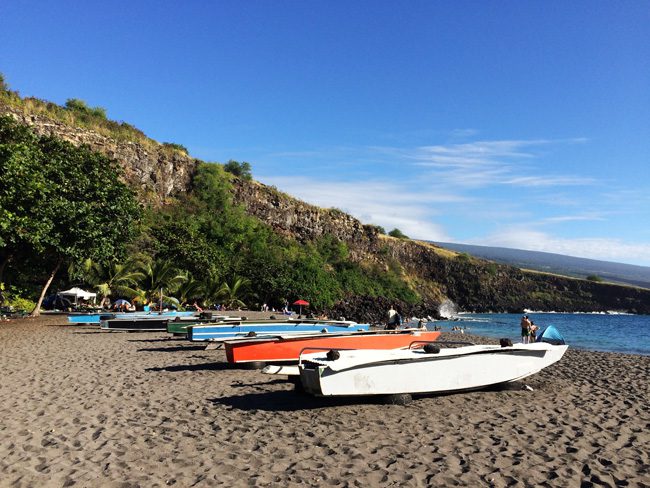 Best Hilo & South Coast Beaches
This vast section of the Big Island has a few interesting beaches, primarily fine black sand beaches. With the active Kilauea Volcano never too far away, this shouldn't come as a surprise!
The Green Sand Beach
Definitely the most interesting of the Big Island's beaches, Papakolea Beach, a.k.a Green Sand Beach is a bit out of the way, but if you can make it out here you will not regret it. Located in South Point – the southernmost place in the entire United States (not counting American Samoa) – the green color is owed to finely eroded sand from volcanic rock in the area. The Green Sand Beach is reached via a scenic and easy coastal hike. Due to the fragile natural environment, driving to the beach is not permitted, not with your own 4WD or with locals who might offer a paid ride to the beach.
The Green Sand Beach is best visited on a clear day at around noon when the sun shines directly above the beach. Swimming is said to be rough, but on the day I visited the water was simply perfect! No facilities, lifeguards or shade. See this 5 days in the Big Island sample itinerary for more details.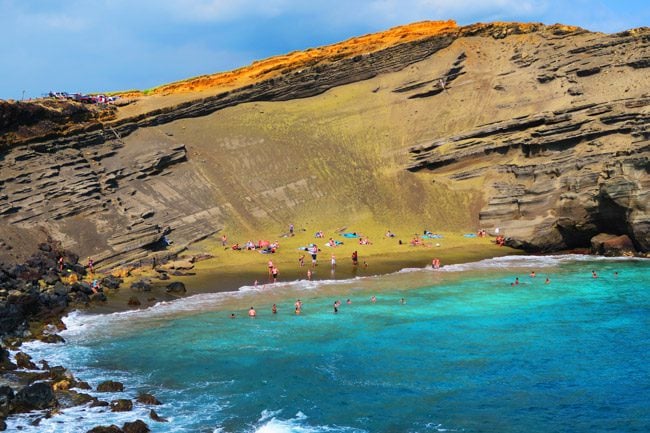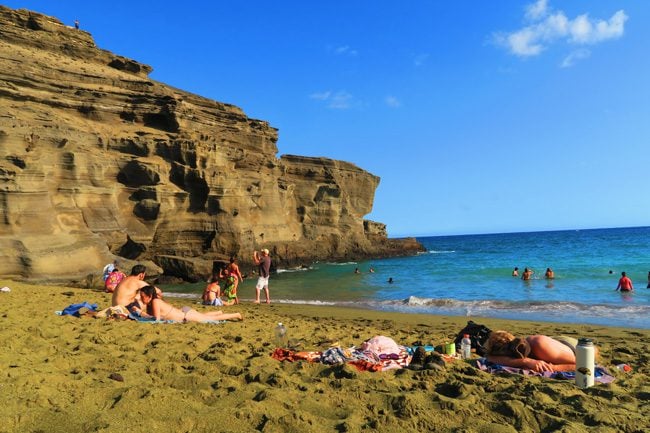 Punalu'u Black Sand Beach
Another popular black sand beach, Punalu'u is also a favorite hangout spot for several species of sea turtles. The palm trees all around you add to the feeling of tropical remoteness and the location en route to Volcanoes National Park make this a very popular stop. Be advised though that swimming is often very dangerous. Full facilities, lifeguards, picnic tables.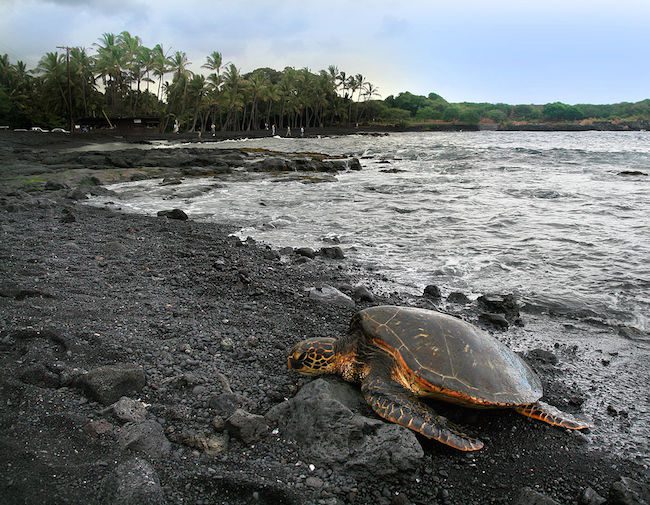 Kehena Black Sand Beach
A beautiful beach in the scenic and remote Puna Coast, Kehena Beach is 'hidden' at the mouth of a cove backed with plenty of trees to keep everyone out. Parking is very limited and you'll need to scramble down a small cliff to land on the beach. No facilities or lifeguards.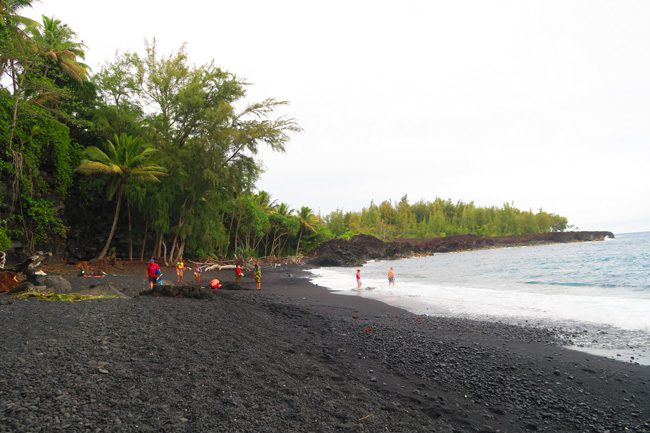 Kealoha Beach Park
Known locally as '4 miles beach', James Kealoha Beach Park is… just four miles out of Downtown Hilo. So if you're checking the Big Island's capital and the weather is nice, check out this pretty little park. The beach offers something for everybody so it can get quite busy on weekends. There's good snorkeling and safe swimming at one end, and surfing and fishing on the other. Full facilities, no lifeguards.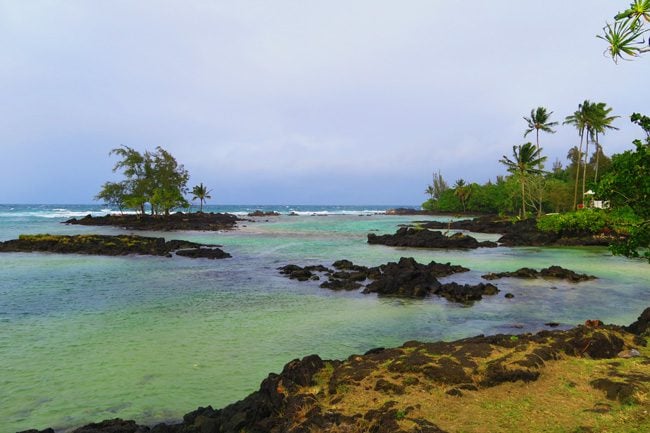 Best Northeast Beaches
Wild, rugged and tropical – the Big Island's remote northeast is characterized by a series of deep valleys carving into its interior. The beaches around here may not be great for swimming, but the scenery is magnificent and you'll likely come here to check out the valleys in any case.
Pololu Valley Beach
The northernmost valley in the Kohala Coast, reaching this beach is quite easy on the well-marked trail from the overlook. It's a great spot for a picnic or a snooze but I wouldn't recommend going for a dip in its waters, even if the locals do. No facilities or lifeguards.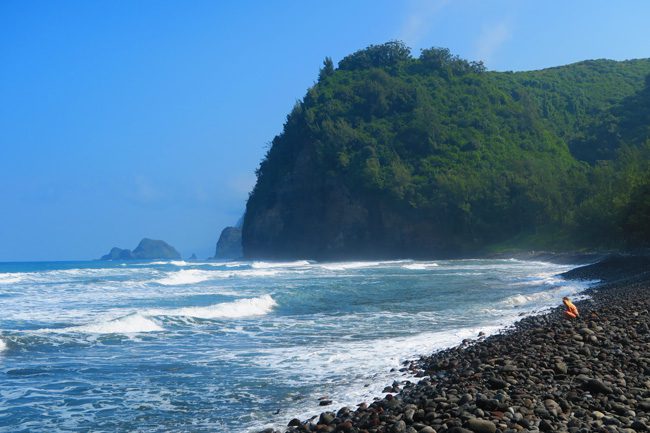 Waipio Valley Beach
One of the toughest places to reach on the Big Island, Waipio Valley and its beach are accessible via an incredibly steep paved road that requires either a proper 4WD or using your legs. It's really worth the effort though, with exceptional views of one of the prettiest spots in all of Hawaii. The beach itself is similar to that of Pololu Valley, only much larger and more enclosed between giant cliffs. You can also venture into the valley on a number of fine hikes or just relax on the beach. No facilities or lifeguards.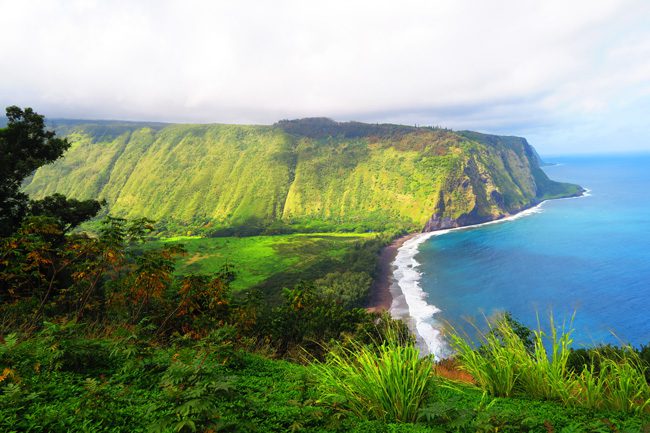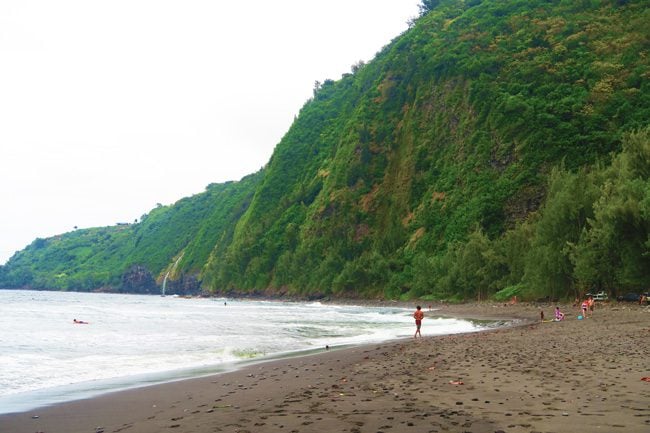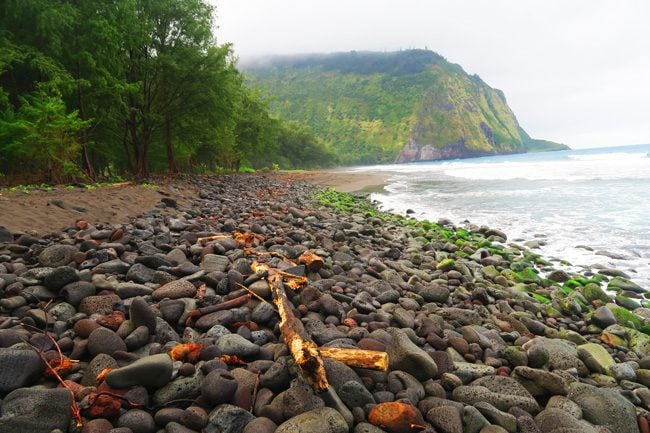 What's Next?
This list of the best beaches on the Big Island will certainly keep you busy and wet during your own adventure on the island! Visiting other Hawaiian islands? Sample itineraries, guides to the best beaches and the must-see highlights are all waiting for you in the Hawaii Travel Guide collection. Aloha!
Looking for More Information on the Big Island?
Hawaii, Tailor Made!
The Hawaiian islands are among the last places to be colonized by mankind, five main islands, each with its unique personality.
Get expert advice and assistance with planning your trip to the destination where tropical dreams come true!
---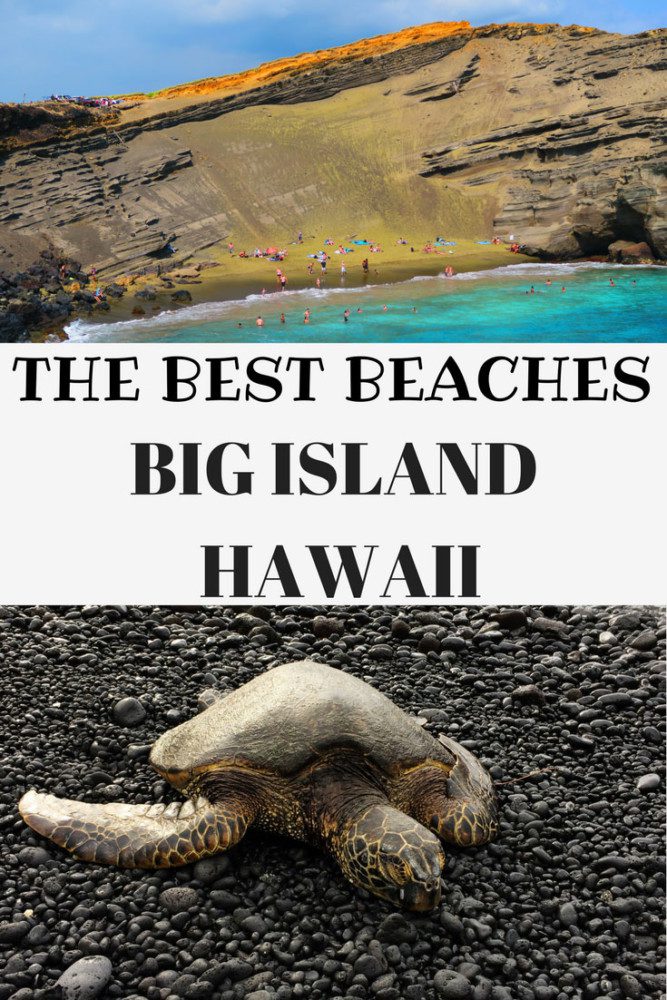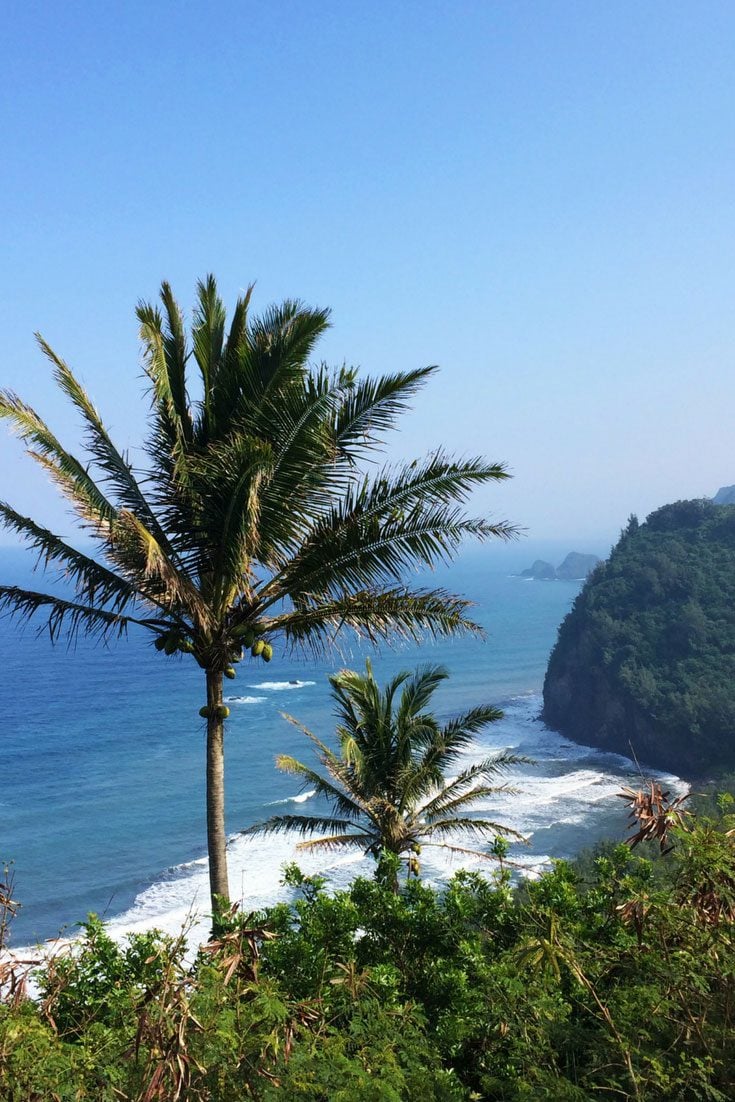 Pin These Images To Your Favorite Boards!