The Best Beaches In Kauai
The most stunning of the Hawaiian Islands, Kauai is a haven for visitors seeking to experience the great outdoors. But aside from memorable hiking trails and unforgettable vistas, the "Garden Isle" boasts some of the finest beaches in the remote US archipelago. I spent 10 days exploring all four corners of the island and in this post, I'll share with you the very best beaches in Kauai.
Visiting other Hawaiian islands? Sample itineraries, guides to the best beaches and the must-see highlights are all waiting for you in the Hawaii Travel Guide collection. Aloha!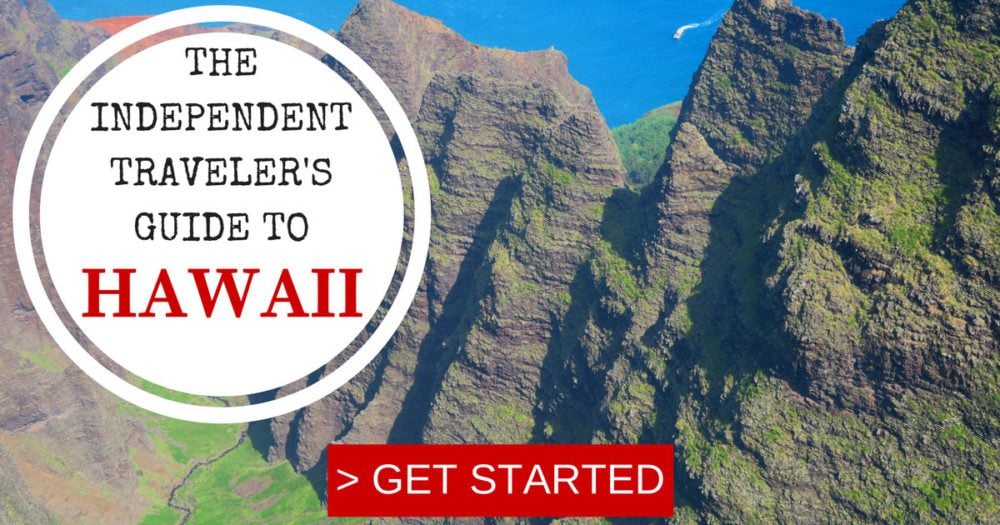 Hawaii, Tailor Made!
The Hawaiian islands are among the last places to be colonized by mankind, five main islands, each with its unique personality.
Get expert advice and assistance with planning your trip to the destination where tropical dreams come true!
Things To Keep In Mind
This extensive list of the best beaches in Kauai covers most of the accessible and less accessible beaches on the island. Feel free to pick and choose the ones that best fit into your Kauai itinerary. Keep in mind two things:
Some beaches have facilities (showers, toilets, etc.) and lifeguards while others don't.
Beaches inside official state or county parks may have opening hours so have a look at the signs before entering. Some allow camping.
---
Map of the Best Kauai Beaches
This map outlines all the beaches mentioned in this article. Click on the image to open in Google Maps.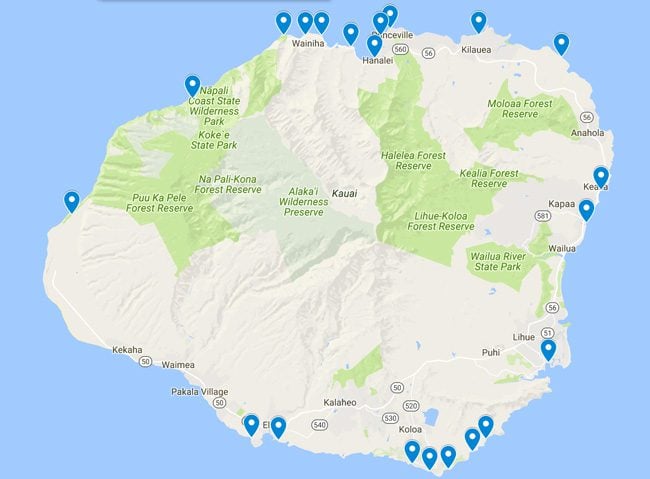 Best Kauai North Shore Beaches
Kauai's north coast is blessed with the island's best beaches. While on the eastern end of the north coast the beaches are wilder and open to the elements, the further west you head the more protected and stunning they get.
Larsen's Beach
This raw and secluded beach on the northeastern shore is one of my favorites. Not too many tourists venture out here since access to the beach is via a dirt road and a 5-minute hike down a steep(ish) trail – all the more reason to make it out here if you're looking for that rare 'off the grid' feeling in Kauai. Named after former sugar company manager – L David Larsen – the beach boasts a long stretch of golden sand and low-lying trees in the back to provide shade and an additional sense of seclusion (as if that's really needed). However, Larsen's Beach is more of a chillout beach, the kind of place to contemplate some of life's biggest questions if you know what I mean. Swimming can be very dangerous, especially during the winter months so take extra care and just enjoy having the beach all to yourself during weekdays. No facilities or lifeguards. Unfortunately, due to a camera malfunction, this is the only available photo.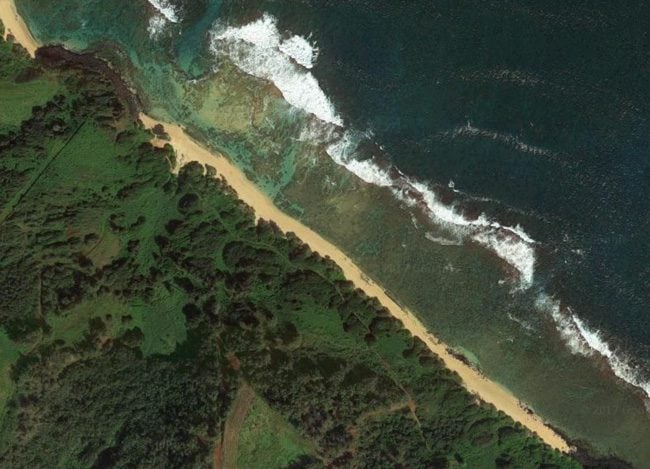 Kauapea (Secret) Beach
Visible from the historic lighthouse at the Kilauea Point National Wildlife Refuge, Secret Beach might not be such a secret anymore but as with Larsen's Beach, it requires a bit of an effort to reach which thankfully turns off a lot of tourists. This beach offers a huge expanse of the softest sand that is squeezed between the bluest of waters and towering cliffs that extend east to Kilauea Point. There's plenty of room for everyone: locals, surfers, the occasional nudists, and even spinner dolphins.
For a bit more seclusion, head west to a hidden cove that's protected by lava rocks and softened with sand. Be aware that especially during the winter months, swimming can be very hazardous. To reach Secrets Beach, turn on Kalihiwai Road and take the first right onto the dirt road. Keep going straight all the way until you reach a makeshift parking area. Leave nothing in the car (thieves have been known to stake out) and follow the steep path down for about 10 minutes. No facilities or lifeguards.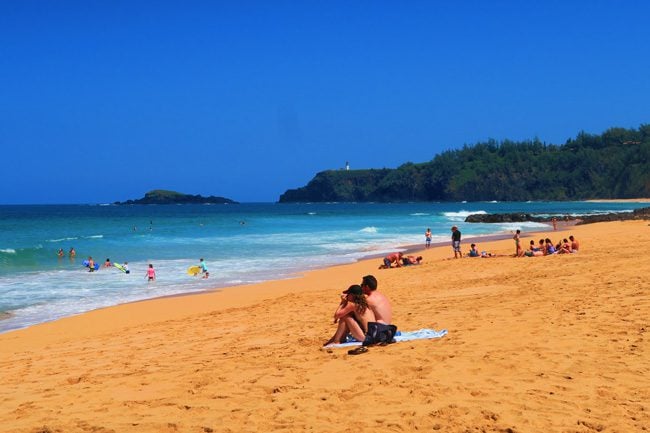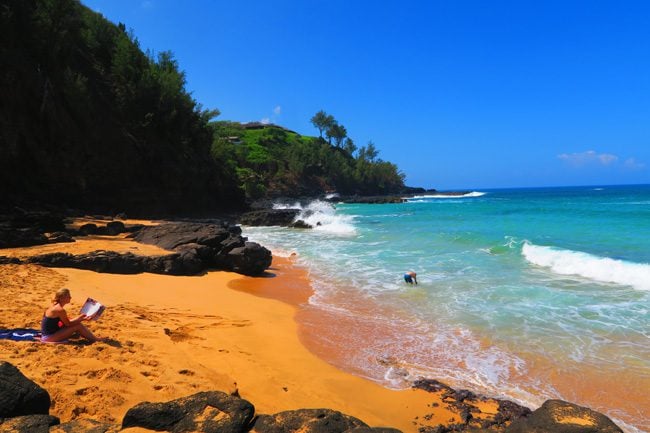 Queen's Bath
Not really a beach but more of a natural swimming pool, Queen's Bath is fed by a freshwater stream and the Pacific Ocean. It's beautiful to stare at but deadly to swim in throughout the year. Powerful waves that lash without warning have been known to literally suck swimmers out to sea. Nonetheless, if the trail is not too muddy and slippery (as it often is), it's still a pretty sight but only when the seas are calm. No facilities or lifeguards.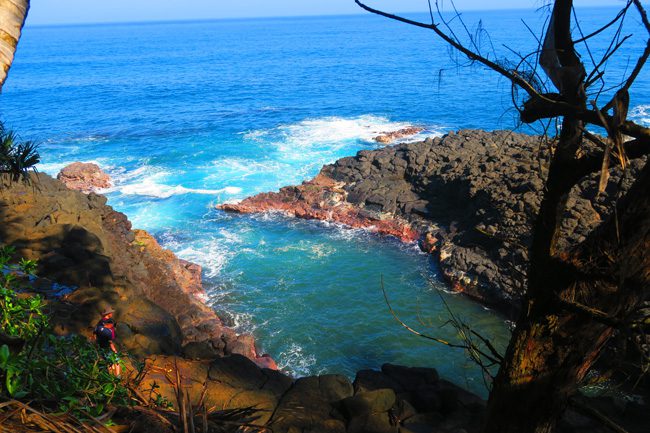 Hideaways Beach
One of the cutest beaches in Kauai, Pali Ke Kua – better known as Hideaways Beach – is a cove with a tiny sliver of golden sand dwarfed by the cliffs of the Princeville resort area. Unless you're a guest of the St. Regis, parking is very difficult with just eight spots allocated to the public. My advice is to just wait for a few minutes until somebody leaves (I waited for 15 minutes during the late afternoon). Once you've scored a parking spot, follow the trail down to the beach via a makeshift rope-assisted staircase. There are wonderful views to the west and the east from the beach, and sea turtles often don't mind sharing the limited sandy real estate with humans. Swimming and snorkeling are both good when the seas are calm. No facilities or lifeguards but plenty of shade.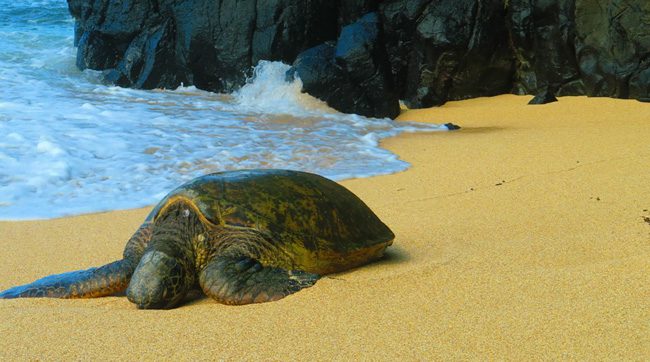 Hanalei Bay
The largest and most impressive bay in Kauai, Hanalei Bay is a playground for all age groups. It's where George Clooney went for a morning jog in The Descendants and where you'll simply want to park it for the day. The bay is so large that when it comes to beaches, there are quite a few of those dotting the creamy soft sand.
On the calmer eastern end, Black Pot Beach and the famous pier offer shallow swimming, nearby picnic grounds with facilities, and of course, the opportunity to "sit on the dock of the bay". In the center of the bay, Hanalei and Waioli Beach Parks are popular with beachgoers and paddlers heading out to the deeper parts of the bay. The further west you head, the more secluded things get and there's a good chance of finding your own spot on an unofficial beach. Full facilities, picnic areas and lifeguards in some sections.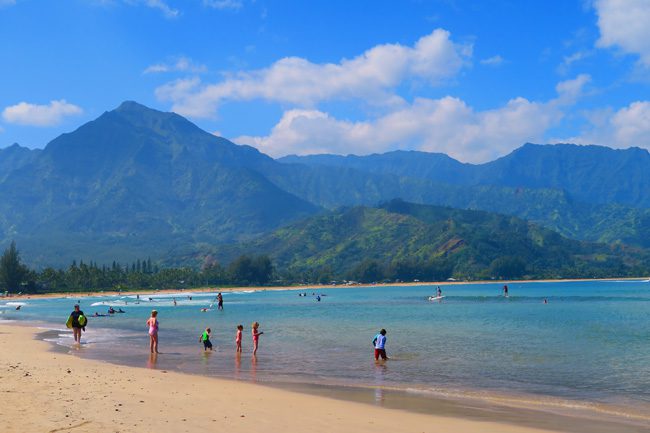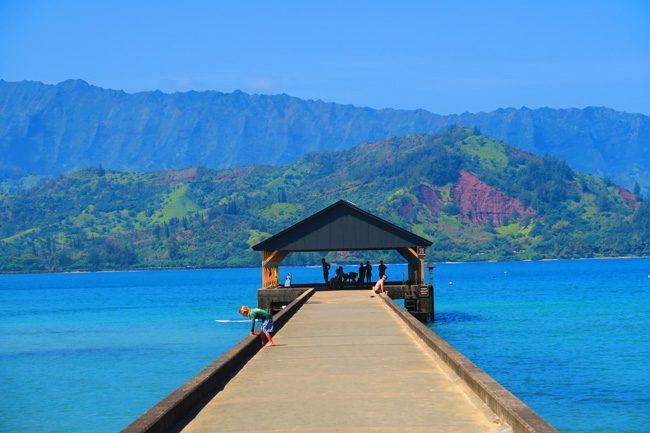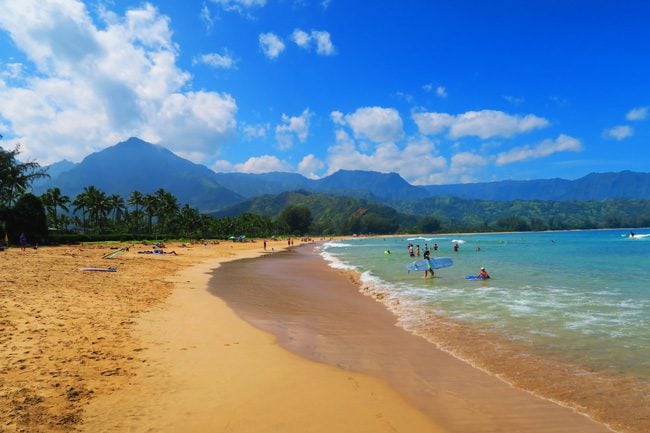 Lumahai Beach
Easily one of the top 3 beaches in Kauai, Lumahai Beach is a top choice for locals. Though swimming is very dangerous, the scenery is so beautiful that you'll totally enjoy your day even without wetting your entire body. Lumahai Beach reached cult status following its feature in the classic 1950's film South Pacific, and to this day, it is featured in countless travel brochures and other paraphernalia promoting Hawaii's tropical beaches. To reach the beach, park on the side of the coastal road and pick up the footpath leading down via the ironwood trees. No facilities or lifeguards but plenty of shade.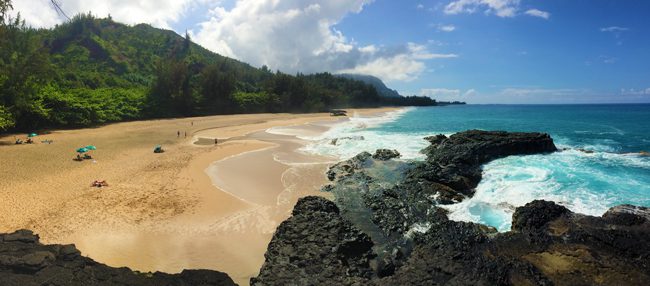 Tunnels Beach
Deserving the title of "best beach in Kauai", Makua Beach – better known as Tunnels Beach – is as pretty as they come. With crystal clear waters and the "Bali Hai" cliff looming in the background, it bears somewhat of a resemblance to Ofu Beach in American Samoa – the prettiest beach in the South Pacific. On a clear day when the ocean is calm, you will simply not want to leave this place and it is best to bring your snorkeling gear with you as Tunnels Beach has some of the best snorkeling in Kauai. Full facilities, lifeguards and camping/picnic at the adjacent Haena Beach.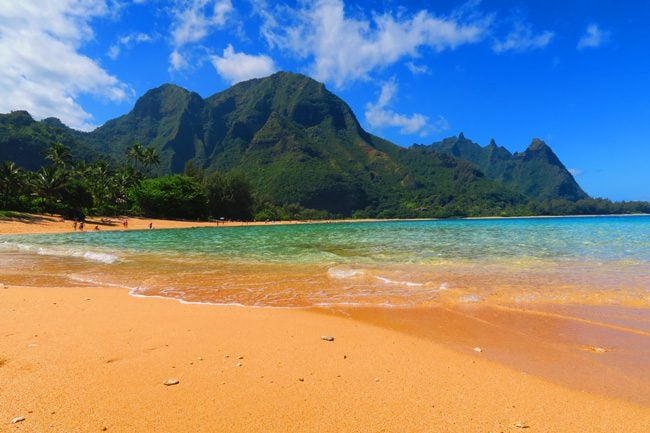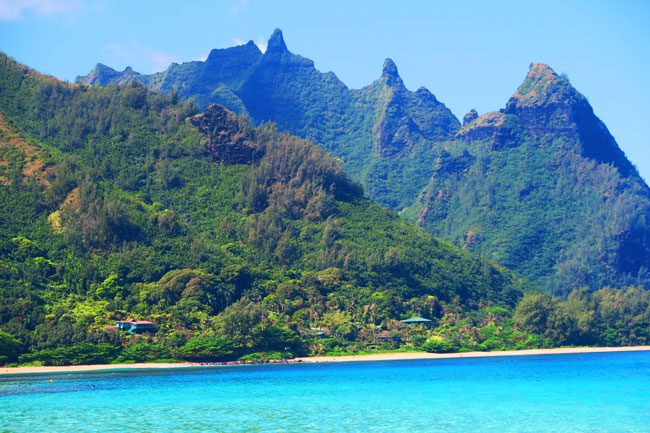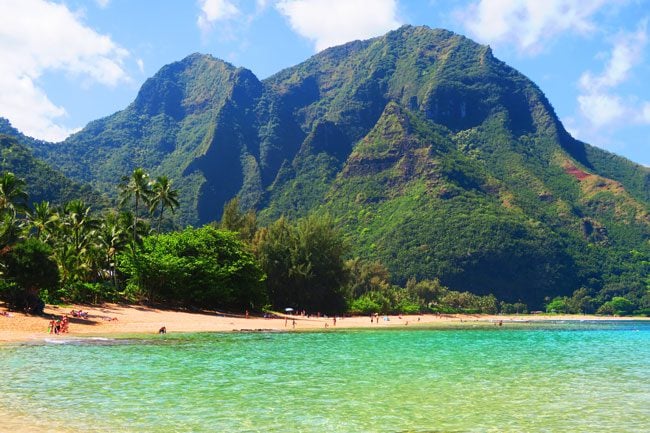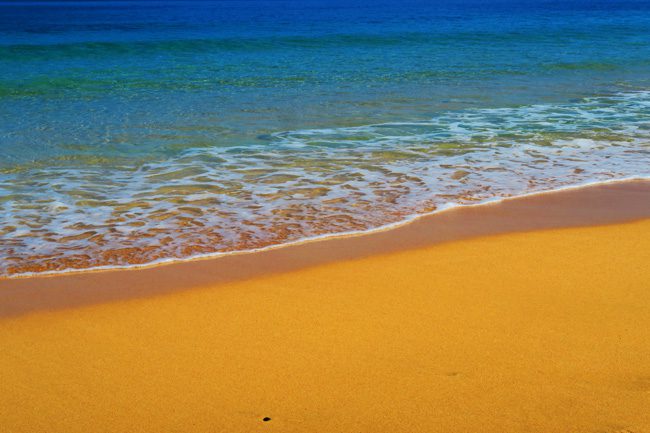 Kepuhi Beach
Tunnel Beach's lesser-known sibling, Kepuhi Beach is right around the corner from the legendary north shore beach. Being off the tourist radar and since swimming is possible only on calm days, Kepuhi Beach manages to keep a very low profile which means it can practically be deserted on weekdays. No facilities or lifeguards.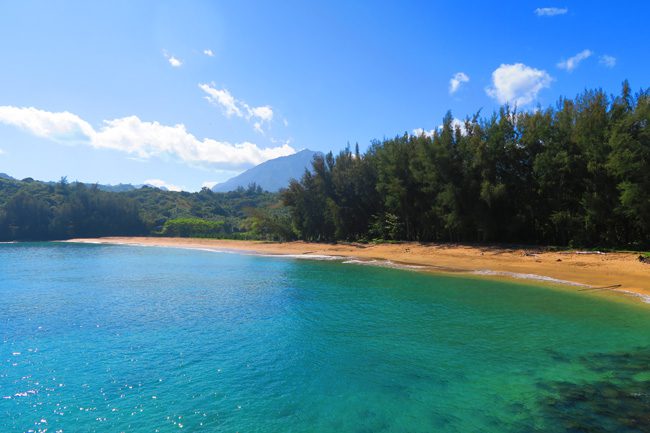 Ke'e Beach
Marking the end of the super scenic north shore road, Ke'e Beach is a popular spot for Kalalau Trail hikers returning to civilization, snorkelers and sunset chasers. Expect large crowds in the afternoons as folks come back from the hike and regroup, but if you simply follow the beach as it curves back east, you'll find more seclusion. Swimming conditions may be very dangerous in the winter months so look for the signs by the lifeguard tower. For awesome views of the beach, hike for about 15 minutes on the Kalalau Trail to a scenic overlook. Full facilities and lifeguards.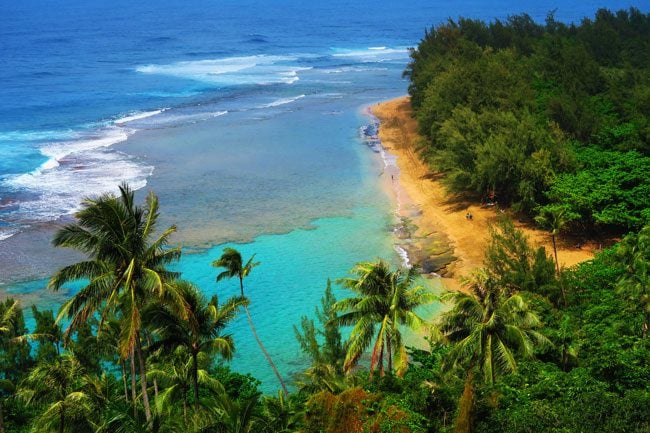 Kalalau Beach
Rugged, remote, pristine, and nestled at the base of the spectacular eroded Na Pali Cliffs – to experience Kalalau Beach, you'll need to either hike for 11 miles on the Kalalau Trail (and somehow score a camping permit) or join a scenic boat cruise. In order to cope with the large volume of visitors and the limited amount of space, Kalalau Beach and Ke'e Beach (mentioned above) are now subject to entry permits. You must now reserve your entry via the Haena State Park website (car parking and walk-in entry) or use the North Shore shuttle.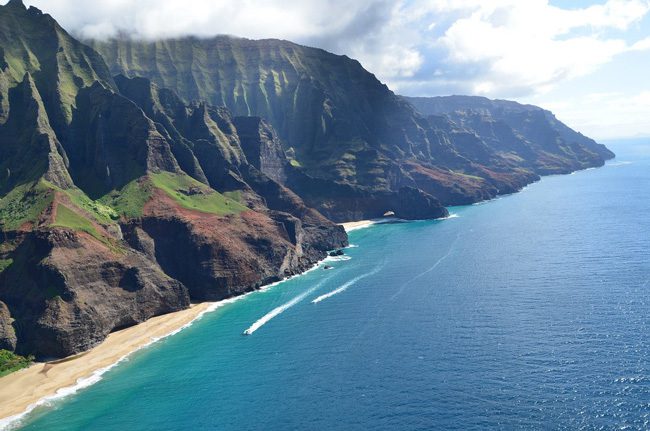 Best Kauai South Coast Beaches
The south coast beaches of Kauai may not have the jagged lush peaks for a backdrop as the beaches up north, but what it lacks in dramatic scenery it makes up with a whole lot of sunshine.
Haula Beach
There's a very high probability of being the only ones at this remote and wild beach. To reach Haula Beach, you'll either need to hike from the nearby bay (the end of the Mahaulepu Heritage Coastal Trail) or drive a 4WD to as close as you can get to the beach.
Mahaulepu Beach
Located more or less at the finish line of the highly recommended Mahaulepu Heritage Coastal Trail, this beach is another top choice if you're looking to somewhat get off the grid in Kauai. There's excellent snorkeling when the seas are calm at its eastern section but be advised that bacteria from the nearby stream sometimes creates unhealthy swimming conditions (there will be signs on such days). The beach is a favorite amongst nudists and is a no-brainer-stop after exploring the nearby Makauwahi Cave – one of the richest fossil sites in Hawaii. No facilities or lifeguards.
Shipwreck Beach
Marking the starting point for the Mahaulepu Coastal Trail, though Shipwreck Beach is, unfortunately, 'decorated' by the Grand Hyatt in the background, it is still one of the prettiest beaches in Kauai. A perfect crescent of soft golden sand, swimming is unfortunately often risky so beach bumming is highly advised. On its eastern end, it's worth scaling the limestone cliff for stunning panoramic views of the bay and its surrounding. Full facilities, free parking and picnic grounds. No lifeguards.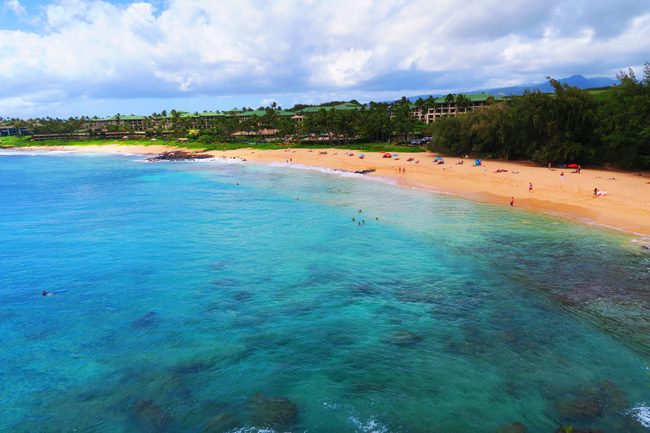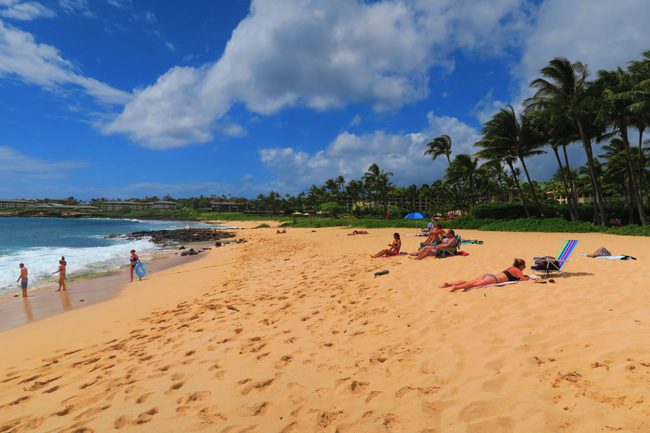 Poipu Beach Park
Really more of a family-friendly beach, Poipu Beach Park is a neat and tidy sort of beach. There's decent snorkeling for the kids and monk seals often come ashore to woo the crowds. If you're looking for a quiet place that's devoured of any man-made cement structures, head elsewhere. However, if you're traveling with kids, this is an excellent choice (though Salt Pond Beach is better). Full facilities and lifeguards.
Koloa Landing
This isn't technically a beach but more of a rocky harbor. It's the best snorkeling spot on the south shore and a favorite site for shore divers – worthy of a visit if you fancy seeing a lot of fish. Though conditions might be choppy, it's still pretty safe as long as you stay inside the harbor. Expect to see large schools of fish and maybe even turtles if you're lucky.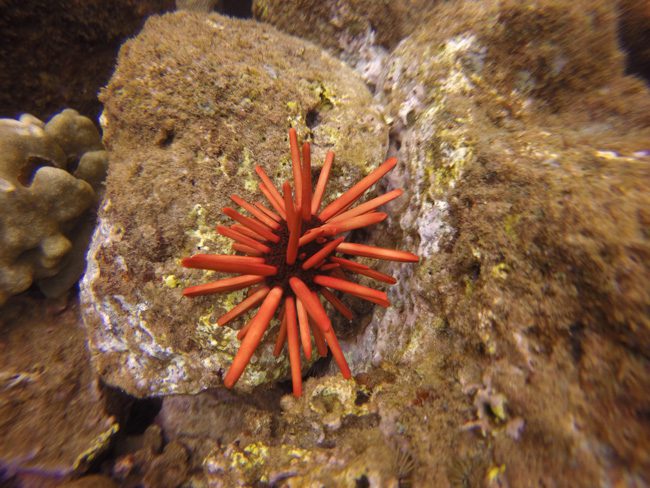 Glass Beach
Not much of a beach but rather a peculiar photo op, Glass Beach gets its name from the tiny colorful specks of glass that have pretty much replaced the sand. Don't get your hopes up though, this isn't a natural phenomenon, just close proximity to a glass recycling station. Nonetheless, this can be a fun quick stop. No swimming, facilities or lifeguards.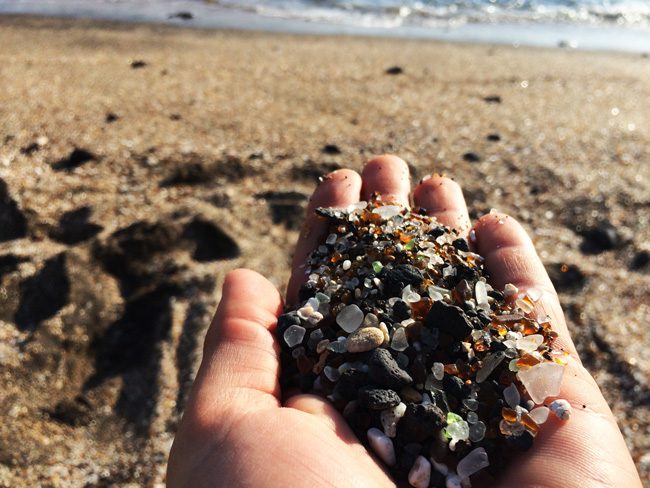 Salt Pond Park
This gorgeous beach gets its name from the adjacent salt ponds that are still in use today. A favorite hangout spot for locals, you'll likely share the beach with folks coming to chill with some "herb" to share, families, taking advantage of the natural tide pools, and native Hawaiians proudly displaying the original kingdom's flag on the back of their American-made pickup trucks in an act of defiance. The beach is perfectly positioned for magical sunsets and you can even see the forbidden island of Ni'ihau from here on a clear day. Full facilities including BBQ stands and lifeguards.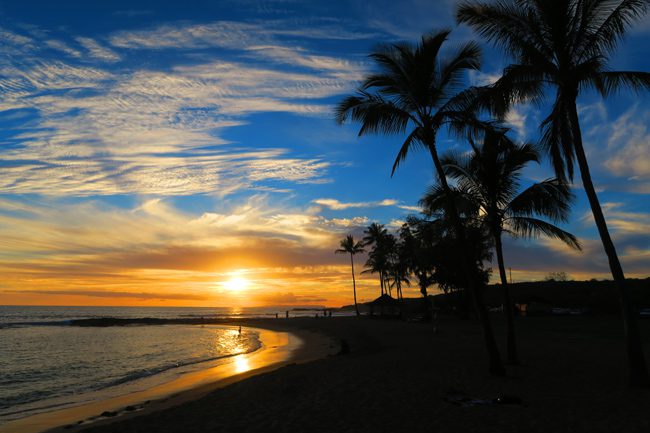 Best Kauai West Coast Beaches
Kauai's west coast is wild and uninhabited with the 'exception' of the Pacific Missile Range Facility at Barking Sands.
Polihale State Park
This is where locals come to get off the grid, miles, and miles of golden sand with the Na Pali cliffs providing the shade. To reach Polihale Beach, you'll need a 4WD vehicle as the paved road ends at the missile range facility and 5 more miles of rough road is still required in order to reach the beach. Note that car rental companies prohibit visitors from driving a 2WD to Polihale. Full facilities and camping possible with a permit. No lifeguards.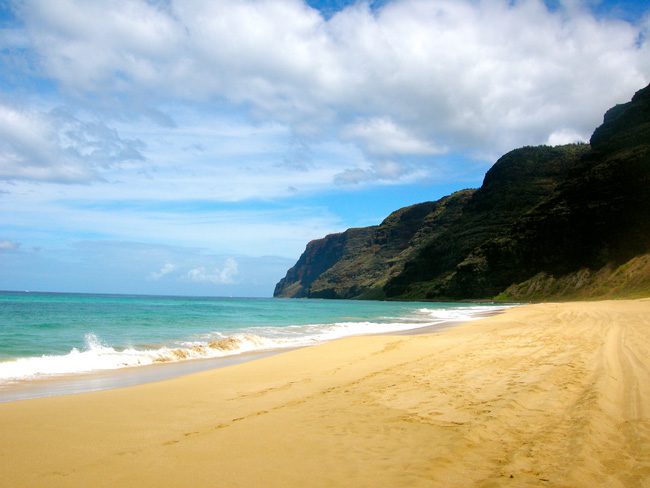 Best Kauai East Coast Beaches
The east coast of Kauai is its most populated, though its beaches are by no means overcrowded. Always a short distance from a tourist town or the main highway, the east coast beaches are great for a picnic stop or when staying at a nearby accommodation.
Kalapaki Beach
A sandy beach at the base of a deep cove that looks more like a natural harbor, Kalapaki Beach is backed by the Marriott Resort and protected on one end by a mammoth cliff sprinkled with million-dollar homes. If you're traveling with children, this is a good option to consider and keep in mind there's a small shopping center just 5 minutes away as well as Duke's Barefoot Bar for sunset drinks. Full facilities, no lifeguards.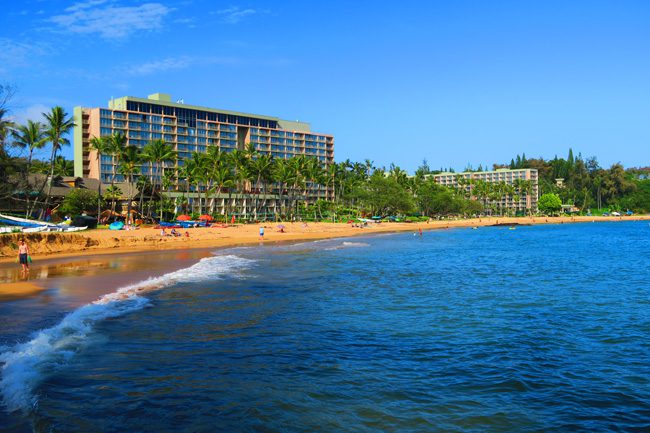 Kapa'a Beach Park
Another family-friendly east coast beach, Kapa'a Beach Park is backed by row after row of resorts and condos. However, the beach is just a stone's throw away from main street Kapa'a – where you'll find decent shops and restaurants, and it also marks the starting point of a paved coastal path that runs North to Kealia Beach and beyond. Limited facilities, no lifeguards.
Kealia Beach
Without a doubt, this is East Kauai's best beach and despite its close proximity to Kapa'a and the coastal highway, the beach manages to retain its sense of raw beauty. Full facilities and lifeguards.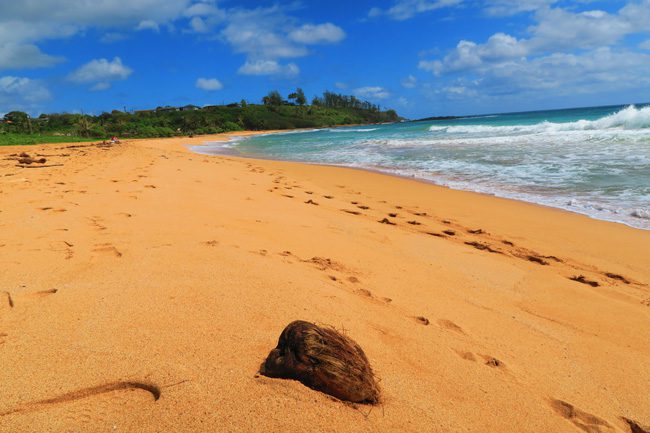 What's Next?
This list of the best beaches in Kauai will certainly keep you busy and wet during your own adventure on the Garden Isle. Visiting other Hawaiian islands? Sample itineraries, guides to the best beaches and the must-see highlights are all waiting for you in the Hawaii Travel Guide collection. Aloha!
Looking for More Information on Kauai?
Hawaii, Tailor Made!
The Hawaiian islands are among the last places to be colonized by mankind, five main islands, each with its unique personality.
Get expert advice and assistance with planning your trip to the destination where tropical dreams come true!
---
Pin These Images To Your Favorite Boards